A garden trellis is a beloved piece by all greenskeepers and gardeners. They can be designed in different forms and styles to serve various functions, from giving vines a lift to even more elaborate designs for dressing up your patio or backyard.
We have rounded up some unique and stunning DIY trellis ideas for you to recreate in your garden and give your climbers a beautiful home. You can make these with anything from wood scraps to metal wire and provide them with a shape that suits your style!
While you are at it, don't forget to check out these fantastic DIY pallet planters, DIY plant stand ideas and DIY Cucumber Trellis Ideas
1. Elegant DIY Metal Trellis
Source: jmaclean
Use the support of your garden/backyard wall to recreate this fantastic DIY metal trellis idea. The vertical garden trellis has a metal, ladder-style design painted in black that is hung on a wall. There is a connected wooden planter box at the bottom of the trellis for the climbers to grow. This design uses three similar trellises hanging a few inches apart from each other. You can add as many as you like for the climbers in your vegetable garden.
2. Stylish Lattice Garden Trellis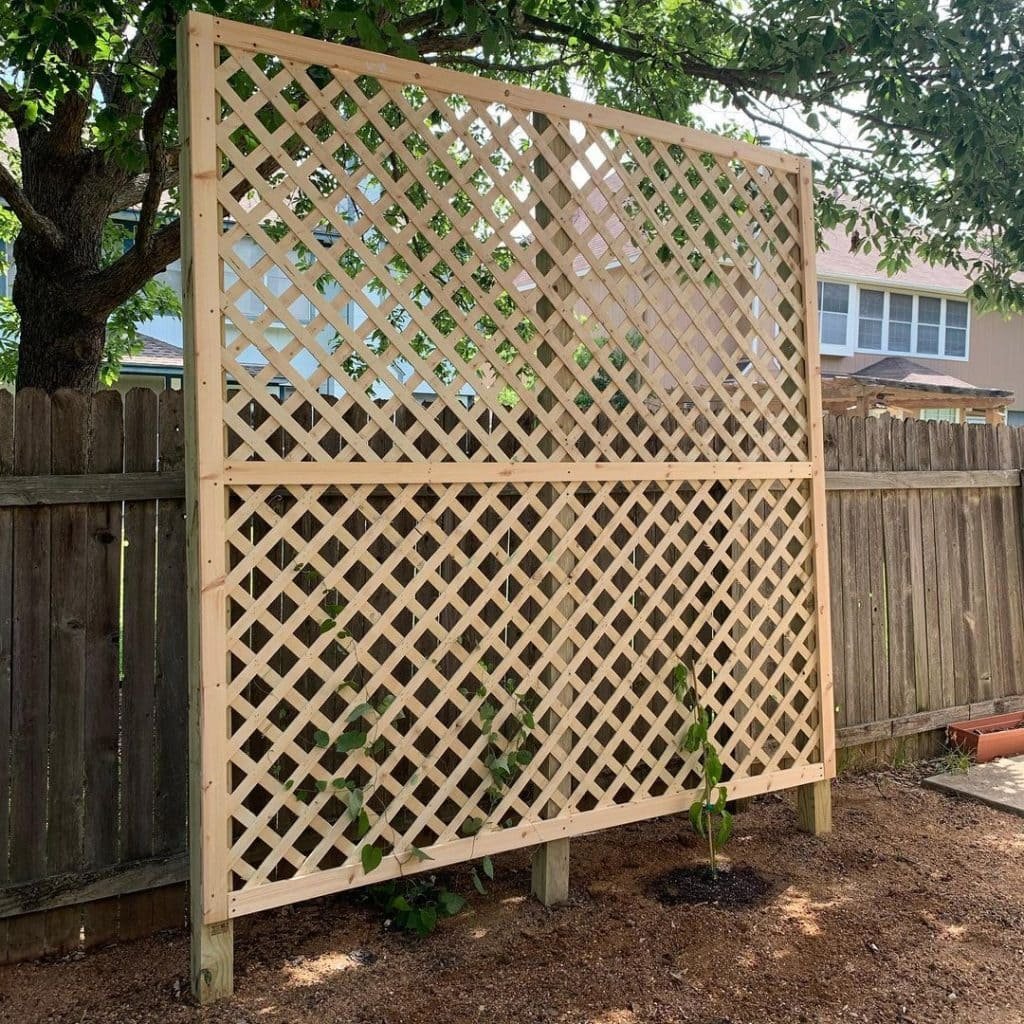 Source: mama.shakalaka
This freestanding trellis is fixed in the garden soil for sturdiness and has a lattice design. The trellis has a wooden structure and has a light, rough finish. It looks very stylish and stunning in any garden, and the trellis design allows the climbers to hold onto it easily. You can easily recreate this DIY by using minimal supplies. You can reuse an old wall divider frame to build this trellis.
3. DIY Indoor Garden Wall Trellis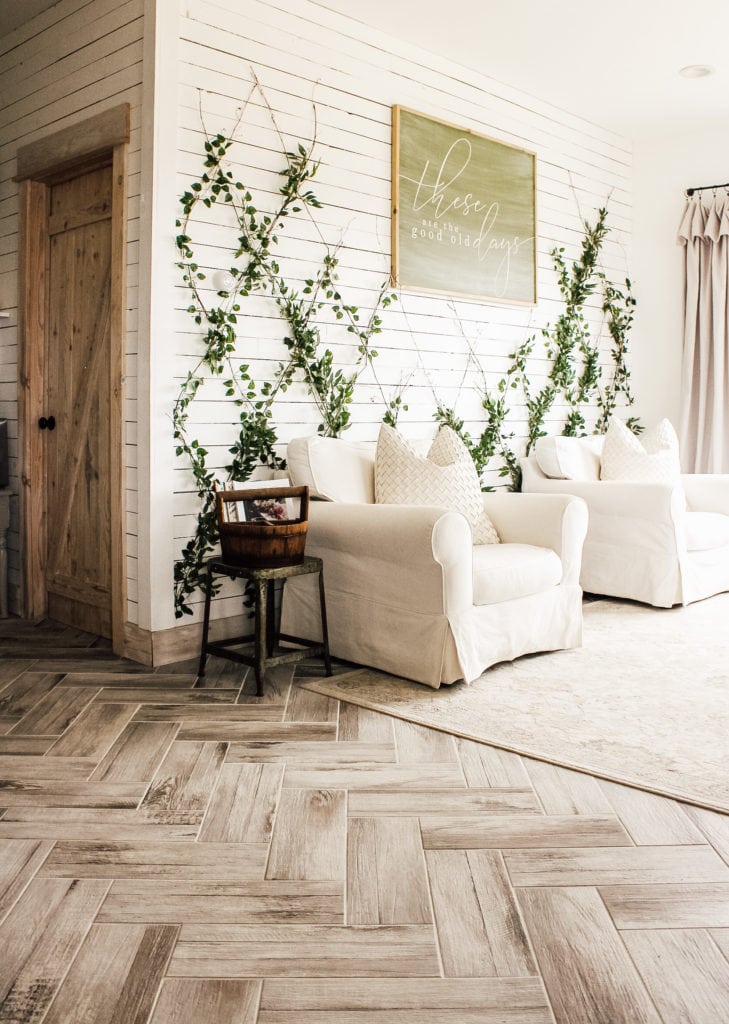 Source: fletchercreekcottage.com
Well, trellises are not just a garden piece but can also be suitable for indoor plants! This DIY trellis idea is made out of wire/jute string attached to the wall in a beautiful design. The plants (fake or real) are wrapped around the wire to reveal a fresh and gorgeous decor for your accent walls. This style is perfect for living rooms, bedrooms, or even doable outdoors. Here is the full tutorial.
Read – 41 Unique Indoor Plant Wall Ideas For Big And Small Spaces
4. Short and Wide Metal Wire Trellis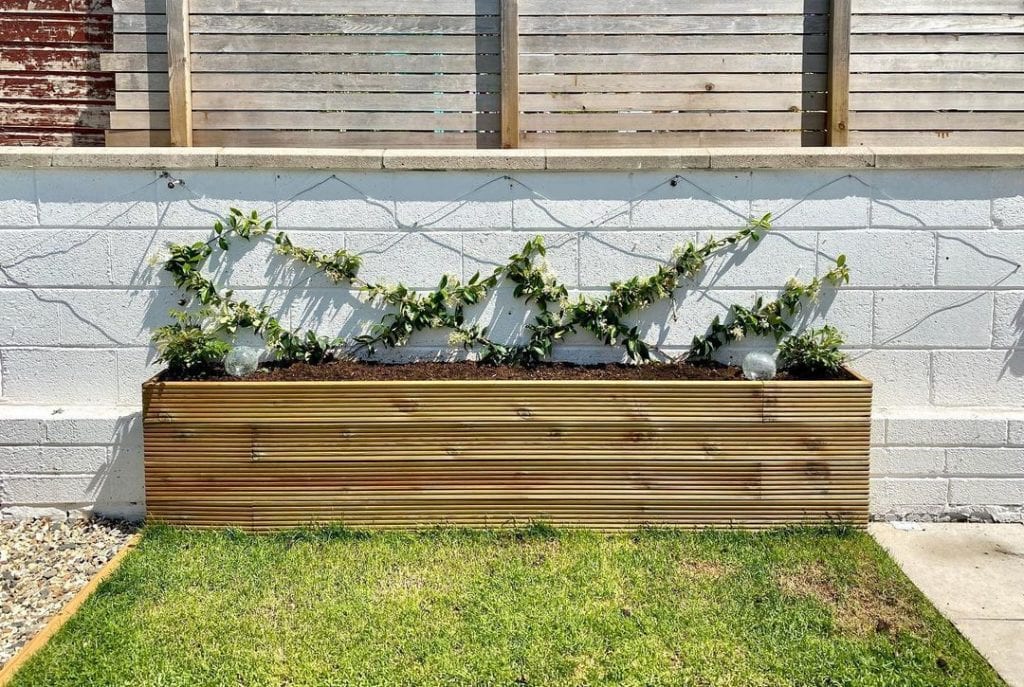 Source:  lane_valley_designs
I love this adorable garden trellis idea, which has a zig-zag design made using metail wires and nails. The climbers wrap around the wire and take the shape of this beautiful design. It is a horizontal design with a wide planter box placed under it. The white color of the wall brings out the fresh green color of the vines. It is a very quick and straightforward way of designing your garden trellis. Instead of using a planter box, you can also create a raised garden bed to sow your climbing plants.
5. Classy White Chevron Trellis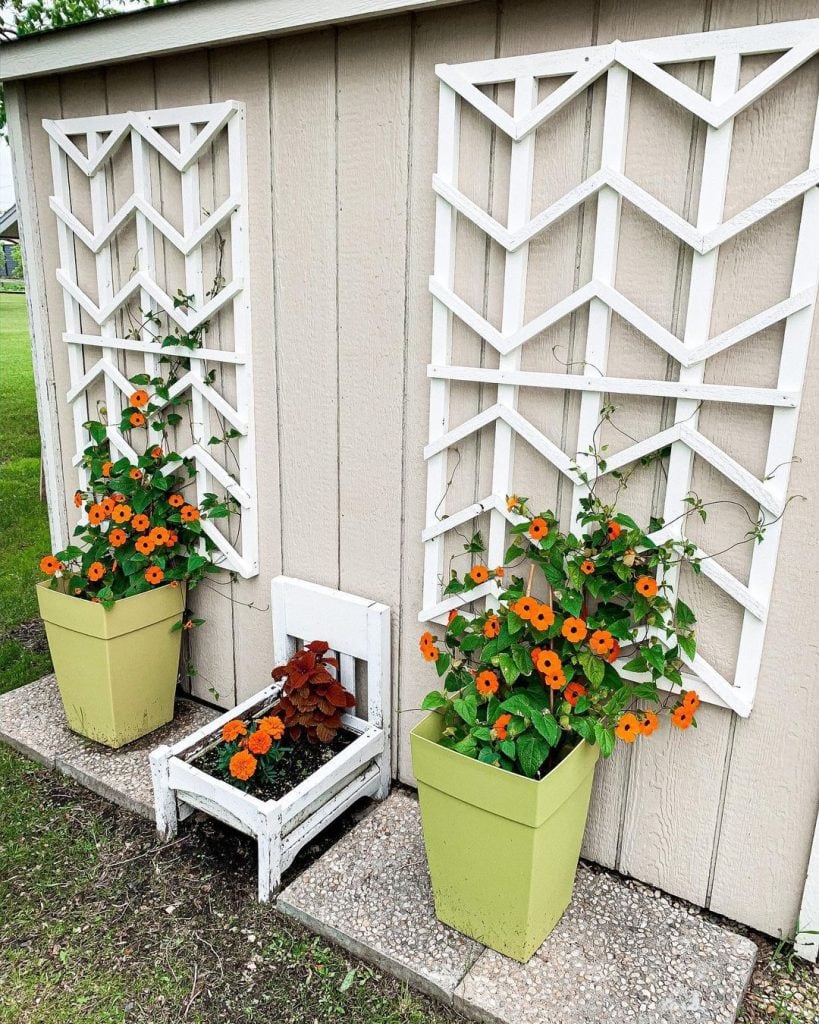 Source: samwiebeonline
Chevron patterns are a common trellis design as they give your garden space a very modern and classy look. This DIY garden trellis idea has a wooden frame painted in white attached to the garden wall. Floral potted plants are placed below each frame for the plants to climb on. It is an easily buildable project made using three items: wood, nails, and paint.
Check – 35 DIY Small Backyard Ideas That Create Large Impact
6. Adorable Crisscross DIY Trellis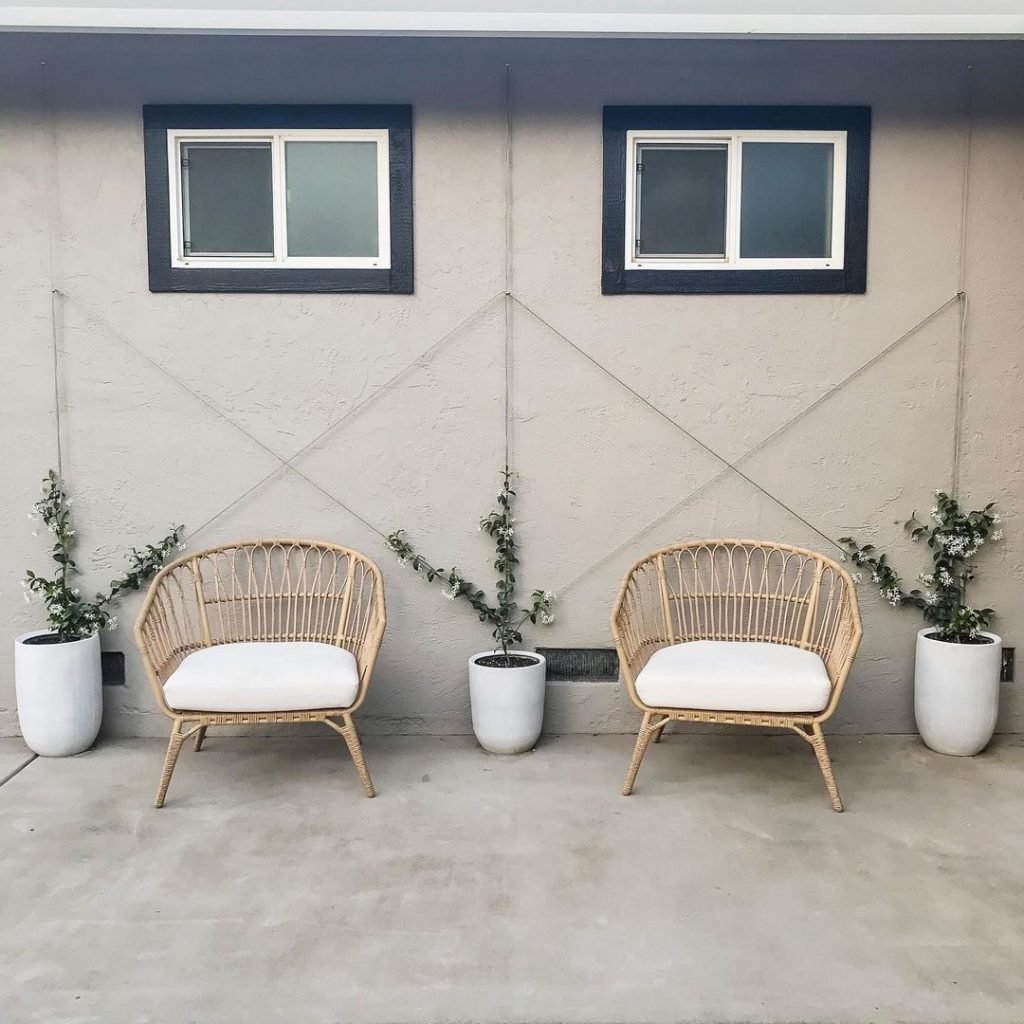 Source:  jande_designs
The uniform style of this DIY trellis design is perfect to amp up any garden wall and make it look equally aesthetic. Once the plants have completely covered the garden trellis, it would look extremely gorgeous. No matter which climber you place under the trellis, it would look just as stunning. The design of the trellis is simple and making one on your own is even more effortless.
7. DIY Tomato Trellis Idea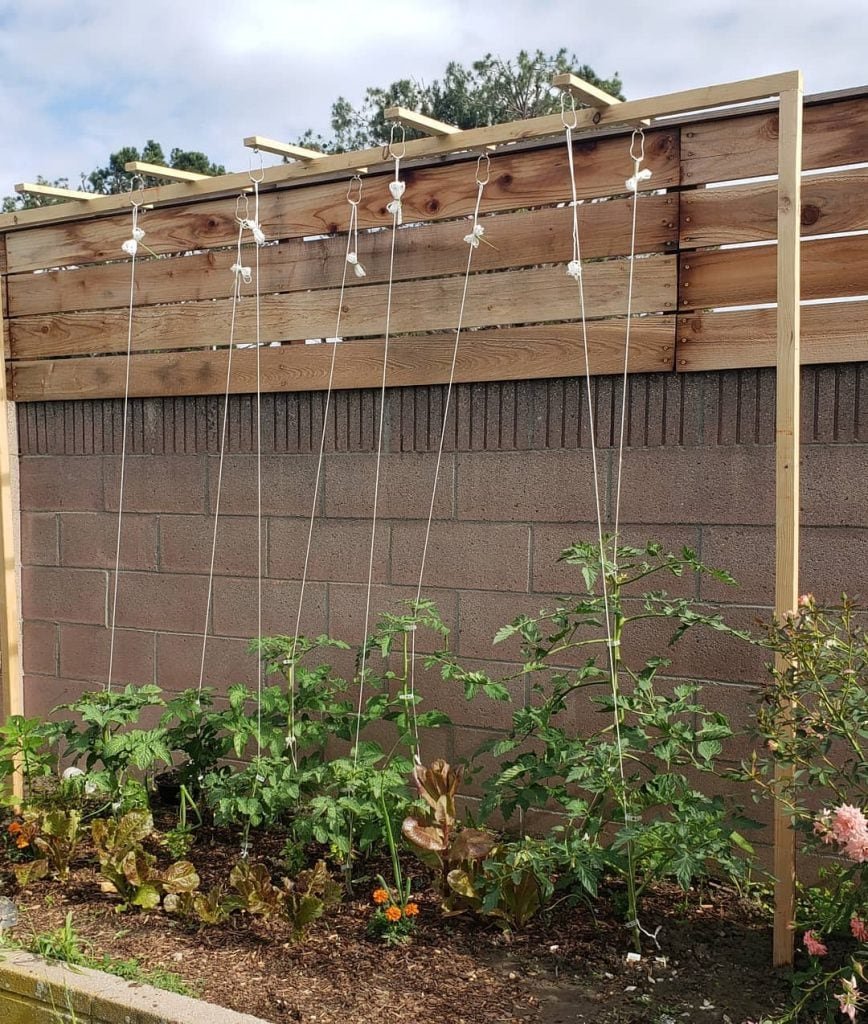 Source:  verte_jardin
Here is a garden trellis idea that is perfect for doing a tiny farming project! This can be made into a tomato trellis that is simple to make and is very budget-friendly. Using some hooks, twine, and trellis rings, you too can recreate this lovely home for your tomato plants. You can hang the threads from the garden wall or create a sturdy frame from scrap wood pieces.
8. Earthy Wooden Freestanding Trellis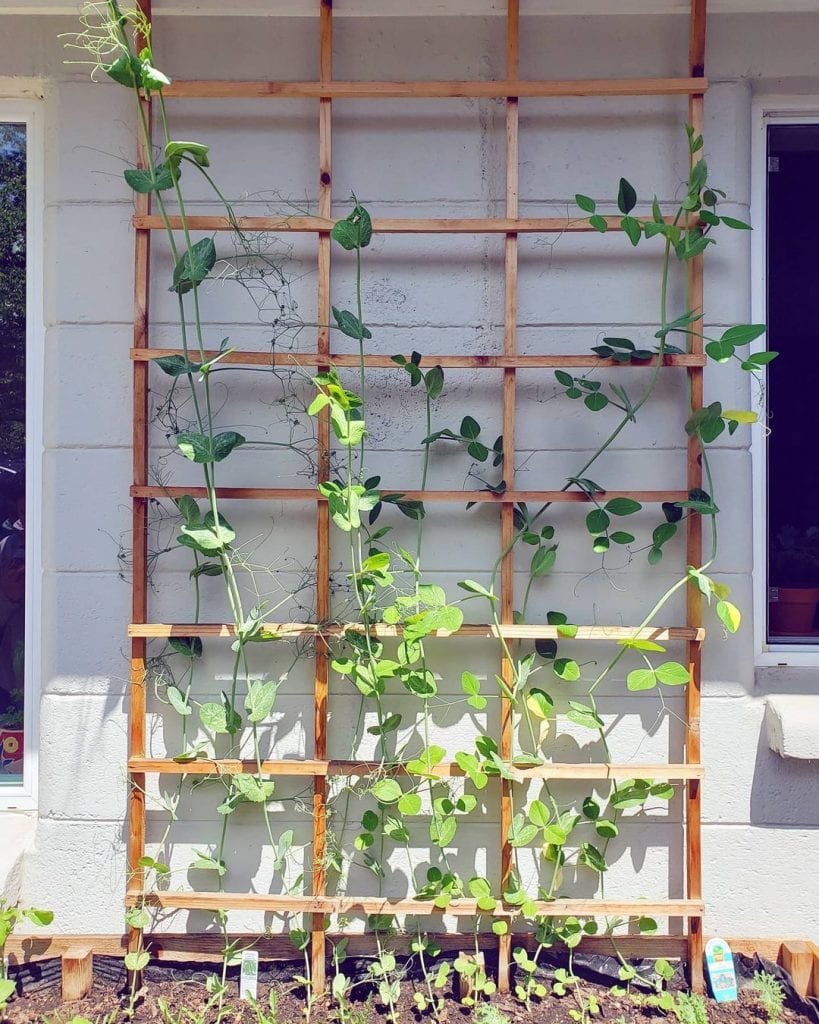 Source: binascoop
This wooden freestanding garden trellis design adds a fresh and earthy touch to your otherwise blank white wall. A trellis is also a great way of covering up any imperfections on your walls. This trellis' grid-like design is very easy to make and provides for a spacious structure for your climbing plants. This trellis is sturdy and goes all the way from the ground to the wall's upper end. You can customize the grids' size and spacing according to your choice and stain the wood if you like.
9. Climbing Rose Trellis
Source: oldtownhome
This bright and gorgeous garden trellis idea is perfect for your roses. The caged-grid design of this garden trellis looks very modern and classy. It is also a great way to hide any imperfections on your outdoor wall or conceal a mailbox! The roses wrap beautifully around the trellis' white frame, making it a unique and appealing addition to your home garden.
10. Long Rustic Branched Trellis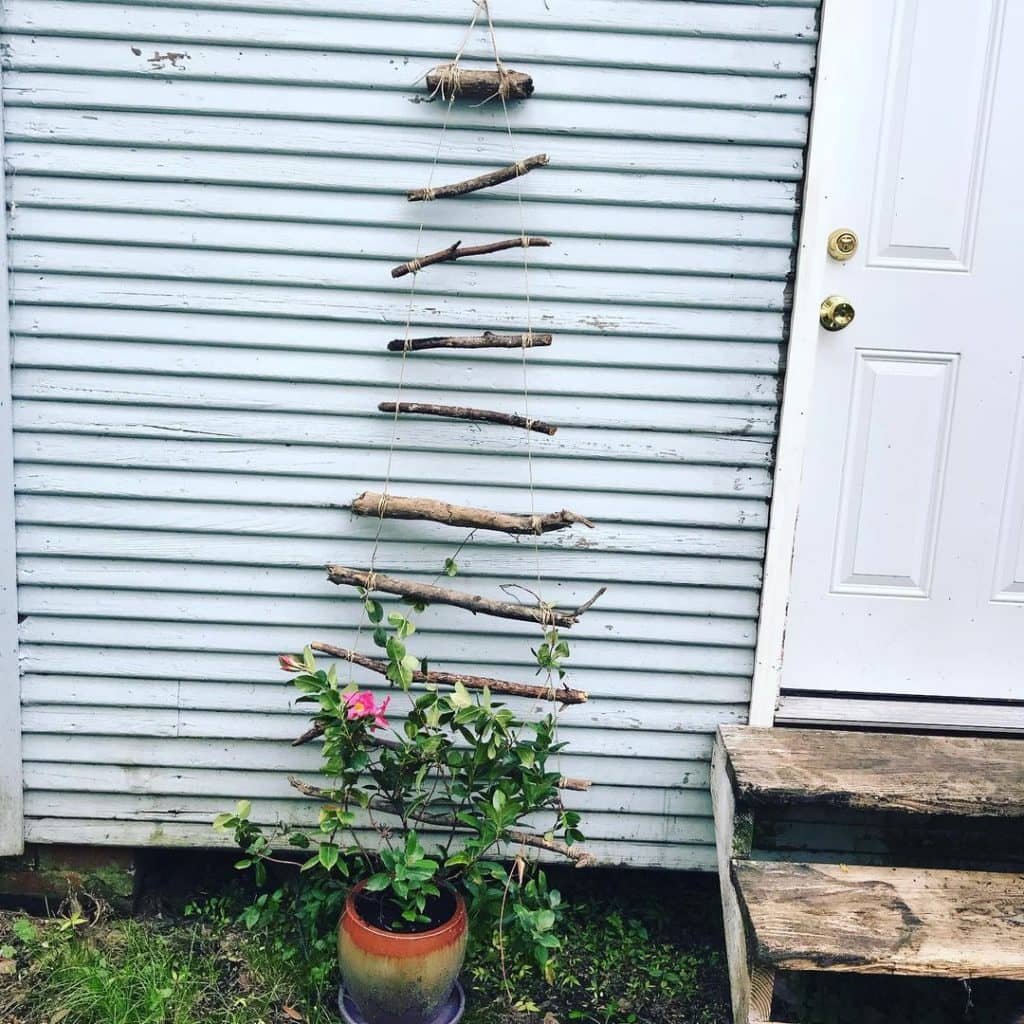 Source: darceys_decor
Is it a trellis? Is it a wall hanging? Who can tell! This DIY trellis design is a completely "au naturel" take on a garden trellis. You can recreate this design using items from your home itself! All you need are some tree branches and any scrap twine you have. Next, connect each wooden branch using the twine in order of height (short to long). You can add as many branches depending on the height you want for your trellis.
11. Simple DIY Cucumber Trellis Idea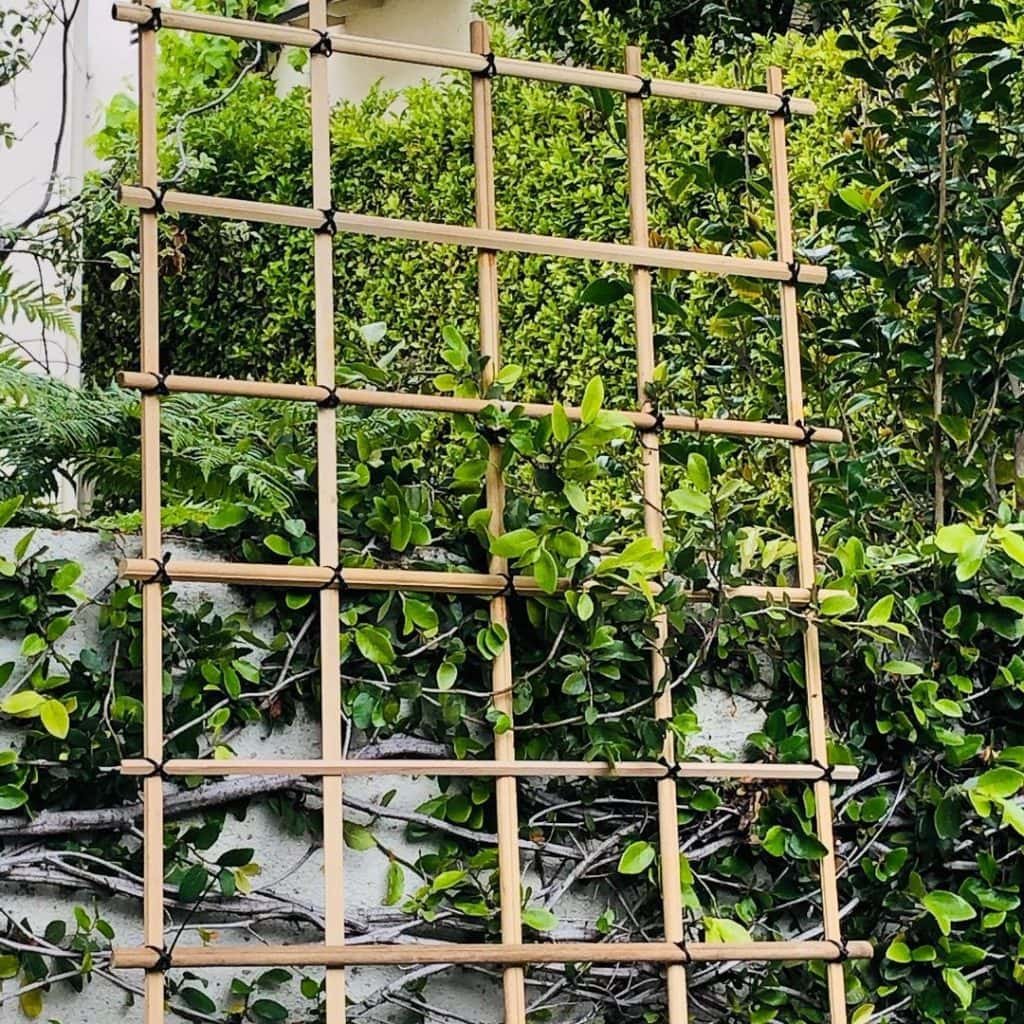 Source: littlehouseontheplanet
It is unbelievable how you can convert some dumped wood rods into a lovely cucumber trellis for your garden space! All you need is an eye for such reusable dumps! Grab some long wooden rods and connect them in a grid-like style using zip cords and voila! Your vertical garden trellis is ready! Firmly fix the trellis in the vegetable garden ground and let the climbers enjoy their new home.
12. Reclaimed Wood DIY Wall Trellis
This garden trellis design is pretty as a picture even without any plants creeping over it. It is an interesting way to cover up a blank wall with some fresh creepers. Also, if you are planning to plant highly leafy plants, make sure to hang the garden trellis several inches away from the wall to provide enough space for the plants to grow around through it. It is a modern and straightforward way of adding a woody touch to your garden space.
13. Tall Indoor DIY Ladder Trellis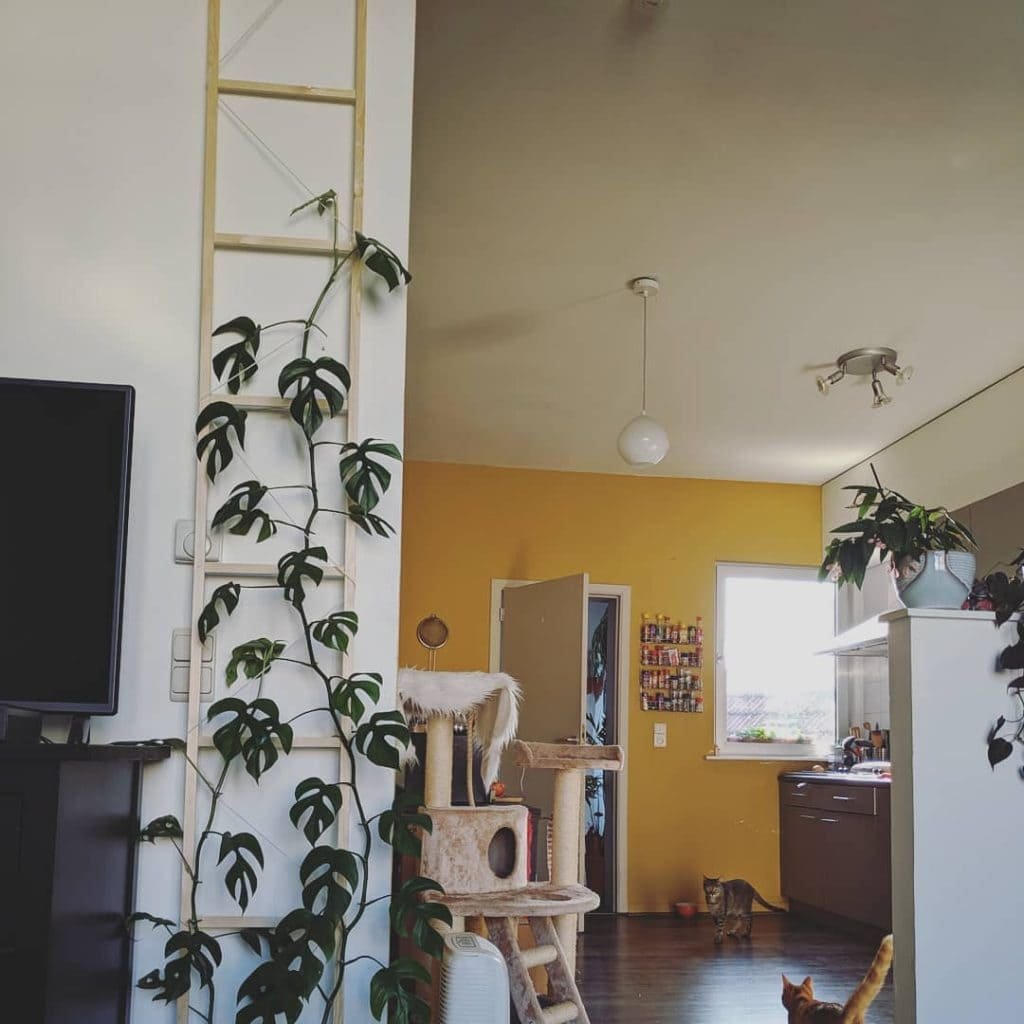 This DIY trellis idea uses a ladder style layout for any narrow space in your home. You can replicate this idea indoors or outdoors, depending on your need. You can use thin wooden pieces to design the structure and tie slanting strings between each step for easy access to your plants. It looks very unique as well as neat due to its narrow and unscattered look. You can place it in front of any wood accent wall in your home.
14. DIY Stylish Honeycomb Fence Trellis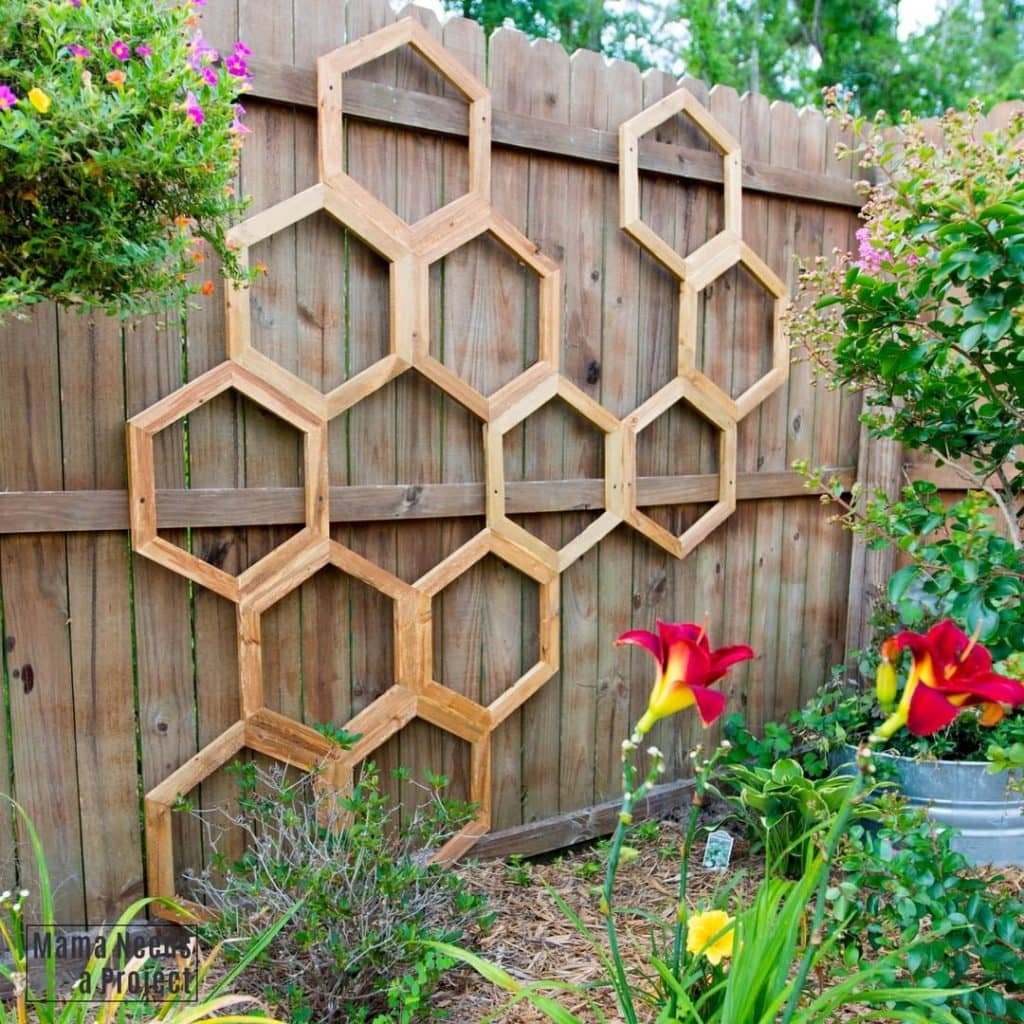 Source: mamaneedsaproject
Beautiful by itself, this hexagon-shaped honeycomb fence trellis will surely jazz up your garden fence wall. You can make the hexagonal cuts using a miter saw and then mount the trellis on the fence using screws. This design in itself is very quirky and modern and is a unique and attractive addition to your home garden.
15. DIY Natural Bamboo Trellis
Source:  arra_asmara
I love how this dainty bamboo trellis idea is adding a bright and fresh touch to this rustic cement wall. The idea is a must-try as it is made out of bamboo sticks and some jute strings. Place the sticks in a crisscross pattern forming a diamond shape. Use the string to secure the pieces together, hang the lattice trellis up on the wall, and voila! This piece looks great against any wall and has an adorable bohemian vibe to it.
16. Chic Black Zig Zag Trellis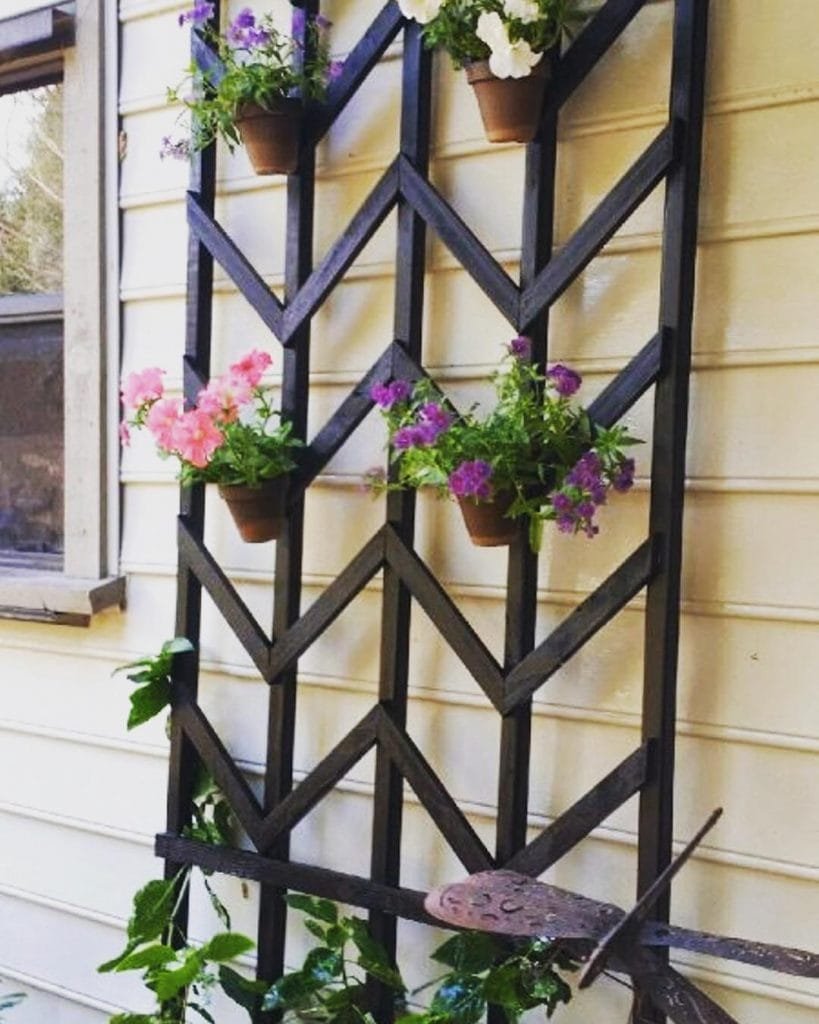 Source: Iscostless
This DIY garden trellis idea is really ingenious and too pretty to handle! Not only does it teaches you how to build a perfect chevron trellis but also turns it into a complimentary plant holder with hanging potted plants! This piece guarantees a modern flair to your vertical garden as soon as you paint it in black. I love the creativity and space-saving style of this idea. Here is the full link to the DIY.
17. Tiny Wire Fence DIY Arched Trellis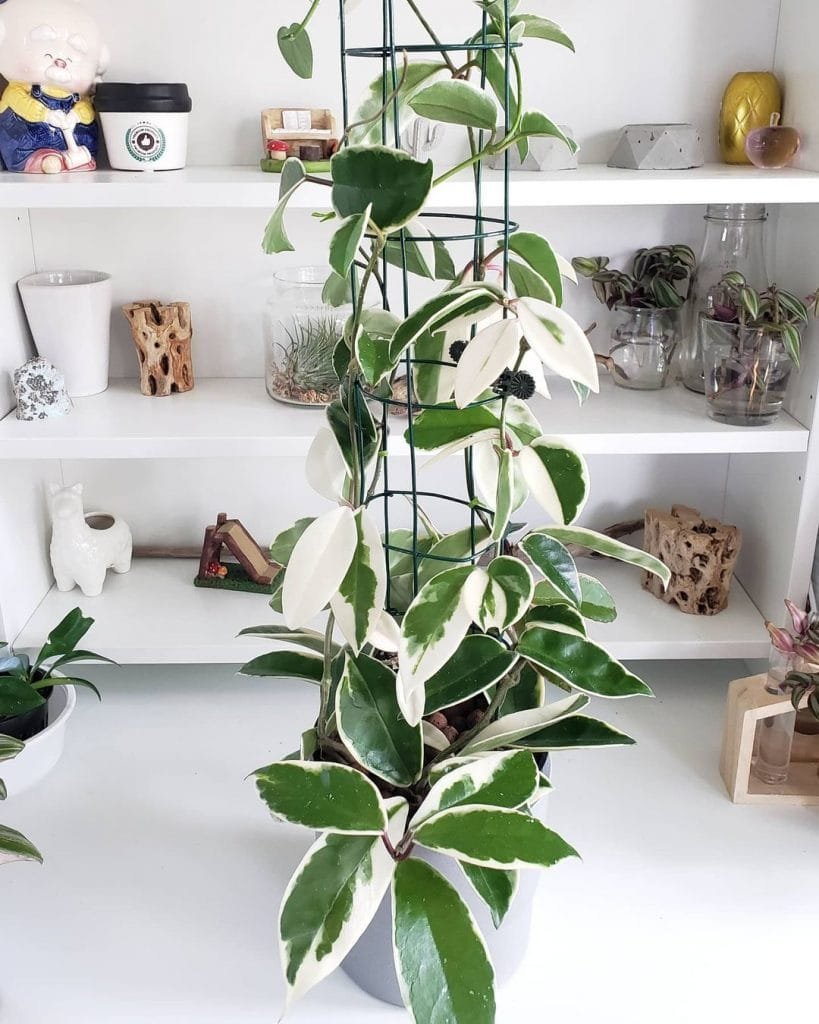 Source: plantydaff
You can give your tiny indoor plants their trellis too! Try out this DIY trellis idea that is extremely quick and simple. All you need to do is grab some wire fence, cut it in the desired size, and rolling it up to create a cage trellis. You can also use a tiny tomato cage for the same. Do try it out for helping your tiny plants grow freely!
18. DIY Tiny Pea Trellis
Source:  legally_leftovers
This pea trellis idea is a fun project to recreate with your kids and is perfect for tiny pea plants. Build a frame using four bamboo/wooden poles and connect them using twine. Wrap the same twine up and down the frame, keeping it taut. The pea tendrils will hold onto the twine easily while making this trellis look super adorable.
19. Farmhouse Style Lattic Trellis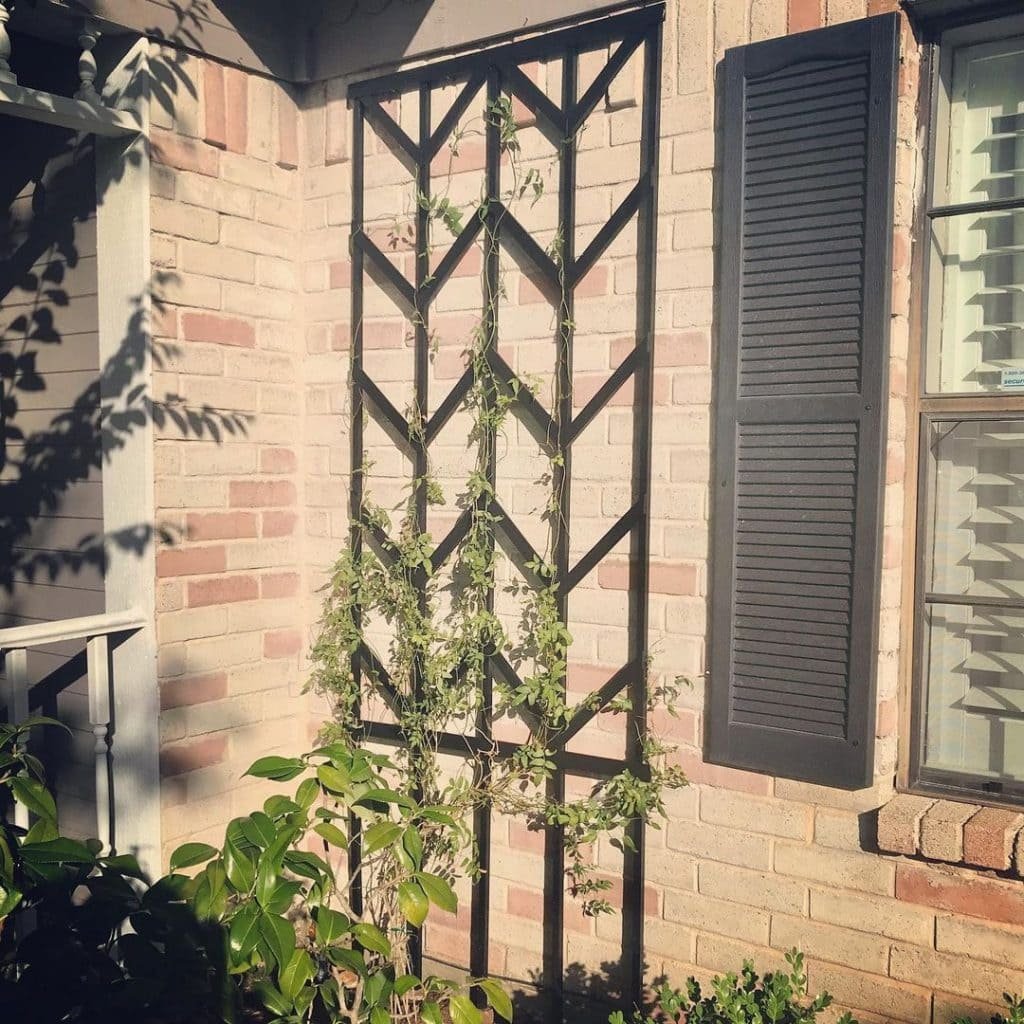 Source:  tizy_lish
Use some garden stakes to recreate this awesome designed and beautiful chevron trellis. I love how tall this wall trellis is, making it suitable for any plant. The black paint looks really classy and stylish. You can either mount it on the wall or just place it against the wall. This garden trellis is a straightforward and budget-friendly idea, so do give it a try!
20. V-Shaped Wooden Wall Trellis
Source:  root.for_me
I love the elegant look of this garden trellis idea. It has a unique V-shaped structure made out of long wooden pieces. The trellis is mounted in the garden fence and using screws. This trellis is perfect for floral plants as they stand out against the wooden finish of the frame. Due to its modern and classy design, you can place this trellis indoors as well!
21. Broken Sticks Fresh DIY Trellis
Source: small_london_garden
Here is a cute and rustic DIY garden trellis idea that is made using thin tree branches. These branches are connected using a rope to create a ladder style, and the trellis is hung on the wall. It has a rustic yet earthy look that would completely match the aesthetic of your vegetable garden.
22. Adorable Twisted Wire Trellis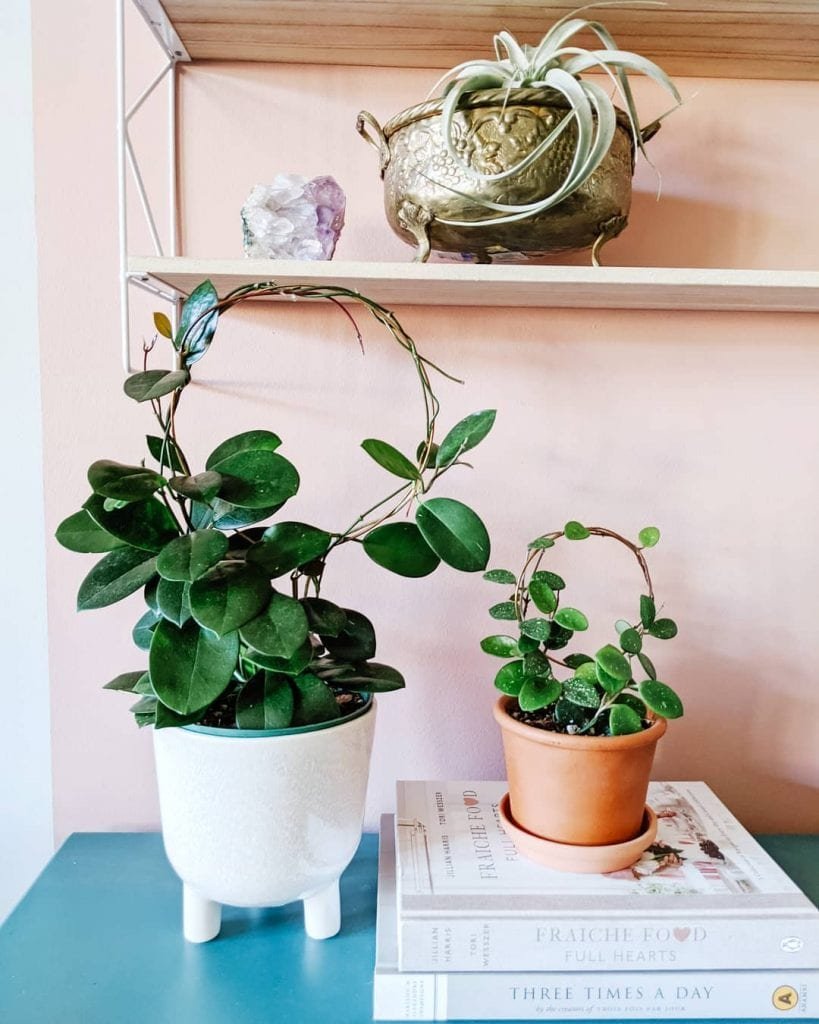 Source:  themodernmonstera
Wires are a great way to design quick trellises for any plant species, including tiny indoor plants. To recreate this unique trellis idea, grab some wire pieces and twist them together, creating a circular shape for your trellis. It is a super quick and simple way to make sleek and dainty trellises for your potted plants.
23. Wooden Entryway Ladder Trellis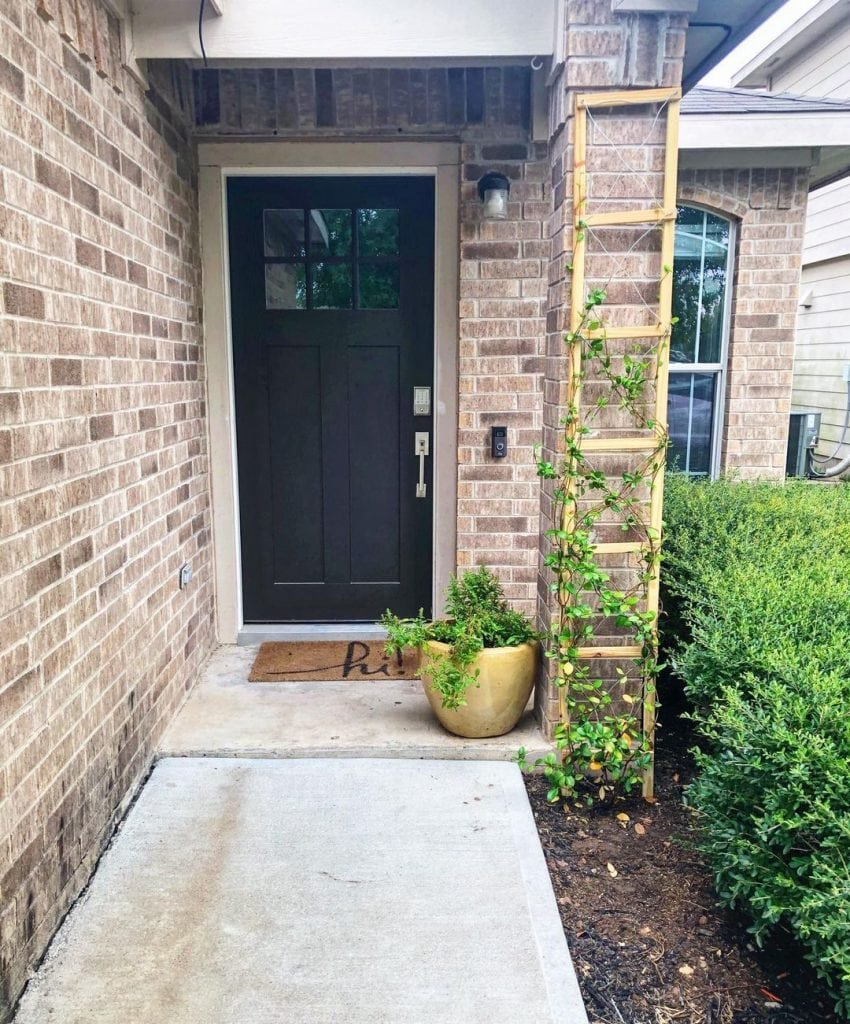 Source:  themillennialhouse
Trellises can be a fantastic way to decorate your home interiors or exteriors! This simple DIY trellis idea beautifully decorates the entryway of your home. It has a wooden ladder design mounted on a bricked pillar. The X-shaped strings between each step of the trellis also add an adorable and fresh touch to the design.
24. Adorable Heart Wire Trellis
Source: plantlife_london
Give each potted climber its little trellis with this DIY. Grab some wire and twist it in any desired shape, such as circle, square, zigzag, or even a heart like in this design. Stick it in the potted plant, and voila! Your adorable yet stylish trellis is ready!
25. Modern Indoor Vine Trellis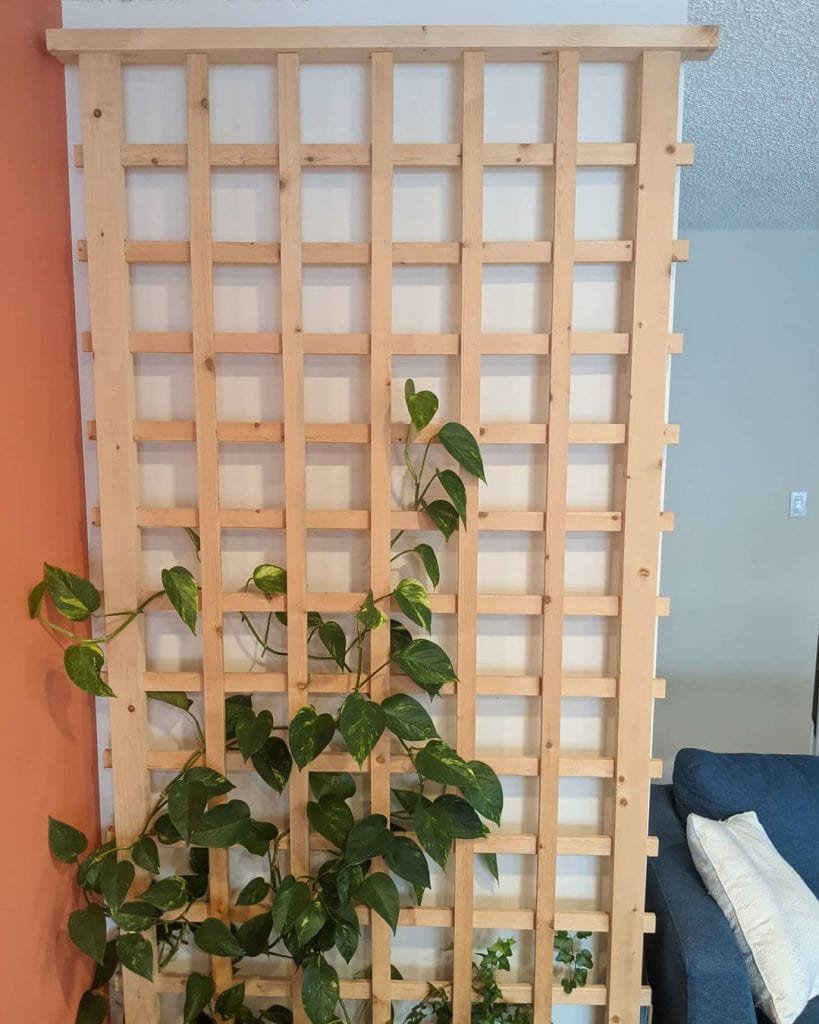 This sturdy and chunky DIY trellis idea is a fresh and modern touch to any empty indoor wall of your home. It has a grid design made using thick wooden pieces and has a light beige tone. The neutral look of this trellis allows the greens to stand out breathtakingly. It is mounted on a wall, making it a perfect wall hanging for any space that needs a natural touch.
26. Elegant Criss-Cross Wall Trellis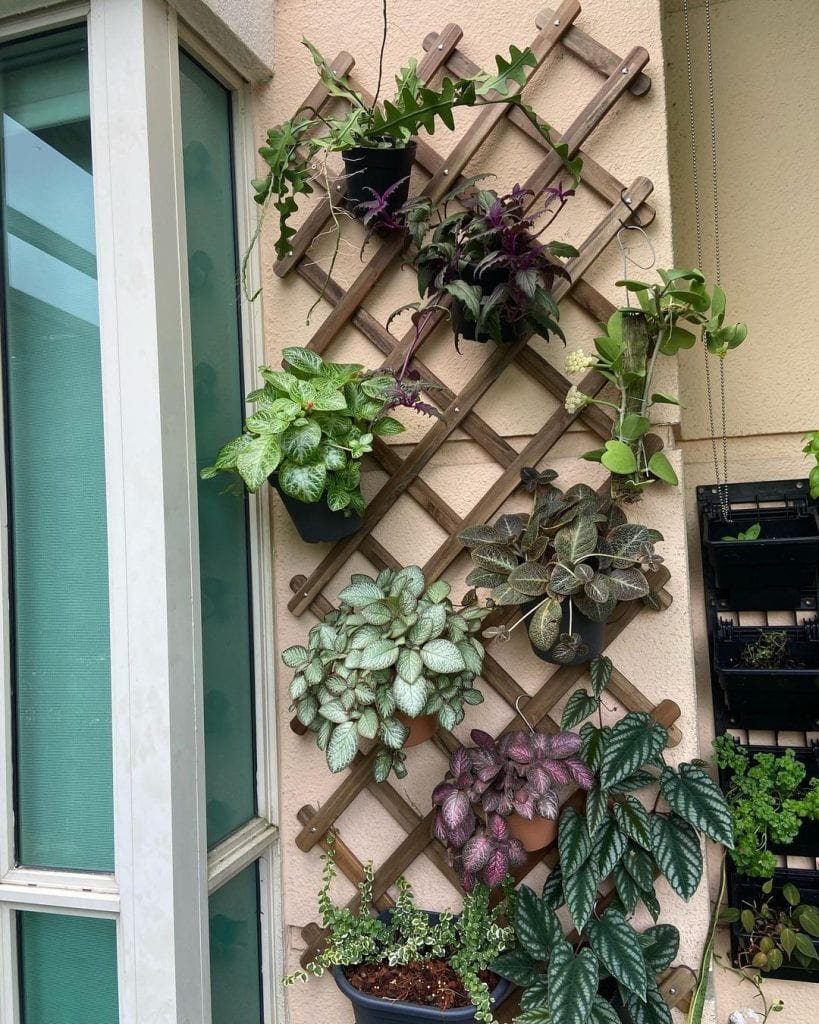 Source:  mygreencamino
I love this crisscross wall trellis idea, especially due to its dark ashy stain. It looks very elegant mounted in any type of wall from bricked to concrete. Also, the trellis is perfect for hanging different types of plants together. This is also an excellent way to reuse some scrap wood pieces and giving your outdoor space a stylish touch!
27. DIY Planter box Lattice Trellis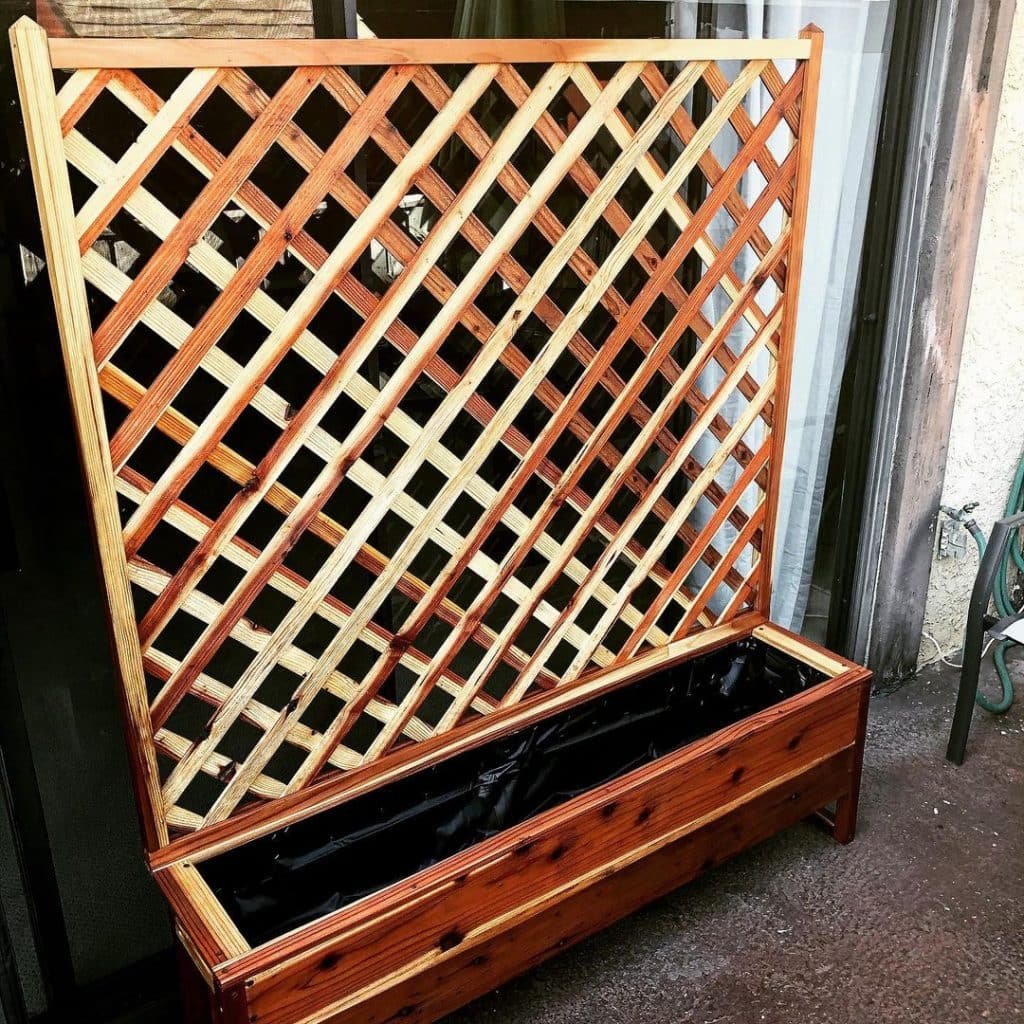 Source: mdpalese
Two projects in one! This DIY trellis idea is mounted inside a large planter box. The trellis has a classic lattice frame style and has a rough dark and light finish. The planter box has casters below it for added height as well as easy movement. Don't forget to add drainage holes in the planter box to keep your plants healthy.
Also check – 28 Beautiful & Unique DIY Planter Box Ideas
We hope you are inspired to recreate some of these trellis ideas and give your vines a stylish and unique frame to climb on! You can create your own design in any size and color of your choice. So grab some basic supplies and book yourself for an amazing DIY project!
If you loved these ideas, you can use the Pin image below and save this article on your 'DIY Trellis Ideas' Pinterest board.