If you feel like doing something creative this weekend or a good vacation crafts for your kids then let these clay ideas inspire you. With these ideas, you can make your own jewelry, mini platters, cutleries, figurines, and so on. They are fun to play around with. These clay ideas also have colorful options and the variety of things that you can make with these is unbelievable. Dry clay is super versatile and all you got to do is mold them, give them shape, and voila you have your own earrings! You can also color them. To be honest clay ideas and crafts are an excellent game option for kids. It is not just occupying but also lets kids explore the Michelangelo within them!
In this curated list I have included all sorts of clay ideas, from earrings to mini character figures. So let's go ahead and find your favorite one.
You can also check out other such craft ideas here on- 25+ Cute Paper Crafts For Kids For A Fun Time. You can also check out some beautiful string crafts here on- 25+ Creative And Amazing String Art Ideas To Get Inspired.
1. Clay Ideas For Earrings
If you love handmade jewelry then this one here is your jam. Clay ideas like this one are so unique and yet so easy and fancy. I love such handmade jewelry, it gives me a sense of pride and accomplishment every time I wear them. I love the color game of these earrings by clay_andco. The hot pink and that zebra pattern is so trendy. Instead of burning a hole in my pocket for the handmade earrings I see online, these are much more cost-effective.
2. Clay Ideas For Little Star
Imagine this little Christmas tree ornament hanging on the tree. How beautiful does it look! This pink and blue dual star ornament by atelier.lisabet is something that even your kids can play around with. Such clay ideas are not just simple and useful but also fun. Clay craft is an exceptional way to keep the kids engaged in a productive way.
3. Polymer Clay Succulent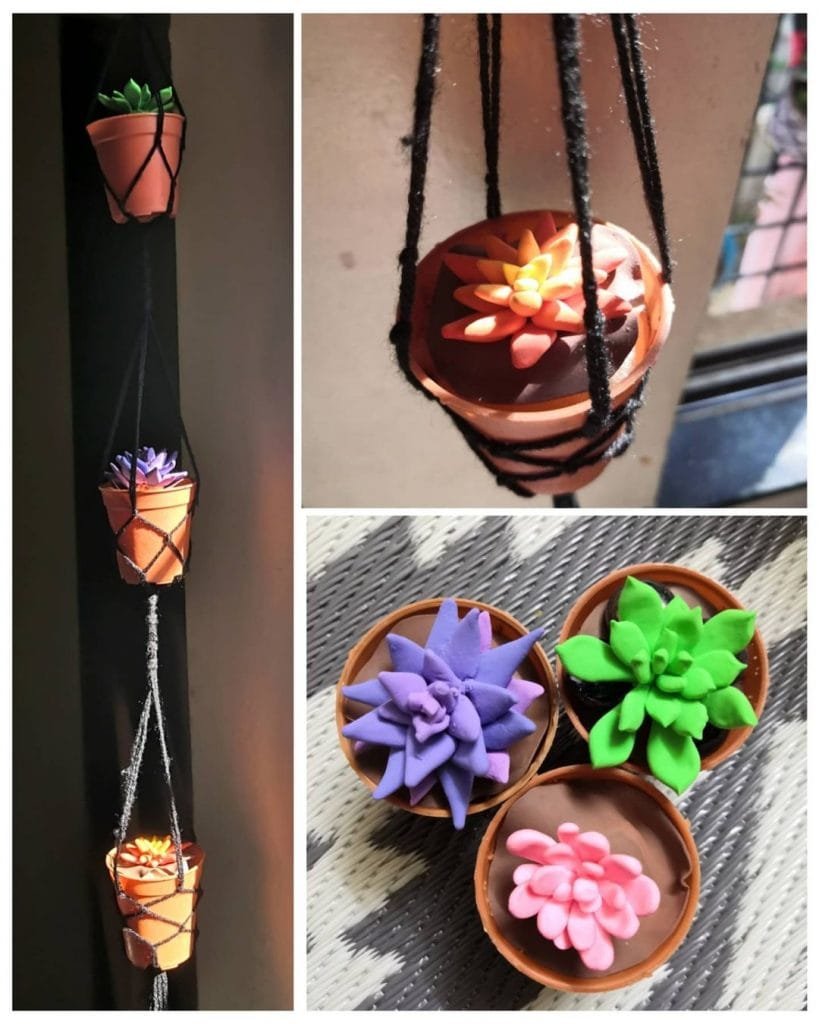 How adorable are these tiny clay succulents! I just love these clay ideas, because they are so versatile and they can be experimented with. You can literally make anything out of these, name it and all you gotta do is mold the clay. These clay succulents by saylisonar.arts are colorful and creative. I like the combination of colors like purple, green, and saffron. The colors have been beautifully mixed and matched and the pot makes it only more realistic. You can hang them at the balcony door, and let them shine in the sunlight.
4. Leaf dish Clay Ideas
This sophisticated leaf dish would burn a hole in my pocket if I had to be buying from a store. But Voila! All I need to do now is buy clay and mold and paint later. I am in love with this white-based leaf-shaped dish by liagriffith. Especially the flawless green strokes of the brush to paint the compound leaf. The overall use of this one here is quite versatile. Personally, I like to use these to keep keys or even my everyday accessories like earrings or rings and so on.
5. Handcrafted Wind Chime
Clay ideas like this one here by artzbyhemz are so earthy. Especially the simple branch that has been used here is taking the whole game to a different level. And how beautiful are these shapes! It has stars, hearts, and even circles. And the color game is so strong that it gives the whole thing a Bohemian touch.
6. Air Clay Ideas For Fancy Dishes
If you thought that clay ideas are all about pieces of jewelry and wind chimes then let phenuxela change that notion for you. I am digging these black and white dishes. And that touch of golden acrylic paint used to draw those stars and the moon is just so ostentatiously attractive. Honestly, these don't even look handmade, that's how brilliant they are.
7. Eye of the Wall
I love wall decors, who doesn't? But instead of wall frames and the usual hanging DIY projects, how about something unique and 'EYE-catchy'? I love this green eye by isoscella. It is unique, it is artsy, and it certainly does justice to any modern home decor. And the best part is the mirror in the middle. Such clay ideas are certainly a great way to spend the weekend.
8. Wall Hanging Decor
Wall decor is a trend that is here to stay, and why not they are so fancy and versatile. For instance, this wall decor by welovehandmademag is so classy. I love colorful wall decors like this one. Especially for a white blank wall, it can certainly use some colors to add some character to the wall. I am loving the color patterns. The olive green and that beautiful soft pink are just too elegant. And that extra touch of polka dots has just given it a quirky edge.
9. Mini Pot DIY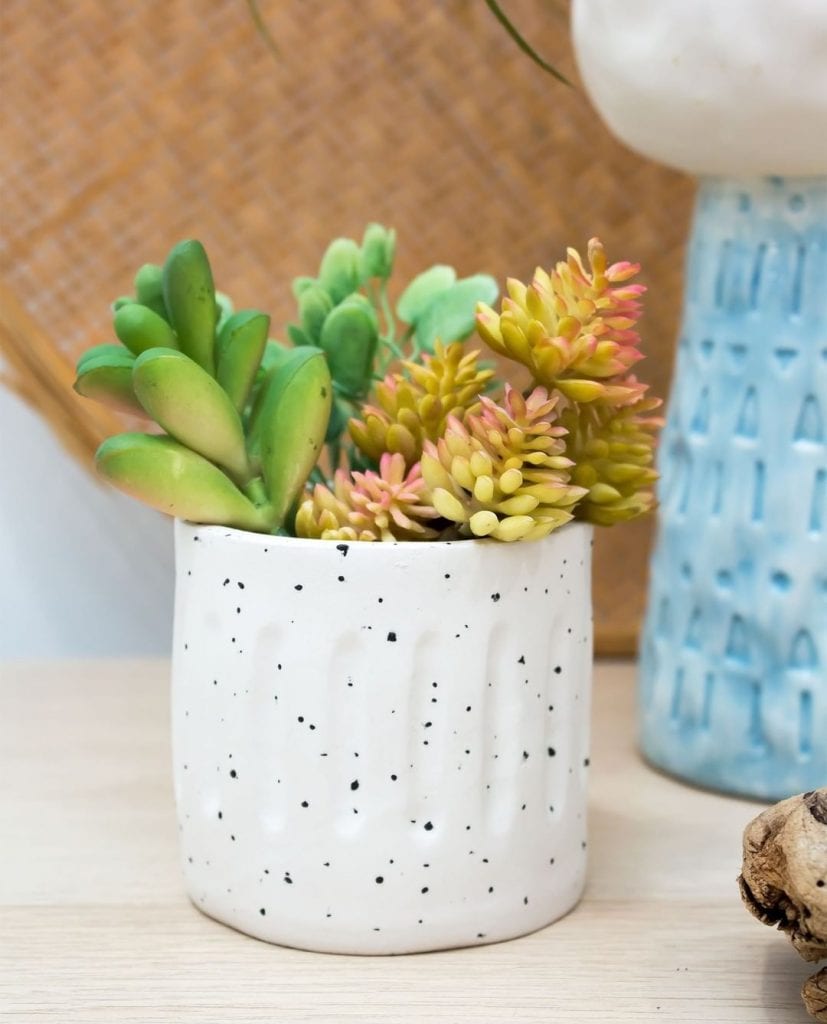 Are you thinking about how to range those cute little succulents? Worry not and just let aprettyfix fix it for you. This speckled DIY planter is perfect for planting those tiny little plants and flowers. I love how gorgeous such clay ideas are. It is so adorable that I can place this anywhere, from the study table to the bathroom shelf. I love the white base color and the tiny black speckles on it. Loved this one!
10. Painted Clay Bowls
Honestly, I can't get over these colorful clay ideas, but this got to be one of my favorites on the list. Chococherry_strawberry has three amazing options here. Look how beautiful and quirky these clay ideas are! These are perfect for a weekend fun time, and you can certainly use these to decorate that corner table. And the best part is painting these fruity bowls. I can totally imagine them sitting on my corner table and find some way to use them. But what I love about these is that it is hassle-free. There is no need to bake these. How amazing is that!
11. Beaded Garland Clay Ideas
Imagine wearing something like this beaded garland by creamerycements to a beach party. Wonderful, isn't it? I love the idea of beach parties and lovely brunch meets. And in scenes like that my favorite pick is a Bohemian look. And it is needless to say that a Bohemian look is incomplete without some good old beads. I am loving the summer vibes of this beaded garland. The color pattern is so lively and especially the personalization by the name 'Bloom' is just too precious. You can certainly replace it with your own name or even something sassy that goes with your current vibe.
12. Ring Dish
Fishing out rings from the jewelry stash is so tiresome and at times even annoying. If you too share this feeling, allow me to introduce you to this lovely ring dish by earthavenuecreations. I love such clay ideas which are not just beautiful but also make my life sorted. And who doesn't like some good jewelry organizers that are too handmade? I love how versatile this one is, you can even store your everyday earrings as well. And look how detailed those tiny green leaves are, aren't they just adorable?
13. Spiral DIY Clay Ideas
Diy.homedecorinspiration has some serious fancy and craft clay ideas for us. If you are struggling with kids who are glued to the phones, then how about introducing them to clay art? These clay ideas here are easy and also useful. You can easily use them as key stands or even to place your tiny table planters on them. Even your kids will be proud of their own handwork once you put these on display. I love the earthy tones of them. The lovely terracotta texture and those tiny specs of contrasting colors on them are just fabulous.
14. Ring Trays Clay Ideas
These ring trays by luloveshandmade are too cool. I am loving this whole beachy and sandy vibe. The summer vibe in these is strong. And look at those colors, woof! These would be lovely for the nightstand, before bed you can just take off the rings and put it right in these ring trays. Which is your favorite one though? I love the cactus with those pink little flowers!
15. Sunglass Chains For Your Little One
Last week I made two of these by doreminossa for my niece, and she was thrilled. They are so cute. The little charms of stars and rainbows make it more adorable. If you are thinking of surprising your kid then this one is just perfect. Go ahead and make some of these clay sunglass chains.
16. Face-like Trinket Dish
These trinket dishes by raspberrycherry are stunning. It is easy to make this face shaped trinket dish. And heaven knows how annoying it is to skim through the jewelry box to find those little rings and earrings. We women could certainly use a trinket dish like this one. I love how artistic it is and how brilliantly the whole face has been constructed.
17. Clay Lantern
Clay ideas like this clay lantern here by the_diyguru are so romantic. I can imagine a date night with a few of these angelic white clay lanterns this Christmas season. And the cutouts have taken the game on another level. And how can one overlook the white star at the top? The whole look is so angelic and divine.
18. Miniature Rudolf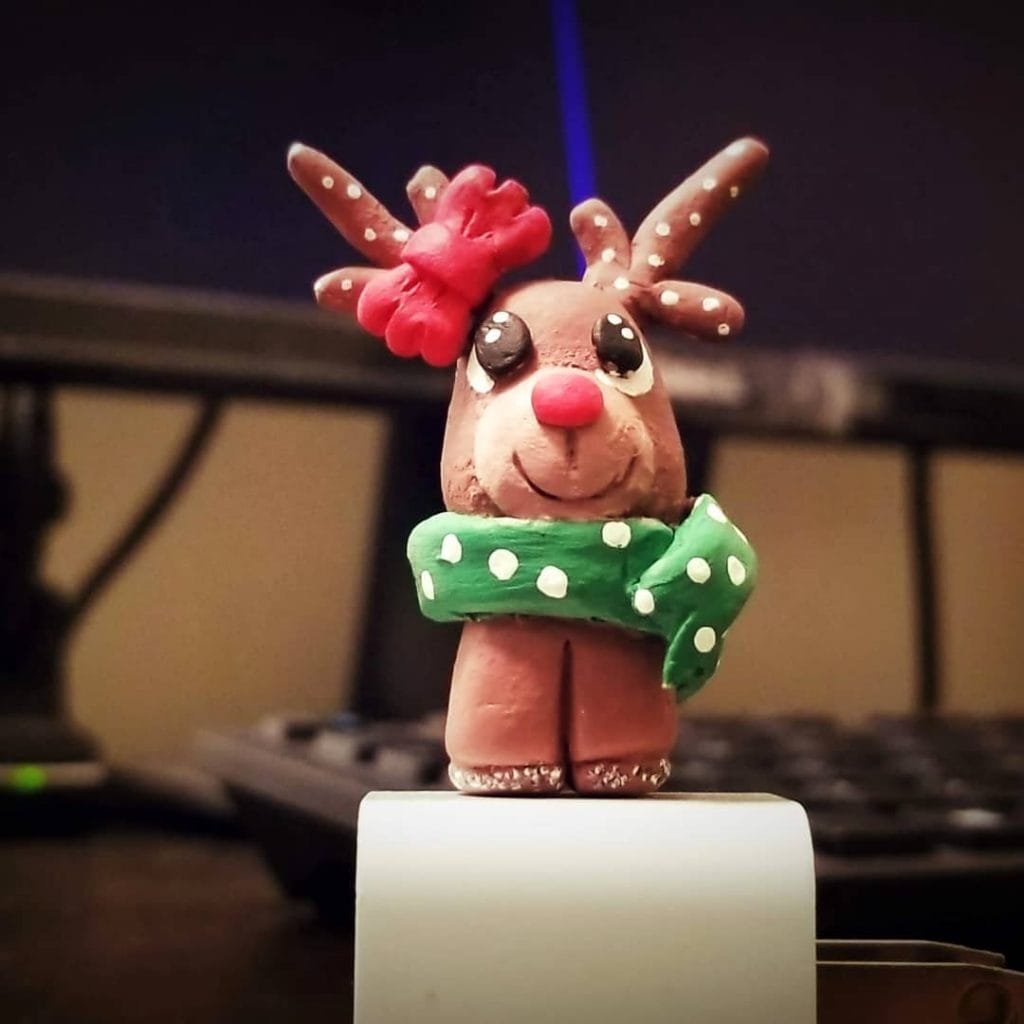 Christmas is just around the corner, so how about this clay DIY by diyminiatures? I love this little reindeer here. Everything is so cute and detailed in this miniature. From that red bow to that polka-dotted green scarf this reindeer is giving those strong winter feelings. Needless to say, this is great for the Christmas decoration.
19. Clay Tiles Ideas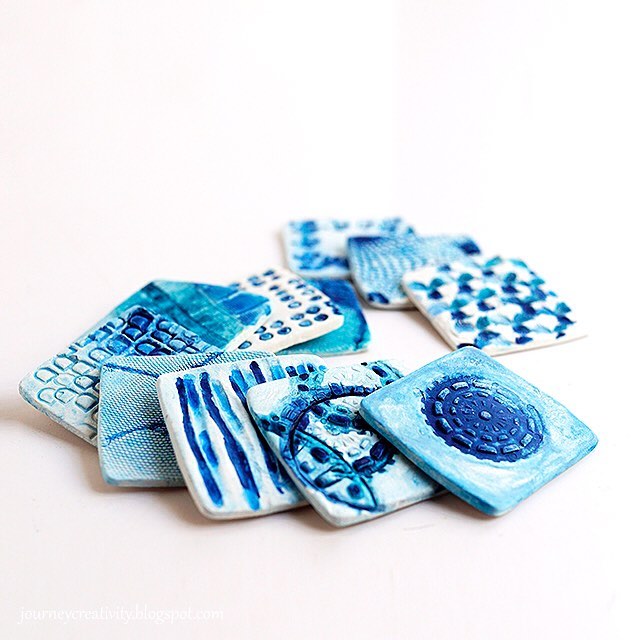 Oh, how beautiful are these turquoise blue clay tiles! Spathanna has done such great work with these clay ideas that they don't even look handmade. But don't let that intimidate you, get that confidence going and make a few of these beauties. The mix of the two variant shades of blue is absolutely magical.
20. Clay Owl Pendants
If you thought clay ideas only concern decorating the house, think again. Because these clay pendants by alayna.crafts will amaze you. I love the sheer detailing of the little colorful owls. The colors are so vibrant and extravagant. With green and yellow, purple and pink, blue and black, these owls are here to rock your heart and please your eyes.
21. Polymer Clay Cactus
This clay cactus by chelseamakes is a show stopper! The intricate detailing will not disappoint you. And I am completely swooning over those little red flowers. Oh, what a beauty! The olive green cactus has got me so excited that I can see myself making a few of these as a gift for my loved ones. The tutorial is easy for you to follow. C'mon, give this one a try!
22. Orange and Black Wall Hanging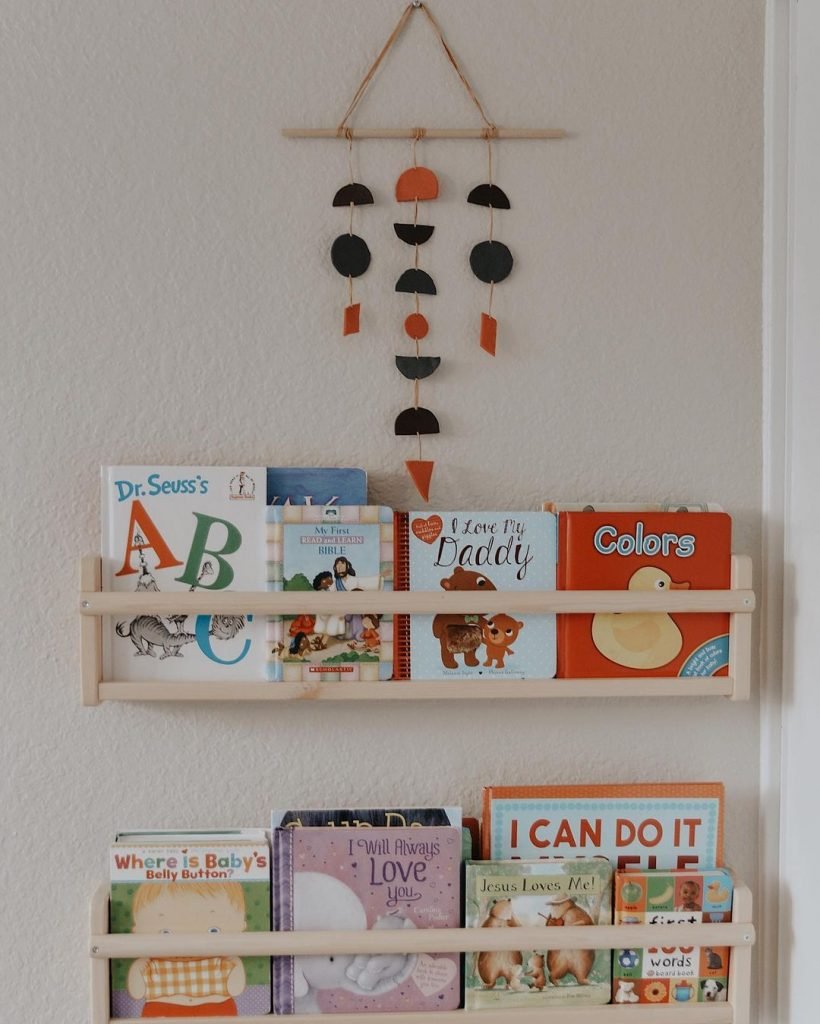 Wall hangings are the trend of the season and I believe it is here to stay. And they are so fancy and easy to style that everyone loves them. But of course, the beautiful ones that we find on the internet or at the craft store are a little too expensive. If you too have faced a sad misfortune like that then marycozyspace ends your worries. This one is not just easy but the colors used make it coruscating too. The combination of black and orange is also something you can use for your Halloween decorations.
23. Custom Keychain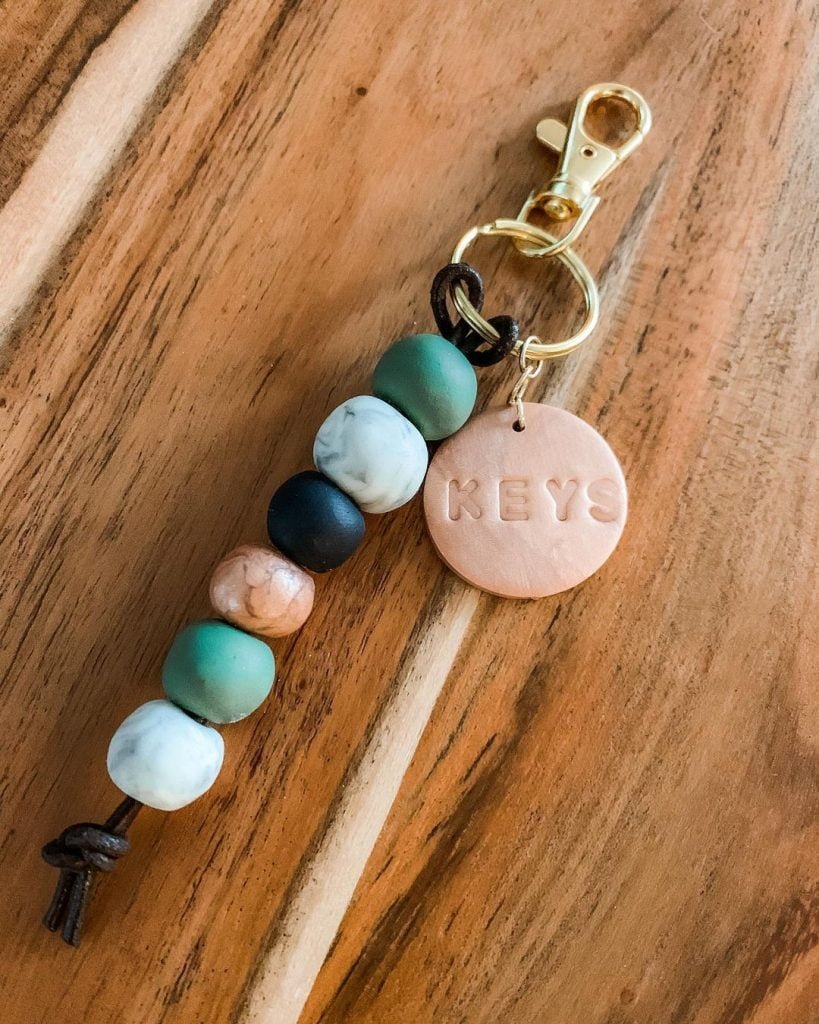 There are some clay ideas that will mesmerize you so much that you will be forced to make it, this one here is such a DIY project. Hound_in_hand has kept things pretty simple and yet elegant. This keychain has used beautiful pastel-colored clay beads. But my favorite is the little round clay disc that says 'keys'.
24. Beaded Necklace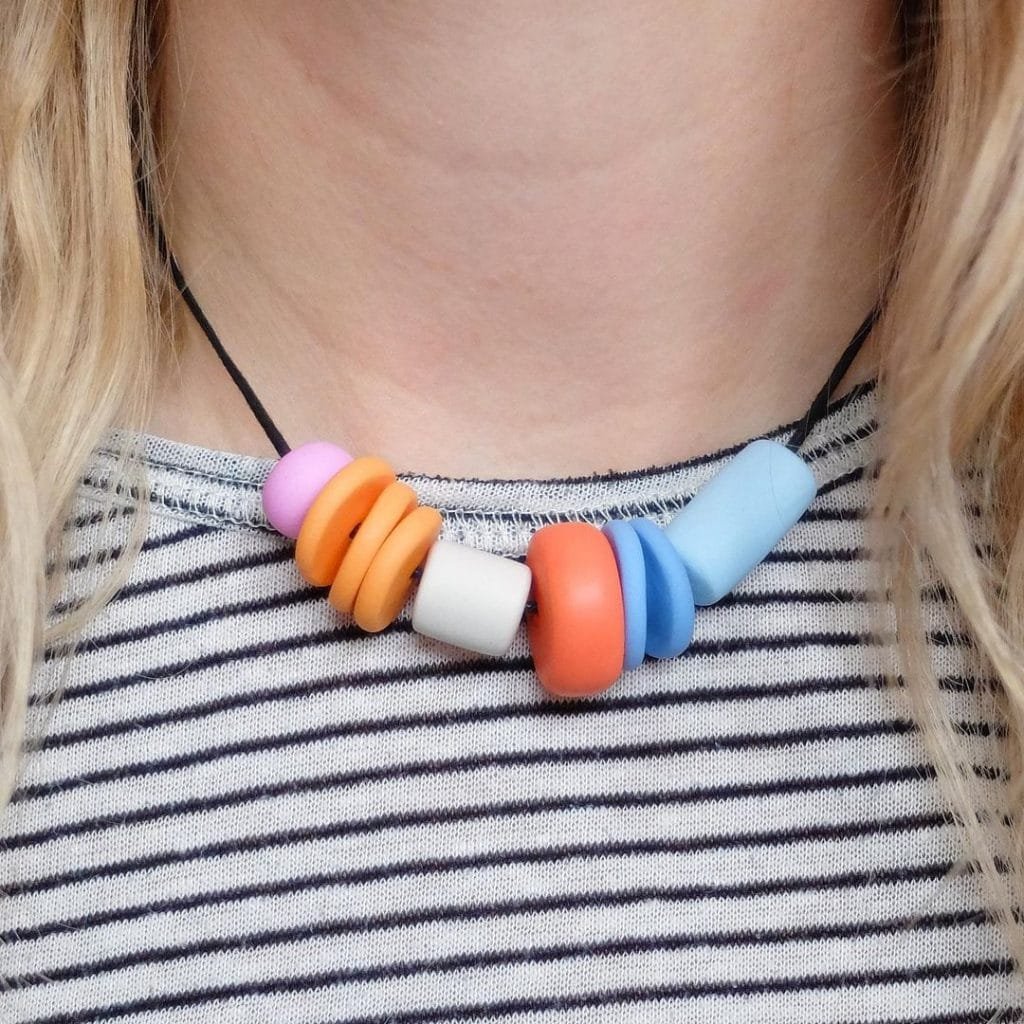 As a kid, I used to love those bead necklaces that you find on the beaches. They always appealed to me. But then I grew up and somehow forgot about them until I saw these by 26th_ofmay. And guess what, I made these immediately. They are easy, fun, and quirky. You can actually make a few of these for your kids too. They will love something that is this trendy, Bohemian, and not to forget, handmade.
25.Pit and Dot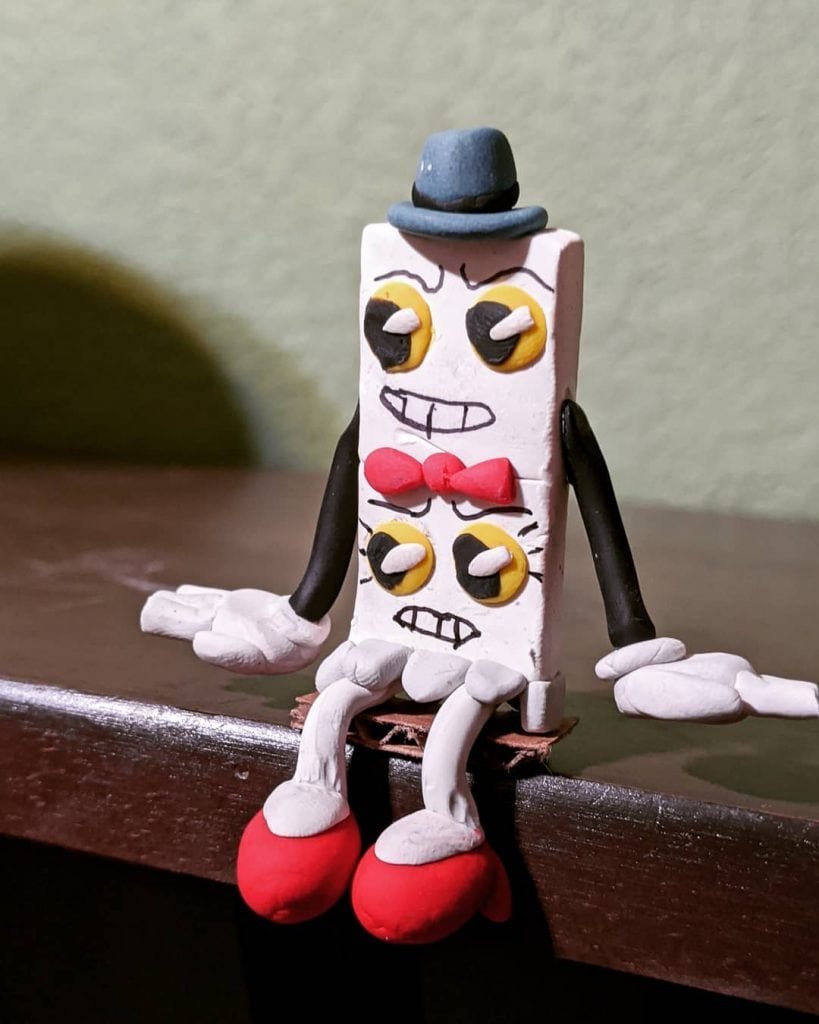 This pit and dot clay miniature by cts_creative_world is so fun. The details are maddening. Clay ideas are easy but they look stunning because of the clean and intricate details. Look at the squinted brows, the cunning smirk, and the naughty face. Everything is so detailed and clean.
26. Mini Christmas Tree
No Christmas decoration is ever complete without some good Christmas tree. But how about molding a nice little miniature Christmas tree this year? This Christmas tree by moonpieclay is winsome. And that small gift-wrapped boxes in pink and purple have given a perfect realistic touch to it.
27. Room Decor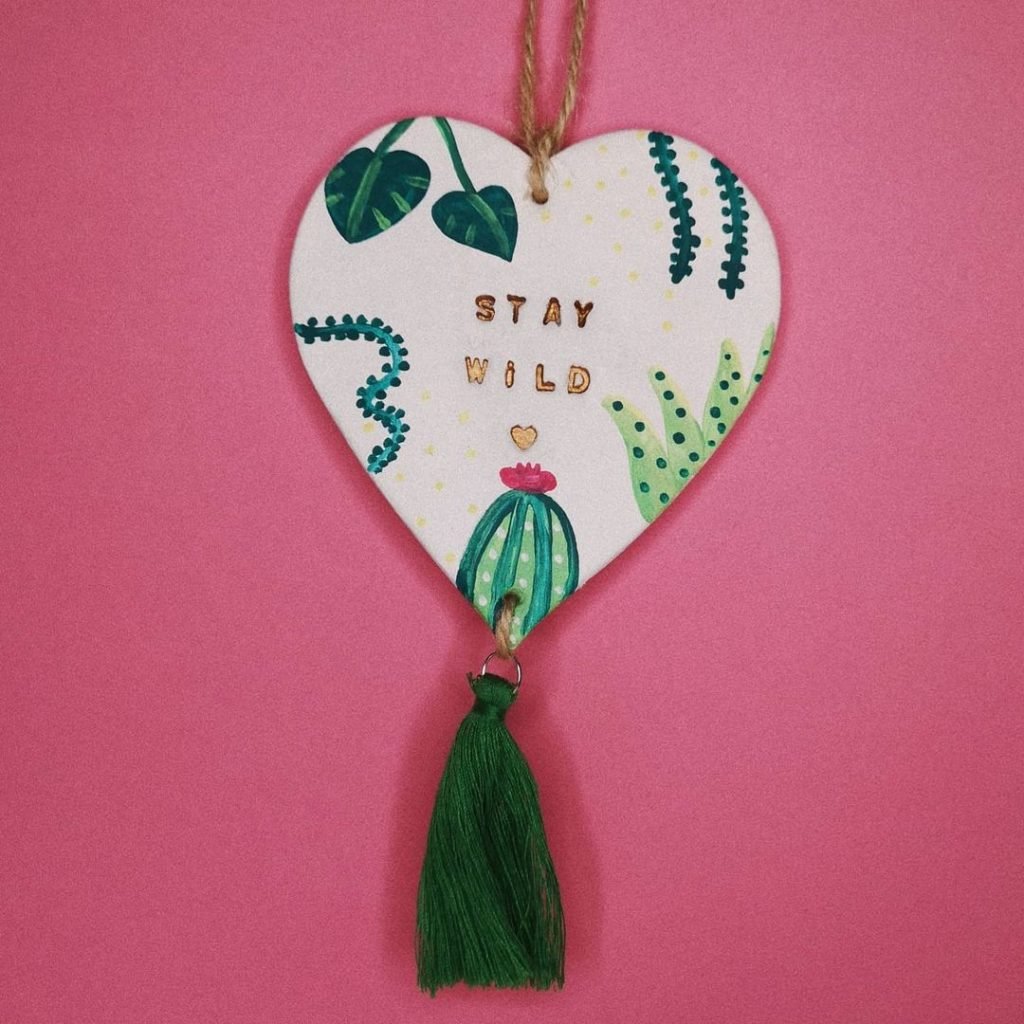 Room decor ideas are fun to experiment on. For instance, this one here by bangbang.honey is so cool and funky. Once in a while in this busy life, it is important to remind ourselves that we should not forget to live. This 'stay wild' reminder is perfectly accompanied by green vibes.
28. Clay Paper Pins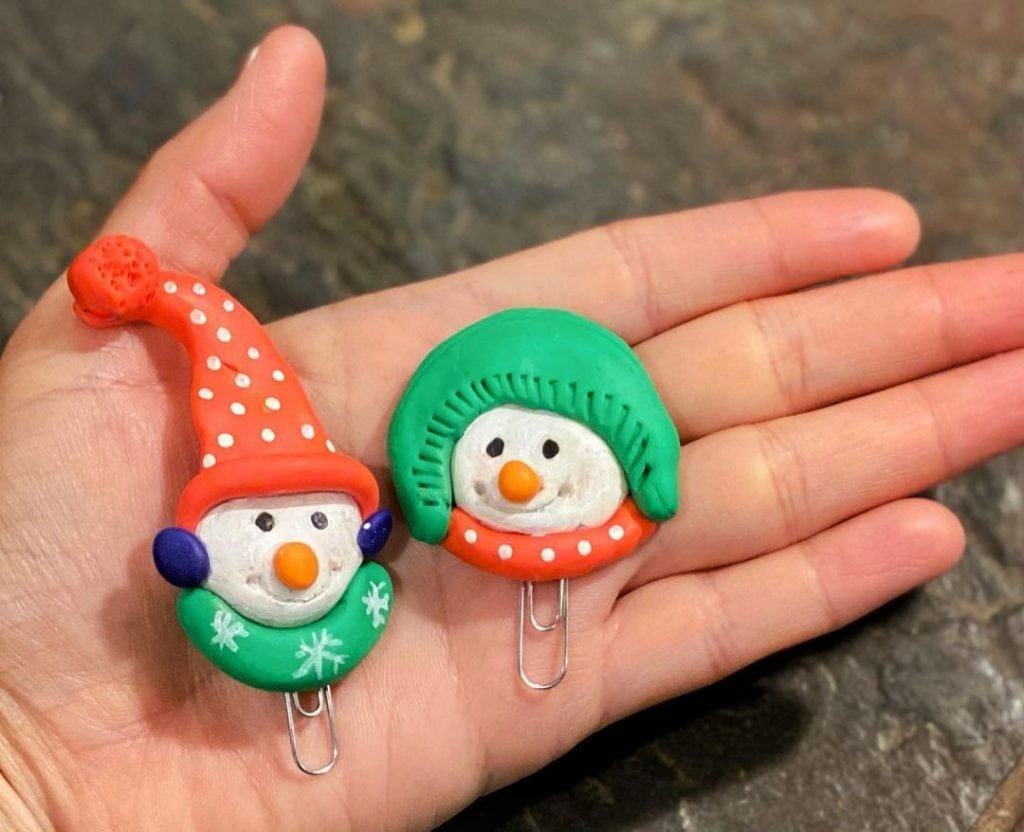 How about we go a little extra with these fun clay ideas for the mundane paper pins? They look adorable. And I love detailing, hetvi.joshi2 has not just added scarves and red hats but also tiny blue earmuffs. Now that's some intricate details!
29. Clay Container
Have you ever eyed those beautiful ceramic and hand-painted containers which cost like diamonds? Well, if you have then this is a budget version of that. Look how adorable this dog handle is! This blue clay container is amazing. The small floral painting on it looks like a print. Madhu_inspires has paid attention to the details, making this one here a quaint piece of craft.
30. Clay Tea Light House
If you love those candles that make the house look like a movie scene, then this is it for you! This little white house by claythefayway is so heavenly. The white house reminds me of the Greek heaven, Santorini. Paint the inside golden so that the candle glows. This is perfect for your tea table or even the corner table, to change the whole ambiance of the room. You can even personalize the house with the house name or house number.
31. Yeehaw Ring Holders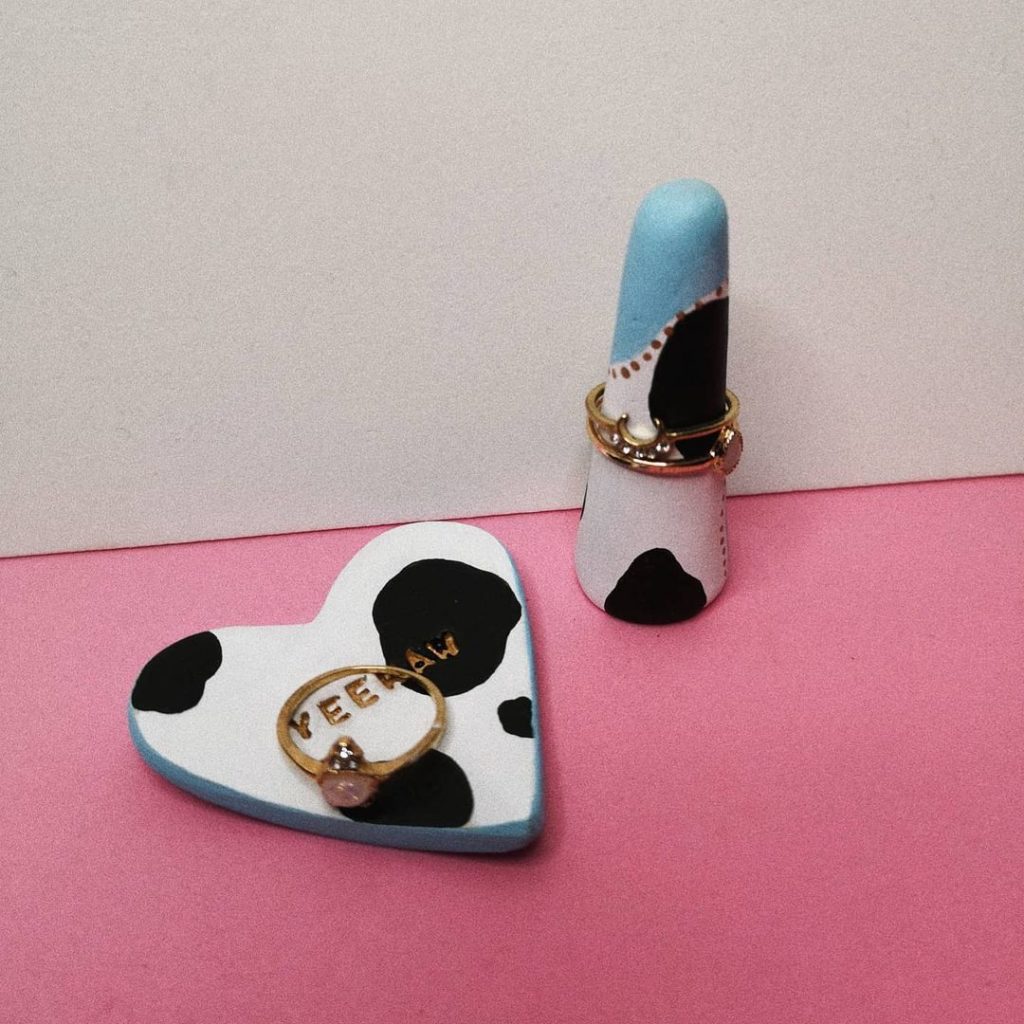 It is safe to say that this one here by bangbang.honey is the quirkiest one on this list. But certainly, the color game is the most appealing aspect. The black and white pattern will remind you of the 'moo point'!
32. Pumpkin Candles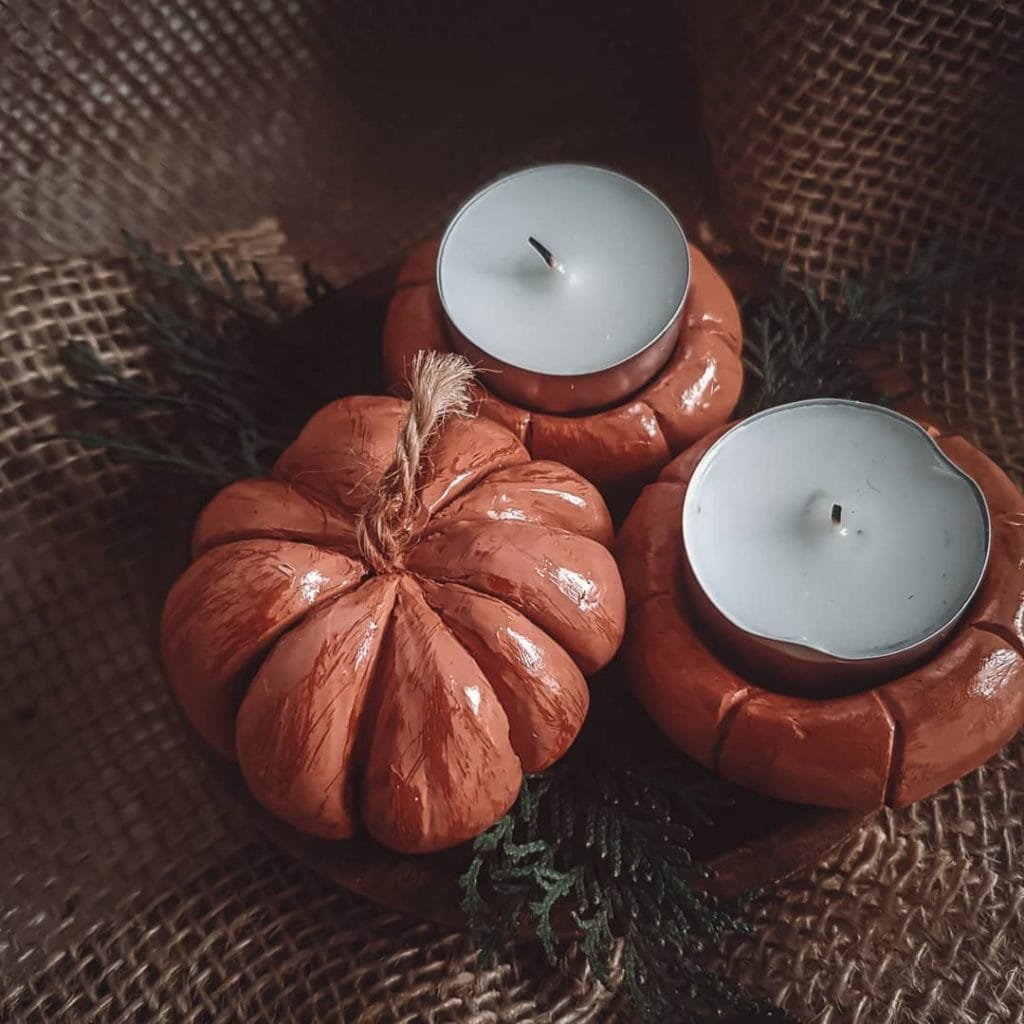 I love candles. There is something so festive and romantic about fancy candles. And these days you will see the various shapes and sizes but of course, they often tend to be needlessly pricey. But roxannarostova will solve that for you. Look at these beautifully carved pumpkins. They are colorful and detailed. These contemporary candles are perfect for the coffee table.
33. Handmade Christmas Gift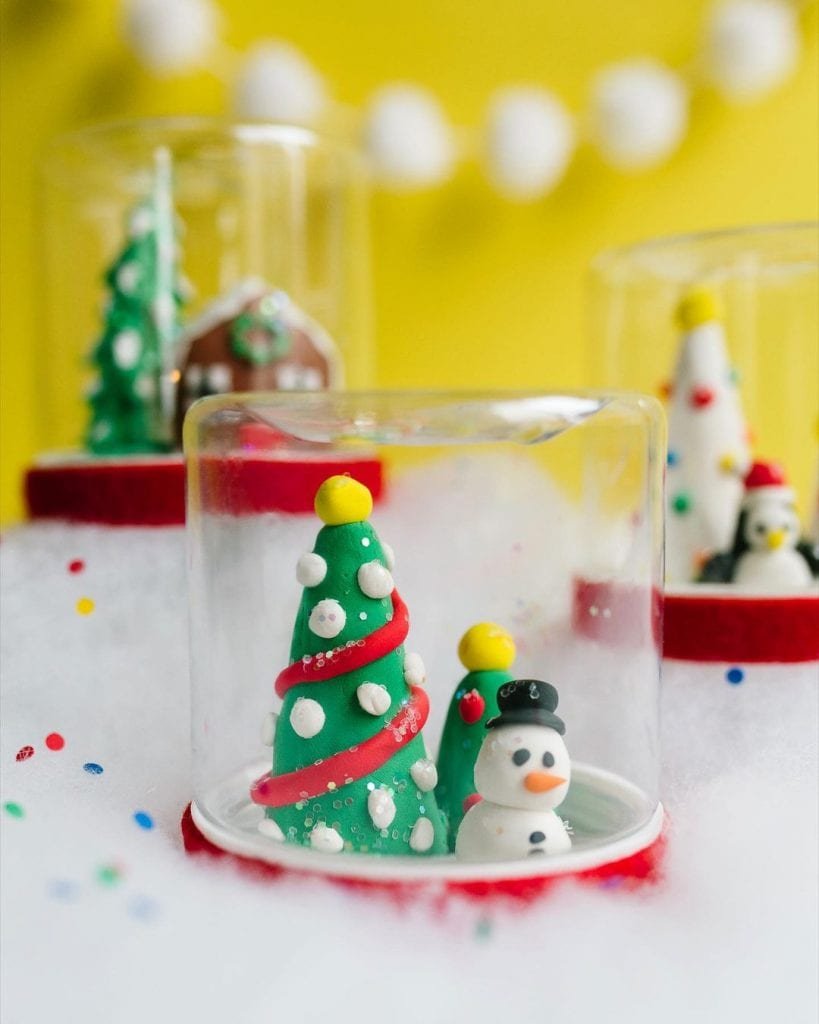 Clay ideas like this one here are perfect for some quality time with your kids. Kids love spending time with parents, so if you are looking for some quality time with your kids over this weekend then this one by prettylifegirls is your best option. I love the Christmas feel of this one. The snowman is so cute and so are the Christmas trees with the yellow ball on the top.
There you go, we have come to the end of this curated list of clay ideas. If you are into crafting you will love all these ideas. Kids love crafting, and clay is something that requires only minimal parental guidance. These DIY projects are fun and creative. You will find your favorite one on the list, and when you do, don't forget to let us know in the comment section. Happy crafting people!
Also if you like this article on clay ideas then you can click on the image below to pin it to the Pinterest board for future reference.