String art has been around for quite some time. It was a popular form of craft in the 70s, but like any other form of art, this too has found its way back into the modern world. To emphasize, string art ideas are fun to play around with. Not only they enable us to explore our creative faculty but also teach us patience in a unique manner. It is a simple art and anyone can do it. It is in fact an excellent way to start crafting. As it is easy and effortless, beginners can ace the art of string crafting. 
All you need to accomplish these string art ideas are some colorful strings, a hammer, and a pair of scissors. With these few pieces of equipment, you can achieve flawless end products. You don't have to be an art visionary to make one of these. It is quite easy to champion this art, especially if you stick to simple outlines. 
This can also be an excellent choice to improve your kid's craft skills. It is a fun craft and kids will enjoy these on a sleepover or even some summer get-together.
You can also check our Halloween themed craft ideas here on- 15 Halloween Crafts For A Boo-tiful Decor.
String Art Ideas To Make Your Favorite Character

Who doesn't like some good old characters hanging on the wall? These beautiful handcrafts are an excellent way of decorating the wall of your kid's room. Kids love characters, especially growing kids. They relate to certain characters, some kids even have vivid imaginations and these characters often find a place in their imaginations. These string art ideas, would not fail to impress the young minds.
1. Another Minnie Mouse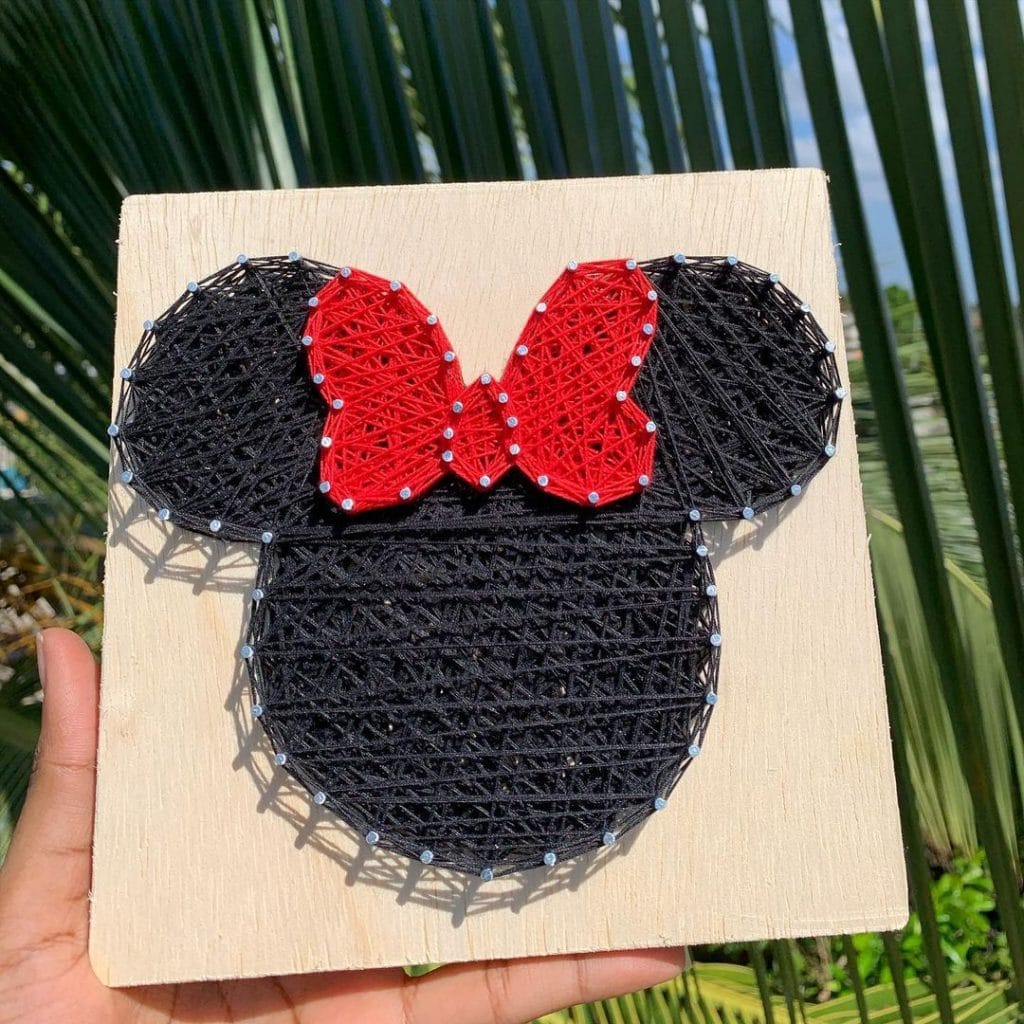 This red and black Minnie mouse string craft is a show-stealer. It is also quite an easy outline to achieve. This string art idea by sweet__strings is certainly a potential gift for your kid or even your kid's friend. One can simply not deny the sheer beauty of its perfection.
2. Batman Is That You?

This iconic batman string art idea by string.art.lanka will not only impress your kid but it will also impress the adults. Because let's be honest there is no age to be obsessed with Batman.
3. I Love You 3000

Iron man is love. Kid or adult, no one can get over the fate of Iron man in the Marvel cinematic universe. And this nayarateira is everything you can gift an Iron Man fan. It is not just beautiful it also will brighten up your room.
4. Santa With Green Scarf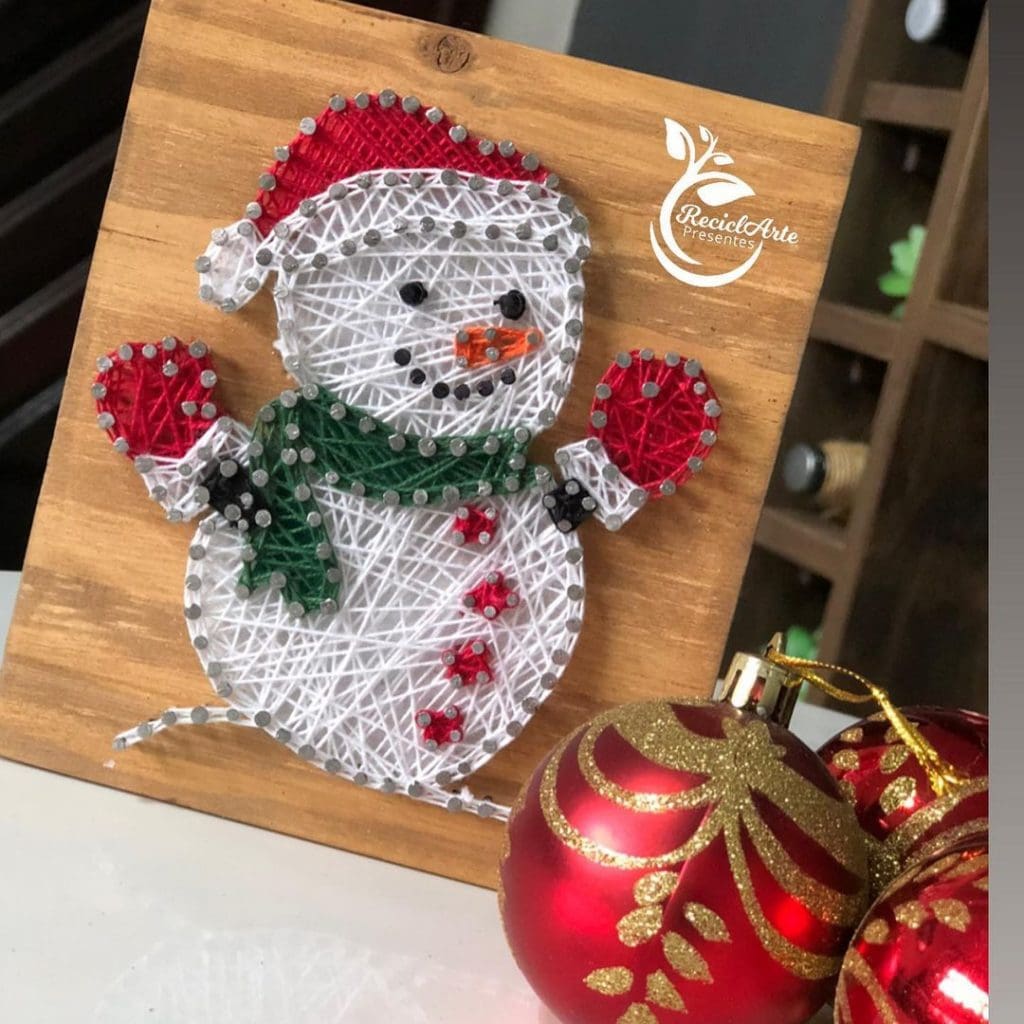 This string art of Santa is perfect for this holiday season. When you have too many gifts to give, this string craft by reciclartepresentes is a good choice. A string craft character is a touchy gift, as it is something you make with a lot of patience.
String Art Ideas For The One You Love

On this Valentine's day, or even on a special day you can gift one of these string craft items. String craft is an excellent way to show how important someone is to you. It is a gift, that requires patience, time, and love. And for your loved ones all that they actually want is your time and your attention. Both of these are depicted in these string art ideas. With these string crafts, you can bring a smile to your loved ones' faces. 
So here are some string art ideas with a love theme.
1. Wall Decor String Art Ideas

This string art wall decor by art_shed_ is like a piece out of your favorite romance novel. This decor is easy to make, as the outline of the string art is kept to a simple one. And the extra addition of the flowers to the decor is an absolute delight.
2. Rainbow Heart String Art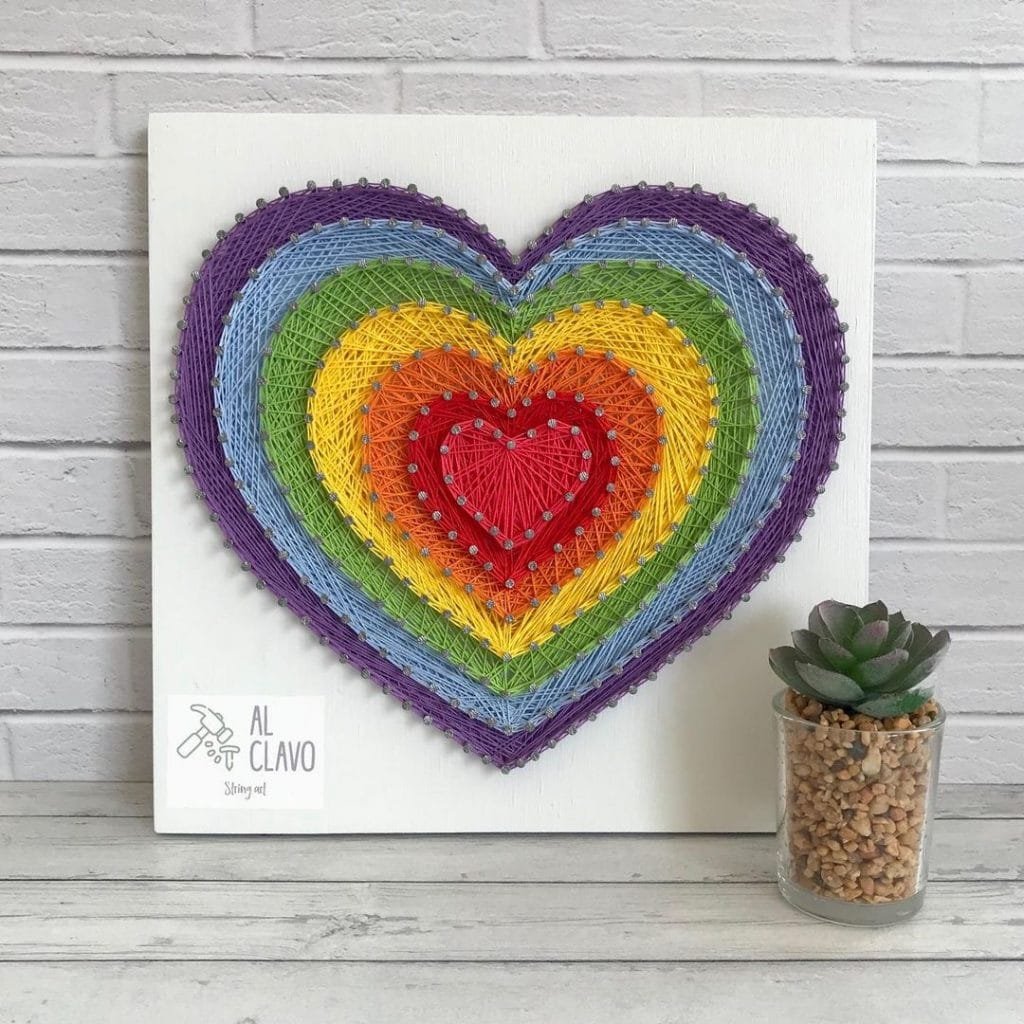 This handcrafted heart by al.clavo deserves to be a part of your home decor. The rainbow-themed heart will forever remind you that every love matters. The thought itself adds some positivity to your home. And we all can use some positive vibes.
3. String Your Hearts With Love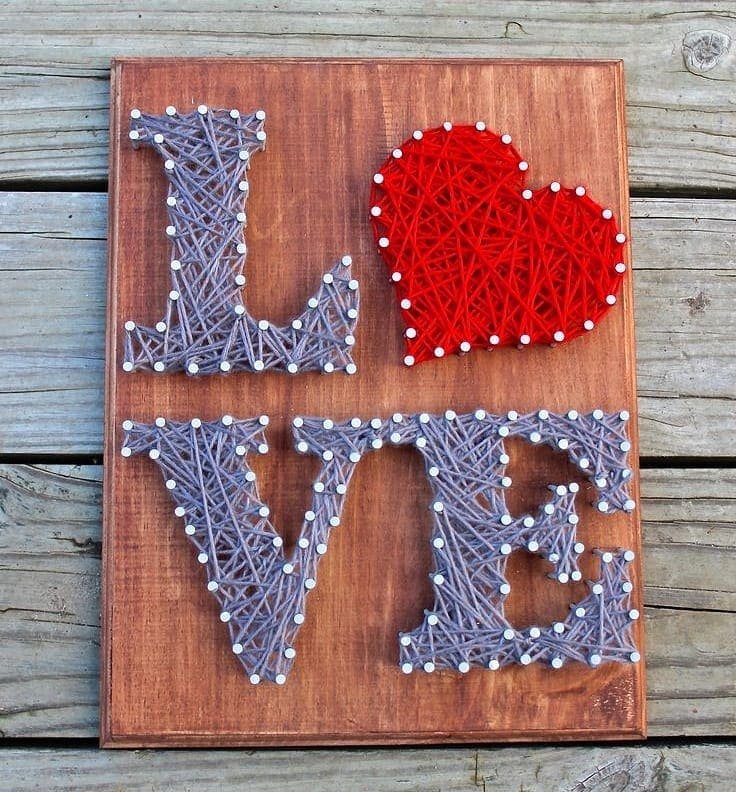 If 'String your heart' could be replicated, then this is what it would look like. This string art idea by gifts_by_vindy is an excellent Valentine's day gift. It is not just beautiful but metaphorically you have made a heart for your beloved.
Christmas-themed String Art Ideas To Decorate Your House

Christmas is the festive time of the year. There is so much to celebrate during this time. The end of a good year or maybe a bad year on a positive note. The anticipation of a new year; the hope to have a better year; new dreams; new jobs; new life. 
Christmas has a spirit that brings positivity and love in the air. And as this festive season also mean a lot of decorations and visitors, why not deck up your house a bit. You can give your house a Christmas-themed makeover with these easy to make string art ideas. They are so easy that it can easily be something your kids can help you with. It certainly sounds like a good family time spent, doesn't it?
1. The Red Truck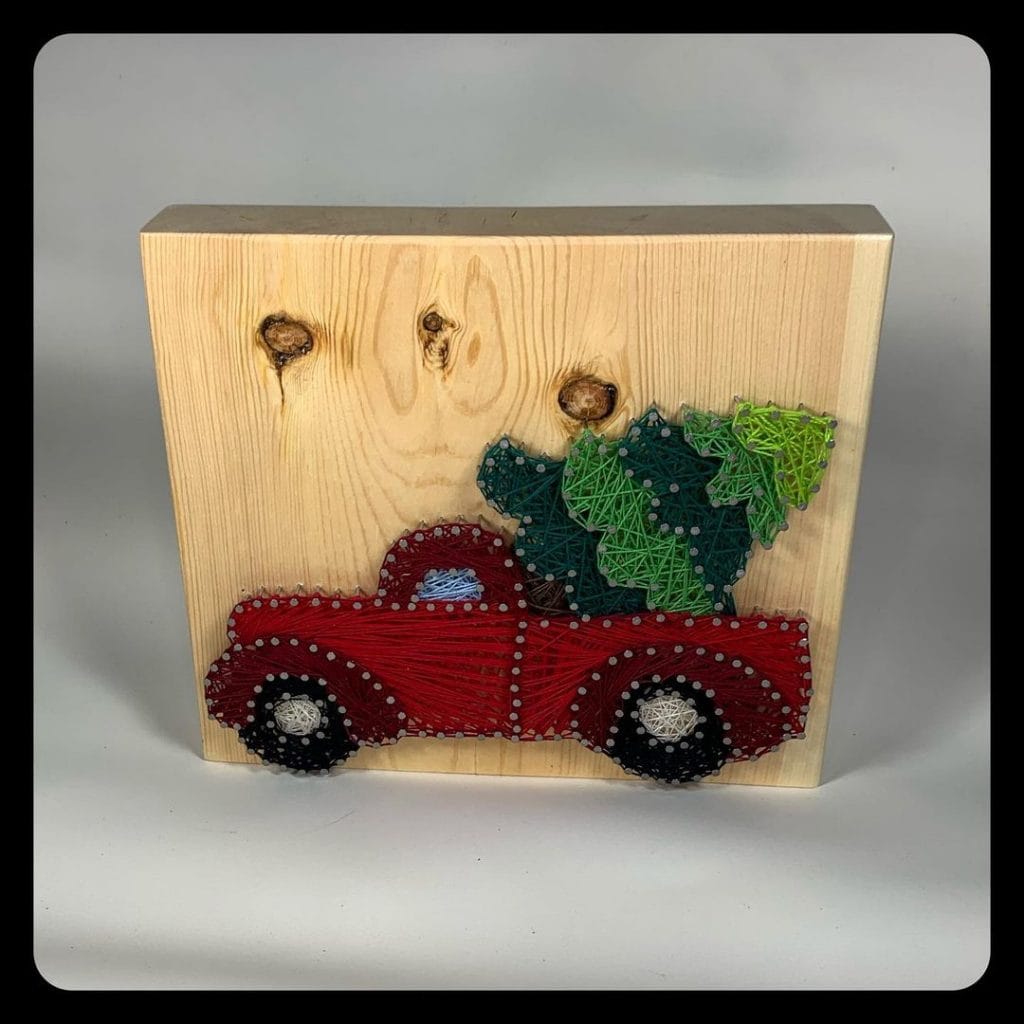 This one is a classic scene is right out of a movie scene. One of those Hallmark movies. It is the classic depiction of the Christmas scene, the red truck, and the Christmas tree.
2. The Star On The Top

It is no Christmas if the Christmas tree is missing. And this adorable string art by kalangarteira can be a wonderful addition to your fireplace. It is small, the outline is easy, and the star is certainly a golden touch of positivity.
3. Christmas Tree String Art

This Christmas tree string art by bluffcityartistry is simplicity reincarnated. The whole essence of Christmas has been depicted in this little piece and all thanks to its colorful vibe.
4. Jingle Bells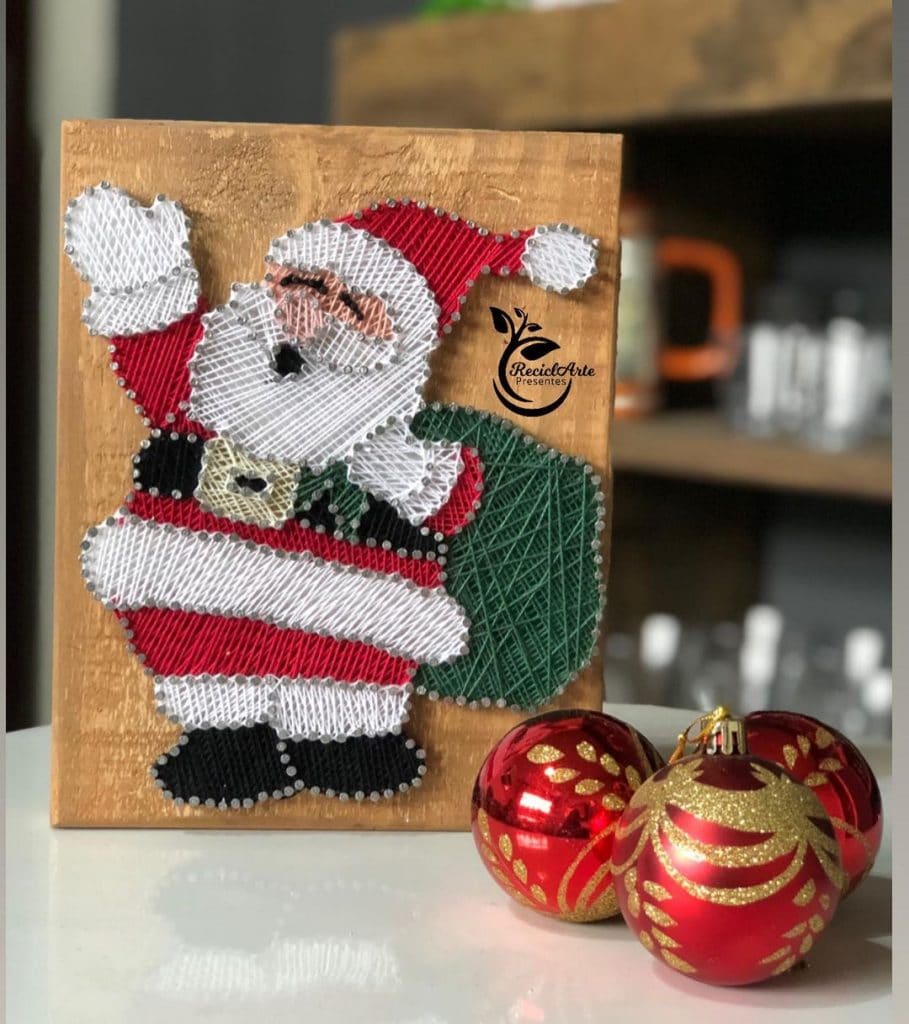 Look at this string art Santa by reciclartepresentes it is so perfect and full of the Christmas feeling that you can hear the Santa saying "Ho! Ho! Ho!"
5. Red-nosed Reindeer String Art Ideas
This little wall decor for your Christmas month is certainly a good choice. The string art reindeer by eugenia_art has a fun element. And that is exactly what makes this wall decor a must-have.
6. Candies Please
This year how about making a little extra effort to decorate your house with some unique Christmas candy? This candy string art idea by ghaliaasfour is certainly an easy option to choose.
7. Joy To The World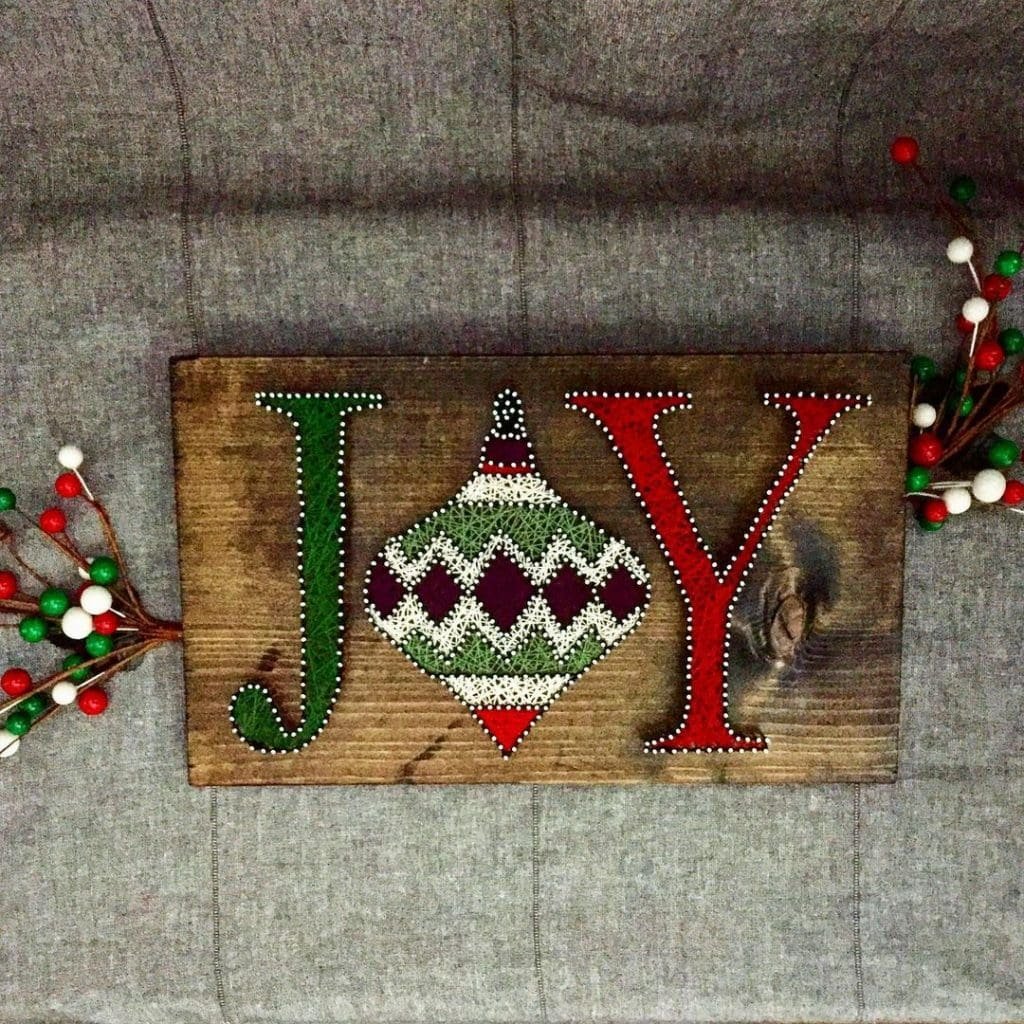 The traditional color scheme in this string art piece of joy is giving this piece an additional vibrance. This piece by thestringbag is an ambitious string art idea, but it the final wall decor will be every worth every ounce of your effort.
8. Starlight String Art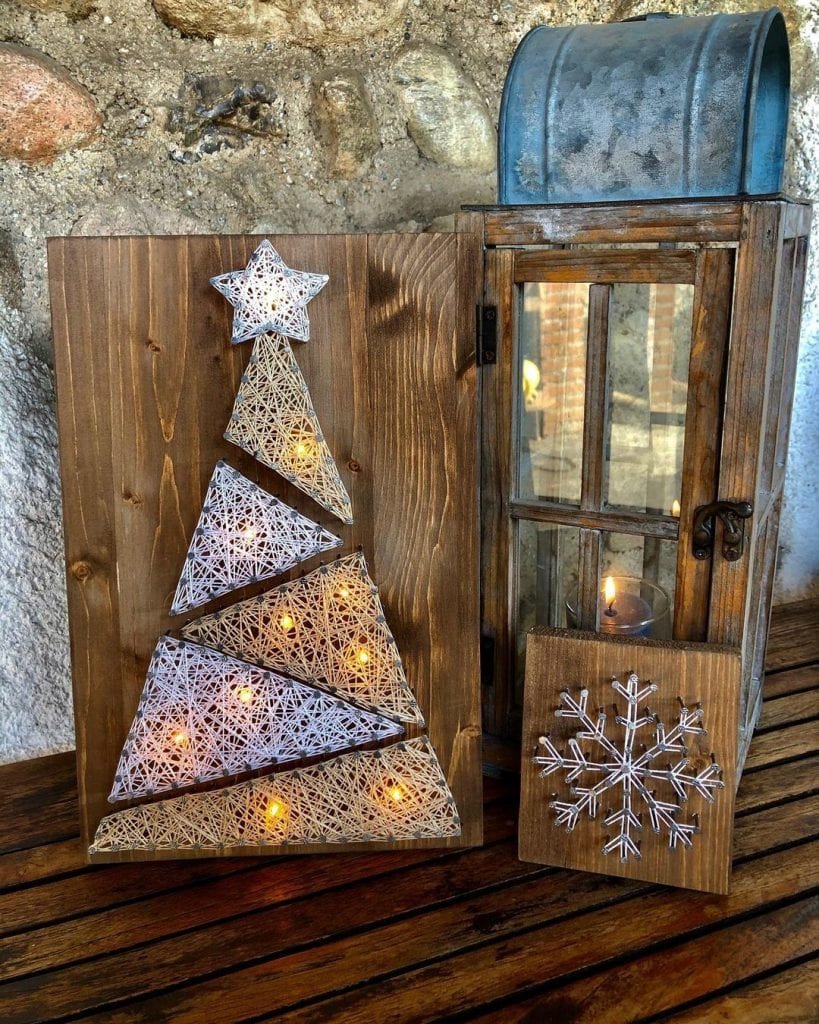 The fairylight wrapped Christmas tree and star string art by stringartchiodofilo is everything that a white Christmas lover can wish for amongst all the decorations. This is indeed an excellent Christmas gift.
9. Christmas Tableau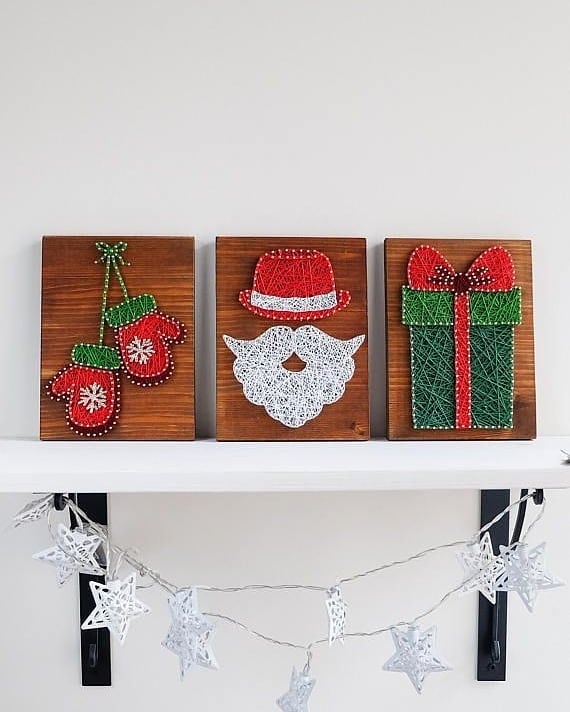 Handygallery24 has perfectly captured the essence of Christmas in these wall decors. These few string art ideas are as such that you can easily use them to accessorize your fireplace.
String Art Animals
String art ideas for animals are unique, easy to make, and certainly a delight to the eyes. It is not only an eco-friendly way to adorn the corners of your house, but also an engaging way of keeping your kids entertained. 
Here are some of the animal string art ideas that you can comfortably master to give your indoors a make-over.
1. Purple Butterfly

If you have little time on your hand but want to make some fun handcraft for our kids, then this string art idea by string_your_heart_out is apt for you.
2. The Mighty Owl String Art Idea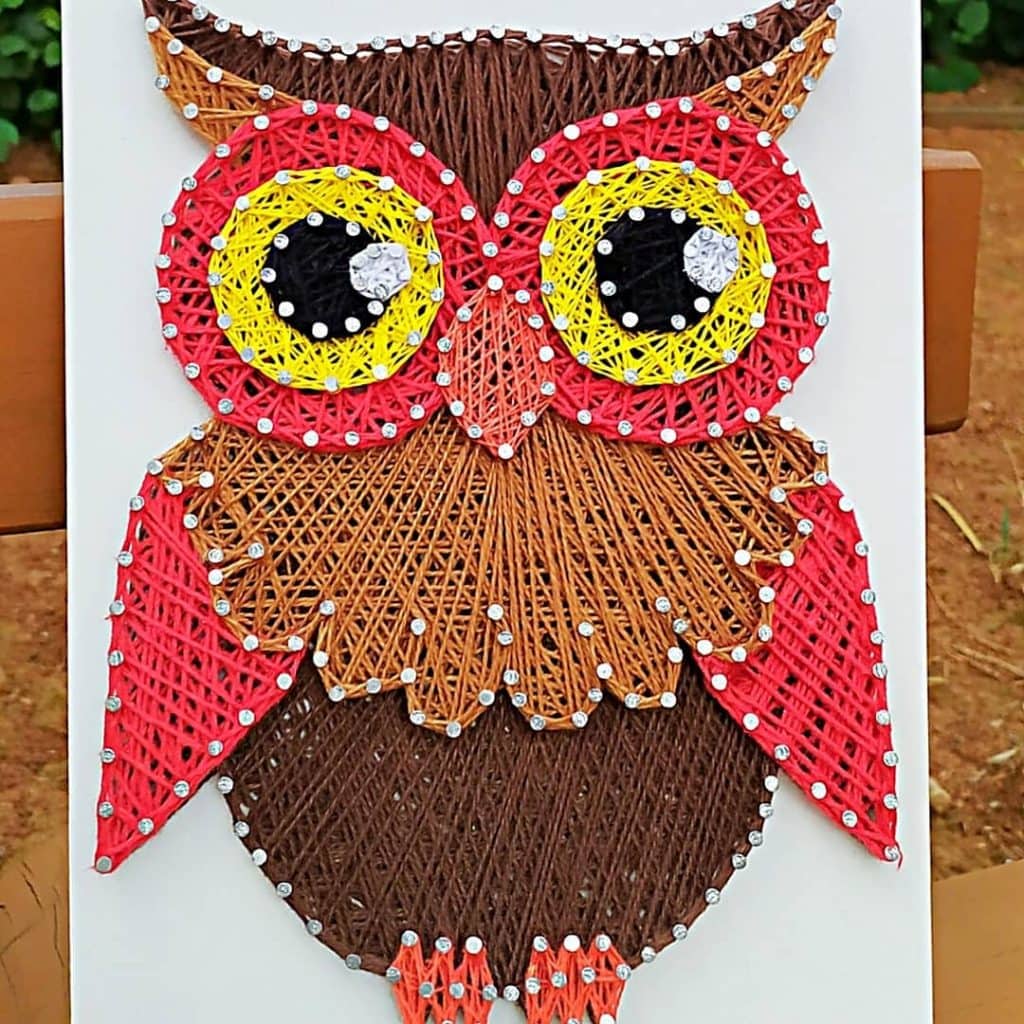 This mighty owl has so many colors that it looks as vibrant as a peacock. And indeed this string art by mbstringart is an embodiment of wisdom.
3. The Boho Elephant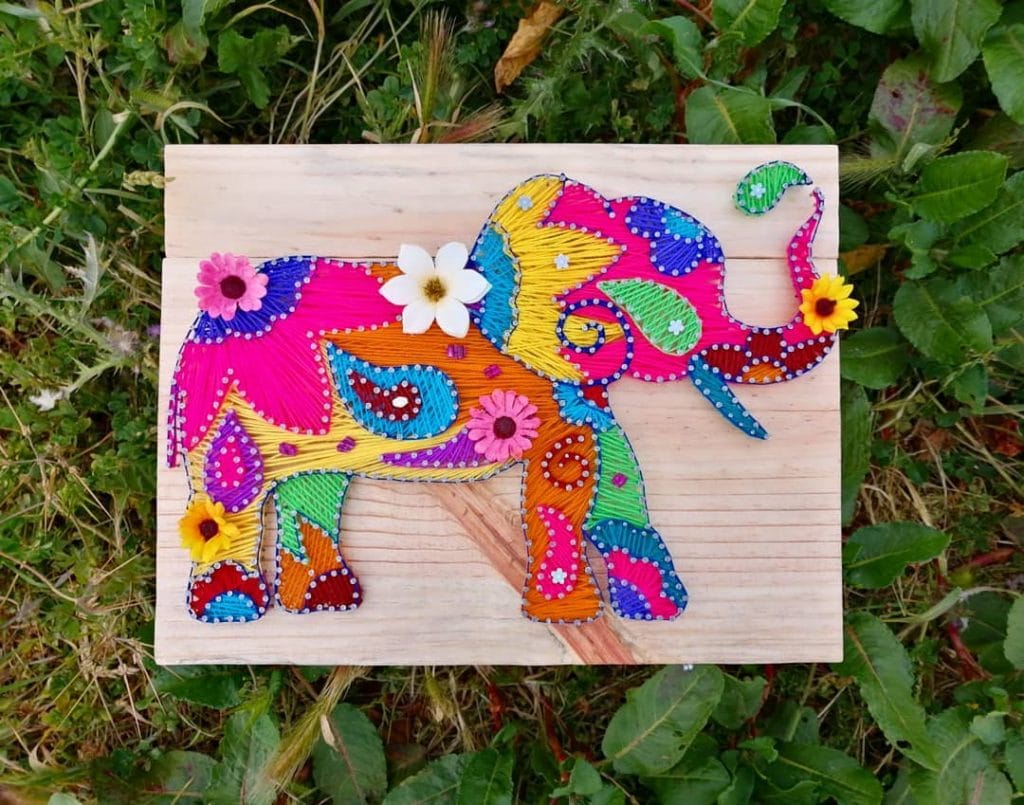 You will fall in love with the bohemian vibe of this string art ideas for elephant by polipvs. This string art elephant is vibrant, energetic, and has a festive look. It has the Coachella theme going strong.
4. String art Whale

If you are a reader then this is one of those string art ideas which will flatter your soul. The moment you see this string art by nmedesignsco it will remind you of Joseph Conrad's Heart of Darkness.
5. Gift of Happiness

A unicorn is the epitome of positive vibes. It can be mystical and mythical but is certainly the embodiment of all things merry. And this unicorn by pink_lotus_1991 is one of those string art ideas that will leave a smile on your face.
Some More String Art Ideas To Level Up The Crafts Game
If you are not yet convinced that string art ideas can be explored and utilized to embellish your home, then worry not. We have some more unique string art ideas for you. If you have an eye for artistic pieces and abstract art, these certainly will get your attention.
1. Hilorama Frida Kahlo

This iconic piece of Hilorama Frida Kahlo string art by conclavosycolores will not disappoint your artistic soul. This would be a fine and classy piece of wall decor. If you have an empty white wall in the house, this one is where it belongs.
2. Fly High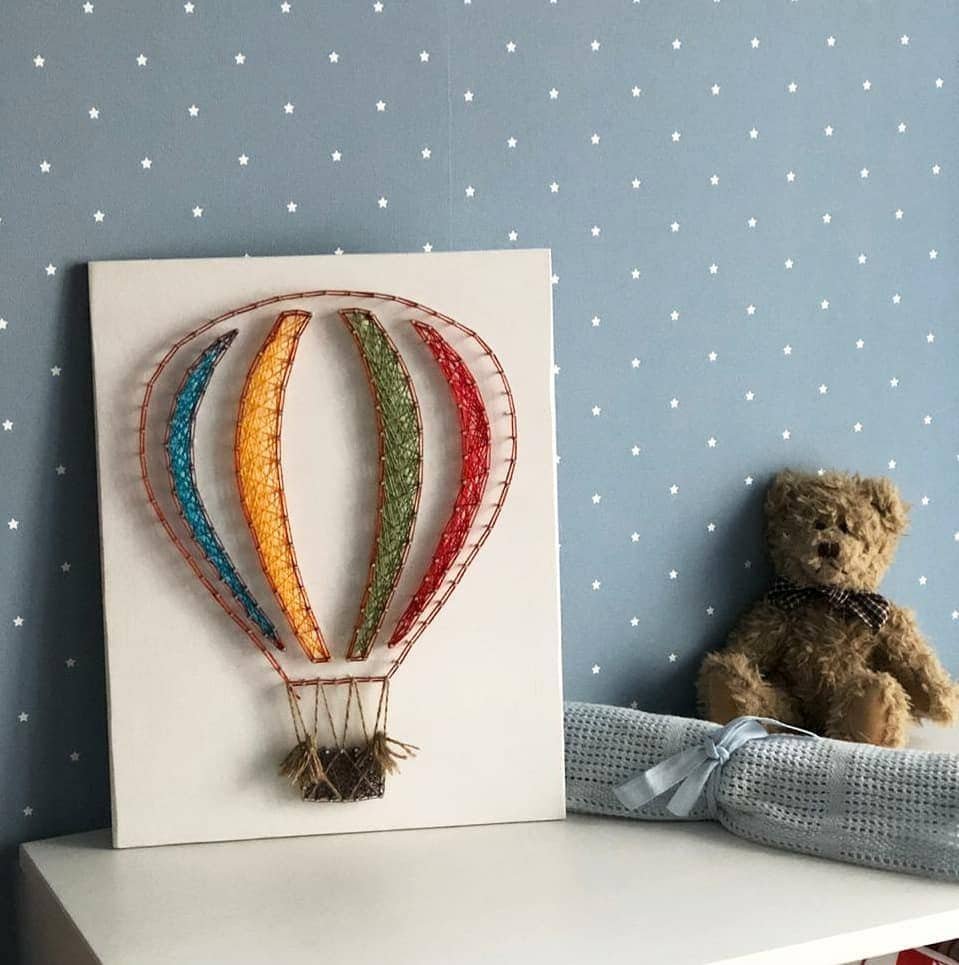 How beautiful and poetic does this little and colorful parachute looks? It is the beauty of minimalism. The right combination of simplicity and colors have made this string art by brus__nika an absolute favorite. If you resonate with minimalism, this one here, won't fail you.
3. String The Rainbow

Rainbows are as positive as it gets. And we all can use a little extra positive vibe in today's hectic life. So here is an idea for you by string_art_and_me that will teach you an easy way to do that. With this string art, you can add a touch of positivity to your home decor.
4. String And Star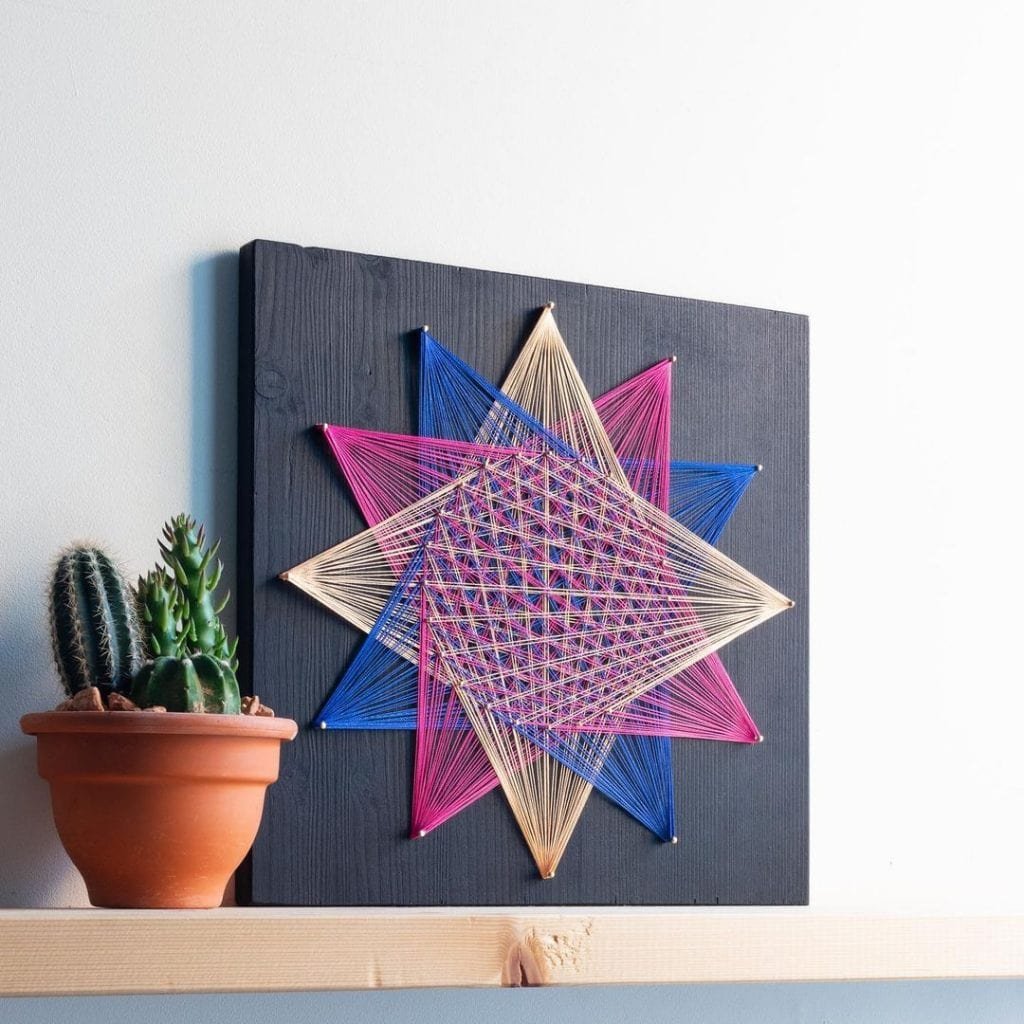 This eye-cataching string art by _goodstrings_ is sophistication. It is colorful, bright, and certainly eye-catching. Especially the black background is given to it only enhances the beauty of this string art.
5. The Himalayas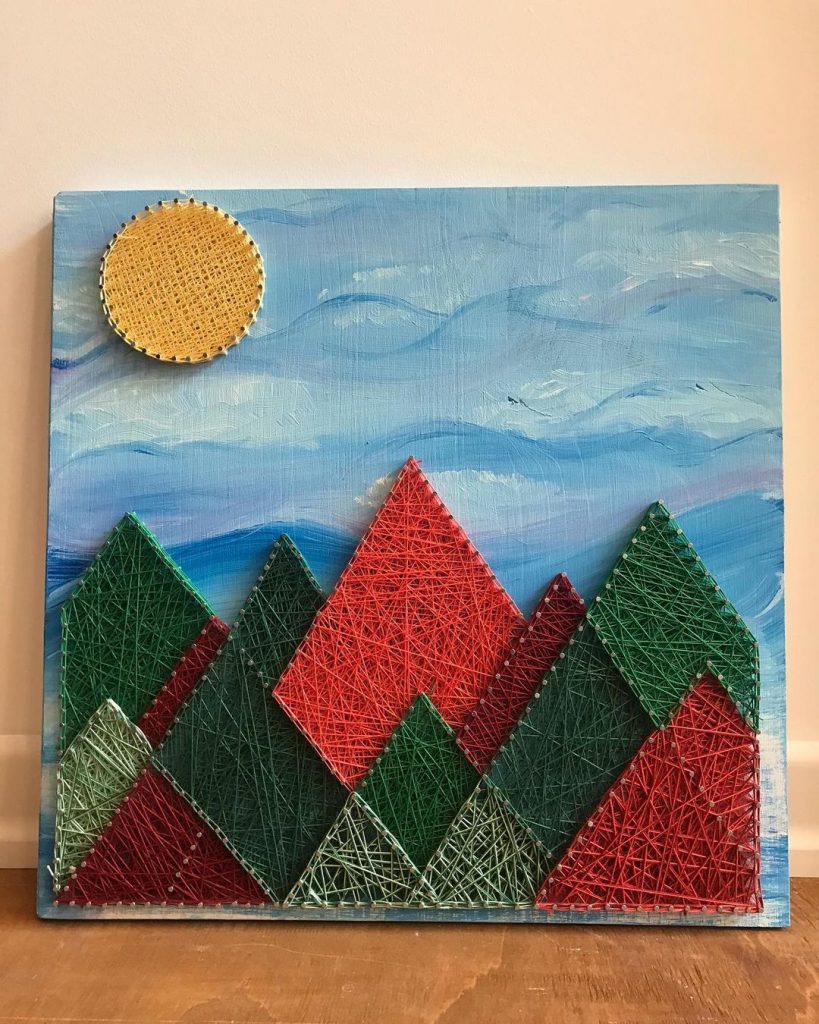 Landscapes are always pleasing. This string art here has that touch of nature and landscape. It will suit the wall of your living room. You can also add this essence of nature in your study.
6. Smile Like A Sunflower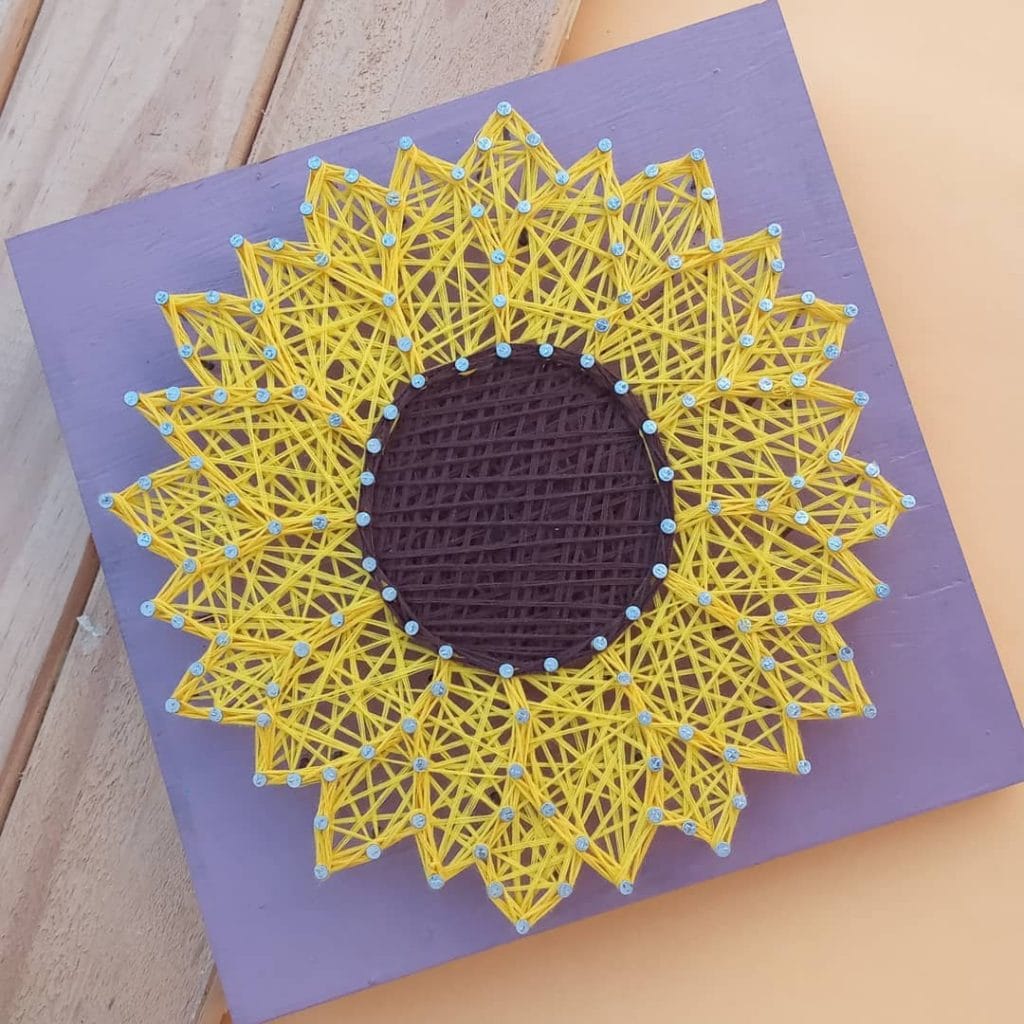 Sunflowers always remind me of the bright sunny days. And that memory that you want to relive again. Adding such a touch of nostalgia is indeed a tempting proposition. This string art by artesdatatti is an example of all things bright.
7. Pineapple String Art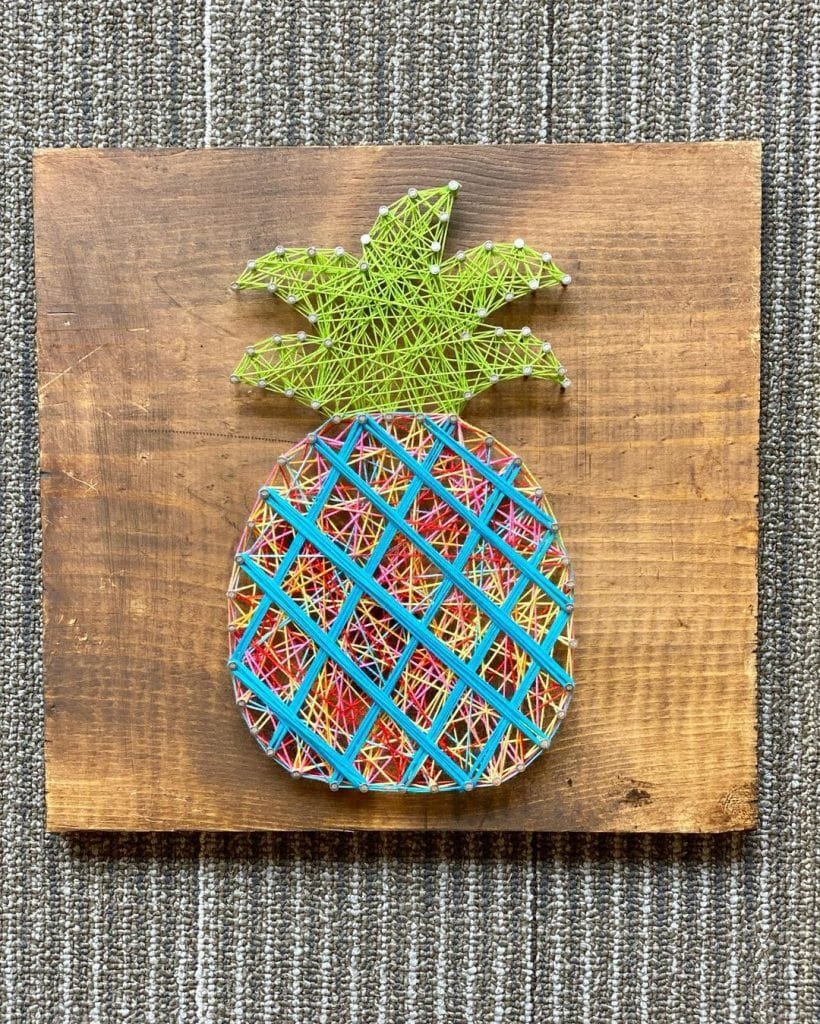 This pineapple by two_board_girls is one of those string art ideas that will remind you of the weather outside. That is the beauty of this string art, you can depict it according to your own mood.
8. String Your Dreams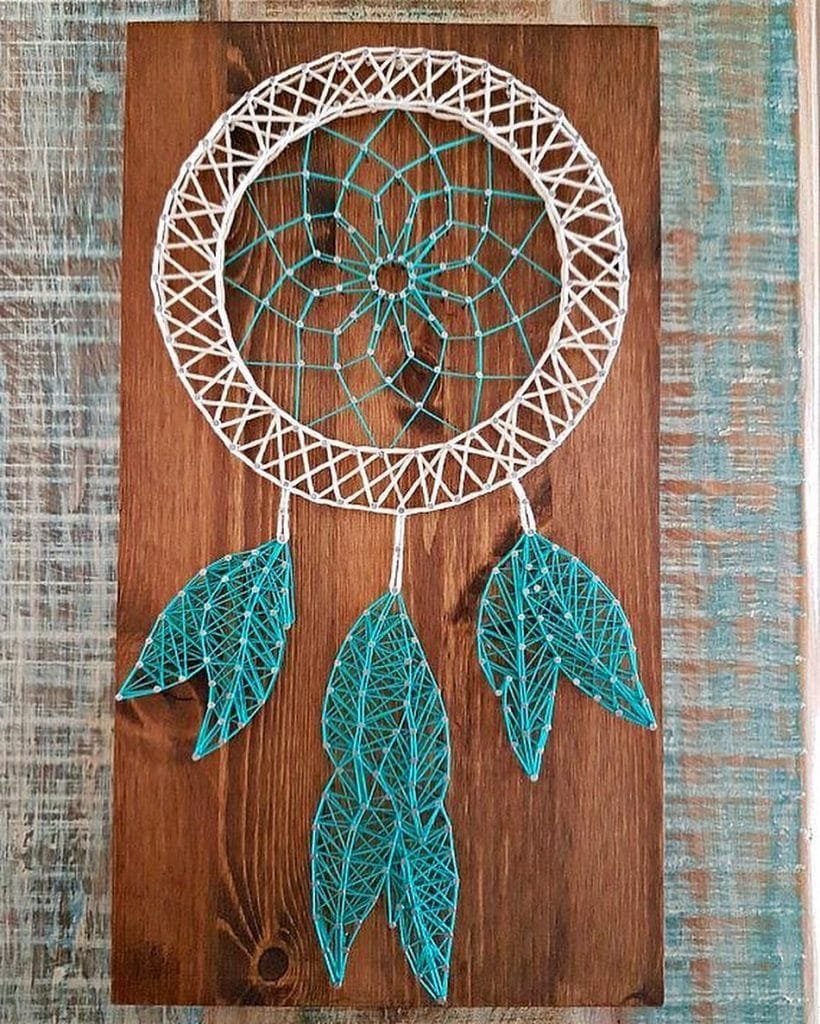 If you are a dreamer, then dream some more. Don't let anyone stop you, you be your own dreamer. This string art by idea_stringart will remind you to dream bigger and better every day.
String art is addictive. At one moment you are simply intrigued by it and the next thing you know, you are obsessed with it. If so far you have been convinced that you can try your hands at some of these string art ideas, then let us know in the comment section, which one you liked the best. Happy Stringing!
If you loved these ideas, you can use the Pin image below and save this article on your 'String Art Ideas' Pinterest board.