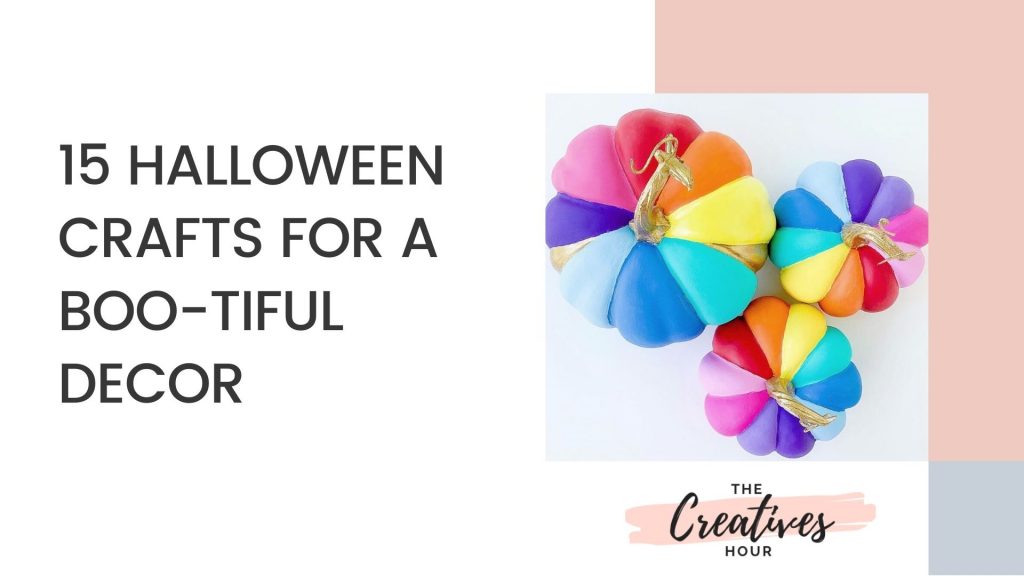 Feature Image Source: gracegigglesandnaptime
The main Halloween excitement might not begin until October, but that doesn't mean you cannot start your celebration right now! No, we are not talking about the generic pumpkin carving; there are various other amusing and easy ways to create Halloween crafts that are so spooky. Try these Halloween craft ideas to give your house a scary, haunted, or sweet spirit. Whether you are looking for wall decor or a prop to match your costume, we have got it all! Your party guests, little monsters, and even you will love these crafts!
Looking for a complete Halloween decoration collection? Check out our post on Halloween Decor Ideas.
1. Wooden Signs Halloween Craft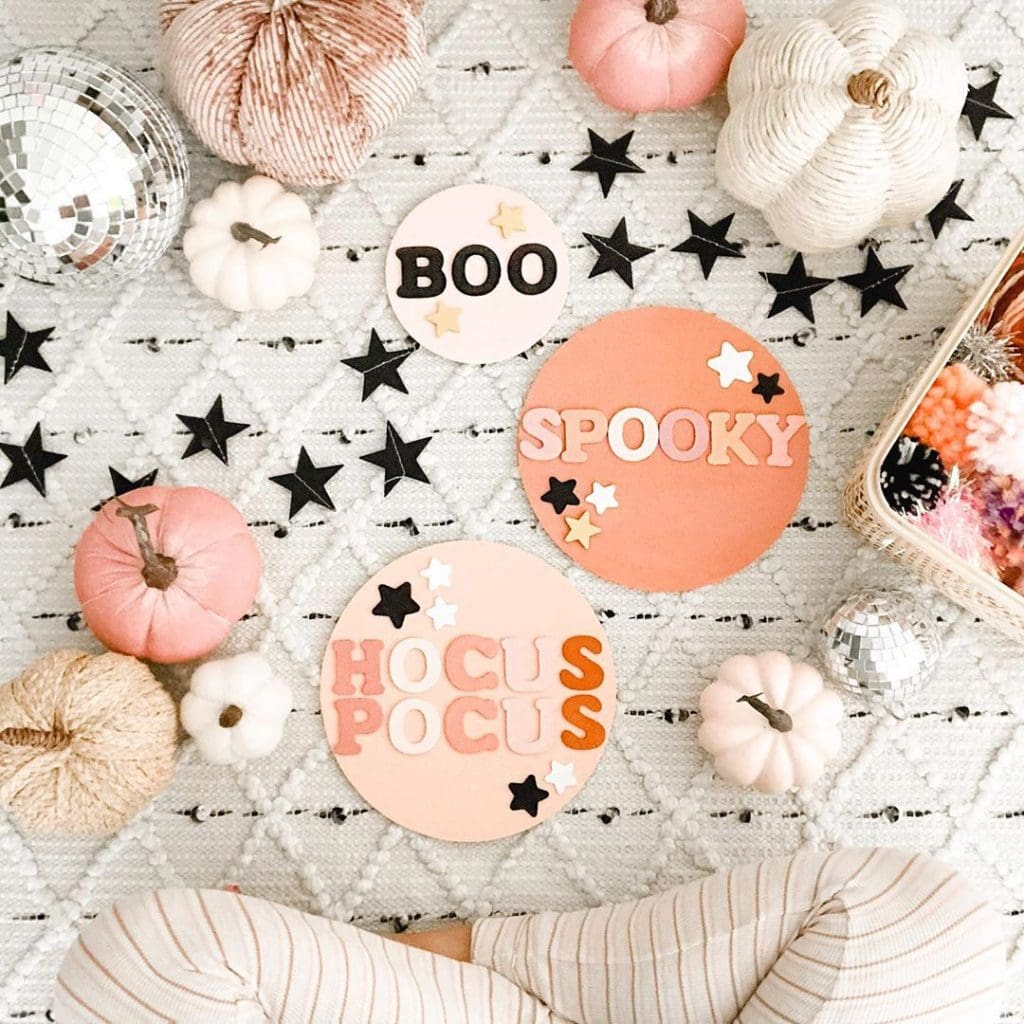 Source: miriam.gin
Isn't this Halloween craft by miriam.gin looking so beautiful and elegant? You can recreate it too! These are rose gold and white themed wooden signs that can be placed on any wall or door. So dress up your walls in the spookiness of these vibrant signs. Grab some circular wooden/carboard pieces and paint them in rose gold and white. Add some stick-on alphabets saying, "boo" or "Hocus Pocus." Finish off by adding some reflective stars on the boards. Check out the complete tutorial here.
2. Crawly Spiders Halloween Cotton Candies
Source: tiffanymamone
Recreate these adorable spider cotton candies by tiffanymamone as a fun DIY Halloween craft. Stitch two pieces of baby pink fleece to create a cover for your cotton candies. Fill it in with some cotton or any other fillers and stitch it close. Stick some shiny beads/sequins along with spooky spiders on the fleece pillows. Finally, attach them to thin sticks to complete this lovely craft.
3. Hey Boo, Halloween Magic Wands
Source: this_sweet_farmhouse
Here are some boo-tiful magic wands by this_sweet_farmhouse for your kids to run around with or match your Halloween costume. Stick two, star cutouts (wood/cardboard) on two sticks. Either handwrite Halloween phrases on them or use store-bought stars with text. Tie different styles and fabrics of ribbon around the wand's neck and let it hang till the length of the stick. You can use lace, mesh, cotton, patterned, or any variety of ribbons you own. This Halloween craft can be recreated with your kids as well!
4. Pumpkin Rainbow Halloween Craft
Source: gracegigglesandnaptime
Why decorate your home with the classic orange pumpkins when you can do something way more colorful? Recreate this Halloween craft idea by gracegigglesandnaptime, which is quick and straightforward to do. All you need are some fake pumpkins and bright paints. You can create a rainbow design, or a two-shade style, or maybe different tones of one color. Additionally, you can add some metallic paint in a few sections for extra shine!
5. Adorable Monsters Treat Bags
Source: gracegigglesandnaptime
Get your Halloween trick-or-treats these adorable monsters treat bags by gracegigglesandnaptime. These are inspired by your favorite movie monsters and are perfect for sending some treats around. Use some colored paper to recreate them. Add big eyes and monster teeth with horns to these paper bags and voila!
6. Bewitched Broomstick Halloween Craft
Source: zaras_play_tribe
Here is a Halloween craft that is a perfect crop for your Halloween witch costume this year. All you need is a wooden branch/stick, some twine, and some cardboard strips. It is a quick, two-minute craft idea and is inspired by Room on the Broom. Just use the jute string to tie some cardboard strips around the wooden stick and voila. Your broomstick by zaras_play_tribe is ready for a spooky Halloween.
7. Creepy Pumpkin Lanterns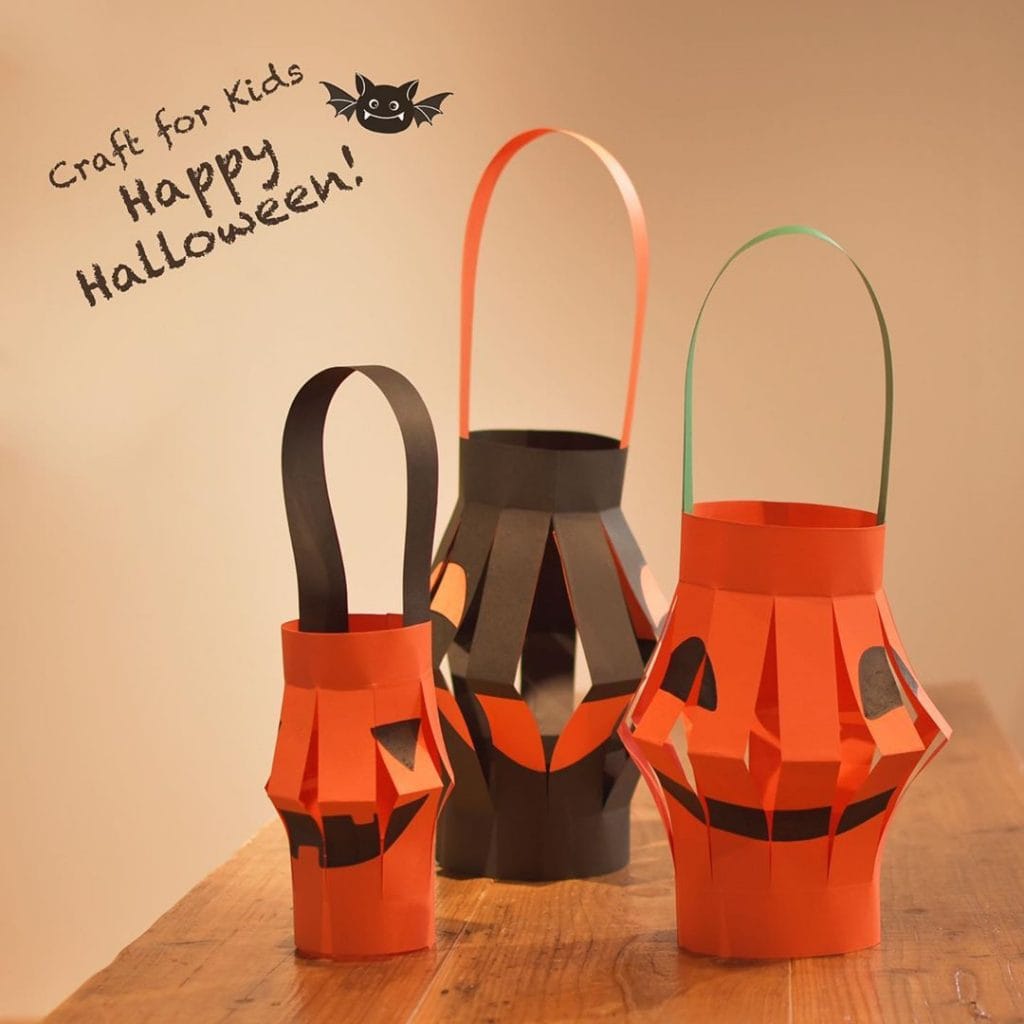 Source:  shihomasuda_giftwrapping
This Halloween craft idea by shihomasuda_giftwrapping is a fun and spooky craft for adults and kids alike! Grab some orange and black sheets and create a pumpkin face on it using contrasting colors. Next, fold the sheet vertically in half and cut incomplete strips across the sheet. Unfold the sheet and roll it in a cylinder. Add a strip of paper as a handle and voila! Your handmade jack-o-lanterns are ready!
8. Glowing Halloween Glass Bottle Lamp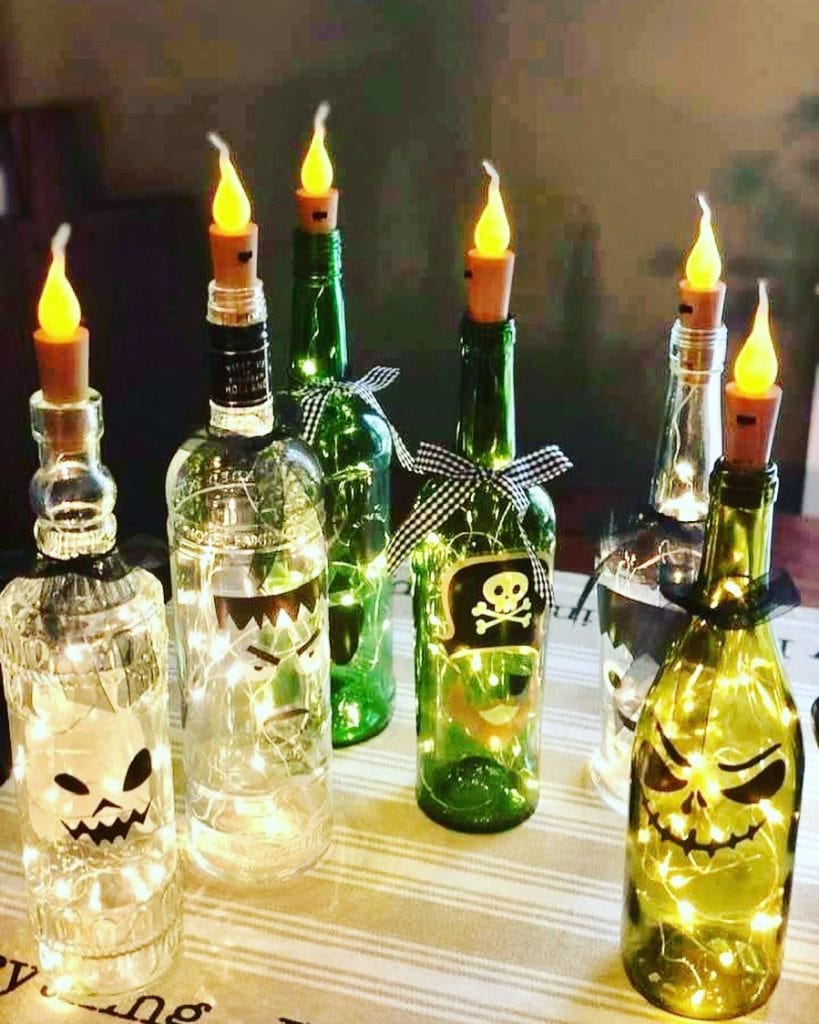 Source: mycoastalchiclife
Put some waste glass bottles to use for this year's Halloween decor. Try this Halloween craft idea by mycoastalchiclife to create bottle lamps. Use a black marker to draw some pumpkin faces and skeletons on the bottles. Fill these up with fairy lights and close them off with tiny candles, as shown above. Tie a bow using ribbon around the neck of the bottle, and it is complete.
9. Deadly Potion Bottles Halloween Craft
Source: myjoystory2
Recycle some old sauce ketchup and jam cans to recreate these deadly Halloween potion bottles by myjoystory2. Cover these jars with mod podge and paper towels for a spooky texture. Next, paint them in black, deep green, or any other dull color. Add a tag with spooky potion names like "Frog's Breath" or "Worm's Wort." Place these on a tabletop or the mantel and complete your Halloween decor.
10. Bubbling Mini Cauldrons Halloween Craft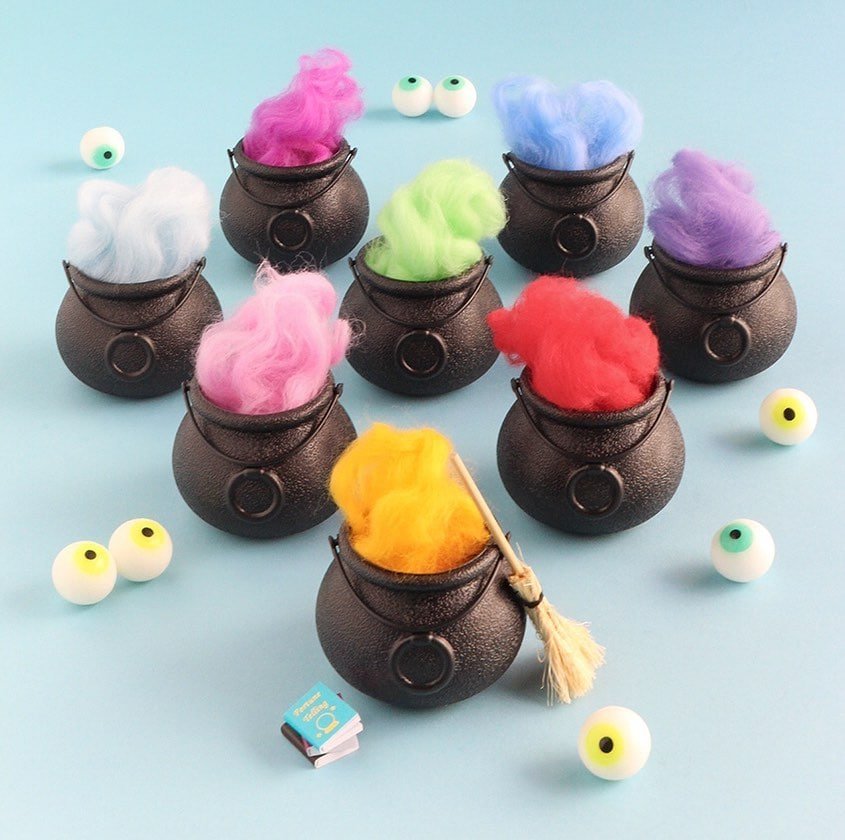 Source: crafterward
Give your Halloween treats a cute container that is adorably spooky. All you need to recreate these mini cauldrons by crafterward are some tiny cauldrons, some colorful wool, and some foil-wrapped treats. Fill these cauldrons with the treats and top it off with the colorful wool for the witchy bubbles. They are perfect for exchange during the celebration or simply for use as decor.
11. Black and White Wooden Signs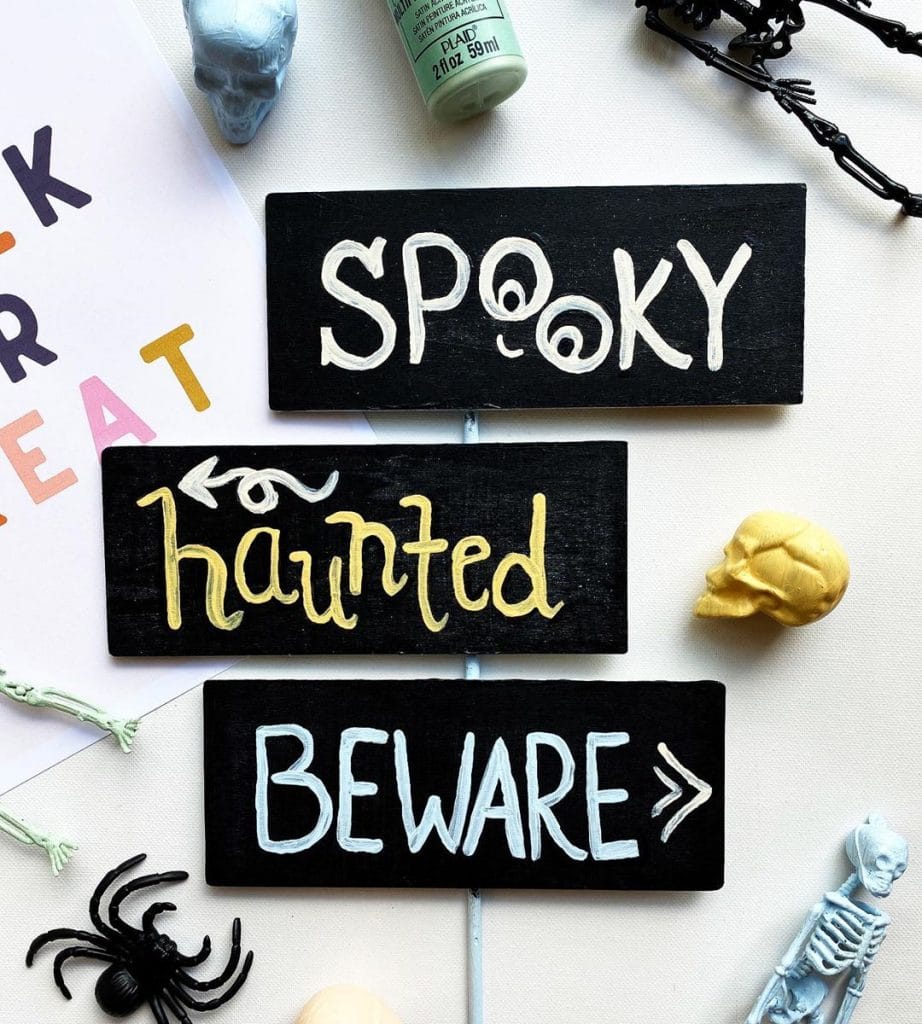 Source: lifewithmylittleone
Beware of these haunted signboards that are ready to go up your wall/door this Halloween. To replicate this idea by lifewithmylittleone, use three wooden/cardboard planks with some Halloween phrases painted on them. Use the above Halloween craft design for inspiration. These signs can also go in your front yard for welcoming your trick-or-treaters.
click here for more wooden craft ideas.
12. Haunted Mansion Halloween Craft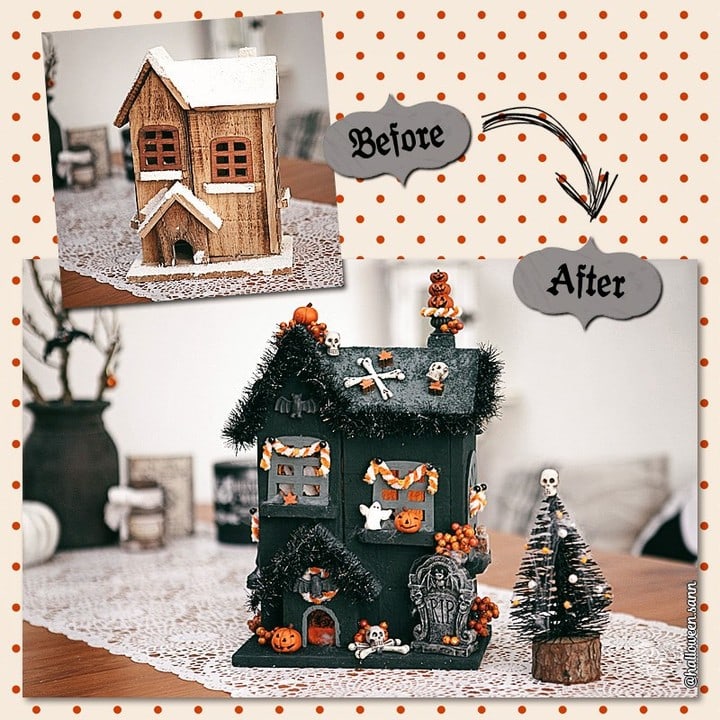 Source: halloween.sann
I love how halloween.sann has turned a plain old house into this spooktacular haunted house. This Halloween craft idea is perfect as a tabletop showpiece for your decor. Start by painting the house in black and adding a green garland along the roof. Place some tiny pumpkins, skeletons, and ghosts on the chimney, windows, and other empty spaces. Finish off by adding a gravestone next to the entry door. Place a fir tree dressed for Halloween next to the house and voila! A budget-friendly and ghostly home is ready!
13. Ghostly Greetings Halloween Garland
Source: sunshinekidsco
Here is a quick and adorable ghostly garland for your doors and walls. It is a perfect mix of spooky and cute and can match any theme you choose for Halloween. For this Halloween craft by sunshinekidsco, you need some sparkle paper in two shades and a long string. Cut out ghosts from the papers and add three black circles to each for the eyes and mouth. String as many ghosts as you want, depending on the desired length. Alternate between the two shades while stringing. You can also change the colors and more than twice.
14. Creepy Mummy Halloween Canisters
Source: _southernhotmess1014
Anyone can easily recreate these creepy canisters by _southernhotmess1014. You can try this idea for decorating not only canisters but also vases, pots, plant holders, bottles, or cans. This Halloween craft idea can be used to store or serve treats during the celebration. Grab any of the above items that you want to decorate and paint it in white. Wrap the jar in a white bandage and add googly eyes. Finally, place two spiders crawling across the jar, and your creepy mummy is ready for Halloween.
15. Eye Spy Boo Sign Halloween Craft
Source: holleymonroe
Finishing off with this adorable eye spy entryway sign by holleymonroe. It is spooky, spidery, and looks very cute. Cut out the letter B O O from a black sheet of paper. Use white crayon/chalk to draw a spider web on the letter B. Next, create tiny spiders using the two Os. Add googly eyes and create legs using pipe cleaners. Finish off by adding an exclamation mark and hanging this either horizontally or vertically. It is a boo-tiful welcome!
We hope these adorable, spooky, and fun Halloween crafts inspired you to start making your right away! These crafts are not only fun to make but can also help amp up your Halloween decorations this year. So, grab some supplies from around the house and get ready to create some magic.
If you loved these ideas, you can use the Pin image below to save this article on your Pinterest board. Also, follow us on Instagram to stay updated!