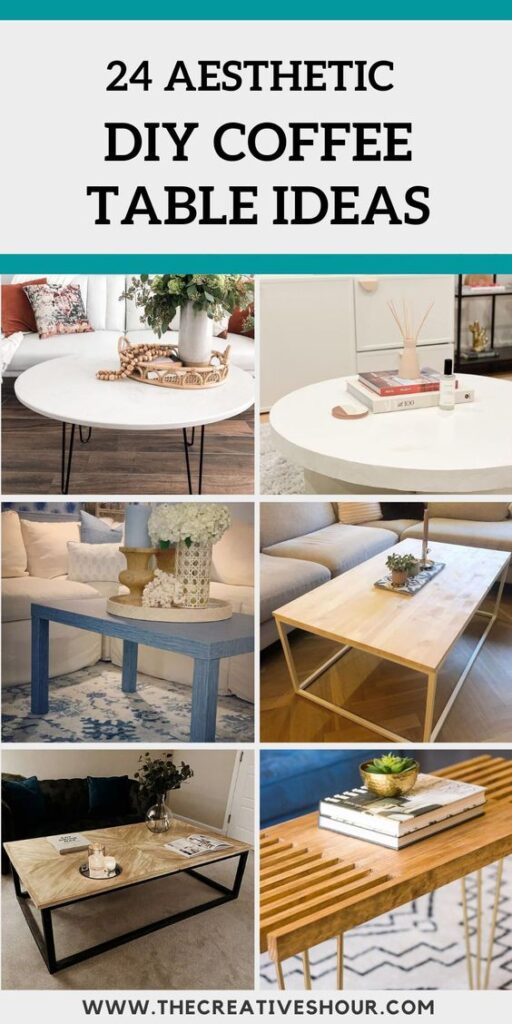 A refreshing cup of coffee set on an elegant coffee table is a must-have for a delightful morning therapy. But finding the perfect coffee table to suit the aesthetic of your bedroom/living room could be challenging. So why not create your own using these unique DIY coffee table ideas.
Each of these designs is diverse, and you will surely find the one that complements your taste. If not, you can always customize the basic layouts of these DIYs to build your own masterpiece!
If you want to go a step further and build a whole coffee bar or other types of DIY tables for your home, check out our other related posts –
1. Unique and Inviting Coffee Bar Ideas
2. Smart DIY Coffee Bar Ideas for Small Spaces & Homes
3. DIY Side Table Ideas & Plans For Every Room
1. Hardwood Flooring Turned DIY Coffee Table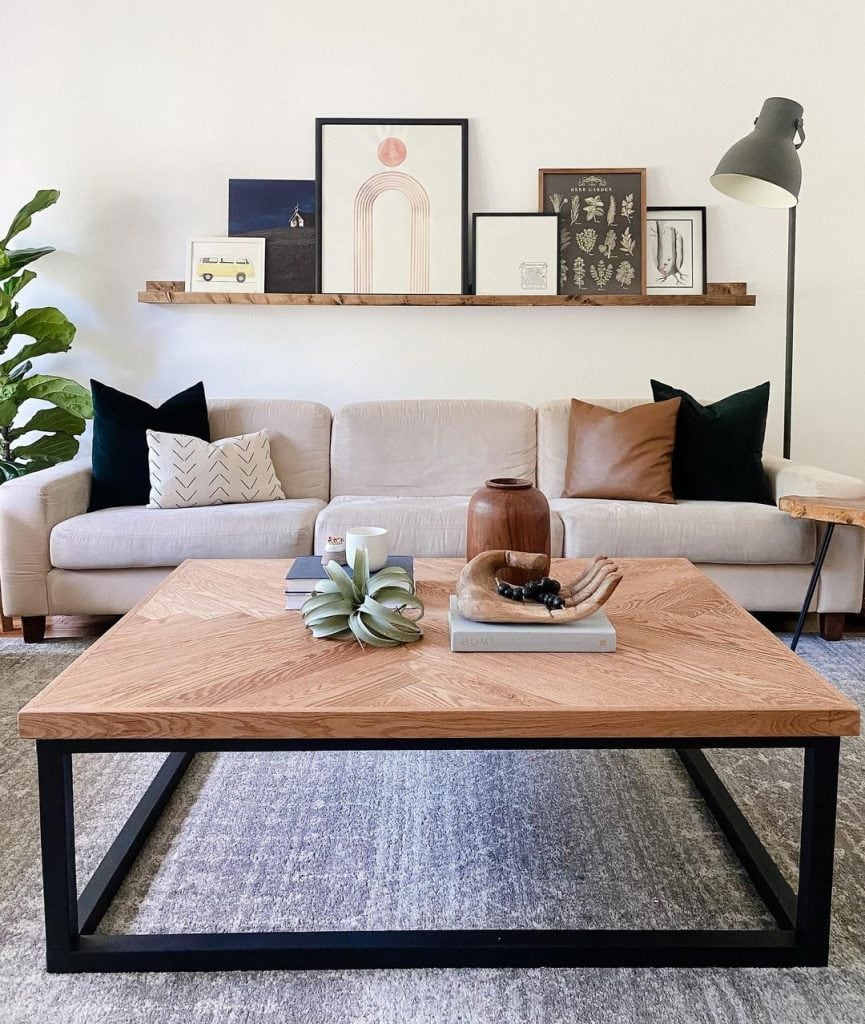 Source: hazelandhen
Let's start our list with a basic yet classy piece that is fit to compliment any space. It's made using scraps from hardwood flooring and has a square top. The stand is painted black, and the tabletop has a light textured finish. It is a versatile piece that would suit any setup from modern to bohemian. The design is also customizable according to the size, colors, textures, or wood you prefer. 
2. Classy White Marble Tabletop
Source:  juliaryhanen
Here is a minimal, tiny, and elegant DIY coffee table with a wooden pipe base and a marble tabletop. The design's all-white theme is a stunner and would be an eye-catcher, whether placed in your living room or your bedroom. The table's size is on the smaller side, so it is perfect if you have a space crunch. 
3. Light Beige DIY Fluted Coffee Table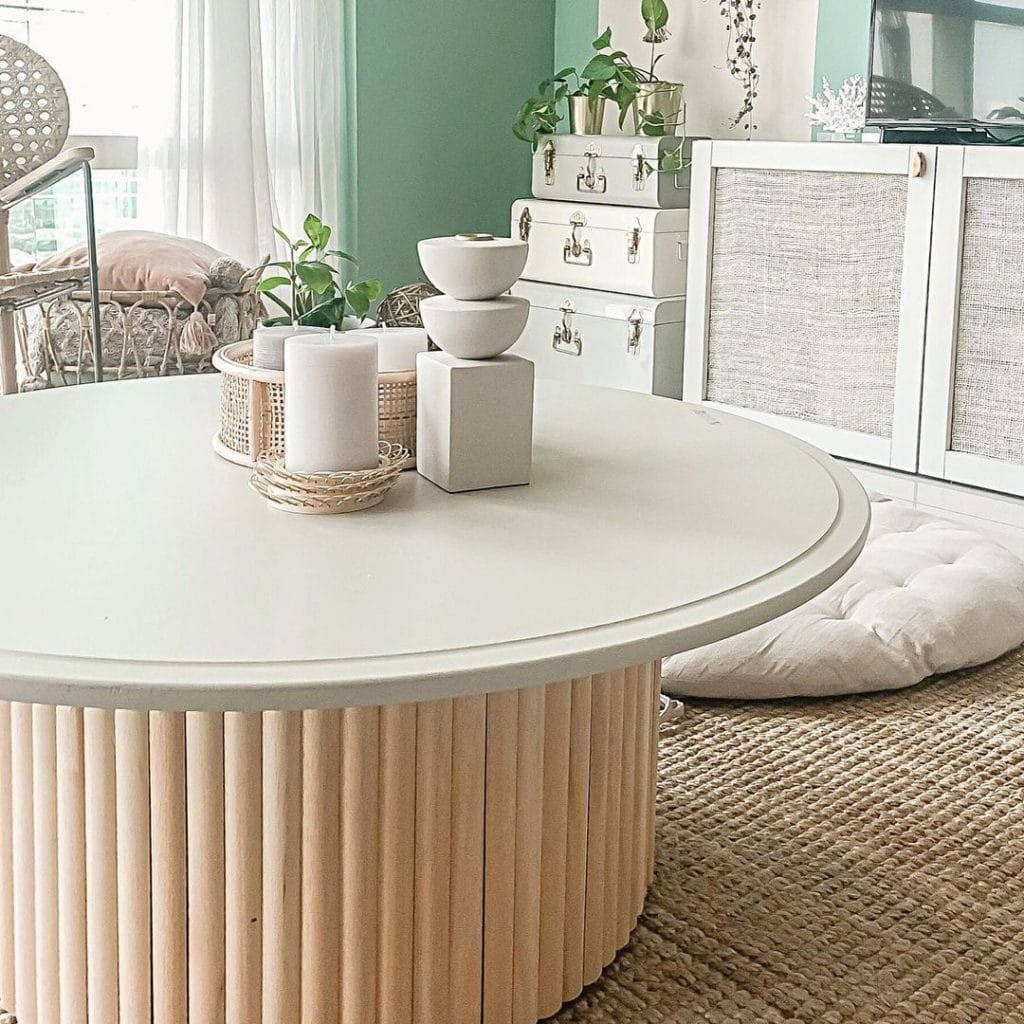 Source: house.ofhazel
This fluted DIY coffee table can be doubled as a breakfast table given its size! A circular white tabletop with a light beige fluted base looks so elegant and modern. Place it in your living room over a jute rug and add some plants on the table to have a perfectly bohemian vibe. The color tones are very soothing and welcoming. You would be tempted to have your coffee here everyday! Check out the tutorial here. 
4. Hairpin Leg DIY Coffee Table
Source: toribos
I love the super dainty and classy appearance of this DIY coffee table. It has a polished light wooden tabletop with hairpin legs in black. Even though it's small in size, it will surely be the showstopper in your living room decor. The neutral tones of this piece are perfect to match any vibe, and it is easily customizable!  
5. Vintage Textured Wooden Table
Source: gerberdesignco
This rustic DIY coffee table idea is simple, straightforward, and looks super vintage. It has a rectangular tabletop with U shaped legs on two ends. The entire piece is made in wood and has an old textured finish to it. You can display some complimenting decor pieces on top, and your favorite coffee spot is ready!   
Read –  29 Stunning and Diverse DIY End Table Ideas
6. Elegant Foam Coffee Table with Glass Top
Source: process.doc
Reuse the foam in delivery packages to recreate this beautiful DIY coffee table. Create a cubical foam base and place a glass/wooden tabletop on it. You can secure it using some hooks, and voila. This piece adds a modern touch to any space in your home and looks very inviting. The glass top is an exquisite touch to the entire coffee table. You can paint the foam bases in any color or cover them using some patterned cloth. 
7. Stained Wood Narrow Base Coffee Table
Source: diybynevima
Here is another dainty narrow base DIY coffee table. The narrow fluted base with a circular tabletop has a dark brown textured finish, which matches any space you place this in. You can replace the dark stain with any tone of your choice. I love how the tones of the table match the colors of coffee beans, making it the perfect spot to enjoy your daily dose of caffeine.  
8. Cool Blue Grasscloth Coffee Table
Source: stripedstylestephanie
I love the cool tones of this grasscloth DIY coffee table. It is a basic design but looks super modern because of the pattern and color. You can customize it according to the vibe of your living/bedroom. The rectangular tabletop with four legs and overall blue polish is a perfect blend of basic and classy. 
9. Planked Wood Modern Coffee Table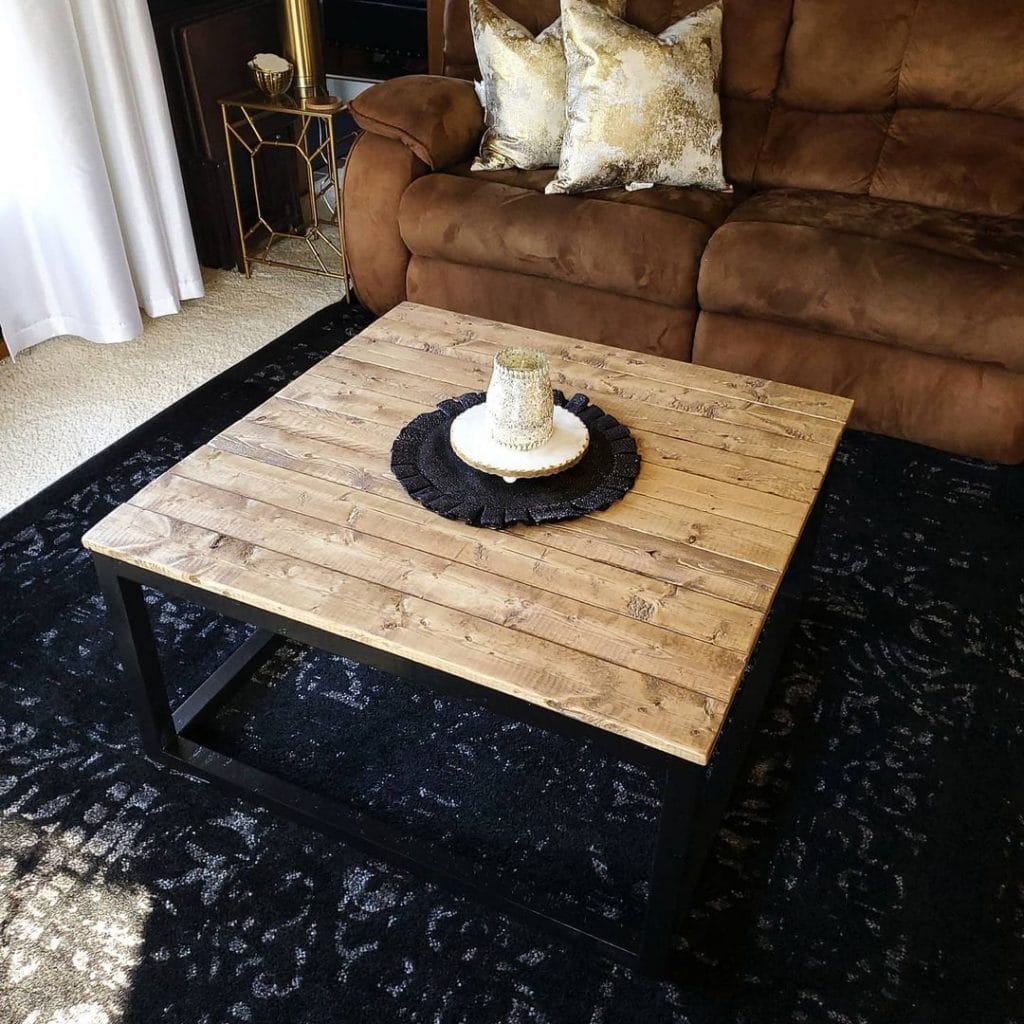 Source: sincerelycassandralee
This DIY coffee table idea looks very modern and elegant due to the plank detailing on the tabletop. It has a black wooden cubical frame with light textured wooden planks lined across the top. The use of dark and light tones makes this design super chic and versatile. You can easily customize the size and polish of this coffee table. 
10. Simple and Chic Rectangular Table
Source: 69.8kvm
Here is another dainty DIY coffee table that will add a very bright and beautiful touch to your living room. The design is very sleek, with a rectangular tabletop in beige and a thin white stand. The size is generous enough for this coffee table to double as a sofa table as well! I really like the simplicity of this design and how well it suits the space. 
11. All-White Circular Wooden Coffee Table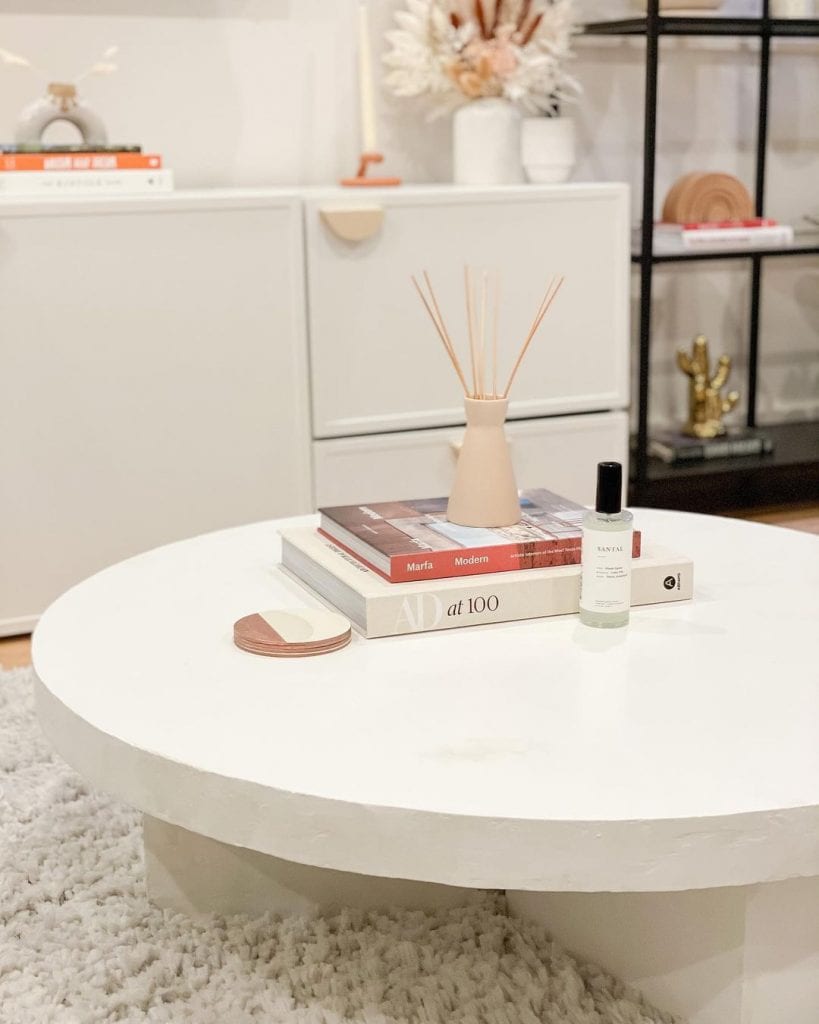 Source: casaeubanks
Add this plain white chunky DIY coffee table to your living space for a simple but super bright touch. The circular tabletop set on a wooden x base and polished in glossy white makes this coffee table very unique. You can reduce the size of the table to suit the space you have. Overall, it's an excellent way to add some light and character to a living room! 
12. Rustic Burl Wood DIY Coffee Table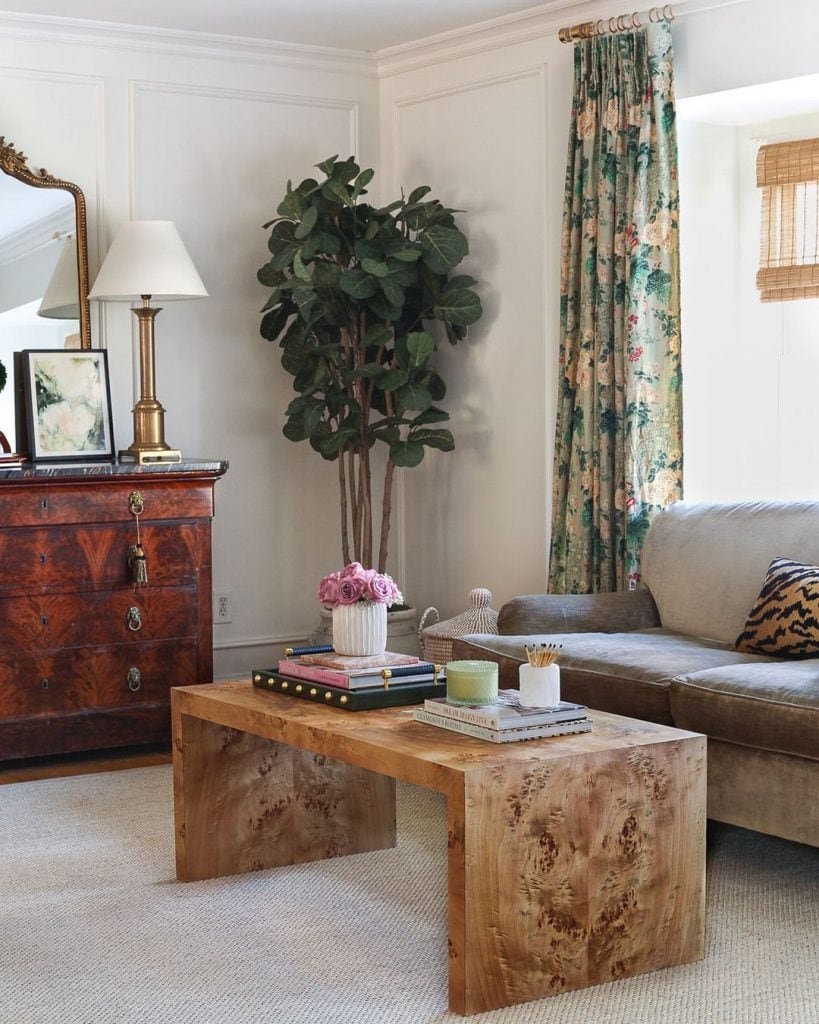 Source: aglassofbovino
I absolutely love this gorgeous burl wood DIY coffee table. It looks very unique and gives a very rustic feel with the dark and light brown texture. The structure is modern and dainty but sturdy enough to hold some books and your big coffee mugs. The versatile tones are suitable for most spaces and are customizable for others. Here is the complete tutorial. 
13. Light & Dark Luxurious Coffee Table
Source:  frenchicpaint
All you need to recreate this beautiful DIY coffee table is some thick wooden rods and wooden planks. Build a cuboidal stand for the table and paint it black. For the tabletop, use light-colored planks and place them like a chevron pattern across the frame. This creates a stunning pattern, and the dark and light tones make this design very vibrant. Find the complete tutorial here.
14. Dainty DIY Coffee Table with Hairpin Legs
Source: paintandpeony
This sleek and minimal DIY coffee table is perfect for smaller and larger spaces alike. The black hairpin legs topped with a thin circular marble top beautifully complete this piece. The base has a neat and slender feel to it, and the disc-shaped top provides a sturdy space for enjoying some refreshing coffee. 
15. Deep-Toned Vintage Industrial Coffee Table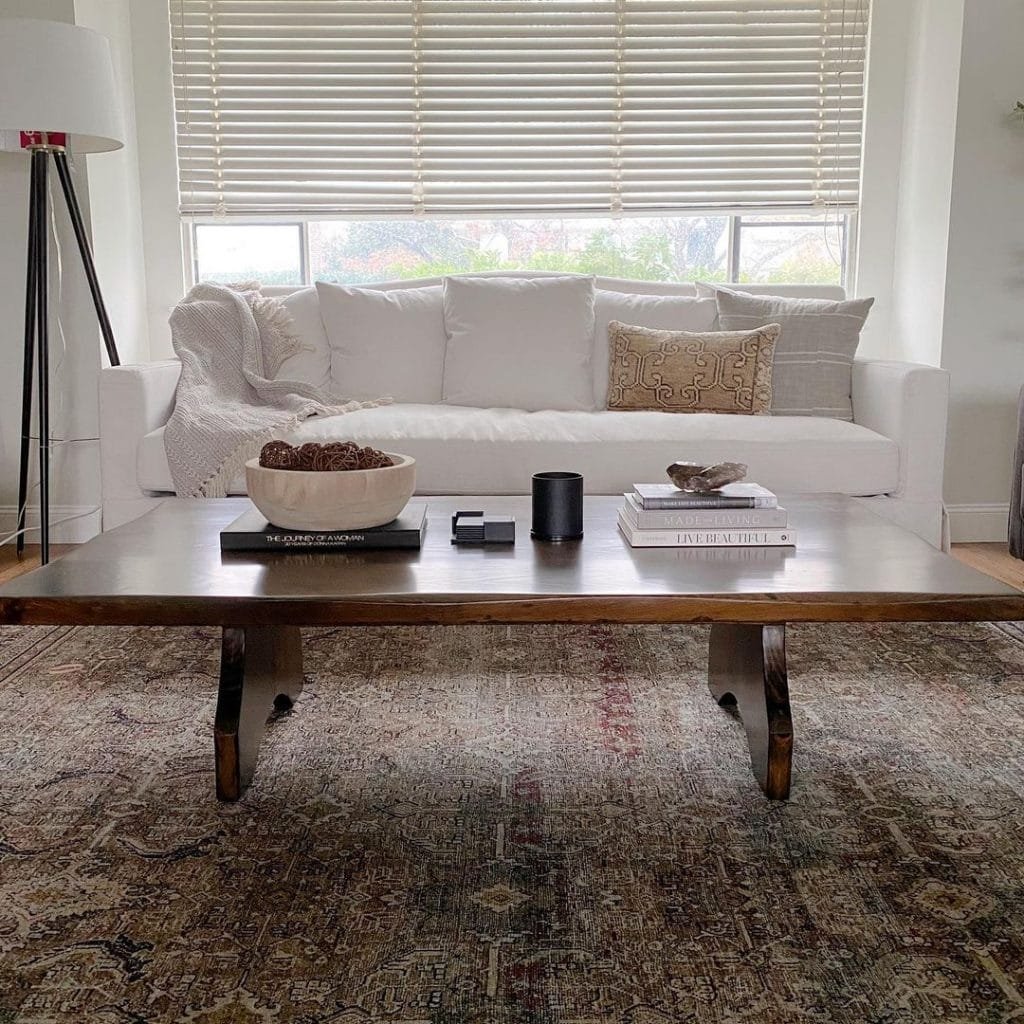 Source: livefreebee
This DIY coffee table is a rustic vintage piece for your living room. It has an industrial base with a rectangular tabletop, all polished in a dark textured stain. This design would gracefully complement your living room or bedroom. It can also double as a sofa table to serve some snacks for your guests along with hot mugs of freshly brewed coffee. Here is the full tutorial for you to recreate.
Also, read – 55 Cool Work Bench Ideas For Your Garage
16. DIY Slatted Coffee Table with Gold Legs
Source: erinspainblog
This DIY coffee table design is one of my personal favorites. The slatted coffee tabletop stained in a bright honey color with a textured finish looks very modern. Additionally, the golden hairpin legs add a very luxurious touch to this piece. It is a gorgeous little coffee table that can spice up any space of your home. Follow this tutorial to make one today!
17. Bohemian Fluted DIY Coffee Table
Source: abbysbarratt
Are you a fan of some rustic, bohemian decor pieces? Then you must try this stunning fluted DIY coffee table that has a pleasing light beige color and a textured wooden tabletop. It is a tiny coffee table, so it's perfect for indoors or outdoors. Place a small flower pot along with your steaming hot cup of coffee to enjoy this beauty! Here is how you can recreate this DIY. 
18. Tiny Three-Tiered Coffee Table
Source: damecustombuilds
Here is a DIY coffee table that provides you some storage space as well! It has a tiered design with three levels; one small tier sandwiched between two larger ones. Each level has a circular disc with a reddish-brown textured finish. You can display some plants, books, magazines, frames, or even a coffee dispenser in these tiers. You can also use it as a nightstand. This design is a space saver and a perfect statement piece for any corner of your home. Check out the video tutorial here. 
19. X-Base Chunky Round Coffee Table
Source:  jesslu2gee
Add some extra layers to your regular circular coffee table to recreate this design. This DIY coffee table has an x-shaped base with a three-layer tabletop. It is entirely stained in beige textured paint, which gives it a modern and elegant look. The three layers add some character and sturdiness to the design. You can use this piece as a pop of color in a dull setting or as a neutral balance in a bright setting. 
20. Convenient Lift-Top DIY Coffee Table
Source: anawhitediy
If you like working while sipping coffee or are too lazy to bend over and grab that mug, this DIY coffee table is your ideal match. The lift-top of this rectangular table allows you to comfortably work and enjoy your coffee at the desired height of your couch! The wooden finish of the top with the black base completes this piece beautifully. It has a rustic feel to it, along with a heavy dose of convenience! Use this tutorial to make one now! 
21. DIY Reused Deck Coffee Table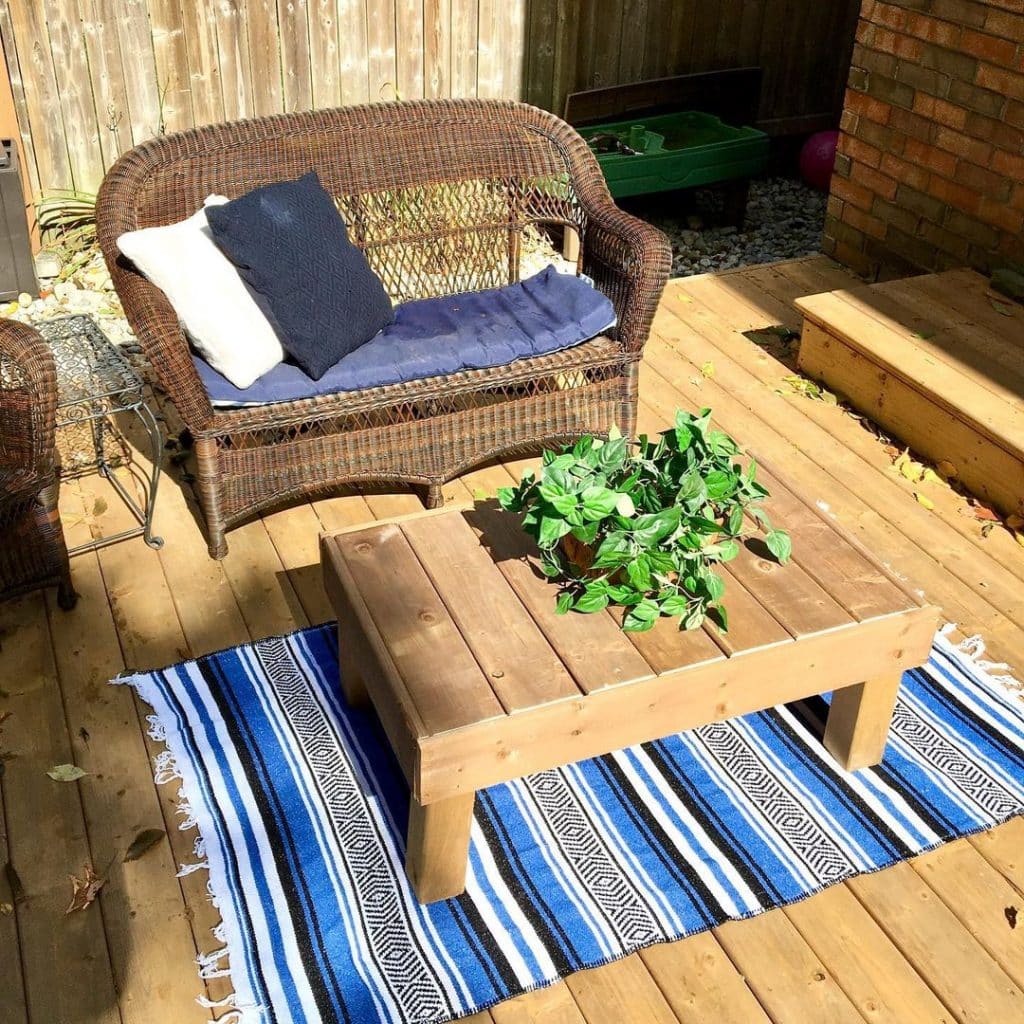 Source:  tools.and.heels
Here is an outdoor DIY coffee table idea that allows you to reuse some wooden deck scraps to make it. Use the planks to create a basic rectangular table according to the height of your seating area. Place some tiny plants on the table to suit the natural, farmhouse vibe of the deck. It's a lovely way to enjoy your morning coffee under the refreshing sun! 
Did you know you can also make a DIY chair to compliment this table? Click here for ideas.
22. Modernist Multi-Level Marble Table
Source: micol.fashionattack
This DIY coffee table idea is very modern and unique. Instead of one, it's a set of two triangular tables placed together in a square shape. Both the tables have a gorgeous marble finish and a very quirky design. The different elevations of each table make this design a stunning statement piece in your living room. Trust me; you will really enjoy having coffee here! Here is the complete tutorial. 
23. Little Basket DIY Coffee Table
Source: wireteamexp
Here is another rustic way to add a bohemian touch to your coffee table. This DIY coffee table uses a basket textured base topped with a circular wooden tabletop stained in dark brown. Four tiny wooden stands support the base and add some elevation. This design has a unique style and aesthetically pleasing character to it. Place a matching chair next to this table to complete your cozy coffee corner! 
24. Plywood Coffee Table lined with Round Bars
Source:  elisakilpelainen
Our final DIY coffee table idea is easy, unique, and quick to make. Start by creating a plywood frame and line it with round bars to finish off your base. Finally, stick a white tile on top for a smooth and bright tabletop. It ends up looking very modern and can be easily customized to suit your space. You can switch the tile tabletop for wood or marble. 
We hope you are inspired enough to give your big mug of coffee a lovely stand and your living room a stunning decor piece. These ideas are versatile and customizable according to your needs. So, do try these out as your coffee deserves the best! 
If you loved these ideas, you can use the Pin image below and save this article on your 'DIY Coffee Table Ideas' Pinterest board.