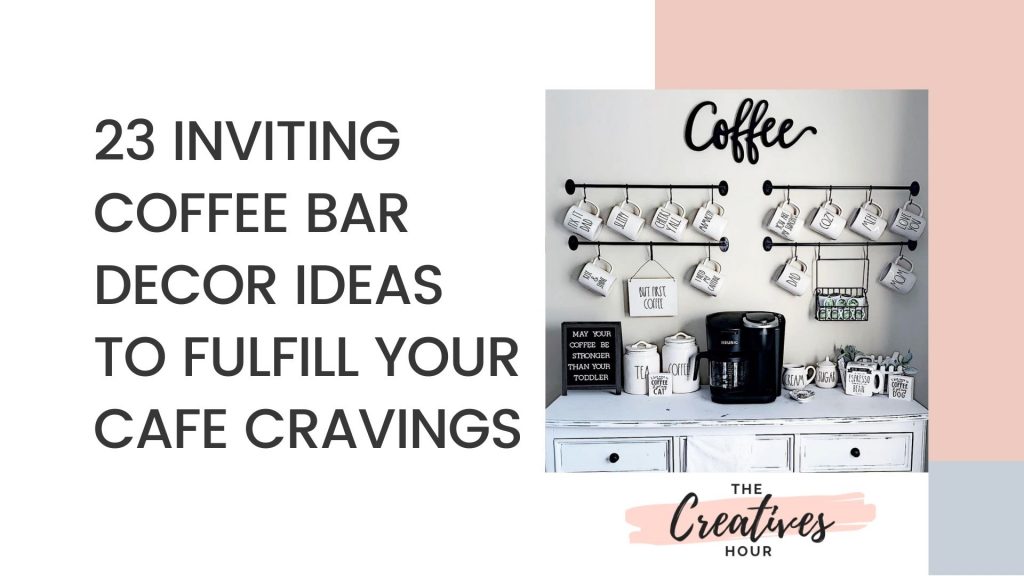 Are you someone who finds it hard to start a day without sipping on a freshly brewed cup of coffee? If yes, then these coffee bar ideas are just what you need to create your own little cafe at home.
If you've been thinking of redecorating your home for a while, then adding a coffee bar will appeal to the caffeine lover in you. A quirky and modern way to spice up your living space, these coffee bars are all about making your home a warm, welcoming and cozy space. With them, you will never run out of the much-needed refreshment every day.
Whether you want an informal or formal setting or want to match the station to a seasonal theme, this roundup has it all! You will definitely find something that matches your taste and sparks your creativity.
You can also refer to our blog posts on Macrame Wall Hangings and DIY Hanging Shelves for other home decor ideas to add more elements to these coffee station ideas.
1. Halloween Fall Theme Coffee Bar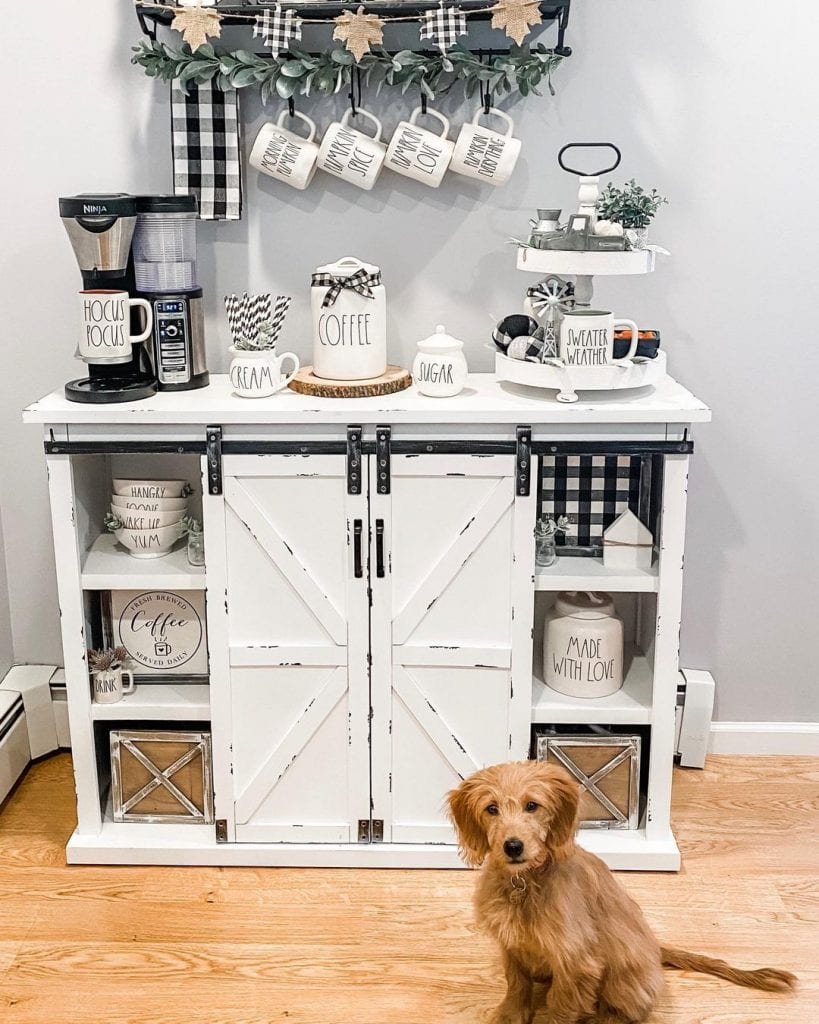 Source: rusticlovecraftco
If you are redecorating your home for the fall season, then you can definitely take inspiration from this modern farmhouse coffee bar for your home. It has a rustic white wooden cupboard with a black mug hooks on the top. The table top has a sufficient space for an espresso maker, coffee ingredients, and a tiny essentials' two tier stand. This home coffee bar has a Halloween decor with Rae Dunn coffee mugs and pots and a black and white decor. Finally, some leaves and garlands are added to match the fall season!
Related Post – 40+ Best Farmhouse Coffee Bar Ideas With Tutorials
2. French Bakery DIY Coffee Station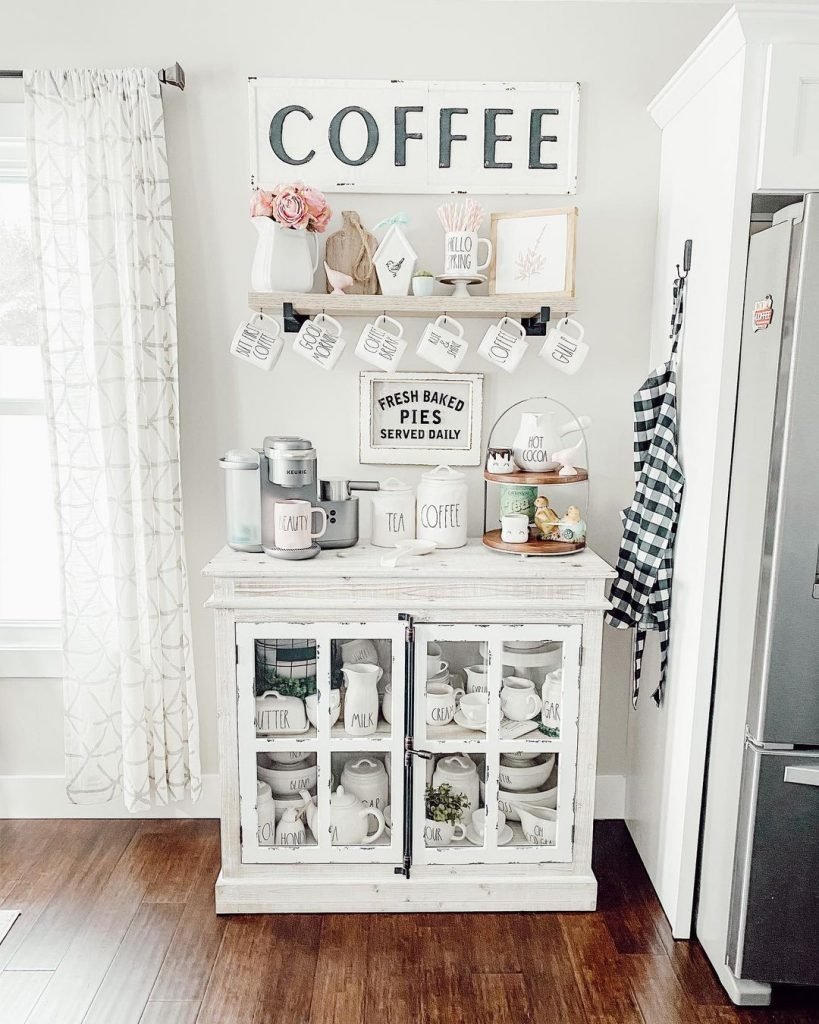 Source: mornings_on_macedonia
I love how adorable and homely this coffee station looks. It has an all-white theme with Rae Dunn mugs to give you a bright and fresh start every morning. The station has a cabinet and a hanging shelf, two boards saying 'Coffee' and 'Fresh Baked Pies Served Daily,' giving it a tiny bakery feel. The shelf has pastel decorative display pieces that add color to the coffee station. This is an excellent idea for any corner in your living room or dining area.
Related DIY Post – DIY Coffee Table Ideas, 20 Best DIY Coffee Bar Ideas for Kitchen You'll Love
3. Mini Espresso Making Corner Coffee Bar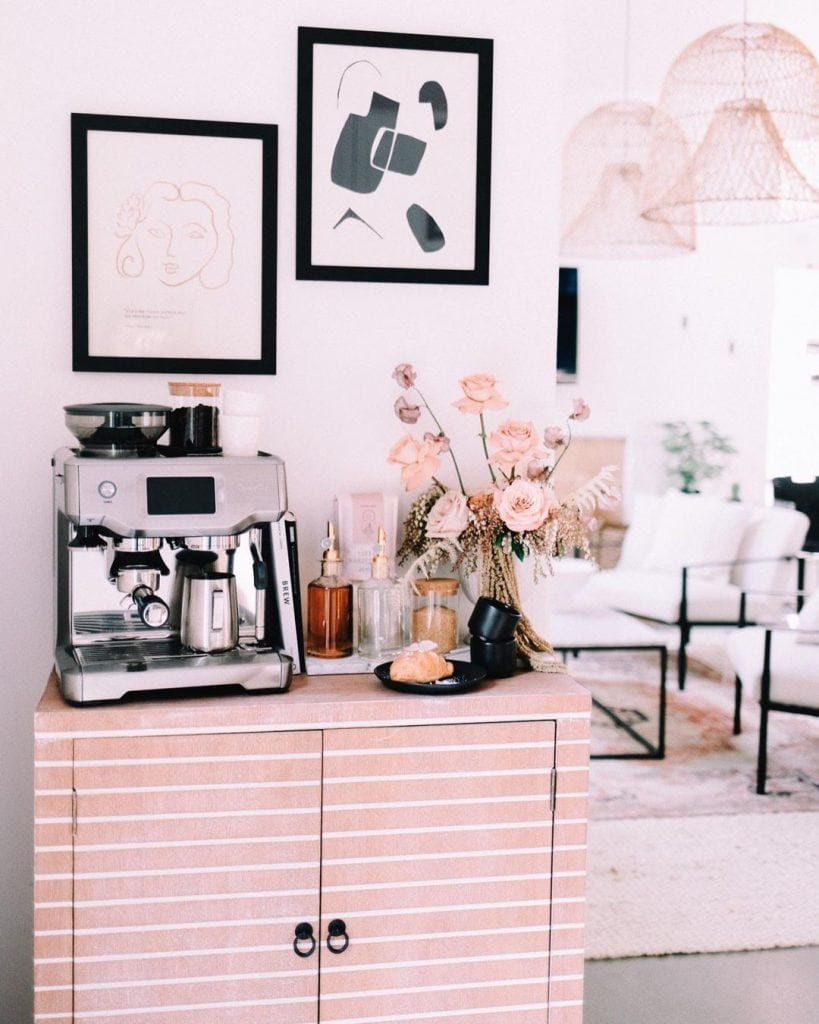 Source: afabulousfete
If you don't have a lot of space but want to satisfy your coffee cravings, this corner coffee bar idea is just the choice for you. Choose any table/cabinet top in your bedroom, dining hall, or living room. Place an espresso maker, tiny coffee cups, and other necessary ingredients on the table, and voila! Your coffee bar is all ready! If you have some space left, add a flower vase for decor.
Related DIY Post – DIY Coffee Bar Ideas for Small Spaces
4. Rustic Wooden Coffee Bar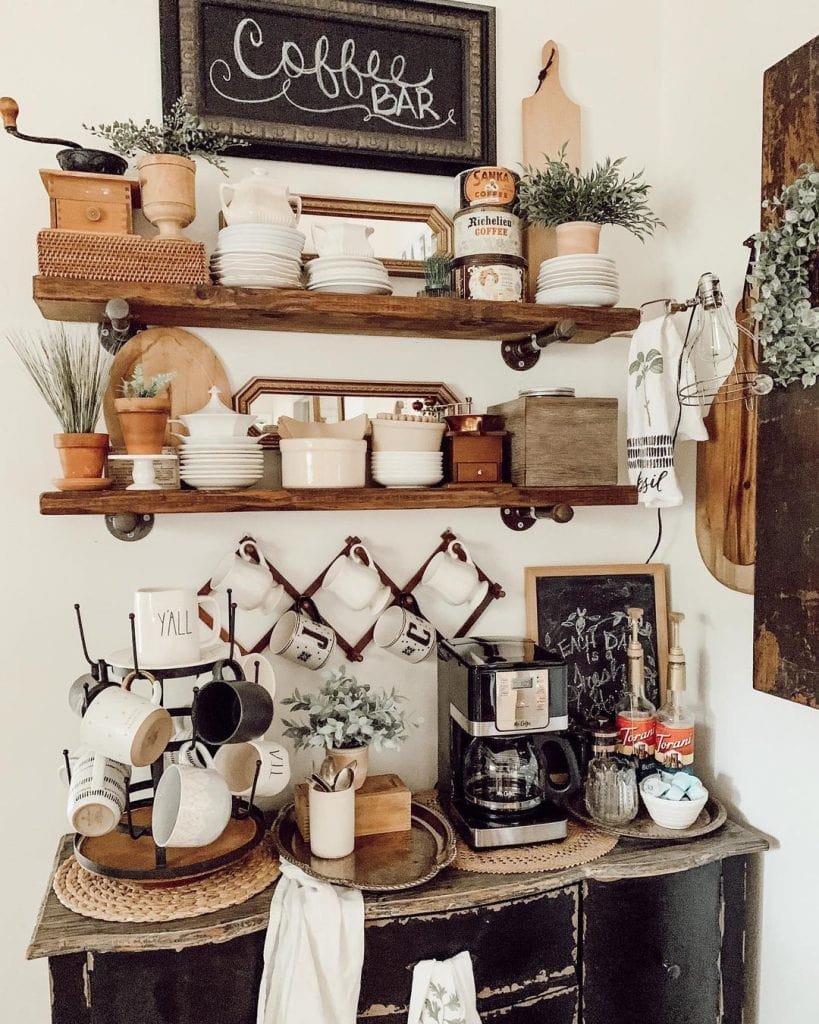 Source: jandcfarmfinds
I really like the rustic, woody vibe of this coffee station. It would indeed be your favorite corner in the entire house. The dark brown wood cabinet with textured wooden hanging shelves gives you ample space for storing every coffee-related thing you own. Add a Coffee Bar chalk board on the top and fill the tabletop and the shelves with items complementing the tones of the wooden theme. The messy and full look gives this station its vintage coffee house vibe.
5. DIY Kitchen Shelf Coffee Station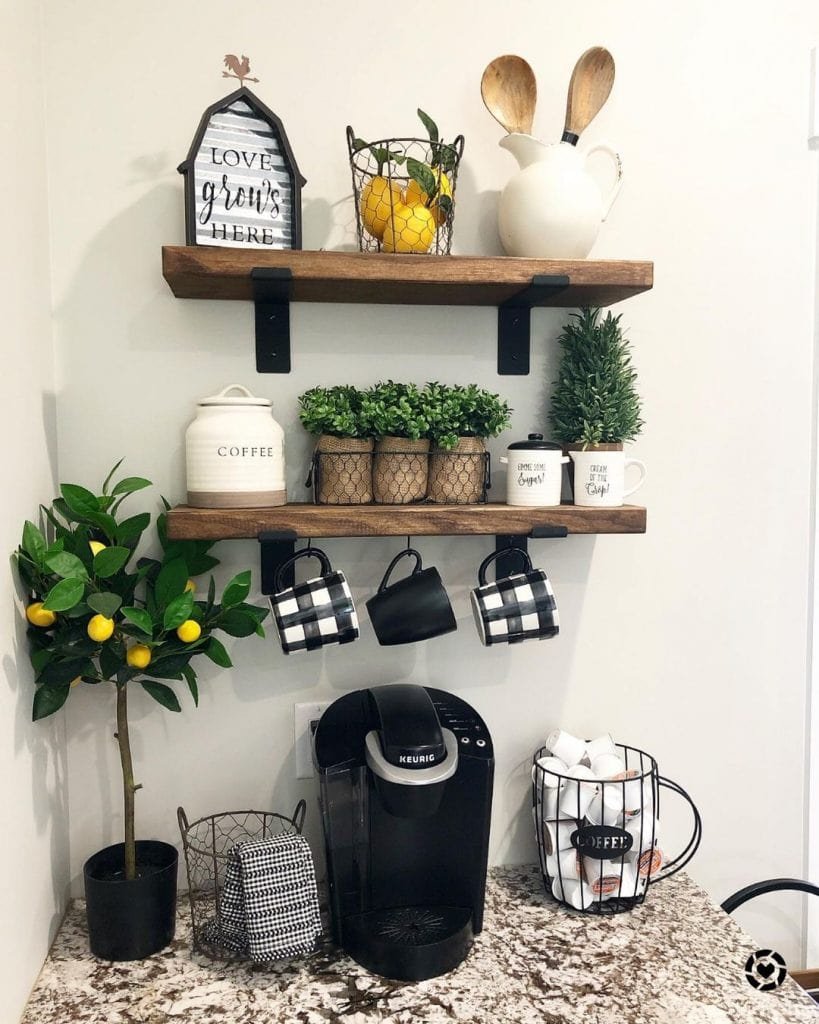 Source: allthatsrustichomedecor
The wired storage jars and espresso-maker look very inviting on this kitchen coffee bar. The two hanging shelves on top are perfect for displaying tiny plants, frames, and coffee ingredients. One of the shelves has hooks to hang beautiful black coffee mugs. I love how sleek and elegant this corner coffee bar idea is. It is perfect for any corner of your house and can be recreated with any tabletop.
Related DIY Post – DIY Floating Shelves Ideas
6. Hello Summer DIY Coffee Station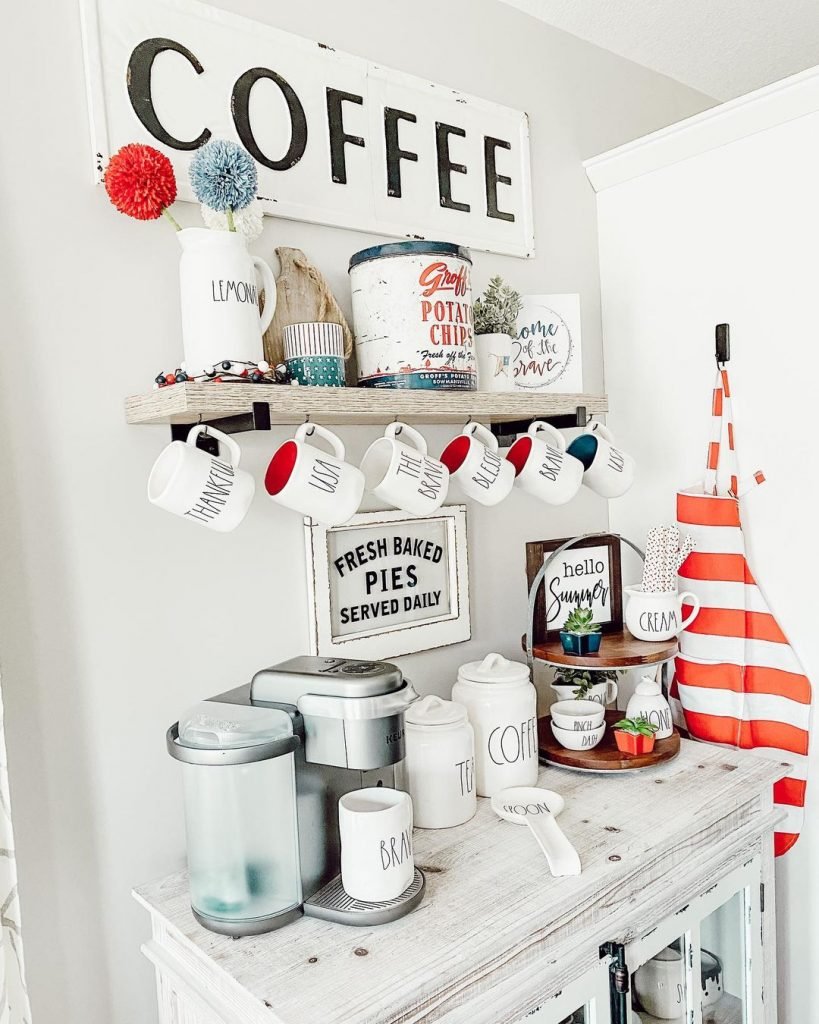 Source: mornings_on_macedonia
This farmhouse coffee bar idea is bright, colorful, and elegant. The white cabinet and shelves topped with tiny bright orange decorative pieces make this personal cafe adorable and funky. You can change the colourful mugs, the items on the shelves, and the items of the tiered stand throughout the year. I love how easily this idea can be customized according to the seasons and themes.
7. Chalkboard Wall Kitchen Coffe Bar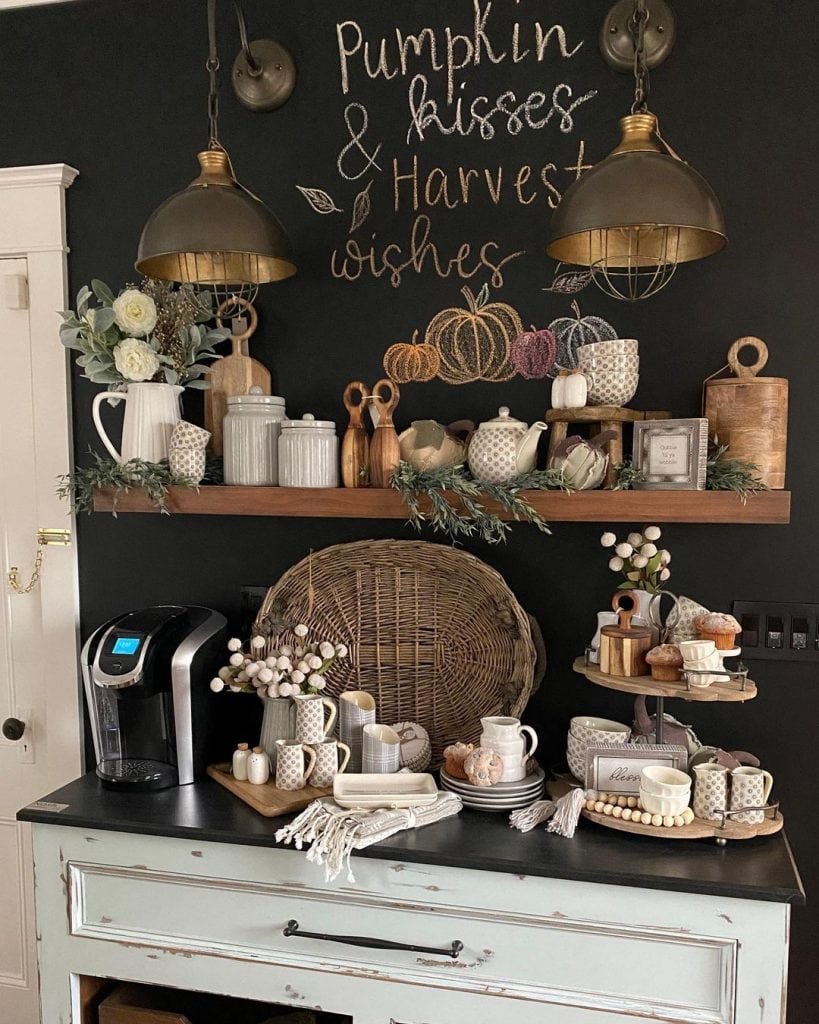 Source: nicolettes_for_the_home
Here is another very customizable coffee bar idea that has a chalkboard wall background. The one drawer cabinet with a wall shelf and two bright hanging lights completes this station's rustic feel. It is filled with tiny cups, milk jugs, and other dainty decorations that match the theme. Greeneries are spread around the shelf for an earthy and fresh appeal.
8. Extremely Coffeelicious Cafe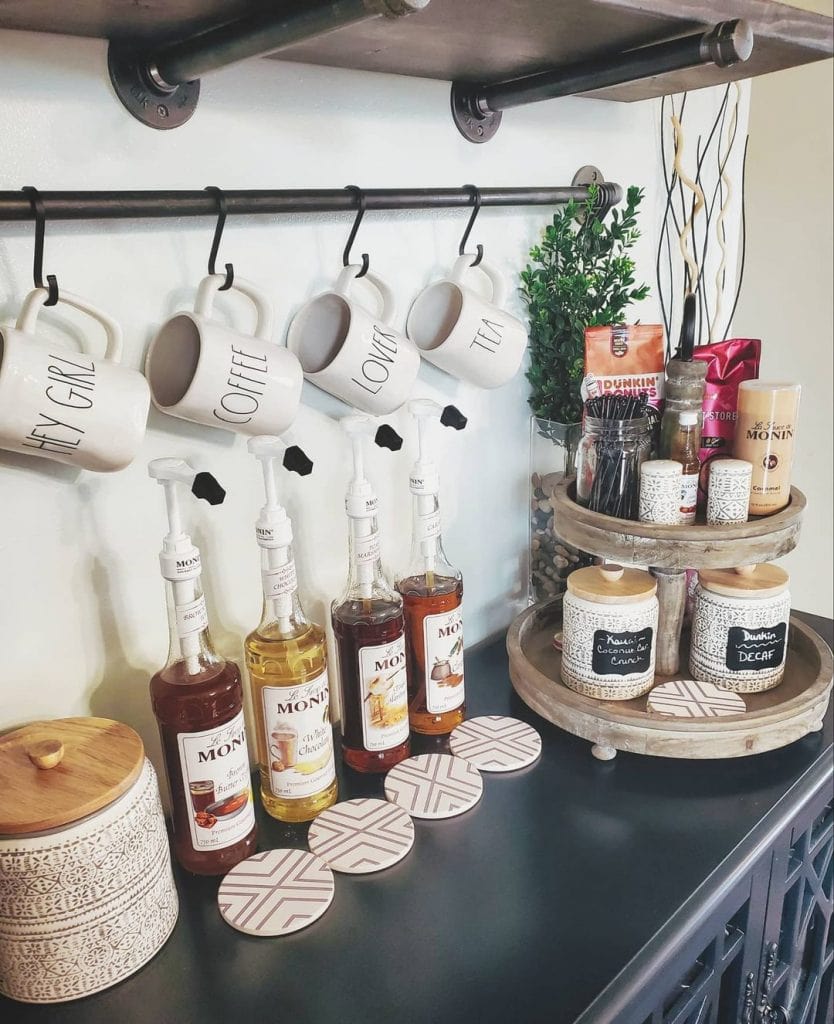 Source: littlecornerof_joy
This coffee station is perfect for satisfying all your coffee cravings, and by all, I mean from butterscotch to white chocolate. You can serve yourself and your guests some of the most delicious coffee variants with this kitchen coffee bar. It is lined with unique flavors of syrups and aromatic ingredients that are a must-have for a coffee fan. You can start with a simple black tabletop with hooks on the wall for hanging mugs, and then customize it to suit any large/small space.
9. Caffeinated Mugs Minty Green Station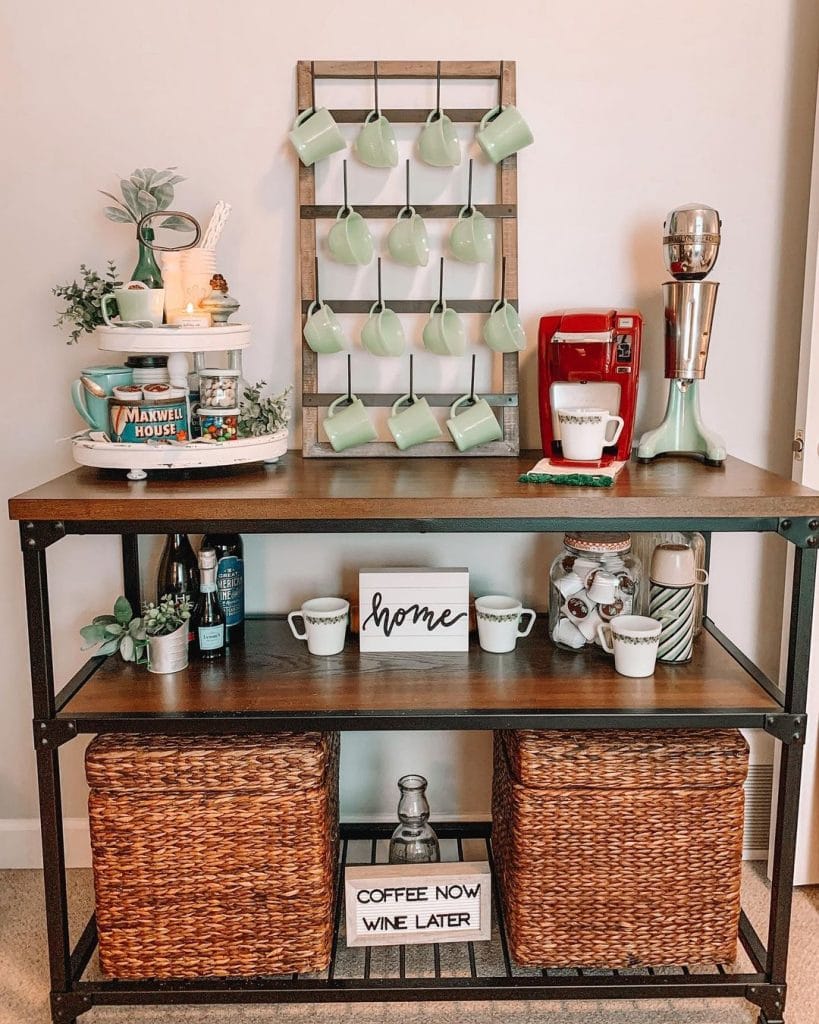 Source: livyludecorates
The star of this coffee station by is the set of adorable minty mugs frame placed at the center of the shelved table. I love the vintage vibe of this coffee bar, and the wheels of the cabinet that allow you to have coffee anywhere. The bottom shelf is used to store wine, making it a space-saving and purposeful idea. Place some syrups, a coffee machine, and other dainty decorations to create your version of this idea.
10. Vintage Mug Rack Coffee Station
Source: danielleroseee
This coffee station by is simple, cozy, and very elegant. It uses white chester drawers as the table along with a wooden mug rack on the wall. The tabletop is neatly organized with a coffee machine, a tray with cream and coffee, and a tiny drawer organizer. Everything about this coffee bar idea seems super minimal yet inviting!
11. Choco Brown Kitchen Coffee Bar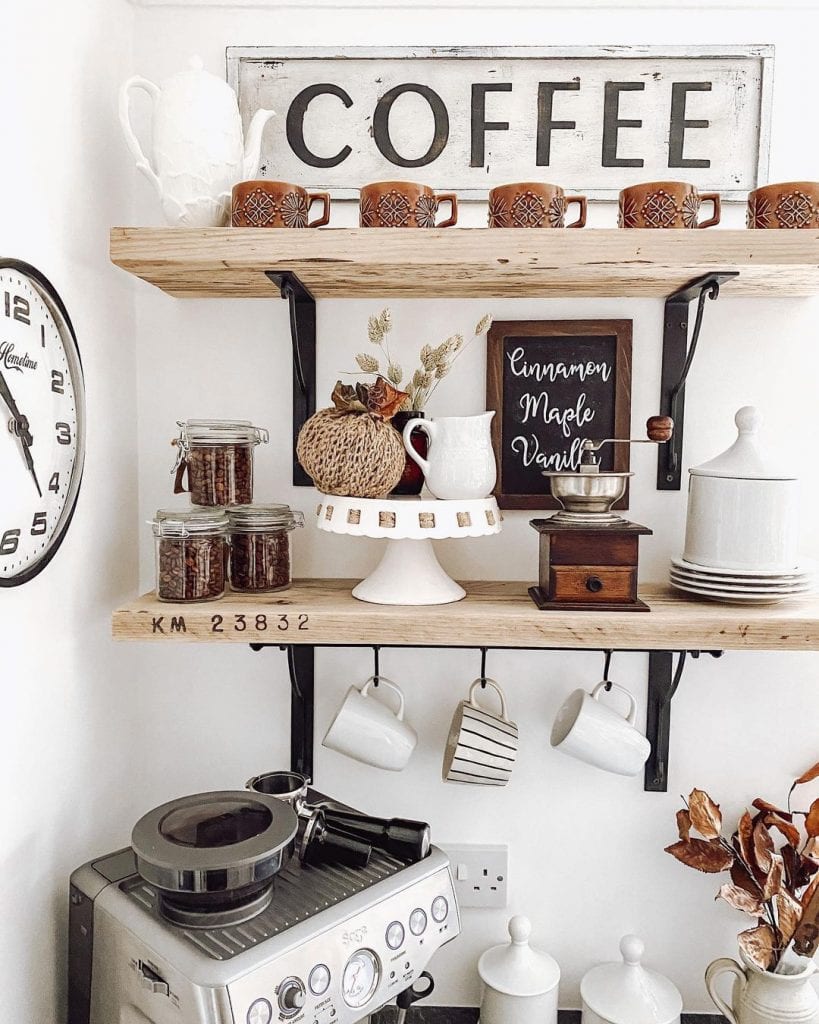 Source: makinghomematter
Got no space for your coffee maker in the kitchen? Try this idea and create an adorable coffee bar with just two pale wooden planks. Use them as shelves to display coffee, jars, mugs, and other decor pieces. Hang a coffee board on the wall and add some matching flower vases to finish this lovely corner. It will definitely become a must-stop spot for all your guests.
12. Monochrome Keurig Coffee Station
Source: cozy.with.cat
Grab a dozen of Rae Dunn coffee mugs and pots to recreate this monochrome home coffee bar. Add four black coffee hangers on the wall above the white drawered cabinet. Hang the coffee mugs and place some posts of cream, coffee, sugar, and tea on the tabletop. Place your coffee maker and finish off with a cute coffee phrase board.
13. Exposed Shelves Adorable Personal Cafe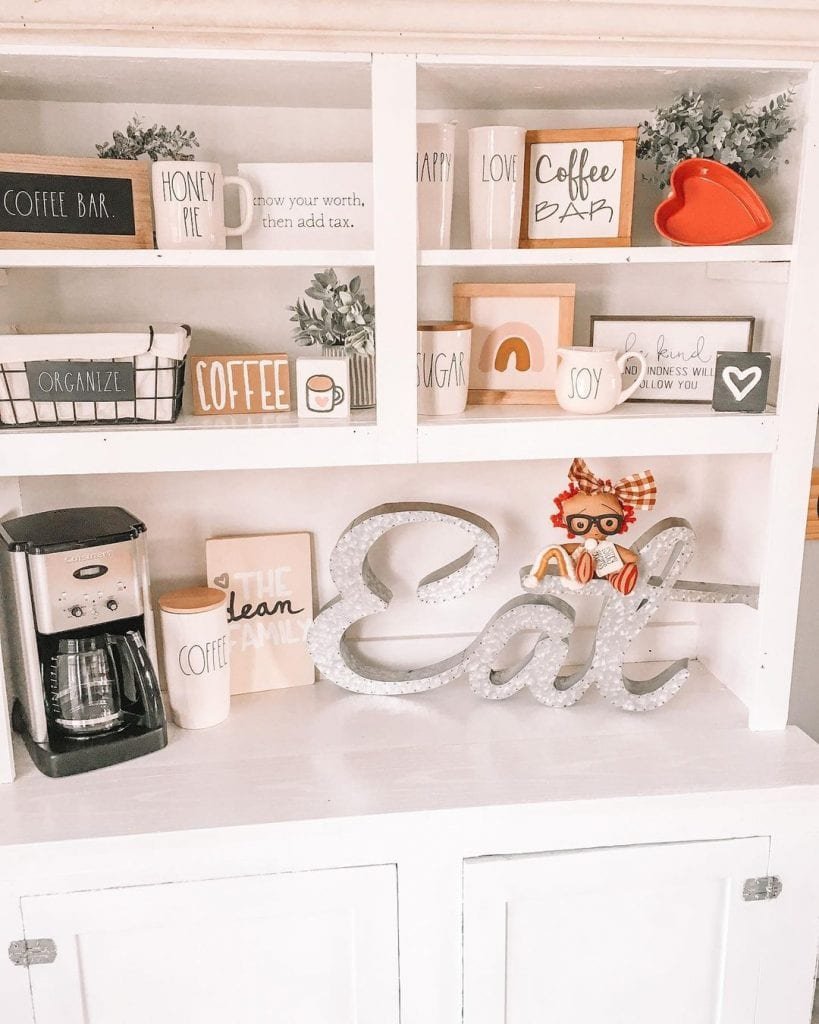 Source: oldragdollcupboard
I absolutely love this bright and colorful kitchen coffee bar with exposed shelves. This station is beautiful, aesthetic, and modern, perfect for coffee lovers. It would kickstart your Monday mornings with a dose of caffeine and motivation. The addition of tiny frames across the shelves with happy phrases makes this a must add to your home decor.
14. 'Freshly' Brewed Coffee Bar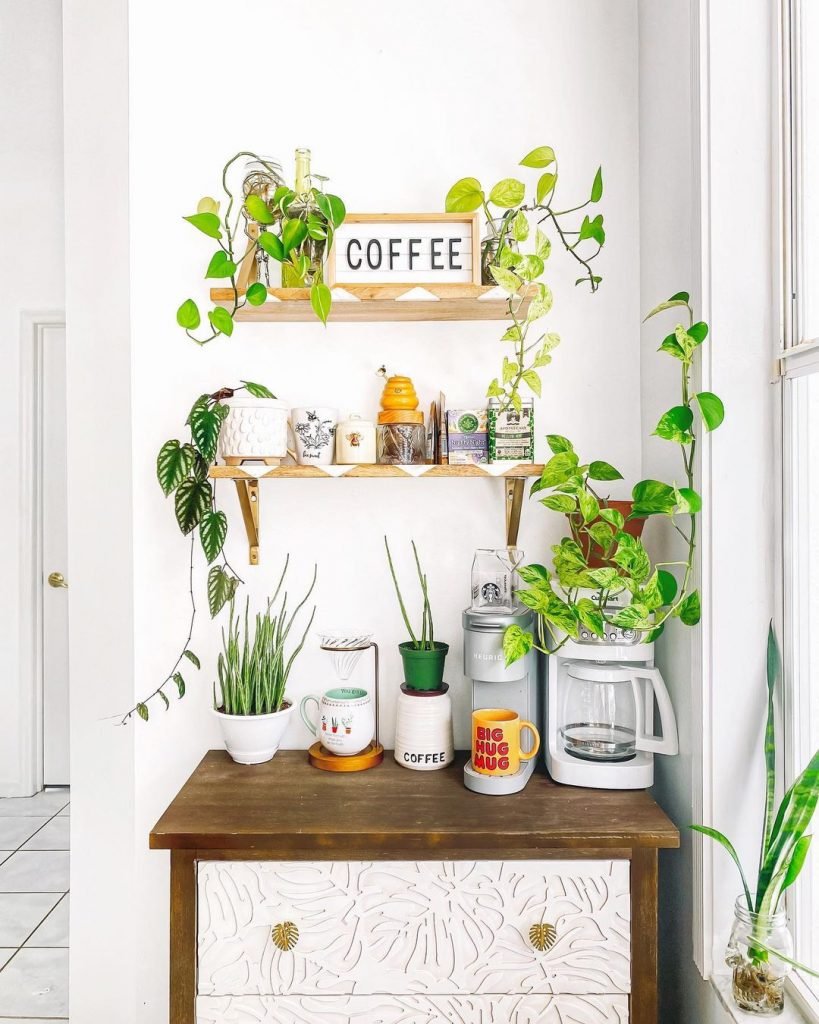 Source: shoelayces
Add a dose of freshness and greenery to your morning coffee with this leafy coffee station. It is a basic two shelved home coffee bar with a designer cabinet below. Cover the shelves and the surroundings with leaves and plants. You can use real or artificial ones, depending on your convenience. You'll experience a dose of freshness as soon as you visit your personal cafe!
15. Simply Caffeinated Shelved Rack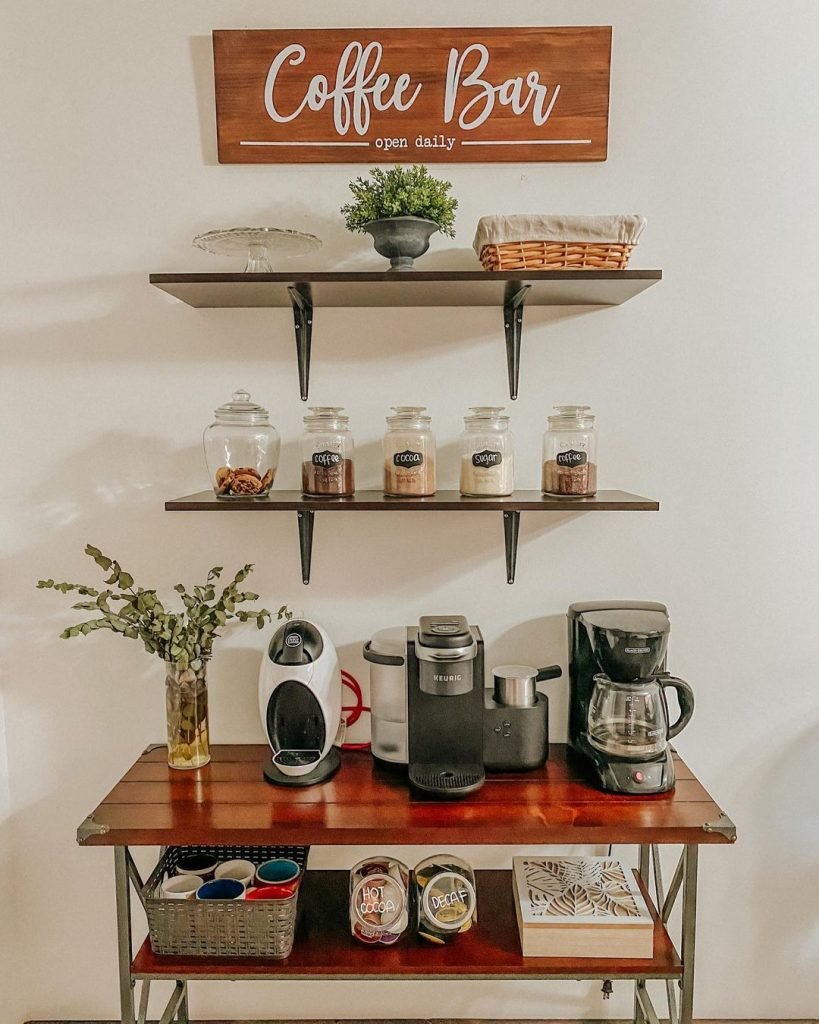 Source: welcome2urhome
This DIY coffee bar idea by is easy, and you can use any shelved rack available to recreate it. Place it in your favorite corner or passage and add two shelves on the wall. Fill the rack with coffee machines, cups, and any other item you wish to store. Use the hanging shelves for ingredients and decorative pieces like plants/frames, etc. It is a straightforward, neat, and modern way to organize and decorate your coffee bar.
Related DIY Post – DIY Hanging Shelves
16. Holiday Bells Coffee Bar
Source: nicolettes_for_the_home
This coffee station idea is no less than a Christmas decor idea. The shelves and tabletops are adorned with tiny Christmas trees, Santa miniatures, and other holiday decorations. The station has a red, white, and green theme to match a traditional holiday decor. The chalkboard wall is perfect for writing Christmas quotes or fun holiday cafe names.
17. Valentine's Romantic Cafe for Two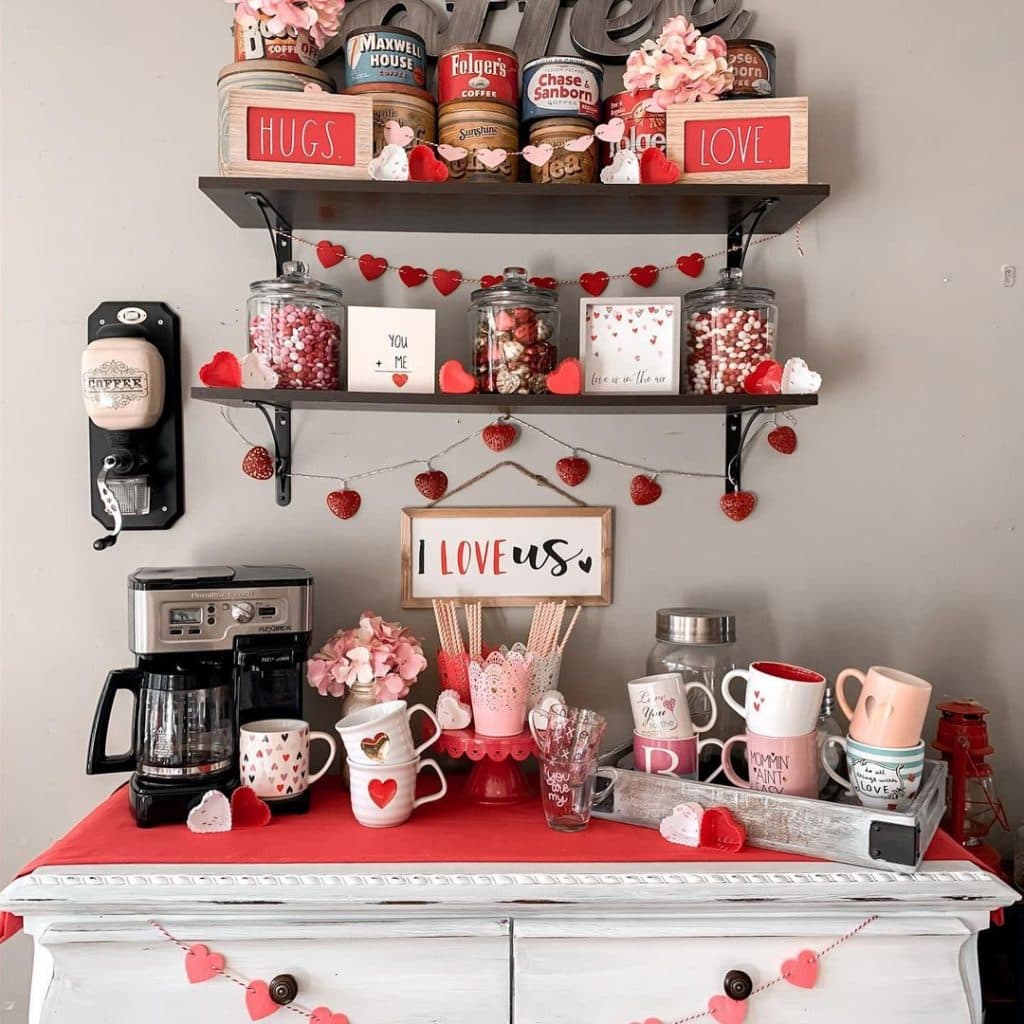 Source: rebeccaannehome
This coffee station idea would instantly make you fall in love (quite, literally). The adorable red and white theme makes this theme perfect for celebrating a romantic evening with your valentine. It is also a lovely date idea right inside your home. Heart-shaped chocolates, pink and red mugs, and a variety of delicious coffee would completely woo your loved one!  
18. It's Raining Rae Dunns Coffee Bar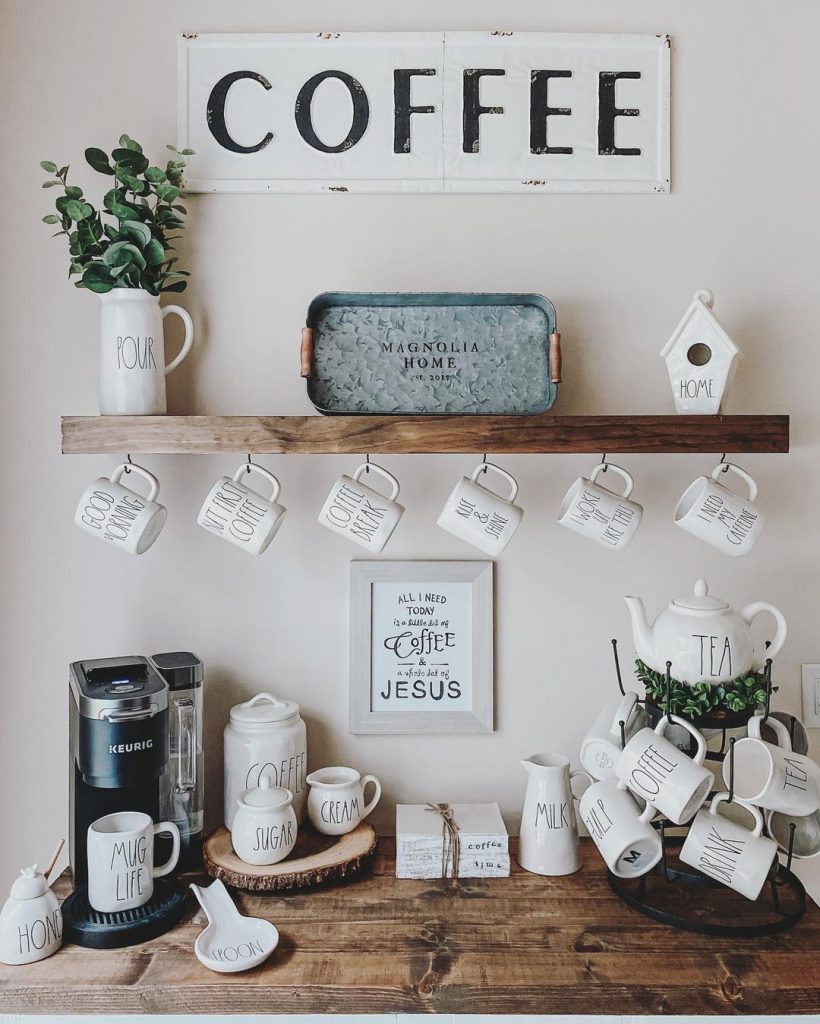 Source: snowmuchlife
An inexpensive and quick way to decorate your home coffee bar is by using Rae Dunn coffee mugs, pots, and kettle like this idea. They look so chic and classy scattered around the shelves and tabletop of your coffee station. These decor pieces look great with wooden, concrete, or even white marble stations. Stack as many or as little Rae Dunns you like. Hang some up on the shelves and get ready to pour a mugful of aromatic coffee.
19. Hello Honey! Corner Coffee Bar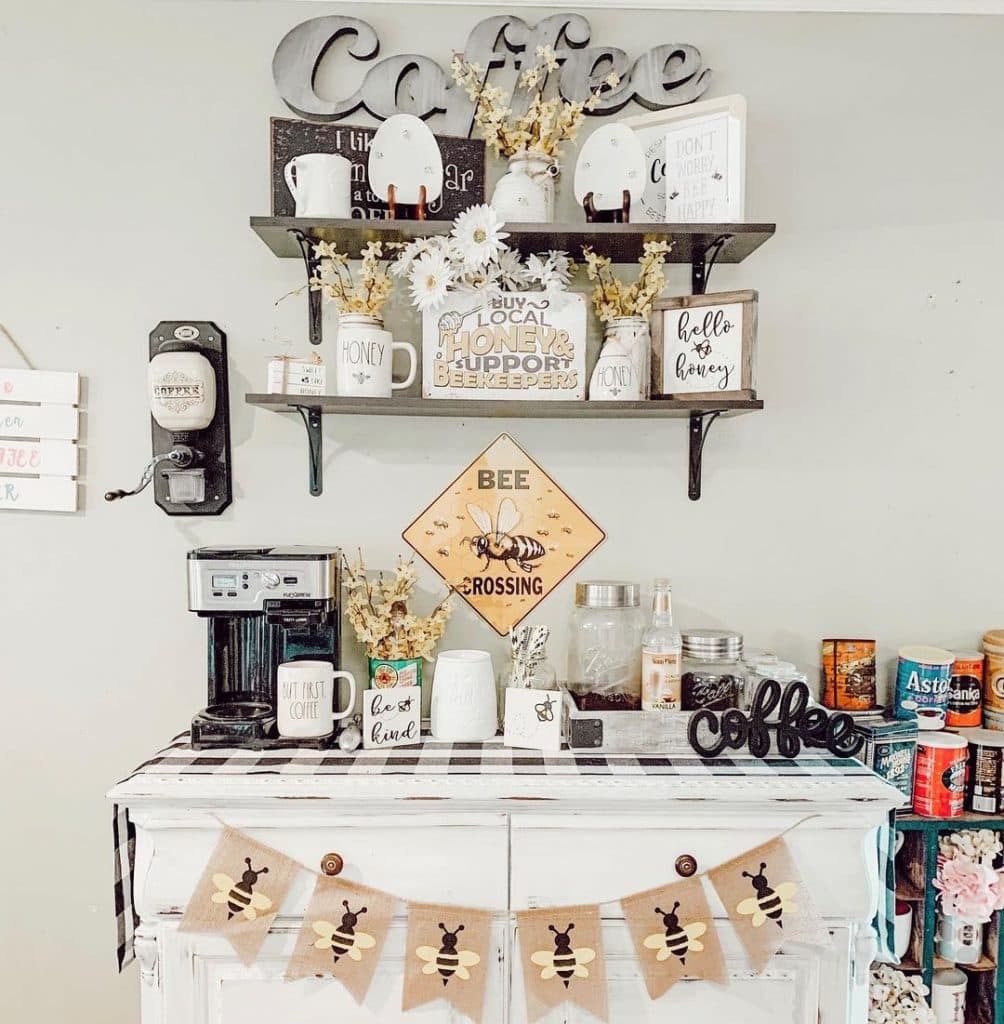 Source: rebeccaannehome
Make your coffee bar honeylicious with this home coffee bar idea. Add some theme inspired frames and banners across your coffee station and use warm-toned decor pieces to recreate this idea. I love how the addition of simple pieces can instantly transform your coffee space. You can customize this idea to create any possible theme of your choice.
20. Pumpkin Spice Latte Corner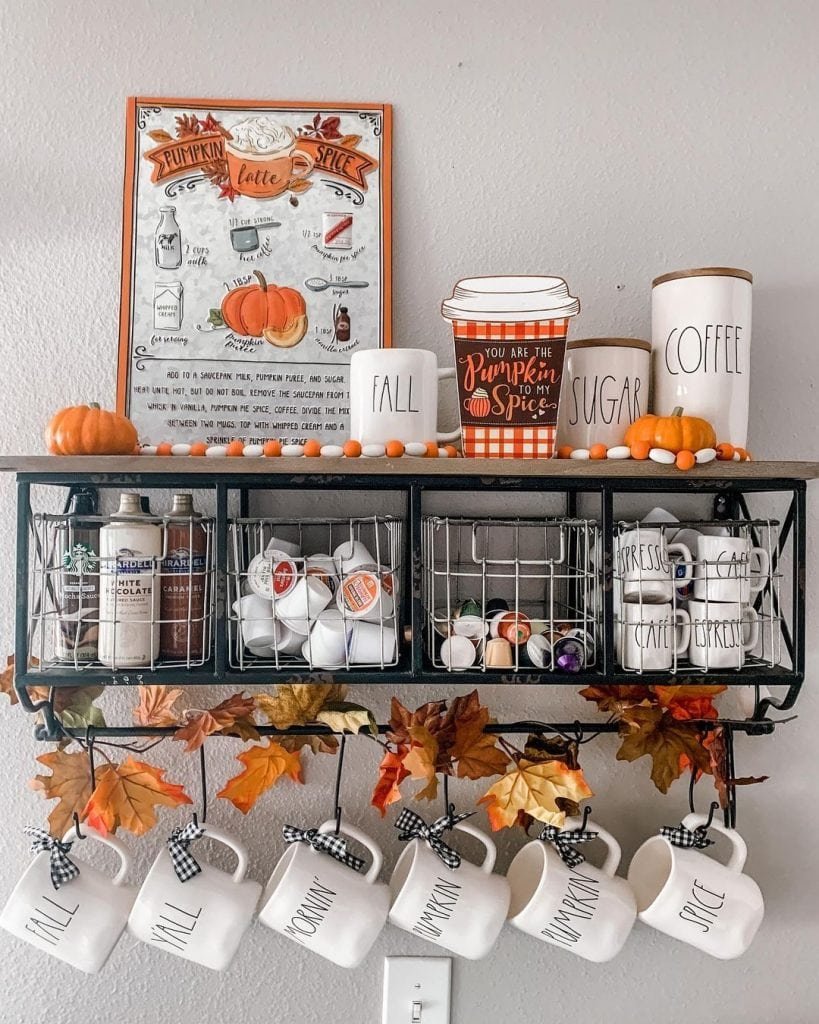 Source: coffeeandkatie
It is the Pumpkin spice season with this fall-themed coffee bar idea. You can decorate your station with tiny pumpkins, artificial maple leaves, and other related decorations. The station has Rae Dunn mugs and pots displayed on the shelves and wire buckets filled with different coffee flavors.
21. Heavenly Hot Cocoa Bar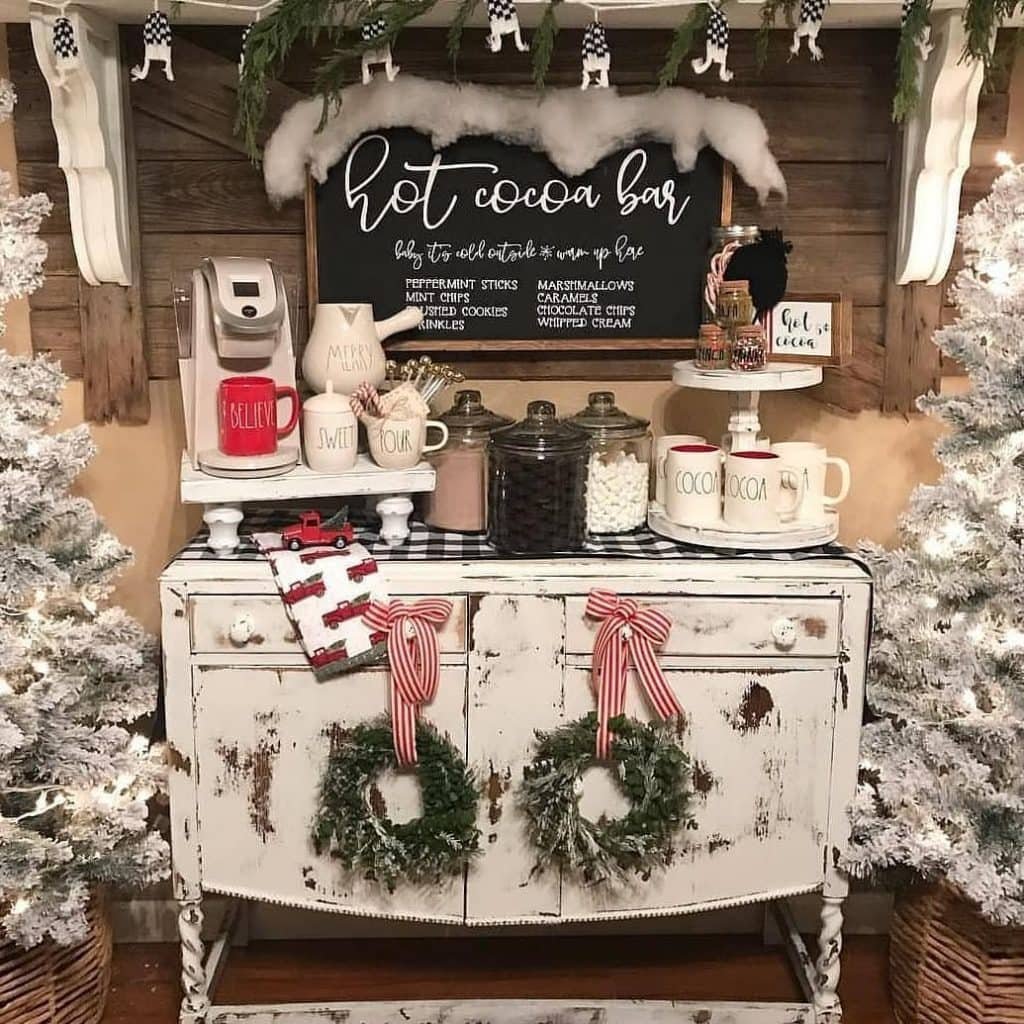 Source: floraltreasure
I love how warm, welcoming, and cozy is this hot cocoa bar. This Rae Dunn display table with some inviting jars full of marshmallows, chocolate chips, and cocoa powder will make the most indulging mug of warmth for your chilly winters. A tiny blackboard on the wall with the menu and hot cocoa bar written on it makes it look like an adorable cafe.
22. Make & Have Coffee Bar Corner
Source: our.cultivated.home
This DIY coffee bar is unique and easy to make. It allows you to make your coffee and have it right at the station. Attach a shelf on any spacious wall and place two stools in front of the shelf, and the structure of your station is ready! Hang some cute coffee frames on the wall and place coffee machines and mugs on the table. Make sure to leave some space empty on the shelf for use as a table while enjoying your coffee.
23. Minnie Mouse Home Coffee Bar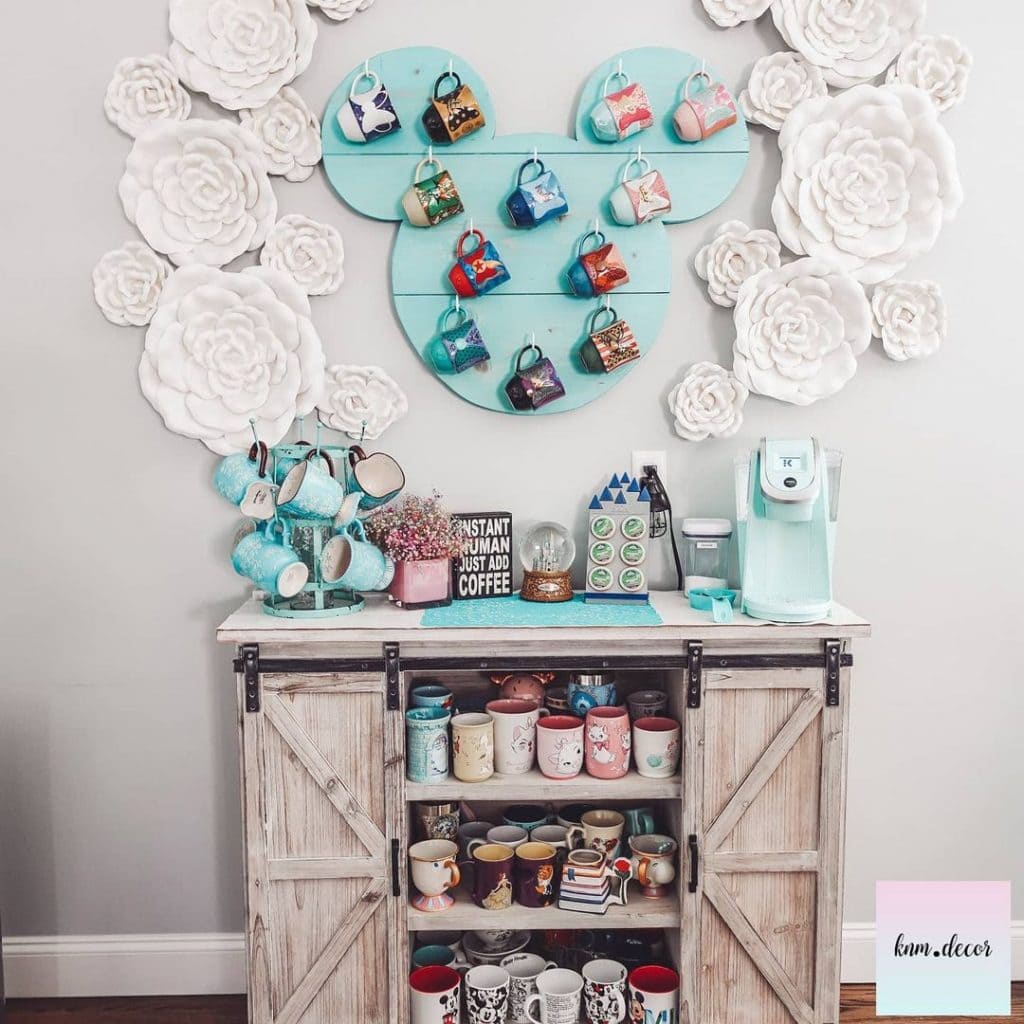 Source: knm.decor
Here is a super creative and small coffee bar idea. The station has a sky blue Minnie mouse theme. A light-stained rustic table with three shelves and a countertop is the bar table. A Minnie mouse wooden board is hung on the wall with mug holders. Finally, stunning white rose wall decor is added on both sides of the wooden board. Overall, the station is very appealing and you would surely want to stop by for a cup of coffee!
24. Fall Coastal Kitchen Station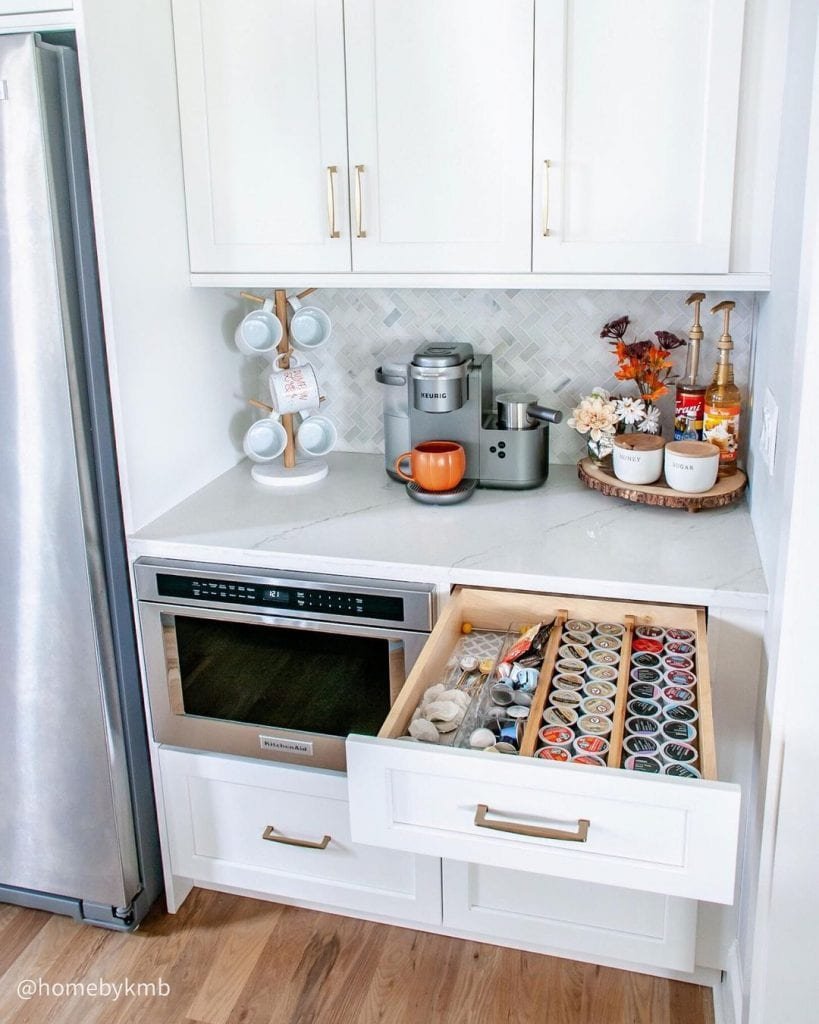 Source: homebykmb
Coastal kitchens have a very modern and sophisticated vibe and you can create a coffee station with the same. This idea is a great kitchen coffee bar idea with cupboards above the counter and drawers below. A coffee machine is placed at the counter along with a stand for the mugs. Finally, the corner is dedicated to a fall-themed coffee station decor.
25. Lemon Fresh Coffee Station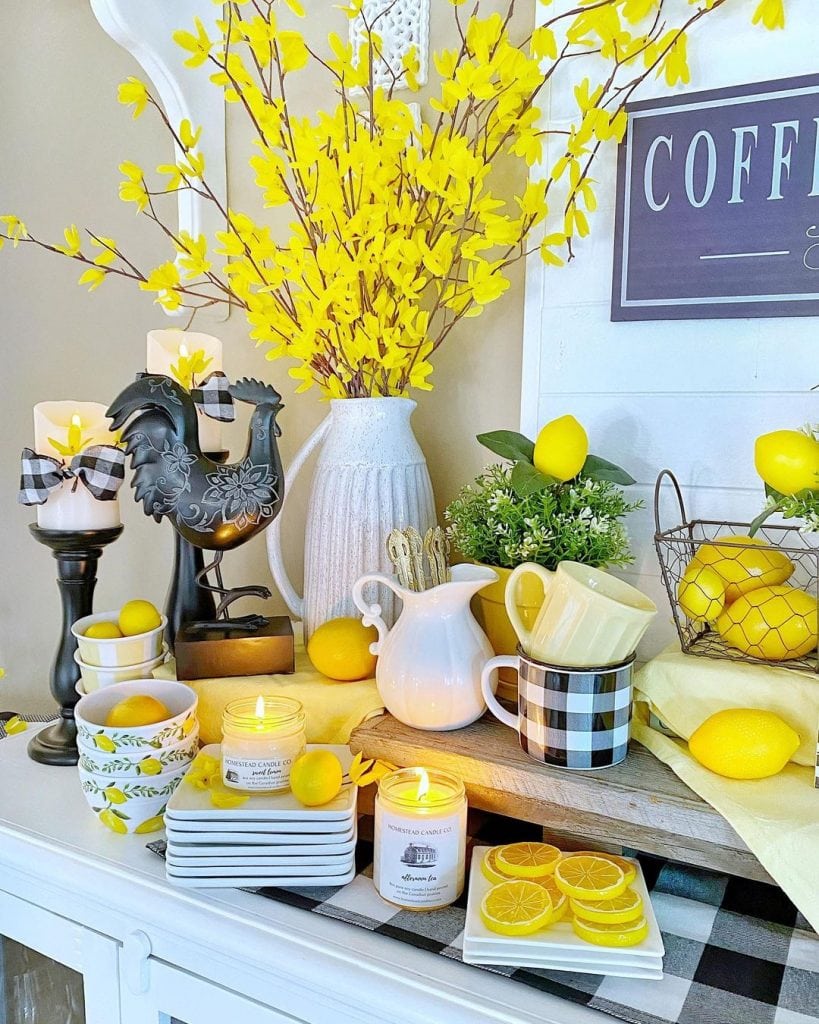 Source: dining_delight
I love this bright yellow coffee and tea station. The lemon-fresh aesthetic is a definite eye-catcher. From lemon-scented candles to a vase full of yellow flowers, this coffee station decor is absolutely stunning. Finally, black and white checkered table cloth and mugs are added to break the monotony. This is an affordable and vibrant way of designing your coffee station.
26. Modern Farmhouse Coffee Station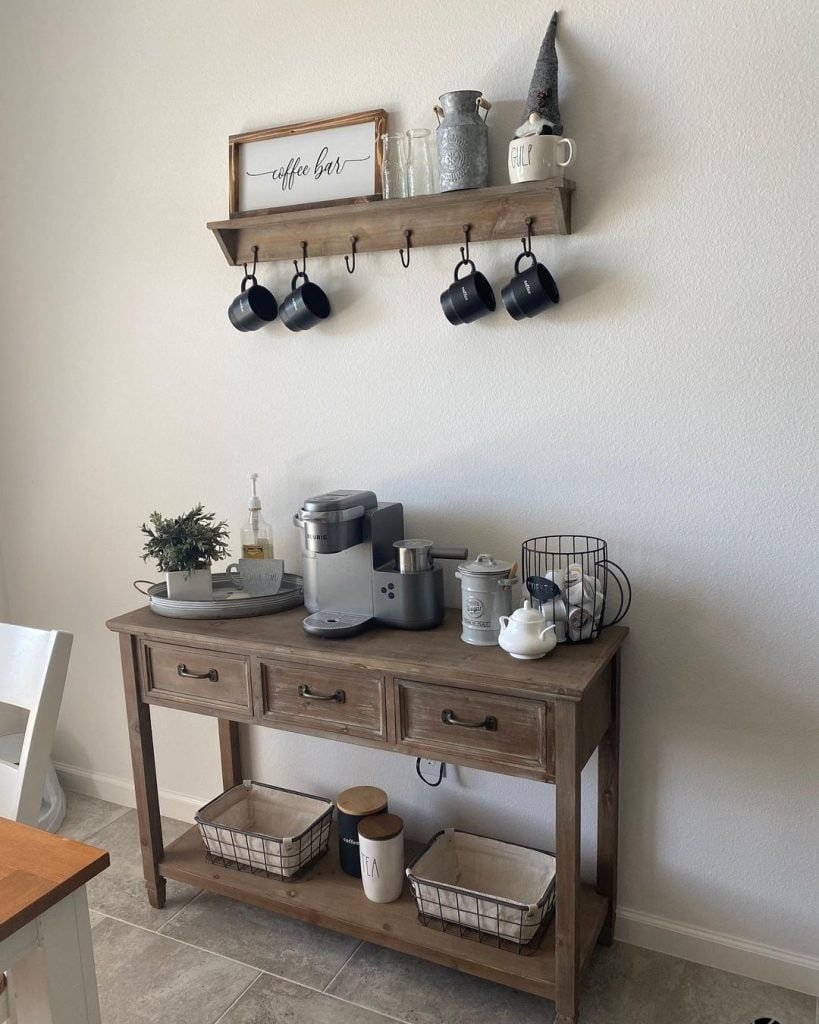 Source: themomwithablog
Here is an amazing modern farmhouse coffee bar idea that has a subtle vintage feel to it. The station is in the form of a tiny open rack with the coffee machine and required ingredients placed over the countertop. A hanging shelf on the wall is both a mug holder as well as space for placing the coffee station decor like frames, etc. The open racking in the table allows for a clear view and easy access.
27. Naturally Refreshing Kitchen Coffee Bar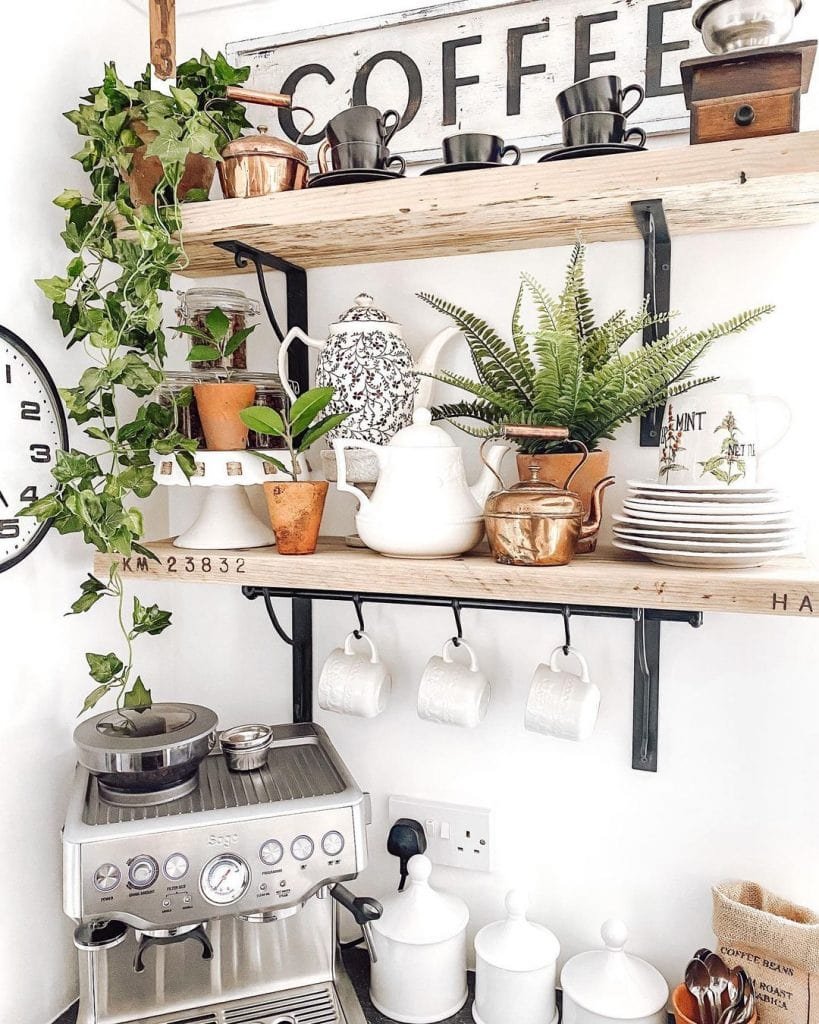 Source: makinghomematter
This idea by is a perfect balance of old and new resulting in this visually pleasing and super functional coffee station. This DIY coffee bar uses two light-stained open shelves for storage and displaying the coffee station decor. I love how you can elevate a corner of your kitchen with this kitchen coffee bar. All you have to do is hang some DIY kitchen shelves and place all coffee-themed items in the corner and voila!
28. Love is Brewing Coffee Station
Source: homevibeswithnancy
I love how warm and welcoming this home coffee bar is. A stylish white table acts as a counter for placing the coffee machine and Rae-Dunn jars for sugar, tea, and coffee. The addition of quote frames on the wall above makes this corner coffee bar even cuter. Finally, a coffee mug holder is hung on the adjacent wall for easy access. I love how easily and quickly you can recreate this DIY coffee bar.
29. Spring Rae Dunn Coffee Bar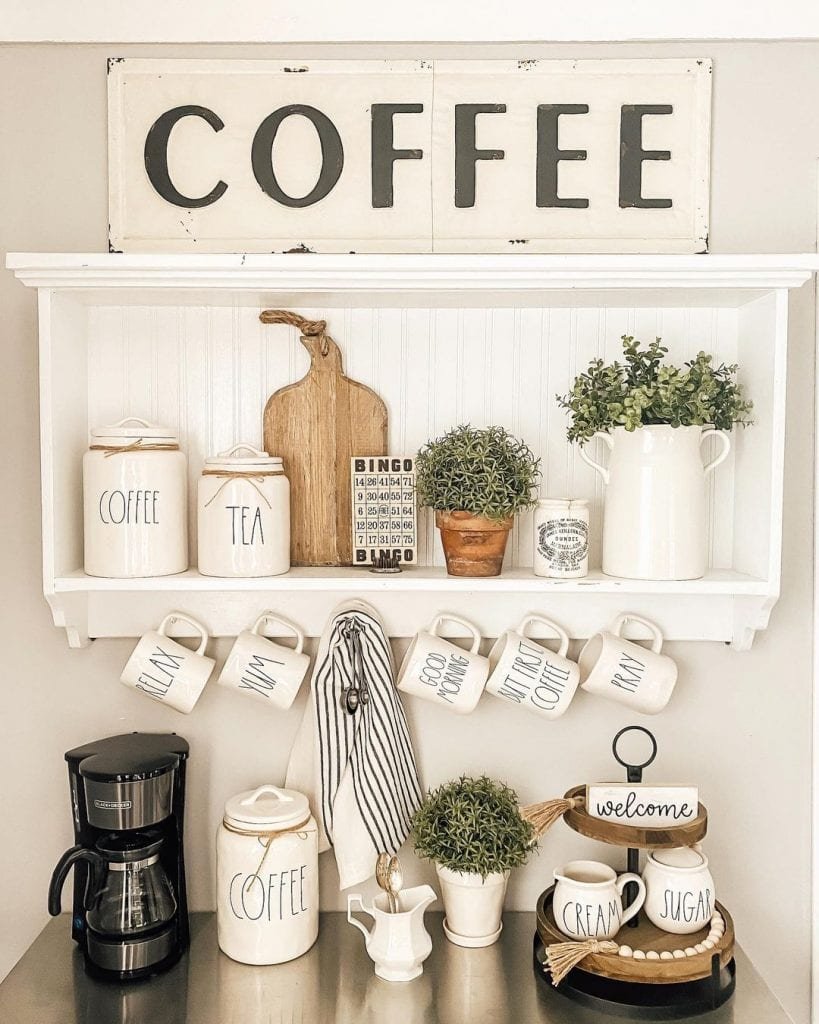 Source: faith.and.farmhouse
This beautiful, white coffee bar idea is a perfect way of displaying and using your Rae-Dunn jars and mugs. You can recreate this DIY coffee bar by using some basic supplies, or old furniture pieces. Set up a table against a wall and place a coffee maker and other ingredients on it. Hang a wooden open shelf on the wall above and use it to place some coffee bar decor like plants and frames. Overall, the appealing white theme of this home coffee bar is suitable for any space, so do try it out!
30. Cute Easter Coffee & Tea Station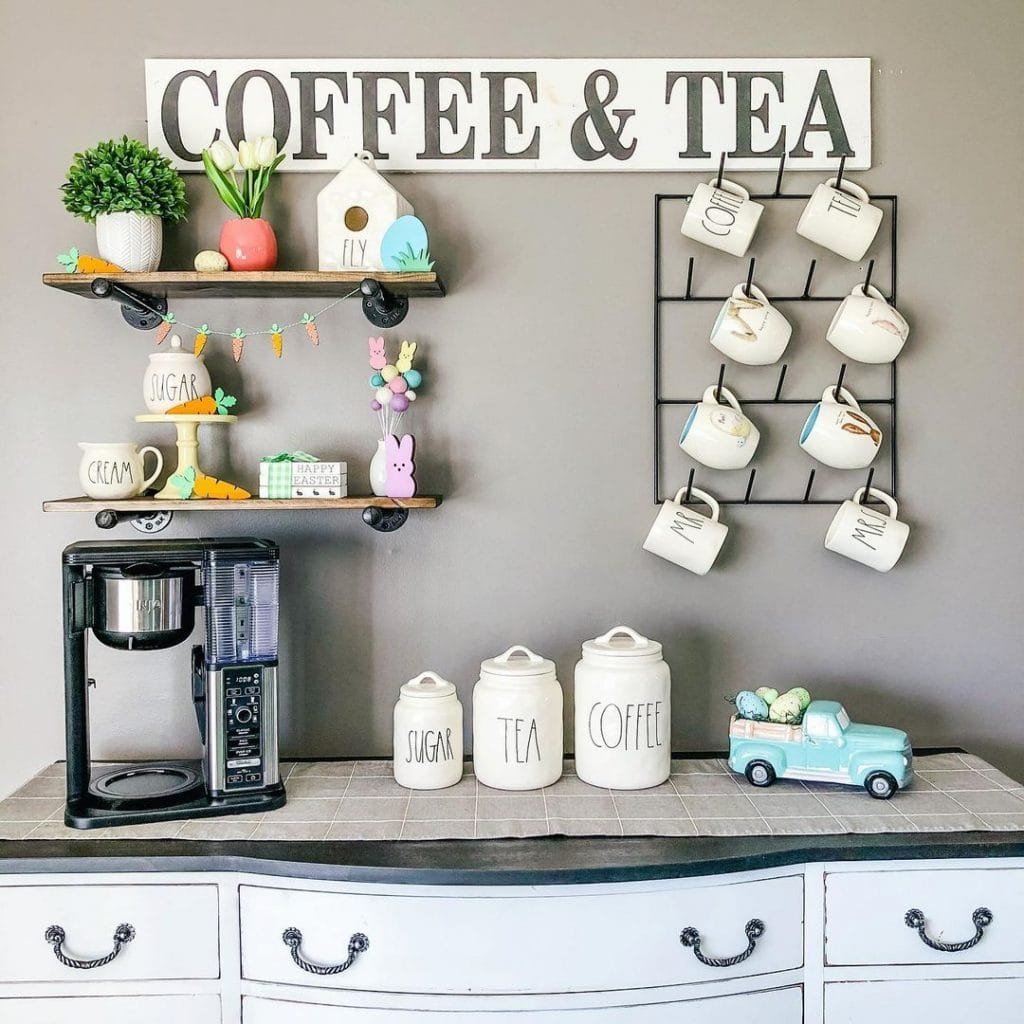 Source: silverpumpkindesigns
Easter is an all-time favorite festival and you gotta dress your coffee bar up for the same! This adorable coffee station idea uses two hanging shelves for decor and an open racking for the mugs. A coffee machine and the ingredients are placed on the countertop. Additionally, the cabinet comes with drawers for extra storage. Tiny, colorful bunnies and eggs are placed across the coffe bar for the Easter feels!
31. Coffee Love Egg-cellent Corner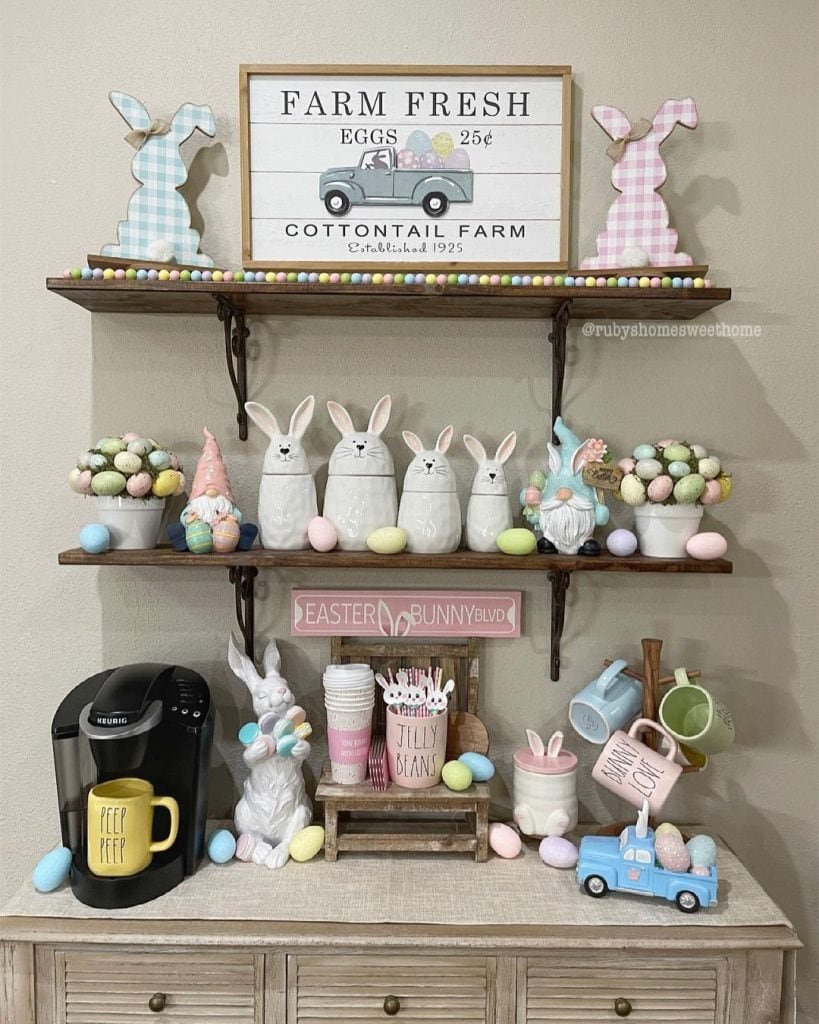 Source: rubyshomesweethome
Here is another Easter-inspired home coffee bar. The coffee station has a wooden cabinet with drawers for storage. The countertop is filled with adorable pastel-colored decor. Additionally, two DIY kitchen shelves are hung on the wall for bunny-shaped ingredient jars as well as other eggcellent decor pieces.
32. Easter Bunny Brewing Station
Source: decorsteals
This Easter coffee bar idea is a classy yet fun way of designing your station. The home coffee bar furniture including the cabinet and two shelves is all stained white. Beautiful coffee station decor pieces are placed on the shelves like plants, frames, etc. Finally, the countertop is used for placing the coffee maker and other ingredients. The green plants add a fresh touch to this Easter coffe bar.
33. Floral Spring Corner Coffee Bar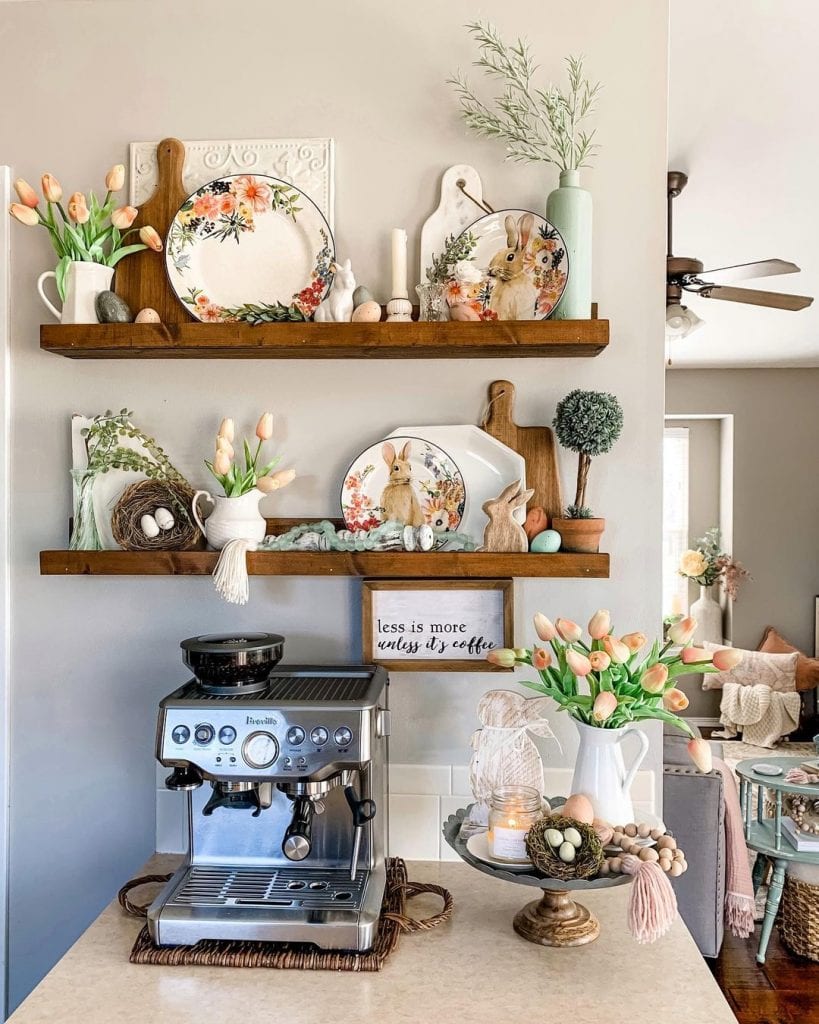 Source: rufflednest.decor
A floral touch is all you need to make any space appealing and super pretty! This lovely home coffee bar idea is a floral take on Easter decor. The countertop has a coffee maker along with a stand for the coffee station decor. Additionally, two DIY kitchen shelves (stained in dark brown) display flower vases, ceramic plates, and tiny egg nests.
34. Ortega's Cafe-Remodeled Coffee Bar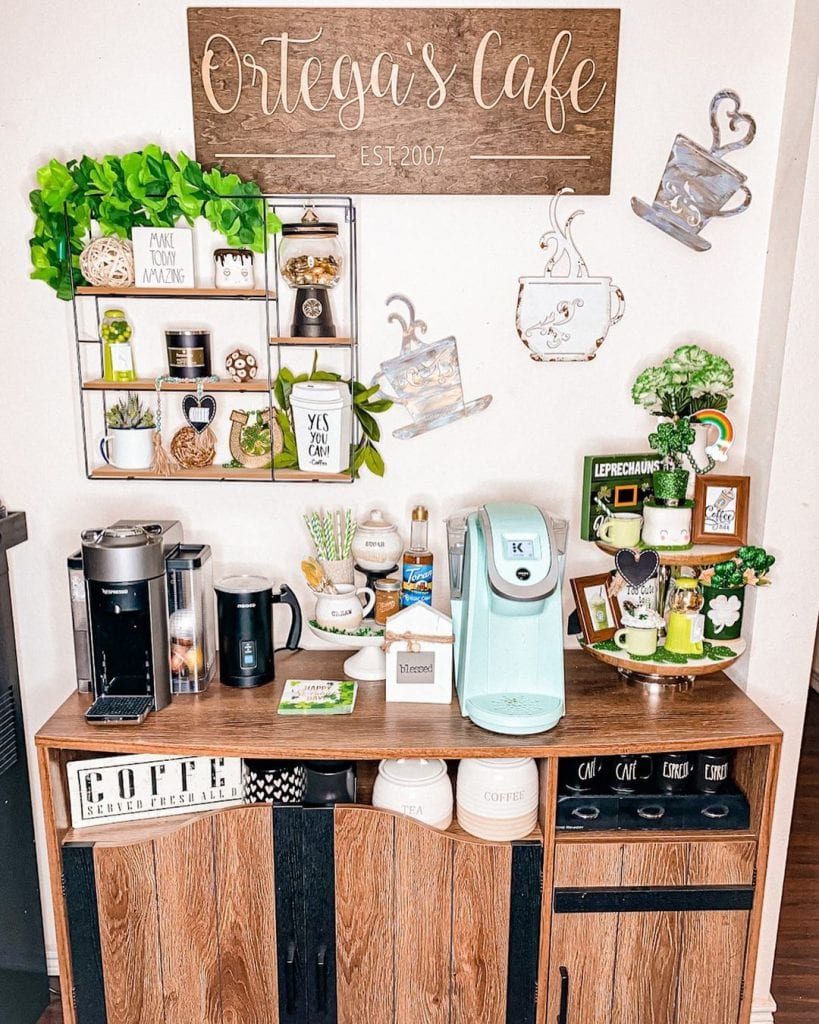 Source: marilifestyles
Yes! You can convert your favorite cafe into a home coffee bar just like this idea. A big wooden cabinet with tons of storage acts as a countertop for the coffe bar. Two coffee makers along with a lot of coffee station decor complete this stunning and personalized coffee station. So, it's time to remodel your favorite cafe into a cute and small coffee bar.
35. Egg-citing Easter DIY Coffee Station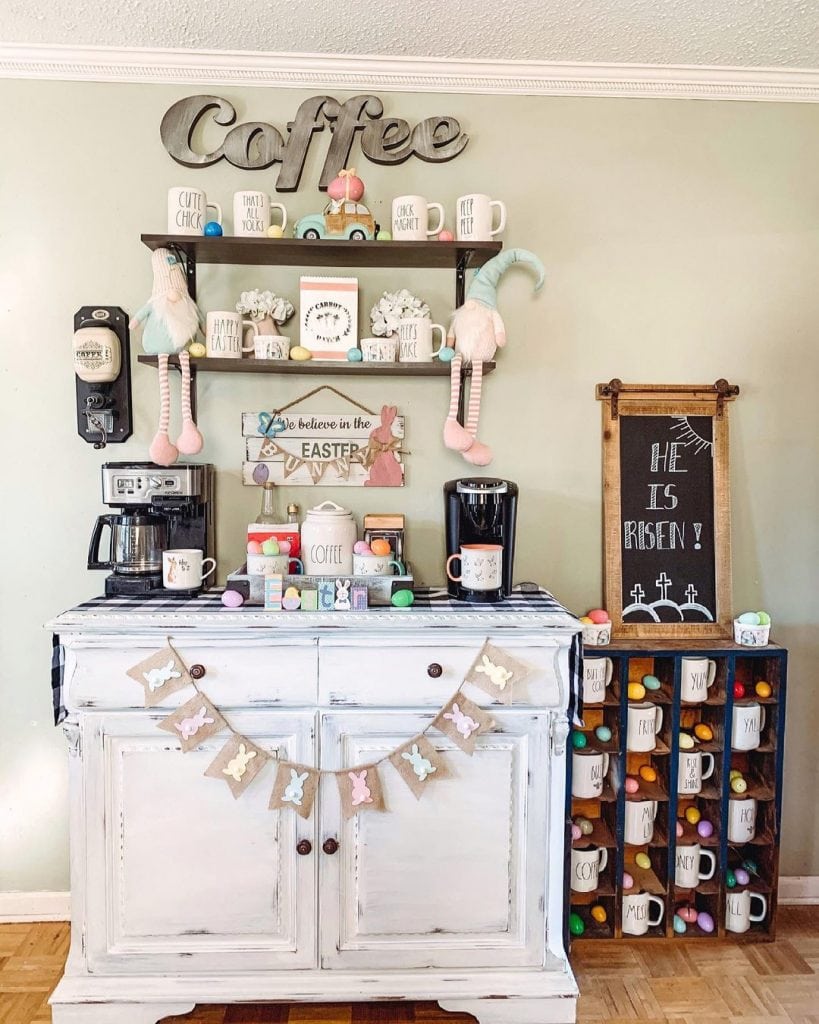 Source: rebeccaannehome
If you are looking for an elaborate coffee bar idea that can cover an empty space, this idea is perfect for you! A white wooden cabinet acts as the base of the home coffee bar. All coffee essentials and Easter decor pieces are placed on the countertop and two hanging shelves. Additionally, a separate open racking cabinet is used for displaying Rae-Dunn mugs.
36. Lovely Kitchen Coffee Bar
Source: simplepax
Here is a lovely kitchen coffee bar idea. Choose any empty corner of your kitchen counter and place a coffee machine and other ingredients. Add an LED hanging on the wall above and the corner is complete. You can add some DIY kitchen shelves or even built-in cabinets for storage.
37. Valentine's XOXO DIY Coffee Station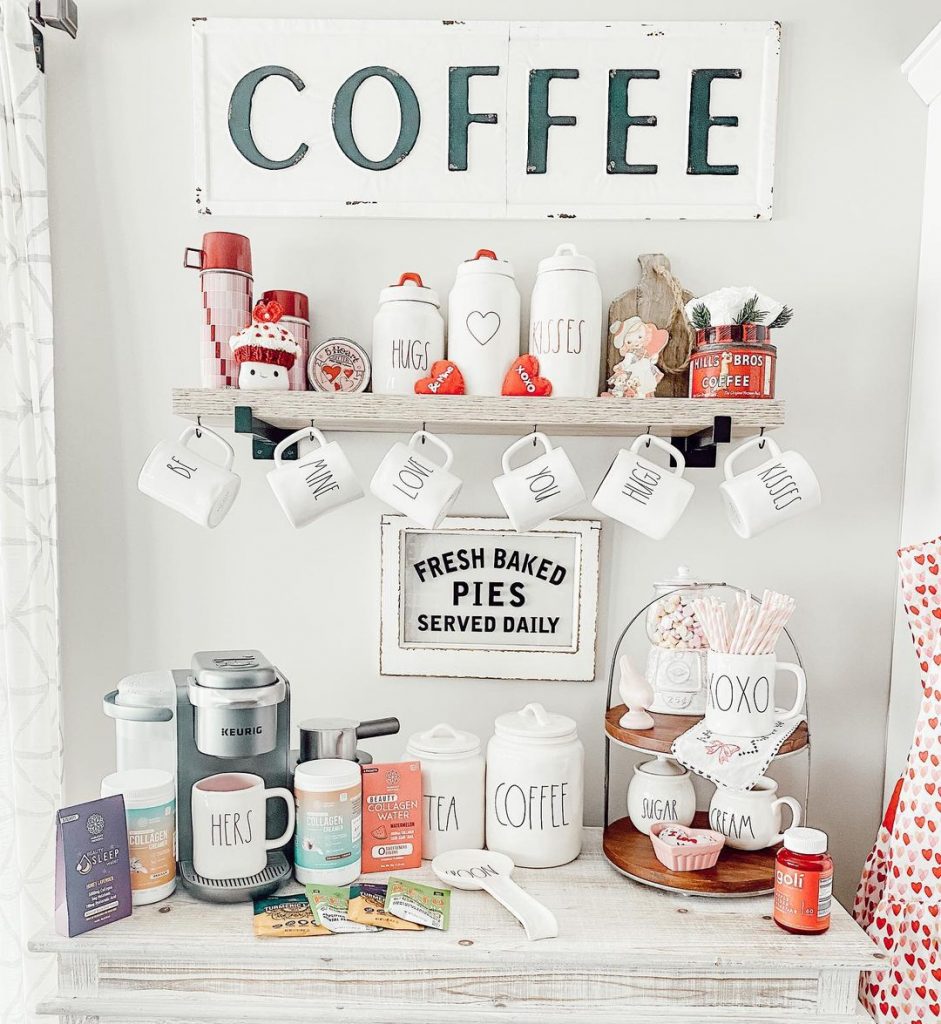 Source: mornings_on_macedonia
It's time to celebrate your valentine's over a cup of coffee straight from your home coffee bar. The theme has white home coffee bar furniture along with white Rae-Dunn mugs and jars. To complement the lovely vibe, a few red and pink pieces are added all over! You can build this corner by using any wooden cabinet and a DIY kitchen shelf. Customize and add any coffee station decor of your choice!
38. Blush Red Home Coffee Bar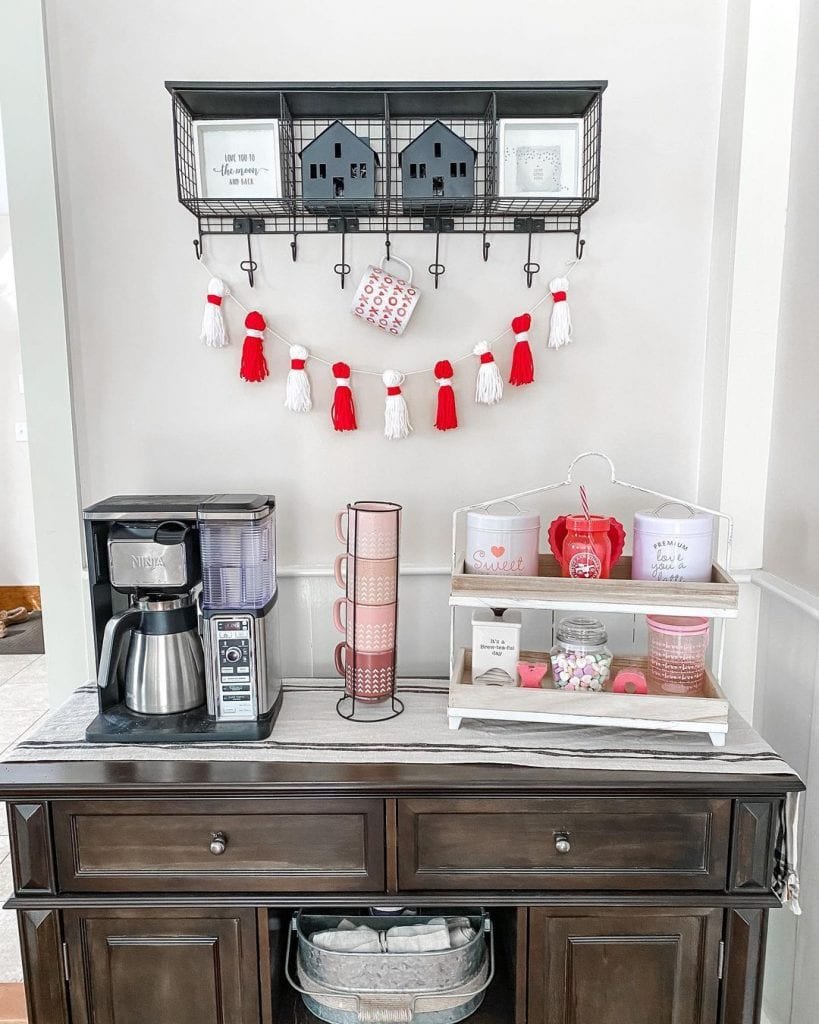 Source: stephreadblog
You gotta enjoy a love latte from your home coffee bar with this amazing idea. This coffe station has an adorable red and white theme. The jars, mugs, and decor stand out against the white counter and walls. I love how minimal yet attractive this coffee corner looks. Finally, the black open kitchen shelf on the wall is an added space for decor!
39. But First Coffee Kitchen Corner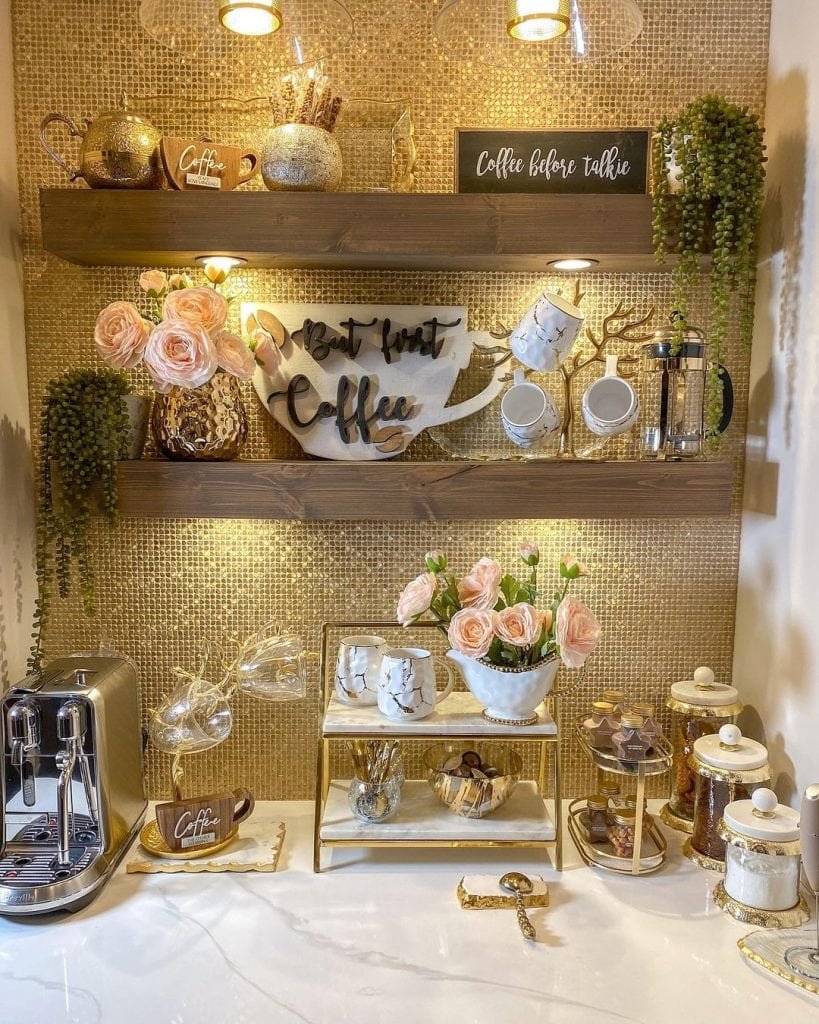 Source: farahjmerhi
This corner coffee bar is a sophisticated and super elegant way of designing your home coffee bar. The tiled wall elevates all the decor displayed. Two chunky DIY kitchen shelves are used for displaying quote boards, vases, plants, etc. The white marble countertop complements the wall beautifully and provides sufficient space to work on.
We hope these ideas inspire you to turn a corner or wall of your home into a cozy coffee bar. Choose any style modern, vintage, Halloween theme, summer/fall theme, or any other that suits your vibe. You can also customize these coffee bar ideas and turn them into a tea bar or even a regular wine bar.