Feature Image Source: Sugar Hero
There is no doubt that the star dessert in the Thanksgiving dessert menu will definitely be your famous Thanksgiving pie. However, add a tiny addition to your dessert list this year with some delicious thanksgiving cupcakes. Guests of all ages, from kids to grandparents, would enjoy these little treats. The recipes in this roundup would tempt you to bake some sweet delights this festive season. From brownie cupcakes, maple cupcakes with pumpkin frosting, and even chai latte cupcakes, we have a wide variety of options for you!
1. Pecan Pie Thanksgiving Cupcakes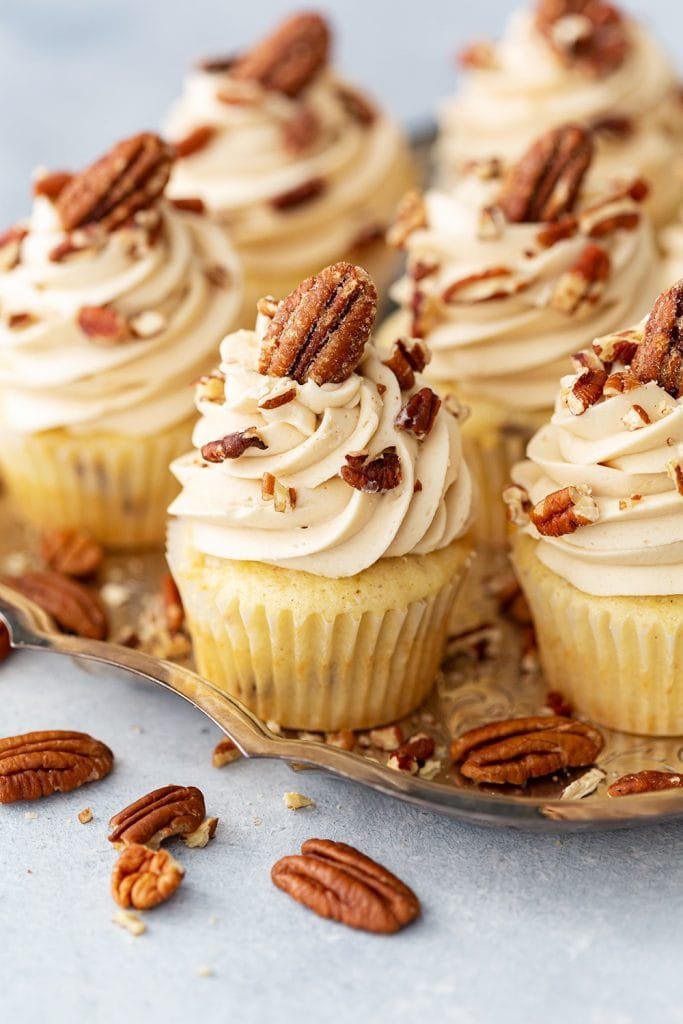 Source: Pizzazzerie
It's time to add the toasted, buttery fragrance of pecans to your thanksgiving celebrations this year with these pecan pie cupcakes. These delicious cupcakes are topped with brown sugar and cream cheese frosting and sprinkled with bits of toasted pecans. These cupcakes are a perfect way to fulfill your pie as well as cake cravings. Find the full recipe here.
2. Pumpkin Cupcakes with Cream Cheese Frosting
Source: Cooking Classy
These deliciously pumpkiny, perfectly moist, and soft cupcakes have the perfect autumn spice blend. They are a wonderful delight to have in your Thanksgiving dessert menu. These thanksgiving cupcakes have an irresistible and delicate flavor, and all your guests are sure to fall in love with the luscious cream cheese frosting topped on these little treats. Here is the full recipe!
3. Pumpkin Chocolate Chip Cupcakes
Source: Just So Tasty
Combine some of your favorite Thanksgiving flavors like pumpkins, vanilla, cinnamon, and brown sugar in these pumpkin chocolate chip cupcakes. These cupcakes have a chocolate buttercream topping for an added dash of cocoa. The combination of pumpkins and chocolates might sound like a mismatch but believe me, they go perfectly, not too sweet and very flavorful. Bake these yummy thanksgiving cupcakes today!
4. Apple Pie Thanksgiving Cupcakes
Source: I am Baker
If you don't feel like making apple pies this year, you can enjoy the same flavors in these apple pie thanksgiving cupcakes. Aromatic spices are perfectly balanced with the goodness of apples and topped with a fluffy whipped cream frosting. The classic vanilla cupcakes have a gooey apple pie filling and require only 35 minutes to make. So do try this recipe for your festive menu!
5. Apple Snickerdoodle Cupcakes
Source: Life Love and Sugar
These Apple Snickerdoodle Cupcakes snickerdoodle cookies with a twist of apple flavors in them. They are a perfect dessert to enjoy during the Thanksgiving season. Requiring a total time of 30 minutes, these cupcakes have cinnamon and apple-flavored cupcakes, topped with a light and fluffy apple frosting.  This dessert tastes as divine as it looks, so follow this recipe and bake some for yourself today! 
6. Caramel Apple Thanksgiving Cupcakes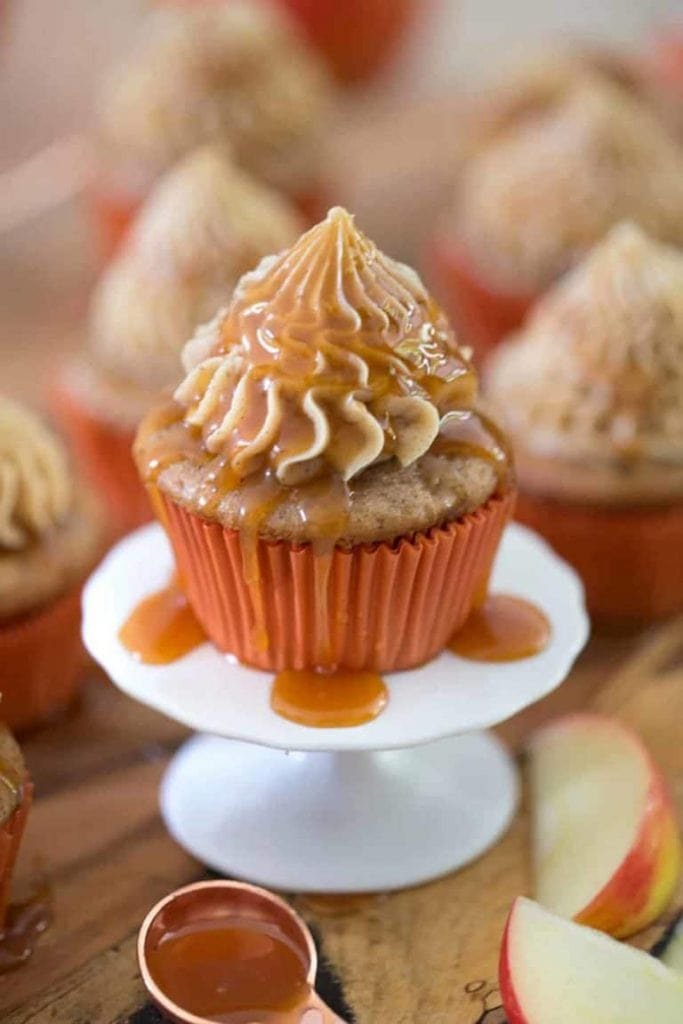 Source: Preppy Kitchen
Packed with aromatic spices and delicious diced apple, these caramel apple cupcakes are to die for. What makes these even more heavenly is the browned buttercream and homemade caramel topping. These desserts are packed with flavor and will be a memorable end to your Thanksgiving dinner! Here is the recipe to recreate these fantastic thanksgiving cupcakes.
7. Pumpkin Spice Thanksgiving Cupcakes
Source: Simply Home Cooked
Don't you want to dig into these yummy looking pumpkin spice cupcakes that are a treat to the eyes as well as your taste buds? Well, here is the complete recipe for you and your guests to enjoy this quintessential dessert at your Thanksgiving dinner. These cupcakes are irresistibly moist and fluffy with a whipped cream cheese frosting that is indeed the icing on the cake!
8. Apple Spice Cupcakes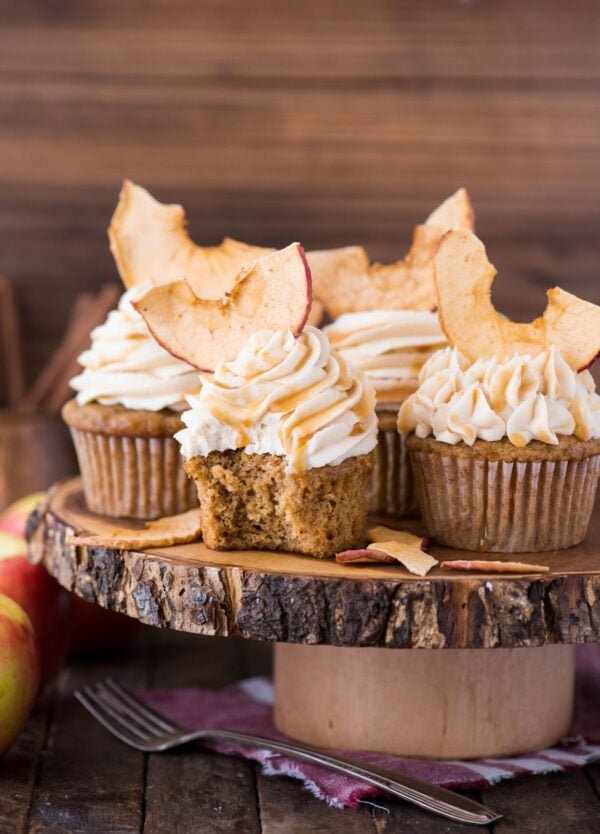 Source: First Year Blog
These apple spice cupcakes are a perfect dessert for any time of the year, including Thanksgiving festivities! The applesauce in the batter, along with cozy ingredients like cloves, cinnamon, and allspice, feels like a warm hug during the chilly days. These cupcakes can also be made gluten-free, so none of your guests would miss out on this delicious dessert.
9. Brownie Thanksgiving Cupcakes
Source: Two Sisters
These brownie Thanksgiving cupcakes aren't any regular cupcakes; they offer you the goodness of brownies, cake, and buttercream frosting in one tiny serving! They look very adorable and attractive that one has to try it. All your guests at Thanksgiving would be pleased with this sweet end of your festive dinner. To make this dessert even more colorful. You can switch up the colors of the cake layer in each cupcake too! Here's how you can recreate this recipe!
10. Maple Cupcakes with Pumpkin Pie Frosting
Source: Amy's Healthy Baking
The star of these maple thanksgiving cupcakes is the divine pumpkin pie frosting! Sounds exciting, doesn't it? The cupcakes use maple syrup and maple extract for an exquisite flavor, and the frosting uses a base of Greek yogurt combined with pumpkin puree, spices, and instant pudding mix. You don't want to miss out on these spiced little beauties for your thanksgiving dessert menu. Here's how you can make these.
11. Gingerbread Cupcakes
Source: Delicious Little Bites
Bring a classic, nostalgic taste to the dessert table with these spiced gingerbread cupcakes topped with a cinnamon vanilla buttercream frosting. They are beautiful to display, moist, dense, and are indeed a welcomed treat. Take a break from the traditional gingerbread cookies and serve these cupcakes at your Thanksgiving dinner. So, spare 30 minutes off your day and make these cupcakes!
12. Applesauce Cupcakes with Browned Butter Frosting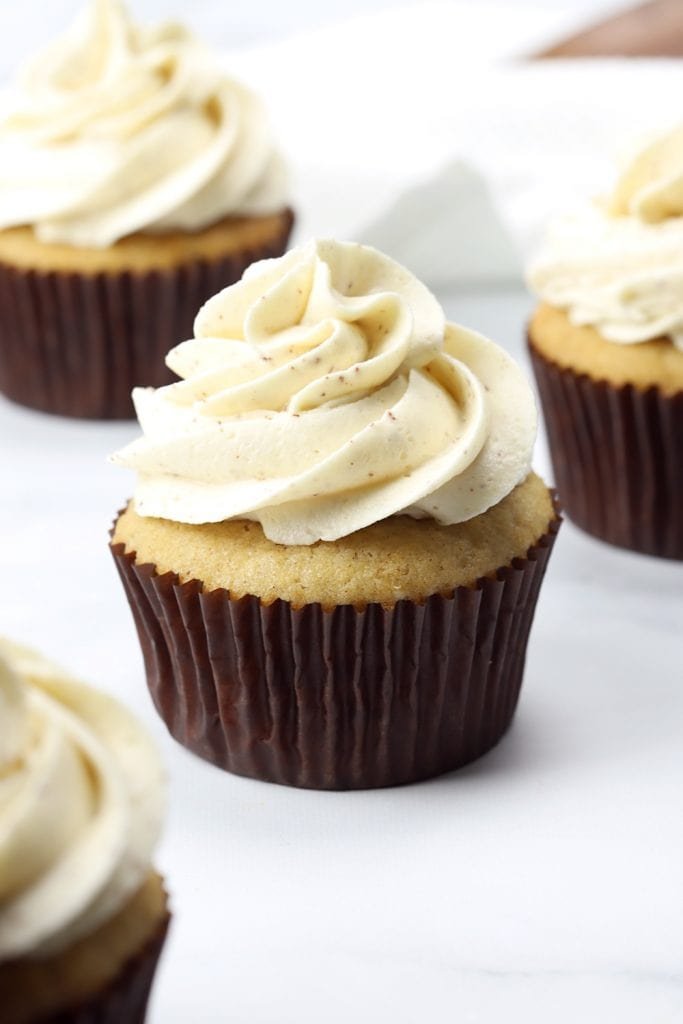 Source: The Toasty Kitchen
Filled with cinnamon and applesauce and topped with a creamy browned butter frosting, these thanksgiving cupcakes are a must-have in your dessert menu. The aroma of cinnamon and apples sends out a cozy fall vibe, and the browned butter adds a toasted and nutty flavor to the frosting. If you follow these detailed instructions, you will have your cupcakes ready in no time!
13. Sweet Potato Pie Cupcakes
Source: Sweet and Savory Meals
A classic sweet potato pie is always a go-to option during Thanksgiving, but why not switch things up this year with these Thanksgiving cupcakes? These cupcakes have indivdual serving sizes, which is very convenient for parties. Sweet potatoes are perfect starchy veggies to create delicious and earthy fall desserts. And in a few minutes of baking, you can have your decadent desserts that are incredibly moist and irresistible.
14. Pumpkin Caramel Cheesecake Cupcakes
Source: Intensive Cake Unit
These cupcakes are a pumpkin caramel cheesecake overload. The recipe has a pumpkin vanilla cupcake filled with caramel cheesecake filling and topped with a cream cheese buttercream frosting. The frosting is finally topped with a caramel square and sprinkles to finish this indulging and divine dessert. Find the full recipe here.
15. Carrot Cake Thanksgiving Cupcakes
Source: Celebrating Sweets
Lightly spiced, fluffy, and moist carrot cupcakes with a luxurious and rich cream cheese frosting are all you need to complete your Thanksgiving celebration this year. The base is a tender and moist carrot cake filled with finely grated carrots and a hint of cinnamon. The heavenly frosting on top balances the light sweetness of the cupcake and has a caramel-like flavor. This recipe is a perfect blend of sweet and tangy!
16. Pumpkin Cheesecake Cupcakes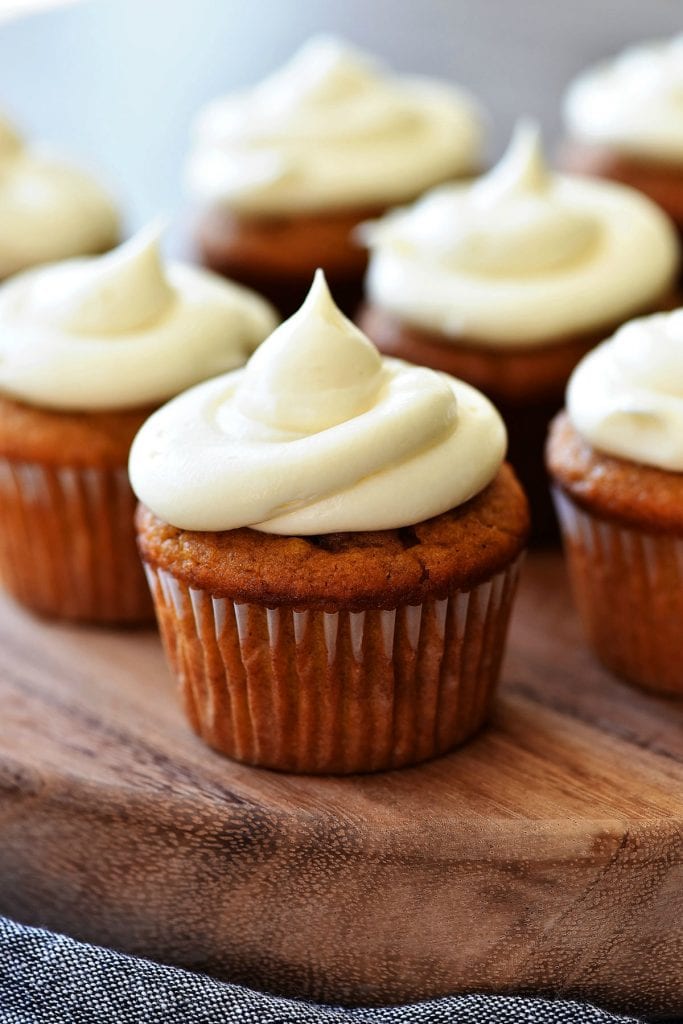 Source: Life in the Lofthouse
These pumpkin cheesecake cupcakes are sure to surprise your guests with their wonderful cheesecake center and pumpkin-spice flavor. They are topped with a fluffy cream cheese frosting, making them all the more dreamy! They are easy to prepare and don't take a lot of time to bake. It is a homely, delicious addition to your Thanksgiving desserts.
17. Cranberry Orange White Chocolate Cupcakes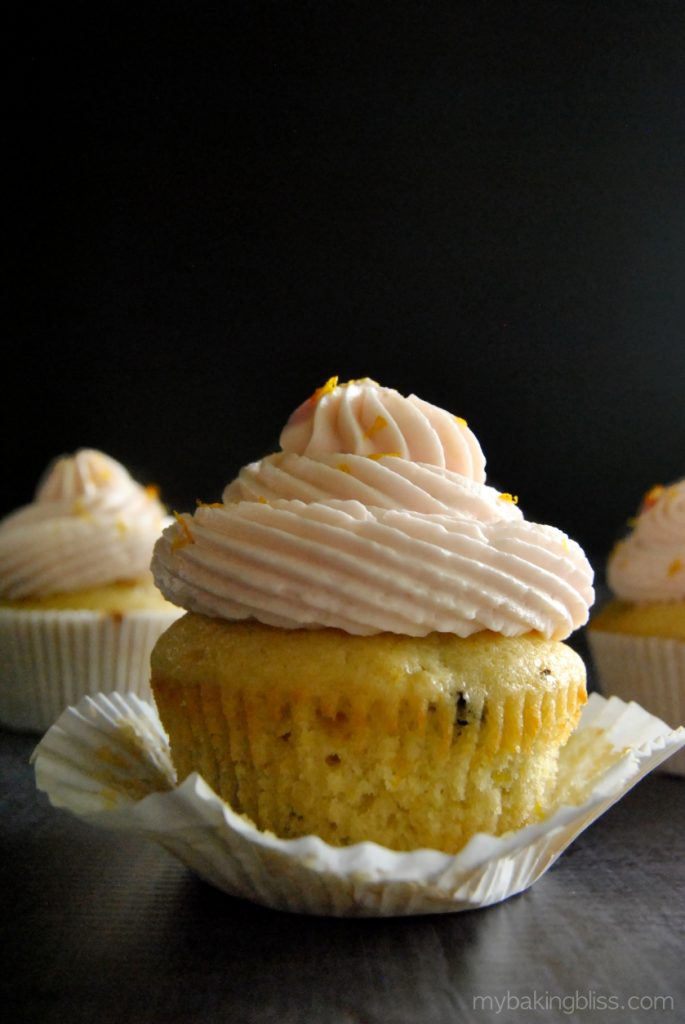 Source: My Baking Bliss
The cranberry orange combination is very underrated, but it would become your favorite festive flavor once you try it. These cupcakes are flavored with orange extract and orange zest and taste very delicious and moist. The cupcakes are filled with dried cranberries for added texture and topped with a cranberry buttercream. Finally, orange zest is used to garnish these yummy cupcakes.
18. Maple Bacon Thanksgiving Cupcakes
Source: Swanky Recipes
Made with maple cream cheese buttercream frosting and packed with the goodness of bacon, these maple bacon cupcakes are a must serve in your Thanksgiving dinner. It is a beautiful balance of salty bacon, tangy cream cheese frosting, and sweet maple syrup. So, if you love buttercream cream cheese frosting and are a bacon lover, these Thanksgiving cupcakes are perfect for your festivities.
19. Apple Cider Cupcakes with Bourbon Cream Cheese
Source: Fork in the Kitchen
You have got to make these thanksgiving cupcakes for your celebrations this year! They are loaded with cinnamon and apple flavors and topped with an incredibly creamy and indulgent bourbon cream cheese frosting. It is a decadent, fall-appropriate apple recipe that is a must add to your desserts at dinner. The frosting has a unique kick from the bourbon, balanced by the warmth and tanginess of the cupcakes. Find the full recipe here.
20. Chocolate Feathers and Thanksgiving Cupcakes
Source: Sugar Hero
Here is a beautiful way of decorating your thanksgiving cupcakes and adding a delicious touch to them! These chocolate feathers add an elegant twist to any dessert. The above recipe has cinnamon spice cupcakes topped with these gorgeous chocolate feathers. They are easy and quick decorations for your desserts. So, follow these steps to make your sweet feathers.
21. Spice Cake Cupcakes with Cinnamon Cream Cheese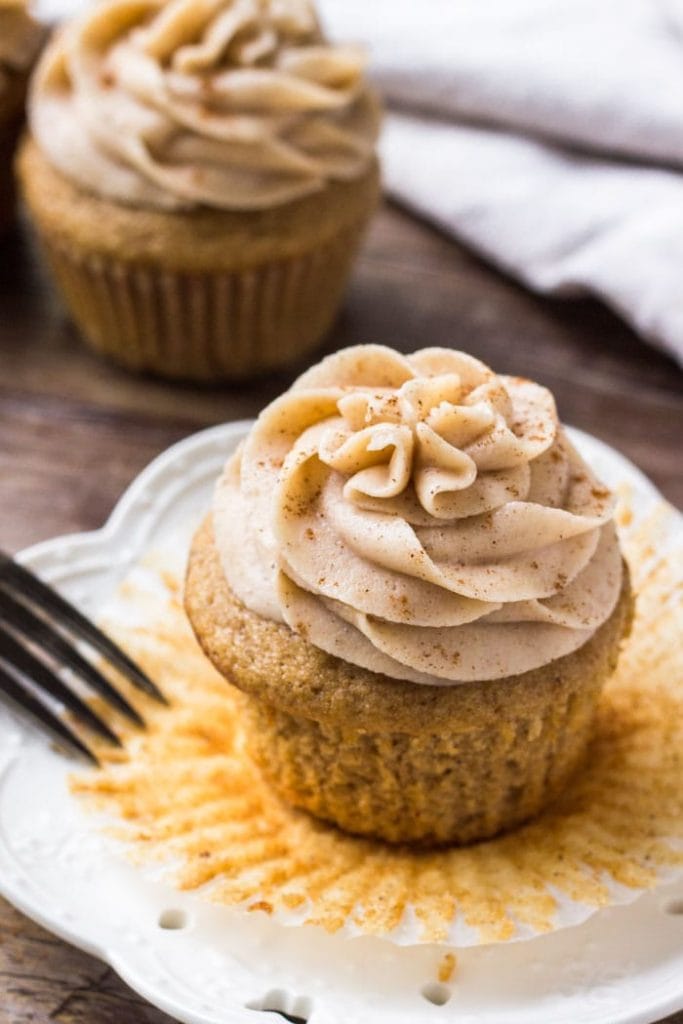 Source: Oh Sweet Basil
The soft cupcake crumb combined with an extra creamy buttercream will make these Thanksgiving cupcakes a favorite among all! They have a lovely cinnamon flavor with warm brown sugar and a moist and light cupcake crumb. Then they are topped with a slightly tangy, very creamy, and delicious cinnamon cream cheese buttercream. They are not too sweet and are a unique addition to the traditional apple and pumpkin pie menu. Do try this recipe out!
22. Mocha Cupcakes with Espresso Buttercream
Source: Brown Eyed Baker
If you are a chocolate or coffee lover, these mocha cupcakes are all you need for your Thanksgiving dessert. The cake strikes a perfect balance between creamy coffee and light chocolate, resulting in a smooth and clean flavor. You can top this off with an espresso-spiked buttercream frosting. It is an easy recipe with some unforgettable and irresistible results.
23. Cinnamon Sugar Almond Cupcakes
Source: Life Love and Sugar
If you are a fan of cinnamon sugar on almonds, you will fall in love with these cinnamon sugar almond cupcakes. These thanksgiving cupcakes are mouth-watering and topped with nutty almonds. Both the cupcake and the frosting have an almond and cinnamon flavor, making the entire cupcake a heavenly experience.
24. Chai Latte Thanksgiving Cupcakes
Source: Sally's Baking Addiction
These chai latte cupcakes are an aromatic blend of warm chai spices like cardamom, cinnamon, and ginger in fluffy vanilla cupcakes. They are topped with a chai spice buttercream, which perfectly complements these earthy  cupcakes. In the swarm of pumpkin spice lattes and desserts, these chai latte cupcakes would be a special surprise for your guests.
25. Cinnamon Roll Thanksgiving Cupcakes
Source: Pies and Tacos
These thanksgiving cupcakes are filled with a cinnamon swirl mixture and topped with a cinnamon cream cheese frosting. A glazed, mini cinnamon roll is placed over the frosted cupcakes. It's an elaborate recipe, but the results will be truly worth it! These cupcakes are full of cinnamony flavor and would be a divine treat to have at your Thanksgiving dinner.  
We hope that you will drool over some of these thanksgiving cupcakes and add them to your festive dinner menu this year! They are easy to make and have something unique to offer, which will surely surprise you and your guests. So, take a break from the traditional apple and pumpkin pies and bring these cupcakes to your dinner table.
If you loved these ideas, you can use the Pin image below to save this article on your Pinterest board. Also, follow us on Instagram to stay updated!