We are here with some of the most delicious and unique Thanksgiving dessert recipes to make your November a little sweeter. Even though we can't wait for Christmas but we certainly won't disappoint you with these amazing and scrumptious Thanksgiving dessert recipes to make your Thanksgiving evening more special. 
24 Thanksgiving Dessert Recipe Ideas
We all love the idea of a warm evening spent with our loved ones; a time of the year when we get together and thank the Lord for the beautiful blessed year. But all the sentiments aside, this time of the year is no less festive for a foodie than Christmas eve. And don't we all have a little extra place for the Thanksgiving dessert? 
So here are some special Thanksgiving Dessert Recipes curated just for you to make the evening a sweet memory.
1. Burrata Cheese and Sweet Plum
This Thanksgiving dessert recipe by grandecheeseco is a heavenly combination of the fresh burrata cheese with balsamic glaze and with some sweet plum on the side. This Thanksgiving dessert recipe is for the ones who love it all- sweet, tangy, savory; this dessert is the perfect amalgamation of all three. This dessert is all you need to end your Thanksgiving meal.
2. Vegan Chocolate Pumpkin Cheesecake
Being vegan is in the vogue. But that shouldn't stop you from having a good dessert after your Thanksgiving hearty meal. So if you are Vegan and you want a hassle-free dessert for yourself and your guests, then this Thanksgiving Dessert Recipe by wellnesstv4u is perfect for you. This chocolate pumpkin cheesecake has a crunchy cashew base and is also gluten-free. Who said desserts can't be healthy?
3. Vegan Cranberry Orange Bun
Another option for my Vegan lovely souls. If you have some cranberry juice saved up then make use of it. Because this Thanksgiving dessert recipe by shortgirltallorder will need some of that cranberry juice. This one is perfect for the homely brunch in your backyard. While you spend time with your loved ones why not add some sweet buns to it?
4. Pumpkin Cheesecake Bars
For this Thanksgiving Dessert Recipe by ahugandquiche is as simple as it looks. This is one of those recipes that will require minimum time but won't compromise on the taste. All you need to bake this beauty is some Graham cracker for the crust, and some cream cheese, vanilla extract, cinnamon, sour cream, eggs, and pumpkin pie fillings; voila! you are set to bake these cheesecake bars.
5. Pumpkin Pecan Brownies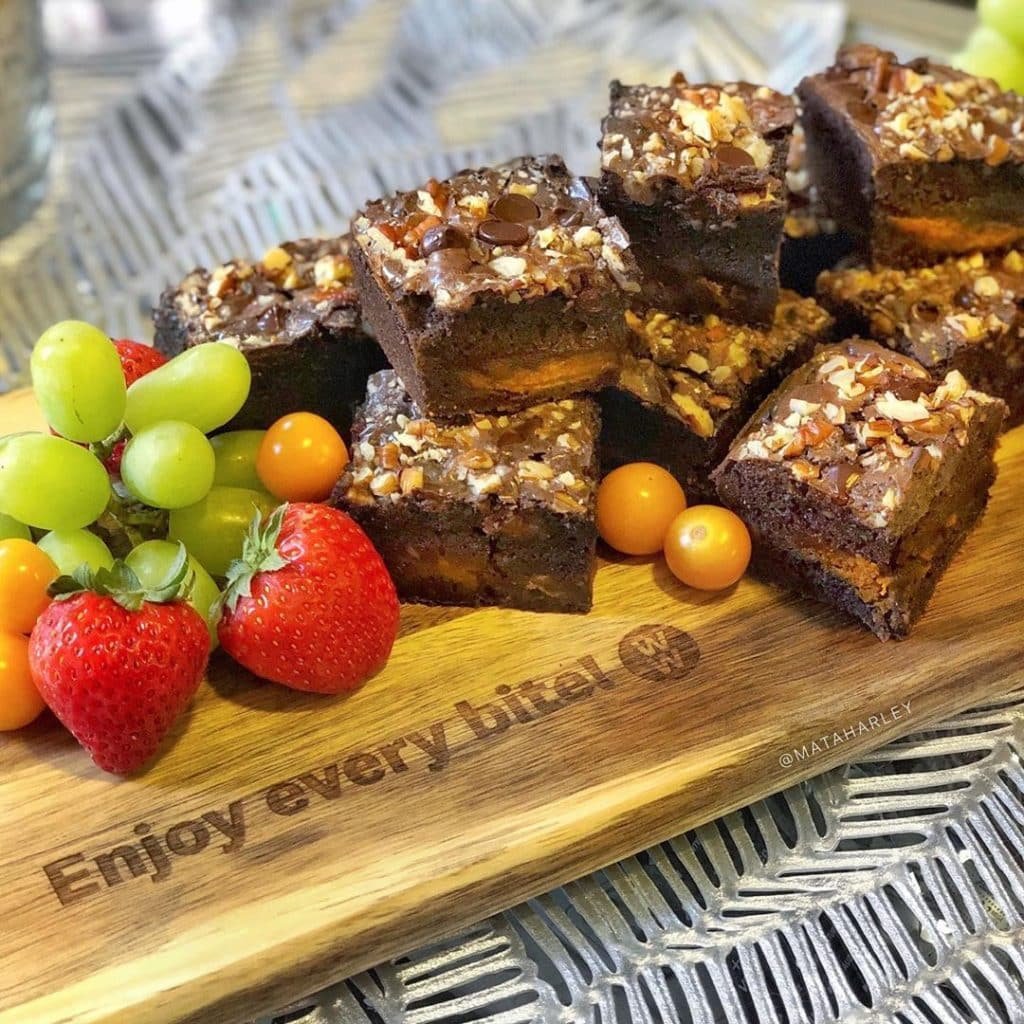 If you are a brownie lover like me, then this Thanksgiving dessert recipe will certainly gain some extra brownie points. Mataharley in this Thanksgiving dessert has used simple ingredients to make a delicious brownie. These little bite-size brownies will certainly add some spice to your Thanksgiving evening.
6. Double Fudge Banana Bread
This year banana bread recipes went viral, and this paleo double fudge banana bread recipe will give your Thanksgiving evening an extra chocolatey edge. This Thanksgiving dessert recipe by kalejunkie is a not so simple banana bread recipe for chocolate lovers. This banana bread recipe is one of the many that I have tried and I can vouch for it. You will not need anything more than this in your life. 
7. Baked Vegan Cheesecake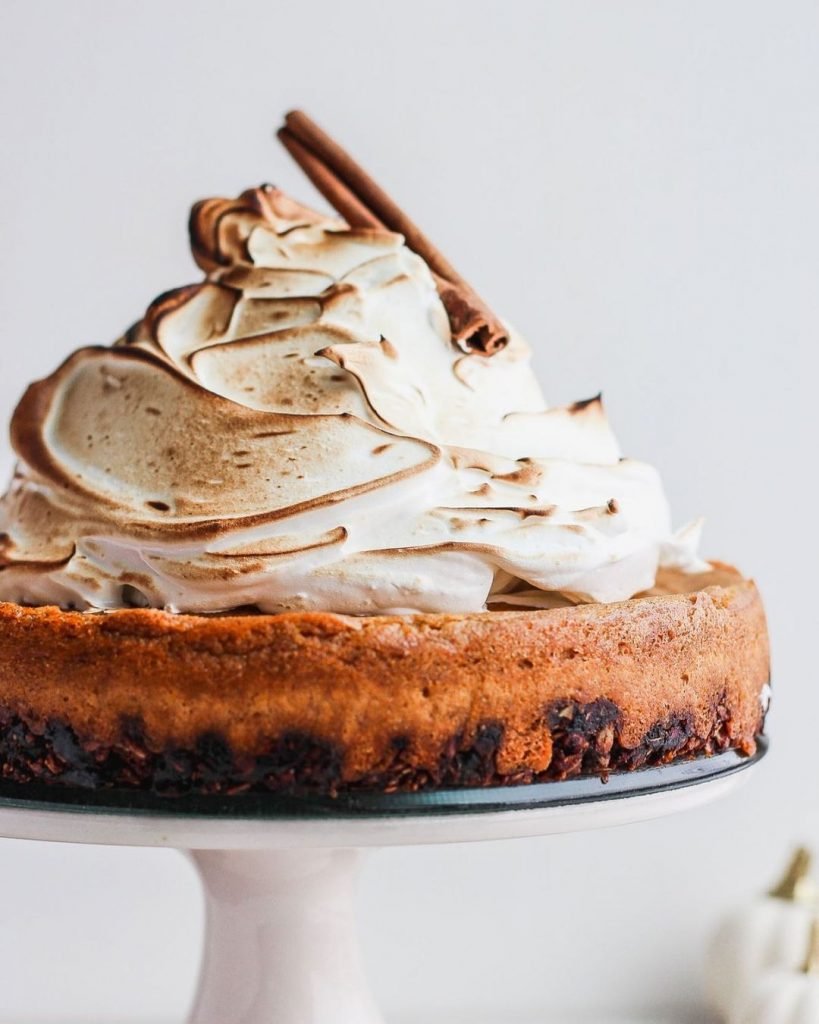 If baking is your thing then this vegan cheesecake is just for you. Baking is fun and thanksgiving is all about the happy times. So why not try out this amazing Thanksgiving dessert recipe by thewoodenskillet? This recipe is also vegan and who doesn't like a good classic cheesecake after Thanksgiving dinner?
8. Pumpkin Pie Crumb Bars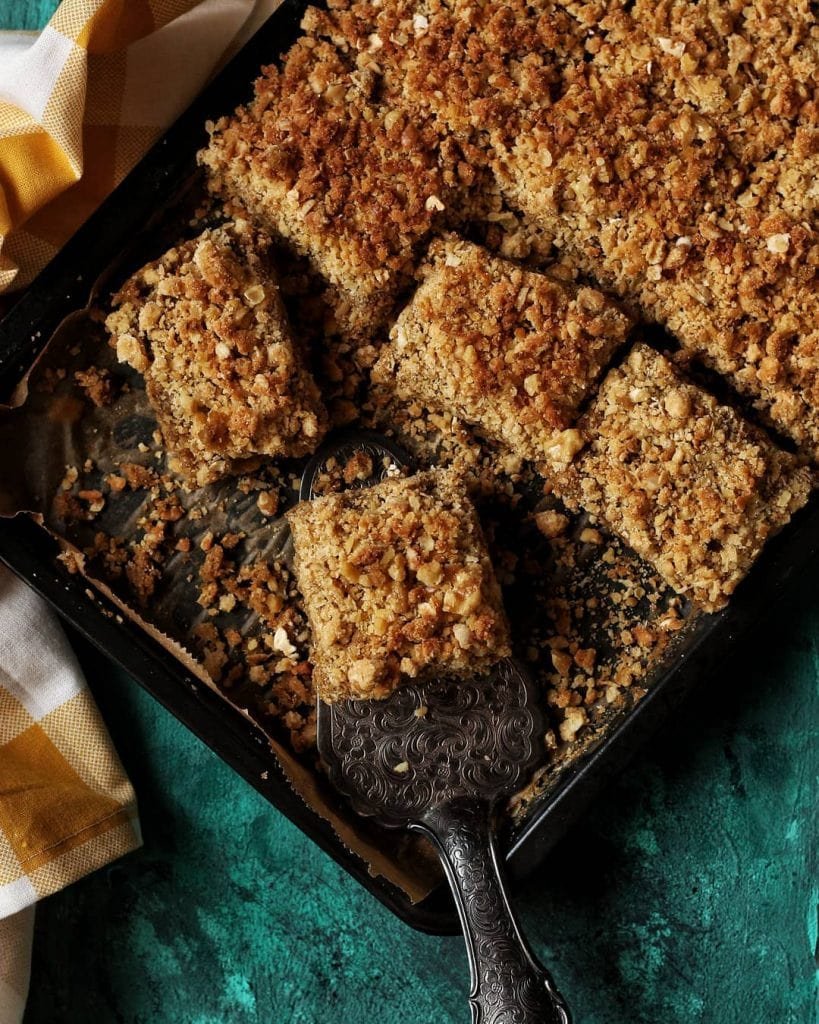 Innovation is all around us. Especially food is an art these days. And these crumb bars are nothing less than art. Don't you worry, art too can also be easy. This Thanksgiving dessert recipe by gourmet.gaze is for everyone who wants to do something different from a conventional pumpkin pie. If you are feeling a little experimental, then this crunchy dessert is just the right choice for you.
9. Blueberry Banana Muffins Thanksgiving Dessert Recipe
These blueberry banana muffins are exactly the right kind of dessert for your winter midnight snacks. Well, dessert is not just for Thanksgiving, are they? Who wouldn't like a cup of hot cocoa and some muffins to snack on a winter night? This Thanksgiving dessert recipe by kalejunkie is not just easy to make but also healthy to snack on.
10. Pumpkin Spice Cake Thanksgiving Dessert Recipe
Pumpkin spice cake is a classic after Thanksgiving dinner. And this recipe by autoimmunepaleo is a simple recipe for the classic pumpkin spice cake. If you are someone who wants to keep things conventional this Thanksgiving, then you can actually pick this Thanksgiving dessert recipe without a single doubt about the taste.
11. Pumpkin Pie Layer Cups Thanksgiving Dessert Recipe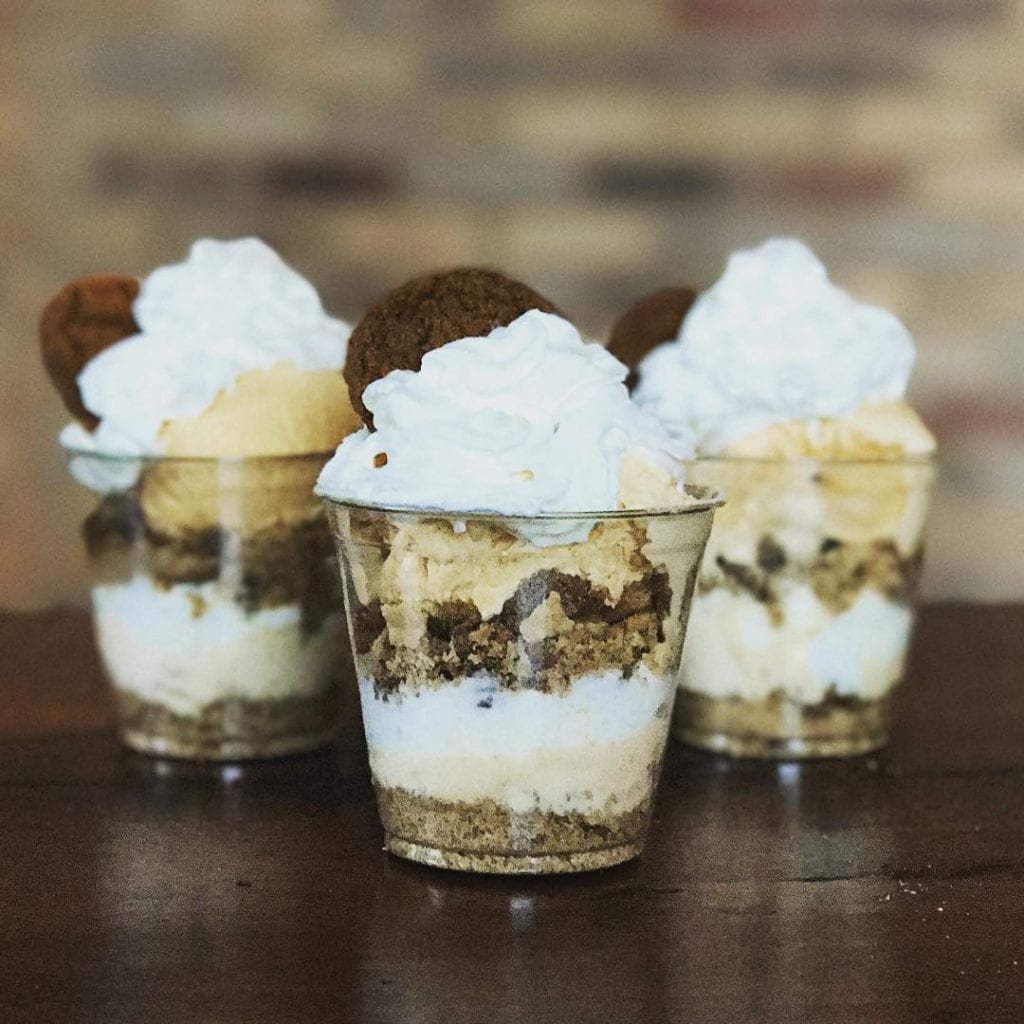 Preparing a Thanksgiving meal can be a task in itself. So if you are looking for something easy when it comes to dessert, this recipe is for you. In this recipe, hudsonville_ic has kept it simple. All you have to do is layer some crushed Graham crackers and gingersnap, pumpkin pie ice cream, marshmallow, and whipped cream and that's it. Simple and sleek and of course, yummy.
12. Mini Pumpkin Cheesecake
These bite-size pumpkin cheesecakes are as delicious as they look. This Thanksgiving dessert recipe by mama_veggie is simple to recreate and the crunchy touch of toffee on the top will be perfect to surprise your guests on this thanksgiving dinner.
13. Sweet potato and Marshmallow Thanksgiving Dessert Recipe
This Thanksgiving recipe by frommetovuu has the surprising combination of sweet potato and marshmallow to cook up a dessert. The gingersnap cookie crust and the creamy coconut sweet potato filling will come as a surprise to your guests that they will love and remember forever.
14. Pumpkin Cake Rolls
Pumpkin cake rolls may look a little intimidating but I promise you it is not. This Thanksgiving dessert recipe by shugarysweets is quite simple yet something you can serve your guests, because everyone likes a good cake roll, and that too a pumpkin-flavored cake roll.
15. Espresso pumpkin cake Thanksgiving Dessert Recipe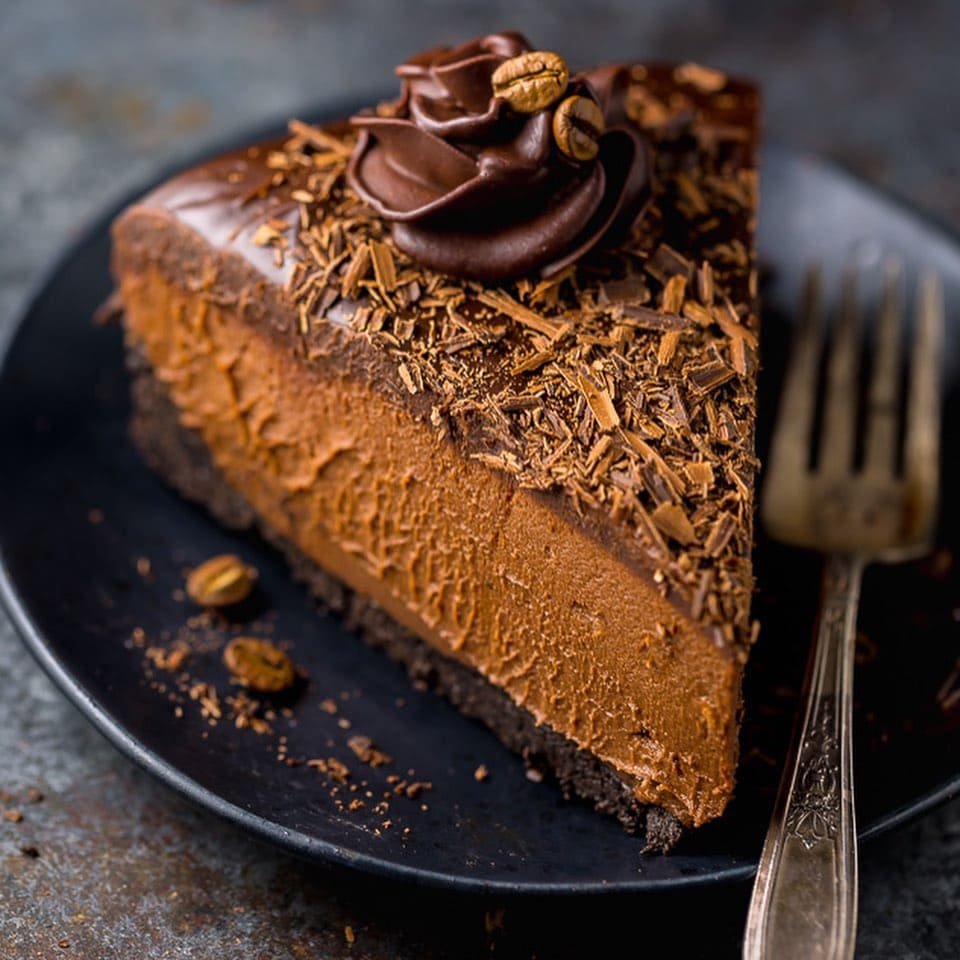 This dessert recipe by bakerbynature is every coffee lover's dream. It has coffee, it has pumpkin, it is a no-bake dessert, how much better can it get! It is as mouth-watering as it looks, you would never regret trying your hand at these beauties.
16. Chai Spiced Cake With Coconut Whip
The taste of this cake will make you believe that there is indeed always a little more space for the dessert. The creamy texture on the top and the crumb cake is the perfect combination that will live on your tongue and on your mind for a little longer than expected. You should certainly try to put this Thanksgiving dessert recipe by crumbtopbaking this Thanksgiving.
17. Baked Maple Cinnamon Stuffed Pears
This Thanksgiving Dessert Recipe by shortgirltallorder looks so fancy and gourmet. But you too can recreate this. It has only three ingredients and all of them are healthy. The granola in the baked pears is the exact kind of crunch you would need to savor this dessert.
18. Mini Pumpkin Cheesecake Thanksgiving Dessert Recipe
This dessert recipe is yet another easy pumpkin cake recipe that you can include in your Thanksgiving dinner. This recipe by jessiebakestreats looks too cute to eat, but it is the kind of dessert that you will one to have another bite.
19. Pumpkin Cheese Cream Brownie
This Thanksgiving dessert recipe by chichabonchannel is another option for the brownie lovers out there. This dessert is not just easy but also scrumptious. This is something you will honestly enjoy baking and couple with a cup of cocoa.
20. Pumpkin Cheesecake
This dairy-free pumpkin cheesecake by cooknourishbliss is a perfect addition to your thanksgiving dinner. It is gluten-free, soy-free, and vegan. This fluffy and soft cheesecake with the extra pecan crust on the top is nothing but an extraordinary decoration on the holiday table.
21. Mini Sweet Potato Cheesecake
These cute little sweet potato cheesecake by thebitemykitchen are a little tangy and a little sweet too. And the added touch is that these are vegan. I like the use of sweet potato instead of pumpkin but yes, if you are too skeptical then you can go back to the conventional ways of using pumpkin instead. Even then, these little cuties will not disappoint you at all.
22. Freshly baked cranberries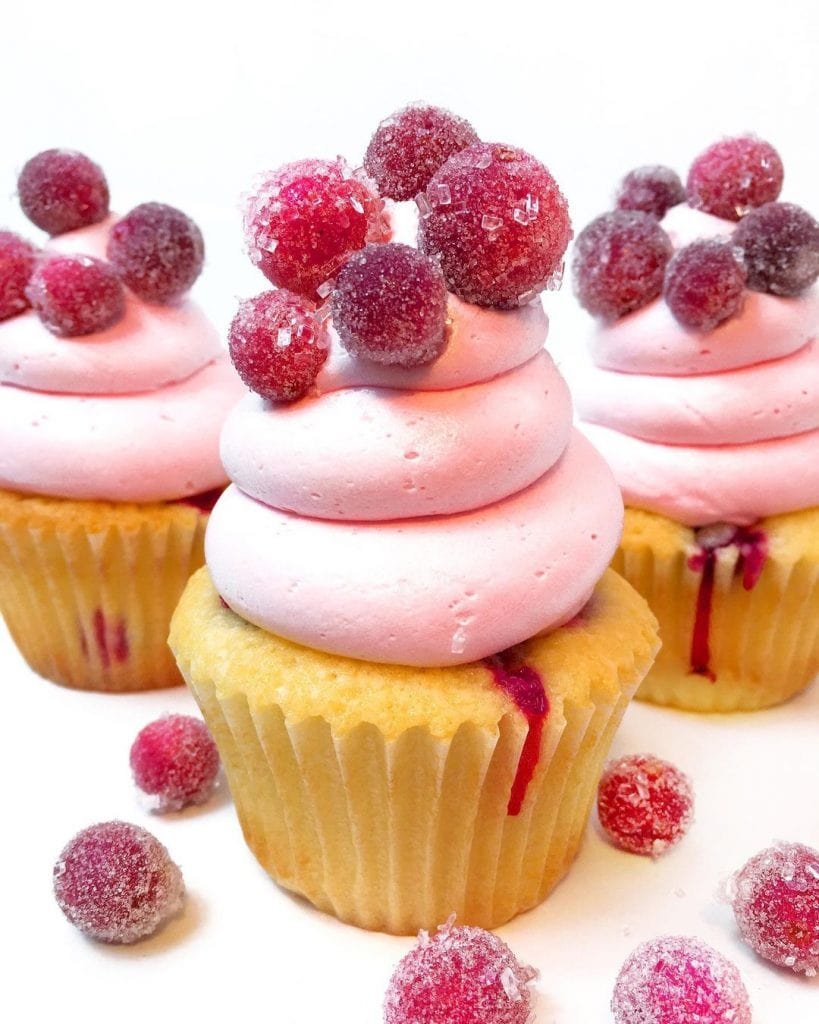 These pink frosty cupcakes look something right out of a Disney movie. The tart at the bottom and the pink frost on the top looks so dreamy combination. And the added sugar-coated cranberries on the top is nothing less than a cherry on the top. These cupcakes by sweetlyblended will be the main attraction of your Thanksgiving dinner. 
23. No-Bake Pumpkin Pie Bars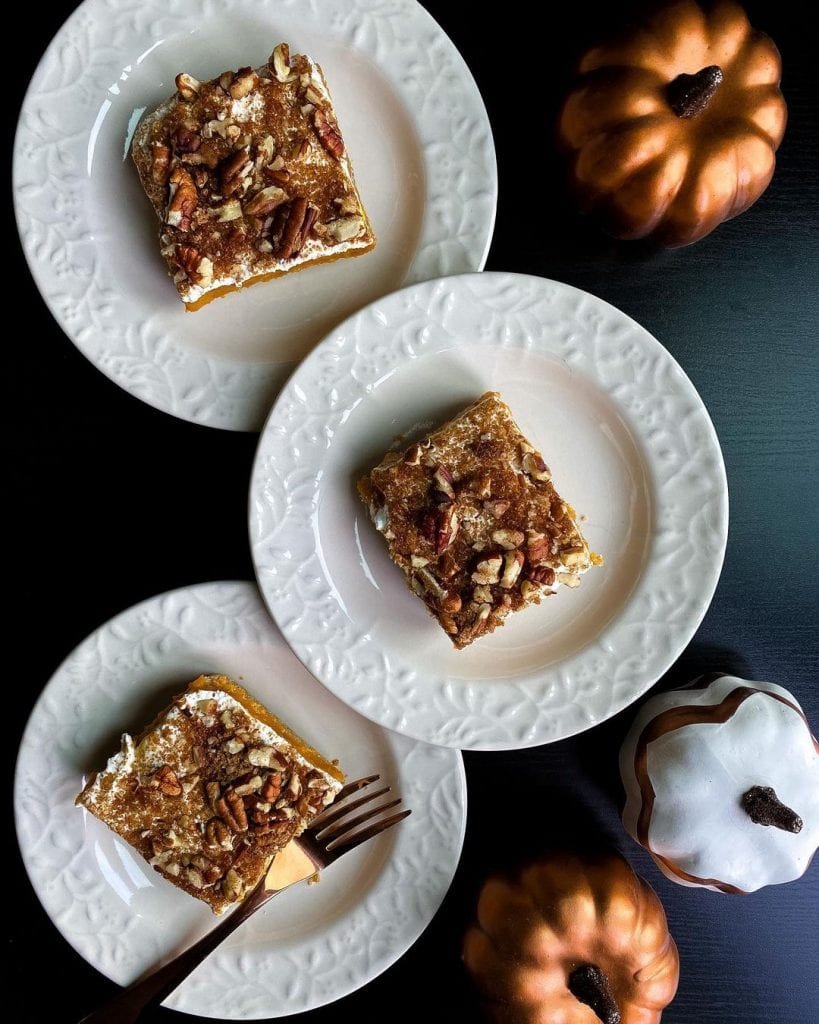 Yet another pie bar recipe at your service. These little pumpkin pie bars by dinnerclubdiaries are a must on an item on your table in this pumpkin season And what other occasions than the Thanksgiving dinner table? This pie bar is layered. At the very bottom, we have pumpkin puree, spices, and vanilla pudding; then comes the next layer of cream cheese and whipped topping, and with a cinnamon pecan on top.
24. No-bake Coconut Cashew Cheesecake Cups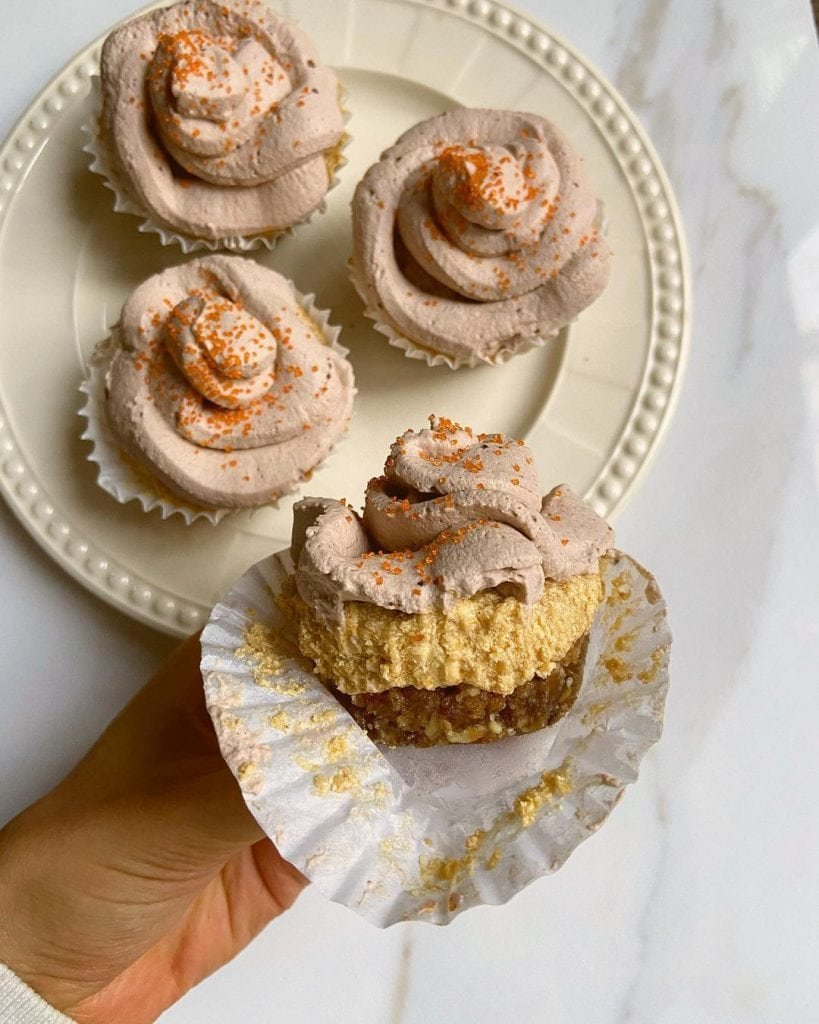 By intutrition
Some soaked cashews and pumpkin puree; some pumpkin spice and vanilla extract are all you need for this Thanksgiving dessert recipe. This recipe by inutrition is easy, it has nutritional value. And this dessert can also be prepared on a weekend as it is a very little time-consuming recipe.
So there you go, 24 exciting and interesting Thanksgiving dessert recipes; every recipe has its own twist to spice up the whole dessert. These recipes are easy and fancy. They are exactly what you need to give the Thanksgiving dinner an extra kick. You can also check our 23 Apple Pie Recipes To Fulfil Your Fall Cravings.
You should definitely try some of these, and don't forget to let us know your favourite recipe in the comment section below. Enjoy your sweet-tooth people!
Also if you like this article and want to save it for later, then all you need to do is click on the image below, and the article will be pinned on your Pinterest board.