It can be a stressful task to think of dishes and meals to cook every single day. Sometimes you run out of particular ingredients or forget to buy that one item needed for your favorite dish. Well, now you don't have to worry! Meal plan bullet journal ideas are a perfect solution to make you the house's favorite chef. You'll never miss out on the necessary ingredients for a dish, and you'll have something new to eat in every meal of every day. 
So, if you want to surprise your tastebuds with well-planned meals and cut down on time you spend cooking, keep on reading! 

Also read –
How To Bullet Journal – Complete Guide To Bullet Journaling
18 Weight Loss Journal & Weight Loss Tracker Ideas for 2023
40+ Habit Tracker Bullet Journal Ideas For You
Meal Plan Bullet Journal Ideas
Here are some ideas to help you get started:
Weekly Meal Spread: Create a weekly spread where you allocate space for each day of the week. Write down your breakfast, lunch, dinner, and snack ideas for each day. You can also include a shopping list section to jot down the ingredients you need to buy.

Recipe Collection: Design a dedicated page or section in your bullet journal to compile your favorite recipes. You can include recipe titles, ingredients, and cooking instructions. This collection will serve as a handy reference when planning your meals.

Seasonal Produce Chart: Create a chart that lists the seasonal fruits and vegetables for each month. This will help you incorporate fresh and local produce into your meal plans, ensuring variety and nutritional value.

Meal Prep Tracker: Devote a page to track your meal prep activities. You can write down the recipes you plan to prepare in advance, note the cooking times, and even include checkboxes to mark off completed tasks.

Recipe Rating and Notes: Leave space in your bullet journal to rate the recipes you try. Include a section for notes and adjustments you made to the original recipe. This will help you remember which meals were successful and provide guidance for future meal planning.

Weekly Grocery List: Design a section for your weekly grocery list where you can jot down the ingredients you need to purchase for your meal planning. Organize the list by categories such as produce, pantry items, dairy, etc., to make your shopping more efficient.

"Meals of the Week" Tracker: Create a page where you can track your meals of the week. You can use icons or color-coded boxes to represent breakfast, lunch, dinner, and snacks. This tracker gives you a visual overview of your weekly eating habits.

Recipe Inspiration Page: Allocate a page to collect recipe inspiration from cookbooks, magazines, or online sources. Include pictures, recipe titles, and brief descriptions to refer to when you need fresh ideas for your meal plan.
Remember, these are just some ideas to help you get started. Feel free to customize and adapt them to fit your personal preferences and meal planning style. The key is to make your bullet journal a useful and inspiring tool for organizing and tracking your meals.
Now that you know how to create a meal plan for your bullet journal, here are some unique and inspiring ideas that you can customize according to your liking. 
Diet/Grocery Master List For Bullet Journal
If you're following a diet, it's good to have a page that outlines the guiding principles or a master list for all your meals/groceries. Here are some creative ideas that will help you create one. 
1. List of Options Meal Plan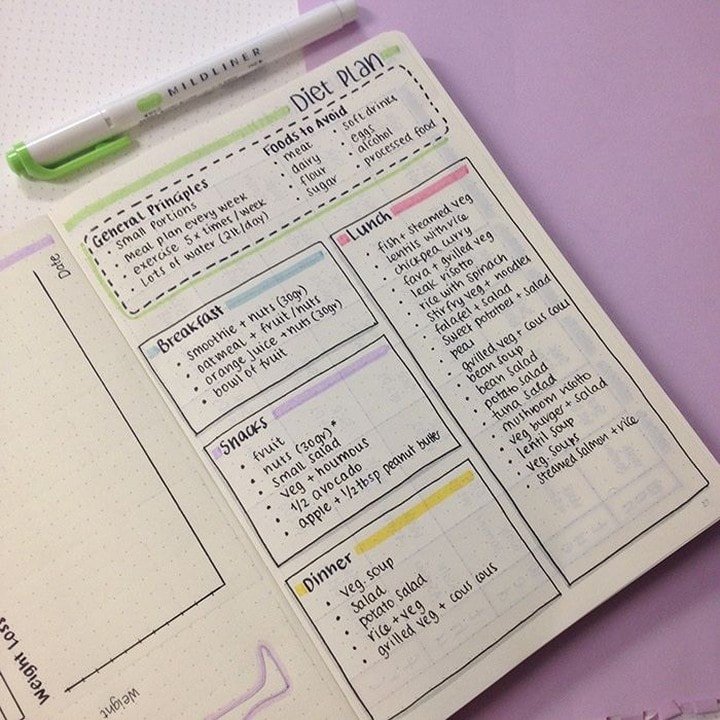 Source: lee_bujo_lover
Here is a straightforward and quick way to design your diet-friendly meal planning. Create multiple boxes for each section like breakfast, lunch, dinner, snacks, notes, etc. Add a heading with a hint of color to each box. Finally, list as many meals under each category and cook one from each every day! 
2. Meal Masterlist Menu Spread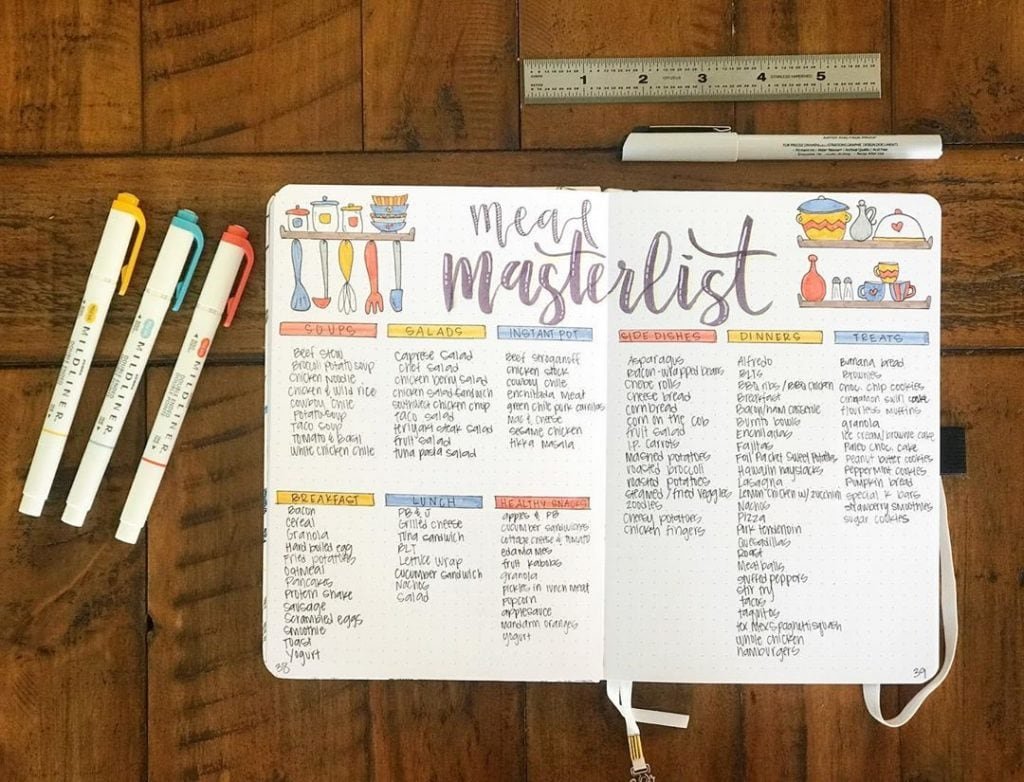 Source:  journalingforjerks
The master list layout has multiple categories highlighted in different colors. Soups, salads, dinner, treats, anything you think of is listed in the layout. Each category has various options, so you never get bored! 
3. Neat & Categorized Grocery List Spread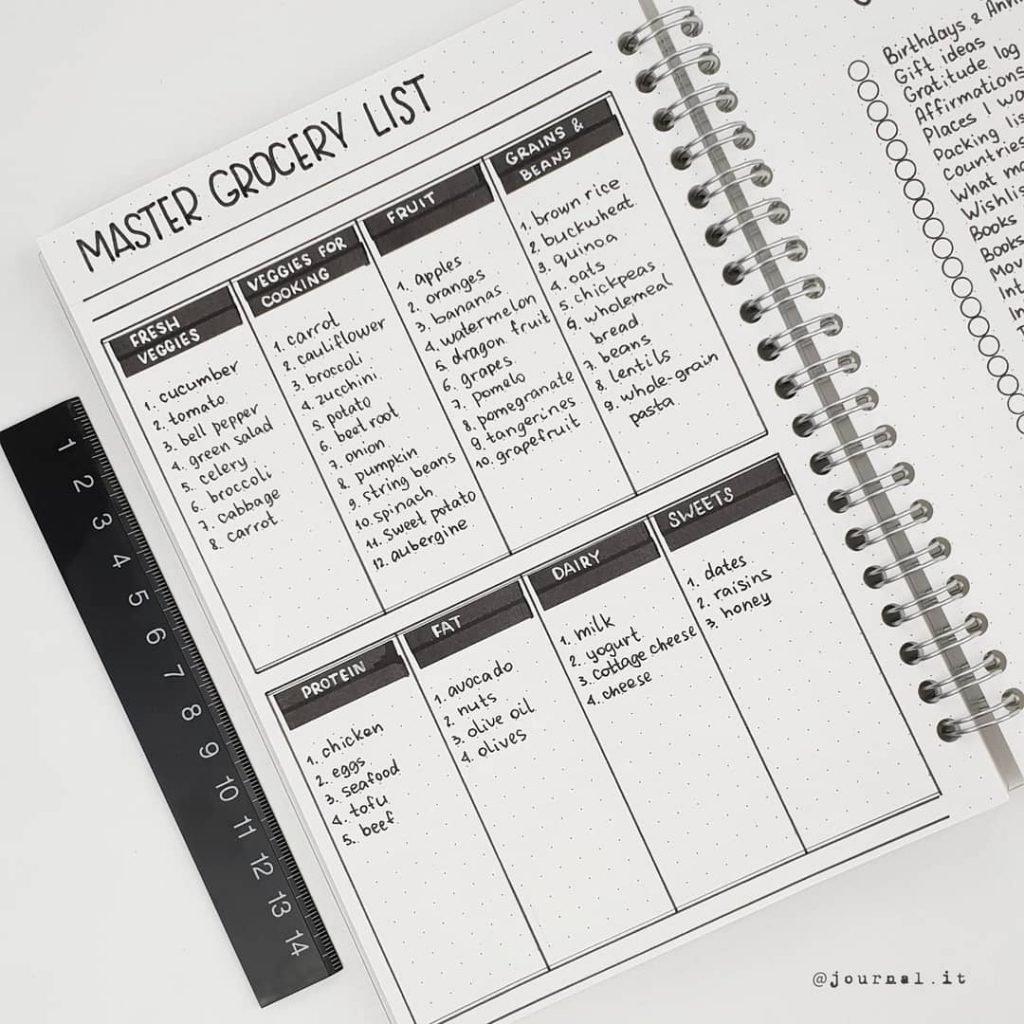 Source: journal.it
This idea is extremely easy to recreate and looks very neat and chic. All you have to do is give your BuJo page a grocery list heading, followed by sectioning the remaining page into uniform boxes. These boxes will have different categories like fruits, vegetables, dairy, meat, grains, sweets, etc. It is a straightforward way to organize your grocery list. 
4. Ingredients + Meals Masterlist Layout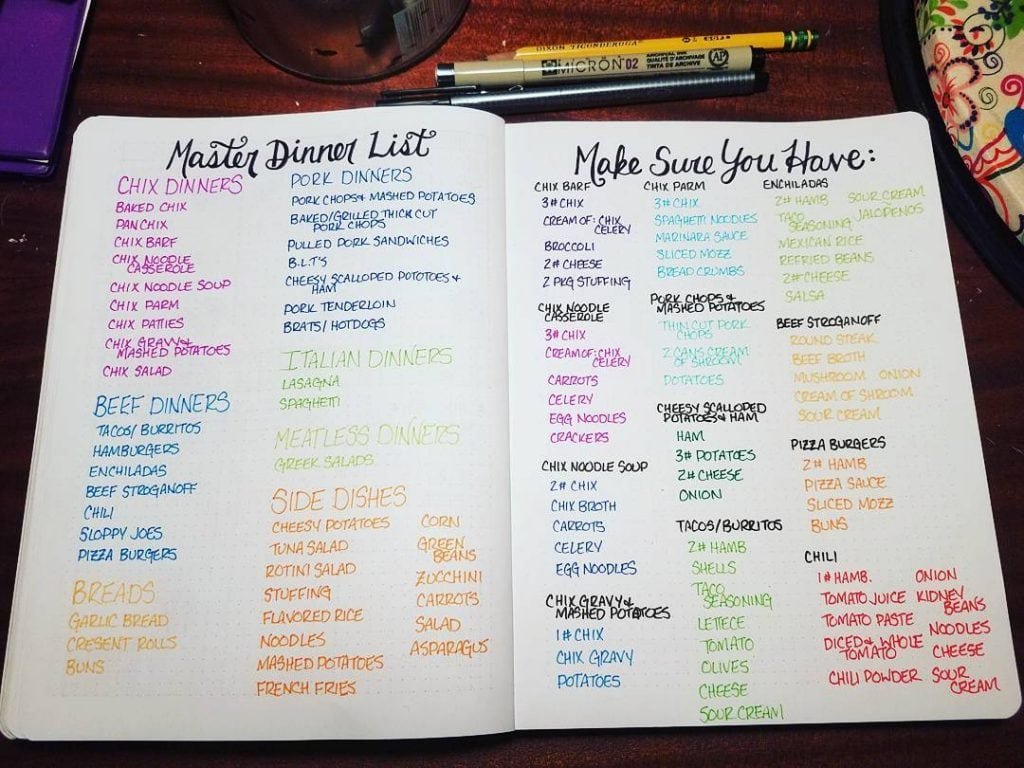 Source: megnabujo
I love this master list idea as it comes with an attached ingredient list. Divide your layout into two pages, one for the menu and the other for the ingredients. This idea specifically has a dinner master list, but you can include all three meals. It is a great way to check the list of ingredients and choose the meal according to the availability of items. 
Weekly Meal Plan Bullet Journal Ideas
Creating a weekly meal planning is a perfect idea if you work or want to save time spent cooking. It allows you to pre-plan each day of the week and simultaneously prep the week's grocery list. 
5. Adorably Doodled Weekly Bullet Journal Meal Plan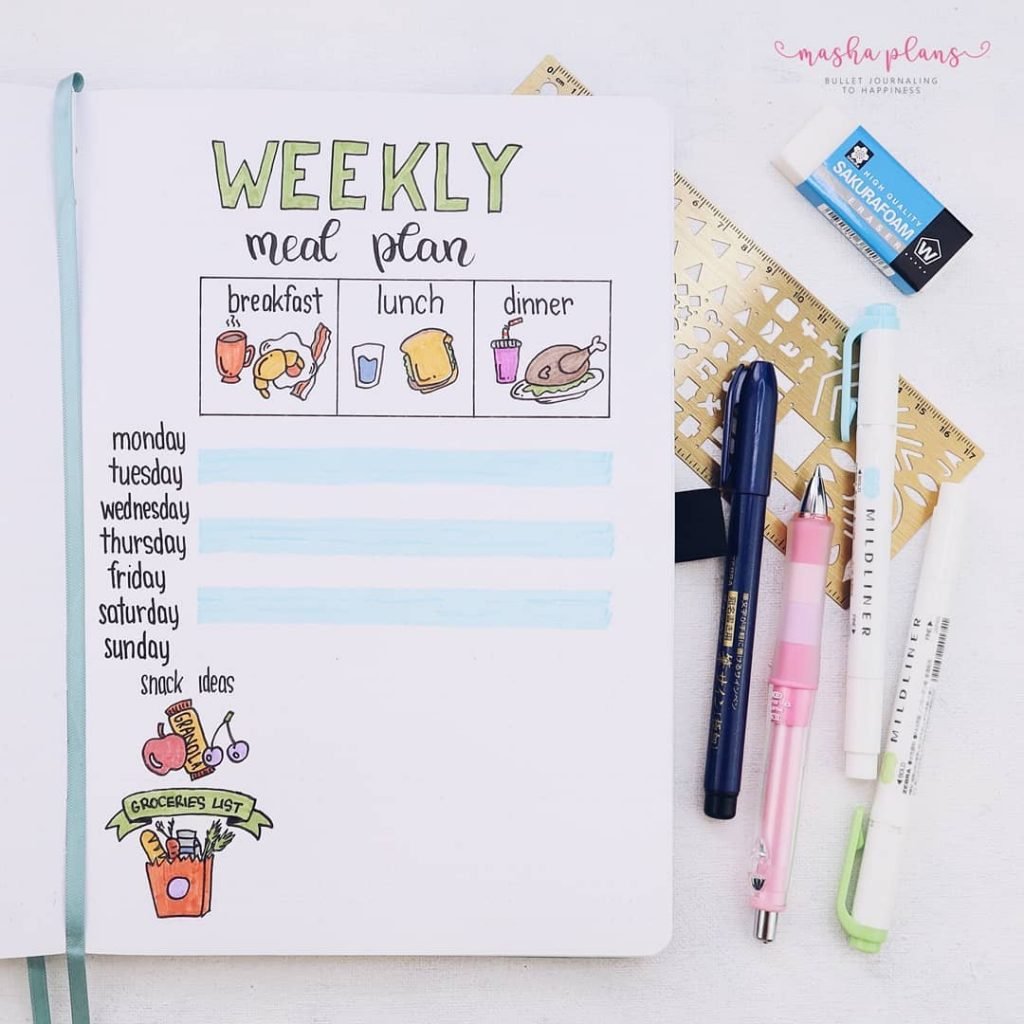 Source: mashaplans
Doesn't this weekly meal plan idea look so cute and fun? Start by adding a heading to the page, followed by a tiny table with doodles for each breakfast, lunch, and dinner. Use the left margin to write the days of the week. Finish off by making two doodles, one for snacks and the other for the grocery list. This idea combines everything and is quite creative!
6. Ingredient Checklist Weekly Meal Planner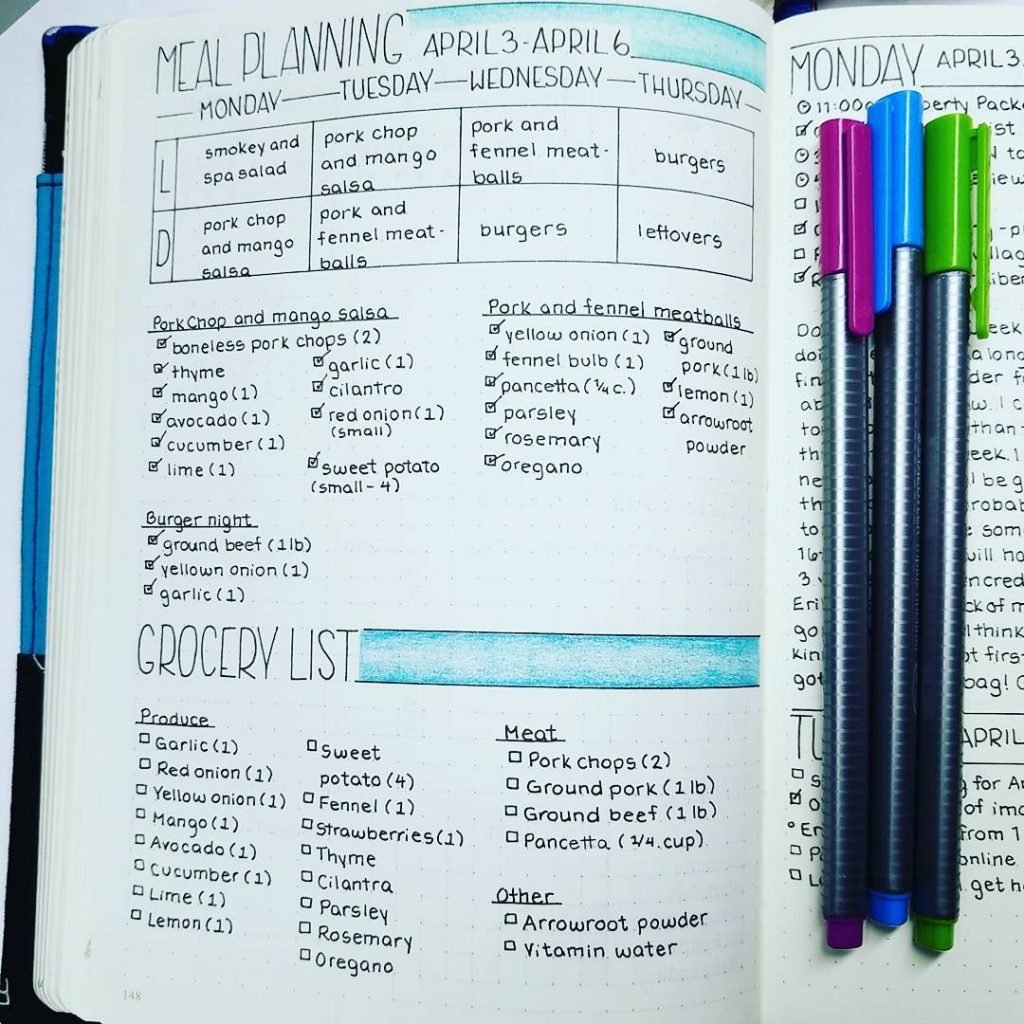 Source: craftyenginerd
Here is a checklist format meal planning idea that is perfect for keeping track of all the items you need to create delicious meals. The page is divided into two halves, one for the menu and the weekly planner, while the other for the grocery list. It comprises all the things you need to have in place while planning your meals for the week.  
7. Colorfully Decorative Meal Plan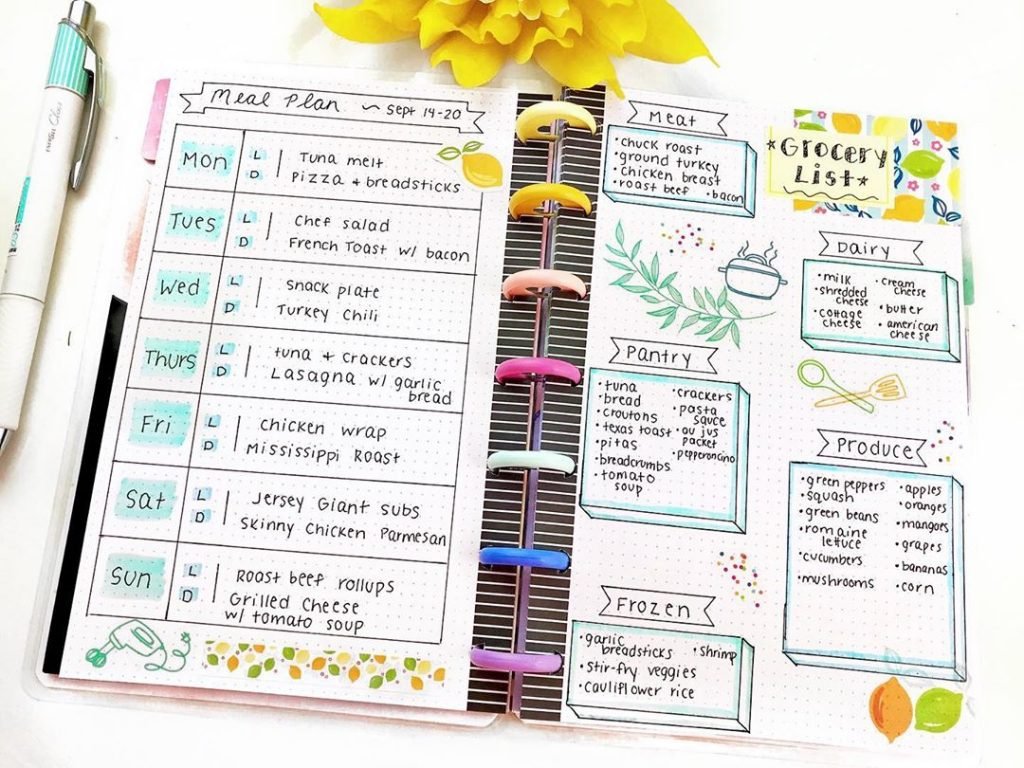 Source: a.novel.plan
This idea uses washi tapes to beautify the margins. The idea is a two-page layout, one side has the week's meal planning in a tabular format, and the other page has the grocery list. Tiny doodles of cooking pots and other appliances are drawn for additional detailing.   
8. Sleek & Quirky All-In-One Meal Planning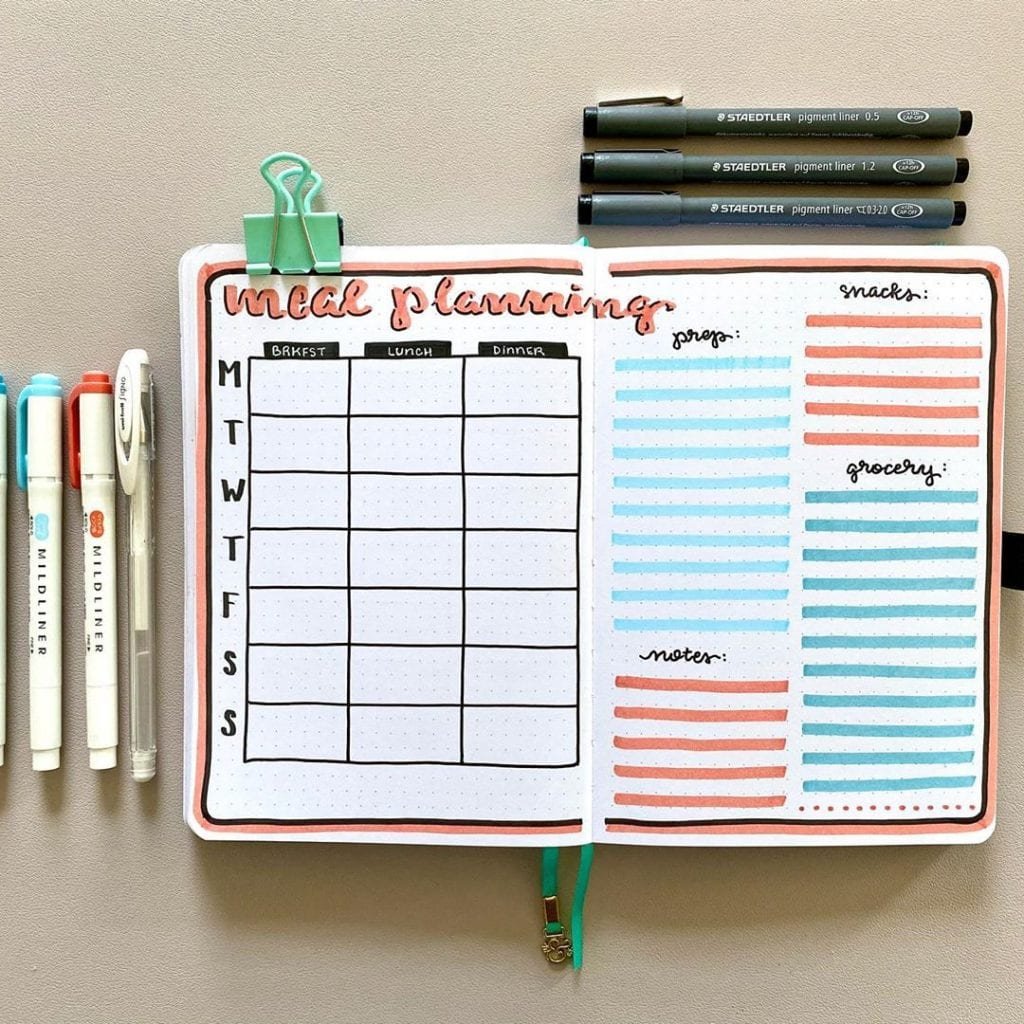 Source: a_journey_to_somewhere
The use of pastel tones and quirky fonts make this meal planning layout unique and cute. The layout has a weekly calendar on one side and categorized notes on the other page. The notes include snack ideas, grocery lists, notes, and prep. You can customize this adorable idea in any way you like. 
9. Highlighted Menu Shopping List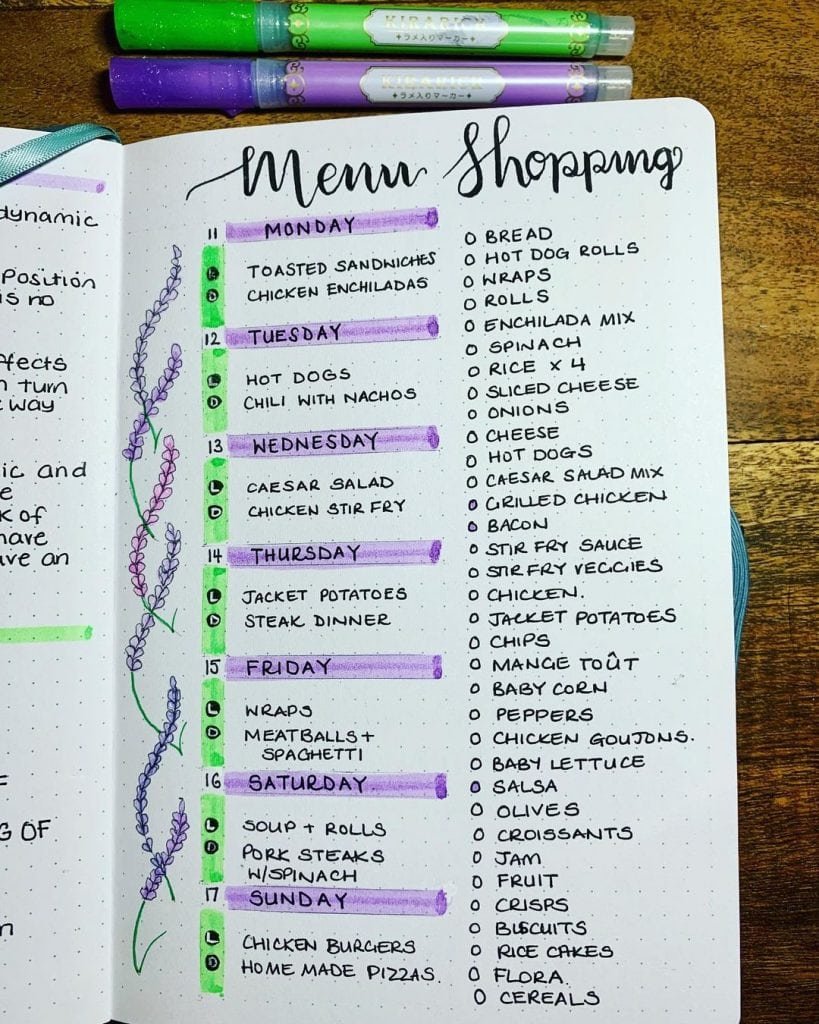 Source: bujomumuk
This weekly menu, along with the ingredient list, is an effortless yet unique way to design your meal plan. The layout has two columns, one for the weekdays' menu and the other for the ingredients. The headings are highlighted in purple and green with a leafy design on the left margin for a pop of color. This idea is quick to recreate and very customizable.  
10. Calendar of Deliciousness Meal Planner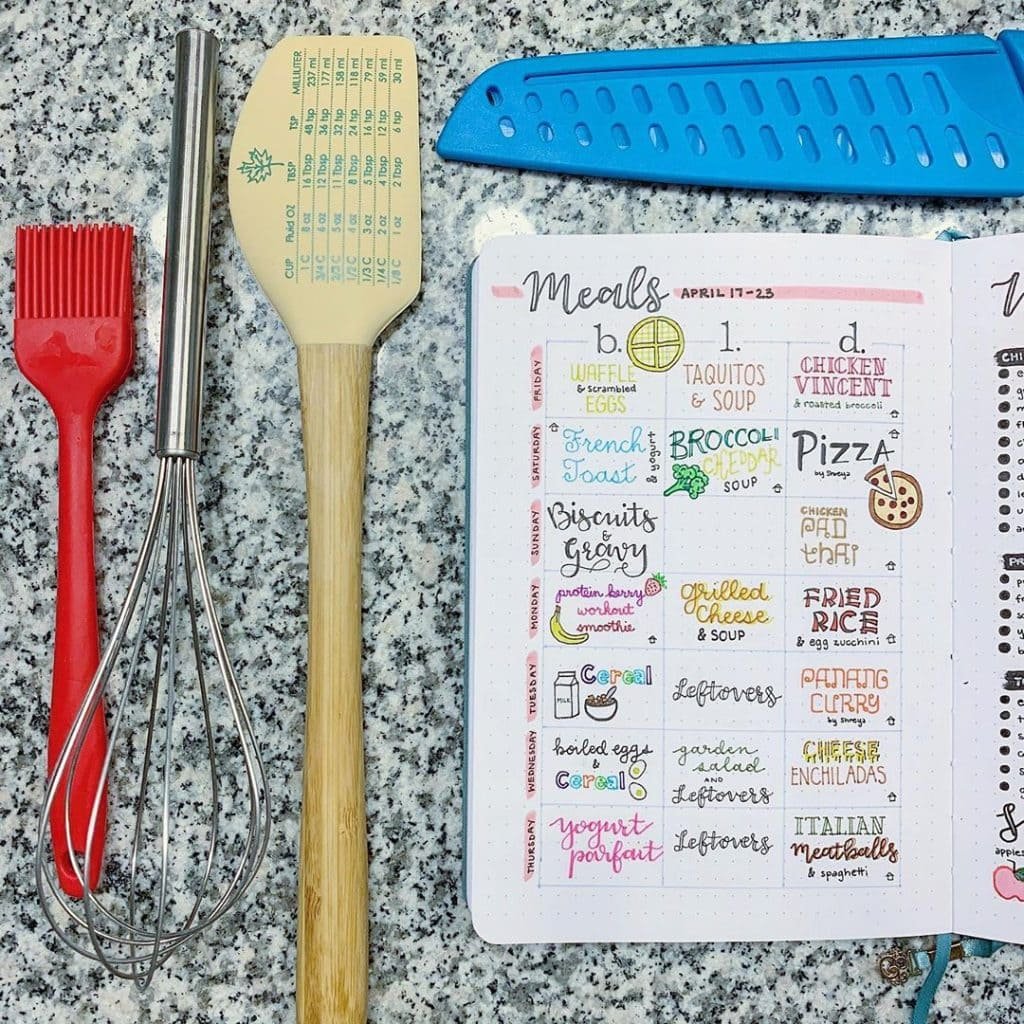 Source: watts_up_dog
My favorite one out of the list is this adorable doodled weekly calendar. It's quirky, visually appealing, and makes you hungry as soon as you look at it. The idea is to add tiny doodles for the food items listed in the calendar.
11. Two-Paged Everyday Meal Plan Bullet Journal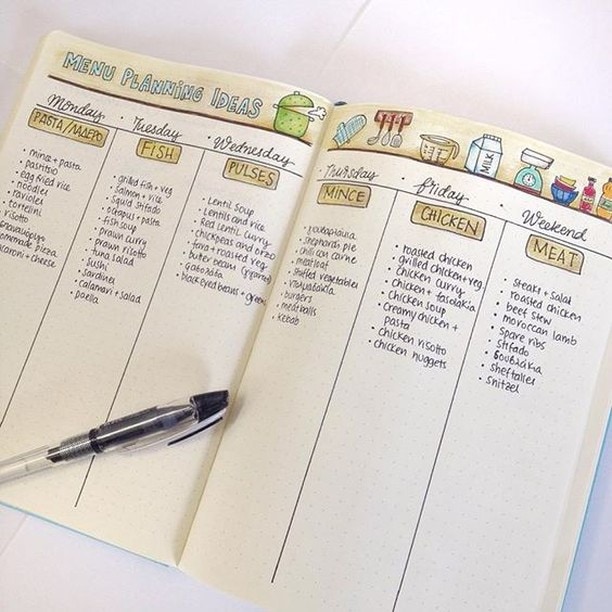 Source: lee_bujo_lover
I love how this bullet journal meal planner allows you to make a choice every day while cooking. It does not assign a specific meal for each day, and you can cook whatever you feel like. However, the days are categorized according to the type of food like pasta, chicken, fish, meat, pulses, etc. There are mini drawings next to the page heading for some added cuteness! 
12. Vibrant Sticky Notes Weekly Meal Planning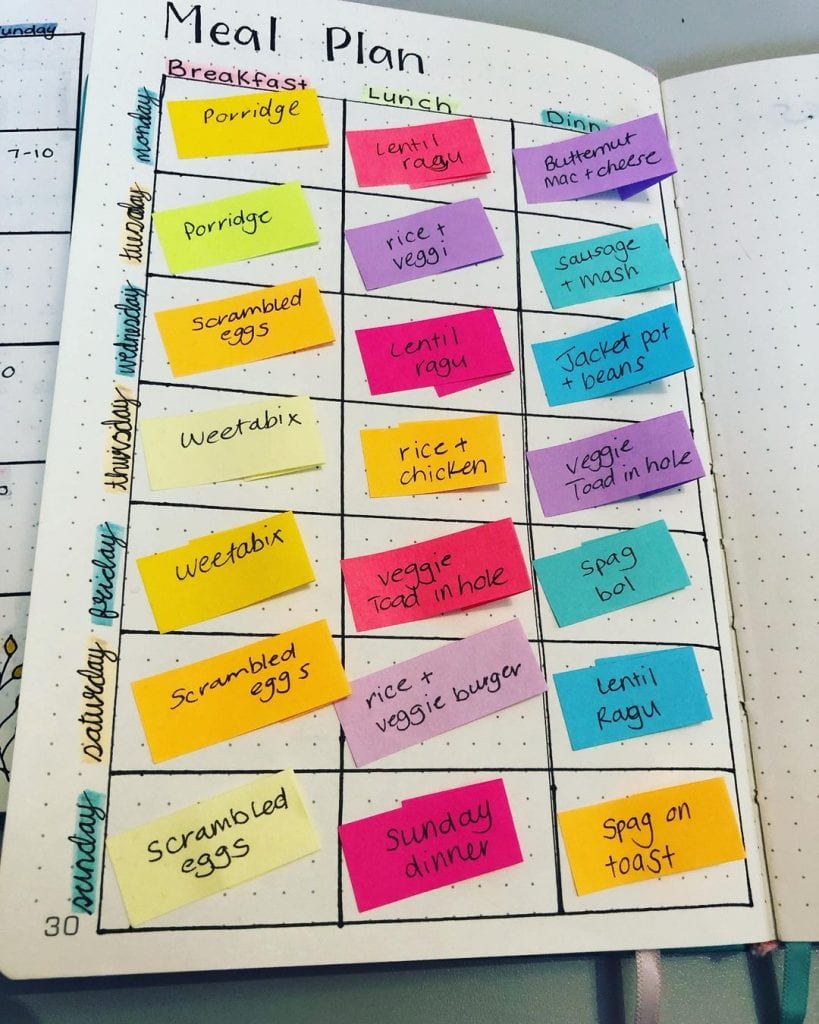 Source:  rebekahsenior_rwl
This is a great way to minimize the waste of pages by planning each week in the same layout. The layout has a table with week names in the left margin and breakfast, lunch, dinner columns. For planning the meals, sticky notes are used, which can be replaced after every week. 
13. Pink n Blue Calligraphic Meal Plan Layout
Source: adventure.robin
This is an elegant and straightforward way to design your planner. Each weekday has a section on the page with subsections of each meal. Finally, the use of calligraphic fonts and hints of colors makes this layout even more elegant. 
14. Tables Full of Food Weekly Bullet Journal Meal Plan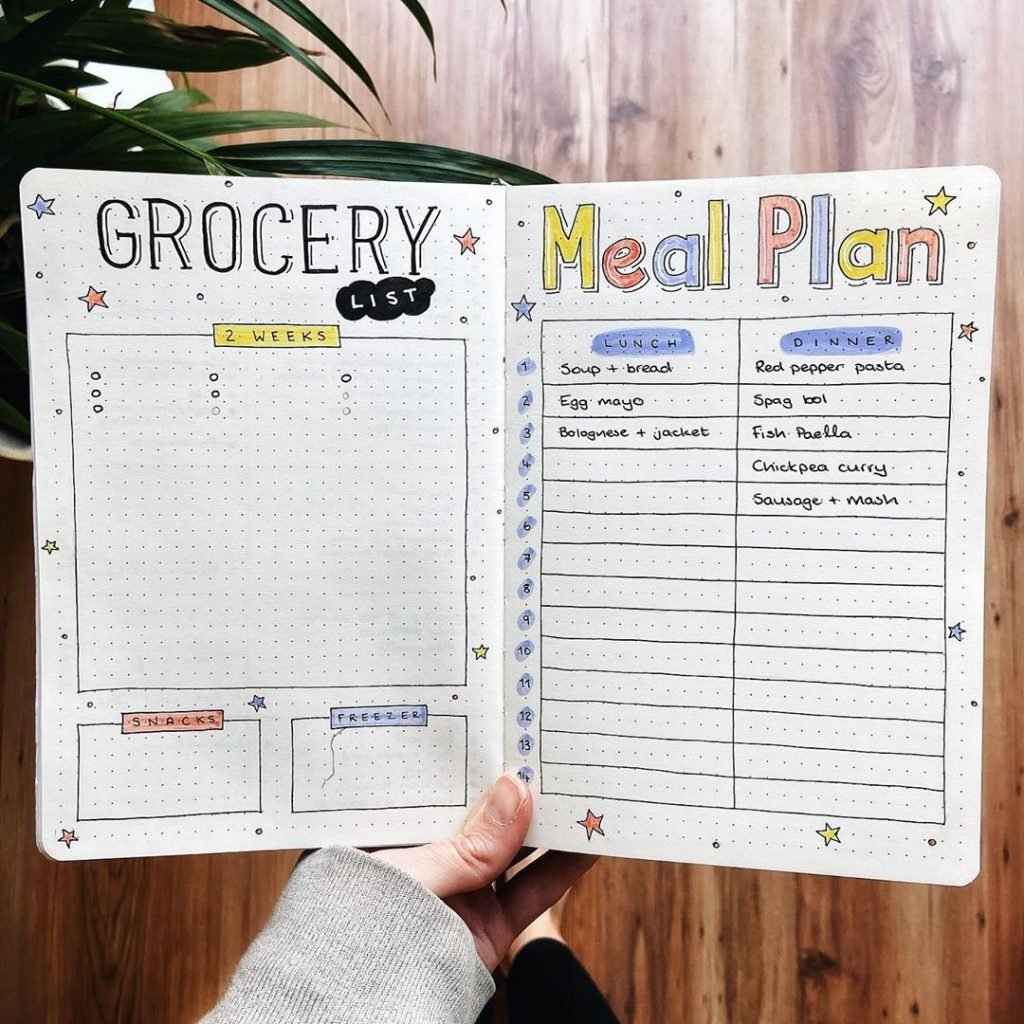 Source: thehappysideof40
Sometimes it's better to plan for two weeks all together as you can shop twice a month according to that planner. This meal plan idea allows you to plan for two weeks with a 14-row table and a grocery list to note the ingredients alongside. It is quirky, colorful, and can be recreated easily!  
Monthly Meal Plan Bullet Journal Spreads
Want to be sorted for the entire month? Try out a monthly spread to plan each day of the month. You will not have to worry about what to cook for breakfast, lunch, or dinner for the whole month. 
15. Lavender Sections Monthly Meal Planner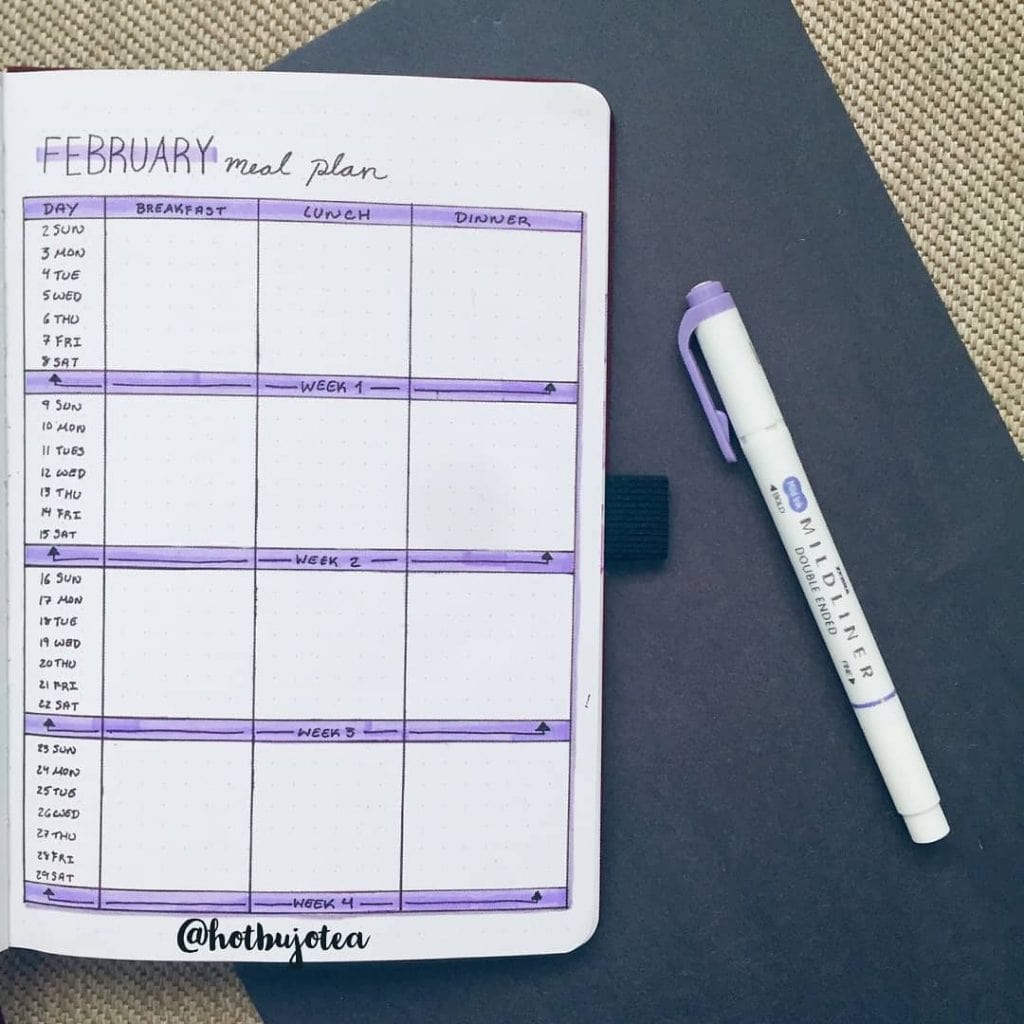 Source: hotbujotea
Make a table and divide it weekly. This division allows you to plan one week at a time so that you don't feel exhausted. It is a quick and elegant way to style your meal plan. 
16. Hanging Bulbs Minimal Meal Plan Bullet Journal
Source: pernicketyabi
I love the minimalistic and elegant feel of this meal planning bullet journal idea. It has hanging bulbs with the heading written in it. The remaining space has a numbered list of 31 days and columns for each meal. This layout has a black and white theme, which makes it even more classy. 
17. Organized Cartoony Monthly Meal Planner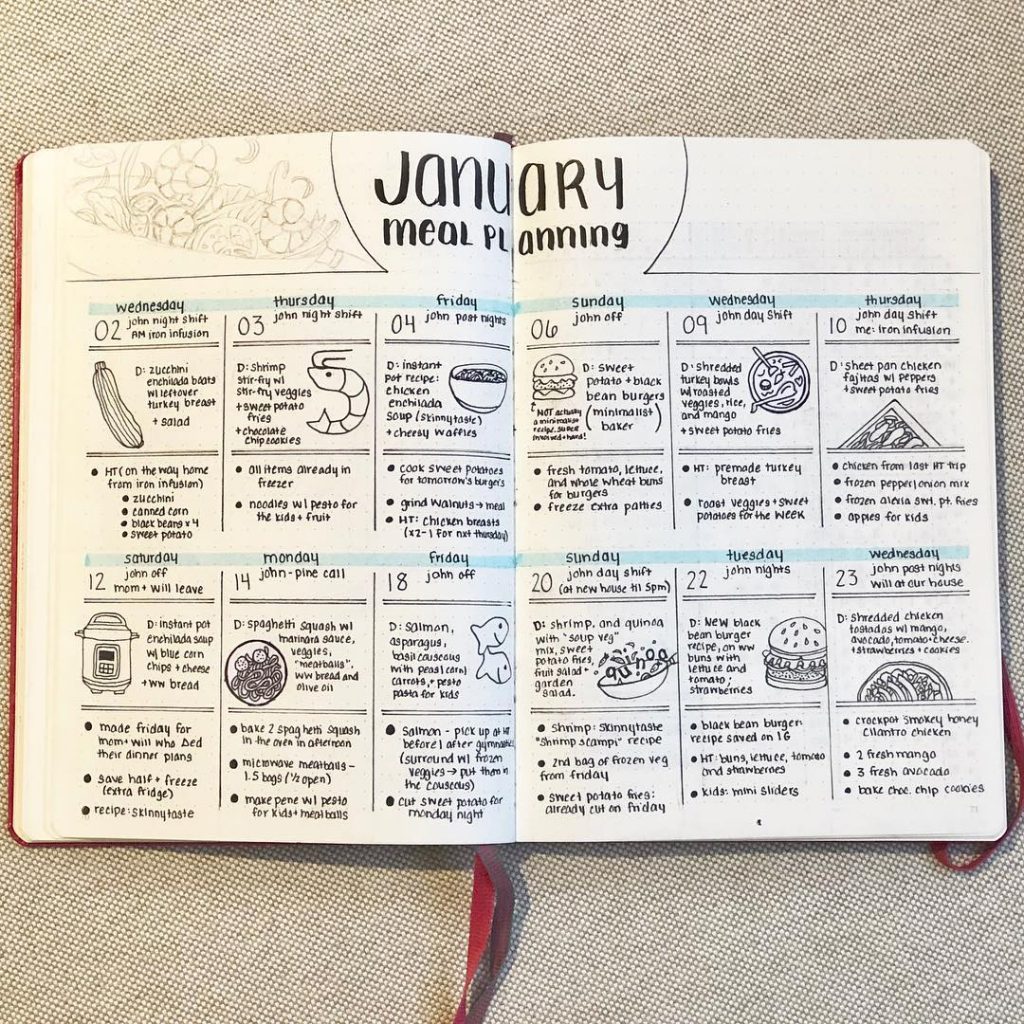 Source: illustratedgrey
This meal plan bullet journal idea looks just like a comic book! The combination of black tiny fonts and doodles in each box of the calendar makes it so unique and creative. A subtle detail of blue highlight is added to the headings making it neat and organized.  
Meal Log or Meal Tracker
A meal log or tracker is a must add to your bullet journal as it allows you to track the meals you have during the week/ month. This log can help you calculate your calories or the number of times you cooked, ordered, or went out. You can also keep track of your expenses on groceries by having a meal log.   
18. Color-Coded Meal Log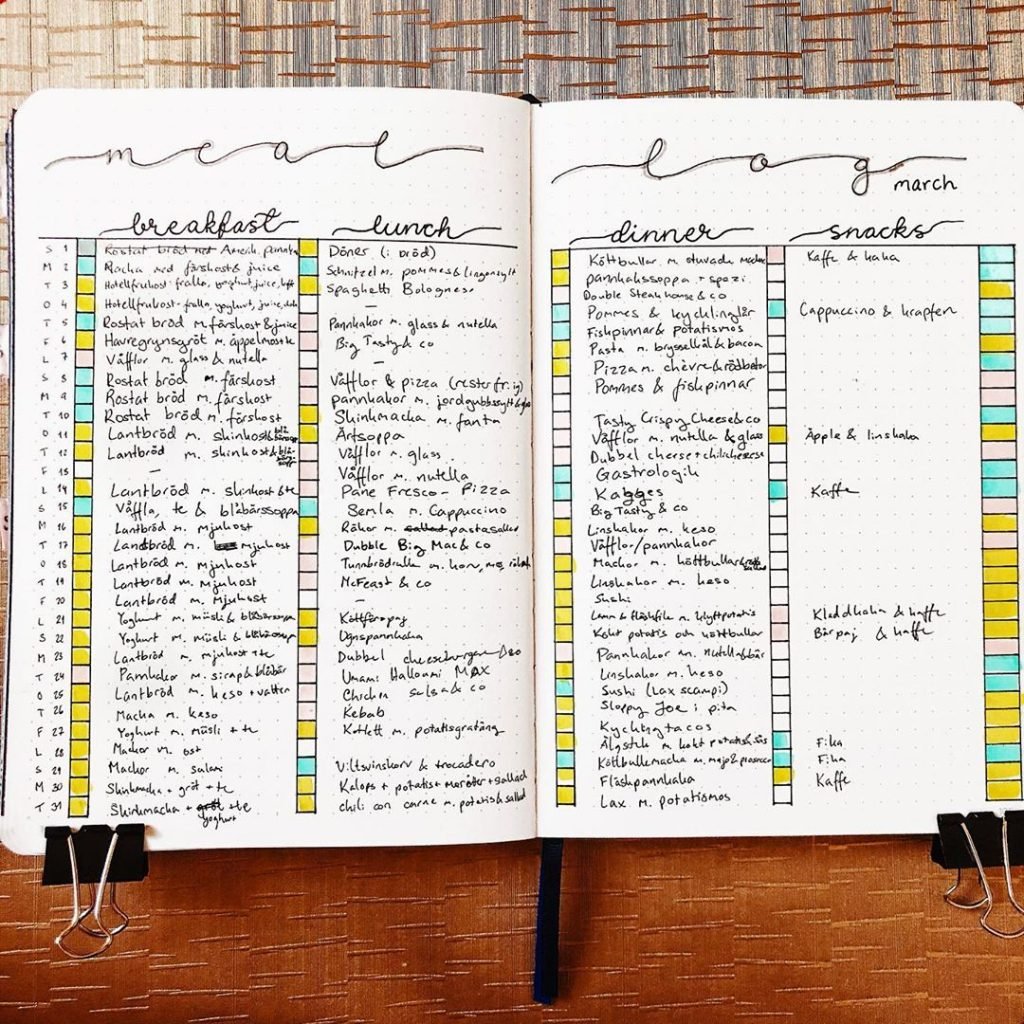 Source: minimalisticbullet
This color-coded meal log is straightforward and allows you to track anything you want. The colors next to each meal can be matched to any key of your choice like calories, price, etc. It has four columns for each meal of the day, which makes the log organized and convenient. 
19. Pastel Boards Monthly Meal Tracker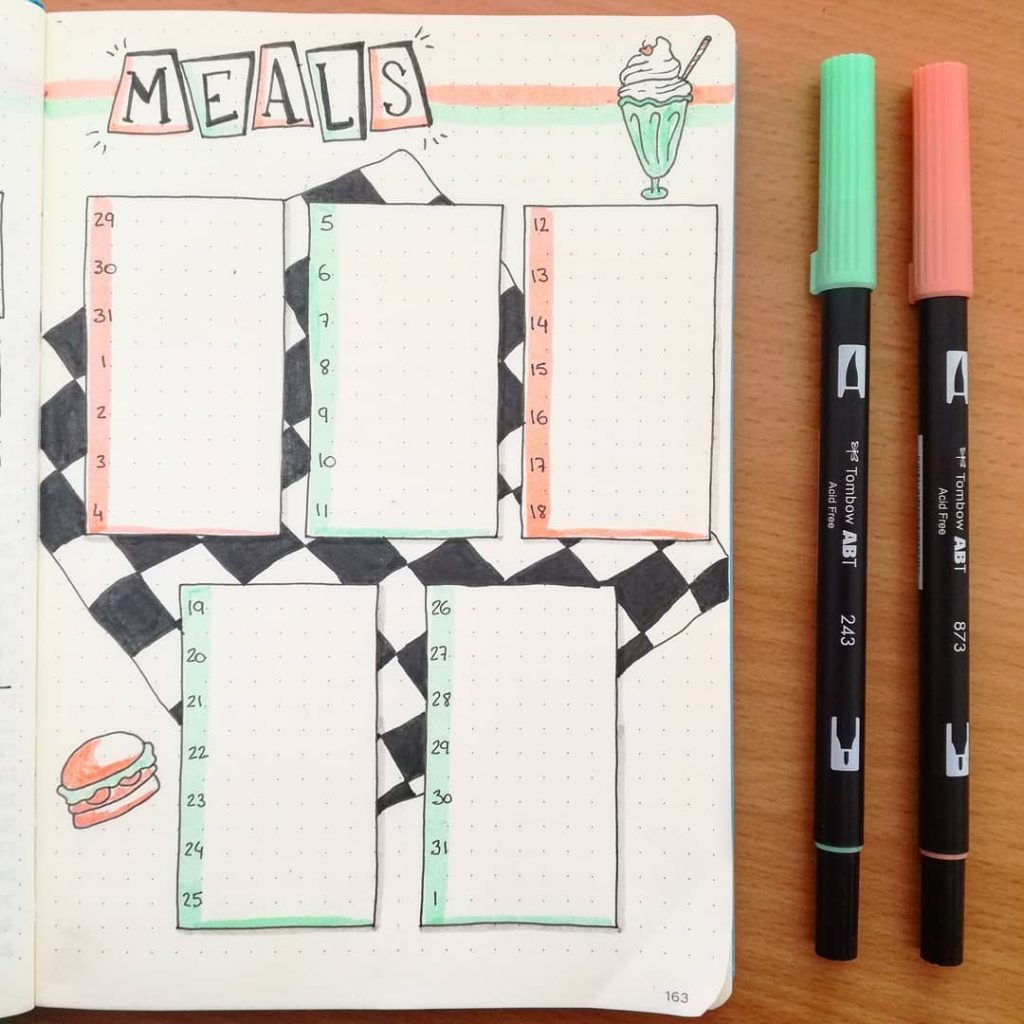 Source: noneniebujoscrap
This meal plan bullet journal tracker is the way to go if you simply want to list the dishes you have throughout the week/month. It doesn't have an additional key but has a beautiful pastel theme with multiple text boxes scattered across the sheet.  
20. Homemade or Restaurant Monthly Meal Log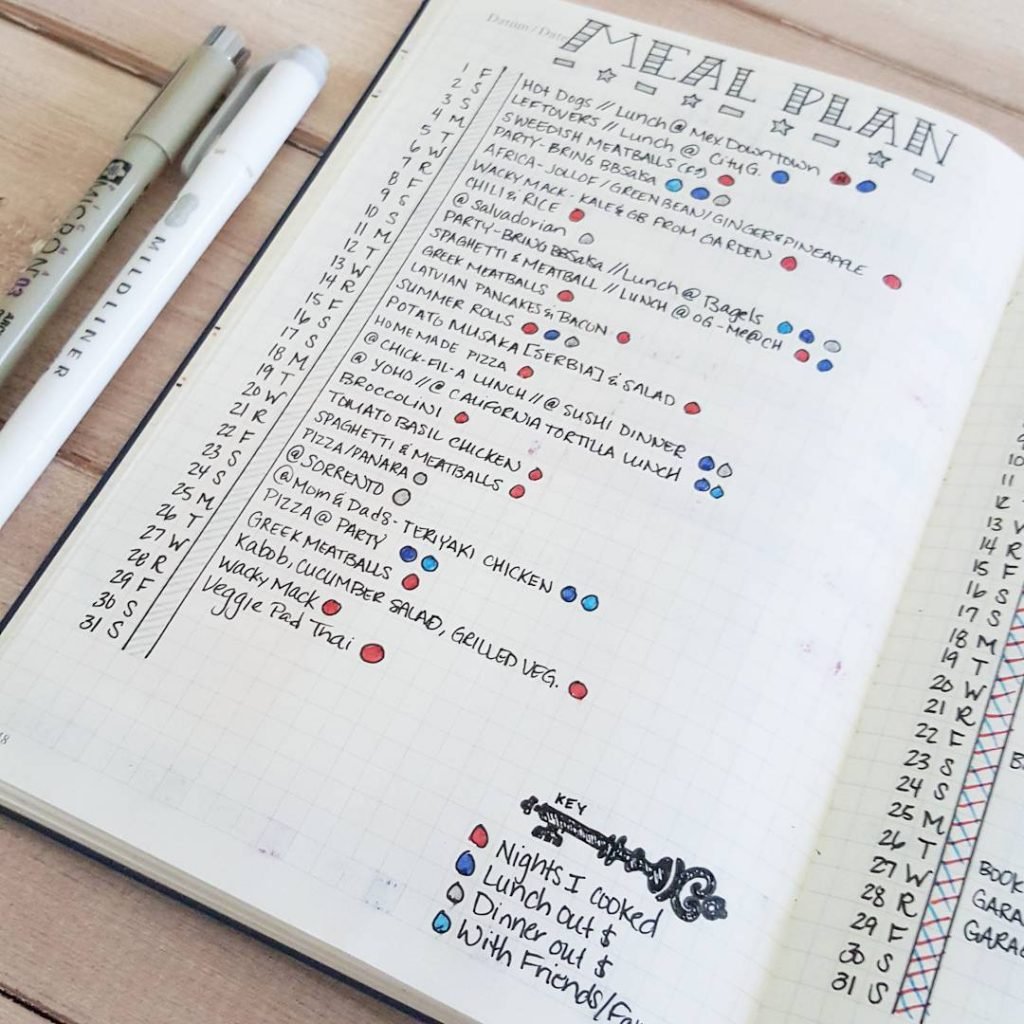 Source: oak.tree.journaling
Here is a listed tracker that is quick and easy to recreate. All you have to do is write the date and day on the left margin, followed by the meals you have each day. You can also add tiny polka dots at the end of each row and match it with a key of your choice, as shown above.  
21. Tracking Thrice a Day Meal Plan Bullet Journal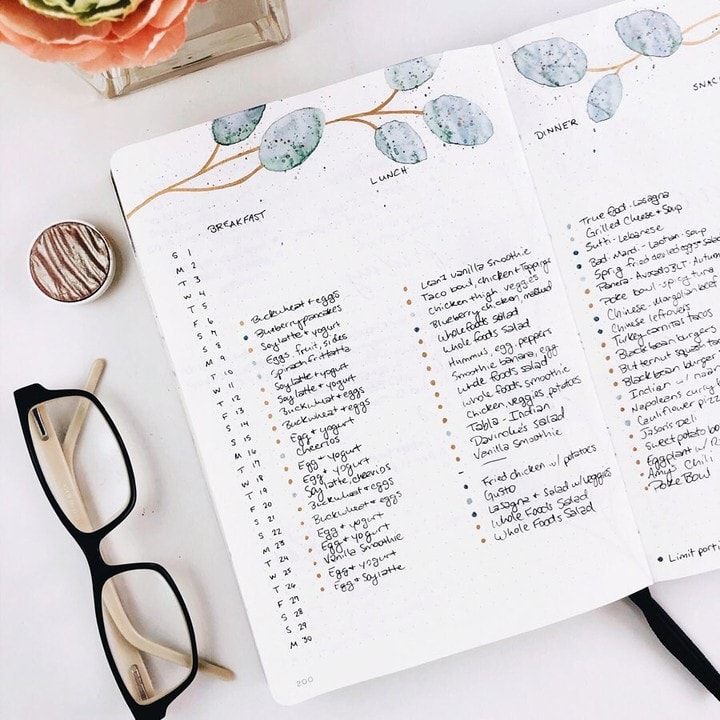 Source: journal_junkies
We are ending the list with this aesthetic, convenient, and easy to recreate idea. This meal plan tracker has columns for each meal and 30 rows for each day of the month. You simply have to log in whatever you eat and categorize it as healthy, medium, and high-fat foods using your key and colorful dots. 
Why is Bullet Journal Meal Planning Important?
Bullet journal meal planning is important for several reasons:
Organization and Efficiency:
Meal planning in a bullet journal helps you stay organized and saves time in the long run. By having a clear plan for your meals, you can streamline your grocery shopping, reduce food waste, and avoid last-minute meal decisions or takeout.
Healthier Eating Habits:
Planning meals in advance allows you to make healthier food choices. You can include a variety of nutritious ingredients, balance your meals, and ensure you're meeting your dietary goals. It also helps you avoid impulsive and unhealthy food choices that can occur when you don't have a plan.
Budgeting and Cost Savings:
Meal planning helps you stick to your budget by allowing you to create a shopping list based on the ingredients you need. By planning ahead, you can take advantage of sales, buy ingredients in bulk, and reduce the chances of buying unnecessary items or resorting to expensive convenience foods.
Reduced Stress:
Having a meal plan eliminates the stress and decision-making associated with figuring out what to cook each day. You can approach mealtime with a sense of calm and confidence, knowing that you have a plan in place.
Flexibility and Variety:
While meal planning provides structure, it can also offer flexibility. You can include different recipes, try new dishes, and accommodate dietary preferences or restrictions. With a bullet journal, you can easily adjust and adapt your meal plans as needed.
How To Meal Plan in Bullet Journal?
Meal planning for an entire week/month might seem complicated, especially knowing that you have to think of multiple dish ideas in one go. So, here are some tips to make meal planning easier. 
Separate the month into four weeks (or the week into each day) and finish each week/day and move to the next.  
Next, choose a layout according to your convenience and customize it depending on the things you want to list (grocery list, ingredients, etc.)
Create a tiny notes section in your meal planner. This helps you list some of your weekly/monthly favorite recipes or even the ones you wish to try. 
Adding a grocery list to your meal planner comes really handy. It ensures you do not miss out on any ingredients for your upcoming meals. 
We hope these ideas help you out while making your meal plan bullet journal. These ideas are easy, elegant, and very customizable. So, reduce your cooking stress by creating your bullet journal meal planner today!
If you loved these ideas, you can use the Pin image below and save this article on your 'Bullet Journalling' Pinterest board.