It is not easy to prepare a Thanksgiving meal but the star of the night is certainly the Thanksgiving pie. And if you are in search of some innovative and mouth-watering Thanksgiving pie recipes, then I suggest you continue to read. Thanksgiving dinner is incomplete without a good pie, but did you know you could do much more than the classic pumpkin pie? Well, let me guide you through the options that we have for you.
Thanksgiving pie is the exact thing that will complete your dinner table, so why not explore a little in this arena? If you are feeling a little experimental and fancy some pie with a gourmet touch then here are some options for you. You can also check our 24 Thanksgiving Dessert Recipes To Warm Your November.
Table of Contents
Apple Pie Recipes Ideas For Thanksgiving
How about we try some apple Thanksgiving pie instead of the classic pumpkin? Apple pie is something one can enjoy at any time of the year. But that doesn't make it a mundane choice for your Thanksgiving guests. We have curated some apple pie options for you that will spice up your dinner table just like the Christmas tree.
1. Dutch Apple Pie
This apple Thanksgiving pie by inbloombakery is one of the basic options on the list. It is easy and it is delicious. You will recreate this with the ease of your happy mood, no hassle, and no pre-plans required for this beauty here. It looks just like a classic apple pie, only this one will bring the glamor to your Thanksgiving dinner table. It is both simple and delicious. Something you will remember and would want to have again.
2. Deep Dish Apple Pie
Deep dish apple pie by sallysbakeblog claims to be your guilty pleasure this Thanksgiving. And why not? This Thanksgiving pie recipe is extra gooey and is filled with those succulent apple pieces and cinnamon. The twist that adds to the beauty of this precious pie is the buttery flakey crust. One thing is for certain that you won't regret gaining a few extra pounds because of this one.
3. Apple Galette
Apple galette by b_nourished_ looks too beautiful, doesn't it? It looks like it belongs on your brunch table. But why not be a little bold to place it on your Thanksgiving dinner table? Be assured that your guests will be left mesmerized both by its looks and by its taste. If you have a bag full of apple, use them to make this flakey apple galette. It will certainly be the star of the night. The filling of this pie is the perfect combination of sliced apples, brown sugar, cinnamon, lemon juice, and a pinch of salt. And that's all it takes to make the delicious filling of this Thanksgiving pie.
4. Maple Cranberry Apple Pie
One cannot deny how tempting this maple cranberry apple pie looks. It might look a little simple to you, but this one will leave you wanting more and more. You will certainly not be satisfied with a single slice of this. If you are planning to bake for the first time this year, this should be the one you bake first. This maple cranberry apple pie by healthyseasonal a is classic and easy to bake but delicious when you talk about taste.
5. Cinnamon Roll Apple Pie
What else do you want in a pie, if it has cinnamon rolls on it? Well, this lovely Thanksgiving pie by kristinavanni gives you exactly that. It is an apple pie that has the yumminess of gooey cinnamon rolls. It is a bit heavier on the calorie side but why not let go of the calorie count this Thanksgiving?
Pumpkin Thanksgiving Pie Ideas
Have you ever wondered why Thanksgiving dinner without pumpkin pie is like Romeo without Juliet? Well, it is because it marks the harvest season. So let's go back to the old traditional days and make some delicious pumpkin Thanksgiving pie. I am sure, we all have a secret family recipe for this one, but in case you want to do something different yet stay conventional then here are some Pumpkin pie ideas for you.
1. The Classic
This Thanksgiving pumpkin pie by butteraimee is as homely as it gets. It is going to remind you of your childhood days. So if this winter you are staying alone during the thanksgiving then I suggest this one for you. Because this beauty pie is going to take you on a walk down memory lane. And you will not regret the taste, because the sweetness of the pumpkin is spiced up by the presence of black pepper. 
2. Pumpkin Chiffon Pie
This Pumpkin chiffon pie by kristinavanni is a sophisticated twist to your old traditional pumpkin pie. This is little pie here looks classy and chic, but never compromises on the test. But if you want to go a little more over the top, then you can add some whipped cream on the top. And how about some caramelized almonds on the top to add a bit of a crunch to that smooth pumpkin Thanksgiving pie?
Pecan Pie Ideas for Thanksgiving
How can one ever go wrong with a pecan pie? Now imagine some nuts and some orange zest on the top, it just makes the pecan pie, a paradise. And if you have a sweet tooth then pecan pie is the pie you should pick up this Thanksgiving. So if you are looking for how to get a perfectly baked pecan Thanksgiving pie on the table, then here are some options for you.
1. The Autumn Pecan Pie
This pecan thanksgiving pie is going to be the apple of your eye. This pie by kitty.kitchenette is the classic reminder of autumn, but it is here to just warm up your winter nights. This pecan pie has a walnut filling and a homemade crust. And it is the perfect combination of salty and sweetness. One bite your guests are going to ask for the recipe.
2. Chocolate Lovers Pecan Pie
This chocolate pecan pie by floatingkitchen is a chocolate lover's paradise. This pie is going to be loved by your kids as well. And the combination of nuts and chocolate is blasting. It can never go wrong, so this Thanksgiving bake a chocolate lovers pecan pie.
3. Spiked Chocolate Pecan Pie
This spiked chocolate pecan pie is another option for chocolate lovers for Thanksgiving pie. This pie is a fun twist to your usual pecan pie. It is gluten-free, slightly boozy, and gooey. This pecan pie by tishasveggieeats is going to make our November nights a little more chocolatey.
Peanut Pie Recipe Ideas for Thanksgiving
Peanut pie is often called a 'poor man's pecan pie' but that's beside the point that this pie is amazing when in your mouth. In the cold winter, you can absolutely bake yourself a warm creamy peanut Thanksgiving pie. A traditional peanut pie has a filling of corn syrup, sugar, and eggs. But how can you have a usual peanut pie on Thanksgiving, so here is a peanut pie for you, with a little twist.
Peanut Toffee Pie
This Thanksgiving, keep the usual pumpkin and apple pie away and bake some delicious and crunchy peanut pie for your guests. This peanut pie by peanutscanada is as crunchy s it looks. But this pie has a twist of the sweet taste of toffee. So this winter if you are looking for a pie which is not creamy and gooey then this is the option for you.
Dairy Free Banana Pie
This is yet another option for people who want to stay healthy and dairy-free on Thanksgiving. This banana cream pie by backporchpaleo is just the kind of pie you would want on your Thanksgiving night. This banana pie has a gluten-free crust. This pie is something you can bake with your family, for a fun time. You will not regret the time spent nor will you regret the creamy texture it has to offer. So go on, bake some dairy-free creamy banana pie to snack on. The batter is yummy and you can also make some pudding with it.
Double Berry Custard Pie
This double berry custard pie is filled with the juiciness and goodness of berries. And what better than doubling the taste and goodness? Thi pie has the juicy raspberries and the delicious blackberries wrapped up inside with this buttery streusel on the top. This custard pie can be served both warm and cold, needless to say, you can save it up and munch on later. This custard pie by thedashleyskitchen is a treat of sweetness which also passes as a tart. A combination that is rare to be found.
Sheet Pan Pie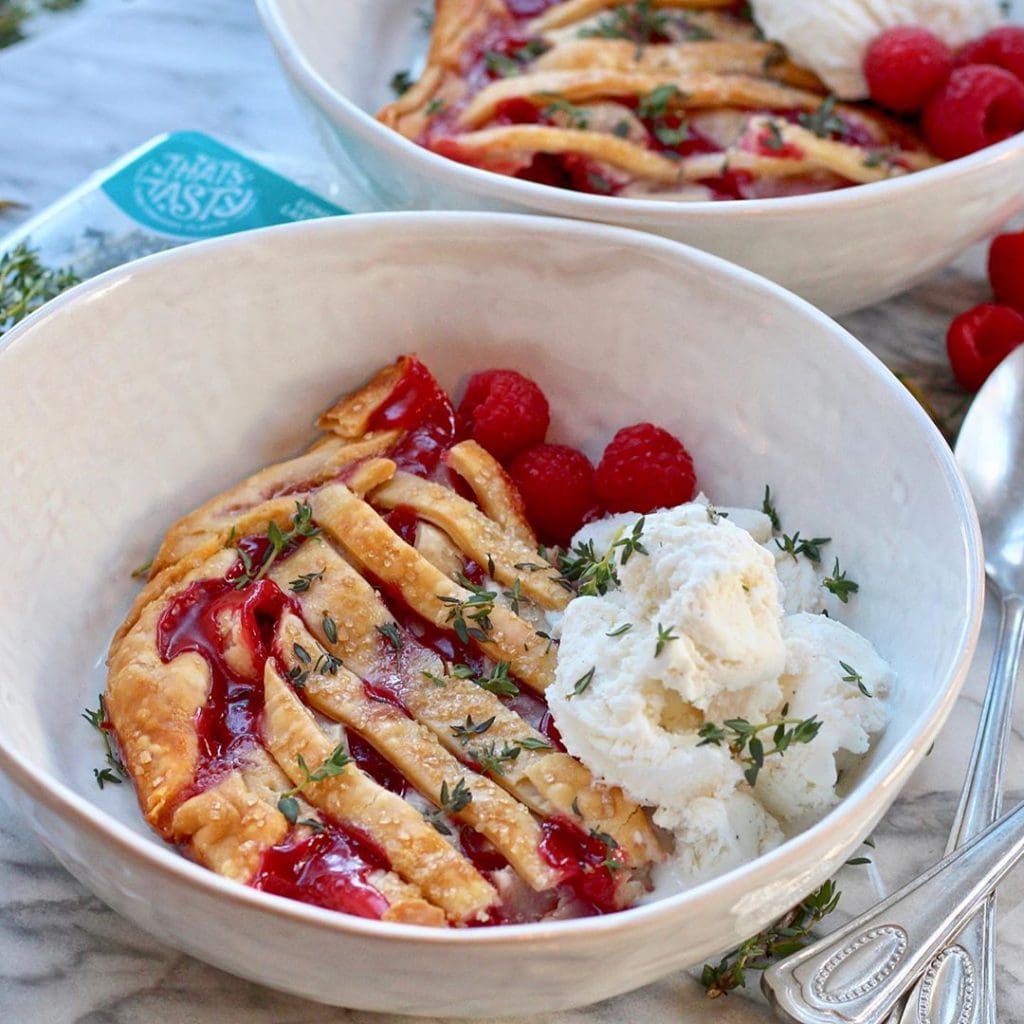 This sheet pan pie by sliceofjess is going to be your all time favorite. This Thanksgiving pie is not only delicious but is easy o put together. And because it is easy to put together, serving a long guest list won't be an issue for you. This pie recipe needs the minimal just some good raspberry and a thyme-infused crust to go with it. And you are good to go. Sheet pan for Thanksgiving pie is an excellent choice for the winter menu. The recipe is so easy that you don't really need an occasion to make it. 
Chaga Maple Nut Pie
It has maple it has nuts and it is a pie, that's more than enough to impress me! The taste of this delicious looking pie will not disappoint you or your guests. This Thanksgiving pie by borealis.gold looks like a lot of work, but I can tell you it is not. Of course, baking a proper delicious pie is not that easy, but this pie will be worth every effort. This also has the crunchiness of tossed nuts along with the goodness of maple syrup. So if you are craving something sweet on a winter night, this is your pick. Needless to say a perfect candidate for your Thanksgiving pie.
Miso Honeynut Pie
If you are a soul who wants it all, chocolate, sesame, hazelnut; if you have a hard time choosing then this pie is just for you. This miso honeynut pie by michalsie is a vegan bake. It is creamy, nutty, crunchy, and of course chocolatey; it is a perfect balance of all the flavours you can imagine in your Thanksgiving pie. 
So there you go, that's the end of our curated list of a variety of Thanksgiving pie ideas for you. Whether you are alone or celebrating Thanksgiving with your friends and family, you shouldn't miss out on a good pie. Thanksgiving dessert is the climax of the Thanksgiving dinner, so is a pie. So hurry, get all set to bake your favourite one from the list and let us know about it in the comment section.
Also, if you like this article then click on the image below to pin it on your Pinterest board for future reference. Happy Thanksgiving!