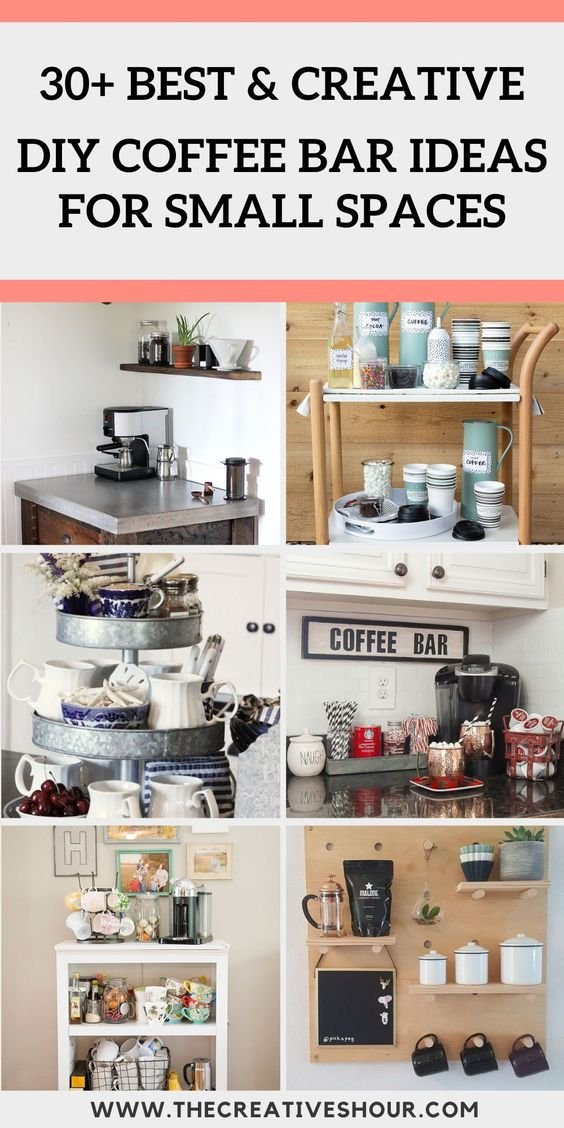 Over a billion people in the world drink coffee daily. Isn't that fascinating? This multifaceted and caffeinated miracle drink is what gets so many working adults through the day. If you're one of those who like to make their own coffee but live in a small apartment, you might be looking for coffee bar ideas for small spaces. Isn't it so much better when you can make the perfect cup yourself instead of spending money each day?
To help you in your journey of making your morning a little more cheerful – thanks to that fresh brewed cup of Joe – and to make your wallet thank you as well, we have put together a list of some really smart and innovative DIY coffee corner ideas for small spaces.
Also read –
30 Cute & Functional DIY Coffee Bar Ideas For Small Spaces
Now you can use a very small space to make a coffee bar which you will love and cherish. Not to mention that these coffee corner ideas are really nice aesthetically as well. So what are you waiting for? Go find the inspiration for your perfect coffee bar at home right now.
1. All About Love Small Coffee Bar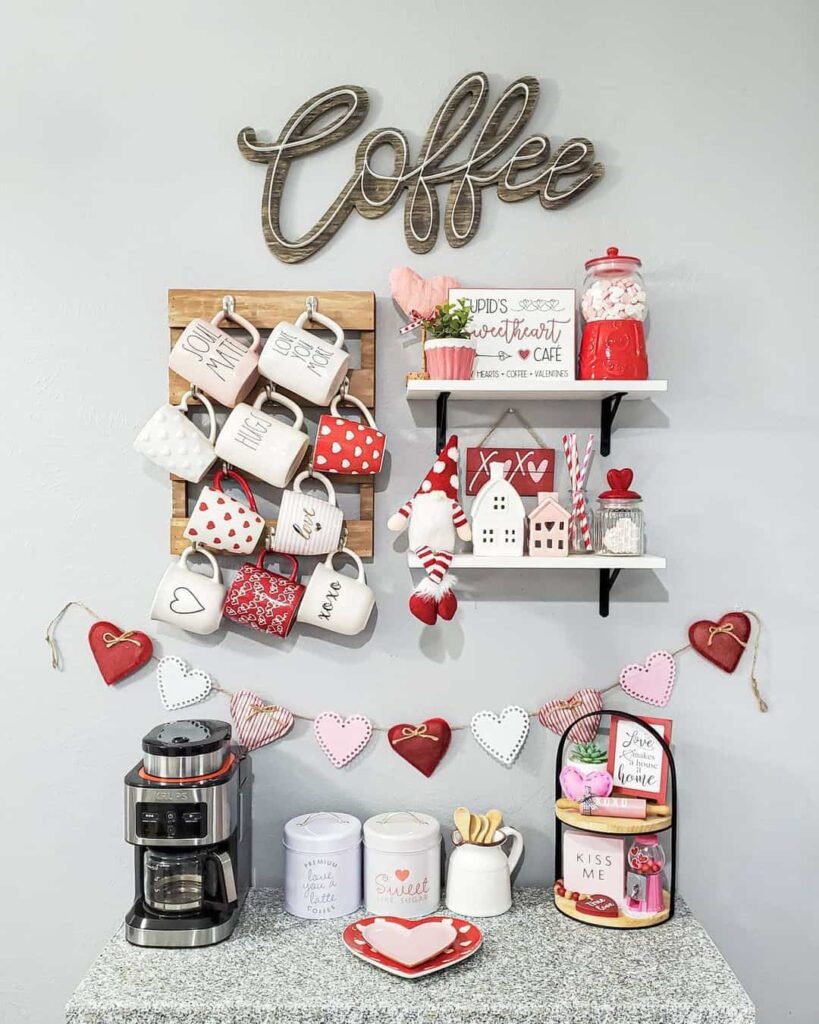 2. Sleek Cabinet Small Coffee Bar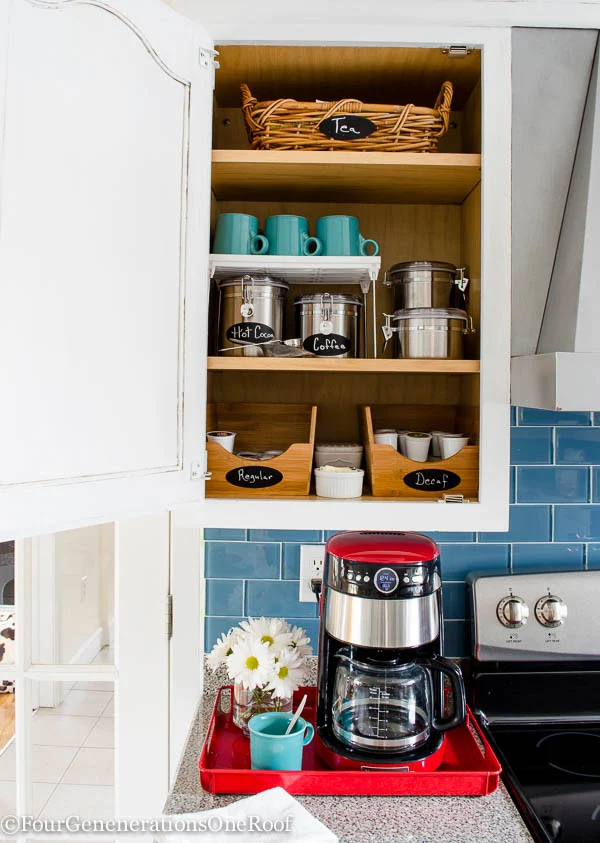 Source – fourgenerationsoneroof
Cabinets can make for the best kinds of DIY small coffee bar. Here's an example of how you can maximize the space to create a really cozy coffee bar in a small space. Labeling and compartmentalizing is surely your friend.
Larger items like coffee makers and french presses can be kept directly below the cabinet. Use a tray if you can. That'll make everything seem more organized. Once you have all your containers labeled and filled, you'll have a nice spot ready for your coffee adventures.
Also, read – 20 Best DIY Coffee Bar Ideas for Kitchen You'll Love
3. Boho Vibe Small Coffee Bar
Source – theangabode
Whether you're enjoying a solo cup or hosting a small gathering, this bohemian-inspired coffee bar will elevate your at-home coffee game.
4. Mugs Galore Coffee Bar
One of the most important elements required for DIY coffee corner ideas for small spaces is mugs. Hang some pretty ones that you use often from a stand so you can access them easily. Stack the colourful on top of each other.
5. White Ceramics Small Coffee Corner
With a minimalist design and ceramic cups, this coffee bar offers a simple and rustic ambiance. Whether you prefer a classic brew or a specialty drink, this at-home coffee bar is the perfect way to savor your favorite beverage in style.
6. Pegboard Coffee Bar for Small Space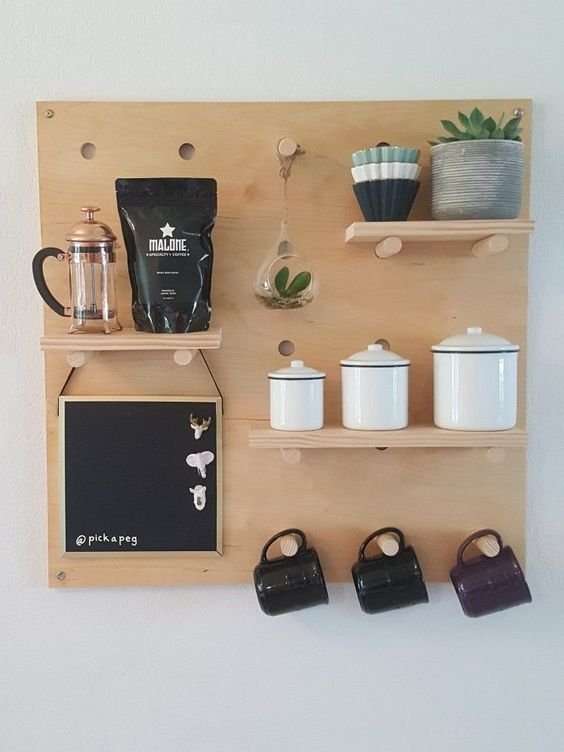 Looking for a different approach when looking for station coffee bar ideas for small spaces? We got you with this idea. You could add a table beneath it if you want a surface to prepare your morning cup, but everything else can easily go on the pegboard shelves. Use it to hang mugs, keep your sugar and coffee containers, even hang a tiny plant for some greenery if you want.
7. Cute Coffee Bar With Santa Coffee Mugs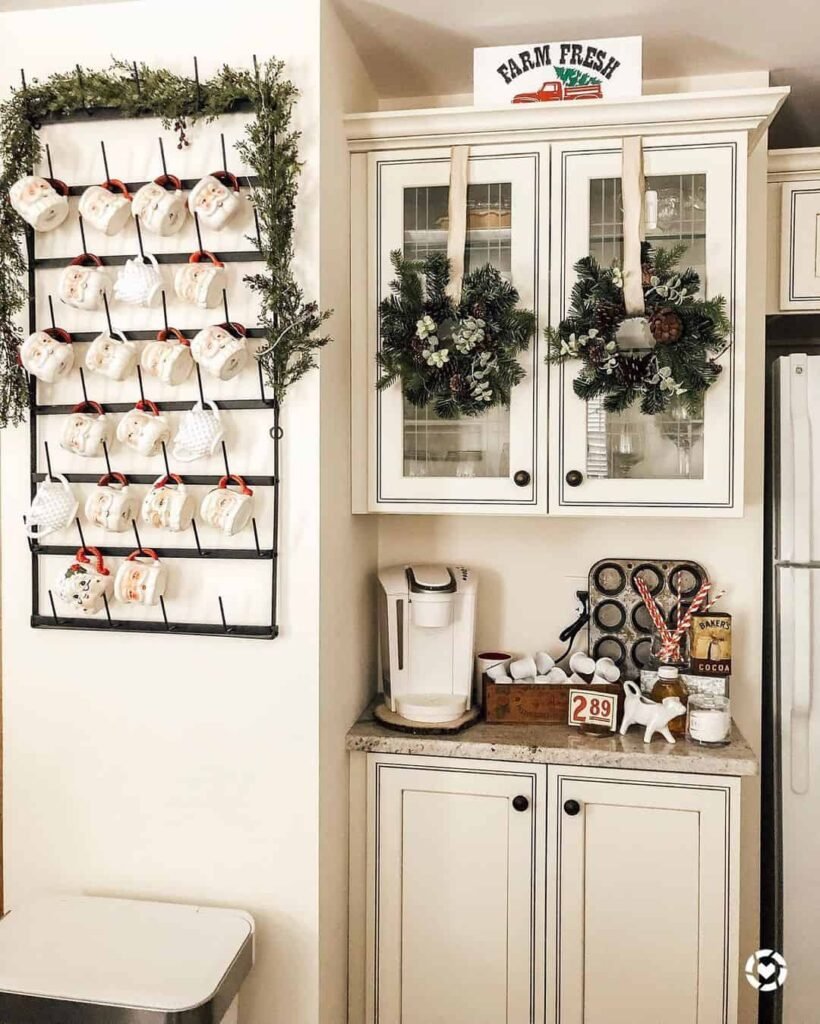 With adorable Santa mugs and seasonal decor, this cute coffee bar offers a cheerful ambiance for coffee lovers to enjoy.
8. DIY Copper and Wood Coffee Cart
There's something about building your own coffee cart that is really satisfying and wholesome. To fill your coffee cart, use all the staples – sugar, coffee beans, cocoa powder, marshmallows. For these coffee bar ideas for small spaces, you can customize the space according to your preferences.
9. Coffee Cabinet With Fall Home Decor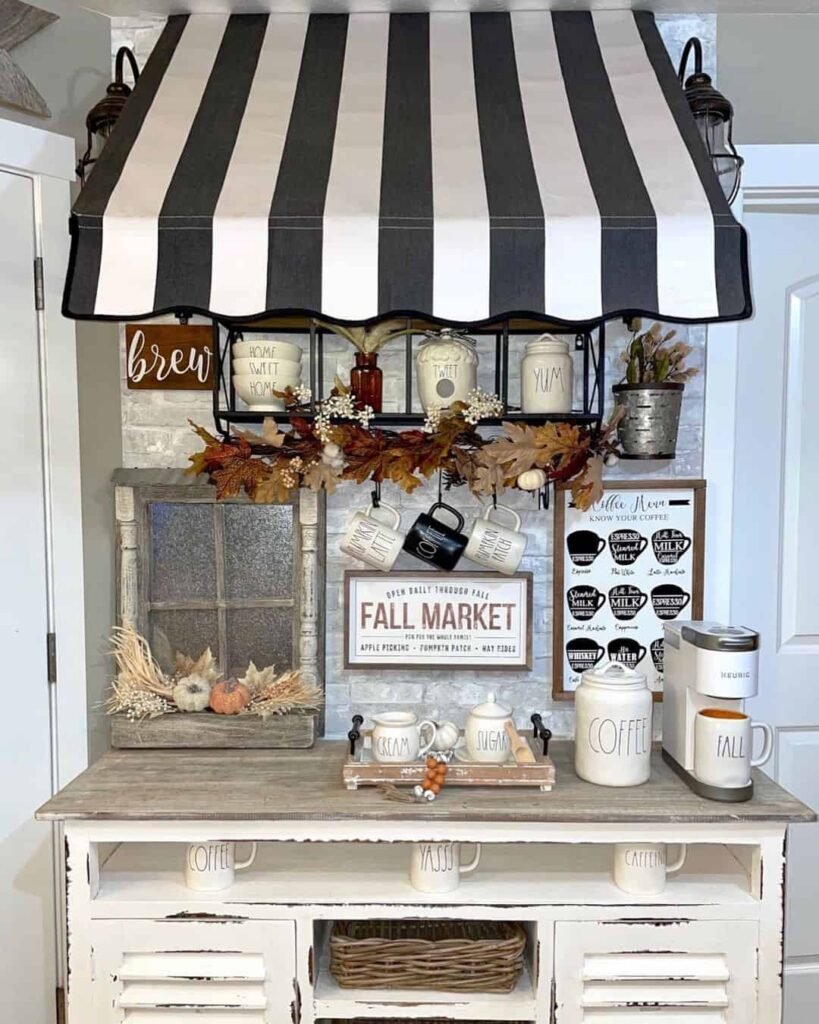 Source – torismithhome
A coffee cabinet with fall home decor is a cozy and inviting way to embrace the autumn season. With warm colors, pumpkin accents, and seasonal decor, this coffee cabinet adds a touch of fall to your home.
10. Outdoor Coffee Cart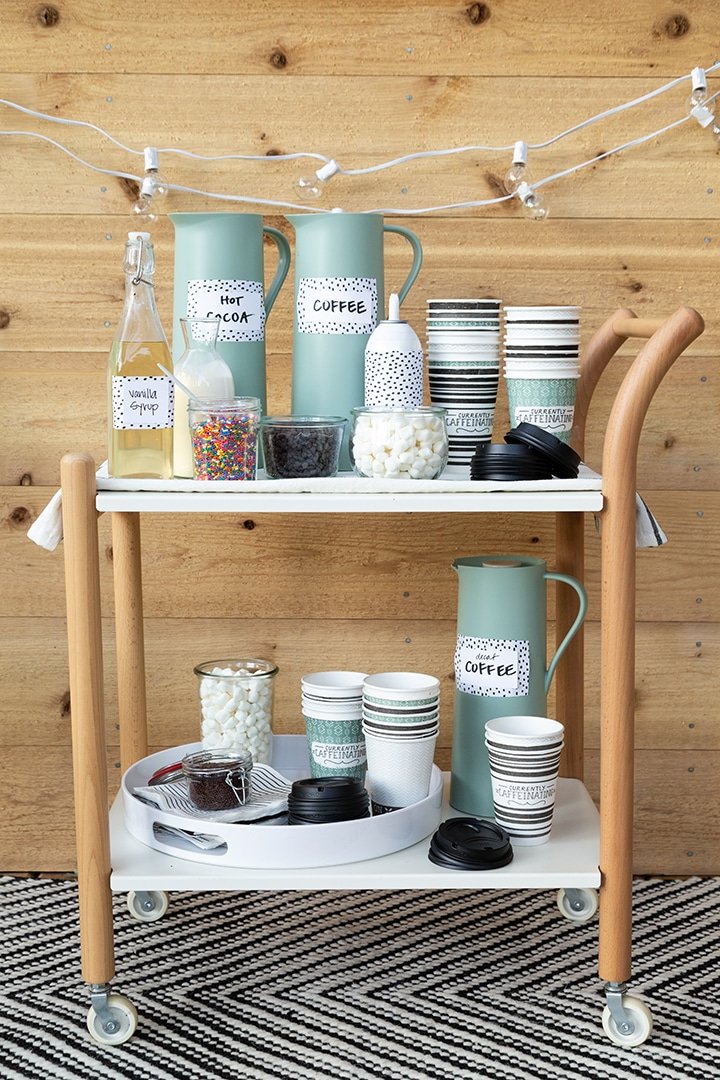 Isn't this one of the cutest coffee corner ideas for small spaces? It gives you whimsy and since it's a cart you can take it everywhere with you. Treat your guests to some lovely strong coffee or hot chocolate with marshmallows like a barista.
This is the perfect summer accompaniment in the patio. Stock up on some chocolate chips, rainbow sprinkles and of course coffee to get your gathering started. A great thing about this, at night, this could double up as a coffee and wine bar idea for small spaces too.
11. Small Coffee Bar With Hanging Shelves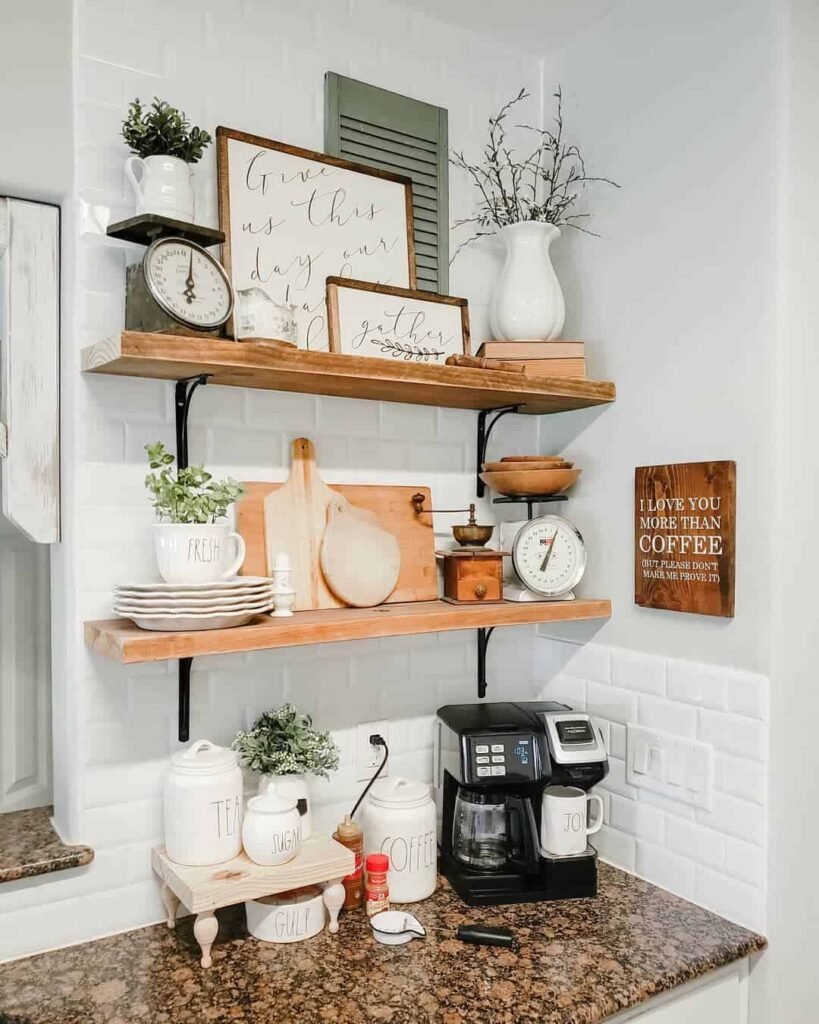 Source – thesimplystyledhome
Welcome to the ultimate coffee lover's paradise – a coffee bar with hanging shelves! With minimalist decor and functional shelves, such small coffee bar ideas offer a clean and organized look.
12. Festive Small Coffee Bar
If you like having a slice of the holiday spirit with you all year round, you'll love this countertop coffee bar idea for small spaces. Using decorative containers and some red themes, you can have Christmas with you each morning as you sip on your favorite drink.
13. Minimal Counter Space For Coffee Machine
Source – threetimesahome
Attention coffee enthusiasts! Are you looking to maximize your limited counter space without sacrificing your morning cup of Joe? Look no further than this minimalist counter space for your coffee machine!
14. Floating Shelves Small Coffee Bar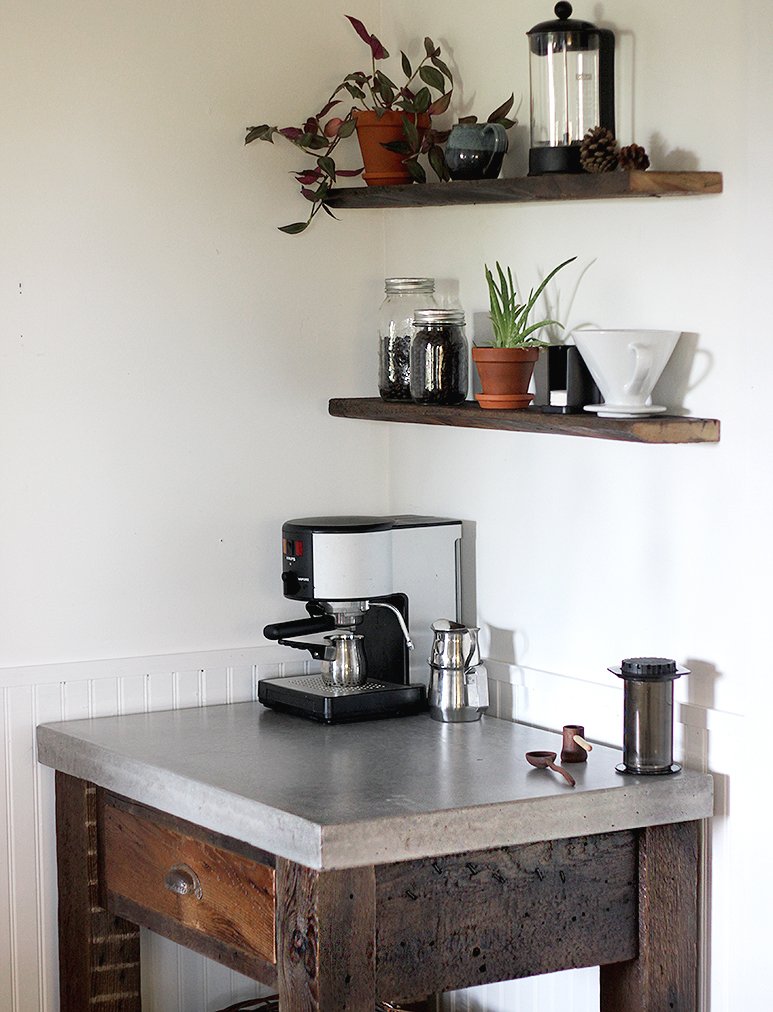 Looking for a new corner coffee bar idea for small spaces? Use reclaimed wood to make floating shelves that will hold a few of the supplies. Keep the bulk of your ingredients away from view. This will give your coffee bar a very neat look. The best addition in such a coffee station is a small plant for some nature elements.
15. Farmhouse Inspired Small Coffee Corner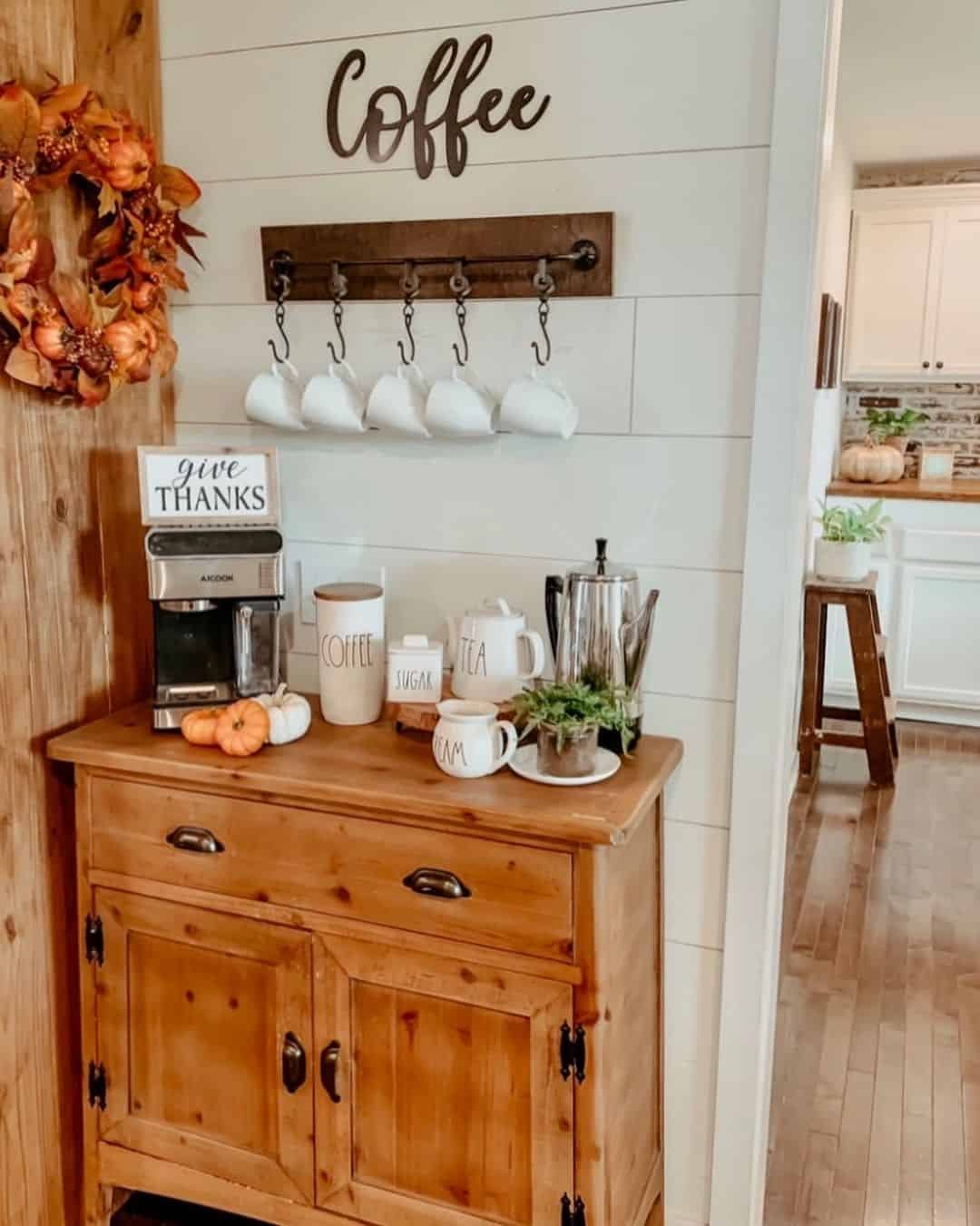 Source – weepingwillow.farmhouse
Savor your favorite brew in this cozy and stylish coffee bar that perfectly blends functionality and farmhouse aesthetics. This unique coffee bar made from a repurposed wood dresser that evokes rustic charm.
16. Scandinavian Coffee Bar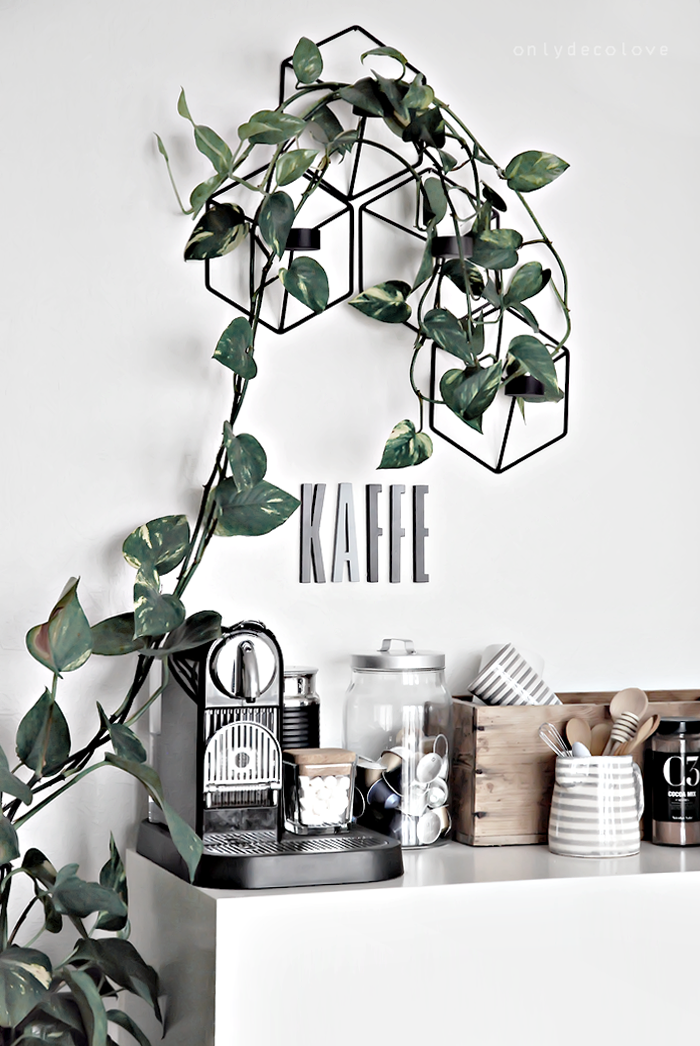 Go for a neutral and sleek coffee bar with this DIY coffee corner coffee bar idea for small spaces. With clean lines, natural materials, and warm textures, this coffee bar provides a serene ambiance.
17. Small Coffee Bar For Dining Room
Source – thesimplyblessednest

Transform a small white storage shelf into a charming coffee bar with a two-tiered farmhouse tray that beautifully displays your favorite cups.
18. Layered Coffee Stand Bar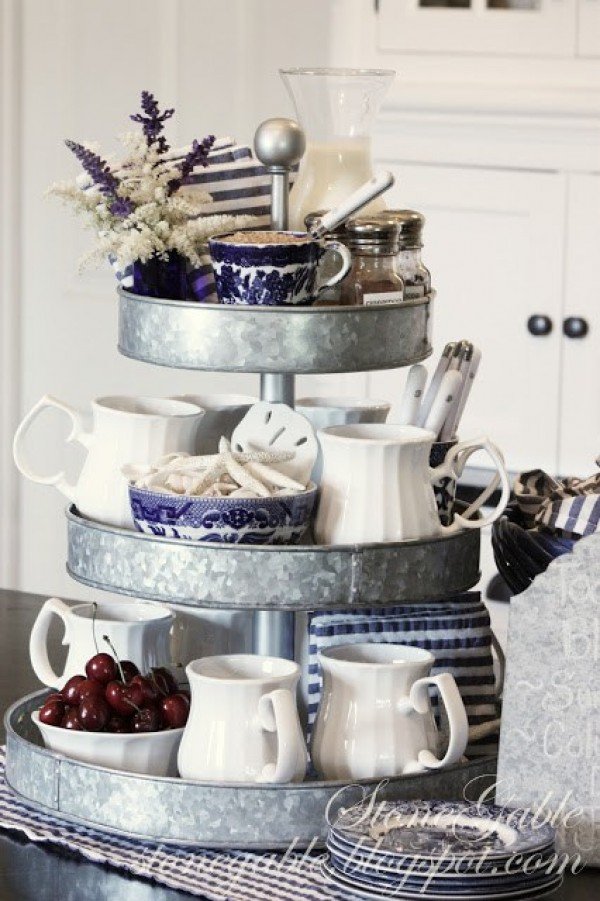 Be different by using this coffee bar idea for small spaces. Use your old cake tins to create a layered stand for your coffee bar. Not only will this make you save on a ton of space on the table, but is really imaginative.
19. Your Daily Cup Of Joe Fix
Source – torismithhome
Elevate your coffee nook with a boho twist by adding a woven rattan pendant light and stylish wood shelves. Store your coffee grounds in Moroccan-inspired ceramic canisters to add a touch of global flair.
20. DIY Small Space Coffee Bar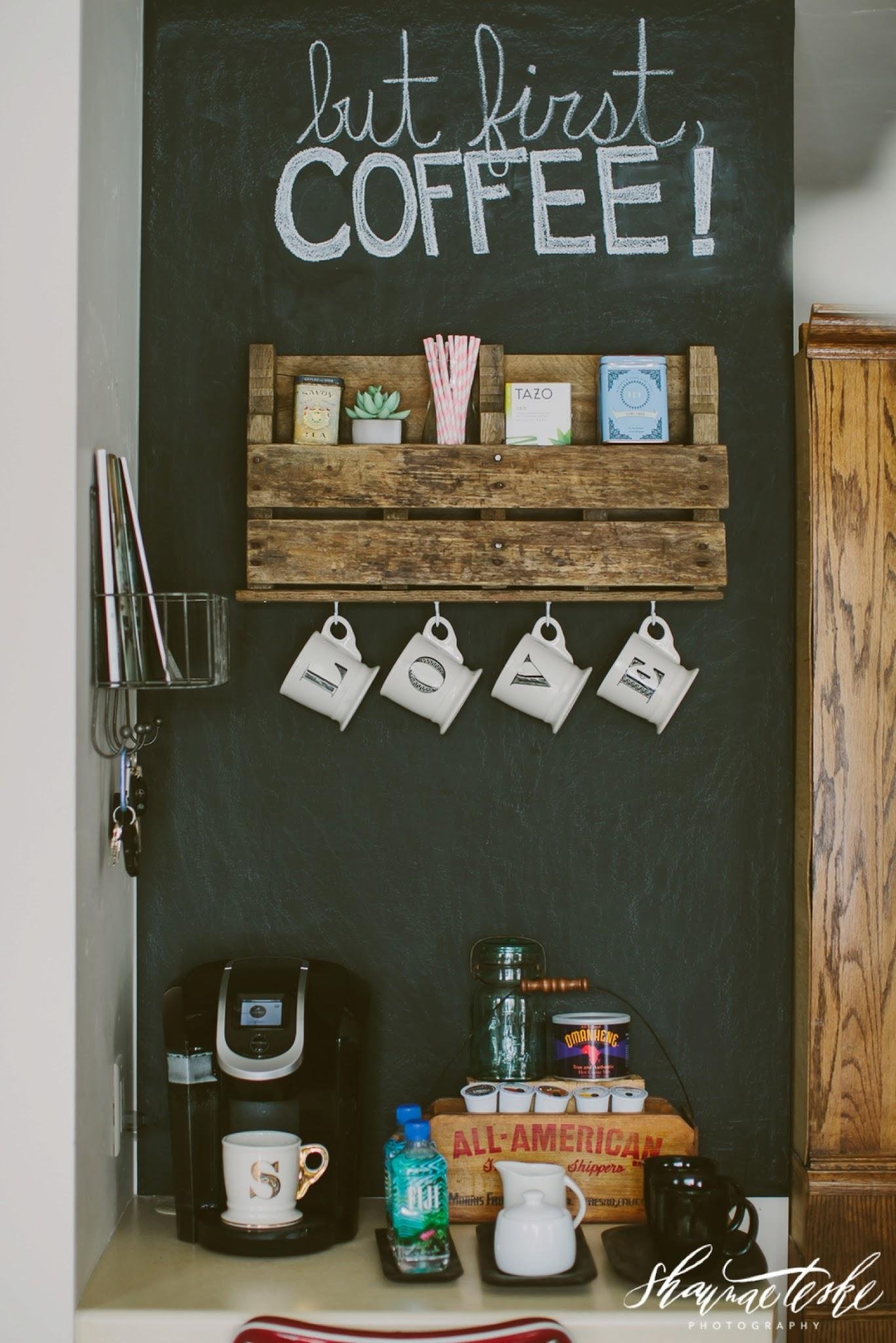 This little station coffee bar idea for small spaces really has the best of both worlds. The little rustic vintage shelf is great for holding mugs and coffee supplies. The table top features all the other essentials from a coffee maker to sugar and creamer.
21. Rustic Coffee Bar With Hanging Coffee Cups
Source – the.sycamore.farmhouse
Our small rustic coffee bar welcomes you with a warm, inviting atmosphere, complete with wooden tables and chairs, and hanging coffee cups adding a touch of whimsy.
22. Bar Style Coffee Cart for Small Spaces
Use this tutorial to get the best of your coffee and wine bar ideas for small spaces. We all want a coffee bar that is both functional and aesthetic. Make the space for functional by adding on the essentials like your main coffee maker and a couple of mugs.
Also, read – 35 Studio Apartment Ideas To Make The Most Of Your Space
23. Small Coffee Bar With Christmas Decor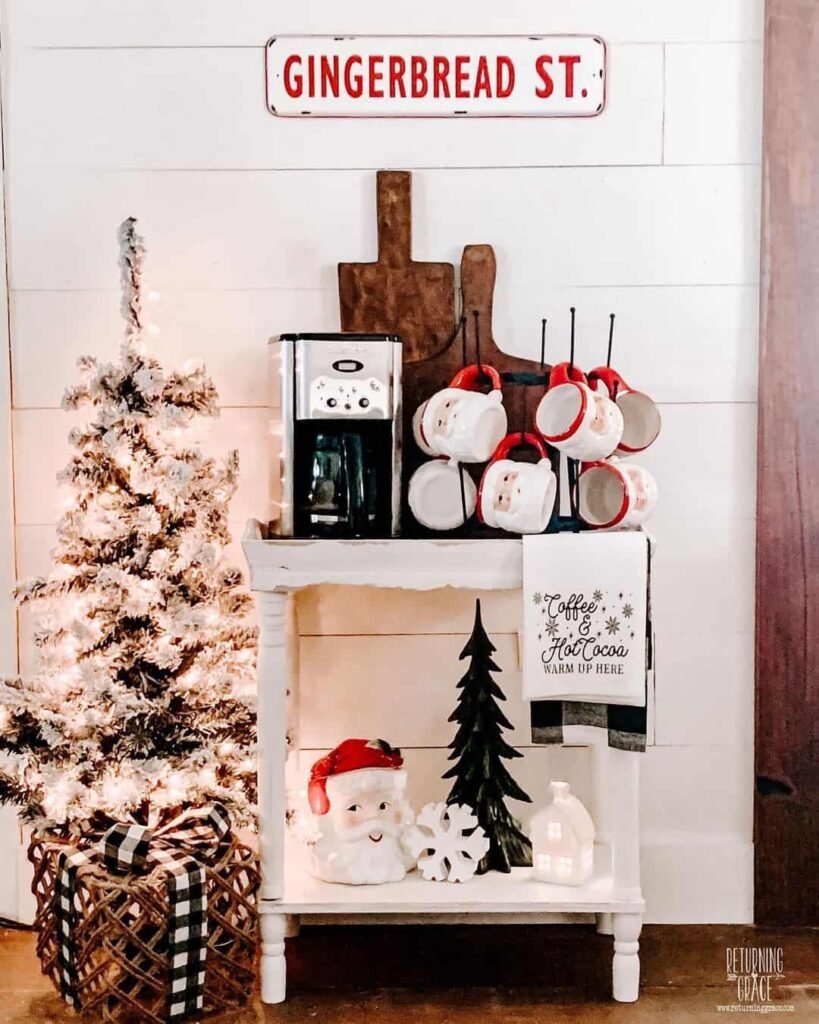 At this cozy coffee bar, the scent of freshly brewed coffee mingles with the warmth of holiday cheer. This small coffee bar is decked out in festive Christmas decor, transporting you to a winter wonderland of comfort and joy.
24. Dresser and Wire Rack Coffee Bar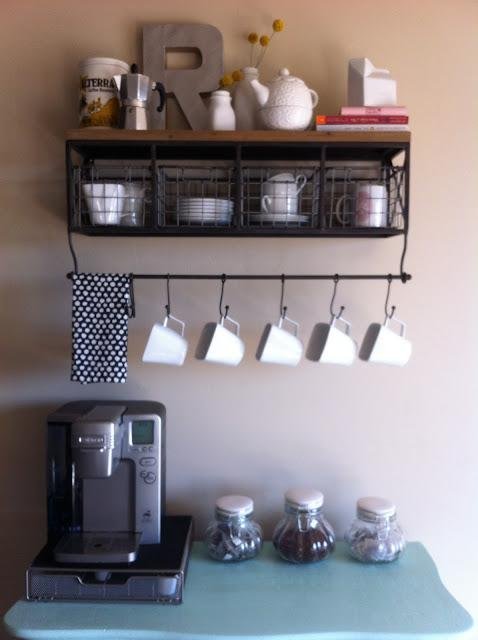 For coffee corner ideas for small spaces, you really cannot get better than a nice sturdy wire rack. It is the best way to maximize your space while also having a very functional coffee bar at hand. To get all the details on how to build this very lovely coffee bar for small spaces, head on to the tutorial and try it yourself.
25. Small Coffee Bar Nook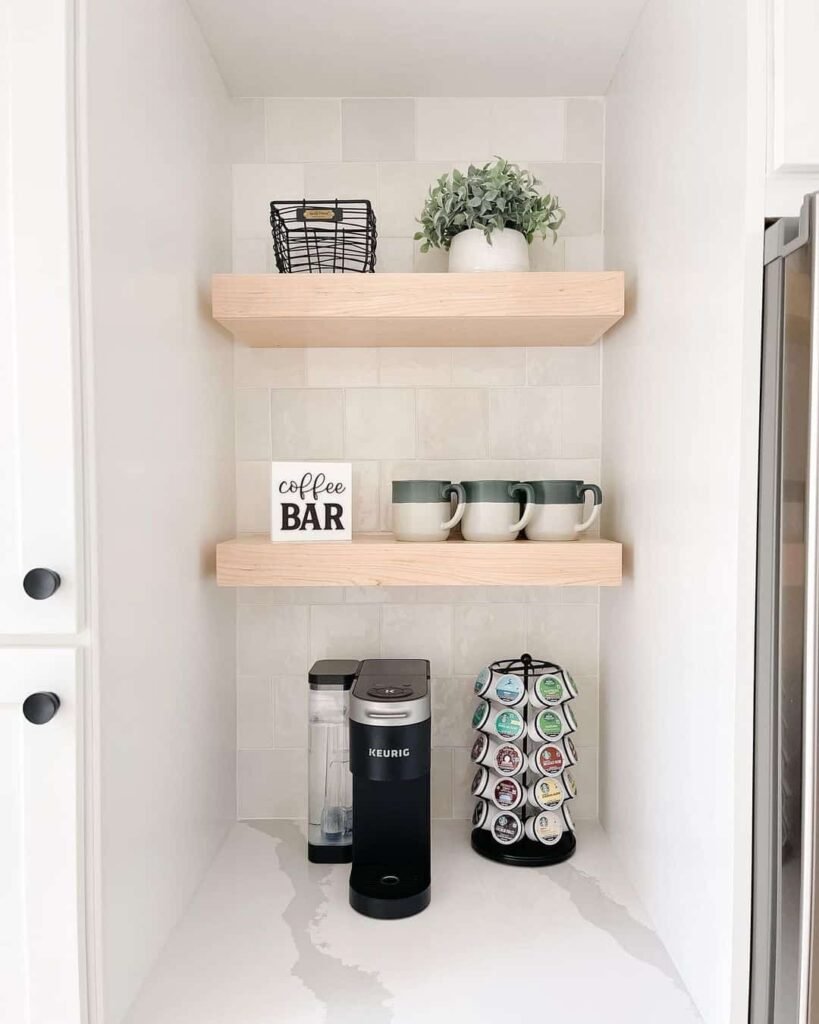 By using bright colors, light hues, and reflective surfaces, you can create a visually appealing amll coffee bar that feels much larger and more spacious than it actually is.
26. White Small Space Coffee Bar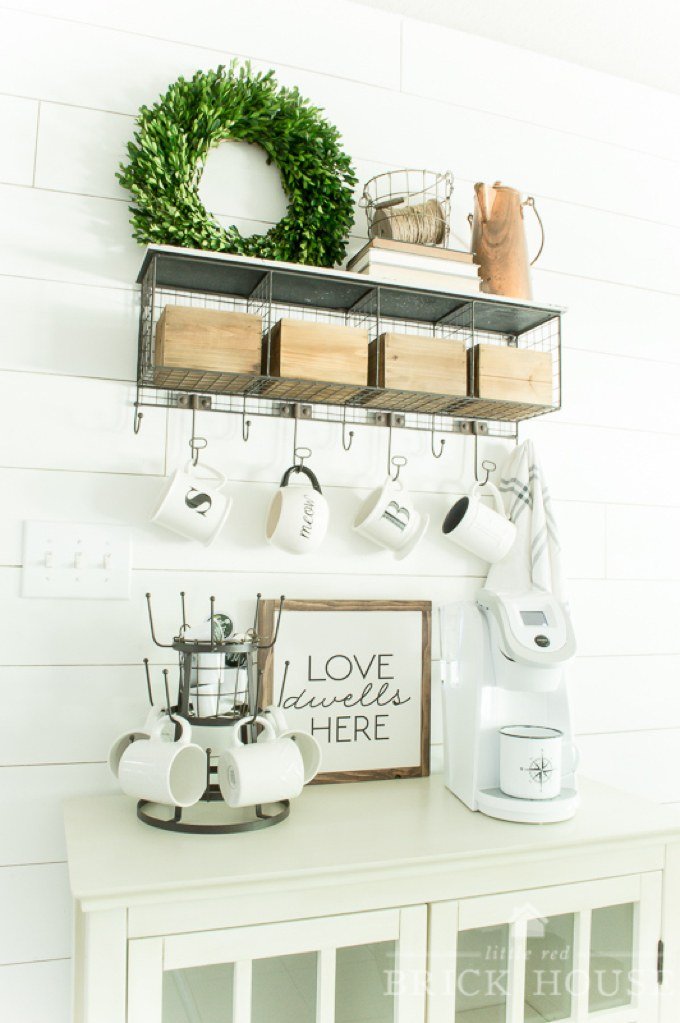 For those who like a light and simple decor, this coffee bar idea for small spaces is a great place to start. Tell a story with your coffee space by colour coordinating the table top and the utensils. Add a coffee maker in the same colour as the rest of your decor to keep the space cohesive.
27. Woodsy Coffee Bar For Rustic Feel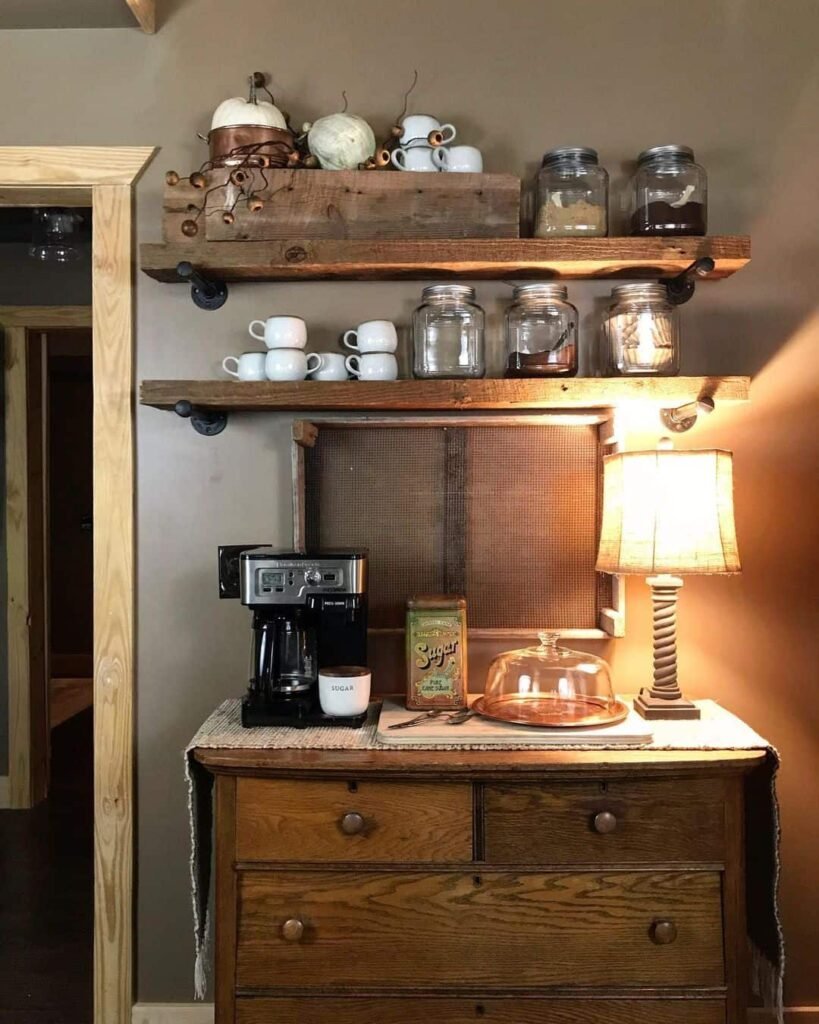 Source – shady_pines3interiors
Consider adding a rustic wooden table or shelving unit to hold your coffee maker, mugs, and other essentials. You can also incorporate natural elements like rocks or pinecones for a touch of woodland whimsy.
28. Shelves and Dresser Small Coffee Bar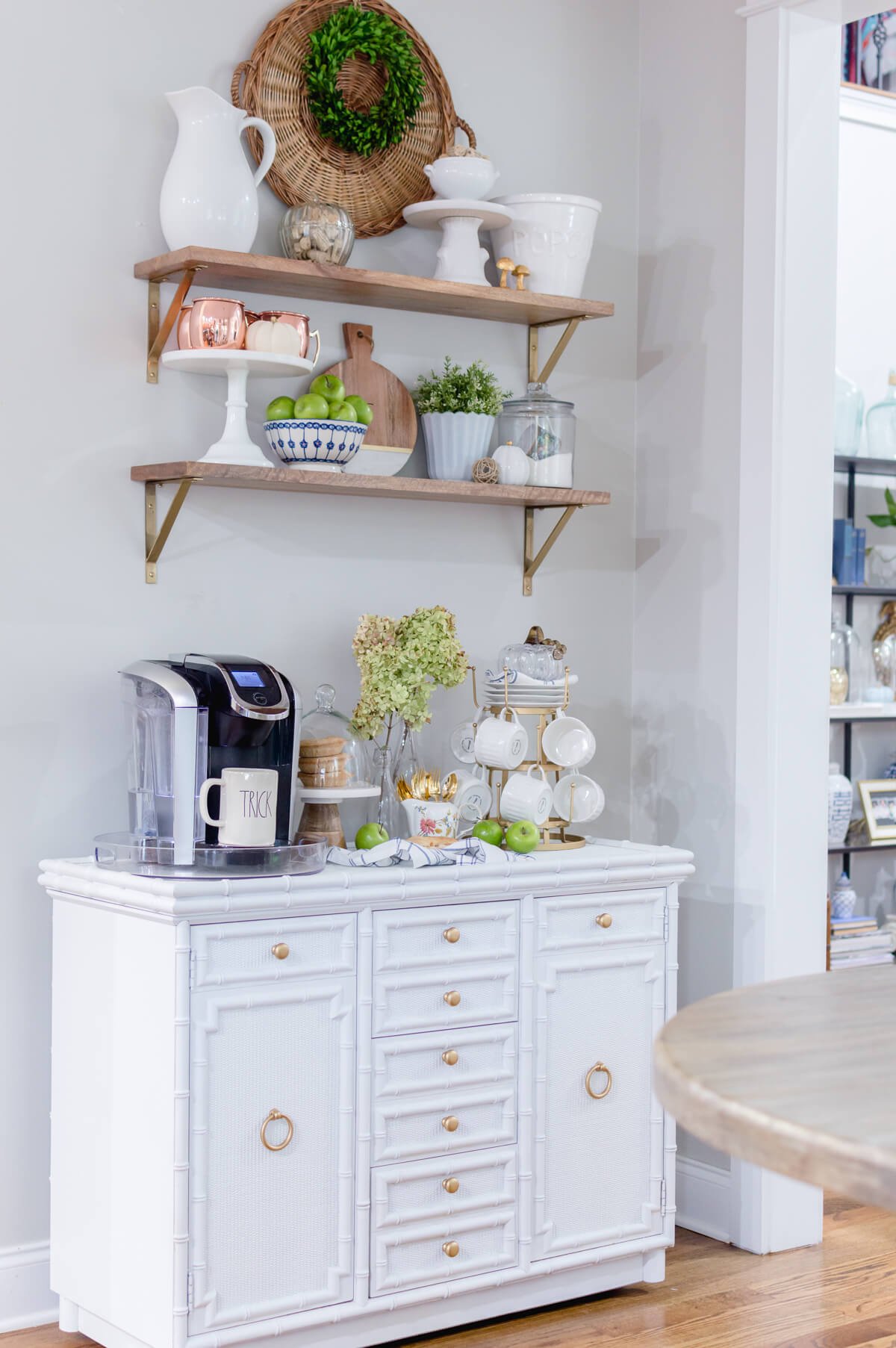 For a really pretty decor, try this DIY coffee corner coffee bar idea for small spaces that uses a beautiful white cabinet. Show off mugs and snacks next to the coffee machine. Use shelves to store your coffee essentials faster. And store all the excess supplies in the drawers.
29. Portable Coffee Bar For Kitchen Corner
Transforming a small kitchen corner into a mobile coffee bar has never been easier with the use of a vintage rolling wood beverage cart and a black iron mug holder hung above it.
30. Small Table Coffee Bar
This is another Scandinavian decor inspired little DIY coffee bar idea for small spaces. Keep your daily required items in small quantities for easy access. Use a tray or box so that they're neatly in one place. Try and use neutral colours to go with the Nordic feel of your coffee bar.
31. Farmhouse Coffee Nook
Source – willowbloomhome
This delightful coffee bar features an array of ceramic and glass canisters, perfectly suited for storing cocoa, marshmallows, and other beverage mixers and toppings.
32. DIY Fresh Coffee Bar Cart
For those of you who want to have a little customization in your DIY bar cart, you could try building one! Really, DIY coffee nook ideas like these are a hit with everyone. Mugs, coffee maker, sugar, coffee beans are all ready to find a new home and be carted off to different spots when needed.
33. Small Coffee Bar In Kitchen Corner
Make the most of your kitchen corner by creating a small coffee bar and drinkware station. Repurpose a standalone mini island to serve as the perfect coffee-making hub.
34. Countertop Small Space Coffee Bar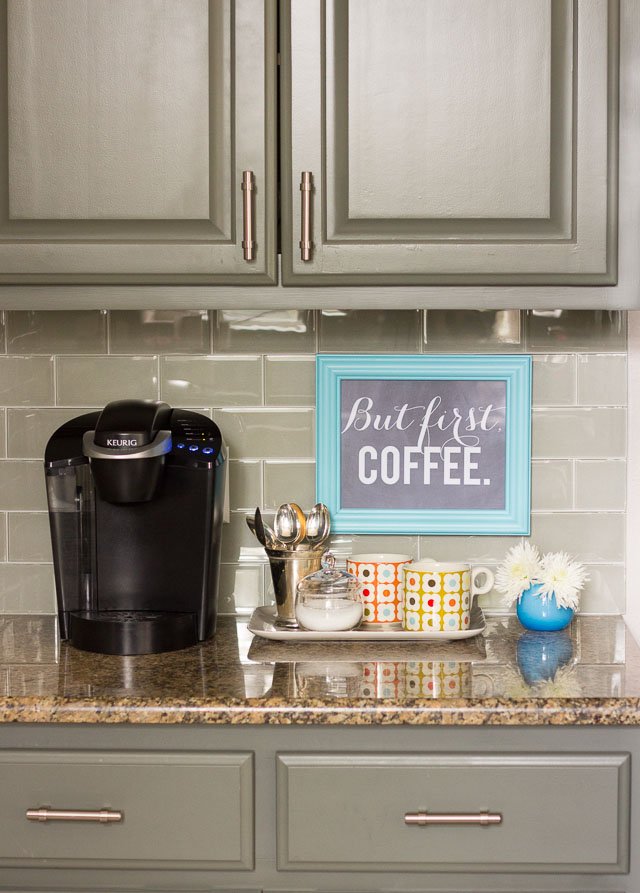 This countertop coffee bar idea for small spaces shows you how to maximise space with the minimum effort. Carve up a small spot on your counter dedicated to your coffee ritual. If you're feeling inspired, you could even hang up a coffee nook sign for an elevated experience.
35. White Hutch For Small Coffee Station
Incorporate both storage and style into your kitchen with a sleek white bar hutch featuring elegant glass panel doors. The hutch is the perfect home for your electric coffee machine.
36. Wood Sign DIY Coffee Bar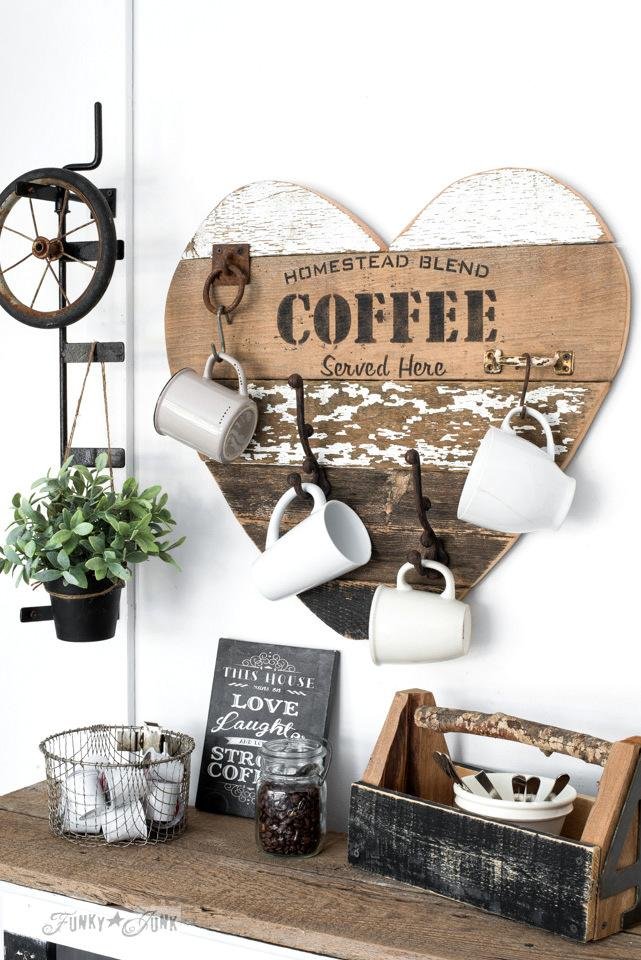 This countertop coffee bar idea for small spaces will really brighten up your decor to create a really unique space. Using a wooden sign as a mug holder is an ingenious way to save space and give the whole bar a chic look.
Read – 30 DIY Wood Sign Ideas To Add Rustic Charm To Your Home
37. Repurposed Wood Coffee Bar
Source – vanfleetfamfarmhouse
With a little creativity, you can easily turn a small wooden footstool into a charming and functional coffee bar. This repurposed wood coffee bar features a unique and rustic design
38. Wire Rack Coffee Bar for Small Spaces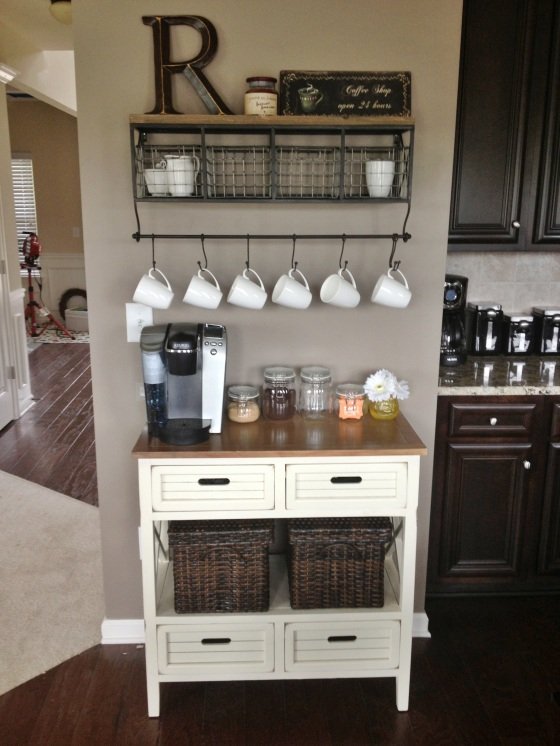 Another lovely DIY coffee bar idea for small spaces is this transition table. Having your coffee table in a spot that is somewhere between the kitchen and the living room creates a nice environment to relax in the morning. It's neither the rush of the kitchen nor the lounging of the drawing room.
39. Holiday Inspired Coffee Bar Decor
With the holiday season in mind, the shelves are decorated with seasonal dishes, beautiful florals, and a charming Christmas banner. A two-tiered galvanized tray is a perfect way to display and organize your coffee mugs and a teapot, making it easy to serve a hot cup of coffee to family and friends.
40. Drawer and Shelves Coffee Bar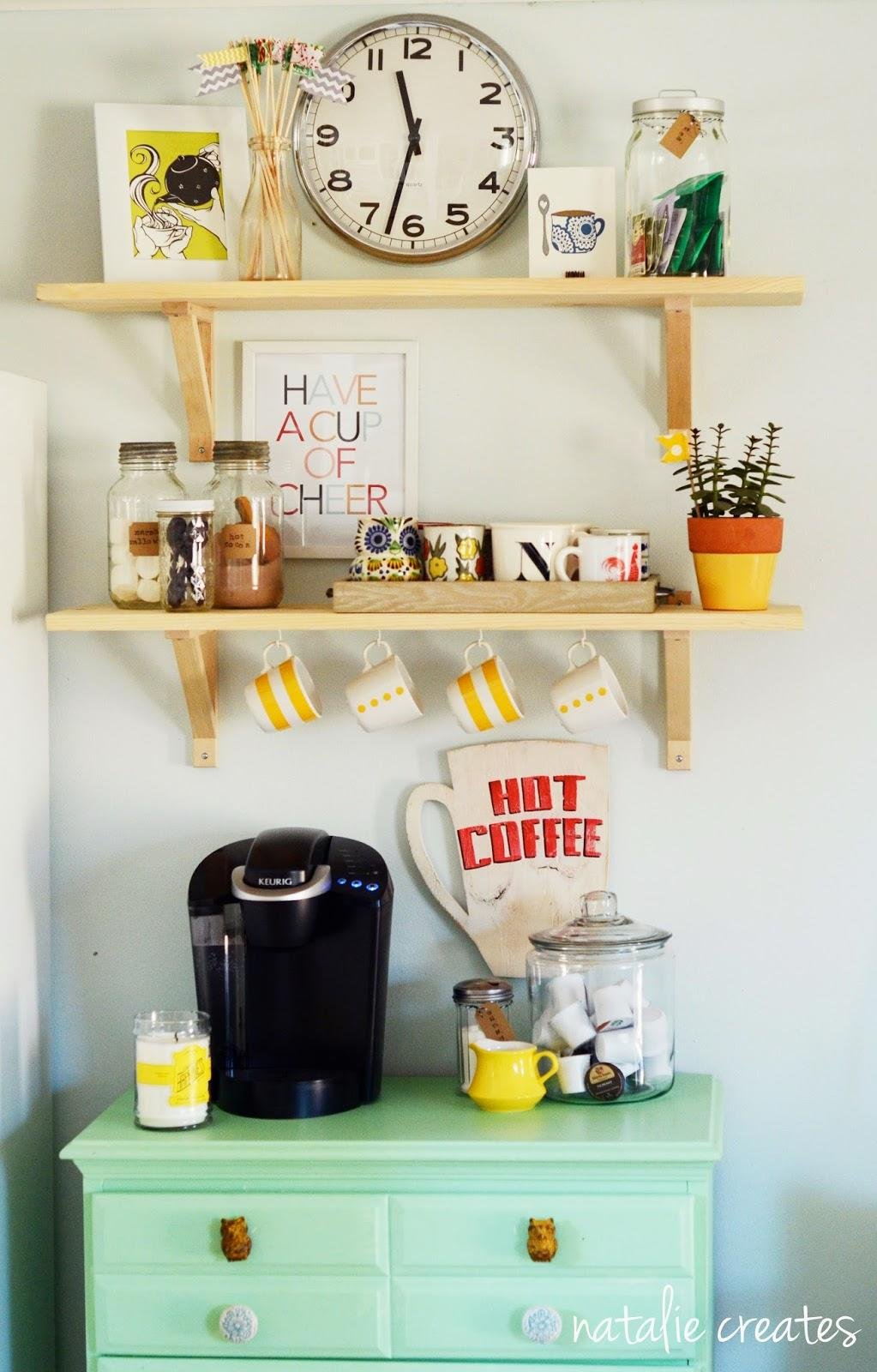 Old dressers are hands down the best remodeled coffee bars available. They provide you plenty of storage space – where else would the tea bags and coffee filters go? That combined with the hanging shelves for your mugs – really space saving – and trays for daily supplies really completes this coffee bar look.
41. Corner Coffee Bar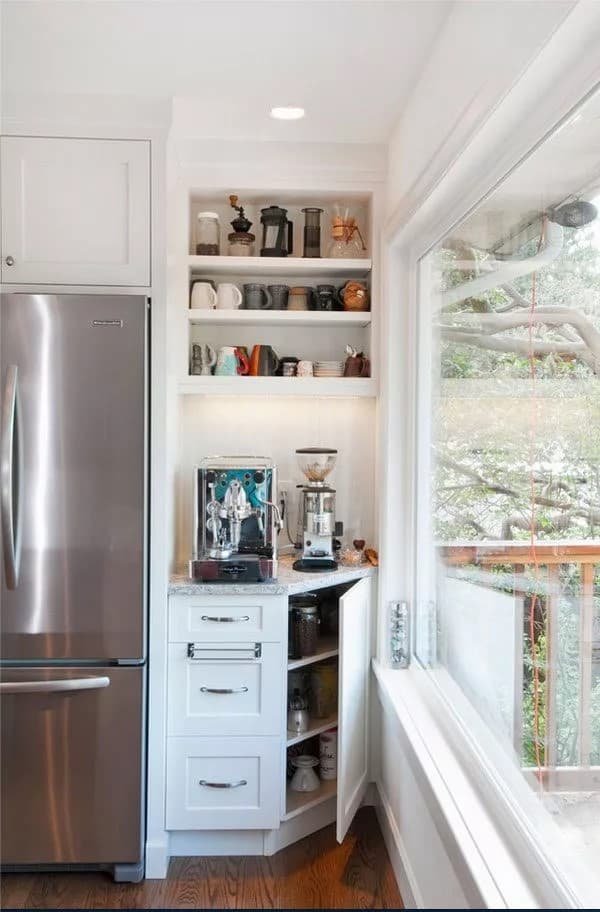 This is a brilliant station coffee bar idea for small spaces. You can utilize the shelf space to stack your mugs neatly. We can never really have too many mugs. It's also a handy way of organizing the things you don't need regularly, say your whole coffee beans or filter supplies.
42. Accent Wall Coffee Bar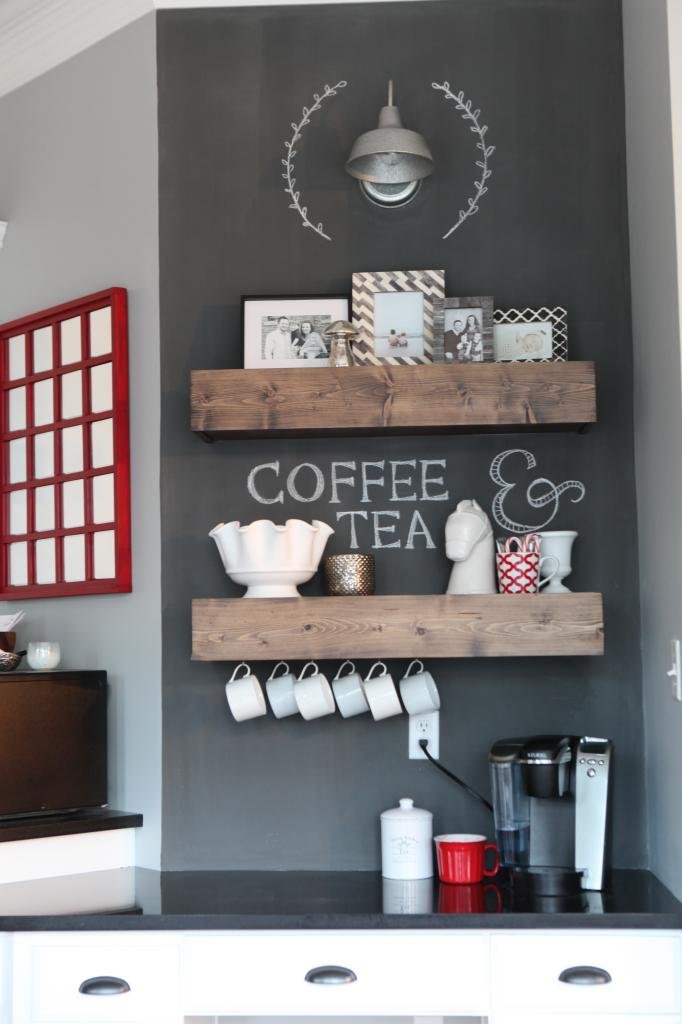 This is a minimalist DIY corner coffee bar idea for small spaces. The accent wall really does add a nice touch, doesn't it? You can stack mugs from the hooks and keep the rest on floating shelves.
43. Copper and Navy Coffee Bar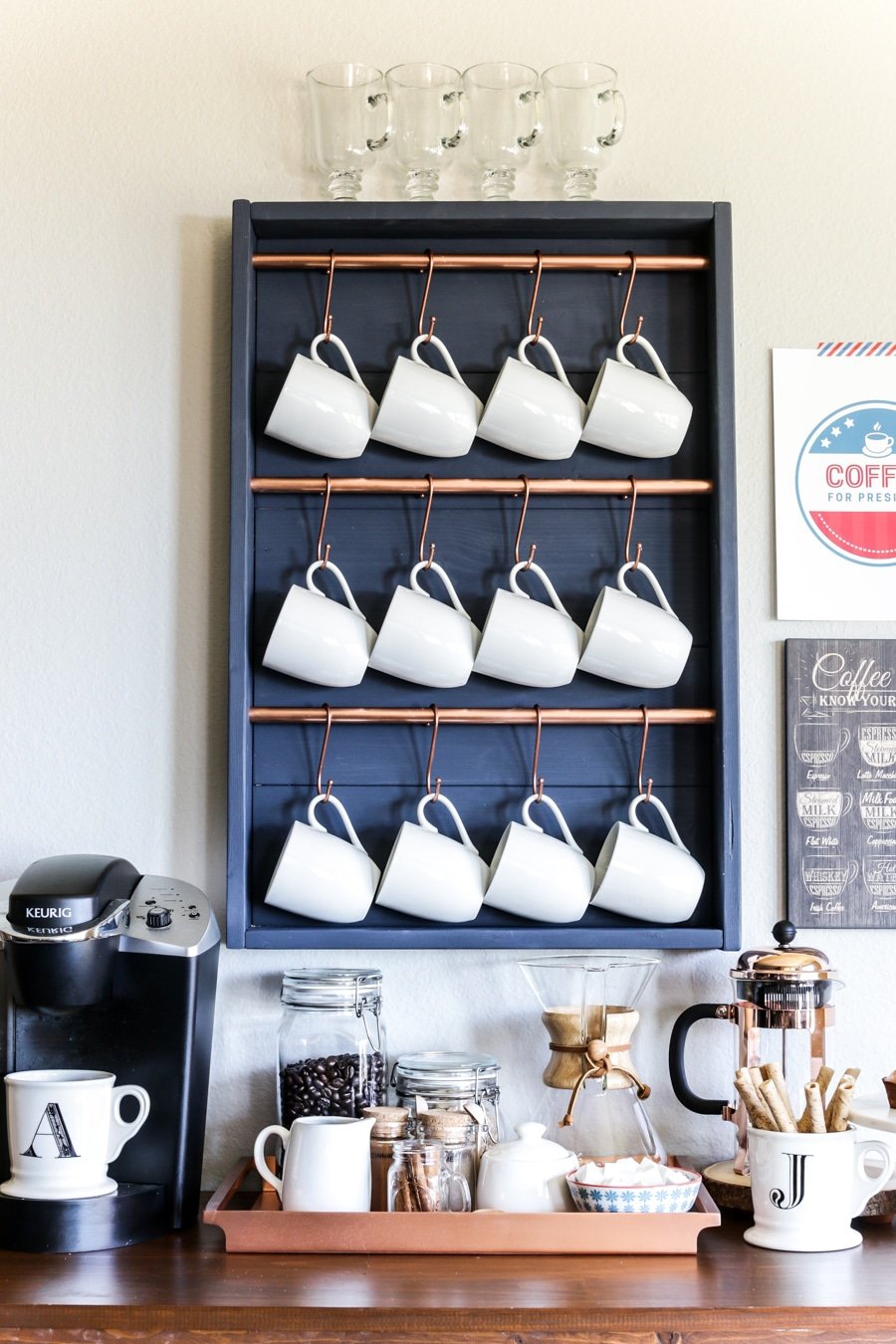 Countertop coffee station ideas for small places are of course the most popular of the bunch. When you arrange your items correctly, you can't really go wrong. This idea lets coffee mugs take centre stage on a shelf that has a very pleasing copper and navy combination.
44. Rustic Corner Coffee Station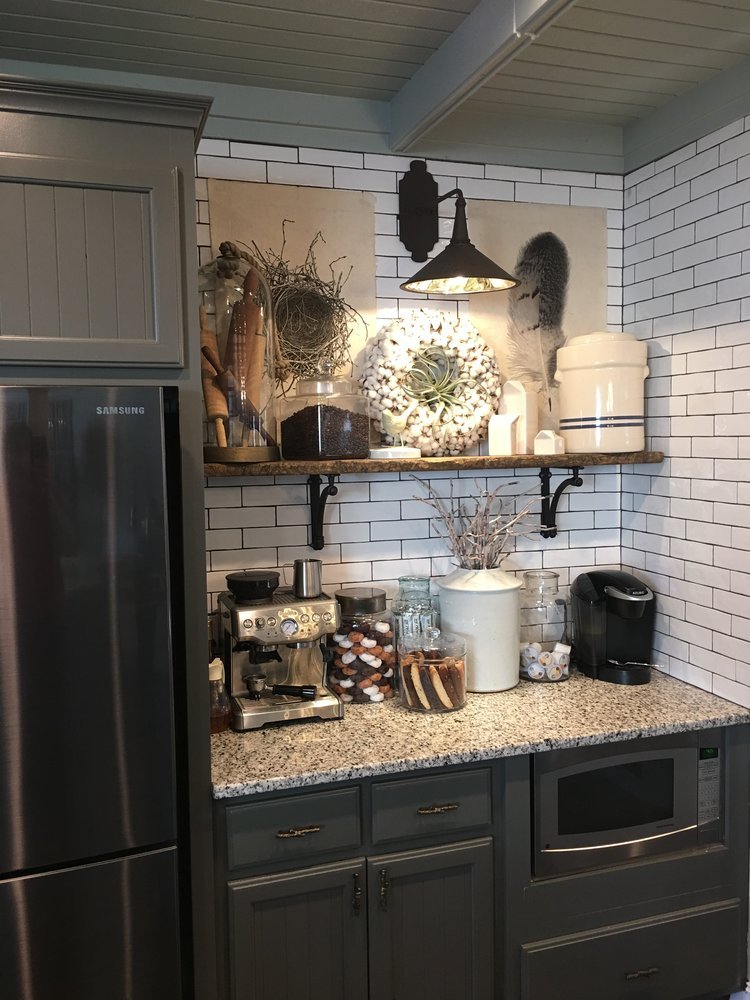 You can definitely have both farmhouse and luxury with this corner coffee bar idea. If you like having all your coffee essentials in view, this open countertop and shelf combination is just what you need. Bring in a little bit of nature by adding green decor and rustic signs that will signal the cozy atmosphereto your DIY coffee bar.
45. Coffee Bar Cart DIY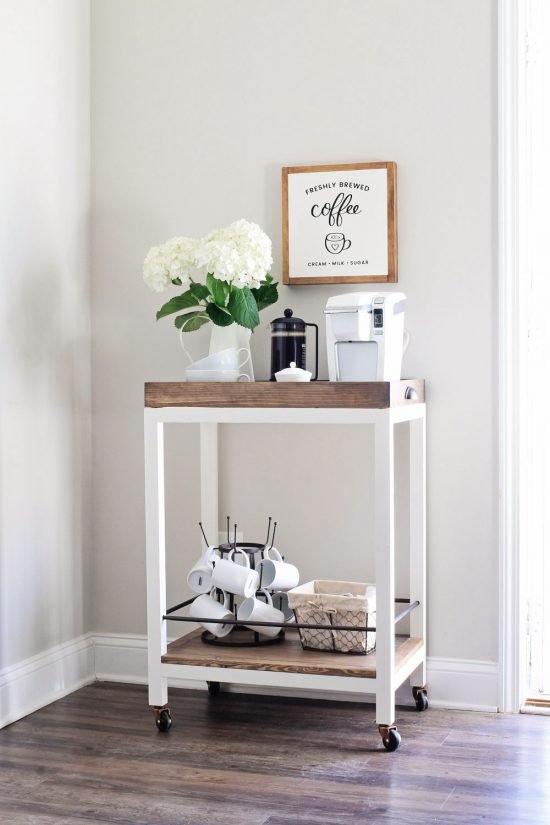 Do you like carting your coffee table around, especially during guest visits? Do you want to know what should go into making one? This beautiful coffee bar idea for small spaces gives you all the tips to make a brilliant coffee station on wheels.
46.DIY Barn Door Coffee Corner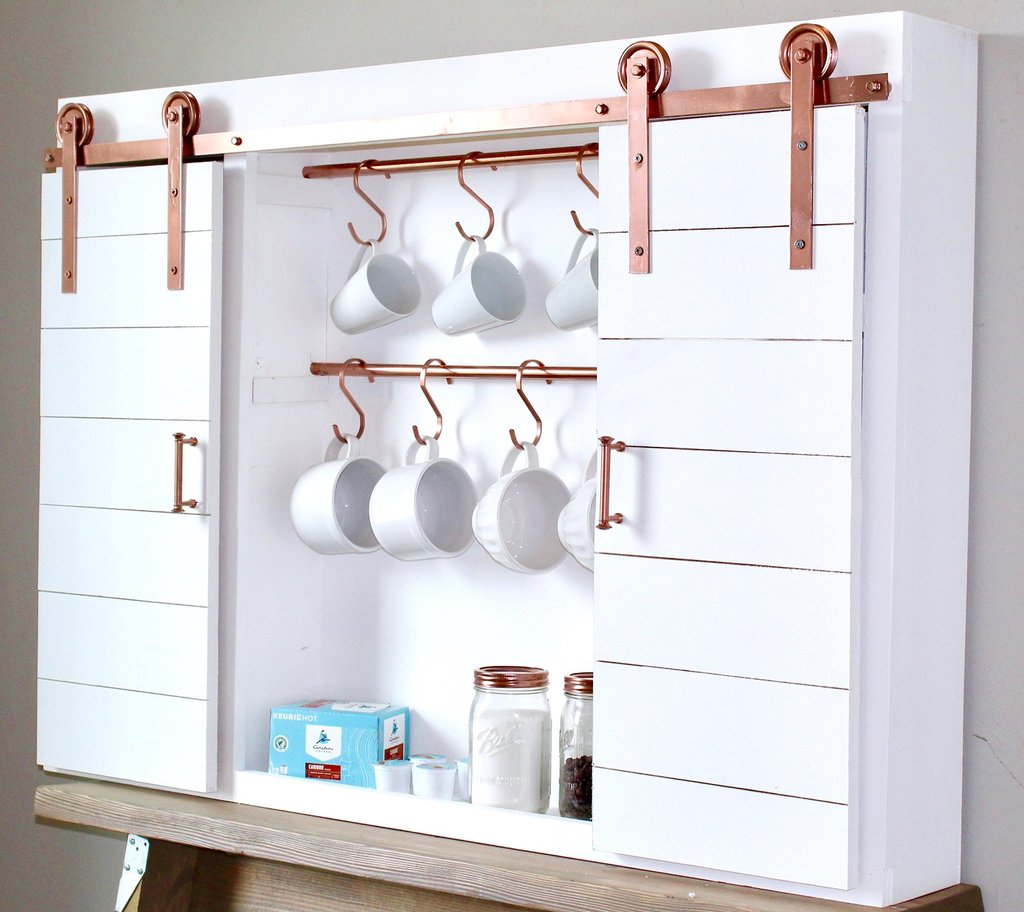 This is a really bright and airy countertop coffee bar idea for small spaces. You might be tired of seeing the same type of countertop coffee stations with all the items stacked in a line. What if you could give it a twist?This barn door idea can really make the place come alive, because of how ingenious it is.
47. Elegant Corner Coffee Bar
Here's a fun station coffee bar idea for small spaces that lets you enjoy the best weather day or night. If you like adding whimsy to your decor spaces, decorate with clay figurines and fancy teapots.
Use special decorative jars for sugar and marshmallows. Even display your quirky mugs and elegant wineglass side by side. Corner coffee bar ideas for small spaces can evoke a very cozy atmosphere and this one shows you how to do just that.
48. Wood Coffee Station Shelf with Mugs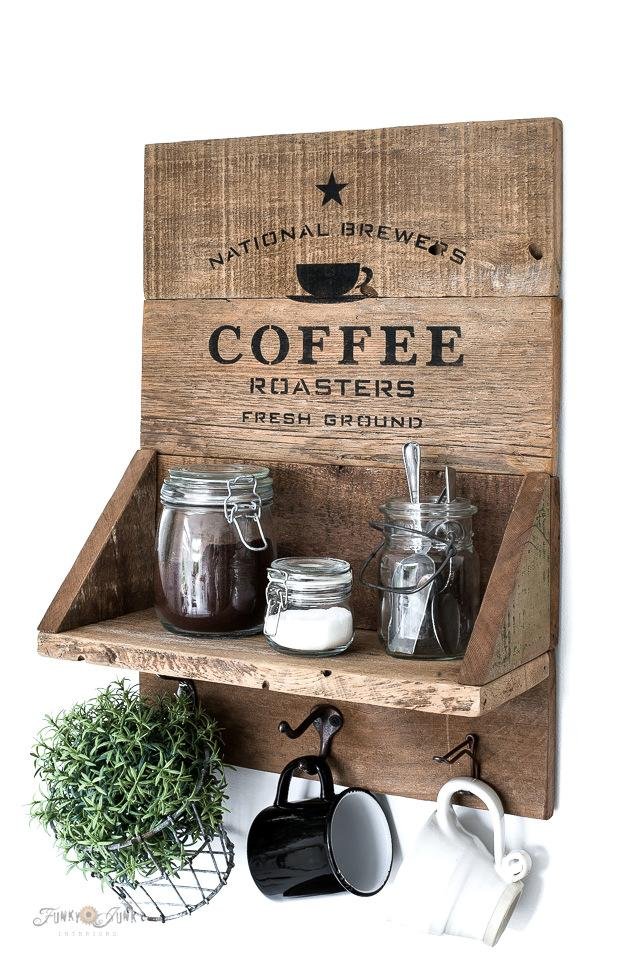 Image and tutorial by funkyjunkinteriors
Wooden signs evoke a sense of familiarity and robustness to your home. If you have a home with rustic decor, this type of DIY coffee bar idea for small spaces is a great fit. You can obviously customize the size of your shelf as per the space available.
49. Rustic Modern Small Space Coffee Nook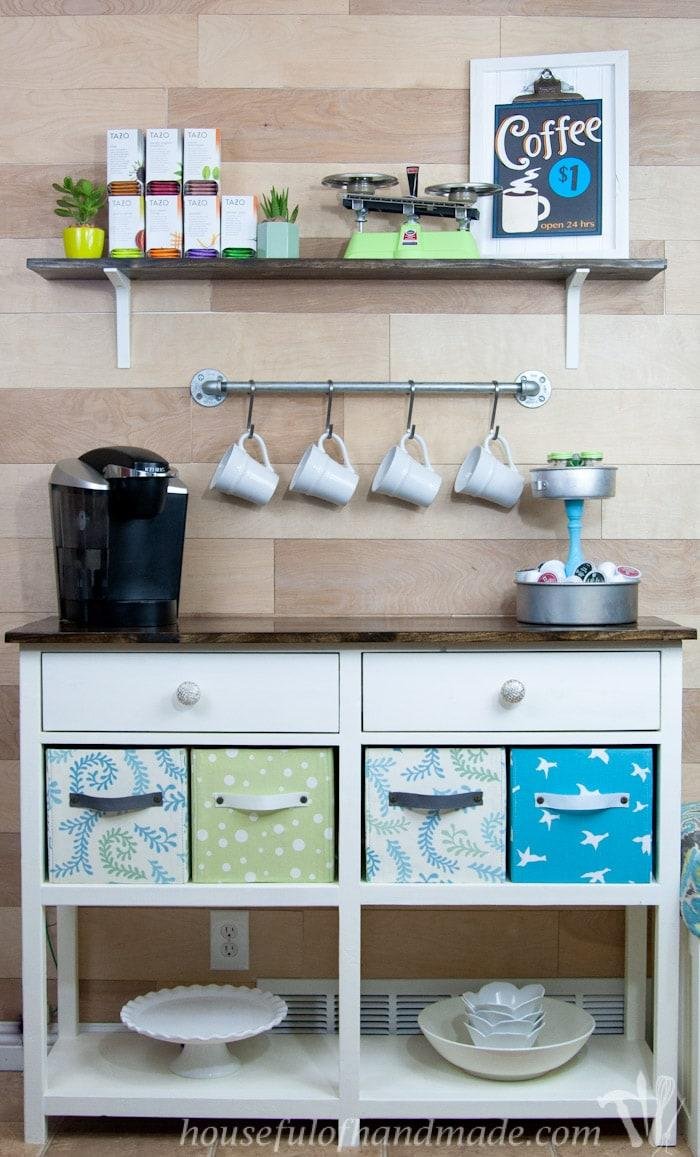 If you've been looking for DIY coffee nook ideas for small spaces, this cute idea will be right up your alley. It has a crafty blend of artistic and modern with rustic elements. The small table will serve as your counter and bring a cohesiveness to your space.
50. Labeled Small Space Coffee Bar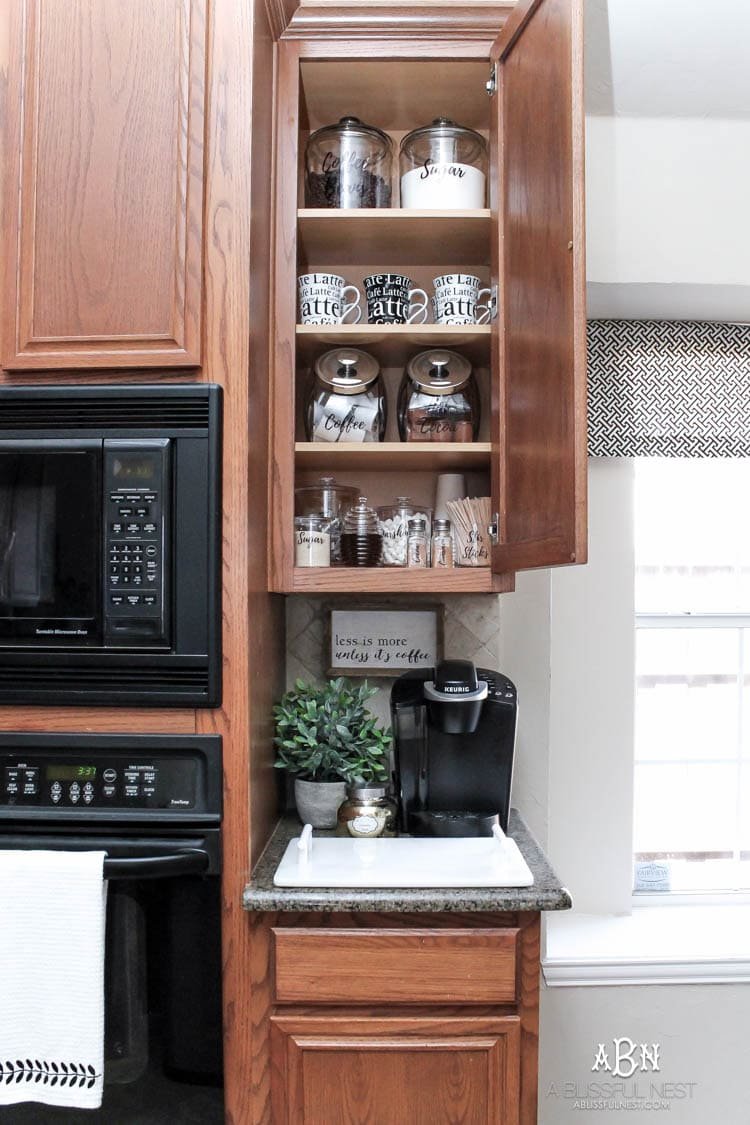 Most people like the idea of a cabinet coffee bar simply because there isn't too much effort involved. Turning an unused cabinet into your own coffee station is ideal if you are short on space. This handy tutorial gives you plenty of DIY coffee nook ideas for small spaces.
If you loved these ideas, you can use the Pin image below and save this article on your 'Small Coffee Bar Ideas' Pinterest board.