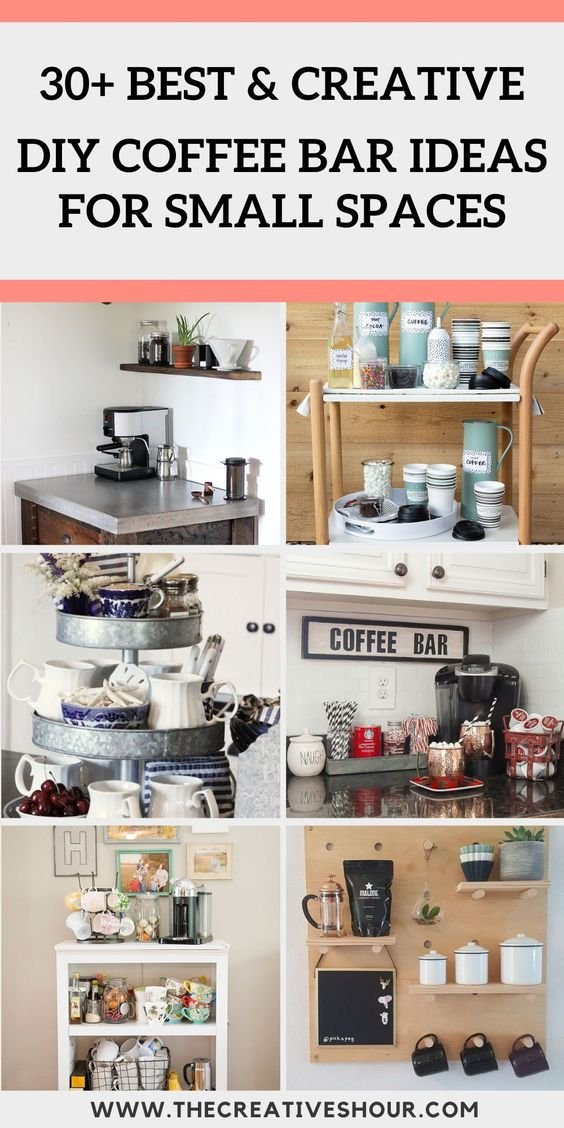 Over a billion people in the world drink coffee daily. Isn't that fascinating? This multifaceted and caffeinated miracle drink is what gets so many working adults through the day. If you're one of those who like to make their own coffee but live in a small apartment, you might be looking for coffee bar ideas for small spaces. Isn't it so much better when you can make the perfect cup yourself instead of spending money each day?
To help you in your journey of making your morning a little more cheerful – thanks to that fresh brewed cup of Joe – and to make your wallet thank you as well, we have put together a list of some really smart and innovative DIY coffee bar ideas for small spaces.
Also read –
30 Cute & Functional DIY Coffee Bar Ideas For Small Spaces
Now you can use a very small space to make a coffee bar which you will love and cherish. Not to mention that these ideas are really nice aesthetically as well. So what are you waiting for? Go find the inspiration for your perfect coffee bar at home right now.
1. Sleek Cabinet Coffee Bar
Source – fourgenerationsoneroof
Cabinets can make for the best kinds of DIY coffee bar ideas for small spaces. Here's an example of how you can maximize the space to create a really cozy coffee bar in a small space. Labeling and compartmentalizing is surely your friend.
Larger items like coffee makers and french presses can be kept directly below the cabinet. Use a tray if you can. That'll make everything seem more organized. Once you have all your containers labeled and filled, you'll have a nice spot ready for your coffee adventures.
2. Mugs Galore Coffee Bar
One of the most important elements required for DIY coffee corner coffee bar ideas for small spaces is mugs. Your mugs really are the highlight of the space. This idea shows you the different ways that you can display the mugs on your coffee bar.
Hang some pretty ones that you use often from a stand so you can access them easily. Stack the colourful on top of each other. Keep these someplace you don't need often. Of course make sure to add a handy coffee maker so you can easily brew your perfect cup no matter what time of day.
3. Pegboard Coffee Bar for Small Space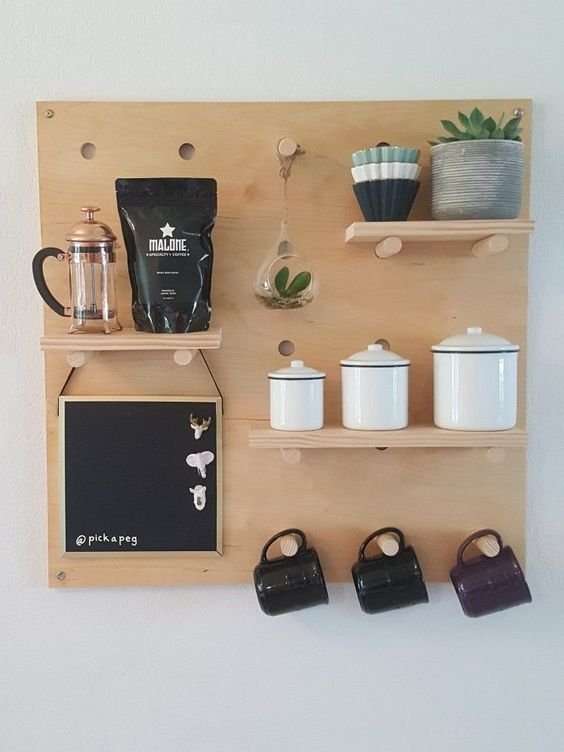 Looking for a different approach when looking for station coffee bar ideas for small spaces? We got you. This idea is really simple to execute and will be done in no time. We all want to maximize space, so why not use a pegboard that you can customize for the same.
You could add a table beneath it if you want a surface to prepare your morning cup, but everything else can easily go on the pegboard shelves. Use it to hang mugs, keep your sugar and coffee containers, even hang a tiny plant for some greenery if you want.
4. DIY Copper and Wood Coffee Cart
There's something about building your own coffee cart that is really satisfying and wholesome. For these coffee bar ideas for small spaces, you can customize the space and make it according to your preferences.
To fill your coffee cart, use all the staples – sugar, coffee beans, cocoa powder, marshmallows. Do remember to leave room for mugs and a nice coffee machine. And if you want, use the wall behind to tell your story – whether related to coffee or other adventures.
5. Outdoor Coffee Cart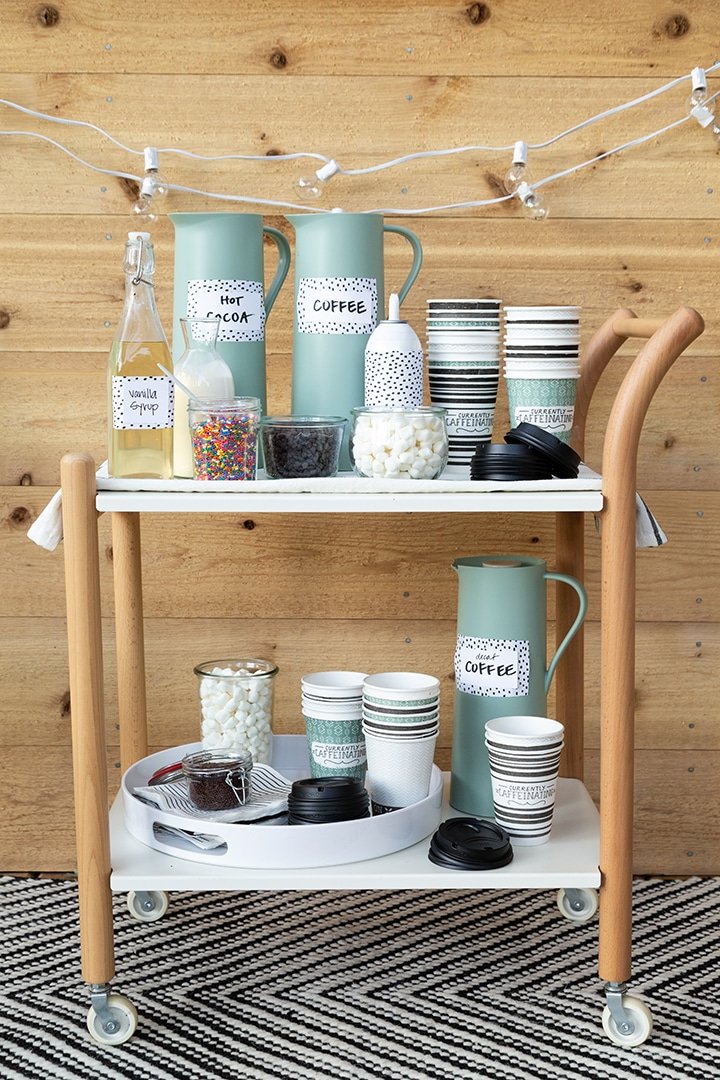 Isn't this one of the cutest coffee bar ideas for small spaces? It gives you whimsy and since it's a cart you can take it everywhere with you. Treat your guests to some lovely strong coffee or hot chocolate with marshmallows like a barista.
This is the perfect summer accompaniment in the patio. Stock up on some chocolate chips, rainbow sprinkles and of course coffee to get your gathering started. A great thing about this, at night, this could double up as a coffee and wine bar idea for small spaces too.
6. Floating Shelves Coffee Bar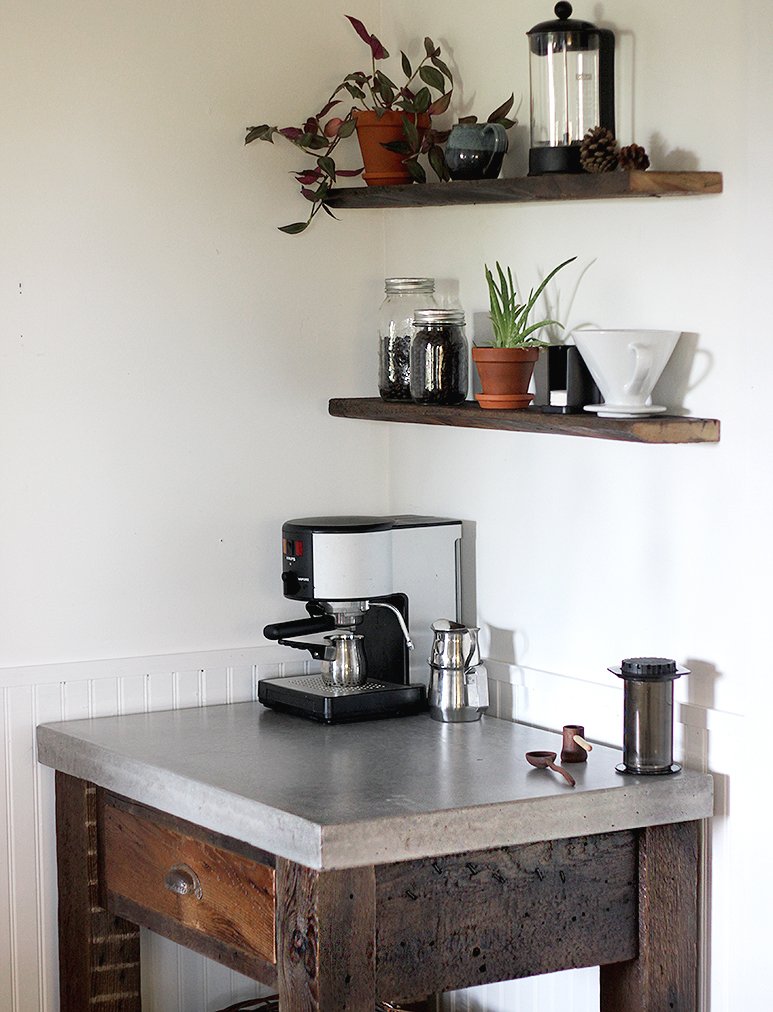 Use an unused table to serve as your new corner coffee bar idea for small spaces. If you're looking for a minimalist decor, this will serve perfectly. Use reclaimed wood to make floating shelves that will hold a few of the supplies.
Keep the bulk of your ingredients away from view. This will give your coffee bar a very neat look and exude a calm. The best addition in such a coffee station is a small plant for some nature elements.
7. Festive Coffee Bar
If you like having a slice of the holiday spirit with you all year round, you'll love this countertop coffee bar idea for small spaces. Using decorative containers and some red themes, you can have christmas with you each morning as you sip on your favorite drink.
To make it extra festive, keep a tray full of holiday treats – marshmallows and candy canes. I promise you, this type of coffee bar will make you happy every day.
8. Scandinavian Coffee Bar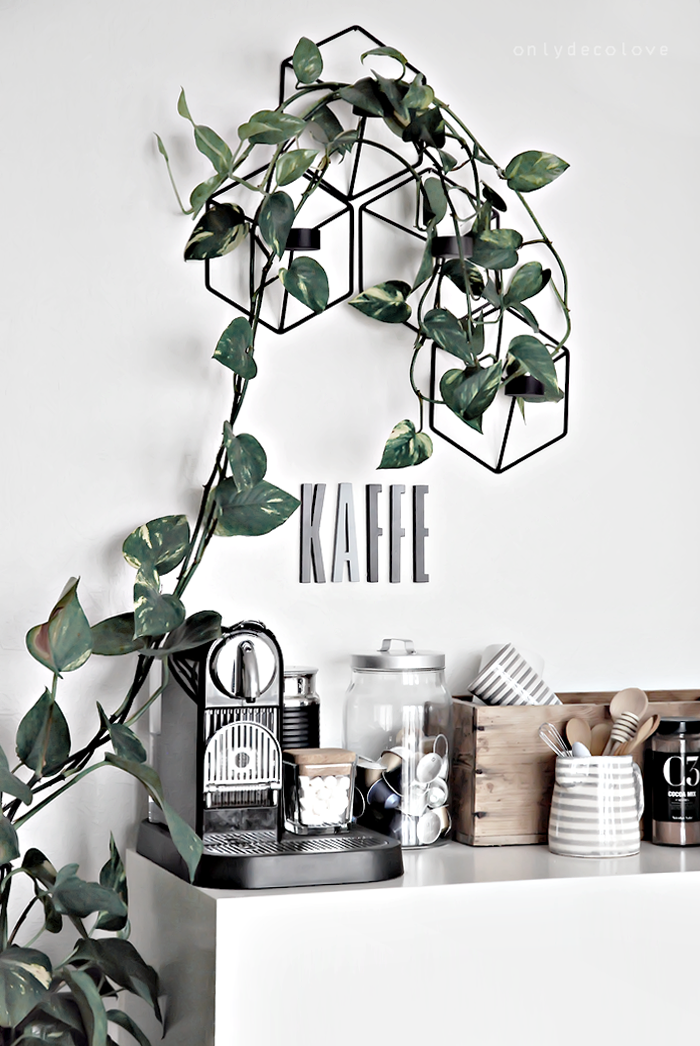 Go for a neutral and sleek coffee bar with this DIY coffee corner coffee bar idea for small spaces. Make sure to keep the space neat and not add anything unnecessary with this decor. The addition of a coffee bar sign is a quirky yet classy touch. Calm spaces like this will be a great way for you to start your day.
9. Layered Coffee Stand Bar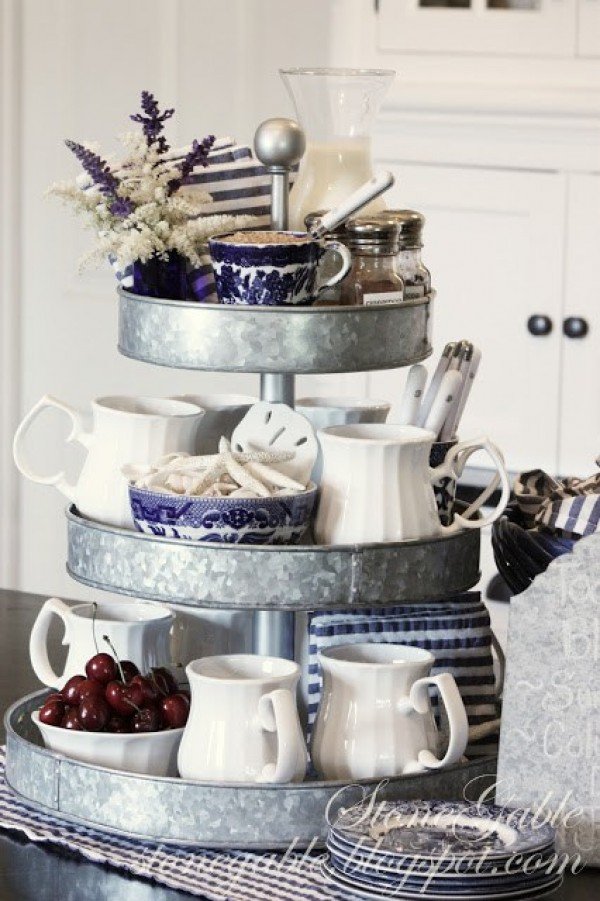 Be different by using this coffee bar idea for small spaces. Use your old cake tins to create a layered stand for your coffee bar. Not only will this make you save on a ton of space on the table, but is really imaginative.
As you can see, you can add mugs, your coffee ingredients, even fruit and napkins, to your stand and it all fits well. This one will make your mornings really easy if you ask me.
10. DIY Small Space Coffee Bar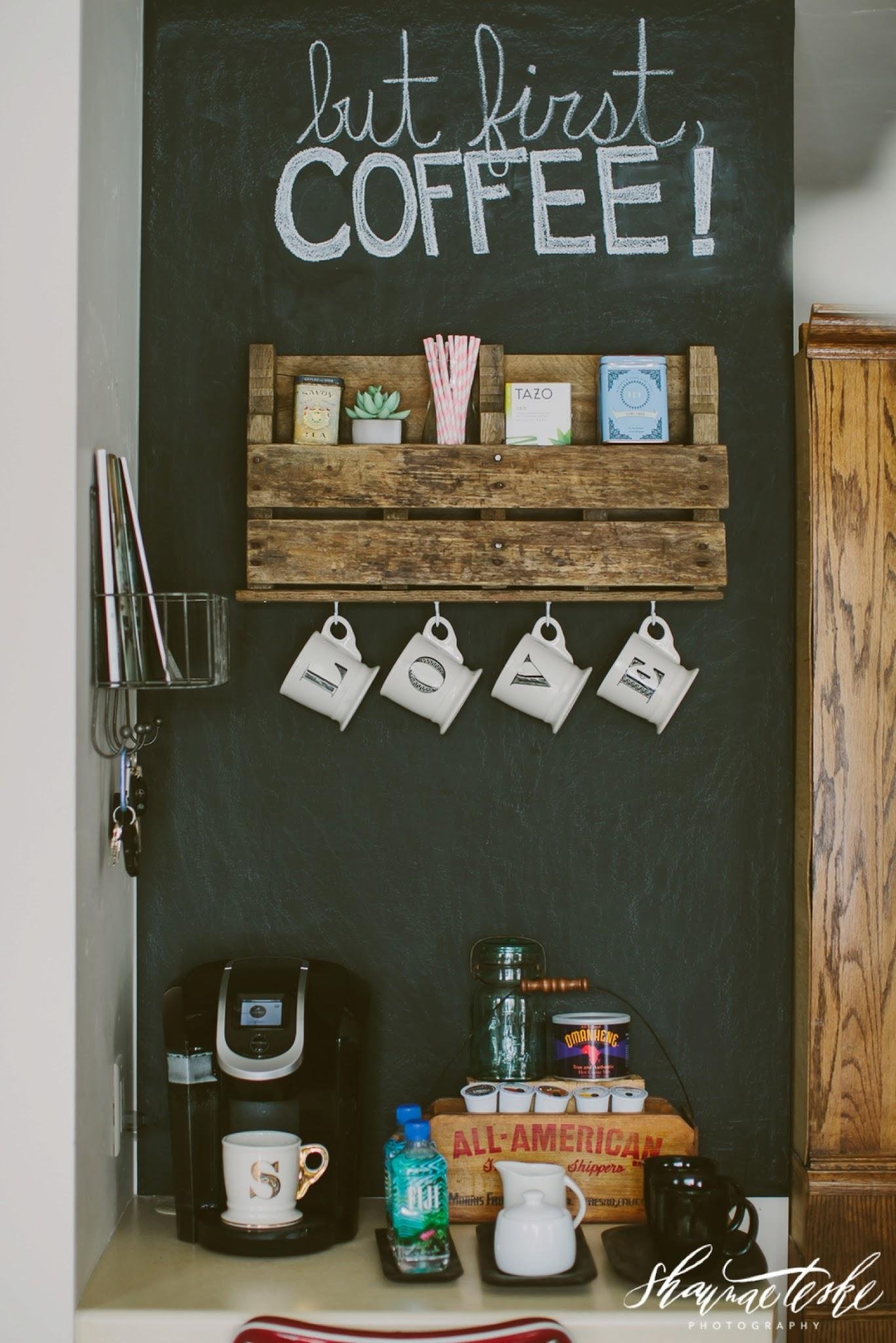 This little station coffee bar idea for small spaces really has the best of both worlds. The little rustic vintage shelf is great for holding mugs and coffee supplies. The table top features all the other essentials from a coffee maker to sugar and creamer. Really, if you're trying to make the best of the space available to you, this one will help a lot.
11. Bar Style Coffee Cart for Small Spaces
Use the ideas in this tutorial to get the best of your coffee and wine bar ideas for small spaces. We all want a coffee bar that is both functional and aesthetic. Make the space for functional by adding on the essentials like your main coffee maker and a couple of mugs.
For aesthetic value, add some visual elements that will shine your personality and make your coffee bar cart more inviting. What's important with a small bar cart is that it serves its purpose but also looks good while doing it.
12. Dresser and Wire Rack Coffee Bar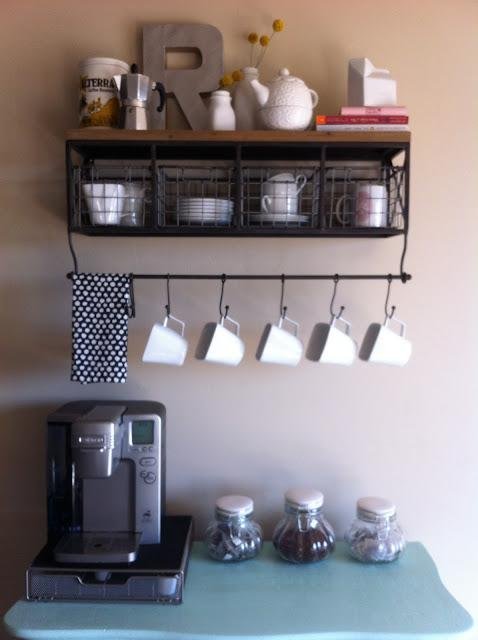 For coffee bar ideas for small spaces, you really cannot get better than a nice sturdy wire rack. It is the best way to maximize your space while also having a very functional coffee bar at hand. To get all the details on how to build this very lovely coffee bar for small spaces, head on to the tutorial and try it yourself.
13. White Small Space Coffee Bar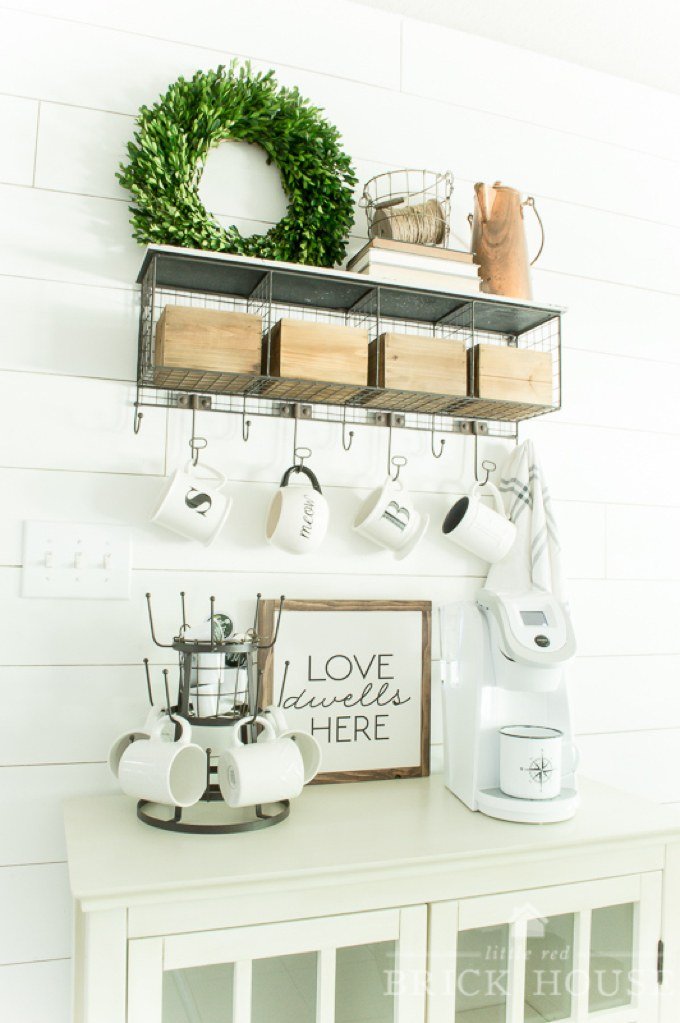 I love this idea for how simple and monochromatic it is. For those who like a light and simple decor, this coffee nook coffee bar idea for small spaces is a great place to start. Tell a story with your coffee space by colour coordinating the table top and the utensils. Add a coffee maker in the same colour as the rest of your decor to keep the space cohesive.
14. Shelves and Dresser Small Coffee Bar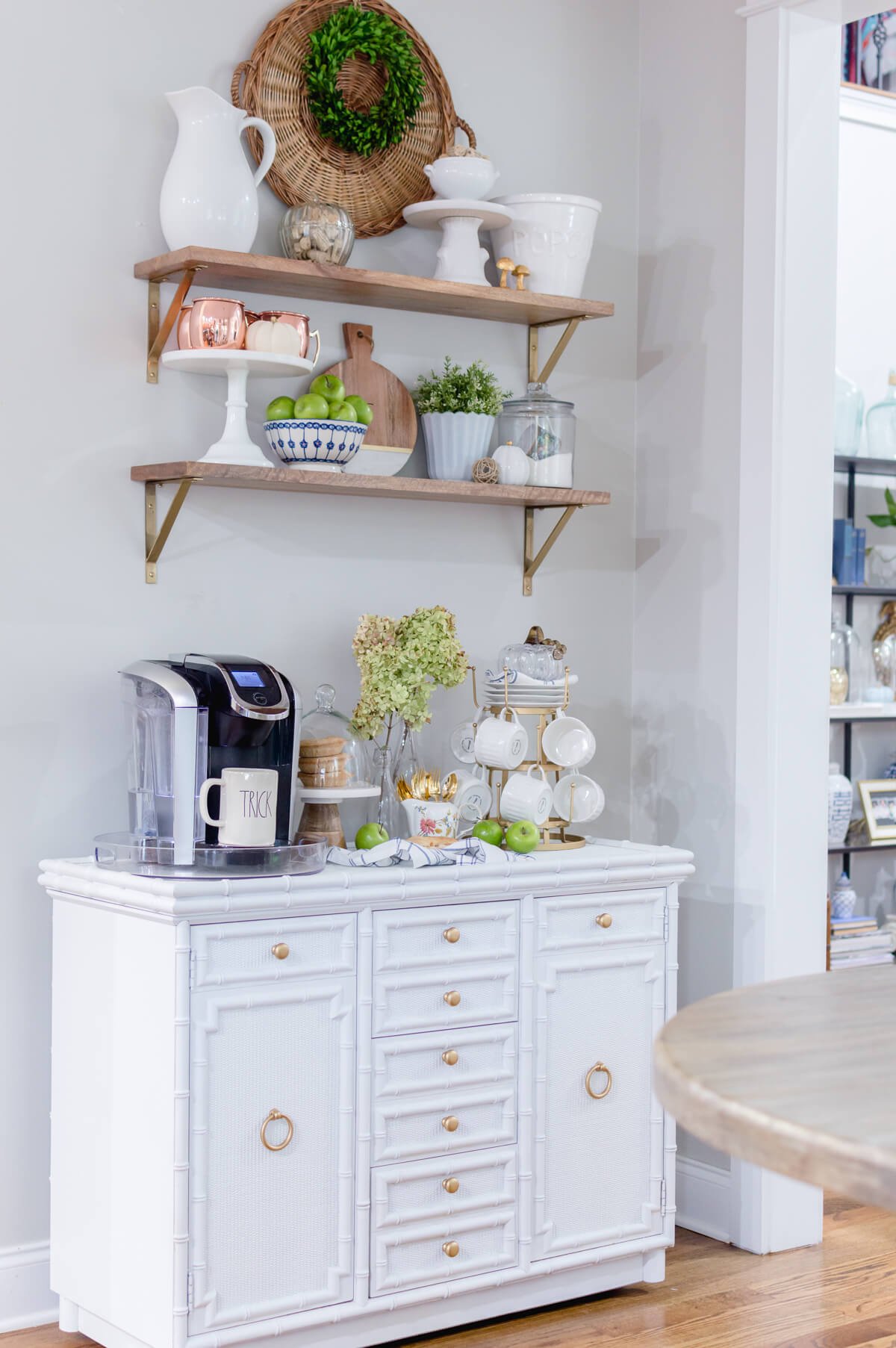 For a really pretty decor, try this DIY coffee corner coffee bar idea for small spaces. It shows you how you can make the best of all the space that you already have available. Show off mugs on a layered rack. Let your snacks have a space for themselves too.
Using shelves is always a good idea because it lets you reach your coffee essentials faster. Using a dresser is always advantageous because you can store excess supplies nearby but still out of sight. Pretty cool right?
15. Small Table Coffee Bar
This is another Scandinavian inspired little DIY coffee bar idea for small spaces. Use what little storage you can find – this little table in the example comes with lovely cubby holes that you can use to hold your coffee ingredients. Let the top feature what is really necessary, like your coffee machine and mugs.
Keep your daily required items in small quantities for easy access. Use a tray or box so that they're neatly in one place. Try and use neutral colours to go with the Nordic feel of your coffee bar.
16. DIY Fresh Coffee Bar Cart
For those of you who want to have a little customization in your DIY bar cart, you could try building one! Really, DIY coffee nook coffee bar ideas like these are a hit with everyone. This little tutorial will be your guide throughout the journey.
By building your own coffee bar cart, you have complete control over the size and fitting. That's a nice thing to be sure of. Of course, once built be sure to stack it with all of your favorites. Mugs, coffee maker, sugar, coffee beans are all ready to find a new home and be carted off to different spots when needed.
17. Countertop Small Space Coffee Bar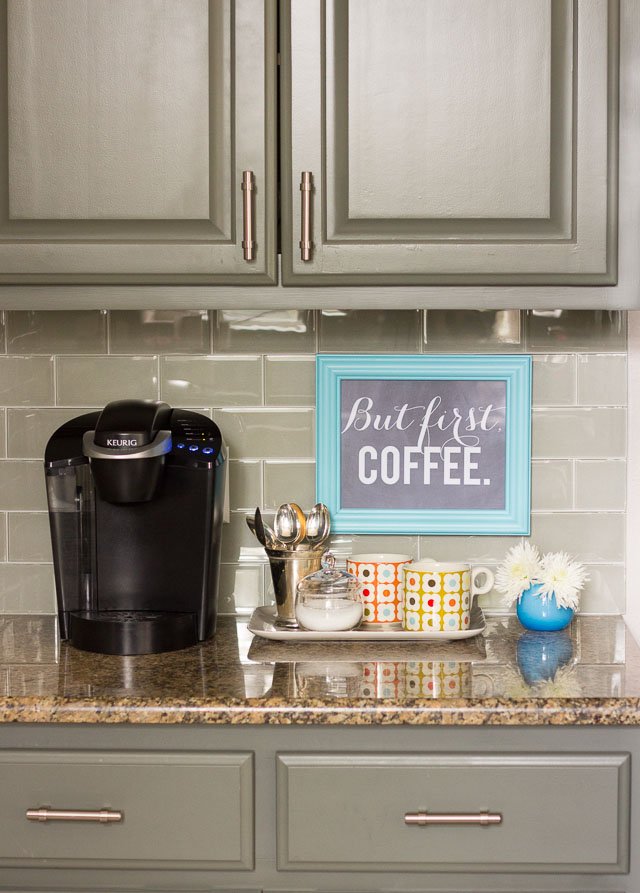 Does your morning coffee inspire you to bring the best of yourself everyday? In that case you'll want the best way to start your day. This countertop coffee bar idea for small spaces shows you how to maximise space with the minimum effort.
Carve up a small spot on your counter dedicated to your coffee ritual. You can keep the bulky things like sugar and coffee beans in a drawer. Just having mugs on a neat tray next to your coffee maker will do the trick. If you're feeling inspired, you could even hang up a coffee nook sign for an elevated experience.
18. Wood Sign DIY Coffee Bar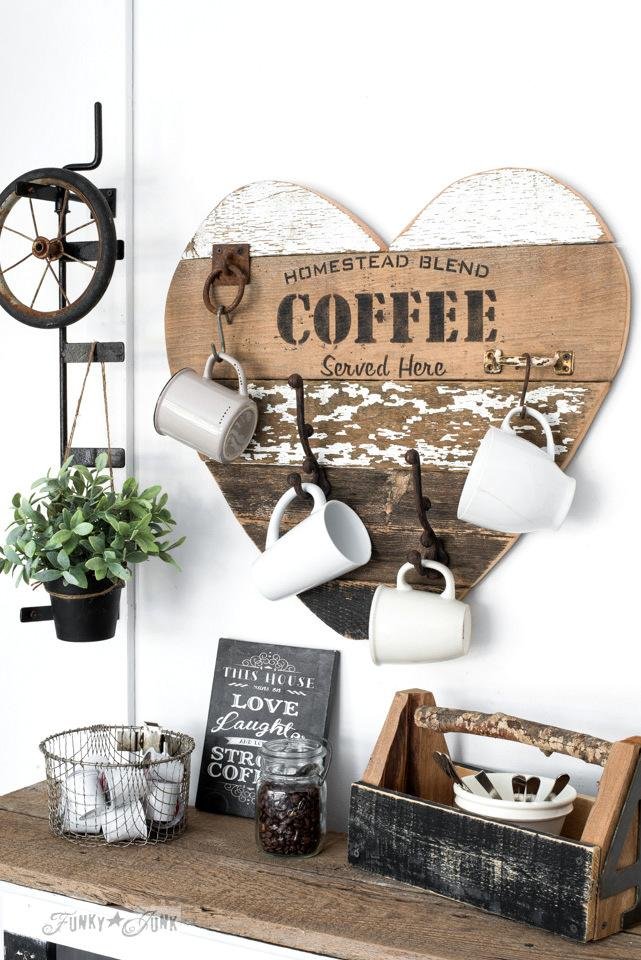 Reclaimed wood is a really versatile decor item. This countertop coffee bar idea for small spaces will really brighten up your decor to create a really unique space. Using the wooden sign as a mug holder is an ingenious way to save space and give the whole bar a chic look.
You can continue with the rustic theme by adding a wire rack container to keep your sugar or coffee beans container. Plop your coffee making essentials like coffee pot and enjoy a nice steaming cup every morning.
Read – 30 DIY Wood Sign Ideas To Add Rustic Charm To Your Home
19. Wire Rack Coffee Bar for Small Spaces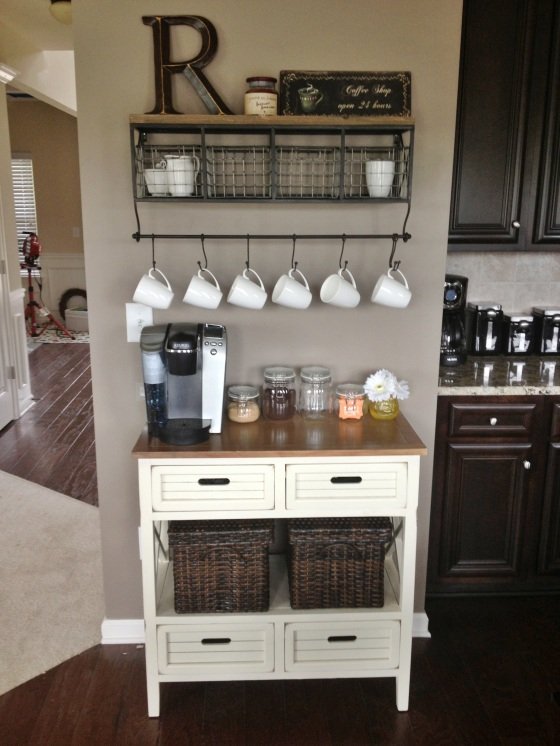 Another lovely DIY coffee bar idea for small spaces is this transition table. Having your coffee table in a spot that is somewhere between the kitchen and the living room creates a nice environment to relax in the morning. It's neither the rush of the kitchen nor the lounging of the drawing room.
20. Drawer and Shelves Coffee Bar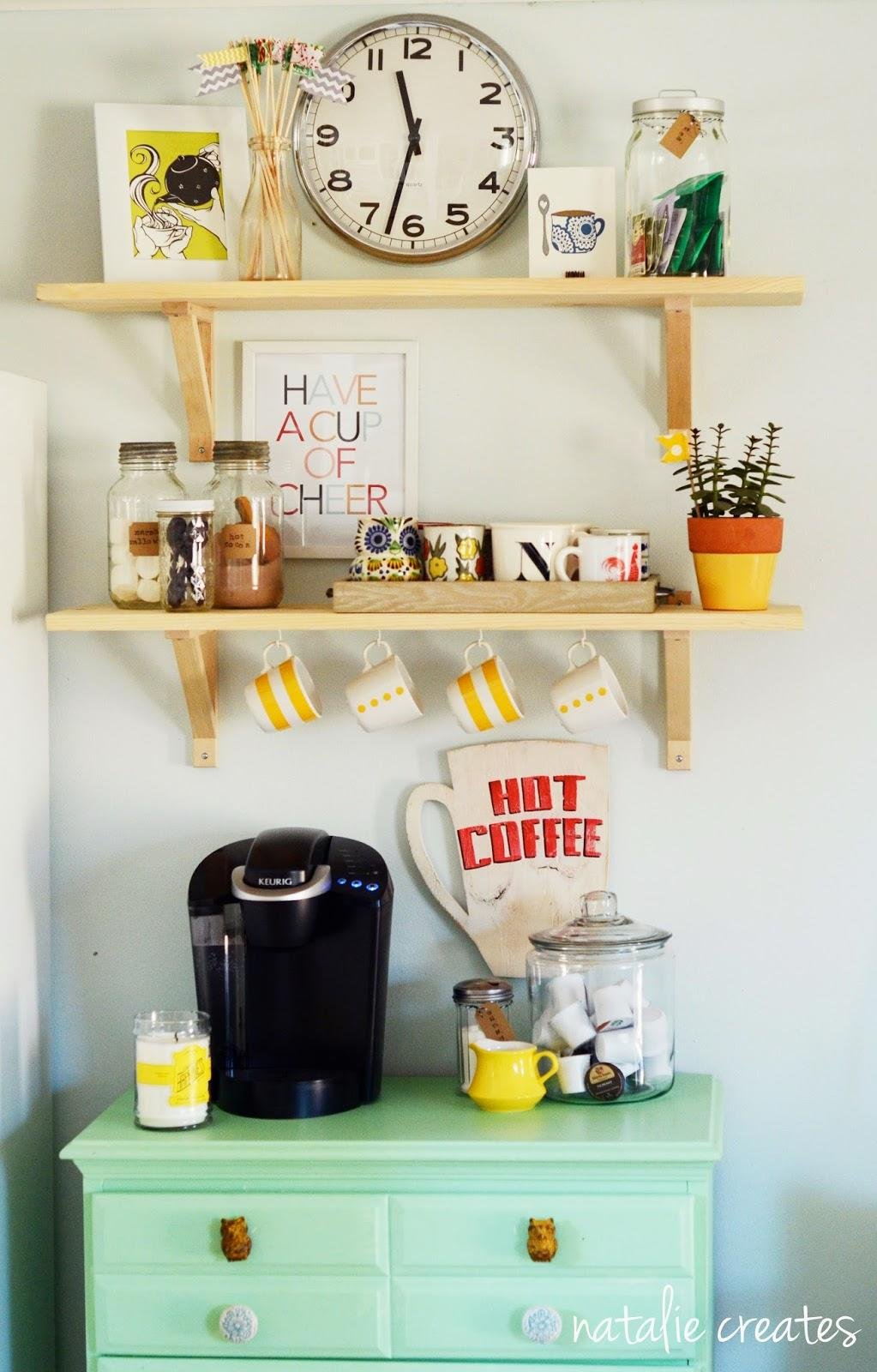 Old dressers are hands down the best remodeled coffee bars available. They provide you plenty of storage space – where else would the tea bags and coffee filters go? That combined with the hanging shelves for your mugs – really space saving – and trays for daily supplies really completes this coffee bar look.
21. Corner Coffee Bar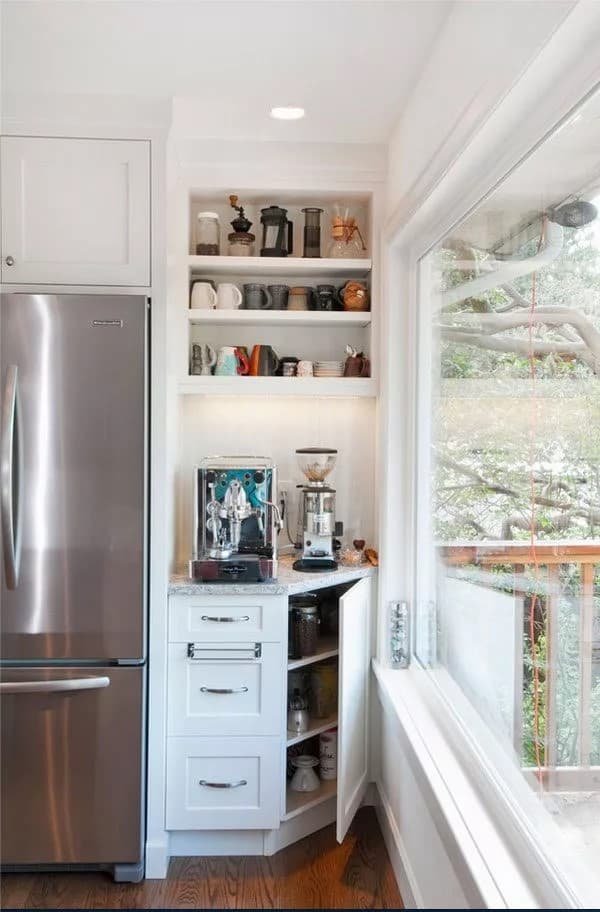 This is a brilliant station coffee bar idea for small spaces. You can utilize the shelf space to stack your mugs neatly. We can never really have too many mugs. It's also a handy way of organizing the things you don't need regularly, say your whole coffee beans or filter supplies.
If you have drawer and lower shelf space, like in this one, you really are spoiled for choice. This is a great coffee bar for your early morning cuppa joy.
22. Accent Wall Coffee Bar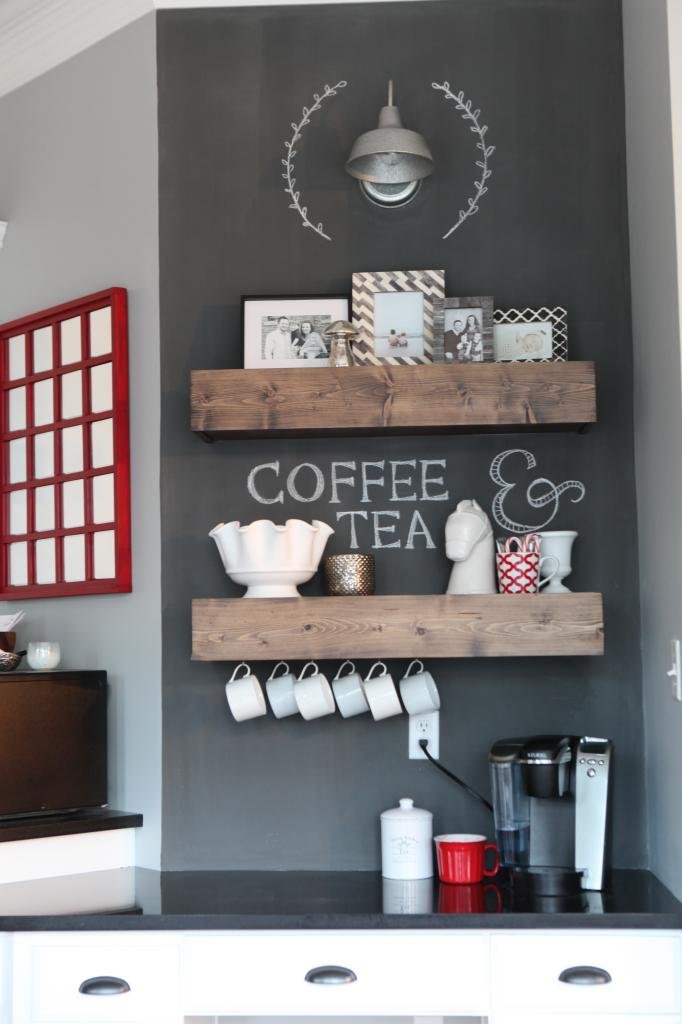 This is a minimalist DIY corner coffee bar idea for small spaces. The accent wall really does add a nice touch, doesn't it? You can stack mugs from the hooks and keep the rest on floating shelves.
With such a lot of storage space, it will be more prudent to keep your supplies off the actual counter. This frees up some work space and makes your DIY coffee bar for small spaces more elegant.
23. Copper and Navy Coffee Bar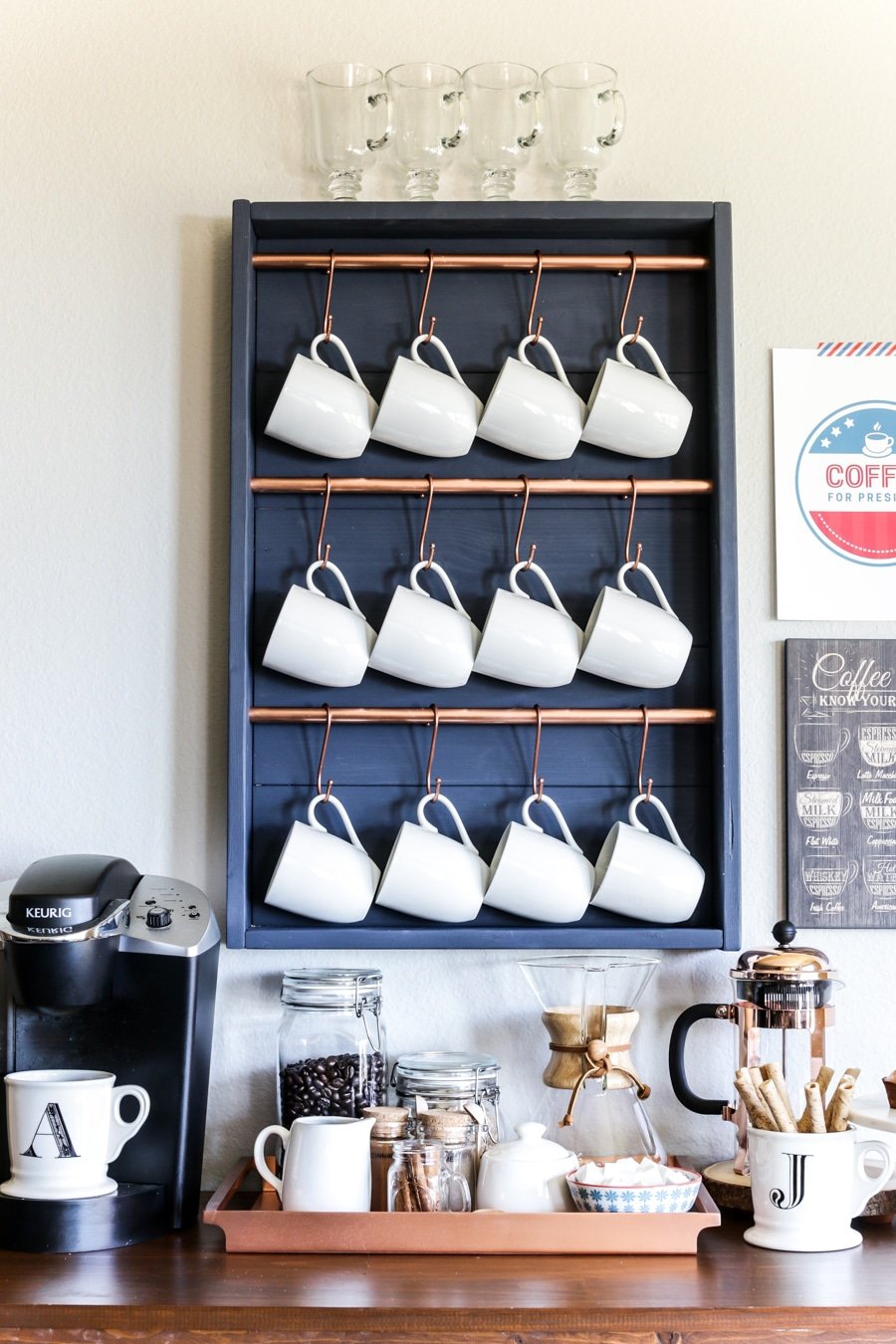 Countertop coffee bar ideas for small places are of course the most popular of the bunch. When you arrange your items correctly, you can't really go wrong. This idea lets coffee mugs take centre stage on a shelf that has a very pleasing copper and navy combination.
To show that you have a functional coffee bar, make sure to place other essentials in view as well. This idea features all of them in a neat tray for easy access. That's really neat and chic isn't it?
24. Rustic Corner Coffee Station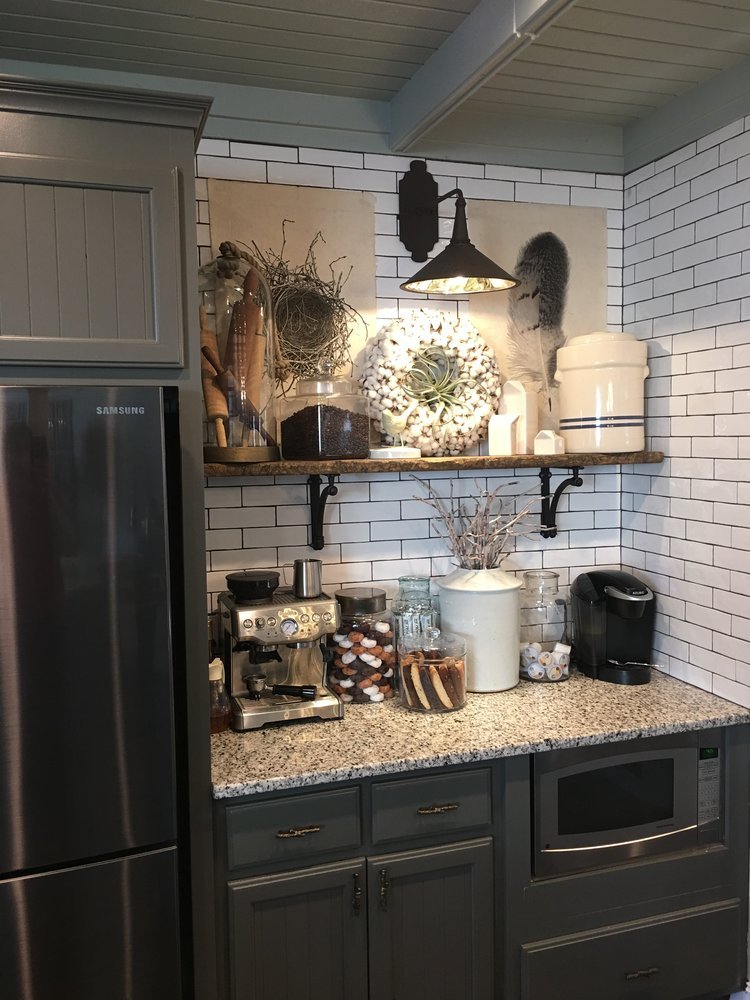 You can definitely have both farmhouse and luxury with this corner coffee bar idea for small places. If you like having all your coffee essentials in view, this open countertop and shelf combination is just what you need.
Bring in a little bit of nature by adding green decor and rustic signs that will signal the cozy atmosphere. The addition of the solid wooden shelf is not just a nice way to add more storage space but also elevates the look of the DIY coffee bar.
25. Coffee Bar Cart DIY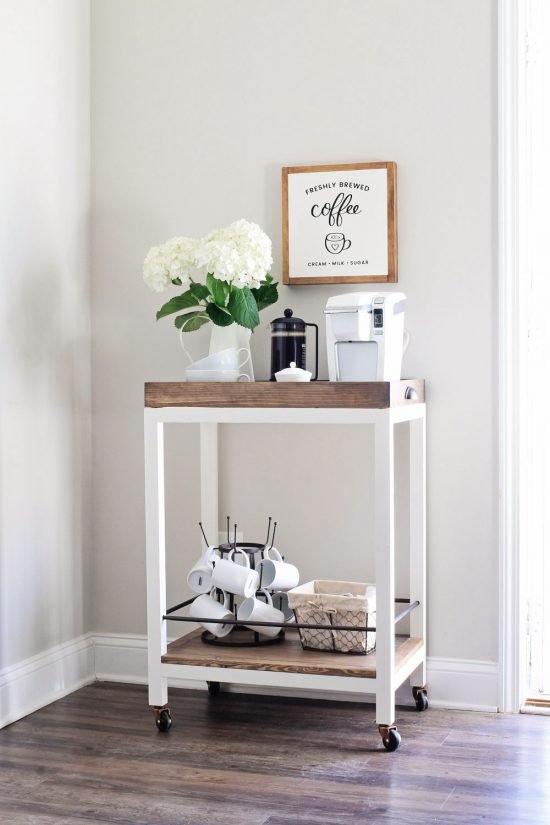 Do you like carting your coffee table around, especially during guest visits? Do you want to know what should go into making one? This beautiful coffee bar idea for small spaces gives you all the tips to make a brilliant coffee station on wheels.
Sometimes, with small spaces, it can get difficult to understand exactly how to stack all your coffee supplies. So this one will show you where to place what, so you can make your morning cup with ease.
26.DIY Barn Door Coffee Corner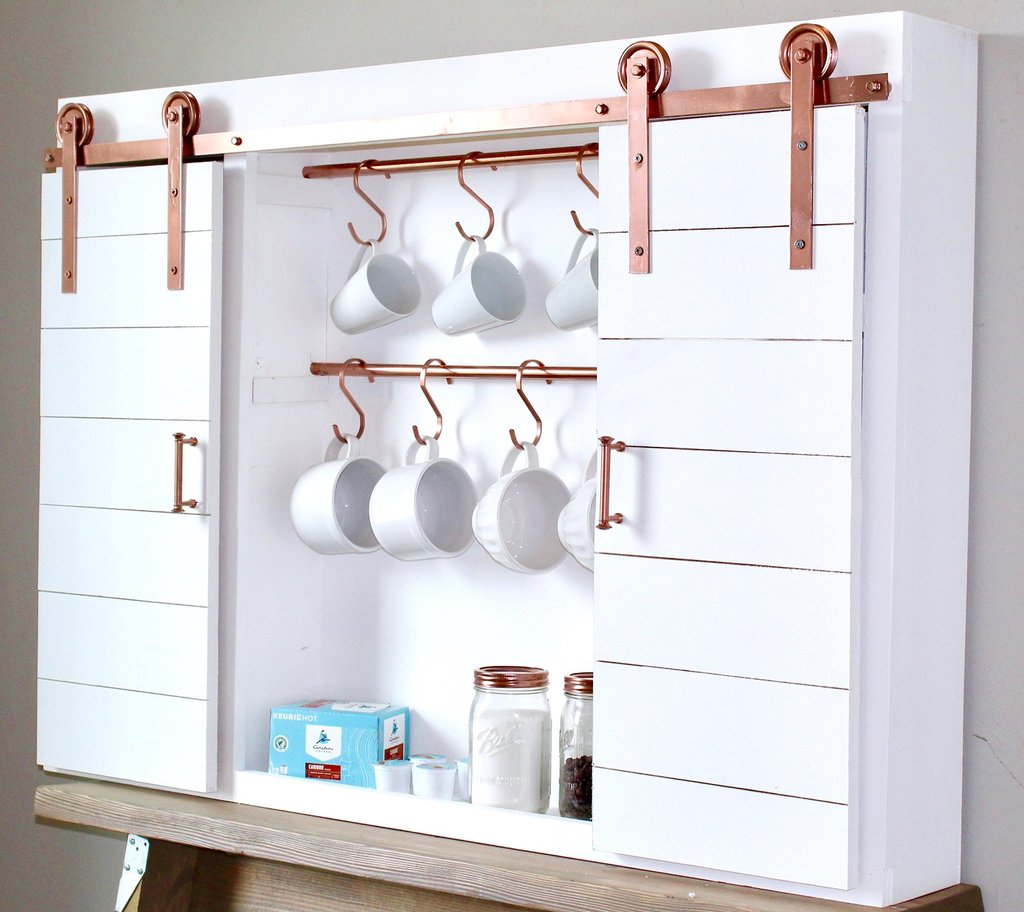 This is a really bright and airy countertop coffee bar idea for small spaces. You might be tired of seeing the same type of countertop coffee stations with all the items stacked in a line. What if you could give it a twist?
This barn door idea can really make the place come alive, because of how ingenious it is. If you want to learn how to make these for your cozy coffee corner, head on to the tutorial to start building.
27. Elegant Corner Coffee Bar
Here's a fun station coffee bar idea for small spaces that lets you enjoy the best weather day or night. If you like adding whimsy to your decor spaces, decorate with clay figurines and fancy teapots.
Use special decorative jars for sugar and marshmallows. Even display your quirky mugs and elegant wineglass side by side. Corner coffee bar ideas for small spaces can evoke a very cozy atmosphere and this one shows you how to do just that.
28. Wood Coffee Station Shelf with Mugs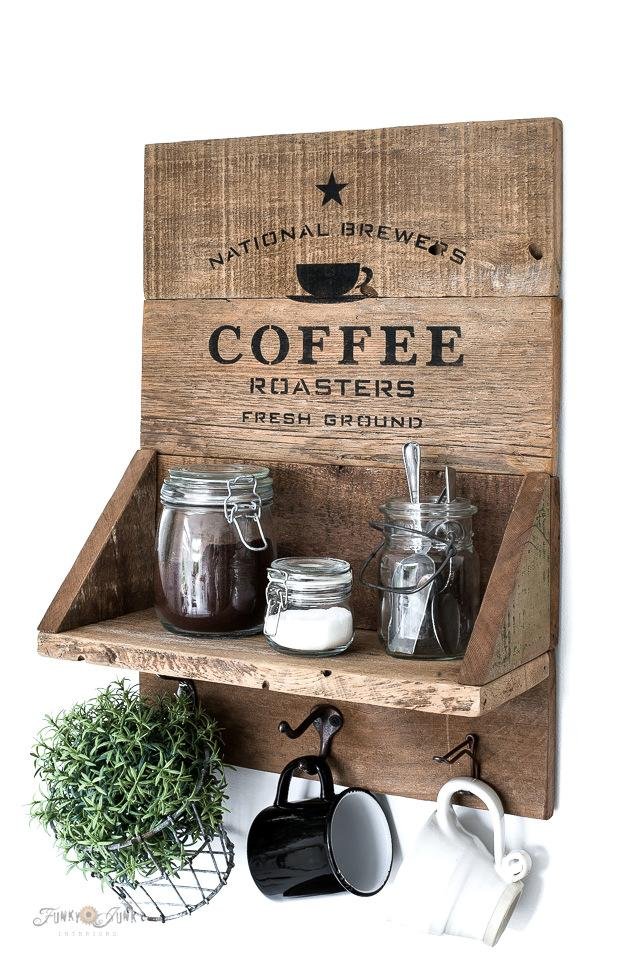 Image and tutorial by funkyjunkinteriors
Wooden signs evoke a sense of familiarity and robustness to your home. If you have a home with rustic decor, this type of DIY coffee bar idea for small spaces is a great fit. You can obviously customize the size of your shelf as per the space available.
The cute thing about this coffee bar idea for small spaces is that it allows you to show off what you want. You can stack a few mugs on the hooks and keep your coffee powder and sugar on the shelves. Great for any time you're craving an instant brew.
29. Rustic Modern Small Space Coffee Bar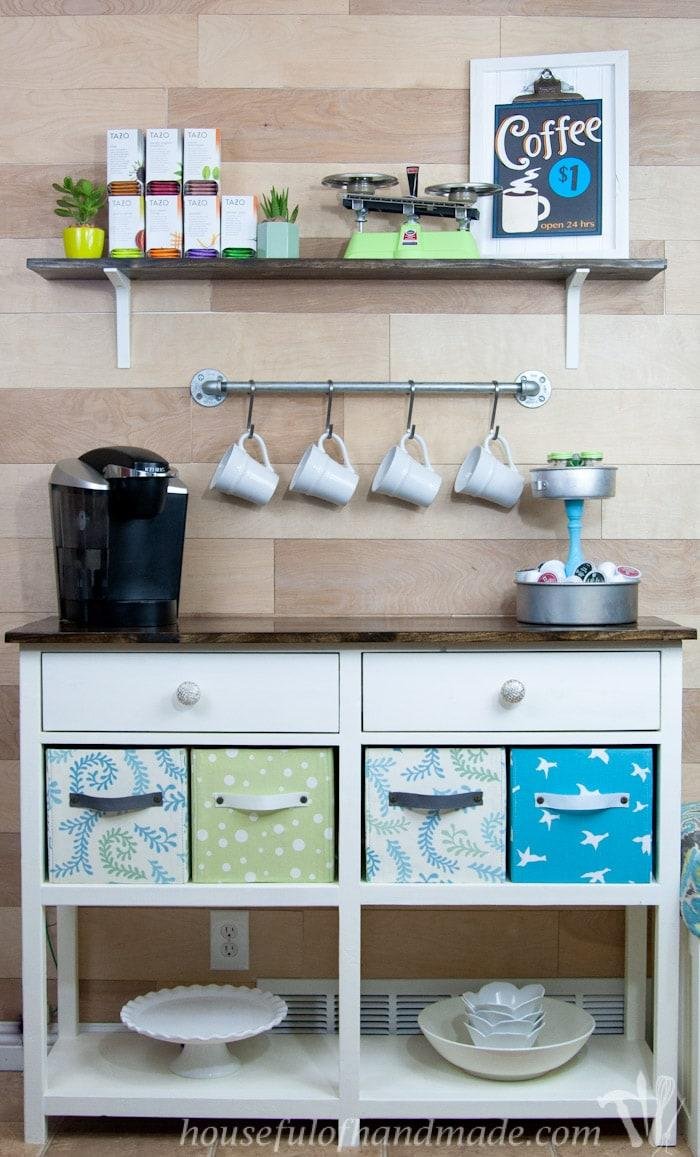 If you've been looking for DIY coffee nook coffee bar ideas for small spaces, this cute idea will be right up your alley. It has a crafty blend of artistic and modern with rustic elements.
Installing a floating shelf and industrial bar for some of your supplies can really elevate the look of your coffee bar. A small table will serve as your counter and bring a cohesiveness to your space.
30. Labeled Small Space Coffee Cabinet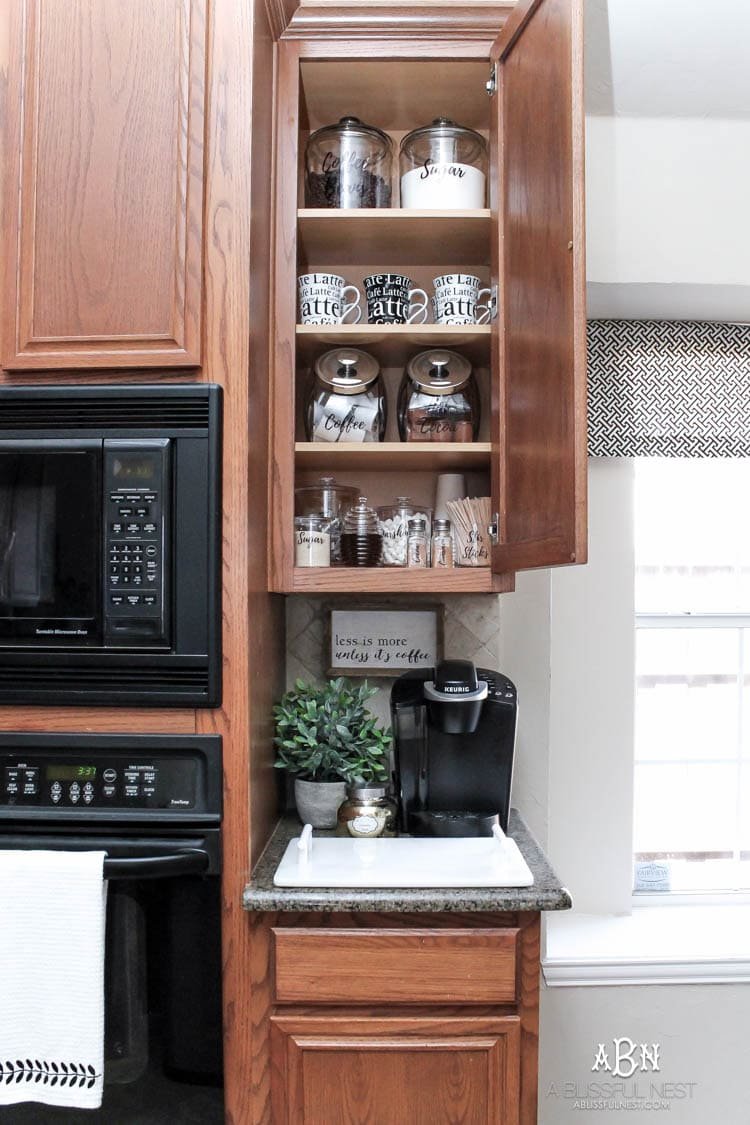 Most people like the idea of a cabinet coffee bar simply because there isn't too much effort involved. Turning an unused cabinet into your own coffee station is ideal if you are short on space. This handy tutorial gives you plenty of DIY coffee bar ideas for small spaces.
What you will need are your staple coffee supplies labeled neatly to begin with. Coffee beans, tea bags, cocoa, coffee mugs are all essentials. This way you will easily be able to make sure you have everything stacked neatly whenever you need.
If you loved these ideas, you can use the Pin image below and save this article on your 'Coffee Bar Ideas' Pinterest board.