A great way to give your home that touch of nature is to add wood signs that bring the rustic charm. In a world that is becoming increasingly more reliant on technology and wastage, why not reuse and repurpose those old pallets, discarded wooden planks and other materials that you wouldn't need to spend too many dimes on.
At the time when DIY crafts and ideas are becoming popular, we bring you a collection of Homemade Wood Sign Ideas for a variety of occasions that you can make inexpensively and with just a few tools. Check out the ideas below and find the ones that you like best.
Also, check –
1. Pretty Love Slat Wood Sign
Image and tutorial by finditmakeitloveit
This wood sign idea is as pretty as it is romantic. Imagine getting one of these as a gift; I'm pretty sure I would swoon. You'll need only a handful of supplies that you're almost guaranteed to find around the house and the rest are easily purchased.
Not only are wood slatted sign ideas really easy and straightforward to make and is a wonderful gifting article if you wish it to be, but it is also a rustic wood sign and would also add such a cute touch to your room. Extremely easy on the eyes.
2. DIY Wood Pallet Sign
If you're in the mood to give your home entrance a rustic look and feel, we have the perfect wood pallet sign idea for you.
It is an easy homemade wood sign idea that is unique and makes for a great DIY project and is easy on the budget. It is a nail string art wood sign which makes it even more fun to create. Are you sold yet?
3. DIY Wood Burned Sign
Image and tutorial by bergangrisham
Wood signs that use the technique of wood burning have always intrigued me. These signs usually make very good Hallooween wood signs but there are other occasions that they can be used for as well.
To top it off, with a little practice, wood burning signs can be really easy to make and are extremely fun to do. They have the rustic wood sign element, they would make great barn wood sign ideas and they could also be handy gifting ideas.
4. Silhouette Painted Wood Signs
Image and tutorial by silhouetteschoolblog
Homemade wood signs like silhouette signs could be a great addition to your front door or even on bedroom doors. Having become hugely popular lately for their understated charm, this tutorial teaches you the easiest way to get into DIY painted wood signs that look expensive but really aren't.
5. DIY Wood Sign with a Router
Image and tutorial by housefulofhandmade
A DIY wood sign idea that shows you where to go. These can make for good conversation starters at parties. With a few tweaks, you could also make a funny wood sign if you liked.
6. Vinyl on Wood Coffee Sign
Image and tutorial by domesticheights
This DIY vinyl wood sign idea is easy to make and takes little to no time with the tools mentioned in the tutorial. Change the look of your coffee corner or add a nice touch to your dining room with a rustic wood sign.
7. Stencil DIY Home Sign with Stencil Vinyl
Image and tutorial by angelamariemade
This is probably one of the easiest DIY wood sign ideas out there, simply for how good the end result always ends up looking. Make this vinyl wood sign for your mantle or to have on your bedside table. It is elegant and makes for a great homemade wood sign addition to your home.
8. Rustic Wood Sign
Image and tutorial by lovegrowswild
Say goodbye to store bought Valentine's day gifts or home decor with this amazing rustic wood sign that is made using the simple tools you can easily find at DIY stores. Not only does this sign look like it's been professionally made, you'll also have the satisfaction of spending time doing something creative.
9. DIY Wood Sign with Cricut
Image and tutorial by makeitlovely
A fun tutorial for making your own Halloween Wood sign. With your cricut machine it is even easier for you to customize and have fun while making homemade signs to hang out with your carved pumpkin.
10. Funny Halloween Wood Sign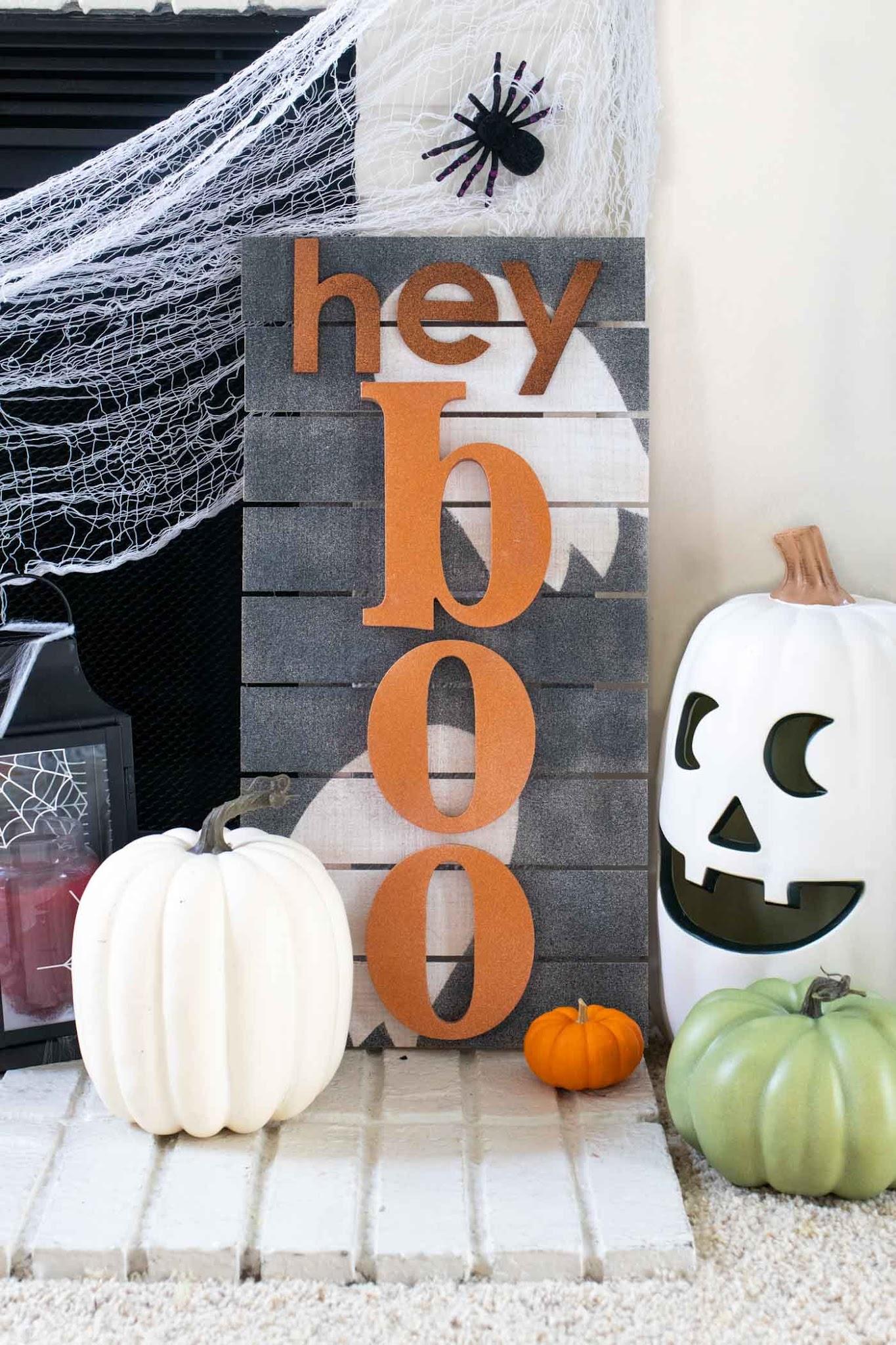 Image and tutorial by clubcrafted
If you like Halloween but prefer to make it humorous rather than spooky, we have a DIY home sign for it. This one is a good pun but at the same time, brings enough Halloween spirit. Use this tutorial for a good wood slatted sign right in time for festivities.
11. Wood Pallet Sign for Dad
Image and tutorial by ribbonsandglue
Find yourself some scrap wood pallet and turn it into something new and beautiful for Father's Day. The DIY homemade wood sign would be a great gift or even just something for Dad's to hang in their study. Rustic wood sign ideas will never go out of style.
12. Pallet Wood Sign with Leather Strings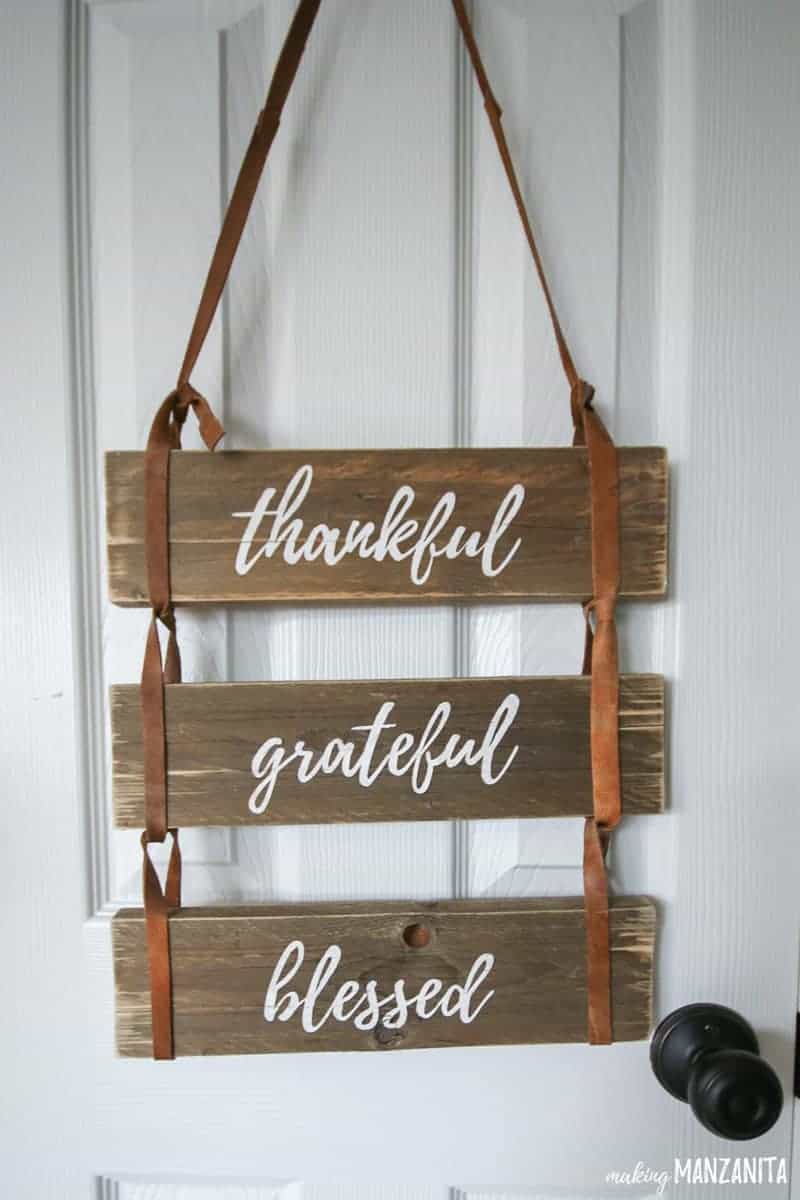 Image and tutorial by makingmanzanita
Add a wonderful piece to your fall themed decor with this pallet wood sign with this easy to follow tutorial. It is a fun way to use leather in your decorations and gives the DIY wood sign a more professional look.
13. Farm Apple Wood Sign
Image and tutorial by recreateddesigns
If you miss going to the orchard for apple picking and want to bring a slice of those memories back to your home, try out this DIY homemade wood sign, incorporating rustic wood sign feelings and making you feel like you're back at the farm among fresh apples
14. Happy Holidays Wood Sign
Image and tutorial by twofeetfirst
A simple and understated holiday wood sign that is easy to make and would be great in both indoor and outdoor settings. Youn won't need too many tools depending on how you want to place this. Go crazy with this one.
15. Barnwood Mason Jar Wood Sign
Image and tutorial by simplycountrylife
Use some barn wood and a mason jar for this DIY homemade hand sign idea. The tutorial explains exactly how you can make this project an addition to your home for a rustic ambience that is easy on the eyes and comforting for the mind.
16. DIY Slat Wood Sign
Image and tutorial by todayscreativelife
Making a wood sign yourself is a wonderful way to express your personality. So why not use the skills you will learn in this tutorial and show off your personality with this DIY wood slat sign. Bonus, chances are it'll be one of a kind.
17. DIY House Number and Address Sign
Image and tutorial by thegardenglove
Make this stylish and one of a kind wood address sign for your entrance and to add appeal to your already beautiful home. We don't need to be like everyone else with the same boring house numbers do we? DIY it. Add a personalized homemade wood sign instead.
18. Farmhouse Wood Sign
Image and tutorial by homefreshideas
This farmhouse style DIY wood sign is a wonderful addition to your bathroom and would make wonderful for wonderful gifts. It's simple, rustic, and elegant. What more do you need from a good wood sign?
19. Cute Home Sweet Home Wood Sign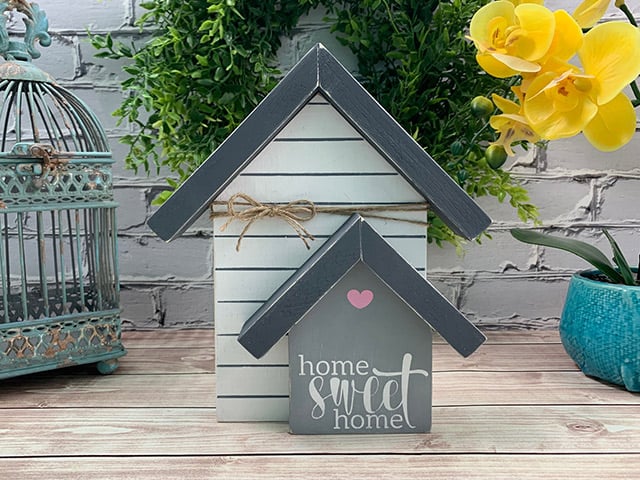 Image and tutorial by burtonavenue
Probably one of the cutest homemade wood signs I have seen in a while. This one is fun to make and even more fun to look at. You need some basic woodworking skills but even without those, this DIY homemade wood sign tutorial gives you other options for making your own miniature wood sign.
20. DIY $3 Welcome Wood Sign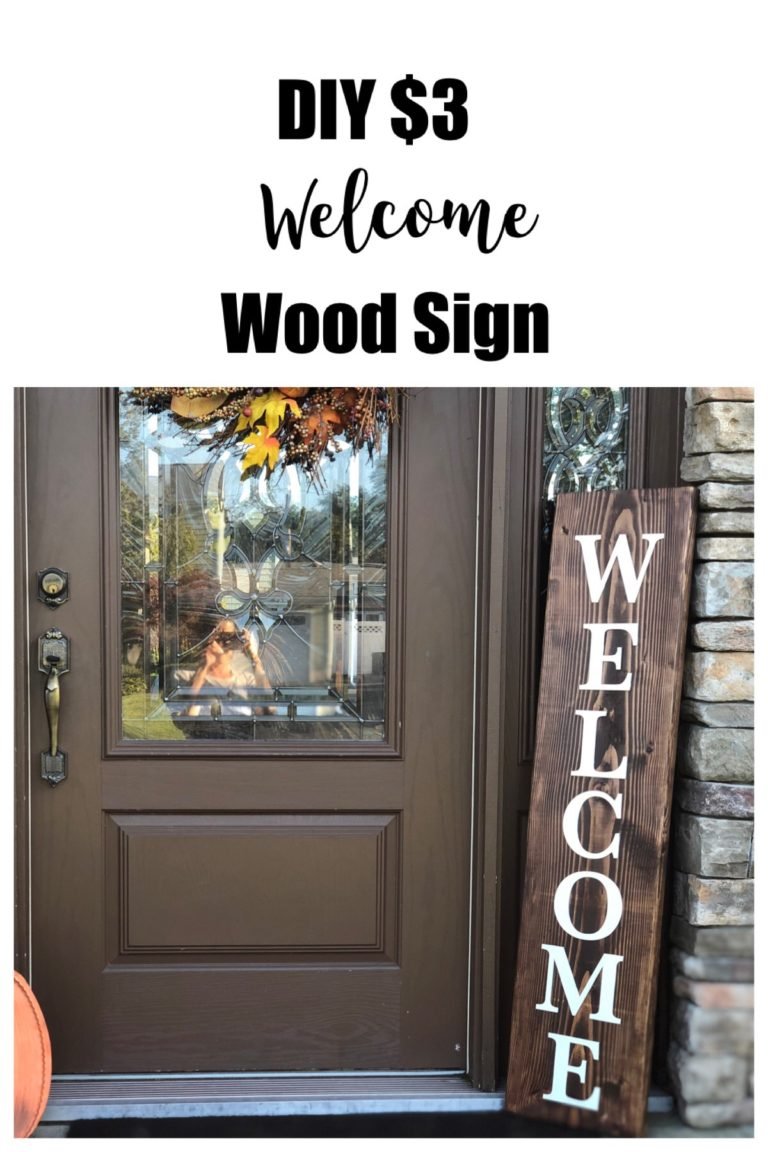 Image and tutorial by furgallyfantastic
Want to make wonderful and chic homemade wood signs that are easy to make and really small budget? You've come to the right place. This tutorial is a budget one and requires little time to do. The end result? Something that would have probably cost a lot to buy at your home decor store.
21. Laundry Wood Sign
Image and tutorial by funkyjunkinteriors
For the out of the box people, we have a funky interior wood sign idea that is not just rustic but downright old school. This old wood sign idea is a keeper for those who like to keep it simple with the scrap wood they have lying around. Turn your laundry room into a space of whimsy and keep the fancy stuff for another time and place with this one.
22. Fab 5 Wood Sign
Image and tutorial by thehandmadehome
Make it big but make it simple with this wood slatted sign idea. It is understated in a way that you will not notice that it is a wood sign immediately, but you will also not be able to take your eyes off it. You can choose whatever phrase you want, but the end result is perfect for the little time and money you have to spend on it.
23. DIY Halloween Pumpkin Patch Wood Sign
Image and tutorial by craftylifemom
This is another fall home decor wood sign tutorial that you just cannot go wrong with. As a crafting DIY homemade tutorial, this one can be done with kids and will keep them occupied. Of course the rustic wood sign you end up with in the end is a good incentive too.
24. Ombre Painted Wood Sign
Image and tutorial by makingmanzanita
A beautiful ombre painted wood sign exclusively for bathrooms? Well that sounds about right. This is a slatted wood sign that is easy on the eyes, fun to do, and you get to use fun painting equipment. By the time you're done with this, you'll wonder why you ever bothered to buy any readymade products. Homemade wood signs are surely here to stay.
25. Easy DIY Wood Signs
Image and tutorial by savageinspirations
This DIY wood sign tutorial focuses on rustic elements to give your modern home a touch of countryside. Or maybe you can try to mimic fall all year round. Whatever suits your fancy, this tutorial will help you find the right vibe for all your DIY homemade wood sign ideas.
26. Be Grateful Pallet Wood Sign
Image and tutorial by infarrantlycreative
If you want a good wood sign but don't want to use too many tools to make it, this tutorial might help. Get your wood pallet sign prefabbed and you're ready to DIY the rest yourself. Like the other homemade wood signs, you can customize this to reflect your unique personality but a good guide is always amazing to follow.
27. DIY Driftwood Sign
Image and tutorial by craftsbyamanda
If you've been racking your brains for ways to customize that piece of driftwood you have lying around then this tutorial will help ease those thoughts. Here is a rustic wood sign idea that will add that beachy touch that we all crave. Great to hang on doors, these are a spin on the wood address signs.
28. DIY Modern Holiday Wood Sign
Image and tutorial by lemonthistle
Wood signs for the holiday season. Bring on the festivities and add your own holiday decorations with this modern DIY wood sign idea that does not look homemade but it is.
Try it out yourself for a wonderful new holiday ornament that you might not want to take down.
29. Light Up Tree Pallet Wood Sign
Image and tutorial by consumercrafts
Most people think of wood signs in a traditional sense but here is a DIY wood sign like no other on the list. For those who are looking for unique holiday decorations and other DIY crafts, this is a perfect one. And look how pretty the end result is.
30. Fall and Thanksgiving Wood Sign
Image and tutorial by momhomeguide
Thanksgiving is all things fall related and so is this pretty Thanksgiving wood sign with leaves that remind you of autumn. Invite your friends over and let them see your creative side with this rustic wood sign made with love.
Wood signs are a unique way of showcasing your creative side and unique personality. Hopefully, you try these ideas and find the perfect wood signs to decorate your home with.
If you loved these ideas, you can use the Pin image below and save this article on your 'Home Decor DIY Projects and Crafts' Pinterest board.