I love unique-looking and sweet-smelling DIY soap bars. If you are someone who likes homemade DIY projects, then this time you should try some soap ideas. In this article, you will find some interesting DIY natural soap bars ideas that will brighten your mood with its scent.
The best part about these homemade soap ideas is that you can have your own aroma! Whether it is pumpkin scented or infused with essential oils, you can have your own customized soap bars!
Also check –
Let's check out some fantastic and inspiring cool soap ideas in this list to start a new venture.
How To Make DIY Soap Bars?
There are four simple, easy, and popular soap-making techniques that you can try out at home! These methods include melt-and-pour, cold process, hot process, and rebatching. The easiest one of these is the melt and pour method! But let's see what each of these has in store for us!
1. Melt and Pour Technique
This is the easiest technique because in this one you don't have to make the soap from scratch. Instead, you can melt and premade soap base and pour it into a mold to give it shape. You can look at a detailed step-by-step guide here.
2. Cold Process and Hot Process Techniques
Both these techniques involve making soap from scratch! The cold process is more popular but takes more time than the hot process. You can use the hot process to make more rustic-looking DIY soap bars. You can learn more about the cold process here. Go ahead and explore the hot process technique here.
3. Rebatching Technique
This one is my least favorite technique. Rebatching involves using previously failed DIY soap bars. It is a great way to save the essential ingredients but this method is extremely laborious and time-consuming. You can explore more about this technique here.
DIY Soap Bar Ideas
I highly recommend you try making a few of these soap-making ideas. It will brighten your mood and give you a chance to explore the world of fragrance and skincare. Needless to say, these homemade soap ideas are super fun and easy. You will have a gala time whipping a few of these. So let's go ahead and make some Insta-worthy DIY soap bars!
1. DIY Aloe Vera Soap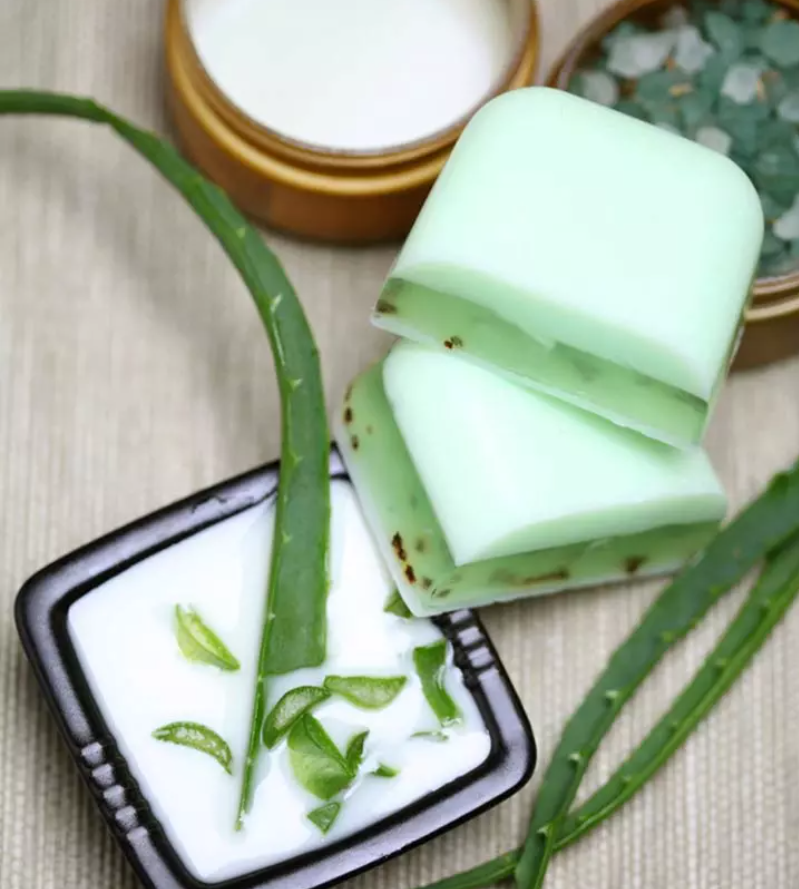 (Image and tutorial by stylecraze)
We all know how amazing aloe vera is for our skin. With this DIY soap bar idea, you will not have to worry about the harsh chemicals drying your skin out. You can make this aloe vera soap with the traditional soap-making methods. It is extremely fun and creative to make your own soap bars!
2. Homemade Lavender DIY Soap Bars
(Image and tutorial by learningandyearning)
This simple homemade lavender DIY soap bar is naturally colored with purple clay and scented with lavender essential oil. You can put a bit of olive oil to make the purple color shine through it. As you can see, all the ingredients used are extremely good for your skin. Follow this easy tutorial to make your own beautiful lavender soap bars!
3. Honey Lemon Melt & Pour Soap Bars
(Image and tutorial by happy-mothering)
This is exactly how you need to spoil yourself! Making these lemon-honey DIY soap bars with the melt and pour method is super easy. It is almost therapeutic! If you are unaware of the goodness and benefits of honey and lemon, then you need to check it out right now! This DIY soap recipe is your ultimate superfood for your skin!
4. Cinnamon Cocoa DIY Soap Bar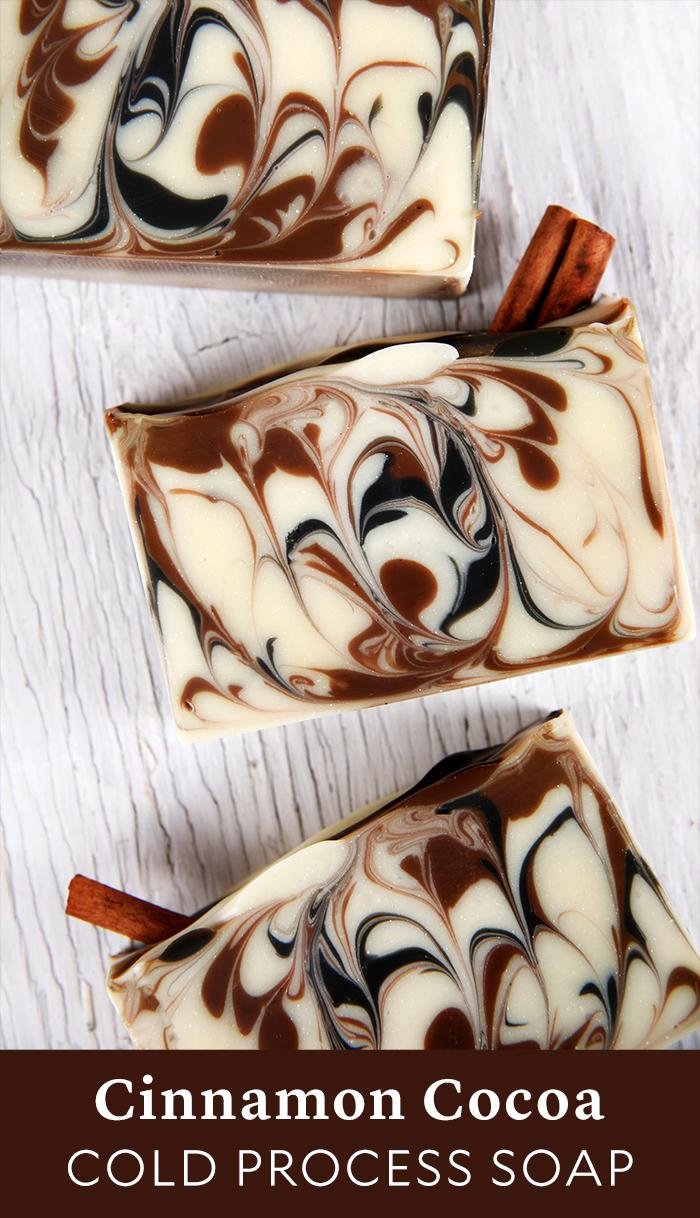 (Image and tutorial by soapqueen)
Look at this beauty! It almost looks like an edible marble cake! This one has the goodness of cocoa and the enticing fragrance of cinnamon cocoa essential oil. You can try this soap idea with a little patience and basic soap-making ingredients. This one is a perfect example of homemade soap scents; it is completely natural and a gem for your skin!
5. Soothing Soap
(Image and tutorial by helloglow)
If you are a fan of aesthetic soap bars that feel like heaven lathering your skin, then you are in for a treat! This pink clay soap is so soothing that your skin will fall in love with it. It contains all sorts of pink ingredients like pink clay, rosewater, and Himalayan pink salt. This one can be an excellent gift option for your friends!
6. DIY Bug Soap for Kids
(Image and tutorial by glitteronadime)
This one looks super cool! All you will need for this one are some toy bugs, silicone molds, clear glycerine soap, essential oil for scent, green soap colorant, and some poppy seeds. Essential oils are the best for your soap scent ideas. You can experiment with the scent as much as you want with your choice of essential oil!
7. Mermaid Soap
(Image and tutorial by soapdelinews)
This magical mermaid DIY soap bar will bring a long bright smile to your little girl's face! You can get creative and add in some waves to give it a more realistic vibe. This one is crafted with a combination of melt and pour techniques; it can be an entertaining weekend project.
8. DIY Pumpkin Pie Soap
(Image and tutorial by clubcrafted)
How about a piece of pumpkin pie soap this pumpkin season?! I am absolutely PUMPed up about this DIY soap bar! It looks delicious. This one looks so real with the whipped cream and sprinkled soap dust on top. You can even gift this one to your friends and family this Fall!
9. How To Make Rose Soap?
(Image and tutorial by simplybeyondherbs)
This luxurious soap has everything that your skin craves. It not only looks beautiful but will also leave your skin smooth and moisturized. It has been enhanced with rose-infused oil, rose essential oil, and the goodness of rose petals. This homemade soap has one of those unforgettable soap scents ideas. This DIY soap comes with a unique soul healing and relaxing effect on your skin.
10. Gemstone Soap Idea
(Image and tutorial by danslelakehouse)
I am mooning over these turquoise gemstone soaps! You will need basic soap-making supplies like essential oils, glycerine soap bases, and cosmetic-grade mica dyes to make a few of these gemstone soaps.
11. Homemade Spring Soap
(Image and tutorial by alphamom)
This soap is super easy to make. All you will need are some basic soap-making supplies and a microwave. Here we have a simple step-by-step guide for you to follow. These soaps look super cool and are super fun to make. Go ahead and give it a try!
12. Vanilla Citrus Summer Soap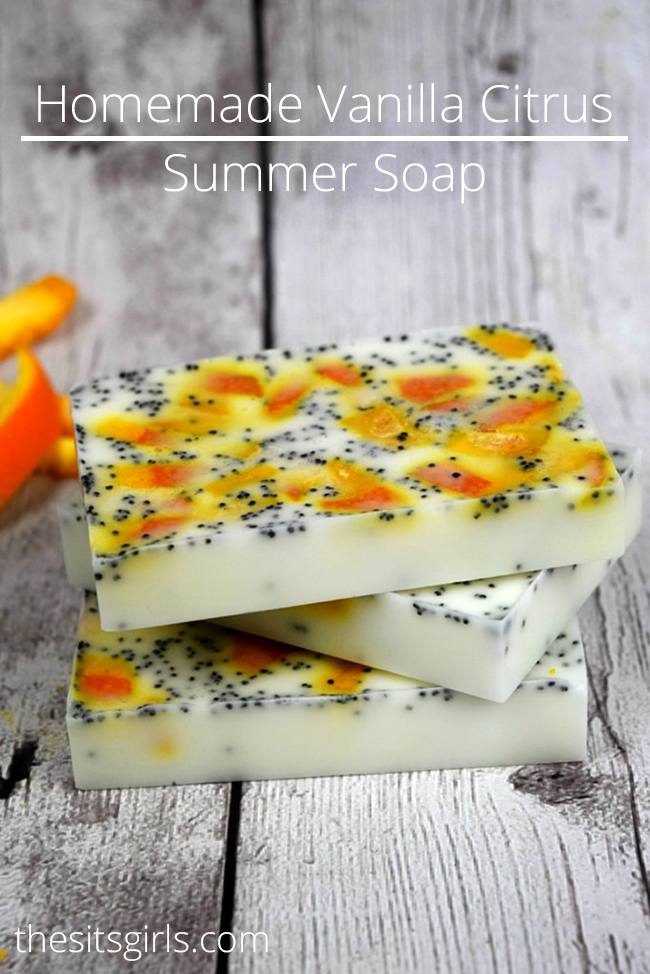 (Image and tutorial by thesitsgirls)
Did you know that making soaps at home is super easy? It takes only a few minutes to make one and in a few hours, it is all set to be used! This vanilla citrus summer soap is all you need this summer to stay fresh and relaxed. I love how artsy it looks! I also love that it has all the goodness vanilla and lemon it has in store!
13. Homemade Coconut Soap
(Image and tutorial by food52)
This one is a simple homemade soap with all the goodness of coconut oil, palm oil, and olive oil. You can only imagine how amazing this is for your skin. This simple soap will leave your skin extremely hydrated and nourished.
14. Soap-making For Beginners
(Image and tutorial by lovelygreens)
This one is an excellent example of cold-pressed DIY soap. It is so easy that you can make it in your own kitchen! This soap has antioxidant properties that your skin will love. Go ahead and learn the easy method of soap-making!
15. Homemade Soap Gifts for Kids
(Image and tutorial by blog.consumercrafts)
This time give your kids some fancy homemade soaps like these! You can even get your kids to make fun DIY soap-making projects. These simple homemade soaps are sweet and fun; the method is so easy that you will need only a few minutes to put them together. You will need glycerine soap, tissue paper, mold, scissors, and a microwavable container to make this soap bar.
16. 10-minutes DIY Milk and Honey Soap
(Image and tutorial by happinessishomemade)
This easy milk and honey DIY soap can be made in just a few minutes. Your skin will love the goodness of honey and the moisturizing property of milk. You should definitely try this easy and super fun homemade gift idea.
17. DIY Moisturizing Soap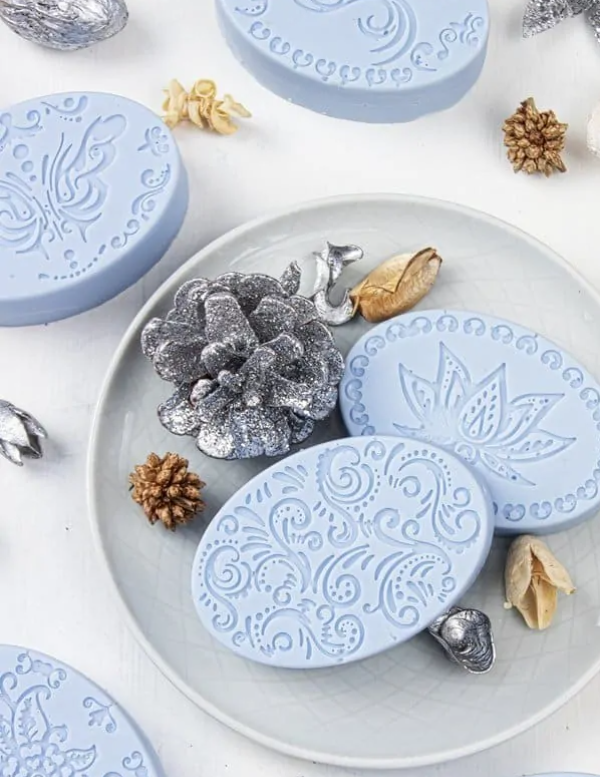 (Image and tutorial by countryhillcottage)
I just love these homemade soap bars! They look so beautiful, aesthetically pleasing, and artsy. These are perfect for gifting your family and friends. This one here is a 10-minutes solution for your dry skin. The best part is that you can create your own soap bases according to your needs. This Christmas, surprise your friends with these beautiful and aesthetic soap bars.
18. All-natural Dish Soap Bar
(Image and tutorial by ouroilyhouse)
This beautiful homemade DIY soap bar is made with just two simple ingredients. This dish soap will pamper your hands and keep your dishes clean, simultaneously. It has used lemons and lemon essential oil. This DIY homemade soap bar has been made with the melt-and-pour technique. Go ahead and make some dish soap bars for your kitchen!
19. Pinwheel Soap Dough
(Image and tutorial by themakeupdummy)
You can easily create these soap doughs at home! It is a great summer activity for your kids. It will boost their creative mind and brush their cognitive skills. And once your soap doughs are done, you can use them and see them around the house. I love how colorful and fun they look!
20. DIY Exfoliating Loofah Soap Bars
(Image and tutorial by louisegraceblogs)
These homemade loofah soaps are great natural exfoliators. They are amazing and super easy to make. You can customize the scents. You can make lemon, sweet orange, and mint scents. The possibilities of DIY soaps are endless! Make a few for your friends this Christmas and tie a ribbon around it to make it more presentable!
21. DIY Candy Corn Soap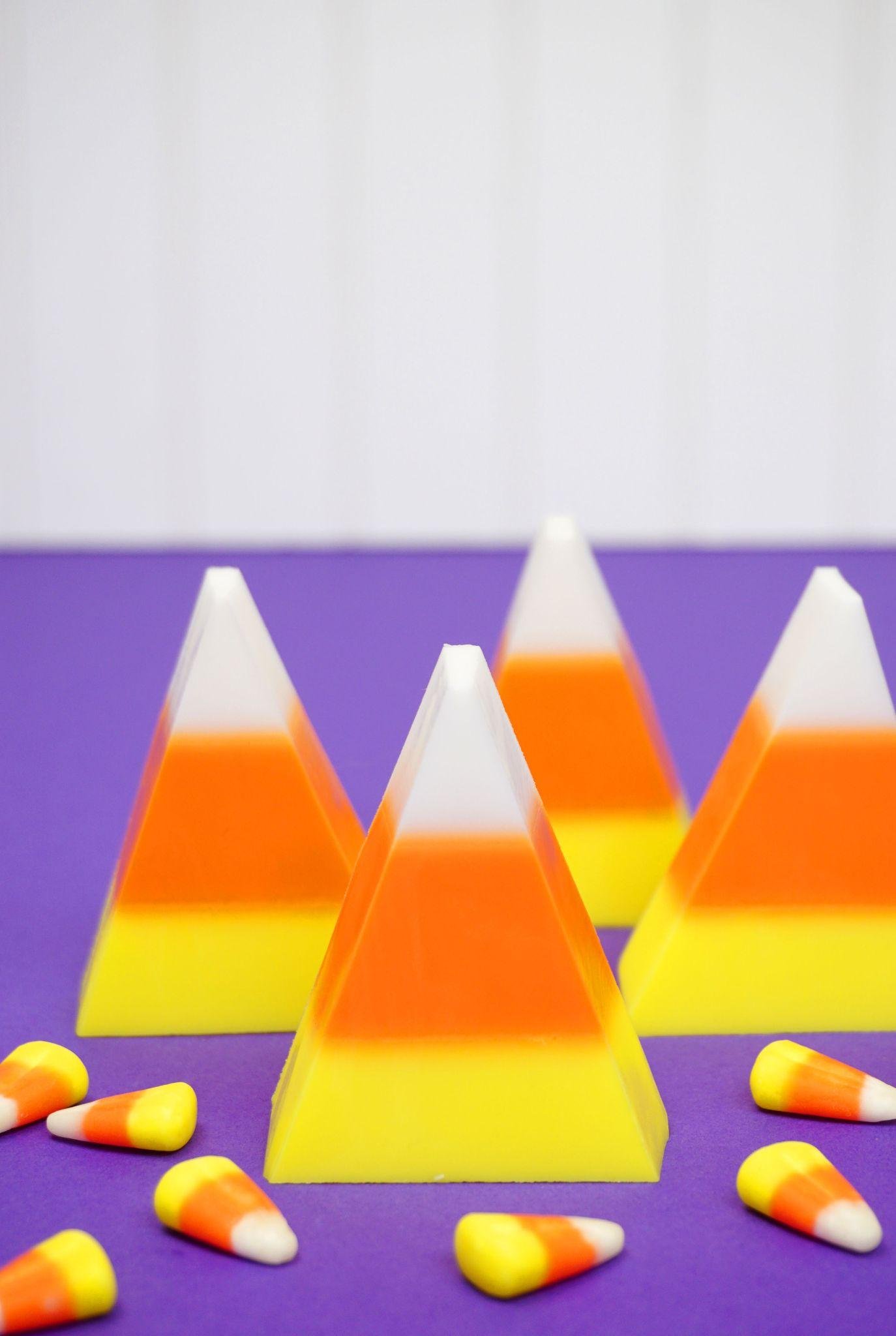 (Image and tutorial by happinessishomemade)
This easy DIY candy corn soap is adorable and it only takes 15 minutes to create this! You can make a few of these as perfect Halloween party gifts for your guests! Follow the tutorial to make your own candy corn soaps.
23. Gradient DIY Soap Bar
(Image and tutorial by cc-craft)
I just love this purple-toned soap bar! It looks so beautiful and artsy. This soap looks aesthetically pleasing and smells so refreshing! She has used a simple soap base and lavender essential oil to give it a beautiful DIY scent. You can sprinkle some dried lavender on top to give it a more aesthetic feel and decorative look.
24. Lemon Soap Bars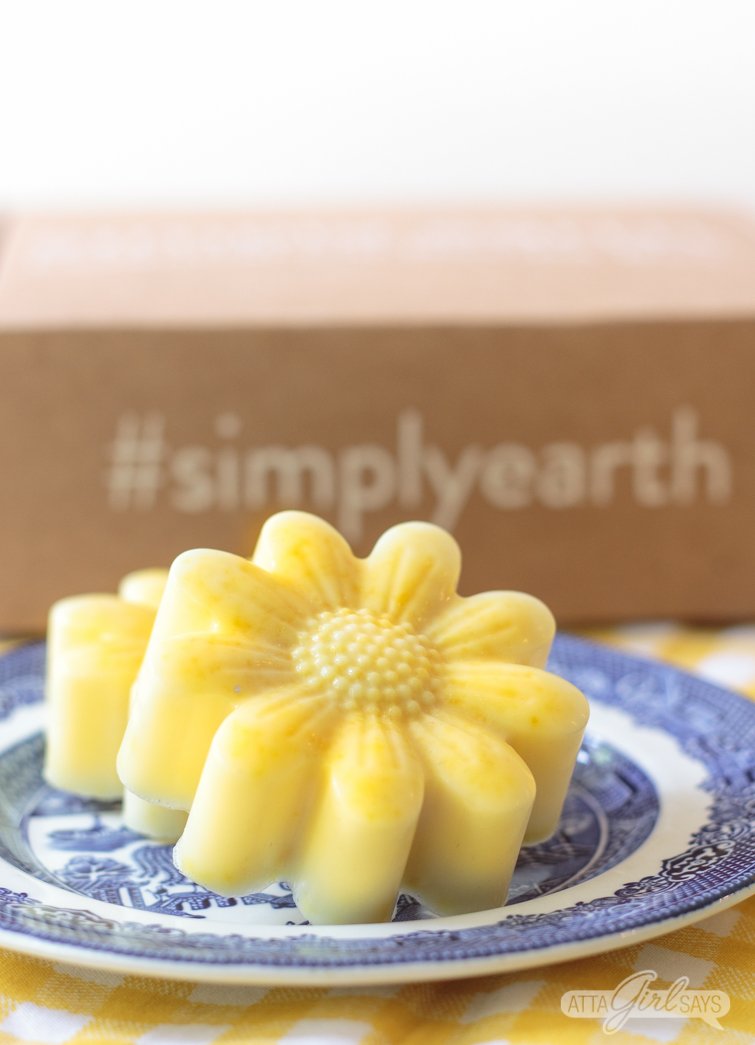 (Image and tutorial by attagirlsays)
If you have never made homemade soaps, then this is your sign to try it out. These melt and pour soap bars will only take 10-minutes to create. They get their vibrant colors and scent from all-natural ingredients. This soap has natural ingredients like honey, coconut oil, and oatmeal. The scent for these DIY soap bars comes from essential oils and natural lemon zests.
25. Rustic DIY Soap Bar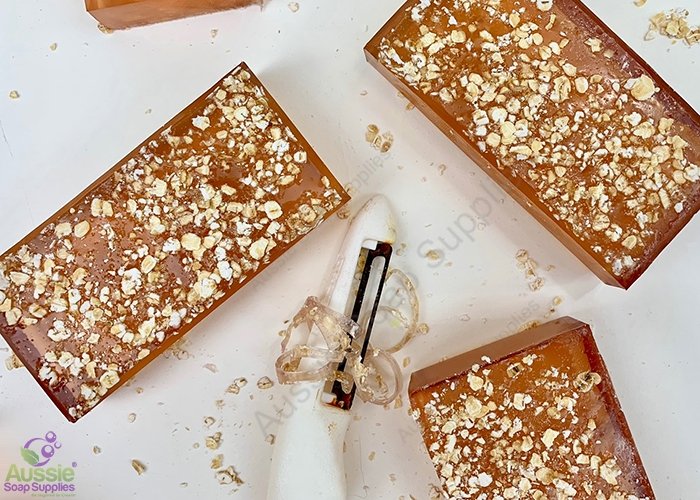 (Image and tutorial by aussiesoapsupplies)
If you are a fan of rustic and raw looks, then you are in for a treat! With a simple melt and pour technique you too can make these homemade soap bars. She has used natural ingredients like vanilla, honey, and oatmeal. All the ingredients are full of goodness that will leave your skin nourished and moisturized.
26. Baby Shark Do Do Do
(Image and tutorial by dollarcrafter)
Your kids will love these baby shark DIY soap bar craft ideas. It is a perfect craft project for little hands! If you are looking for an easy and fun craft idea for your kids, then this one's for you! She has used a simple melt-and-pour method to make these baby shark soap bars. And as these are homemade, they are perfect for the baby's skin.
27. Loofah Soap Bars
(Image and tutorial by dreamalittlebigger)
Making soap is not a big deal. It is easy, quick, and fun. But how about we throw in some loofah into the mix to make it a great exfoliator?! The loofah used in these DIY soap bars is natural gourd grown in the ground. This one is an excellent gift idea!
There you go, people! We have come to the end of this list of interesting and unique DIY soap bar ideas. Each of these ideas is unique in itself; they have their own pampering qualities. They are so easy to make and fun to get indulged in that you will love the whole process! Let us know your favorite ones in the comment section below. Happy soap-making, people!
If you loved these ideas, you can use the Pin image below and save this article on your 'Home Decor DIY Projects and Crafts' Pinterest board.