There is something about mason jars that screams classy. To be fair, I love mason jars, in fact, I have a collection of colorful mason jars. But did you know mason jars can be used in multiple ways and not just to store your favorite smoothie?
There are tons of mason jars crafts that you can explore and try out. You must have seen the internet and Pinterest full of amazing mason jars crafts, they might appear challenging but in reality, they are quite simple. For instance, here we have curated a special list of mason jars crafts ideas for you which will not require any high-end crafting skills.
Just a little enthusiasm and a little patience will be enough to give you mind-blowing mason jars crafts results. If you have not yet tried out mason jar crafting then in this pandemic season, go for something new. Because mason jars crafts are not just easy but also super fun to do and certainly too beautiful to ignore.
Here we have some more crafting ideas for you, in case you are exploring the world of crafting- 35+ Stunning and Creative Cardboard Crafts For Fun Activity. Also, check out some amazing rock paintings here on- 40+ Rock Painting Ideas For You To Play Around With.
1. Paint The Mason Jars Crafts
I am not a flower kind of person, yes, we do exist. But I would fancy some flowers because that is how much I like these mason jars crafts. These pink painted mason jars by amyhowardhome are so Victorian. The perfect shades of pink and the beautiful combination of a little darker and lighter shades have created a nice harmonious set of DIY vases. What I like the most about this mason jars crafts is the jute rope. It has given the mason jars a nice crafty and earthy touch.
2. Hanging Mason Jars Crafts
If you are looking for some crafting ideas for this holiday season, then try your hand at mason jars crafts. For instance, this crafting idea by studion20 is so sophisticated. I like how the mason jars have been left as they are, in their original form. And how can one overlook the fact that it is a hanging set of mason jar vases? The beauty of these mason jars lies in the flowers you will use.
3. Daisy Painted Mason Jars Crafts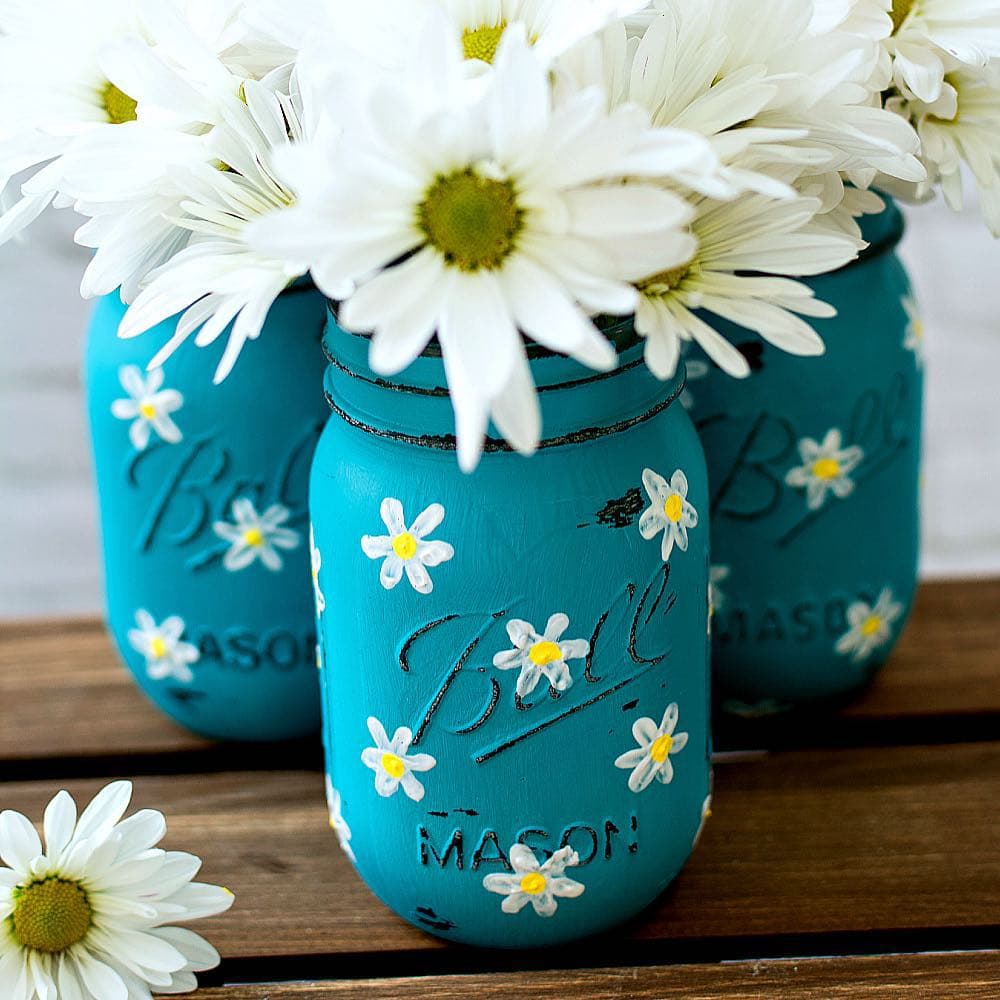 The Spring vibe is strong in this one. I love such mason jars crafts because of how aesthetically pleasing they turn out to be. Masonjarcraftslove has chosen a beautiful shade of teal color that has made the summer vibe more vibrant. And the little white daisies on the blue is a perfect contrast.
4. Faith, Hope, and Love
Three words that we need to be reminded about often. How amazing would it be if you could see them displayed beautifully at one corner or even on the fireplace? Cindyuebinger has made the perfect use of the mason jars. These mason jars crafts are so fancy and classy. And you get to have these spectacular mason jars with just a few basic raw materials. But I am digging the matte pastel look of these jars.
5. Farmhouse Mason Jars Crafts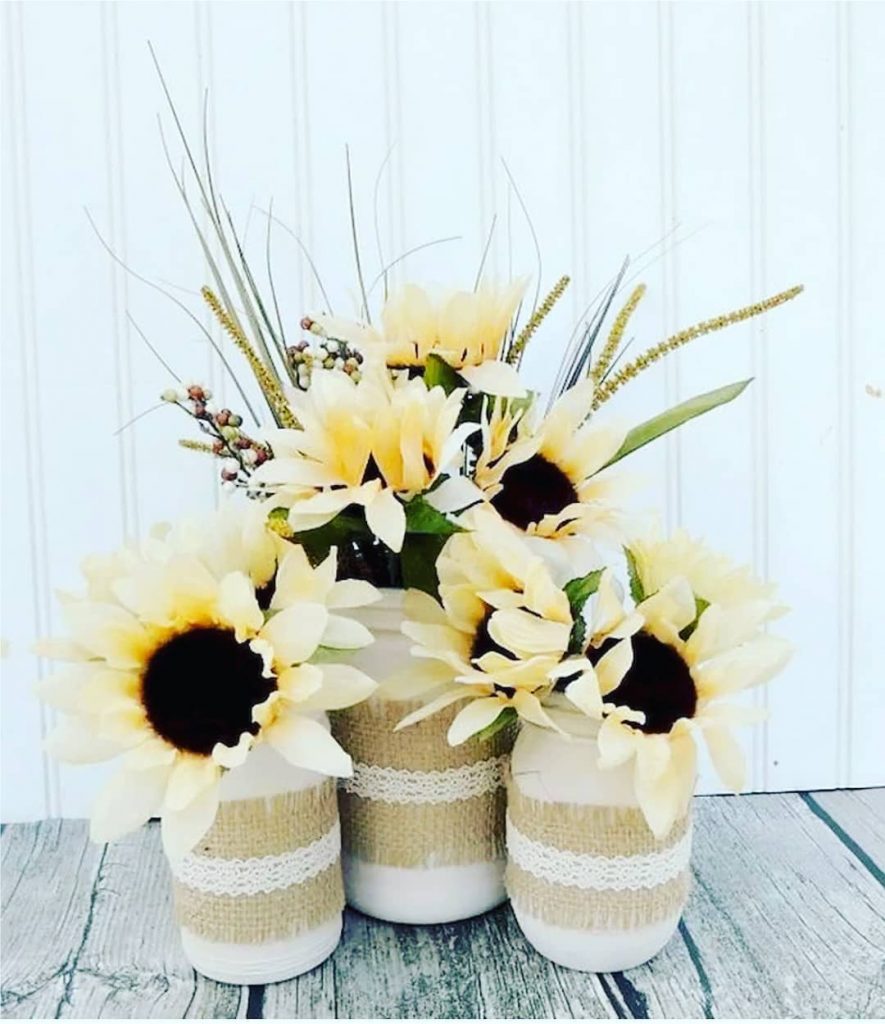 Burlap is certainly not a fancy or even a pretty product. But add some accessories and some paint to it, you will have an amazing end product. These mason jars crafts by godiygo is a perfect example of how even the most basic thing like burlap can look like some boutique custom-made fancy craft item. I like everything about this one. From the simplicity kept intact by the burlap to the subtle accessories and the perfect white paint, everything has made this piece of craft mesmerizing.
6. Christmas Luminaires
I am quite a lazy soul. So when I saw this one by calypsointhecountry I felt like the craft universe has blessed my soul! But honestly, look at these amazing mason jars crafts, who wouldn't like them? They are a simple yet so classy and festive make-over of the usual mason jars. All you need to do is fill the jar with some lush berries and place a candle to give it a festive vibe. Simple and sleek.
7. Hot Cocoa Kits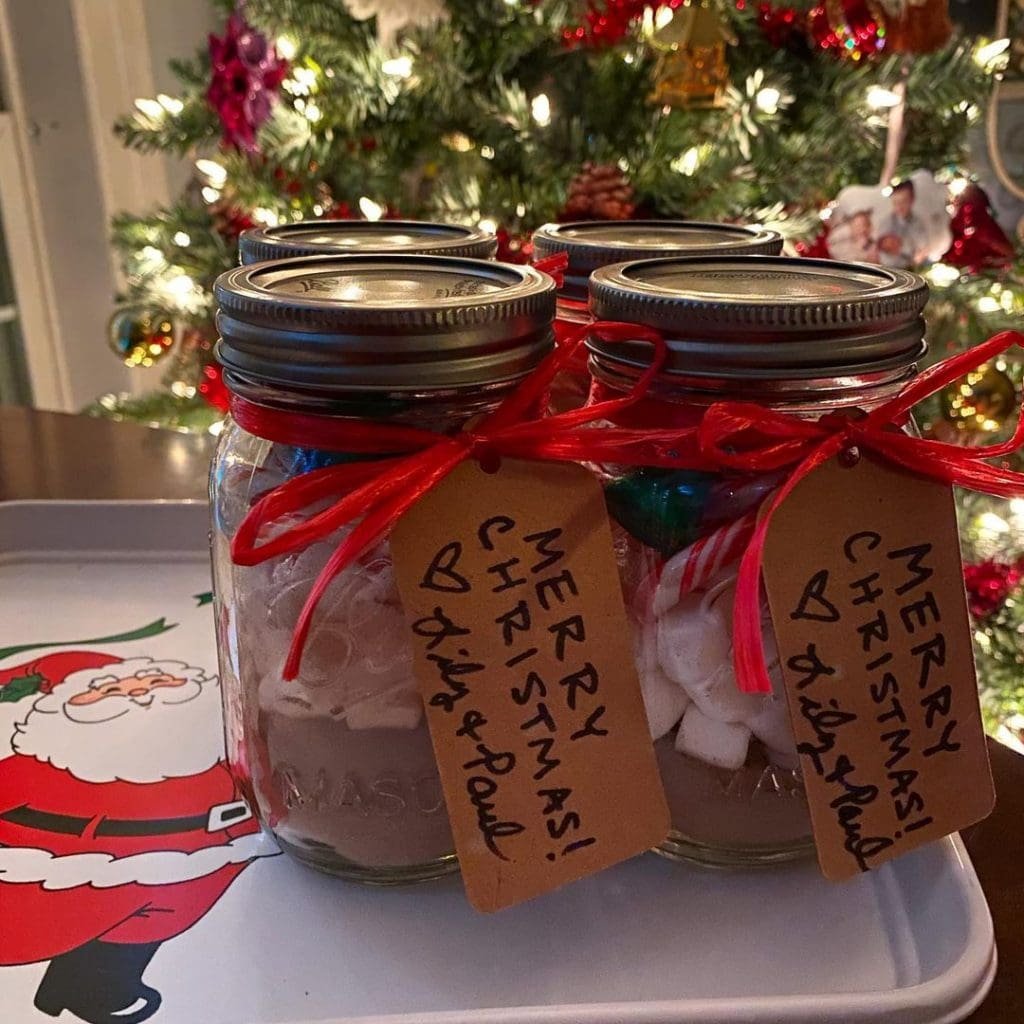 Mason jars crafts allow you to be innovative and experimental. Lilyccrafts has made these amazing mason jar cocoa kits as a token of love. These jars are simple, but the craft lies in the presentation. This is a great way to cheer up your dear ones. You can put in a little of everything, like some chocolates, some small solitaires, some gifts, and some candies. I like the extra notes of love that you can use to write special notes for your loved ones.
8. Net The Mason Jars Crafts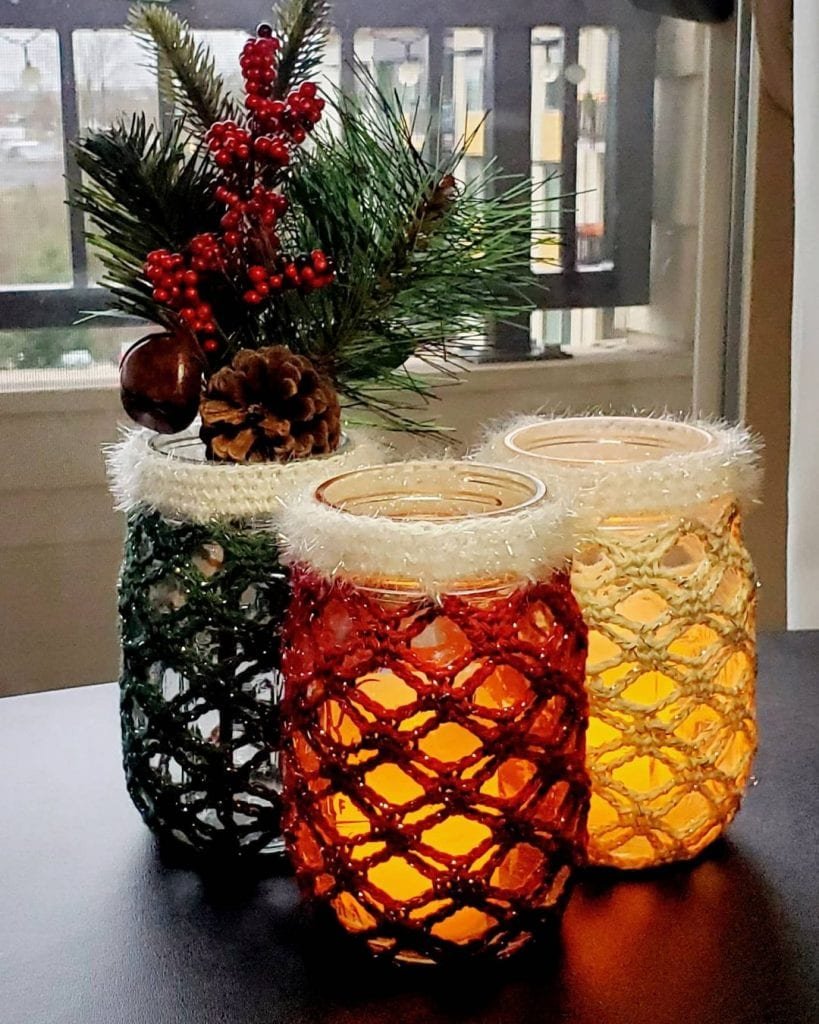 I like how simple yet so crafty this one looks. Handmadebyraine has used simple ropes of different colors to give the otherwise simple mason jars some extra character. I like the kinds of colors used, that is what has given these mason jars the quirky look.
9. Snow Flake On the Jar
If you are looking for some white Christmas themed decoration then this one might just win your heart. Folziesfindsanddesigns has kept pretty simple. The beauty lies in that single engraved snowflake that makes the winter theme stronger. This one is perfect for your archaic floral sticks for a nice dramatic addition to your corner table.
10. Fond Jars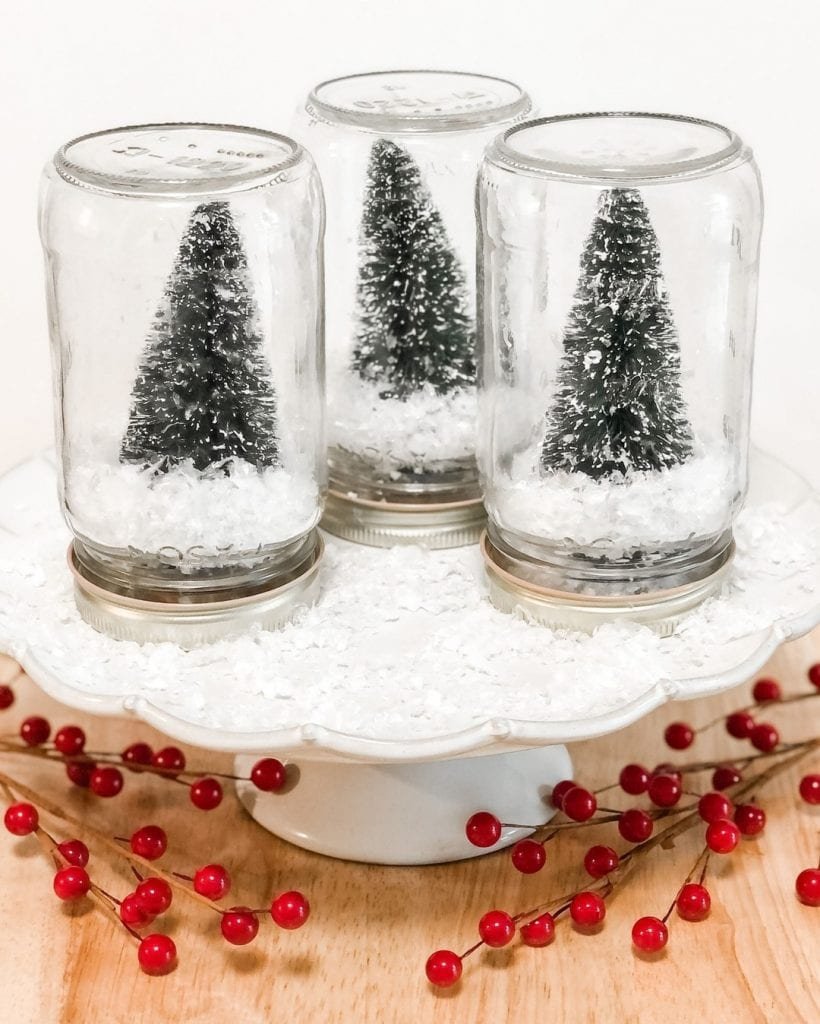 I mean how amazing are these mason jar crafts! Fondbonebroth has an easy solution for a much adorable looking mason jar craft. This one here is as simple as it can get, my lazy soul is in love with this beauty here. All you have to do is get a clean mason jar, stick a nice fake Christmas tree on the inside of the lid and fill the jar with some fake snow and close the lid. And voila! Your snow globe with a twist is ready.
11. Let it Snow On the Jar
These mason jars crafts look like something out of the world of Narnia. It reminds me of the witch from Narnia. Dieblumenjasmin has gotten seriously crafty with these simple mason jars. The fake snow all over the jar and that little touch of green figs and cheery has made these mason jars so realistic and yet so dreamy. You can even put in a small candle that will make a very surreal scene.
12. Candy Cane Mason Jars Crafts
Christmas is all about red and white, from Santa to the Christmas candies to the famous festive candy cane. These mason jars are colorful and funky. Masonjarcraftslove has given an extra jingle bell feel with the tiny bells. The minute details in this one are commendable, especially the red and white combination string tied around the neck of the mason jar.
13. Potpourri DIY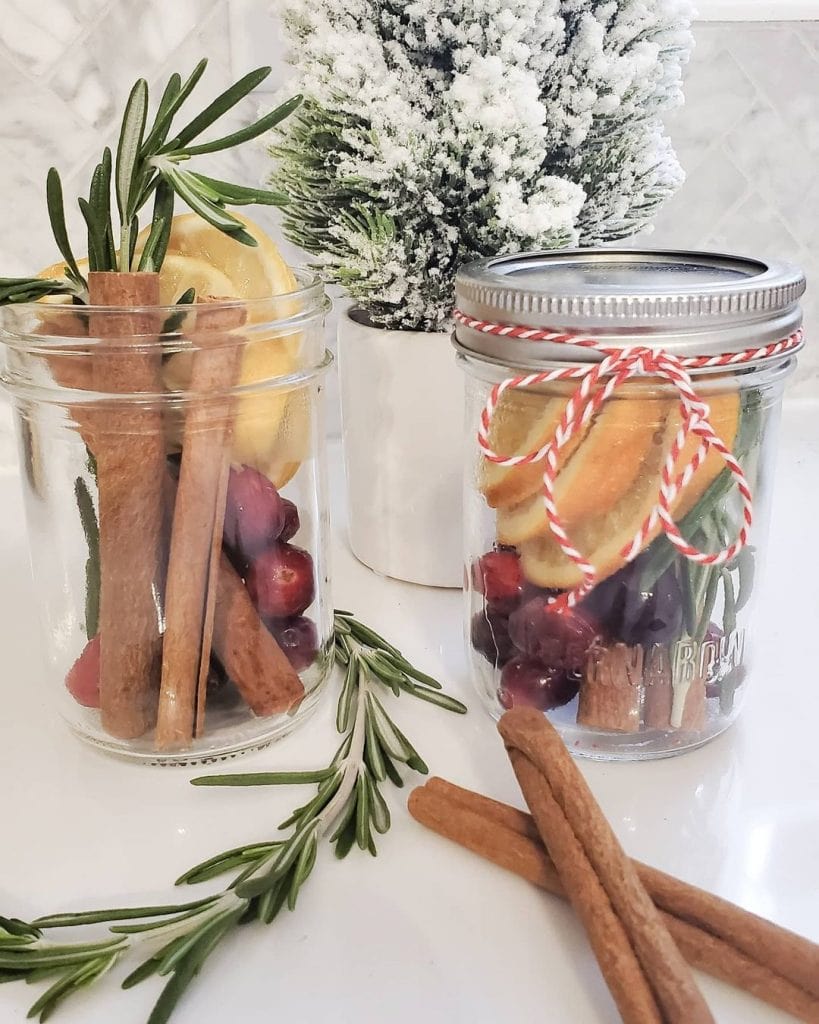 Have you ever seen those Hallmark movies where the lead is all smitten by the smell of Christmas? Well, you too can make your home smell like Christmas with these DIY potpourri by chrisrahal. All you have to do is just put in some dried fragrant herbs and spices and some dried fruits. When you want to use it, just fill the jar with 2-3 cups of water and let the aroma do the magic.
14. Supply Holder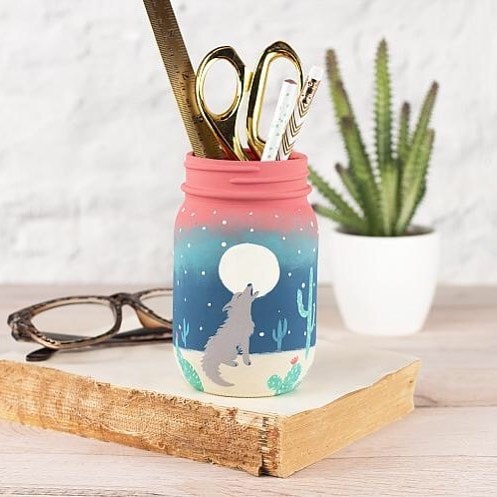 If painting is your flex, then this will certainly impress you. This peach and blue-based DIY holder by decoart are mystical. The mighty wolf and the moon has created a supernatural aura.
15. Redo The Grape Jelly Jar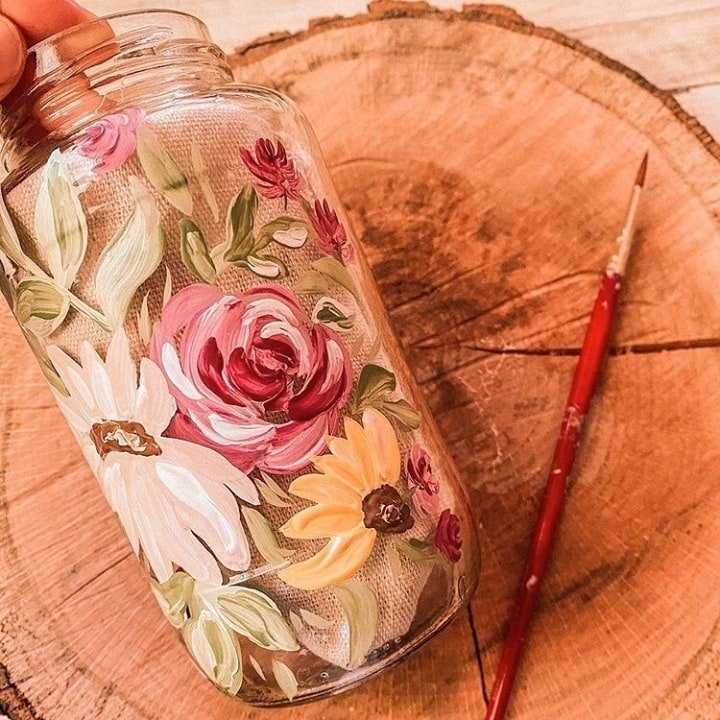 There are times when I buy some funny tasting jelly or chocolate only because I love the container mason jar. And mostly, these jars are pretty mundane. So when I spotted this mason jar painting by decoart, I was astounded. The floral patterns on this mason jar have given it a new look which is too beautiful to not love. The acrylic paint shades that have been used to give this look to this simple mason jar is fantastic.
16. Biscuit Jar
My little niece is obsessed with paint, like any other kid. I knew I had to paint a mason jar like this one here as soon as I saw it. Elle_vit_ses_reves has kept it funky. What I liked in this one is the way she has painted it, there is no snowman but how can one ignore that pointed carrot nose? The subtle presence of the snowman on the blue base is mind-blowing. Needless to say, my niece loved her Christmas gift.
17. Snowman Mason Jar
What is Fall without some good themed decoration? I love the winters, too many festive days, too many people to meet, and too many dishes to relish. But my favorite is the DIYs. For instance, artiste_cocob has painted a plain mason jar white and a smiling face on it. And the bright orange nose will get your attention right away. The flower is the extra touch that has given this mason jar craft a fancy look.
18. Tissue Dispenser
Mason jars crafts are quite versatile. How effectively solliecreations has transformed simple mason jars into useful tissue dispensers? This craft idea is practical and handy. It not only looks fun, thanks to the simple writing style used to write 'bless you', but is also very trendy.
19. Home Sweet Home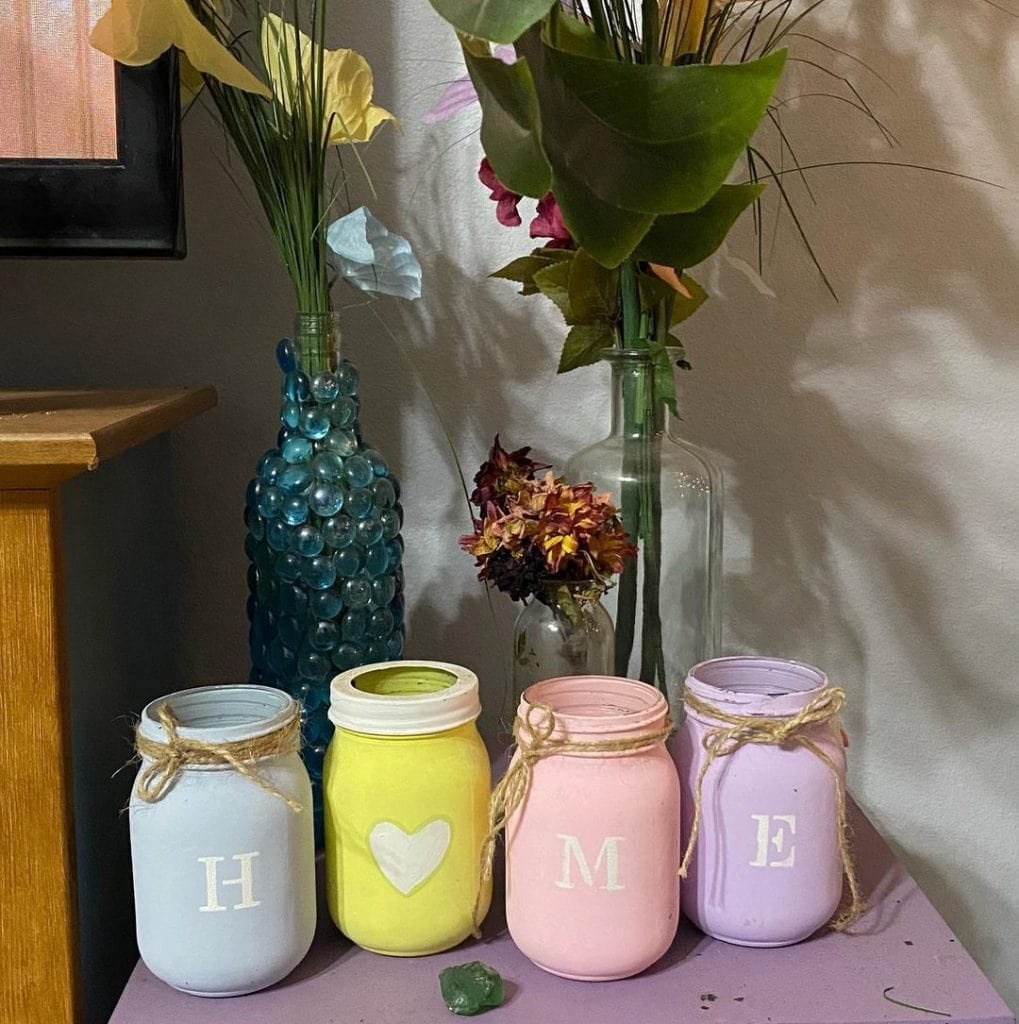 Mason jars crafts are useful, you can use them for anything- as containers, jars, vases, and so on. But when you paint it or use some craft ideas like this one here by icangrowinthat you can make these mundane jars a part of your decor. I loved this idea of making a word with single lettered mason jars. These DIY mason jars are perfect for the table in the living room that would get your attention.
20. Tribal Vibe
Okay, this one here by trendy_in_tn is probably the funkiest one in this list of mason jars crafts. With just a few accessories like the burlap and the bright sunflower, she has given this mason jar a nice tribal look. But what got my eyes were the big cute eyes; and the detailing like the strands of hair made with cutout papers. Any craftwork gets its beauty because of the minute details.
21. Hallo-ween Night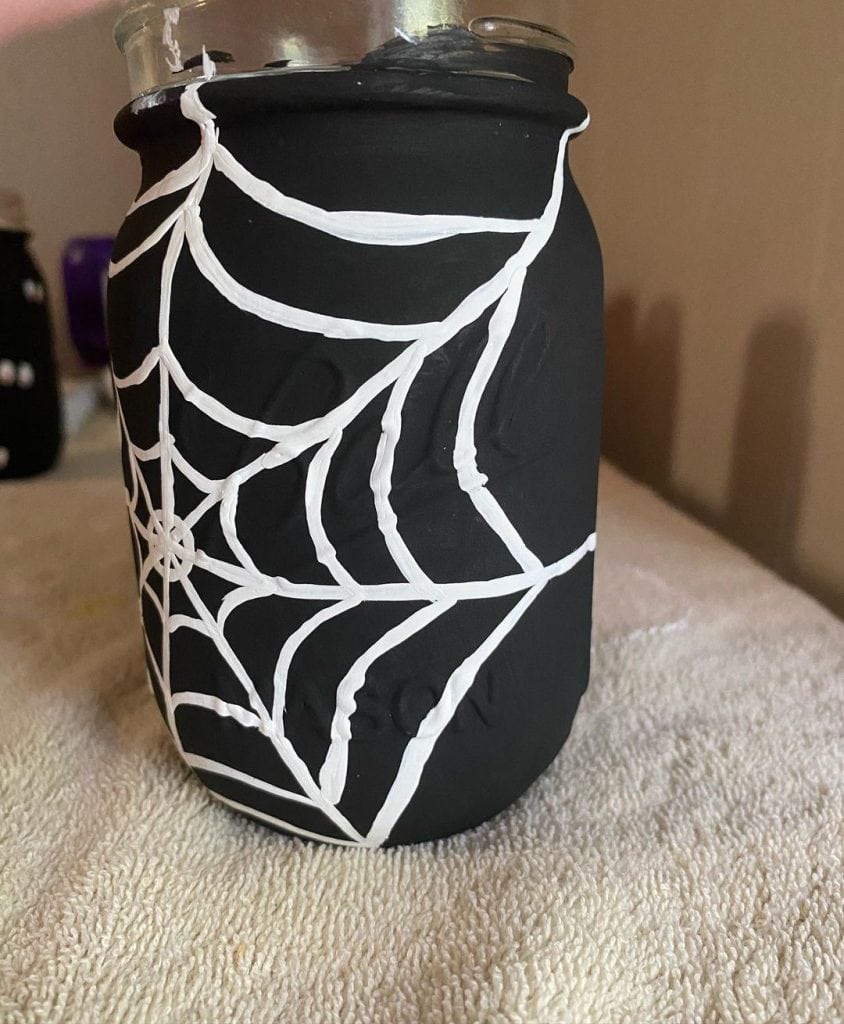 A good Halloween decor is incomplete without some nice spider web. So if you are a fan of horror nights and an eerie atmosphere then taylors_craft_lodge has the best option for you. This simple black and white combination is majestic.
22. Mason Jars and Fairy Lights
I am a fairy light lover. So these mason jars crafts by christmaslightsource give me all happy vibes. These jars are filled with battery fairy lights. It makes the jars sparkle and it is an amazing DIY idea for Diwali nights. You can also use it to dimly light up your room like I usually do it to create a nice peaceful ambiance in the room.
23. Mason Jar Luminaires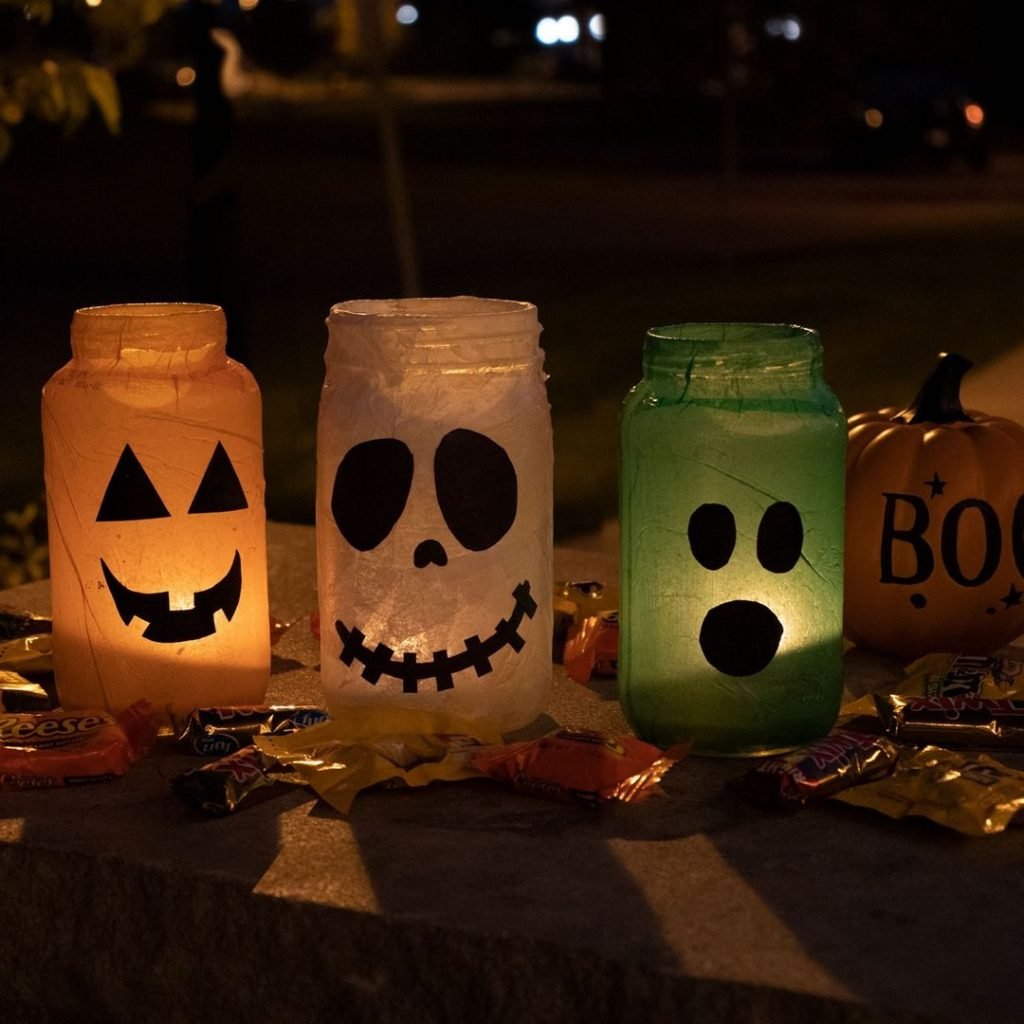 Mason jars crafts like this one are so effortless. Patioessentials has used simple supplies to create these cute DIY mason jar crafts. These are great for your front porch. You can, of course, put in a candle to give it a more creepy look. These luminaires are too cute to ignore, the boo faces have given these mason jars a fun look.
24. Autumn Candle Jar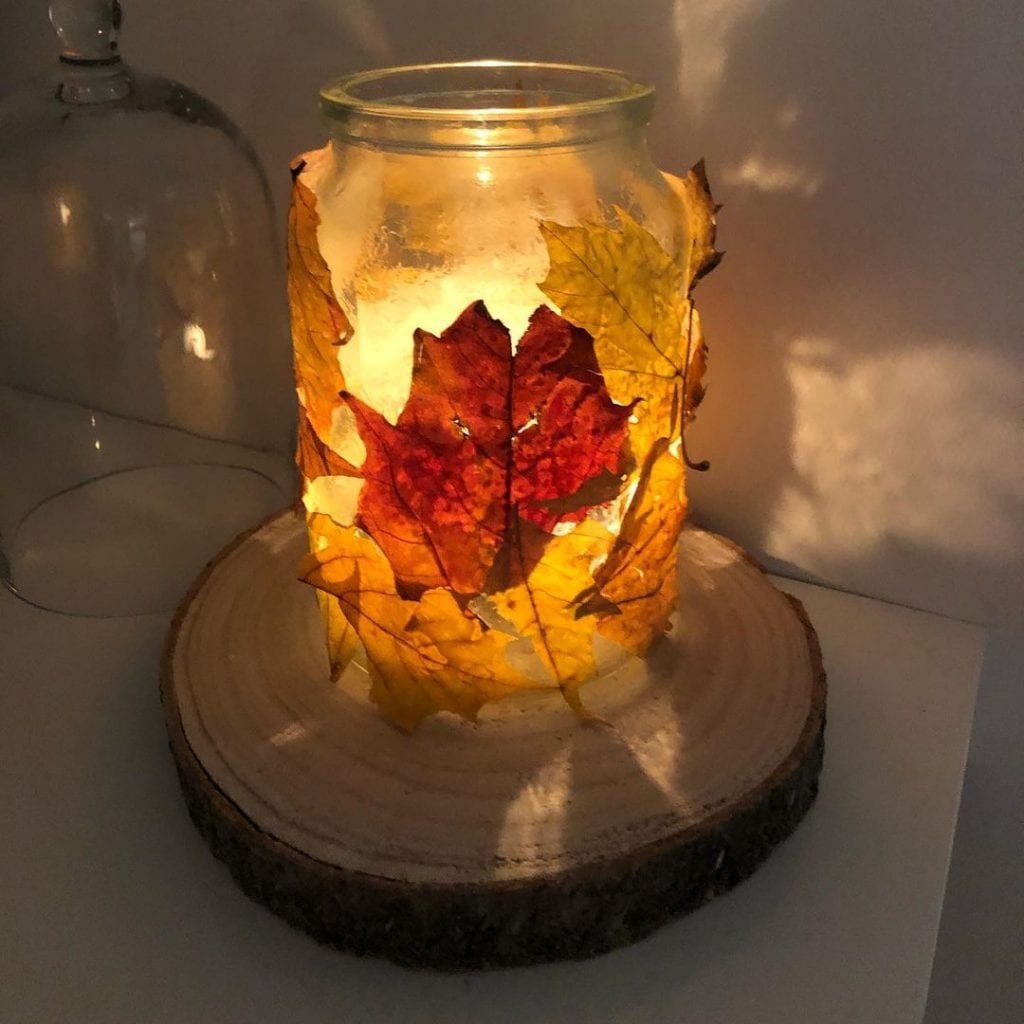 If you are not such a craft soul then ourcosyflat_169 has an option for you. It is simple. Take a washed mason jar, collect some good fallen leaves, some glue to stick it, and tada you have your own DIY mason jar, candle holder. This one is lit!
25. Little Pumpkin Friend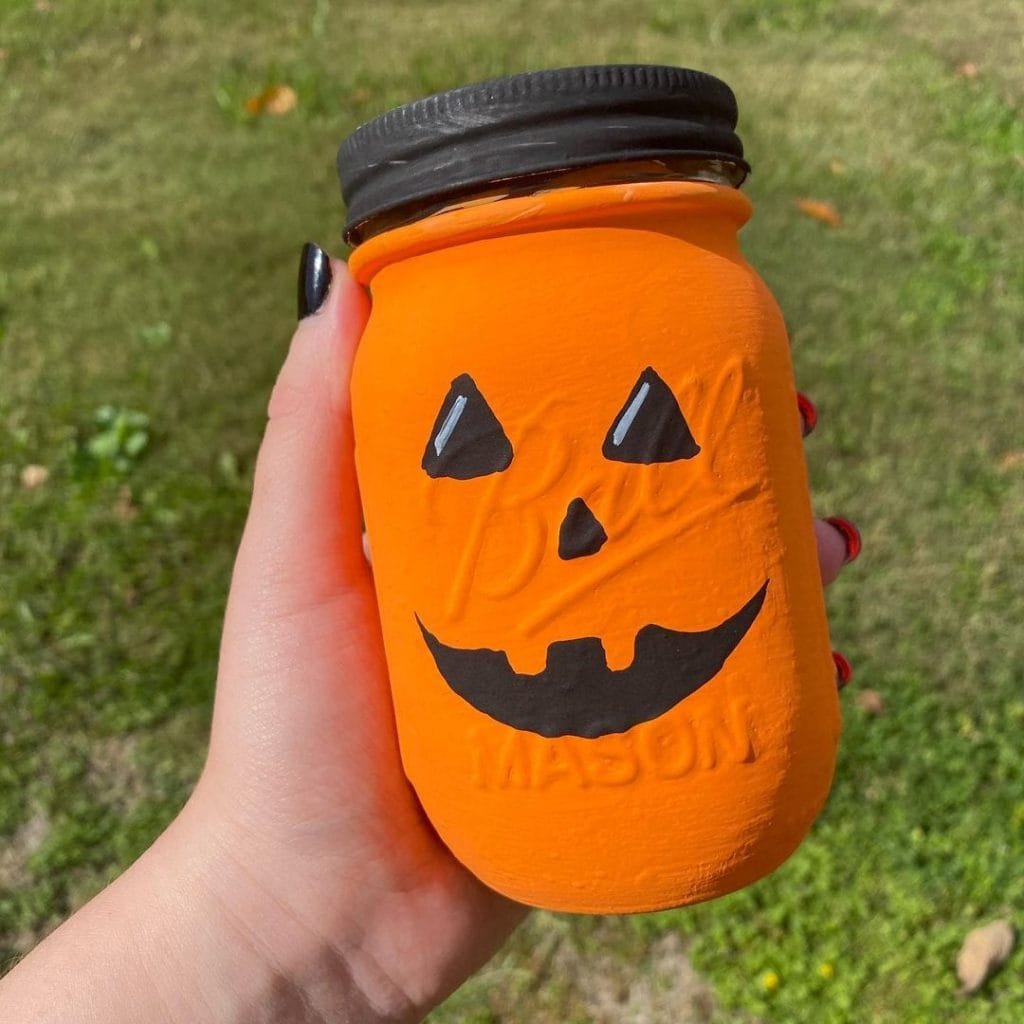 This little pumpkin friend by taylors_craft_lodge is a perfect Halloween decor. But if your kids will love this one around the year. So if you are planning to surprise your kid with a little token of love, this is an excellent option. This orange and black pumpkin mason jar is a new way to get kids to drink up the health drink.
26. Mummy Jars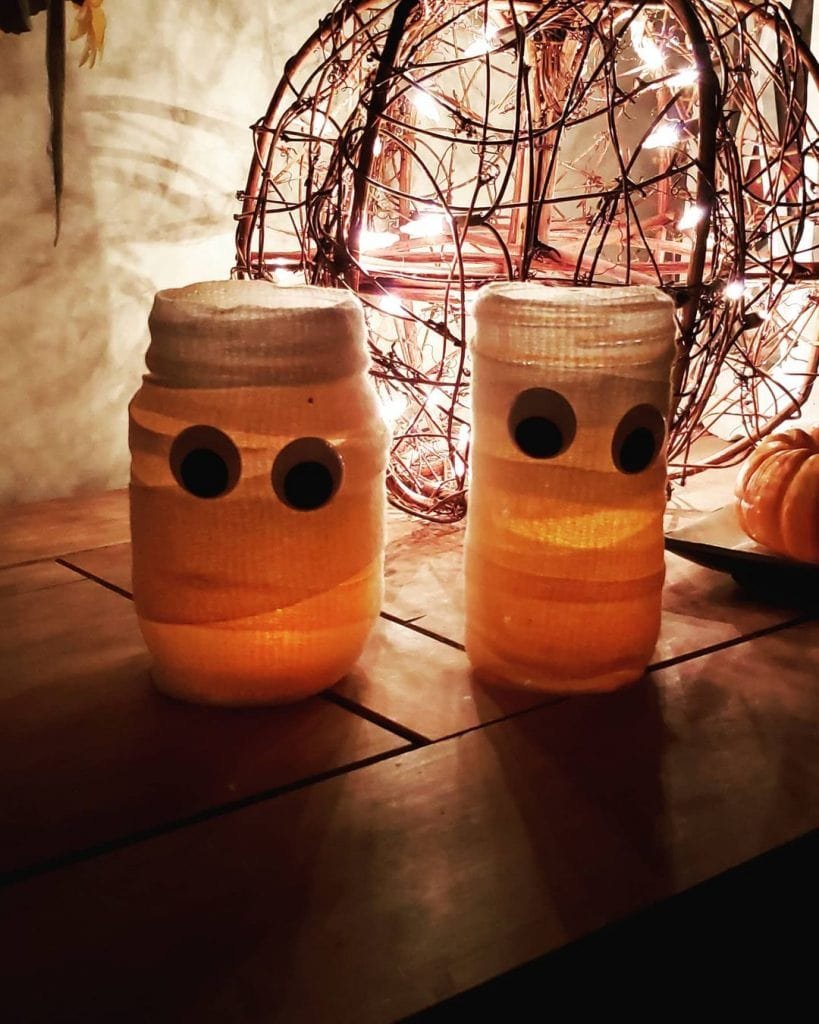 Can Halloween get anymore spooky! With these mason jars crafts, this Halloween will get an extra spooky edge. But what is best about these DIY mason jar crafts by lily_bird_crafts  is the ease. All you have to do is wrap the jars with some tissue or even bandage and paste some paper cutouts as eyes. And voila! You have your mummy jars.
27. Halloween Characters
If mason jars crafts could talk, these Halloween jars would scream 'Boo!' any minute. This one by thecraftycakerynj is the perfect crafts for kids. Crafting like this one here is a constructive way to spend the vacations or even the weekends.
28. Halloween Lanterns
Halloween lanterns like this one here by homeschooling_adventures_ is an innovative twist to the conventional Halloween lanterns. This is yet another craft for kids that will require minimal parent guidance. Let the imagination of your kids flow free with the colors and these DIY Halloween crafts. Paint the scary faces and you will see how it spooky turns out.
29. Halloween Faces
I think I have hardly ever seen a cute smiling Halloween pumpkin face. Experimentingwithcrafts has done it effortlessly. My favorite is the smirking face, it is too adorable. Get your kids to draw a few of the faces. Kids are imaginative so let their imagination take over this Halloween.
30. Bird's Egg Mason Jars Crafts
These painted mason jars are the perfect Spring display that you can recreate quite easily. Craftwarehouse has used a basic acrylic paint to paint 3 layers and then take a toothbrush and dip it in black paint and flick it all over the painted mason jar to give it a nice bird's egg look. This one here is quite crafty but easy enough for your kids to make it.
31. Minion Mason Jars
I have never come across a kid who has not liked minions. These crafty mason jars are yellow and fun. Craftwarehouse has used bright yellow acrylic paint, fabric Darice hats, large googly eyes, and some glue to make these minion mason jars crafts. These are excellent birthday gift options.
32. The American Style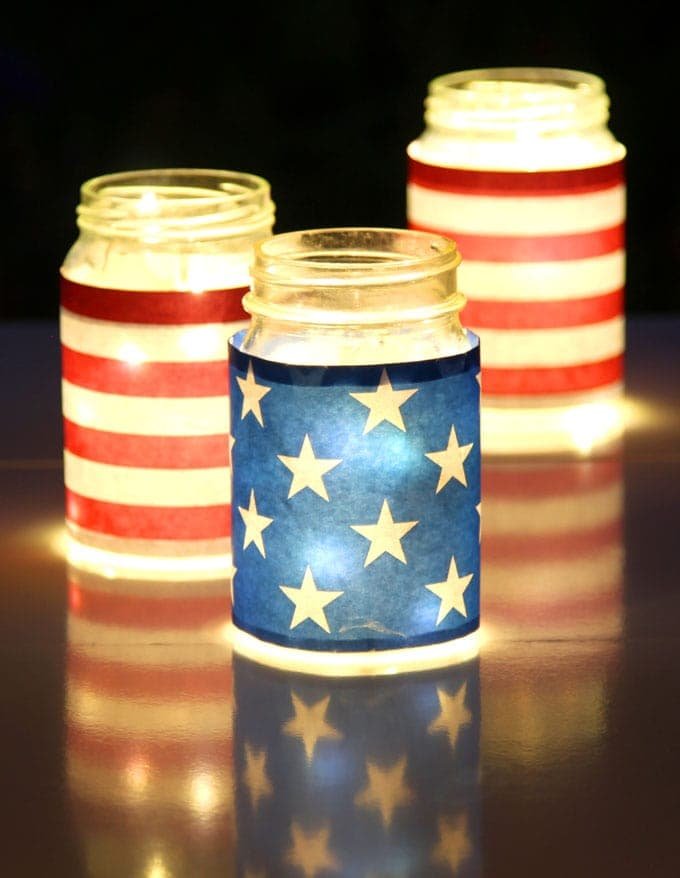 Masonjarcraftslove has given these mason jars an American style. It is a simple DIY where you can paint on paper and wrap it around a good old mason jar. But if you are a not so crafty soul like me then all you have to do is look for quirky and trendy patterned papers and glue them around the mason jar. Voila! You have your own crafty mason jars.
33. Heart On My Mason
These mason jars by masonjarcraftslove are the most simple ones in this list. If you love patterned papers then this is something you will love. All you need to do is get your favorite patterned paper and wrap it around the glass mason jar. Cut out a nice big heart shape in the center and tie a pretty ribbon around the neck of the jar.  That's it, that is all you need to own one of these DIY mason jars.
There you go! We have come to the end of the list of mason jars crafts. Here you will find all versatile crafting options. All of these options are easy and yet so trendy that you should certainly try your hand at a few of them. Add some fun decor touches to your backyard, your room, even your living with these gorgeous and whimsy mason jars crafts. Don't forget to mention your favorite one in the comment section below. Happy crafting people!
If you loved these ideas, you can use the Pin image below and save this article on your 'Mason Jar Crafts' Pinterest board.