Feature Image Source: homeguru_
Have you finally decided to declutter and organize your linen closet and putting an end to the filled to the brim messiness? Well, we have got you covered with some perfect and easy to recreate linen organization ideas. From wire basket storage to categorized shelves, you will indeed find the best plan for your linen closet. No matter how large or small, your closet is, these ideas will help you restock and tidy your closet in style. While you are at it, you might want to organize your kitchen with these Spice Rack Ideas and your garden plants with these DIY Planter Box Ideas. 
1. Mix n Match Linen Organization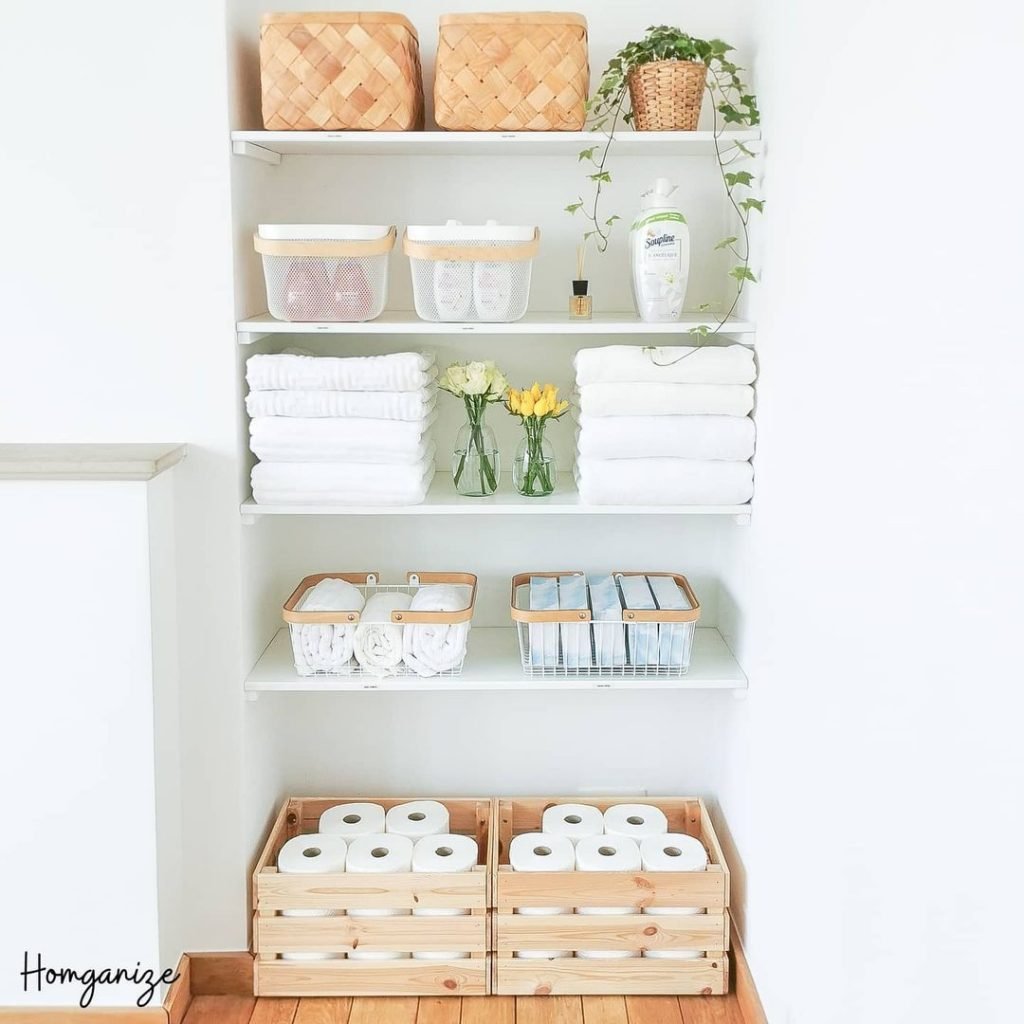 Source: homganize
While organizing your linens, it is important to keep them in style! So, try out this idea by homganize that follows a white and wood theme. The beige tones of the containers complement the white linens beautifully. This idea uses a combination of woven and wire baskets, plastic buckets, and even wooden crates. Finally, place tiny plants and diffusers for added freshness!
2. Baskets Full of Linens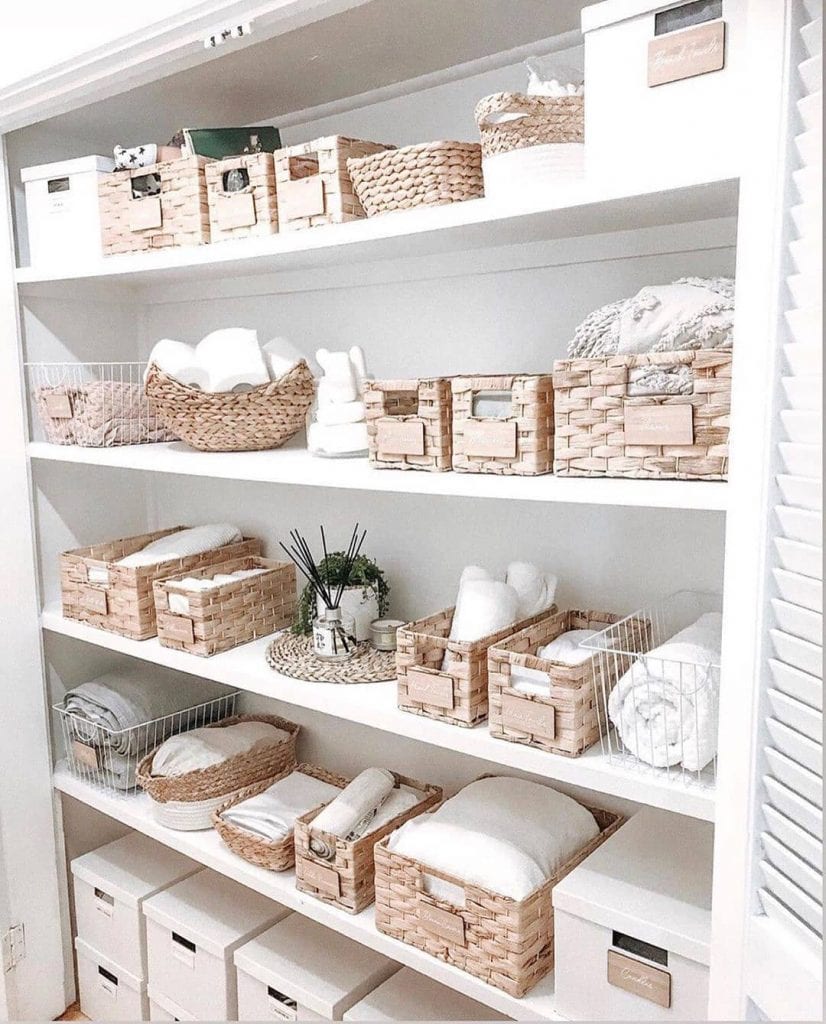 Source: nest_in_order
Baskets are a great way of keeping any space clutter-free. They are available in a bunch of colors, styles, and sizes. To recreate this linen organization idea by nest_in_order, pick up some jute/bamboo baskets of different styles and sizes. Place them on your closet shelves and add wooden labels to each. They are perfect for storing small handkerchiefs to large bathing towels, and even some bathing supplies. 
3. Neatly Categorized Linen Organization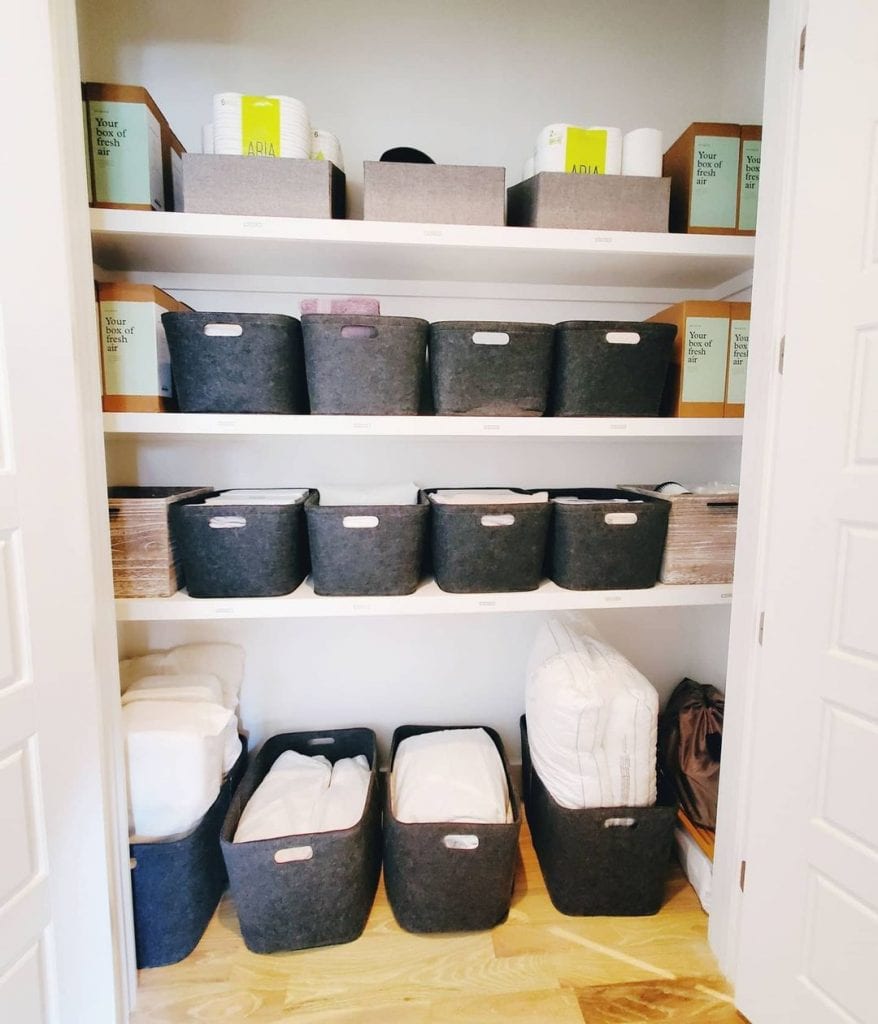 Source: organize65
A wide variety of colorful storage containers are available in the market at affordable prices. They are perfect for organizing your linen closet as well! This idea by organize65 places long black containers across the closet shelves. Each basket has enough space to store sheets, pillowcases, cushions, towels, paper towels, etc. You can also label each box and use the shelves for different categories. 
4. Labelled Linen Baskets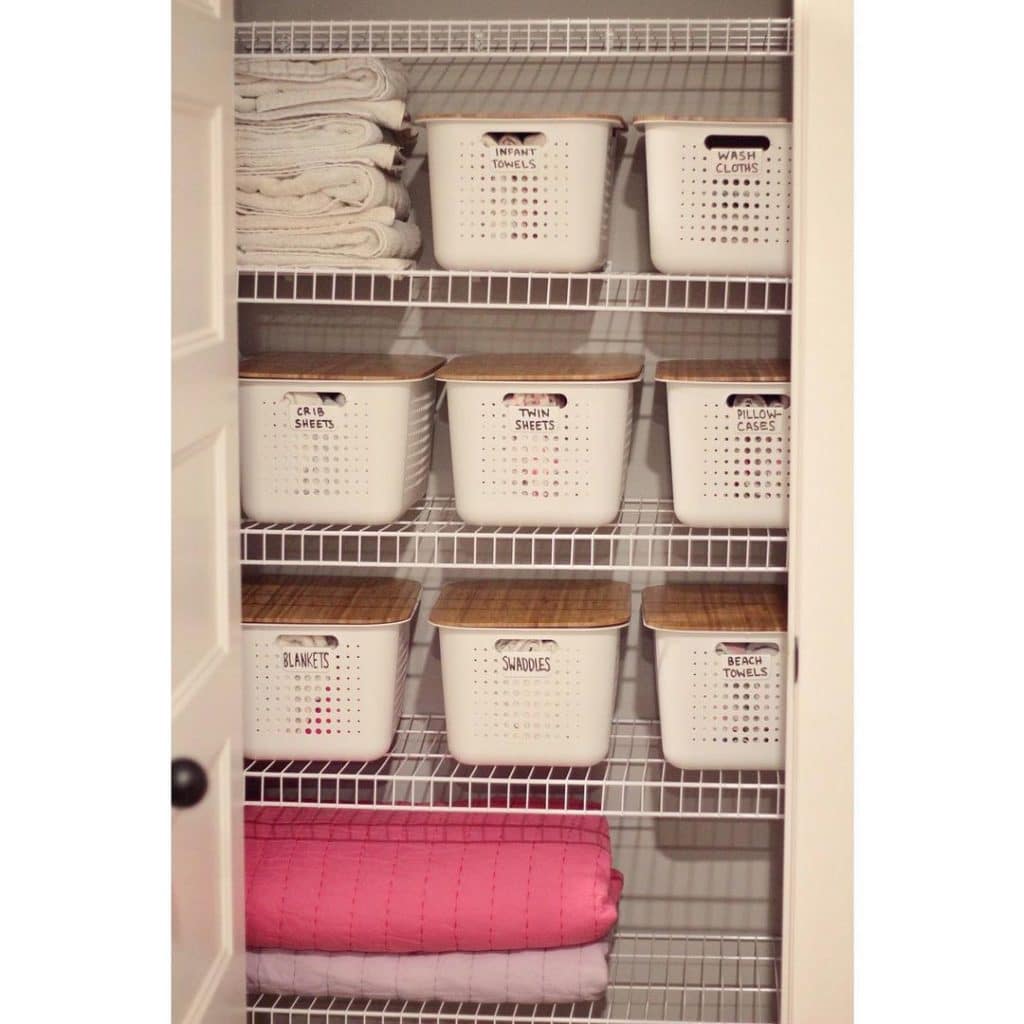 Source: organizedchaos_partyof8
Using a similar style of baskets for your closet adds a very stylish, neat, and uniform look. It does not cost much and makes your closet organization way more professional. These white plastic baskets with a wooden lid look very adorable in this linen closet by organizedchaos_partyof8. The tiny holes allow the air to pass, keeping the linens fresh! These buckets are labeled, making it a very accessible linen organization idea. 
5. Luxurious Linen Storage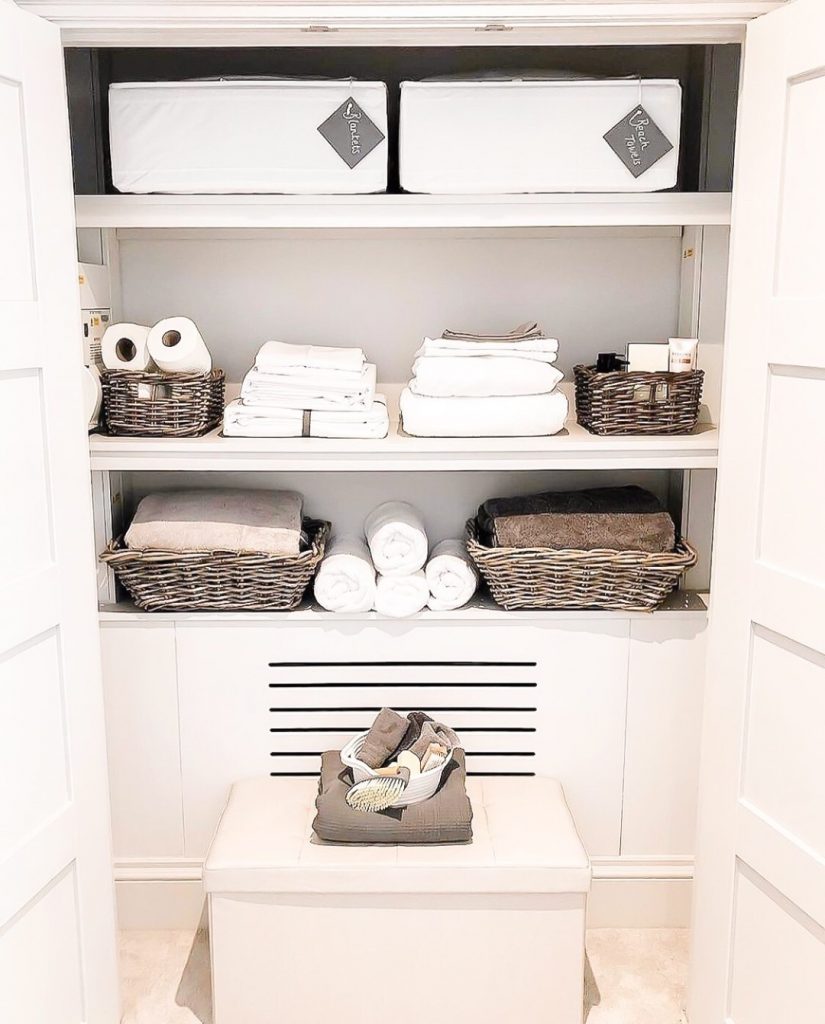 Source: homeguru_
Doesn't this linen closet by homeguru_ look straight out of a five-star hotel? Well, you can create one for yourself using some simple supplies. Buy some willow baskets of different sizes along with two large cloth organizers. Use the large covers for storing bath towels, blankets, or other heavy items. The small willow baskets are perfect for some toiletries and toilet rolls; the large ones are suitable for towels. For the sheets/covers/hand towels, you can roll them up or fold them neatly for this aesthetic look. 
6. Wired Baskets Organized Storage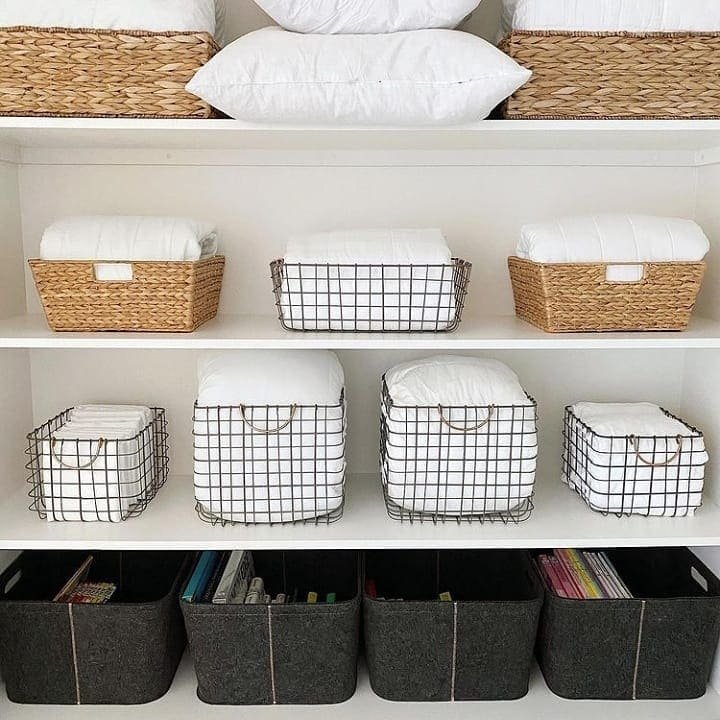 Source: home.orga
Wire baskets are a perfect choice for linen organization as they are readily available, affordable, and look very dainty. Pair these up with some bamboo baskets or plain fabric containers to add some variety. You can use each type of basket for a different item. This idea by home.orga is a real space saver and time saver whenever you want to use your linen closet. 
7. Fold & Stack Organization
Source: finallyclutterfree
If you do not want to invest in baskets, a simple and straightforward way of organizing your linens is by neatly folding them and stacking them. You can stack them by type and color. Use each shelf of the closet for each category, like towels, sheets and covers, and tissue rolls. Further, categorize by color on each shelf for a tidy and organized look. This idea by finallyclutterfree is a perfect idea for inspiration. 
8. White Linen Paradise Storage
Source: thelaundress
This linen organization idea by thelaundress is all about neat folding and adding one or two boxes for specific items. Even though the closet is packed with stuff; it is still very accessible and neat. Each item has an assigned space, and the tidy folding makes it very organized. The addition of tiny white boxes is perfect for storing linens and guest towels. You can also use these boxes for smaller items. The bottom shelf has a double laundry sorter for whites and darks to make your life hassle-free.  
9. Translucent Storage Containers
Source: organizebynina
Translucent plastic containers are perfect for your linen closet as they provide tons of storage and are easily accessible. You can easily organize any items in these containers, as shown in this idea by organizebynina. These tubs are useful for storing smaller items like shaving gels, toilet rolls, razors, etc. They are readily available in any store at affordable prices. 
10. Jute it Up Linen Storage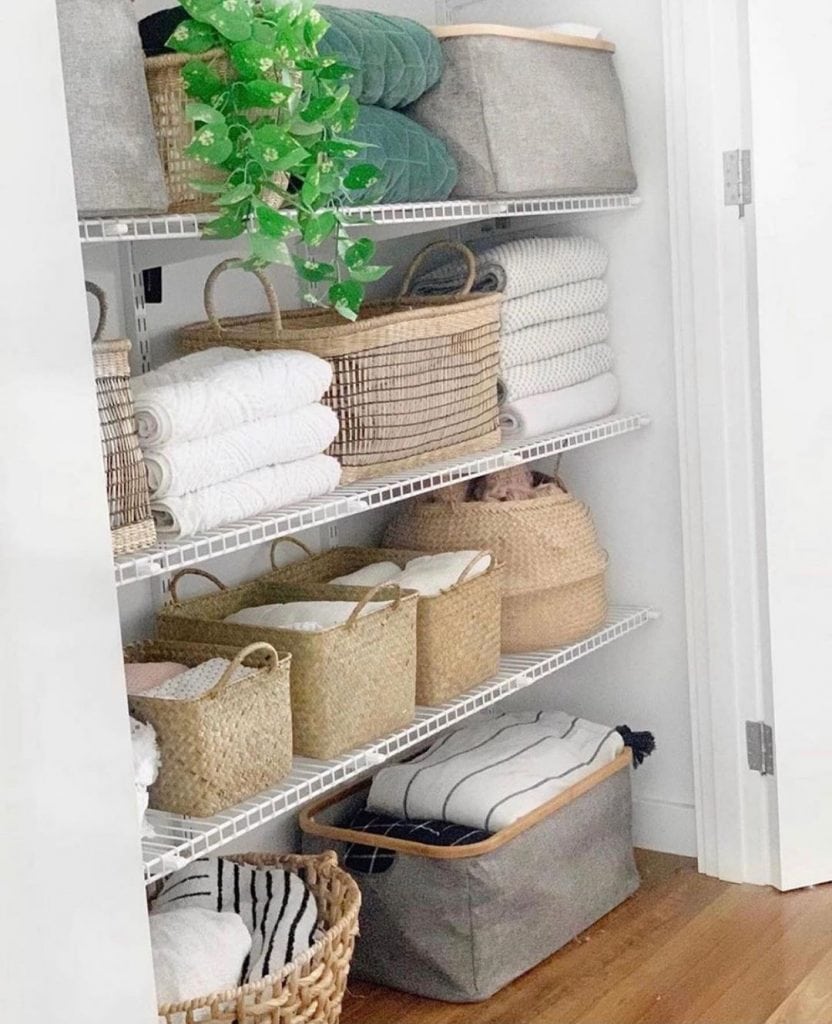 Source: the_edgeofstyle
This linen organization idea by the_edgeofstyle looks very fresh and neat with the use of adorable jute bags of different styles. Place the folded towels and blankets neatly, and use the baskets for smaller linens. It is a great way to declutter your closet and keeping it manageable. Also, you can add some fake plants for a fresh touch! 
11. Multi-Sized Wire Baskets Storage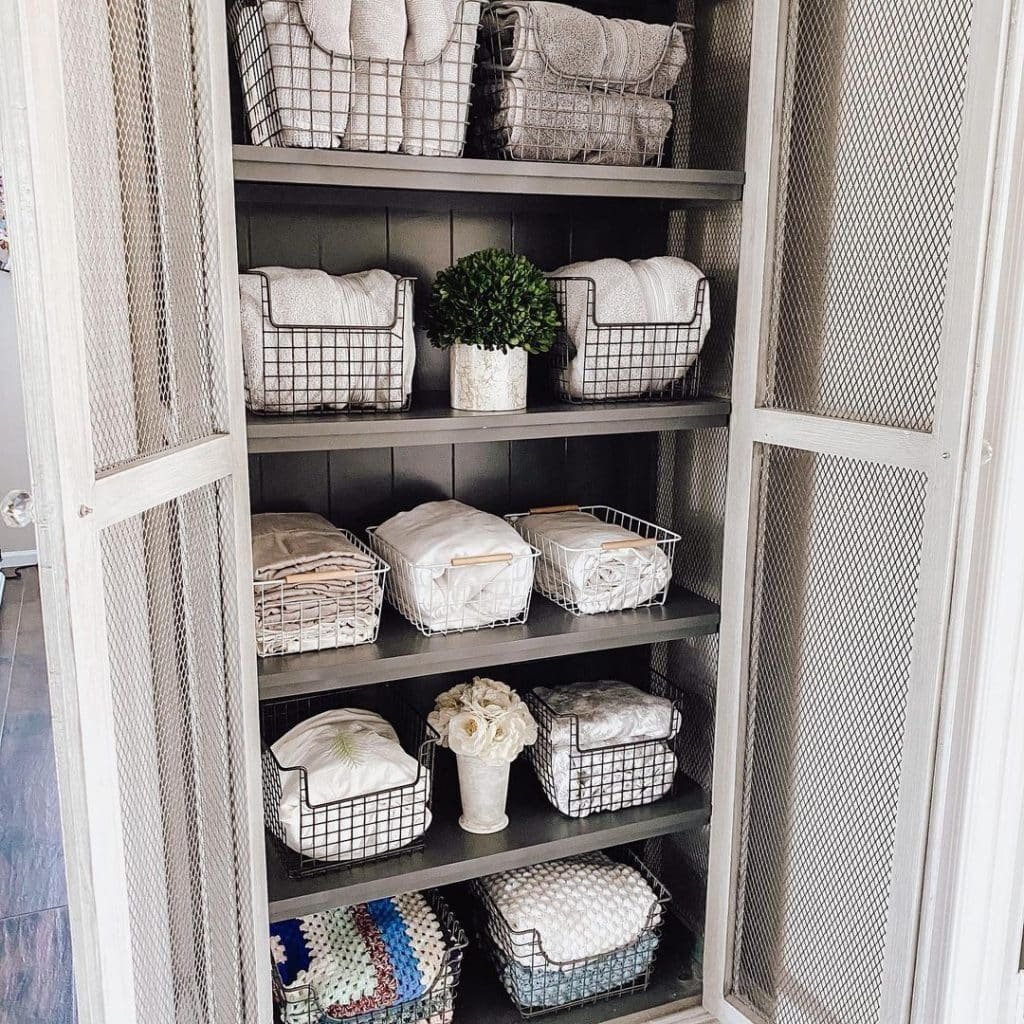 Source: talkabouttidy
Cover the shelves of your linen closet with wire baskets of multiple sizes to recreate this linen organization idea by talkabouttidy. You can choose to buy various colors like white, black, grey, or go for one color. These are perfect for holding small or large linens and other toiletries. Place a flower vase or a fake planter on one or two shelves for added elegance. 
12. Aesthetic & Accessible Linen Closet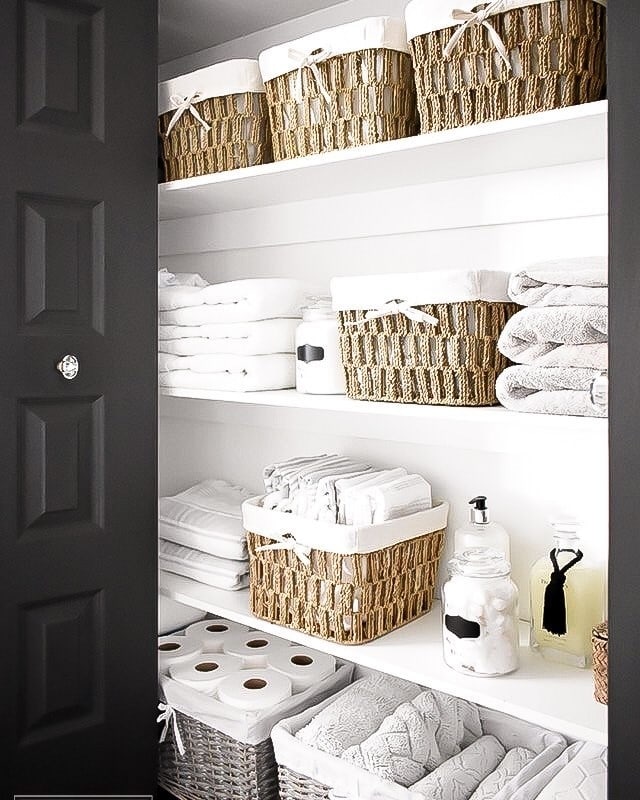 Source: homeguru_
I love how stunning and classy these white and jute baskets look in this linen closet by homeguru_. The baskets are big enough to hold some delicate linens, and the rest can be folded and placed on the shelves. You can use the shelves for placing some toiletries and tiny mason jars filled with cotton balls or other tiny items. The baskets can also be used to store toilet rolls and towels.
13. His & Hers Linen Organization
Source: mamaroane
Are you looking for a linen organization idea for you and your partner? Try this idea by mamaroane that divides the closet space into two halves for "his" and "hers." The labels are added to two baskets placed on the middle shelf of the closet. Different shelves are used for different items like towels, daily use items, laundry baskets, and miscellaneous items. 
14. Quick and Simple Linen Storage
Source: salerahomesolutions
No fancy baskets are needed to recreate this linen organization idea by salerahomesolutions. Start by emptying your closet and dividing the items into categories like towels, sheets, covers, toiletries, etc. Finally, fold everything neatly and stack them on the shelves according to your convenience. Stacking really helps save space in your closet!
15. Freshly Stacked Linen Closet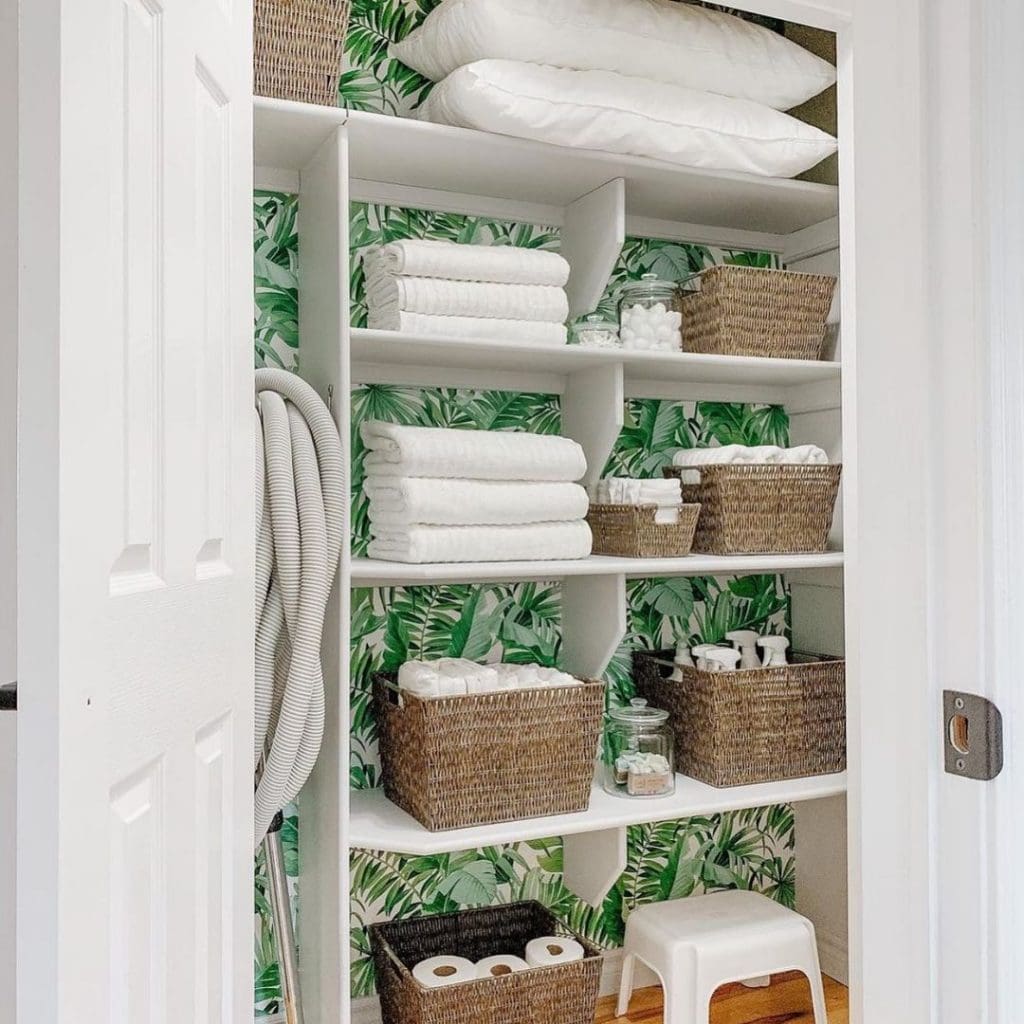 Source: ordinatoathome
I love how the natural wallpaper of this linen closet by ordinatoathome makes it so fresh and lovely! You can use a similar wallpaper to liven up the closet space. Next, grab some natural jute-like baskets for storing tiny towels, toiletries, toilet rolls. Grab some mason jars for storing cotton balls, soaps, etc. Finally, fold the sheets, towels neatly and place them next to the baskets. It ends up looking aesthetic and very organized.   
16. Wooden Cartons Linen Organization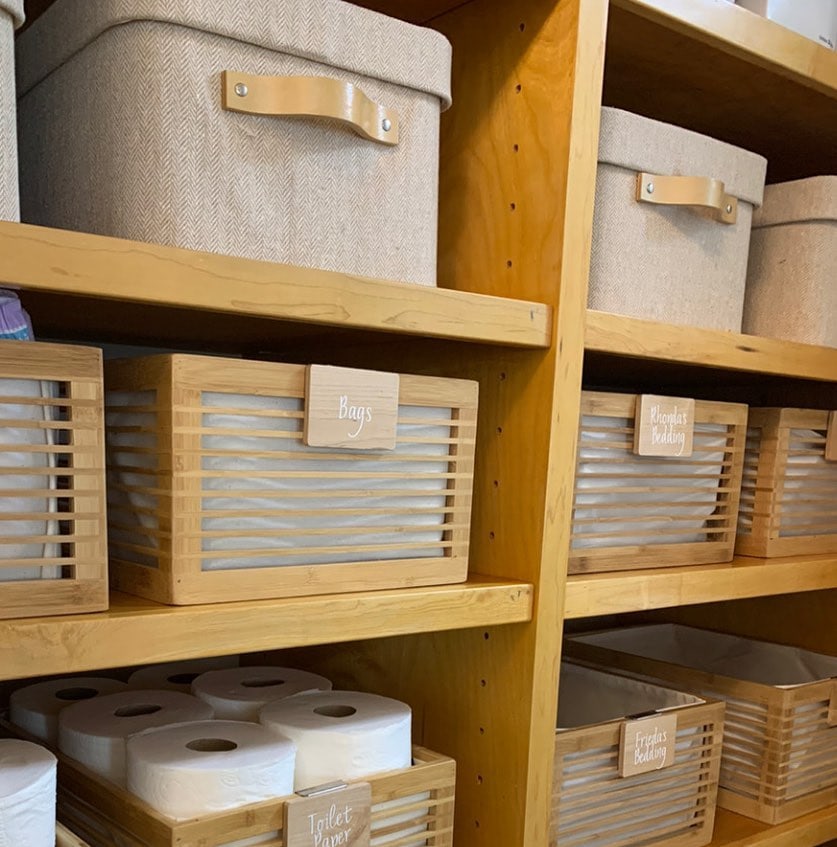 Source: gotclutter
Another great way to organize your linen closet is by matching the baskets with your closet interiors. In this idea by gotclutter, the closet has a wooden structure that is paired with wooden baskets/crates of a similar finish. The boxes are labeled for each category like toilet paper, bags, sheets, and covers for added convenience. 
17. Color-Categories Linen Shelves
Source: dtanaples
A simple yet classy way of organizing your linen closet is like this idea by dtanaples. All you have to do is group each item by category and color—for instance, grey towels in one group, white sheets in one, etc. Fold and stack each group together and place one category on each shelf. Try going from dark to light colors for a satisfying look every time you open the closet. 
18. Simple and Tidy Linen Organization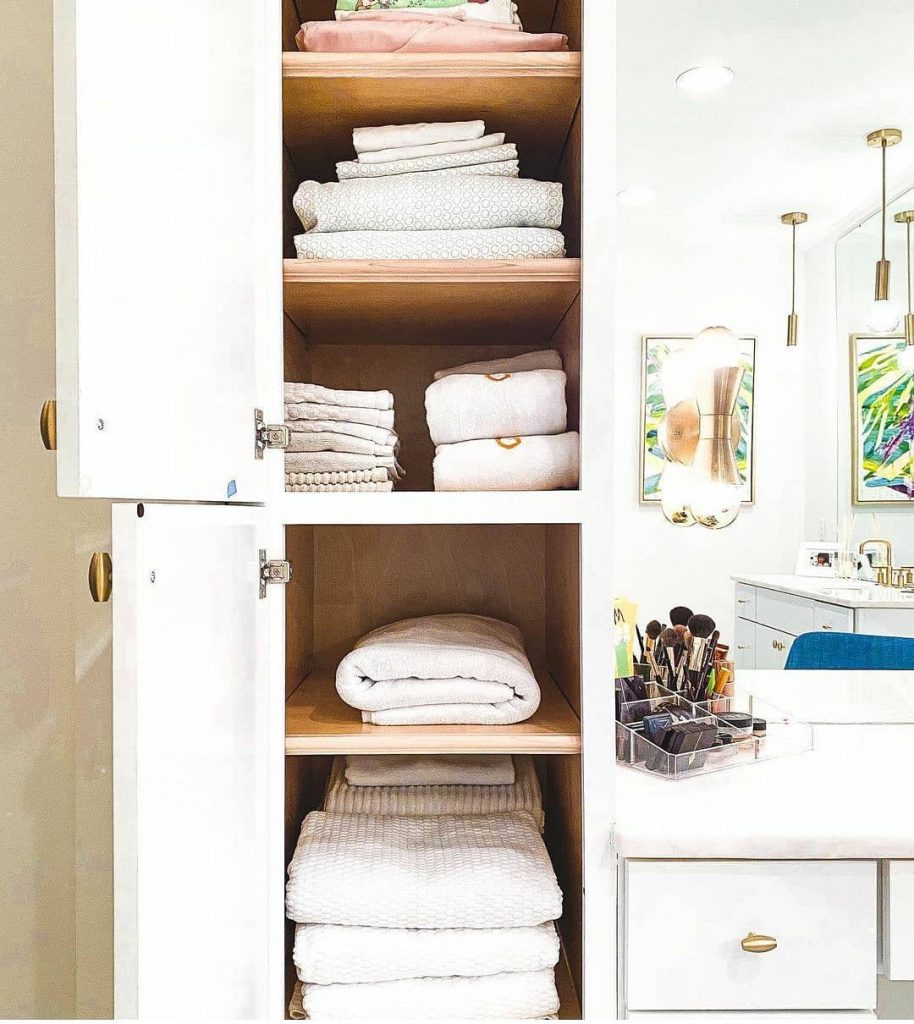 Source: simpli.livin
Even if you have a small linen closet, it is equally easy to keep it decluttered. Try this linen organization idea by simpli.livin. It is a narrow closet with deep shelves, and each shelf is used for one category. The items are folded and placed neatly on each shelf–towels in one, sheets in other, kids sheets in one, guest in other, and so on. It is a neat and simple way of organizing your closet.    
19. Boxes & Baskets Brown Linen Storage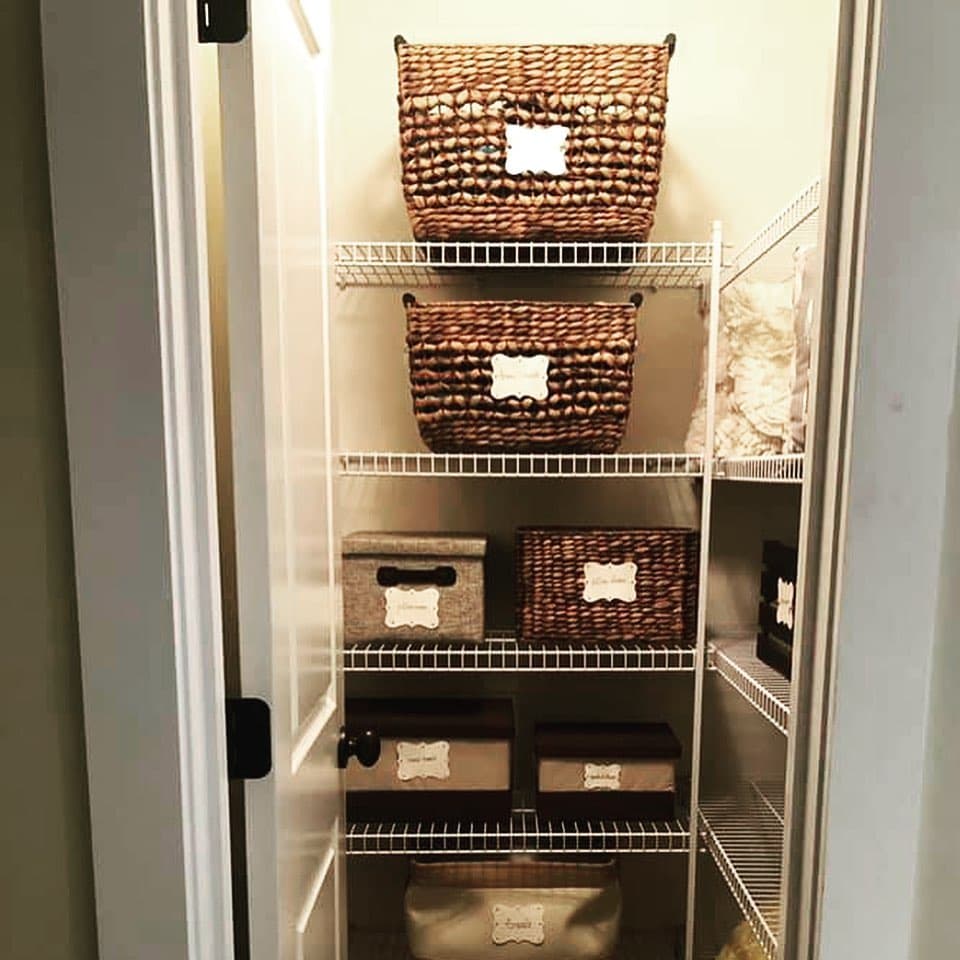 Source: ameliathecluttrqueen
This linen organization idea by ameliathecluttrqueen follows a brown theme. Each basket and organization box has brown or hints of brown in it. Also, each box is labeled according to the item inside for easy access. Choosing a theme color for the containers makes your closet look very uniform and organized. You can also reuse some gift boxes/delivery boxes for storage. 
20. Divided by Type, Matched by Color Storage
Source: barrehomeca
This linen organization idea by barrehomeca has a unique aesthetic to it and is equally "sorted". The entire closet has a dominant white tone, and each shelf is used for storing different items in different ways. Three large white bins are kept on the first shelf for storing cleaning items and toiletries. The second shelf has all the towels neatly folded and stacked. Finally, the third shelf is used for storing smaller items and toilet papers. 
21. Perfectly Organized Linen Closet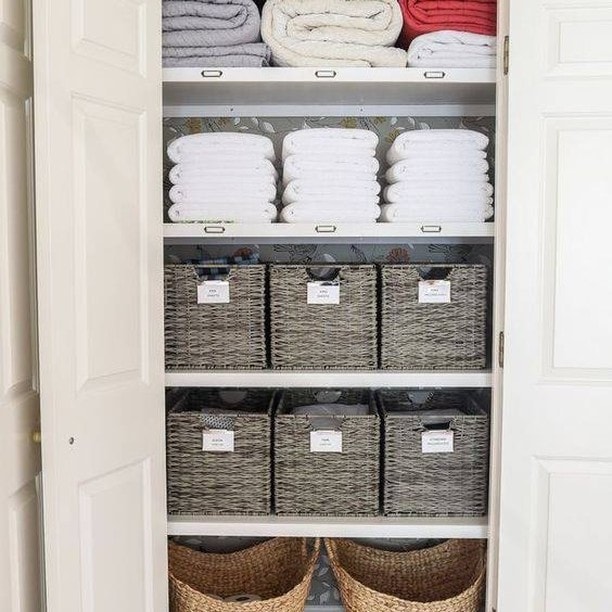 Source: thewardrobeclosetedit
I love the uniformity of this linen organization idea by thewardrobeclosetedit. Each shelf has three equal sections of either folded sheets/towels or baskets for storage. This uniform layout makes it look very aesthetic and neatly organized. It also helps you to keep your closet decluttered at all times due to the simple layout. 
22. Convenient & Manageable Linen Storage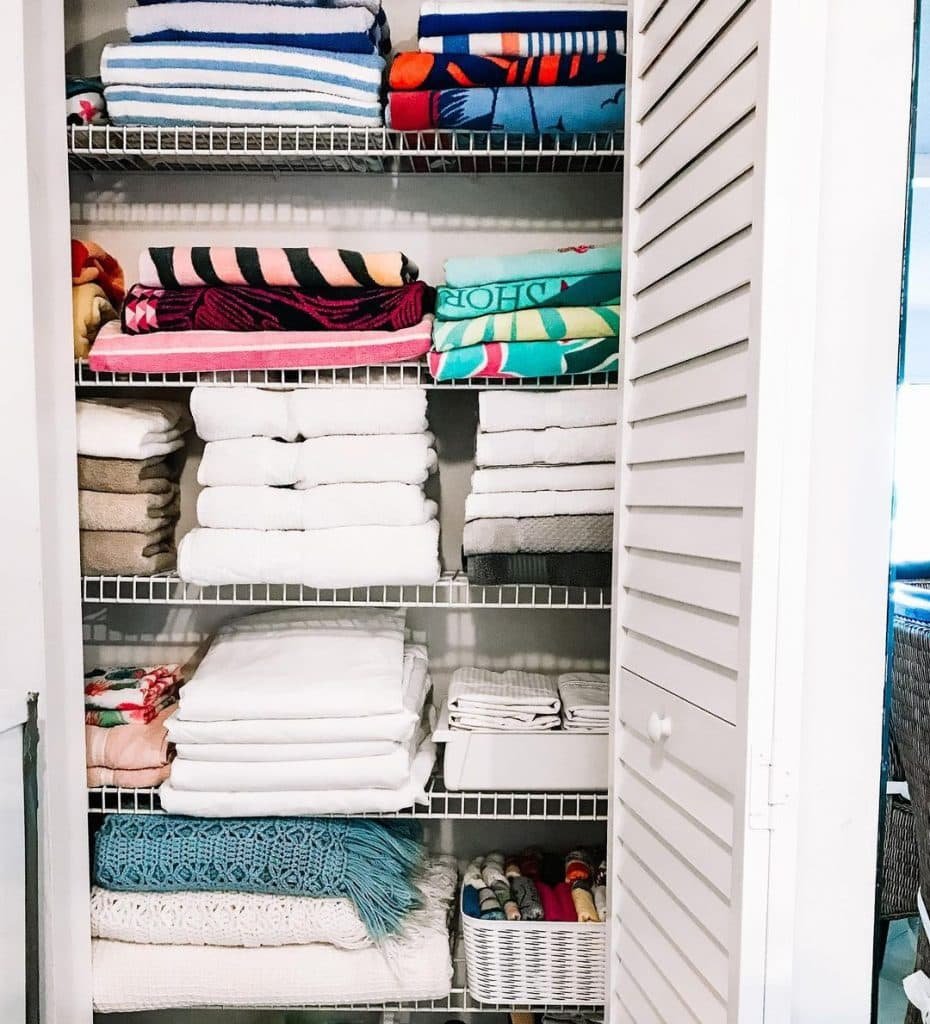 Source:  organizedspacesbygina
Here is another simple and straightforward way by organizedspacesbygina of segregating and organizing your linen closet. All the items are directly stacked onto the shelves after neat folding. The top two shelves have heavy blankets, followed by towels on the third shelf categorized by color. Bedsheets, pillow covers are placed on the next shelf, and the final shelf is used for storing throw blankets. These categories are great for convenient linen organization.  
23. Neutral Toned Sorted Linen Closet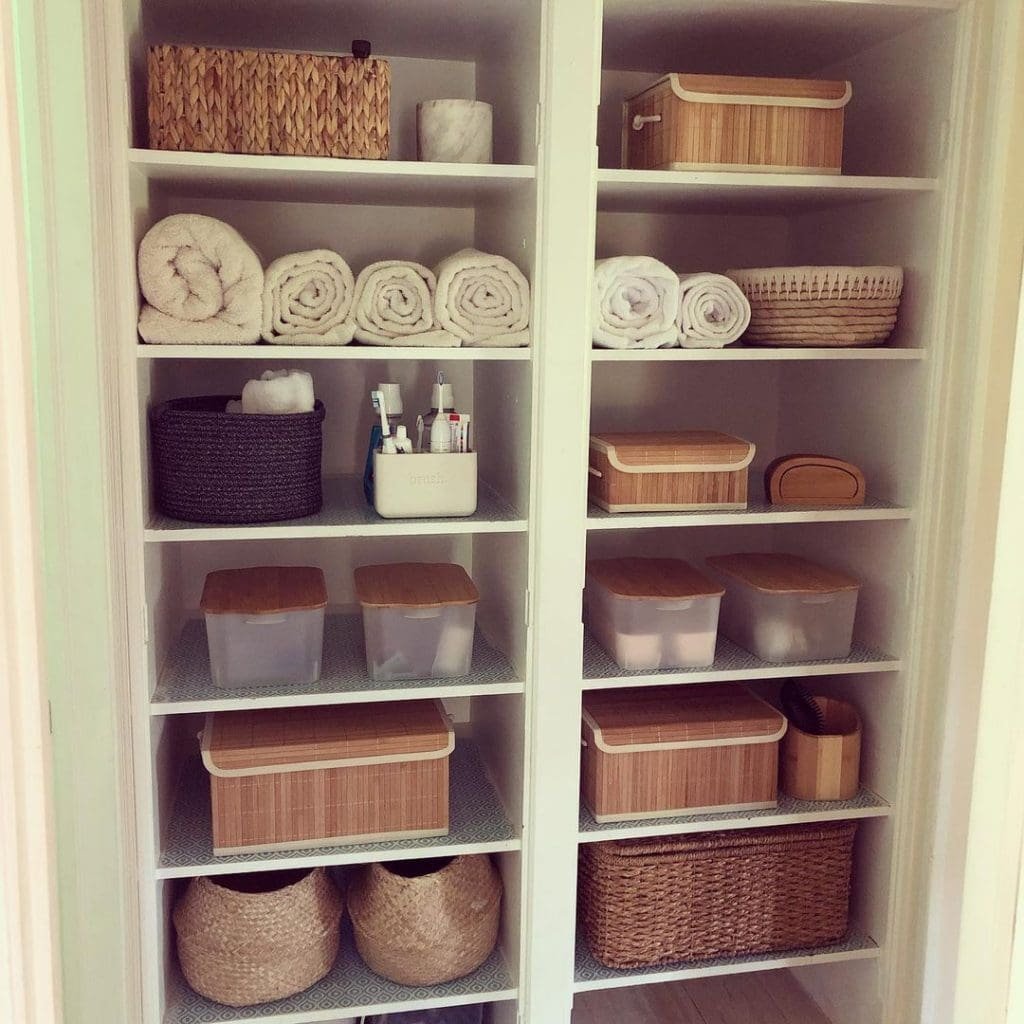 Source: organizationbykristy
If you have several tiny items to store in your linen closet, try this amazing idea by organizationbykristy. It uses several styles of neutral-toned baskets, boxes, and plastic containers. Most of the items are stored in these boxes, and the towels are rolled and placed neatly on a shelf. You can place the frequently used items on the middle and bottom shelves, while the rarely used items can go up on the top shelf. Finally, add some labels too or identify the item by the style of box you use to store it. 
24. All Ways in One Linen Organization
Source: sortedsf
The last linen organization idea on our list is by sortedsf, and it uses most of the tips we listed in this roundup. Starting from basic folding and stacking to wire and jute baskets and finally some mason jars for cotton and soaps. I love how using different ways of storage makes this closet look very organized and uniform. The smaller items are kept on the top shelf, while the larger items like a laundry basket and blankets are on the bottom. 
We hope these linen organization ideas would finally encourage you to sort out the piles of towels, sheets, and linens that have crammed your closet. Trust us! It would be a major satisfaction and relief once you clean it up. Also, using these ideas would help you easily keeping it clean in the future as well! 
If you loved these ideas, you can use the Pin image below and save this article on your 'Linen Organisation Ideas' Pinterest board.