Kids are obsessed with new things. I see my niece always engrossed in the slime and clay projects. But I guess even kids could use a break from slime crafts. These adorable mason jar crafts for kids are easy and crafty. Whether your kids love superheroes or animals, this list of mason jar crafts for kids has it all. Kids always love eye-catchy things, and this list will give you enough options to choose from. These colorful and funky mason jar crafts for kids will cheer the kids up and will get them all excited. 
This list of mason jar crafts for kids has a wide spectrum of varieties so you too will find something for your kids; something that they would love to make; something that will be perfect for them to work on over the weekends.
You can also check out some other craft ideas for kids here on- 15+ Amazing Tissue Paper Crafts For Your Fun Time.
1. Spider Mason Jar Crafts for Kids

If you are looking for some freaking fun time for your kids then this little spidey mason jar crafts for kids is an incomparable choice. This mason jar can be used as a candy holder. This spooky spider by homemadeheather has a spooky vibe to it making the Halloween theme stronger than ever. And kids love Halloween nights. All you need for this spooky spidey here are some pipe cleaners, a good mason jar, some googly eyes, black paint and brush, and some glue. And voila! You have your spooky spidey all set to creep out the Halloween guests.
2. Snowmen mason jar crafts for kids
Which kid doesn't love a snowman? Who am I kidding? Even I love a nice cute little snowman! So when I spotted this adorable snowman by craftymorning, I knew I had found the winter vacation craft idea for my little monkey. Mason jar crafts for kids ideas like this one is absolutely feasible by the kids with a little help. All you have to do in this one is to paint the jar white, wait for it to dry. Then stretch the Christmas socks over the top of the jar to give it a nice hat-like look. Next, you add buttons, a face, and some cute eyes, and ta-da! You have built your own snowman mason jars.
3. Apple mason jar craft
This pandemic and the global lockdown was hard on all of us. Most of us found some new hobby and discovered a new talent. While I discovered a love for paintings, I introduced my niece to crafting. So when I saw this apple by rufflesandrainboots I knew my niece would love it. And why not? This is not simply a pencil holder, it is a beautiful pencil holder. All you have to do is paint it red, and the lid has to be green of course. Add some details with the paper cutout leaves and tie a nice string around the neck of the jar for the aesthetic touch.
4. Colorful Mason Jar Lanterns
These charming outdoor ornaments are the perfect kind of mason jar crafts for kids. I think luminaires make any usual ambiance look way better and festive. For instance, these simple mason jar lanterns by happyhooligans are perfect for backyard decoration. If you can just drop in a tea light inside it will look mesmerizing. This is something your kids can make for grandparents or even the neighbors.
5. Mason Jar Aquarium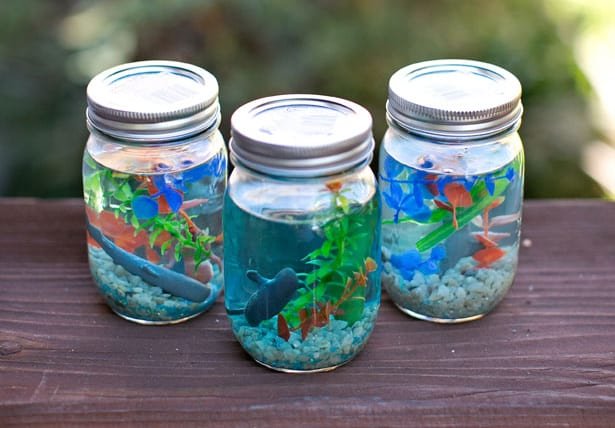 This mason jar aquarium by hellowonderful is a clever DIY hack. It is simply fun to pretend a toy that will give the kids a feel of the aquarium without the actual fuss. Unlike the other mason jar crafts for kids on this list, this one here is simply a toy and is meant to be admired. The toy fishes and the other aquatic beings in this jar makes this aquarium mason jar more interesting.
6. Paint Drip Mason Jar Crafts For Kids
The paint drip effect is in the vogue now. And what I love about these paint drip mason jars by masonjarcraftslove is the level of feasibility. They are so easy that even kids can make these. And as they are so colorful, your kids will certainly love these ideas. To begin with, you can just take bright and colorful acrylic paints in small bowls. Add a little water to these colors so that it drips easily. And then let the fun begin! All you have to do is pour out the paint along the sides of the jar and turn. And do this with all the colors till your mason jar looks as colorful as these vibrant jars.
7. The Ladybird Catcher in the Jar
I like such recycled crafts as this mason jar craft for kids. It is an efficient way to teach the kids, at a very young age, the importance of recycling. Creativegreenliving has simply painted the lid as a ladybird. She has also enhanced the look with some simple accessories like googly eyes and pipe cleaners. Your kid can use this one here to catch the ladybird!
8. Mason Jar Succulent Planter
This planter is so cute! It reminds me of smiling again! There is something precious about these magical creatures, unicorns. So this winsome kawaii unicorn succulent planter by creativegreenliving is an excellent gift option for someone who is obsessed with this magical creature. Personally, I prefer such mason jar crafts for kids that have a quirky angle, because that is what kids love! And this one here has that quirk.
9. Mason Jar Crafts For Kids and School Supplies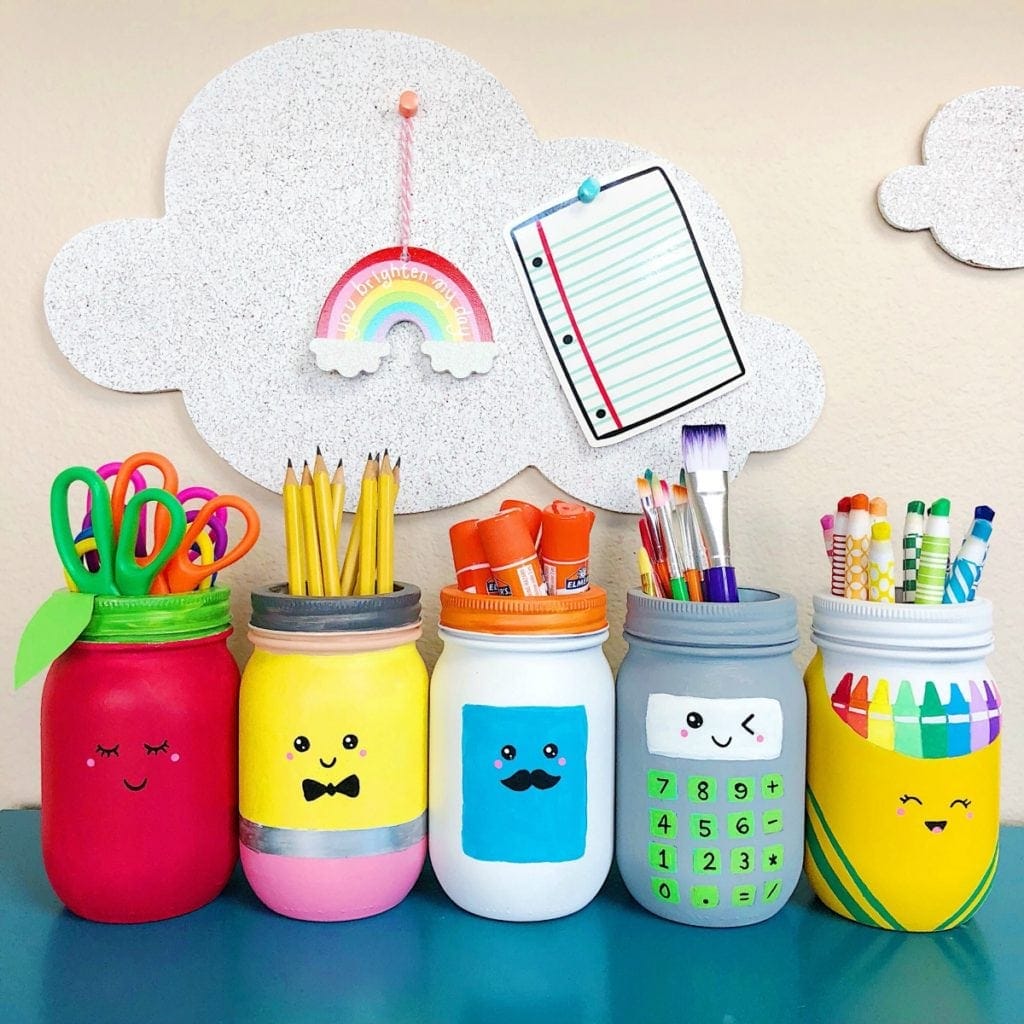 I have this habit of calling the school supply stores an evil store. Ask me why? Well, because they have all these cute little and innovative items which are tempting. But they usually tend to be overpriced too. So here are cost-effective mason jar crafts for kids ideas for you that will not burn a hole in your pocket. Colormadehappy has made these amazing DIY jars that can be used to store school supplies. I am loving the calculator winking at me! Which one is your favorite?
10. Trolls Mason Jars

How beautiful are these mason jar crafts for kids! These trolls mason jars by thebestideasforkids are pink and pretty. These planters with the googly eyes will certainly get the attention of your kids. To make this planter more aesthetically pleasing you can use a plant that has pink flowers like this one here.
11. Mason Jar Piggy Bank
They say that there is no end to learning. I agree because I am still learning how to save up. If you ask me, teaching kids the importance of saving at an early age is actually a good decision. So why not help them make this rainbow piggy bank by livingwellmom? The kids can start by painting the jar white. Next help them to take out the center of the lid and let them paint the beautiful bright rainbow. Once done use a cardboard piece to close the center of the lid and cut out a slit. And you have a handmade mason jar piggy bank. Such mason jar crafts for kids teach the kids the importance of recycled goods. They are not just environment friendly but also fun looking.
12. Peep Mason Jar Crafts For Easter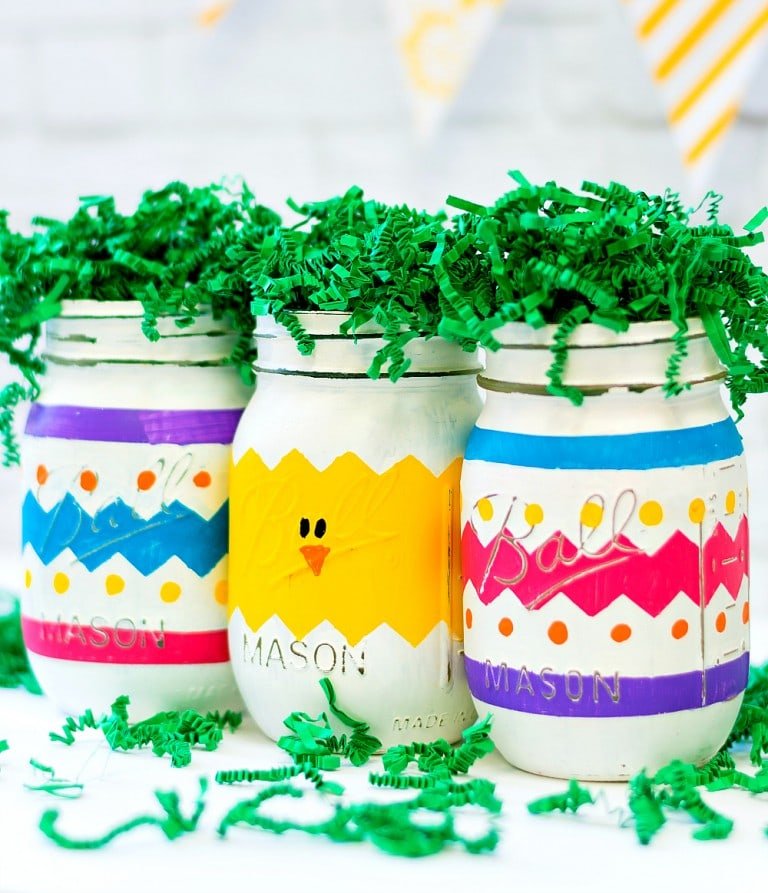 These mason jar crafts for kids by masonjarcraftslove are too cute to handle. With pink and blue and bright yellow, these mason jars are perfect for kids. And the cute faces are just adorable. It has simple steps. Paint the jar white, next use a masking tape to make the zig-zag pattern and paint the space in between yellow. Once done remove the masking tape and paint the remaining blank area white. Next, use the black color to make the face in the center. And ta-da! You have your own peep mason jar for this Easter.
13. Zombie Mason
Halloween is probably the best day out there when it comes to fun and celebration. The whole aura and the time has a very supernatural tone to them. And I think Halloween is all about recreating that eeriness in creative ways. So this time why not try these zombie mason jar crafts for kids by masonjarcraftslove? The google eyes, the slight stain of blood all over, and those bandage touches are screaming 'Boo!' louder than a horror movie.
14. Mason and Family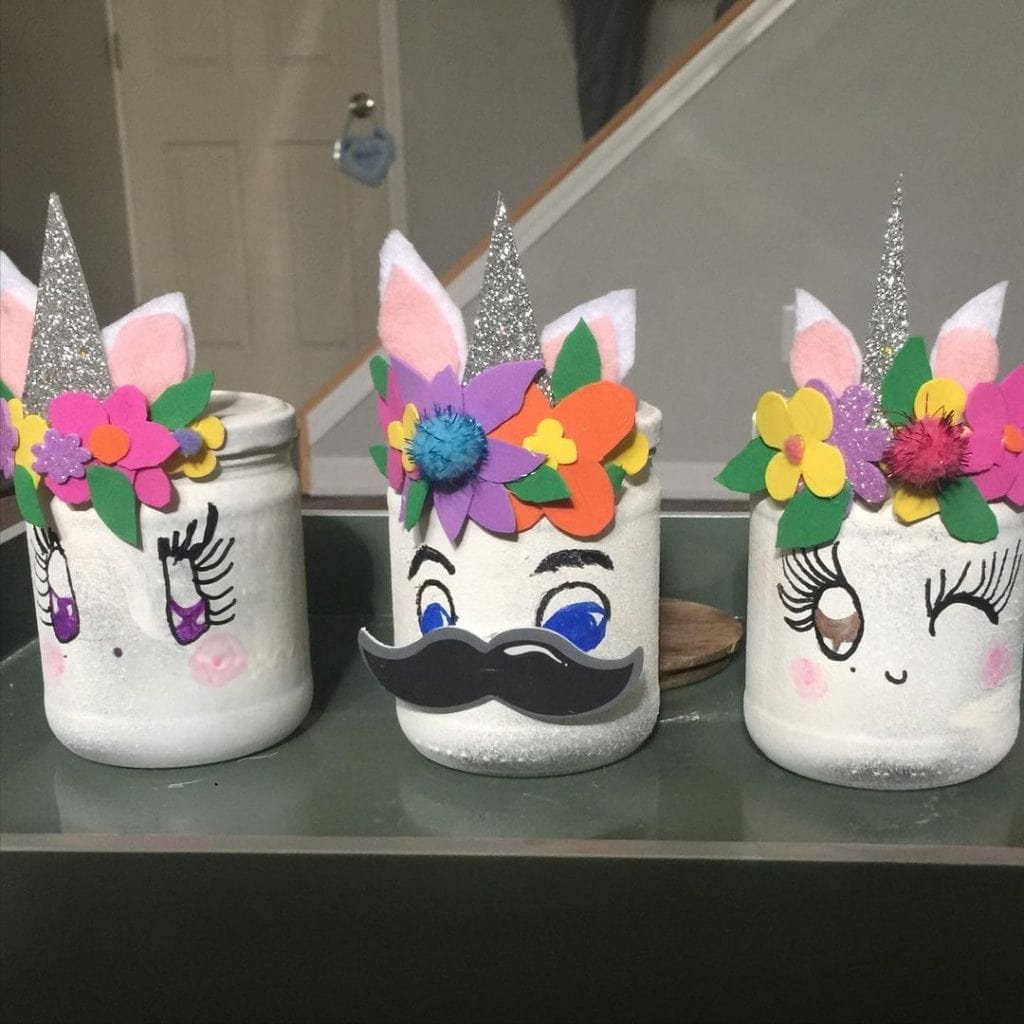 Do you see a family here? Mr. Mason in the middle with his mustache, Mrs. Mason on the left looking pretty, and little Miss Mason on the right being naughty. I see this Mason family painted by fulloffortunes as a perfect container for storing almost anything. But you can put these mason jar crafts for kids out in the kids' study so that they can use them as knick-knack collectors.
15. Snow Globe in a Mason Jar
There was a time when these were in the vogue. But I always found them timeless and dreamy. Happiestcamper has simply taken the snow globe game to the next level with this mason jar craft for kids. This one will need a little parental guidance, but anyhow the kids will absolutely love building a few of these snow globe mason jars. And how cute is that tiny deer looking at the Christmas tree!
16. Corny Mason Family

Yesterdayontuesday has kept things simple. All you need for these mason jar crafts for kids are three different sized mason jars, green crepe paper, green raffia, google eyes, 3 bags of yellow Sixlet candies, and glue. The tutorial for this one is very simple. You can just help your kids a little for them to make this corny mason family.
17. Galaxy Jar
Kids love space. If you have one such little space enthusiast in your house, then this mason jar craft by mumtastic. This is a fun project that kids can make with friends. You will have some cotton balls, some silver glitters, and dark paint for this DIY galaxy jar. It is one of the easiest and fun mason jar crafts for kids that you will find on this list.
18. Wall Vase

Wall decor has so many varieties to choose from, making it one of the most sought-after kinds of decor in trend. For instance, this DIY wall vase by shelterness is sophisticated yet so easy to make. You can use your beautiful flowers to fill these DIY vases. This one is not one of those easy mason jar crafts for kids, so your little one will need your help. But the turn out is so elegant that I had to include this in the list.
19. Trap the Jar

Craftyshacks has built an aesthetically pleasing mason jar container. This beach-like Bohemian mason jar can be used to collect shells. If your little one is a shell collector then this will be special to him or her. The blue-tinted mason jar is giving the aqua feel a stronger vibe.
20. Let's Get Moving
This motivating mason jar is one of those mason jar crafts for kids that you should certainly have in the kid's room. Because we all can use an extra boost to get over these boring indoor days. Niftymom has used simple materials to make this beauty here. With just a mason jar, a 'Let's Get Moving' wrap, and some wooden craft stick you can easily make this. 
21. Mason Jar Luminaires

Going old school is always timeless. So this year if the holiday season feels a little nostalgic go for these mason jar crafts for kids. These DIY luminaries by thebudgetdectector are so divine looking. You can choose one of the words of the season, like her. She has chosen the word 'Joy', you can of course go for your own special word. For these mason jar crafts for kids, you will need 3 simple mason jars, frosted glass spray, clear matte sealer, stick-on letters for the word, paint for the lid, LED candles, and ribbon. These DIY jars are going to light up your festive evenings.
22. Easter Eggs

I love the whole thing going on here! Craftyshacks has come up with an interesting idea to turn a simple mason jar into a crafty easter bunny container. These kinds of mason jar crafts for kids honestly get the kids excited because of the look of it. Look at it! Who wouldn't like to make one of these? And especially the ear game is so strong that I might make one of these this winter. Apart from the ear and the vibrant Easter eggs, it is that pretty pink bow that has tied everything together.
There we go, people! We have come to the very end of this interesting list of mason jar crafts for kids. There is something that I honestly like about these craft ideas, the versatility. Mason jar crafts are useful because they can be used for various purposes. From using them as pen stands to using them to store your rubber bands, these mason jar crafts for kids have multiple utilities. So let us know your favorite one in the comment section. Happy crafting!
If you loved these ideas, you can use the Pin image below and save this article on your 'Mason Jar Crafts' Pinterest board.