The world around us shifted in 2020. We all lost someone we love, some of us lost places, and some lost themselves. One thing that was massive this year was introspection. But one positive thing was certainly, bigger goals and bigger ambitions. 
And it is time to hit the refresh button in 2021 with these amazing 2021 bullet journal ideas.  
The new year is like a new beginning for me. It is a chance to have a new life, new goals, new ambitions, a new chance to change the circumstances. Why not have a proper 2021 bullet journal cover page ideas to manage all your goals? 2020 has taught us one thing for certain which is hustling; the time in quarantine and the global lockdown gave us time to explore new hobbies. But why not take all the good habits of 2020 to 2021? So let our curated list of 2021 bullet journal cover page ideas take care of your daily routine. 
You will definitely need a journal to track your new goals and your new habits. And you will definitely need some good 201 bullet journal cover page ideas to keep the goals in check and keep yourself productive irrespective of the global pandemonium. Here we have prepared a curated list of 2021 bullet journal cover page ideas that will suit your taste and your personality. Get those goals ready to rock your 2021!
You can also check out our other bullet journal ideas here on- 30+ Bullet Journal Coffee Theme Ideas For Your Bujo Pages.
1. Tsuki Nara 2021 Bullet Journal Cover Page Idea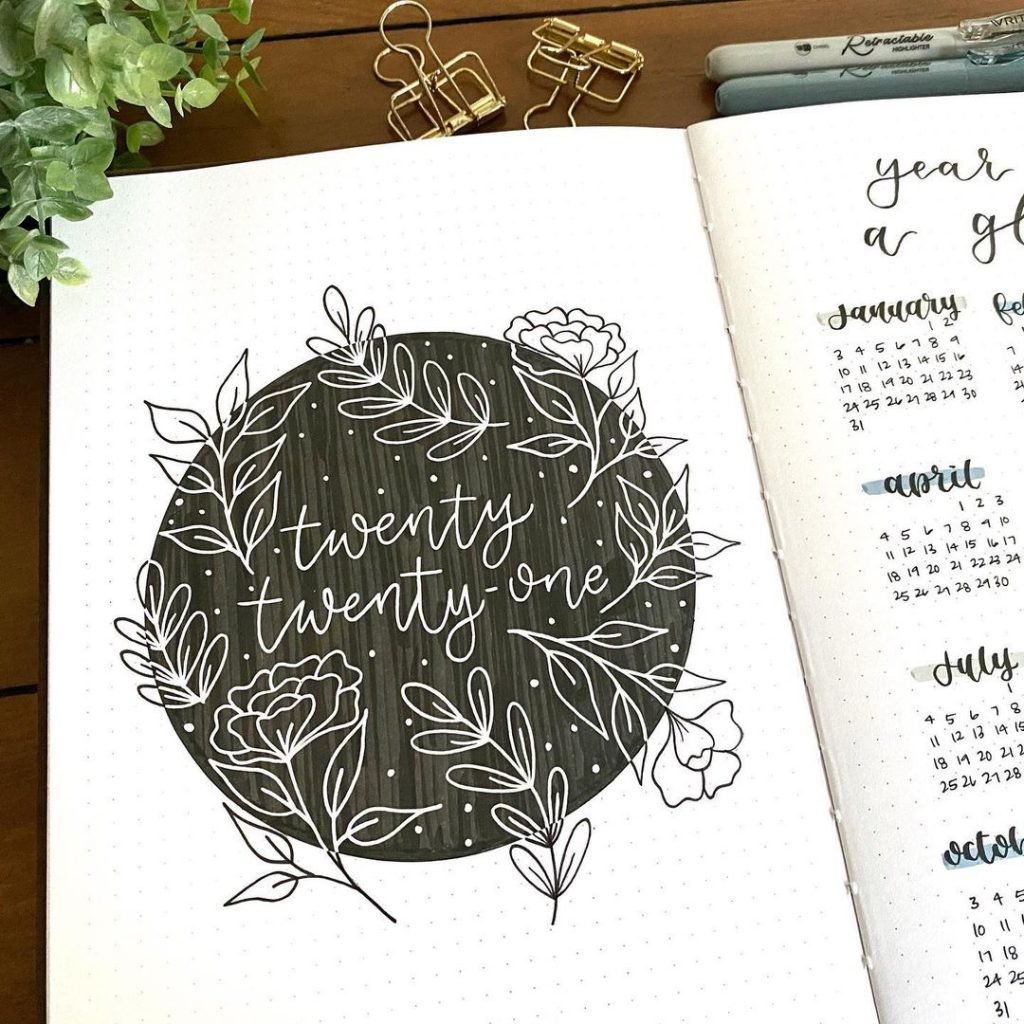 This one by wildeyesbujo is a great way to start this list of 2021 bullet journal cover page ideas. This black and white combination cover page is sophisticated and the simplicity is awesome! The simple flower and leaves detailing are so refreshing. I love the writing style as well, smooth and clean.
2. Floral 2021 Bullet Journal Cover Page Idea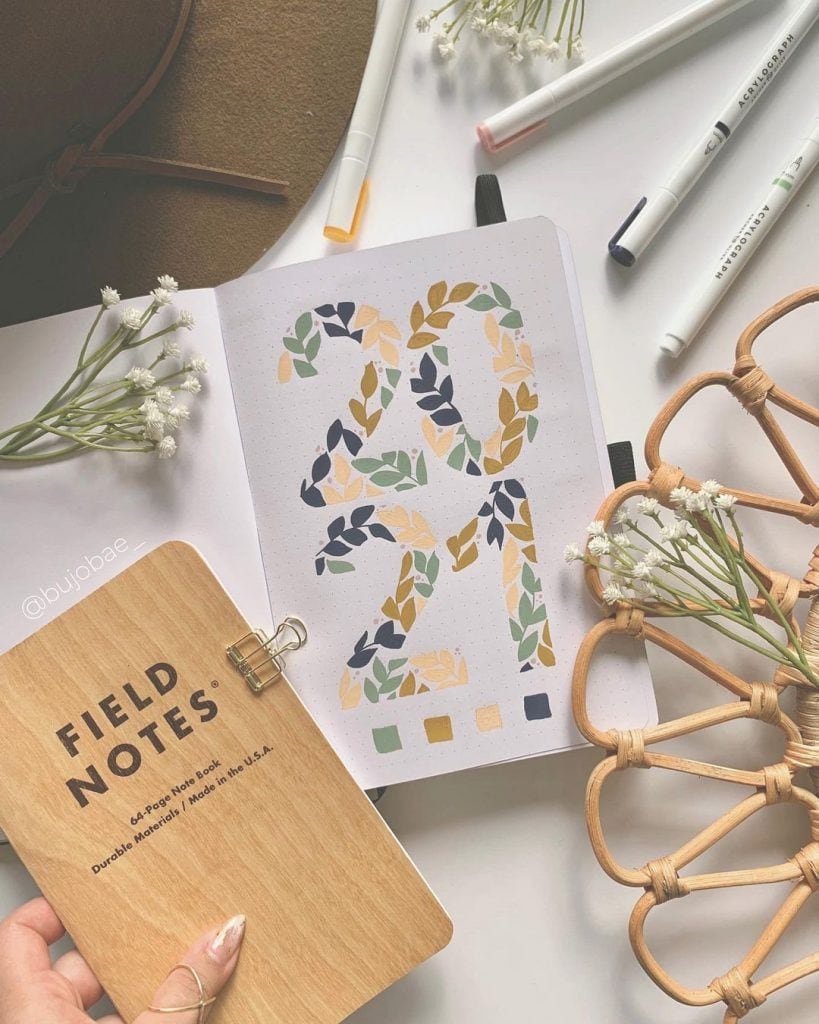 This simple yet so colorful bullet journal cover page idea is extravagant. The colors used by bujobae_in the garland of leaves to write 2021 has an amazing sense of fall. Keeping in mind the sad and almost depressive year that we have had, this 2021 deserves all the colors and positivity. With this 2021 bullet journal cover page idea, open the floodgate of color into this new year and your life.
3. 2021 At A Glance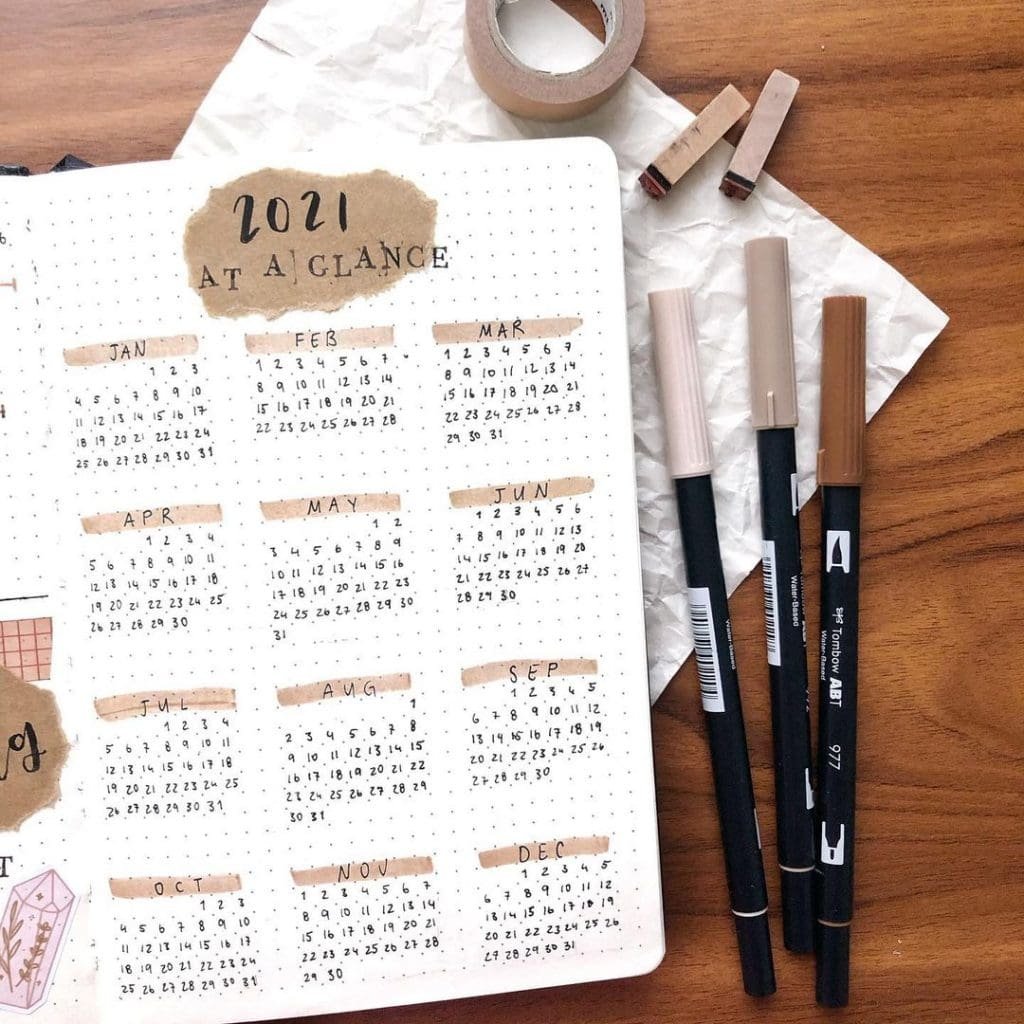 Personally, I am a lover of this kind of bullet journal idea. This 2021 bullet journal gives an overview of the whole year. Melodybulletjournals has kept things pretty simple and the overall turnout is cute. The soft brown highlight and the black pen writing has given this bullet journal spread a nice touch of simplicity. I always include an overview page like this one in my bullet journal or even my planner because it gives me a glance at what the year will look like. I usually mark all the holidays and birthdays here. And let's be honest, who doesn't like to have an old school calendar layout to refer to once in a while?
4. 2.0.2.1 Bullet Journal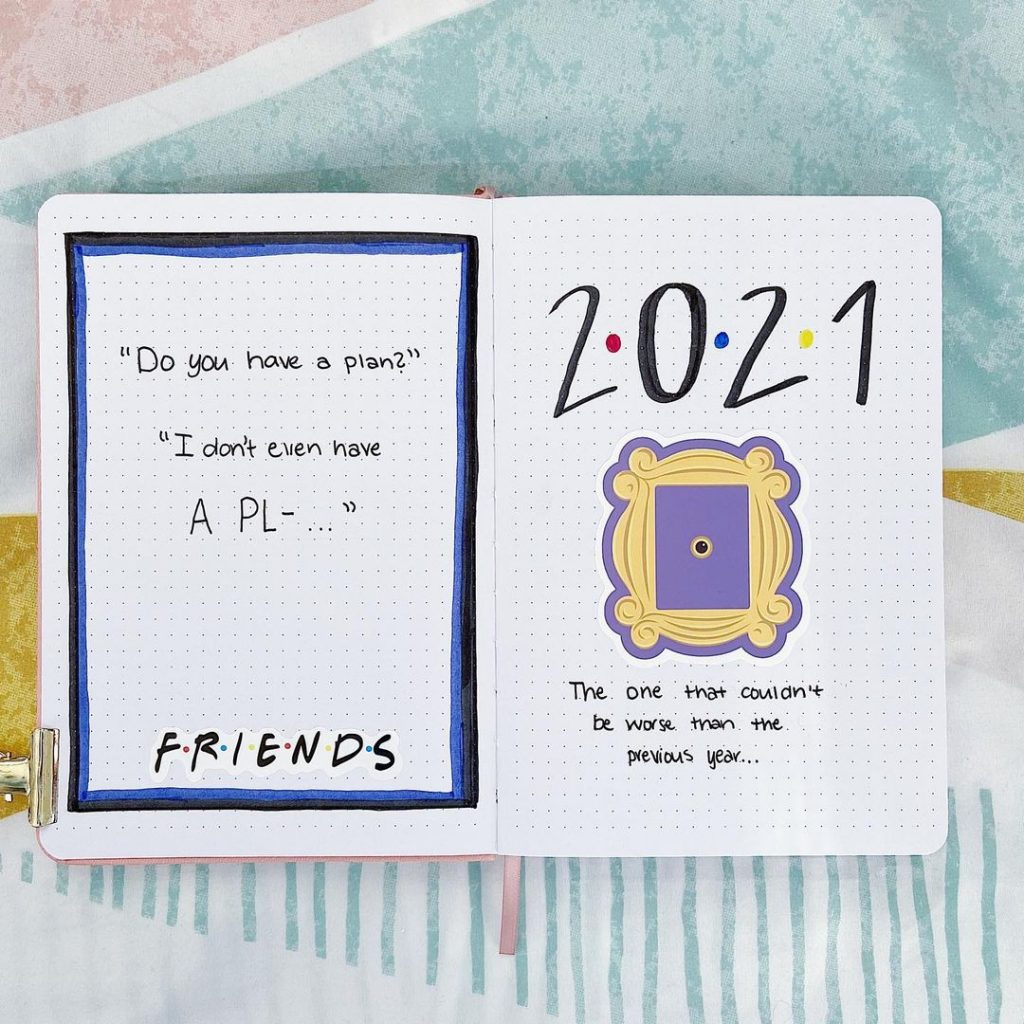 Oh, I love this one! And I think every F.R.I.E.N.D.S lover will agree with me. This iconic Friends-themed 2021 bullet journal by peculiar_ravenclaw has certainly had a special group of admirers. With the iconic mirror frame that used to hang on Monica's door, this cover page is love. And certainly the line 'The one that couldn't be worse than the previous year…' is a positive way to start the new year.
5. Sunset In The City 2021 Bullet Journal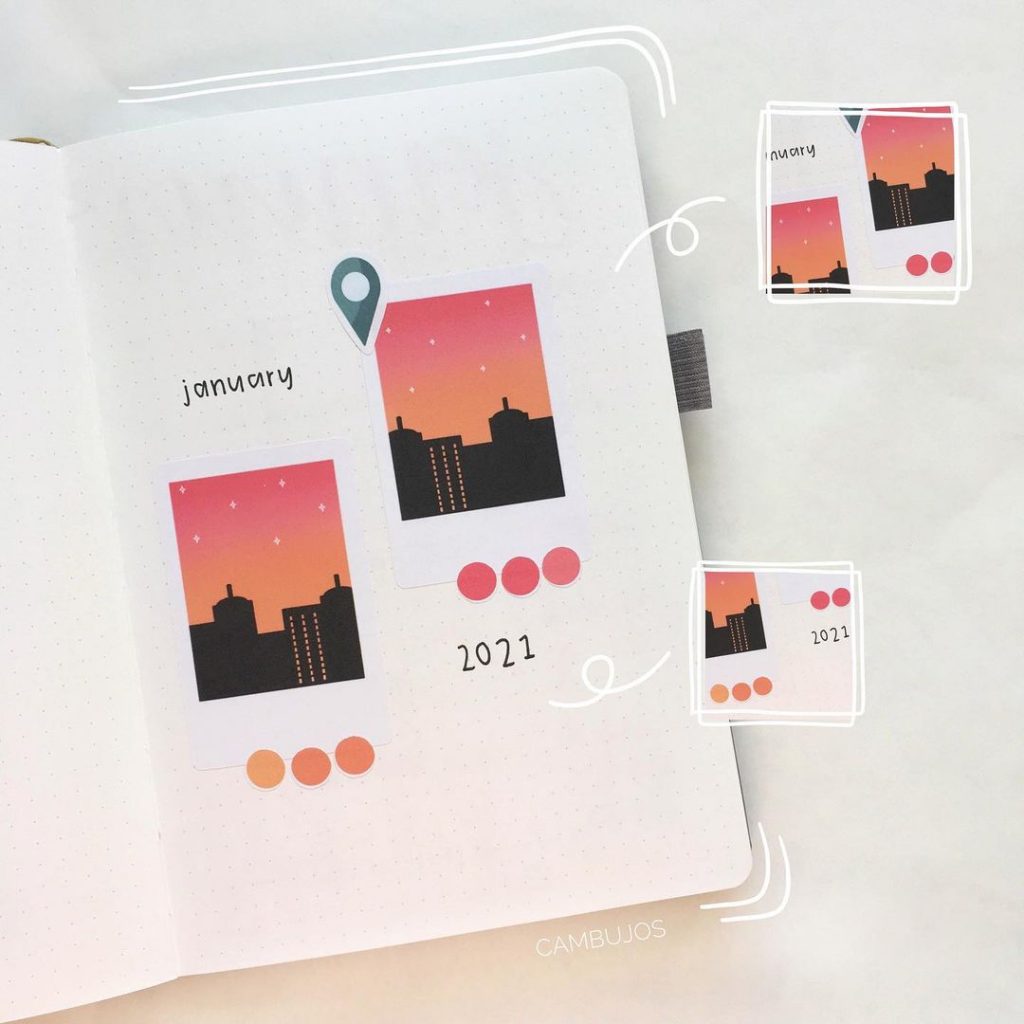 This January 2021 bullet journal spread by cambujos picturesque. Of course, it is not a difficult layout given all it requires is to collect interesting polaroids and stick them. But I love this sunset theme, for some reason, it metaphorically hints at the end of the previous year and a sense of hope for a new beginning.
6. New Year Resolution For 2021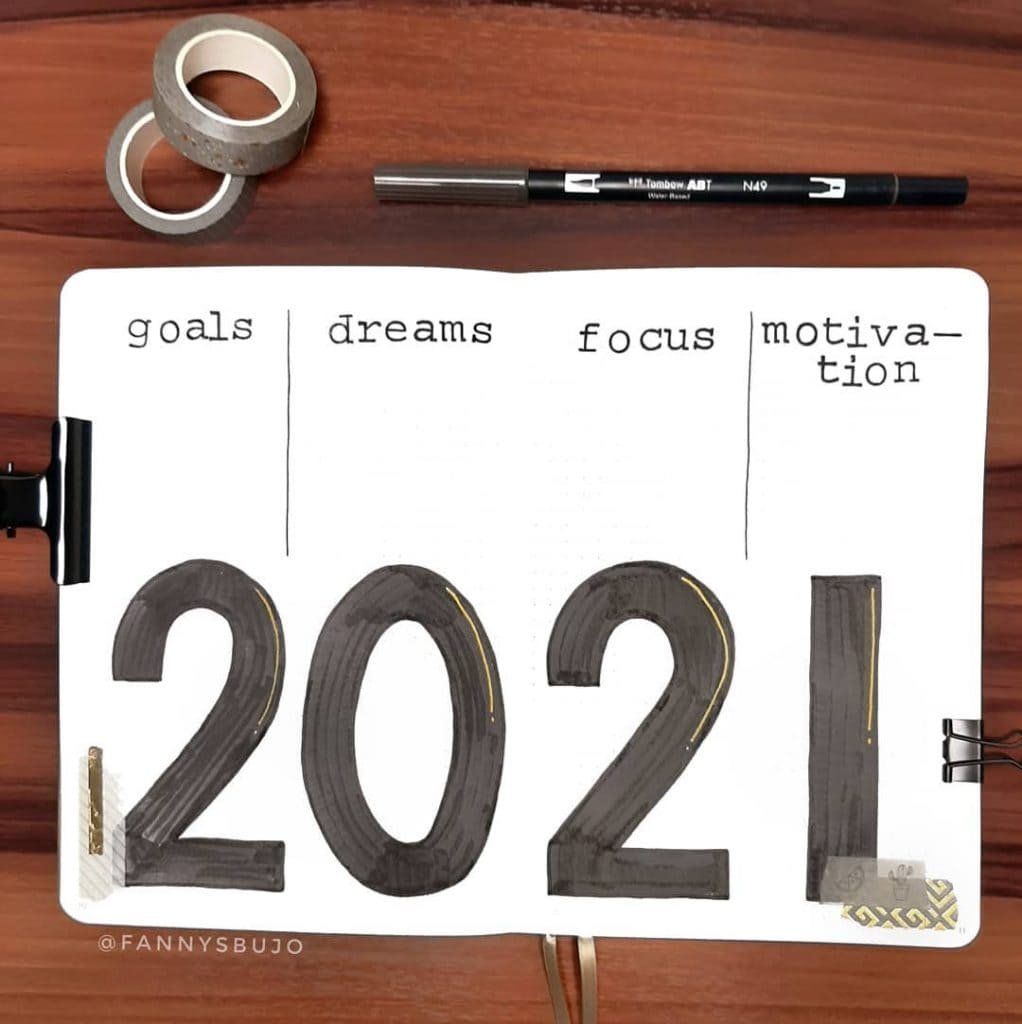 I think one thing that we all have been a victim of is the new year's resolutions. We all do it but we all also fail to complete it. So why not this year have a 2021 bullet journal that will remind you every day to live the dream? Fannysbujo has made sure with the words 'goals', 'dreams', 'focus', and 'motivation' that you know what it takes to live the dream life and achieve those ambitious targets.
7. New Year, New Chances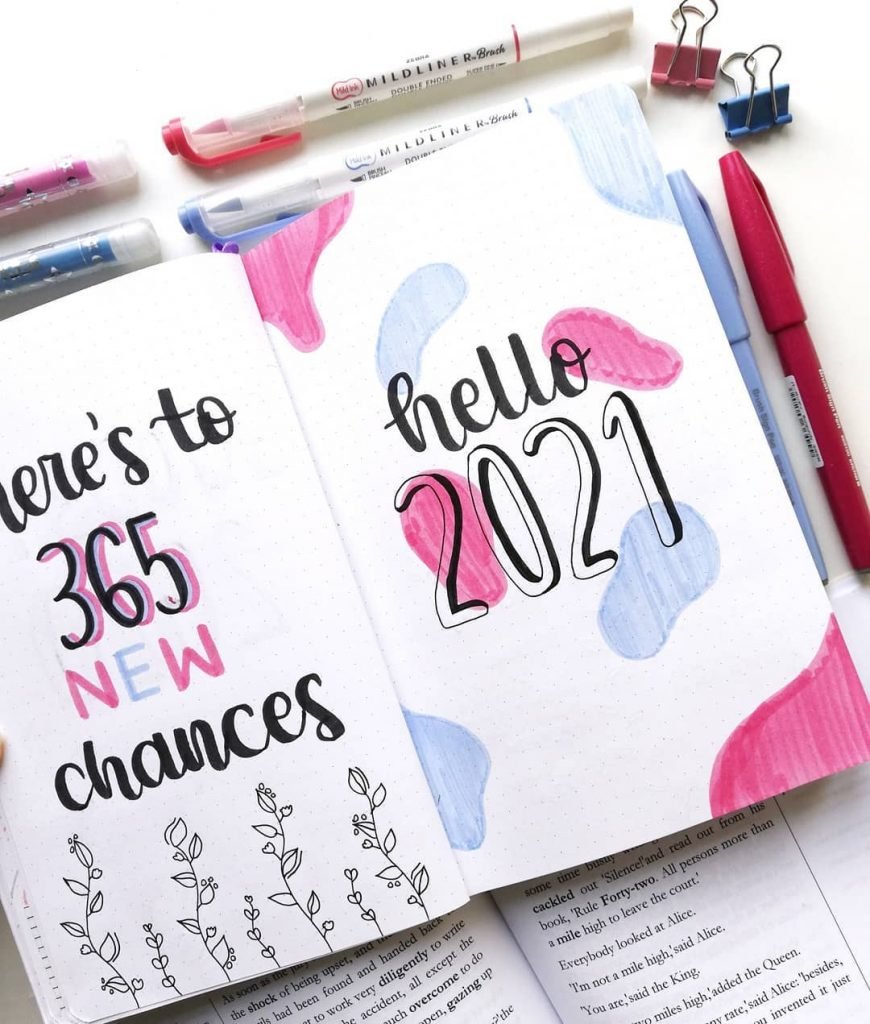 Have you heard that saying, every day is a new chance? Well, it is true. And with pink and blue hues roksanq_study has brought in the same vibe in this 2021 bullet journal spread. With this bullet journal cease every 365 days of this new year. Carpe Diem people!
8. Hello 2021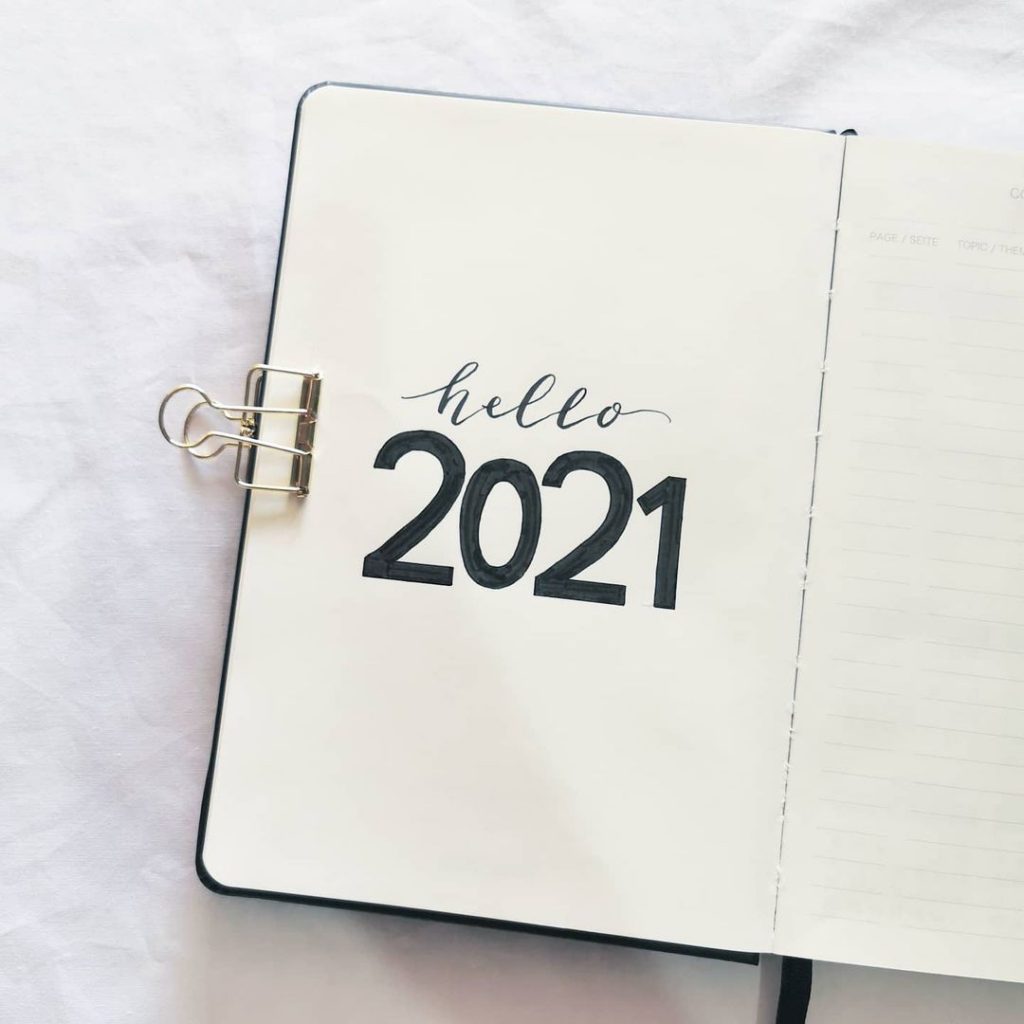 If simplicity could be redefined but then this is how it would look. Joelyn_lim with just a simple touch has filled this 2021 bullet journal spread with hope. After 2020, a simple hello to 2021 feels so hopeful. The simplicity of the writing style gives the spread a minimalist aura.
9. 2021 Please Be Good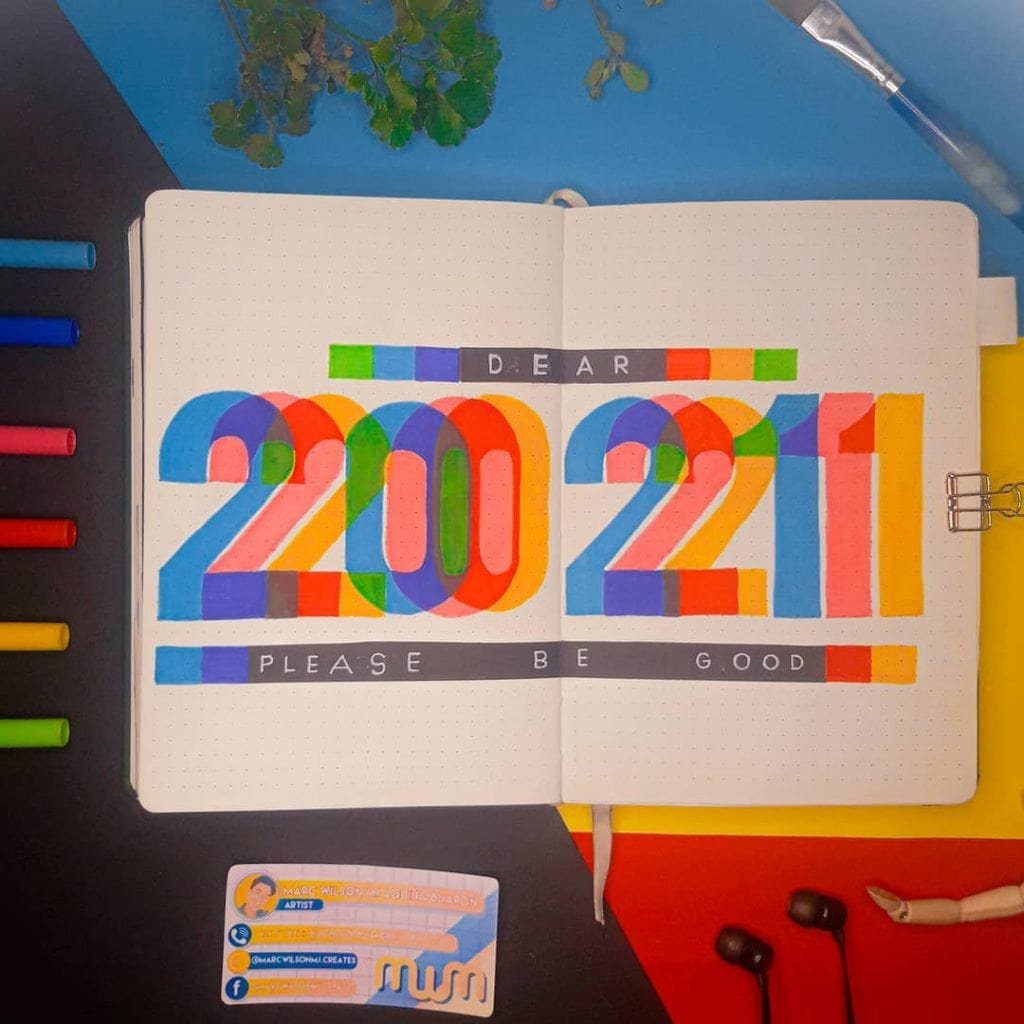 This colored 2021 bullet journal by marcwilsonmj.creates will take you on a trippy land. The color coordination is too strong and too much fun. If you are bored with the tantrums 2020 had, just like me, then go for this one. God knows how much of the colors we all could use this new year. And let's just hope that 2021 is good and full of hope.
10. Hello 2021 Bullet Journal idea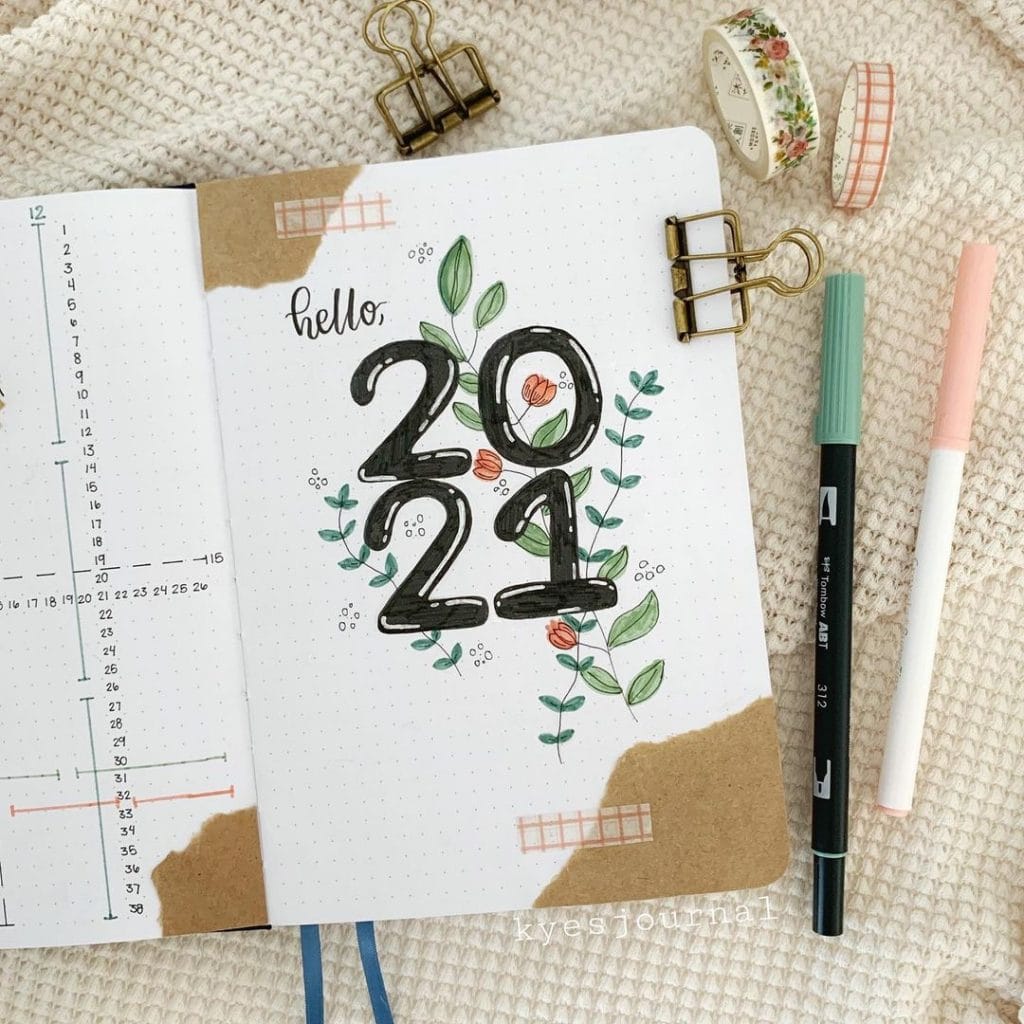 This bullet journal spread by kyesjournal is a vintage plant-themed piece that is so mushy. I love the floral and leafy pattern that is entwining 2021. Gives me good vibes about this year!
11. Mountains 2021 Bullet Journal Idea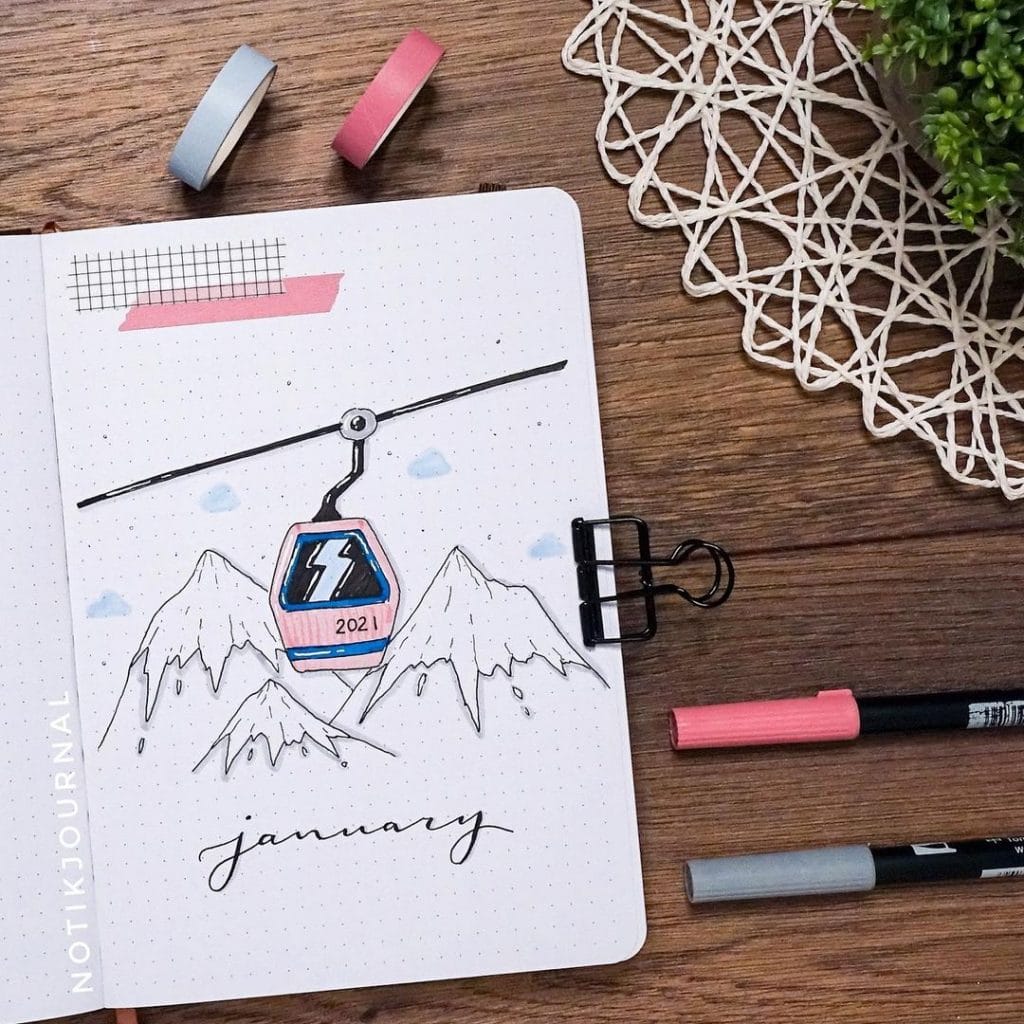 I love how simple and chic this 2021 bullet journal looks. Notikjournal has made use of some creatively patterned washi tapes to bring this cover page to the next level. And how cute is this pink and blue cable car? That little 2021 touch is just too good, it is like 2021 is already here and is only going to take you to amazing days.
12. 2020 Is Almost Over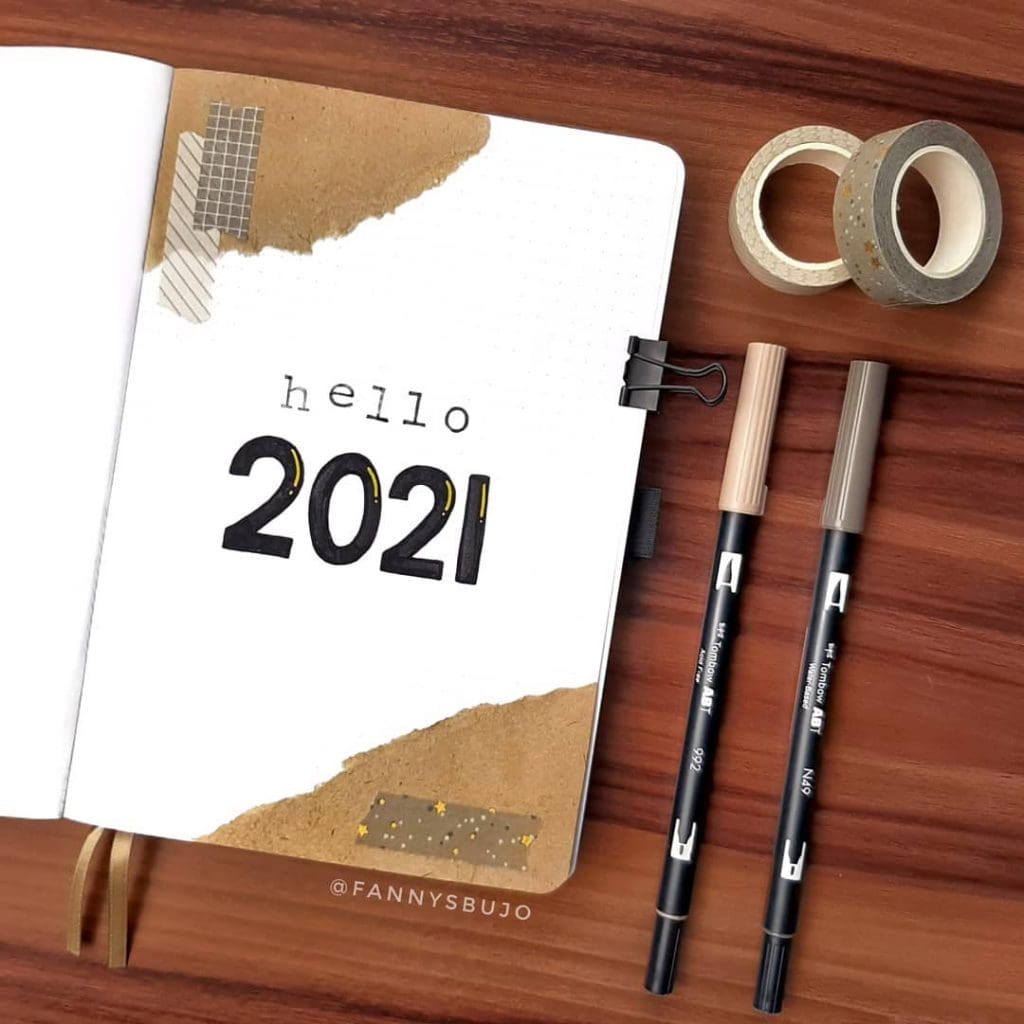 Say hello to 2021 people! I think we all are too eager to face this new year and leave the awful year behind us. I like how fannysbujo has made use of the most simple things to make something that looks this beautiful. If you are someone who doesn't want to spend much time on a journal then this is certainly an option. With just beautiful washi tapes and a black marker, you can achieve this 2021 bullet journal layout.
13. Floral In Pink and Blue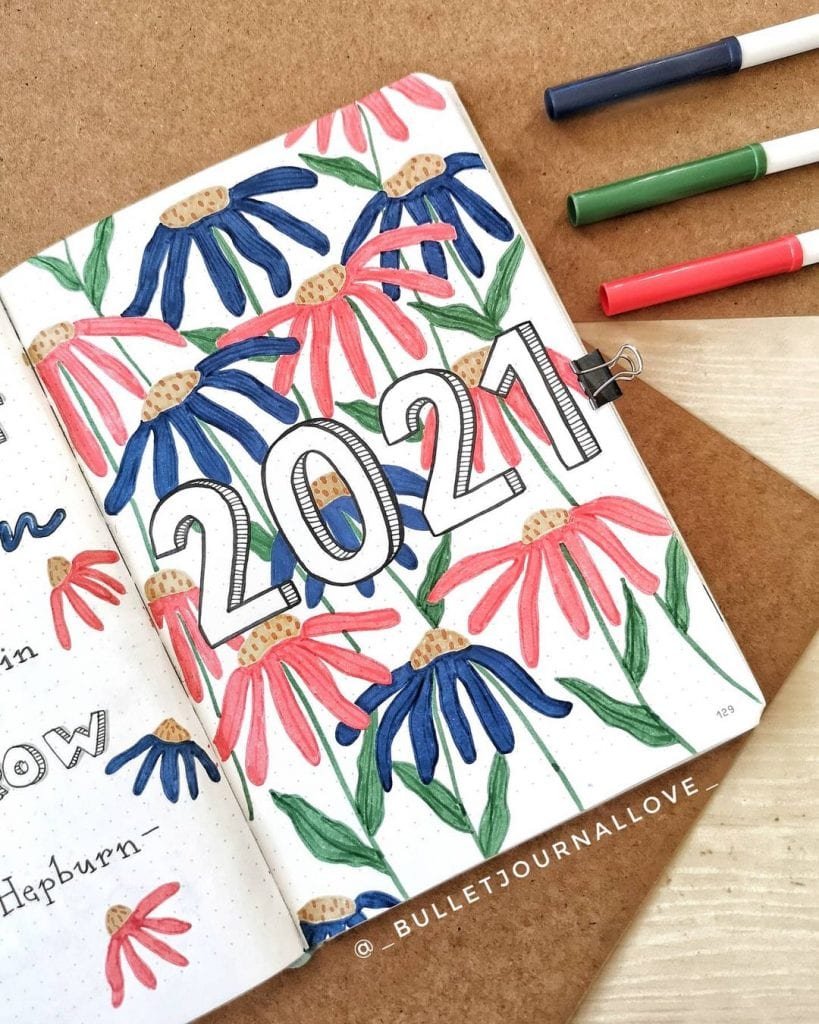 Look how colorful this cover page is! _bulletjournallove is here with this 2021 bullet journal spread is reminding us that this new year is yet another chance for us to bloom and shine in life. We all have yet another chance to be the best version of ourselves. It is time to set new goals and achieve the same and no one is stopping any of us!
14. Purple Peonies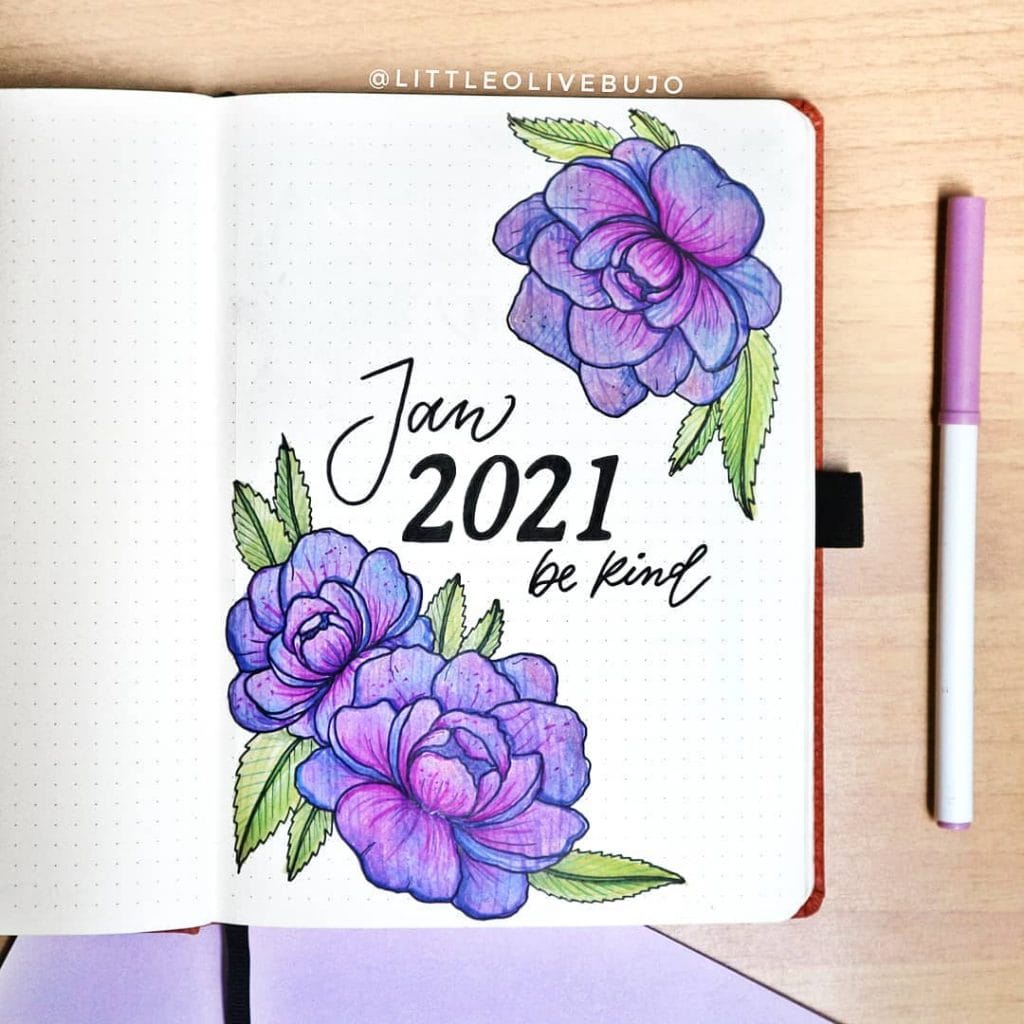 I love love love this one! The purple peonies and that perfect green leaves are just too bewitching. With this 2021 bullet journal layout, you can remind yourself every day of new beginnings and new life. Littleolivebujo has used beautiful shades of purple and a slight touch of blue to give the peonies a natural touch.
15. Leave The Past And Wait For A New Beginning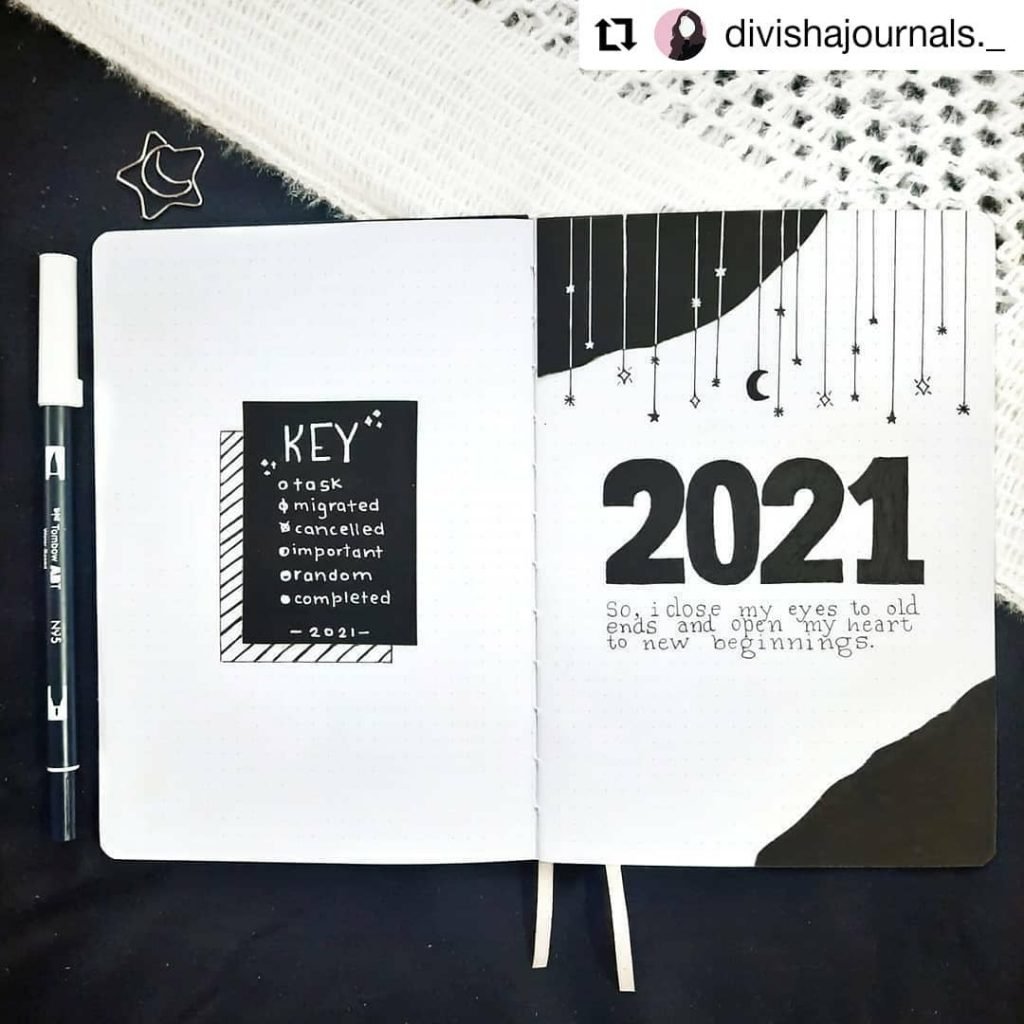 This black and white-colored bullet journal layout by bujobeauties is so inspiring. I love this moon and star theme here. And the layout is so simple that you can easily replicate it. But what I like the most is the small keyword note on the left. The symbols help to keep the schedule well sorted and organized. All you need is some black markers and a pen to achieve this 2021 bullet journal spread.
16. Let's Move Forward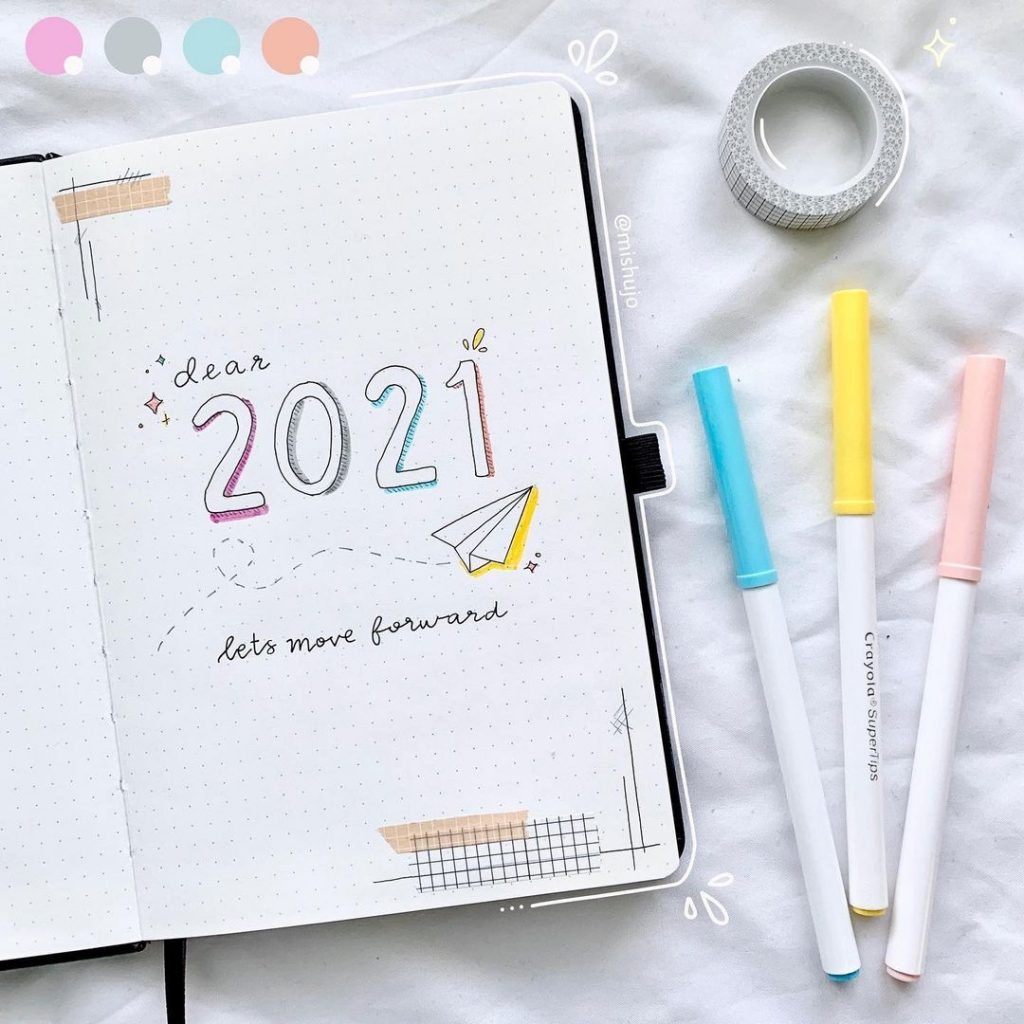 Life is all about moving on. Because no matter what happens, no matter how low we are, and no matter how bad the phase is, life goes on. Change is a constant and it is inevitable. So why not have a bullet journal that will always inspire you to move forward and not just dwell in the past. The flying paper plane by mishujo will certainly take you to good places. So brace yourself for the happening ride!
17. Cash On 2021 Bullet Journal Idea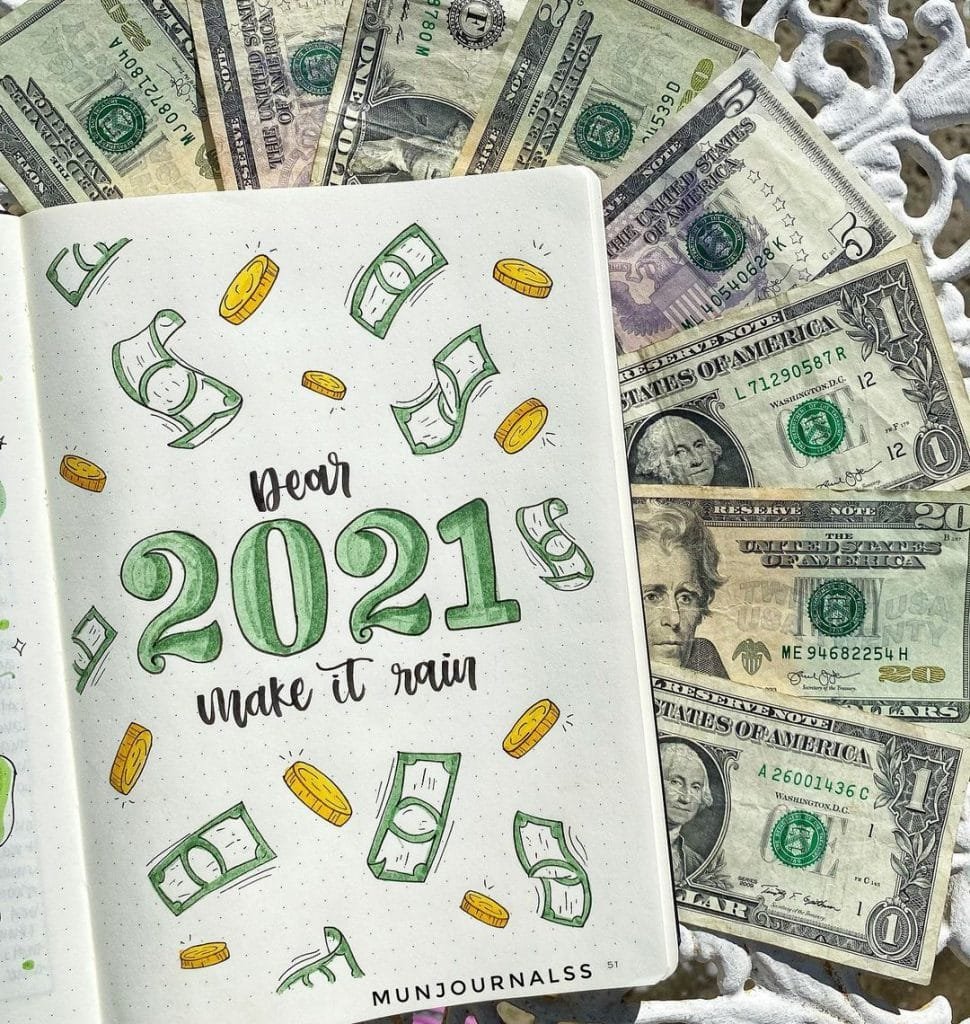 Saving is a big part of adulting. Don't you agree? I struggle with it a lot. And every year I try to manage my wallet better, but a total failure. So this bullet journal by munjournalss definitely did inspire me. After all don't we all love a fat wallet? So with this fun cover page with the cash and coins let wealth and prosperity rain on you this year.
18. Hope Is The Inner Strength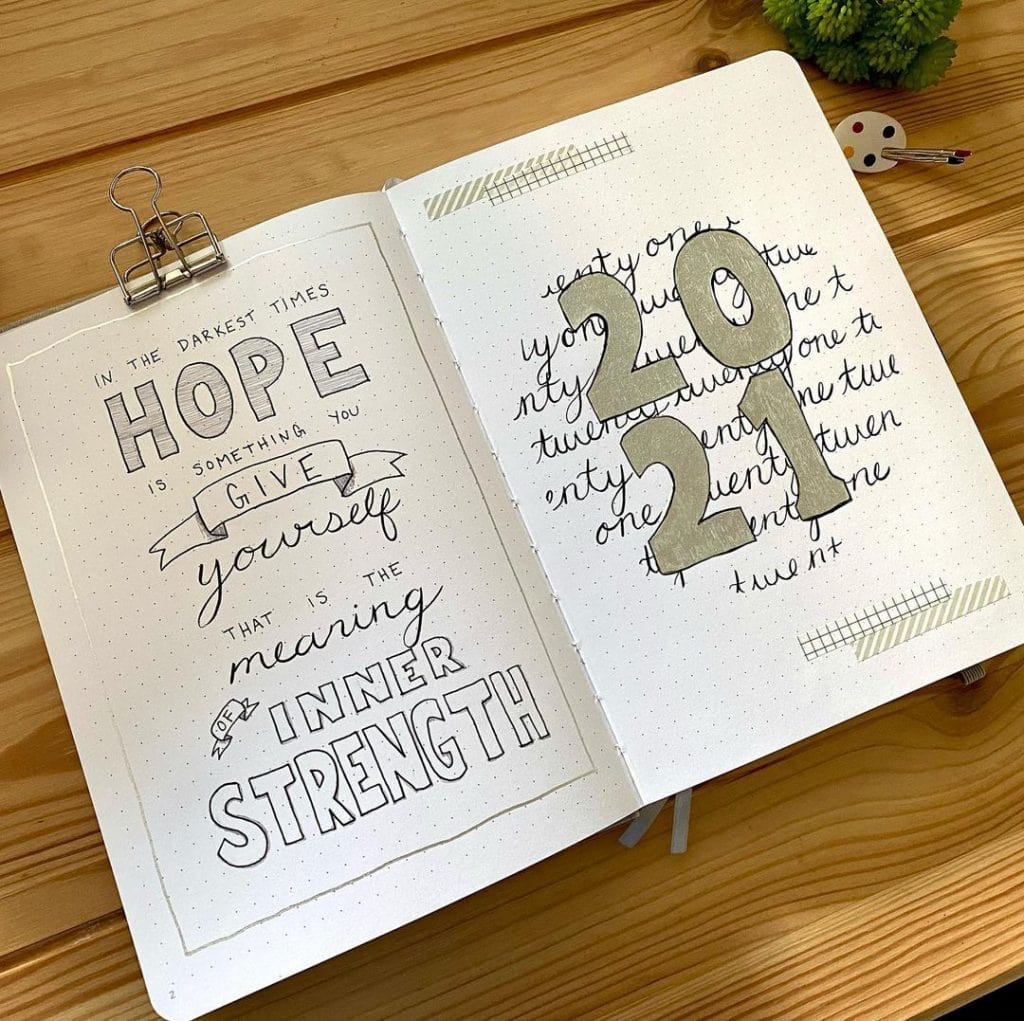 What is life without hope? Hope is what helped us survive this traumatic year as well. And we all can use a little more hope, as suggested by emhaggsart, to look forward to having a positive and happy year. This simple 2021 bullet journal layout has all the charm in the lovely inspiring words written on the left. Let this journal cover page inspire you every day.
19. A Fresh Start
A new year brings in new possibilities, a new shot at life, and new dreams to chase. That is exactly what thathappyjournal has depicted in this bullet journal spread out. With simple pink markers and happy polaroid pictures, she has created a festive layout.
20. Calendar Index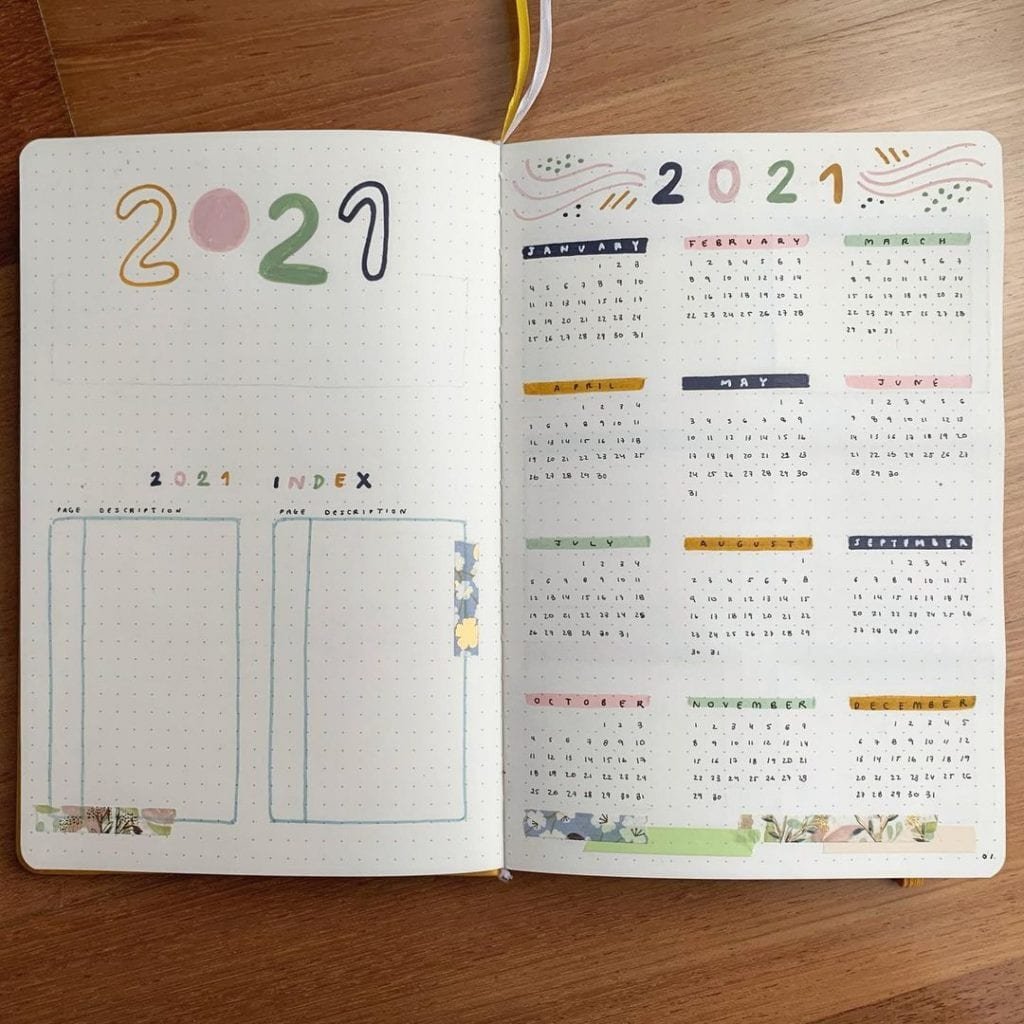 This calendar index by crinspire has a sense of simplicity. You can easily recreate this 2021 bullet journal spread with just some colorful markers. I especially love the overview of the whole year and of course, the color scheme is just too good.
21. Watercolor Illustration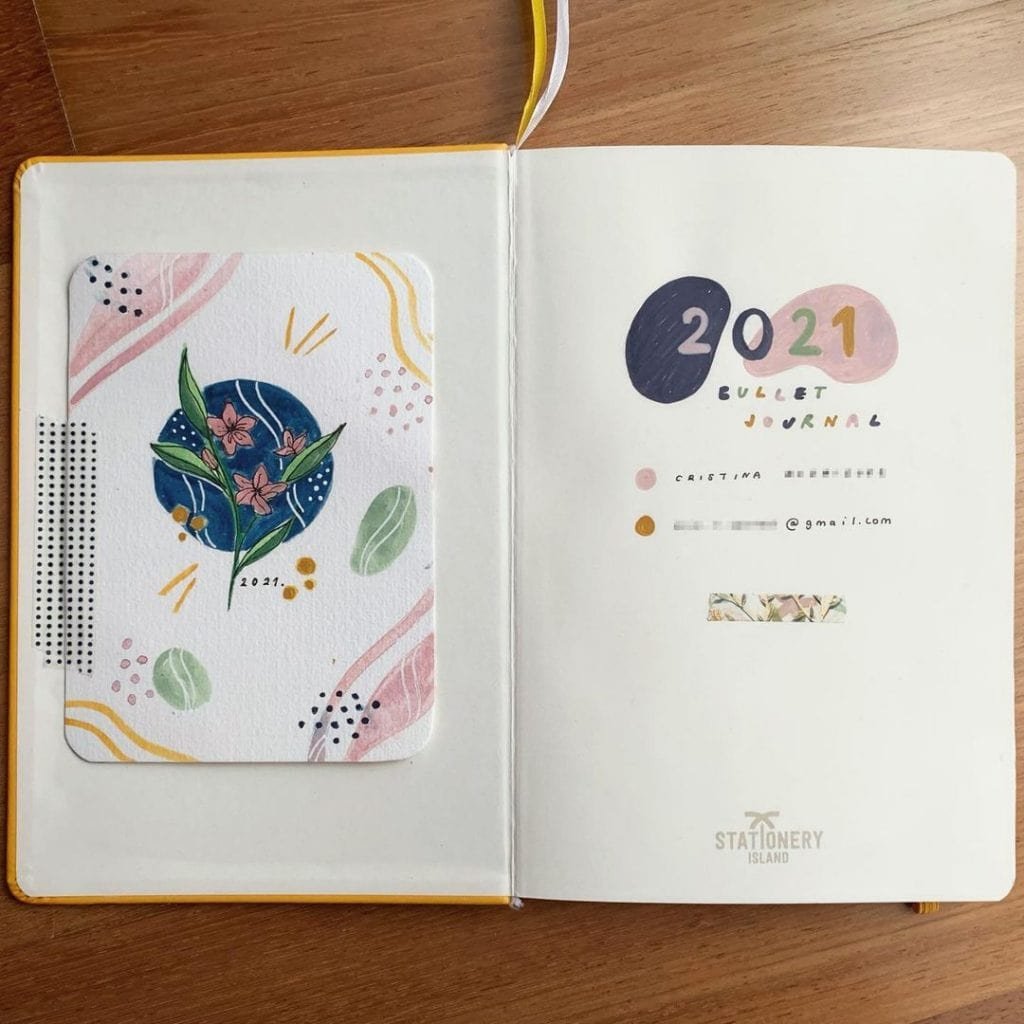 This watercolor illustration 2021 bullet journal by crinspire is so innovative. The watercolor flap has a systematic checklist inside that keeps all the work in check and you can also keep a track of your daily and weekly work. I especially love the floral pattern and also the beautiful dark and light color scheme.
22. Doodle Away 2021
Do you feel the need to be reassured that 2021 will be a better year? Then start with this bullet journal by sarahsmallfox. The doodle is so intricate and elaborate. The floral game is too strong in this one. And see how beautiful it is entwining 2021, I hope that the year is also similarly wrapped up in a lovely floral cushion. You can also color this otherwise blank doodle.
23. BT21 To Inspire you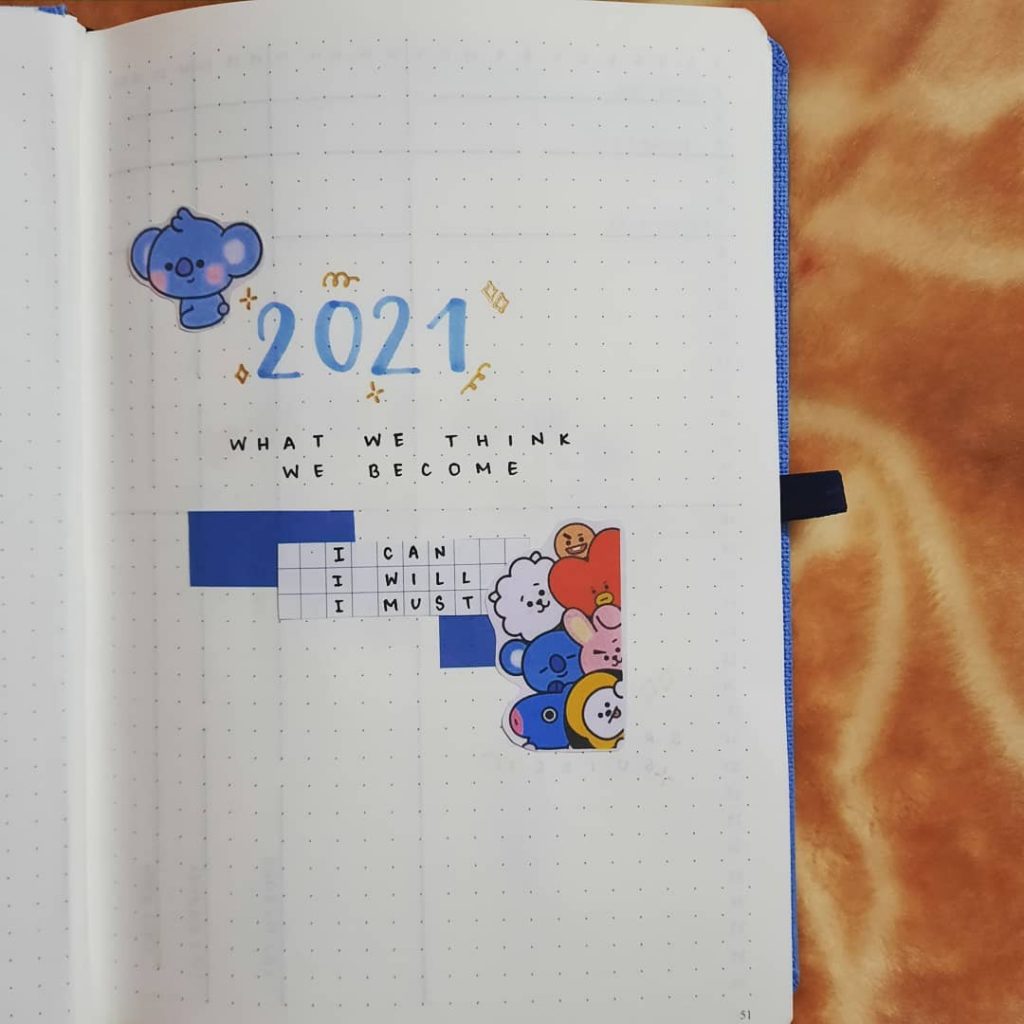 Where are the ARMY people? BT21 is certainly a special feeling for the lovely ARMYs. Look how cute are the characters peeping at you! Journal_your_heart will remind you every day that we are what we think. And these cute little characters will motivate you every day that you can do what you put your mind to. Because as BTS says 'Life goes on' it certainly does.
24. Floral Stickers
This 2021 bullet journal cover page idea by hebei.ris is simple and doable. With this journal be a little poetic and think that with this new year a new chapter will start in your life. New stories will fill your life. I like the romantic vibe that this journal cover page has. The flower stickers the dreamy girl at the bottom of 2021, everything is so very vintage and romantic.
25. Ferns and 2021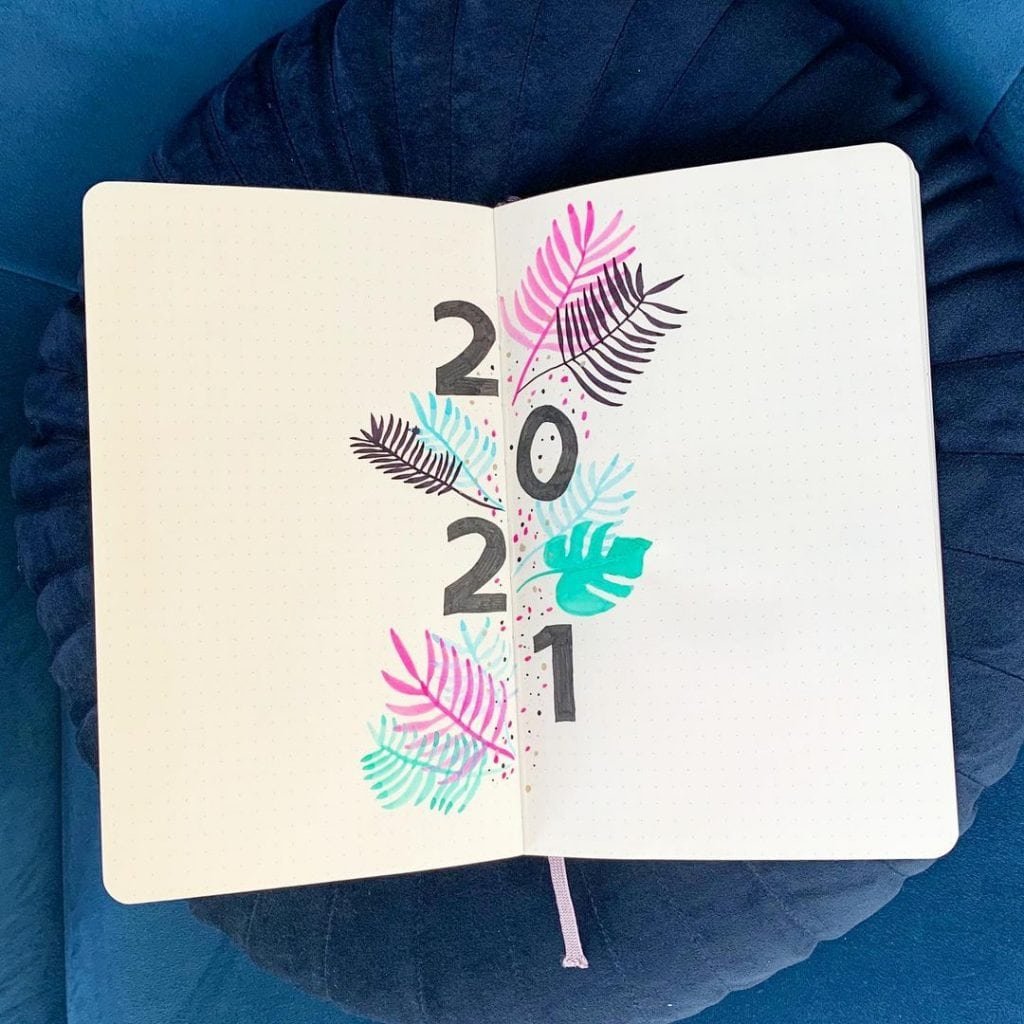 This simple yet so avant-garde 2021 bullet journal by cuppa_tea_and_bujo is artistic. The ferns and the leaves have made the simple handwritten 2021 quaint. Especially the color scheme of pink, blue, and black has tied everything together.
26. Leafy Wreath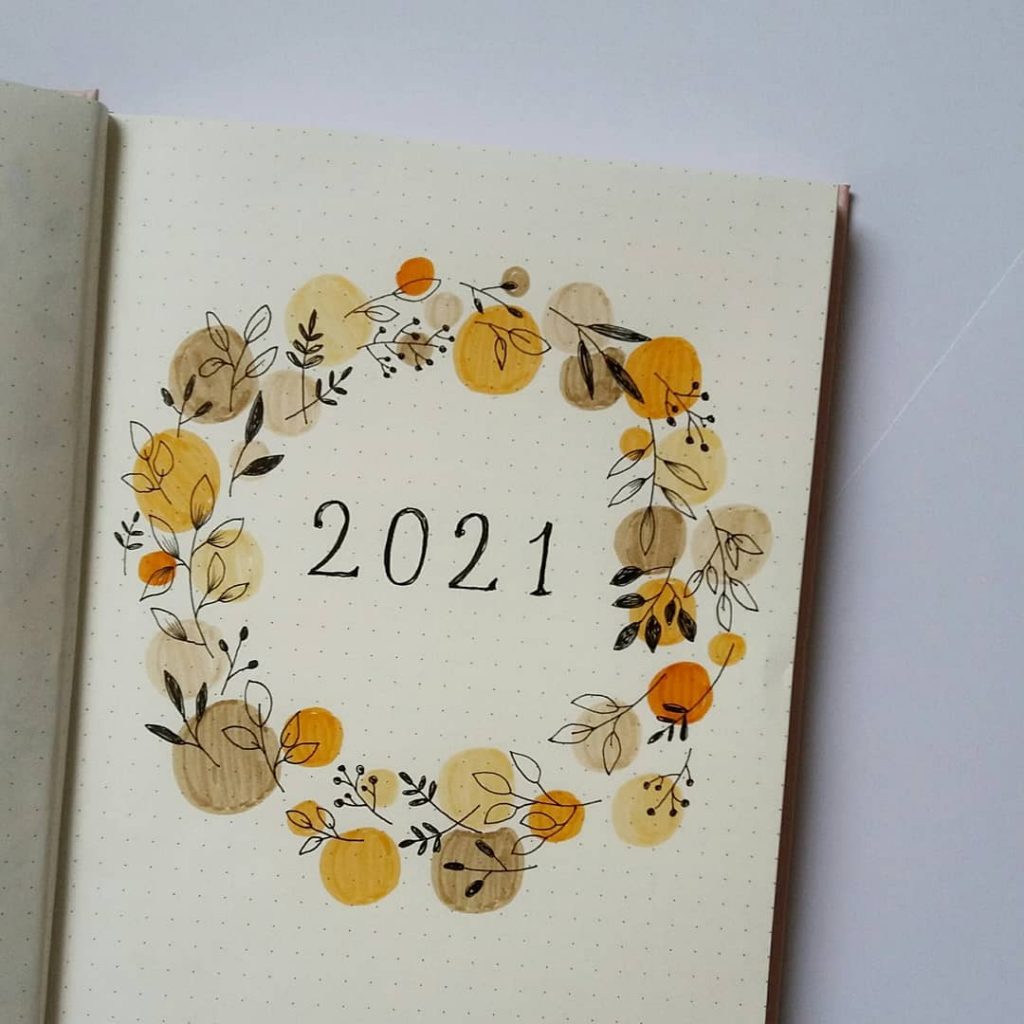 If you are a lover of wreaths then this 2021 bullet journal idea by bujobyrita will certainly catch your eyes. It is simple but the colors bring the whole thing to life. The detailed leaves and the shades of brown and orange are giving a warm vibe. Let this journal snuggle your routines and schedules in its warmth.
27. Paint 2021 With Your Brush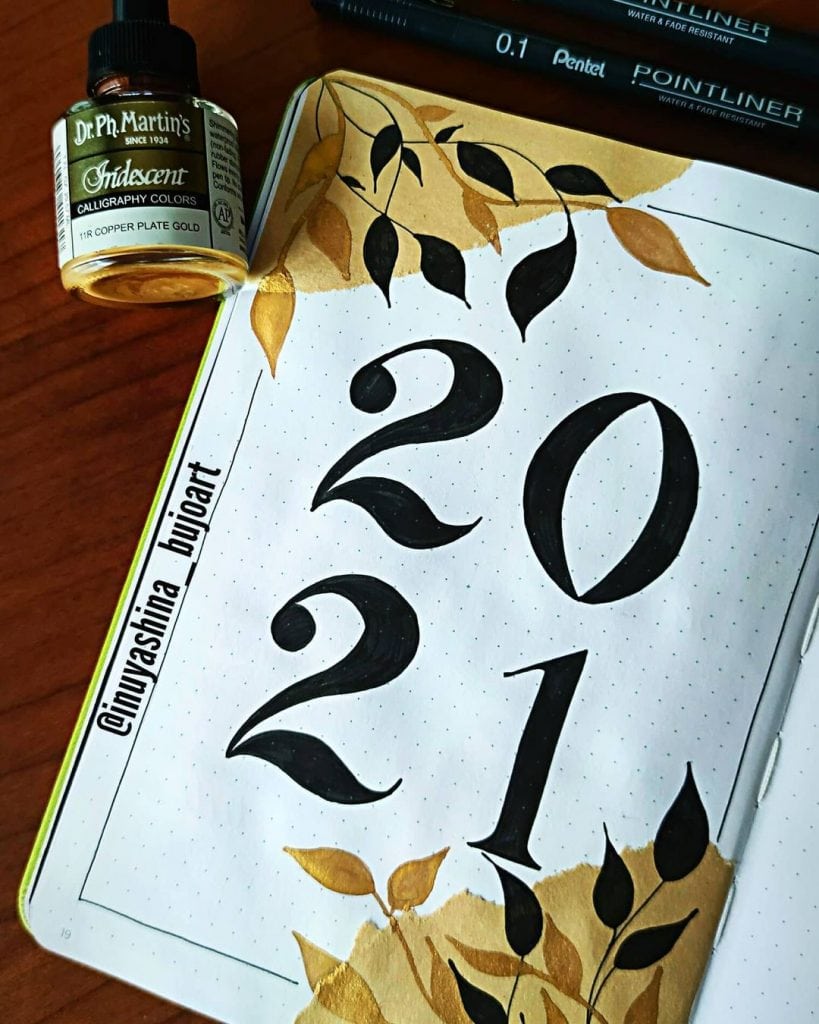 How lovely are the brush strokes on this 2021 bullet journal! Inuyashina_bujoart has kept things to minimal. With the simple font used to write 2021, and the nice earth sandy brown base, this journal spread has the warmth of nature. The tangled leaves coming down to the page is what I love. The minimalism and sophistication of this bujo page are amazing.
28. Floral Corners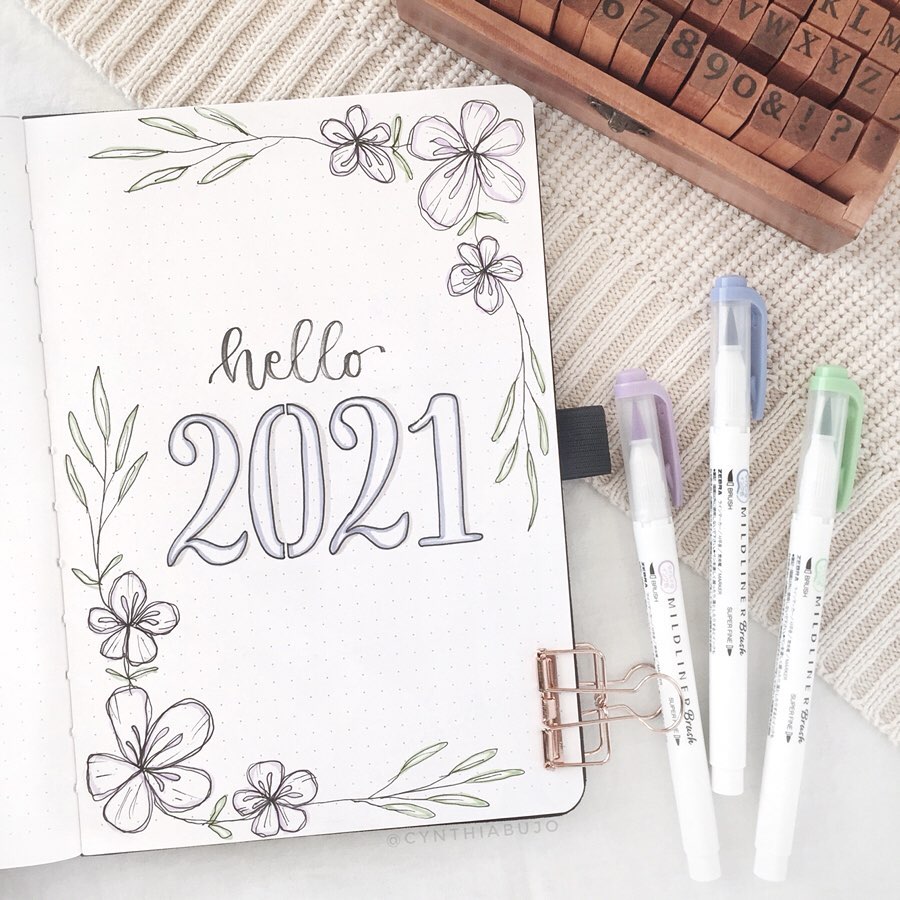 I wish we could protect 2021 just how these floral patterns are guarding '2021' on this page. Cynthiabujo has used floral patterns in a classic way. It still has the softness of flowers that will fill your 2021 with hope. The elongated leaves have perfectly complimented the flowers.
So here we are! The list has all kinds of 2021 bullet journal ideas for you. Bullet journals are important, much more than we think they are. Because they are not just only pages, they inspire us every day. And we all can use some extra motivation to push us a little further. So let us know your favorite 2021 bullet journal idea in the comment section. If you are new to journaling you can certainly start now. And Happy new year people! Achieve and thrive!
Also if you like this article then click on the image below to save the article on your Pinterest board.