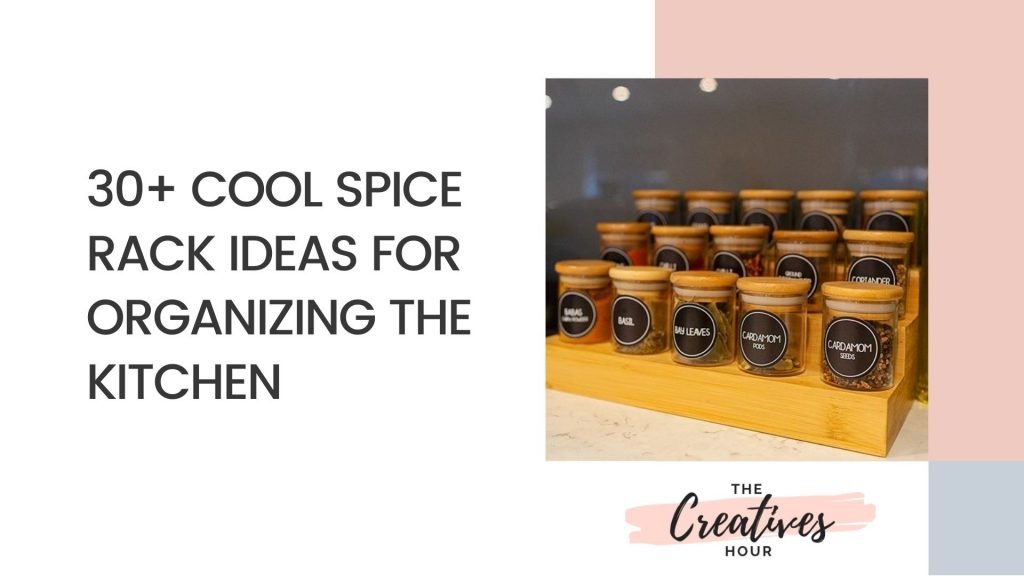 In today's world having a big kitchen is a luxury that not all of us can afford. But does that mean you need to compromise with the kitchen set up? Not really. Thanks to the fancy spice rack ideas on the internet, we can all enjoy an aesthetic kitchen cabinet. Nobody likes to struggle while finding that bottle of oregano while preparing a delicious dish for the dinner party. And with these custom spice rack ideas, you don't have to face such a miserable fate. You can easily keep a whole lot of spices all sorted and nicely stocked in style.
Spice rack ideas are not just a blessing for a close-spaced kitchen but also something that these days only makes a modular kitchen fancier and more luxurious. After all, smart cooking starts with a smart kitchen where all the spices are just a hand away. Let's not ruin the mood to cook because of the mess on the counter all thanks to the spice jars.
With the help of these DIY spice rack ideas keep your everyday spice at a closer reach and those special spices nicely tugged away for special occasions.
Check out some more DIY decor ideas for the closed space areas here on- 28 Beautiful and Unique DIY Planter Box Ideas. Some more DIY ideas- 22 DIY Hanging Shelves and Decoration Ideas.
1. White Spice Rack Ideas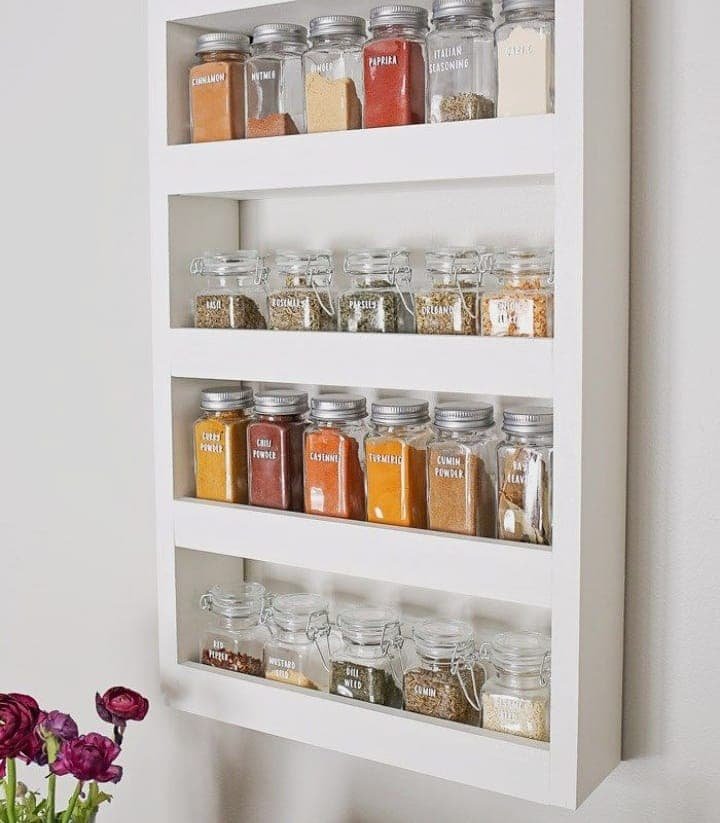 All white stylish decors may look all pristine and fancy but it is certainly not so easy to achieve a look like that. But that doesn't stop me from going gaga over all the white decor ideas on the internet. Just like this one here by diyprojecthub; I am loving this simple spice rack. Especially the simple glass jars have only enhanced the simplicity of the white rack.
2. The Wooden Spice Rack Ideas
There is something about the wooden racks, they bring back the ancient royal look to everything around them. Look how simple and yet so fancy is this spice rack idea by theallspicery. And how can one even overlook an excellent idea of having the handy versions of the home mixed spices? Who would like to bring out the huge glass jar for some extra spice for the scrambled eggs? Instead, you can store small amounts in mini jars just to make things more easy and controlled.
3. Spice Jar Declutters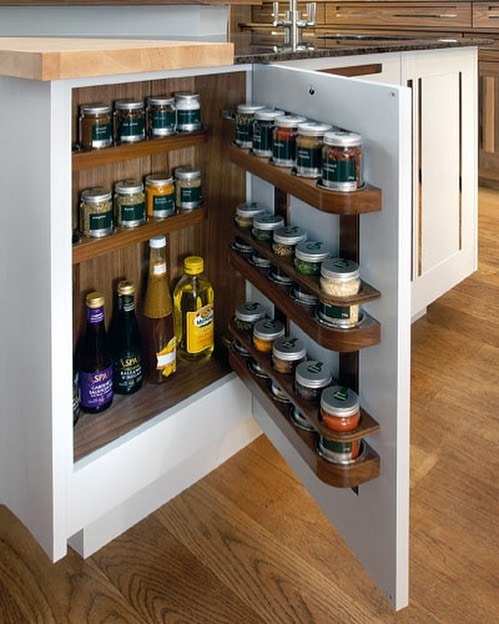 Have you ever felt like cooking a fancy delicacy and then just be pestered by those annoying spice jars all over the place? Well, happens to me too often. And in such a situation I only pray for some well-organized spice rack ideas. This one here by mark.wilkinson is one creative way to store spices. It is not just a good organizer but also a glamorous one which is certainly an aesthetically pleasing member of the kitchen.
4. Label Those Jars
I find such spice rack ideas absolutely adorable. Especially the labeled jars only make it more organized and keep everything sorted. And I love how homemethodco has named the jars. The writing style is quite simple that has kept the quirky theme alive.
5. Victorian House Spice Rack Ideas
Look at these beauties! These vintage Victorian house miniature containers are perfect for storing spices. Imagine how amazingly they will complement the kitchen tabletop. Smitten.mitten.thrifts has of course not forgotten to label the spice organizers. Everything is cutely labeled making them efficient and cute simultaneously.
6. Spectacular Spice Drawer
Spice rack ideas can be as versatile as you make them. It might seem intimidating and a herculean task to organize those spices but it is actually as simple as learning alphabets. For instance, talentedkitchen has skillfully utilized the drawer space. With just some drawer boxes, and chalks to label the jars and some glass jars and shakers you too can easily achieve this beautiful organizer.
7. Bon Appetit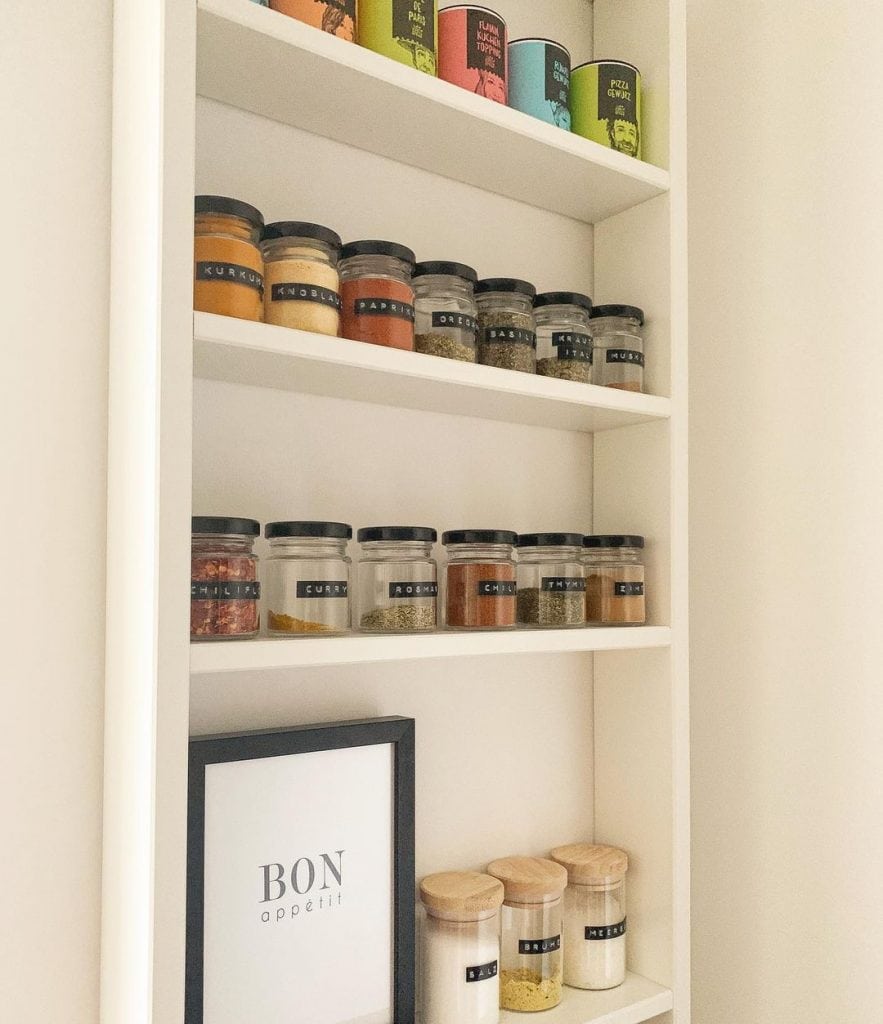 Spice rack ideas like this one here by in.everydaylife_ is simple and sorted. And why not? I absolutely like ideas like this one which is not clustered. This one has just a single line of spice jars, which makes it easier to keep decluttering. Especially the cute little letters to label the jars against the black background have this amazing touch of sophistication.
8. Spice Drawer idea
How about you spice up your kitchen drawer with some of those clear glass spice jars? Caaitlinbrooks has found an excellent way of arranging the black labeled spice jars in a drawer. It is not only an efficient DIY hack but also a classy one. The best part about this spice drawer is that she has used foam board to give an angular position to the jars so that it is easily accessible.
9. Store Those Spices
Storing spices is trouble, where do you store them? In the drawer? On the shelves? On the table? If the confusion is never-ending then how about trying out some good spice rack ideas? Prettypantrylabels has come up with this decluttering spice organizing set up. The wooden lid and the glass jar have created a beautiful aesthetically pleasing amalgamation. The additional advantage of this one here is the airtight glass jars. What a creative way to store spices! I love it.
10. Spice Baby Spice
Ourhomeofbliss has spiced up the whole spice organizer set up with just minimal effort. The stair-like rack is nothing less than a blessing for arranging the spice jars according to their usability. Honestly, I love these kinds of spice rack ideas. It is much more hassle-free when I can arrange the spice jars according to their uses.
11. Spice Cupboard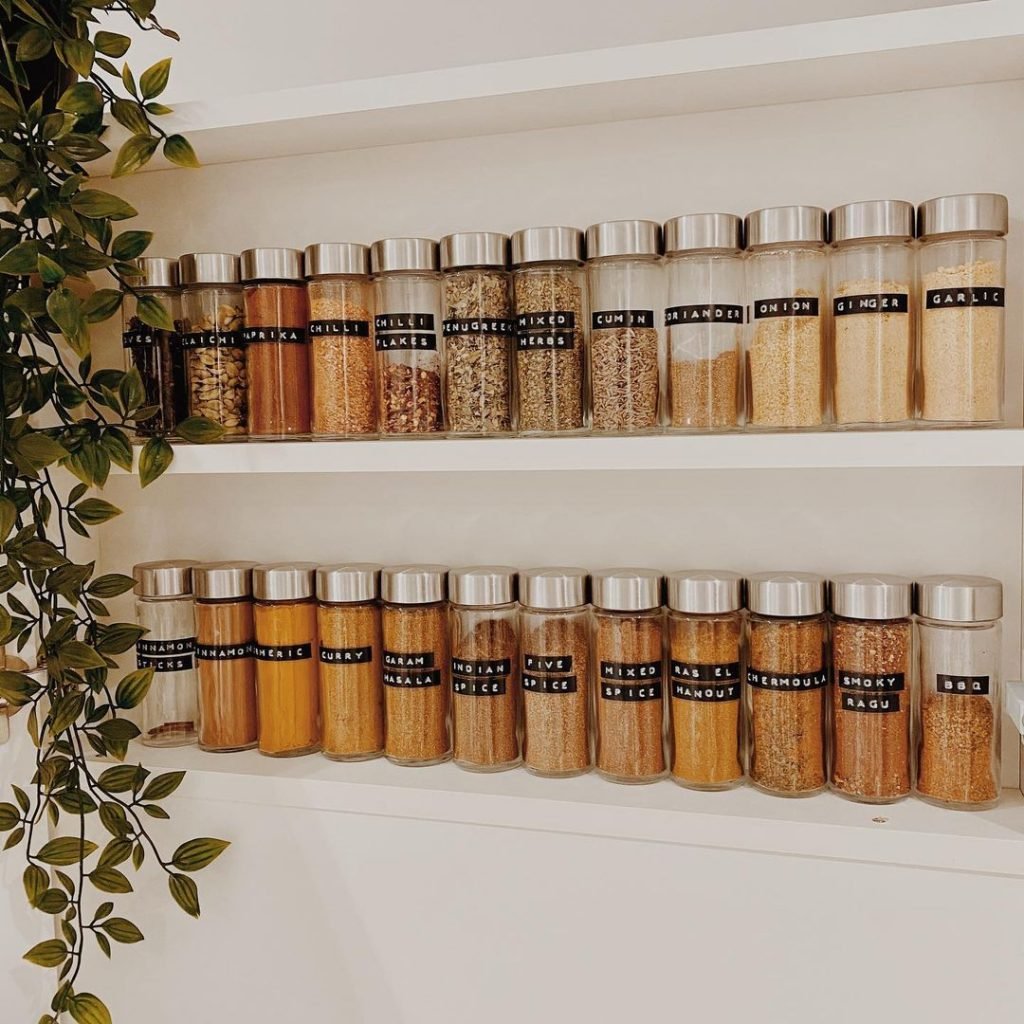 Spice cupboard spice rack ideas like this one here by twenty.designs is a blessing for all the culinary skill explorers. I mean it is too many cuisines and too many spices to remember. If that confusion has always bothered you then this idea is going to be your new-found love.
12. Huge Spice Rack
Spices are important. I won't be wrong to say that they are dish savers. And why not, sprinkle little herbs and spices and voila you have a delicacy! But storing these spice jars is a task. If you are a spice lover like me then you will love this fancy spice rack idea by townhousenumbertwo. These kinds of huge spice rack ideas are often hard to manage. But a little help can actually make them a game-changer. They are effective and spacious. You can certainly also include some small potted plants to give it an aesthetic touch.
13. The Little Spice Holder Spice Rack Ideas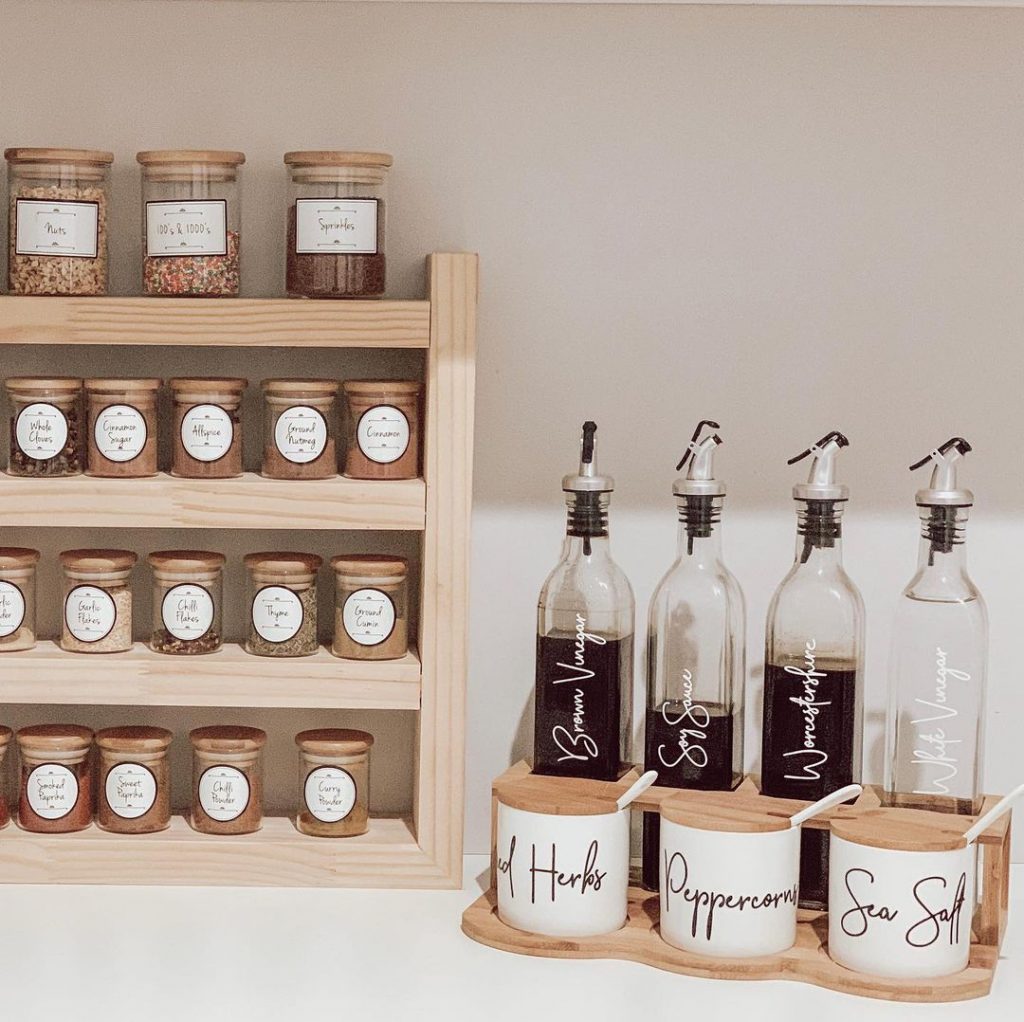 Oh, how lovely is this one! I love how _bw_design has not only taken time to build a rack for the spice jars but has also organized the sauce bottles. Arranging a place for that soy sauce bottle, or that vinegar, and so on is equally challenging. But with this spice set up here, it is all sorted. I am loving the fun lettering style used to label the containers, which is only making everything much prettier.
14. Wooden Spice Rack Idea
Another wooden rack idea right here, once again I love this old classic overall look. Ourhome_at236 has kept it neat and clean. I love such spice rack ideas probably because they are so much easier to maintain. This kind of storage space for the spice bottles keeps the kitchen from being an absolute nightmare. Some little effort like using matching spice jars and marking them with names makes the whole spice jar havoc manageable. How artistically pleasing is that little board that says "Kitchen"?
15. The Spice Drawer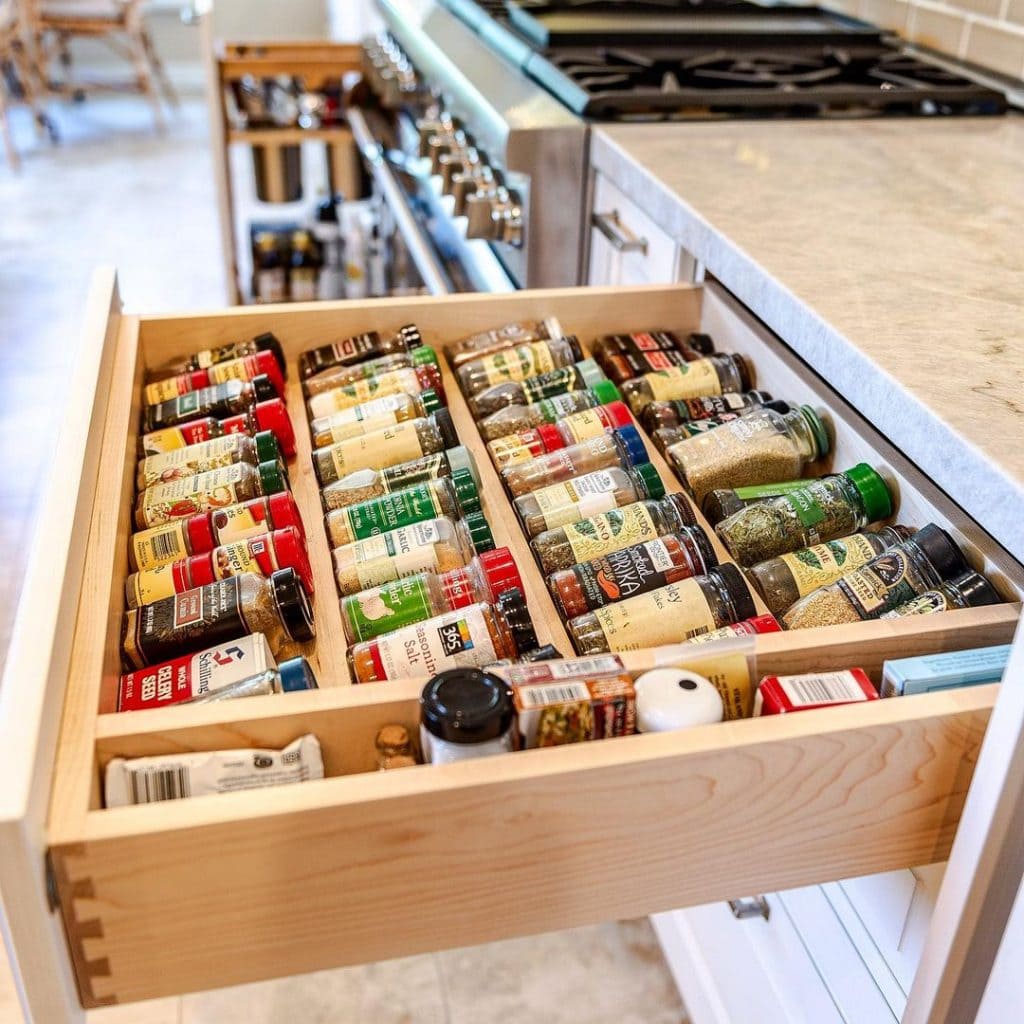 Don't we all have that enthusiastic home gourmet chef within us? But why let a messy spice jar counter ruin that budding chef? No one likes a messy kitchen counter, no one likes to fondle around for a particular spice. So here is a solution by deborahchadsey.photo. I love how the spice jars are kept in an angular position which makes them easily accessible and organized.
Also, read – 30 DIY Pantry Shelves To Build For Your Home
16. Custom Spice Rack Ideas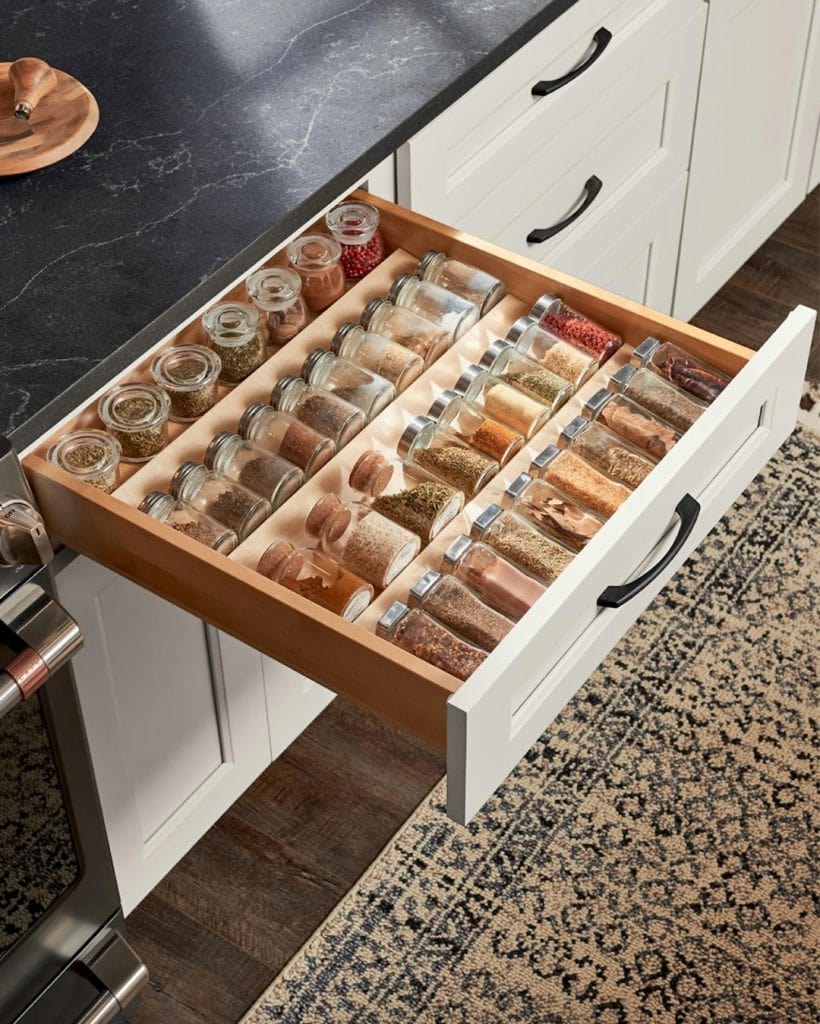 Nothing is better than a custom made spice drawer. It fits the need and can be obviously modified according to the needs. For example, this one here by masterandcabinets shows how easy it is to keep the spices organized and decluttered.
17. Spice Rack Ideas for the Kitchen Counter
Oh so pretty is this blue-themed spice rack idea! I am digging these matching patterns on the wall and the tray used for the bottles. Neatobsessions have soothed all the minimalist souls out there. Look how simple it is! This one here is themed as 'less is more'. Even the spice rack has taken up so little space. And that is important because the kitchen counter should be clean and not crowded.
18. Orii Spice Rack Idea
Spice rack ideas should be easily accessible and also compact like this one here by orriproducts. This compact cylindrical spice rack takes up minimum space on the kitchen counter. The rack might be small but the rotating feature makes it efficient and modern.
19. Hanging Spice Rack Idea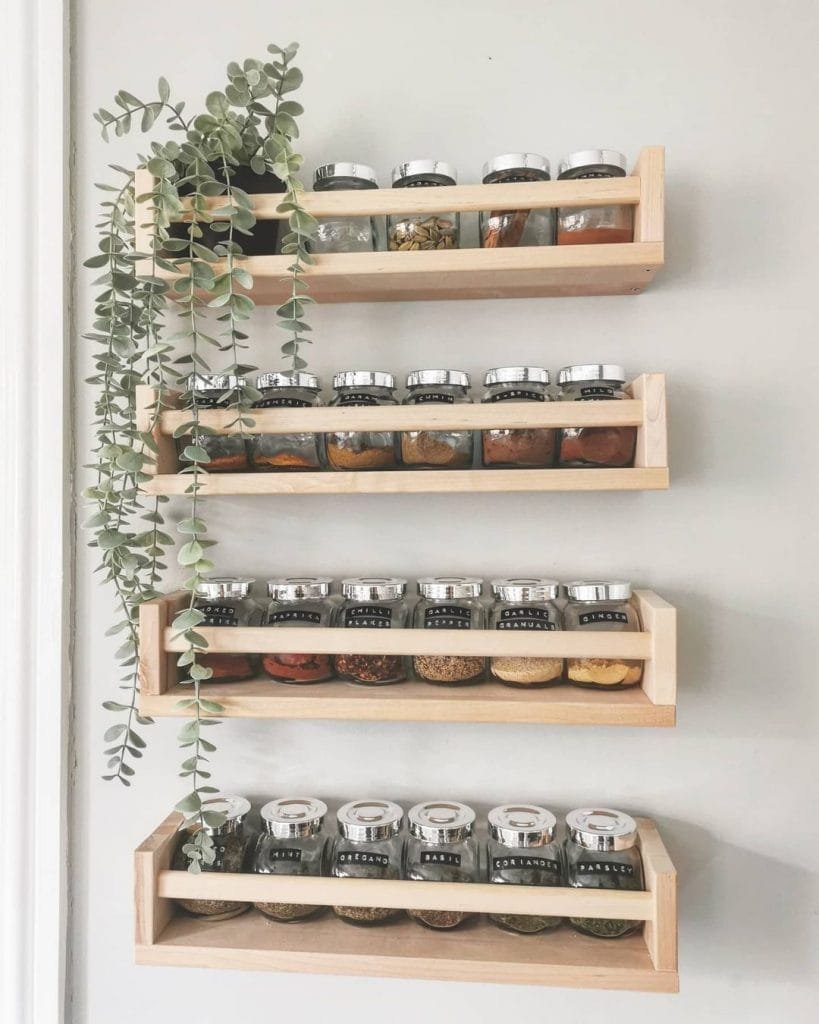 If you are a clumsy soul like me, and getting that box out of the cupboard has always been a messy affair then this hanging spice rack idea by chedworth_xo is perfect for you. I like how there are four separated racks. This enables one to arrange the usually used spices separately from the special ones. And how can one forget the beautiful plant?
20. Rustic Wooden Spice Rack
Spice rack ideas can be of course played around with so that they compliment not just the kitchen decor but also your taste. For instance, this lovely old classic rustic spice rack by ourfirsthome.22 has kept things pretty basic. This kind of wall displayed spice rack ideas are good for small kitchens to save up more counter space.
21. Spice Rack Ideas for the Wall
Two more rustic spice rack ideas! See how amazing they look. They are small, wooden, easy to make, and aesthetically pleasing. Halisspicemama has made these decluttering spice organizers for all the epicurean souls like me!
22. Make It If You Don't Find It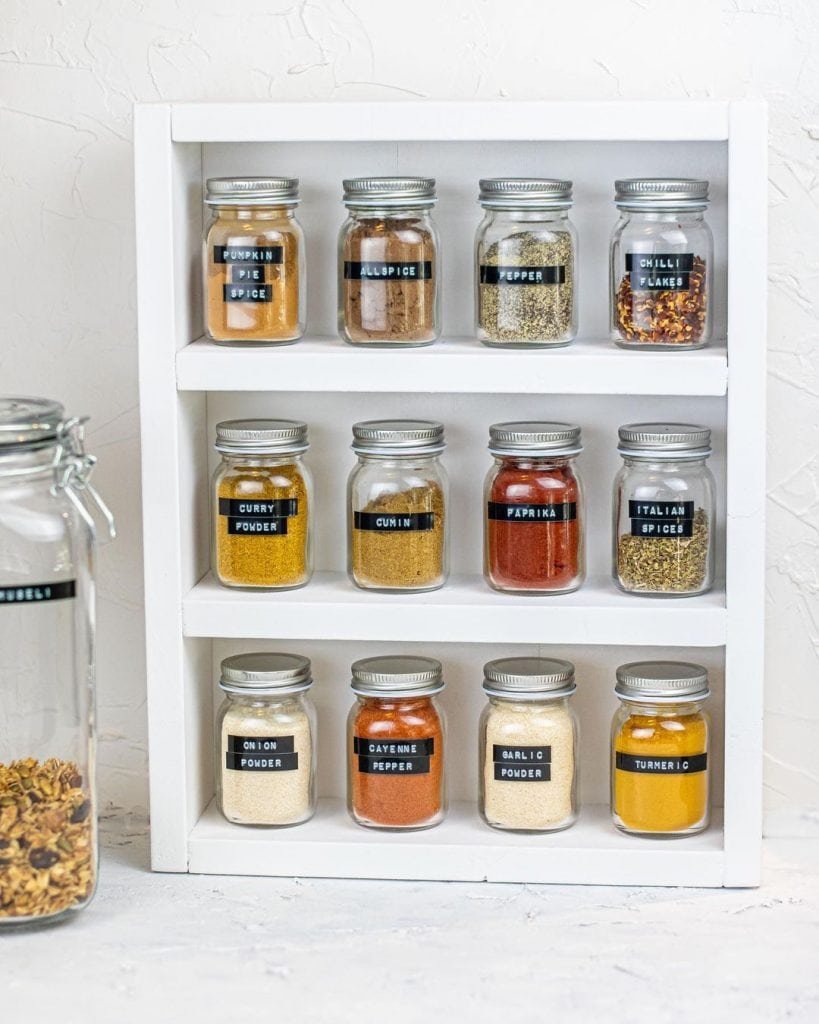 There is nothing better than making your own spice rack for all the spices clustered in the cupboard. This white and pristine spice rack by theawakenedplate is simple and sophisticated. It is a perfect addition to the kitchen that will make the kitchen decor to another level.
23. Spice Rack and the Copper Pipe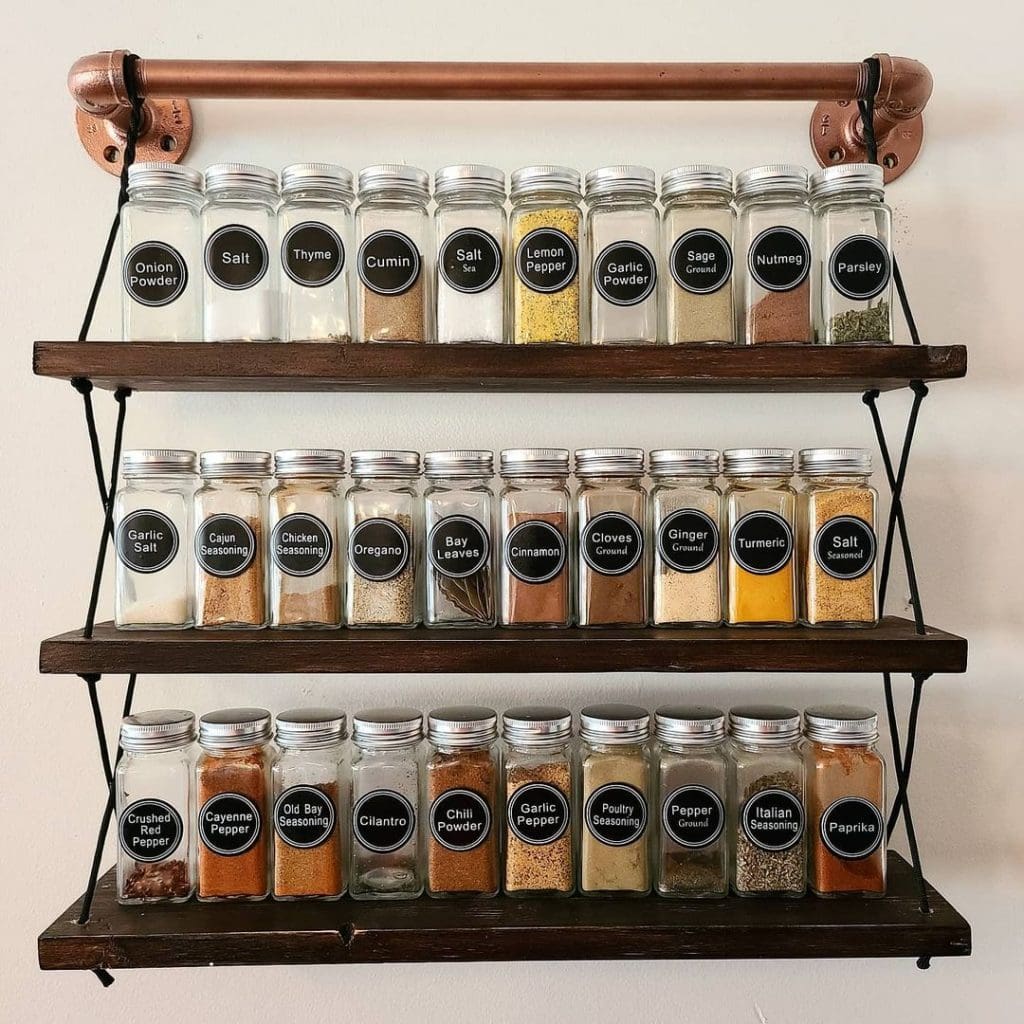 How about we hang the spice rack? Let it fly high! I think none of the spice rack ideas can ever get this quaint and quirky than this one here by case_concept_creations. I am loving this swing like a rack, especially that copper pipe.
24. Wooden Spice Organizer
How beautiful these whole spices look on the wooden rack! This rack by thewelldressedtales may appear to be small, but it can hold a good number of spice jars. This can be easily customized as per the need and demand. But the structure is so simple and elegant that this will take up the kitchen decor game by a notch.
25. Rustic Spice Rack Idea
It can be a painful affair to deal with those ever falling spice jars from the cupboard. And rigbyresidence has a perfect solution for that. This eye-pleasing spice rack is easy to build. I love the soft blue wall, it is complimenting the rusty wooden crates.
26. Drawer Store Spice Rack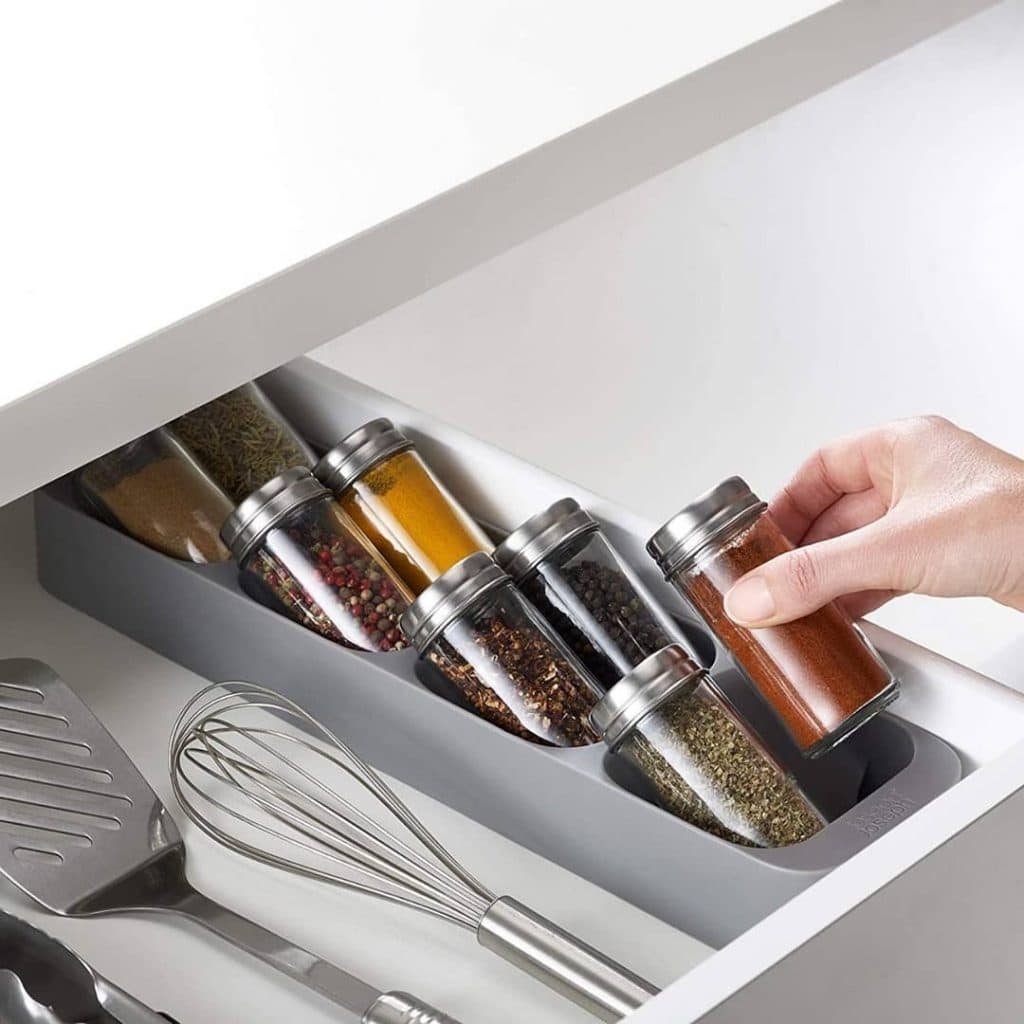 Not everyone is struggling and juggling too many spices. So this one here by homazing.pk is perfect for that purpose. It is simple and small. The steel bottles are certainly a plus point, at least for clumsy souls like me. But what I love about this one is the fact that you can add as many of these as you like in the drawer.
27. Hummel Spice Rack with Vintage Jars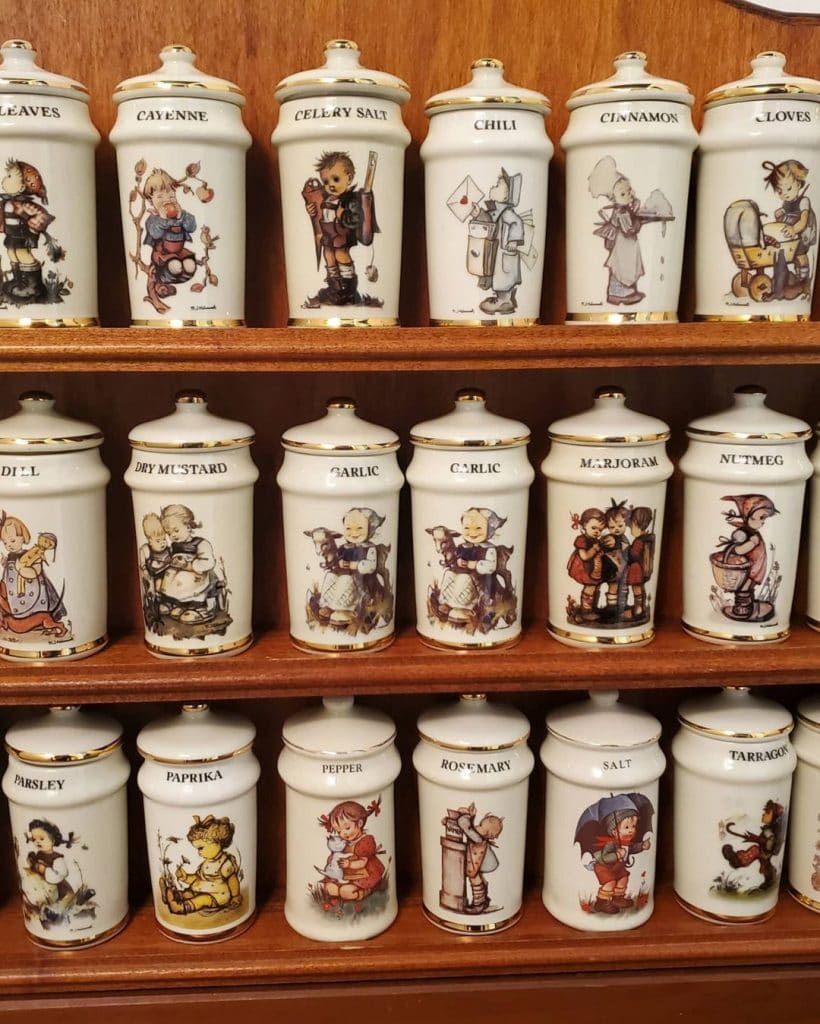 How about some spice rack ideas like this one here that looks so vintage. This wooden and artistic hummel spice rack by remixthriftandvintage is unique. It is rare through and through. From the spice rack to the hummel spice jars, everything is quite vintage and quaint. But I love that little drawer at the bottom. Why not? We all could use some extra space.
The hummel spice rack jars usually come in sets of 23. Each container is covered in an ivory glaze and has 24K gold in its rims. As you can see, each container has a unique Hummel work of art placed on one side of the spice jar. These artworks are usually pictures of small children in a beautiful vintage setting. As you turn the Hummel jar around you might notice the history of each spice printed on the jars of the Hummel spice set. The text usually has a brief description of the spice and its origins. These jars are vintage but very efficient for storing spices. The lids have rubber seals around the rims. This way, the spices will retain freshness and flavor.
28. Black And White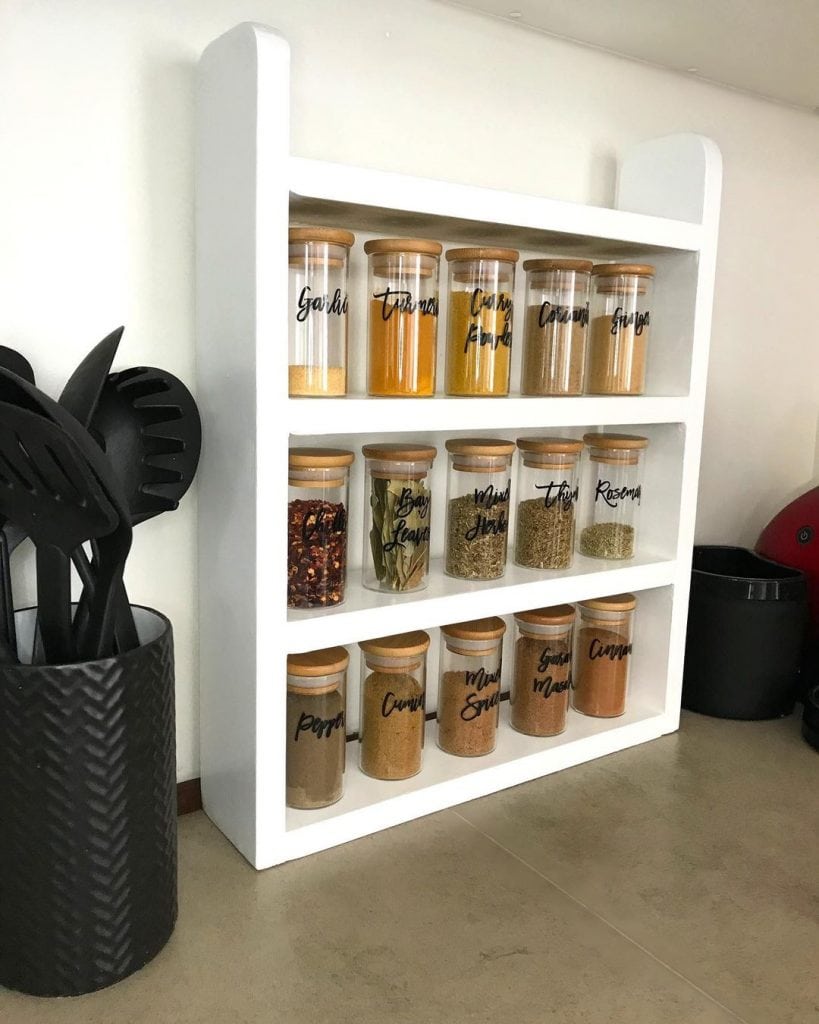 I am often tired of organizing my spice drawer. And they never stay the way I organize them. They always get messy no matter how hard I try. So this spice rack by emmeyoung_youtube is nothing less than a blessing. I love color coordination. The white perfectly accompanied by the black cutlery has made this an aesthetically pleasing scene.
29. Cork the Spice Bottles
Spice rack ideas like this one here are very creative. It is the small details and small efforts that make the difference. Kaitlincuccinelli has turned a simple spice drawer into something so beautiful with just small efforts. The use of separators has made the arrangement of the spice jars easier. And I particularly like the spice bottles. The corked spice jars are only adding to the character of the spice drawer.
30. Welcome to the Village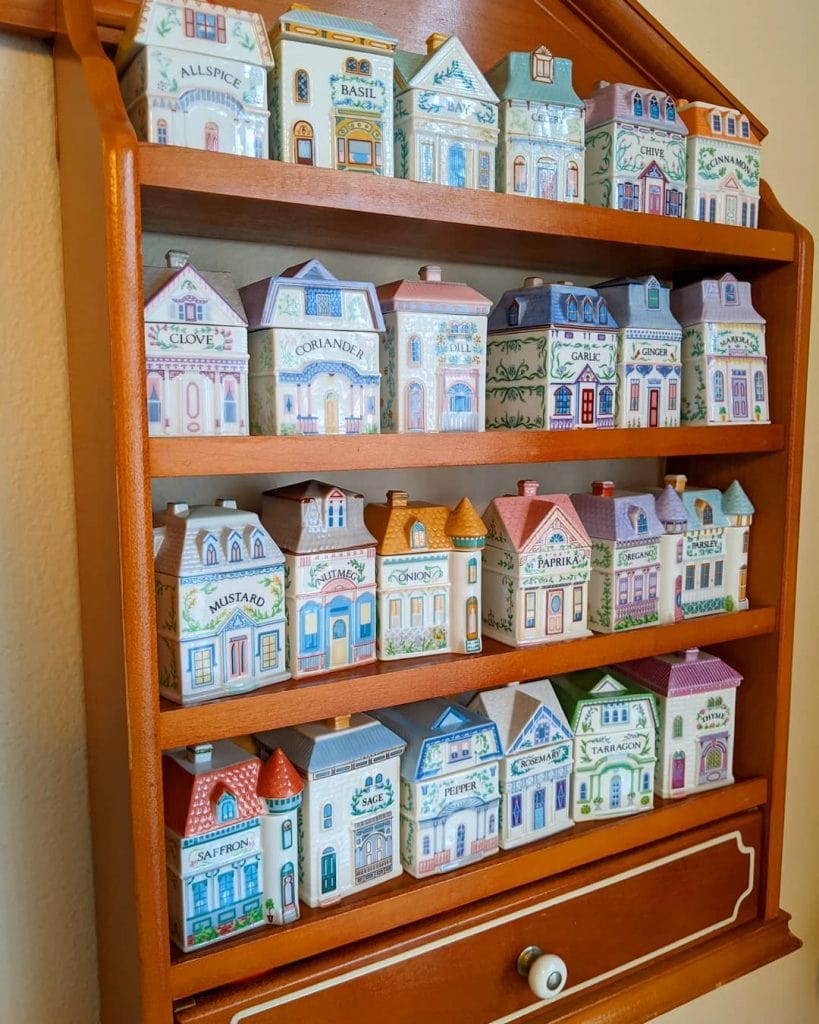 If you thought spice rack ideas have to be the same classic style then let blushingcatlady change that for you. This rack is shaped like a house. The wooden polished texture is certainly giving it a homely feeling. The detailed drawer at the bottom of the rack is some extra space that one can always utilize. But the spice rack's actual beauty lies in the spice containers. How adorable are these vintage houses!
31. Spice Shelves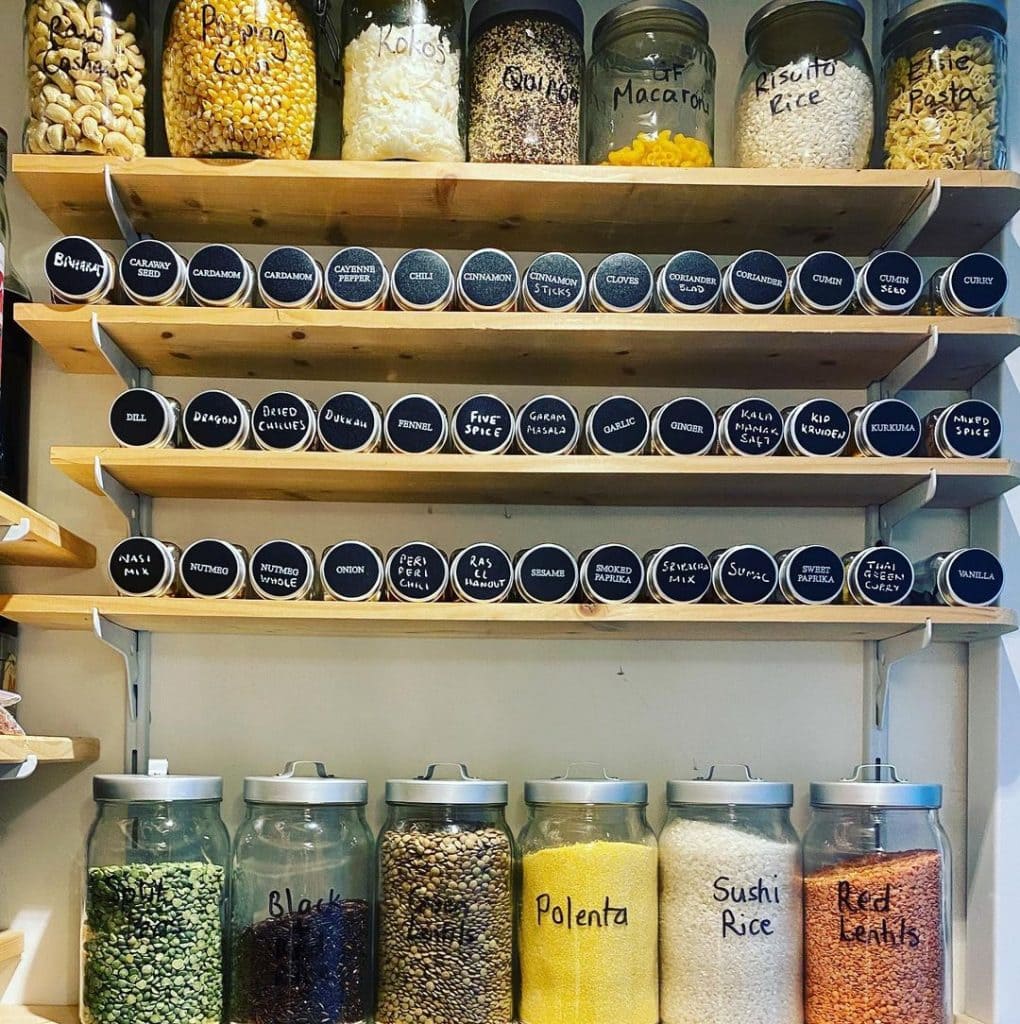 There are some spice rack ideas that are far from the usual one yet so classic. This one here by suzybecque is just the simplest one on this list. It is all about how the spice jars are arranged. But what I like about this one is how the big jars of rice, lentils, pasta, and so on are also nicely tucked in together.
32. Vintage Spice Rack Ideas
Such vintage spice rack ideas like this one here by shaz2jaz enhance the charm of the kitchen. Especially these bone china spice holders are so quaint. It makes the whole frame so picturesque and needless to say such old and exquisite things have their own charm. And keeping in mind that, the spice rack is also an old classic wooden rack. The nice wave-like edge of the racks is only complementing the soft round-like spice jars.
No matter the size of the kitchen, arranging everything properly and keeping those jars and bottles organized is a task. And one can always use some good spice rack ideas to arrange them and keep the kitchen counter clean. A little organization and voila you will have a clean kitchen! Try out some of these spice rack ideas and do not forget to tell us your favorite ones in the comment section below. Go ahead, spice up the kitchen!
Also if you like this article you can click on the image below to pin it to the Pinterest board for future reference. You will never run out of spice organizing ideas!