With Christmas right around the corner, it is time to gather around the Christmas tree! So why not this Christmas personalize your Christmas tree with some gorgeous DIY Christmas ornaments? Buying your Christmas ornaments is certainly an easier option but the holiday season is all about get-togethers and fun times. And what is a holiday season without some group activity? So this Christmas get together with your family and loved ones to make some good old DIY Christmas ornaments. It is indeed the best way to ensure that your Christmas tree is full of love and hope. The DIY Christmas ornaments do require some effort and will become a memorable activity for your family.
If you are looking for some ideas for such DIY Christmas ornaments then look no further. Because we have got a curated list of options for you right here. You will find all sorts of options here from the elegant ones to the kids-friendly ones. You can easily customize these DIY Christmas ornaments according to your taste.
You can also check out our other Christmas related inspirational ideas to make your Christmas more fun. Check out some fun ideas for Christmas decorations here on- 17 Beautiful Christmas Crochet Baubles Ideas.
Let's start with the list of DIY Christmas ornaments and see if we can find something that resonates with your soul.
1. Paint The Wood Slices
If you think doodling belongs to the pages of your doodle diary then think again. This DIY Christmas ornament idea by artezaofficial is too quaint to ignore. The beauty of this exquisite Christmas ornament lies in its aesthetic appeal. And it has a touch of sophistication and class which might suit your indoors.
2. Let's Go Organic
How about making some sustainable DIY Christmas ornaments for your Christmas tree? Zeroinonwaste has an organic idea to make some good and beautiful Christmas ornament for your tree. All you need to do is dry some orange slices and that's it!
3. Little Christmas Heart
Christmas decoration is incomplete without the little hearts. And soulful_notions has made some simple and elegant DIY Christmas ornaments to add some extra love and hope to your Christmas tree.
4. The Golden Baubles
These beautiful golden baubles will undoubtedly impress you more than anything else. The simplicity that delineateyourdwelling has given these baubles is beyond any appreciation. The golden color gives these DIY Christmas ornaments the right touch of the festive season. And the simple patterns on it adds some personality to these otherwise plain baubles.
5. Paper Christmas Houses Ornaments
DIY Christmas ornaments are much more than just decorations. It is a family activity and fun activity for the kids. Quynhshoneylavender has made sure that this project is easy for a family activity and engaging for the kids as well. Your kids will certainly have a gala time in choosing the colors for these paper houses.
6. Nature Ornaments
Families often have a tradition of making their own DIY Christmas ornaments to personalize their Christmas tree. And why not? There is so much room to play around with the ornaments. It is so much fun to improvise and come up with innovative ideas just like littlepinelearners here. Hang these beautiful DIY Christmas ornaments and they will act like adorable sun catchers.
7. Penguin Pine Cone DIY Christmas Ornaments
If easy and irresistible is your kick, then look no further. These cute little penguins will blow your mind with their charms. Hellowonderful has kept it simple yet the idea is well aligned with the white Christmas theme, making these DIY Christmas ornaments more special.
8. Cactus Cutie
This little cutie here by sculpey_official is one of a kind. This is a clay DIY Christmas ornament making it majorly something that your kids will love putting together. So get some clay and get your kids to work on it; let their imagination do its magic!
9. White and Blue Baubles
These white and blue baubles by morganmcak are as artistic as it gets. All you have to do is paint the baubles white and then get creative to have these fancy DIY Christmas ornaments. Bring out the inner Piccasso through your brush strokes this Christmas!
10. Spin The Yarn
These cute little stars are all you need to make your Christmas tree more personalized. Shandasvila has come up with excellent DIY Christmas ornaments ideas that are not only easy to make but also creative and kids-friendly.
11. Scrap to Fab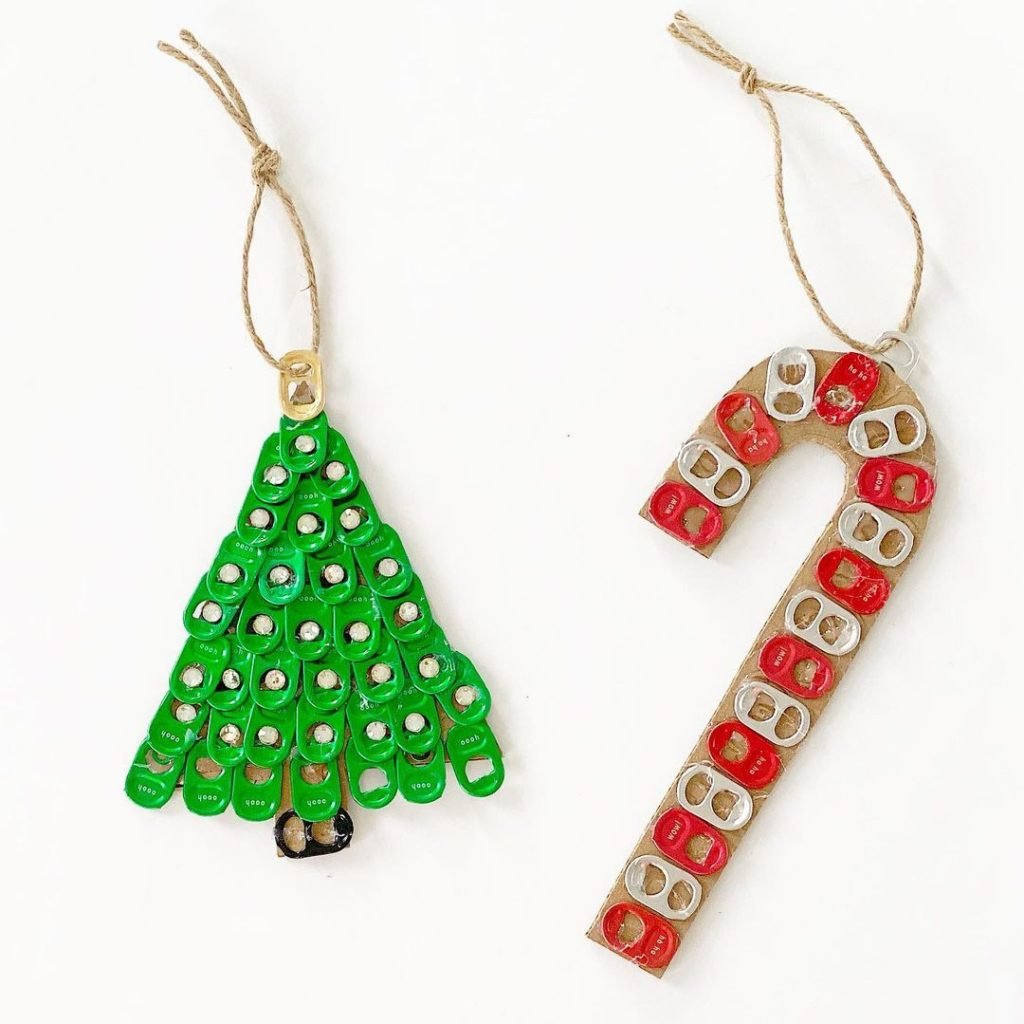 These DIY Christmas ornaments are nothing less than a work of a genius. Learncraftgrow has skilfully made use of old pop tabs to make these creatively pleasing Christmas ornaments. The best part about this one is that it will teach your kids how to make use of waste to build something beautiful.
12. Paper Tree Ornaments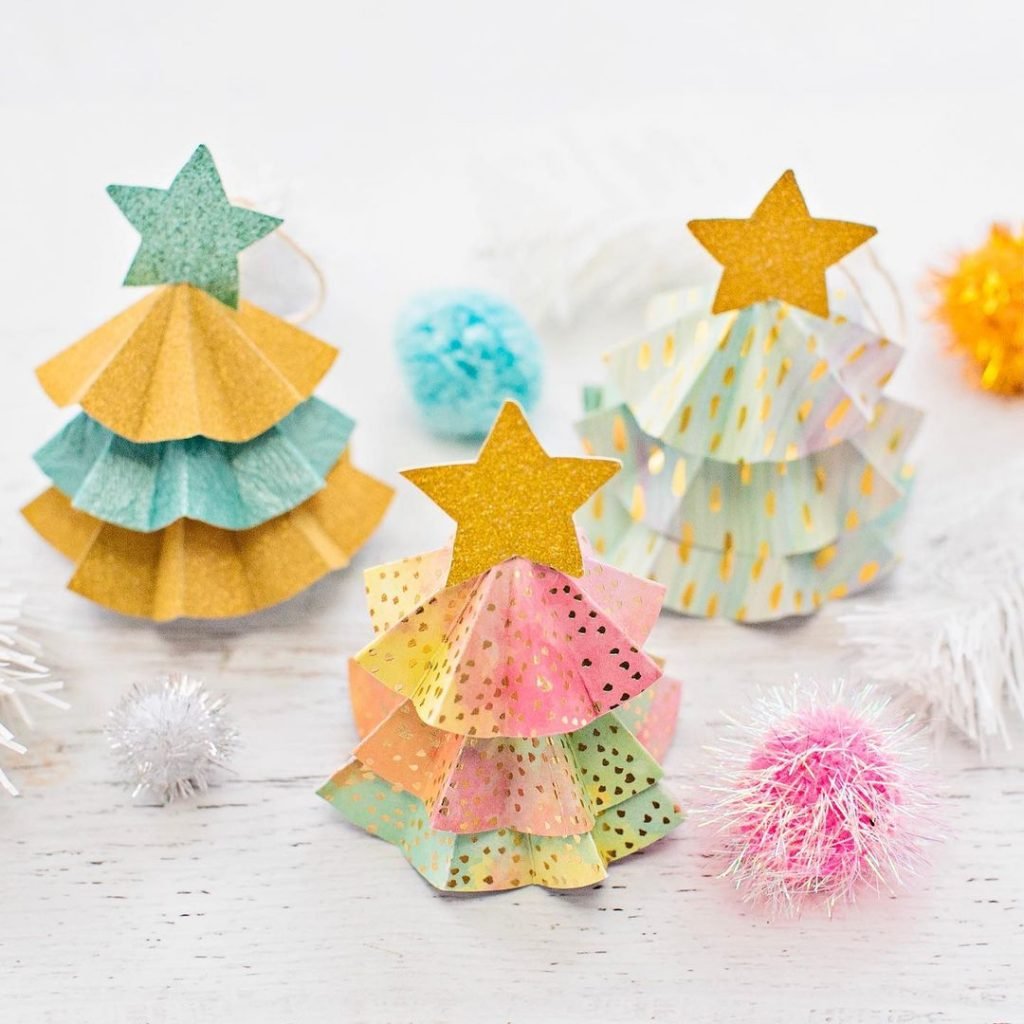 How about some tree on a tree Inception-like effect? Well, make these paper trees, which are simply tiny Christmas trees for your actual Christmas tree. Hellowonderful_co has an easy tutorial to make these kid-friendly DIY Christmas ornaments.
13. Simple and Merry
This DIY Christmas ornament is an excellent option for beginners. If you love the simplicity and live by it then think no further and get inspired by creationstoronto and make these exquisite Merry Christmas baubles.
14. Red Ornaments With Gold Calligraphy
Red is the color of the season and gold is the color of festivity. What else do you need to make DIY Christmas ornaments that scream celebrations! These simple Christmas ornaments by jennieannlettering will require a little guidance but with a little help, your kids will excel in making one of these beauties.
15. Chalk Couture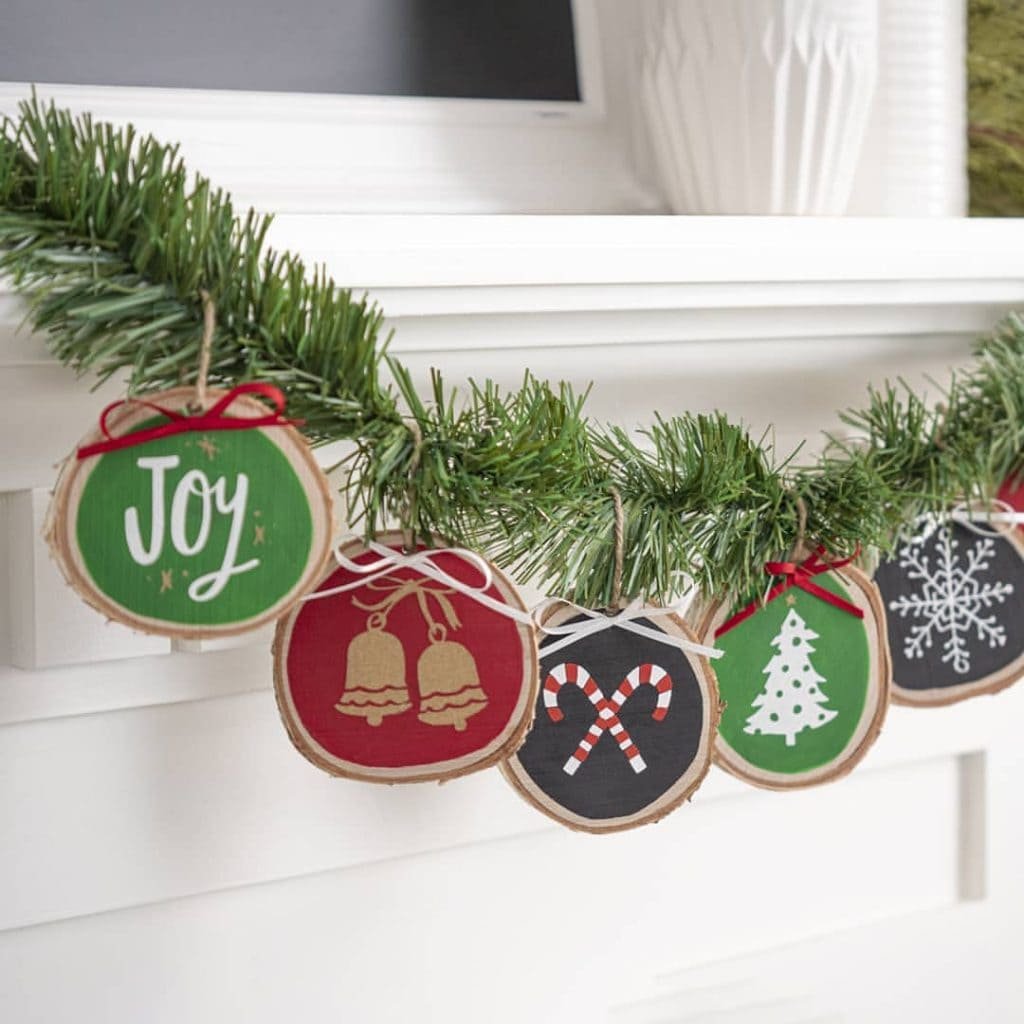 Chalk art is a thing and has been a trend for quite some time now. So why not get those chalks to do something different. Chalk makes handwriting look much more fun than normal calligraphy. So if you are looking for something like that then you will certainly like these DIY Christmas ornaments idea by adoseofbrandi.
16. Hand Painted Christmas Ornament
Painting looks good almost on anything, so why on customize those good old baubles with some of your personal touch. These simple bauble paintings by missjustinamarie is a good option to start with if you are looking for something more crafty and artistic in essence.
17. Paper Craft Christmas Ornaments
These paper dolls by nata_tigra are probably one of the simplest options you will find on this list of Christmas ornaments. But the simplicity nowhere compromises with the beauty of these paper dolls.
18. Pine Cone Christmas Trees
Pine cones can be amazing miniatures for the actual Christmas tree. These miniature DIY Christmas ornaments by tiny_teachings are full of the Christmas spirit and joy. Your kids will absolutely enjoy making these little trees here.
19. Light Bulb Ornaments
These cute light bulb snowman ornaments are an excellent way to decorate your christmas tree. These DIY Christmas ornaments by why_not_do_it_yourself will light up your tree just like your mood this Christmas season.
20. Creativity Bauble Ornaments
This fancy bauble DIY Christmas ornament is fun and speaks your heart. Amytangerineshop has brought a lot of positivity to this bauble here. Your day will be lightened up with these inspiring lines.
21. Mason Jar Lid Wreath Ornament
These innovative DIY Christmas ornaments are an interesting way to reuse those Mason Jar lid wreaths. These Christmas ornament ideas by parties365 are an excellent option for even gifts for your loved ones. You need very basic items to achieve these innovative Christmas ornaments.
22. Pine Cone Ornaments
If you are a collector and a lover of pine cones then this must be for you. This cute little pine cone with the addition of the small beads by lauraradniecki is a sophisticated option for you. If you are someone who likes to keep it simple then this is your best option here.
23. Christmas Animals
Christmas animals are as cool as the winter. So if you are feeling like it then why not include some of these cute winter animals in your Christmas decorations? Finest_handmade has made sure to give these winter babies a cute winter style.
24. 2020 Christmas Ornament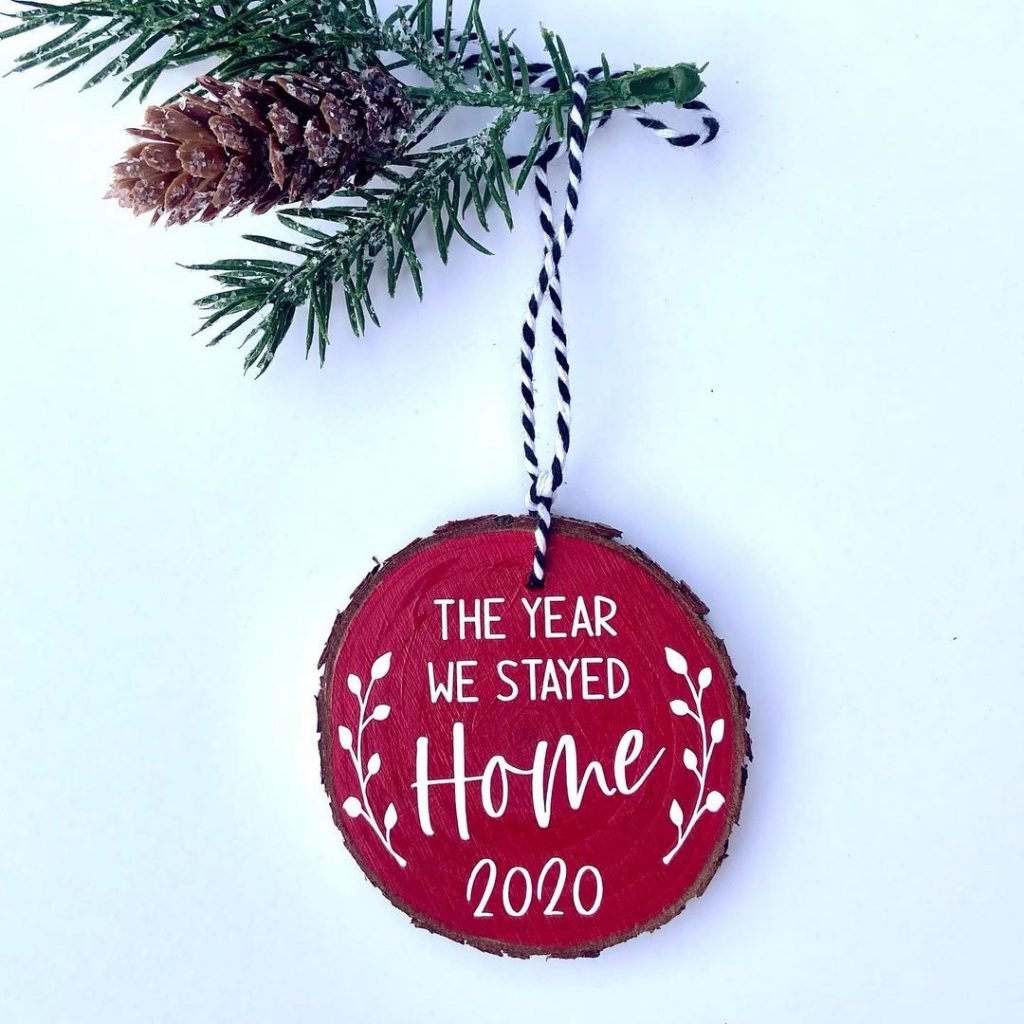 DIY Christmas ornaments this year will be a little different. And why not? This year was hard on all of us. And this Christmas ornament by wispywillowdesigns does exactly that, it brings back the memory of the year we all have spent indoors.
25. Cookie cutter and Mini Stamp
These cookie cutters and mini stamps DIY Christmas ornaments by withhisgrace are the ultimate choice to enjoy a white Christmas. These little beauties here will certainly give the snow vibes to your Christmas tree.
Also, read – 30+ Clay Ideas For Fun Handcraft Projects
26. Downtown Knits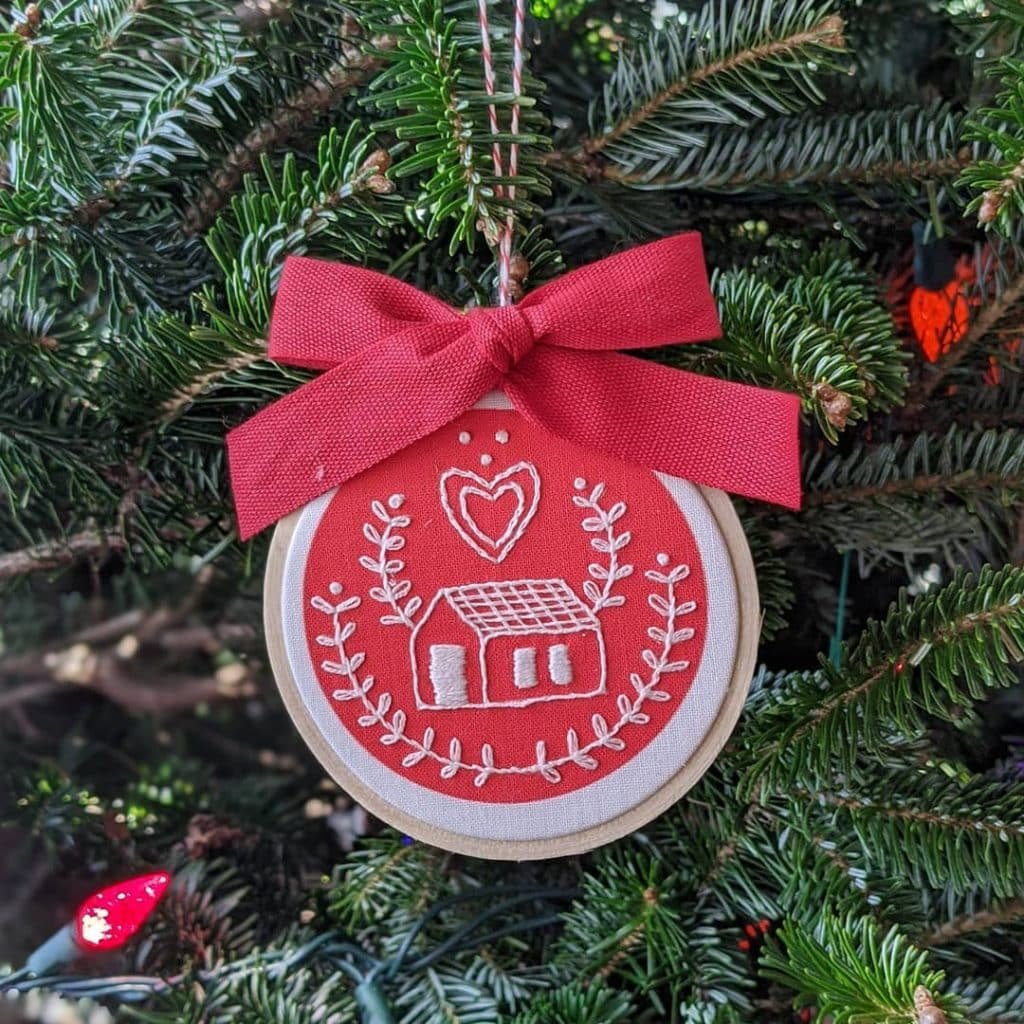 These beautiful red knitted DIY Christmas ornaments by snugglymonkey are too cute to handle. If you feel a little experimental then this is something you can work on. This little one here might need a little parental guidance if you think of involving your kids to make this craft.
27. Xmas Ornaments
These beautiful paper baubles with pastel colors will cheer up your mood. Karinasscrapspace has made it a point to keep in mind the modern decor of your house. You hang these lovelies anywhere and they will be the star of your house.
28. Pine Cone Elves
Pine cones are certainly something that reminds one of Christmas days. And why not include these in the Christmas decorations. Elumerii has made these cute little elves that will add a touch of happiness to your Christmas tree.
29. Salt Dough Ornaments
These colorful salt dough DIY Christmas ornaments by funactivities can be much more than just decorations. This can easily be something you can send out with invites and even as gifts to your loved ones. As these are clay doughs you can get your kids to make a few of these little ornaments.
30. Mason Jar Lid Ornament
Mason jar lids are cool and trendy. You can improvise them with some personal touch. Like upstatecreativeworks you can add some memories or inspiring quotes that you like to give these DIY Christmas ornaments a personalized touch.
31. DIY Wooden Ornaments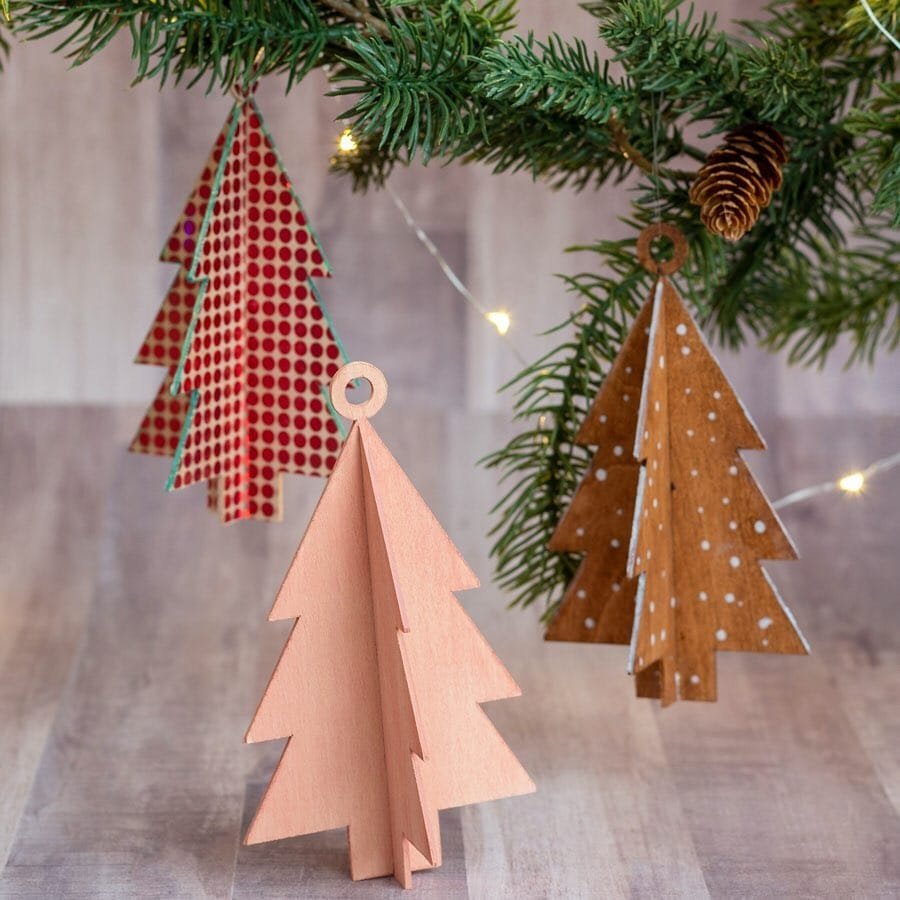 How about some fun Christmas project this year? Anikasdiylife has made easy tutorials to guide you through it all. These simple and colorful Christmas ornaments are an absolute delight to the eyes.
There you go! We have come to the end of this merry list of DIY Christmas ornaments. You will certainly find your kind of Christmas ornaments here. This Christmas get a little experimental and make some good memories with your family and loved ones. And do not forget to tell us your favorite one in the comment section below. Merry Christmas people!
You can also check out our article on 22+ Christmas in a Jar DIY Ideas For Gifting And Decor.
If you loved these ideas, you can use the Pin image below and save this article on your 'Christmas Decor Ideas' Pinterest board.