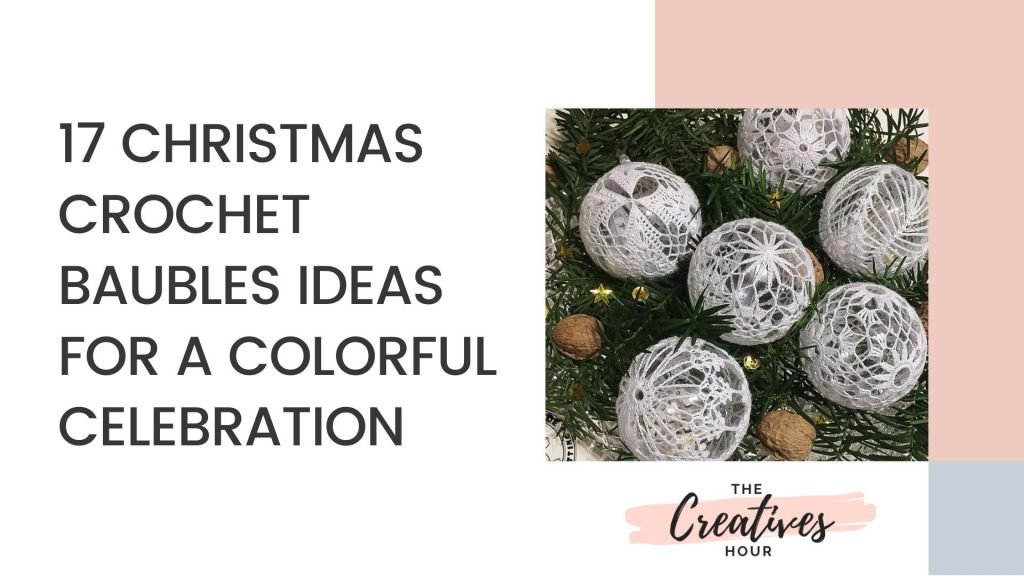 Feature Image Source: emtamonikapoplawska
It is never too soon to start making beautiful Christmas decorations for your Christmas tree. There are multiple ways of making Christmas decorations using materials lying around your house. DIYing Christmas decor is a great way to add a personal touch to your Christmas tree. Christmas Crochet Baubles are an adorable and colorful way of adding coziness to your Christmas tree and making use of the waste fabric strips lying around. These Christmas Crochet Baubles are traditional and can either be stuffed with filling or wrapped around store-bought plastic baubles. These are personalized gifting options for your loved ones and family. You can either weave them or create "parcels," using a square fabric filled with scraps and closed on top. 
Table of Contents
Making these handmade baubles requires minimal effort and has beautiful results. 
Feel like creating more DIY Christmas Crafts? Check out our posts on Christmas in a Jar DIY Ideas and DIY Christmas Candles and Tea Lights Ideas. 
Materials Needed for Crochet Baubles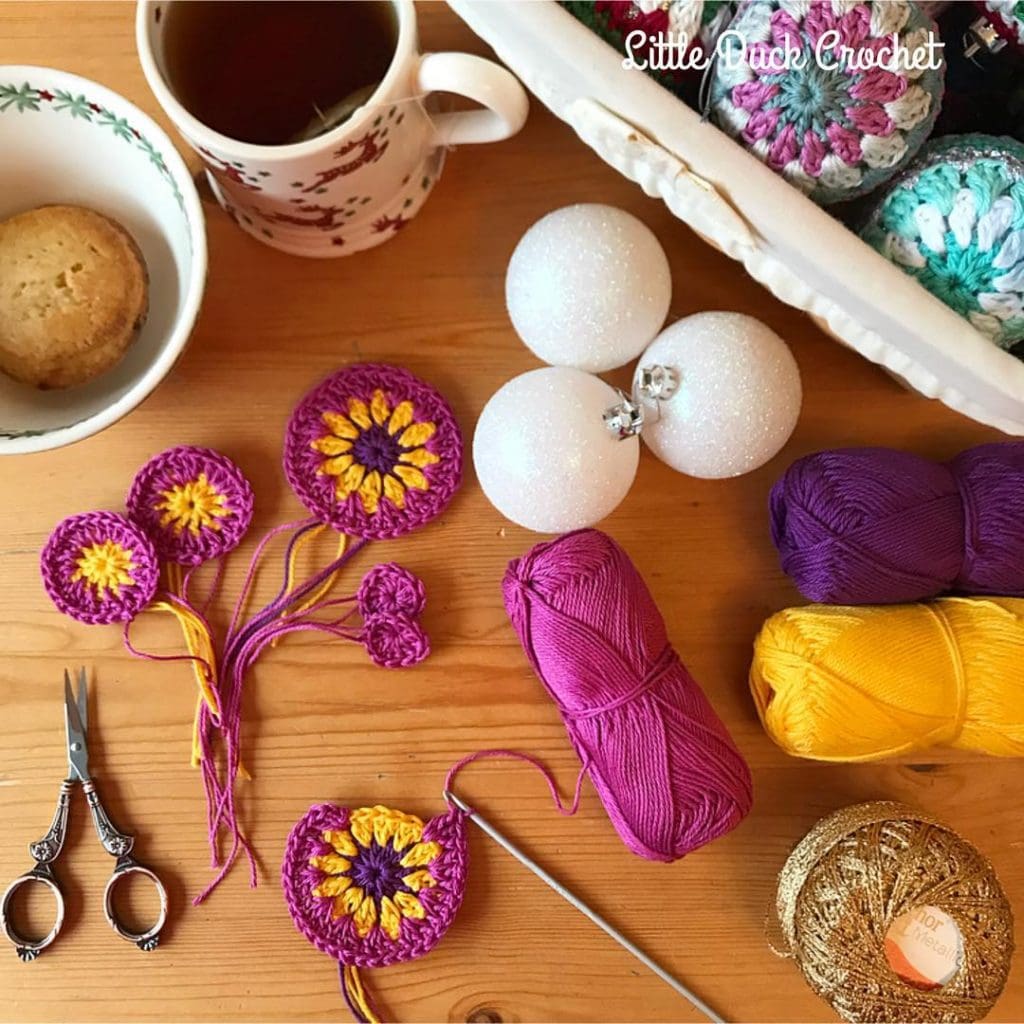 Here is a list of the things you'll need to recreate the ideas mentioned in this roundup. 
Wool: Grab some wool or any other yarn for crocheting the bauble. If you have small strands of scrap wool, connect them for a multicolored version. For an extra effort, try creating a polka dot effect. Another tip to keep in mind: you can use yarn of any weight. However, it will affect the size of your bauble. The thin yarn would be a smaller bauble, and thick yarn would be a larger bauble. Some options of yarn include merino wool, British wool, cotton yarns, or alpaca. 
To create the loop, you'll need some leftover ribbon. You can use the same yarn as that for crochet. 
Fabric Scraps for Stuffing. Collect some waste threads, fabric offcuts from sewing, or even an old clothing item. You can also use some waste plastic packaging. These will be used for stuffing in your Christmas Crochet Bauble. 
Grab Christmas greeneries, herbs, or fragrances for a scented version of the baubles. These make a perfect holiday gift. 
Crochet Hook: you need a 4.5mm hook for a thinner yarn and a 5mm hook for thicker yarn. Remember, bigger the hook, looser the crochet, and bigger the bauble. If you are a beginner, a 6mm crochet hook with thick yarn is recommended. You won't need a crochet hook if you are weaving the bauble. 
Stitch marker: You can use a regular safety pin or save rounded pins found on garment tags. 
You'll also need a large darning needle for finishing the bauble and attaching the loop. 
Finally, you need a pair of scissors.
Once you have collected all of these supplies, check out this YouTube video for a detailed tutorial. 
Christmas Crochet Baubles Ideas
1. The Traditional Crochet Baubles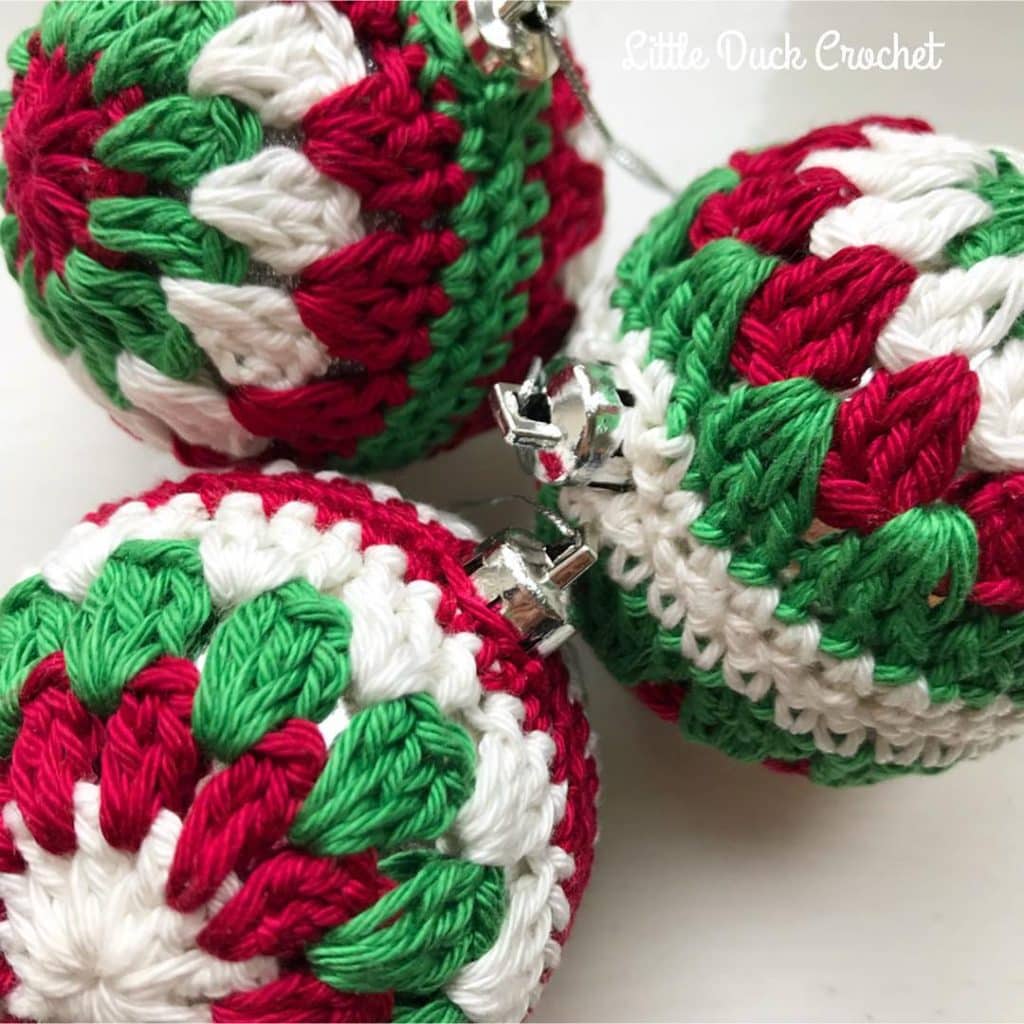 This idea by littleduckcrochet is traditional and is perfect for your Christmas tree decorations this year. To recreate this idea, follow the crochet bauble tutorial above and use white, green, and red yarn for making these Christmas Crochet Baubles. They are very Christmasy and add a colorful touch to your Christmas decor. You can use a plastic bauble or leftover fabric scraps to stuff the crochet.  
2. Snowy Winter Crochet Baubles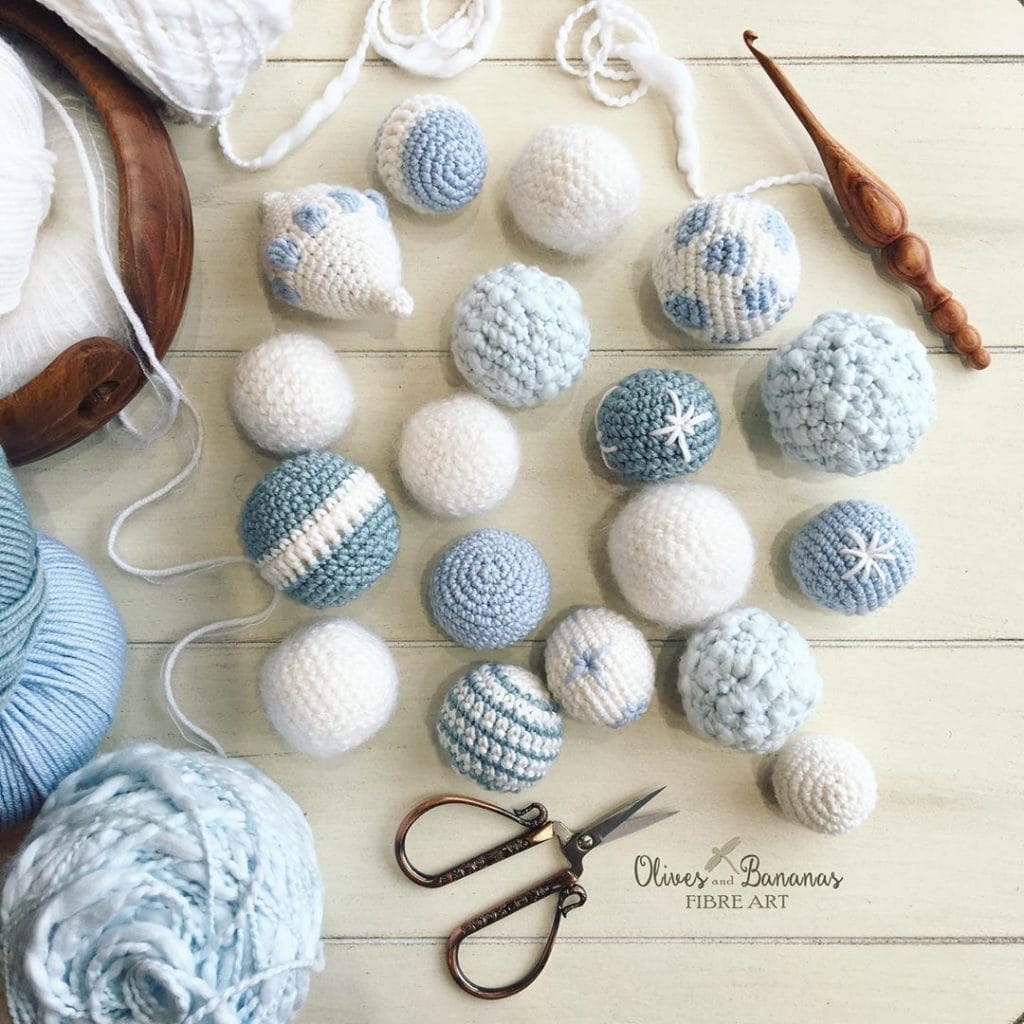 These Christmas Crochet Baubles by olivesandbananaswoolshop are a cute way of adding brightness to your Christmas tree decorations. Using white and blue yarn, create different patterns on the baubles. You can create a striped pattern, floral design, or any other style of your choice. Stuff these with plastic wrap or fabric scraps. These baubles will add a very cozy touch to your Christmas decorations. For a step-by-step tutorial, refer to the post by olivesandbananaswoolshop.
3. The Rosy Christmas Crochet Baubles
Why follow the classic Christmas colors to make your crochet baubles? Try this Christmas Crochet Baubles idea by scheepjes and add a unique touch to your Christmas decor. These baubles use multiple shades of pink and are an adorable ornament for your Christmas tree. If not pink, you can choose any color of your choice to recreate this idea. Hang these rosy ornaments on your Christmas tree for a lovely celebration.
4. Captain America Crochet Baubles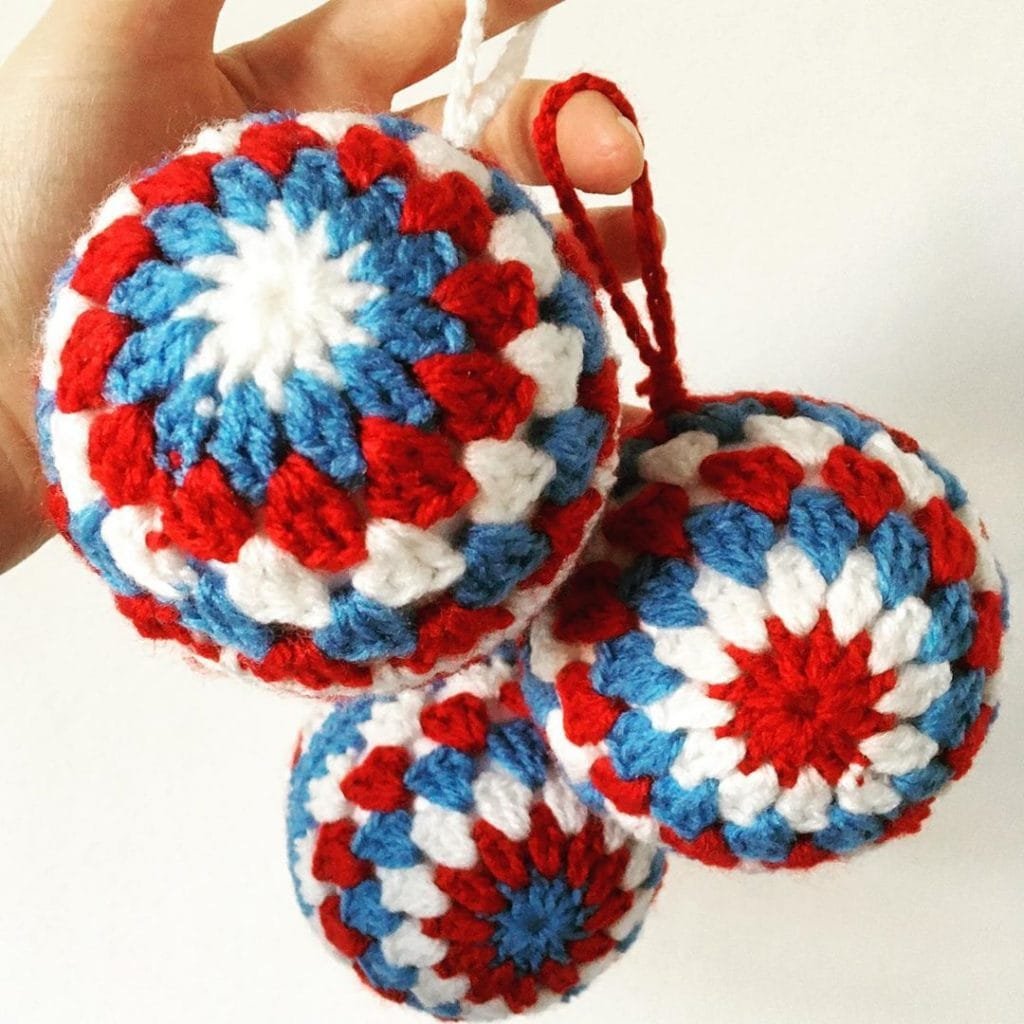 A fan of Captain America? So, celebrate Christmas with your favorite marvel character by recreating these Christmas Crochet Baubles by handmade_by_helenm. These baubles are easy to make and add a twist to your Christmas celebrations. Well, who could imagine Captain America's presence at Christmas? Use the theme colors: white, blue, and red to crochet your baubles and stuff them with plastic or fabric. Create a loop on top and hang these superhero baubles to your Christmas tree. 
5. Rainbow Christmas Baubles
Why restrict yourself to one or two colors, when you can create a rainbow out of baubles? These Christmas Crochet Baubles by the_butlerscat are a simple and very colorful way of dressing up your Christmas tree. Create solid colored crochet baubles using the shades of a rainbow. Create two to three baubles of one hue. String these together in a black string and wrap this around your Christmas tree. You could also use them as a wall hanging and add a pop of color to any ordinary space. Increase/decrease the number of baubles to suit the length of the string and voila! 
6. Red 'n' White Crochet Baubles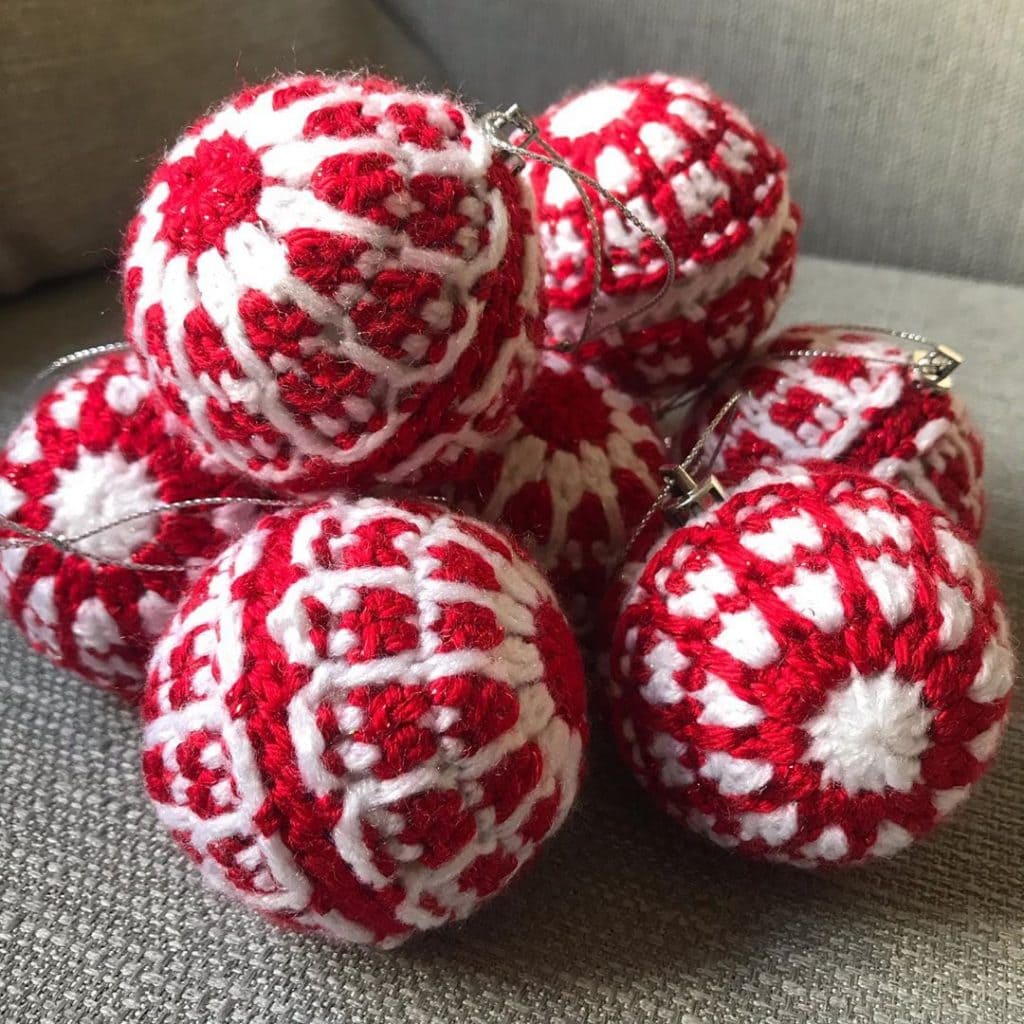 These red and white Christmas Crochet Baubles by littlebitofcrochet are a cozy addition to the classic Christmas decor. Simply weave or crochet red and white yarn together to create these baubles. Mix up both the colors to create some patterns like stars, snowflakes, stripes, etc. Hang these up on your Christmas tree with some bright fairy lights and enjoy the beauty of these fuzzy creations. 
7. The Sparkling Crochet Baubles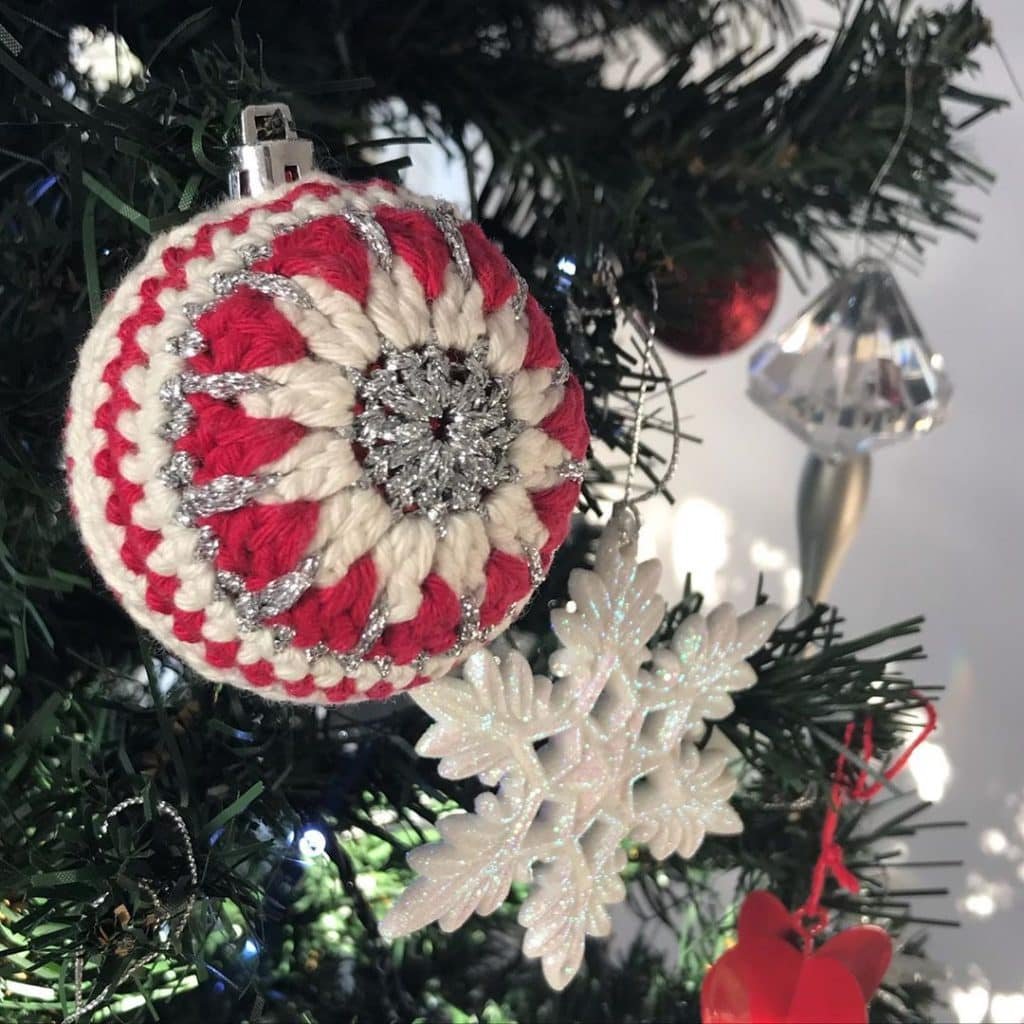 This elegant idea by teacakemake is a fantastic way to incorporate some sparkle into the classic Christmas Crochet Baubles. Along with white and red yarn, grab some silver yarn/string to add a foil effect to your baubles. Create a floral design and crochet the silver yarn in the middle of the flower for a pop of shine. These are very easy to make and can be customized according to the available supplies. So, add some silver sparkle to your Christmas tree this year. 
8. Hints of Pastel Crochet Baubles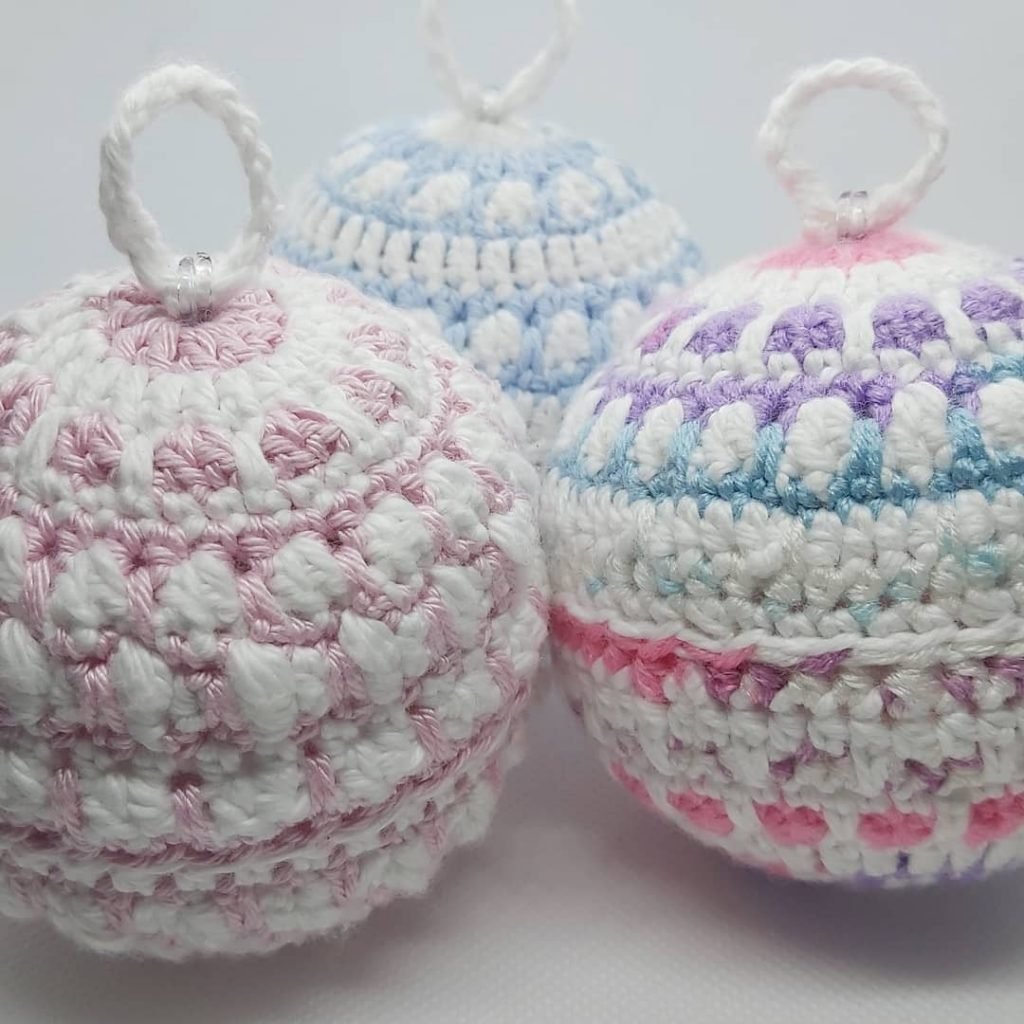 Pastel tones are colorful and have a soothing effect on the eyes. This Christmas Crochet Baubles idea by skinners.stitches uses a base of white yarn and hints of pastel yarn peeking through. These baubles are a subtle yet colorful way to decorate your Christmas tree. They are customizable and use minimal supplies. Add a lop on top, stuff these with fabric, or create the crochet around a plastic bauble. Hang these on your Christmas tree for cute and cozy vibes. 
9. Bright Blue Christmas Baubles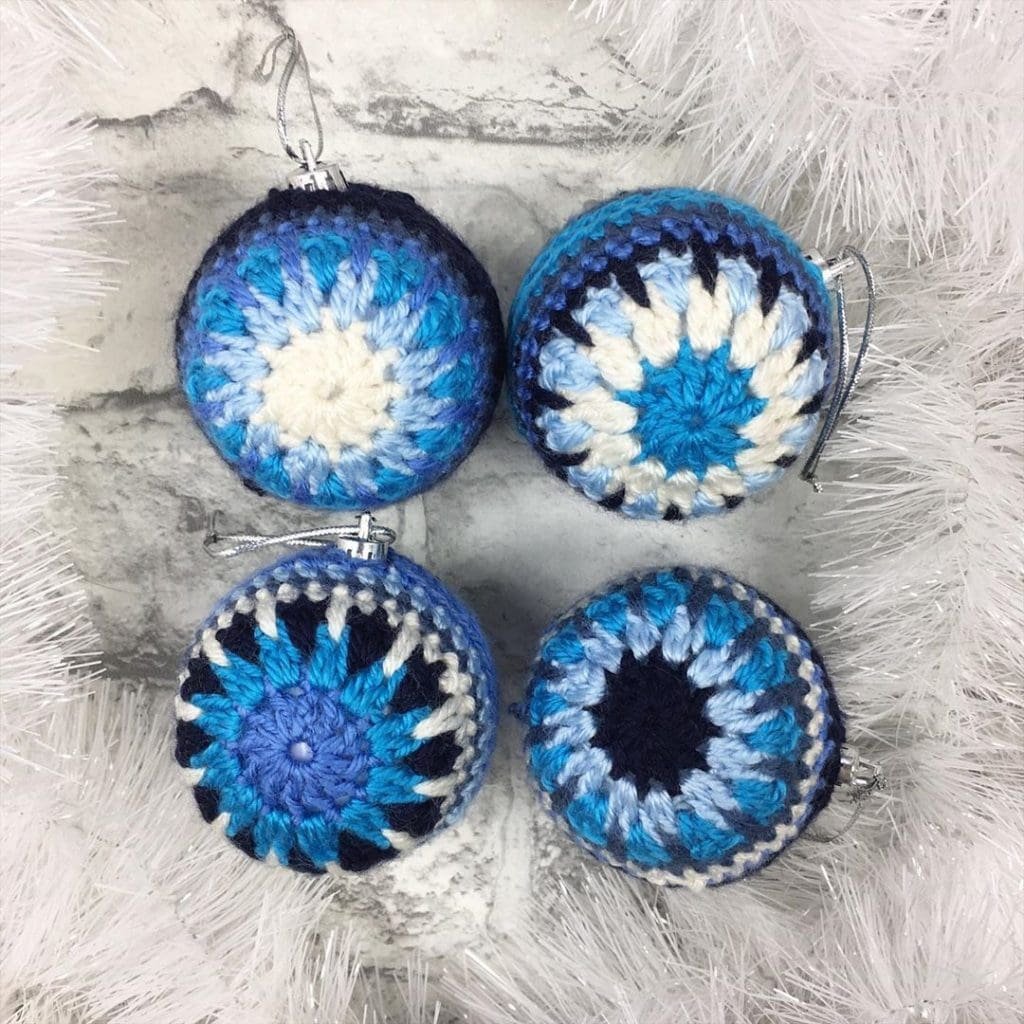 This Christmas Crochet Baubles Idea by jorlikowska is a twist to the snowflake baubles. Adding a bright touch to the classic white baubles with different blue shades has lifted the bauble's appeal. Mix and match different blue shades and crochet them into different patterns: stars, flowers, snowflakes, etc. add a loop in the head and voila! Your cool-toned Christmas baubles are ready for your Christmas tree. 
10. Multicolored Christmas Crochet Baubles
These granny Christmas Crochet Baubles by anniedesigncrochet are excellent for adding a pop of color to your Christmas tree. Use multicolored yarn and create these crochet baubles by referring to the detailed tutorial here. Create the crochet around a plastic bauble and close it from the top after adding a loop. You can use a diverse combination of colors for each bauble and create it according to your liking. 
11. The Granny-Square Crochet Bauble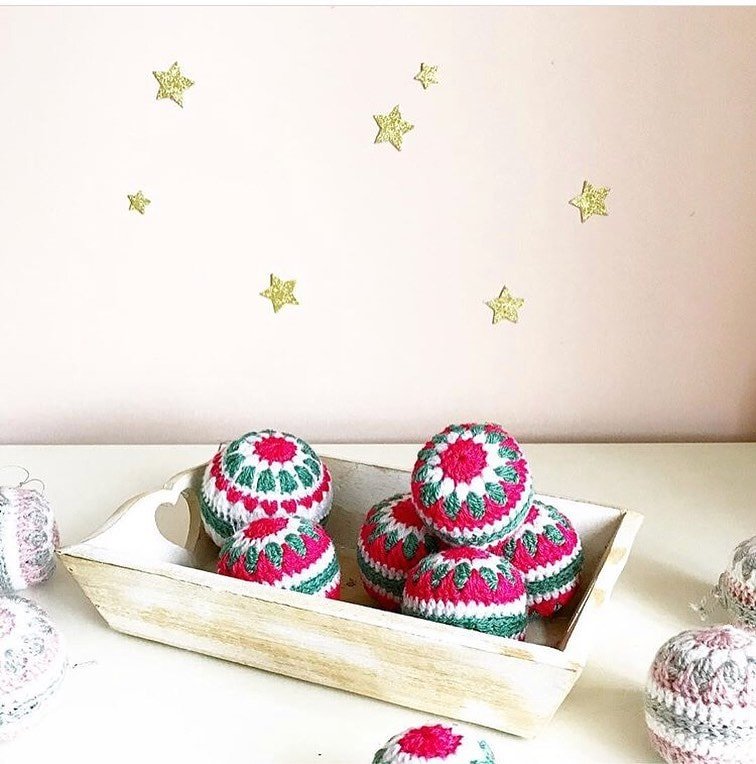 Use cotton sportsweight yarn of any three colors that compliment each other. Crochet them in any style, either granny squares or stripes colorwork. The above Christmas Crochet Baubles by belleandbutter use the granny square crochet technique. These end up looking very cute and colorful. Hang them up on your Christmas tree this year, and enjoy all the compliments for your decor. Additionally, they are also a great gifting option.  
12. The Shimmery Crochet Baubles
Make your Christmas evening beautiful with these Christmas Crochet Baubles hung up on your Christmas tree. This idea by nikolicahandmade uses a combination of red, green, and silver baubles, decorated with beads and silver stars. These shimmering baubles will be a lovely touch to your Christmas decorations. These baubles are made using cotton yarn and tiny glittering beads. The crocheting is done around a plastic bauble to add a personal and unique twist. If you like this idea, you can purchase these online here.
13. Lace Christmas Crochet Baubles
These white lace Christmas Crochet Baubles by emtamonikapoplawska are an elegant way to decorate your Christmas tree. These can be reused for other functions such as weddings, etc. They are also an adorable personalized gift for your friends and family. You can hang these up as a garland or use as ornaments for tableware. Use transparent baubles as a filler for your white yarn crochets. Create a loose crochet pattern so that the transparent bauble is visible. These end up looking extremely expensive and are also available for you to buy from etsy.com. 
14. The Chromatic Christmas Baubles
This is yet another colorful Christmas Crochet Baubles idea for a bright Christmas celebration. Use several yarn strings of different colors to crochet a bauble. Stuff these with fabric scraps and add a loop on top. Your rainbow baubles are ready for adding a pop of color to your Christmas decor. They are effortless and quick to recreate and require minimal supplies. So go ahead, and try this idea by crochetedwithlovebysarah.  
15. Golden Glow Christmas Baubles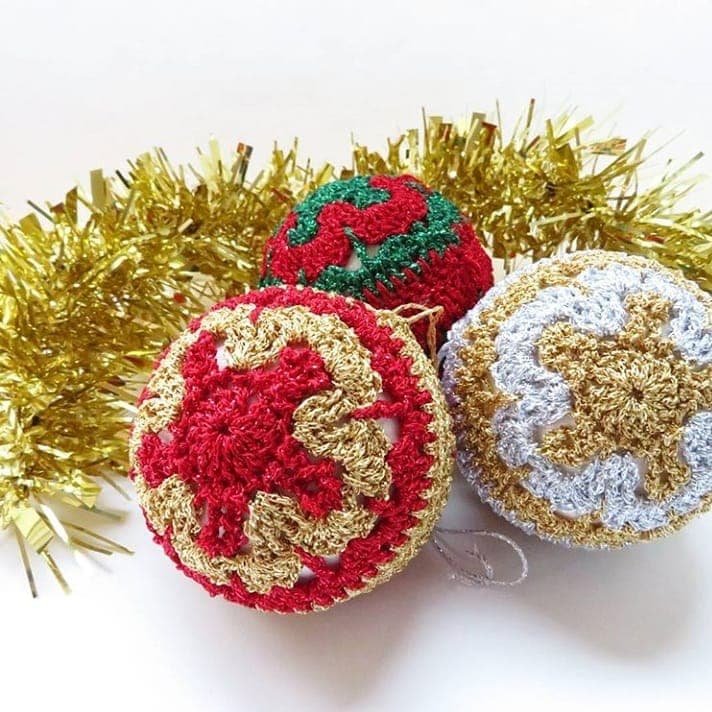 These Christmas Crochet Baubles by happyberrycrochet add a golden glam to the classic red and white crochet baubles. To recreate this idea, you need thread weight yarn, crochet hook, and polystyrene balls. Weave crochet around the polystyrene balls and create a snowflake design. The golden yarn adds an elegant glam to the baubles and makes your Christmas tree look like a million dollars.   For a detailed tutorial to this idea above, check out this YouTube video. 
16. Lettered Christmas Crochet Baubles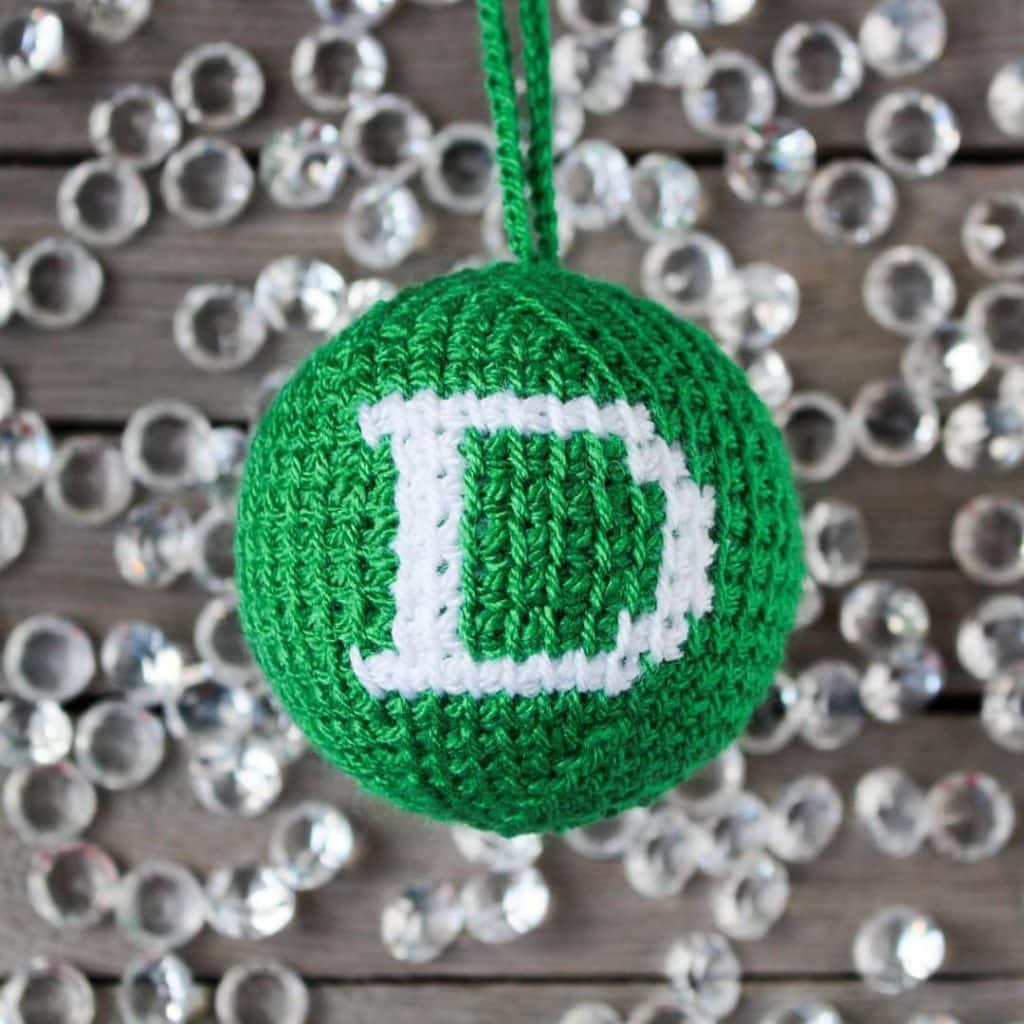 Add a personalized touch to your Christmas Crochet Baubles and use these as a gifting option too. This idea by mrswood8105 is a simple way of making your loved ones feel special. Use two different colors of yarns. Create a solid bauble with one color and add a letter using the other color. The letter can be an initial of someone's name or any different alphabet of significance. They are simple but a lovely way of flattering someone you love. 
17. Snowman Crochet Baubles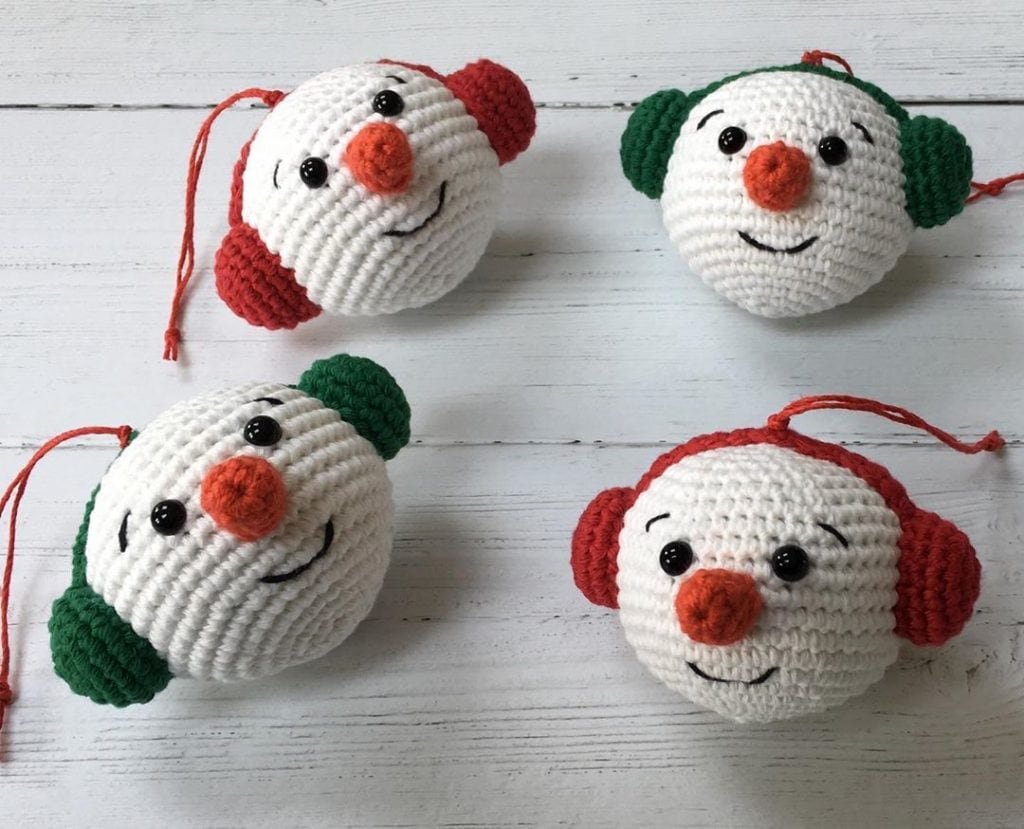 Aren't these little snowman baubles just so adorable? This idea by sarahlovescraft is a charming way of adding a cozy touch to your Christmas tree. These Christmas Crochet Baubles are made using white yarn along with colorful ear muffs. Create a face for the snowman using black yarn and an orange nose. Finally, your crochet snowmen are ready for Christmas celebrations!
We hope you get inspired to create some fuzzy baubles on your own and add some color to your Christmas tree. These are easy to make and can be customized to your liking. Christmas Crochet Baubles require minimal materials to make and turn out to be very expensive looking. So, gear up to use this for decorations or gifting this holiday season. 
Also, if you loved these ideas, then you can use the Pin image below to save this article to your Pinterest board.