The month of September is just round the corner and it's time to start planning our September bullet journal. The beginning of the new month is an exciting time. I always start looking for ideas in advance so that I am full of inspiration when the month starts. In this article, I've compiled some interesting ideas for the month of September from across the internet. 
If you like any bujo page, you can click on the link to the artist's page to view more works by them. Don't forget to show them some love. 
Table of Contents
September Bullet Journal Cover Page
Want to start the month on a great note? Take out some time to create a unique month cover. Here are some ideas to get inspired by. 
1. Wilderness Is A Necessity September Month COver
Love spending time outdoors with the nature? Bring the greens indoors with this beautiful monthly cover by nataliedrawn. I love the shades of greens and the beautiful quote and typography in this one. 
2. Magical Mushroom September Cover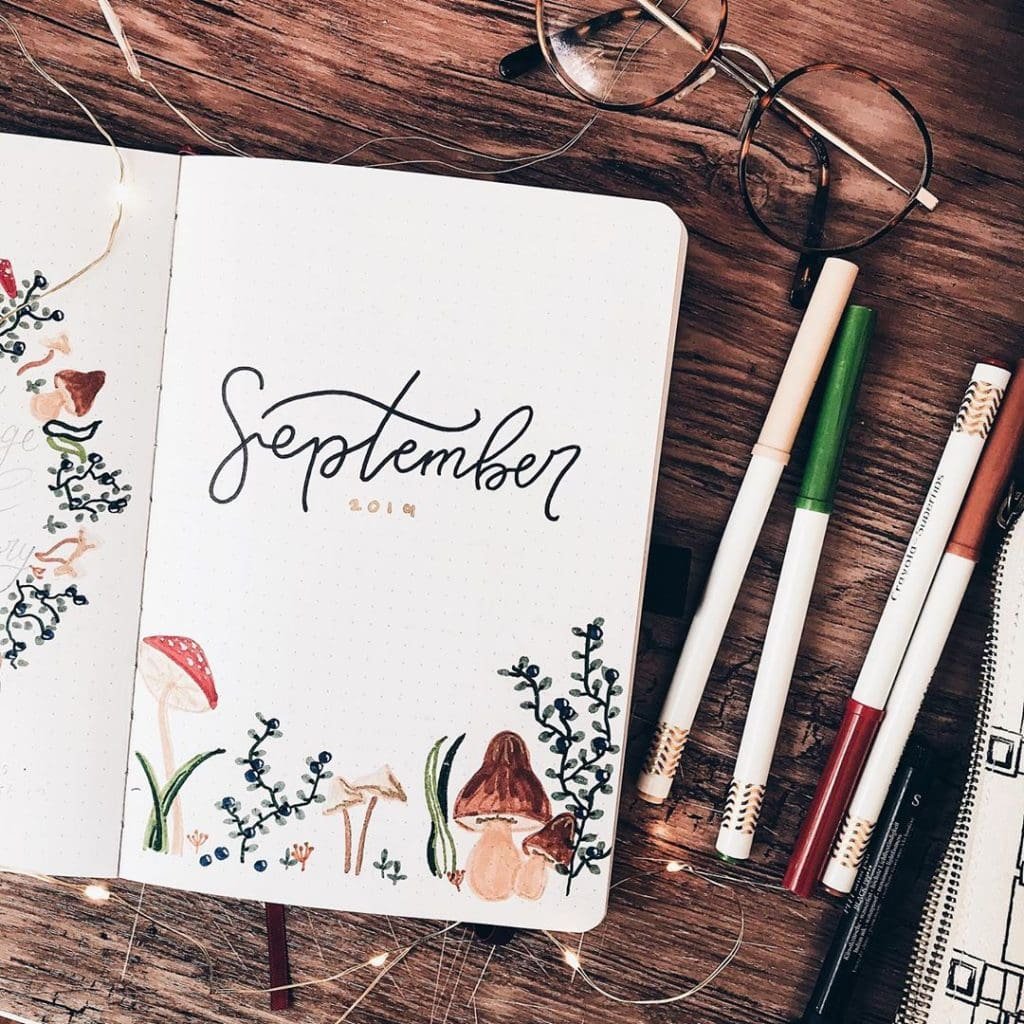 If you love creating simple doodles and want to try out a completely new theme, then check out this cover by midnightdreamreads. It's based on a unique magical mushrooms. You can head over to the link to check other pages of the same theme. 
3. Light It Up Month Cover
If all things bright and yellow make you happy, you can try out this light bulb theme cover by b.bulletjournal. The lettering for the month of September gives a unique touch to the cover page.
4. Autumn September Cover
With September comes Autumn. This month cover page by studystripes perfectly captures the spirit of Autumn. Love the colour theme and the floral doodles. You can also add a quote that goes with the Autumn vibe.
5. September Mood Board Bullet Journal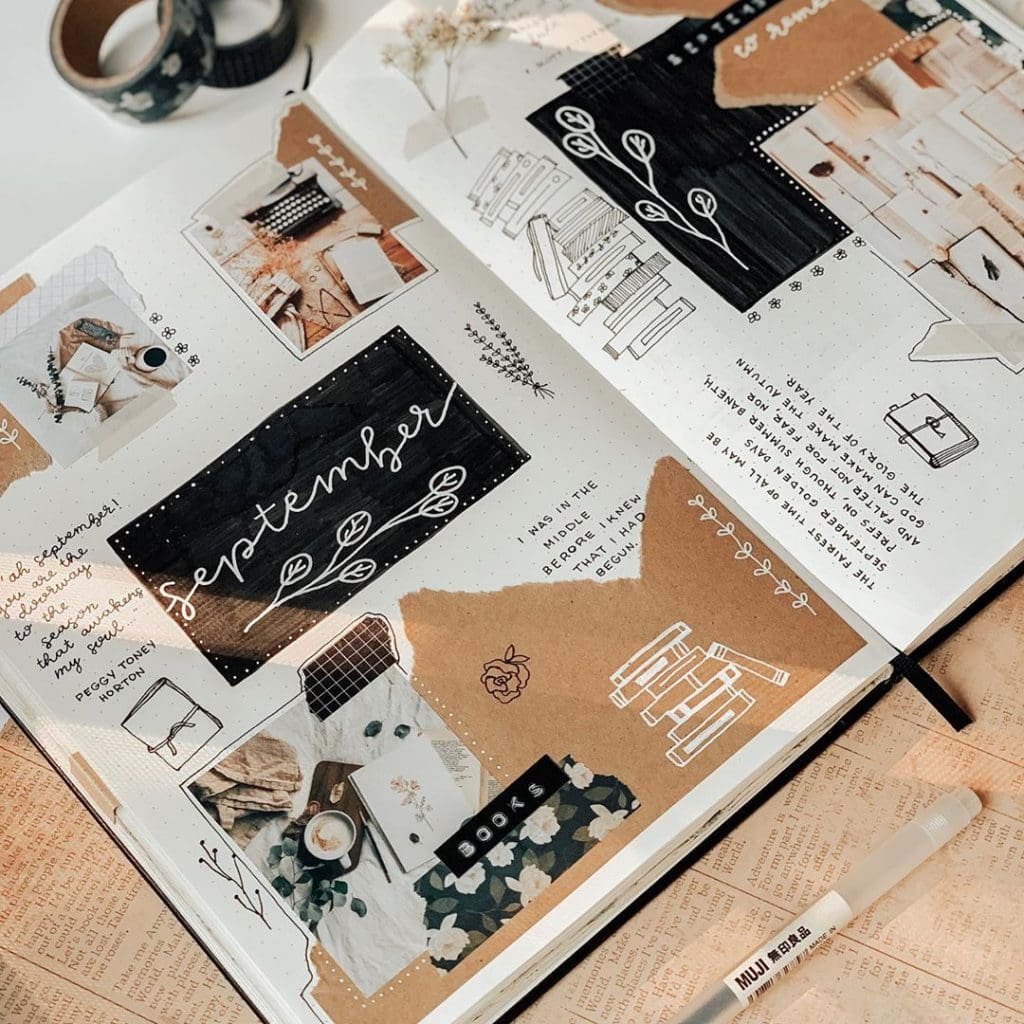 This September month cover by savannahfscribbles is my personal favourite. I love the mood created by these cutouts and hand-written quotes. So many times, it's the simple things like polaroids, magazine cutouts, washtapes, doodles and quotes that look amazing when put together. 
6. Hello September Month Cover
Want to keep your month cover page elegant and minimal? Here's an idea by bullet_journallingg to take inspiration from. Take some time to learn simple brush lettering (or any other type of hand lettering) to write in beautiful beautiful fonts. 
7. Planets and Moons September Bullet Journal Cover
Here's another beautiful cover idea by studystripes that takes you across the solar system. If you're someone who is fascinated by the outer space, this theme and cover will delight your inner child with a sense of wonder. Let's keep our eyes on the stars, shall we?
8. Stationery Junkie Month Cover
Here's another unique idea by b.bulletjournal. Are you stationery lover? How about creating a cover page inspired by the best and most useful stationery tools on your desk? 
9. Moon Child September Bullet Journal Cover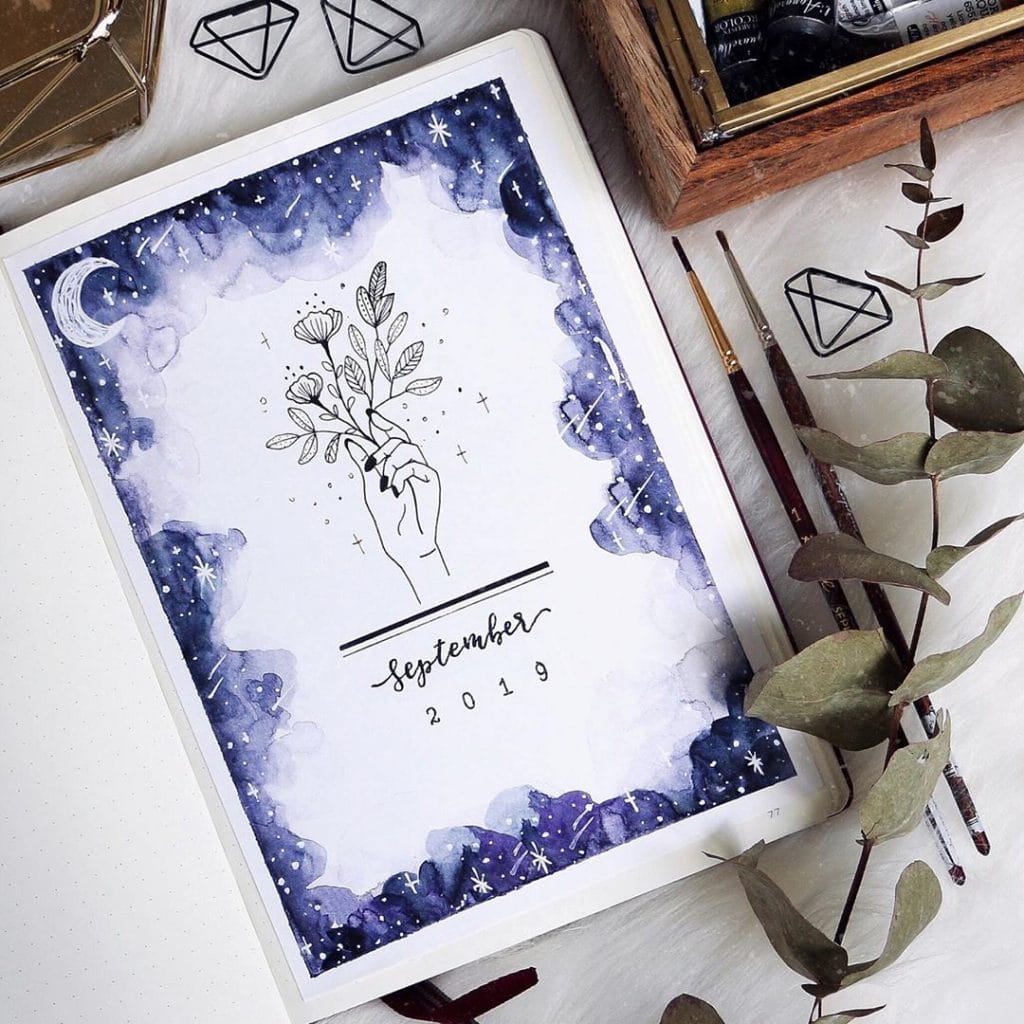 Inspired by the moon and the night? This artistic cover page by lolascraftjournal is a mood on its own. The illustration and watercolour border are simply gorgeous. This one blew my mind.
10. Polaroid Theme September Bullet Journal
The polaroid trend is everywhere, thanks to Instagram. If you love polaroids and need inspiration for the September month theme page, this you'll love this cover by pumi_journal. Start with creating a simple and cute polaroid camera doodle and then let your creativity flow.
11. Sunflowers Everywhere Month Cover
Yellow, bright sunflowers! What a mood by fluffyiceyoghurt! If you want to create some happy vibes this month, take inspiration from this month cover and create a sunflower bullet journal theme. I also love the rough brown paper cutout with lettering for the month of September.
12. Coffee Lover September Cover
Can't start your day without coffee? I get you! Here's a coffee inspired cover by allydoodlesdesigns. Don't you just sense the aroma of coffee from this cover? Make it your own my choosing your own pictures and lettering.
13. Minimal September Month Cover
Don't have time to go too elaborate with your month cover? Here's a minimal September month cover by bysundaymornings with minimal autumn doodles and lettering. Also add a monthly calendar to the cover page.
14. Oh hello September!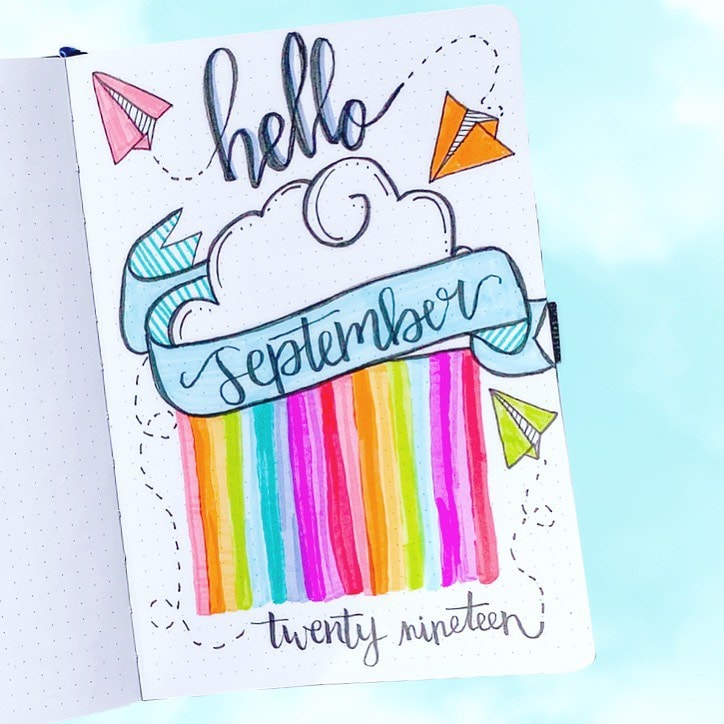 How lovely and vibrant is this cover by spocreative.co! I am in love with this vibrant rainbow theme. All these colours on the first page of the month will always make you feel happy and hopeful. This cover page with the rainbow, clouds and the paper planes makes me feel super dreamy and childlike.
15. Hot Air Balloon September Month Cover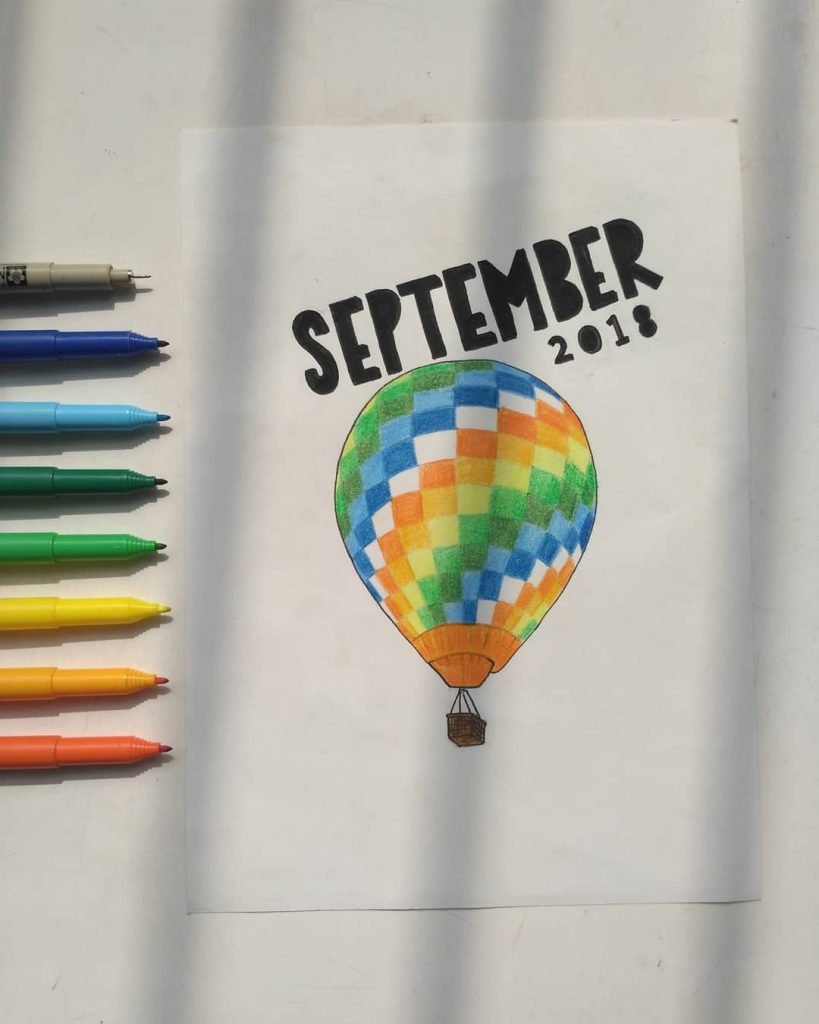 To me, hot air balloons represent hopes and dreams. Here's a beautiful month cover by  aaqqiillaa that depicts an intricately patterned hot air balloon flying high in the sky. You can take inspiration from this to create your own pattern of hot air balloon. If you want to stick to the theme for the entire month, you can also refer to our compilation of 30 Creative Hot Air Balloon Bullet Journal Theme Ideas.
16. The Fall Vibes September Cover
This gorgeous month cover by lemon_bujo is an artwork in itself. Surely, it must take a long time to create something that beautiful. But if you have the time, you can definitely take inspiration from this cover page. What I love the most are the colours of the trees. Don't they capture the fall vibe perfectly?
17. Sky Full Of Stars September Bullet Journal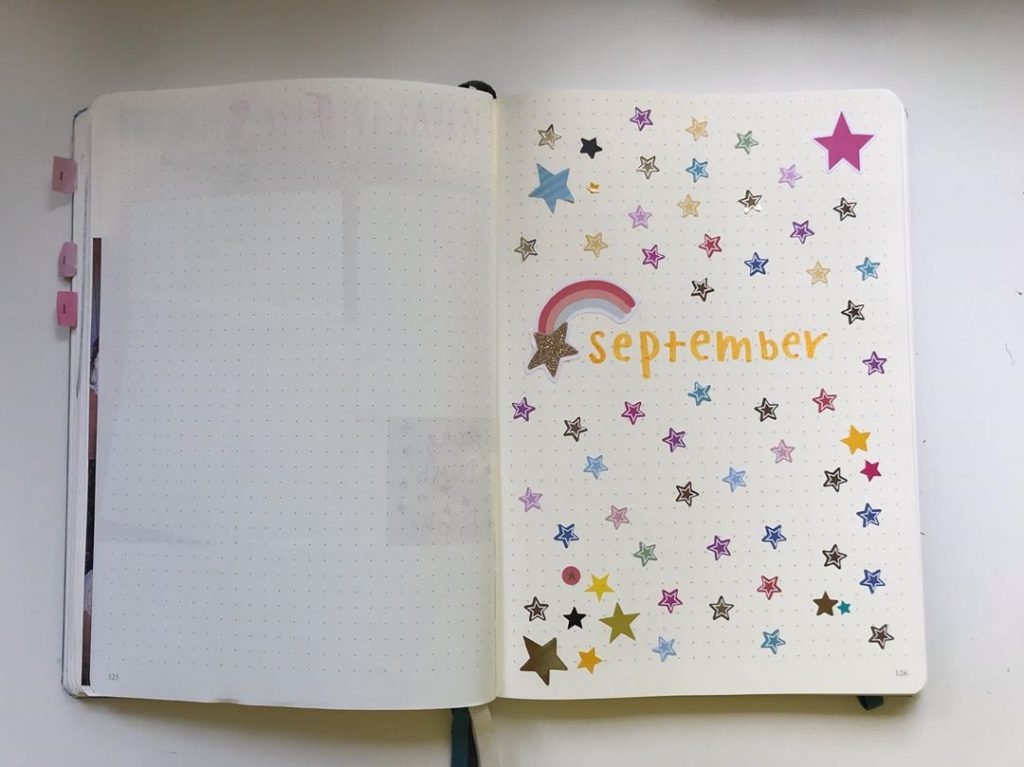 Here's a simple way to make your cover page fun – use stickers! I like how the.bullet.journaler has used stars and rainbow stickers creatively on this cover page. You can buy stickers for any theme of your liking or even make simple cutouts of a shape and paste them as stickers.
18. Sunflowers Polaroid Month Cover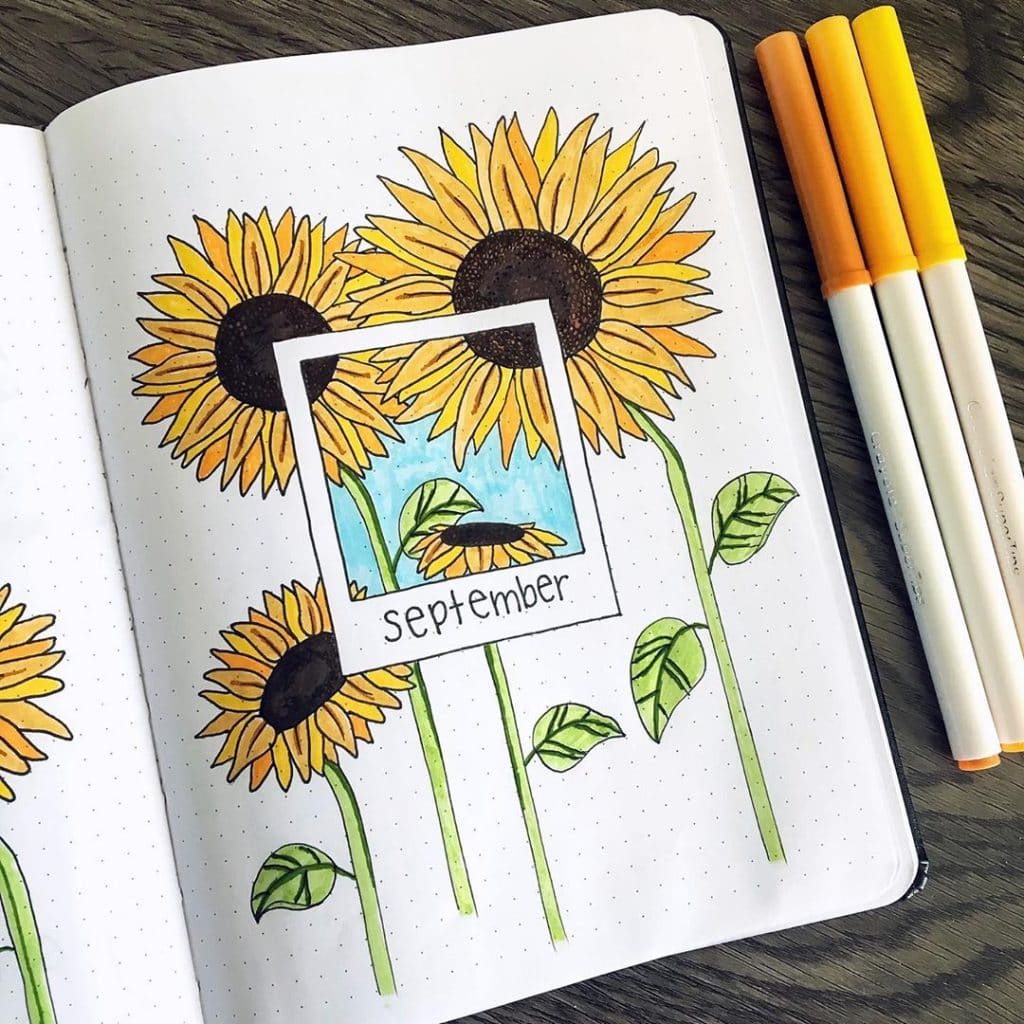 Sunflowers feel so vibrant and colourful! Here's a sunflower theme inspired cover page by sassstine that you will love. Let's face the sun and fill in our hearts with hope as we start the new month.
19. Minimal Illustration September Month Cover
Isn't it lovely to start the month with a quote that sets the mood. I love how this cover page by pollyspapercrafts has a quote about autumn from the Harry Potter novel. The mountain illustration is also intricate and lovely.  
September Bullet Journal Monthly Layout
20. Magical Mushrooms Monthly Spread
Month page lets you fill in important upcoming events at the beginning so that you can plan your month accordingly. Here's a magical mushroom themed bullet journal month page by midnightdreamreads.
21. September Month Planner and Calendar
Here's a simple month layout by b.bulletjournal that feels just like a calendar or a planner. It's easy to create and you can make it vibrant by choosing your own colours and patterns for the border.
22. Sunflowers Theme September Month Layout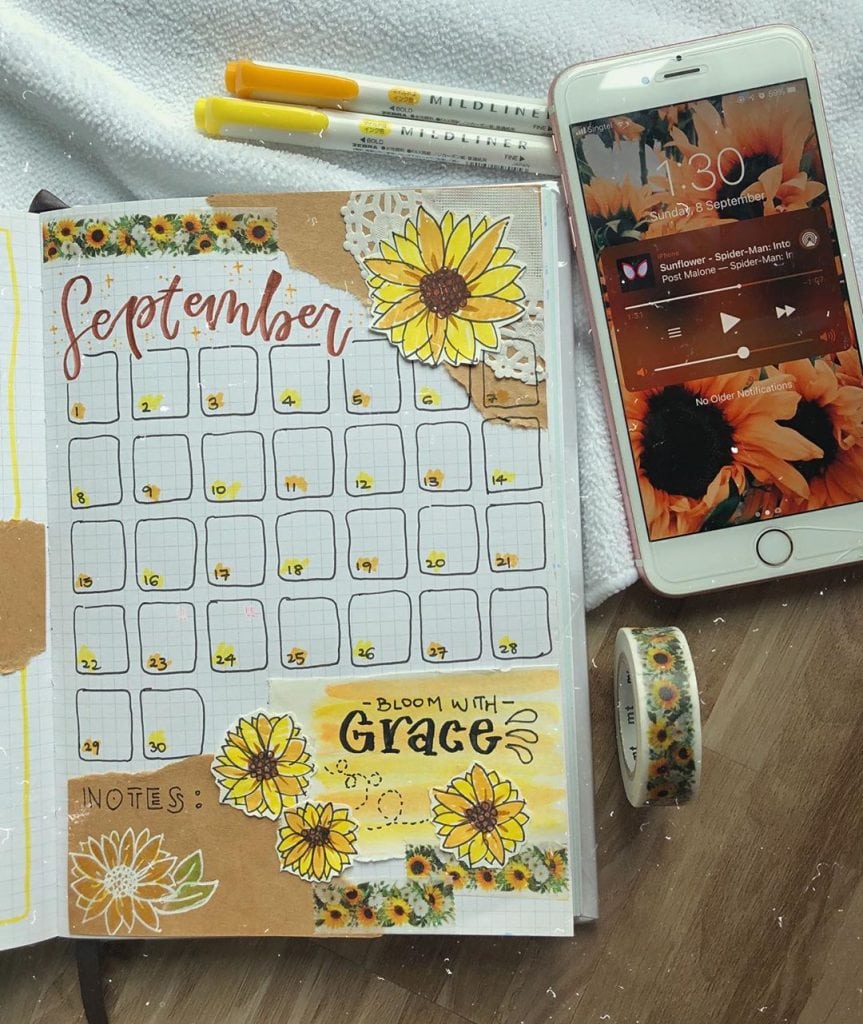 How lovely this this September month layout by fluffyiceyoghurt! I mean I simply love it! It's so vibrant and the Sunflower patterned washtape and just so unique and beautiful. The browns and the yellows capture the mood of autumn perfectly and the sunflowers brighten the mood. The aesthetics of this one are just too wonderful.
Septemeber Bullet Journal Weekly Layout
23. Autumn Flowers September Bullet Journal
This weekly layout by studystripes is super simple and minimal with the slight touch of autumn feeling with these autumn flowers. 
24. September Mood Weekly Spread
Another cool way to create a weekly spread is to create a September moodboard vibe with cutouts and doodles. Take inspiration from nicole.josephinee to create your own.
25. Purple Wreaths September Week Layout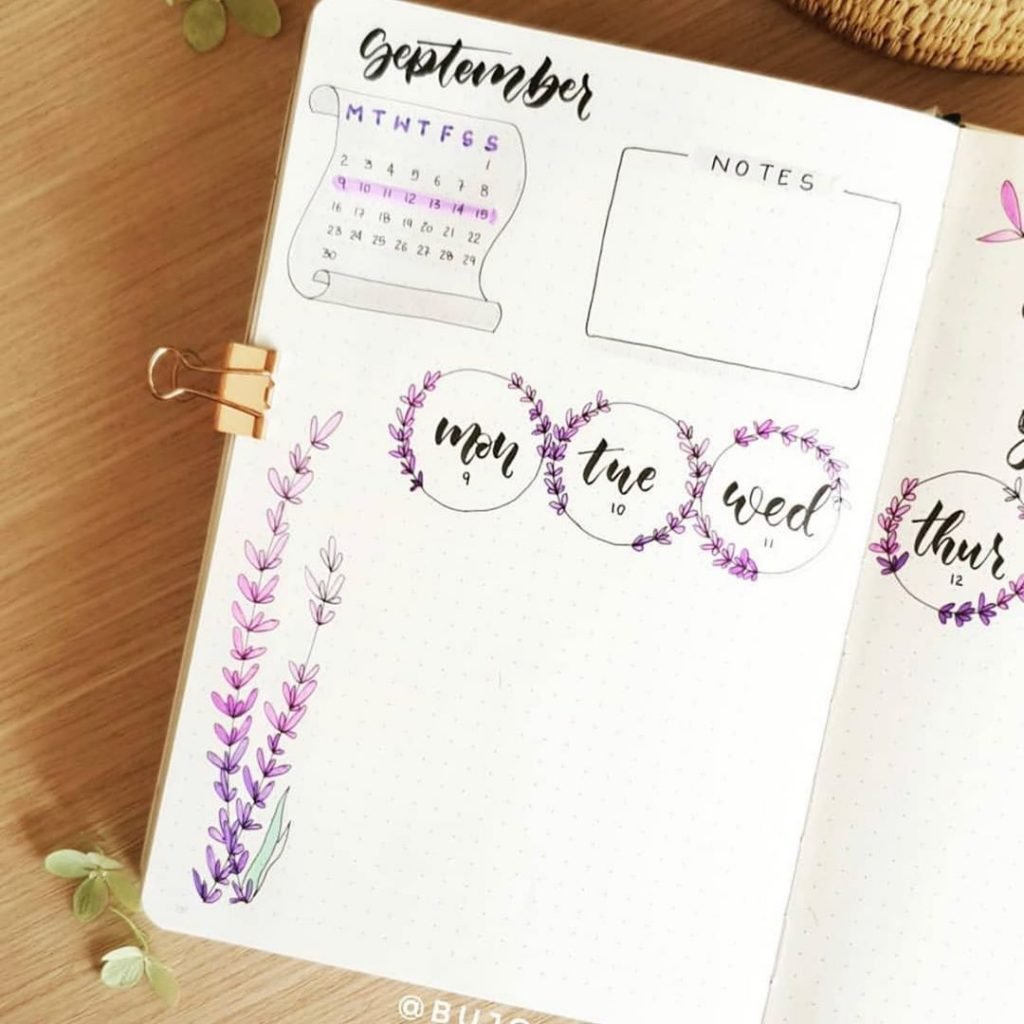 Is purple your colour for the month? Or, are you looking for a simple month layout? Either ways, you can take inspiration from this layout by bullet_journallingg. Create simple wreaths around your days of the week to create this layout.
26. September Minimal Weekly Layout
Wan to keep it minimal? Here's a perfect minimalist weekly spread by catsplanner that you can recreate in under 10 minutes. Stick to autumn colours like brown to create a fall vibe.
27. Beautiful September Bullet Journal Weekly Spread
This week spread by definitelybeautiful_bujo is my personal favourite because of the beautiful lettering and quote on the side. As we get super busy planning our week, isn't it great to remind ourselves that it's simply enough to be – The best version of you.
28. Rainbow September Bullet Journal Week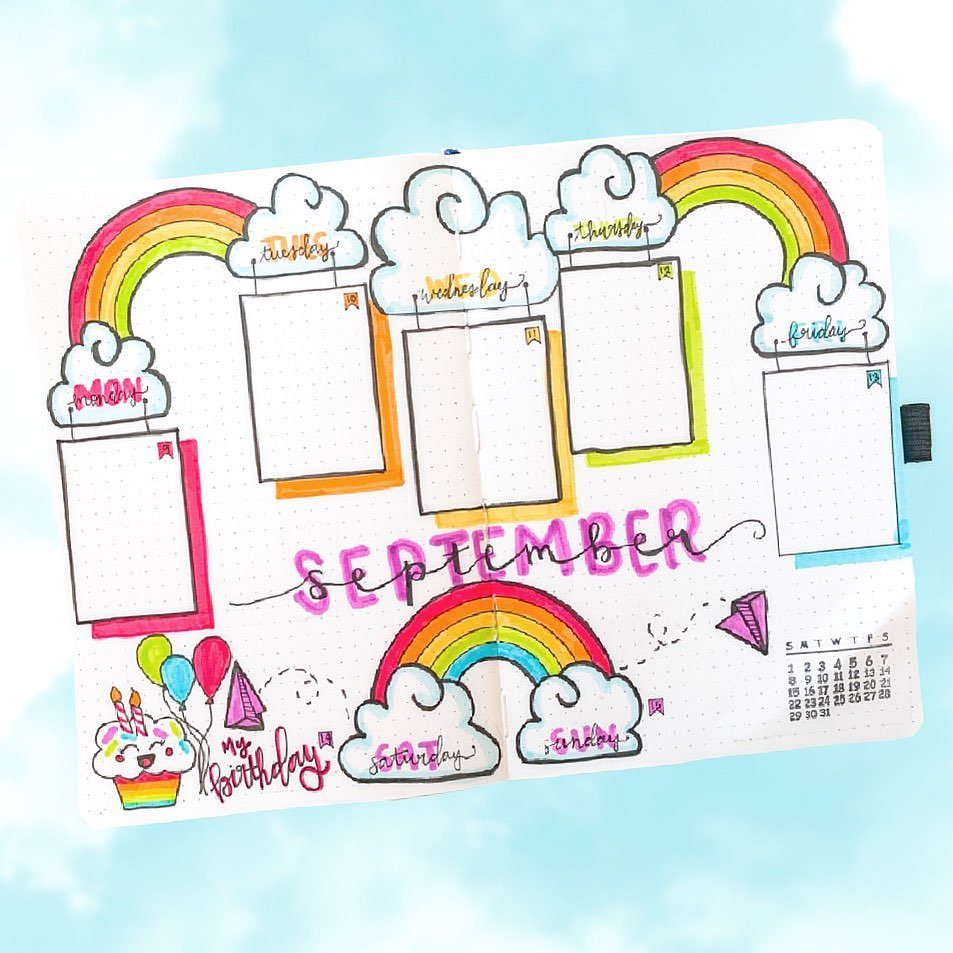 Here's the final one in the list of September bullet journal week layouts. A beautiful rainbow theme week layout by spocreative.co. This theme is perfect to plan out a special week. Like in this case, it's probably a birthday week.
Habit And Mood Trackers For September
29. Aesthetic Habit and Mood Tracker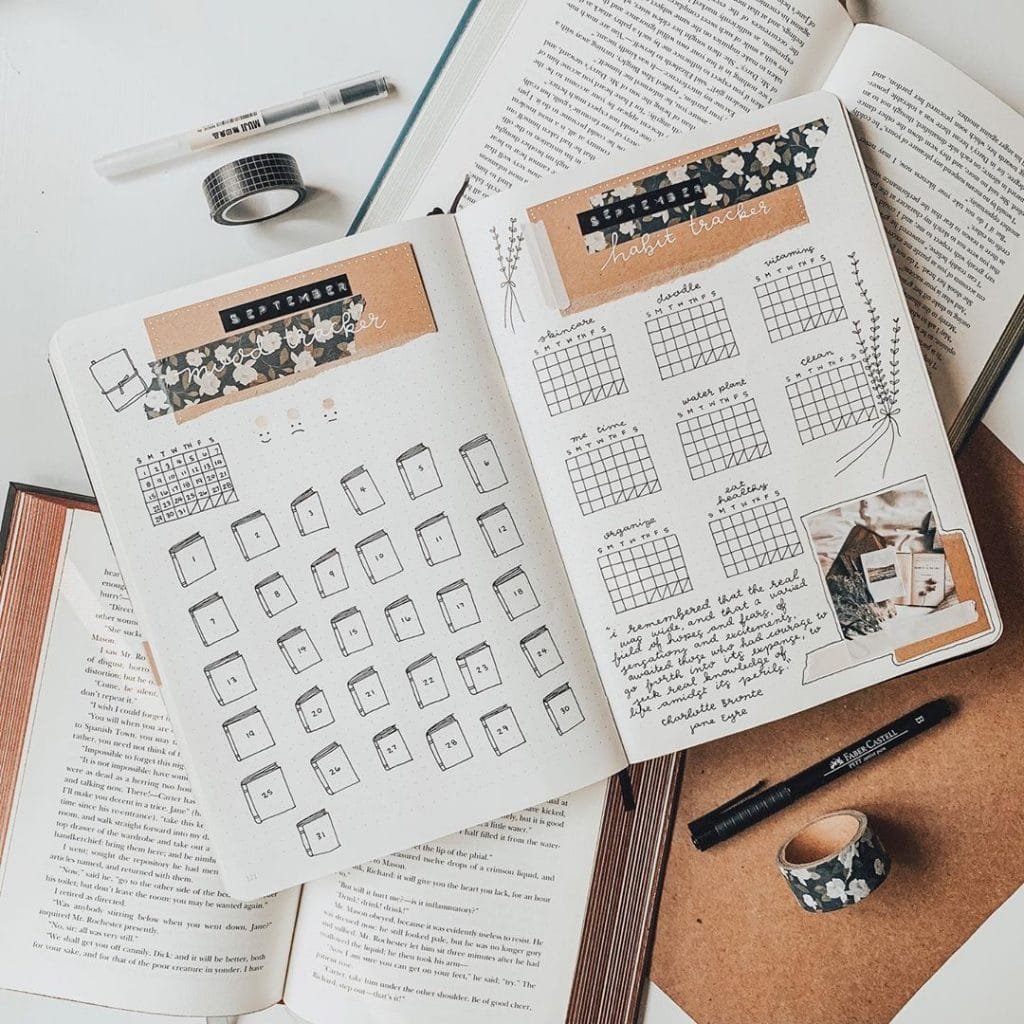 Mood trackers and habit trackers are a great way to evaluate your daily progress and overall health. Here's one aesthetic habit and mood tracker spread by savannahfscribbles that you can take inspiration from. Particularly loving the scotch tape and brown paper cutouts!
30. September Mood Tracker
Finally, I'll conclude this list with this super innovative and cool mood tracker By fattiamano_net. I absolutely love how creative and fun this is. I can already think of so many variations to this to create my own version of it.
So, that's it! That was our list of ideas for September Bullet Journal! Hope you loved it and got some unique ideas and inspiration. If you really loved an idea, don't forget to support the artist by heading to their Instagram and dropping in a comment or a like.