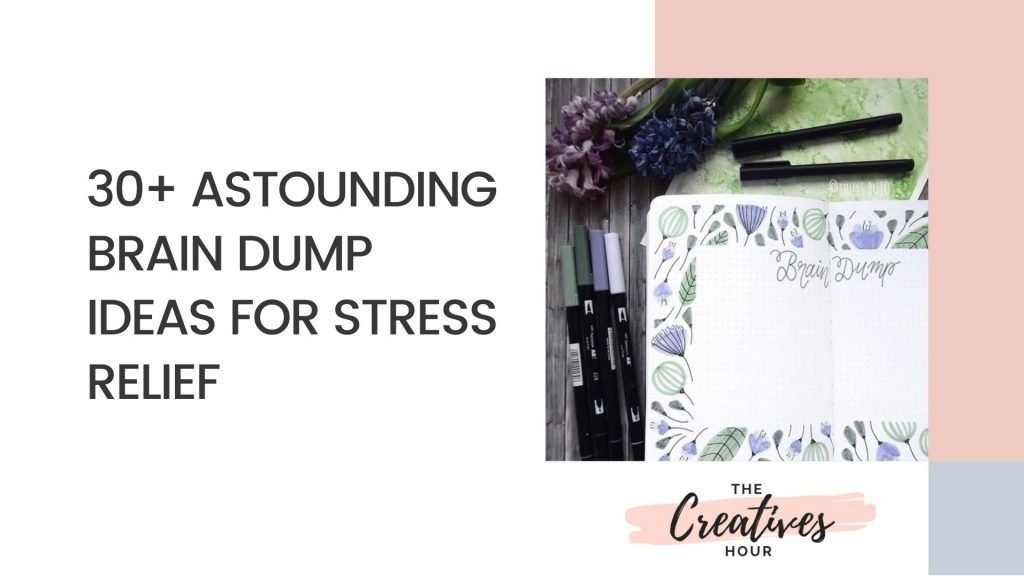 Sometimes there is no end to our thoughts. And in this inception-like mess, we are so damagingly entangled that we hardly know how to get out of it. But brain dump is an excellent idea to deal with such strains of thoughts. With the hectic schedule and deadlines and targets to meet, we more than often are left hanging in a worried,  stressed, and anxious state of mind. Stress is hard to deal with, and our mind plays tricks on us in this state. And if not dealt with may even push us down to a pit of self-loathe and strip us off of our confidence. 
I often find myself lost in my stressed-out mind so much that I even tend to give up my healthy habits and routine. But of course, there is a way to deal with this, quite thankfully. Maintaining a brain dump journal is an effective way to declutter the thoughts and sort out all the thoughts. That's how I keep myself motivated and focused.
So here are some amazing brain dump ideas for you where you can write your thoughts and ideas until you are relaxed and composed. You can also check out some more ideas to maintain a healthy and planned routine for a better life- 16 Bullet Journal Future Log Ideas For A Planned Year. You can also check out goal plan ideas that will keep you focused more on positive work- 23 Bullet Journal Goals Page Ideas For Inspiration.
1. August Brain Dump Spread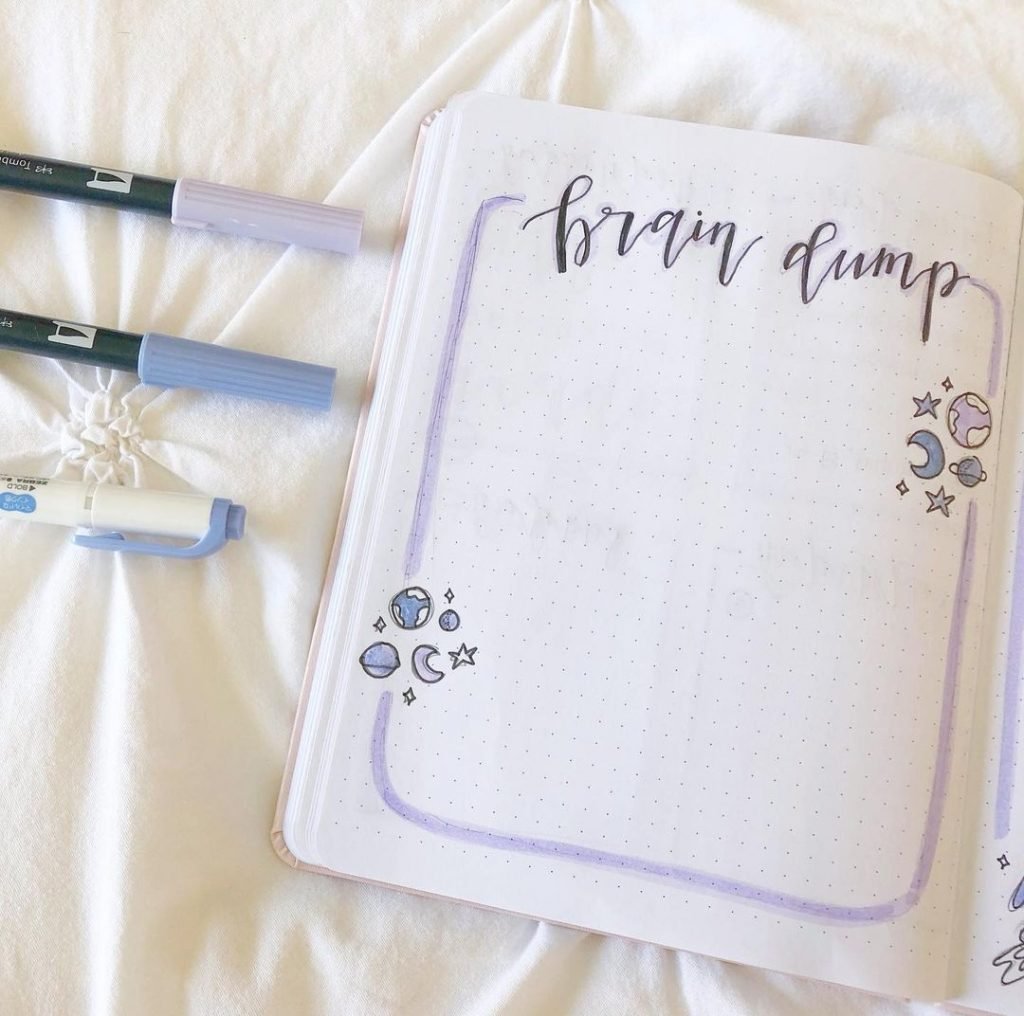 If you have some nagging and pesky thoughts that refuse to leave your mind and have every intention of becoming your permanent roommate then you need a brain dump spread. Well, that's what I do, in fact, that is probably one of the best ways to get rid of such useless thoughts. In months with a busy hectic schedule when I cannot afford to lose my focus, I tend to write down all my thoughts, both the stupid and the important ones included. This brain dump spread by giovanna.journals has an excellent celestial theme with tiny planets and moon, which will also try to calm your mind a little. Especially the soft blue color pattern is so soothing to the eyes, that the mind will follow the same path of peace and calm.
2. The Pink Brain Dump Spread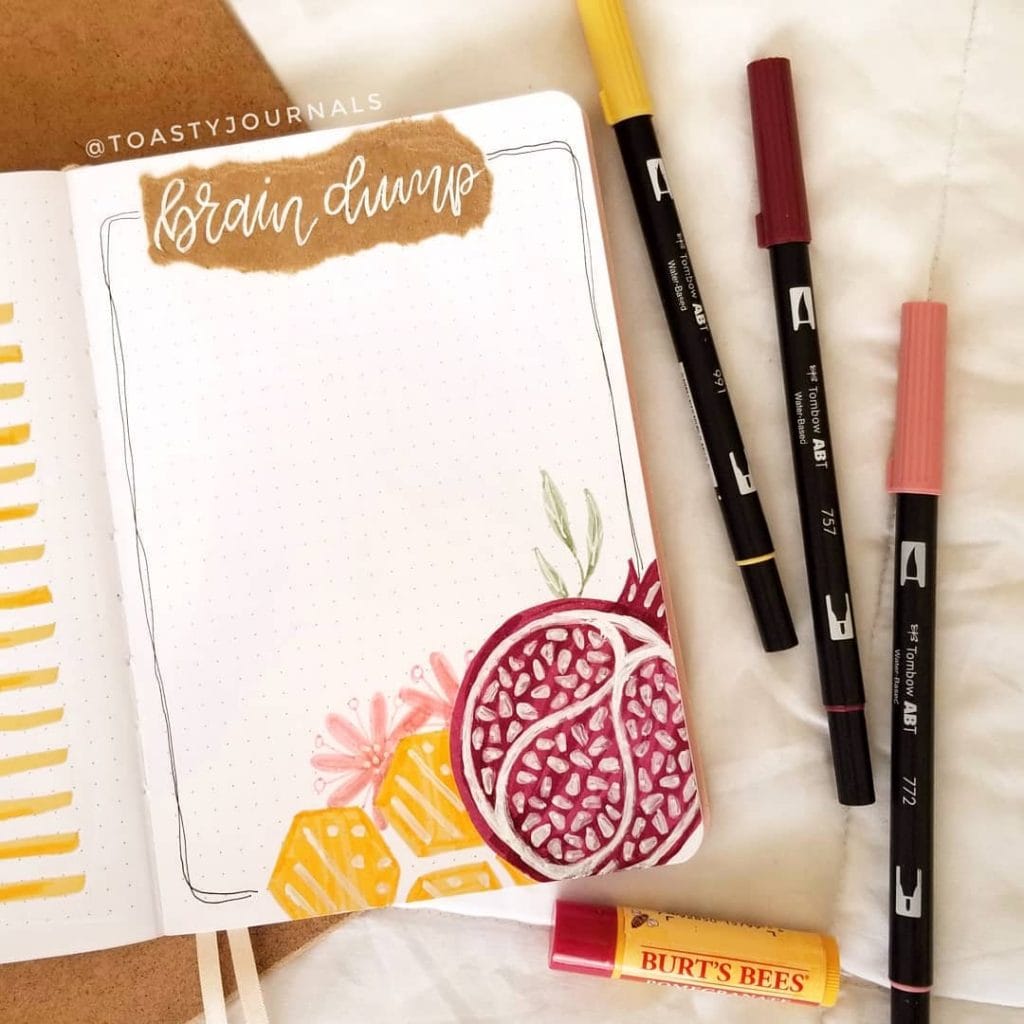 Brain dump spread ideas should be a little colorful like this one here in little shades of pink and yellow. The beautiful circular pattern in the right corner of the page has added an extra hint of color which will certainly cheer up your mood and calm you down even if it is for a short moment. This brain dump spread by toastyjournals is all that you need to write down these pesky thoughts and keep your mind a little sorted.
3. Brain Dump Ideas And Little Leaves
This brain dump spread is for all the minimalist souls out there. To be honest, such decluttering journals are not always that much of a use if you already have a daily journal. But certainly one can use a few pages of these, for all those vague thoughts which keep hovering over the mind. Pagesbyamy has come up with this simple and yet versatile spread with the soft tones of orange, and patterns of leaves, and especially the potion filled bottle at the bottom corner of the pages has tied it all up in hope of better days.
4. Live With Gratitude
A brain dump is not just the name of a journal where you write your thoughts, you can also do it on a piece of paper. You can also take a diary and simply write. Write until you have a small window in your mind through which you let your thoughts move out and down to your diary. And keep writing until you are at peace. If you are seeking such a simple journal spread then this one here by pagesbyamy will remind you every day of all the gratitudes. It will remind you of all the things you should be happy about.
5. Simply Dump the Thoughts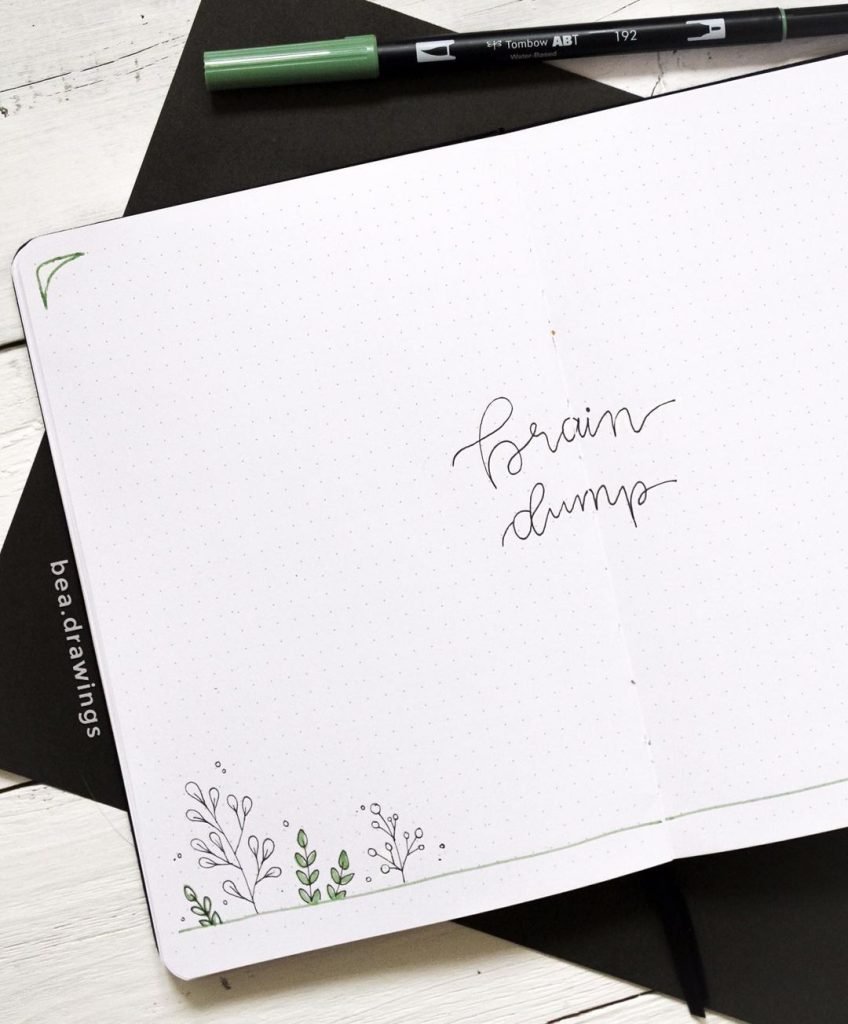 I often see my friends tell me that brain dump is kind of a stupid idea. People question their efficacy. But trust me on this simple brain dump spread, like this one here by bea.drawings can be a lot of help. What happens in a brain dump is that your cluttered thoughts are no more just a thought, you write them and make them corporeal. This spreadsheet is so simplistic that it has immense space to dump the thoughts. The beautiful writing in cursive has given this piece here an artistic touch.
6. Pink and Purple
Have you ever had weird dreams? I mostly have bizarre dreams that I tend to forget just a few minutes after I wake up. But of course, dreams tell a lot more about us than just our weird mind. So I, as a matter of fact, try to dump a few of these strange dreams in a brain dump journal. After all, that is what a brain dump journal is for. This pink and purple rhombus-patterned spreadsheet by feather.eaux is so somber and simple that you will be tempted to fill this one up.
7. Maple Leaves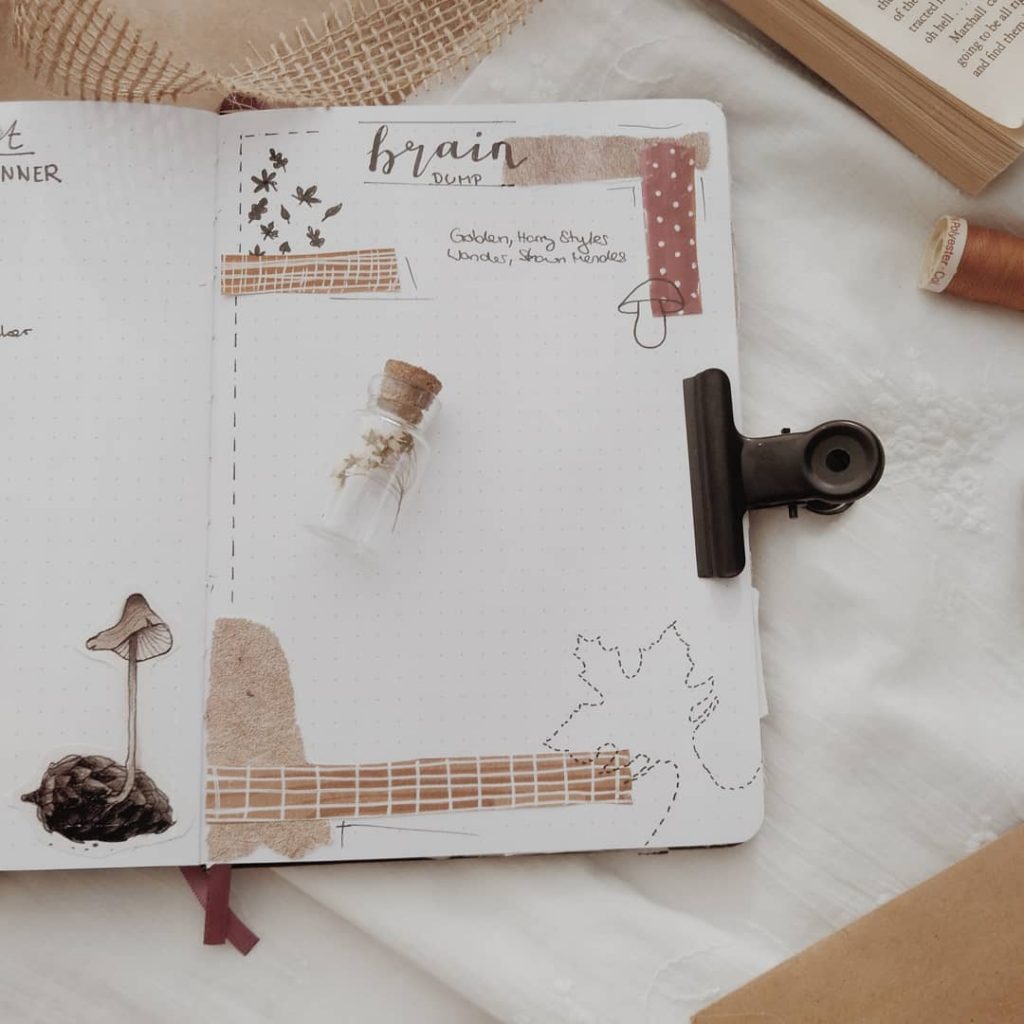 This fall-themed brain to-do is my favorite. It soothes my soul, right to the core. It reminds me of the long lost days, it makes me nostalgic. The soft brown tones and falling maple leaves, jxhannaxu has made this spreadsheet so warm and calming. With some brown washi tapes, this spreadsheet has an earthly theme. From the mushroom doodle, to the little rock, to the falling maple, the brown color has tied it all in warmth.
8. Daisy Bellies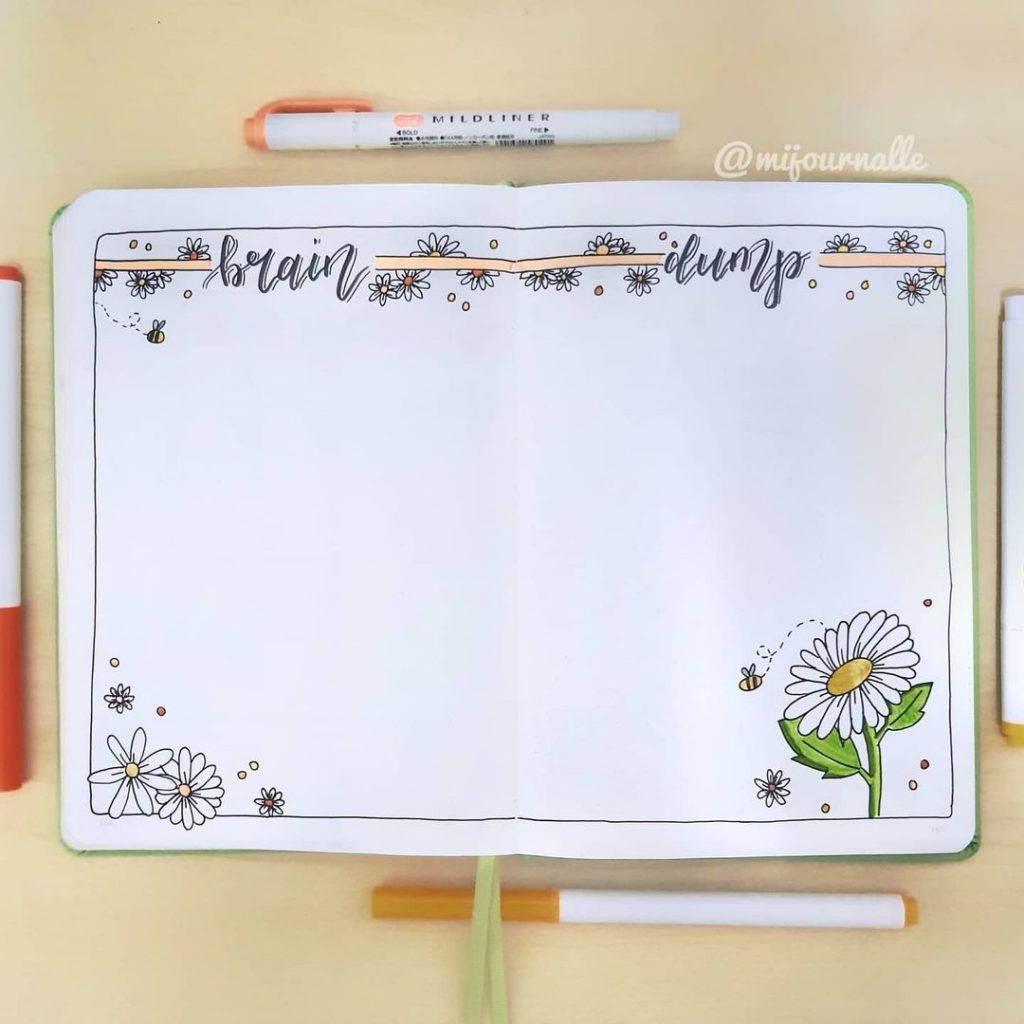 My thoughts are almost always all over the place, just like this little bee on this brain dump page. Hovering here and there and everywhere. And in such a situation it is so very hard to remain focused. Of course, the inevitable consequence of that is procrastination. Hence maintaining a spreadsheet like this one here by mijournalle is crucial. Look how beautiful this spreadsheet is, with a full-blown summer vibe, the daisies and the buzzing bee is giving me a happy feeling already. I can almost hear the bee, BUZZ!!
9. Dried Flowers and Messed up Brain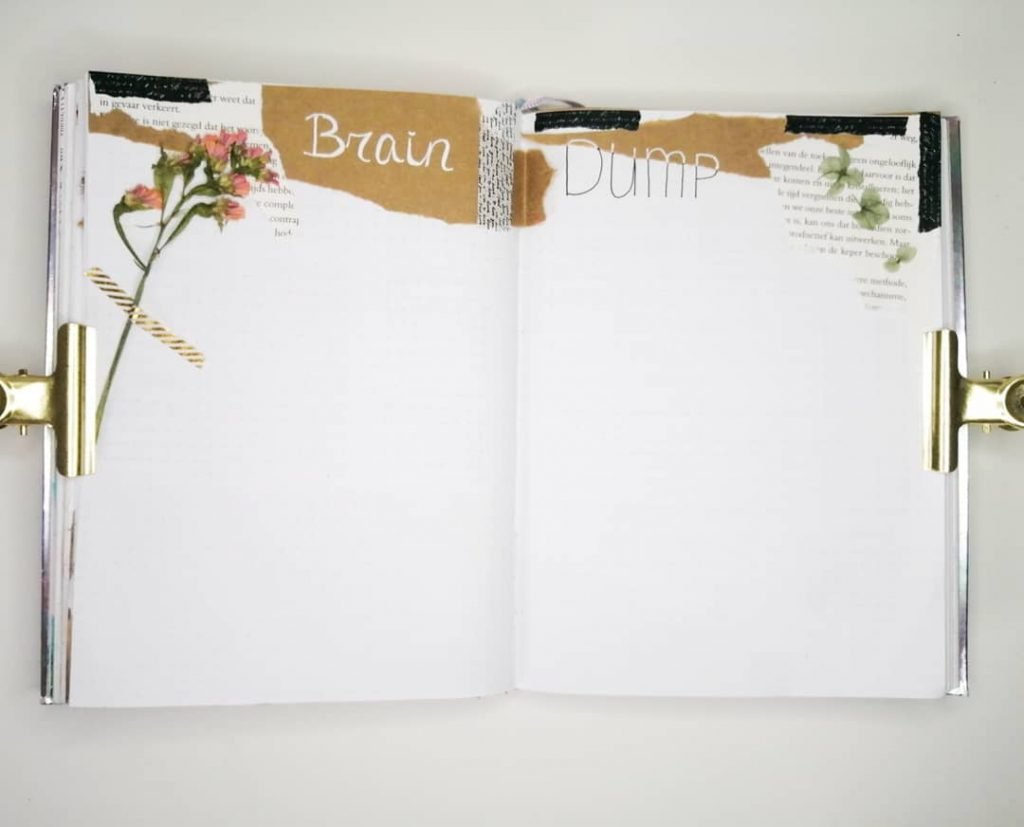 The brain is a complex place to be in. It is like a maze, which is like a trap and it is hard to entangle oneself. So how about a brain dump spread which will help to declutter the nagging thoughts. Joyceful.journal has discovered a more natural way to hold the thoughts down in this one here. With the dried flower tapped in the corner of the page, she has made this brain dump spread not just beautiful but also hopeful.
10. Rain Dump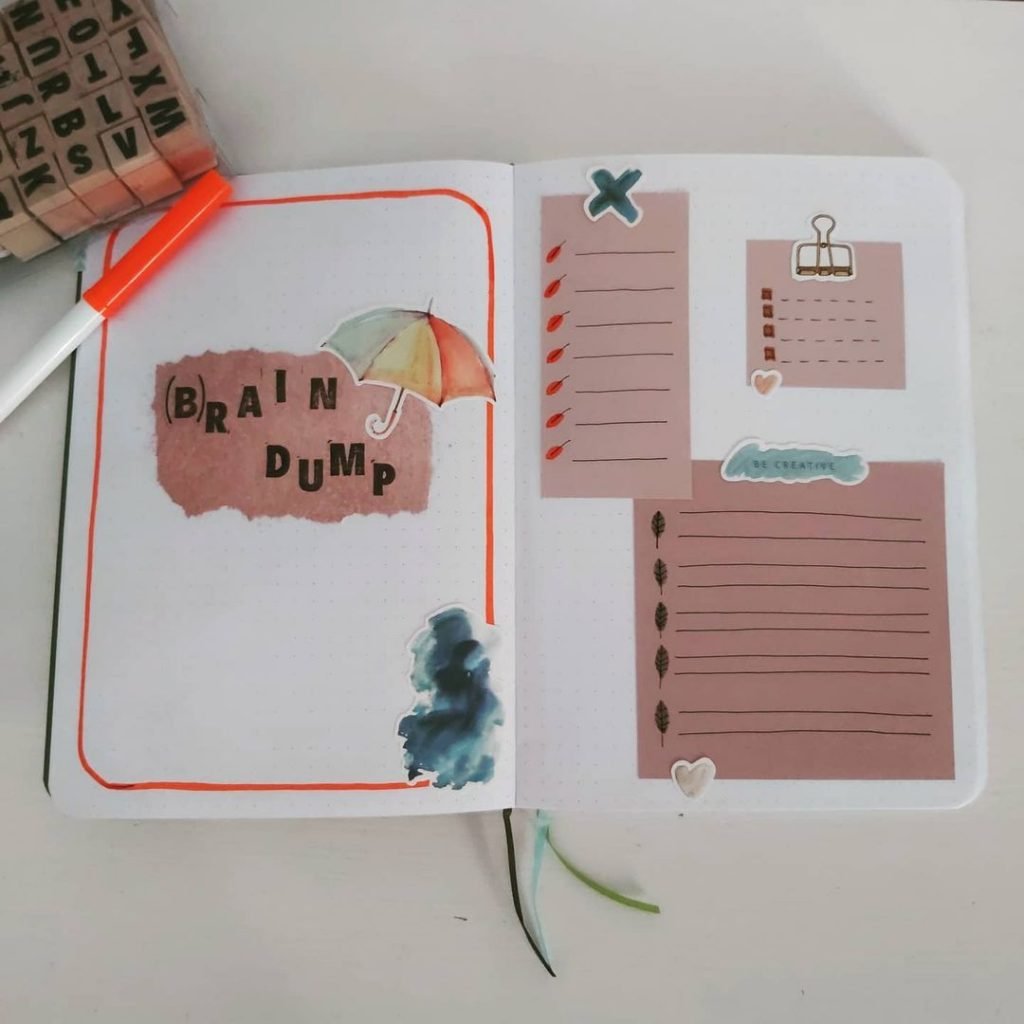 This monsoon themed brain dump spread by juf_touria is lovely. This sunshine-like colored umbrella brightens up my mood at a glance. The rain of thoughts in my mind is immediately met with the happy mood of the summer days. To be honest, on hard days this one will certainly remind me that every cloud has a silver lining.
11. The Little Blue Whale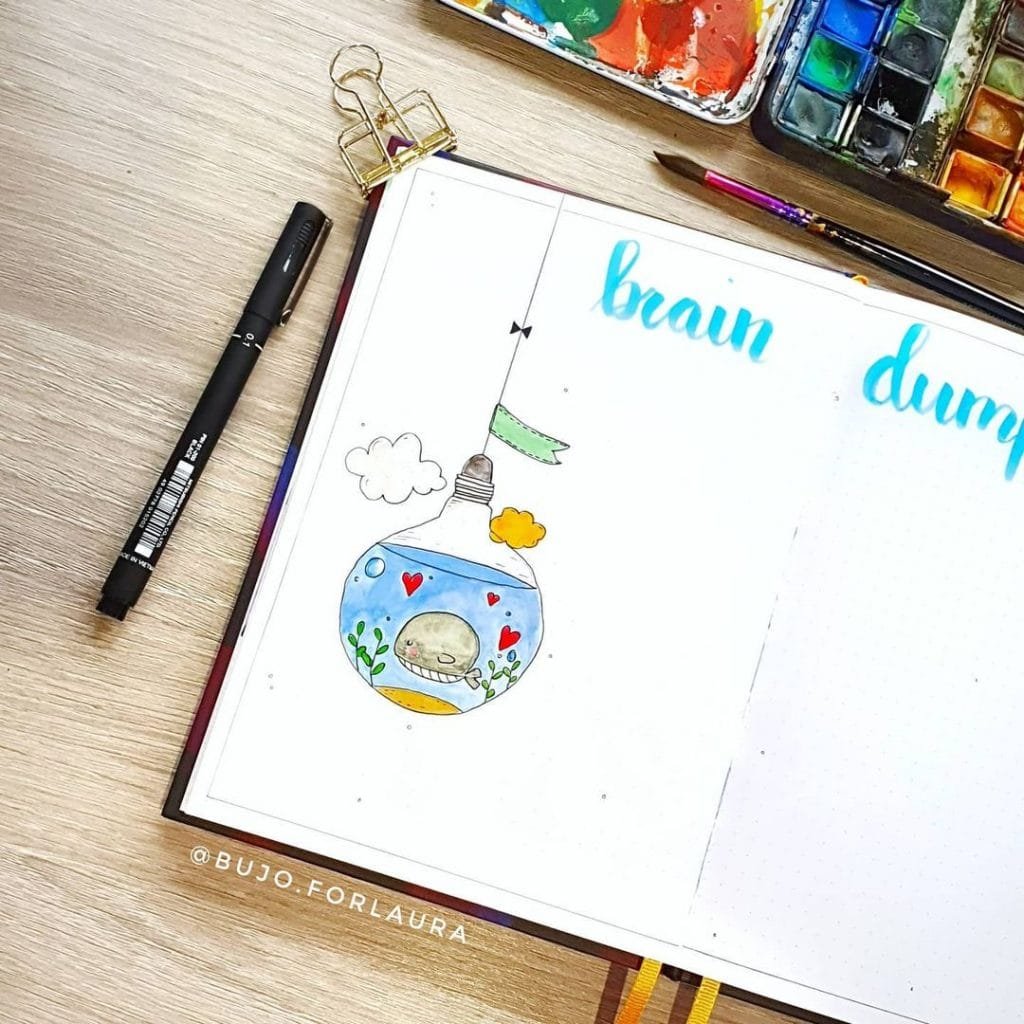 Oh dear, how cute is this blue whale doodle! Bujo.forlaura has created this aqua-theme brain dump spread with love and care. The blue tones will instantly calm the mind. And how poetic is it to see the blue whale captured perfectly in its own environment? How about we let the pesky thoughts get captured like this in these aqua-themed pages?
12. The Hues of Sapphire
Look how lovely these shades of sapphire are! There are times when I have unproductive days and that makes me feel aimless. But that is why I always support the idea of brain dump journals. Thuys.bujo has made this brain-to-do spread with the hues of blue and the flowers and leaves have leveled up the game.
13. Traveler's Brain Dump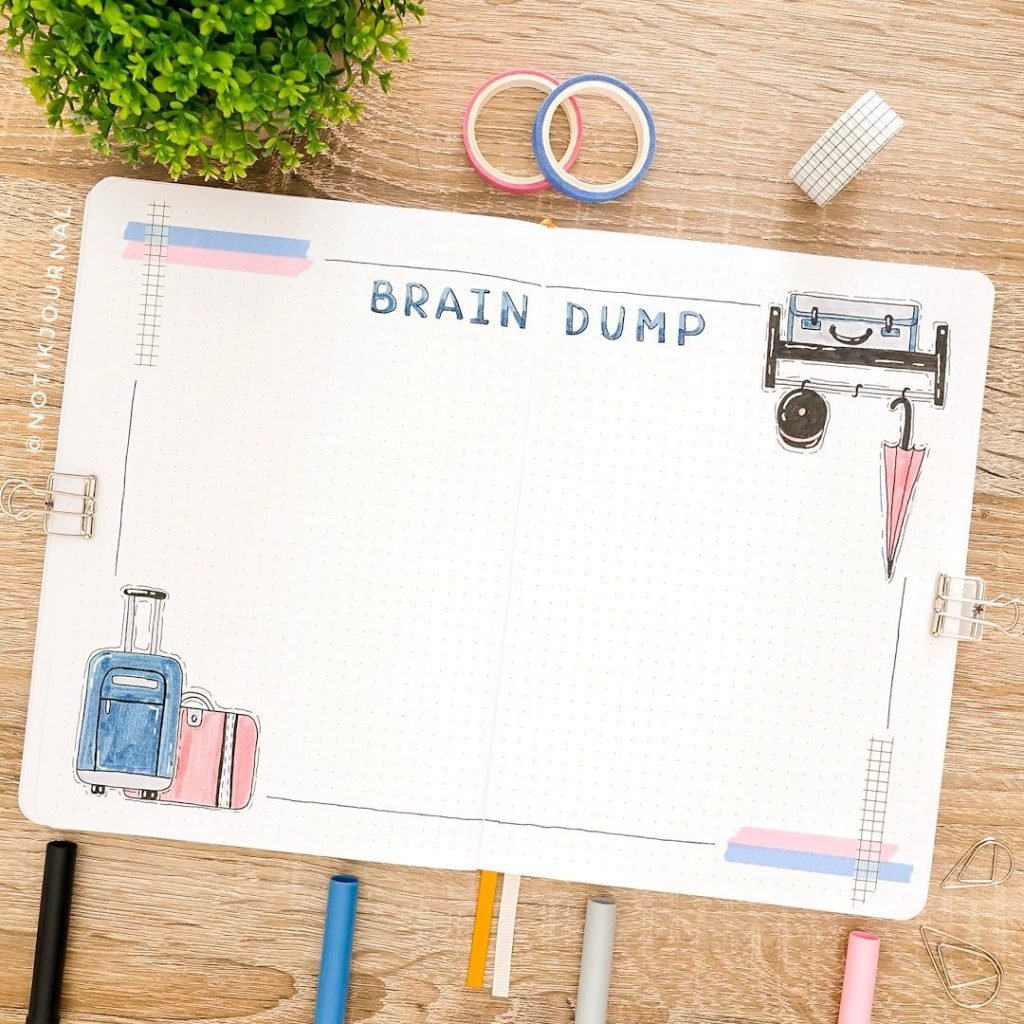 Are you a traveler? Well, this year has kept us on house arrest. We all could use a little vacation, a little touch of nature, but of course, that is not even an option. So how about dumping all the vacation ideas in a journal? This brain dump spread by notikjournal makes me want to plan a vacation. The pink and blue bags occupying the corner, the umbrella, and the hat, are everything that is essential for a vacation.
14. Goals of the Day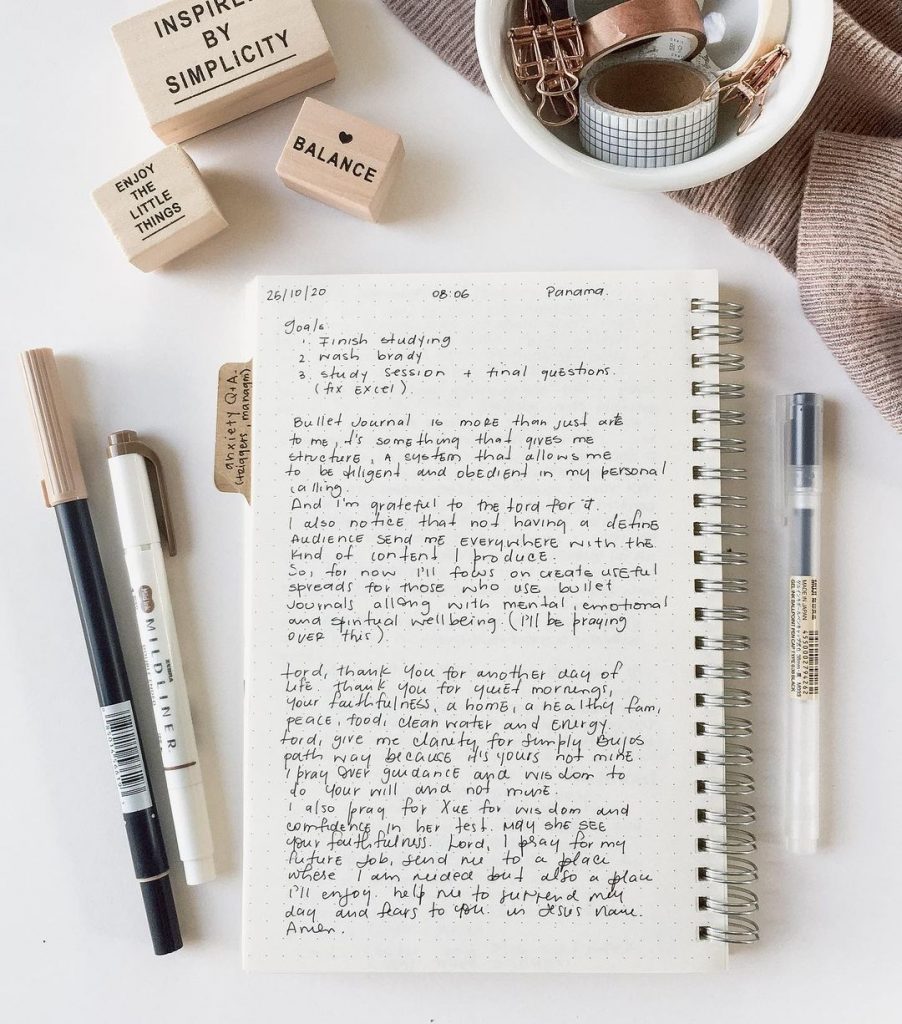 Journaling is like therapy for me. It is like I am sharing thoughts with a friend. Maintaining a good brain dump like this one by simplybujoss is nothing less than a ritual. But the inclusion of 'things I am grateful for' and 'goals for the day' keeps me focused and pushes me towards my goals. It is like the coffee for my dreams, keeps me focused and oriented, and keeps the useless thoughts at bay.
15. One Line a Day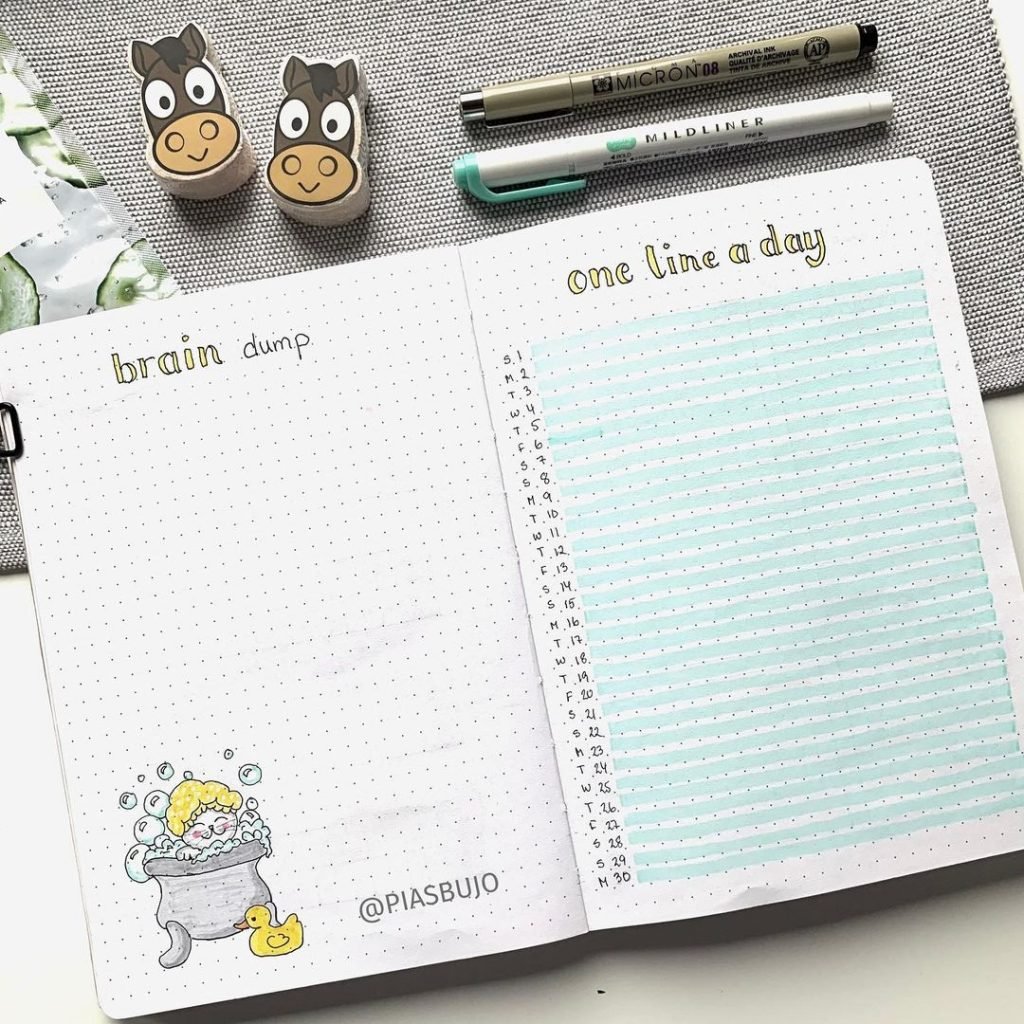 What if you could sum up your day in a line? You can actually do that with the help of this brain dump idea by piasbujo. This cute spreadsheet with the little duckling in the bubble tub is only going to help ease out your mood. All that this journal requires is to write at least one line every day. Just as they say, 'One day at a time'.
16. Brain Dump and Ideas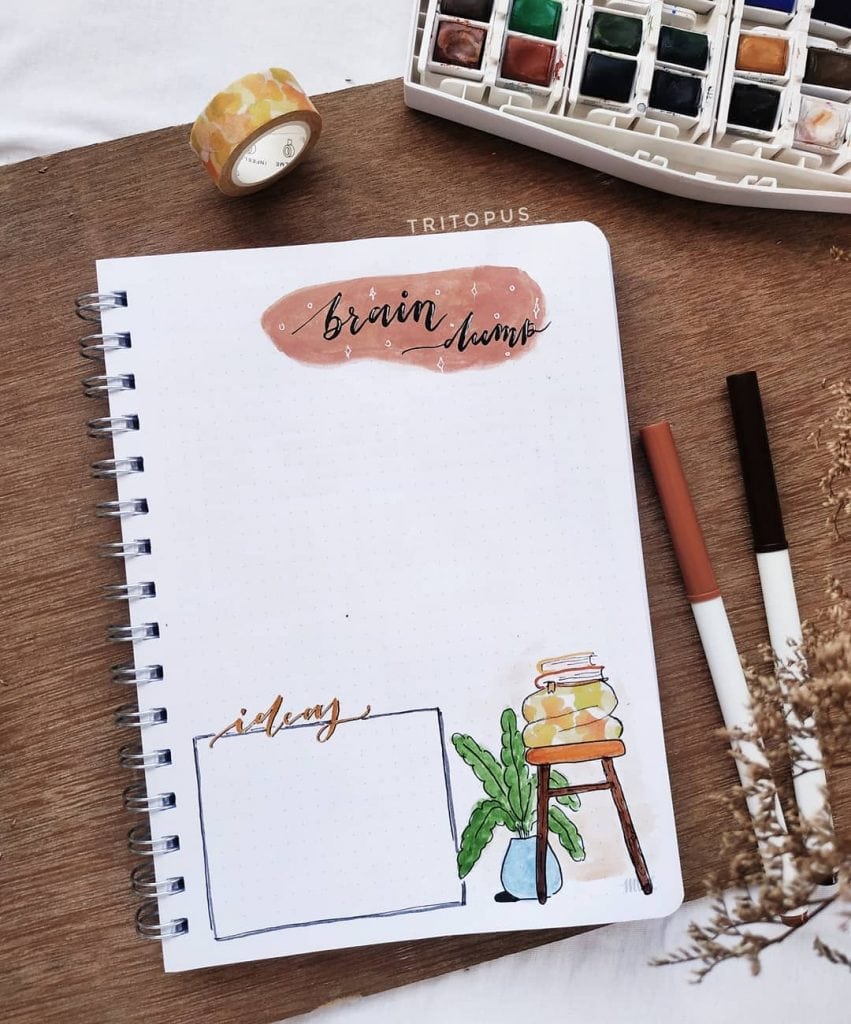 If entangled thoughts keep you up at night, then it is time to declutter them. The best part of this brain dump spread by tritopus_ is that she has included both brains thought space and the ideas on the same page. It keeps things on the same page, makes it more convenient. I am especially loving the little plant doodle and the pot on the stool. Makes the whole spreadsheet earthly.
17. October Brain Dump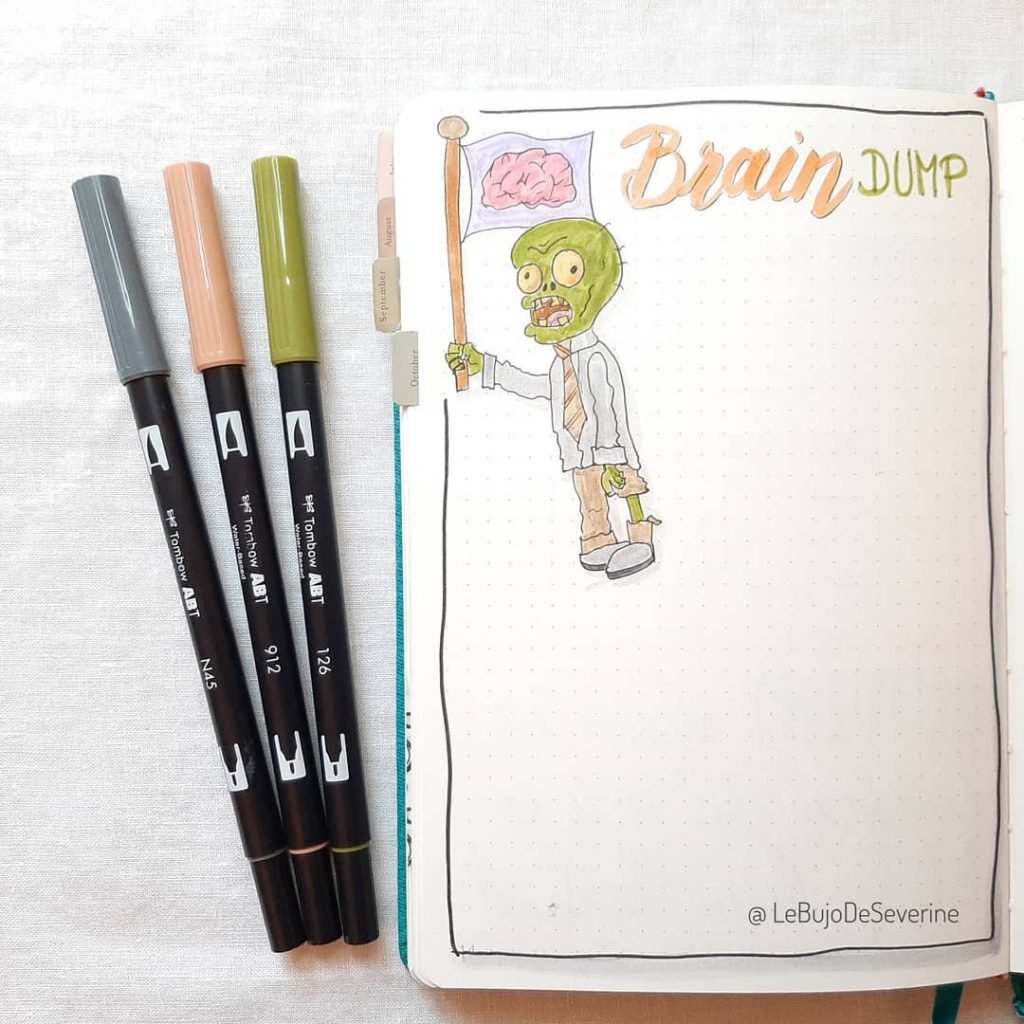 If bujo pages can be themed, then why not brian to-do spreads? I mean look at this Halloween-themed spreadsheet. Lebujodeserverine has found an interesting idea to declutter the thoughts. The green alien holding up the brain flag will simply cheer you up or at least put a smile on your face. And that is exactly the kind of positive effect a journal should have on its owner.
18. Love for Lipstick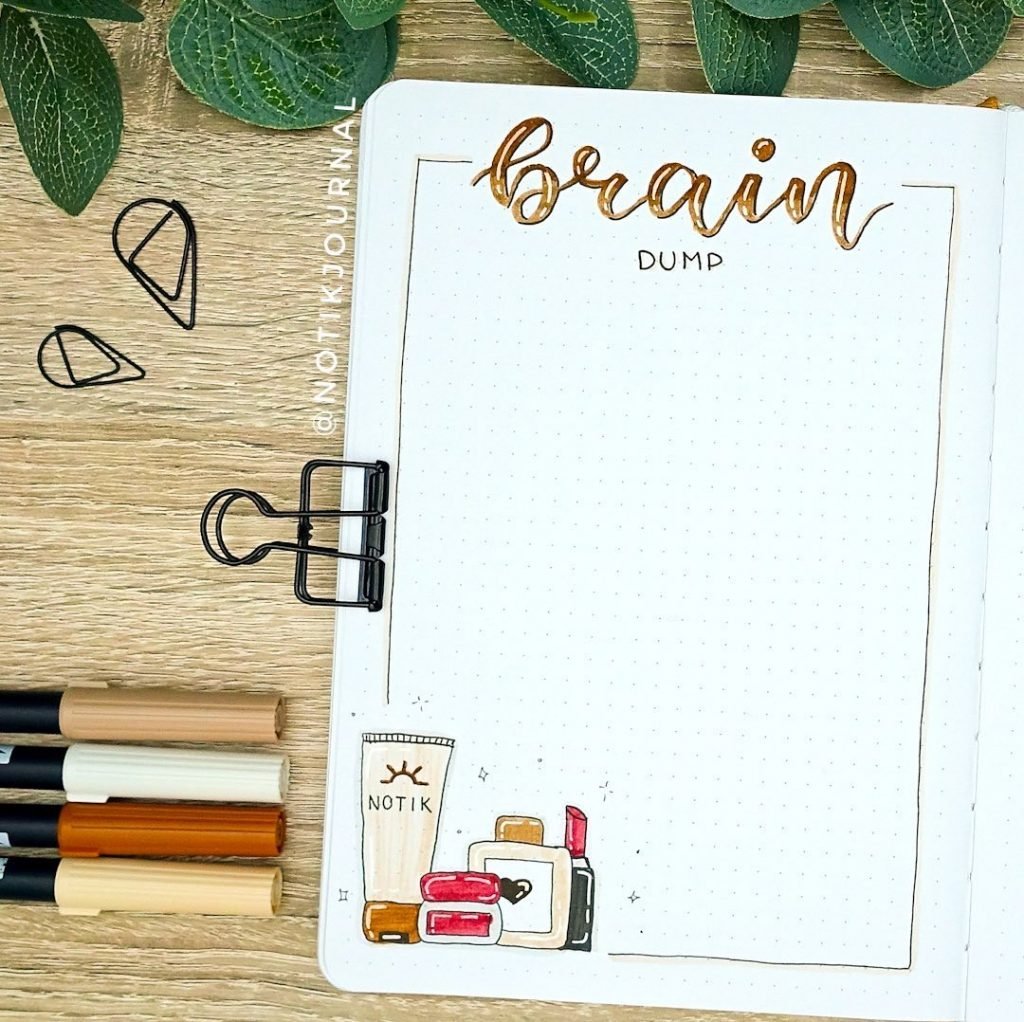 Journals should be personalized and what other better way to do it if not with all the things of love? This one here by notikjournal is love. For a girl who loves red lipstick, this is just love. The little set of luxury products in the corner makes me want to run and get my own skincare regime.
19. Magic Charm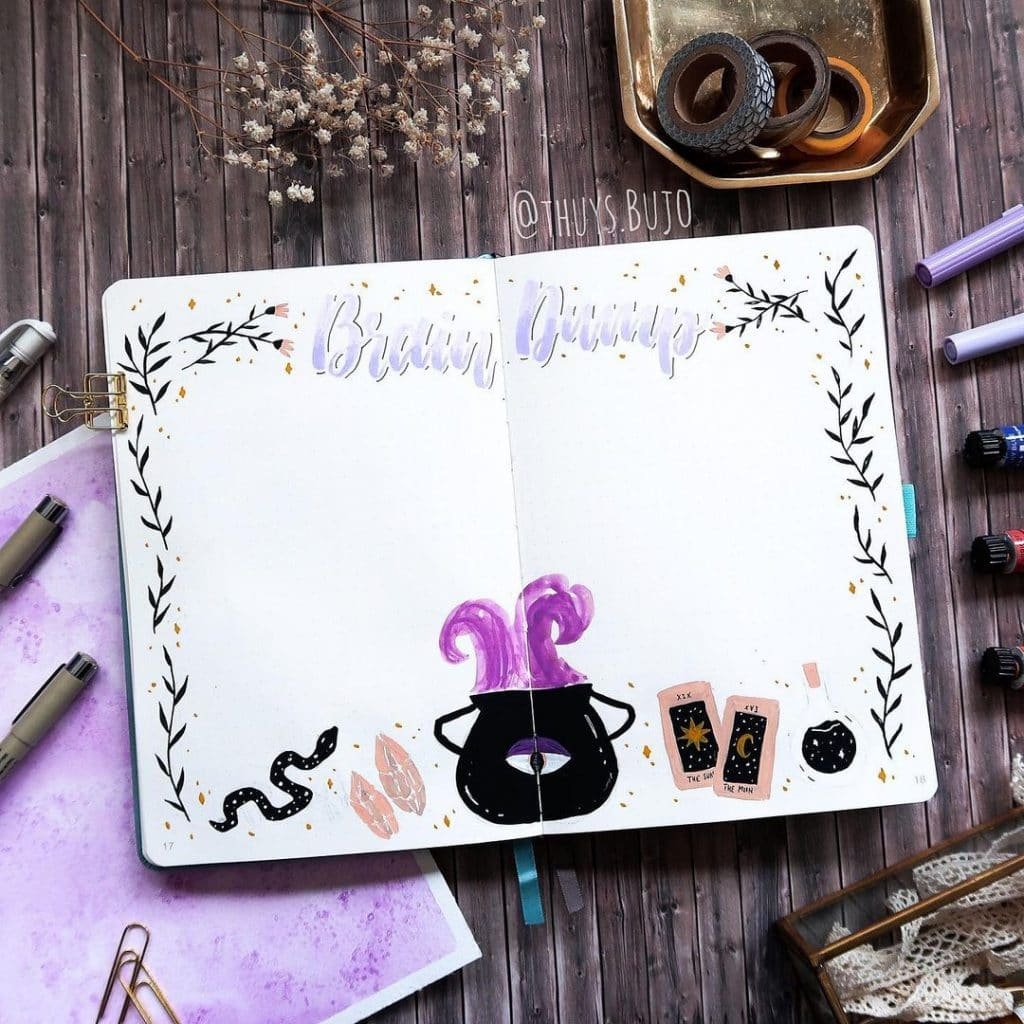 This journal spread by thuys.bujo with the black cauldron and the snake is making the magic charm go strong. With the cards and those little ferns all around the journal, the Halloween vibe is stronger than ever. I love the use of the colors, with violet and black this journal spread is all magical. And how eerily fantastic is that one eye on the cauldron.
20. Bat Webs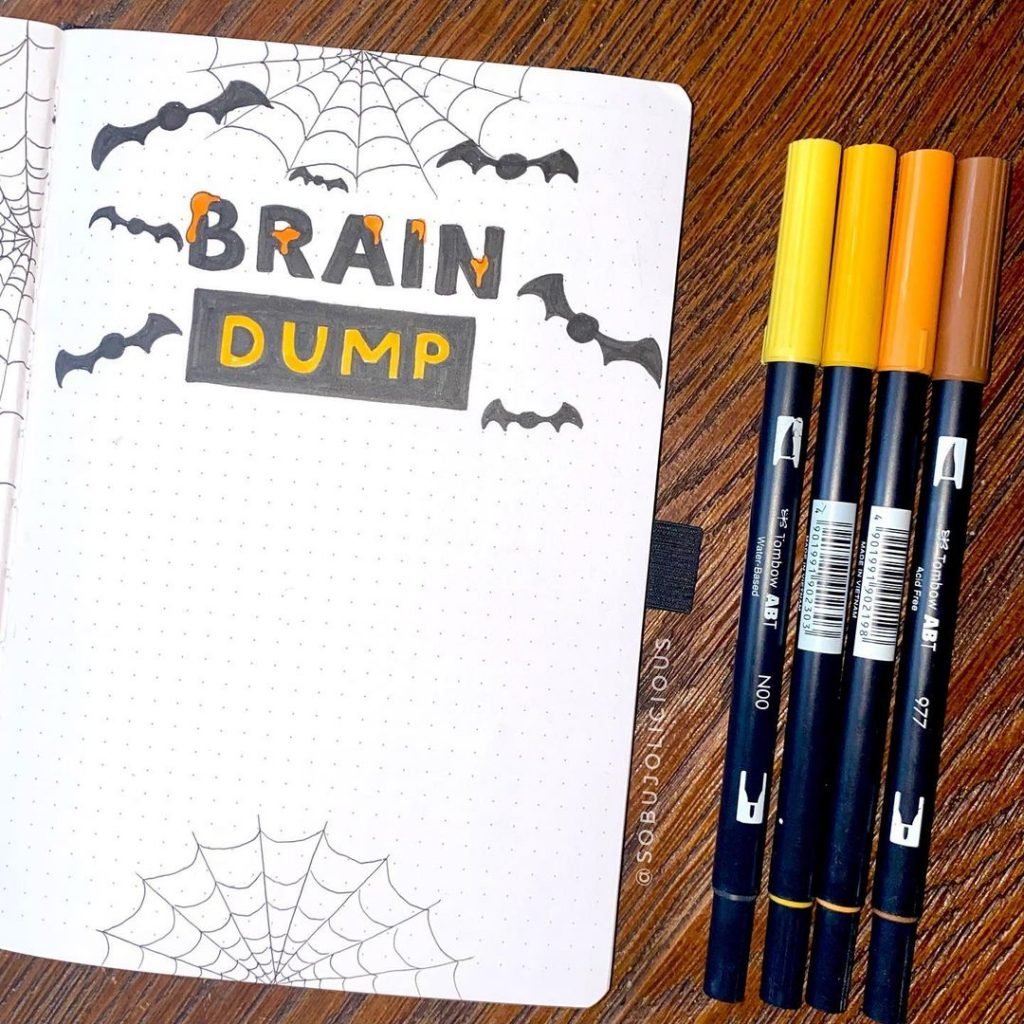 Sobujolicious has made this brain to-do page a feast for the bat lovers. So this one reminds me of two things, one is definitely this year Halloween night. And why not? With the cobwebs and the bats and the little hint of orange color, the theme is all set. On the other hand, the flying bats can only remind me of Batman himself.
21. Crystal Highlights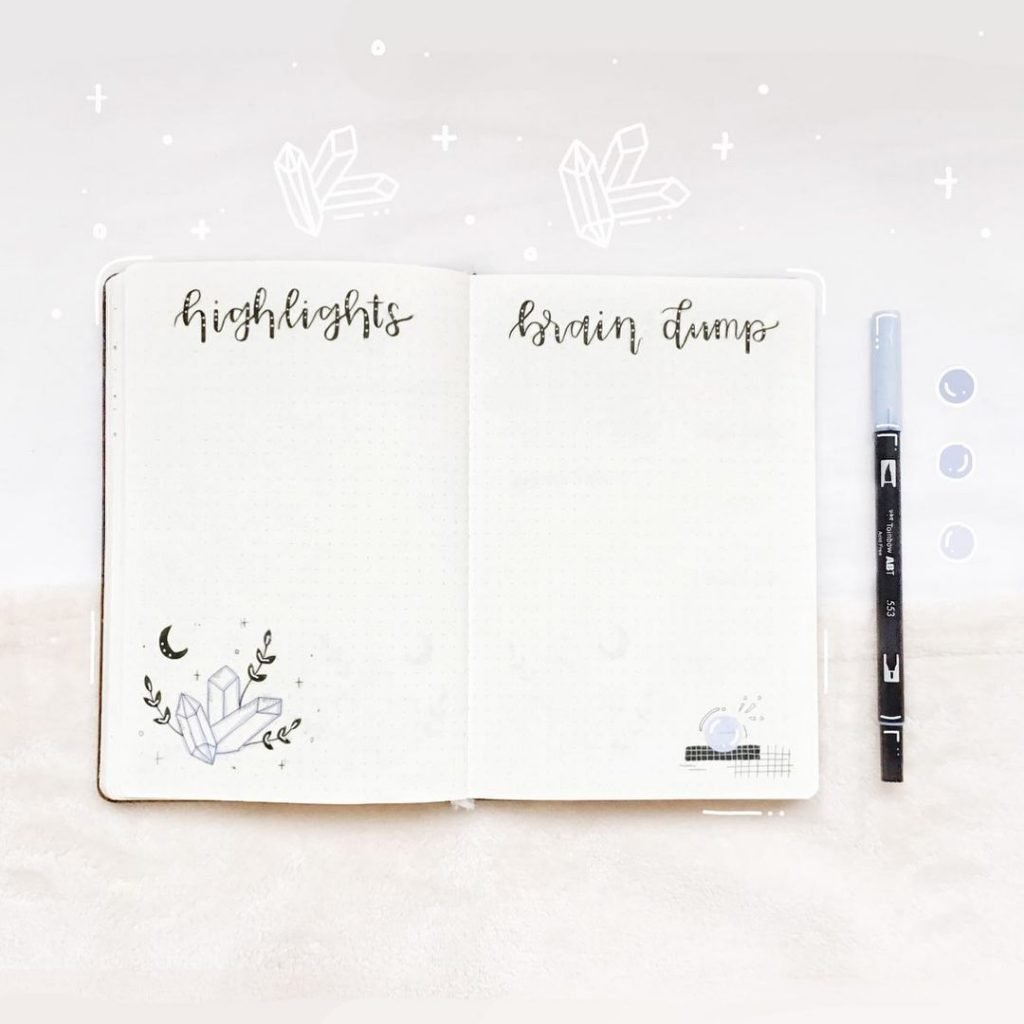 The use of soft blue in this one here by bujowithlaabia is angelic. The white and blue have created a positive and heavenly effect. I love the addition of crystals to the bottom corner to give it more character. The title written in calligraphy is certainly eye-catching. This spread is so beautiful that I can't wait to recreate one for my messed up thoughts.
22. Bulbs and Ideas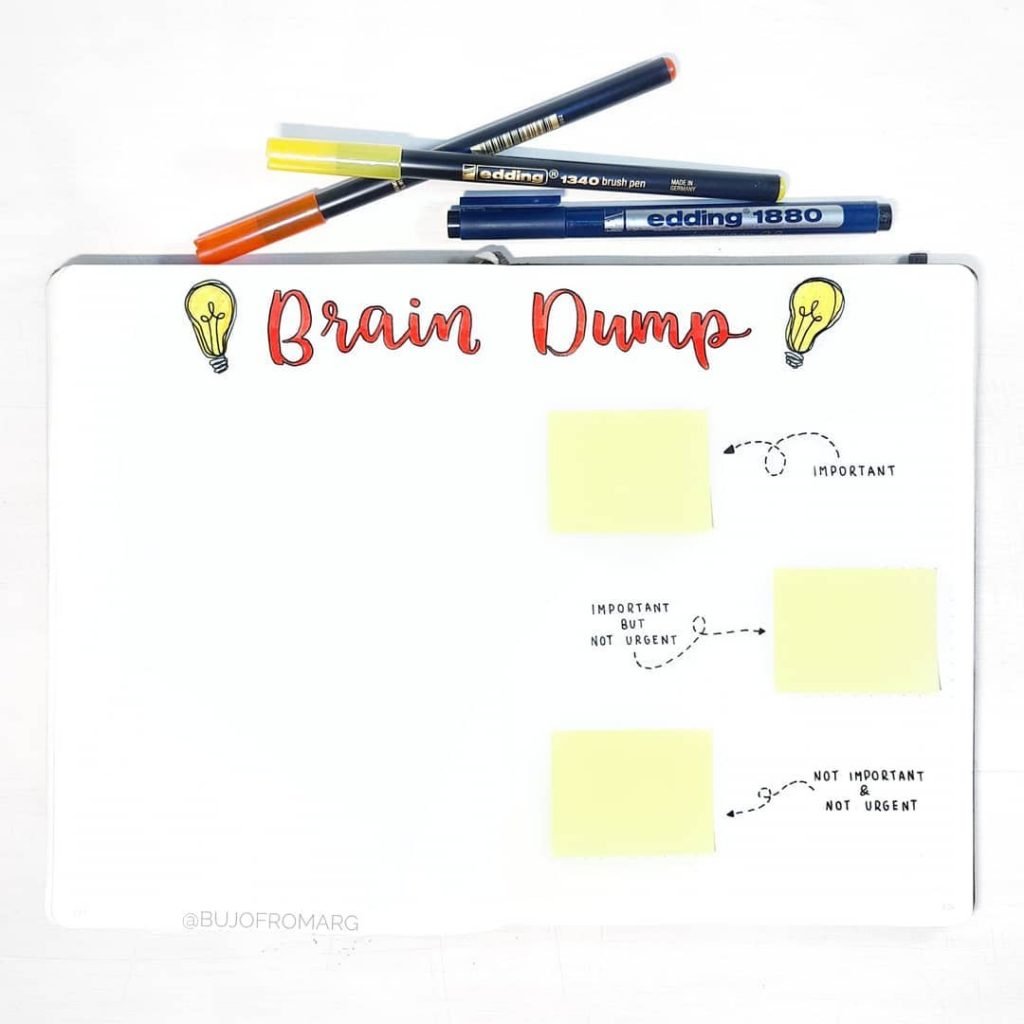 Our mind is full of ideas and certainly overcrowded by messed up thoughts. And almost every day I find myself trying hard to focus on things at hand. But it doesn't have to be hard, and that's why I like to note down all those thoughts and see what is important and what is not. Bujofromarg has only made it easier. With a segregated space for important, important but not urgent, not important, she has certainly come up with a brilliant thought recording spread.
23. This Pink is Hot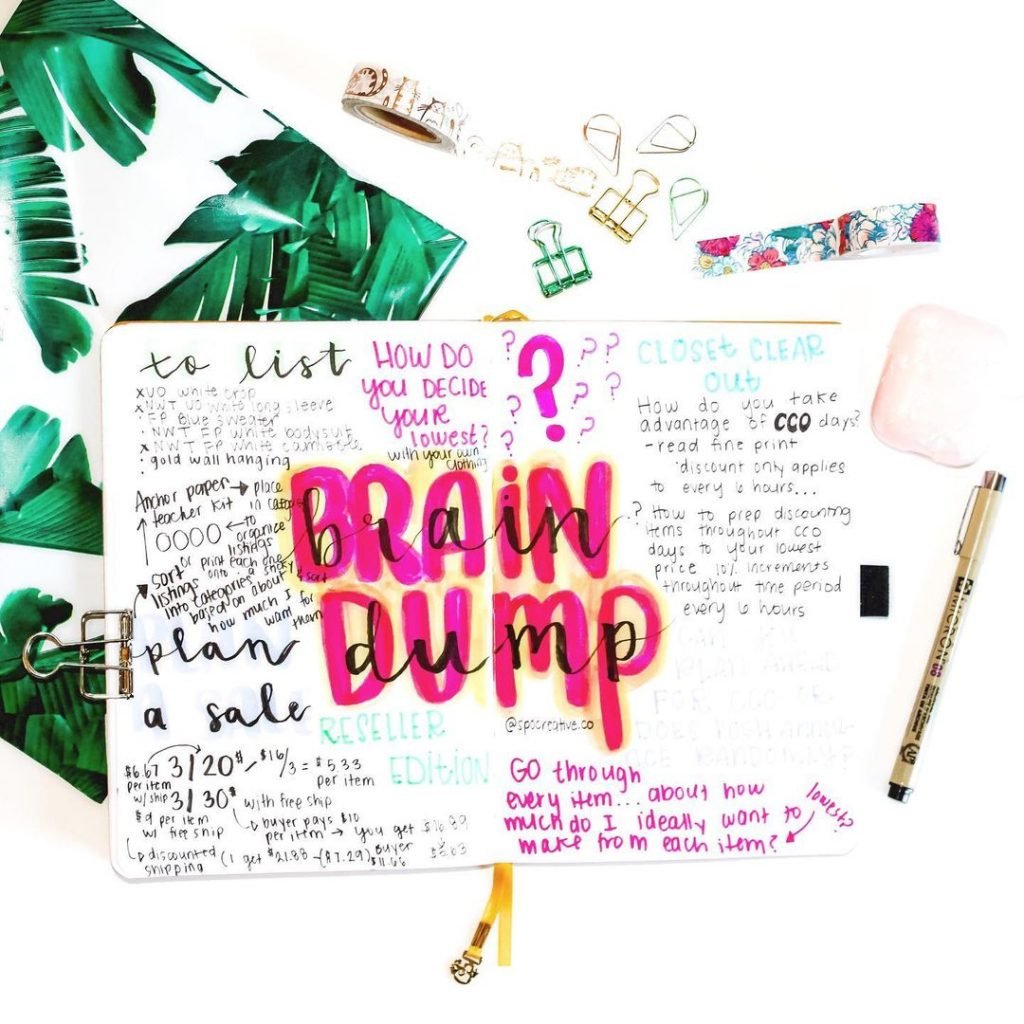 This is what my brain to-do pages look like. Too many thoughts hovering here and there in my mind. But spocreative.co has an easy way to sort it out. How beautiful is that pink, especially the use of two colors for the lettering is doing wonders for this one? The to-do list is of utmost importance in such a thought recording journal. Because it is important to segregate the not-so-important thoughts from the important ones.
24. Personal You vs Artistic You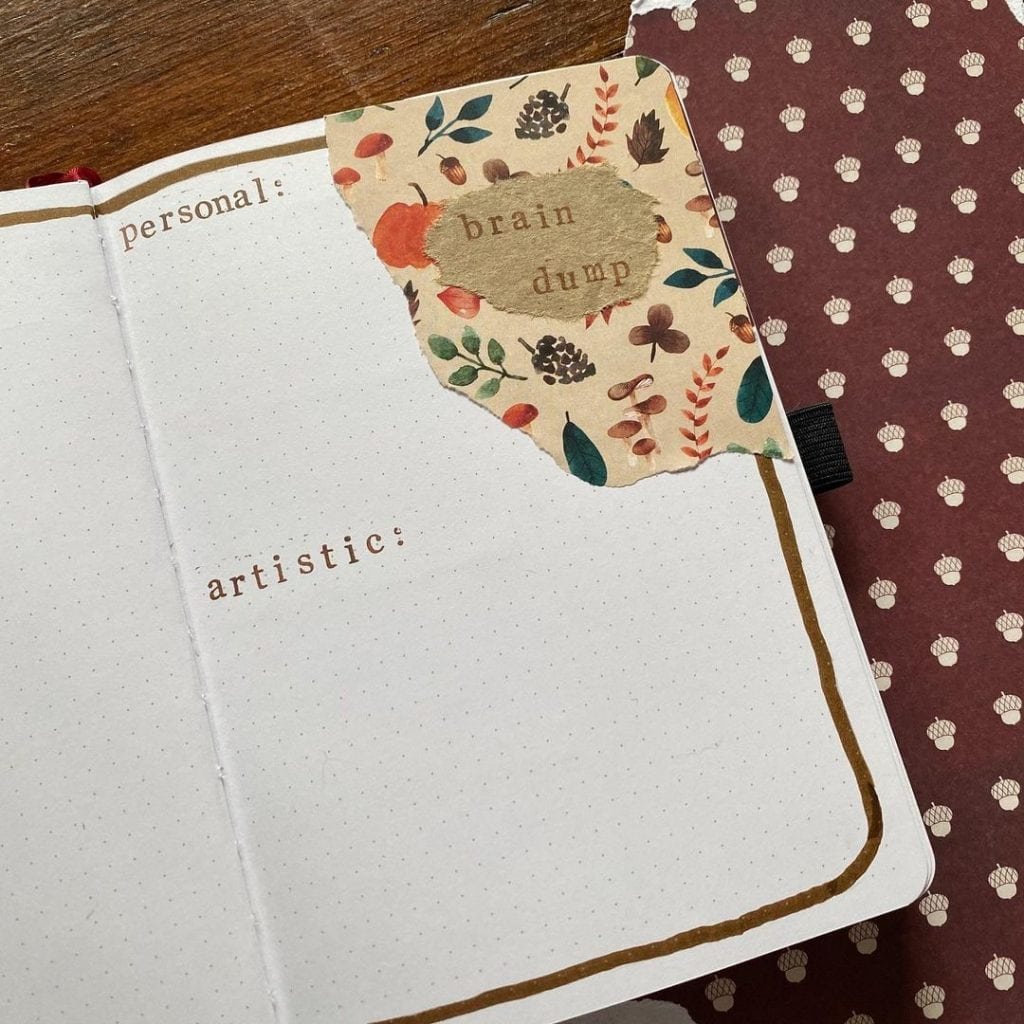 This is by far one of the most creative ones on the list. I love the segregation of the self into two, this certainly is a boon for all the creative people out there. The nice earthy-toned floral paper bit on the corner is a nice touch. The journal spread is pretty simple for all the burnt-out souls. With deadlines, and essays, and research papers, balancing dreams and work can often reach the breakpoint. So that's when I pull out a thought spreadsheet just like this one, to calm my mind.
25. A Window into my Mind
This window reminds me of the window I have created to pen down all my thoughts so that it is easier to declutter them. Favorite.journal has metaphorically painted this journal spread here. With the window and the beautiful flower pots, she has certainly created a positive vibe. From a poetic angle, one can read the window as an escape, which we all look for when lost deep in unnecessary thoughts.
26. Paper Layers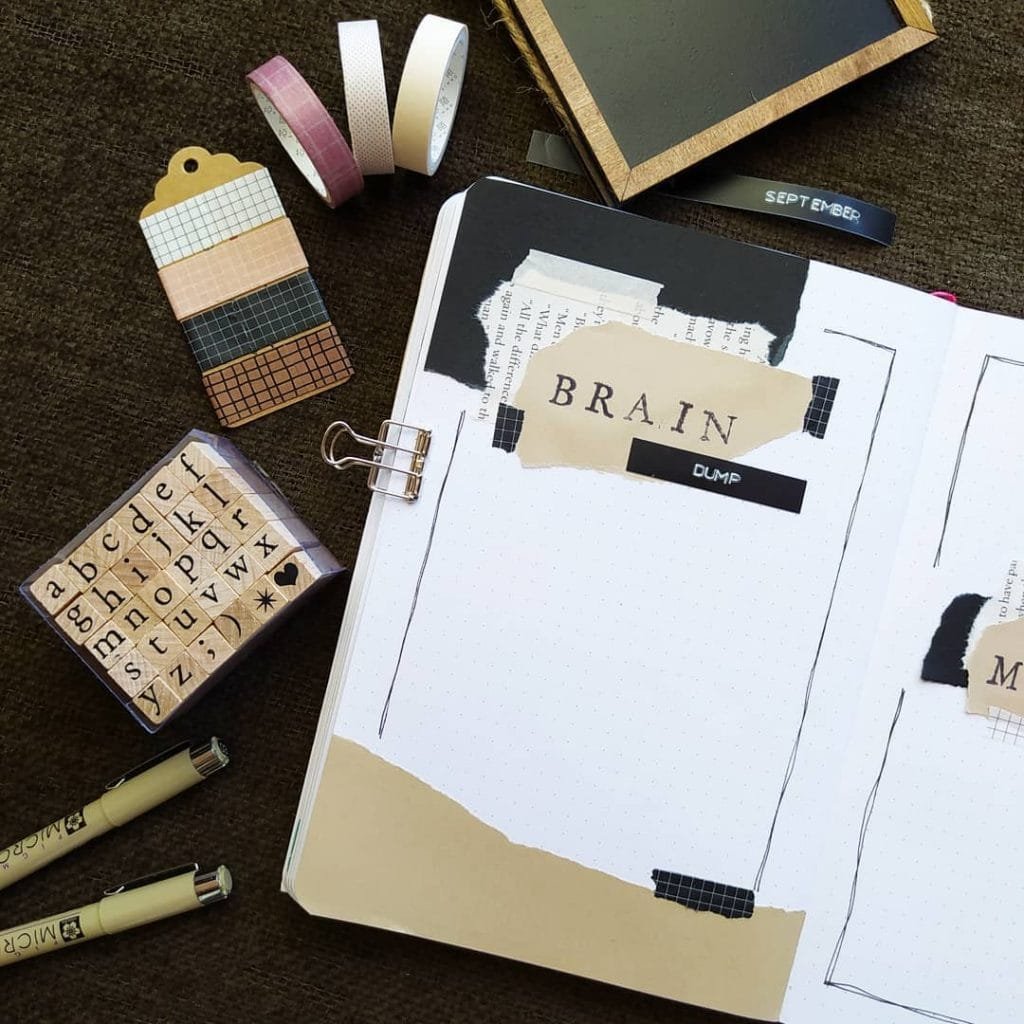 Creating a personalized record of thoughts is not hard. Like this one here by bujo.by.filo is so simple and yet so aesthetically pleasing just because of the color patterns. The use of the pastel colors and the patterned washi tapes have given this one a little more artistic edge. But the extra edge is added because of the little scripted paper bit hidden in the middle of the washi tapes. The style is a little messy, kept aligned to the messy thoughts in the mind, so why not add some of those pesky thoughts in wobbly handwriting.
27. Leaves Stories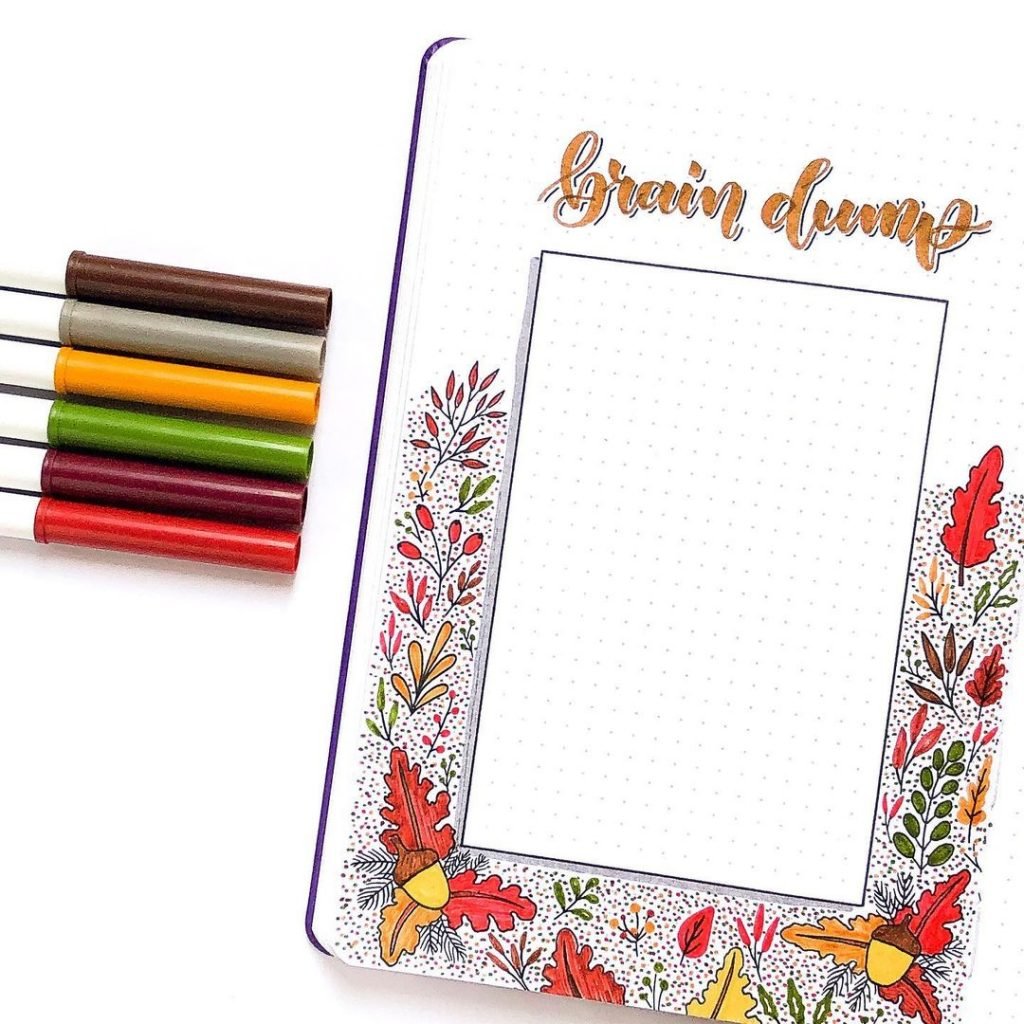 All-consuming thoughts are terrible. I always try to write down as much as I can. No matter how clustered my thoughts are, writing down them sorts the situation a lot for me. Vividscribbles have created this thought storing spread with nice colors of red, yellow, and some shades of orange. The color theme and the falling leaves and figs have created a strong theme of fall.
28. Brain Thoughts and Time Log
Brain thoughts know no limit, so how about a time log along with the thought dumping space? Sounds great to me, very efficient to be honest. Bujo.mireille has very aptly created such a log. In here one can not only dump those ever hovering thoughts but also track work, sleep, sport, and other activities. And the little flower doodle certainly has made this otherwise plain thought dumping ground much more interesting.
29. Green Leaves and Thoughts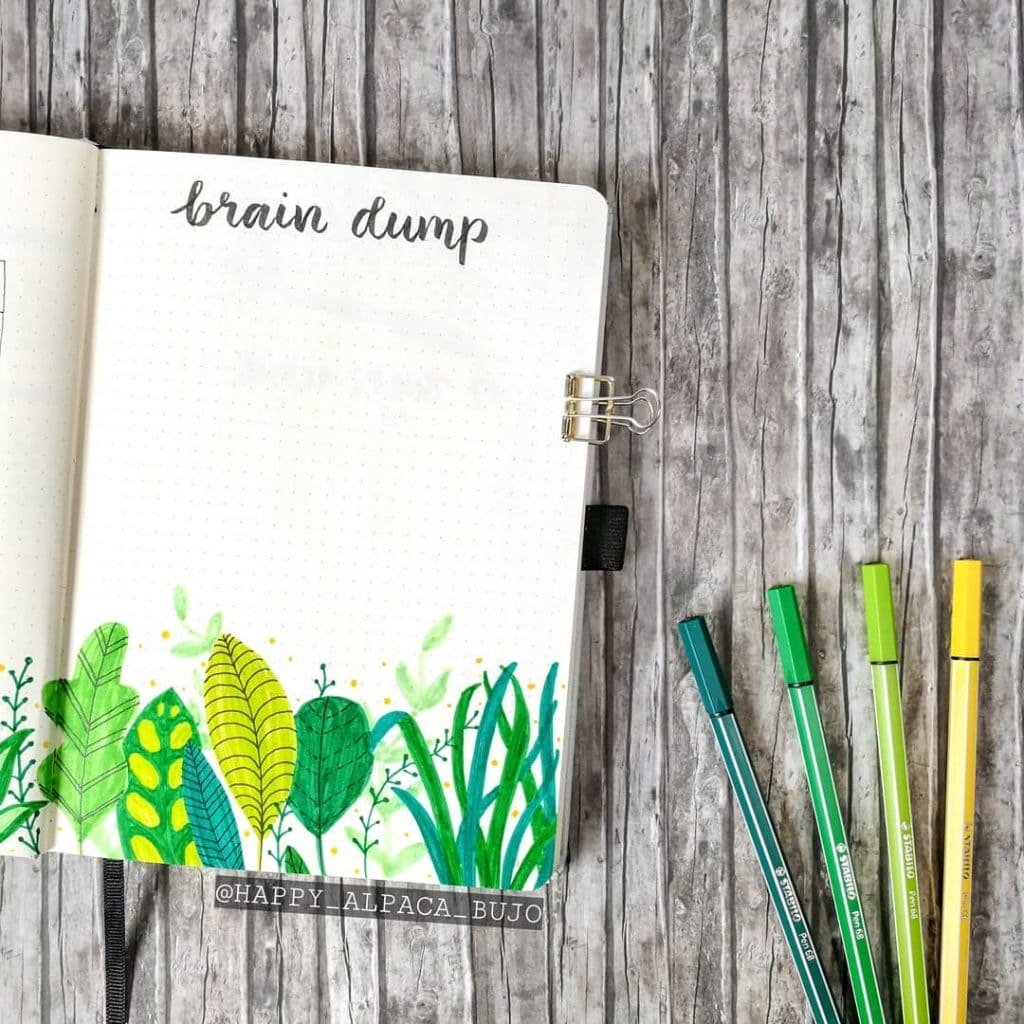 Go green with this brain dump idea! I am loving these shades of green in this one by haooy_alcapa_bujo. The patterned leaves have made these leaves so interesting, that I am looking forward to making one of these for my own journal. The leaves are so interesting all thanks to the contrasting colors of yellow and green used.
30. Habit Tracker in Black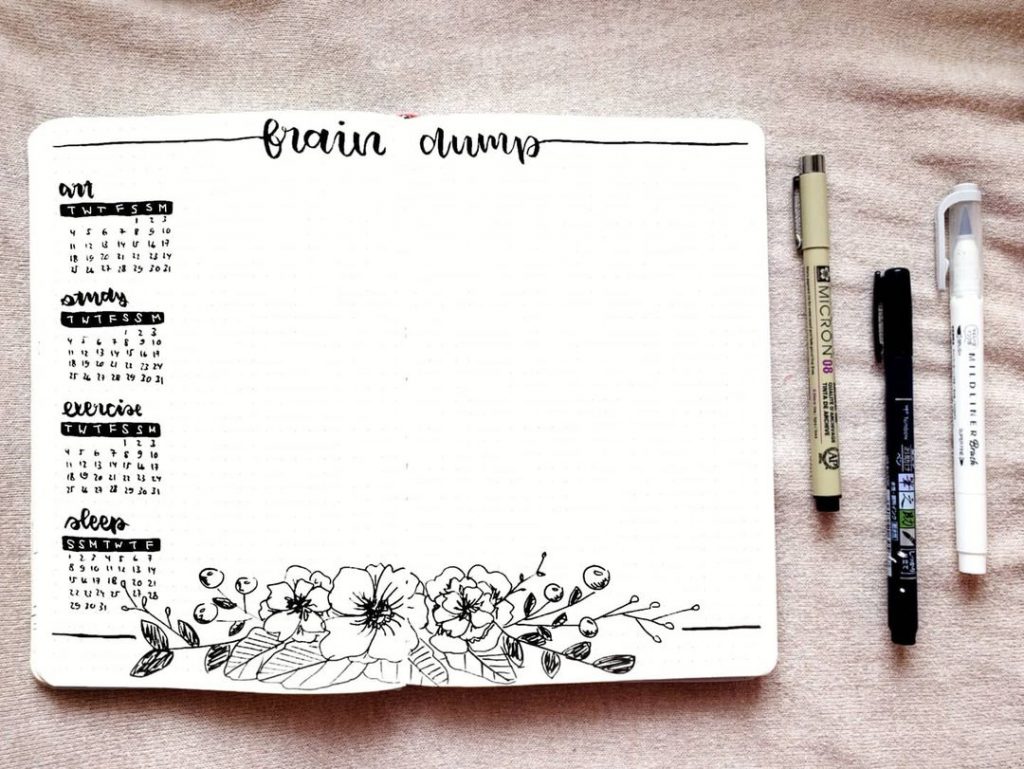 This monochromatic habit tracker with a nice clean thought dump space is an excellent option. I think the floral touch at the bottom of the page is adorable. And of course, the habit tracker added to the left side of the spreadsheet is an added bonus. Austingodoodles has kept the title style simple but the calligraphy is absolutely stunning.
31. Oh So Deserted!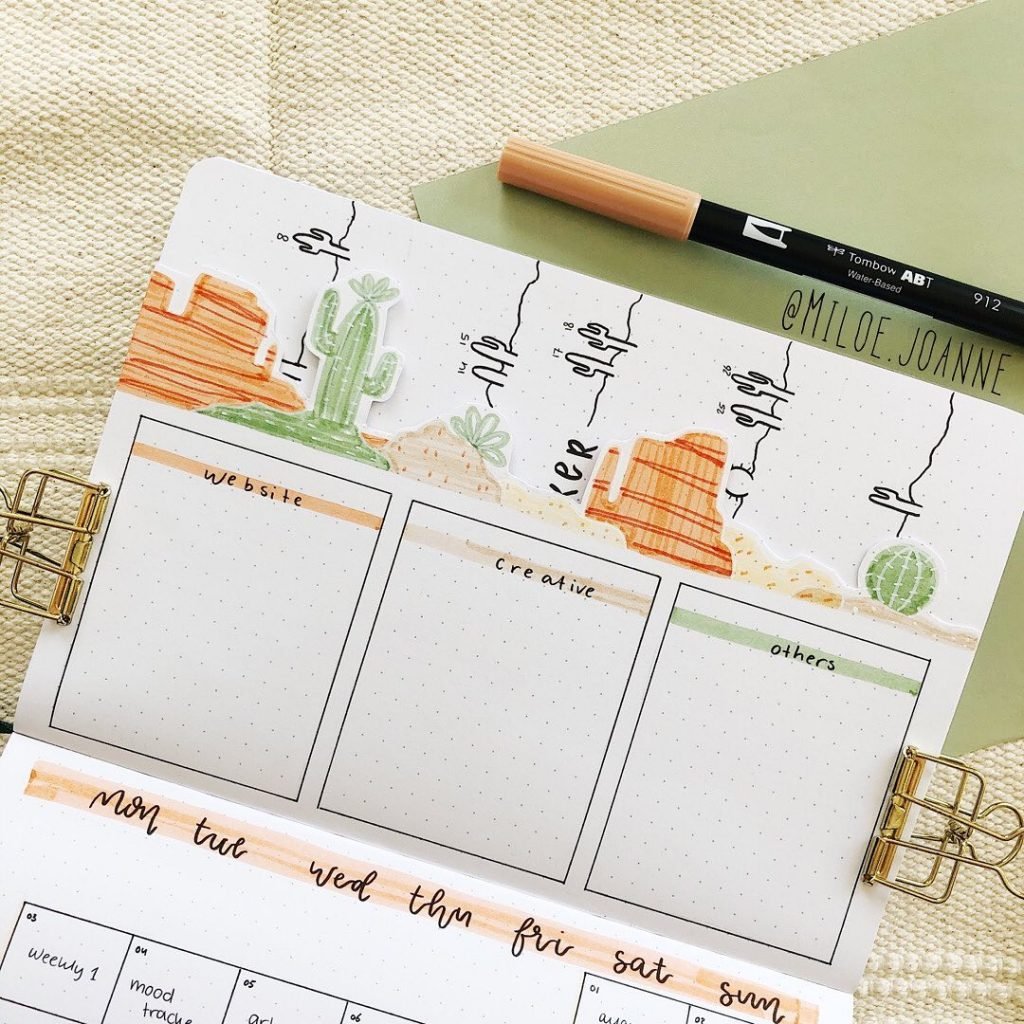 With the cactus and sandy ground miloe.joanne has successfully created a strong theme here. I absolutely love how she has segregated the dump space into three primary sections. Only an over-thinker like me will know what a blessing this is. The green cacti and the brownish sand dunes are absolutely adorable.
32. This Too Shall Pass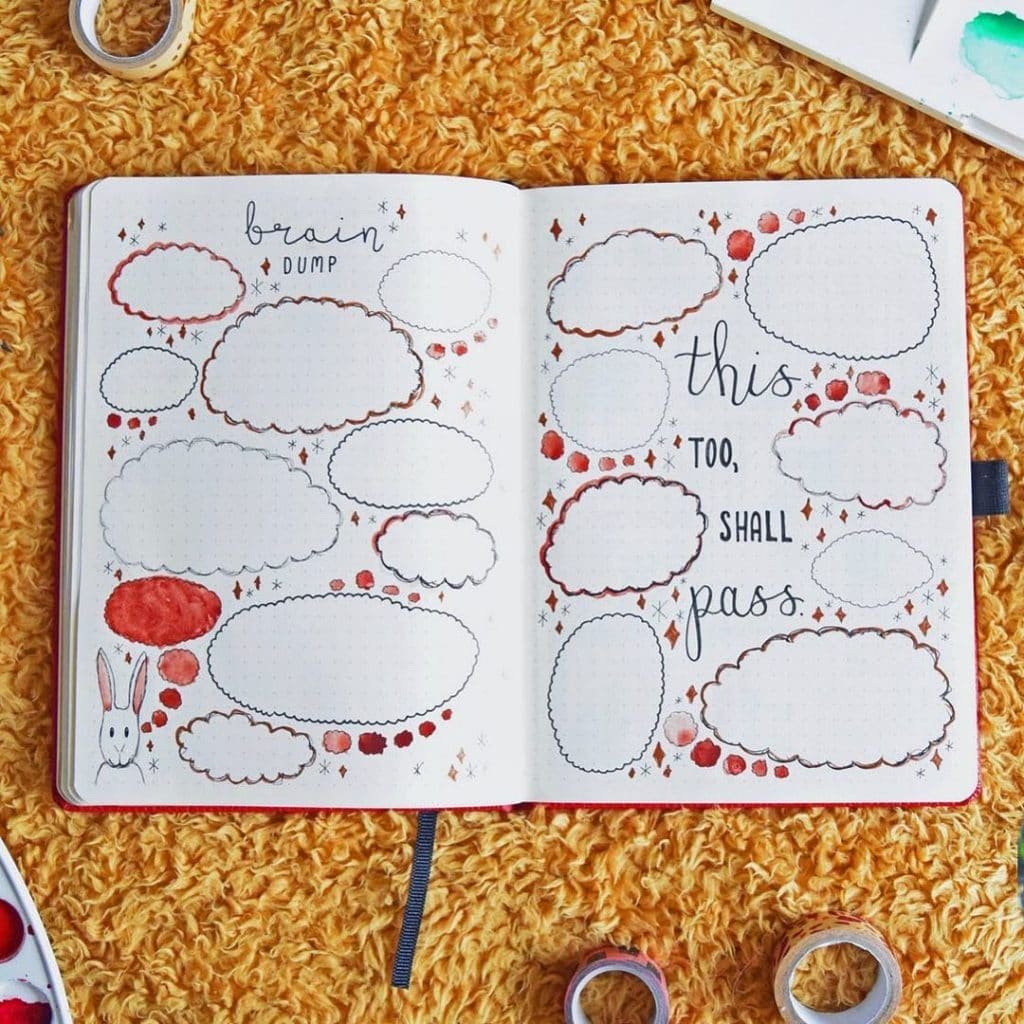 Memory clouds on this page are so animatic that it reminds me of those stress-free days. But life is what it is. So if not a stress-free life, I can certainly make a cute stress-releasing bunny with its own memory clouds. Whoopsitshannah has used beautiful coral shades to give this spreadsheet a colorful presentation.
33. The Astronaut and the UFO
This geeky thought storing spreadsheet is probably a space lover's paradise. Elena_bu_jo has made proper use of the "space". With the little astronaut who is probably lost in space just how an over-thinker is lost in her thoughts, this one here is certainly quirky.
34. Chaotic Times and Chaotic Thoughts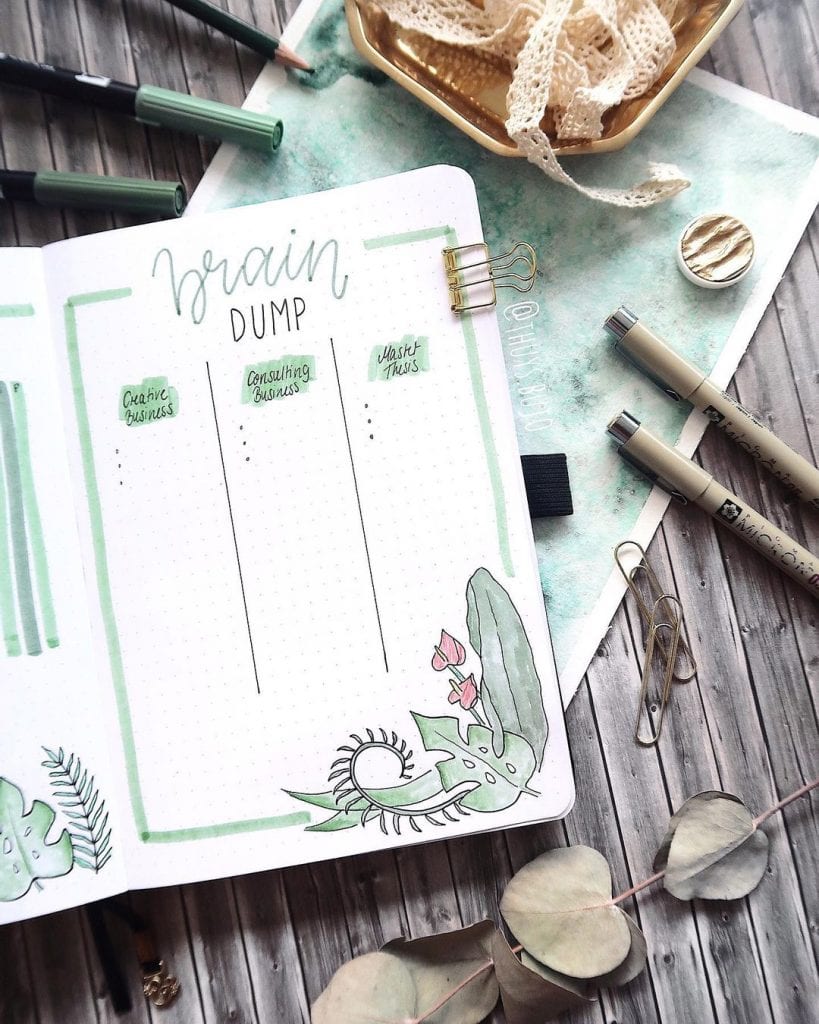 If there is one effective way to get rid of the chaotic mind, then it is by writing them down. It's like a puzzle to me. And I write to sort all the pieces and get a complete picture. Just like thuys.bujo using a little color like the green and pink in this one will keep the mood light and cheer up a messed up mind. Of course, the sections and columns are only a plus point in this spread to give a clear picture of the thoughts.
So the idea is that whenever you find yourself struggling with too many thoughts you pull out the journal and your pen and go for a brain dump session. It will not only give you a better picture of the situation you are in but also help you relax. But of course, like any other habit, this too has to be consistent. If you don't empty the brain of these pesky thoughts then how will you have space for new ideas? So give yourself a nice shake and go for a brain dump and maybe give yourself a pat on the back! You have got this!
If you loved these ideas, you can use the Pin image below and save this article on your 'Bullet Journal Themes' Pinterest board.