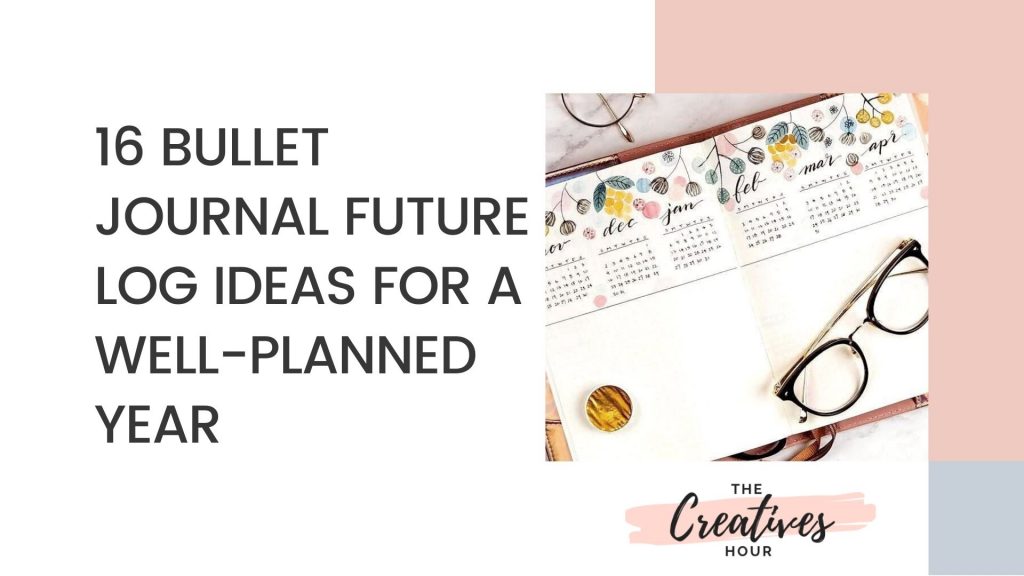 Feature Image Source: journal_junkies
Do you also struggle to memorize too many dates for all the important events? Well, guess what? Now you can quickly flip to your bullet journal future log to get a glance at any important event coming up. It is a great way to put all those important reminders in one place and have an organized spread for future use. The future log is located in the front of your bullet journal, which makes it even more accessible. This roundup is a complete guide for why you need a future log in your BuJo and how you create one. We also have some unique future log ideas for your inspiration. Are you planning the first few pages of your BuJo? Do check out our guides on Bullet Journal Key for Beginners and Bullet Journal Index Ideas.
Table of Contents
What is Bullet Journal Future Log?
The future log is a section where you list all of your important yearly/monthly events in one place. It serves the purpose of "at a glance" appointments/events. You should set up the future log as one of the first pages of your bullet journal so that you can quickly revise all the important dates. Some of the things that people list in their future logs include the following: 
Work Meetings
Travel
Important Appointments
Anniversaries & Birthdays 
Bank Holidays
School Vacations/ Projects
Basically, include any event that is happening in the future and is not a part of your monthly/yearly pages yet.
How to Create a Bullet Journal Future Log?
Setting up a future log is extremely easy and can be customized in multiple ways to suit your bullet journal's theme. The future log is created at the beginning of each bullet journal, starting with the coming month. For instance, if it's September, you would begin your Future log for October since you will be creating a September monthly spread. 
There are several ways of creating the basic layout of the future log: 
Ryder Carroll's Method: In this method, you log the event by writing the date and topic. It may/may not include mini monthly calendars, and the layout can be either vertical or horizontal. 
Traditional Month with Dates Method: Log the event in the corresponding day of each month's column. This method uses a vertical layout. 
Alastair Method: For this method, log the event in the list then write the date in the month's column. The Alastair method also uses a vertical layout. 
Calendex: Log the page number where you have entered the details of your event. This method uses the vertical layout and is based on Eddy Hope Method. 
Check out this link for more details and examples. 
Bullet Journal Future Log Ideas
Now that you know how important it is to have a future log in your bullet journal, here are some unique and creative layout ideas for your inspiration. Customize these according to your liking and have a well-planned journal.   
1. Chic & Classy Bullet Journal Future Log
Source: leelajournals
Starting with a minimal yet classy bullet journal future log idea by leelajournals, which follows Ryder's method. Divide the page into columns of the desired number for each month (you can do three months/page). Write the month's name in a fancy font in each column and make a tiny calendar under it. The remaining space of each column is allotted to logging the events. The entire spread is made using a black pen and voila! You can also add a section break of tiny flowers/leaves under the calendars. 
2. Colorful Monthly BuJo Future Log

Source: jashiicorrin
Here is a colorful twist to Ryder's method, which looks unique and adorable. Use a calligraphic font to write future log spread across two pages. Next, make tiny month calendars with the color-coded month names on top. The remaining half of the page is for you to make as many entries as you want to add. This future log idea by jashiicorrin is a very creative and easy way to amp your future log. 
3. Aesthetic Plant Themed Future Log
Source: bujobeyond
This bullet journal future log idea by bujobeyond is another double-paged design that is very aesthetically pleasing. Divide the pages into horizontal sections for each month. Use the left of each section to draw a mini calendar and the right side to log the events. You can also add tiny plants/succulents on each section's bottom right to add some extra cuteness. 
4. Black & White Bullet Journal Future Log
Source: planwithady
You can never go wrong while designing with a classic black and white combination. So, try this bullet journal future log idea by planwithady that is neat and looks very elegant. Use black labels with the white font for the monthly headings. And use a black pen to write the page heading and the log entries. Use a mix and match of the two colors to recreate this stunning future log that matches any BuJo theme.  
5. Simply Scribbled Journal Future Log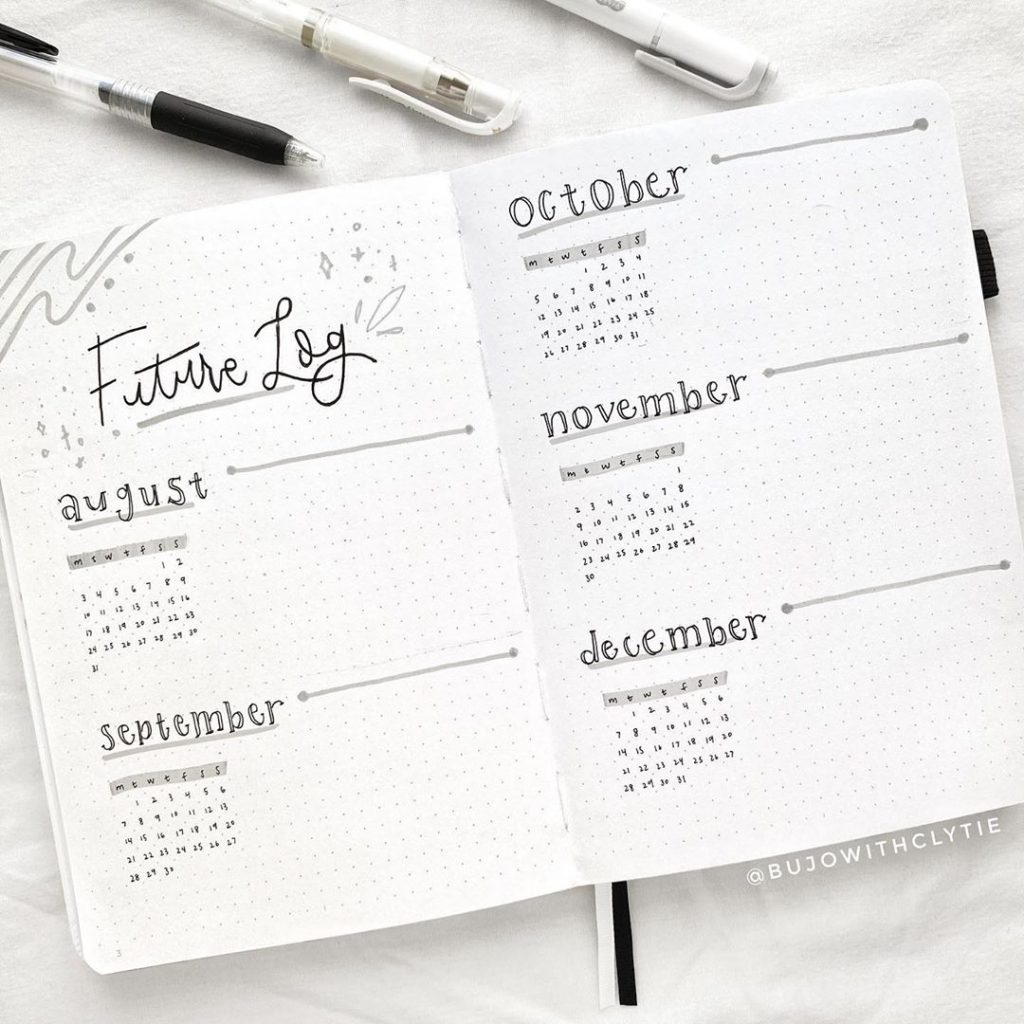 Source: bujowithclytie
If you are looking for an effortless yet cool design for your future log, try this idea by bujowithclytie. Grab your black pen and start scribbling in different fonts. Switch up the fonts for the log entries, the monthly headings, and the page heading. Even though it is made using just a pen, this future log looks just as lovely as any other. 
6. Minimal Monthly BuJo Future Log
Source: lilian.letters
Creating a neat table around the future log with sections for each month can take your BuJo spread up the notch. The simplicity of this bullet journal future log idea by lilian.letters is what makes it stand out. It does not require much effort and organizes all your important events in one place. Do try it out if you are in need of some systematic planning!
7. Two-Color Columned Future Log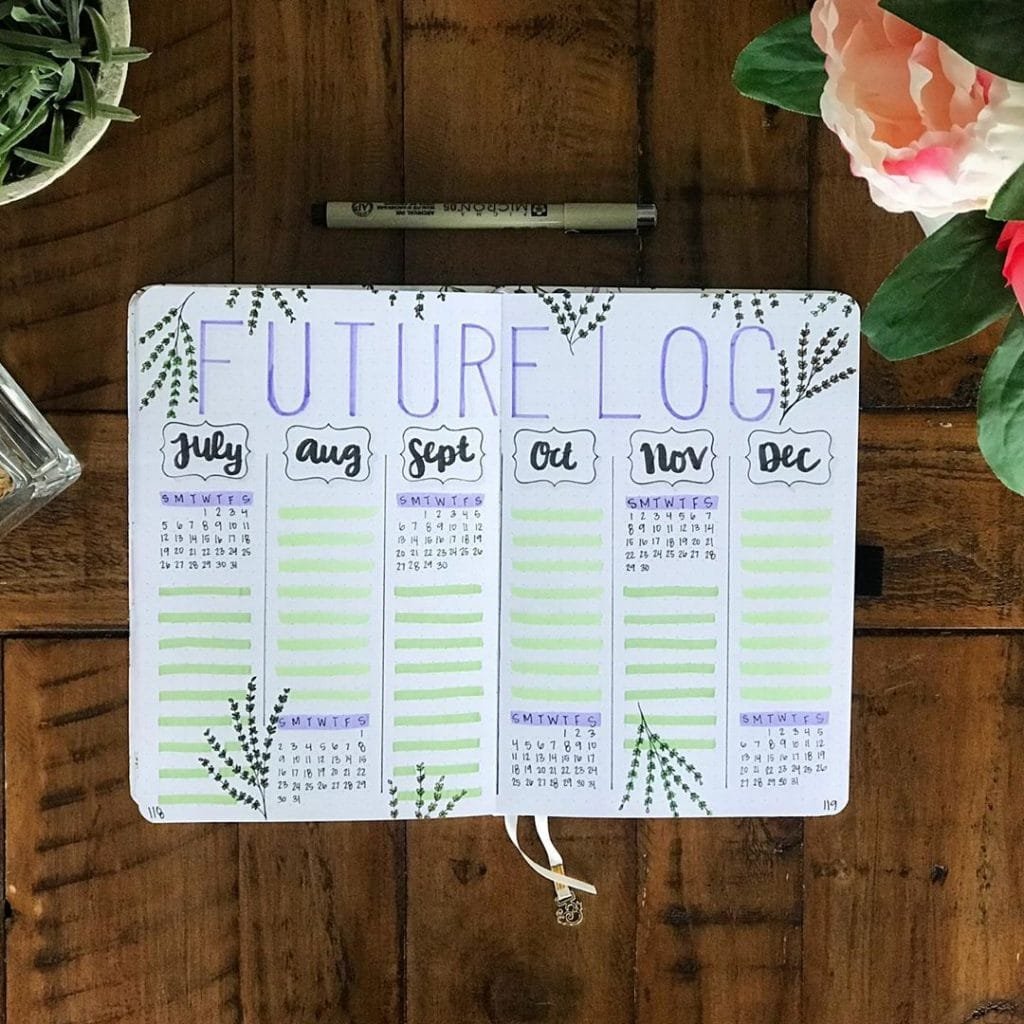 Source: journalingforjerks
Use a combination of two colors to design your bullet journal future log, like in the above idea by journalingforjerks. This future log is divided into multiple columns for each month and uses green and purple hints for a pop of color. The entire spread has tiny leaves scattered around the border for extra cuteness. 
8. Cluster of Flowers BuJo Future Log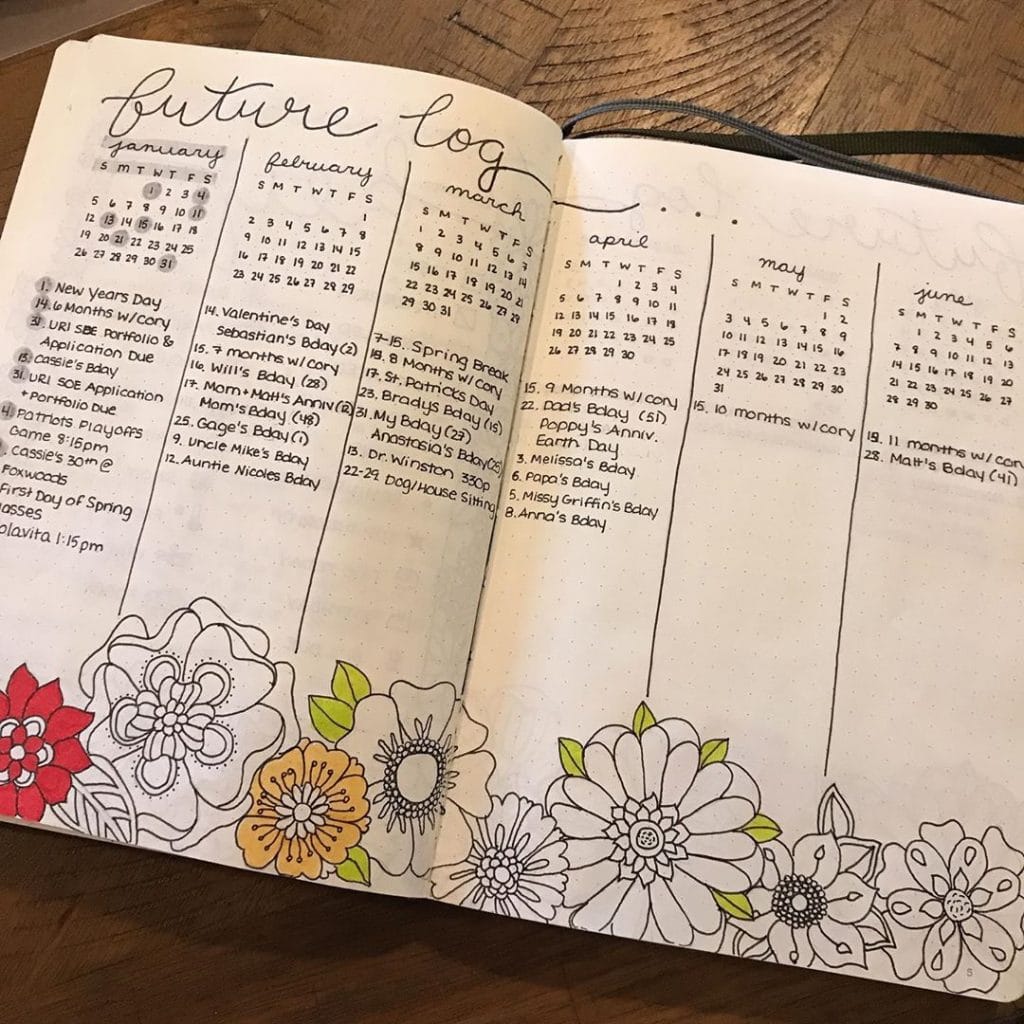 Source: flourishbujo
You can convert a basic Ryder's future log layout into something creative just by adding an illustration. This idea by flourishbujo has a simple and colorful floral illustration on the bottom of the two-page future log. You can get creative and add any illustrations of your choice to your future log. 
9. Highlighted Bullet Journal Future Log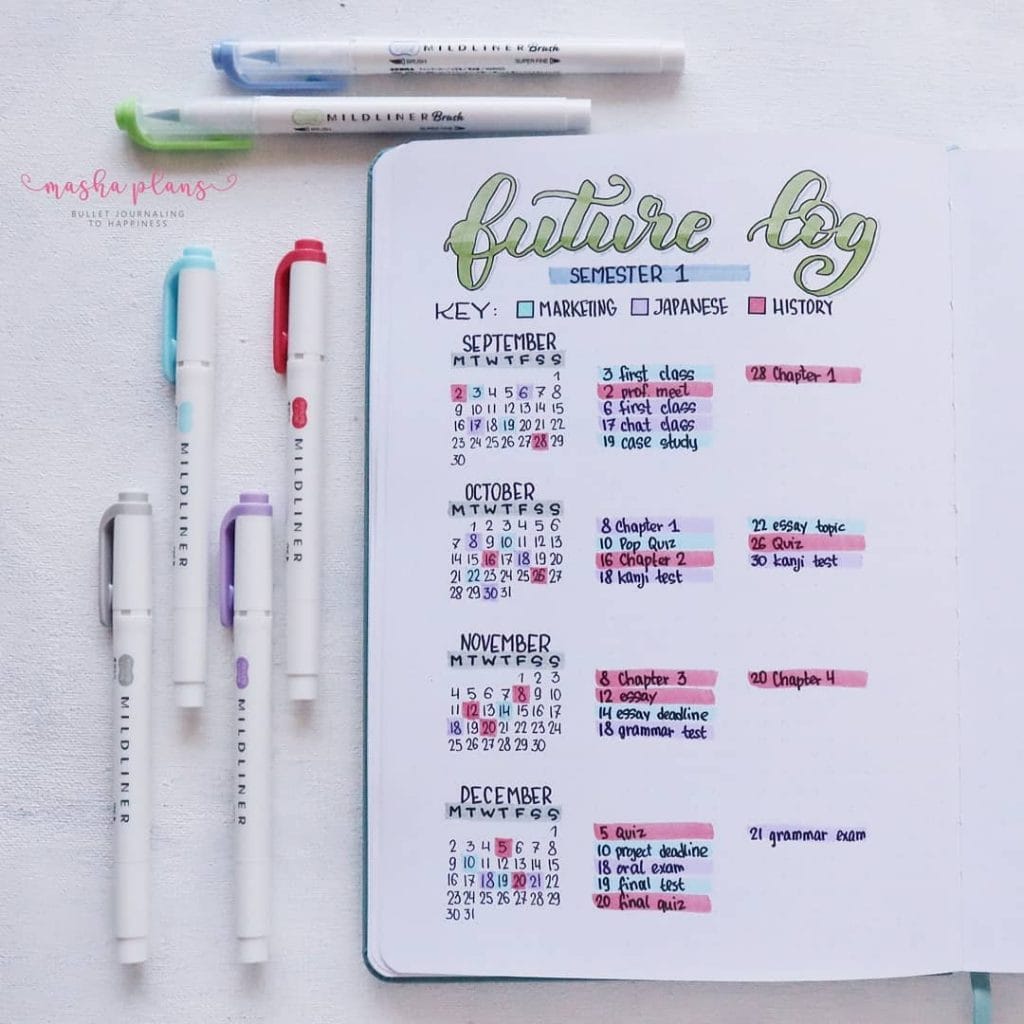 Source: mashaplans
Another great way to design your bullet journal future log is by using colorful highlighters to highlight each log entry. This idea by mashaplans is an excellent way of planning your study schedule. The subjects are categorized using different shades of highlighters, and each entry is colored depending on the subject. You can use the same for your meetings or any other event, as it is an excellent way to organize your future log. 
10. Hints of Pink BuJo Future Log
Source: stethoscoping
Similar to the above idea is this future log idea by stethoscoping. However, it only uses one color to highlight the headings on the page. It is a great way to add a hint of color to your future log sheet and break the monotony of black and white. This also allows you to match the log to the theme of your bullet journal. 
11. Fall Themed Bullet Journal Future Log
Source: midnightdreamreads
Are you creating your bullet journal future log for your fall bullet journal? Try this idea by midnightdreamreads to suit the autumnal theme perfectly.  Add some kraft paper, a crate of apples, and a broom with an orange-red theme to bring together the fall vibe. The use of a flowy font in this idea adds to the future log's relaxed feel. It is aesthetic, looks neat, and beautifully serves the purpose of an events timetable.  
12. Starry Galaxies Journal Future Log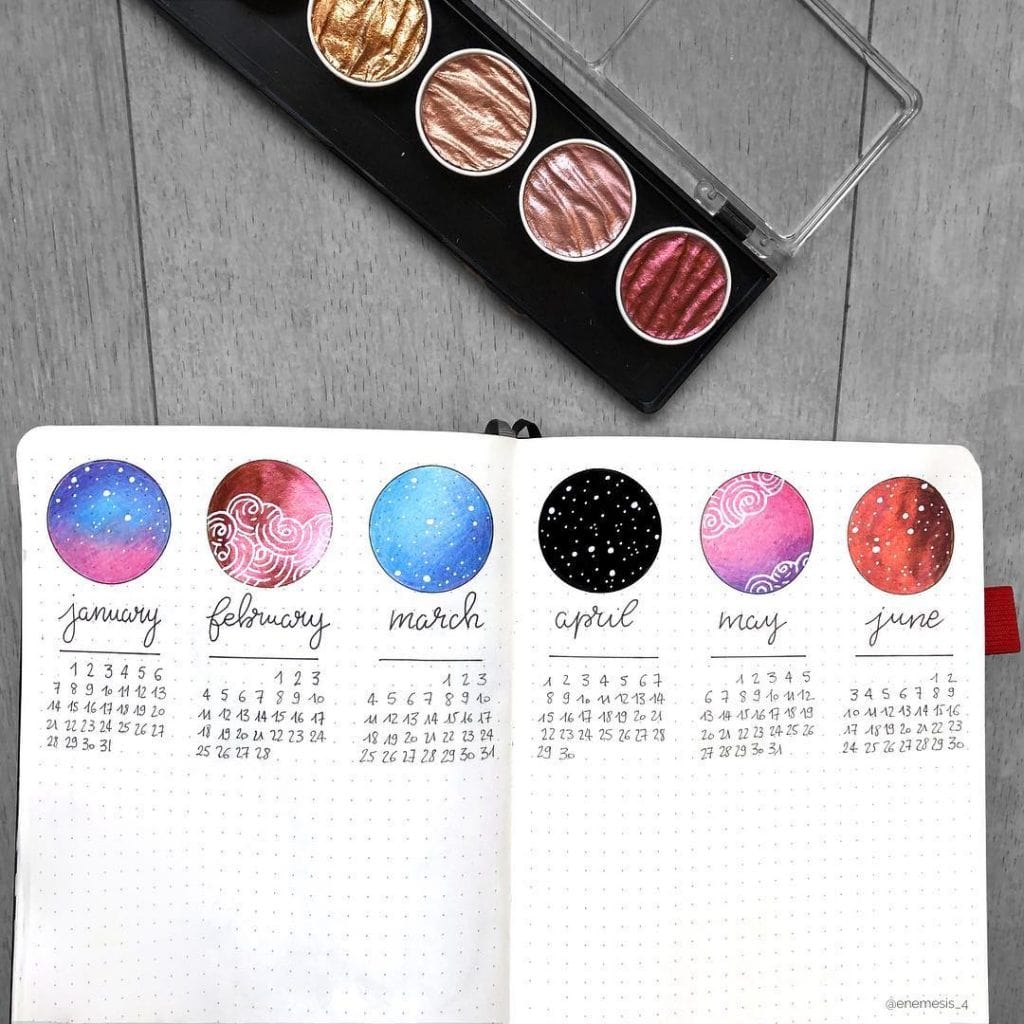 Source: enemesis_4
I love how the use of these tiny circular illustrations instantly makes the layout look incredibly artistic. Each month has a different galaxy illustration uniformed by the circle shape in this idea by enemesis_4. This is an easily customizable design, and you can draw any design of your choice. Write the month names below the circles and add tiny calendars, and voila! Start entering logs in the remaining space. 
13. Scattered Feathers BuJo Future Log
Source: monokromajic
Give your future log a unique space in your bullet journal by creating a full-page background for it as in the above idea by monokromajic. This bullet journal future log idea uses an overall design on the sheet with blank text boxes for the mini calendars and logs. The above design is black and white themed with feathers scattered in the background. You can draw leaves, stars, bubbles, or any other pattern of your choice. It looks super cute and creative. 
14. Hanging Flowers Monthly Future Log
Source: journal_junkies
Adding some bright colored flowers instantly adds freshness to any space, even your bullet journal! This idea by journal_junkies has tiny multicolored flowers hanging from the top of the page, giving it a beautiful start. Mini calendars are added along with the month names, and the remaining area is left for logs. However, the addition of a simple black line as the page break adds to the neatness of the bullet journal future log and makes it very put together. 
15. Sleek & Sweet Future Log Spread
Source: illustrating_charlotte
This bullet journal future log idea by illustrating_charlotte uses a simple black pen for designing the entire future log.  It is a classic Ryder's logging method with monthly calendars, dates, and the topics written next to them. Additionally, the holidays have been highlighted in the mini calendars using a blue highlighter. You can use this trick for differentiating any important category from the entire calendar for future reference. 
16. Split Page Future Log Monthly Spread
Source: bulletsandconfetti
We are ending our list with this adorable and quirky bullet journal future log idea by bulletsandconfetti. The page is divided into two vertical columns: one for the mini calendars and the other for logging. Each month has separate colored highlighters to create text lines for the logs. It is an effortless design to recreate and is equally neat and beautiful. 
So, what are you waiting for? Get creating! We hope this future log guide inspired you to add the future log section to your bullet journal or reorganize the one you already have. Add some colors, illustrations, and cute fonts to make the layout even more personalized. 
If you loved these ideas, you can use the Pin image below to save this article on your Pinterest board. Also, follow us on Instagram to stay updated!