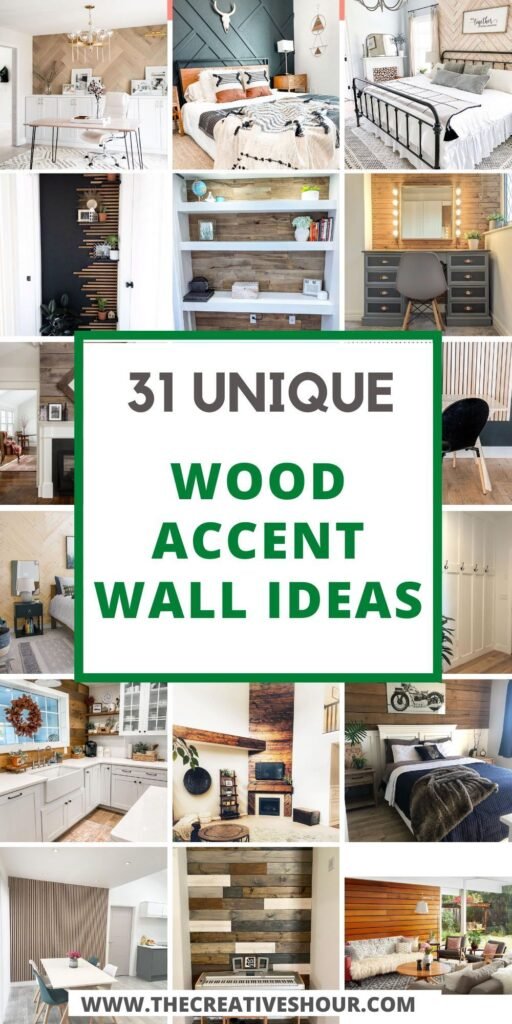 Are you planning on adding an accent wall in your space? Ditch the classic paint store and flimsy wallpapers and try out something outside the box. Wood accent walls are your way to go as they create warmth, texture, and depth to any space. They suit your bedrooms, bathrooms, kitchens, or even outdoor spaces.
You can also DIY these ideas with simple planning and tools. Wood walls are very customizable and versatile to suit the themes of your rooms. You must add these easy accent wooden wall designs in your home for an elegant and modern look.
Also check –
1. Abstract Black Accent Wall Panelling
Source: rebelvilla
This black wood accent wall by rebelvilla looks very elegant and modern. The abstract paneling across the wall looks stunning and unique. It is a versatile design that can be used for any room in your home. The idea is also very simple, and you can DIY it too! Grab some wooden slats and attach them diagonally across the wall in an abstract fashion. Finally, paint the wall and the slats in black or any color you like and voila!
While you are working on building the wooden wall designs, you can use the scraps to create some DIY Planter Boxes or DIY Hanging Shelves.
Read – 30 Amazing Dark Green Accent Wall Ideas For A Modern Look
2. Textured Wood Herringbone Wall
Source: adornedhomes
Give your workspace a lively and aesthetic touch by adding this wood wall design idea. The combination of white wooden cabinets with a beautiful herringbone wall looks very classy. The planks have an ashy beige stain with a textured finish. It is a simple but unique addition to your workspace and would easily match any interior theme of your rooms.
3. Neutrally Textured Wood Accent Wall
Source: montgofarmhouse
A beautiful wooden accent wall can instantly add character to your bedroom like in this idea by montgofarmhouse. It is suitable for a kid's bedroom, guest room, etc. The light, rough planks stuck on the wall in the herringbone pattern looks really cute and classy. This paneling looks very unique and way better than a regular painted wall. The neutral tones of the wall exaggerate the furniture in the room as well.
4. Black and Wood Slats Elegant Wall
Source: onestorycanvas
I love how stunning this passageway wall by onestorycanvas looks. The combination of a black painted wall with wooden slats looks very modern and classy. The slats have different heights and are attached to one vertical half of the wall. The black peeps through the wood and looks really stunning. Tiny black shelves are also connected to the wall for placing some showpieces.
Read – 41 Unique Indoor Plant Wall Ideas For Big And Small Spaces
5. Neat & Polished Shelved Panel Wall
Source:  interiorconsilions
This wood accent wall by interiorconsilions with thick white shelves is perfect for making a passageway accent or covering up any blank wall in your home. The wall has a wooden pallet design, with each plank having a unique texture in the same stain. The white shelves stand out against the neutral background. You can switch the colors according to the theme of your home.
Also, Read – 50 Amazing Shelf Decor Ideas For A Stylish Home
6. Roughly Nailed Wooden Vanity Wall
Source: renovating_roden
I love this simplistic wood wall accent for the vanity by renovating_roden. The design uses thin wooden planks with a rough texture that are attached to the wall using two thick black nails each. It has a pallet design that looks very rustic and classy. The wooden accent highlights the light bulb mirror due to its neutral tones. It is a beautiful and easy way to decorate your home vanity.
Read – 30 Brilliant Nursery Accent Wall Ideas For Your Baby's Room, 30 Gorgeous Natural Wood Bathroom Vanity Ideas For An Earthy Vibe
7. Sleek and Sophisticated Slat Wall
Source: this_little_nook
Looking for sophisticated wood wall design ideas for your workspace? This design uses thin beige wooden slats stuck together on a black wall. This neat layout makes it a spectacular accent wall that looks unique yet subtle for your home office. The light beige color of the slats beautifully complements the black wall. You can customize the stain of the slats and their placement according to your liking.
Read – 40 Amazing Halfwall Paneling Ideas For Your Home, 30 Amazing Office Accent Wall Ideas For Your WFH Setup
8. Fireplace Dusky Wood Accent Wall
Source: thorsonrestoration
Even a thin wall can be renovated using wood accents like in this idea by thorsonrestoration. This black and white fireplace has an elegant design created using a dusky wood planked accent wall. The design uses thick broad wooden planks stuck horizontally above the fireplace. For an additional touch, a diamond-shaped wooden mirror is stuck in the middle of the wood wall. This is a simple yet attractive way of designing your fireplace.
Read – 25 Amazing Fireplace Accent Wall Ideas That Stand Out, 35 Brilliant Mirrors On Fireplace Ideas That You Must Try
9. Black & White Molding Accent Wall
Source: 25thandbrick
This is a lovely entryway accent wall in white by 25thandbrick. It has narrow, long rectangular panels all over. The design is simple, classic, and looks very chic due to the white color. Additionally, black curly hooks are also attached to the wall for hanging coats, hats, etc. This idea is very versatile and can be replicated in your walk-in closet, mudroom, or even your bathroom.
Click here for more Board And Batten Ideas.
Also, read – 32 Cool Mudroom Bench Ideas To Help You Stay Organized
10. Brightness Behind the Bed Wood Wall
Source:  montgofarmhouse
Have a bright morning every day with such stunning wood feature wall ideas. The entire wall behind the bed has an overall textured finish using wheatish wooden planks. These planks are placed in a herringbone pattern, which gives it a modern and neat look. The neutral background helps highlight your bed, wall hangings, picture frames, etc.
11. Dark Antique Living Room Wood Accent Wall
Source: classicdesignsbycassie
I love how modern and rustic the wood accent details by classicdesignsbycassie look in the living room. The layout is simple, with dark and roughly textured wooden planks stuck horizontally. What makes it more designer is that the entire space is not filled with wood accents and allows your wall paints to show. The wall above the fireplace and the front of the cement shelf have a wooden accent, which makes it more detailed and sophisticated.
Also, read – 50 Amazing TV Wall Ideas That Can Never Go Out Of Style
12. DIY Weathered Wood Kitchen Accent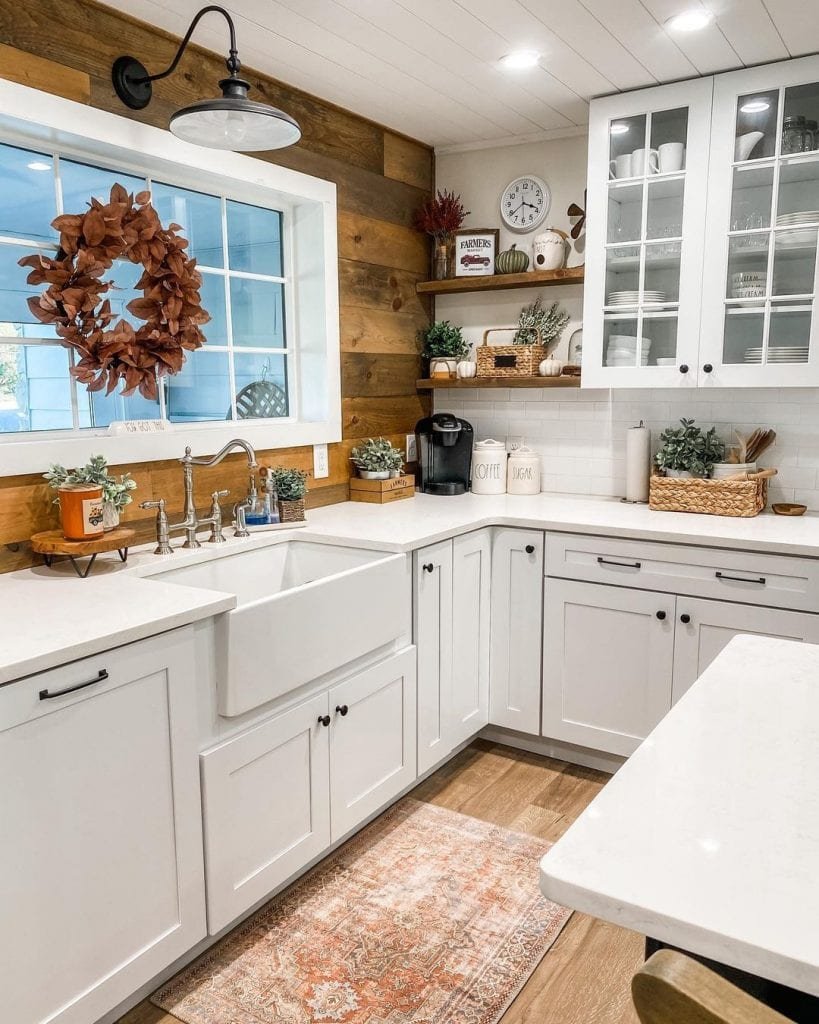 Source:  theoldsummithomestead
Liven up your classic monotone kitchen or any other space by adding this wood accent wall by theoldsummithomestead. The design uses weathered wooden planks laid horizontally across the wall. The wood has an olive-brown stain that would suit a space of any color. It is a simple but spectacular way to spice up your kitchen space.
13. Half & Half Wooden Accent Wall
Source: interior_by_jessbel
This bedroom wood wall accent by interior_by_jessbel uses a combination of white wood molding wall and brown planked wall. It is perfectly suitable for a guest room, as well. The two in one style of wood accent walls makes this idea really unique and classy. It creates a lovely contrast and helps break the monotony of the room.
14. Minimal Dining Room Feature Wall
Source: zowiesbabyjourney
I love how this simple wood wall accent instantly lifts the look of the classic white kitchen and dining space. This wooden slats design by zowiesbabyjourney uses thin beige wood-lined vertically across the wall. This addition also helps in reducing the echo in the hall. It is a modern and elegant way to decorate your plain dining area.
15. Rustic Multi-Toned Accent Wall
Source:  480rustic
Give your passageway a modern makeover with this rustic wood accent wall. This accent by 480rustic uses multi-toned wooden planks in a pallet design. The tones range from white to brown to black and the mix of tones gives it a very appealing look. You can use this design for your fireplace wall or mudroom wall as well.
Read – 30 Amazing Blue Accent Wall Ideas For Any Room
16. Bright Brown Shiplap Wood Accent Wall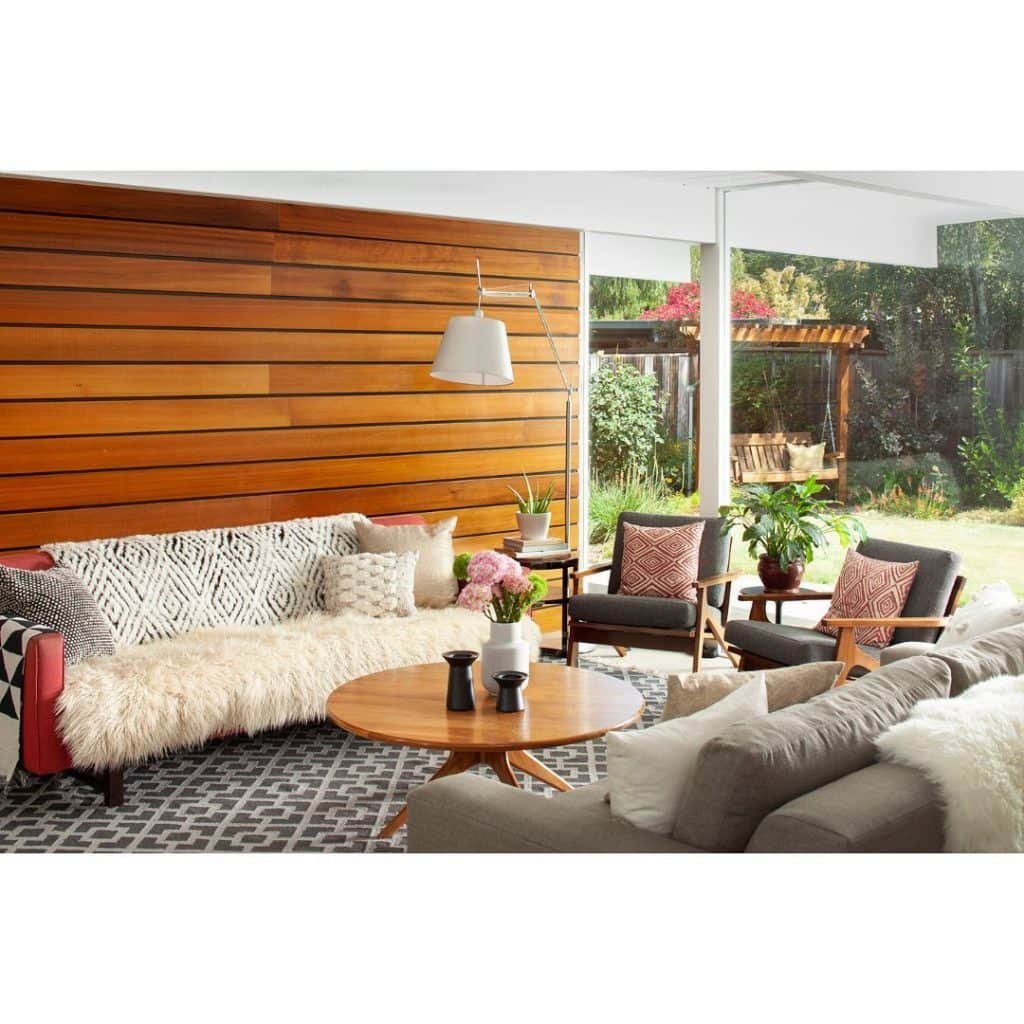 Source: remodern
Brighten up your living room area with this beautiful shiplap wood accent wall by remodern. It uses long honey-toned wooden planks placed on the wall horizontally, leaving tiny spaces between each for the paint to show. This accent is perfect for any room in your home and suits almost any theme.
Read – 35 Creative And Unique Wall Decor Above Couch Ideas You Will Love
17. Reclaimed Wood Bathroom Accent Wall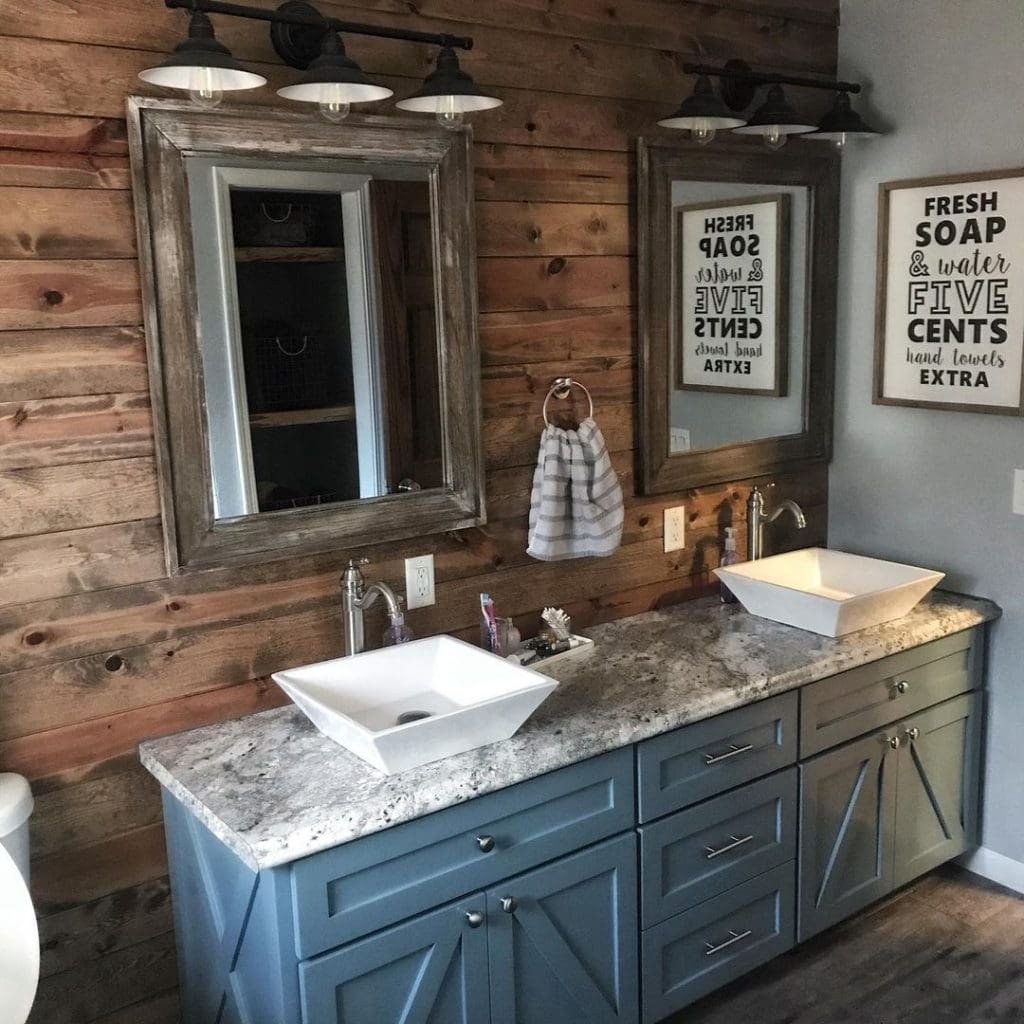 Source:  pineandfiberco
Here is a rustic and antique way by pineandfiberco of decorating your bathroom space with a wood accent wall. The design uses broad textured wooden planks with a multi-toned brown stain. The accent wall installation is behind the sink area, which highlights it best. You can customize the plank stains according to the theme of your bathroom.
Also, read – 38 Awesome Bathroom Wall Ideas That You Should Try, 30 Board and Batten Bathroom Designs to Elevate Your Space
18. Diamond Plated Wood Accent Wall Bedroom
Source:  shemss.inc
Twist and twirl your wooden plank placement to recreate such wall designs with wood. It uses broad planks of light and dark brown colors that are placed simultaneously in the design. These planks are used to create a large diamond pattern that covers the entire accent wall. The layout of this installation is very unique and easy to recreate!
19. Rustic Heart Pine Accent Wall
Source: encorelumber
Here is a wood accent wall made of pinewood planks that looks extremely colorful and rustic. Stained in tones of light browns to dark brows, this design by encorelumber is a classy way of adding a unique installation to your living area. This wall installation is behind the sofa and goes really well in the white room. You can customize it to suit your style.
20. Horizontal Planks Wood Accent Wall
Source: vintagetub
I love this shiplap wood accent wall by vintagetub that uses horizontally attached broad planks. The wood has a matte mahogany stain and has a dark textured finish. You can install this wood accent on your bathroom window wall like in this design. It looks very elegant and matches any theme your bathroom has!
Read – 40 Brilliant Bathroom Accent Wall Ideas You Will Love
21. White Squared Wooden Accent Wall
Source: target.bargain.hunter
If you are not a fan of the wooden look, here is a classic white wood accent wall by target.bargain.hunter for designing your washroom. The molding paneling on the entire bedhead wall gives an elegant character to your bedroom. The panels have multiple tiny rectangles carved out in wood. I really love this installation as it can suit everything from a colorful to a bohemian theme.
22. Beige to Brown Herringbone Wall
Source:  martineauhomes
I love the bohemian vibe that this wood wall design creates in the bedroom. The design uses beige and brown stained wooden planks installed in the herringbone pattern. The mix and match of the two tones make this accent wall an eye-catcher as soon as one enters. Its colors and design are not very loud and look very soothing.
23. Classy Bohemian Wood Accent Wall
Source:  busadesigns
Here is a neutral and adorable way by busadesigns for adding a wood accent wall to your bedroom and transform its look completely. The design uses long wooden planks that are attached horizontally across the bedhead wall. They have a light beige stain with textures of dark brown. For a neater look, two planks are placed vertically on each end of the wall.
24. Outdoor Mixed-Width Cumaru Wall
Source: advantagelumber
Dress up the outdoors of your home with this minimal and classy wood accent wall by advantagelumber. Several cumaru wood planks of varying widths are placed all over the wall horizontally. They are stained in a soothing walnut brown color. The shiplap design adds to the neatness and modern appeal of the installation.
25. Luxurious Weaved Wood Accent Wall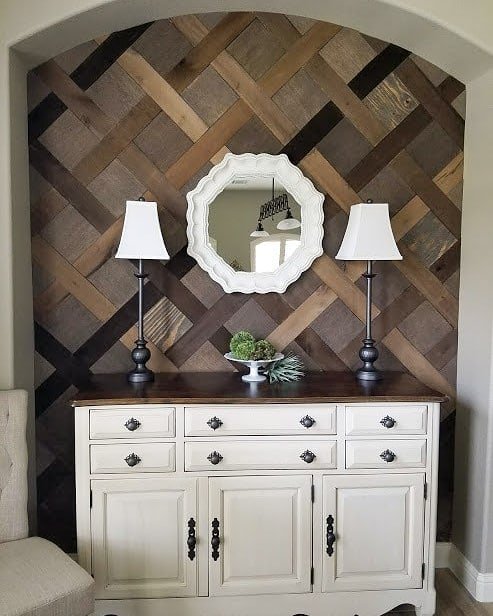 Source:  mytingedblue
Here is a glamorous and luxurious way by mytingedblue to add a wood accent wall to your home. This design has a woven wood pattern made using strips of different colored wood. The main color scheme is greyish-brown with a matte textured finish. It is a spectacular looking style that can be recreated easily.
26. Stick-On Planks Multicolored Wall
Source: littlenestof4
Decorate any tiny corner of your home using such elegant wood accent wall ideas. This one has tiny wooden planks stained in different tones of brown, beige, and mustard. The best part is these are stick-on planks that make the job way more convenient and neat.
Read – 50 Shiplap Fireplace Ideas You Will Instantly Fall In Love With
27. Multi-Stained Pine Pallet Wall
Source: oakandironhome
Don't forget to add some wood accents to your kid's bedroom while decorating the rest of your home. Try this idea by oakandironhome that you can recreate with a few wooden planks. The planks are textured and stained in brown and grey tones with a thin border around the wall for a neater look. It's a gorgeous and simple way of revamping any space.
28. Rustic Coco Textures Wood Feature Wall
Source: sav_more_store
Add some wood accents to your LED panel with wood feature wall ideas like this one. This design uses a wooden sheet stained in cocoa brown stuck on the wall behind the TV. You can customize the stain of wood depending on the other furniture in your living room. It's a luxurious and classy way to decorate any space.
29. Gracefully Boho Bedroom Accent Wall
Source: ashley.joyfullygrowing
I love the neat and adorable look of this bohemian wood wall accent by ashley.joyfullygrowing. It uses thin wooden slats stained in a bright beige. They have a glossy finish and are stuck on the wall to create a stunning X-like pattern. It will perfectly suit your boho bedroom or any other space where you want to add a boho vibe.
30. Paint and Planks Striped Wooden Wall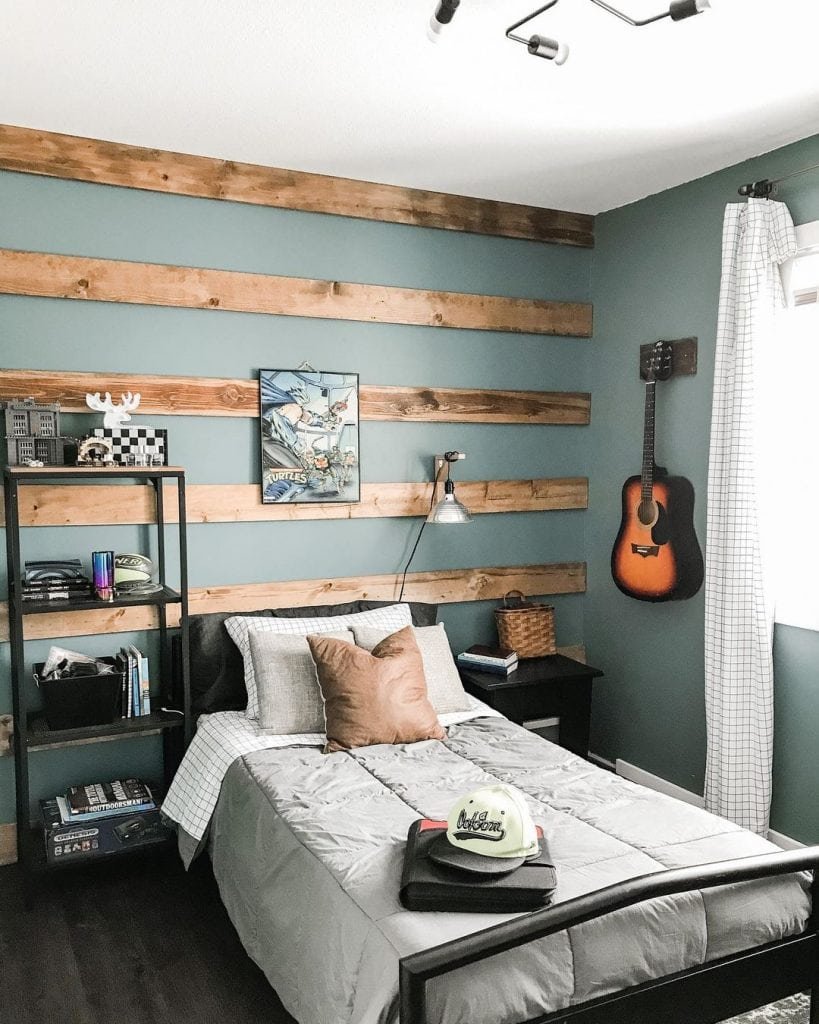 Source: murraymanor103
I like the minimal use of wood in this accent wall design by murraymanor103. It is a unique way of styling your bedroom and giving equal attention to the wood and the paint underneath. Stick the wooden planks horizontally across the wall, leaving an equally thick space between each to highlight the paint color.
31. Stylish Kitchen Shiplap Wall
Source: wallplanks
Add a luxurious and sophisticated backsplash for your kitchen using this accent wall design with wood. Grab some wooden planks and stain them in colors that compliment your kitchen cabinets. Stick these over the cooktop wall, and voila! Seal the wood with a matte topcoat to protect against cooking stains.
We hope you are inspired to create some of these spectacular wood accent wall ideas. They are versatile, unique, and very easy to recreate. You can DIY them or get these installed at low prices. So, it's time for you to give your home a modern makeover with these wood accents.
If you loved these ideas, you can use the Pin image below and save this article on your 'Home Decor DIY Projects and Crafts' or 'Accent Wood Wall Ideas' Pinterest board.