Are you tired of staring at dull, lifeless bathroom walls while handling your business? Well, buckle up, my friends, because we've got 38 awesome bathroom wall ideas to spice up your washroom experience! We've got everything from quirky wallpaper featuring funky flamingos to retro-inspired tile patterns that scream, "I'm fabulous!".
So, prepare to unleash your inner interior designer. Let's dive into this wacky, wonderful world of bathroom wall ideas that will leave your guests saying, "Wow, I've never seen a bathroom quite like this!"
Related Articles –
1. DIY Tile And Wallpaper Bathroom Wall
Image and tutorial by Start At Home Decor
Are you tired of your bathroom walls looking as exciting as watching paint dry? Fear not, my fellow DIY enthusiasts, because we have the perfect solution for you! Introducing the "Tile and Wallpaper Bathroom Wall" extravaganza, where you can combine the best of both worlds.
2. Tiled Accent Wall For Bathroom
Image and tutorial by Jeffrey Court
This masterpiece of bathroom decor combines the elegance of tiles with the charisma of an accent wall, creating a visual spectacle that'll leave you speechless.
Also, read – 30 Stylish Bathroom Backsplash Ideas And Inspiration
3. Blue Flower Wallpaper
Image by My Southern Farmhouse
This ain't your grandma's floral pattern, folks. No, we're talking about a vibrant explosion of azure petals that will make your bathroom walls pop like nobody's business. So don't forget to capture the look on your friend's faces as they enter your lavatory oasis, only to be greeted by a riot of mesmerizing blue blossoms.
4. Board And Batten Wall Idea For Modern Bathroom Space
Looking to give your bathroom a touch of rustic charm? Well, we've got just the right thing for you: the board and batten wall idea! This modern technique involves adding vertical panels and battens to your wall, creating a stunning textured effect that makes you feel like you are bathing in a woodland oasis.
Read – 30 Board and Batten Bathroom Designs to Elevate Your Space
5. Board And Batten Idea For Small Bathroom
Image and tutorial by Lolly Jane
If you're tired of your tiny bathroom feeling like a cramped, lackluster closet, we've got just the solution for you: the mighty White Board and Batten Wall! This snazzy little DIY project will transform your itty-bitty loo into a stylish, spa-like sanctuary allowing natural light into the space.
6. Polka Dot painted Accent Wall For Bathroom
Image and tutorial by Average Inspired
Get ready to add whimsy and a sprinkle of retro charm to your bathroom with our Polka Dot painted Accent Wall! This delightful design will transport you to a world where every trip to the toilet becomes a magical, polka-filled adventure.
7. Painted Decals On A Dark Wall
Tired of your bathroom feeling like a black hole of boring? Fear not, dear bathroom enthusiasts, for we have a solution that will make your walls pop like a piñata at a party! Introducing painted decals on a dark wall—the secret to transforming your bathroom from bleak to chic in no time.
Read – 30 Amazing Dark Green Accent Wall Ideas For A Modern Look
8. Faux Wood Wall For the Bathroom
Transform your bathroom into a woodland wonderland with this hilarious yet surprisingly realistic imitation wood paneling. It's the perfect way to bring nature's charm into your smallest room.
9. Black And White Striped Bathroom Walls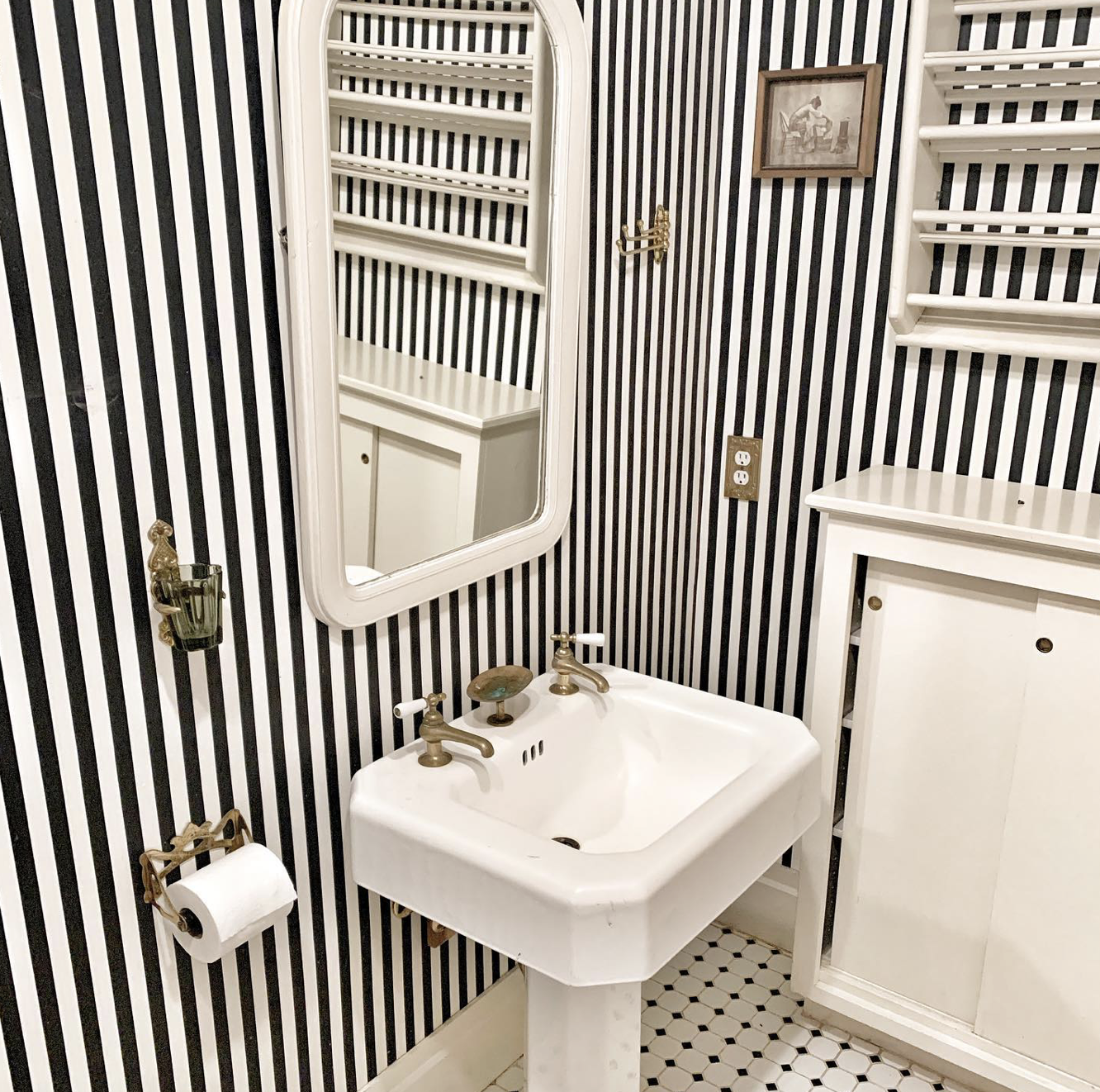 This bold, retro design choice will transport you straight to the swinging '60s. So enable your inner Audrey Hepburn or James Bond as you enter this chic and sophisticated space.
10. Stencil Accent Wall
Image and tutorial by Cutting Edge Stencils
From delicate floral patterns that make you feel like you're bathing in a secret garden to bold geometric designs that scream, "I'm not your average bathroom," this stencil trend has got you covered. So say goodbye to the boring, dull bathrooms and hello to a bathroom that's genuinely #instaworthy.
11. Handpainted Brush Stroke Accent Wall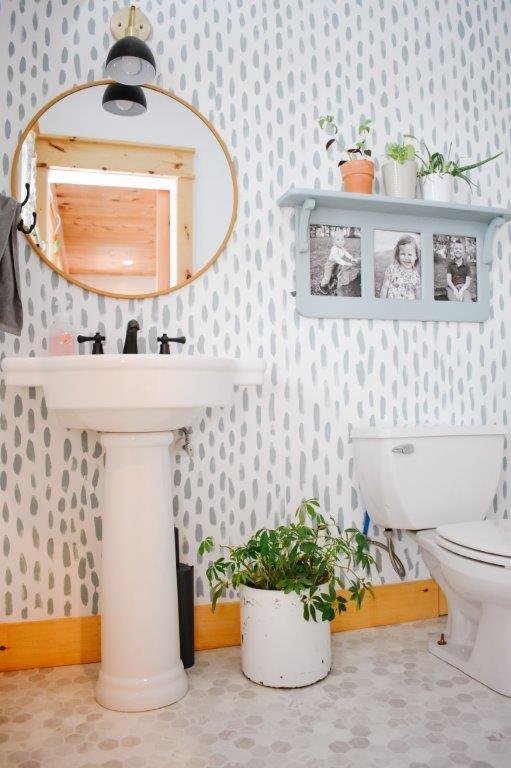 Image and tutorial by Newly Woodwards
Who needs boring plain walls when you can have a wall dripping with artistic flair? This wall treatment is like Picasso himself decided to take up bathroom decorating. With bold strokes and vibrant colors, it adds sophistication and whimsy to your sacred throne room.
12. Wood Panel Bathroom Accent Wall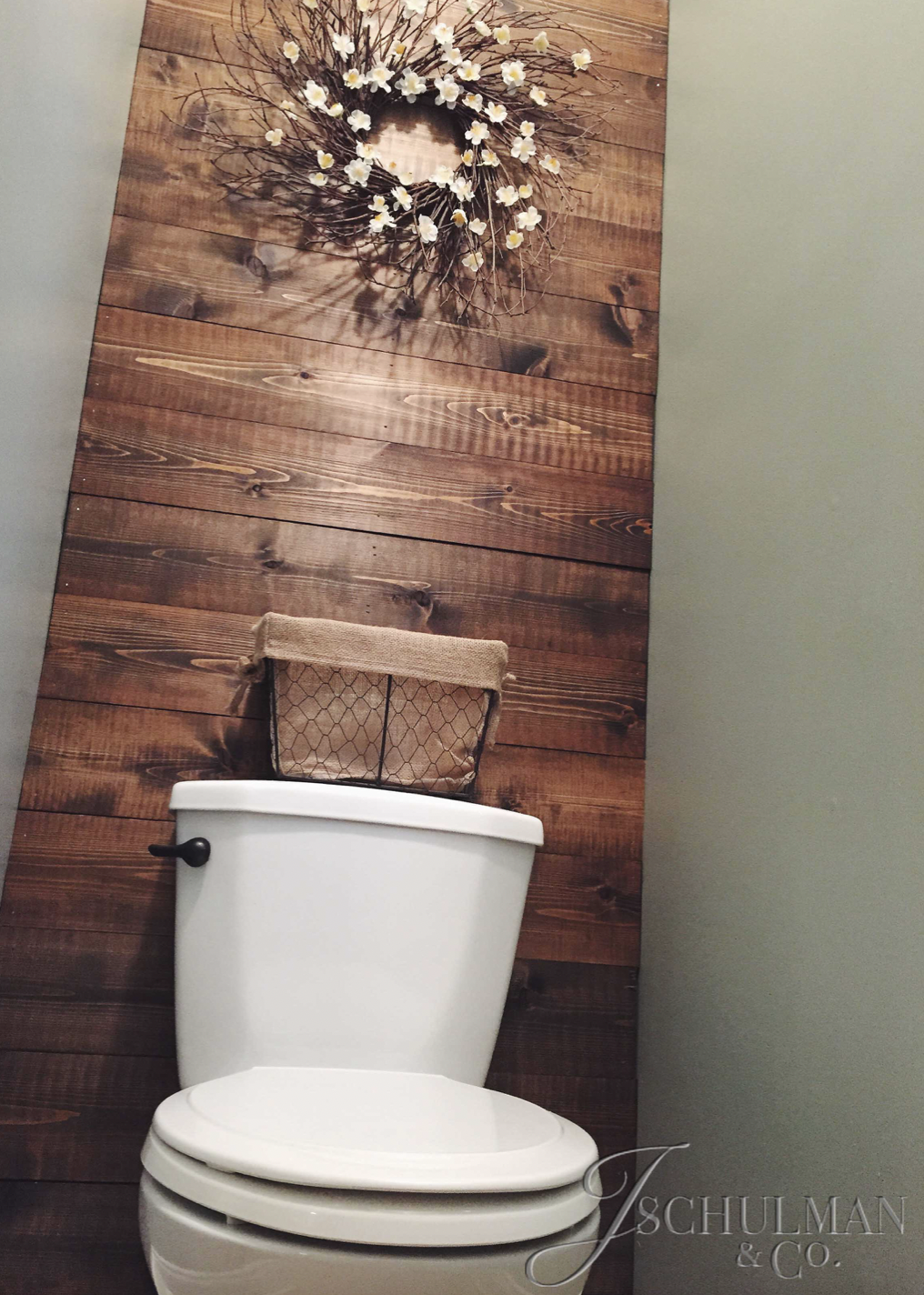 Image and tutorial by Hello Jessen
This bathroom accent wall will transport you to a mountain cabin retreat, minus the mosquitoes and sleeping bags. Get ready to feel like a lumberjack in a tuxedo as you embrace the fusion of nature and luxury in the most unexpected place—the bathroom!
13. Vertical Shiplap Accent Wall For Bathroom
Image and tutorial by Sprucing Up Mamahood
This bathroom upgrade turns your boring old walls into a rustic masterpiece that would make even the hippest lumberjack jealous. With its perfectly aligned wooden panels reaching for the sky, this vertical shiplap accent wall adds charm and whimsy to your daily routine.
14. DIY Paint Pen Accent Wall
Image and tutorial by The DIY Nuts
Armed with a trusty paint pen, you can transform your bathroom wall into a canvas of creativity. Whether you want to doodle whimsical swirls, draw goofy caricatures, or write hilarious bathroom puns, the possibilities are endless. Just be prepared for your guests to spend extra time in there, admiring your painted wall.
15. Bold Wallpaper Bathroom
Image and tutorial by Amber Oliver
Say goodbye to boring bathrooms and hello to a splash of audaciousness. This bathroom wallpaper is not for the faint of heart or the easily startled—its vibrant colors and eye-catching patterns will make your guests gasp in awe or run for cover.
16. Neutral Boho Walls
Image and tutorial by Designing Vibes
Get ready to embrace the "Neutral Boho Walls" trend for your bathroom. These walls will transport you to a peaceful oasis where you can ponder life's big questions while taking care of your, well, bathroom business.
17. Faux Wallpaper Using Indoor Removable Vinyl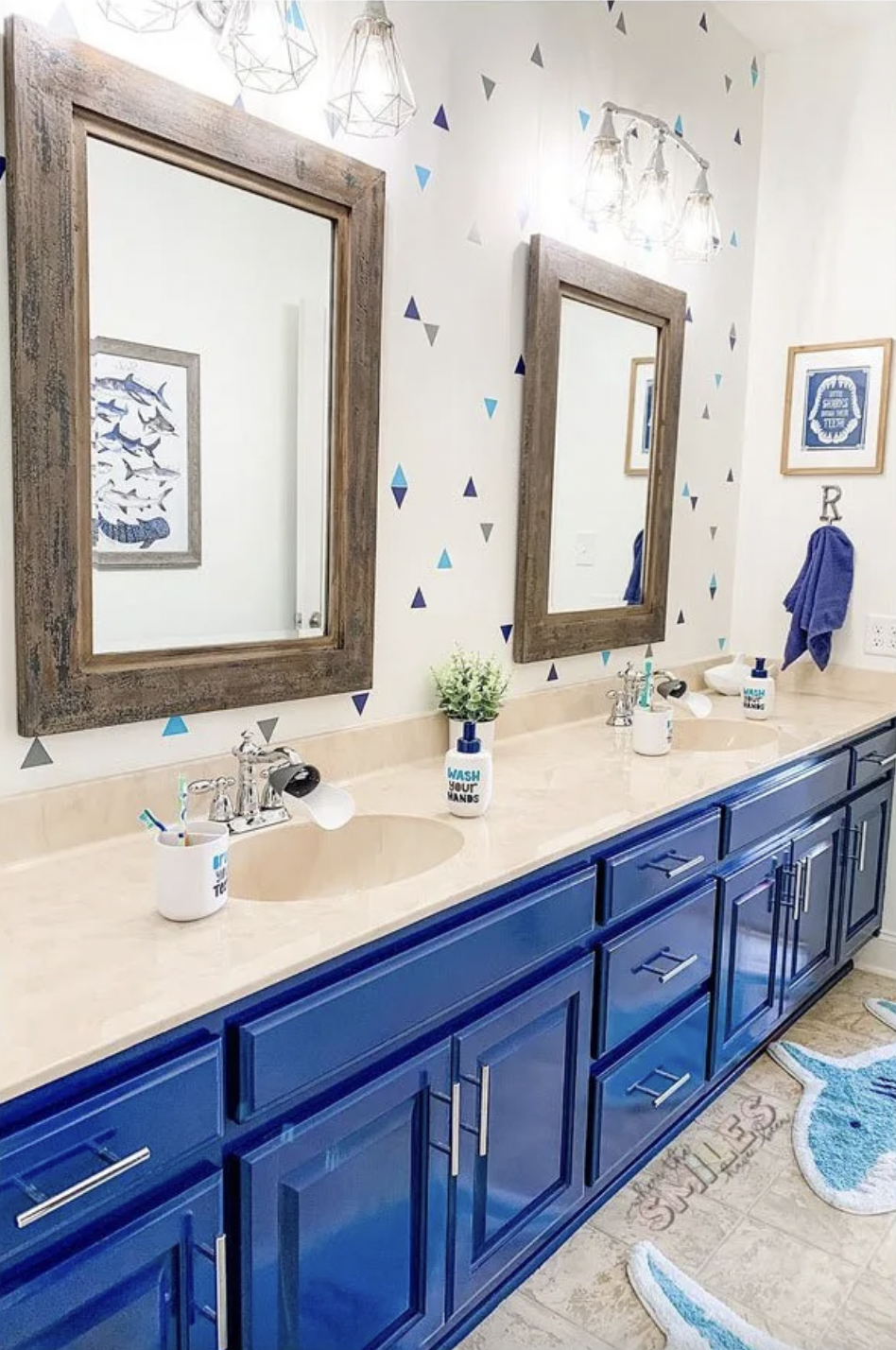 Image and tutorial by Where The Smiles Have Been
Imagine transforming your bathroom walls into a breathtaking oasis without the commitment of traditional wallpaper. Enter indoor removable vinyl, the superhero of bathroom makeovers! This genius invention lets you create the illusion of stunning wallpaper without the hassle of installation or the fear of permanent regret.
18. Black Floral Bathroom Wallpaper Accent Wall
Image and tutorial by Approaching Home
Introducing the Black Floral Bathroom Wallpaper Accent Wall—a design choice that says, "Who needs subtlety when you can have a bathroom that blooms like a garden party?" This floral extravaganza will transport you to a whimsical wonderland while you're answering nature's call.
19. Cozy Blue Shiplap Bathroom Wall
Image and tutorial by Sustain My Craft Habit
Step into the Cozy Blue Shiplap Bathroom Wall and prepare to be transported to a nautical wonderland of relaxation and whimsy! The cozy ambiance this delightful bathroom wall creates will have you feel like you're on a permanent vacation, even if you're just scrubbing the soap scum off your rubber duckies.
Read – 30 Amazing Blue Accent Wall Ideas For Any Room
20. Easy Faux Concrete Wall
Image and tutorial by Song Bird Blog
Who needs to hire a construction crew when you can achieve that rugged, urban look all on your own? This DIY project is perfect for those who want to rock that trendy concrete vibe without the heavy lifting.
21. DIY Bathroom Accent Wall
Image and tutorial by Hana's Happy Home
Prepare to transform your lavatory into a lush oasis that'll make Mother Nature herself green with envy. With a few simple tools, some paint, and a touch of imagination, you can turn that drab wall into a verdant paradise.
Read – 30 Beautiful Shower with Bench Ideas to Transform Your Bathroom Oasis
22. Vertical Shiplap And Floral Wallpaper Accent Wall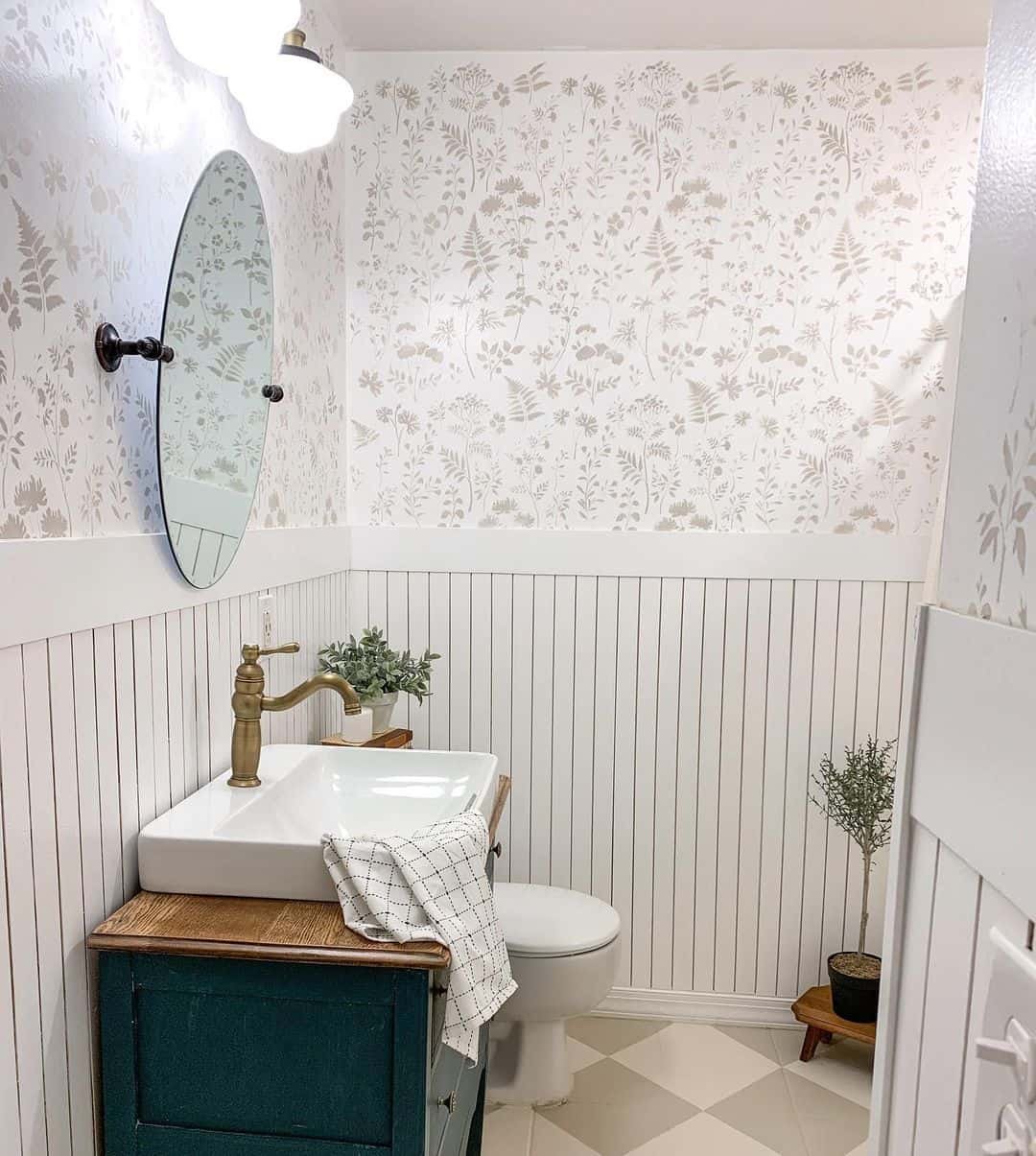 This delightful design choice features vertical shiplap boards that add a touch of farmhouse flair. At the same time, the vibrant floral wallpaper screams, "Nature called, and she wants her beauty back!" It's like having a garden party in your bathroom, where the flowers never wilt, and the conversations never stop blooming.
23. Ocean Blue Painted Bathroom Walls
Image and tutorial by Hello Hayley
Prepare to make a splash in your morning routine as you are transported to a tropical paradise every time you step foot in your bathroom. With walls as refreshing as a dip in the ocean, this color will whisk you away to beachy daydreams, even when you're on the porcelain throne.
24. White And Gray Tiles For Bathroom
Image and tutorial by Herr Home

Behold the classic combination of white and gray tiles for your powder room! It's like a black-tie affair where white and gray are the ultimate power couple, bringing sophistication and elegance to your daily ablutions.
Read – 40 Best Powder Room Wallpaper Ideas For A Dreamy Oasis
25. Cozy And Vintage Natural Stone Wall
Imagine soaking in a bubble bath, surrounded by ancient stones that have witnessed centuries of human history. It is like having your own personal time machine but without the risk of accidentally altering the course of civilization.
26. Black And White Tiles And Open Shelves Accent Wall
Image and tutorial by Farmhouse To Frills
The classic black and white design adds a touch of glamour and a dash of intrigue, making every trip to the loo feel like a secret rendezvous. Plus, it's the perfect backdrop for capturing those Insta-worthy bathroom selfies.
27. A Tale Of Two Mirrors And Accent wall For Bathroom
Image by House On Forest Trail
Whether it's a bold splash of color or a funky pattern, this wall will make your bathroom the envy of all other dull, mirrorless washrooms. So embrace your inner diva with this mirror-tastic, accent-wall extravaganza!
28. Nautical Bird Wallpaper
Image by Home Sweet Lake House
Whether you're a landlubber yearning for the high seas or a bird lover seeking a touch of eccentricity, our Nautical Bird Wallpaper is the ultimate choice. Watch as your guests do a double-take, unable to resist chuckling at the comical feathered crew on your walls.
29. White And Gold Bathroom Accent wall
Who needs mundane bathroom trips when you can have an audience with your own personal palace? Introducing the fabulous "White and Gold Bathroom Accent Wall" – the epitome of opulent absurdity! This wall proves that even bathrooms can experience a touch of royal extravagance.
30. Free Hand Wall Art
Bid farewell to those naked walls and unleash your inner Picasso (or Picasso's clumsy cousin). Grab some paint and a brush (or a finger if you're feeling adventurous), and let your creativity flow like that stubborn, clogged drain.
31. Quirky Green walls With Flamingos Painted
These quirky green walls, an avant-garde masterpiece, will make you travel to a tropical paradise filled with flamboyant foliage and feathered fanfare, so in love with the bathroom.
32. Purple Veins Marble Walls
Why settle for the boring ordinary when you can bathe in the extraordinary? Indulge your wild side and embrace the wacky world of Purple Veins Marble Walls as your master bathroom design! Who needs a spa when you can have a technicolor adventure every day?
33. Olive Green Brick Tiles Bathroom Accent Wall
This quirky masterpiece will make you feel like you're showering in an Italian countryside villa, minus the pizza delivery guy. Each brick exudes a distinct charm, as if the Michelangelo of masonry has handpicked them.
34. Rustic Wooden faux painting
Say goodbye to empty wall space and hello to a lumberjack's dream. This unique technique will make your bathroom feel like a cozy cabin in the wilderness, with faux splinters and imaginary forest creatures.
35. How To Install Wall Tiles In Bathroom
image and tutorial by At Improvements
With their sleek and angular arrangement, these tiles add pizzazz that even the most mundane moments on the porcelain throne deserve. So without being late, let's walk you through the guide on installing tiles in your bathroom.
36. Herringbone Wood Bathroom Wall On A Budget
Image and tutorial by Lovelyetc
Turn your bathroom into a swanky retreat without breaking the bank with our ingenious "Herringbone Wood Bathroom Wall On A Budget" solution! Get ready for compliments galore and envy-inducing Instagram posts, all while laughing at the incredulous looks on your friends' faces when they find out you did it on a budget!
37. Stenciled Walls Bathroom Makeover
Image and tutorial by Erin Spain
Get ready for the most epic bathroom makeover in history! Introducing the "Stenciled Walls Bathroom Makeover," where art meets sanitation in a riot of creativity.
38. DIY Faux Shiplap Walls
image and tutorial by Fresh Mommy Blog
Forget about smooth, boring walls; embrace the art of imperfection as you slap on those faux planks. Your bathroom will feel like a weathered ship lost at sea, with imaginary ocean breezes and a bucket for your rubber ducky. Ahoy, DIYers!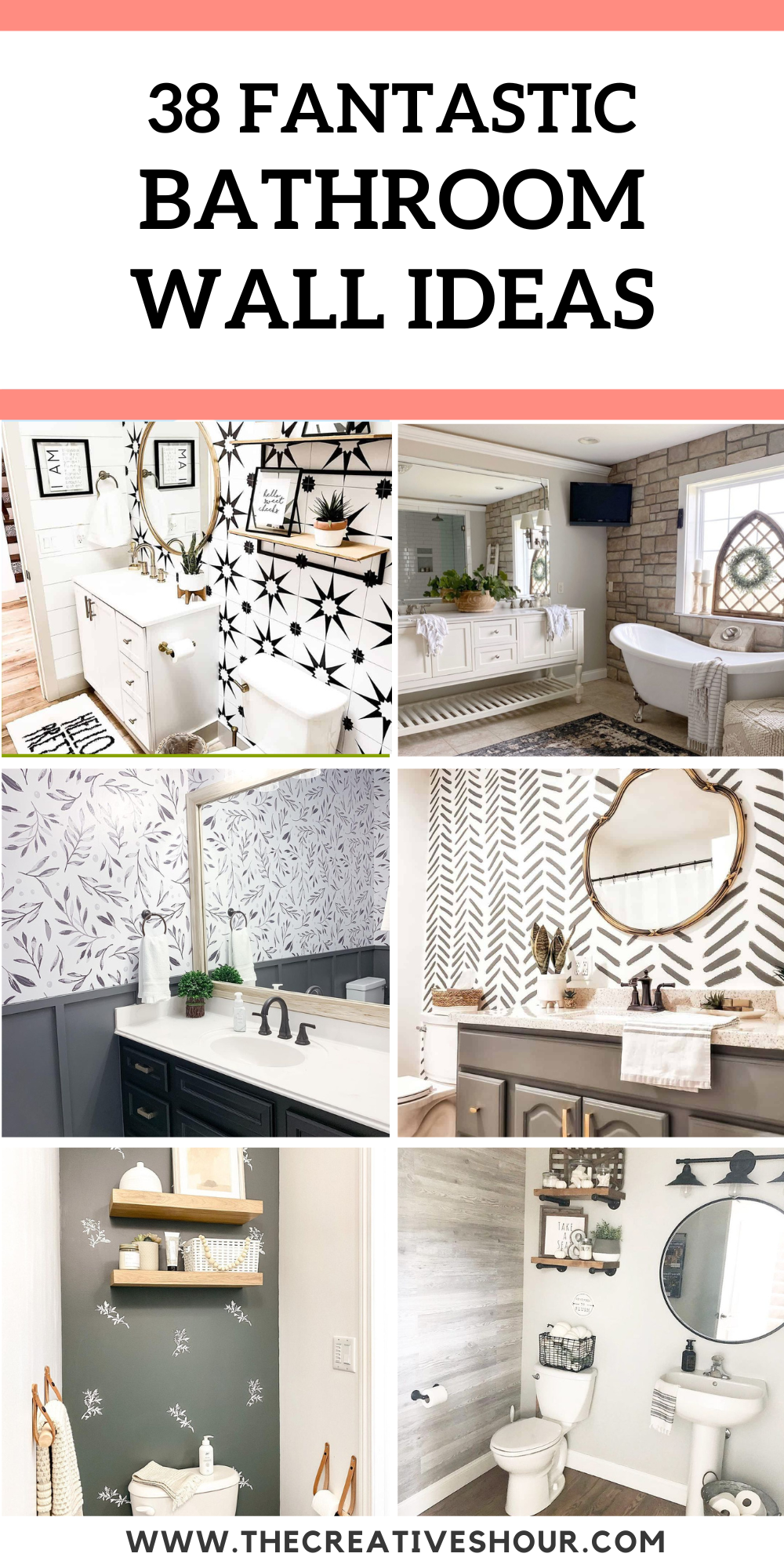 If you love these ideas, don't forget to pin the above image to your "home and garden" board.