Get ready to splash style into your bathroom with these 30 ridiculously stylish bathroom backsplash ideas. From whimsical patterns to daring colors, we've got you covered (literally) when it comes to turning your dull bathroom into a statement-making masterpiece. So whether you're a fan of funky geometric shapes or prefer to embrace the unexpected with vibrant mosaic tiles, this article will have you saying, "Move over, boring bathrooms; it's time to get sassy!"
Related articles –
1. Easy DIY Adhesive Bathroom Backsplash Tile
Image and tutorial by Home Depot
Are you tired of staring at same old boring bathroom walls? Then, get ready to unleash your inner DIY superhero with our elementary adhesive tile backsplash guide! We're talking about a project so simple even your pet could do it (if they had thumbs, that is). With just a few simple steps and a lot of adhesive power, you'll transform your bathroom from drab to fab in no time.
Read – 40 Brilliant Bathroom Accent Wall Ideas You Will Love
2. Bathroom Tile Backsplash DIY
Image and tutorial by Homestead 128
Get ready to don your superhero cape and conquer those plain bathroom walls with your newfound tile-laying skills. So buckle up, grab your power tools, and get ready to transform your dab bathroom into a masterpiece that would make Michelangelo proud (or at least crack a smile).
3. DIY Bathroom Vanity Backsplash
Image and tutorial by Its A Grandville Life
Are you tired of staring at the plain, boring bathroom sink every morning? Fear not, brave DIY enthusiast! It's time to unleash your inner design ninja and give that sink the pizzazz it deserves with a DIY Bathroom Sink Backsplash. This quirky project will have you channeling your inner Bob Ross as you transform a blank canvas into a masterpiece of bathroom bling.
4. Farmhouse-Inspired Backsplash Idea
Who needs chickens and tractors when you can have a backsplash that screams "down on the farm"? This decor idea is the perfect way to add rustic charm to your bathroom and make you feel like you're milking cows instead of squeezing toothpaste. So embrace your inner farmer and give your bathroom that oink-tactic farmhouse flair!
5. Mid-Century Inspired Backsplash
Image by Renovating The Broadway
This retro-tastic backsplash will transport you to an era of groovy colors, funky patterns, and shag carpet dreams. Imagine sipping a cocktail at your vanity while admiring the delightful geometric tiles that scream, "I'm too cool for modern minimalism." With this backsplash, you'll have a bathroom so stylish your toothbrush might demand its paparazzi.
Read – Revamp Your Bathroom with These 30 Stunning Bathtub Tile Ideas
6. DIY Faux Backsplash Using Paint And Dish Sponge
Image and tutorial by Pretty On Fridays
Forget about expensive materials and complicated installations. With this technique, you can achieve the look of a high-end backsplash while simultaneously discovering your hidden talent for creating perfectly imperfect designs. Get ready to make your friends think you've hired a celebrity designer, all while secretly knowing you're just a crafty magician with a sponge and a dream.
7. Minimalist White Tile Bathroom Backsplash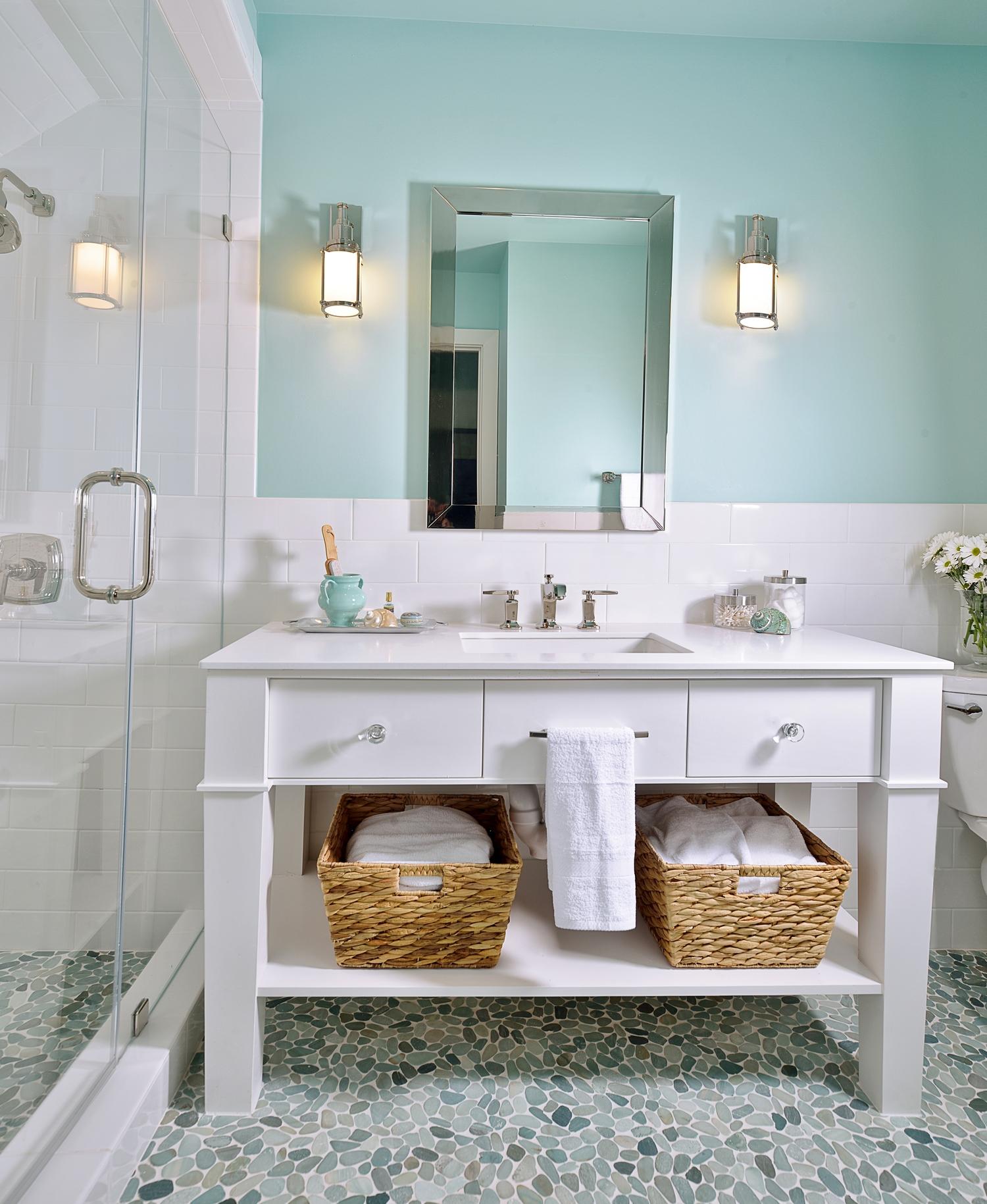 Image and tutorial by Carla Aston
Introducing the "Minimalist White Subway Tile Backsplash" – the ultimate design choice for those who want to make a statement by doing… well, absolutely nothing! This rectangular tiles backsplash takes the concept of minimalism to a whole new level. So, if you're looking to create an ambiance of "Is there even a backsplash there?" and enjoy the puzzled looks from your guests, this is the backsplash for you. Because who needs color and excitement when you can have a wall that's just… there?
Read – 30 Amazing Blue Accent Wall Ideas For Any Room
8. How To Install Mosaic Tile Backsplash
Image and tutorial by Ohoh Deco
This tutorial will have you dancing with danger and wrestling with an adhesive like a DIY champion. This tutorial will guide you through the difficult journey of measuring, cutting, and arranging those tiny, mischievous tiles while ensuring your frustration levels stay healthy. So don't worry if your hands tremble with fear; we have tips and tricks to keep those tiles in line and your sanity intact.
9. DIY Bathroom Vanity With Marble Backsplash
Image and tutorial by Jenwood House
Bored with your basic bathroom vanity? Get ready to unleash your inner DIY diva and create a bathroom vanity worthy of a marble-backed Hollywood star! Armed with some tools, a dash of creativity, and a sprinkle of humor, you'll learn how to add elegance with a marble backsplash that will make your everyday morning routine feel like a red carpet-event.
10. DIY Minimalist Bathroom Remodel With White Tile Backsplash
Image and tutorial by Kippi At Home
Ready to unleash your inner minimalist and transform your bathroom into a serene sanctuary? This tutorial will show you how to achieve that perfectly clean and clinical look that screams, "I take my bathroom more seriously than my own life!" So grab your tool belt, put on your favorite power ballad playlist, and get ready to tackle the bathroom remodel of your wildest dreams (or nightmares). Let the chaos begin!
11. Bathroom Backsplashes Using Dollar Stone Gems
Image and tutorial by Home Hacks
Who needs expensive marble when you can have a blinged-out oasis on a budget? This tutorial will walk you through the amazing process of strategically placing these shiny little gems over a pedestal sink, turning your bathroom into a disco ball dream. So grab your glue gun and prepare for a DIY adventure that will leave your guests wondering if they stumbled into a secret gem mine instead of your bathroom.
12. DIY Faux Tin Tile Backsplash
Image and tutorial by The Inspired Room
Who needs real expensive metal tiles when you can fake it 'til you make it? Get ready to channel your inner artist (and a little mischievousness) as we reveal the secrets to achieving that shiny, jaw-dropping look on a shoestring budget.
13. Rainbow Tile DIY Backsplash
Image and tutorial by LYDI Out Loud
Ready to bring a burst of color and electrical excitement to your bathroom? In this tutorial, we're going full-blown rainbow with a DIY backsplash that will make your guests think they stumbled into a psychedelic disco party. And what better way to achieve this mind-blowing masterpiece than with the help of our trusty sidekick, the Circuit Maker?
14. Patterned Tile Modern Bathroom Backsplash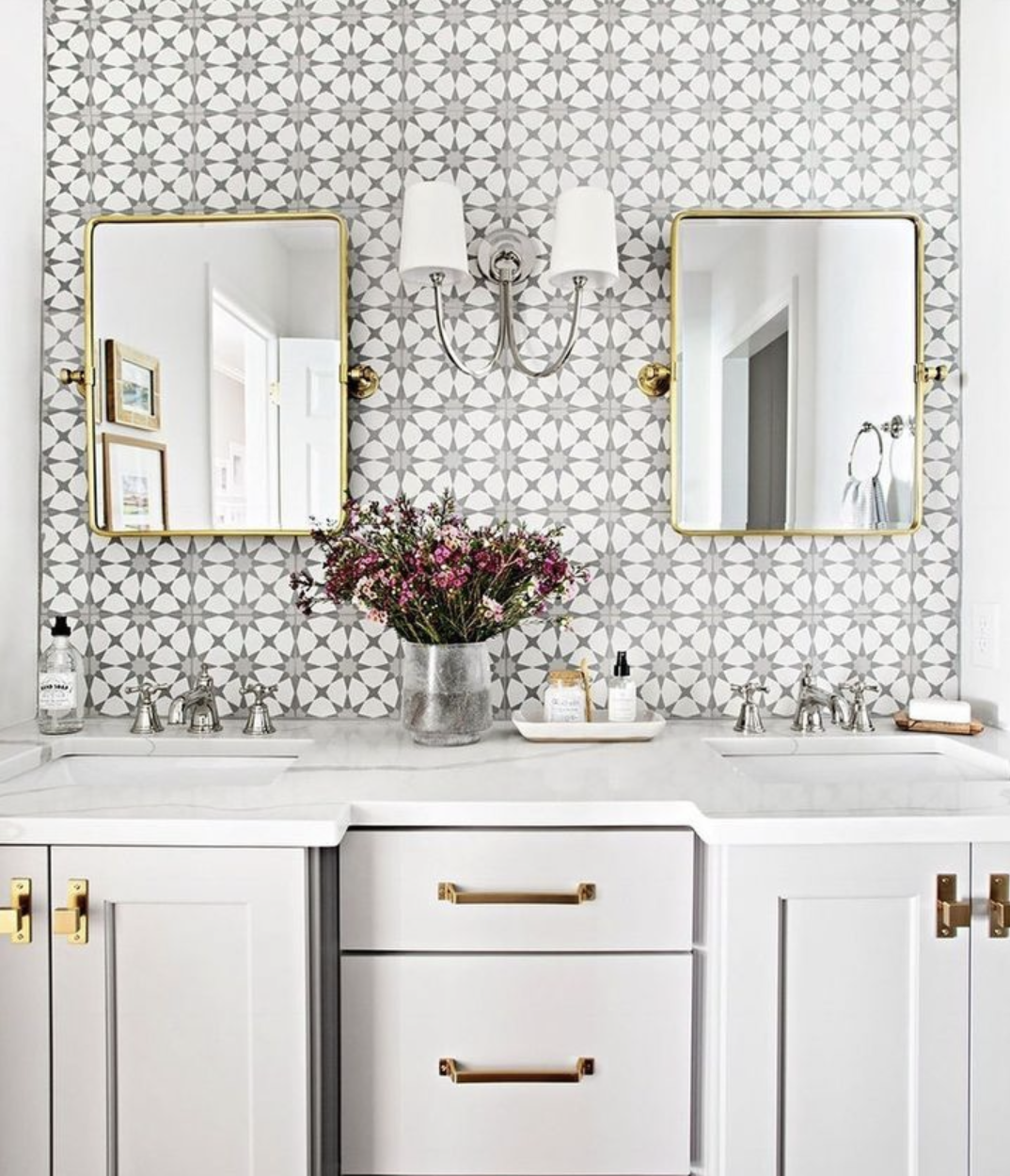 Say goodbye to plain, boring walls and hello to a vibrant explosion of shapes and colors that will make your bathroom the talk of the town (or at least your household). With these patterned tiles, you can transform your bathroom into a psychedelic wonderland or a whimsical paradise.
15. Gray Tiles Backsplash
Who needs a color explosion when you can embrace the subtle sophistication of this timeless shade? Gray is the ultimate chameleon, effortlessly blending with any style or décor. It's like having a best friend who always knows how to make you look good.
16. All shades of Blue For The Bathroom
Prepare to dive into a sea of bathroom style with the mesmerizing blue tiles of your dreams! These aquatic wonders will transport you straight to a tropical paradise, where mermaids frolic and dolphins sing backup vocals.
17. Bathroom Marble Mosaic Wall Tile
Prepare to be mesmerized by this shimmering beauty as it reflects your every bathroom move. Remember, with this tile, you'll need to practice your best "I'm in an art gallery" poses every time you step foot in your lavatory.
18. Tranquil Green Tiled Backsplash For A Modern Bathroom
This delightful masterpiece will make you feel like you've stumbled into a zen garden every time you answer nature's call. The soothing green tiles will transport you to a place of tranquility, where you can contemplate life's mysteries while brushing your teeth. It's the perfect backdrop for those moments when you need to escape from the chaos of the outside world and embrace your inner calm.
19. White Horizontal Shiplap Tiles For Bathroom Backsplash
Introducing the "White Horizontal Shiplap Tiles for Bathroom Backsplash," a design that will make your guests go "ship, ship, hooray!" Whether you dream of being a captain or simply want to add a touch of whimsy to your morning routine, these shiplap walls are here to make a splash. So, hop aboard and let the laughter set sail in your bathroom!
20. Peel And Stick Shower Wall Tiles For Bathroom Backsplash
Who needs a dull and boring bathroom when you can transform it into a colorful, fantastic oasis? These peel-and-stick wonders are like the superheroes of the tile world, effortlessly sticking to your walls and saving you from the hassle of messy installations. Just peel, stick, and bam! You've got a bathroom backsplash that will make you want to dance the foxtrot every time you step in the shower.
21. Industrial Chic Bathroom Backsplash
Transform your bathroom into a rugged, no-nonsense powerhouse with our Industrial Chic Bathroom Backsplash. This ain't your grandma's porcelain paradise – we're talking about a raw, unapologetic style that will make your toothbrush quiver in fear. So, if you're tired of delicate flowers and fluffy clouds in your bathroom, buckle up because the Industrial Chic Bathroom Backsplash is here to give you an edgy wake-up call every time nature calls.
22. Gray Herringbone Tiles Backsplash
With its sleek gray hues and striking herringbone pattern, this backsplash saves your bathroom from the clutches of mundane design. The dazzling tile arrangement will make your guests double-take and wonder if they've accidentally stepped into a luxurious spa. So say goodbye to band walls and hello to the superhero of bathroom transformations.
23. Custom Tile Backsplash For Vanity
Image and tutorial by The Kim Six Fix
This tutorial prepares you to transform your bland bathroom into a quirky paradise. It'll show you how to unleash your inner Picasso and create a masterpiece that will make your guests question their sense of style.
24. Penny Tile Backsplash
Image and tutorial by Remodelaholic
Get ready to wield your power tools and create a backsplash that screams, "I didn't come to play; I came to slay!" Prepare to impress your guests and make your sink the envy of all other sinks in the neighborhood. Let's get splashy, folks!
25. Removable Tile Backsplash For Bathroom Vanity
Image and tutorial by B4 and Afters
Say goodbye to boring bathroom walls and hello to instant style transformation. This genius invention is here to rescue you from the clutches of outdated tiles and grout nightmares. With its superpower of easy installation and removal, you can change up your bathroom's look faster than a speeding bullet.
26. Bathroom Remodel With Tiled Walls
Image and tutorial by Design Dazzle
Say goodbye to your boring old bathroom and hello to a world of luxurious entire wall tile splendor. Imagine showering in a space adorned with intricate patterns that make your morning routine feel like a trip to the Louvre. Not only will your walls be waterproof, but they'll also be the envy of all your friends who are still stuck with boring paint.
27. DIY Mason Jar Mosaic Backsplash
Image and tutorial by Reality day Dream
Forget about ordinary tiles, because this project will have your bathroom feeling like a museum of modern art (with a hint of quirkiness, of course). Grab your glue, and a rainbow of colorful glass pieces, and prepare for a sticky adventure that will make your guests question if they've accidentally wandered into a trendy gallery.
28. Easy DIY Subway Tiles Backsplash
Image and tutorial by Wild Fire Interiors
Tired of staring at your drab bathroom wall while contemplating life's mysteries on the porcelain throne? Fear not, dear reader, for we bring you the ultimate solution: an easy-peasy DIY tile backsplash that will make your boring bathroom the envy of all other bathrooms (and maybe even some kitchens). Armed with some adhesive, tiles, and a devil-may-care attitude, you'll slap those tiles on like a pro in no time.
29. Stenciled Backsplash
Image and tutorial by Lemons And Lace Marketplace
Say hello to the stenciled backsplash for your bathroom—a game-changer that will make your walls jump with joy (figuratively, of course). This ingenious idea transforms ordinary stencils into bathroom superheroes, fighting off boredom and adding a splash of personality to your space.
30. DIY Bathroom Grid Tile Backsplash
Image and tutorial by Demostocrat
Are you ready to take your bathroom from drab to fab? Look no further than the DIY Bathroom Grid Tile Backsplash, the perfect project for those brave souls who dare to unleash their inner tiling maestro.
If you love these ideas, don't forget to pin the above image to your "home and garden" board.