Accent walls are well and truly thriving in interior decoration ideas lately. And why not? They're a great way to add color, texture and character to any room. The best part is that you don't have to make a huge commitment when deciding on an accent wall. The ideas are flexible enough to allow easy tweaking when possible. A wood trim accent wall might just be one of the most popular accent wall ideas.
It is an easy way to add a lot of different elements to your room ranging from geometry to smooth elegance. If you have been looking for easy and affordable wood trim accent wall ideas to try out then you've come to the right place.

Also read –
25 Best Wood Trim Accent Wall Ideas For Your Inspiration
This list comprises everything from modest vertical designs, opulent geometric patterns and wood slats to modern wood slats and minimal jigsaw patterns. Find one that tickles your fancy and change up the look of your room.
1. Vertical Board and Batten Accent Wall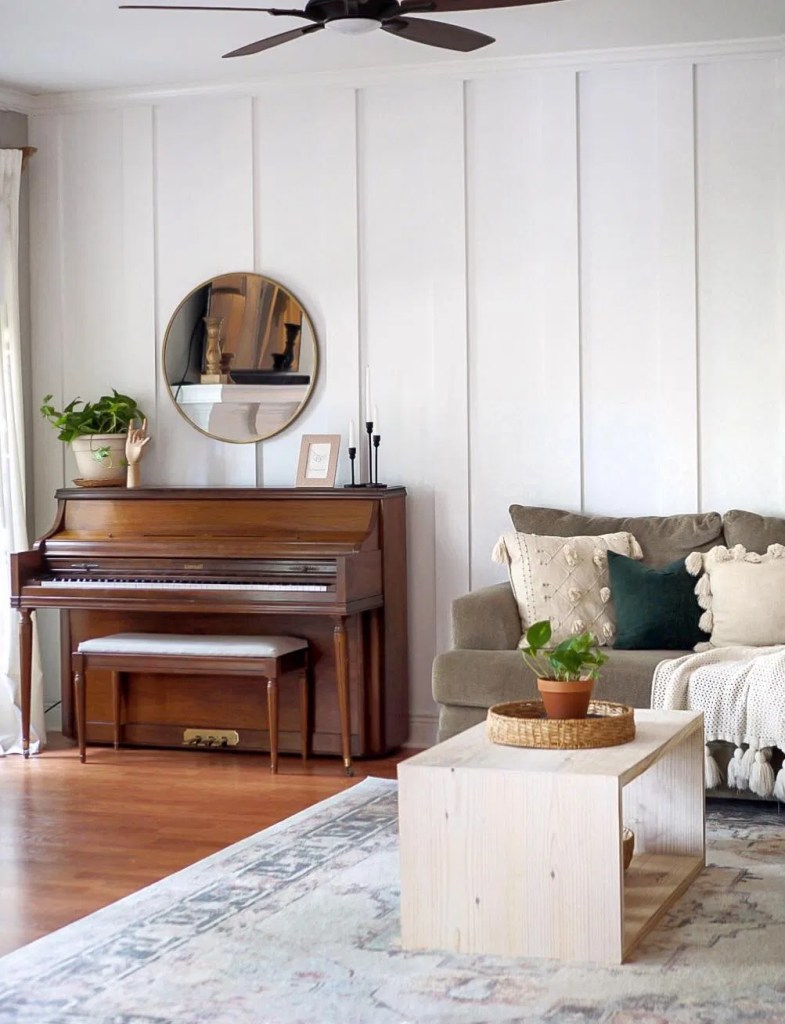 This is such a peaceful and calming wood trim accent wall idea. From the vertical board and batten to the muted light color scheme, this idea is top notch elegance. Not only that, this tutorial really shows you how to work around already existing pieces of design on your wall.
If there's one thing we love about a good DIY, it's incorporating as much ingenuity to the design as possible. This wood trim accent wall is great for the living room or bedroom because of how easy it is and how well it blends in with the rest of the decor.
2. Geometric Wood Accent Wall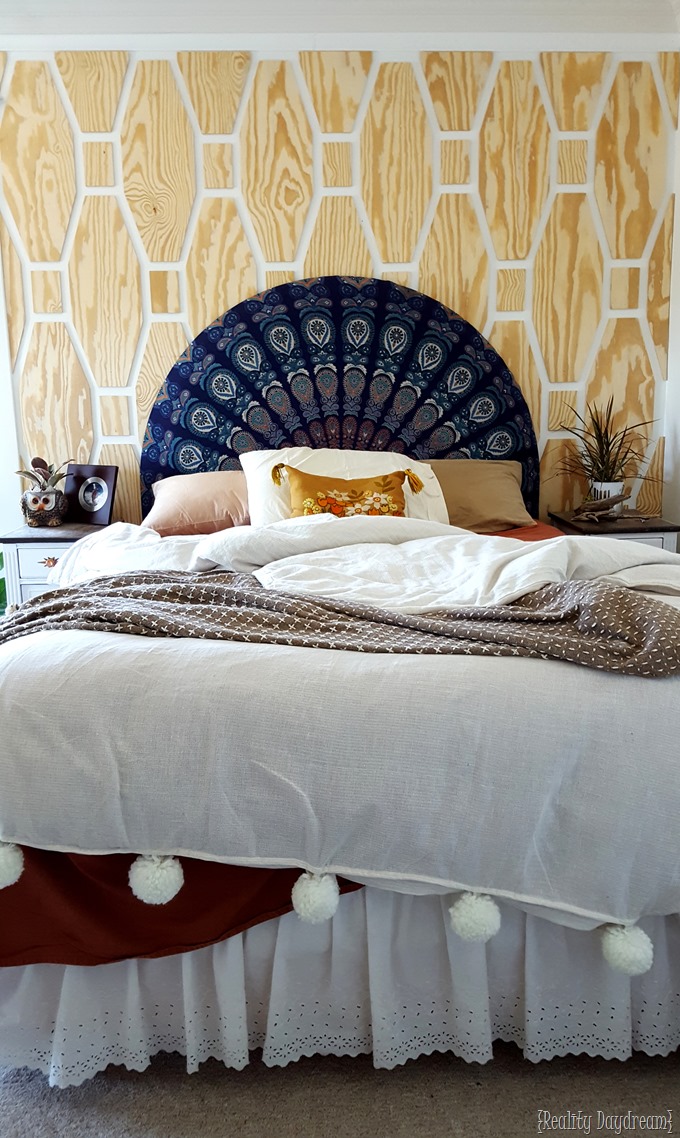 For some of us, basic will never be enough. So this over the top yet completely breathtaking wood trim accent wall idea has to be on the list. I must say that although it looks like it is pretty difficult, the process couldn't be easier.
If you like the idea of elegant wood finish walls, you'll love the straightforward tutorial that comes with this idea. There is no painting and bright colors involved. And if you're up for the challenge, you will not be disappointed.
3. DIY Wood Accent Wall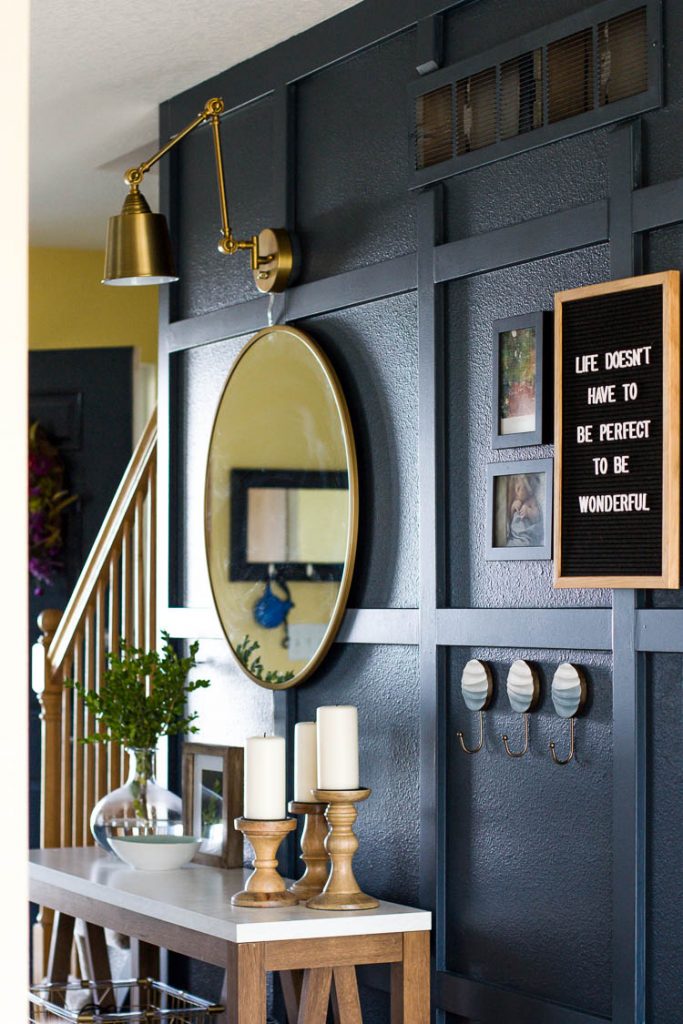 Your feature wall deserves all the love and attention that it could possibly receive. But when it comes to working with wood trim accent walls, you can easily make the wrong choice – be it color, finish or texture. However, we have the solution for that as well.
This tutorial shows you the ropes to making your best wood trim accent wall yet by walking through the basics. Once you have figured out the best pattern and style for your room, it won't be long before you have the makeover that you'll fall in love with.
4. Easy DIY Wood Trim Accent Wall
Whether you want something chic for your bedroom, for the living room or even just the foyer, classic patterns never fail you. This easy DIY wood trim accent wall is easy on the eyes and will not eat away a chunk of your budget.
If you like having muted designs that can be changed up easily, you will not be disappointed with this tutorial. Also, it is so easy to do, you'll probably be done in half a day once you have all your supplies.
5. Simple Wall Molding DIY Accent Wall
For that extra spark whenever you walk into a room, a feature wall is the best choice. And sometimes, that feature wall is made of molding and wood trim accents. You can do so much with wall molding. It really changed up the look of the room and it is not really even that hard to do.
Using the tips and instructions in this tutorial you can make your own flattering wood trim accent wall molding for a fraction of the price you might expect. The trim and molding will really add a unique character to your space. So if that is an exciting thought, check out the instructions right away.
6. DIY Wood Slat Accent Wall
For a blank wall, you can't go wrong with something in wood and slats. A wood trim accent wall is one of the most popular for a reason. They go with everything and in every room. This tutorial is excellent for an entryway wall, or the foyer.
The great part of this tutorial is you don't have to worry about matching the rest of the decor. Wood stains are a classic way of showing off your feature wall. The slat grooves also add a very pretty visual element to this wood trim accent wall idea.
7. Modern Mid Century Accent Wall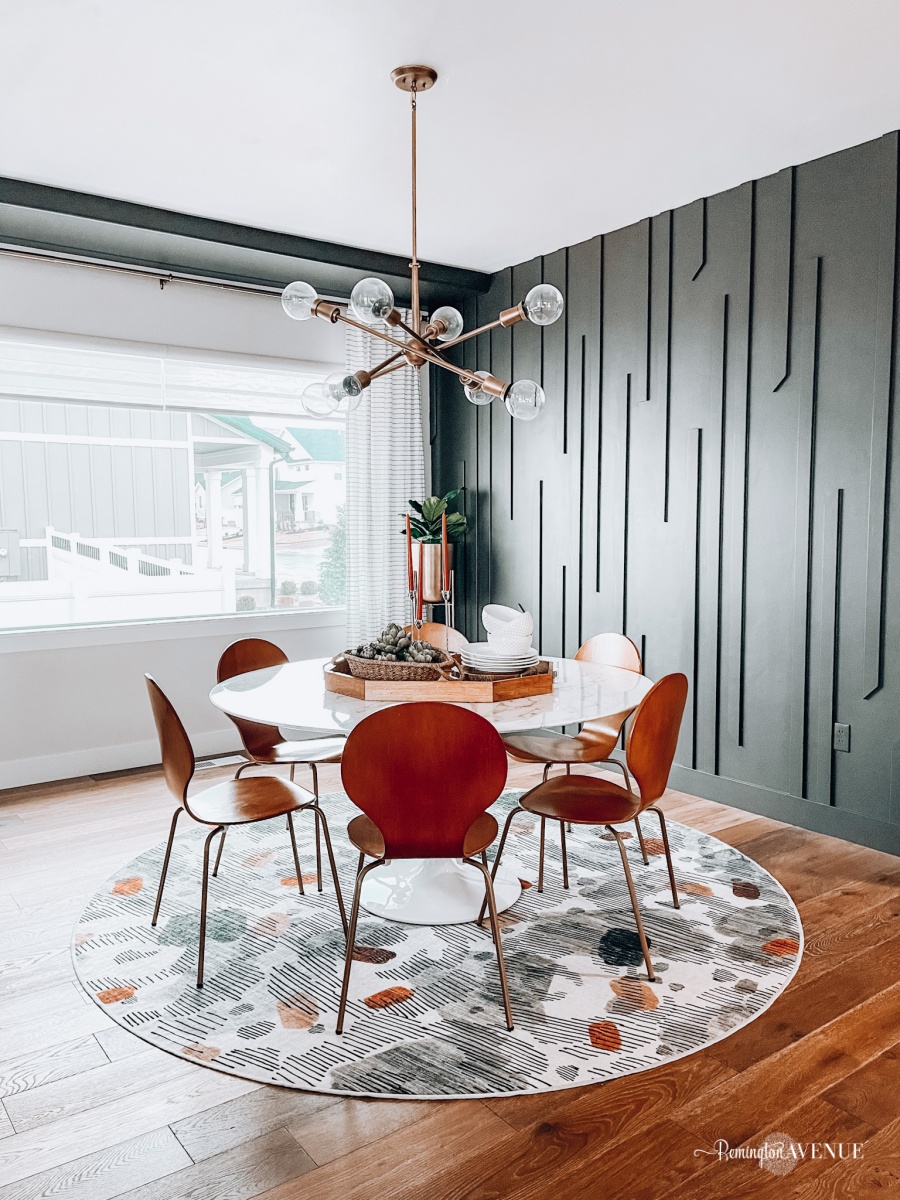 Your wood trim wall doesn't have to be the entire wall all the time. And that is the beauty of modern mid century designs. This idea is really neat and elegant while also making use of the best wood trim accent wall details. The best part? It is easy to replicate yourself, as well and change it up to make your own.
If you like the idea of modern meets classic, I would highly recommend this tutorial. You don't need a ton of fancy tools to get started. Bring out your sketchpad and make this lovely wood trim accent wall your very own.
8. DIY Accent Wall
With the versatile designs that are available for accent wall ideas, you can be sure that it'll be a long time before they go out of style. This particular wood trim accent wall is made using pine molding which is such an elegant choice. A beautiful home is only elevated in style with a simple yet elegant trim. Use the instructions in the tutorial to get yourself a wonderful accent wall to change the look of your room.
9. Skinny Board and Batten Accent Wall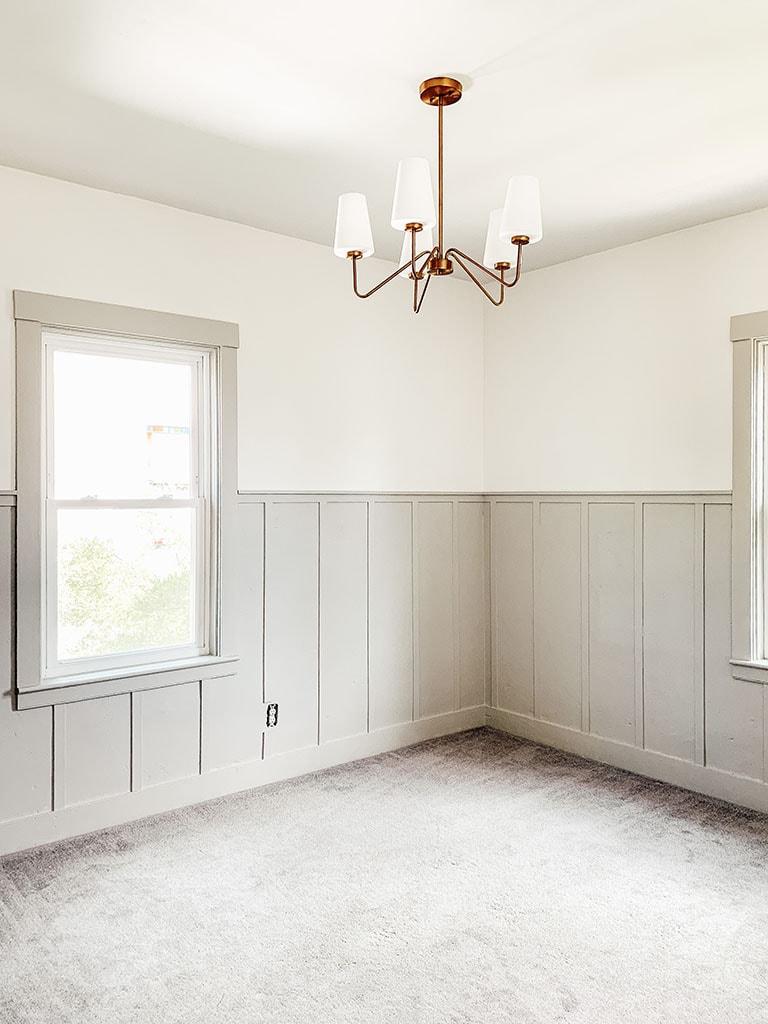 Sometimes, we want an accent wall tutorial that is easy as well as budget friendly. And that is exactly where this tutorial fits in. This idea walks you through the steps to creating an accent wall using board and batten for that elevated look of elegance.
You will love the low key vibe of this wood trim accent wall idea. The design works with a two toned color scheme which is a visual treat. If you like the idea of skinny lattice molding for your room, you have to check out how it's done.
10. Greek Key Molding Accent Wall
Greek style interiors are one of the most dreamy designs for your home. And this one is understated yet so cheap to do. If you like the key molding with wood trim accent wall design, you're in for a treat.
Every step of this DIY wood trim accent wall is detailed so that you can follow along with it easily. One of the best parts of the design is how little you will require to use power tools. So for a fun change in your room, add a bit of Greek charm with this amazing, easy and inexpensive wood trim accent.
11. Wood Slat Accent Wall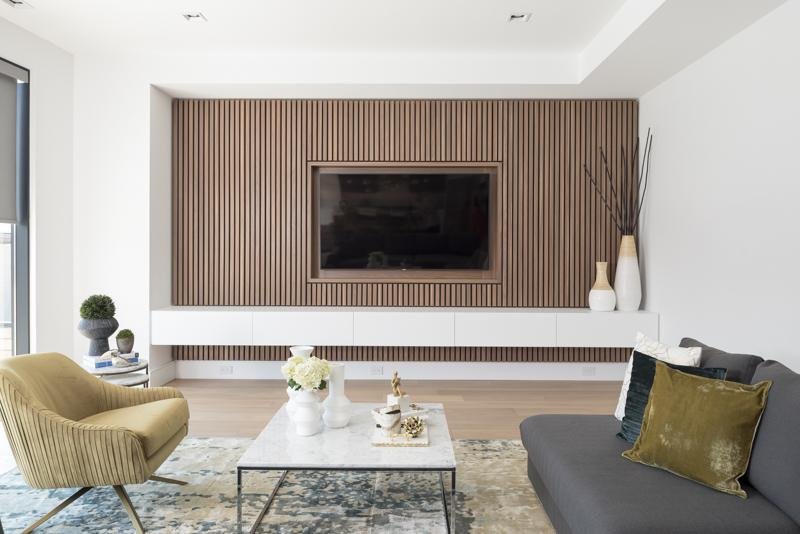 At first look, this wood trim accent wall seems daunting and complicated. But that couldn't be further from the truth. The design features a panel of closely fitted slatted wood that gives a very calm and centered vibe.
Use this type of feature wall for your family room or other similar room where you don't have much else going on. Enclosing the TV within the wall is sort of a genius touch. If this is something that inspires you, definitely use the idea for a similar touch of elegance to your living space.
12. Stunning DIY Wood Accent Wall
Modern meets neo classic with this elegant wood trim accent wall design. It has just the right color, detailing and width to be compelling while still being understated. The entryway of your home can do a lot to set the mood of your house. So why not make it as elegant as possible?
This wonderfully easy tutorial will show you how to achieve the best wood trim accent wall for your foyer. And it's as easy and cheap as it can possibly get. Intrigued yet? You should be. And while you're doing that, check out the tutorial as well.
13. DIY Trim Accent Wall
The rule of thumb for most people when it comes to wood trim wall accents is to go all in. But how about we slow things down a little and become minimal in decorations this time. To be honest, this design can be used in a variety of different spaces. No matter the location, if you want something different, this easy DIY wood trim accent wall will be inspiring.
If you've been looking for a visual upgrade for your room, you won't be disappointed with this one. The monochrome color gives the wall a nice textured appeal. Seems like a fun way to get your wood trim accent journey started doesn't it?
14. DIY Herringbone Accent Wall
There probably aren't a lot of wood trim accent wall designs as popular as the herringbone accent wall. There are so many different ways to play with this design. Obviously this particular example talks of a fully covered feature wall.
However, it can easily be incorporated in a different way. Dark wood trim accent wall ideas can really help convey a feature wall better. And check out the tutorial for full instructions on how to incorporate this classic design into your own home.
15. DIY Wainscotting with Lattice
Childrens rooms can be slightly tricky when attempting a wood trim accent wall. Not because it can't be done, but because you want it to be long lasting and evolve with the mood of the kids too. Well, we have something for that as well.
This super easy yet kind of compelling wainscotting style DIY wood trim accent wall is done with board and batten. It might take a little bit of time but the end result is so worth it, you won't even remember the effort afterwards. Head on to the tutorial for tips and instructions to do this as simply as possible.
16. DIY Accent Wall Bar
Who says that a feature wall has to take up a whole ton of space. Sometimes a little can go a long way. Like this idea for a super easy bar backdrop. If you've wanted to experiment with a wood trim accent wall idea, but don't know where to start, look for a small corner.
This idea is for your own makeshift wine bar. You can also try it with a coffee station. And to be honest, doesn't the asymmetrical look of the wood trim make the wall look even better?
17. Colonial Corners Accent Wall
We know chasing perfection can be tiring sometimes. But this super crafty yet easy tutorial shows you how to make a pretty perfect and polished wood trim accent wall idea. It is a design that is bound to look great in any room that matches this style decor.
Colonial elements in the living room can really be a trendsetter. The great thing about this is how easily it blends in with the rest of the decor, while still lending a certain charm. For detailed instructions on how to achieve this look easily, check out the tutorial.
18. DIY Modern Accent Wall
Quiet patterns like these can really make an impact on your DIY wood trim accent wall. Designs and colors work best when complementing a certain theme or decor style. If you've been looking for a jungle theme, this might be the sign for you.
The tutorial for this is as simple as it gets. And if you do it correctly, you can reuse the same pieces to make a pattern in future if you like. Now isn't that as neat as wood trim accents get?
19. Modern Molding Accent Wall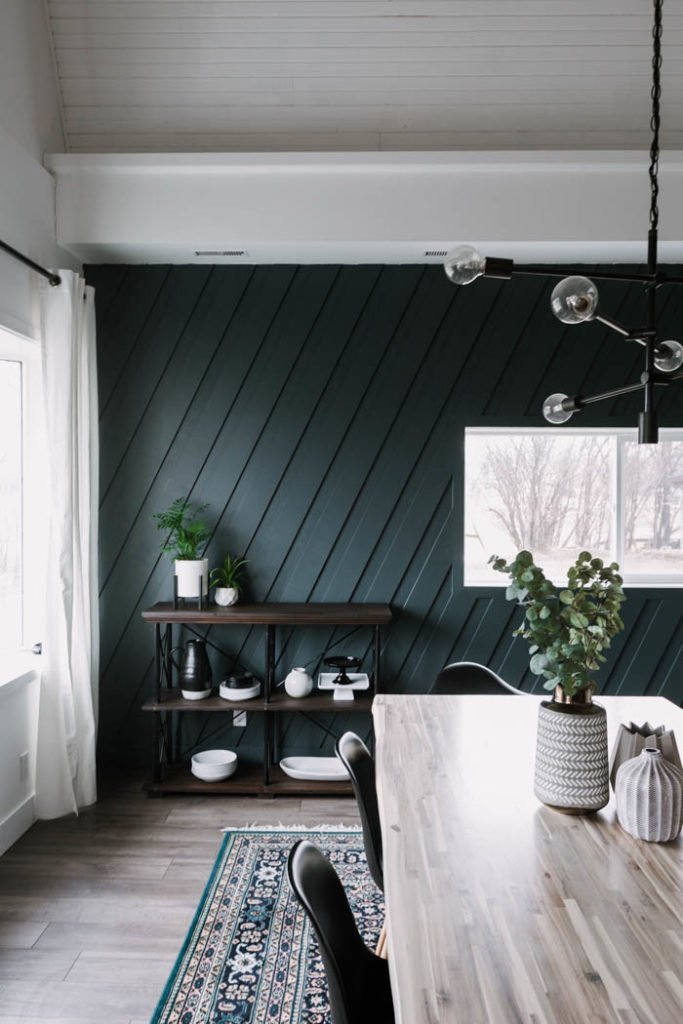 When done right, a modern wood trim accent wall is simply stunning. And to be honest, this tutorial is a pretty good example of that. Wood trim walls give your room more character and texture, which can really enhance it visually.
Most people are a little skeptical when trying to attempt DIY molding on any wall. But it actually is really easy to do. If you're looking for an easy tutorial that won't break your bank, click on this one. If you've got experience with wood work, this is as easy as pie.
20. Double Raised Wood Accent
So this one might be one of the most unique designs for a wood trim accent wall. The payoff however, is totally worth it. One of the slightly pricier options on our list, you could still do it on a budget if you have a smaller room, or if you use cheaper wood.
For those of you who have some experience in woodworking, this one will be relatively easy. Although to be honest, the directions are pretty beginner friendly. If you want something different for your accent wall, you have to try this one out.
21. DIY Molding Accent Wall
There is just something about a dark molding wood trim accent wall that is so attractive. When done correctly, it is the right amount of mysterious and elegant. For those of you who can't make up their minds on a design for their next wood trim wall project, may we suggest this easy yet fancy looking design. The tutorial is so fun and you will not regret doing this on your next wall.
22. DIY Wood Trim Accent Wall
When looking for a good design for your wood trim accent wall, you want it to blend well with the color scheme as well as the decor. And in that vein, you can't go wrong with this idea. The pattern of this wood trim accent wall mimics an almost mountain like design, while also being modern geometric.
If you are the type who tends to change themes up a lot in their homes, you'll like something like this. One of the good things about wood trim accents is that it doesn't require too much planning and commitment. You can easily get this type of wall done in an afternoon. If that sounds appealing to you, check out the tutorial for this design.
23. DIY Striped Wood Wall
For large plain walls, it really can get tricky when deciding what you want to do. There are so many options, from a funky wallpaper, to bright paint or lots of artwork. However, the wood trim accent wall ideais a great idea when you want to really change up the space. You can really add warmth and texture to your room with a good wood accent wall.
This pretty striped wood trim accent wall is the perfect solution for a large blank wall. It pairs well with most decors. It adds a different color and texture element. And most of all, it's really fun and easy to do. If you've been looking for a low budget accent wall that doesn't require too much commitment, try this tutorial. You won't regret it.
24. DIY Board and Batten Accent Wall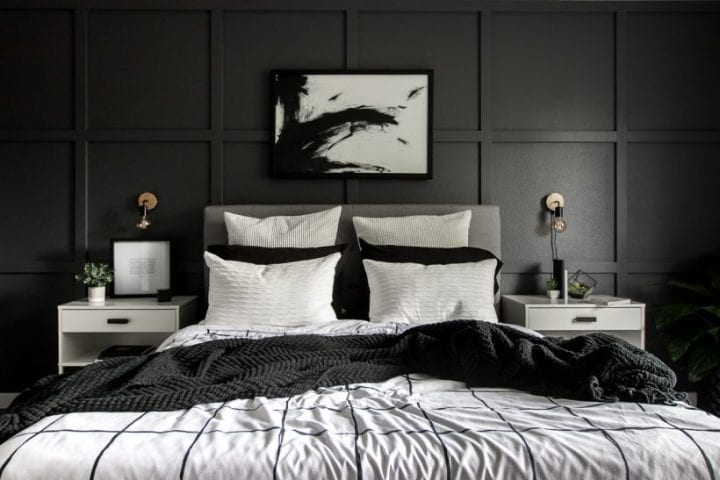 Bedroom accent walls are the best way to show off easy yet elegant wood trim designs. And this lovely dark theme board and batten wood trim accent wall certainly belongs to the list. If you want something simple for your bedroom, but still want it to stand out, go for this one
Dark coloured accents can really catch the eye especially when done with large square wood trims. The design is not only easy enough to create, but also very economical. The tutorial also makes it really easy to cater this design to your own measurements. Paired with the right decor, this wood trim accent wall is sure to be a hit.
25. Modern Jigsaw Accent Wall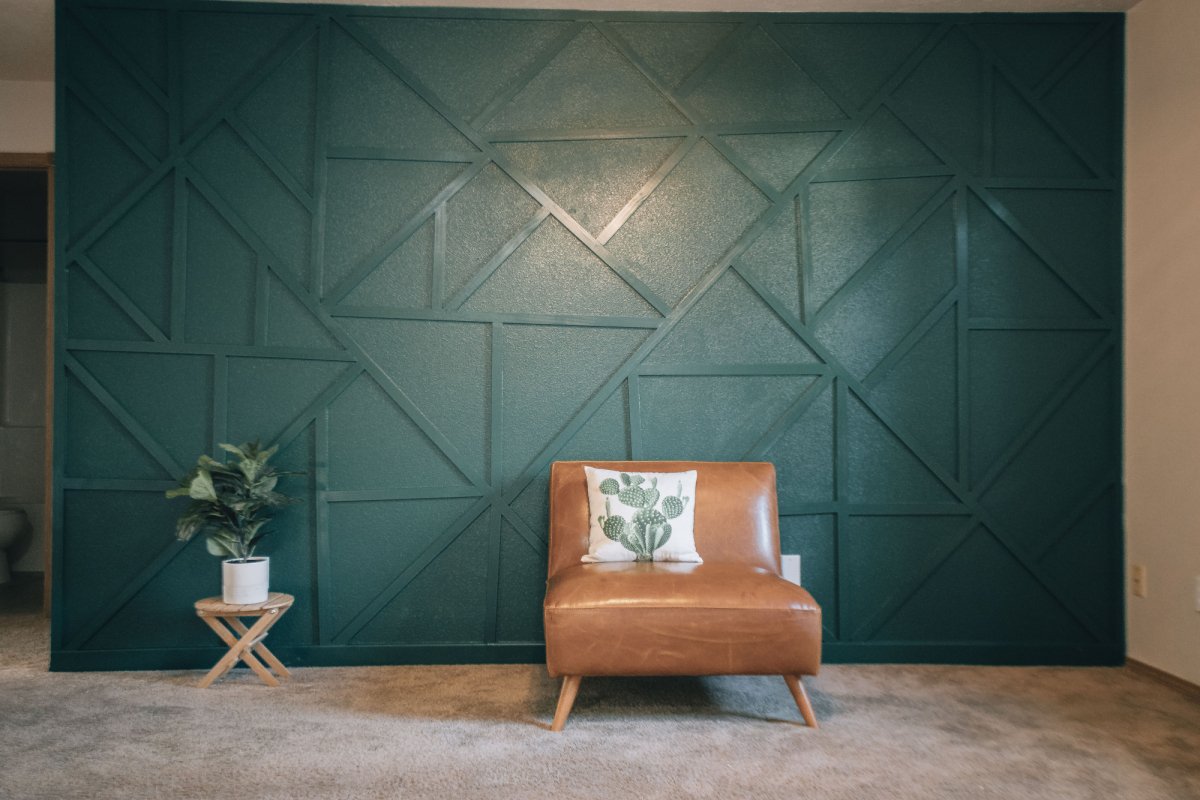 Wood trims that have a repeating geometric pattern have a calming effect on the visual field. So take inspiration for your next wood trim accent wall idea. The jigsaw pattern of this wall is almost unique in the list. And you wouldn't believe how easy it is to do.
The working plan details the measurements for each wood board – which you can adjust according to your measurements.The deep green blue color compliments a lot of different decor schemes. For a complete makeover of your room, do check this one out.