If you are looking out for some DIY side table ideas to build one for yourself, then we are at your rescue. Do you sometimes have to entertain more guests than the number of seats around your coffee table? Apart from adding to your aesthetics, your side table can also be helpful to place additional snacks and beverages for your guests.
In this article, you will explore some unique and elegant DIY modern side tables to enhance the beauty of your living room, bedroom or even your garden. But, of course, there's nothing more special than something customized and built on your own side table.
Also read –
28 DIY Side Tables Plans and Ideas For All Your Rooms
Here are some fantastic DIY ideas to create a side table that would complement your room and make it look more appealing.
1. Terrarium DIY Mirror Side Table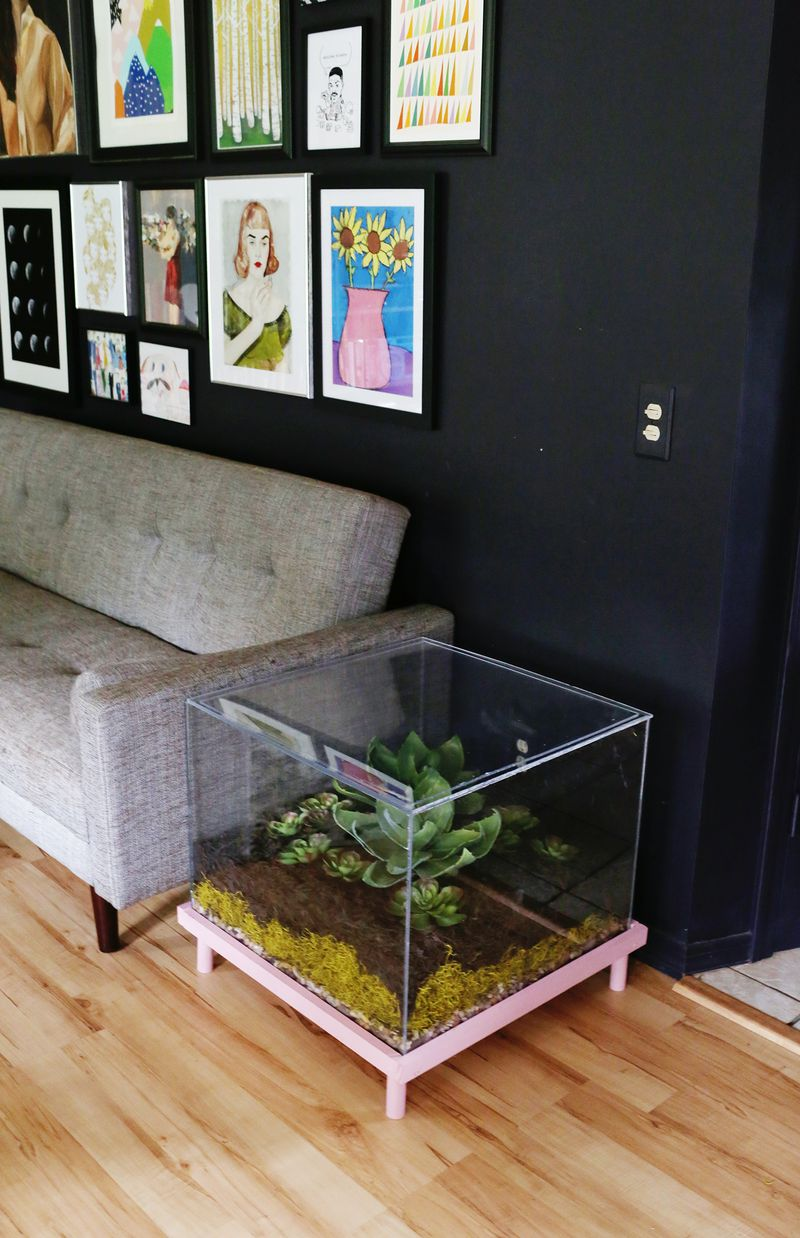 Image and plan by abeautifulmess
Let us start with this elegant DIY sofa side table. It is made with the help of plexiglass and some wooden pieces. The design is eye-catching and perfect for creating a modern charm in your living room. Utilize your weekend to make this masterpiece and decorate the terrarium with some plants.
2. Tree Stump Side Table DIY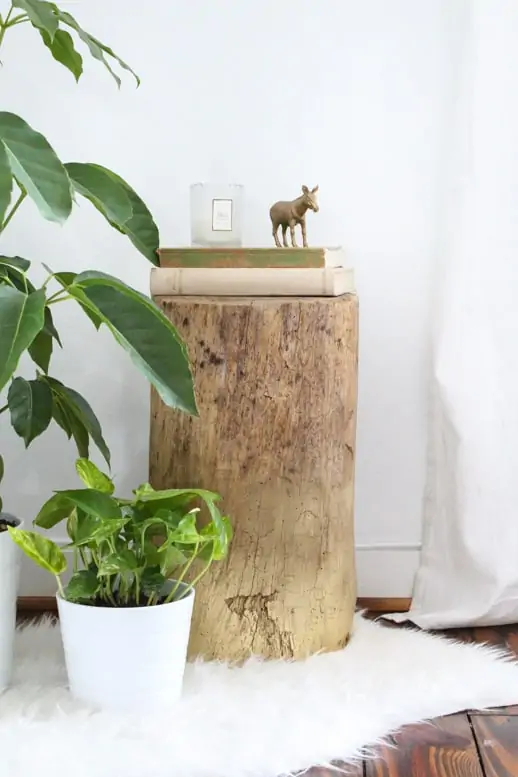 Image and plan by sugarandcloth
If you are a lover of rustic farmhouse style, then you'll fall in love with this DIY wood side table idea. Grab on a wooden stump, sandpaper and some basic materials to make this stylish table. The wooden stump and matte finish is what makes it stand out. You can also customize the height and width according to your choice and preferences.
3. DIY Record Side Table
Source: theflourishingabode
Do you wish to give your living room a vintage and retro vibe? Then, this easy DIY side table is all you need to build. To make this, all you require is a vinyl lp record, a planter stand and a glue gun. Assemble these, and you're left with this creative upcycled side table.
4. DIY Wooden Couch Sleeve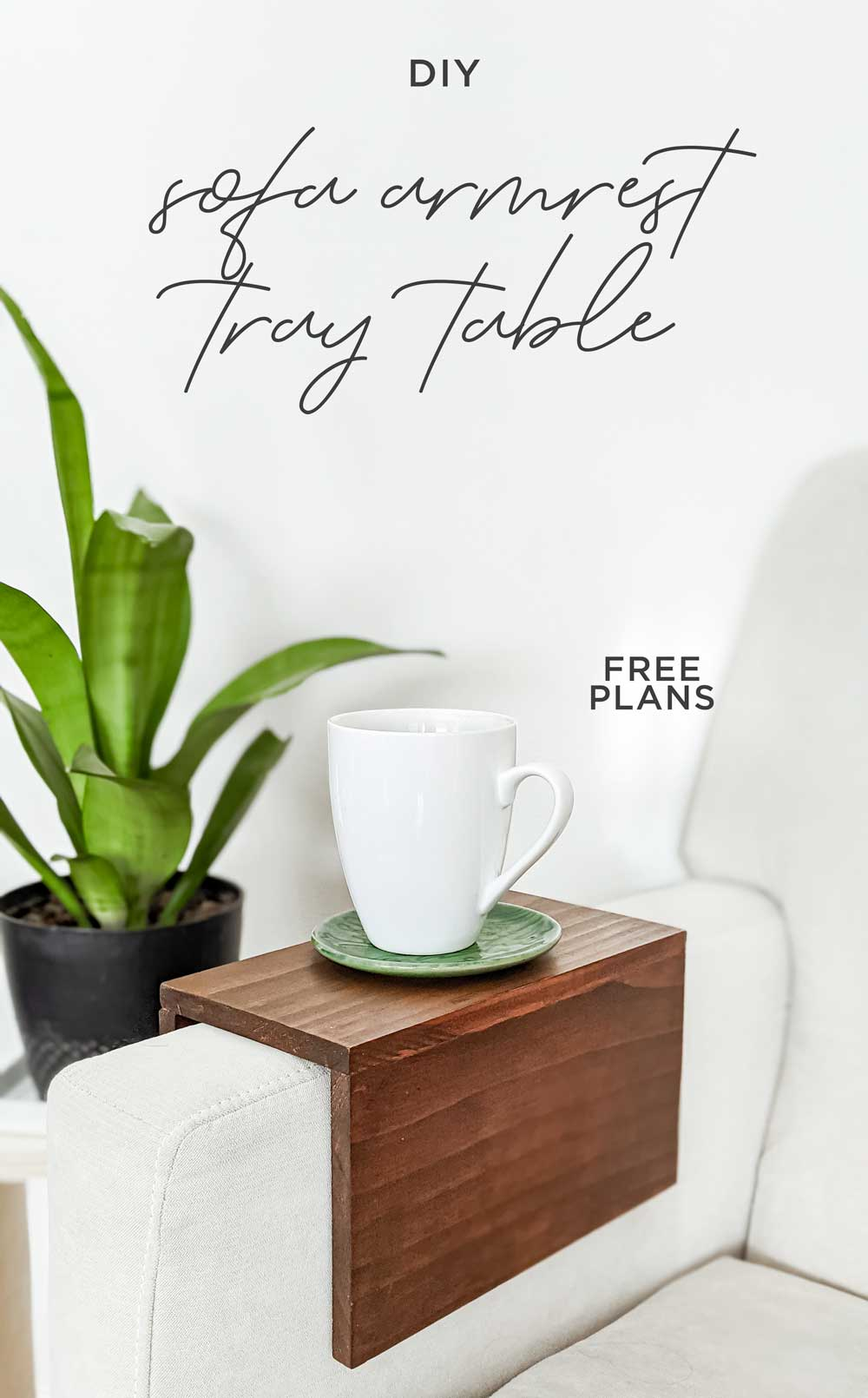 Image and plan by uglyducklinghouse
If you want something to rest your drinks upon, then this armrest table idea is all you need to try out. This wooden piece can fit in the arm of your sofa, chair or even your couch. It looks spectacular and provides you space for resting your dishes or drinks. Here is the complete design tutorial of this unique side table.
5. Upcycle Old Door Side Table
Image and tutorial by kimwerker
What's better than upcycling an old door and turning it to a side table? Here is this DIY rustic side table that looks awesome and appealing. The design is such that it provides enough space for storage. You can also decorate it with some decorative items. Its long yellow legs are what gives this table a modern twist. Check out the tutorial here.
Also read – 37 Best DIY Bookshelf Ideas & Designs for Every Budget
6. Terracotta Pot Repurposed Into Accent Table
Image and plan by thirftyandchic
Here is an idea of how you can revamp your terracotta pot and get this stunning DIY side table for your garden or living room. It is perfect to go along between two chairs and give a boho look to your place. You can spray your favorite color over the pot and customize it by adding some patterns.
7. DIY Mid Century Nightstand
Image and tutorial by burkatron
This DIY mid-century modern side table gives an iconic touch to your room. All you need is to gather plywood and build a shelf out of it. Then, you can stain it with your favourite colour and finish off by attaching black hairpin legs. This project is excellent if you are starting with woodworking.
8. DIY Twisty Table
Image and tutorial by woodshopdiaries
Let your creativity flow out with this DIY twisty side table. You can add some style to your home decor with this table with attractive twisted legs. Its length can be customized according to your choices. For example, you can decorate it with a beautiful flower vase to add a modern vibe.
9. DIY Accent Table
Image and plan by homemadeheather
Are you looking for a cute sofa side table for your space? The elegant yet classy design of this table makes it unique. Moreover, it's a comparatively easy project that you can take on this weekend. You can recreate this spectacular DIY industrial side table with the help of its tutorial.
Read – 40 Throw Pillows For Grey Couch For A Personal Touch
10. DIY Fluted Side Table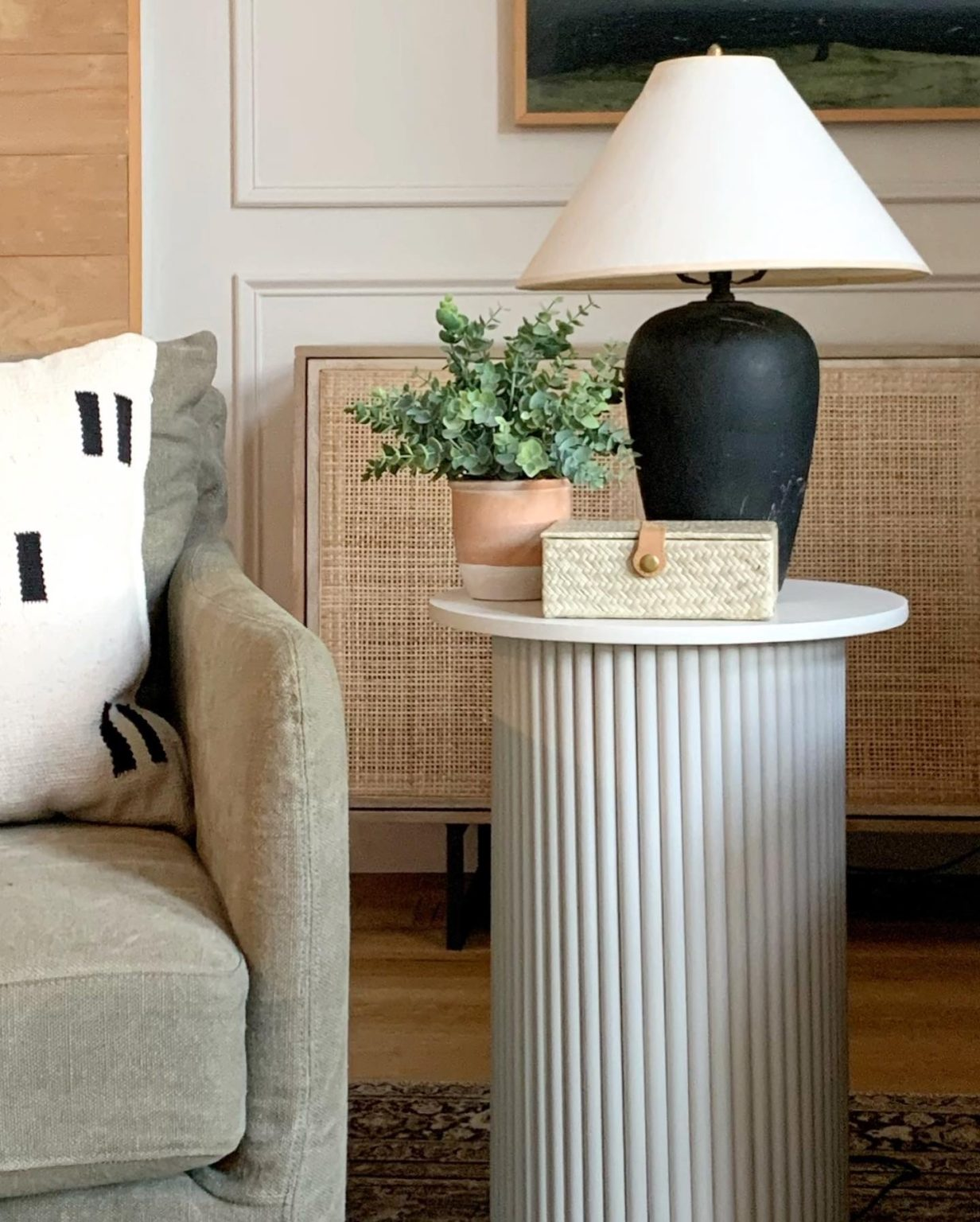 Image and plan by kismet-house
The sculptural element and its curves and lines gained from the fluted detail make this DIY fluted side table appealing. The marble top will bring sophistication to your space. It is one of the most rewarding DIY projects.
11. DIY Tile Side Table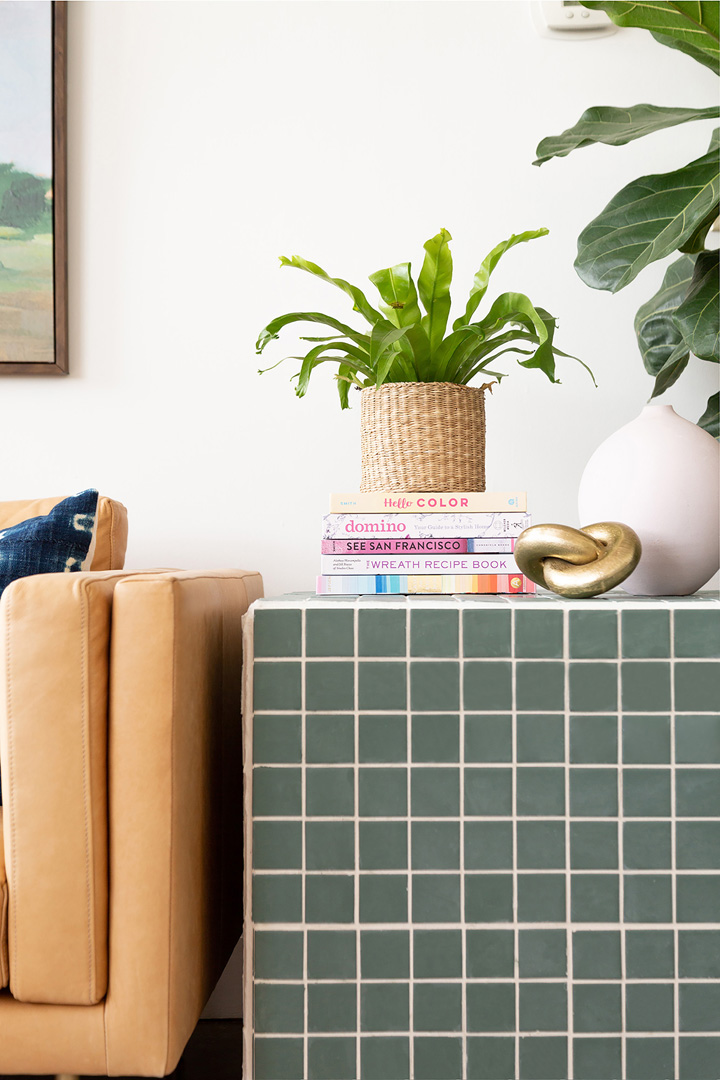 Image and plan by aliceandlois
A tiled side table contrasts perfectly with a plush sofa and is a beautiful addition to your room. You can create this chic side table with a basic plywood box and porcelain tile sheets. Reveal all your DIY skills with this Nightstand and get your friends talking about this masterpiece.
12. DIY Concrete Side Table
Image and plan by bybrittanygoldwyn
This solid wood base and polished concrete side table are versatile decorative materials. If you are looking around for an elegant tabletop, there's nothing better than this DIY table. Also, you can increase or decrease the size of this table to suit your needs.
Click here for more wooden bench ideas.
13. DIY Dollar Tree Side Table
Image and tutorial by motherthyme
Do you need a little side table? This Cute little DIY patio side table is the best one. You can make this by using a two-wire trash basket, some nautical rope from a dollar tree and a pizza pan. Here's a tutorial for building this fabulous and stylish side table.
14. DIY Pedestal Side Table
Image and plan by somethingturquoise
You will fall in love with the simple unfussy design of this DIY narrow side table. The dark chocolate colour of the table is what makes it more eye-catching. The size and colour of the table can be customized easily.
15. DIY Pottery Barn Inspired Nightstand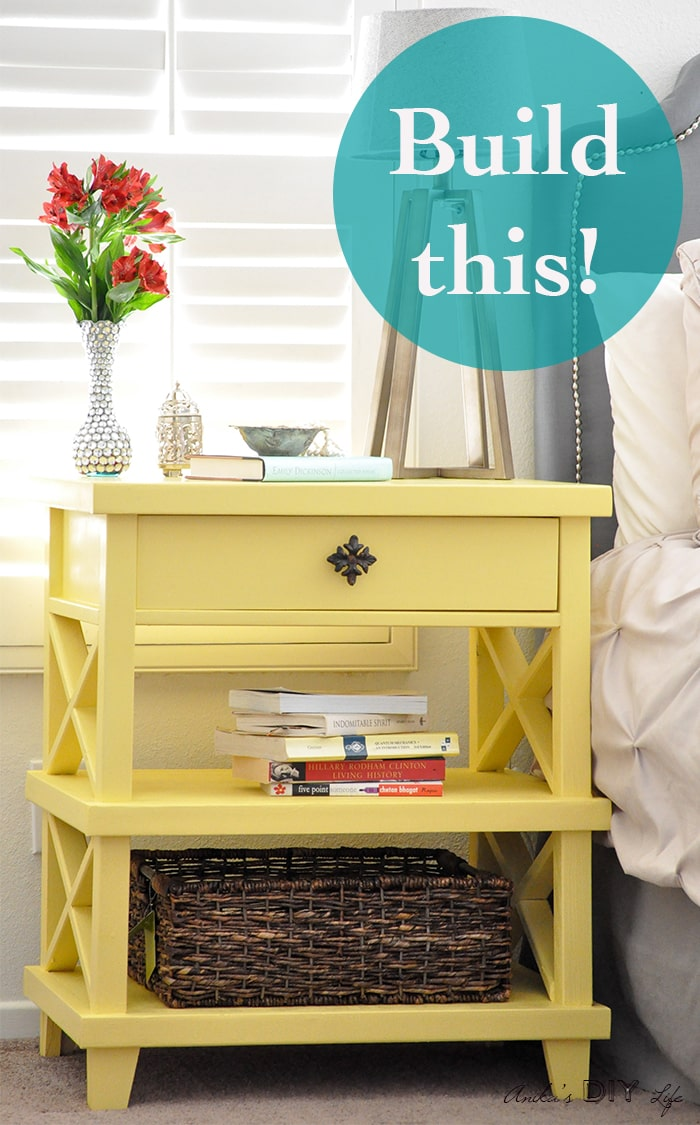 Image and plan by anikasdiylife
This warm and lively DIY farmhouse side table will add extra glamour to your living room. The simple straight look and lemon colour of this DIY side table with drawer brings an aesthetic vibe to your place. So, build this simplistic yet stylish table this weekend with the help of its tutorial.
Also, read – 55 Cool Work Bench Ideas For Your Garage
16. DIY Hexagon Side Table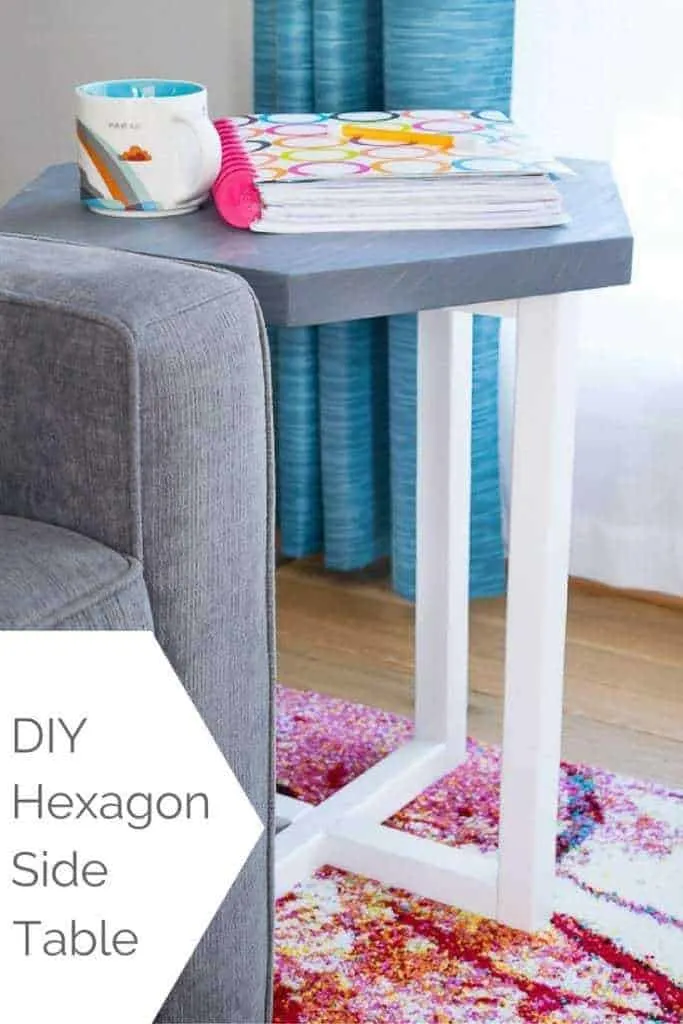 Image and plan by thehandymansdaughter
Nowadays, hexagons are popping up in a trend regarding home decor. Trendy usually means expensive, but with this DIY skinny side table, you can save a lot of money yet make your home look modern and decorative. Check out the tutorial and start building.
17. Simple Side Table DIY
Image and plan by Jaimecostiglio
Do you have some essential woodworking tools and a few scrap boards? Build this DIY small side table that's perfect for that spot in your family room between the sofa and lounge chair. It's minimalistic, and its woody appearance would surely match the vibe of your room.
18. DIY Outdoor Side Table
Image and plan by twelveonmain
Have you ever wanted to add some style to your living room but lack much space? Then, check out this DIY outdoor side table built out of wood scraps. It is simple but gorgeous and adds a decorative touch to your room. DIY projects do not always need to be complicated to be eye-catching!
19. DIY Wooden Side Table
Image and plan by toolboxdivas
Are you looking for some DIY pallet side table projects? Then, stop your search because here is one budget-friendly side table for you. This side table goes along with your outdoor furniture, and it can be made for under $10! So, gather all the required materials and enjoy your favourite drink on your new side table. Here's the complete design plan!
20. DIY Boho Side Table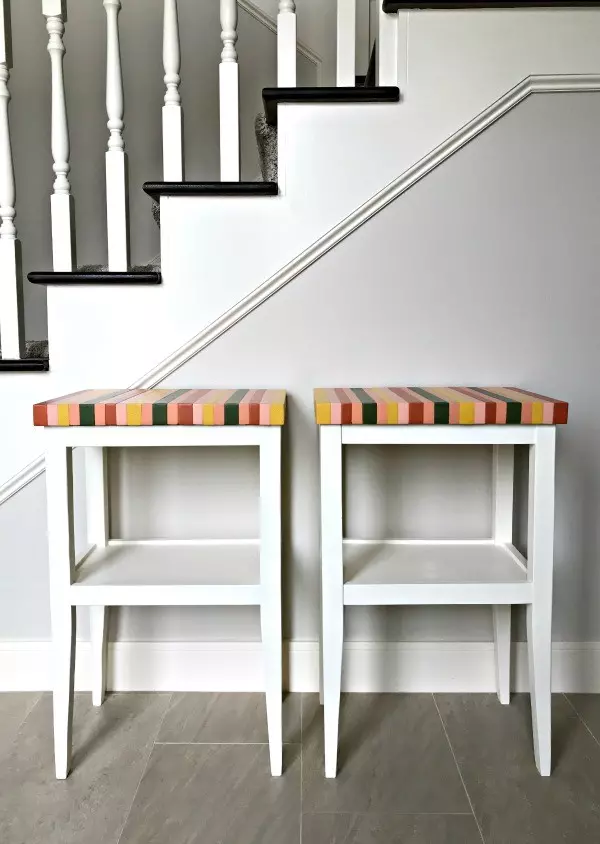 Image and plan by abbottsathome
If you plan to make your custom furniture pieces, there's no better option than these DIY boho-style side tables. It's perfect for someone who want to add boho aesthetics to their bedroom. The bright colours on the top make it pop out in your room as a statement piece. Then, see how you can make it in more detail.
21. DIY Round Side Table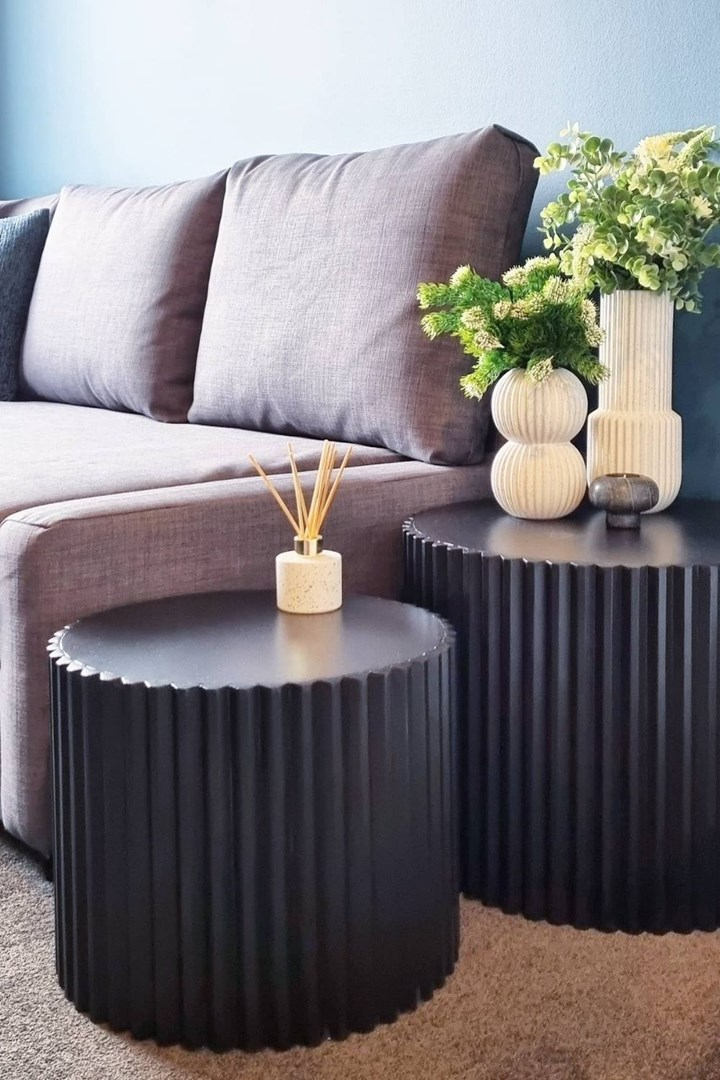 Image and design plan by bhg
Here is an elegant and minimal black coloured DIY round fluted side table with a flat base. The design is stunning and an apple to the eye, whether you place it in your bedroom as a nightstand or in your living room as a side table. The size of the table is kept small so that it's perfect if you have less space in your room.
22. DIY Couch Side Table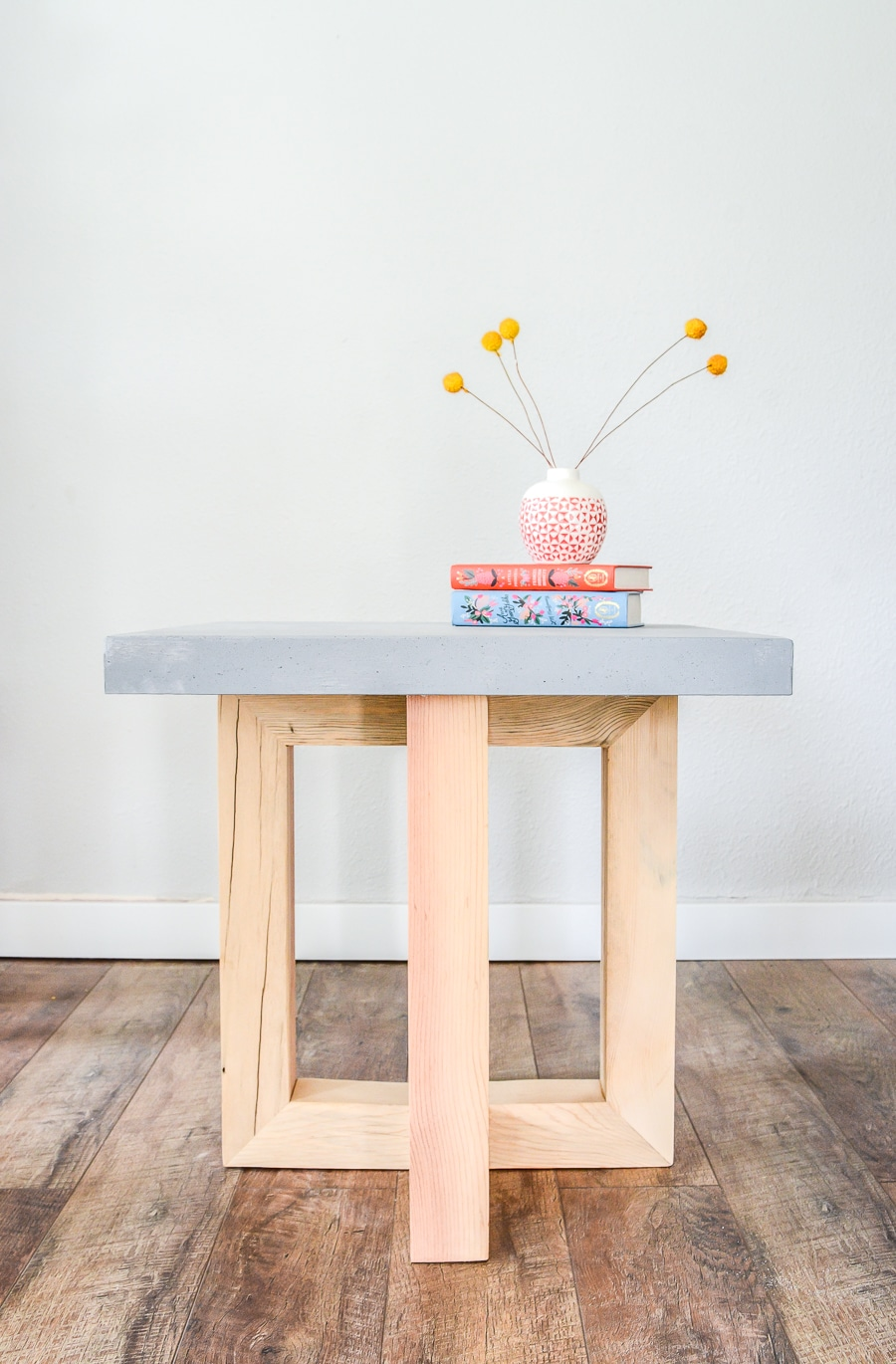 Image and plan by jenwoodhouse
This DIY couch side table's concrete and wood combination are simply unique. You can consider this furniture if you're looking for a vintage piece with lots of character. Its mitred joints will catch all the attention of your guests.
23. DIY Umbrella Stand Side Table
Image and plan by housefulofhandmade
Build this quick and easy DIY umbrella stand that can be utilized as a fun patio side table. It is incredibly inexpensive and helps you to relax with its comforting looks. You can also stain the wood with the colour of your choice to make it look more appealing.
24. DIY Simple Side Table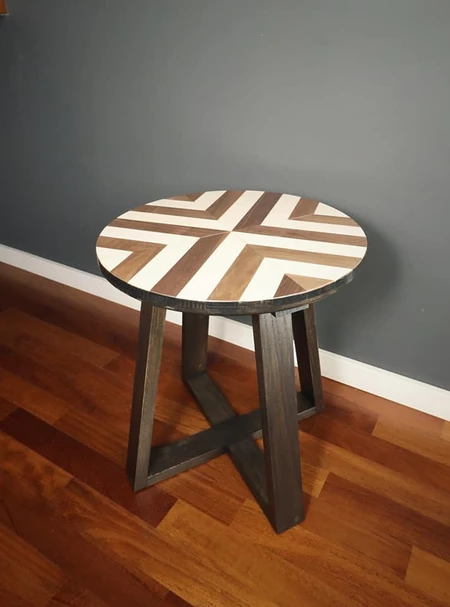 Image and plan by static.wixstatic
This unique side table is made out of hardwoods. Its dark chocolate coloured legs and the white chevrons make it an attractive, charming item. This DIY side table doesn't consume much of your effort and is a unique piece with many decor interests. Follow the tutorial to build one for yourself.
25. DIY Floating Side Table
Image and plan by onecarfdiygirl
If you are planning to rethink your bedroom decor, don't miss out on this adorable floating side table. Unlike other side tables, this table does not sport a base or legs. It can work as an ideal nightstand hung on the wall.
26. DIY Bedside Table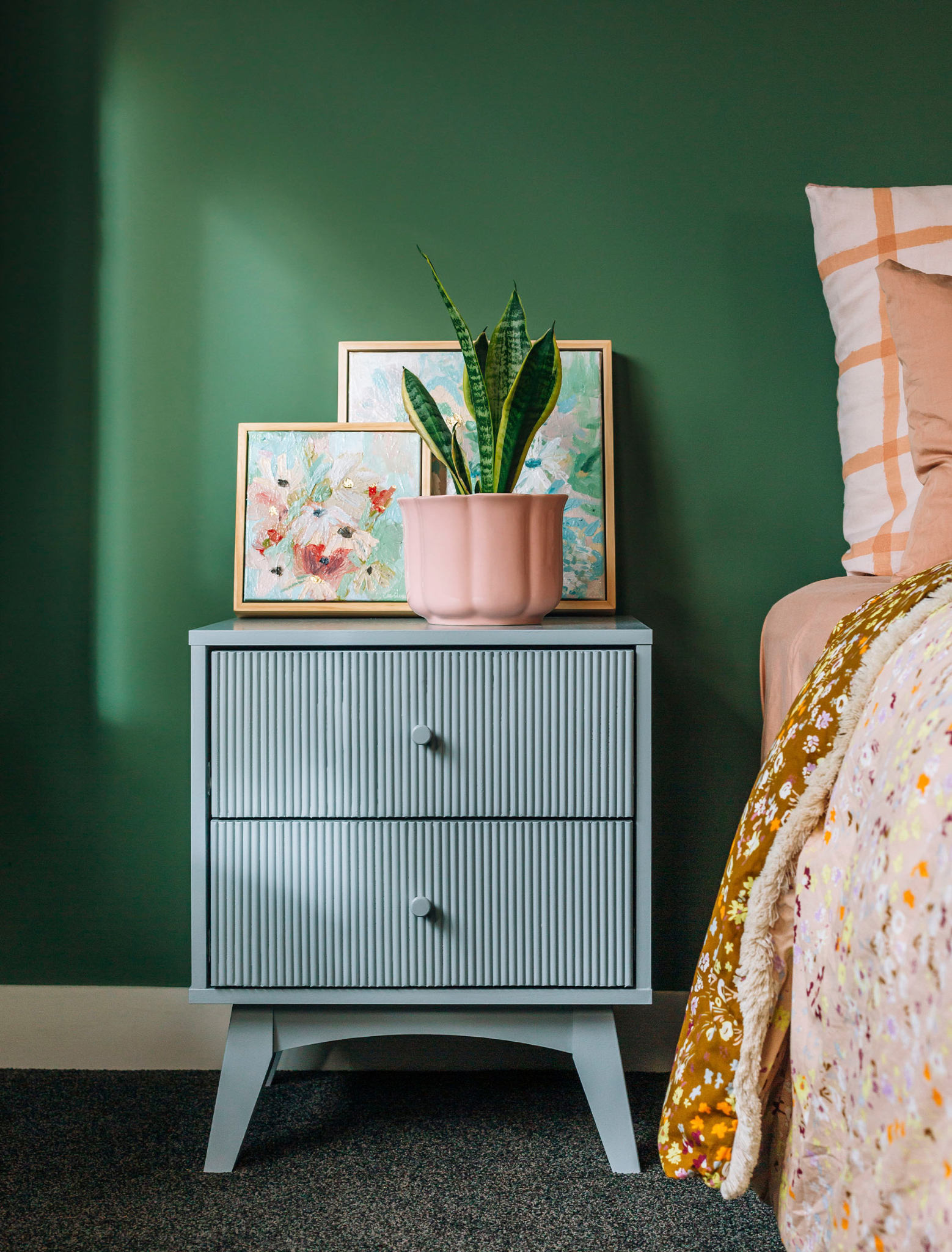 Image and design plan by yourhomeandgarden
If you're exploring a classic and elegant looking bedside table, consider this one. This DIY side table with storage features wood detail on its drawers, making it look more traditional. Stain it in a colour that matches your current bedroom theme, and you're good to go.
27. Simply Designed Black DIY Side Table
Image and plan by thistlewoodfarms
This dainty DIY side table can be a beautiful piece for your living room. The design is sleek and straightforward and stained in black colour. The size of the table is small enough to fit in beside your sofa or couch. I fell in love with the fact that how minimalistic this piece looks!
28. Dog Crate Side Table DIY with Modern Flair
Image and plan by RemodelaCasa
This dog crate side table is the ultimate solution to save space when you want your pet's bed to be a part of your living area. The two primary materials that make it this cute are the wood top and slanted legs. Moreover, the spacious interior allows your dog to rest inside peacefully. You and your dog would be satisfied with this fantastic statement piece.
We are finishing off with the list of cheap DIY side table ideas with these. I hope these ideas will motivate you to build some unique and impressive side tables to decorate your space. Some of them are simple and incredibly inexpensive to try out!