How many of us have wanted to grow plants and not been able to keep them alive? Or we don't want the responsibility of taking care of fussy plants that need tons of care. For those of us who don't have a great track record with growing plants, but still want to have a little greenery around the house, a DIY terrarium is the way to go.
Terrariums are like aquariums for plants, to put it simply. The plants are placed in a glass container and surrounded by their own little world. You can do a whole lot of different things to make your terrarium interesting. The one thing to make sure when creating your terrarium is choosing the right plant for the terrarium type that you are building.
Read –
32 Beautiful DIY Terrarium Ideas To Add An Aesthetic Touch To Your Home
No matter the reason for you wanting to make your own DIY terrarium – to have more plants around the house or just because you're looking to make something creative and pretty – we're sure you'll find an idea that you like from the list we have compiled below. So go ahead and try some of these terrarium tutorials. Most can be done within a few hours using terrarium kits.
1. Margarita Glass Terrarium
Image and tutorial by craftychica
Starting this off with something that is wholly unique, pretty and will definitely stand out in a crowd. This type of glass terrarium project is not only easy to do and really cute to look at, they also double as succulent planters. Isn't that great?
Learn how to make a terrarium for your mini cactus plants with this wholesome easy tutorial. It's perfect for those plants that don't require too much water. And let's be honest, this terrarium will make a fantastic centerpiece.
2. Easy Terrarium for Kids
If you've been looking for ways to engage your kids while teaching them a thing or two about science, this tutorial might help. The closed terrarium is the perfect way to teach your kids about the water cycle.
Also, get your kids to help you prepare succulent terrariums like this for little corners of the house. They make really nice showpieces and you can start your garden indoors this way.
3. Pretty Beach Terrarium
Image and tutorial by findinghomefarms
We all love summer and we all love the beach. It is the time to make memories and have fun. And sometimes, it goes away too soon. So how about preserving a little bit of the essence of summer with this beautiful beach themed DIY terrarium.
If you're feeling particularly artsy, you could layer different coloured sand – it can be found at the craft store. And the next time you have guests, tell them about your summer adventures and how it made you stumble on the idea of making your own cool beach themed terrarium kit. And since this has no plants, you have no need to worry about maintenance.
4. Wire Cloche Garden Terrarium
Image and tutorial by diyshowoff
For a wonderful dry terrarium that will require minimum maintenance, you couldn't go wrong with this one. Succulent terrariums are all the rage now, thanks to their ability to survive on little water.
With this idea, you can create a large terrarium for your outdoor patio or make it small to sit on the mantle. Really easy to execute and a treat to look at, this wire terrarium is really fun to make.
5. DIY Hanging Terrarium
Image and tutorial by homeedit
We're already huge fans of terrariums. But a hanging terrarium has most people excited like no other. When done correctly, you'll realize how easy it is to make. The example uses a geometric container.
Make sure that your terrarium container has provisions for airflow because it is a plant terrarium. Other than that, allow yourself to go as crazy as you want with the accessories. Afterall, this gives a 360 degree view and should look pretty from all sides.
6. DIY Cookie Jar Terrarium
Image and tutorial by howdoesshe
Never thought I would find such an innovative use for my cookie jars but here we are. Since you don't need to do much to care for a plant terrarium, it might be a great starter project for some folks. Plus a terrarium is so pretty.
For a DIY glass terrarium like this one, you'll need some lively plants and soil to get started. From there on out however, you are free to choose how big or small you want it to be. It will really liven up the room and thrive on their own. So check this one out just for that reason.
7. Easy Beach Theme Terrarium
Just like an old timey movie isn't it? Bring Nemo to your living room with this super cute and innovative glass terrarium project. It's a great way to alleviate the nostalgia of summer and bring some greenery into your home at the same time.
Truly, you can turn any vessel you want into a terrarium kit, so why not try this one. Also, isn;t it fun to layer different colours of sand and bring a slice of rainbow to your bowl as well?
8. DIY Open Terrarium
Image and tutorial by thespruce
This particular glass terrarium is so picturesque. A lot of terrariums are closed systems but you might want to keep them open for a while everyday to allow airflow. For an effective terrarium, you can use any glass structure – mason jars, large jars and even aquariums are great for this purpose.
Following the tutorial is easy enough. If you use a nice large container, this would be the perfect type of set up for a frog terrarium. You won't need to do much differently than you already do. Plus it's a nice environment for baby frogs to thrive.
9. DIY Miniature Terrarium Waterfall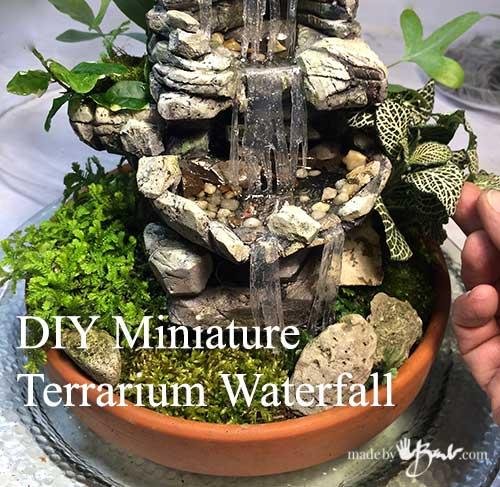 Image and tutorial by instructables
Which one of us isn't fascinated by a really pretty waterfall? We have the perfect replica you can build with this amazing DIY moss terrarium. All you need to get started is a large container.
Although this DIY terrarium doesn't feature a real waterfall, it still looks really pretty and makes a great showpiece. Also, you can grow plants along with moss and they will thrive really well in this structure.
10. DIY Terrarium PlaceHolder
Image and tutorial by greenweddingshoes
There is a plethora of things you can do with terrariums of different sizes. This amazing mini terrarium idea is great as a placeholder for an elegant dinner party. This is of course going to be an artificial terrarium environment so that it can be used for longer.
This tutorial does however add moss to give the terrarium the required greenery. A closed terrarium like this also makes for wonderful party favors. I for one would be rather thrilled to receive a gift like this.
11. Mason Jar Terrarium
Image and tutorial by redtedart
If you want a garden right at your desk, this little terrarium idea is a great place to start. You can build your own circulated environment using a mason jar and some of your favorite plants. Glass terrariums don't require a lot of sunlight for the plants to grow.
You can place these at your shady desk at most times. This type of terrarium needs the least maintenance when done correctly. As long as you don't overwater the plants, they will definitely do well.
12. Mini Terrarium Christmas Ornament
Image and tutorial by inhabitat
Christmas is a magical time when wishes come true. And here we have a little project to bring some joy to you. Christmas ornaments are probably the best part of decorating your tree. And this mini terrarium ornament is a great way to do that.
Even though this is a closed terrarium, it will thrive as long as you give it a spritz of water every now and then. And it can be used long after your other Christmas decorations come down. If you ask me, that's really the best thing about this.
13. DIY Woodland Terrarium
Image and tutorial by ruffledblog
Turn up the fantasy and mystic with this adorable closed terrarium project. It makes a really nice and thoughtful gift for your loved ones. Bonus points if they like plants but don't know where to start.
Moss terrariums like these do not require any maintenance. Since these are more showpiece than actual plant projects, you won't have to worry about anything. Just sit back and enjoy the view this pretty woodland project provides.
14. DIY Hanging Geo Terrarium
Image and tutorial by hometalk
Bring beauty and colour into your home with this amazing terrarium kit. Geo containers like this one make it easy to see and access your terrarium. Plus they're just so much more interesting to look at as well.
Succulents are the best plants for terrariums like these. They do not require a lot of water. Make sure to use draining pebbles or carbon pellets in either case along with moss. Making a hanging terrarium is easy once you have the basics down. So follow along the instructions well.
15. DIY Glass Terrarium Indoors
Image and tutorial by inspiredbycharm
Your DIY glass terrarium is a great way to add some foliage indoors. These types of environments are largely self-sustaining. All you will need to do after you set up is spritz water once in a while and leave your plants alone.
If you want, this type of project, with large containers, makes really good frog terrariums as well.
16. Mini Hanging Terrarium Globe
Image and tutorial by helloglow
This is another really cool beach themed terrarium. And it's made with a tinted glass globe. I didn't think a beach themed mini terrarium could get more dreamy. Use all the objects that remind you of the beach for this one – sea shells, fine sand and of course some small plants as well.
Vacation mementos are all the rage now. So go right ahead and make as many of these little things as you want. Whoever is at the receiving end of a gift like this will really appreciate it.
17. DIY Fairy Garden Terrarium
Keeping with the theme of fantasy and all things dreamy, here is another little succulent terrarium in the form of a fairy garden. When we think of fairies, we think of mossy woodlands, quaint cottages and maybe some toadstools.
This tutorial has it all. Use your terrarium kit to arrange everything from moss to twigs to potting mix. After that, the magic is up to you. You'll have an awesome terrarium for your succulents and a pretty showpiece for your mantle. Isn't that cool?
18. Wine Bottle Terrariums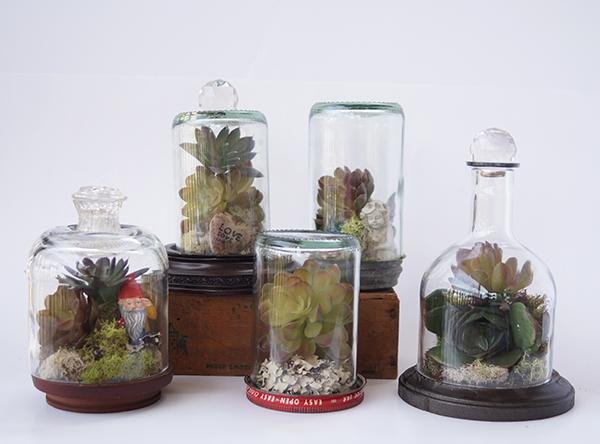 Image and tutorial by savedylovecreations
We got ecofriendly. We got succulents. We got gardening. And we got terrarium. Could we ask for more? I think not. This super utility glass terrarium project can be used to make any theme of terrarium.
If you want to try your hand at woodland terrariums, now is your chance. This is essentially a closed terrarium with little airflow. Of course you can open it up and change the scene any time. With terrarium projects like these, it is easy to modify whenever you like.
19. Bottle Terrarium DIY
Image and tutorial by wearethought
This is not your average terrarium project. No, this one will need some patience and hard work. Of course you can always use a wide next jar instead to make things easier. But where's the fun in that? The moss and stones of course are essential to a terrarium environment
The good thing? You can use a variety of terrarium plants to achieve a really pretty end result.. They also look really good in glass terrariums. Whatever you decide, this type of terrarium is always a rewarding project to start.
20. Indoor Water Terrarium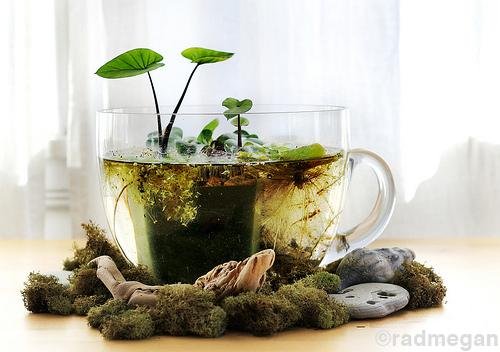 Image and tutorial by radmegan
Water gardens are great especially in those places that have a long cold winter where plants don't thrive outside. Although this is majorly a plant terrarium it still won't require as much maintenance as a closed one.
Also, with a few tweaks this would make a really nice frog terrarium idea. Water terrariums are a good environment for frogs and toads. So get started with this if you're looking for something different in your home decor.
21. Geometric DIY Terrarium
Image and tutorial by mygardenlife
You can create your own little world of imagination with a succulent terrarium like this one. Once ready, it can be a self sustaining unit requiring very little maintenance. For a closed terrarium, you might want to choose plants like moss and ferns, since they trap a lot more humidity and heat for longer.
For an open terrarium though, cacti is a really nice option. Decorating your terrarium is probably the most fun option. The geometric containers also give a nice visual addition to the look. Set them in a bright location and watch them thrive.
22. DIY Layered Terrarium
Image and tutorial by prettyhandygirl
Making your own terrarium can be much cheaper than buying a ready made one. You have more control over everything that goes into it. Aslo you get to choose how big or small you want your plant terrarium to be.
These types of terrarium ideas help you tell your own story with your plants. You can choose to have a closed terrarium of sorts if you like. If you want to introduce more life to your environment, this tutorial can be turned into a snail terrarium. Just make sure to add terrarium plants according to your snail species.
DIY Terrarium Table
Image and tutorial by instructables
If you're ready to take on a slightly larger project, this terrarium table is the one for you. Nothing is as satisfying as building yourself a large terrarium and filling it up with all the things you love. It is also a great lounging spot for you to admire your hard work and see the terrarium environment in play.
Of course, if you're adventurous, this could double up as a really handy reptile terrarium, given its size. With those types of vivariums, make sure to keep your closed terrarium escape proof.
Colourful Terrarium Plants
Image and tutorial by jennaburger
Most terrarium ideas seem to revolve around succulent or other small plants that don't require too much water. That's because it makes maintenance easier. However, that doesn't mean you can't have leafy plants grow happily in a terrarium.
One thing to remember with plant terrariums is the addition of charcoal to the bottom of the container. The other is that you don't overcrowd them. Terrariums like this one are self-sustaining environments. And if you decide to close the lids, they really will last pretty long before needing to be rewatered.
Glass Bulb Terrarium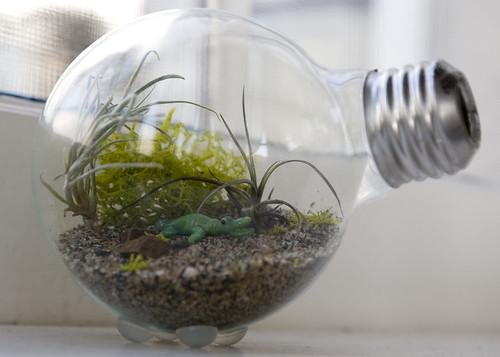 Image and tutorial by thehipsterho.me
This is probably the most delicate mini terrarium idea on on this list. And for that we say why not. Innovative ideas like these really bring joy to all that see it. Also, a glass bulb terrarium would make an adorable gift.
The tutorial is really easy to follow and you will learn how to make a terrarium like this in no time at all. Tiny terrariums like these should house air plants as they have no roots. That means no mess. If you're ready for a little challenge, this tutorial is really the best place to start your miniature terrarium collection.
DIY Hanging Globe Terrarium
Image and tutorial by blog.theappolobox
Terrarium kits will come in handy while you make your own. That way you won't have to hunt too hard for all the supplies. When you make your terrarium layers, especially in a hanging terrarium, you can add a lot of colourful layers to make them stand out against each other.
The most fun part of course comes after you are done placing your plants in the terrarium. If you use gravel at the bottom of the container, keep with the theme and add a few decorations around your plants. They add a nice visual look as well as keep the soil from shifting around too much.
Lighthouse Terrarium
Image and tutorial by lizmarieblog
Now this is technically not a living terrarium. However, you cannot deny that it makes a really nice showpiece nonetheless. If you want a no maintenance terrarium, then use this idea for a nice decor item for your centre table.
If you've been looking for spring crafts to do, this is a good place to start. The moss terrarium will not require you fussing over it either. And if you think of gifting this to someone, you can be sure they'll love it too.
DIY Resin Terrarium
Image and tutorial by resincraftsblog
Don't want to go the traditional route and make a boring glass terrarium? Try making one with a resin container instead. That way, you can create a cool resin craft while also making a really unique terrarium to go with it. Doesn't that sound neat?
I think the best part about this project is that you can make a large terrarium or a mini one depending on what you want. And whether you decide to make a moss terrarium or add full plants, it's going to look good.
Mini Spice Jar Terrarium
Image and tutorial by redhandledscissors
For a truly miniature project that is both adorable yet extremely efficient, try this tutorial. These tiny terrariums can do a lot to change the space your your home decor and add plops of green everywhere. And we all like recycling when doing DIY projects don't we?
If you want to know how to make a terrarium on a small scale in a way which is sustainable, you've come to the right place. This particular project is a moss terrarium, which will require very little upkeep, considering it is a closed environment. Keep these in shady spots in your house and watch then thrive on their own.
DIY Herb Terrarium
Image and tutorial by dukesandduchesses
If you thought that a terrarium could only be for succulents and colourful showy plants, then think again. This project requires a Christmas ornament container to begin with. Instead of succulents, plant your favorite herb seedling in your glass terrarium and then see the magic unfold.
Place this mini terrarium in a sunny spot in your home – herb plants like their sunlight. Truly, the possibilities of DIY terrarium ideas are infinite. And this one will be such a treat to have in your home.
DIY Terrarium Lamp
Image and tutorial by craftbits
If you want a statement project for a small space, go for this pretty lamp terrarium idea. You will get both light and green at the same time. And we cannot have too much of either.
It would be advisable to use air plants for this type of project. They don't need any soil and thrive on the moisture present in the terrarium. Using colourful moss can add a pop of colour. Go ahead and try this one for yourselves.
DIY Candle Terrarium
Image and tutorial by momcrieff
Who would have thought that we would be able to use a terrarium as a candle holder. But here we are. This candle terrarium tutorial is a great way to light up your work desk. Of course if you're using succulents and soil in your terrarium it is advisable to stick to battery candles. Those will last longer and go well with the succulents.
This sedum succulent terrarium is a great way to offer a warm glow to your centre table and show off your creativity. Check out the full tutorial and try it yourself!
If you loved these ideas, you can use the Pin image below and save this article on your 'Garden Ideas And Projects' Pinterest board.