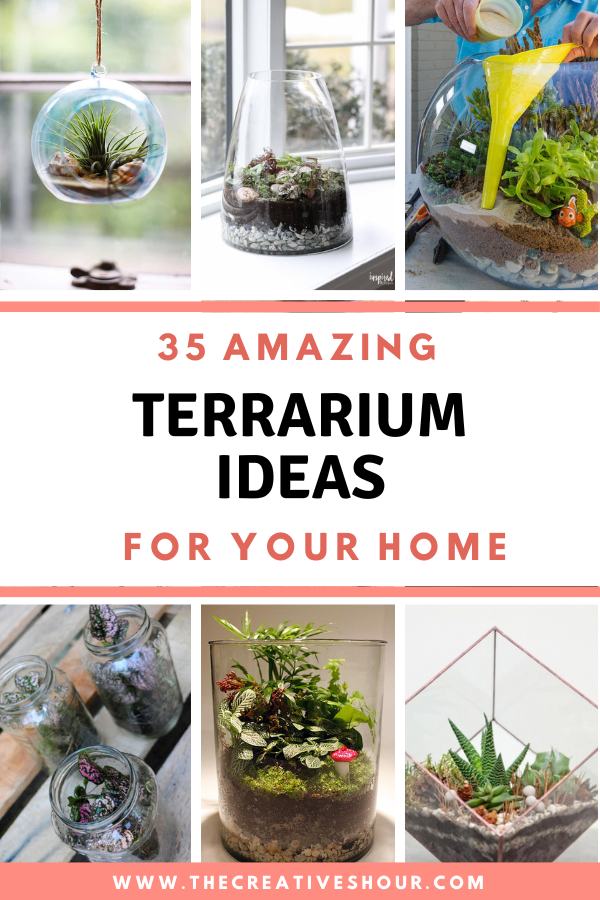 Welcome to the wild world of terrariums, where miniature plants thrive, and creativity knows no bounds! If you're craving a green oasis in your home but lack the backyard space or the desire to battle weeds, you've come to the right place. In this article, we'll take you on a whimsical journey through 35 DIY Terrarium Ideas that will bring nature's charm into your abode.
From classic glass globes to repurposed fish tanks, we have terrariums to suit every style and level of plant parenting expertise. So, dust off your gardening gloves and prepare to embark on a botanical adventure that's sure to make Mother Nature herself green with envy. Let's dive into the fantastical world of terrariums!
Read –
1. Margarita Glass Terrarium
Image and tutorial by Craftychica
Starting this off with something wholly unique, pretty and will stand out in a crowd. This type of glass terrarium project is not only easy to do and really cute to look at, but they also double as succulent planters. Isn't that great?
2. Easy Terrarium for Kids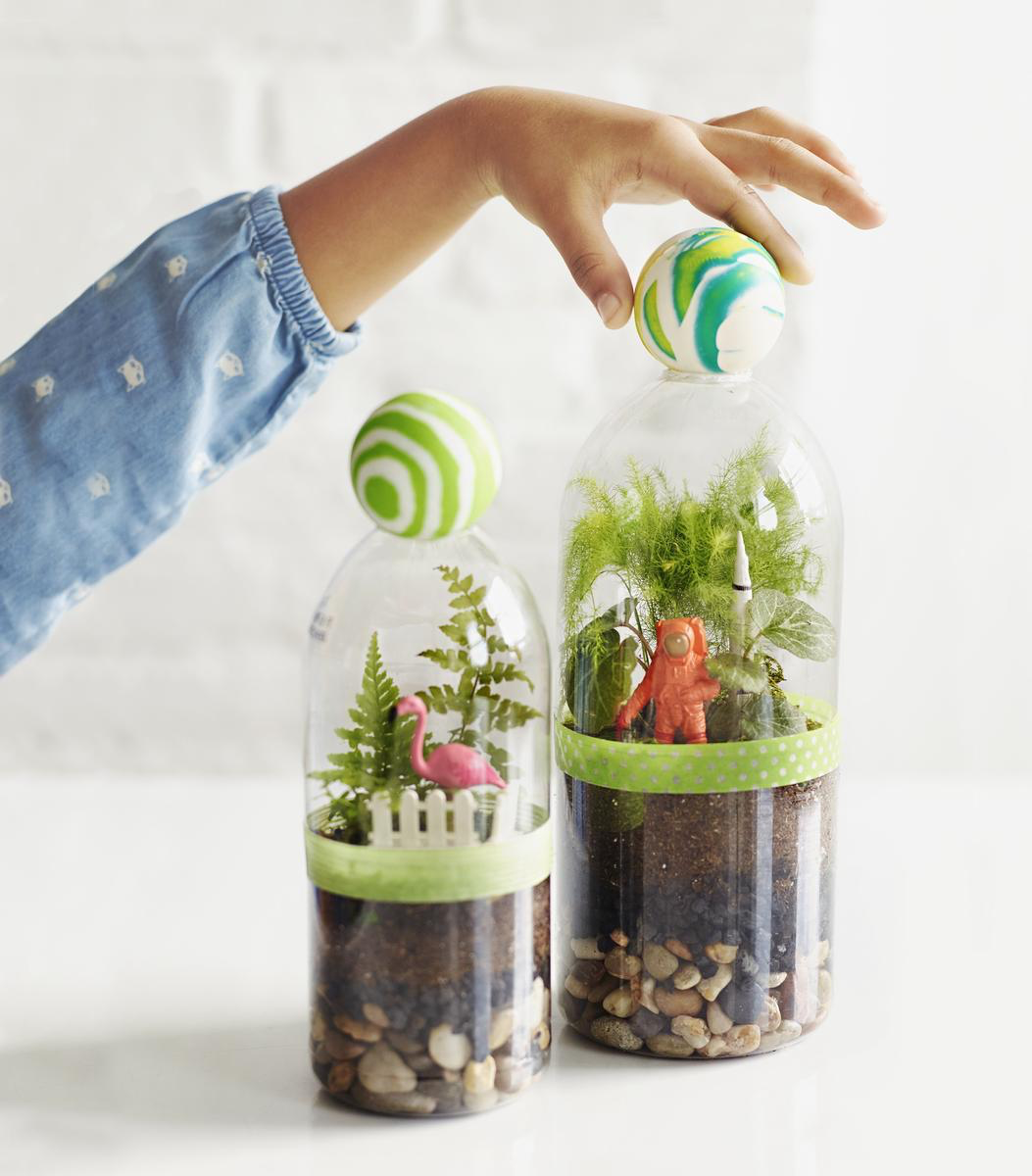 If you've been looking for ways to engage your kids while teaching them a thing or two about science, this tutorial might help. The closed terrarium is the perfect way to teach your kids about the water cycle.
Also, get your kids to help you prepare succulent terrariums like this for little corners of the house. They make lovely showpieces, and you can start your garden indoors this way.
3. Pretty Beach Terrarium
Image and tutorial by finding home farms
We all love summer, and we all love the beach. How about preserving a little bit of the essence of summer with this beautiful beach-themed DIY terrarium?
If you're feeling particularly artsy, you could layer different colored sand – it can be found at the craft store.
Expert tip by TCH - Choose the right container: Select a container that is clear and provides adequate space for your plants to grow. Glass containers are commonly used for terrariums as they allow light to enter and create a visually appealing display.
4. Wire Cloche Garden Terrarium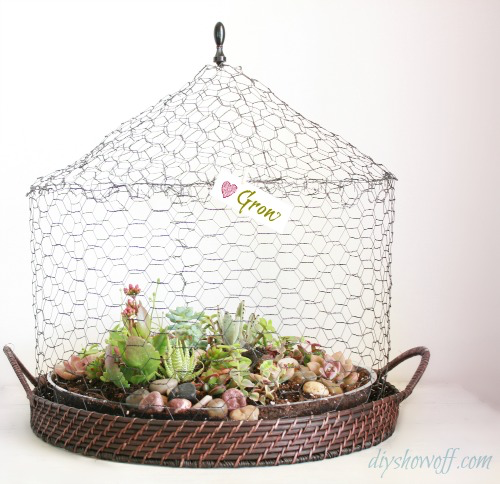 Image and tutorial by Diyshowoff
For a beautiful dry terrarium that will require minimum maintenance, you couldn't go wrong with this one. Succulent terrariums are all the rage now, thanks to their survival ability on little water.
5. DIY Hanging Glass Terrarium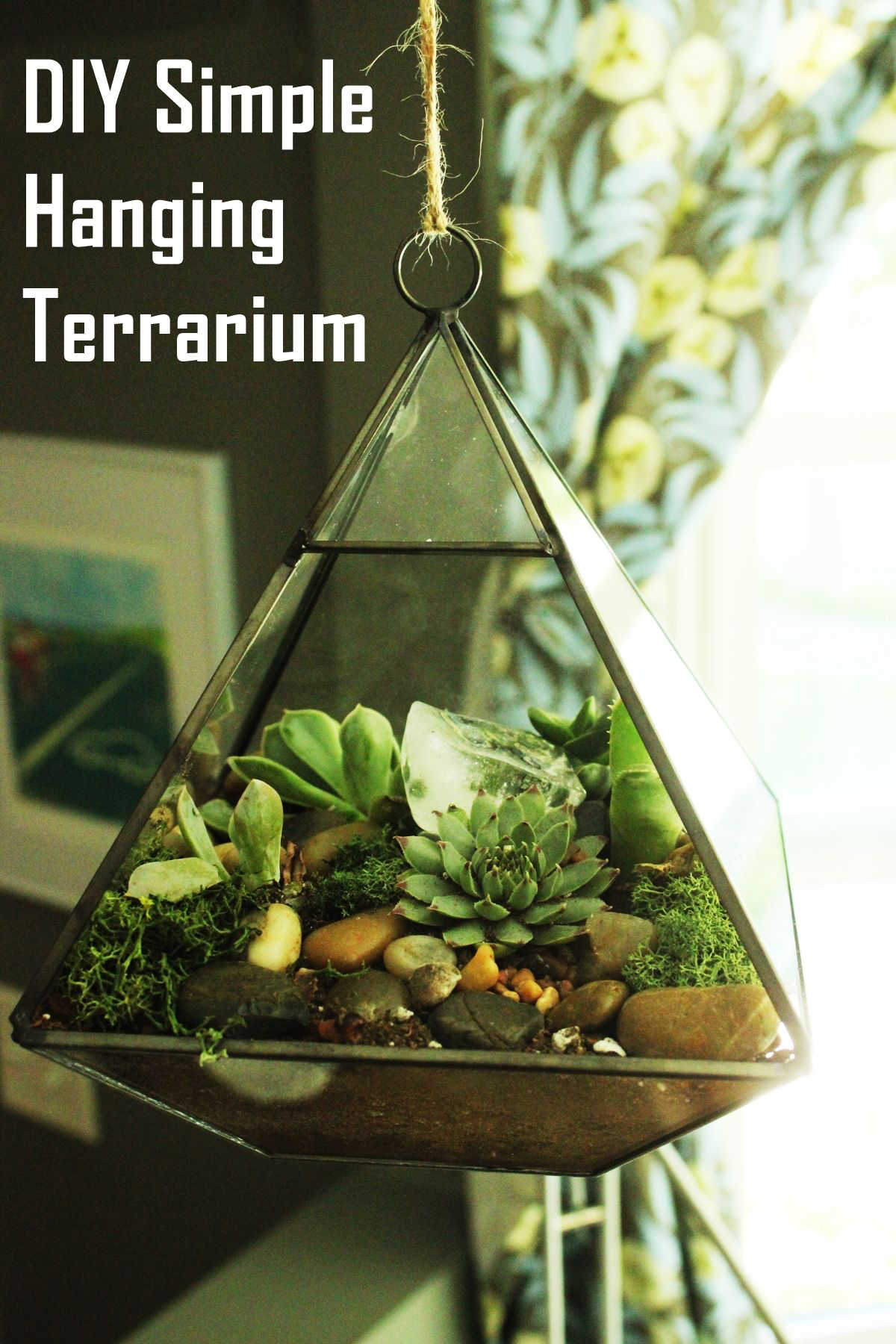 Image and tutorial by home edit
We're already huge fans of terrariums. But a hanging terrarium has most people excited like no other. When done correctly, you'll realize how easy it is to make. Ensure that your terrarium container has provisions for airflow because it is a plant terrarium. Also, allow yourself to go as crazy as you want with the accessories. After all, this gives a 360-degree view and should look pretty from all sides.
6. DIY Cookie Jar Terrarium Craft
Image and tutorial by Howdoesshe
I never thought I would find such an innovative use for my cookie jars, but here we are. Since you don't need to do much to care for a air plant terrarium, it might be a great starter project for some folks. You'll need some lively plants and soil for a DIY glass terrarium like this one to get started.
7. Easy Beach Theme Terrarium
Bring Nemo to your living room with this super cute and innovative glass terrarium project. It's a great way to alleviate the nostalgia of summer and bring some tropical plants into your home.
8. DIY Open Nerve Plant Terrarium
Image and tutorial by the Spruce
This particular glass terrarium is so picturesque. Many terrariums are closed systems, but keep them open for a while every day to allow airflow. For an effective terrarium, you can use any glass structure – mason jars, large jars, and even aquariums are great for this purpose.
9. DIY Miniature Terrarium Waterfall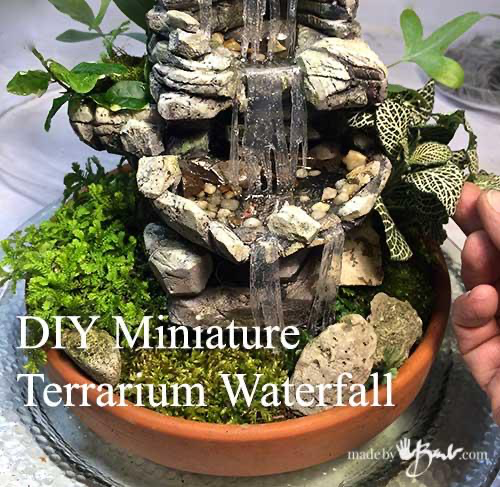 Image and tutorial by Instructables
Although this DIY terrarium doesn't feature a natural waterfall, it still looks beautiful and makes a great showpiece. You can grow plants with moss, and they will thrive well in this structure.
10. DIY Non Plant Terrarium Ideas
Image and tutorial by green wedding shoes
There is a plethora of things you can do with terrariums of different sizes. This fantastic mini terrarium idea is excellent as a placeholder for an elegant dinner party. This is, of course, going to be an artificial terrarium environment so that it can be used for longer.
Expert tip by TCH - Create a proper drainage system by layering small rocks or pebbles at the bottom of the terrarium. This helps prevent waterlogging and ensures healthy root growth. Adding activated charcoal on top of the rocks can further aid in filtering water and reducing odors.
11. Mason Jar Terrarium
Image and tutorial by Redtedart
If you want a garden right at your desk, this little terrarium idea is a great place to start. You can build your own circulated environment using a mason jar and some of your favorite plants. Glass terrariums don't require a lot of sunlight for the plants to grow.
12. Mini Terrarium Christmas Ornament
Image and tutorial by Inhabitat
Christmas is a magical time when wishes come true. And here we have a little project to bring some joy to you. Christmas ornaments are probably the best part of decorating your tree. And this mini terrarium ornament is a great way to do that.
Even though this is a closed terrarium, it will thrive as long as you give it a spritz of water every now and then. And it can be used long after your other Christmas decorations come down. Isn't that just great?
13. Woodland DIY Closed Terrarium Ideas
Image and tutorial by ruffled blog
Turn up the fantasy and mystic with this adorable closed terrarium project. It makes a lovely and thoughtful gift for your loved ones. Moss terrariums like these do not require any maintenance. Since these are more showpieces than actual plant projects, you won't have to worry about anything. Just sit back and enjoy the view this pretty woodland project provides.
14. DIY Hanging Geo Terrarium
Image and tutorial by Hometalk
Bring beauty and color into your home with this fantastic terrarium kit. Geo containers like this make it easy to see and access your terrarium. Succulents are the best plants for terrariums like these. They do not require a lot of water. Make sure to use draining pebbles or carbon pellets in either case, along with moss.
Expert tip by TCH - Choose plants that thrive in a humid and low-light environment, as these conditions are typically found within a terrarium. Research and select plants that have similar light and moisture requirements to ensure they can coexist harmoniously.
15. DIY Glass Terrarium Indoors
Image and tutorial by inspired by charm
This DIY glass terrarium is a great way to add some foliage indoors. All you will need to do after you set up is spritz water once in a while and leave your plants alone.
16. Mini Hanging Terrarium Globe
Image and tutorial by Helloglow
This is another cool beach-themed terrarium. And it's made with a tinted glass globe. I didn't think a beach-themed mini terrarium could get more dreamy. Use all the objects that remind you of the beach for this one – sea shells, fine sand, and, of course, some small plants as well.
17. DIY Fairy Terrarium Garden Ideas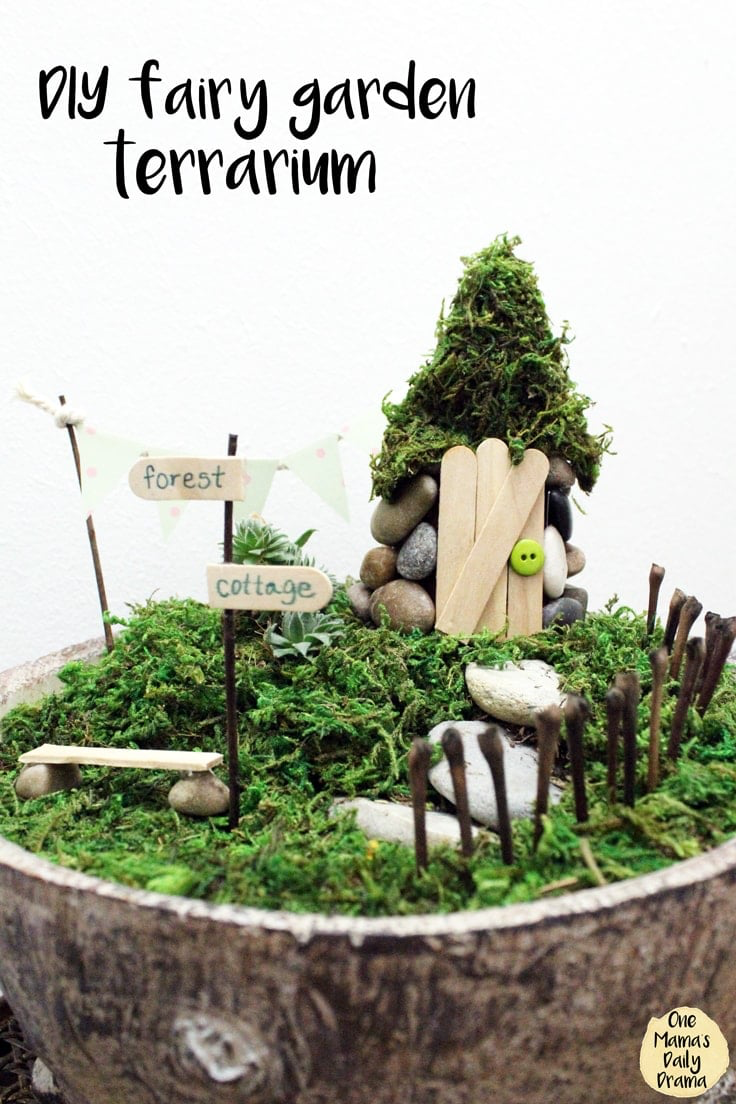 Keeping with the theme of fantasy and all things dreamy, here is another little succulent terrarium in a fairy garden. When we think of fairies, we think of mossy woodlands, quaint cottages, and maybe some toadstools.
This tutorial has it all. Use your terrarium kit to arrange everything from moss to twigs to the potting mix. After that, the magic is up to you. You'll have an awesome terrarium for your succulents and a pretty showpiece for your mantle. Isn't that cool?
18. Wine Bottle Terrariums
Image and tutorial by savedylovecreations
We got eco-friendly. We got succulents. We got gardening. And we got a terrarium. Could we ask for more? I think not. This super utility glass terrarium project can be used to make any theme of terrarium.
If you want to try your hand at woodland terrariums, now is your chance. This is essentially a closed terrarium with little airflow. Of course, you can open it up and change the scene at any time. With terrarium projects like these, it is easy to modify whenever you like.
19. Bottle Terrarium DIY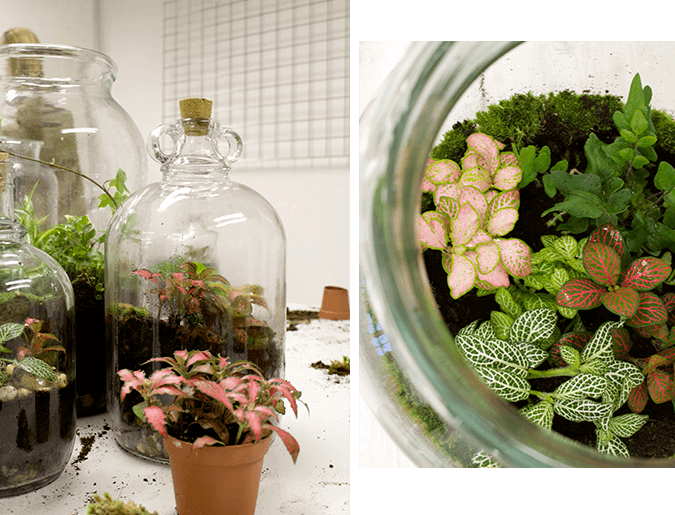 Image and tutorial by Wearethought
This project is not your average terrarium project. No, this one will need some patience and hard work. Of course, you can always use a wide next jar instead to make things easier. But where's the fun in that?
The good thing? You can use a variety of diy terrarium plants ideas to achieve a really pretty result. They also look perfect in glass terrariums. Whatever you decide, this type of terrarium is always a rewarding project to start.
20. Indoor Water Do It Yourself Terrarium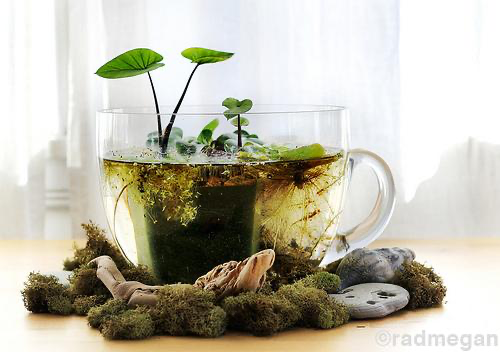 Image and tutorial by radmegan
Water gardens are great, especially in places with a long cold winter where plants don't thrive outside. Although this is majorly a plant terrarium, it still will require less maintenance than a closed one.
Also, with a few tweaks, this would make excellent frog terrarium ideas. Water terrariums are a suitable environment for frogs and toads. So get started with this if you're looking for something different in your home decor.
21. Geometric DIY Terrarium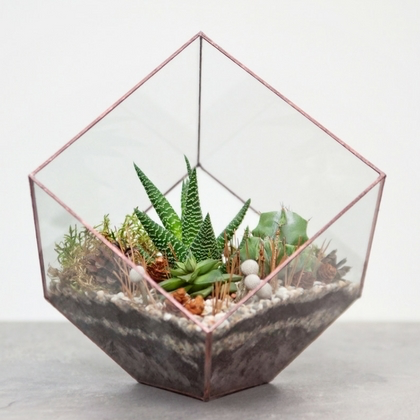 Image and tutorial by my garden life
You can create your own little world of imagination with a succulent terrarium like this one. Once ready, it can be a self-sustaining unit requiring very little maintenance. For open terrarium ideas, cacti are a charming option. Decorating your terrarium is the most fun option. The geometric containers also give an excellent visual addition to the look. Set them in a sunny location and watch them thrive.
Expert tip by TCH -  It's tempting to shower your mini garden with love and attention, but too much water can lead to a soggy disaster. Monitor the moisture levels in the terrarium regularly and provide water only when needed. Avoid overwatering, as excess moisture can lead to fungal growth. Prune or remove any dead or overgrown plant parts to maintain a healthy environment.
22. DIY Layered Terrarium – How To Make A large Terrarium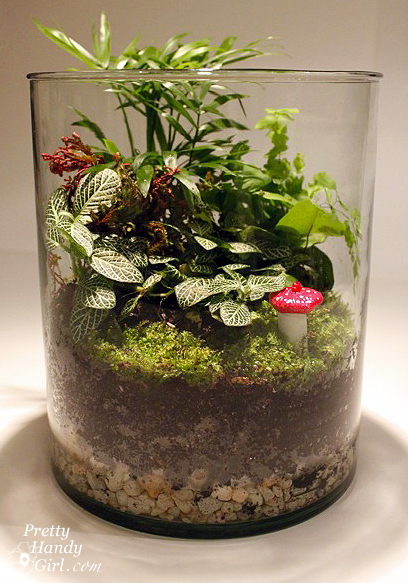 Image and tutorial by pretty handy girl
Making your terrarium can be much cheaper than buying a ready-made terrarium. You have more control over everything that goes into it. Also, you can choose how big or small you want your plant terrarium to be.
If you want to introduce more life to your environment, this tutorial can be turned into a snail terrarium. Just make sure to add terrarium plants according to your snail species.
23. DIY Terrarium Table
Image and tutorial by Instructables
If you're ready to take on a slightly larger project, this terrarium table is for you. Nothing is as satisfying as building yourself a giant terrarium and filling it up with everything you love. It is also an excellent lounging spot to admire your hard work and see the terrarium environment in play.
Of course, if you're adventurous, this could double up as a handy reptile terrarium, given its size. With those types of vivariums, keep your closed terrarium design escape-proof.
24. Colorful Plants For Beautiful Terrarium Ideas
Image and tutorial by Jennaburger
Most terrarium ideas DIY revolve around succulents or other small plants that don't require too much water. That's because it makes maintenance easier. However, that doesn't mean you can't have leafy plants grow happily in a terrarium.
One thing to remember with plant terrariums is the addition of charcoal to the bottom of the container. The other is that you don't overcrowd them. Terrariums like this one are self-sustaining environments. And if you decide to close the lids, they will last pretty long before needing to be rewatered.
25. Glass Bulb Terrarium
Image and tutorial by thehipsterho.me
This is probably the most delicate mini terrarium idea on this list. And for that, we say, why not. Innovative ideas like these really bring joy to all that see them. Also, a glass bulb terrarium would make an adorable gift.
26. DIY Hanging Globe Glass Terrarium Ideas
Image and tutorial by blog.theappolobox
Terrarium kits will come in handy while you make your own. That way, you won't have to hunt too hard for all the supplies. When you make your terrarium layers, especially in a hanging terrarium, you can add many colorful layers to make them stand out from each other.
The most fun part comes after you are done placing your plants in the terrarium. If you use gravel at the bottom of the container, keep with the theme and add a few decorations around your plants.
27. Lighthouse Moss Terrarium
Image and tutorial by Liz Marie blog
Now this is technically not a living terrarium. However, you cannot deny that it makes a lovely showpiece nonetheless. If you want a no-maintenance terrarium, use this idea for an excellent decor item for your center table.
28. DIY Resin Terrarium
Image and tutorial by resin crafts blog
Don't want to go the traditional route and make a boring glass terrarium? Try making one DIY terrarium container instead. That way, you can create an excellent resin craft while also making a unique terrarium to go with it. Doesn't that sound neat?
The best part about this project is that you can make a large terrarium or a mini one depending on your preference. And whether you decide to make a moss terrarium or add entire plants, it will look good.
29. Mini Spice Jar Terrarium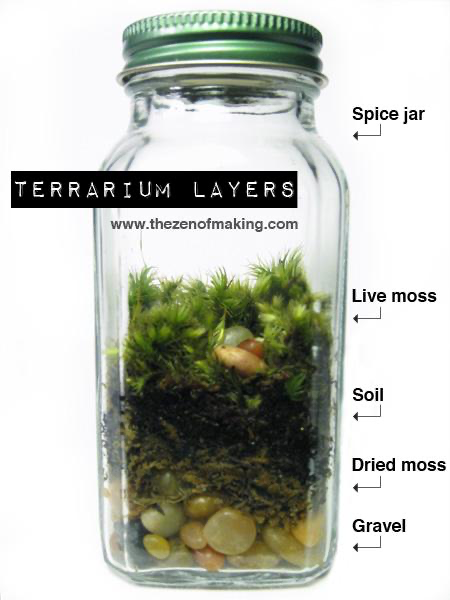 Image and tutorial by red-handled scissors
For a truly miniature project that is both adorable and highly efficient, try this tutorial. These tiny terrariums can do a lot to change the space of your home decor and add plops of green everywhere. And we all like recycling when doing DIY projects, don't we?
If you want to know how to make a terrarium on a small scale in a sustainable way, you've come to the right place. This particular project is a moss terrarium, which will require very little upkeep, considering it is a closed environment. Keep these in shady spots in your house and watch them thrive independently.
30. DIY Herb Small Terrarium Ideas
Image and tutorial by dukes and duchesses
If you thought a terrarium could only be for succulents and colorful, showy plants, think again. This project requires a Christmas ornament container, to begin with. Instead of succulents, plant your favorite herb seedling in your glass terrarium and see the magic unfold.
Place the mini terrarium designs in a sunny spot in your home – herb plants like their sunlight. Indeed, the possibilities of DIY large terrariums ideas are infinite. And this one will be such a treat to have in your home.
Expert tip by TCH - Create a mindful arrangement: When arranging the plants and decorative elements, consider the growth habits and sizes of the plants to avoid overcrowding. Leave enough space for each plant to grow and spread naturally. Experiment with different heights, textures, and colors to create an aesthetically pleasing arrangement.
31. DIY Terrarium Lamp
Image and tutorial by Craftbits
If you want a statement project for a small space, go for this pretty lamp sand art terrarium idea. You will get both light and green at the same time. And we cannot have too much of either.
It would be advisable to use air plants for this type of project. They don't need any soil and thrive on the moisture present in the terrarium. Using colorful moss can add a pop of color. Go ahead and try this one for yourselves.
32. DIY Candle Plant Terrarium Ideas
Image and tutorial by Momcrieff
Who would have thought that we would be able to use a terrarium as a candle holder? But here we are. This candle terrarium tutorial is a great way to light up your work desk. Of course, if you're using succulents and soil in your terrarium, it is advisable to stick to battery candles. Those will last longer and go well with the succulents.
This succulent sedum terrarium is a great way to offer a warm glow to your center table and show off your creativity. Check out the full tutorial and try it yourself!
33. Spooky Pumpkin Terrarium
Image and tutorial by DIY Candy
Introducing the "Spooky Pumpkin Terrarium" – the perfect blend of Halloween chills and gardening thrills! It's like a haunted house for plants, only cuter and less likely to scare your green thumb away.
34. DIY No Crae Required Water Terrarium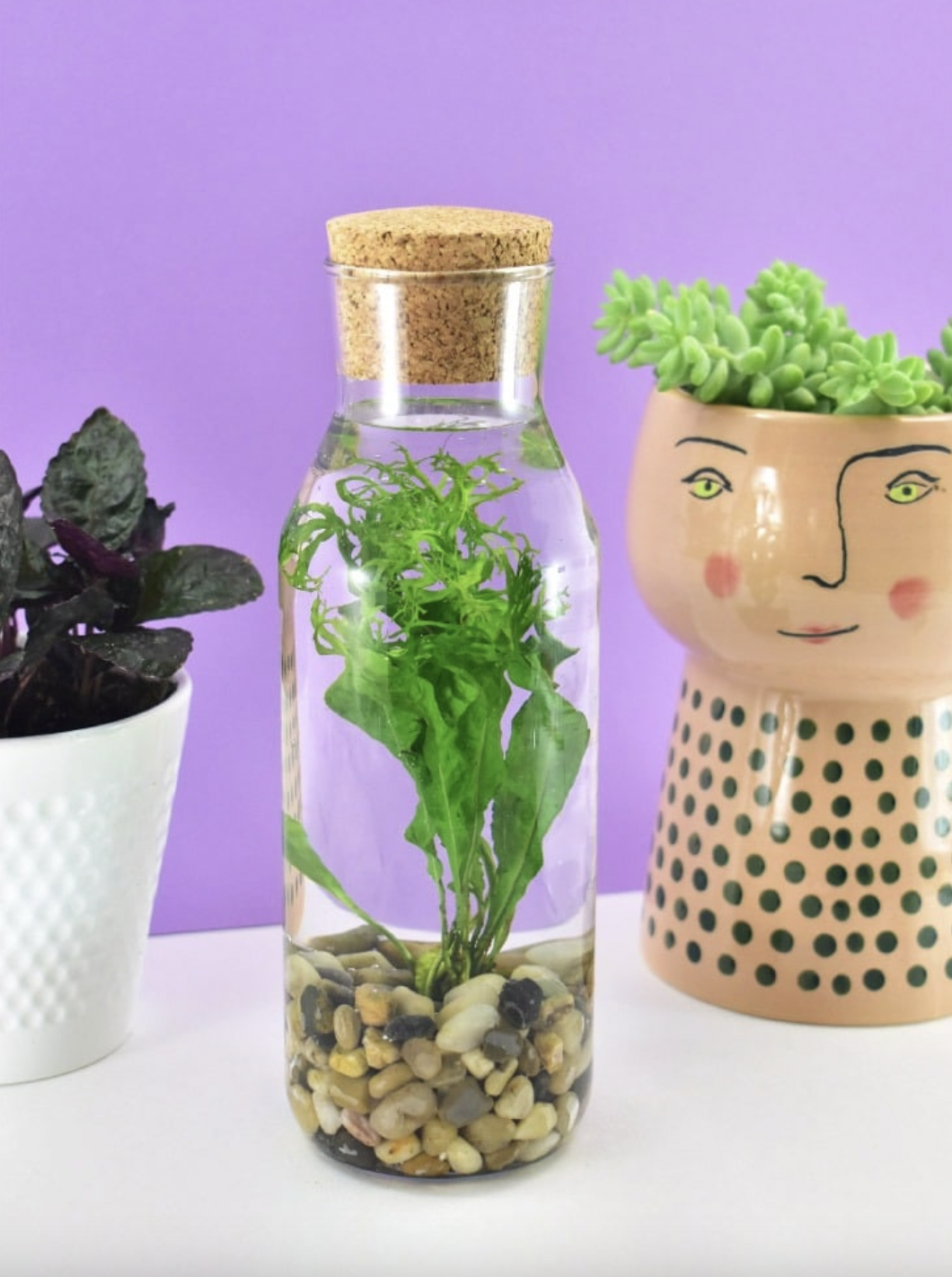 Image and tutorial by Dream Little Bigger
Gone are the days of struggling with intricate crafts and impossible instructions. With this water-based wonder, you'll become an instant indoor gardening guru without lifting a finger. And the best part? This terrarium requires zero to minimum care.
35. Beautiful cactus Terrarium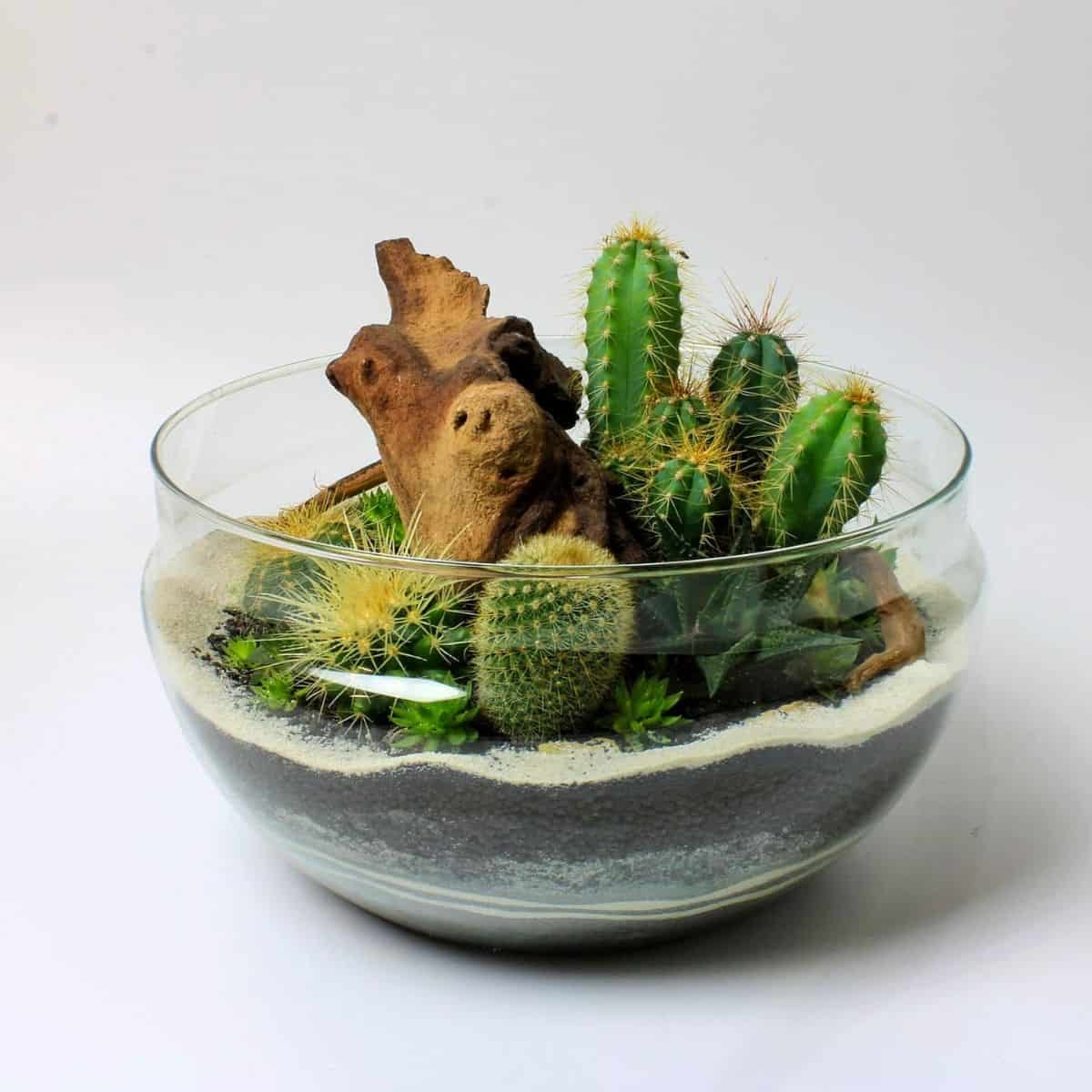 Image and tutorial by Terrarium tribe
Looking to add a touch of prickly pizzazz to your home decor? Introducing the DIY Beautiful Cactus Terrarium! This fun project combines your love for gardening and questionable crafting skills into one unforgettable experience.
FAQs
1. What should I put in a terrarium?
In a terrarium, include small plants that thrive in a humid environment, suitable substrate or potting soil, decorative elements like rocks or figurines, and tools for planting and maintenance. Monitor water levels and ensure proper care for the selected plants.
2. What should be at the bottom of your terrarium?
A proper terrarium bottom includes a layer of pebbles for drainage, activated charcoal to filter water and prevent odors, and a layer of sphagnum moss to separate the soil from the drainage layer.
3. What can survive in a closed terrarium?
Some plants that can survive in a closed terrarium include Fittonia, Selaginella, Pilea involucrata, Peperomia species, ferns, Hypoestes phyllostachya, and Maranta leuconeura. These resilient plant warriors can endure a life devoid of fresh air.
4. How many plants should be in a terrarium?
It depends on how much you enjoy playing botanical Jenga. Aim for a balance between having enough plants to create a visually appealing terrarium while ensuring that each plant has sufficient space to grow and thrive. For a minimalist approach, a solitary plant can create a stunning focal point. On the other hand, you can channel your inner urban jungle enthusiast and fill that terrarium to the brim. But make sure to avoid overcrowding.
If you loved these Terrarium Inspiration, you can use the Pin image below and save this article on your 'Garden Ideas And Projects' Pinterest board.