Concrete planters have the optimal density to promote insulation and keep the soil at an optimal temperature. Their thick walls prevent leakage which could cause damage to the surrounding area. Concrete planters are also environment friendly and long lasting. To add to that they are extremely easy to make with few materials and tools. You can customize concrete planters according to your wish and they will be as visually appealing as the expensive ones you see in stores.
With so many choices, you could be a little confused about which one is best. That is why we have come up with a list of some amazingly easy DIY concrete planters that will add a unique touch to your living space or garden.
Also check out the following posts –
1. DIY Concrete Planters
Image and Tutorial by hearthandvine
Use this method to make adorable and simple mini planters that can be placed anywhere in the house, even on your work desk! Using the materials mentioned you can create these concrete planters at your leisure to spruce up your living space in as quick as half a day.
2. Gardenista DIY Mini Concrete Planters on a Budget
Image and Tutorial by gardenista
If you want something cute and easy on the eyes that you can stack in any corner, look no further. Here we have the steps to make a simple concrete planter that will be easy on your pocket and gets made in no time.
3. DIY Large Concrete Succulent Planters
Image and Tutorial by 46spruce
These concrete planters can be used to house multiple succulents and are so easy to make. All that you require are a few easy tools, some concrete mix and you can have your own succulent concrete planter ready.
4. Quirky Hypertufa Concrete Planter Bowl

Image and Tutorial by gardentherapy
This one is a rustic looking concrete planter bowl that will add a quirky element to your workspace. Use it as a planter for small plants and design the shape as you wish to make the most of your DIY experience.
5.Easy DIY Concrete Planter
Image and Tutorial by lovecreatecelebrate
These pretty concrete planters are eye catching and an amazing piece for your dining table or to place on your bookcase. Made using molds that you can easily find around the house, you can also design your own molds to use for later projects. Now this is recycling at its best.
6. Urban Square Foot DIY Concrete Planters
Image and Tutorial by homemade-furniture
These concrete planters are made using inner and outer molds repurposed from different household items. You can make them in any size you want and design or paint them if you like. It is sure to add a personal touch to your garden.
7. DIY Vase Concrete Planter
Image and Tutorial by instructables
An ordinary rustic looking planter that you can shape and design according to your style so that it is as unique as you are. The instructions are so simple to follow and the end result will make you proud of a job well done.
8. DIY Pigmented Mini Balloon Concrete Planter
Image and Tutorial by artsyprettyplants
These coloured concrete planters are unique and made using the most easy to find mold of all – Balloons! Every time you make these, you will marvel at how beautiful they turn out. And using color you can change the appearance of your planters instantly.
9. DIY Scalloped Concrete Planter
Image and Tutorial by thekimsixfix
Scalloped bowls can easily be found cheap in the stores. And now you can make your own scalloped concrete planters to add a touch of whimsy to your plants. Try this one, you will not be disappointed.
Click here for more cement planter ideas.
10. Simple and Easy Concrete Planter
Image and Tutorial by thegreenmadhouse
For those who want no fuss and noise, we have a simple concrete planter that is easy on the eyes and easy on your wallet. All you will need are old kitchen containers to make new houses for your beloved plants.
11. DIY Hanging Concrete Planter
Image and Tutorial by anikasdiylife
If you're the kind that likes hanging your planters then look no further. This simplistic concrete planter can be put up in a nice corner for a trellis effect. Add your own touch to it using spray paint if it fancies you.
12. DIY Ribbed Concrete Planter
Image and Tutorial by artsyprettyplants
Concrete planters can make for adorable and affordable gifts. This ribbed concrete planter is not only unique in design but also can be dyed in colors according to the occasion. Doesn't that sound like a bargain deal?
14. DIY Concrete Planter in Cardboard Molds

Image and Tutorial by domestika
A great way to repurpose old cardboard boxes is to use them to make molds for your concrete planters. They are easy to use and also, you're helping the environment. That's a win-win deal throughout.
15. Pretty DIY Concrete Planter
Image and Tutorial by hip2save
For those with a DIY spirit and patience to go, you can make these concrete planters while experimenting with shapes and sizes and different painting ideas. Pair them with succulents and you have a good planter that lasts years.
16. DIY Cement Concrete Planters and Garden Globes
Image and Tutorial by remodelaholic
If you like going big, then look no further. Even though these concrete planters are not going to be heavy, they will hold a big place in your heart and make for a nice personal touch in your space.
17. Cute DIY Concrete Planters
Image and Tutorial by instructables
Bring out your inner child with these cute concrete planters that will make anyone who looks at them smile. Perfect for housing baby succulents or other no fuss plants, you can switch up your space easily and they would make a great gift too!
18. Mini Showpiece DIY Concrete Planters

Image and Tutorial by lovecreatecelebrate
These mini concrete planters are perfect centerpieces. Like a few other mini planters on the list, you will be able to find most of the materials required around the house. Also, these do not have to house only plants; use them to store your jewelry or faux plants that will not need any maintenance.
19. DIY Cinder Block Succulent Wall
Cinder blocks can be found at any construction and will make for wonderful concrete planters. They can be stacked as mentioned in this easy tutorial or can be styled any other way you like. Since these blocks are already made, you only need to repurpose them according to your need and voila, your garden is transformed into one from a catalog.
20. DIY Geometric Concrete Planter
Image and Tutorial by lanaredstudio
This geometric concrete planter by lanaredstudio is one of the easiest on the list. Made with cardboard molds, you can size them as you wish and they are perfect for flowering plants. If you want to paint them according to your style, then go ahead and read the tutorial.
21. DIY Concrete Planter with Wood Feet
Image and Tutorial by anikasdiylife
If you want a base for your concrete planters then here is the tutorial for you. It is a fun touch to something that is already so easy to make and make for great beginner projects.
22. DIY Hanging Triangle Concrete Planter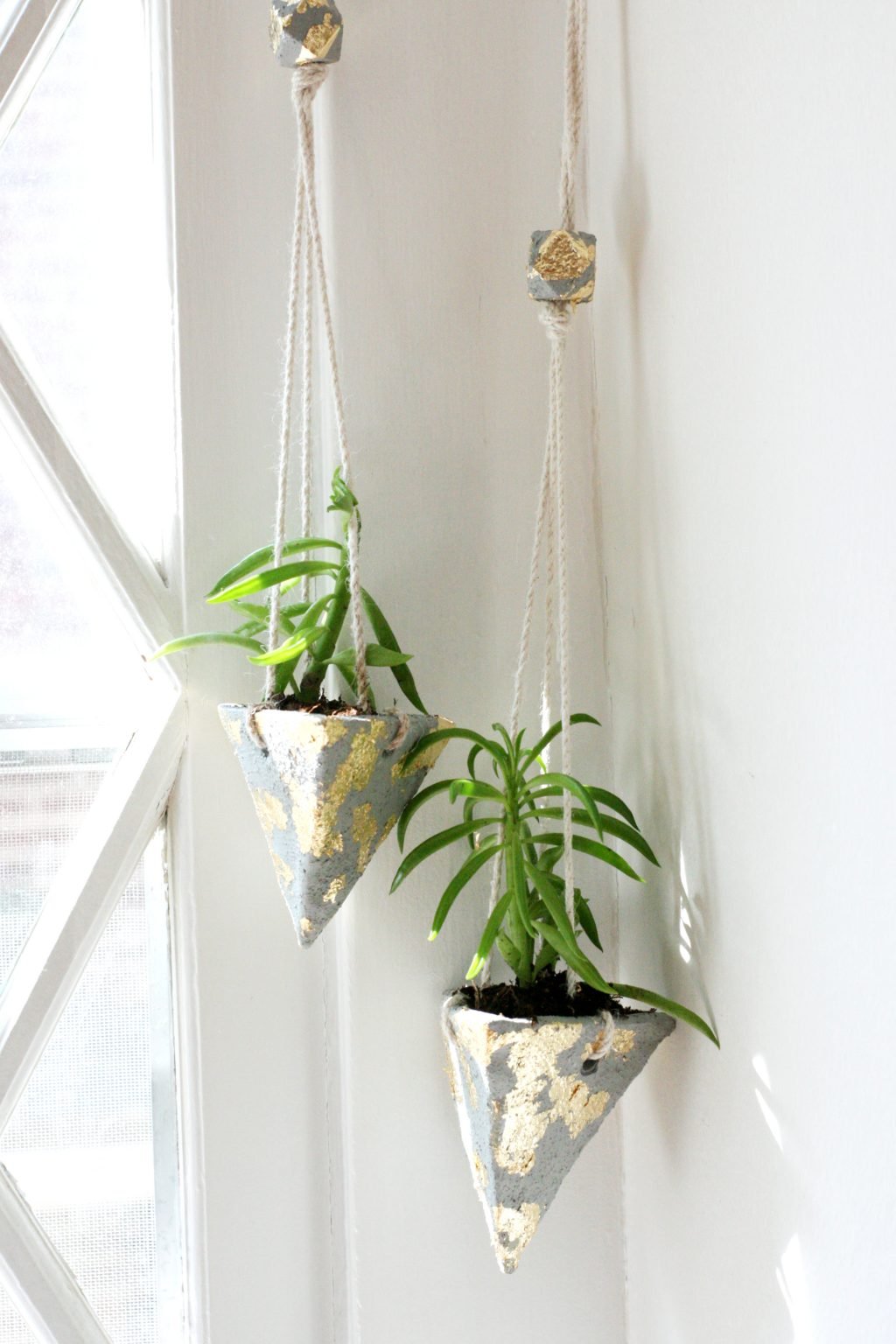 Image and Tutorial by prettylifegirls
A unique take on your usual concrete planter, this one is for those who like doing things a little different. If you like being artsy and colourful, this project is for you. The hanging concrete planter is perfect for bedroom plants or on the patio. Try this for yourself.
23. DIY Concrete Planter Flower Stand
If you like vases then you will enjoy making one yourself. These planters can double into flower stands. You can use them indoors when entertaining guests, give them as gifts, and personalize them as you wish. The possibilities are endless.
24. DIY Cement Concrete Planter
Image and Tutorial by skillshare
Another easy to make DIY concrete planter that can be made with materials mostly found in your home. Grow your succulent collection and change from using plastic planters to concrete planters that are easily customizable and good for the environment.
25. Artistic DIY Concrete Planters
Image and Tutorial by homecrux
If you want to add a truly unique touch to your concrete planters, you need to try this method that uses old cloth as a raw material. Interesting isnt it? This hypertufa concrete planter will look different each time and isn't that what we always want while decorating our garden spaces.
26. DIY Triangle Concrete Planter
Image and Tutorial by artsyprettyplants
You can choose your own concrete planter shape but how do you start with it? To make sure that your unique looking concrete planter lasts long, use this tutorial and start your little concrete planter collection. This triangle planter can be used for little quirky succulent plants or other small plants for your home.
27. DIY Concrete Planter with a Wooden Stand
These are wonderful to place on your bedside table and so easy to make, you will never want to buy them at the store again. Also, with the amount of fun you have making this, the end result is surely worth it.
28. Modern DIY Concrete Planter
Image and Tutorial by grayhousestudio
Want to make a concrete planter that is not your usual square, bowl or circular mold? You've stumbled upon the jackpot. This one looks like it would cost a lot at the store but you can make it so economical, it will leave you amazed. Try this modern DIY concrete planter to add a new edge to your living space.
29. Geometric Asymmetric DIY Concrete Planter
Image and Tutorial by abeautifulmess
Another amazing tutorial on how to create an asymmetric concrete planter that is sure to catch the attention of whoever walks into your home. This one is tried and tested and will not disappoint so go ahead and click on the tutorial to add this piece to your concrete planter collection.
30. DIY Rustic Cement Concrete Planters
Image and Tutorial by centsationalstyle
This collection of rustic concrete planters will give your space the feeling of peace and serenity that comes with being in the country side. And the design will elevate the look of your thriving plants. These concrete planters are easy to make but look like quality products. It is up to you to design them as you wish.
31. DIY Geo Faceted Concrete Planter
Image and Tutorial by crafts.tutsplus
A faceted planter that looks like it was made from precious metals. Yes please! This concrete planter is like the rest but also not because of it shape and colours. All you need is cardboard, some measurements, and lots of fun metallic paint to make your own metallic looking concrete planter that will deceive those who see it into thinking it is anything but concrete.
Green outdoor spaces can really calm the mood and make you ready for a good day. Have you ever thought of brightening up your homespace with the same greenery but don't know how to start? Do you think that commercial planters are expensive and that's what is stopping you? Plants need care and love with the best environment and that includes good quality planters. These concrete planter ideas are just perfect for that.
If you loved these ideas, you can use the Pin image below and save this article on your 'Garden Ideas And Projects' Pinterest board.