As opposed to the traditional methods, with each passing year, more and more art is being sold online. Even studios and galleries report that more than half of their sales come through the internet, meaning via online stores. This means more and more artists want to know – How to sell art online.

Most of the time they've never even met the collectors. Not only art collectors, curators and customers but artists too have started to sell their work directly to the audience, skipping the need for a middleman.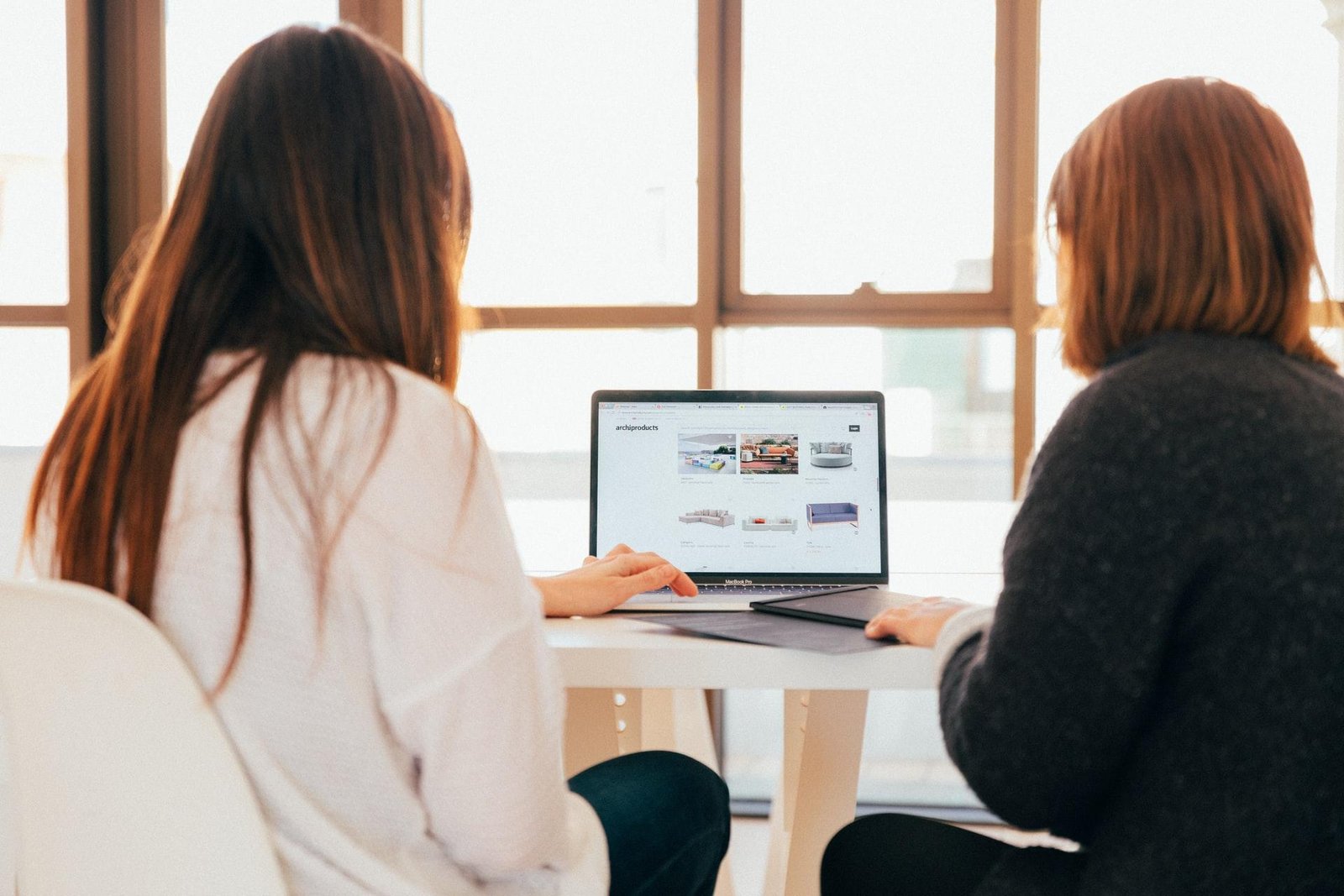 Once you graduate art school by mastering color theory and different brush techniques, the question that arises is – how will you market yourself to make most of your skills and your craft? What are the necessary steps to sell your art? How would you price your work and how much would the shipping cost?
With so many creator tools and channels existing, it can be quite confusing to decide which is the best source of platform for your artwork.
From expensive fine arts to niche crafts, the variety of options available for every genre of art is overwhelming. No matter if you're a painter or if you're a sculptor – You can make money by selling art online.
Also check –
Why Sell Art Online?
Today, independent artists can self-sufficiently fund themselves by selling artwork directly through different online platforms. While working with an agent or gallery is a great idea to reach wider audiences and clients with deeper pockets, it's no longer the only method to be a successful artist.
However, it can be quite overwhelming to decide on a channel where you can display your art for the world to see, given that in the last two decades, (thanks to the digital evolution) the ways of how we buy and sell art has changed drastically.
But don't worry, we've got you covered!
There's no need to look any further as we're curated a list of suggestions so that you can sell art online, but before diving into different methods on how to sell art online, let's list the different art forms that can be sold online.
5 Types of Art That Sells Best Online
Thanks to the digital era that we are living in, it's possible to sell almost everything online. From buying cups and mugs to selling houses, every transaction can be completed online.
Similarly, no matter which form of art you craft – Decorative arts (paintings, pots, or sculptors) or Commercial (Multimedia and logo design) arts, you can make money selling art online.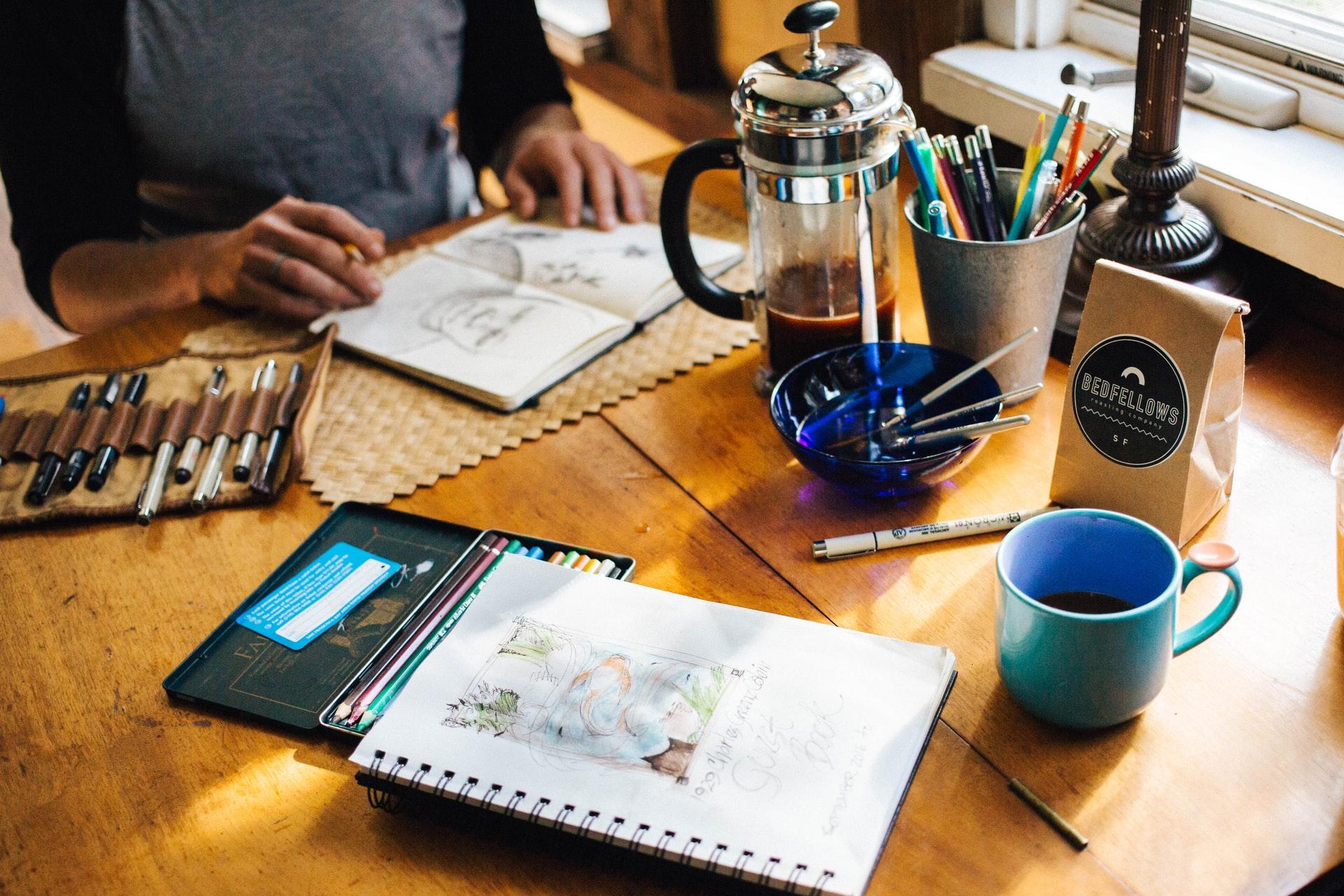 With the ease of the internet, distributing aesthetic art pieces across the globe now is very easy. Now, let's examine the art forms that sells best online:
1) Paintings
The most popular art form that remains dominant in the marketplace is paintings. From Abstract painting and modernism and to some lesser-known forms of art such as surrealism, the market is flexible for all types of art. These usually include acrylic, oil and watercolor paintings. In recent years, paintings are recognized to contribute to the highest percentage of online sales.
2) Prints
Prints are artworks created by printing, normally on paper (Canvas prints), but also on fabric, wood, metal, and other surfaces.
Limited printed edition designs (arts) are the second most popular medium in the online art market. Most of the prints bought online are comparatively budget-friendly to the buyers. In fact, in the last 12 months, 72 percent of line art buyers said they purchased a print! which is way more as compared to last year.
3) Photography and Media
Yes, not only graphics and logo designs but photographs and videos too can be sold in the online marketplace. From Wildlife, Still life, Abstract to Editorial, Architectural and many more – Photography and new digital media is the third most popular in this category. This is a type that's in demand, and it's most likely to increase its appeal for young buyers. More than 50 percent of the online buyers agree that they bought one or more in the last year.
Read – 5 Best Website Builder for Photographers
4) Drawing and Sketching
Sketching is one of the oldest art styles and is enjoyed by every age group. From crayons to charcoals, each sketch drawn on a canvas speaks a thousand words. Lately, drawings are increasing in popularity among online buyers as more and more collectors are attracted to the old-school style of designing and sketching. This is up by 30 percent as compared to last year, making it one of the 5 types of art that sell best online.
5) Sculptures
Sculptures are a bit more expensive as they cater to buyers with bigger pockets. From stone and wood carving to clay firing, every modern piece of art is sold and collected by connoisseurs. Apart from the pricing aspect, sculptures tend to be quite large and heavy which makes them quite difficult for shipment.

So, it probably explains why it doesn't rank high on the list as compared to the other art pieces. Nevertheless, in the past 12 months, there has been a 31 percent increase in the sales of sculptures that are brought through the online store.
5 Different Ways to Market & Sell Art Online
Now as we've listed different art forms that sell best online, let's look into different ways where you can establish your customer base and monetize your skills.
1) Collaborating with Art Galleries
This is one of the oldest tricks in the book. Collaborating with art studios doesn't only gain your exposure to their already existing customer base, but it also helps find hefty clients and art curators. Usually, there's a middleman rather than an agent who helps you throughout the process and earns a commission on each of the items sold.
Some independent artists may be disinterested in the idea of marketing or selling their own original art to curators and rely on gallerists to handle the business aspect as even the oldest, as of today – this is not the only way to gain exposure and make your name in the art world.
2) Setting up your store
You're done creating that beautiful piece of art and now you are ready to share it with the world, now what? Before you start, it's good to make sure that you have the basic foundation covered. This means, not only well-designed items for display but also you need to have a website/ virtual store to showcase your work.
Once you have a store setup, it'll be easier for your customers to navigate through and buy the desired product. Regardless of whether you're selling your work via an art studio or elsewhere, it's very essential to have your own website. In today's time, building a branded web store is just a few clicks away.
Website builders like Squarespace give you complete customization of your website without having to touch a single line of code. Even Shopify is pretty easy to learn and use, as the platform is particularly built to set up an eCommerce store – the drag and drop interface turns an artist into a decent website designer.
Content curators are always on a hunt for new and unique talent, and they often look to these websites to discover their true potential. So, putting yourself out there would help you gain a fantastic opportunity to share your work and draw attention to your creations.
Read – Squarespace vs Shopify – Which E-Commerce Website Builder Is Best?
3) Online websites and galleries
Combining the first two suggestions, we can conclude that showing your work on online art galleries and the marketplace allows you to enhance your range of potential customers. But didn't selling on the internet promise to ditch the middle man, so that artists can sell directly to the customers and keep 100 percent of the sale? So why rely on online studios?
Well, apart from saving the stress of starting your own business online, it helps you to gain a wide range of already established collectors. The best online galleries display your work for a large audience who are actively looking to buy art. And yes, people are buying art online.
According to the Hiscox Online Art Trade Report 2020; The online art market sales reached an estimate of $4.63 billion in 2019.
Before enrolling with an online gallery, make sure that the online gallery is reputable and it offers payment protection, promotions and guidance throughout the process.
If you wish to collaborate, here are some of the best online galleries:
Still not convinced? Check how Daniel Mullen, An artist based in Amsterdam – sold over 30 paintings on Saatchi Art in less than two years.
4) Sell On Online Marketplaces
If you still do not wish to be associate with any online gallery here's a list of the best places to virtually sell your art:

eBay is considered to be the world's largest auction site. Many artists are successful in using eBay as the platform has no restrictions. The guides they sell are very informative and offer a step-by-step process on how to display artwork in the best light, giving artists a better chance to sell their craft.

To get a good idea of what kind of art sells well on eBay, Follow @ebayart on Twitter

Yes, that's right – From A to Z – Amazon has it all! In 2013, Amazon entered the fine art fray, opening a special corner for art lovers named – Amazon Art section. They even have a selection of Guest Curators in the digital market to bring the gallery feels.

Amazon only sells original paints, watercolors, and two-dimensional mixed media with the exception to some limited edition photography and prints. Unfortunately, sculptors will need to find another alternative as three-dimensional art is prohibited on the site.

Note – In order to sell your art, Amazon has a pre-approval process. Even if you sell crafts and other creative items, you can sign up for a seller on Amazon Handmade. It specializes in supporting individual creators by giving them amazon's professional selling plan for free of cost.
It is one of the world's largest online art marketplace and print-on-demand tech companies. They have been helping artists to sell their products since 2006. Fine Art America fulfills each order on behalf of the creator and delivers it within 30 days with a money-back guarantee. It also helps artists and photographers with sales and marketing tools to simplify and accelerate their careers.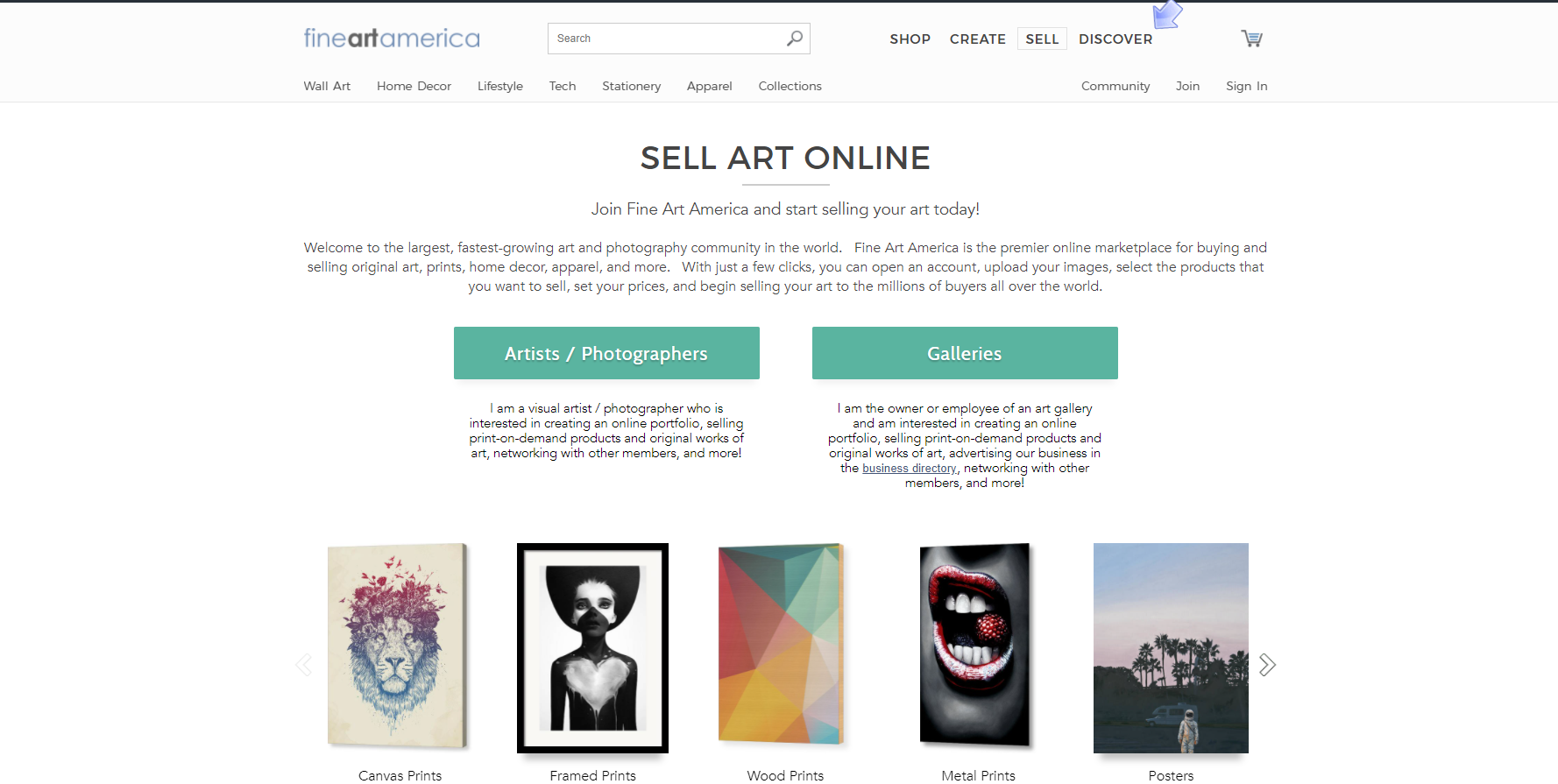 Fine Art America is now home to hundreds of thousands of artists, illustrators, graphic designers, photographers and global brands.
Artfire is a marketplace and community where people from different corners of the world come together to buy, sell and interact with art. They also offer many forums, articles, and podcasts to keep the buyers and sellers updated with the trends in the art business. Similar to Artfire, there's Etsy. Ever since its inception in 2005, it has been the go-to online marketplace for vintage and handcrafted items.
No matter what artwork you produce, from handcrafted furniture to sculpted jewelry, Etsy is the place for you. It also provides a huge number of resources from marketing tools to handbooks on branding, sales and bookkeeping which helps you with the business aspect of your creativity. Thus, the site has an average of over a million active sellers.
This online marketplace describes itself as "a hybrid art gallery, photo-sharing service and a print-on-demand service" which offers artists a place to sell their art with high-quality printing and framing options. Over the years it has built a supportive community where you can find tips to improve your artwork and marketing tips to sell your art better.
Artfinder sells only original art – meaning, no posters or reproduction prints but focuses on selling digital art, collage, photography, sculpture and paintings. It's a curated online art marketplace that has a mix of UX, American and global artists.
In order to be accepted and work with them, artists have to submit their best work and a short statement displaying their skills and interest. Once accepted, they have a variety of seller plans available, with different commissions taken out. The commission margin depends on the plan chosen.
Artpal is a unique online gallery that is 100% free. ArtPal allows freedom to the artists to either sell their own artwork or use the print-on-demand feature, giving them flexibility on how customers buy their product. Meaning, they can sell their original artwork as well as print work along the side.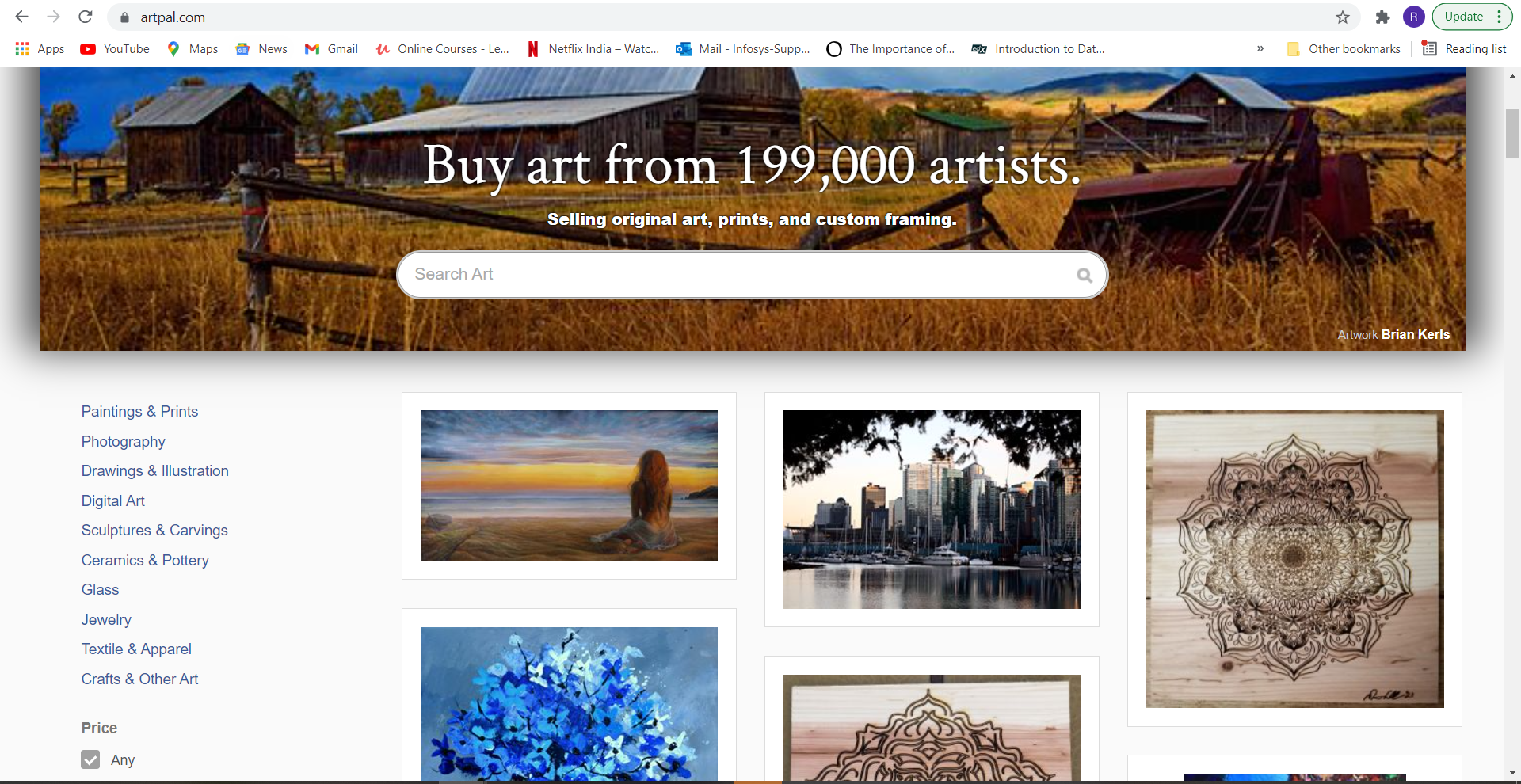 ArtPal represents over 199,000 artists with no membership fees or commission and provides an unlimited space to sell art. It takes care of the business aspect, which allows you to have more time in being creative.

Like some of the other platforms listed, ArtPal too provides an online learning platform where you can learn more about branding, pricing products and shipping costs, sales, and tips to help you achieve your goals.
So there you go! These websites would sure help you to build and grow your fanbase in the art community.
Note – The 7 listed websites aren't the only websites that sell art, but are some of the most popular ones in this online business.
4) Social Media
If you do not wish to go through the hassle of building your own website or connecting to different art galleries, social media is a better-suited option for you as it's a lot easier to wrap your head around and requires much less effort as compared to designing your online store.
Some artists may consider digital platforms like social media as a tool where a lot of random people do an awful lot of shouting. But these days, shouting is what gets you heard. Having a unique voice (a special style of form artwork) helps you to stand out from the crowd.
Among the sea of options, select a platform that works best for you. If you would like your work to speak for itself, use Instagram or Pinterest – as it's known that an image is equivalent to a thousand words.
If you wish to get in touch with like-minded fellow artists, use Twitter or Facebook. Even Reddit these days has tons of creative subreddits to contribute towards an artist's network and success.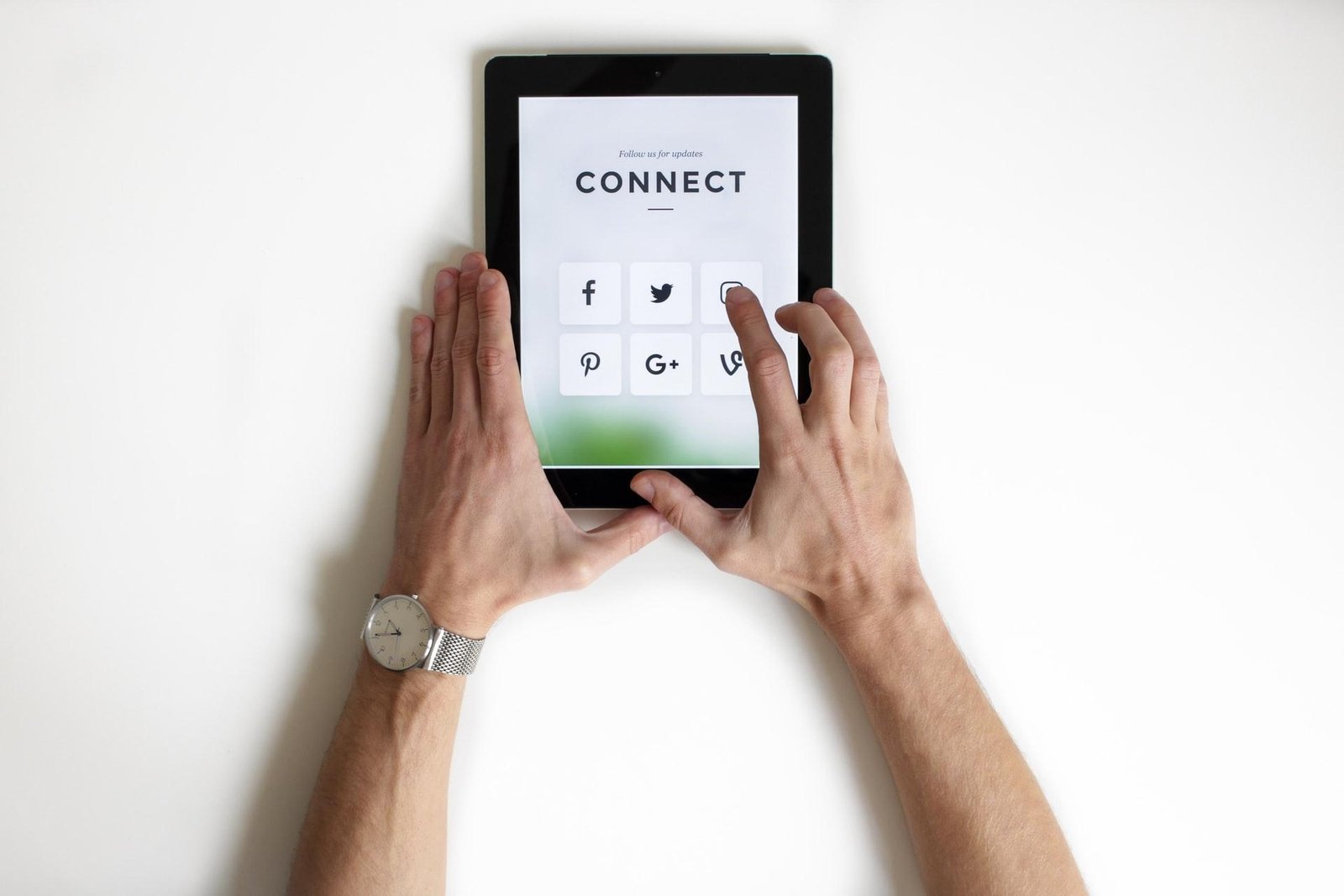 Each social network has its own strengths and weaknesses and depending on your need and familiarity with the platform – one can leverage it for the best outcome.
Since you are trying social media platforms, running digital ads is another way to sell your art online. Out of all the social networking sites – Facebook, Instagram and Google Ads help you to gain a wider audience within a limited time frame.

However, you need to hire an expert because mastering ads is another ball game where you wouldn't wish to spend your time and money.
5) Custom Art and Merchandise
Selling print-on-demand and custom art is another way to establish your business online.
You can craft designs for limited edition prints or merchandise – for example, wall frames, seasonal fashion wear, merch, etc.
Apart from this, you can even submit your creatives for publishing – i.e. for art books, magazines etc. Today, many artists, photographers and illustrators are taking book publishing into their own hands as the publishing world is growing at a rapid rate and the quality gets better every year.
7 Tips for Artists Selling Art online
Here are some brownie tips for you to keep in mind to sell your art better.
1) Be a Storyteller
To be an artist, rather a successful artist; sometimes a strong visual isn't enough. In fact, the stories are a reason why some projects stand out in the sea of anonymous artwork. If you're at the beginning of a major project or series, consider the right time to publish your work.

Often, a series of work helps to build a narrative that simulates the interest among the audience. That being said, in case you have an absolute stand-alone masterpiece – don't hold back to show it off to the world.
Remember – Words have power, and you are an artist already. Be a wizard and leverage the power of words before submitting your work to the press or simply displaying it online.


While doing so, make sure to share your story – vision is the key here, and these words can turn out to be a deciding factor in whether or not something gets picked.
2) Be Social
When you decide to start selling art online you not only have to set up an online gallery but you also have to brand your business. A brand image is crucial in the age of digital maturity, it tells your story and helps to connect better to the customers – As you become the BRAND.
Today's business of selling artwork online, cannot exist without social media. Be it Facebook, Instagram, Pinterest, YouTube, or Twitter – it's not enough to set up the account; you need to use them efficiently.
While some say you have to use them all, it's better if you commit to one or two platforms that are the best fit for you. If they have an online shop feature like Facebook or Instagram – it helps you to facilitate sales and reach a wider audience.
It sure isn't your only source or main channel for selling but is sure a strong passive source to build a customer base.
Apart from setting up and optimizing accounts and running ads, engage with your customers. Use hashtags to build a community and get discovered. If someone comments or shares your work, let them know you noticed by simply replying to their comment or reposting their share saying thank you.
Remember – This is an exercise to build support and not mere followers. The numbers don't matter as long as you have the right ones.
3) Have an online presence
Once you start making art and work on incredible projects, it is important to curate the masterpieces at a single point source that can be easily accessible. It helps you to display credibility and find better clients and prospects to work with in the future.
Apart from having social media accounts, building a website or having an online portfolio to display your niche of art has proven to work much better in terms of finding new customers.
You can place your portfolio under larger platforms like Behance, Vimeo, Flickr and many more to find fantastic opportunities to share your work and build a community. Many Content curators and artists often search the internet to discover new aspiring talent.
So remember to put yourself out there, and make this world your canvas.
4) Take Care of SEO
In case you decide to build your own online shop, or have an online website or portfolio – Make sure you take care of the Search Engine Optimization.
SEO is all about choosing accurate and functional keywords that your customers are searching for. It is about connecting searchers to the items you have to sell. They work the same way as hashtags work on Instagram – You add a hashtag describing your image, but it also helps you to get discovered!
Read tips on how to optimize or improve SEO and don't forget to use them, as they say – A website that is well optimized for searches "speaks the same language" as its potential visitor.
Remember – Always describe your artwork with what your customers are searching for.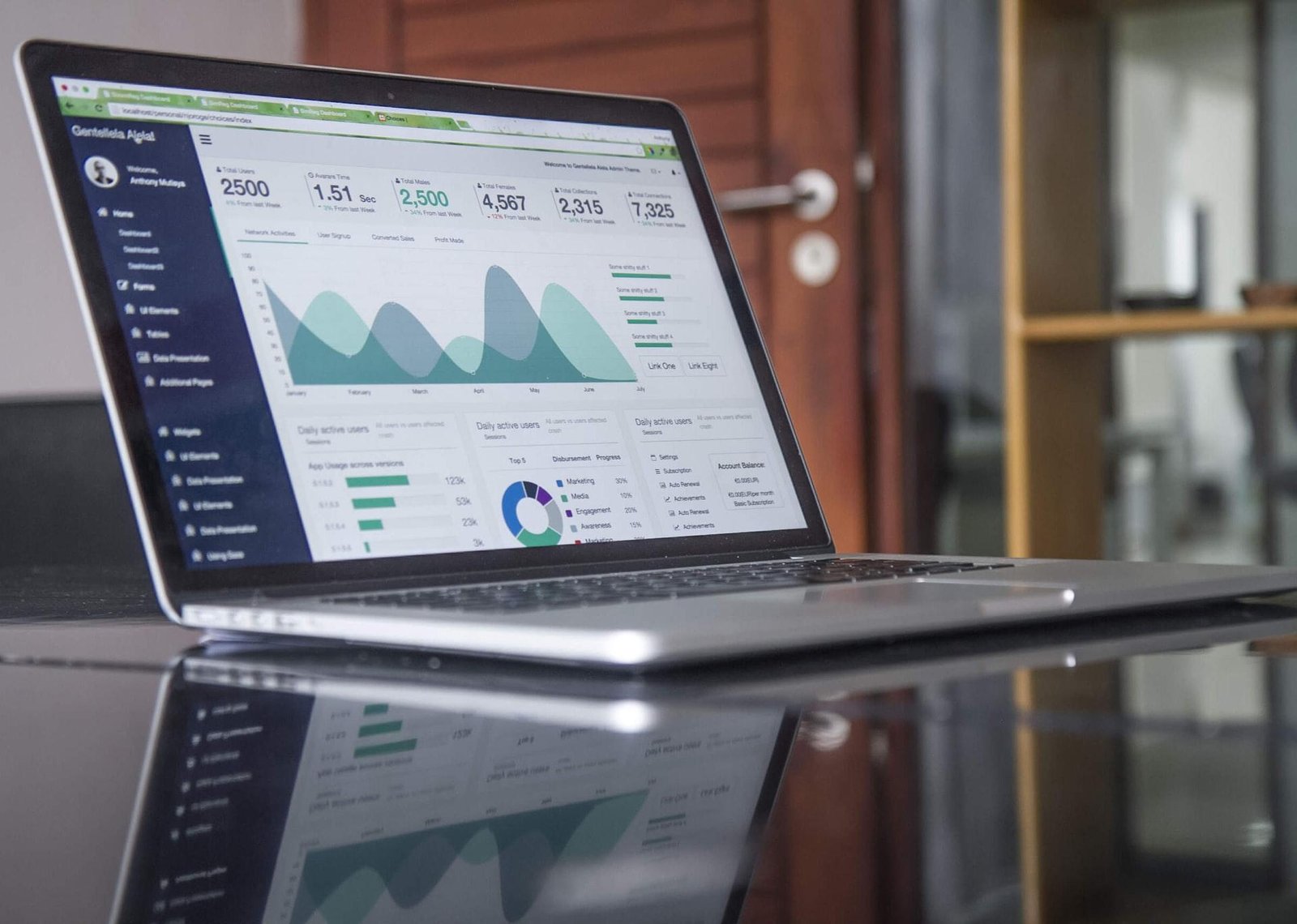 4) Do your Homework
Know your customers – Knowing where your potential buyers are is another key aspect when it comes to selling art online. keep an eye out for different platforms and online galleries where you can find new customers for the creatives in your niche.
Know current trends – Keeping up with what's happening in the world doesn't only inspire a new art but could also help you go viral on the internet. Use Instagram and TikTok to trend your artwork with mini video clips.
Know the rule – If you are working with the publication or a gallery, check if they follow specific guidelines. You don't wish to flood your inbox later with the long not-to-do list.
Remember to keep up with the current times.
5) Remember Offline > Online
Online Galleries and Social media aside, there's no better place to connect directly with collectors and admirers of your work than going local. Nowadays, it is very easy to set up a website and you don't even have to learn how to code. Website builders like Webflow automate code at the backend as you work at the front end making sure your website looks artistic and pretty.
But remember – Online sales will never replace face-to-face sales. The visuals create a strong impact on the prospect's mind – as you know Images speak too.
According to The Online Art Trade Report by ArTactic and Hiscox, 79 percent of the respondents said they wouldn't purchase artwork before inspecting – thus, they prefer buying items in-person. Hence, you should continue to exhibit your artwork in as many offline spaces as possible – like your studio, Art fairs and galleries.
6) Explore and Keep Growing
As necessity is the need of invention, exploration is the need of creation. As you keep exploring and inspiring new ideas, it's equally important to keep up with the trends and essential tools which will help you manage your clients and sales.
Apart from building a social presence, keep an eye out for your role models, competitors and other artists to know how they market their artwork. Whether they have started a series of blogs or send out a newsletter, it's essential to learn different strategies which will benefit you in the long run.
One can find many platforms existing online – One might display tutorials on networking and building your own art community, others might give hacks on branding and tips on sales strategy. Join a variety of different line platforms and share your opinions. Other than sales, it might provide you with a stage to help and collaborate with emerging artists.
Remember to learn and network proactivity.
7) Never give up
Starting something new can always be a bit frustrating and overwhelming at times, the same goes with selling your art online. Just because you don't reach up to 'X' amount of estimated sales in your first month, doesn't indicate that people don't like your art.
There are many reasons why one project may not be resonant, but that doesn't mean you give up on creating art and stop finding opportunities to sell better.
Think carefully about what's getting more engagement and use the insights to make critical improvements. The whole process isn't necessarily easy but over time, it only gets better.
Don't be disappointed in a week or two when nothing seems to be changed. After six months, take a look back – and you'll recognize the growth only to realize that you do not only excel at art but also at business!
Soon you'll be giving tips to newbie art creators on how to make art and sell it better online.
Remember as they say – It's more about the process and the journey than the destination.
Lastly, coming back to our main question –
Should I Sell Art Online?
Well, let's face it – making a living as an artist is not an easy job. It's a constant struggle/hard work to maintain a steady-state of income, month after month. But selling online can help you build a wider customer base as you aren't geographically restricted to sell to the local audience.
Along with this, you skip the need for an agent to display your work in any gallery. You save up a lot as there's no need to pay commission to the publisher who sells your art for you. You can keep 100 percent of the income.
The online art marketplaces do charge a certain margin to display your art, but it can range from 1 – 5 percent on the lower end and can go up 10 percent max at the high end. It is way better as compared to selling art in person.

That being said, selling art online has some cons too, such as – An artist has to put in extra efforts to stand out. You have to consistently network and engage with potential customers.
There's a lot to juggle to ensure that the right people find your art. Many buyers usually expect discounts or lower prices on a particular artwork if they're buying it online. Prospects happily buy art prints and photographs whereas canvas prints hardly make as much as the original work.
However, you can raise your retail price points over time – once you establish a good reputation and build your brand in the art world, you will have a base of customers and art collectors that love and respect your Art!