If you're an artist, one of the most difficult things to do is showcasing your work and making sure that it reaches as many people as possible. And there is no better way to do that than by building the right kind of website for yourself.
While you will have the artistic skills to be on point with your art, the same might or might not be the case when it comes to building a website. That's why we are here to help you out.
A good website made with the purpose of showcasing your talent can help you with a number of things such as:
Making sure you have an online presence as an artist
Making the right people reach you
Makes you look really professional
Be a starting point for you to generate revenue through your art
So we are here to put an end to all your troubles by listing down the 12 best website builders out there that will offer you all you want as you build your online presence. Before getting started, let's take a quick look at them:
Squarespace
Wix
WordPress
Pixpa
Weebly
Shopify
Godaddy
Strikingly
Duda
Jimdo
Voog
Zyro
For more clarity and to make sure that you make the informed and right choice, we will also break down all of these websites into certain categories, namely:
Features for Artists
E-commerce
Pricing
Pros and Cons
Reviews
You may also read our other guides – 
How to Sell Art Online & Make Money in 2022
5 Best Website Builders for Photographers
10 Best Portfolio Websites Builders For Creatives
1. Squarespace
If you're someone who absolutely adores designs and want your website to be as visually appealing as possible, Squarespace is the right pick for you. With tons and tons of templates to suit your needs this platform is all about giving you an edge over other, more traditional websites by being aesthetically pleasing and easily customizable at the same time.
There are a lot of artists, big and small, that use Squarespace. It's excellent customer service, beautiful and minimalist designs and it's all inclusive pricing are all reasons why people hate switching to any other platform and have built a number of their websites on it.
All you need to do is head over to Squarespace.com and click on 'Get Started'. A number of templates will now be appearing before you and you can filter all of them according to what you need your website to do.
You can then sign-up which is absolutely free and you are even rewarded with 14 days of free trial that you can use to explore all about squarespace and how it can do wonders for you.
Squarespace Best Features for Artists
Squarespace has a huge variety of templates to choose from and hands down they are one of the most unique ones that will enhance the look and feel of your artwork by complimenting it.
Squarespace's galleries give your artwork enough breathing room. For eg. If you want to showcase plenty of photos, most of the templates will have their padding and spacing just right for each of your photos to have a space of its own.
Gives you the option to sell and publicize your art with its marketing and SEO options so that your online presence is really huge.
Read – 50 Most Creative Squarespace Website Examples For 2022
Is Squarespace suitable for E-Commerce?
Whether you want to just set-up a professional portfolio, or you want to build a website to earn your income through your art, Squarespace has got you covered. It covers all the services that you might need to smoothly run an online store for your art and to maintain a customer database that you can reach easily when need be. Although it is not really easy or handy to use, once you wrap your head around it and understand it's working, it is a really great service that is going to be of a big help.
All you need to do to access to set up your store in Squarespace is login and select your template, and when you start working, in the Main menu itself, you will see a 'Commerce' menu. Clicking on it will open a page for you where you will have to add your payment methods, your products of sale and your subscription plan, which takes us to Squarespace's price plans.
Squarespace Pricing
Squarespace comes with 4 plans, all very different from each other in terms of the services and features being offered, let's take a look at them:
Personal – $16/month (or $12/month billed annually)
Business – $26/month (or $18/month billed annually)
Ecommerce Basic – $30/month (or $26/month billed annually) and
Ecommerce Advanced – $46/month (or $40/month billed annually)
Squarespace Pros and Cons
Pros 
Plenty of features even if you don't wish to use e-commerce
The in-built website assistant comes as a big help
Cons
No free option
Website Builder can lag a bit at times
Squarespace Reviews
Jason Ratliff, an illustrator who has his website on Squarespace to display his prints and series told this to Websitebuilderexpert.com:
"There were lots of templates that were designed to showcase images/art, which was something I don't remember seeing elsewhere. It was like Squarespace had made something specifically for me"
Bryan Hume, a website and graphic designer wrote on Trustradius.com :
"As a marketing professional and designer, there is comfort and clarity with an all-inclusive platform for managing our website."
Read – How To Use Squarespace – A Step-by-Step Guide
2. Weebly
Weebly shines as a website builder that offers quick set-up at a really affordable price tag. Appealing to those artists who might not be so lucky with the penny yet, Weebly offers services that are almost at par with that of Squarespace but at a comparatively lesser price aiming at individuals, and small business owners and entrepreneurs.
Not just that, their visual appeal has also drastically changed for the better over the past few years but the range is something that it cannot really boast of with a limited amount of themes. But, having said all of that, easily the best part about Weebly has to be the fact that you can take your website live for absolutely free.
Weebly's Best Features for Artists
The Website builder is extremely easy to use and reduces the hassle of creating a website drastically
The drag and drop feature works like a charm and gets a lot done in a relatively lesser time
The layouts, although with limited themes, are efficient and the backgrounds with full screen images are meant to put more focus of the viewer to your artwork.
It's SEO (Search Engine Optimization) feature's integration is pretty fascinating. This means more traffic to your website and more revenue for you.
Is Weebly Suitable For E-Commerce?
Just like Squarespace, Weebly also has an option that allows you to make your art store a reality. Just like the website, you will need zero technical details and it is fully integrated to your website as soon as you decide to use Weebly E-commerce, which means it is ready to go instantly. It is completely compatible with your Android and iOS device as well which means you can manage your orders, track your inventory, basically access all the features on the go.
While setting up, Weebly will ask you whether you want to set up just a website (i.e. without any online store) or a website with an online store. You can just click on the latter and Weebly will be presenting you with a number of options for you.
Weebly Pros and Cons
Pros 
Free website with an intuitive editor and is easy for beginners.
A bunch of third-party integrations help in making your website pretty responsive and engaging
Cons
If for some reason, your site suddenly goes down, crashes, or stops working, there is no handy feature to help you out there. You will have to contact customer service for it which is pretty time-consuming.
Limited theme options are something that's a bit harsh on the artists as they like more and more options to choose from.
Weebly Pricing
Since we had already said it offers a Free plan, it leaves no doubt for that, but more plans mean more features, so let's take a look at it's other price plans –
Free – $0/month
Personal – $6/month (or $9/month billed annually)
Professional – $12/month (or $16/month billed annually)
Performance – $26/month (or $29/month billed annually)
Weeebly Reviews
PCMag.com did a review of Weebly in which why had this to say:
"Apart from its lack of sitewide undo functionality and photo storage, Weebly remains one of the easiest site builders to use. It offers a number of free options, and is one of very few such services we've reviewed that let you export standard site code. The responsive designs look great, but they limit design customizability." 
Sean L. wrote on G2.com :
"I think that It is good for starting out a personal website if you are showing your content that you make or do for the company you work for. Review collected by and hosted on G2.com."
3. Wix
To be precise, Wix lies somewhere between Weebly and Squarespace. If you want great designs and a wide range of templates, on a platform that is easy to use, trusted by a large number of people globally and allows you to create a completely free website, you should definitely go for Wix.
Wix ranks high on ease-of-use for all the users no matter how little or how much you already know about websites. It stands out because of its threeway approach to building a website, i.e. with ADI (Artificical Design Intelligence), Editor and Code.
With ADI, all you have to do is answer some questions that WIX will present to you when you get started on building your website.
In editor, you can manually choose a template that you like and make almost as many changes as you want to it with the amount of convenience that Wix offers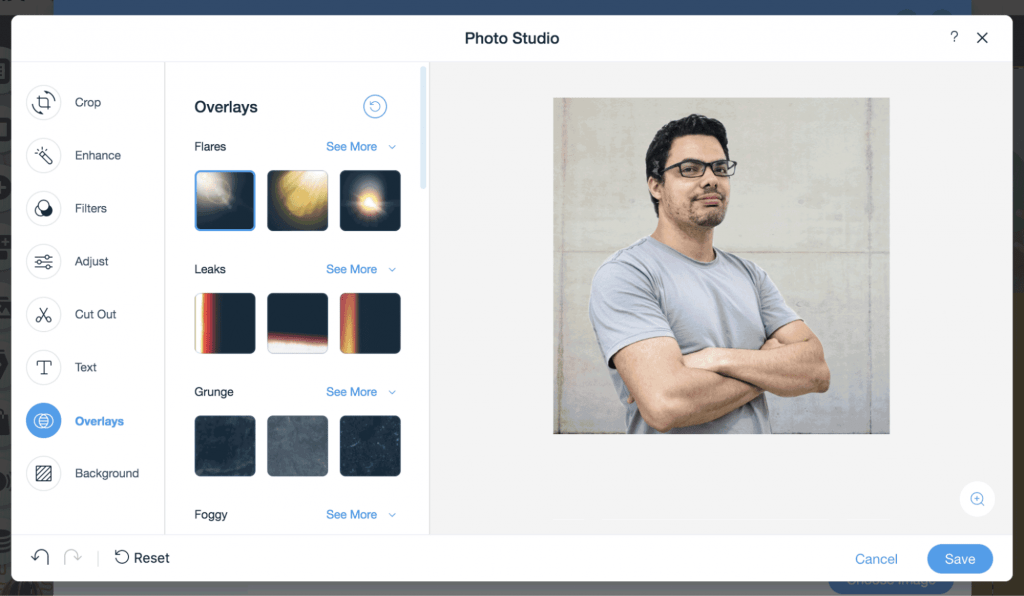 And with Code, you can do whatever you want with your website from the scratch and its not going to be a bit of a problem.
You can even use all three of these aspects to get that perfect website that you have always wanted to have and you will not be sacrificing on the design factor either.
Wix's Best Features for Artists
You can link your Google Photos account to Wix and upload all the photos without having to browse them from your computer.
If you are someone who uses Instagram to click pictures of your art, Wix has an option to use your Instagram photos for your artwork display as well.
3. The editor is responsive, easy-to-use, and doesn't really take much time in getting your head around it.
4. It has dedicated categories for Artists where they can find attractive templates that will require the least amount of effort to be set up.
Is Wix Suitable For E-Commerce?
Wix again stands out here from the rest as it offers something called 'Wix Art Store' if you're an artist looking to sell your art and nothing else. What it does differently is it takes you away from the business end of things and really takes E-commerce out of your art store. It is easy to set up, and gets quickly integrated to the website.
With Wix Art Store, your art is the king but that doesn't mean that the sales aspect of it gets undermined. The store even lets you sell your art over sites like Facebook and Pinterest that can help attract a large number of customers.
Wix Pricing
ust like it's features, the pricing of Wix is also as competitive and exciting as it gets.
Free – $0 always
Combo – $18/month (or $14/month billed annually)
Unlimited– $23/month (or $16/month billed annually)
Pro – $26/month (or $29/month billed annually)
VIP – $18/month (or $14/month billed annually)
Business Basic – $28/month (or $23/month billed annually)
Business Unlimited– $33/month (or $27/month billed annually)
Business VIP– $43/month (or $39/month billed annually)
Enterprise – $500+ /month
Pros and Cons
Pros
The free website is almost as easy and feature-rich as the paid one
ADI is a big relief for someone who doesn't have the liberty of time
Cons
Doesn't provide the option of changing templates after you've chosen on
Priced a little aggressively
Wix Reviews
Hannah Kaplan, an abstract artist and illustrator said this to WebsiteBuilderExpert.com about Wix:
"I chose to build my artist website with Wix, and as my business has grown, my website has been able to grow and change with me. Now that I'm used to it and how it works, I can't see myself hosting my art portfolio and online shop on any other platform."
WebsiteToolTester.com in their review of the platform wrote :
"Wix has the widest selection of prebuilt designs for any kind of industry. As it's not possible to switch to a new theme after your initial choice, it's more difficult to revamp your site's design (you'll have to redesign it manually or start from scratch). On the positive side, this limitation facilitates Wix's greatest strength: unmatched flexibility within your chosen theme."
4. WordPress
Hands down, WordPress is one of the classiest platforms out of this lot. Not just because of the features it offers or the services it has to flaunt but because of the consistency it has shown for a very long time now. I personally am someone who has heard about WordPress for building websites for as long as I can remember, and ever since its inception it has been true to its customers in customer services and its attractive offerings.
It basically has two branches – WordPress.com and WordPress.org. Initially it was just known by the former, back in the days when it was merely a blogging platform. But after coming up with the latter WordPress spread out its wings to become a full-fledged website builder that allows self-hosting. Yes, you read it right! This means that it gives you entire control and customization over your website at the cost of convenience. And a lot of people choose that over shelling way too many bucks for hosting.
WordPress is really for anyone and it's fairly easy to set up and get going with a blog with relatively limited features but the one thing that comes as a drawback to it is that if you really want to host a website on WordPress, you need to know coding, or the platform is not really all that great for you.
WordPress Best Features for Artists
.   One of the highlight features of WordPress is the high level of customization you get with it. It's absolutely great for the artists who want their site to act according to them and not have to compromise just for the sake of easy use.
  Even if you're not someone who is well versed in how you can go ahead and learn about building your website on WordPress with the help of a number of tutorials on its website. Apart from that you can even find tons of guides over the internet and on Youtube that will help you set up whatever you want.
  Since it allows you to host your website on your own, it has fairly cheaper plans for all the services that it offers as compared to its contemporaries.
  WordPress can host your website for you if you're someone who has no idea about it, but in doing so you'll have to spend some extra dimes from your pocket.
Is WordPress Suitable For E-Commerce?
The important question with almost every great site is if it allows you to sell your artwork or not. And WordPress definitely lets you do that in the way that you want. While it does require minimal setup, it still feels like much of a task when compared to other websites like Wix and Weebly.
Having said that, it offers a number of plugins and tools for your website that, when incorporated, can make paying for your art really easy. Its highlight remains to be the Pay with Paypal feature that lets you accept payment from debit or credit card, and comes in handy if your audience is wide ranging and isn't limited to a certain region.
WordPress Pricing
WordPress' price plans, depending on what all you already know and what you expect from it, are pretty apt for its features:
Free plan: $0!
Personal Plan: $4/mo, billed annually ($7 monthly)
Premium Plan: $8/mo, billed annually ($14 monthly)
Business Plan: $25/mo, billed annually ($33 monthly)
E-commerce Plan: $45/mo, billed annually ($59 monthly)
WordPress Pros and Cons
Pros
Adequate for Bloggers
Prices are totally worth for the services and plugins that you get
Cons
Requires a learning curve if you want customizations; not the best for beginners
Relies more on blogging templates than other (visual) art forms
WordPress Reviews
Hannah H. appreciates the plugins offered by WordPress and wrote this on G2.com :
"I love using the Yoast plug-in to optimize my content for SEO. The blog editor is really functional and easy to use as well. WordPress defintely has a professional look and feel that I appreciate."
Themeisle.com had this to say about the platform in their review back in 2020:
"If you decide that WordPress is right for you, you'll be in good company. WordPress is, by far, the most popular way to make a website. Over 37% of all websites on the Internet use WordPress, which is miles ahead of any other website builder."
5. Duda
"Every 17 seconds, a new website is created on Duda", thats how they define themselves on their homepage and it sums their excellence up pretty perfectly. Duda is perfect for the freelancers who wish to set up and keep updating their portfolios for personal and professional use, and that is what the whole platform is built around. Having said that, it is a little burdening on your pocket.
Duda is pretty great for beginners and offers a lot of things that are really impressive, one of them being the widgets that are easy to set up and give a nice look to your website. And that is apart from the beautiful templates that are enough to impress you.
Duda's Best Features for Artists
It supports the drag-and-drop feature which is convenient and you do not need any coding knowledge to make your site live within a short time
There are about 100 design templates that you can choose from but if you wish to start from scratch, Duda also gives you the option to work with 10 blank templates.
Its design centric approach attracts a lot of artists to it. These designs give you an artistic edge over its competitors providing you with a level of professionalism and creativity that is seldom matched by its competitors.
Duda allows you to see preview of any template that has got your attention and how it look in desktop, tablet and mobile. You can even make different adjustments to your website per device which allows to be sure that your website looks great on every device.
Is Duda Suitable For E-Commerce?
While most of the website builders on this list have an option to go for an expensive price plan to avail the E-commerce features, Duda hits a little differently here. The platform allows E-commerce integration into its cheaper plans as well which is a great add-on and while the prices are a bit on the higher end, something we'll shortly see, you are at least not paying anything extra for this extremely valuable part of the website. It even has a number of services with over 30+ payment options that you are always aware of your customers' variety and needs.
Duda Pricing
Unlike other platforms on this list, Duda does not allow you to create a website for free but has some exciting price plans under its hood. Let's take a quick look:
Basic Plan– $14/month (or $19/month billed annually)
Team Plan – $22/month (or $29/month billed annually)
Agency Plan – $44/month (or $59/month billed annually)
You also have to option of something called a 'Custom Plan' which basically means that you can get in touch with Duda, and they will tailor a plan that is exactly for you, but this is something that will mostly appeal to companies that want some out of the box features not present in other plans.
Duda Pros and Cons
Pros 
Designs are extremely captivating
Does not require any technical knowledge
Has resources to help you grow
Cons
No free plan can be discouraging
Plans are higher than most websites on this list.
Duda Reviews
WebsitePlanet.com had a lot of positive things to say about Duda in their review of the platform :
"Duda is a great choice for not only building websites with impressive mobile functionality but also for customizing visitors' experiences based on their browsing history, location and language. If you are looking for a website builder that will give you a real chance at choosing templates that align with your brand, Duda makes for a fantastic pick."
6. Godaddy
Godaddy is easily one of the most convenient and well known platforms out of the list due to its great marketing. It has garnered a huge customer base for itself that has people from all walks of life and it remains to be one of the best choices for Artists too. Their shared hosting plans are one of their highlight features that come at a very reasonable cost. Shared hosting is when your hosting is done on a server that you can share with other clients. This is great for artists and small businesses who are expecting a decent amount of traffic on their website and do not want to pay too much for the service.
Godaddy doesn't even put a cap on the traffic that you are allowed to receive on the basic plan package, so you can have as many people on your site and there is never going to be a limitation on that by the platform.
GoDaddy Best Features for Artists
Its great for beginners with its easy website builder that offers great functionality and a lot of options to play around with your website.
The storage options are pretty unrealistic and you can store a maximum of 250,000 files which is great for the artists who want to showcase a lot of videos and photos as it doesn't really put a limit on you.
The SEO potential of the platform is almost unparalleled and you will be guided through the whole process so you can be visible over giant search engines. The SEO Wizard is also an amazing thing to look out for.
Is GoDaddy Suitable For E-Commerce?
The biggest relief with Godaddy is the fact that setting up an e-commerce website becomes a thing of absolute ease and does not consume much time. It also provides you with the option of ADI which as you already know will set up your E-commerce website for you.
Godaddy's E-commerce feature is great for the artists who are looking to sell a definite number of products really fast and want to avail the best of services, but the downside of this is that it sets a limitation on how many products you can put up in your store for sale.
GoDaddy Pricing
Godaddy is not the cheapest of the list but for its features, services and great customer support, the plans are well worth the money:
Basic plan – $9.99/month
Standard plan – $14.99/month
Premium plan – $19.99/month
Ecommerce plan – $24.99/month
GoDaddy Pros and Cons
Pros
      1 month of free trial
      ADI is pretty convenient
Cons
      Limited number of Templates
      Lacks the visual appeal that its competitors have
GoDaddy Reviews
WebsiteBuilder.com had reviewed the website a while back and had this to say about it:
"GoDaddy's website builder is incredibly easy to use. 76% of participants said they would recommend GoDaddy to a friend who's looking to get online." 
Ruby Javaid, Chief Designer at buzzydesigns LLC wrote this on Trustpilot.com:
"GoDaddy is used by some of my clients to either purchase domain names or web hosting. Some have also chosen to utilize GoDaddy's email services as well when they want something a little bit more professional than Gmail. Overall, GoDaddy gets the job done—for those using the company for all of their services, everything is in one place, which is nice."
7. Strikingly
Strikingly came into the market back in 2012 and since then its main goal has been to make websites a possibility for even those who have little or even know knowledge about them and it has been successful in doing so. Their aim even to this day remains to set up single page websites quickly and for a pretty cheap price. Even if you are someone who is willing to sell through your website then Strikingly's prices are for sure going to attract you.
They do offer a free plan and it is great if your aim is to set up a basic website but for as low as $8/month you can actually set up your online store which is not really something you expect from other website builders that charge you extra for E-commerce.
Strikingly Best Features for Artists
Analytics view offers you a simple yet great insight about where exactly you are getting most of your visitors from. This feature is available in all of the website builders but Strikingly makes it easier to understand with its simplicity.
It is highly admired by bloggers due to a host of features that come in handy like RSS feed, dedicated comments section, social bookmarking etc. And the fact that you can get all of these features for absolutely free just seems to be the icing on the cake.
Strikingly's customer support is one of the best out there and even if you choose to go with a basic plan or even the free plan, you are surely going to get a lot of help and timely service from the platform.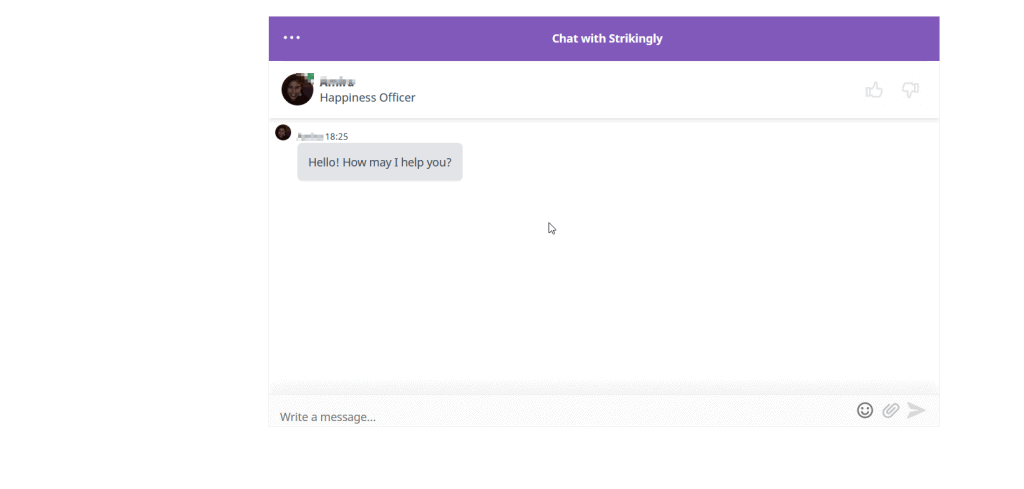 The platform can even link you to successful sites from Strikingly. This is great if you want inspiration for your website, or even if you're someone who does not want to customize a lot and keep things simple.
Is Strikingly Suitable For E-Commerce?
Your online store says a lot about you and Strikingly makes sure that it says all the right things. Even on the free plan you can set up your online store but you just get to add a single product with unlimited stocks. This doesn't allow you a lot to do but hey, its free. You get the option to see how your store really works on the free plan and choose to upgrade later on if you have made up your mind about it.
Having said that, before upgrading to a paid plan you should remember that unlike a lot of websites here, E-commerce is not really the focus of this platform, and you get the services accordingly. The focus is still on getting your single page website live without you having to spend a lot of money or time. So going with the expectation of it beating out the likes of sites like Squarespace and Wix is not advisable.
Strikingly Pricing
Mostly with every platform, pricing is what it all boils down to and Strikingly keeps it simple even here:
Free – $0 for as long as you want
Limited – $8/month, billed annually ($12 billed monthly)
Pro – $16/month, billed annually ($20 billed monthly)
VIP – $49/month, billed annually (Plan not available in monthly option)
Apart from these plans Strikingly also offers you the option to be billed once every 2, 3 and 5 years which is something really unique and can make you save a lot more by paying upfront and these payment options do not offer the Limited Plan
Strikingly Pros and Cons
Pros
      Extremely simple to use and set up
      A lot of variety in price plans
Cons
      E-commerce functionality is not at par with other websites on the list
      Customization is pretty limited
Strikingly Reviews
WebsiteToolTester.com tested the website to see how it fares amongst its competitors and came to this conclusion:
"So if you just need a small website for an event, a personal portfolio or some other kind of landing page, Strikingly might be perfectly fine for you. You will set it up in no time."
Nicole H., a content writer and developer that has been a customer of Strikingly for quite a few years now said this about the website builder:
"I love how wildly simple it is to use Strikingly. You can micromanage/customize every aspect of your site if you wish, or you can pick a quick template, import your information from LinkedIn and be ready to publish in minutes. The templates are eye-catching and there is a lot to choose from, even in the free version."
8. Pixpa
You might have guessed by the name that the centre of attention here are your photos. So Pixpa will help you in building visually a pretty mesmerizing portfolio website and store that completely understands obsession with photos, of the artist and the audience alike. The templates also complement photos on the design front.
Even in its basic plan you get the option to upload about 200 images. It's subtle and effective but you should really consider the fact that it's not the best for a general website, meaning it will give you a top notch gallery oriented website but if your focus is to go for something else, then you should consider other website builders on the list.
Pixpa's Best Features for Artists
For the photographers out there, it is hard to beat Pixpa with its aesthetic templates suited for gallery based websites.
The plugins this platform provides really makes your online store efficient and makes selling easy without you having to worry too much.
The Client Proofing System makes sure that your visitors enjoy your website as much as you do with the use of easy feedback that can help you receive insight about what works in your website and what doesn't. Coming directly from your audience, you are sure to be making positive changes through this unique system.
They offer heavy discounts for students and teachers which is a great thing for people wanting to build their online presence right from school to college. Combined with a wide number of resources and excellent customer service, you are supported by Pixpa at all times.
Is Pixpa Suitable for E-Commerce?
When talking about your store, one thing that is really commendable about this platform that it does not charge you any commission on your sales and the money for your products comes right to you easily with payment methods like PayPal and Stripe built into your website.
Another feature that comes as a pleasant surprise to photographers and graphic designers is the fact that your audience gets to download your digital products right into their device and something that we rarely see with most of the website builders. So if you're not selling a physical product, you can still charge your customers for your digital product. You can even set your store to entirely digital and you don't have to worry about things like Shipping ever.
Pixpa Pricing
Pixpa doesn't confuse you with a lot of pricing plans and keeps it really easy, plus there are no hidden charges over these plans:
Personal – $7/mo (billed annually or $10 monthly)
Expert – $10/mo (billed annually or $15 monthly)
Business – $16/mo (billed annually or $24 monthly)
Pixpa Pros and Cons
Pros
      Everything from templates to store is focused on your creatives
      The Custom Gallery App feature is unbeatable
Cons
Does not offer a lot for anyone looking to build a simple website
Starting price plan is not really the best for anyone who wants interactive galleries and offers very limited features
Allows free 14-days trial, but no free plan.
Reviews
In their review, TechRadar.com rated Pixpa 4/5 and said:
"There are many reasons to create a website and have an online presence for yourself. Pixpa doesn't pretend to cater for all of them. In fact, its focus is primarily aimed at photographers. Either those you just want to display their work away from the Flickrs and Instagrams of the world, or those wishing to make a living out of their passion by selling their shots online."
Jameela H., a photographer associated with Pixpa for over a year said this in her review at Capterra.com:
"It's easy and has drag-and-drop capabilities which enable the user to create unique and beautiful portfolio website. Users can fully customize website themes. The website is mobile-ready and is a great option for photographers, architects, fashion and design enthusiasts. It has an e-commerce store that allows users to start selling their products without coding knowledge. The interface allows the user to manage products, inventory, discounts, shipping etc."
9. Shopify
If what you have in mind is all about setting up an online store and just showcasing is not your primary concern, Shopify is one of the best choices for you, because unlike its competitors it is all about getting your store out there and as soon as you visit the platform you get the sense of that. There is not much beating around the bush with Shopify.
Shopify is indeed one of the better known platforms for setting up an online store from the lot and the straightforward approach is quite admirable. And that is the reason why it has big brands like John Jacobs and Raymond signed up to it. Plus, signing up gets a 14-day trial, so you should really be able to set up your store and see the results without actually having to pay for its features.
Shopify's Best Features for Artists
At Shopify, you are provided with a number of resources to help you figure out all about your online store.
The fact that it is aimed at creating an online store can probably make one wonder if it is as convenient to use as other website builders on the list. The answer is yes. Setting things up on Shopify is as easy as building a free basic website on other platforms
They have over 170 themes to offer its users and every single one of them is unique and responsive but even then if you find yourself unable to commit to one, its Liquid Template Engine will help you to create your own template so you don't have to compromise.
The live preview feature is a great add-on and you don't have to wait until all your changes are done to see how it looks on your page.
Is Shopify Suitable for E-Commerce?
Shopify is all about E-Commerce so it definitely is among the best at that and has about 800,000 businesses registered to it, which is something not all platforms can boast of. The product information page is also super easy to work with and is intuitive, so you spend less time listing out your stocks and more in selling them to the right people.
The Digital Products service that sets Pixpa apart from other E-commerce stores is also something that you get with Shopify albeit through a plug-in which frankly puts a bit more of strain on your website, but it is not something really noticeable when your customers use it.
They even have their own payment system set up which can take some of that pressure off your website by not having to necessarily include other payment options.
Shopify Pricing
Shopify's plans might seem a little bit on the higher side but considering that the most basic of its price plan gets you access to tons of E-commerce features that help boost your store, they are actually not bad at all :
Basic Shopify – $29/mo
Shopify – $79/mo
Advanced Shopify – $299/mo
It also offers a Shopify Lite plan for as low as $9/mo which allows you to add the features of Shopify E-commerce to any website of yours on any other platform as well.
Shopify Pros and Cons
Pros
Shopify has over 170 free and paid themes and with this quantity, they do not miss out on quality.
Website building is really easy for professionals and beginners both
Cons
Tacky drag-and-drop feature gives it a huge disadvantage
Not as visually pleasing.
Free templates are limited.
Shopify Reviews
Ecommerce-platforms.com reviewed the platform by saying this about them:
"What's great about Shopify is that it's really easy to start with. You literally only have to sign up, go through a couple of settings panels, and your store is going to be up and running.What comes afterwards is also equally user-friendly. You can customize your design, add products, set the payment details, even install new features through apps in the Shopify app store."
Rodrigo C. is a product developer who loves what he gets with Shopify:
"The App Store has a wide variety of free and paid plugins that complement everything Shopify offers. I was able to import from many other platforms and convert a Shopify store in a matter of hours. The user interface is intuitive and easy to navigate."
Zyro
According to its official note, it only takes one hour to start making some noise online with Zyro. This includes hosting and registering a domain name for a pretty reasonable price that is surely not a burden on your pocket. But another thing that is really exciting about Zyro that unlike most of its competitors Zyro gives you a 30-days Money Back guarantee which means that even after taking your site live you feel its not doing so well and you should probably consider another platform to put your artistic skills on display, you can totally do that without having to worry about losing your money.
Most of Zyro revolves around AI and its efficiency including its insane amount of free to use images that are available to you.
Zyro is fairly new to the market and while it might not be a name that is heard a lot, it makes up for that with its easy & responsive website builder along with the fact that its blazingly fast and does better than a lot of website builders in terms of speed. Your sites, images or products are surely going to be easy to load and surf around.
Zyro Best Features for Artists
Zyro got a complete revamp in January 2020 and this has brought a lot of customer-centric things like the integrated AI which is surely going to ease out the burden from your shoulders.
A lot of artists today appreciate minimalism and Zyro keeps that in mind in its own platform's design and in the templates that it offers.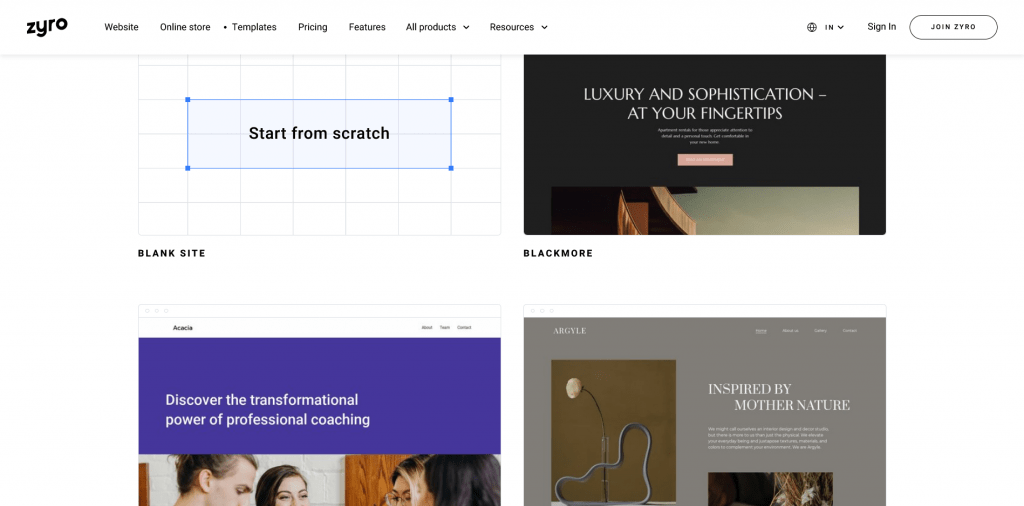 Zyro listens to its customers' feedbacks and that has resulted in a lot of fresh changes to the drag-and-drop Editor that is convenient, intuitive and really clean now.
Is Zyro Suitable For E-Commerce?
When it comes to selling your art over Zyro, there is nothing important that it misses out on being a new player in the market. It has over 70 payment options and gives you the option to sell on Instagram, Facebook and even Amazon right from your store. And you receive almost all of the essentials in a plan that is way more affordable than its competitors.
Zyro Pricing
Zyro also comes with packages that you have the option of paying for every 2, 3 and 5 years, plus there are some amazing discounts that the platform is giving out right now and it's steal the deal, without the discounts these are the prices :
Basic – $22.90/mo
Unleashed – $24.40/mo
Ecommerce – $27.50/mo
Ecommerce Plus – $29.980mo
Zyro Pros and Cons
Pros
AI Writer, Logo Maker and Heatmap are unbeatable features right now.
E-commerce functionality is amongst the best.
Clean and elegant in design
Cons
Site functionality is a bit off the mark
Some common website options are still missing
Zyro Reviews
After its revamp, MyBestWebsiteBuilder.com reviewed it and wrote this in their review:
"Revisiting Zyro after some time, I'm very pleasantly surprised – the builder has grown a significant amount, and the team behind it have surely been working hard at perfecting the best version of their website builder possible. New-and-improved pricing plans, domain & other platform integrations, eCommerce, AI Writer & Heatmap... Definitely a huge leap forward."
Even WebsitePlanet.com is positive about Zyro's new changes:
"Zyro has been around a little while, but until recently, it's struggled to compete with bigger names like Wix and Squarespace. That's changing, bit by bit, as new features are developed and old ones are revamped."
Voog
When you start building your website with Voog, it's going to present you with 3 options – to create your own webpage, to create a store or to start a blog, and from there begins the ease with which you can create website for your art on this website because after your selection a lot of things are going to be narrowed down for you that you otherwise have to filter out with a lot of other website builders. Voog also has under its hood a range of integrations with several companies. And with its simple yet intuitive drag-and-drop the process of building a website becomes so hassle-free, quick and with unparalleled features.
Speaking of unparalleled feature, it would not be fair to miss out on the one thing that really sets it apart from all of its competitors – a multilingual website. When you create a website on Voog it is going to be multilingual, so you are surely not going to be constrained by the language of your own region or country and can even reach someone on the farthest end from you. Its unbelievable how it impacts artists in a major way, and for good.
Voog Best Features for Artists
A 30-day free trial on the platform lets you see for yourself if this is the best fit for your creative website or not.
The basic plan covers all the necessary tools needed to create a multilingual website or a portfolio.
You are independent to let your peers or friends work on your website along with you by giving them editing permissions. For small groups looking to create a brand for themselves, this feature is great and one warmly welcomed.
Is Voog Suitable For E-Commerce?
Voog really prioritises easy set up and that goes for its e-commerce services as well. While it does not give you as much flexibility over your store as E-commerce oriented platforms like Shopify, it does the job pretty nicely and does not demand a lot of bucks from you either.
It is much quicker to set up a store on Voog and since it hasn't diversified this service too much, it focuses nicely on the essentials which comes in handy for artists who do not want too much complication from their store.
Voog Pricing
Voog offers 3 price plan with each of them having support of multilingual website :
Voog Standard – $ 9.78/mo, annually (or $13.44 monthly)
Voog Plus – $ 15.89/mo, annually (or $22 monthly)
Voog Premium – $ 47.66/mo, annually (or $61.10 monthly)
Voog Pros and Cons
Pros
Visitors get to choose their preferred language
Support of essential plugins and tools
Voog API allows you to integrate any web app to your website
Cons
Limited designs; not much variety
Editor is a bit clumsy providing much less customization and control
SEO feature is not at par with other platforms
Reviews
Digital.com nicely summed up the platform by saying this:
"Voog is more than just a site builder; it's a full-scale content management system that allows you to create professional-looking blogs, sites, and stores."
Donna Moses of WebsitePlanet.com also shared her thoughts in her review:
"Voog is a fantastic choice for anyone looking to set up a functional multi-lingual website. Constructing your website with this builder is a very intuitive and hassle-free process."
Jimdo
Jimdo's attention relies on a small group of people, i.e. the self-employed and small to medium businesses so it's pretty great for artists as well who have a keen interest in starting out and bulding a career on their own. Keeping that in mind Jimdo doesn't even charge transaction fees from you, and its actually refreshing and surprising to see that you are really only paying for the service that you want.
Jimdo also sets out on a different and unique path by not putting ads on your websites that is something that a lot of website builders do if you choose to go for a basic price plan. The platform keeps it clean and simple without charging you anything extra just so that the annoying ads do not push away your customers.
Like a lot of other websites it offers the option to either go for ADI (Jimdo Dolphin or its AI builder) or go for its main Editor platform (Jimdo Creator). Both really are meant to make your work simpler, but you should definitely go for the latter if you want customization over simplicity. Along with that, its large library of photos makes sure that you do not have to go scout the internet for copyright-free images and you get them all in one place.
Jimdo's Best Features for Artists
ADI will let you build your desired website with just a few simple questions about what you really expect from your website.
If provided access, Jimdo can also go through your Google and Facebook to take a look at your information and media to create a template tailored for you.
The set-up wizard itself looks around the internet for the best websites that can be used in your website and that is something not seen on most of the other builders.
Is Jimdo Suitable For E-Commerce?
Like most of the platforms on our list, Jimdo has a separate E-commerce plan that makes it completely easy to set up your store and that makes for the price you pay pretty nicely. All your purchases can be accessed from the dashboard itself as it displays purchase notifications right as you log in.
It also doesn't charge any percent of your transaction as its fee which is commendable and great for artists who are just starting out.
All the basics are covered with its E-commerce feature and apart from a few hiccups here and there, not much is there to complain about when it comes to what Jimdo offers except that creating a digital store can be a bit tedious on this platform.
Jimdo Pricing
Jimdo's prices will not burn a hole in your pocket but they are not even the cheapest platform on this list either:
Free – $0
Pro – $10/month, billed annually
Business – $20/month, billed annually
SEO Plus – $30/month, billed annually
Platinum – $40/month, billed annually
The really sad part is there are no monthly plans, you can try out things in the free plan and then if you're really sure, you can upgrade to its yearly plan.
Jimdo Pros and Cons
Pros
Setup is easy and painless
No ads and more traffic
Google Analytics integration helps a lot
Cons
Your items are sold only in Euros
No app store; no third party apps
Site functionality is good but not the best; a bit sluggish at times
Reviews
WebsiteToolTester.com's review proved that Jimdo can stand proudly amongst all its competitors:
"Clearly structured and extremely intuitive, Jimdo is one of the fastest editors we've tested. The smart virtual wizard guides you through every step of the set-up process, making it possible to actually create a first draft of your website in a matter of minutes."
After being on the platform for quite a while Rosanne C, an advertiser described her experience on G2.com:
"The use of the service is quite easy. We often use the drap and drop function to fill our site. Good opportunities for optimal money, even the PRO version (which is not the most expensive) completely suits me. Also good adaptation for mobile devices."
Conclusion
Websites are the trend of the present amongst the majority of artists. And it's not just about today right? It is necessary to make sure that your art is out there for a long time to come and, honestly, it is a bit tedious to set things up over and over again, hence websites really do come in handy in this case. These websites are also a great alternative to traditional portfolios that are not that great for the long term, neither for you nor for your pocket.
While all of the website builders we mentioned are good, their efficiency basically depends on a number of factors like your budget, knowledge of website building, purpose of using the website (eg. Do you just want a portfolio or do you even wish to sell your artwork?) among a number of things all of which you should consider before signing up for any one of these because after all it's your art and creativity that matters the most and that the world is going to see.