Choosing a proper theme for the July mood tracker can be difficult, but here we are with an abundance of options for you! Whether it is your first mood tracker or the 15th, you will not run out of themes with these July mood tracker ideas.
You can also check out some more mood tracker ideas for inspiration here- 25 Best Mood Tracker Bullet Journal Ideas.
1. Melting Moods
Source : stefanirichstuff
This one has to be one of the most interesting July mood tracker ideas out there! I love how she has taken a cone ice cream to track her moods. This ice cream will certainly look fun by the end of the month! Needless to say, this is perfect for your ice cream-themed bujo pages. Check out some interesting ice cream theme bujo pages here on- 20+ Ice Cream Bullet Journal Spreads And Ideas For Summer.
2. Lemon-y July Mood Tracker
Source : raffie_journal
They say when life gives you a lemon you should make a lemonade! Well, there are times when life decides to give lemons every day! But I don't mind that as long as my July mood tracker looks like this one. It is refreshingly beautiful! I love how clean and sorted it looks. You can learn here ways to create a lemon-themed bujo page- How to Create A Bullet Journal Lemon Theme?
3. Ice Cream Mood Tracker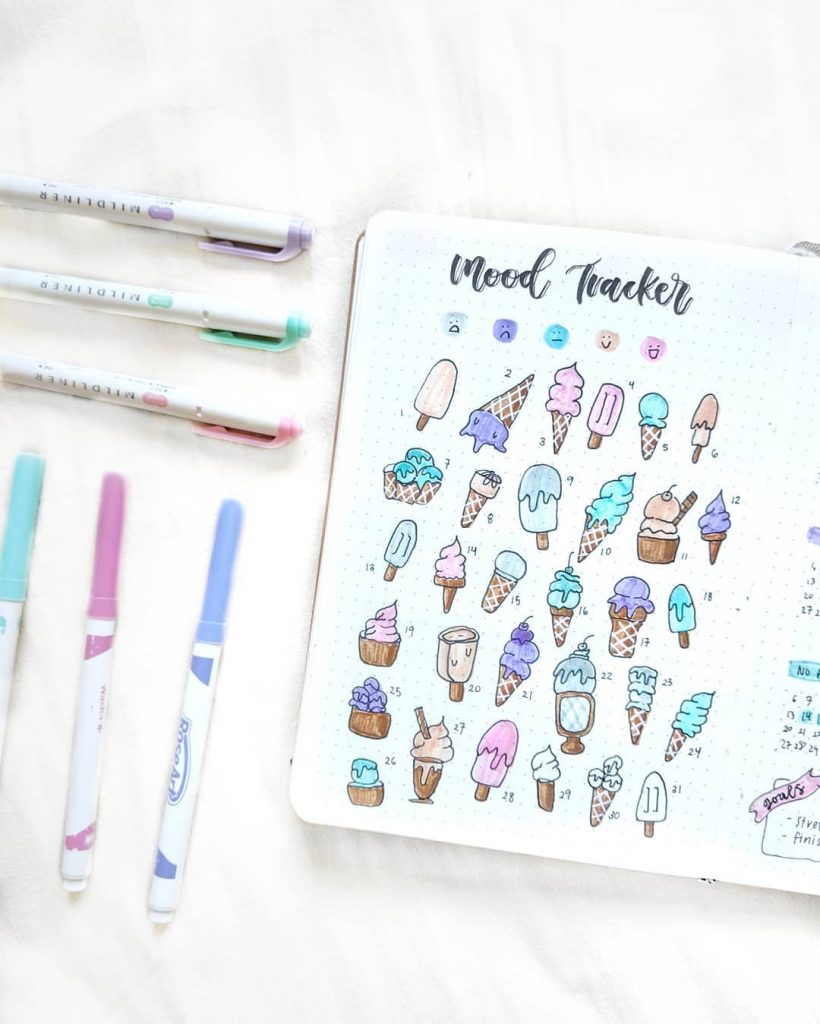 Source : beatricejournals
Ice cream is the perfect theme for the July mood tracker! It is apt for the summer season, and the pastel-colored scoops of ice creams create an interesting theme. I am sure you will love this mood tracker.
4. Compass of Mood
Source : anissa_bujo
Do you summer camps? I love them. But with the pandemic, having a camp-themed July mood tracker is all that we can relish. I love the doodle work in this one. Such summer doodles are perfect for your bujo pages. Keep a record of your mental health with this circular July mood tracker this year!
5. 4th of July Mood Tracker
Source : xprinaspages
One can surely not ignore this blue, red, and white-themed July mood tracker! On one hand, it stands for patriotic Memorial day, and on the other hand, the sailing boats mark the onset of summer months. Let your mood sail freely with this mood tracker!
6. Abstract July Mood Tracker
Source : toastyjournals
This one here is an art in itself. It showcases the complex enigma of emotions. She has made the whole pattern with magnificent blue, delightful pink, bright orange, and refreshing teal blue. By the end of the month, you will have a masterpiece in your hand depicting your mood!
7. Shell-themed July Mood Tracker
Source : anastasiiasdesign
These beautiful summer doodles have caught my eyes! How cute do these seashells look! They may look black and white now, but by the end of the month, they will look as colorful as your mood!
8. Floral Mood Tracker
Source : juaesthetics
Floral and sunflower themes are common choices for summer bujo pages. And I think this floral July mood tracker is perfect for a sunflower-themed bullet journal. All you have to do is color each petal, dedicated to each day, in shades of yellow. I love the touch of green in this mood tracker, it gives the flower more character. You can get some inspiration for your sunflower-themed bujo pages here- 28 Bright Sunflower Bullet Journal Ideas.
9. Space Story
Source : lovelyheys
This is a very interesting July mood tracker. I love the look of the whole spread. She has drawn planetary bodies, including stars and shooting stars. Color them according to the shade of your mood, and by the end of the month, you will have a dreamy space story in front of you!
10. Twisters and Popsicles
Source : byhaleyelizabeth
There cannot be a more apt July mood tracker than this one. Popsicles are perfect for July bujo pages. And I love the color scheme. I can only imagine how delicious these popsicles will look by the end of the month!
11. Tropical Mood Tracker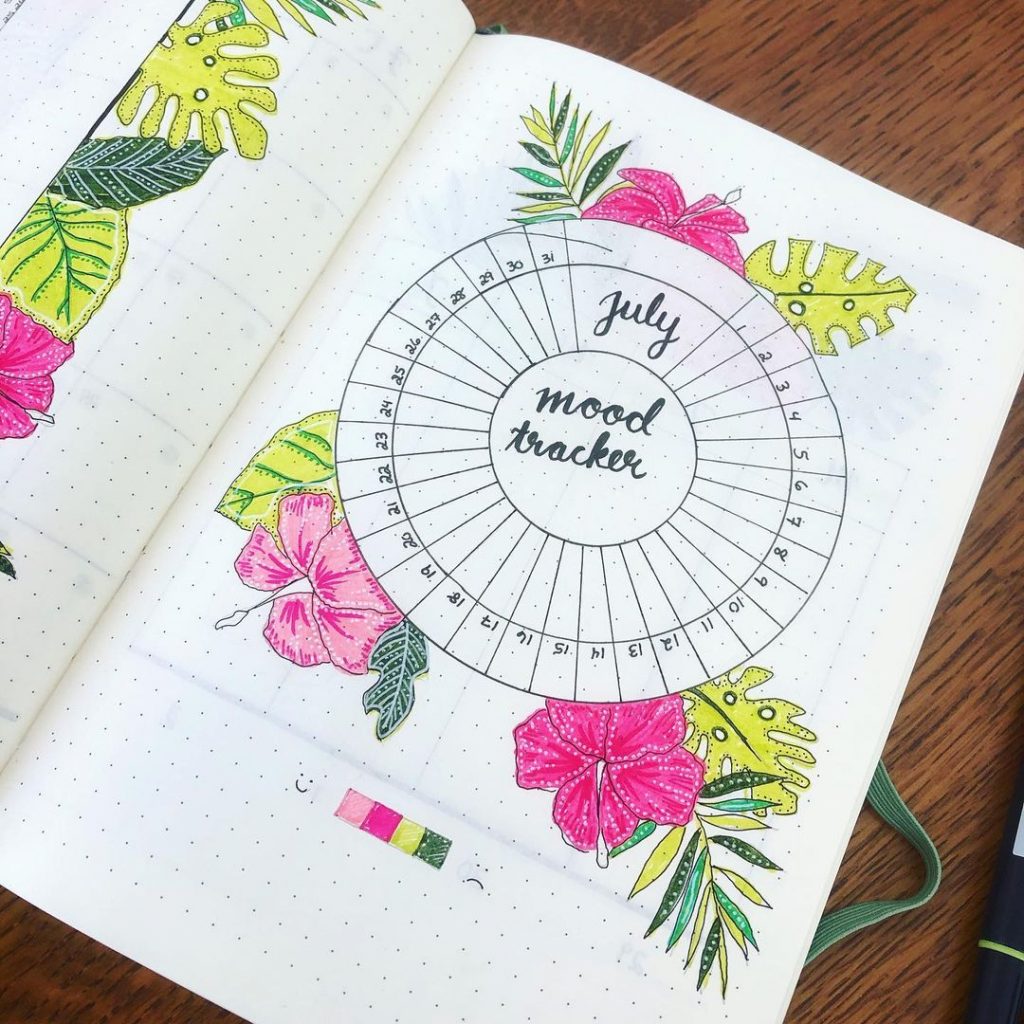 Source : alex.pano.art
Choosing a proper theme for the July mood tracker can be a task. But here is yet another unique option for you. This tropical-themed mood tracker is perfect. I love the bright colors used for the doodles. The circular tracker keeps the days sorted and the overall look neat and clean.
12. Citrus Love
Source : createwithcarolina
This July mood tracker is so simple and elegant that I can't wait to recreate it for my own July bujo page! It is a citrus slice with each segment representing each day of July. This simple mood tracker will certainly put you in the mood!
13. Planets and Clouds
Source : graces.clouds
This is a perfect choice for someone who is looking for something fun and extravagant. The planets signify each day of the month. They are easy to draw and fun to color. But what caught my attention was the blue and magenta sky. It gives this July mood tracker a surreal look.
14. Watermelon Sugar
Source : daily.kimchii
If there is anything that I like more than popsicles in the summers, it is watermelon. And I can't be the only one! I love that she has used different shaped slices of watermelon. She has also given it faces and dedicated different shades of red and crimson for every mood. You can also use washi tapes just like her to enhance the appearance.
15. Dragonfly
Source : caylasbujo
This is a one-of-a-kind mood tracker! I have hardly ever come across something this unique. With all the colors that she has chosen for her daily moods, she has created a surreal dragonfly!
16. Cactus July Mood Tracker
Source : bujo.with.cat
A cactus a day keeps the bad mood away! I think this one is perfect for a cactus-themed bullet journal. And keeping in mind the heat, it is apt for July. I love how she has segmented the cactus according to the number of days. She has further allotted different shades of green to signify her moods. Mood tracking can't get any more entertaining than this one!
17. Shades of Peace
Source : jodie_journals
Peace is what we all seek, but how often do we find it! But in this mood tracker, you will at least find fun and colors. I love how she has place the word 'PEACE' in the midst of it all. This mood tracker is vibrant and will certainly cheer your mood.
18. Pizza Mood Tracker
Source : byb.art
A slice of pizza is enough to make my day and my mood too! And I am sure many of you share the same thought. So if pizza is your thing, then this is a great choice. All you have to do is color the toppings according to your mood. How fun does that sound?
19. Neutral Cactus
Source : everydaybulletjournal
I am a fan of cactus doodles. They are fun and easy. And for a not-so-much-of-a-doodler, they are perfect. You can easily replicate this spread as your July mood tracker and by the end of the month, it won't be a neutral succulent spread. You can also check out our succulent doodle ideas here on- 
20. Bee Story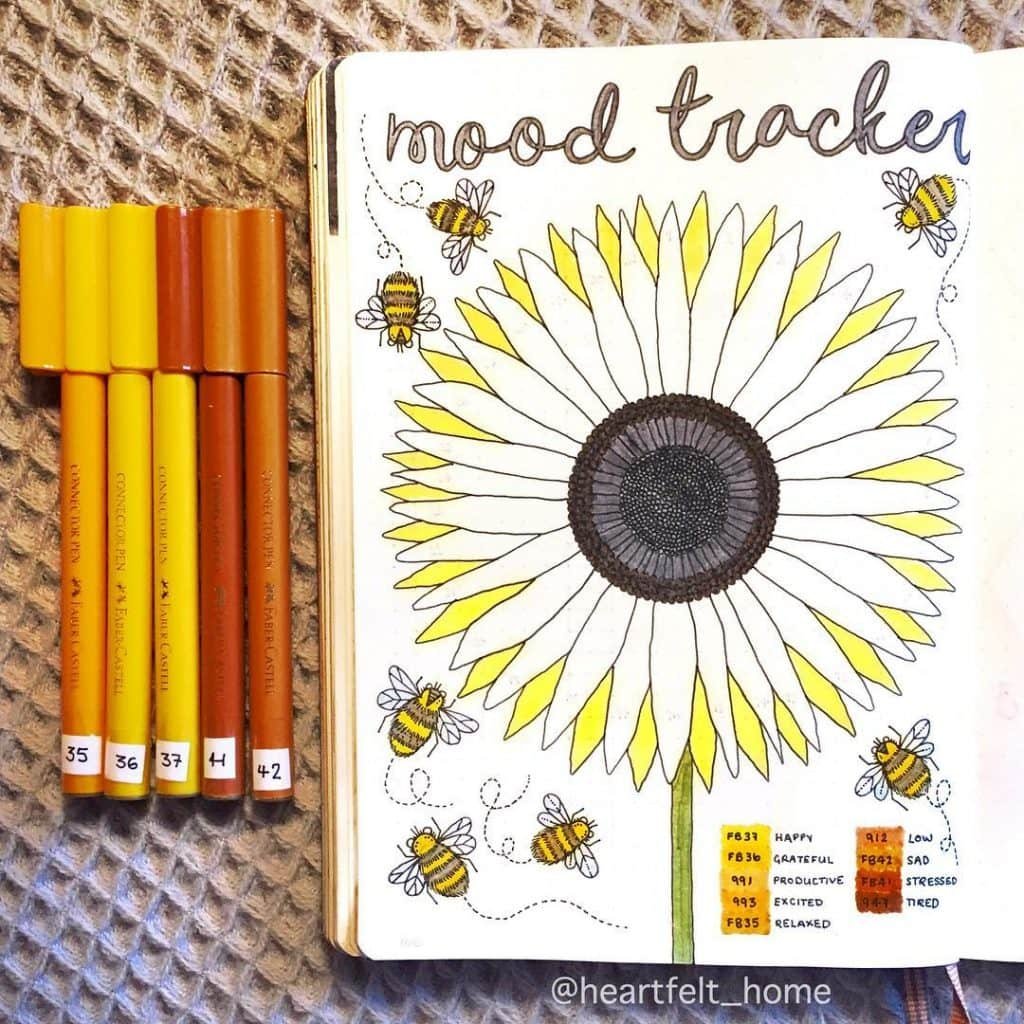 Source : heartfelt_home
Sunflowers and bees are the perfect representation of summers. She has dedicated each petal to a day. So one day at a time, you color the petal according to your mood. But what makes this spread interesting are the buzzing yellow bees!
21. Simple Mood Tracker
Source : latvianbujo
If you are looking for something quick and clean, this is your stop! This July mood tracker is easy and simple. It is a minimalist's paradise for sure. This one will make it easy for you to keep a track of your mental health
And we have reached the end of this curated list of July mood tracker ideas, people. Personally speaking, mood trackers are as important as habit trackers. Maintaining good mental health is as important as having a healthy lifestyle. Here you will find all sorts of interesting and unique ideas to track your daily moods. Let us know your favorite one in the comment section below. Happy mood tracking, people!
Also, if you like this article, you can pin it to your Pinterest board by clicking on the image below.