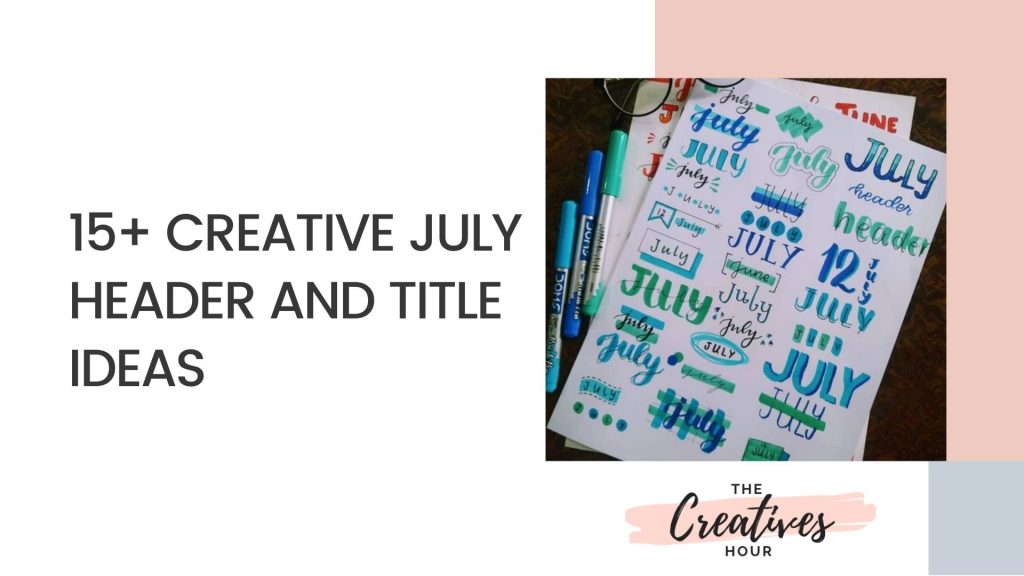 Bullet journal headers are as important as bullet journal doodles. But the lettering style can sometimes get monotonous. So here we are with a curated list of July header ideas you can try out this year. 
These July headers are so quaint and unique that you will certainly love trying them out. I have gone through a plethora of options and have chosen the best!
So let's delve into these inspiring ideas for July headers!
1. Blue July Header Ideas
Source : vanshika1277a
If blue is your color, then these July header ideas will certainly flatter you. I love the shades she has used. The headers are unique and perfect for your July bujo pages. There is the shadow effect, color gradient, and even simple cursive lettering style. 
2. How to Letter?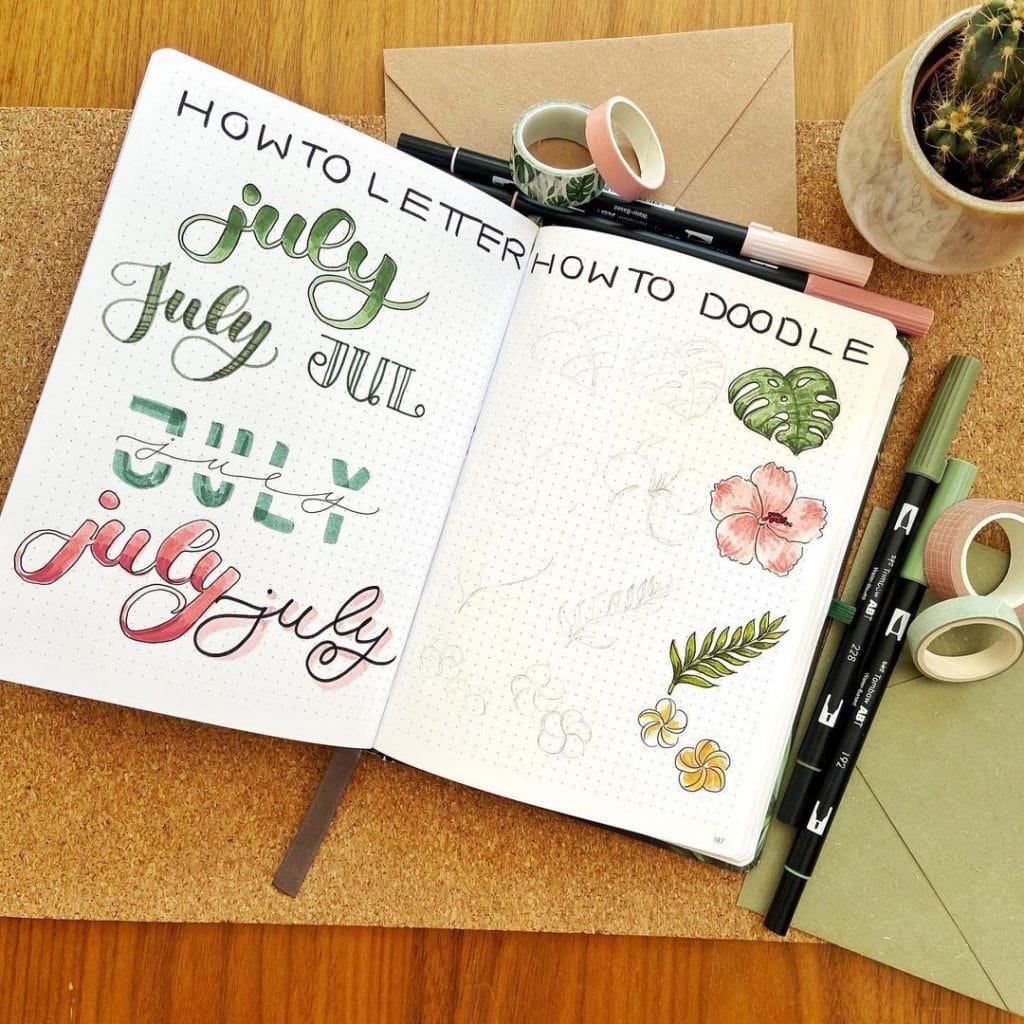 Source : bujo_aly
Lettering can be hard sometimes. If you struggle with lettering, like me then, these are some options for you. These July headers are so simple and fun. I love the color scheme. The colors used in these headers are summery and perfect for July. I love the one in cursive style with the soft peach shadow. Which one is your favorite?
3. Patriotic July Header Ideas
Source : steph.bujo
July is such a blessing. We have the summers, summer camps, and the 4th of July. And keeping that in mind, these July headers are perfect. These blue, red, and white headers are unique in their ways. The headers with beaches, seashells, and crabs are perfect for summer bujo pages. 
4. Nautical July Header Ideas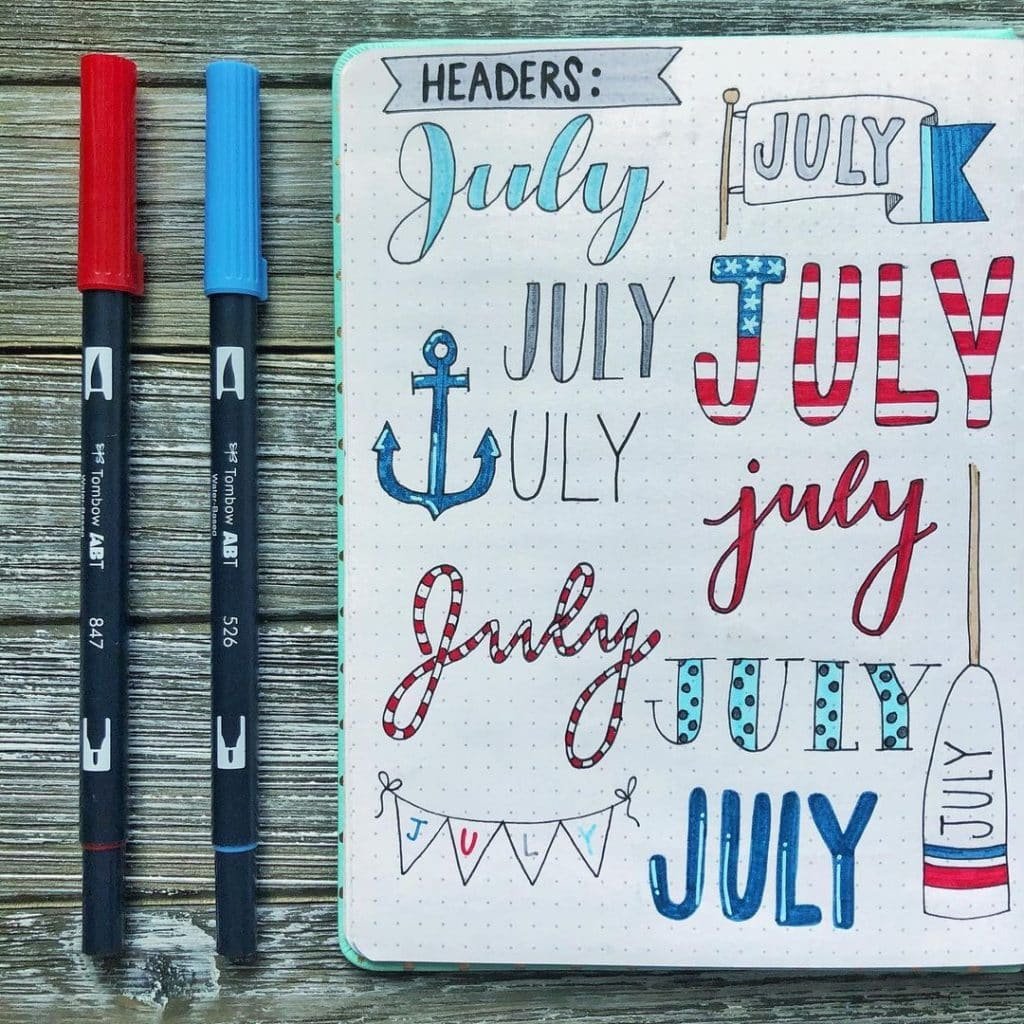 Source : phdoodling21
Nautical and maritime themes are common choices of July bujo pages. She has not only come up with some nautical-themed July header ideas but also some patriotic ones. I love the one that replicates the American flag. It is simple, colorful, and fun. And certainly perfect for the patriotic month of July.
5. July Header Ideas in Yellow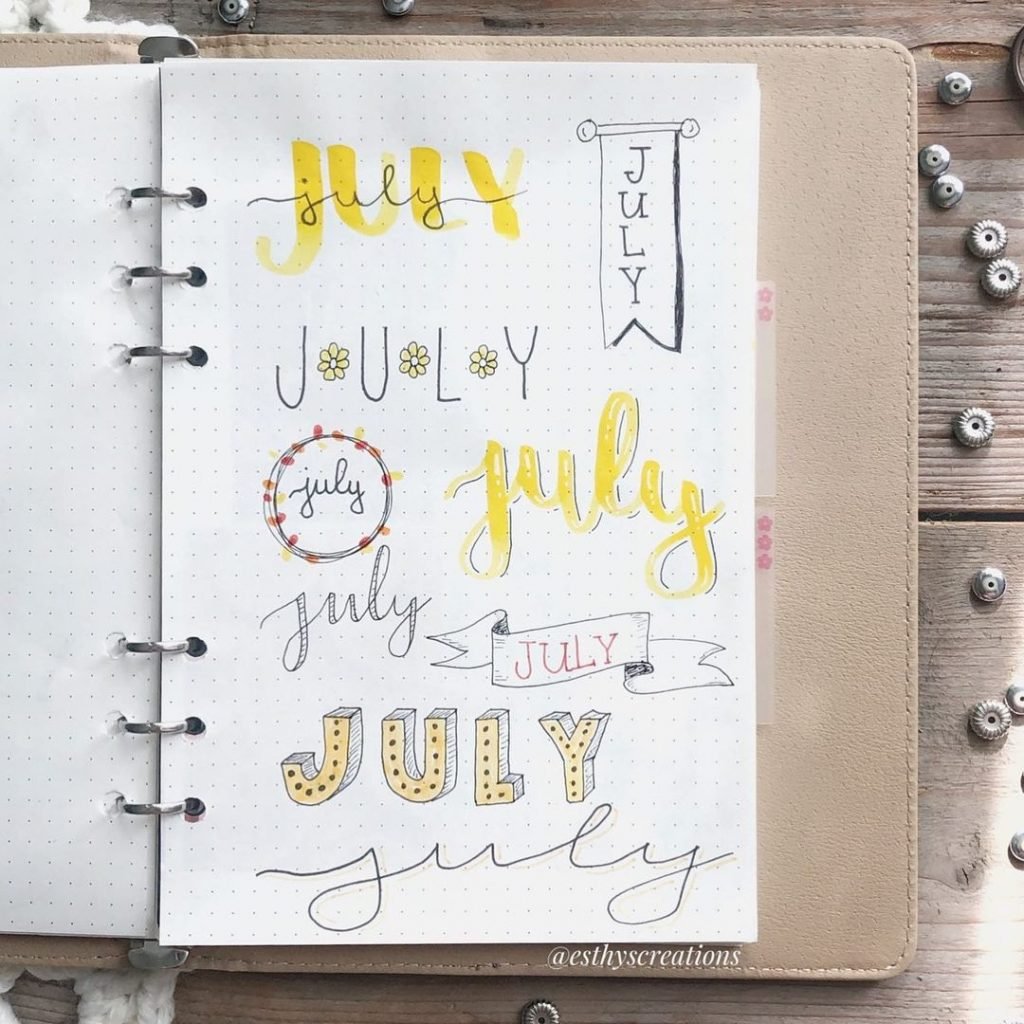 Source : esthyscreations
Yellow is the color of summer. Wouldn't you agree with me on that? I love every header in this spread. Here you have a floral option to color gradient option. But the best part is that all of them are easy and simple. These will certainly embellish your bujo pages in the right way!
6. Headers and Doodles

Source : pagesbyamy
If you are looking for something floral and summery then these are your options. I like how she has included doodle work in these July header ideas. These headers have pink and blue dominant colors. I especially like the one that is filled with cute little flowers. 
7. Earthy July Header Ideas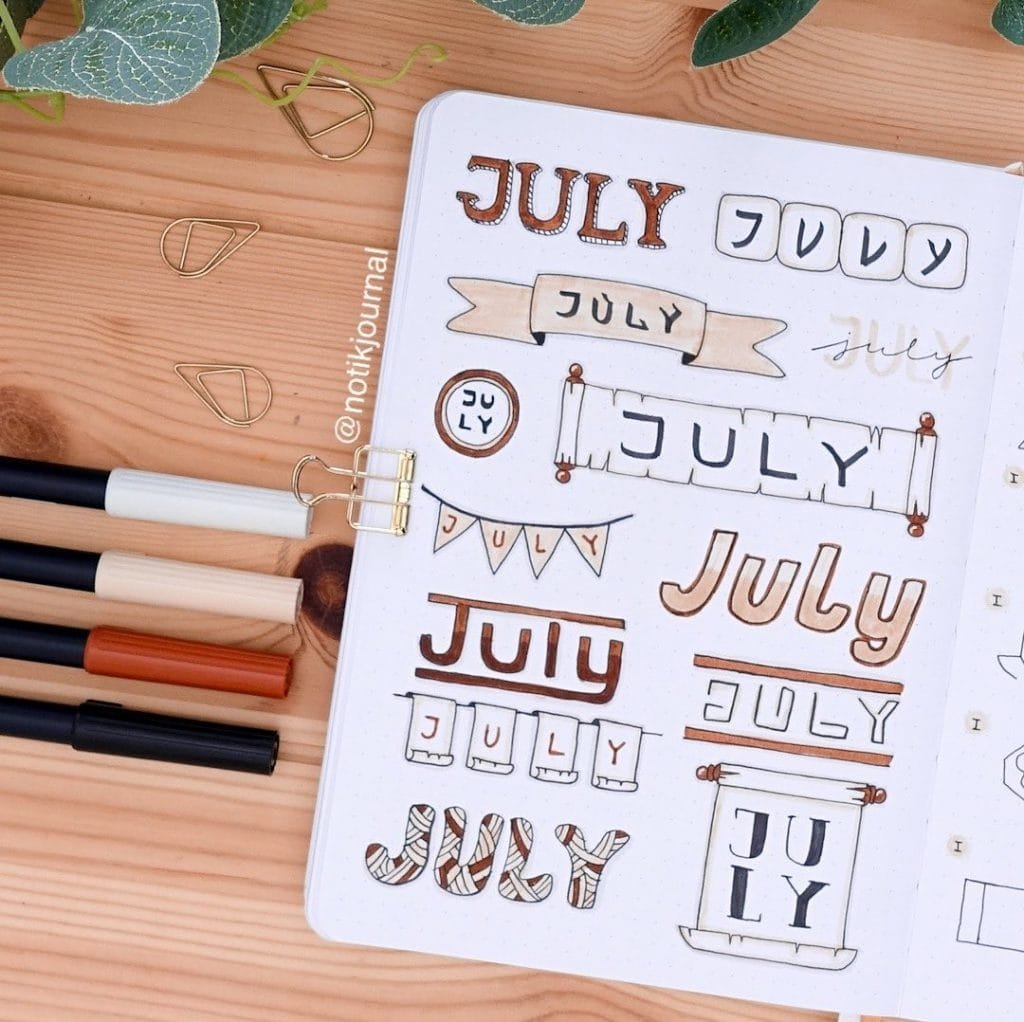 Source : notikjournal
I like how she has used soft earthy brown shades. It is a perfect color scheme for the summer. These lettering styles are so simple and interesting. You can pick up your kind of header and get all set to begin your July bullet journal. Here are some ideas for your July bullet journal pages- 18+ July Monthly Spread To Plan Your Month in Style.
8. Black and White Headers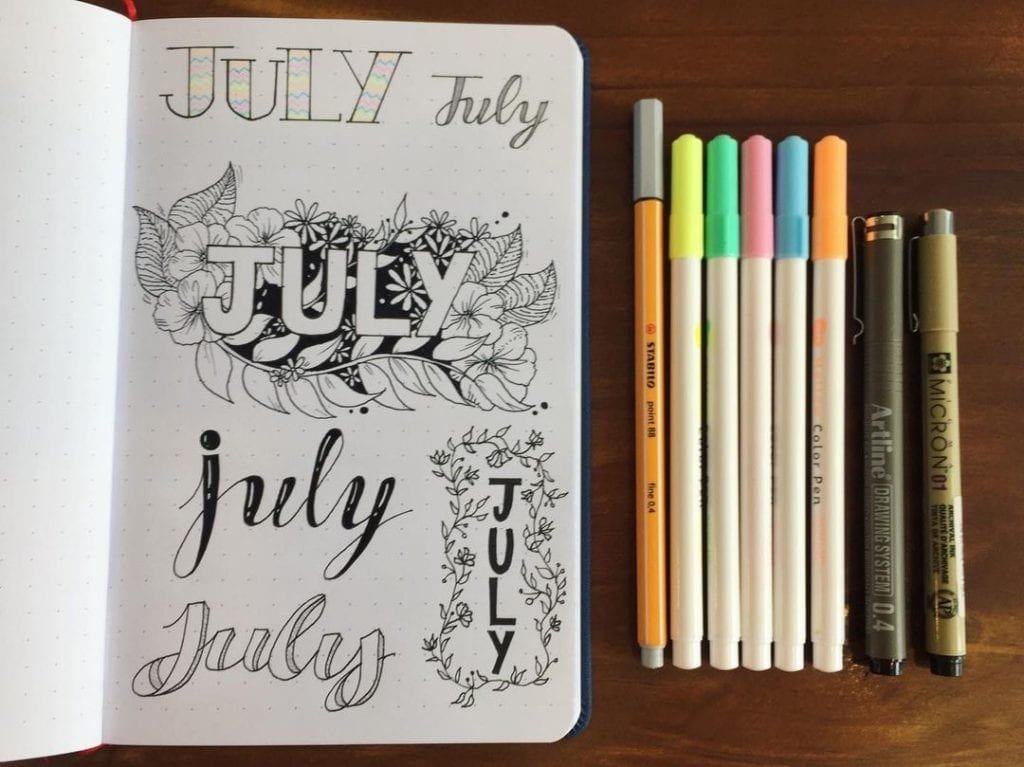 Source : amika.bujo
If you are looking for something more somber and not colorful, then these are viable options for you. I like what she has done with this black and white theme. It is a basic doodle and lettering art. These are easy and sophisticated headers.
9. Different Ways to Letter July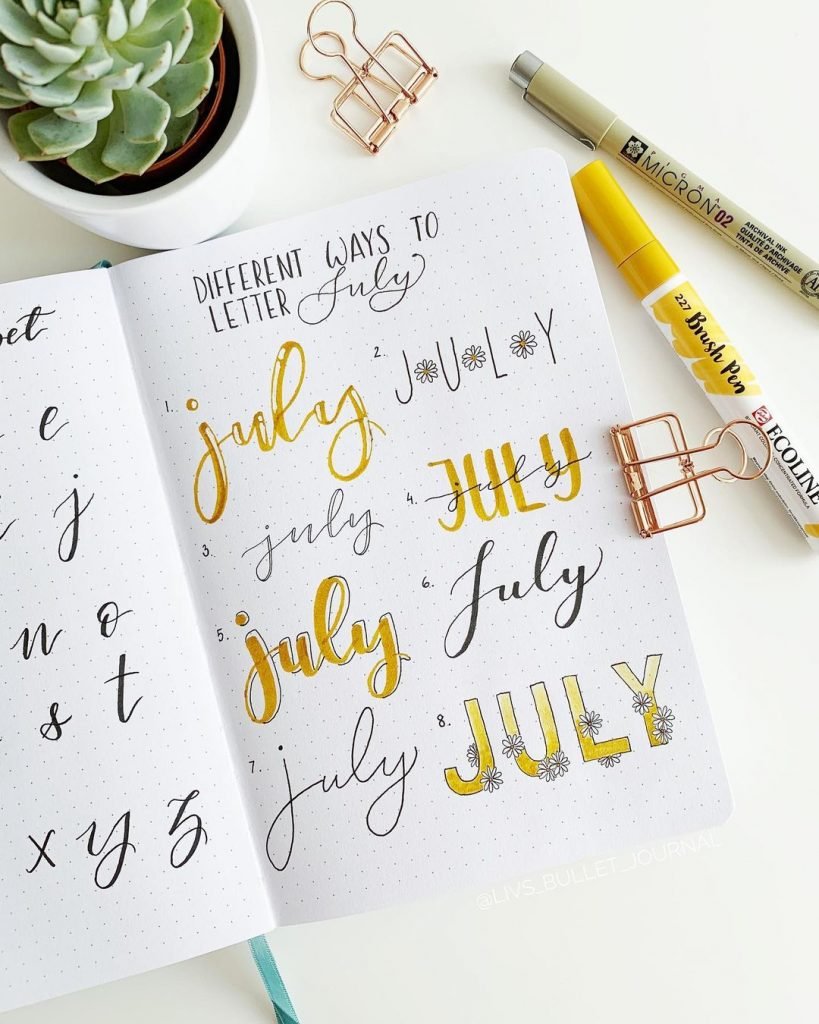 Source : livs_bullet_journal
Yet another assortment of bright yellow and floral lettering techniques. There are perfect for July bullet journals. The color scheme is apt for summer. And the floral theme is perfect for July. Check out some lovely flower doodles for your bujo pages- 25+ Amazing Flower Doodles For Your Bujo Pages.
10. Hello July

Source : shibadoodle
I love these unicorn color-themed July header ideas. We are halfway through 2021, and here are brilliant ideas for your July headers. I love how she has played around with the colors in these headers. Especially, the ones where he has added patterns to the pastel pop colors.
11. Watermelon Sugar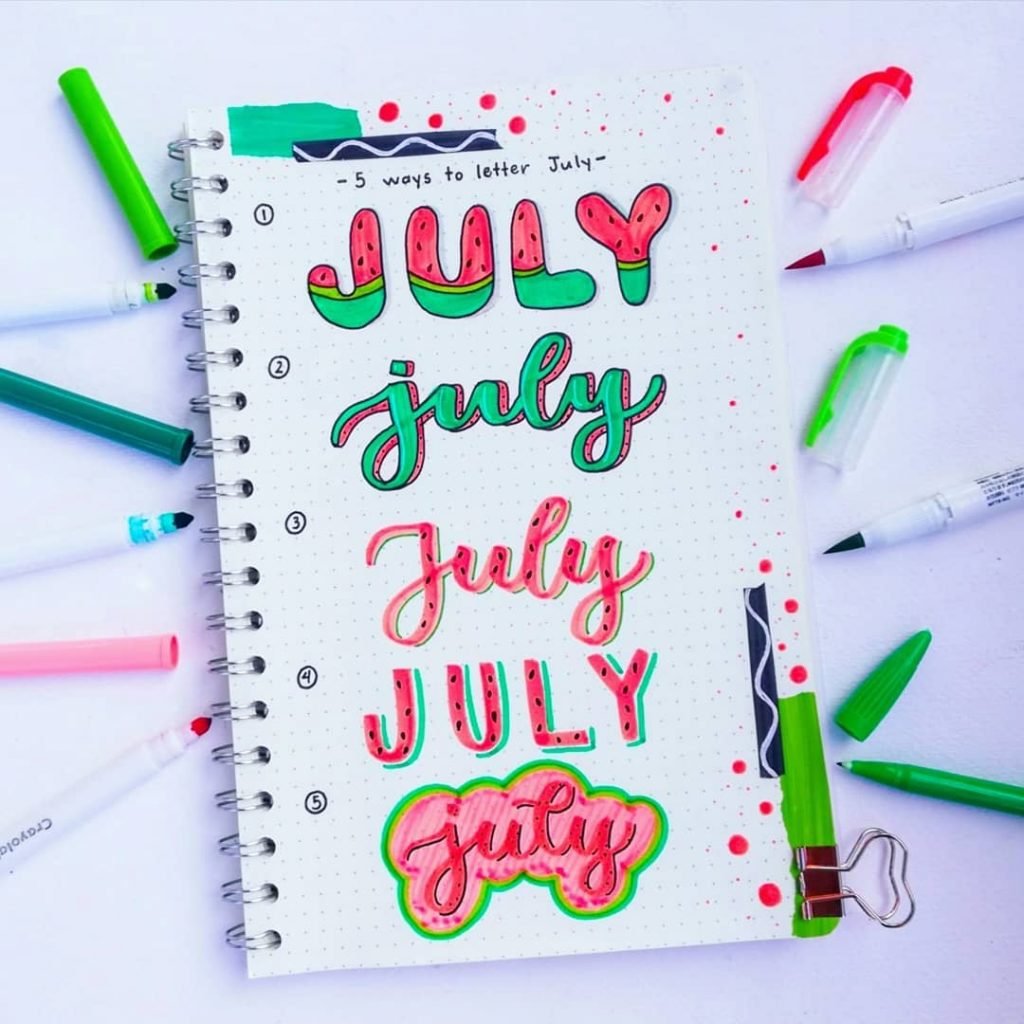 Source : isabelle_journals
I love watermelon themes for my summer bujo pages. And these certainly caught my attention. They look adorable and delicious. The combination of red, pink, and green is such a great combination.
12. Lettering July

Source : pens.plans.letters
Here is a tutorial for you to ace the July lettering game! The styles are simple and elegant. You can achieve these with a little effort and smooth brush pens. Check out the various kinds of brush pens you can use for your bujo pages- Top 3 Best Brush Pens For Lettering in 2020.
13. Pink July Headers

Source : jbujalance
These pink July header ideas are so classic. It kind of reminds me of Jane Austen novels. There is something romantic about these shades of pink and the styles of lettering!
14. Ice Creamy July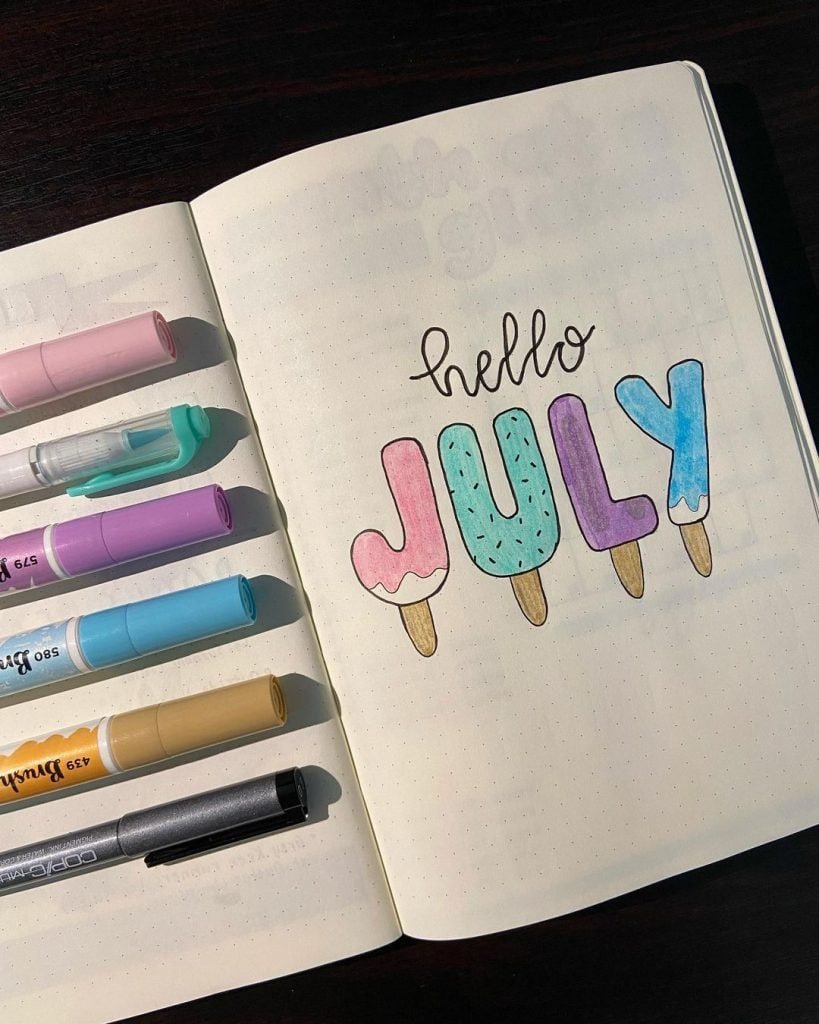 Source : emalie_bulletjournals
Ice cream is an exemplary choice for July bullet journals. She has used popsicles to give the lettering style a quirky edge. This is perfect for ice cream-themed journals. If you are looking for some ice cream-themed bujo pages inspirations then check out some options here- 20+ Ice Cream Bullet Journal Spreads and Ideas for Summer.
15. Happy Freedom

Source : blossomingbullet
This gives me a feeling of a neutral 4th of July theme. The black and white color scheme has kept this July header simple and sophisticated. I love the fireworks doodle that she has used. 
16. Hello July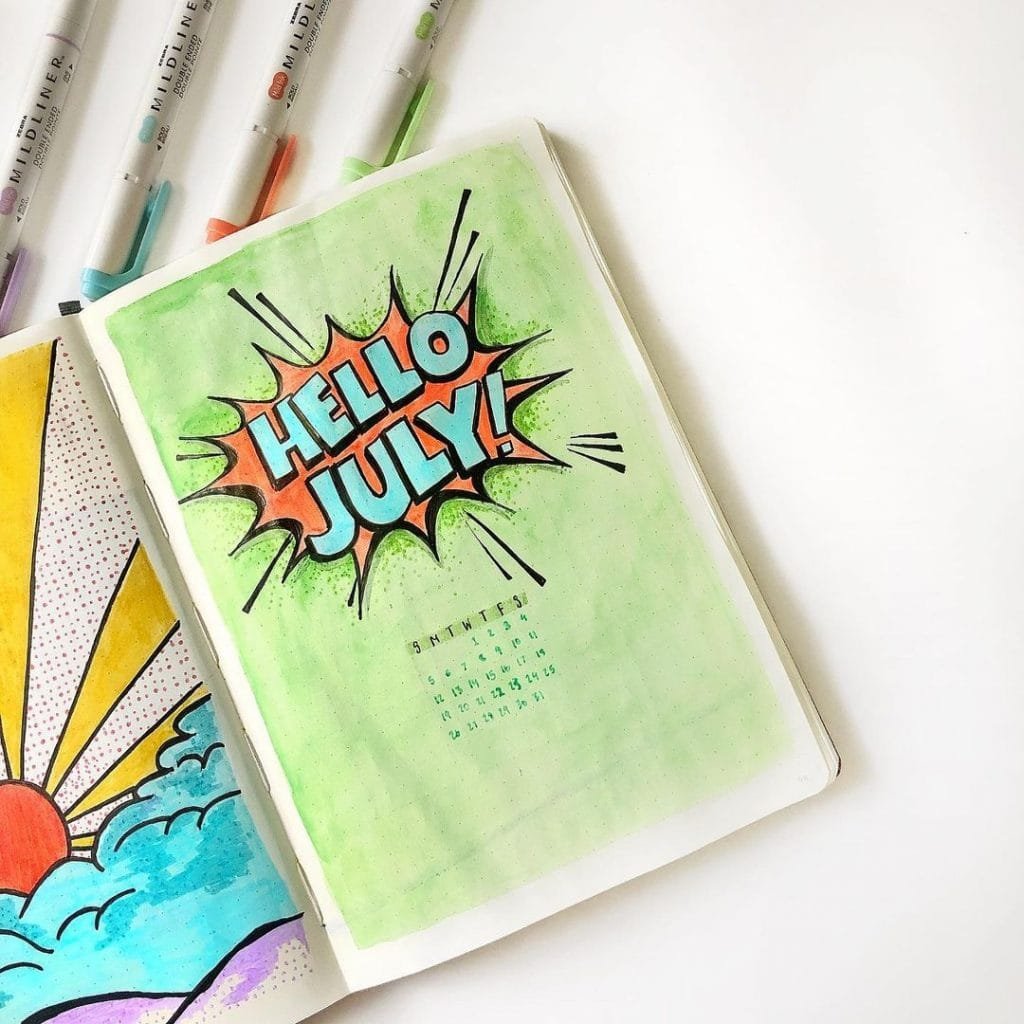 Source : journalingling
I love this comic-themed July header. It is a one-of-a-kind header. It has the fun, the quirk, and that extra edge. I love the color scheme; orange and green make it a beautiful pop art piece. 
17.
July Titles

Source : kiro.journal
Yellow and soft orange is a superb combo for July header ideas. It reflects the sunset in a way. The lettering style is simple but it is the color scheme that makes these July header ideas brilliant!
So there you go people. With all these extraordinary and unique July header ideas, I am sure you will have no issue choosing your favorite one. Let us know in the comment section below your favorite July header. Happy journaling, people!
If you loved these ideas, you can use the Pin image below and save this article on your 'July Bullet Journal' Pinterest board.