June is over and July is here! And switching themes and concepts for a new monthly journal can be a task. So here we are, with a list of July monthly spreads curated just for you!
We have curated this list of July monthly spreads after scrolling through a plethora of lovely themes and layouts. You will certainly get something here that you resonate with!
You can also check out some July weeklies here on- 
1. Colorful July Monthly Spread
Source : roxpaperstickers
I love colorful July monthly spreads like this one here by roxpaperstickers. She has done a stunning popping colorful work with this July monthly spread! The calendar takes up almost the entirety of both the pages, in this one, making it a much clean and sorted monthly planner. She has also added cute and colorful doodles to make the overall look brighter. There is also a section for events and to-dos.
2. Earthy July Planner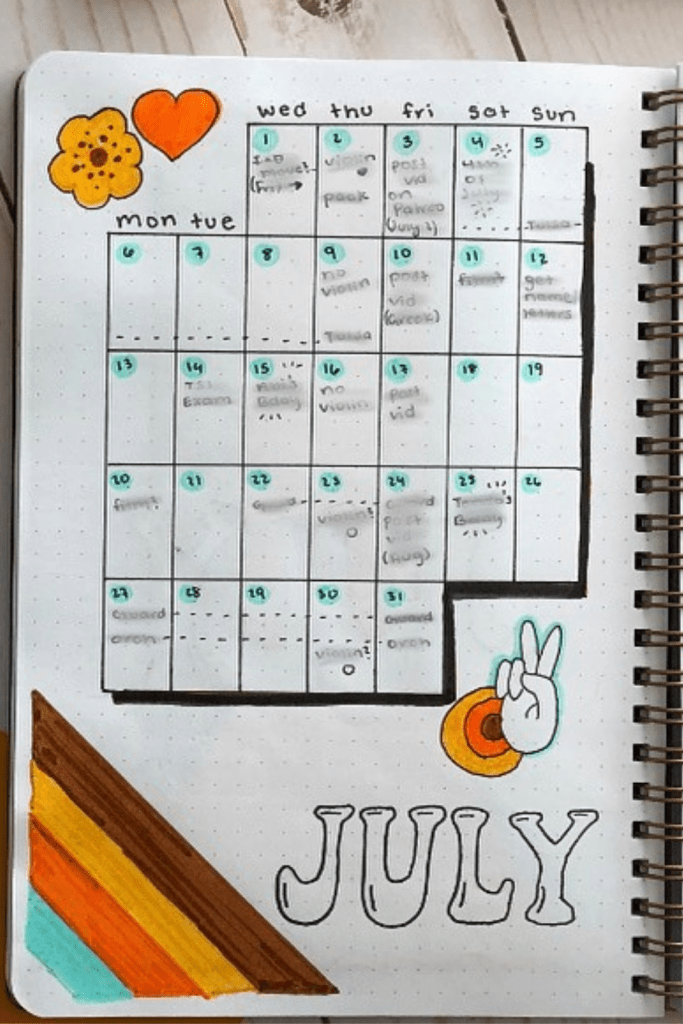 Source : bujo.by.sophie
I love the earthy-toned game in this one! Bujo.by.sophie has used earthy browns and orchard shades to bring out the summer vibe in this July monthly spread. Earthy tones are often a rare element in July monthly spreads, but look how fabulously it works for this layout. She has also included flower doodles and a motivating victory sign!
3. Unicorn Bubble Tea
Source : beatricejournals
Are you a fan of bubble tea? They are so refreshing! It has always been one of my favorite themes for my July monthly spreads. But I love how beatricejournals has given it a unique touch. The colors that she has used in this layout also give it a mystical touch of a Unicorn.
4. Not So Minimalist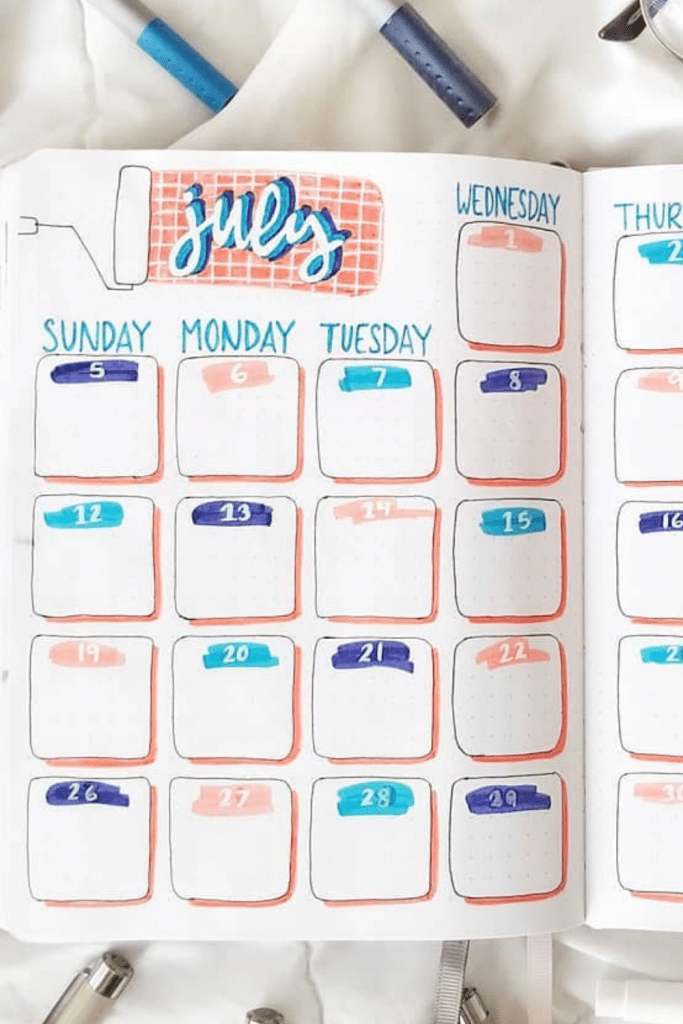 Source : toastyjournals
This layout here by toastyjournals is a work of art! It is minimalism turned extra! I love how she has used the washi tape and the paint roller doodle; very creative! Once you complete the month, this layout will look stunning! And I love the double-toned doodles that she has drawn, gives the layout a unique personality. 
5. Colorful Boxes
Source : lalipop.lettering
I love this kind of box July monthly spreads. Usually, July is a month full of fun, vacation, and adventure. Hence, not much work on my plate. And these kinds of layouts are comprehensive and alluring. Lalipop.lettering has also filled the page with cute summer doodles. The popsicles are as tempting as coloring the boxes!
6. Blue Ice Cream July Bujo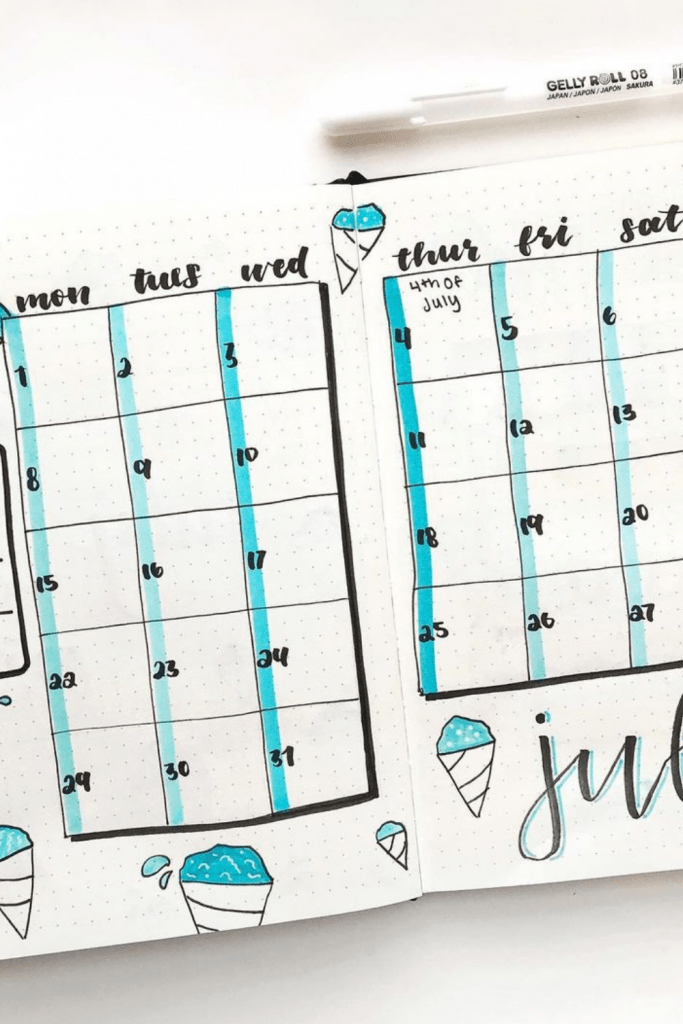 Source : byhaleyelizabeth
Who wouldn't want some ice cream to beat the heat in July? But I want ice creams in my bujo pages too! Byhaleyelizabeth has the perfect idea for your July monthly spreads. It is clean and sorted. I love how she has utilized the entire two pages for the monthly calendar. But she has also given the layout a summer theme with all the cone ice creams. Brilliant work!
7. Flower Doodles July Monthly Spread
Source : bujobyabby
Flower doodles are almost customary when it comes to July monthly spreads. bujobyabby has taken a similar theme as for her July monthly planner. Look how stunning these purple flower doodles look! Mesmerizing! The monthly calendar takes up the entirety of the page. And I love the snuggly duckling! You can check some more fun flower doodles here on- 25+ Amazing Flower Doodles For Your Bujo Pages.
8. Ice Cream Tower
Source :  bullet_journallingg
When I see this July monthly spread by bullet_journallingg, 'Ice Cream' by Blackpink rings in my head! I love this layout! It is everything you would want in your summer monthly planner. It is colorful, fun, and how crazy is that ice cream tower!
9. Simple July Monthly Spread
Source : beatricejournals
Highlighters are my one true love when it comes to bujo pages. Claudiajosephhh has used bright yellows and blues to draw simple doodles to decorate the layout. The calendar has covered the whole page and this gives the layout an extremely clean and sophisticated look.
10. Aquarium July Monthly Spread
Source : barbarahaegerart
Barbarahaegerart makes me want to go to an aquarium right now! I love this layout. It is serene, fun, and unique. I love what she has done with the aquarium theme. The fish doodles are extremely adorable, and the lettering is fun. The calendar is neat and spacious; making it easier to maintain the monthly schedules.
11. Pyramids
Source : lolastarryart
I love this July monthly spread by lolastarryart. It is unique in its way. With the pyramids and cacti, how perfect is that for the July monthly spread theme? It is certainly one of that July month spreads that I have never seen before and that itself makes it unique and fun for me.
12. Arabian Nights
Source : bullet_journallingg
I love a monthly layout with a night sky theme. This monthly calendar by bullet_journallingg is dreamy and beautiful. This one here gives me a major Mummy Returns vibe with the snake, cactus, moon, and skeleton!
13. Summer Day
I am obsessed with the color scheme in this July monthly spread! I am a true lover of pastel colors, and b.bulletjournal has created a layout with pastel colors. It is bright, colorful, and gives a boost of life to this monthly layout. It is covered with beautiful colored pictures that give this layout a major summer vibe.
14. Hello Sunflower
Source : stationery_island
Sunflowers are the best theme for summer bullet journals. I love what stationery_island has done with this theme. The layout is simple and fun. She has drawn yellow sunflowers as the background of the monthly calendar. But what I love the most is the space she has allotted for the growth tracker! Here are some inspirations for your Sunflower-themed bujo pages- 28 Bright Sunflower Bullet Journal Ideas.
15. Watermelon Sugar
Source : planningwithkay
I can't stop vibing to the song- Watermelon Sugar! The color combination used in this one by planningwithkay screams summer! With just watermelon stickers and pop-colored pens, you too can recreate this beauty. Go ahead and conquer your July with this July monthly spread!
16. 4th of July
Source : ashtensjournal
These red and blue popsicle doodles are my favorite. This 4th of July themed July monthly spread by ashtensjournal would give anyone a run for the money! I love how comprehensive this monthly layout looks. It has a monthly planner and three elaborate trackers and a space for events too! I am blown away by this one!
17. Mother Nature
Source : onafineday_com
I love this hand-drawn July monthly spread by onafineday_com. She has kept things simple and beautiful. The doodle depicts a peaceful night scene. The setup is simple and unique. 
18. Aqua Life
Source : Evalyn.bujo
Evalyn.bujo has chosen a unique theme for this July monthly spread. She has used corals and seaweed doodles to cover the layout. The calendar takes up almost the entire space. But she has managed to dedicate a good amount of space to keeping a track of the tasks at hand. You can have a well-planned month with this July monthly spread.
There you go, people. We have covered all the unique and innovative ideas of July monthly spreads for this summer. I am sure you will find something of your choice on this list. Let us know your favorite one in the comment section below. Happy July!
Also, if you like this article, you can pin it to the Pinterest board by just clicking on the image below.