Habit trackers are a useful tool. They are my favorite way of keeping my life organized and routine sorted. It helps me to stay on track and keep me focused on my goals. And the act of filling in my daily habits gives me a sense of accomplishment and keeps me motivated. So, get ready to explore some inspirational ideas for your July habit trackers. You can also check out some more brilliant habit trackers here- 25 Habit Tracker Bullet Journal Ideas For You.
Here, you will find a bunch of July habit trackers that will give you an idea of what your habit tracker should look like this July. 
1. Lemon July Habit Trackers
Source : raffie_journal
Lemon and lime are a conventional theme for the summer bujo pages. And it is no surprise that this habit tracker by raffie_journal made it to this list of July habit trackers! The layout is so refreshingly simple. She has kept it organized and sorted. The yellow lemon doodles with green leaves make the layout perfect for July!
2. Boxy Habit Tracker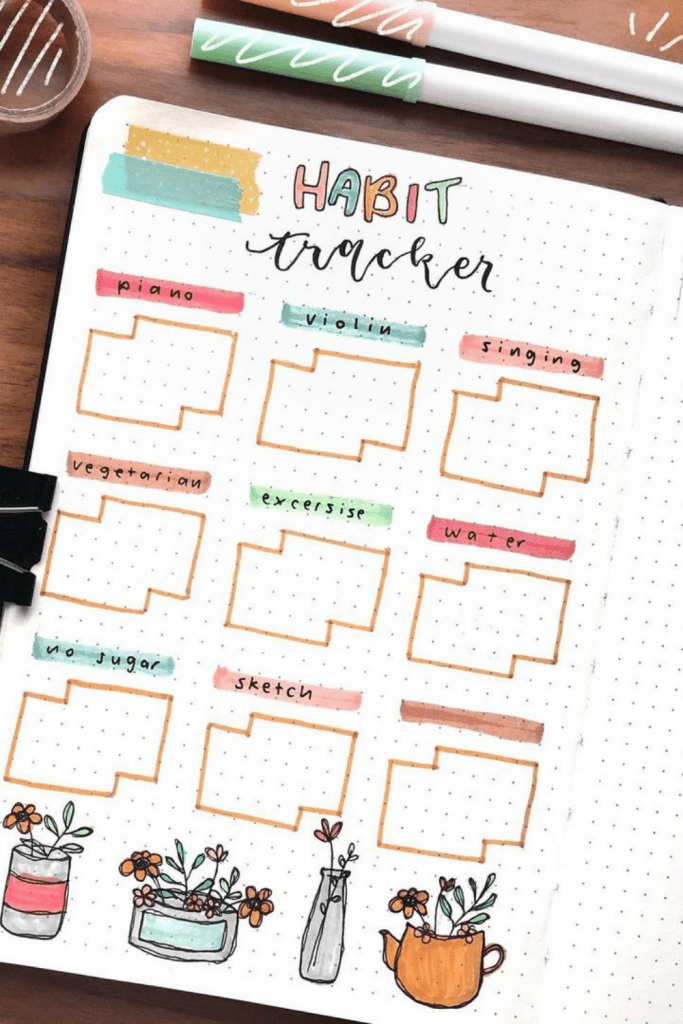 Source : Melodybulletjournals
I love this kind of July habit trackers! They are simple and perfect. Melodybulletjournals has used soft pastel colors to highlight the habits that are tracked. And how can one overlook the cute flower doodles in this layout? I hope you feel motivated every day while filling out this habit tracker! You can check out some more flower doodles here on- 
3. Ice Cream Truck
Source : beatricejournals
I have tried to include July habit trackers in this list that sits well with your summer-themed July bullet journal. And this habit tracker by beatricejournals is perfect for your ice cream-themed journal. The layout is spacious, colorful, and fun! I like how she has also left space for larger goals of the month!
4. Blue July Habit Trackers for Summer
Source : toastyjournals
July habit trackers like this one by toastyjournals are easy to maintain. They are perfect for tracking multiple habits. I love the shadow effect that she has created with the dual-toned blue plant doodles.
5. Consistency
Source : Cynthiabujo
Whether it is a skincare regime or a fitness regime, habits are all about consistency. Cynthiabujo came up with a July habit tracker that will certainly keep you motivated and focused. I like the aestheticism in this layout! The green highlighter acts as the perfect color to depict summer. You can also use some washi tapes and flower stickers to complete the look. 
6. Winnie-the-Pooh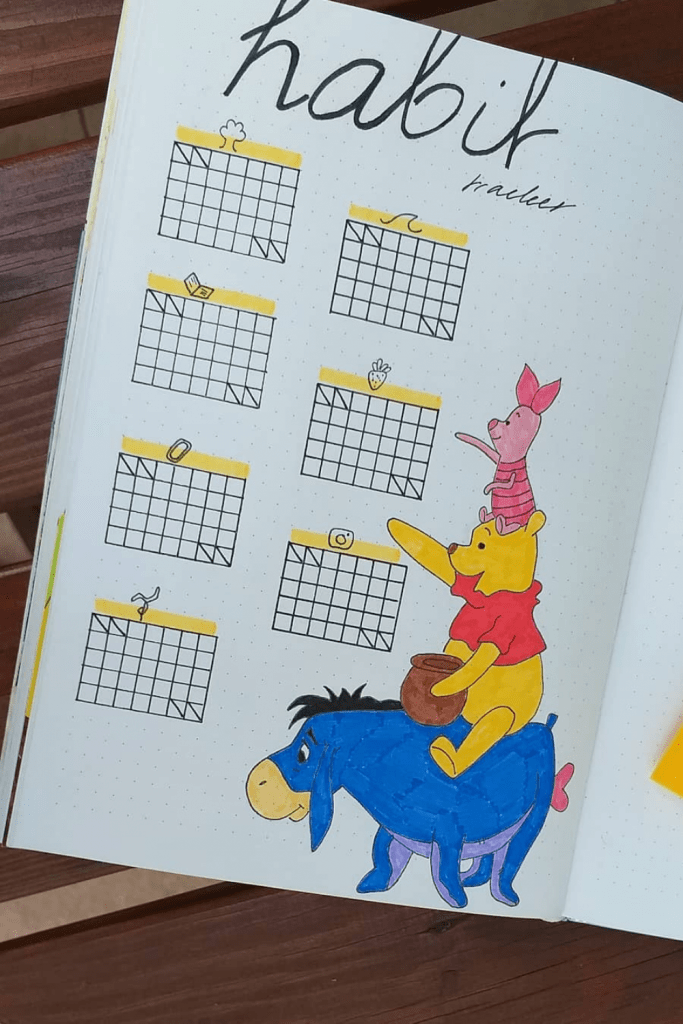 Source : emmjournal
July habit trackers are the best way to keep yourself productive this summer! So let me introduce you to a unique habit tracker for this July! I love what emmjournal has done with this habit tracker. Besides the amazing doodle of Winnie-the-Pooh and company, I love that she has used logos instead of words to denote the habits. With yellow, red, pink, and blue, this habit tracker is a blast of color!
7. Orchard Highlighter
Source : Rem.bujo
I love this kind of July habit trackers. Rem.bujo has created a clean habit tracker with minimal effort. This one is perfect for someone looking for something simple. It is easy to duplicate and effective for maintaining daily habits. She has also used washi tapes and a cute hand doodle to give it a nice summer vibe.
8. Outdoor Picnic
Source : bujobeauties
What can be a better theme than this for the July habit tracker? This habit tracker by bujobeauties is a major throwback to those warm summer day outs. July habit trackers like this one are fun and clean. This kind of calendar habit tracker enables you to individualize each habit. With these, you can keep track of both dates and days simultaneously. And the doodle work in this one adds to the summer essence! You can check out some more interesting summer doodles here on- 22 Creative Summer Bullet Journal Doodles To Try.
9. Aqua Habit Tracker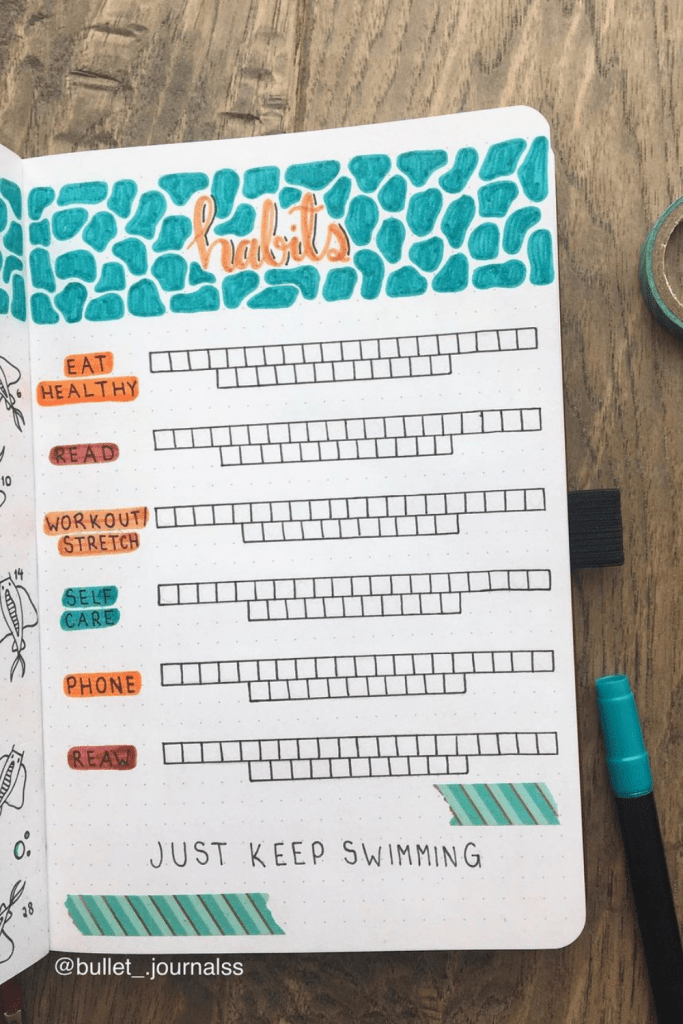 Source : bullet_.journalss
Grid July habit trackers like this one here are a convenient way of tracking new habits. Bullet_.journalss has created a fun and easy layout. By the end of the month, you will have a lovely colorful pattern. I love how she has used teal blue to do the aqua theme. And that little motivation at the bottom that says, 'keep swimming' is all I need to get through the schedule with consistency.
10. Yellow July Habit Tracker
Source : journalwithrae
Yellow July habit trackers are one of my favorites! The color is bright and summery. Journalwithrae has used this color to strengthen the summer element in this habit tracker. With washi tapes, highlighters, and stickers, she has done a marvelous job with this one!
11. Hand-drawn Habit Tracker
Source : stewpeed.notes
This hand-drawn July habit tracker is one-of-a-kind! Stewpeed.notes have used shades of pink and magenta to achieve this look. But what I like the most about this kind of July habit trackers are the lettering styles. The lettering looks like paper cutouts assembled. She has also used random abstract patterns to give this layout an extra edge.
12. Perks of drawing Sunflowers
Source : honor.journal
This kind of July habit trackers is exotic. Floral themes and sunflower themes are a usual choice when it comes to summer bujo pages. This calendar-style habit tracker by honor.journal is perfect for a sunflower-themed bullet journal. I love that grey wall; it is a perfect contrast to the yellow bright sunflower. You can also check out some sunflower-themed bullet journals here- 28 Bright Sunflower Bullet Journal Ideas.
13. Cool Design Habit Tracker
Source : sewol_bullet
This is exactly how you turn boring and conventional July habit trackers into a fun design. This habit tracker by sewol_bullet is extremely pleasing to the eyes. I love the skate shoe doodles in this one. It has a vision of a fun summer day out! She has used colorful drink cans to denote the habits, and that is so innovative.
14. Circular Grid Habit Trackers
Source : journal.with.peggy
Circular grid July habit trackers are a convenient way of tracking daily habits. Journal.with.peggy has found a beautiful way to fill in daily habits. The grid is a simple one, and what brings out the fun in this one are the rose doodles. Look how beautiful the rose doodles are! This one is simple, neat, and exquisite.
15. Lemonacious
Source : kplettering
I love absolutely everything about this habit tracker by kplettering. If I had to choose one from this interesting list of July habit trackers, this would be the one. This grid-style layout keeps the whole layout neat and tidy. And the yellow lemon doodle is just the perfect theme for summer. If this theme interests you, check out our lemon theme bujo pages here on- How To Create A Bullet Journal Theme?
16. Clean Habit Tracker
Source : suescumjournal
July habit trackers, like this one by suescumjournal, have a clean look! I think this kind of habit tracker allows you to cut yourself some slack on days when you fail to accomplish a habit. I love the doodle work here. The cocktail glasses and coolers are so refreshing and tempting; certainly an apt theme for July!
There you go, people. We have come to the end of an inspiring list of July habit trackers. Habit trackers are the best way to make sure you build healthy habits that will guarantee a healthy life. July habit trackers like these will certainly keep you focused and consistent. After all, it takes 21 days of consistent effort to make or break any habit! Let us know your favorite one in the comment section below.
Also, if you like this article, you can pin it to your Pinterest board by clicking on the image below.