Summer is here! And we are all set with a list of ideas for your June monthly spread. I love summer bullet journals; there is a lot of scopes to play around with. Bright colors, tropical and floral patterns, and summer doodles all make the following June monthly spread unique!
Check out some original ideas for your June bullet journal here- 30 New June Bullet Journal Ideas To Inspire You.
1. Yellow Summer Flowers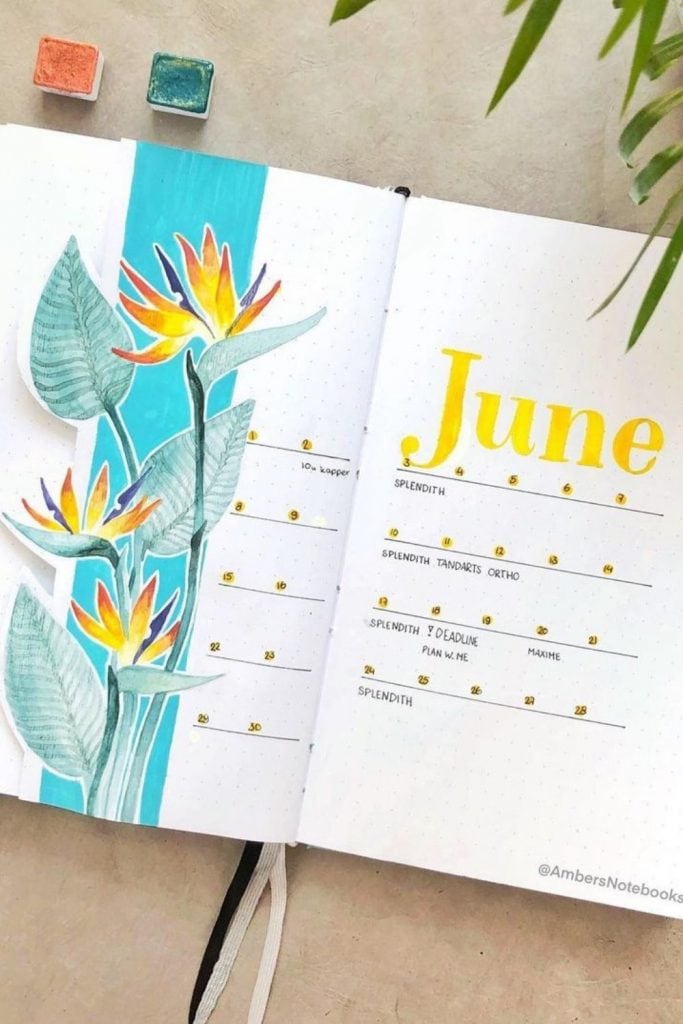 This June monthly spread by ambersnotebooks is perhaps one of the cleanest layouts out there! I love everything about this monthly spread. That teal blue is in perfect harmony with the ochre yellow. Floral patterns are common when it comes to the theme for summer bullet journals. But this one here is quite exquisite!
2. Pop like a Popsicle June Monthly Spread

Nothing is more tempting than a heart-melting popsicle! Astudentsjournal has found inspiration in the basic pleasures in the summertime. This June monthly spread is bright, clean, and chic! I love using highlighters for my bujo pages, and here she has used colored highlighters to create beautiful color gradients.
3. Purple Pastel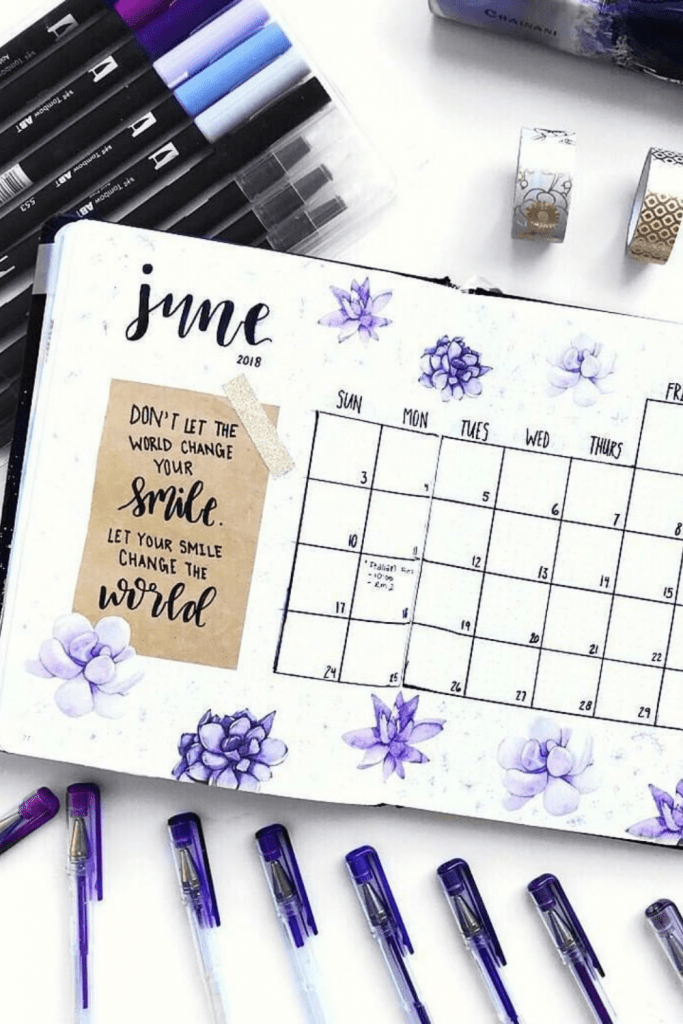 Pastels make everything better; at least that's how it works for me! So I couldn't resist including this purple beauty here by archerandolive.community. I love how this one turned out, but I particularly like the quote. She has used beautiful purple flower doodles to add the touch of summer in this June monthly spread. You can check out other flower doodle ideas for your bujo pages here-
4. Wild Flowers

I love how compact and convenient this June monthly spread looks! Hayleys.bujo has used doodles, stickers, and washi tapes to achieve this layout. But she has caught my undivided attention because she has included everything in this layout, from the monthly spread to goals to a playlist tracker! And how can one even get over the cute milk cartoon doodles? They are adorable!
5. Blue Whale June Monthly Spread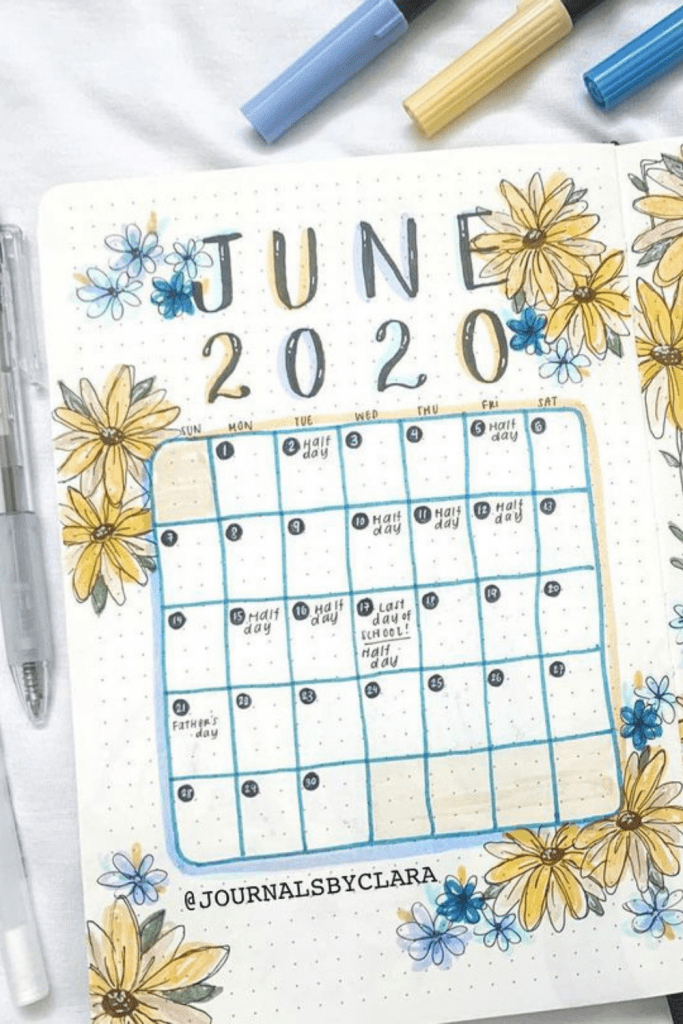 How majestic does this blue whale look? Journalsbyclara has created an extravagant monthly spread without compromising the functionality of the same. I love how she has used yellow and blue flowers, which are in perfect contrast, with the blue whale!
6. Yellow June Monthly Spread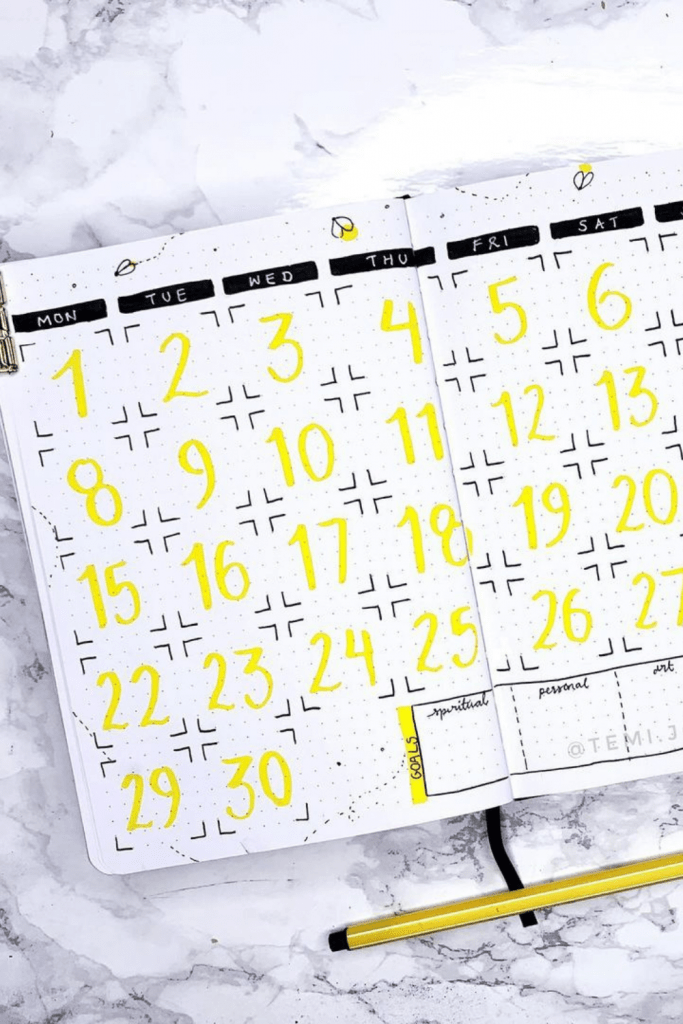 This June monthly spread by temi.journals has presented us with a true one-of-a-kind layout! She has used a conventional monthly calendar style for this bujo page. But, what I like the most is that she has also included here tracker list in the same layout! And the tiny yellow bee doodles are certainly the showstoppers!
7. Yellow Taxi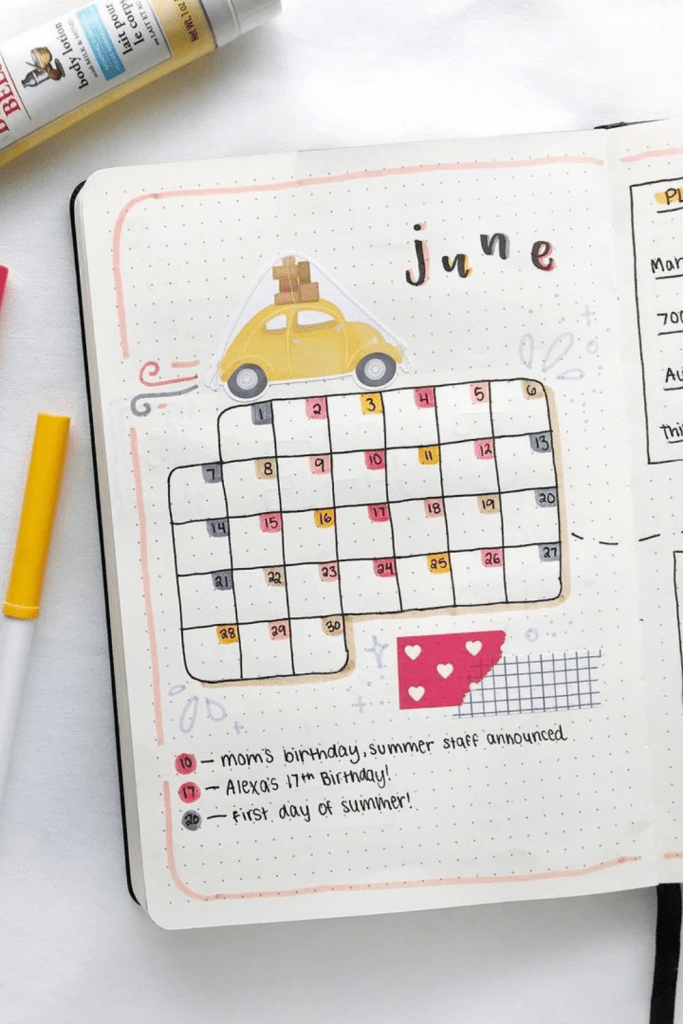 I  love yellow taxis! They are extremely iconic and aesthetically pleasing. Byhayleyelizabeth has found a way to include it in this June monthly spread. I love the whole summer vacation vibe in this layout. It almost makes me want to pack up and go on an adventure trip! 
8. Pineapple Express
Simple and clean, that's how I see this June monthly spread. Anastasiiadesigns has picked a fruity theme for this layout. And why not? Summer is, after all, about fruits, flowers, and ice creams! I love the color gradient in this one. She has used easy and doable pineapple doodles that can recreate with ease.
9. Butter-fly in the Air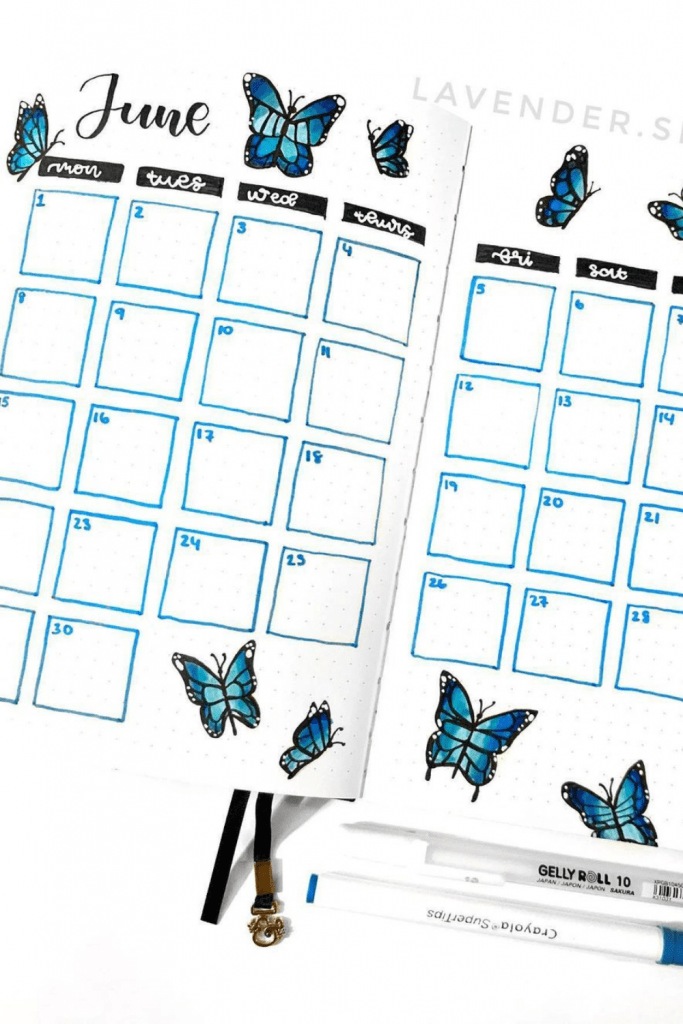 When I think of summer, I think of flowers and beautiful butterflies. If you feel the same way, then this one is your pick! Lavender.skyss has created a minimalistic layout. She has drawn beautiful butterfly doodles, but you can also use stickers instead.
10. Abstract Love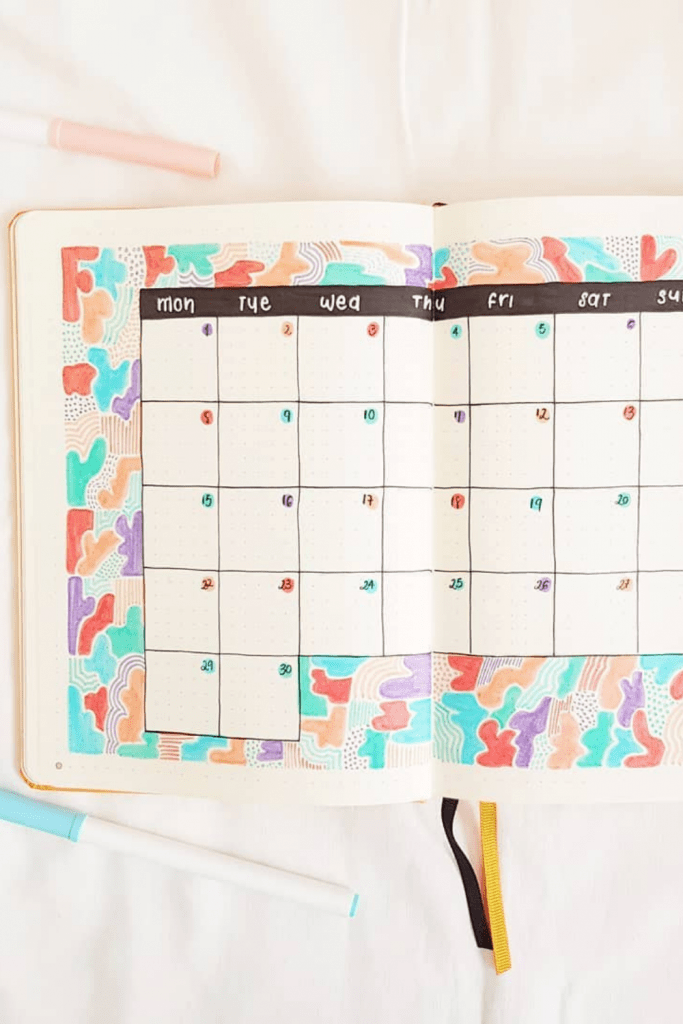 I love everything about this layout! It is my kind of June monthly spread. Cchocolatemilkk has beautifully done the background of this layout. And that is exactly where the beauty of this monthly spread is hidden. The colors chosen for this one are all pastel colors; they are all summer colors that are perfect for a June bullet journal.
11. June Calendar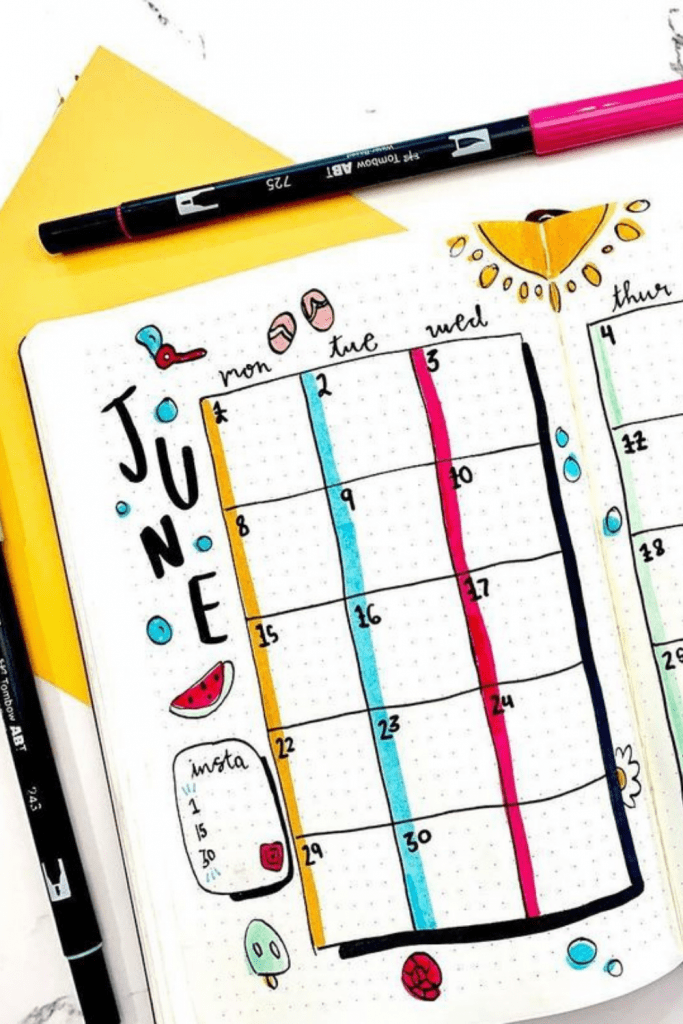 Look how fantastic this one looks! It is fun, quirky, and popping with bright colors. Nomnombujo has used all summer colors for this June monthly spread. And she has tactfully used cute summer doodles to strengthen the summer vibes in this layout. You can check out more cute summer doodles here on- 22 Creative Summer Bullet Journal Doodles To Try.
13. Blue Puddles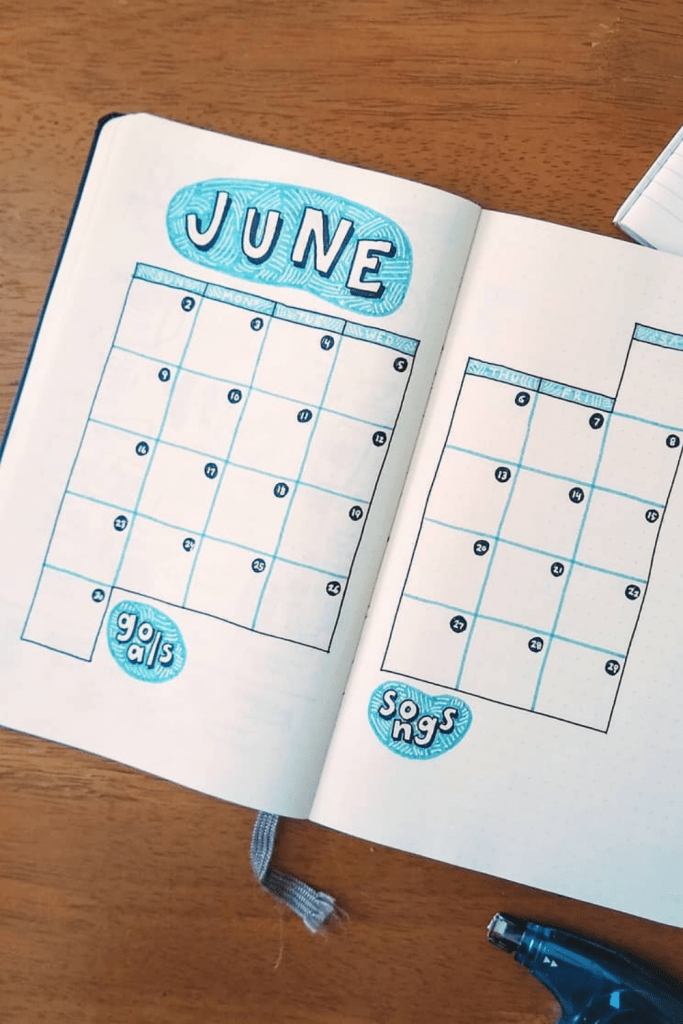 I love how bulletjournalwithfaith has drawn blue blotches to make them look like puddles! How innovative is that! It is so clean and classy that I can't get enough of this. She has also managed to include goals, song lists, and to-dos without getting everything cluttered!
14. Desserts

Desserts are my one true love in the summer season. And this layout by asheelily has gone all out in this June monthly spread. It actually reminds me of a perfect June day out. A nice zoo tour, some popsicles to beat the heat, and then some delicious dessert to end the day. Sounds perfect!
15. Rainbows Everywhere
June is all about bright sunny days and rainbows. I love how simple marie.bujo has kept things. With minimal effort, you too can achieve this June monthly spread look. The layout is clean and sorted, with goals and space for extra notes!
16. Breakfast at Tiffany's
Breakfast at Tiffany's, that's what came to my mind when I say this June monthly spread by xochisbujo. This layout is simple and sophisticated. And that adorable egg on toast is all it took to impress me!
17. Fish and Citrus

Martiancatvision has found a unique way to interpret summer in this June monthly spread. With this fish and citrus combined theme, she has created a quintessential monthly spread. The colors used are bright and summery. I love the whole underwater scene that she has fabricated in this layout.
18. Fireflies

Fireflies have always been closely associated with summer nights and music camos. They are beautiful and surreal. Creativemindscoffeegrinds have included the same to give this June monthly layout an edge. The layout is minimal, and so is the doodle work. 
19. Minimalistic June Monthly Spread

I think this one here is the easiest June monthly layout in the entire list! Littlelostbujo reminds me of sandy beaches and the blue sea with this layout. The overall look of this one is simple and spacious.
20. Floral June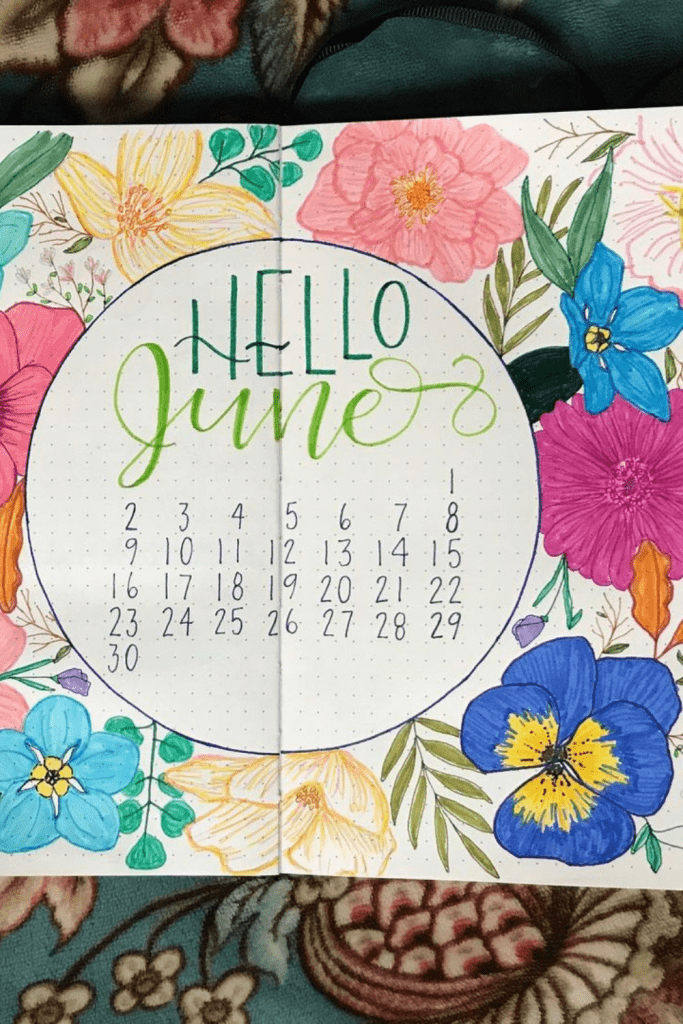 This monthly layout for June is exotic! Whi.cre8ted has created a layout that is a flower lover's paradise. Flowers are always a go-to theme for June bullet journals. After all, nothing screams 'summers' more than flowers!
21. Moments and Polaroids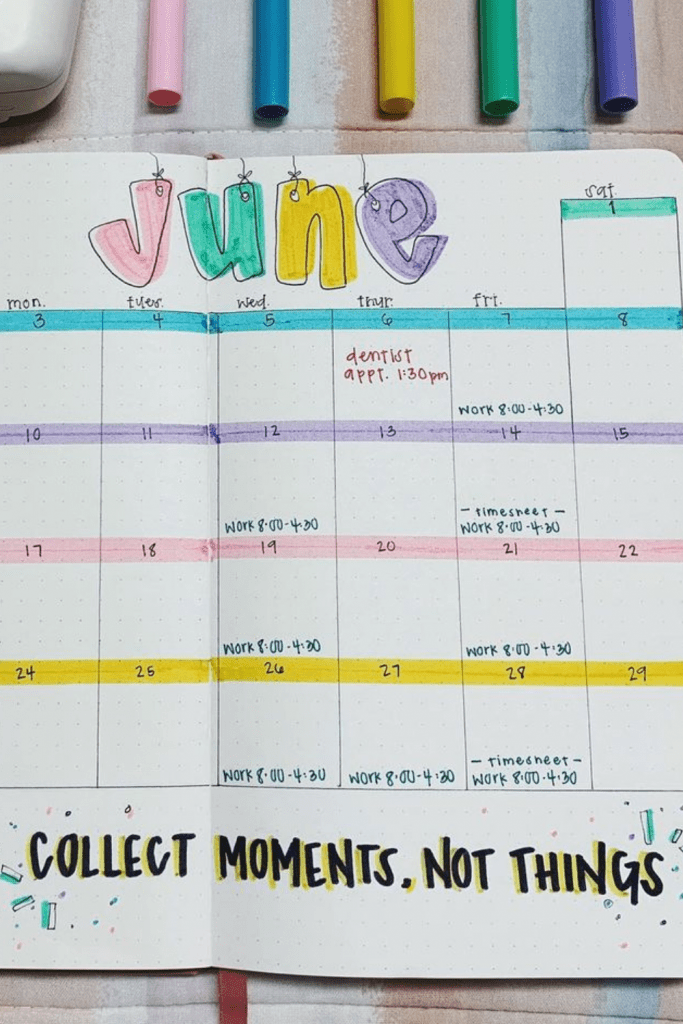 In this digital age, I am still a sucker for polaroid pictures. And why not? They are classics, aesthetically pleasing, and fancy. Bujobycel has drawn inspiration from the same. With this June monthly spread, collect moments and not things.
22. Picnic Theme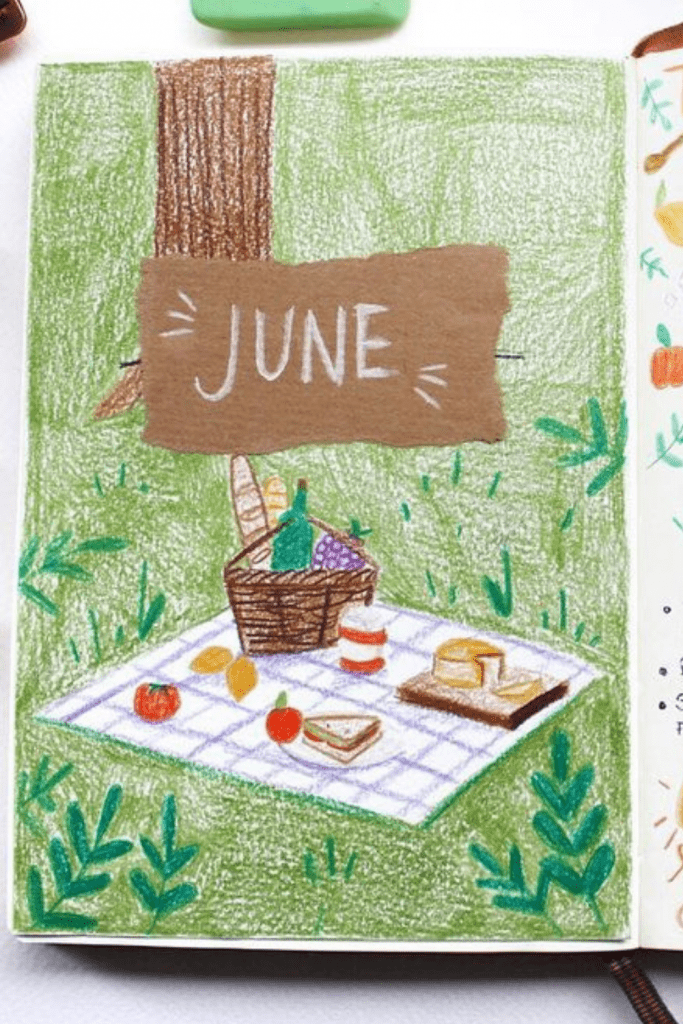 Potluck outdoor picnic is my favorite part of summer. I love when friends and family gather together to enjoy a day under the clear sky. Abusybeejournal drew this lovely scene with color pencils and has successfully achieved scenic beauty.
23. Daisies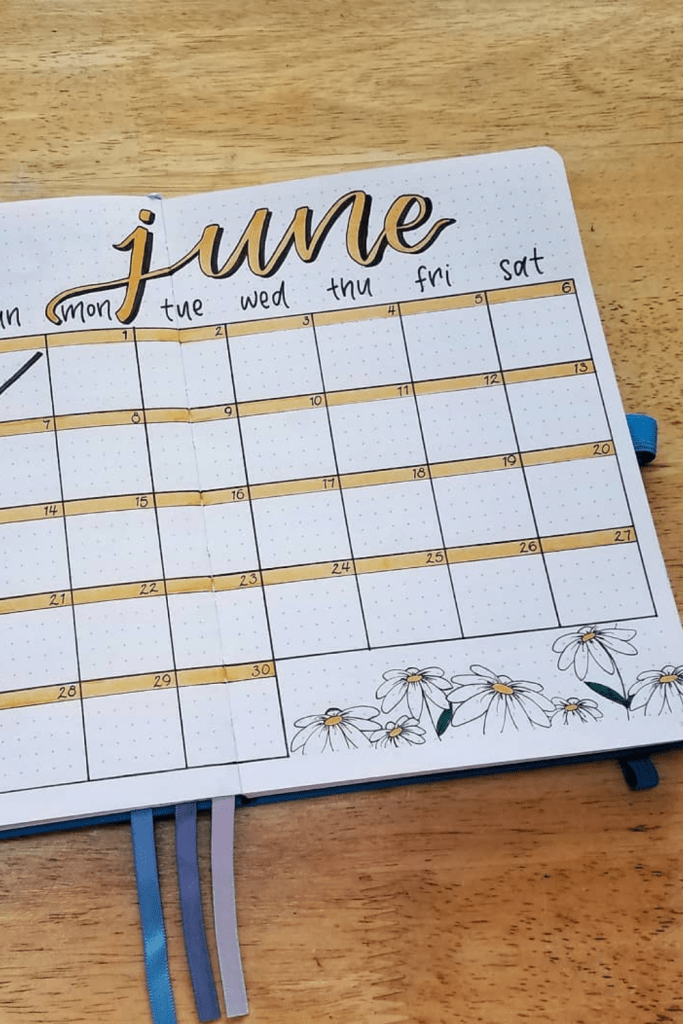 How can we have a list of June monthly spread and not have a Daisy-themed layout? Mwmletters has a perfect inspiration for you if you are looking for some daisies. This one is elegant, sorted, and simple. It also has extra space for the notes!
24. Starry Nights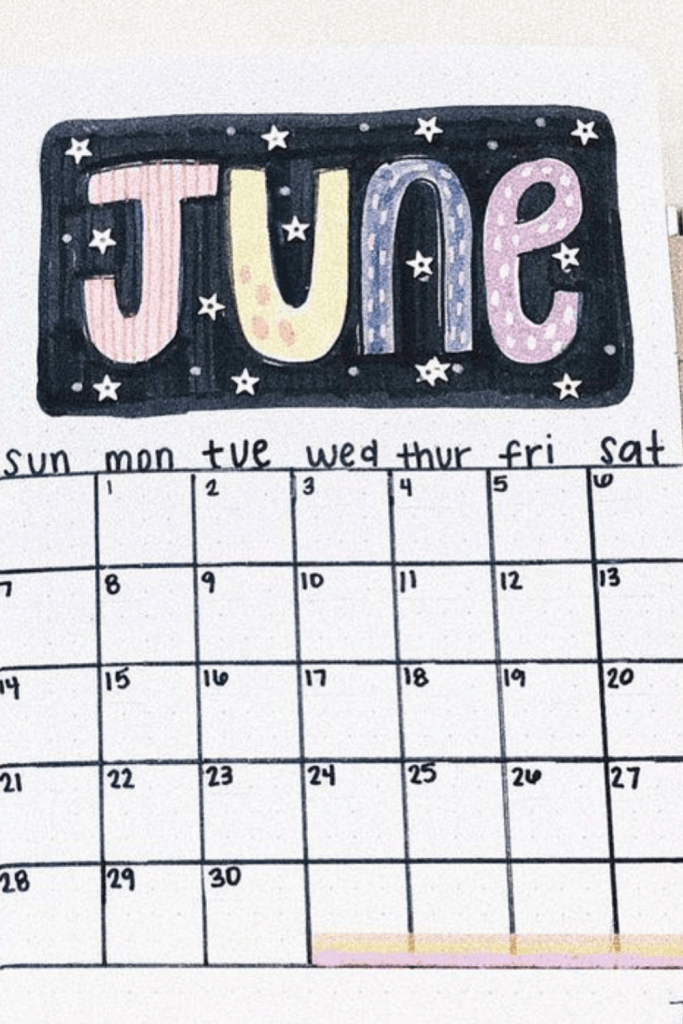 I love, love, and love this one! Starryeyedmaniac has used one page for defining the theme. She has chosen the night sky as her theme and has embellished it with shooting stars, moon, and rainbows. On the right side, she has sketched the monthly calendar, keeping things neat and sorted.
25. Fruit Candy

June is Nature's fruit candy! And it is indeed true. Blendedbujos has chosen a common fruity theme and has transformed it into something unique. She has chosen cute fruit-elicios doodles to complete the layout.
And that's it; we have reached the end of the list. Now it is your turn to squeeze out all the inspiration and create your own personalized June monthly layout. Make June fun and adventurous; plan out the month with one of these interesting June monthly spreads. Let us know your favorite June monthly spread in the comment section below. Happy June, people!
Also, if you like this article, you can pin it to your Pinterest board by clicking on the image below.