There are so many things about July that makes it one of my favorites! With the 4th of July, campings, picnics, and hanging out at the beach, July is special! 
It is also time to share some major inspirations for your July weekly spreads. July majorly means a summertime theme, so here we are with our list of July weekly spreads for all the weekly spread admirers! These ideas will certainly give your creative mind a boost to give those July weekly spreads some warm summer vibes.
1. Smile like a Sunflower
The first thing that comes to my mind when I think of summers is sunflowers. So why not include some serious sunflower doodles in your July weekly spreads just like honor.journal? I love how this weekly spread has turned out. She has used the collage element, pictures, and even doodles to give this weekly spread a more defined personality.
2. Hello Summer Nights July Weekly Spreads
Weeklies like this one are my favorite kinds! Willbujofor.treats has kept it simple, cute, and clean! It features a mini calendar which is pure bliss. And the tiny little peach tent doodle reminds me of camp nights and the mythical stories.
3. Maritime July Weekly Spreads
The maritime theme is a common theme for July weekly spreads! Xprinaspages has combined two themes here- the maritime and the 4th of July. How amazing is that! She has even allotted space for notes and tasks along with the mini calendar.
4. Structured Weeklies
Many love structured weeklies like this one here by journalwithrae. The layout out is well-sorted, and the space is ample for you to utilize to the fullest. She has used some washi tapes to complete the whole look.
5. Galaxy July Weekly Spreads
This columnar weekly spread is perfect for your weekly spread! Tabi.journals have used soft colors to achieve this look! I love how it has turned out simple, cute, and creative. She has drawn easy doodles and a miniature form of the solar system. Minimalism is at its finest in this one!
6. Flamingos
I love everything about these kinds of July weekly spreads! They are elaborate, but just enough. With green leaves and pink Flamingos, ink.and.home has created a one-of-a-kind weekly spread. The box patterned will keep your weekly layout clean and sorted.
7. Washi Tapes and More
This is perhaps the most elaborated weekly layout in this list of July weekly spreads. Catsplanner has gone all out in this one! Instead of doodles, she has used plant stickers and washi tapes to decorate the layout. I love the separate section for events; it is useful and clever.
8. I Wonder…
If bright colors are overwhelming for you, then these kinds of July weekly spreads are for you. Beatricejournals has chosen soft shades of blue and pink to achieve this minimal natural look. But my favorites are the quote by Demi Lovato and the picture of tempting cone ice cream.
9. Pastel Love July Weekly Spreads
I am obsessed with pastels. So when I spotted this beauty, I couldn't ignore it. Kyesjournal has used pictures to give this layout a summertime vibe. From macaroons to perfumes, she has included everything that makes summer sweet and blissful.
10. River of Relief
Colors are a must for July weekly spreads. It brings out the essence of summer. Toastyjournals have bamboozled me with this contrasting color scheme. I love all of it! From the random doodles to the delicious strawberry stickers. 
11. Neutral Rainbow July Weekly Spreads
Neutral rainbows are quite common. But I have never seen neutral rainbows along with some neutral cactus. And that is exactly what I found unique about this July weekly spread by planwithleanh. My favorite element in this layout is the quote "this too shall pass". 
12. July Weekly Spreads with Stickers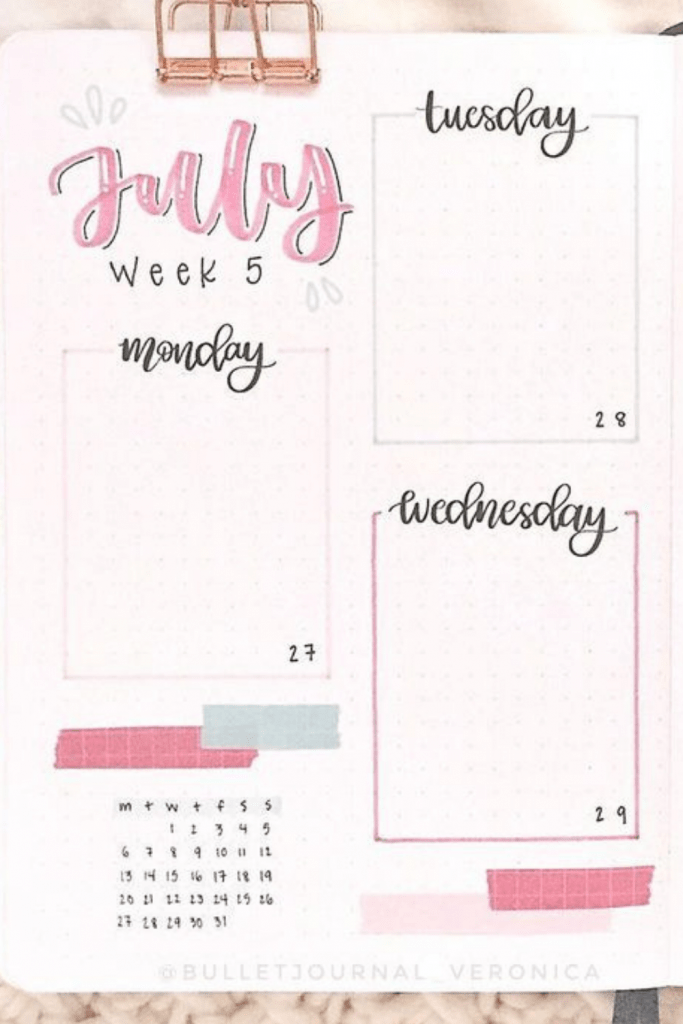 If you think that doodling is the only way to personalize your July weekly spreads, then think again. Veronicajournals has used only stickers and washi tapes to achieve this look. This layout is clean, sorted, and sophisticated. I am loving this one!
13. Ice cream July Weekly Spread
A list of July weekly spreads is incomplete without some delicious ice cream themes. Byhaleyelizabeth has picked the perfect theme for July. On one hand, the popsicle reflects the summer vibe, and on the other hand, the color scheme is perfect for the 4th of July theme.
14. Kindred Spirits
Teal blue is my favorite color for the summer months. Gemini.journl has come up with this structured layout for the July weekly spread. Everything is so serene and blissful about this layout. But the highlight of this layout is the extra space dedicated to the "highlights" of your week!
15. Flower Pots
Flowers and floral themes are perfect for July journals. And why not? Flowers and summer go hand in hand. Melodybulletjournals has drawn inspiration from mother nature in this July week spread. The cute flower pots have stolen my heart! And the columnar structure of the layout will certainly keep your weekly spread decluttered and well managed.
16. Blue-themed July Weekly Spreads
Byhaleyelizabeth has created this weekly spread with this minimal layout. I love blue, cute ice cream doodles, and highlighting. It is easy to recreate this one, and it looks neat and leaves plenty of room for writing down all you need to plan your week.
17. Check and Mate
How fancy is this layout by toastyjournals? I love what she has done with the background. The checkered pattern makes everything on this layout pop. But the best part about this layout is the doodles. I like how she has created shadows for the cute flower pots, making the doodle all the more realistic.
18. Peach-themed July Weekly Spreads
This one here is by far the most sophisticated layout. When I saw this weekly layout by kelsjournals I had to include it in this list of July weekly spreads! It is minimal and compact. She has managed to leave ample space for your daily plans, and she has also allotted space for notes. This layout is for all the minimalism lovers out there!
19. Yellow-themed Weeklies
Recently, I have started rewatching Game of Thrones, and I couldn't stop thinking about it when I spotted the sword doodle on the right! That show is as mesmerizing as this weekly layout by nicole.josephine. She has kept yellow as the dominant color and that perfectly captures the summer vibe. With little doodles scattered here and there, and short quotes all over, this weekly spread for July is too quirky to ignore. 
20. Popsicles and Nutella
Bullet_journallingg has created this unbelievably stunning popsicle and Nutella-themed weekly spread for July. She has used poppy colors and fun doodles to tie all the summer elements together in this weekly spread. That bubble tea and Nutella sandwich are too tempting! I love the overall look of this July weekly spread. 
There you go, people! This list of  July weekly spreads has all sorts of options for you that will get your creative juices flowing free. In my opinion, these ideas are fun, minimal, and have also kept the functionality intact. So are you ready to get your own personalized July weekly spreads? Let us know your favorite in the comment section below. Happy July, people!
Also, if you like the article, you can pin it to your Pinterest board by clicking on the image below.