I think monthly covers define the whole journal. They are so versatile that you can experiment with them according to your taste. There are amazing themes and colors that you can use for your July monthly covers.
I have gone through a plethora of options for the July monthly covers and assembled this list of ideas. Monthly covers are the best place to boost your creativity. They also help you to keep your journal well-structured and sorted.
1. Ice Cream Themed July Monthly Cover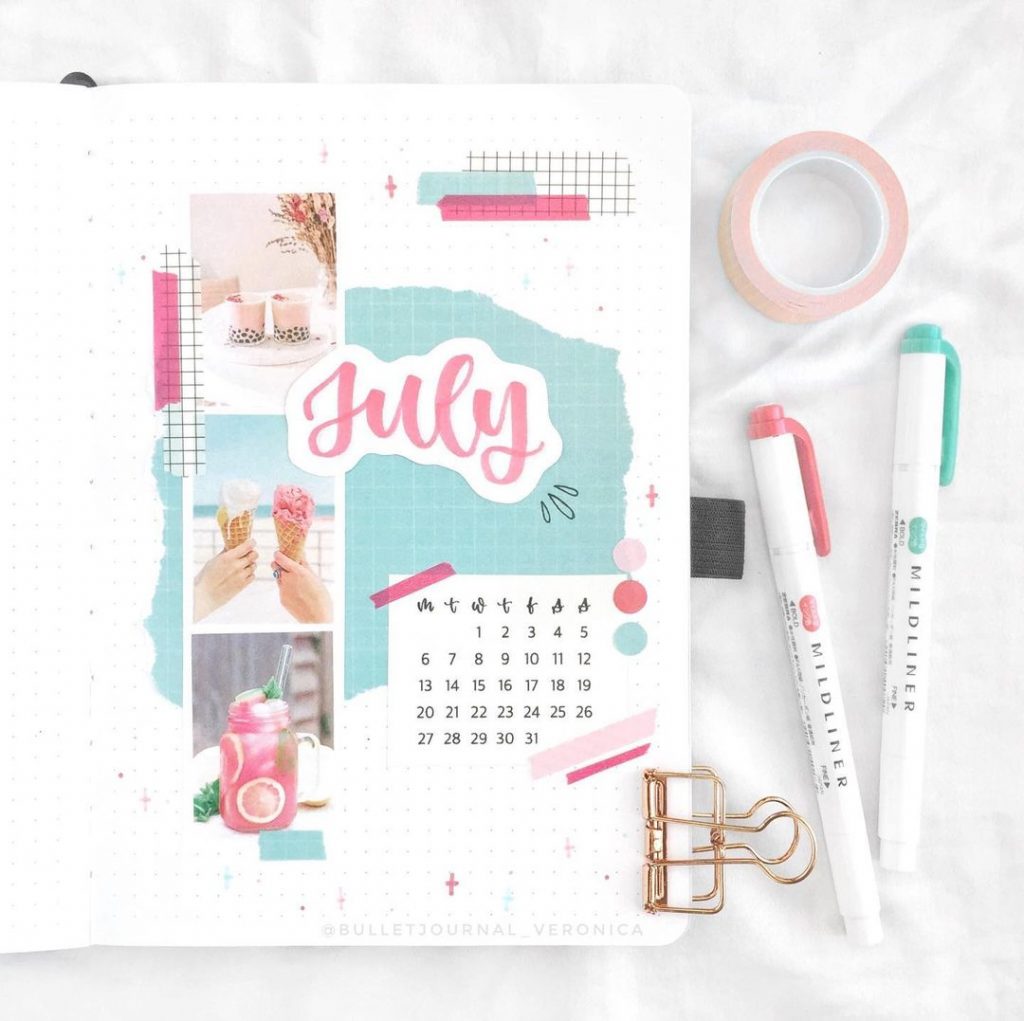 Source : Veronicajournals
Ice cream-themed July monthly covers are a common theme in the summers. It has a strong summer vibe and makes a perfect theme for July. Veronicajournals has created a blissful cover page with pastel colors and washi tapes. She has also used ice cream and summer tea stickers instead of the conventional doodle art. 
2. Tropical Beach Theme
Source : leelajournals
Tropical theme is a common theme for the July monthly covers, but leelajournals has given the theme a new definition. It is cute and fun. With the monochromatic black and grey look, this one here is a minimalistic monthly cover page. The doodles are so cute and the perfect choice for July monthly covers.
3. Summer Camp
Source : anissa_bujo
I miss going to summer camps. With the pandemic, summer camps are really not an option. But you can always do a summer camp theme for your July cover page just like anissa_bujo. She has chosen earth colors and cute summer doodles for this cover page. You can also check out some interesting summer doodles here on- 22 Creative Summer Bullet Journal Doodles To Try.
4. Ocean-themed July Cover
Source : bujochloe
Oceans and beaches are my go-to choices for July monthly covers. They have strong summer vibes. I love what bujochloe has done with this theme. She has focused on the lighthouse more than the beach and ocean itself. I like how simple and fun this cover page looks!
5. Geometric July Cover Page
Source : ameraki_20
I don't think it can get any more simple than this cover page by ameraki_20. She has used random geometric doodles to fill the majority of the page. She has used pop colors to give a refreshing vibe to this cover page.
6. Retro Themed July Cover Page
Source : bujo.by.sophie
If you are a lover of the age of Retro, then this is your stop! I love what bujo.by.sophie has done with this theme. With dark earthy colors, she has achieved a simple cover page. I love such July monthly covers; they are easy but impressive.
7. Green July Cover Page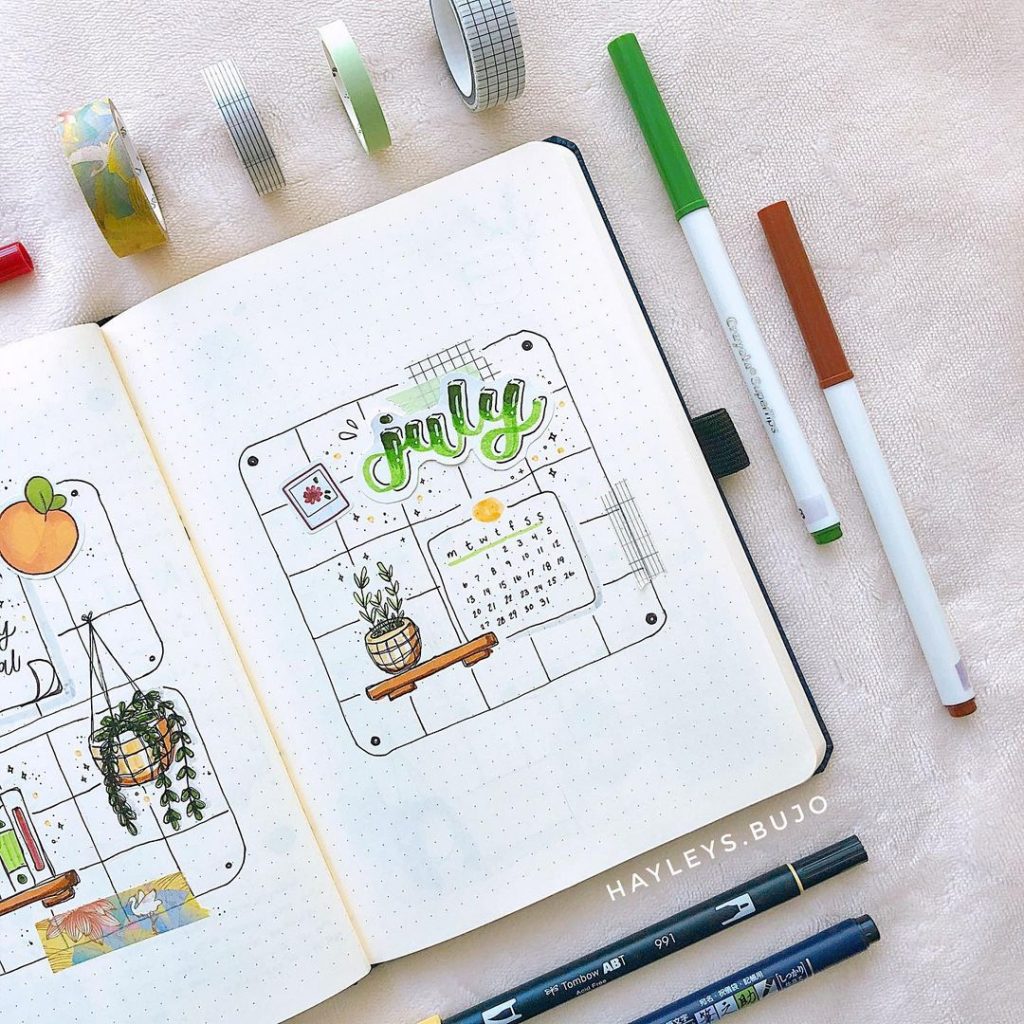 Source : Hayleys.bujo
This summer, add some greenery to your July monthly covers. Hayleys.bujo has created the perfect theme for July with this cover page. I love the doodle- simple and cute. And the touch of green sits perfectly well with July. I like how she has also included a monthly calendar. With the washi tapes, she has given the whole scene an extra edge.
8. Picture Frames
Source :  b.bulletjournal
Art and painting have always been my favorite summer activities. And this cover page is inspired by the same idea. B.bulletjournal has created a colorful July monthly cover. She has used summer colors like orange, pink, blue, and yellow to depict the perfect summer view.
9. Shades of July
Source : journalwithrae
July monthly covers like this one by journalwithrae are my favorite kinds. They are easy to make and yet colorful. This one here is aesthetically pleasing. I love how this one has turned out. She has used pictures and washi tapes to achieve the look. And she has certainly not forgotten to include the monthly calendar!
10. Floating Lanterns
Source : journasbyclara
This July monthly cover page reminds me of the movie Tangled. I love the scene journasbyclara has painted in this one. This is the perfect picture of a summer night- amusement parks and floating lanterns.
11. Beaches and Flowers
Source : constancechel
Constancechel has captured the perfect essence of a summer day in this July monthly cover page. I love the blue seas and the sandy beach. She has also included contrasting red flowers that brighten the whole look of the page. 
12. Cloudy July
Source : Ginger.bullet.journal
I love innovative themes for my July monthly cover pages. Ginger.bullet.journal has taken one of the simplest doodles to create this cute cover page. Clouds are easy to drawn and fun to color! She has used the whole page for the doodle work. This one here is simplicity at its best!
13. Melting July
Source : Kiiabujoilee
Kiiabujoilee is so creative with the header in this one. The header itself is eye-catching! She has also used pastel colors to give the header more character. But, what I like the most is the quote that she has included on the left side. A good motivating quote is perfect for cover pages.
14. Tropical July
Source : astudentsjournal
Yet another tropical theme for your July monthly cover! With red and green, astudentsjournal has created a marvelous theme in this one. I love this cover page. It not only sets the theme of the journal but also has a strong summer element.
15. Marigolds
Source : Magicalbujo
Flower doodles are common for July monthly covers. But I have seldom come across a marigold doodle. Magicalbujo has created a joyful and fun cover page in this one. Marigolds are easy to draw. And the blending of gold, yellow, orange in this one is fantastic. She has also added green leaves, which complement the orange marigold. Check out some fun flower doodle ideas here- 25+ Amazing Flower Doodles For Your Bujo Pages.
16. Cactus and Succulents
Source : bulletjournaldesires
A list of July monthly covers is absolutely incomplete without a succulent theme! So here we are! Bulletjournaldiaries has played around with this theme skilfully. I like how she has created a nice patterned background. And instead of the conventional cacti doodles, she has used pictures and stickers. You can easily recreate this and plan your July with fun.
17. Cozy Backyard
Source : willbujofor.treats
I love this one! It is probably my favorite one on the list! I love how willbujofor.treats has depicted a cozy backyard on this cover page. From aesthetic summer nights to a cozy backyard movie screening, this July monthly cover page has it all. And a plus is that she has also included a monthly calendar. She has even sorted out space for noting down important dates!
18. Sunflowers in the Background
Source : Juaesthetics
Yellow sunflowers are the best way to depict summer, don't you think so? Juaesthetics has done the same on this cover page. She has picked up the sunflowers as her theme and has treated it in a fancy way. Instead of simple sunflower doodles, she has created a background with the doodles. And she has also included a mini monthly calendar. I love how neat and clean this layout looks!
19. Strawberrilicious
Source : didi.journals
I am a big fan of strawberries. And I think they are perfect for summer bujo pages. Didi.journals have used strawberry doodles and shades of pink and red to achieve this cover page. It is simple and easy. The colors that she has used brighten up the whole look of the page.
20. Ice Cream Truck
Source : beatricejournals
July monthly covers can have numerous themes, but ice cream trucks are one of my favorites. Like this one here by beatricejournals is so colorful and summery. I love everything about this ice cream truck. The detailing is on spot! She has not missed anything- from the menu to the horn, she has taken care of all the little details. 
21. Watermelon July Monthly Cover Idea
Source : bullet_journallingg
I think nothing is better than refreshing July monthly covers like this one here by bullet_journallingg. She has used watercolors to achieve this realistic watermelon slice. But what I like the most is how she has combined it with the ice cream theme. In the background, she has used colorful ice cream doodles too. The summer theme in this one is too strong to ignore.
22. Sailboat Theme
Source : Kawaiipenshop
Have you ever come across July monthly covers like this one? This is such a unique piece of art! Kawaiipenshop has simply blown my mind with this one. I love the color gradient in this one. The ombre effect that she has created in this one is impeccable. She has even used washi tapes to complete the look.
23. Sunflowers in the Summers
Source : Kimic_dream
Sunflower doodles are beautiful and an easy way to complete your July monthly covers. Kimic_dream has drawn a bunch of bright yellow sunflower doodles and has cozily nestled 'July' inside it. I love the overall refreshing look of this July monthly cover. You can also check out sunflower-themed bujo pages here- 28 Bright Sunflower Bullet Journal Ideas.
There you go, people. Here you have a list of July monthly covers that are serious inspos! They are easy, versatile, and fun to recreate. These July monthly covers are the perfect way of creating a proper theme for the month. Let us know your favorite one in the comment section below. Happy July people!
If you loved these ideas, you can use the Pin image below and save this article on your 'July Bullet Journal' Pinterest board.