Hello there people! Summer is right here. With all that is going around, I couldn't think of a better way to spend my time than going through amazing bullet journal themes. 
That's when I came across some delicious ice cream bullet journal spreads. 
These are so unique, tempting, and delicious that you will not be able to get enough of them. 
So let's venture into this deliciousness of ice cream bullet journal spreads.
Ice Cream Bullet Journal Spread- Cover Page
Cover pages are a must for me. And why not? They define the whole theme of the journal. To be fair it is the only space where you can experiment a lot with the theme. It is a free space where you can doodle, color, and get creative. So here we have some gorgeous ice cream bullet journal spread cover page ideas for you.
1. July's theme is Ice Cream
I love the whole summer vibe in this one. Lalipop.lettering has used these cute little summer doodles which are too cute to ignore. The doodles used here are easy and doable. This ice cream bullet journal spread is simple and elegant.
2. Ice cream or Therapy?
This ice cream bullet journal spread is one-of-a-kind. Tonis.bujo has included a very catchy phrase that goes with the theme. She has used soft pink colors to give a definition to the simple doodles. But what adds to the overall look of the cover page is certainly the witty phrase that suggests that ice creams are cheaper than therapy.
3. Worth Melting For
We all remember the Disney movie Frozen and the famous character Olaf. lalipop.lettering has used an iconic dialogue from the movie to complete this bullet journal spread. She has drawn ice cream doodles to create a more refined look.
4. Happy National Ice Cream Month
The 3rd of July is celebrated as the National ice cream day. So lalipop.lettering found it to be a perfect theme for her July bullet journal page. The fonts used in this bullet journal spread are quirky and fun. She has also added cute doodles which ties the whole theme together.
5. Ice Creams and More
Summers are all about ice creams, popsicles, and lemonades. Paigejacquelinejournaling has designed a summer scene on this bullet journal spread. She has paid attention to the details. But what I like the most is the inclusion of the monthly calendar in the midst of all. 
6. June Ice Cream Bullet Journal
Summer is officially here and so is karaguawan with this new ice cream bullet journal spread. This cover page is simple and adorable. She has used soft and pastel colors to complete the look. 
7. Ice Cream Truck Bullet Journal Cover
Look how beautiful this ice cream truck is! Butterscotch.and.bujo has paid extra attention to the tiny details. She has even included a lofty-sized ice cream cone to give the ice cream truck a more realistic look. But the added benefit of this bullet journal spread is the monthly calendar. This will allow you to have a look at the month's schedule at a glance.
8. Hello June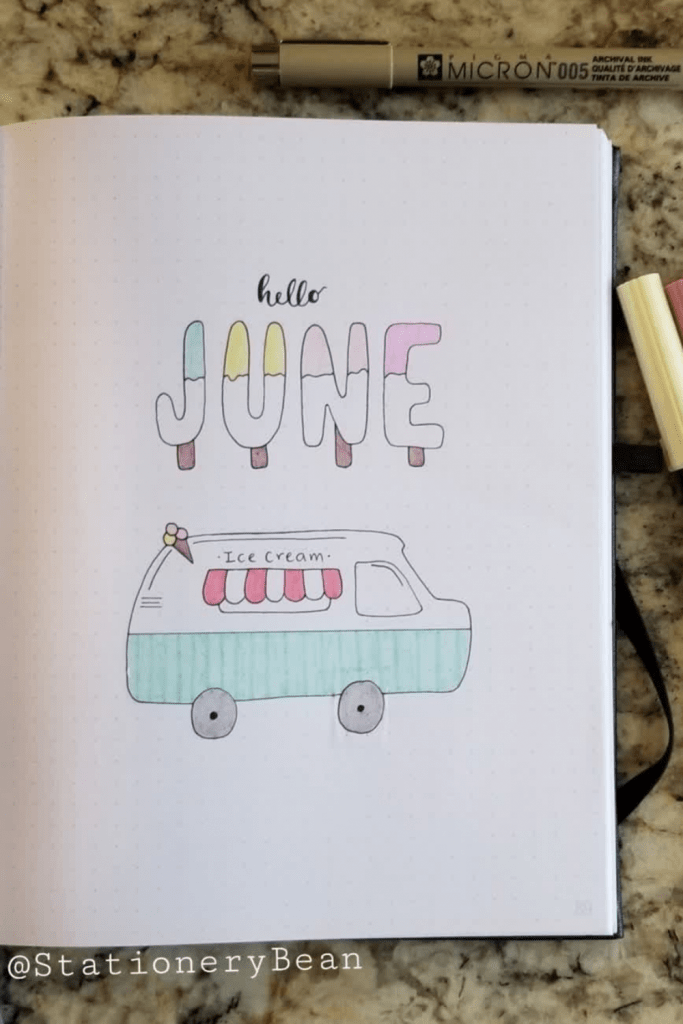 Yet another bullet journal spread that will blow your mind! Stationerybean has kept it simple and minimal. The colors are soft and the font used in this one is creative in this one.
Ice Cream Bullet Journal Spread Doodles
An ice cream bullet journal spread is incomplete without some cute ice cream doodles. Caktivestudios has some cool ice cream doodles here to assist you a little. These doodles are bright and colorful. But the best part is that they are so easy and doable.
Ice cream Bullet Journal Weekly Spread
Weekly spreads are the best! With so much space at your disposal, weekly spreads are clean and decluttered. With these ice cream bullet journal spreads, you can easily plan your weeks.
1.
Box Weekly Spread
I am in love with this weekly spread. _jennifer.salem_ has kept the whole spread clean and minimal. Highlighter makes everything so much brighter just like in this bullet journal spread. She has used pastel colors to doodle the ice creams. But the icing on the cake is the monthly calendar that she has included in this weekly spread.
2. Happy July Weekly Spread
This weekly spread is real goals. This weekly spread by _jennifer.salem_ is quite versatile and you can also use it for other themes as well! All you have to do is change the cute doodles a bit and that's it! This one is simple, clean, and fun!
3. July Ice Cream Bullet Journal Spread
I am in love with the pastel colors in this one. This bullet journal spread by lalipop.lettering is super cute. It features these adorable ice cone doodles that are too delicious to skip. But the best part about this one is how well organized the spread looks!
4. Popsicle Weekly Bullet Journal
This bullet journal spread by lovelyletterdesign is innovative. It is one-of-a-kind. I love how she has utilized the whole page- innovative and quirky. After all, there is nothing more tempting than red and blue stick ice cream this summer!
Ice Cream Bullet Journal Monthly Spread
I have always loved monthly spreads. Though they have less space they also give you the schedule for the entire month on a single page. It makes planning more convenient and effortless. If you too are looking for some inspiration for your ice cream bullet journal monthly spread then let's explore some options!
1. Pastel Love
I am in love with this monthly ice cream bullet journal spread. _jennifer.salem_ has used pretty pastel colors and cute ice cream cone doodles to complete this monthly layout. One word that comes to mind when I see this one is 'melting'!
2. Popsicle Love
Popsicle is my one true love for the summer season! But this monthly bullet journal spread by journalwithjasmine was love at first sight for me. She has used bright and pop-colored popsicle doodles to give this layout a summer essence.
3. Blue and Red
Blue and red together make everything better! And lovelyletterdesign has used the same concept in this bullet journal spread. This monthly spread is simple, clean, and yet so colorful!
4. No Summer Without Ice Cream Bullet Journal Spread
I cannot imagine a summer without ice creams! Similarly, it is hard to imagine a summer bullet journal without the ice cream theme! Butterscotch.and.bujo has doodled this extravagant and delicious cone ice cream with some extra colorful scoops to give this monthly layout a major summer vibe.
Habit and Mood Tracker
Habit and mood trackers are my favorite part of a bullet journal. It helps me to keep my sanity intact even when the schedule is insanely hectic!
So here are some spectacular ice cream bullet journal habits and mood trackers ideas for you.
you can check out some more habit trackers here- 25 Habit Tracker Bullet Journal Ideas For You
1. Color is my Thing Tracker
Spice up your mood with this colorful habit and mood tracker by lalipop.lettering. This bullet journal spread is so bright and colorful that it will cheer you up to the core. It is so decorative and extravagant!
2. A Scoop a Day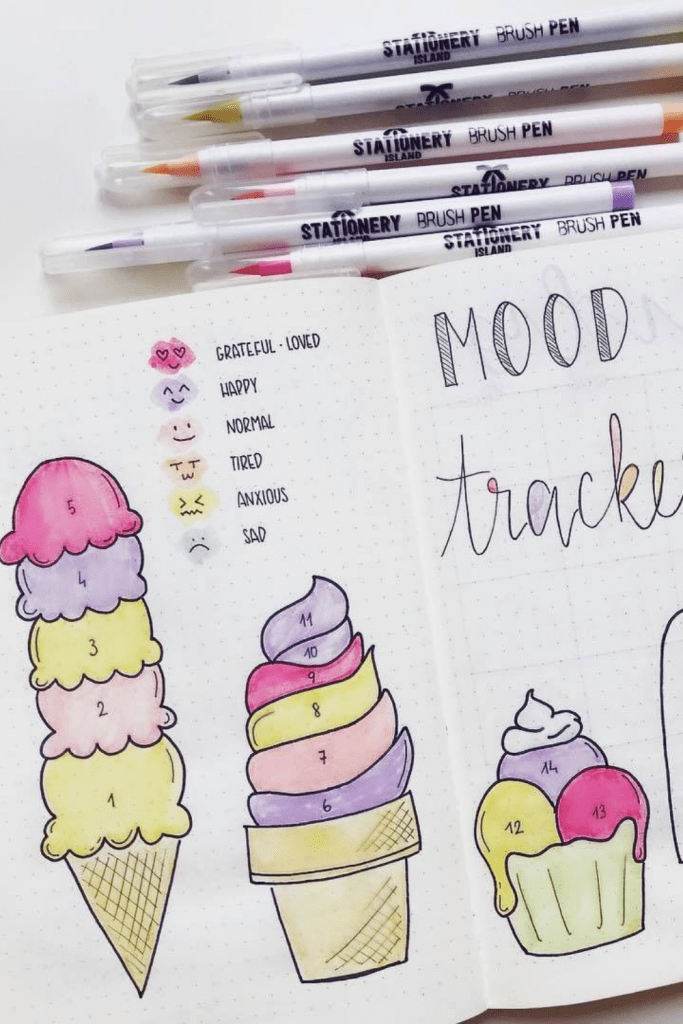 I love how fancy this bullet journal spread looks! Stationery_island has blown my mind and appeased my soul with this marvelous layout. Each scoop represents a new day that you can color according to the mood. I love how it looks so clean and tempting. So go ahead, color a scoop for your daily mood!
3. Ice Cream Scoop Habit Tracker
My heart melts at the sight of this colorful bullet journal spread by planninginpyjamas. It is a simple and clean layout. Of course, coloring the scoops is such a fun activity!
4. Ice Cream Mood Log
This is such a fun and summery mood log! Noneneibujoscrap has included all sorts of ice creams and coolers in this bullet journal spread! From coolers to ice cream cones you will find it all in here! I love how colorful this one has turned out.
There you go, people! We have come to the end of this delicious list of ice cream bullet journal spread. This is a sign that you too should start your new bullet journal on a positive SCOOP! Let us know your favorite one in the comment section below. Happy journaling!
Also, if you like the article you can pin it to your Pinterest board by clicking on the image below.