Many of us are afraid to take the first step that marks our online presence as a professional – creating a portfolio website. However, it's a crucial step that kick-starts your professional career and makes you visible in the digital world. 
Creating a portfolio website for yourself has never been easier. Still, most of us tend to put off this task for some reason or the other. Here's what some of your concerns might sound like –
You think that you don't have anything to put on your portfolio website.
You have several things that you want to put on our Portfolio but don't know how to put it together.
You worry that you need to hire a web designer or learn to code to make a portfolio website.
Whatever be your reason, let me tell you one thing – Millions of people use website builders today, which means that more and more people are opting to design their website themselves or through a professional by using a website builder. Some of the best portfolio websites are made using these website builders.
If you're someone who has been considering setting up a portfolio website for yourself, then this article will guide you to the website builders that will help you make the best portfolio websites. We'll also point out their best features to decide which one will suit you the best.
Before we do that, let me answer a few basic questions for you –
What Is A Portfolio Website?
A portfolio website is a means to showcase some of your best works and mark an online presence. A portfolio website provides all the necessary professional information about you. Think of your portfolio website as your 'digital business card.' Once you have it ready, you can put it on your resume and even on your social media profiles. 
While that's the gist of it, there are many other reasons to set-up a portfolio website. A well-designed portfolio website helps you –
Express your unique personality, showcase your experience and capabilities.
Get clients and customers directly
Appear credible, authentic and build trust
Showcase the testimonials and your best work
Are you excited about building your portfolio website? Let me tell you a bit about website builders before I list the ones that you can use to make the best portfolio websites.
What Is A Website Builder?
Today, it's possible to create a portfolio website in an average time of 27 minutes! This is because of the multiple website builders that make our job super easy. And the best part is that 62 percent of all website builders available in the market are free. However, if you want some of the premium features, you can still create an excellent portfolio website by spending an average of 8.55$ per month.
So, what exactly are website builders, and how do they make building a website so simple? 
Website builders are software and tools that allow you to make a fully functional and responsive website without manual coding. They have widgets and features that are simple to understand. They also have ready-made templates that you can edit to put together a portfolio website. 
In short, using website builders is user-friendly and affordable. And the best part is that you can opt for a free trial or free version, experiment with these builders before you make the final decision. Ready to make the big leap for your career? Let's begin!
Website Builders That Help You Make The Best Portfolio Websites
Here are a few professional website builders that will help you make the best portfolio websites. Most of the portfolio website builders in this list have a free trial or a free version. So, go ahead, create an account and experiment with a few of these website builders before you finalise one for yourself. 
The best way to determine if a website builder is suitable for you is to simply give it a try. However, I have tried my best to list the best features, pricing, pros and cons of using each of them. Let's get started!
1. Squarespace
Are you a big fan of websites with a lot of white space and a minimal aesthetic appeal? Then, you'll love Squarespace for its beautiful templates. Squarespace is ideally suited for artists, photographers, and graphic designers who want their creations to capture the viewers' attention.  
At the time of onboarding itself, you can answer 2-3 questions to view the templates best suited to your requirements.
Let me show you some examples. If you're a photographer, then you'd want to showcase your pictures in large dimensions. A theme like Pazari is perfect for this.
The simple minimal home-page shows the various categories with a featured image that you can customize.
When you click on a category, you can view the high-quality images represented aesthetically. The templates are well-optimized for mobile.
Similarly, if you're a graphic designer, who wants to showcase various projects, then a theme like Novo is suitable for you. The home page lets you showcase multiple projects. 
And when you click on any project, you can view the detailed description of the project and the other supporting images.  
Now that we've given you a peek into the aesthetics of Squarespace website builder let's look at some of the other aspects that matter when you're trying to build portfolio websites.  
How much do you need to spend per month on a Squarespace Portfolio website like this? Can you get one for free? 
Well, this brings us to one con of using the Squarespace website builder. It doesn't have a free plan. You'll have to spend $12 per month on a website like this. And if you want to add an e-commerce option and sell your works, you will have to opt for the plan that costs $26 per month. This is comparable to other website builders in the market. 
Let's talk about the $12 plan a bit in detail. What exactly do you get when you pay this monthly price?
You get a beautiful and simple website with unlimited bandwidth and storage. That's an excellent point for those looking to upload a lot of large, high-resolution images. You can integrate your custom domain for free when you opt for the yearly plan. You get SSL protection, 24*7 support, website metrics, and two users be added as contributors to your website.
This is pretty much everything you need from a portfolio website. 
What about SquareSpace SEO?
If your portfolio is not discoverable on search engines, then you miss out on many benefits of having an online portfolio website. But don't worry, with Squarespace you have all the tools you need to optimize your portfolio for search. 
You can tag your pages and images with relevant keywords so that they are easily found and indexed by search engines. SquareSpace has published a detailed SEO checklist that can be used to optimize your website for search. These SEO guides are pretty useful and are available in text as well as video format which is great. I personally like to read these text guides but if you prefer to watch videos, follow this link to their video guides. 
Your portfolio website's visibility on Google is also determined by the total number of pages on the website. You can easily integrate a blog to your website to enhance its visibility. The blog can be used to tell the story behind your creations and talk about your values as a creator. 
Best features of Squarespace
Modern and aesthetic templates 
Easy switching between templates
Squarespace supports all content types – Pages, Galleries, Blogs, Commerce, and Calendars.
Built-in mobile website
High-quality modern fonts from Typekit and Google
Supports custom CSS
Supports video background
Multiple presentation styles of your gallery
Unique logo maker to design your logo
It has in-house solutions for everything, so it doesn't require additional plugins.
Click here to view all the features of Squarespace.
Cons of using Squarespace
Squarespace doesn't have any free plan, but it isn't too expensive either.
Designing your website using Squarespace isn't the most comfortable experience. Still, there are numerous free resources and Squarespace guides to help you out. You also get 24*7 support to help you with the process.
What's the best thing about using Squarespace Website Builder
In my analysis, I found that Squarespace is a great website builder that provides all the features one looks for in a good portfolio website. The two best features of Squarespace are its aesthetic, professionally designed templates and in-built tools for everything. It's worth mentioning that Squarespace has some excellent marketing tools that are very well thought of. From email campaign tools to Instagram story design tools like Unfold, Squarespace caters to all your portfolio website marketing needs. To summarise, Squarespace is the ultimate all‑in‑one platform to build best portfolio websites.
4 SquareSpace Best Portfolio Websites To Inspire You
Like these portfolios? Check out more for inspiration or design your own now.
2. Weebly
If you are searching for the most affordable website builder, Weebly is the one you are looking for. Weebly is an excellent choice for building a simple and yet gorgeous portfolio website. For its superb features, versatility, and value for money, Weebly is considered as an excellent website builder for small business owners and entrepreneurs. Click here to read some inspiring success stories of Weebly users.
Another significant aspect of Weebly is that SEO is deeply integrated into its systems. This feature makes it easy for organic traffic from search engines. 
Now, let us now have a peek on how Weebly looks like-
As soon as you sign up for Weebly, it asks you whether you need a website or a website with an online store.
When you click on one of your choices, Weebly shows you numerous template designs you struggle to find elsewhere.
Weebly designs are immaculate and basic. Even if you want to build a personal website, online photo gallery, or event site, Weebly provides a versatile and diverse range of templates.
Here are some of Weebly's designs.
Here is a simple and aesthetic template for creating a portfolio. Don't you think it is very minimal yet classy?
These are some other best templates for creating a portfolio that I find very aesthetic and straightforward. 
Their templates have improved a lot in the recent months however they are not yet at par with Squarespace templates. You can still make a beautiful portfolio with these templates.
If you don't find a suitable Weebly template on their website, you can find templates designed by third parties. There are many template options for Weebly available in the market now.
Can You Get Weebly For Free? How Do You Need To Spend?
Weebly is very affordable. It comes with a free plan, unlike Squarespace. That means you can build a portfolio website and publish it without having to pay a penny. This Portfolio will be live on a Weebly domain. 
If you simply want to connect your domain to replace the Weebly domain, you can do it for just $5 a month (when you pay for the entire year). This is extremely affordable for those who are just getting started and don't want to spend too much on the portfolio website. This is perhaps the most affordable option available in the market. The only drawback of choosing this option is that Weebly advertisements will remain visible on your website. The storage is also limited to 500 MB in this plan.
If you want to build a professional branding website (get rid of Weebly advertisements) and sell products, you need to pay for it. The cheapest plan Weebly provides is the $12 a month Pro plan where you can list up to 25 items for sale. You will also have a free domain, free SSL security, unlimited storage password protection, etc. You have to pay almost double the amount but you get a lot of features in this plan. For instance, it's great to have the E-commerce tools and features at this price.  
There are $25/month Business and $38/month Business Plus plans for advanced features.
What about Weebly SEO?
Weebly has special apps and tools that help you in ranking better. You can easily add meta tags to any images that you upload through its native image uploader. Weebly also makes it super easy for you to add a blog to your portfolio website, which further helps in SEO of your Weebly Portfolio Website. 
However, please note that most of the Weebly Apps are only available for use with the Premium plans. If you're serious about growing the visibility of your portfolio, it makes sense to invest in the Premium plans. Otherwise, you can make the best use of the free SEO tools. Weebly also has a SEO guide to help you in the process.
Now, let me walk you through some other notable features of Weebly.
Best Features Of Weebly
Offers free portfolio feature
Very easy to use even for a technologically limited person.
Simple and gorgeous templates.
Can build any kind of website – Business, Portfolio, Personal, Blog, Event sites, and others.
Weebly has multiple third party integrations and marketing solutions under one hood.
Allows radical changes to the template to give it a unique pop.
There are helpful SEO guides in the support center of Weebly.
Video backgrounds and custom headers.
Click here to view all the features of Weebly
Cons Of Using Weebly
Weebly's drag and drop customization is limited. You might find this frustrating unless you are good with technical stuff and comfortable using Weebly's code editor. 
There is no personal restore option when your site goes down. You need to contact Weebly's support center to restore the site.
There is no Artificial Design Intelligence (ADI) option. You need to create your website manually.
What's the best thing about using Weebly Website Builder?
From my experience, I feel the affordability and the ease of designing with the simple drag and drop editor are the best things about using Weebly. For those of you who do not want to spend too much time or money, this is the clear choice. You can choose to upgrade whenever you feel ready for it. You could start with a free account, then simply upgrade to connect your domain and when you're ready, you can go for the Pro plan which will make you look like a professional.
Just set up a simple portfolio website with a contact form, optimize it for basic SEO and you're ready.
4 Weebly Best Portfolio Website Examples To Inspire You
Like these portfolios? Check out more for inspiration or design your own Weebly Portfolio Website now. 
3. Pixpa
Pixpa is different from other site builders and is best suitable for budget-minded creative professionals who want to build the Portfolio of their work. From photographers to videographers, from designers to artists, and from bloggers to vloggers, anyone with a creative mind can easily set up a professional business website with Pixpa.
Building a portfolio or a website with Pixpa is a lot of fun with 20+ customizable, responsive, and beautiful themes and 10+ gallery layouts to showcase your skills and work. It provides you with powerful building tools that every creative professional out there needs. Example: the e-commerce functionality rivals that of Woocommerce and Shopify.
As soon as you register and start with Pixpa, you need to answer three basic questions for Pixpa to suggest the best template.
Here is a peek into the templates Pixpa has.
Here is the most used template of Pixpa – Tone. It is simple, elegant, and has everything one wants in a portfolio website.
The project section's design is straightforward, where you have the images of the projects organized perfectly. To know about each project, you just have to click on the image, and the details of the project appear very elegantly.
How Much Does Pixpa Cost? Is It Free To Use?
Pixpa does not have a free version. You need to pay for building a portfolio website. The pricing starts from $8 a month. This starter plan has all the useful features and lets you set up an E-Commerce store for your digital prints. 
Pixpa also offers a 15 day trial period during which you can play around with the drag and drop options and test out the interface before paying any money. This trial will give access to all of Pixpa features.
Moreover, Pixpa also offers 50% off for teachers and students when building a website. This is a good incentive for educational workers. They need a place to store all their digital sources like slideshows, documents, and images for class.
Overall, the pricing is honest and all-inclusive. So there will be no surprises down the road when you get the bill. Not just that, you are free to cancel the account whenever you want.
What about Pixpa SEO?
Pixpa doesn't boast of any SEO tools and features, however the basic SEO optimisation features of this website builder are enough to help you rank on Google. My friend Abhishek Bali has been using Pixpa for his photography portfolio website and as you can see, it ranks well on #2 for the keyword that he has optimized his website for.
Pixpa also has a very simple SEO guide for photographers and creatives that anyone can follow without getting overwhelmed. I personally feel that this is great. If you implement all the steps mentioned here, you will be completely sorted with your SEO.
Another good thing about Pixpa is that a website Sitemap is automatically created whenever you publish various pages on Pixpa. 
Best Features Of Pixpa
Pixpa has responsive themes that make your site look good on all screen sizes.
Pixpa has a simple drag and drop site-building interface that doesn't require coding. 
The e-commerce functionality with Fotomoto is effortless.
Great SEO tools that help you rank
Calendar functionality that lets you accept and manage bookings from clients
Pixpa is connected to Google Analytics. This Google Analytics shows where your traffic comes from and different types of demographics that are interested in your website.
Publish unlimited articles, videos, and images with ease.
Pixpa has a wide range of beautiful and modern themes.
24/7 customer support.
Click here to view all the features of Pixpa
Cons Of Using Pixpa
No free plan. Pixpa offers a 15-day trial period to test the interface. But it doesn't allow you to publish anything in the trial period. 
If you have created multiple photo galleries in the portfolio website and wanted to use the same photos, you cannot copy and paste them. You need to reload them. This is time taking, and you might get frustrated when there are many photos and videos.
What's the best thing about using Pixpa Website Builder?
From my analysis, I find that the best thing about using Pixpa for building an online portfolio is that you get beautiful and professional templates at an affordable pricing. Not only this, the E-commerce functionalities are as good as Shopify. This makes it super easy for creatives to display as well as sell their works. You can sell anything from music to software; videos to e-books. If you work with clients, then you can use the website features to share your work with them and get feedback. It makes the entire experience quite professional.
5 Pixpa Best Portfolio Websites To Inspire You
Like these portfolios? Check out more for inspiration or design your own Weebly Portfolio Website now. 
4. Strikingly
Strikingly is a new kid in the website builder market. It was launched many years later than its main competitors in 2012, but it has gained popularity since then. 
Strikingly is a website builder that shines when you need a single page layout portfolio website. These layouts give you a good overview without having to navigate several pages. This single-page layout makes it very interesting for small businesses and marketers. Strikingly aims to make it easy for everyone and anyone to create their dream portfolio website. This user-friendliness is reflected in its beginner-friendly editor and helpful support resources.
In a nutshell, Strikingly is a simple yet stylish website builder with fairly flexible designs, basic features, great blogging tools, and great value for money. It is effortless to use. 
Here are some stylish templates Strikingly has for building portfolio websites.
These designs look very modern and will get displayed correctly on devices with any screen size.
Is Strikingly Free? How Much Does the Premium Account Cost?
Strikingly has a free forever plan. It will allow you to build an essential website with Strikingly main features – unlimited free sites, 5 GB monthly bandwidth, 500 MB total storage per site, Strikingly.com domain, 24/7 support, simple store – 1 product per site. This plan is good enough to get started though here is no SSL (https) included.
But if you want more than one page or integrate your custom domain, you need to go for a paid plan. The $8 per month Limited Plan will contain a domain, online store with five products but still shows Strikingly ads.
The $16 per month Pro plan will provide you with password protection and unlocked site search. This plan includes up to 3 sites. The 49$ VIP plan will give you access to all features, including newsletter tools and English phone support.
What About Strikingly SEO?
Well, some bad news here. Most reviews of Strikingly suggest that it's not possible to rank well with it. There are many reasons for this and I'll talk about them one by one.
Single page portfolio means that you have only ONE page whose meta title you can optimize for your website's search engine visibility. That's hardly enough. Usually, the more quality pages you can put together with optimized meta titles, the better chances there are for your website to rank. This is difficult to do with Strikingly.
There are other issues as well with respect to unnecessary domain URL redirects and manual sitemap submissions to Google which make it difficult to get your website to rank. 
However, not all people require their portfolio to rank and in that case the minimal one page website is perfect. 
Best Features Of Strikingly
Strikingly is excellent at customer support. In this, it even beats the established website builders Squarespace and Wix. (I've loved their support and the fact that a 'Happiness Officer' helps you out with everything)
Great fit if you're looking for a minimal single page website with an inbuilt contact form.
It has an integrated online store.
Simple drag and drop editor
Ready to launch themes – You need to make minimal efforts to get started.
Click here to view all the features of Strikingly
Cons Of Using Strikingly
One page portfolios can be stylish but when they aren't much suitable for complex or large portfolios. Also, managing a store with a wide range of products on a single page cannot be very user-friendly. You will clearly have some SEO disadvantages.
Though Strikingly offers a forever free plan, you will need at least a $16 /month plan to build a multi-page website. $16 a month is a bit too costly compared to other website builders that let you do the same thing at lower prices. Also, even the 8$ limited plan shows Strikingly ads. 
4 Strikingly Best Portfolio Websites to Inspire You
Petra T Ruzickova – One page free Strikingly art portfolio website by a visual artist, photographer and poet. The artist's mystical photographs and healing photography is displayed beautifully. 
Midori Kato – A beautiful one page art portfolio of Midori Kato, a contemporary based out of Kyoto, Japan. 
Gary Sheng – A one page portfolio of a computer science graduate and engineer.
5. Wix
Wix has become pretty well-known in the past few years. It is now the most significant player in the website building landscape, with hosting nearly 160 million websites. Wix is very easy to use and versatile; the editor helps you in creating a stunning portfolio website very quickly. It gives excellent support for SEO beginners, and this makes it very easy to grow your audience. 
Like any other best website builder, Wix too asks questions to suggest the best template. What's more? Based on your choices, Wix ADI will design a website for you. Interesting,  right? Or you can also do this manually
When you have a peek into the website builder, you will find more than 500 beautiful templates, of which 17 beautiful ones are made for portfolios, and rest are design-focused. These are best suitable for small businesses, online stores, restaurants, artists (photographers, musicians, etc.).
All you have to do is find a design you like and switch out the content. That's it, and you are good to go. This couldn't be easier.
How Much Does Wix Cost? Wix's Pricing Options
Wix is entirely available for free. But this free version is restricted to some basic features. You won't be getting any professional features like the domain name, ecommerce, etc. For those, you need to go for their premium plan – $29 per month when billed annually.
This premium plan removes Wix ads, provides a domain, and connects your domain. It also gives access to all Wix'x features like unlimited bandwidth, 10 GB storage, Google analytics, accept online payments, online store, etc.
Best Features Of Wix
Wix offers a smart assistant – Wix Artificial Design Interface (ADI) to design your portfolio website.
Wix helps you with SEO-optimised content. Thanks to this, your content will become more visible and easily detected by search engines.
Wix offers a fantastic e-commerce module. This helps you in creating an attractive store for your services and products.
Drag and drop website editor. 
Free and reliable hosting.
Live chat with customers and clients.
Wix offers powerful financial, communication, and marketing tools.
Google analytics.
Facebook, Twitter, and Pinterest Buttons to share your work directly with social media. And much more.
Click here to view all the features of Wix
Cons Of Using Wix
The premium plan of Wix is a bit costly when compared to other website builders like Squarespace etc. where you can get the same services for just $12 a month.
Once you have chosen a template, you cannot change it quickly. For that, you need to re-built the website from scratch.
The loading speed of Wix, especially on mobile devices, is not ideal. Other most competing websites show faster loading time than Wix.
Some people might feel Wix's extent of creative control overwhelming. Especially the people who want to build a simple portfolio website quickly.
6. WordPress
WordPress.com hosts more than 33% of all websites on the Internet today. It is one of the most popular website builders, and this is because of WordPress's flexibility. You can use this website builder for a portfolio website and any kind of website imaginable. Be it a blog, a small business, an online store, a marketplace, or an online course; you can build anything with WordPress.com.
Unlike other simplified website builders, WordPress keeps design, content, and functionality separately from each other. (i.e.) we can add any type of content regardless of the design you are using, change the design without having to change the content, or add features to one particular area without affecting other areas.
To manage the appearance of the website, WordPress uses a powerful templating engine. This engine allows the creators to create some custom made templates called "Themes." You can also choose a model from the thousands of premade WordPress themes available in the WordPress website builder.
As there are a lot of templates, you might get confused about picking the right one. Take your time, and it is a good idea to preview the themes by clicking the "Open Live Demo" button.
Is WordPress Free? How Much Do We Need To Pay For WordPress's Premium Account?
WordPress.com is free forever with some basic features like WordPress domain, etc. But if you want a website with a custom domain, high-quality email, live chat, and remove all WordPress advertisements, you need to upgrade for the personal plan – 2.64$ a month when billed annually. Isn't this too affordable? This plan is best for personal use; you will have Jetpack essential features, dozens of free themes, necessary design customization, 6 GB storage, etc.
The Premium plan – 4.62$ a month when billed yearly is perfect for freelancers. It helps you build a unique website giving access to advanced design tools, CSS editing, 13 GB storage space, Google analytics support, etc. The Personal and premium plans are for blogs and personal sites.
For business and online stores, you can go for Business – 10.57$ and eCommerce – $19.02 plans.
Best Features Of WordPress
WordPress is simple. Nothing gets in the way of you getting your website up and your content out on the Internet.
WordPress is very flexible. You can create any type of website.
With WordPress, you can publish your content with ease.
Powerful publishing tools. 
User management. WordPress gives different access to different roles. (i.e), administrators who manage the site, writers who create content, editors who work with that content will have different profiles and features to manage.
Media management. We can easily and quickly upload images and videos to WordPress.com
Easy theme system.
Plugin Directory. There is a plugin directory with thousands of plugins for the features that are not in the WordPress core.
The comments tools are everything you need to create a forum of discussion.
WordPress is search engine optimized. There are numerous SEO plugins to take care of your SEO.
Easy installation and easy upgrades.
Click here to view all WordPress Features
Cons Of Using WordPress
WordPress doesn't have a drag and drop option. So, it is not so beginner-friendly, you need to get familiar with it and learn the basics. However, you can use the drag and drop plugins for WordPress.
You need to have some technical knowledge (CSS, HTML) to build a website on WordPress. Most beginners learn these as they use WordPress.
In WordPress, you are in charge of your website (i.e.) you need to take security, backups, and install updates while most of the other sites do automatically. So, this can be overwhelming sometimes.
7. Adobe Portfolio
Adobe Portfolio is for the people who need a personal portfolio website but doesn't want too much work on it. It contains some elegant themes suitable for photographers, graphic designers, or even illustrators. This website builder is Adobe's offering. So the website directly is linked to Adobe Lightroom collection sets. You can directly upload the images from there to your portfolio website.
When you get into the website Builder, you will be offered two types of sites – a collection of work or a welcome page. Whichever you choose, you will be able to create a full-featured website and add additional pages.
Whichever you choose, you will be able to create a full-featured website and add additional pages.
Coming to Adobe Portfolio's template, you will be able to use one from the 12 aesthetic and beautiful models. You can always change it in the later stages.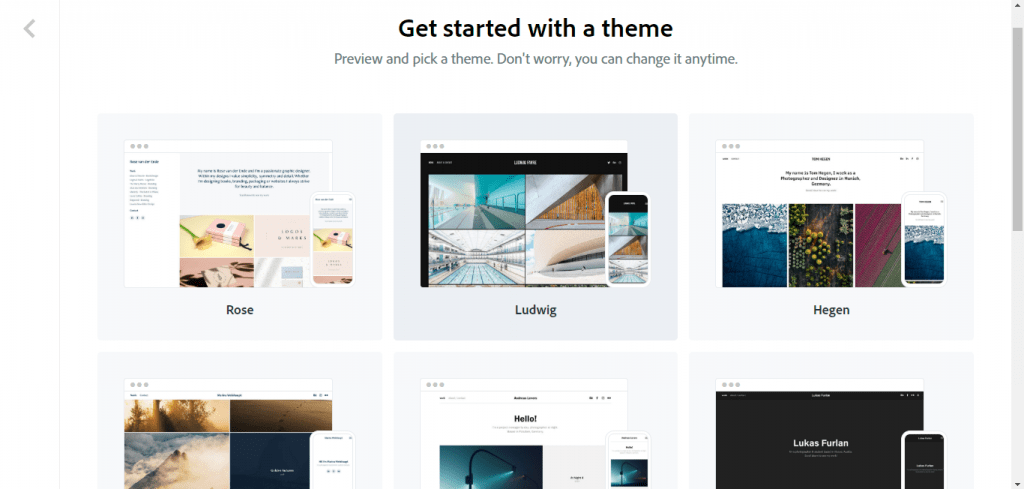 After choosing a template, you can sync photos from Adobe Lightroom collection to the website. So people say we can set up a full Adobe Portfolio website in just 15 minutes. Amazing, right?
Is Adobe Portfolio Website Builder Free? How Much Do You Need To Pay?
Adobe Portfolio website builder offers you with two plans – Creative cloud (photography) and Creative cloud (all apps). Creative Cloud – photography costs $9.99 per month when billed annually. This plan, along with giving access to the portfolio website's fonts from Adobe Fonts, also provides access to Photoshop and Lightroom.
The $52.99 per month Creative Cloud – all apps plan will give access to all of Adobe Creative Apps (Photoshop, Illustrator, Design, etc.).
Best Features Of Adobe Portfolio
Elegant layouts
Flexible custom design
Responsive design – your layouts or templates look great in any screen size.
Live editing
Painless customization.
Sync with Adobe Lightroom collection.
Custom domains.
Cons Of Using Adobe Portfolio
If selling your services or your art through eCommerce is what your aim for, then you might get disappointed with Adobe Portfolio. As Adobe Portfolio doesn't have an option to sell imagery.
Though the templates are straightforward and pretty, your options to customize them are very limited. You can just change the color of the theme and some minor things.
8. Portfoliobox
Portfoliobox is considered as one of the easiest and safest website builder to create a free portfolio website. It is designed especially for creatives as it is well set up for blogs, galleries, gorgeous profiles, eCommerce, and much more. You will get a portfolio website running on a system designed for creative people to show off their services and work.
You can create and edit any type of content, and no coding needed. You can design your dream template and layout and include the free domain.
Here are some page layouts offered by Portfolio box that you can add to your website.
Portfoliobox Pricing
Portfoliobox is completely free forever. But this has restricted hosting images, pages, and products. For a better experience, you can always go for premium plans – Light, Pro, And Pro Plus.
Light with 0.9 USD a month will give access to 100 images, ten pages, ten client gallery images, and ten products. Other places offer more storage for pictures and products, free domain, activated advanced styles, 24/7 support, etc.
Best Features Of Portfoliobox
Beautiful portfolio galleries.
Online eCommerce
Personal blog
24/7 support
Powerful visual editing tools
Google Analytics to improve your rank.
Customization of page templates.
Portfoliobox provides a free domain name for premium accounts.
Click to read about top 5 features of Portfoliobox in detail
Cons Of Using Portfoliobox
Though Portfolio provides online eCommerce, you will find minimal marketing features
Lack of guidance. Since there is no Drag and Drop feature, and you need to design the website yourself, some people might expect a video guide to getting used to the website builder.
9. Smugmug
Smugmug is a portfolio website builder designed especially for photographers. You can store, share, print, and even sell your photographs through Smugmug. Unlimited storage, powerful organization, security, privacy, fantastic sharing tools, and whatnot, Smugmug is everything a photographer needs for his portfolio website. 
Let us now have a peek into the website builder.
As soon as you register to Smugmug, you will be bombarded with unique, simple, and yet beautiful templates you have ever seen.
These templates are all customizable, and you can change them anytime. It then guides you through adding photos, customization, etc.
How Much Does Smugmug Cost?
Smugmug offers a 14-day free trial to try out all its features. Once the trial period is over, you need to upgrade the site to any of the four subscriptions they offer – Basic ($8 a month), Power (11$ a month), Portfolio ($29 a month), and Pro ($50 a month).
The difference among these plans is how many features they are offering you. If you are a beginner and just wanted a beautiful gallery to portray your work, you can go for the Basic plan.
If you are a professional, you can go for the Pro plan, which gives you access to all of the Smugmug features.
And if you want to build a professional portfolio website, you can choose the Portfolio plan. This offers watermark protection, integrated eCommerce and order fulfillment, etc.
Best Features Of Smugmug
Safeguard your work. You can decide who can see your galleries, photos, or pages.
SEO optimization to increase your site's visibility.
You can share your perspectives and photos with a community you care about (friends, family, etc.).
You can protect and preserve your work forever.
Online eCommerce shop.
Trademarking
Powerful SEO tools.
There are fewer steps and less hassle in uploading, organizing, and curating your photos.
Click here to view all features of Smugmug
Cons Of Using Smugmug
If you regularly sell through Smugmug, then the costs are reasonable. Otherwise, they are a bit high in price.
There are a lot of customizable options just about everything. This might make Smugmug a little less user-friendly. It can make customization a bit difficult.
Conclusion
The above listed are the top 9 online portfolio website builders that can create perfect UX/ UI portfolios.
Free advice – if you want to get recognized by potential recruiters or clients, it is better to create more than one portfolio site with different characters and styles. Also, don't forget to link your portfolio to your resume. Doing so will make recruiters, interviewers, or hiring managers easily access your UI/ UX design skills.
I hope you find the portfolio website builder that is well suited for you and create a fantastic portfolio online.