The scope of bullet journaling is huge. There are so many things that you can include in your bullet journal pages like different trackers, schedules, planners, lists- the list just goes on and on. The possibilities are almost never-ending. Every now and then, I discover new items that can be included in my bullet journal.
Here are 55 bullet journal pages ideas for your bujo pages.
1. Bullet Journal Weekly Page
A bullet journal weekly spread is a great way to plan your week ahead. It has sections for each day of the week where you can plan, schedule, and visualize what your week is going to be like. You can fill it with tasks to do, appointments and meetings, notes, weekly trackers, and many other cool stuff.
Refer- 40 Bullet Journal Weekly Spread Ideas To Inspire You
2. Bullet Journal Month At A Glance
The month at a glance bujo page is a great way to get a brief overview of what your month is going to be like. It doesn't have to be detailed like the daily or weekly layout. It's a useful tool to view your appointments and commitments for the month. You can also add a section for important dates, events, and goals for the month.
3. Bullet Journal Daily Page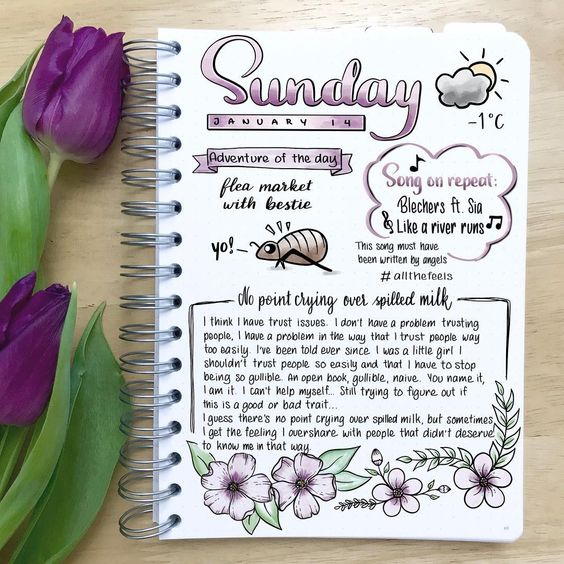 A bullet journal daily page will provide a more detailed description of your day. It'll help you get a clearer picture of your day. You can use this page to micro plan your day so that each hour is accounted for.
4. Bullet Journal Year At A Glance
A year at a glance bullet journal page is a great way to get a visual representation of your entire year. You can't plan much on this single page of course, but you can mark the important dates and events that will take place throughout the year.
5. Bullet Journal Calendar
A calendar page is a must-have in your bullet journal. You can use it to keep track of your important dates, birthdays, meetings, etc. You can create a yearly calendar or create one for each month separately.
6. Bullet Journal Key Page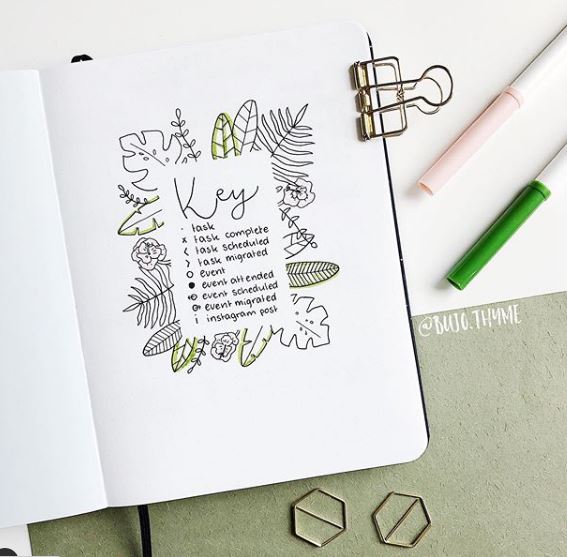 Sometimes, using your bullet journal can get quite confusing. You may use different symbols, dots, and dashes, and eventually, your journal can look quite complicated. Using a bullet journal key is essential to make sense of your journal. You can maintain a bujo key page to keep track of all the symbols and color codes that you use in your bullet journal.
Refer- Guide To Bullet Journal Key For Beginners
7. Bullet Journal Index Page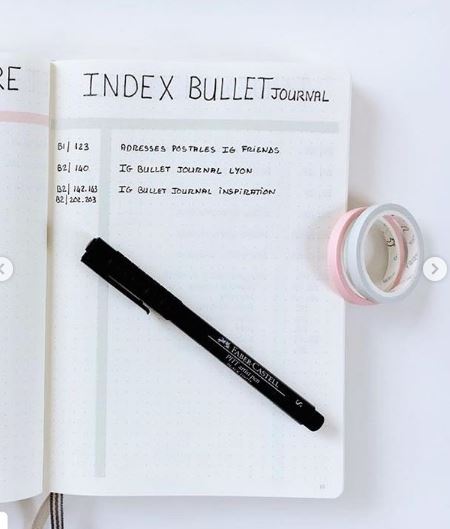 When you have lots of bullet journal pages, it might get difficult to track them. That's why it's important to maintain a bullet journal index page. An index provides a roadmap to your journal, listing the items and page numbers so that you can save time finding those pages.
8. Bullet Journal Cover Page
The bullet journal cover page sets the tone for the entire month. I love this bujo cover page I found on Instagram by @rem.bujo.  There are a lot of things that you can include in the cover page like the name of the month, a calendar, some beautiful doodles, drawing, and quotes to keep you going.
Refer- 100 Never Give Up Quotes To Keep You Going
9. Bullet Journal Habit Trackers
Bullet journal habit trackers are a great way to keep track of your habits. By dedicating a page to habit tracking, you'll be able to keep track of multiple habits at the same time. It'll keep you motivated and accountable to follow your habits. It provides a visual cue and will encourage you not to break the streak.
Refer- 25 Habit Tracker Bullet Journal Ideas For You
10. Bullet Journal About Me Page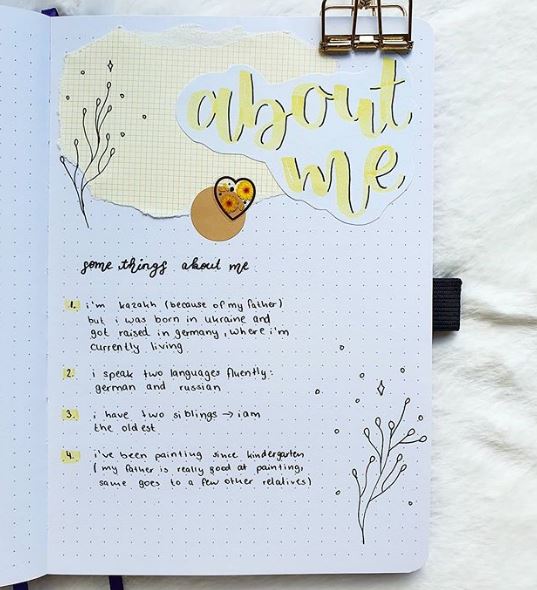 No two bullet journals are alike. This is because your personality hugely influences the way your journal looks. Why not create a fun about me page? These pages reveal a great deal about the owner of the journal. There are so many things that you can include in your about me page like your name, age, personality type, any fears, your history, hobbies, achievements, and even include some random fun facts about yourself. Consider it a fun activity to do in your bullet journal.
11. Bullet Journal Chores List
A bullet journal chores list page is a great way to keep track of all the chores you have to do. It can be cleaning, doing the dishes, organizing your wardrobe, cooking, running errands, etc.
12. Bullet Journal Grocery List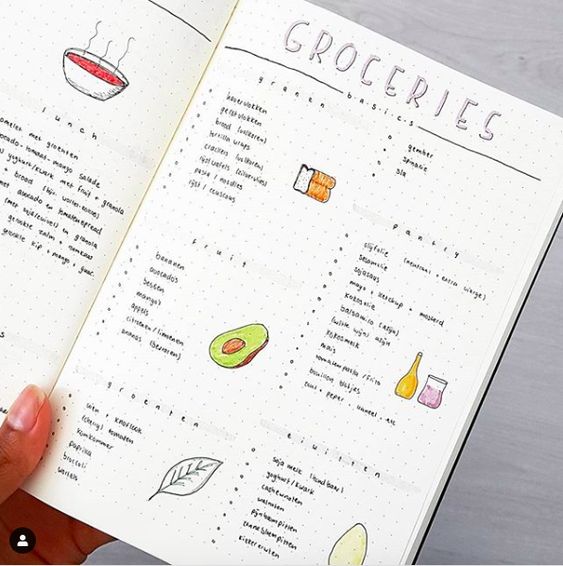 Has it ever happened to you that you go to the grocery store and end up coming back with only half the items because you forgot to get the rest of them? Or you plan on making a particular meal and find out that you don't have all the ingredients needed? Well, maintaining a grocery list will ensure that that doesn't happen again. You can dedicate a few pages in your bullet journal to make shopping lists for an enhanced shopping experience the next time.
13. Bullet Journal Movies To Watch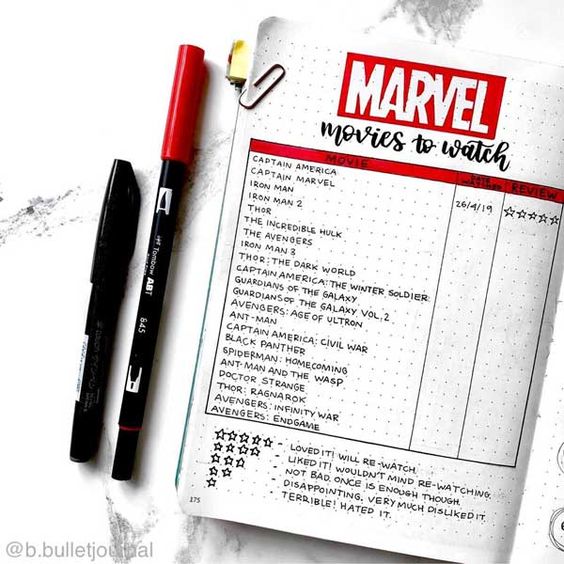 Do you find yourself spending a lot of time deciding what to watch or have a hard time picking movies/ shows to watch? Then you must create a movie and TV series watch list. This way, every time you feel like watching something and feel indecisive, all you have to do is open your watch list in your bullet journal and pick one from the list. You can also rate each movie once you've watched them.
14. Books To Read List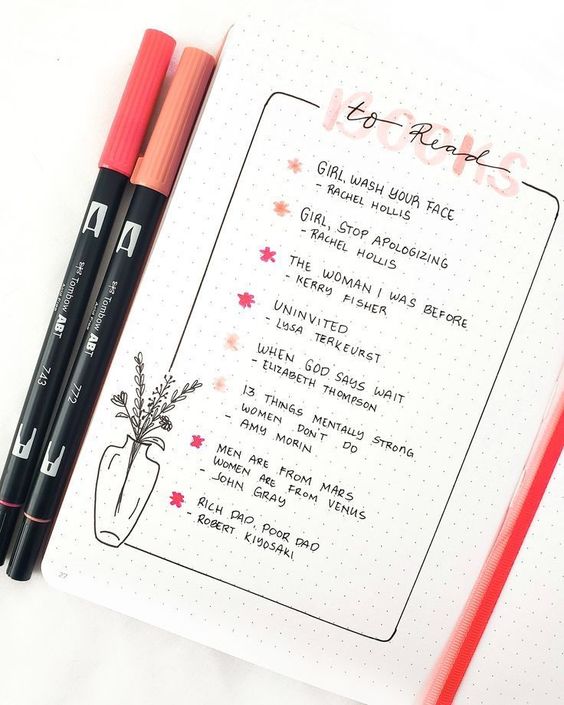 Creating a to-read list will help you organize your reading and help you achieve your reading goals. It'll ensure that you read everything you wanted to read and also help you prioritize some books over others based on your reading goals. You can also categorize books according to genres and authors so that it'll be easier for you to pick a book the next time you want to read something.
15. Bullet Journal Wish List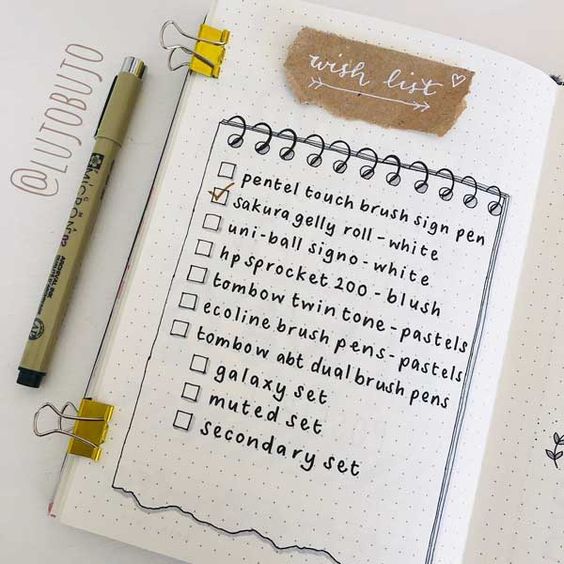 We all want to purchase and possess a lot of things, but sometimes, we simply might not have the budget to buy everything we wish. A bullet journal wish list page will help you keep track of all your wishes so that you can buy them later on. Maintaining a wish list will also motivate you to save up for those items.
16. Bullet Journal Goals List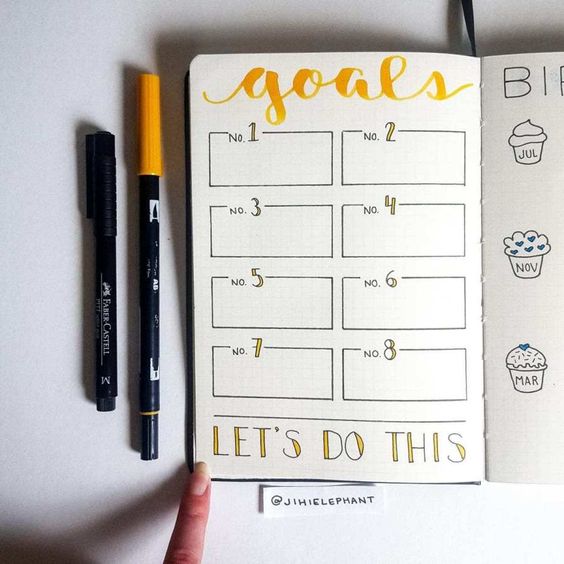 Writing down your goals is the first step to realizing them. When you write down your goals, it'll provide clarity on what you want to accomplish and help you accomplish them. You can open your goals page from time to time to remind you of your goals and motivate yourself to achieve them. You can set daily, weekly, monthly, yearly, and even long term goals.
17. Bullet Journal Passwords List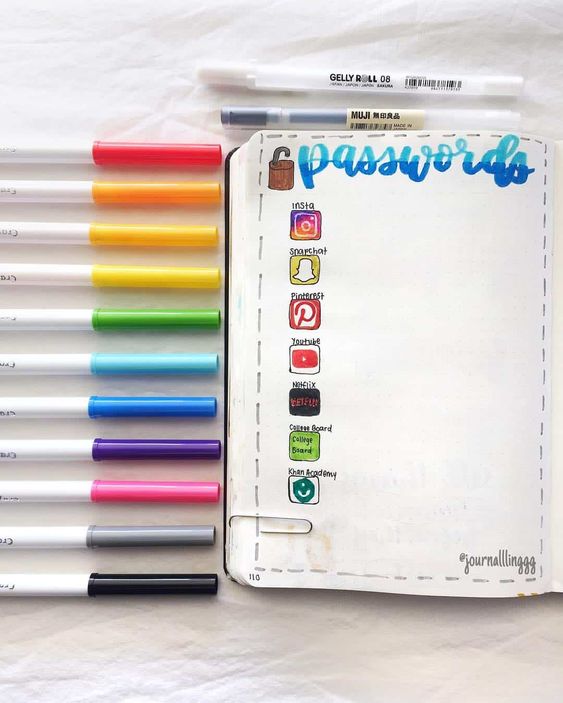 Sometimes it gets really difficult to remember all your social media passwords. So why not write them down in your bullet journal? That way, you will never lose them again. You can maintain a page exclusively for all your passwords, but don't write any important passwords in them.
18. Birthday List
There are a lot of birthdays each year and keeping track of each of them can get quite difficult sometimes. Here is a birthday tracker. All you have to do is note down the birthdays of all your friends and family so that you remember to wish them next time.
19. Bullet Journal Bucket List
Creating a bucket list can be a fun task that you can do in your bullet journal. In your bucket list, you can include all the things that you want to achieve or experiences that you want to have in your lifetime. It can be anything ranging from getting a tattoo to coloring your hair to taking a trip.
20. Bullet Journal Meal Planner
A meal planner page is a must in your bullet journal if you cook for yourself and your family. This not only saves time in deciding what to eat, but also helps you to reduce your visits to the grocery store. Not only that, but it also ensures that you consume a balanced diet by planning the amount of proteins, carbohydrates, and fats that you consume. You can also add a section for your daily calorie count.
21. Bullet Journal Savings Tracker
A savings tracker page will help you achieve your financial goals and save up for a vacation, your university, or any other important events in life. This savings tracker is a savings jar where you set the goal amount and break down that amount into smaller units. Each time you set aside that particular amount as savings, you can fill in the jar. This provides a  visual cue and will motivate you to achieve your savings goal.
22. Bullet Journal Spendings Tracker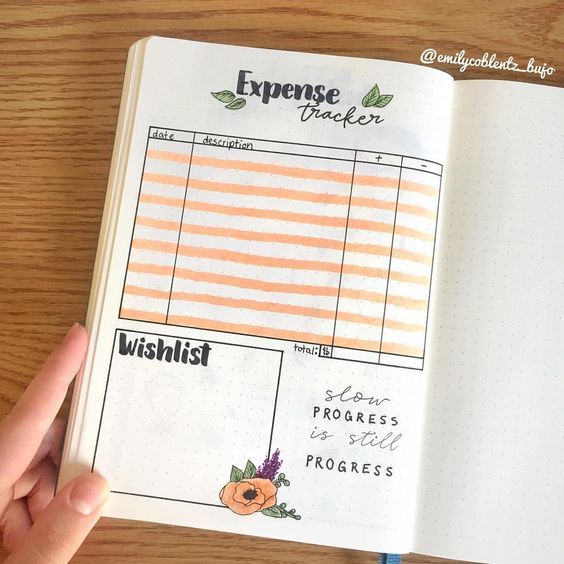 Keeping track of your spendings is important for your financial health. It helps you identify the areas where you spend more and will help you make decisions relating to them. Here is a spendings tracker that follows a simple layout. All you have to do is list out your incomes and expenses and at the end of the month, you will have a clear picture of your spending pattern.
23. Bullet Journal Sleep Tracker
A healthy sleep cycle is essential for your body to function effectively. If you feel like your sleeping pattern has been a little messed up lately, then it's a good idea to maintain a sleep tracker. A sleep tracker will help you track the time you go to bed and the hours of sleep you get each day. By doing so, you will be motivated to improve your sleep cycle and stay healthy and motivated.
24. Bullet Journal Mood Tracker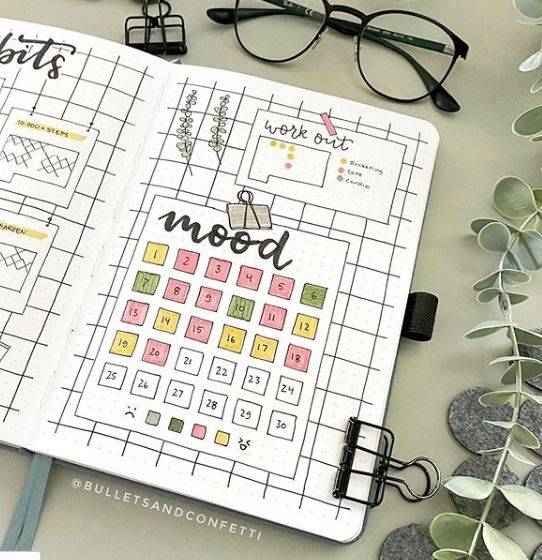 A bullet journal mood tracker page is a great way to keep track of your mood. By doing so, you will be able to track how your days have been lately, i.e., whether you have been having a lot of anxious and stressful days or happy days. You can then identify the factors or triggers that affect your mood and take action accordingly.
To know more about mood trackers, refer- 25 Best Mood Tracker Bullet Journal Ideas
Also read- 24 Best Bullet Journal Mood Tracker For Inspiration
25. Bullet Journal Water Log
Staying hydrated is really important. Drinking water is the solution to almost everything- want clear skin? Drink water. Feeling tired? Drink some water. Want to stay healthy? Drink water. A water log is the perfect way to ensure that you stay hydrated and drink the required amount of water each day. Filling up your water log will motivate you to drink more water and track your progress.
26. Bullet Journal Period Tracker
A bullet journal period tracker page is the perfect way to keep track of your periods. You can track down the symptoms such as bloating, PMS, and even record your flow. It'll remind you of when to expect your period next and save you from unexpected visits. If you are looking to get pregnant, then you can also track when you're ovulating and when you are most fertile during the month.
27. Bullet Journal Doctor's Appointments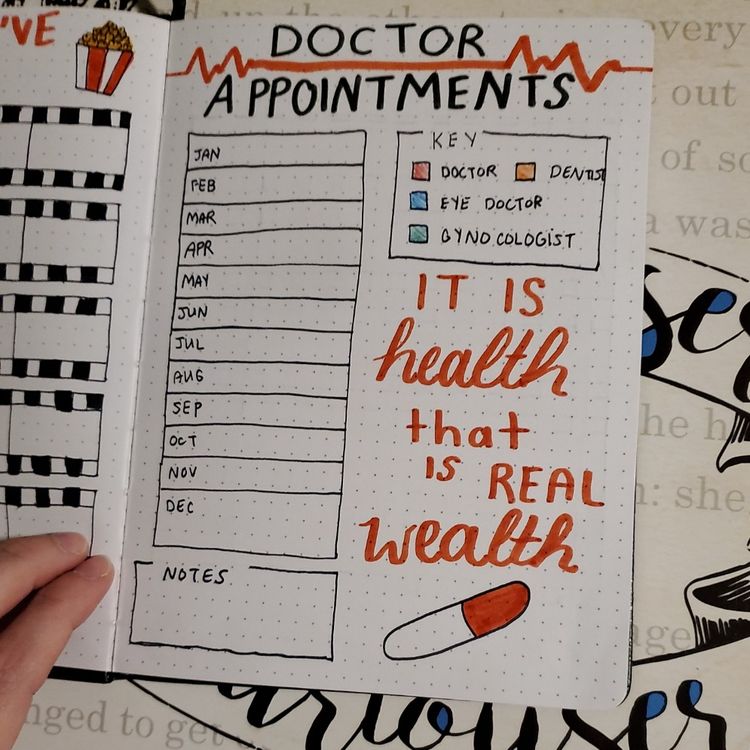 A bullet journal doctor's appointment page will help you keep track of all your appointments to the clinic. You can include your appointment dates and routine visits to the dentist, eye doctor, and gynecologist as well.
28. Gratitude Journal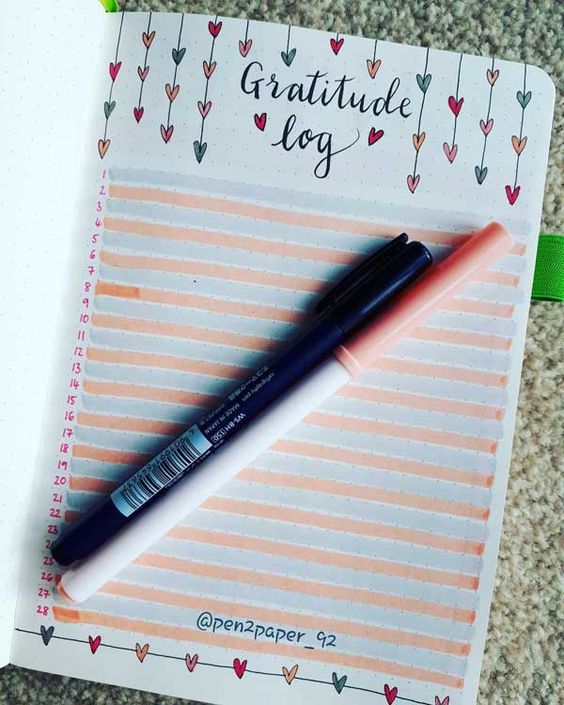 Gratitude is a powerful emotion and has the power to transform your life. Maintain a gratitude journal page in your bullet journal to list down all the good things in your life. It doesn't have to be big things, it can even be simple events or moments for which you are grateful for. It's a daily reminder that no matter how tough life gets, there is always something to look forward to.
To know more about the art of gratitude journaling, refer- How To Use Gratitude Journal To Transform Your Life?
29. Bullet Journal Self Care Page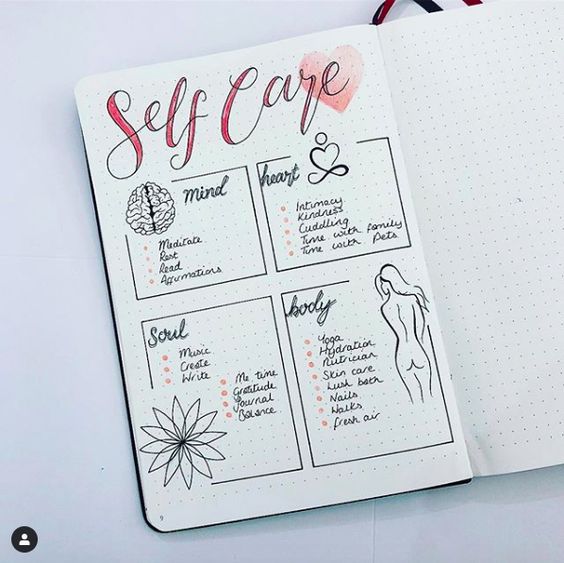 Sometimes, it is important to take time off from your busy schedule, unwind, and take care of your self. A self-care page is the perfect way to do that. Write down stuff that makes you feel energized, calm, and relaxed. You can use these prompts to relax and reset when you are feeling low or simply want to have some quality self-care time.
30. Bullet Journal Inspiring Quotes Page
You can create a quotes page in your bullet journal to inspire you and keep you going. Write down your favorite quotes that never fail to motivate you on this page. You can also decorate the page. Whenever you feel uninspired or lack the motivation to work, all you need to do is turn to this page and you will feel productive again.
Refer- 100 Never Give Up Quotes To Keep You Going
31. Bullet Journal playlist tracker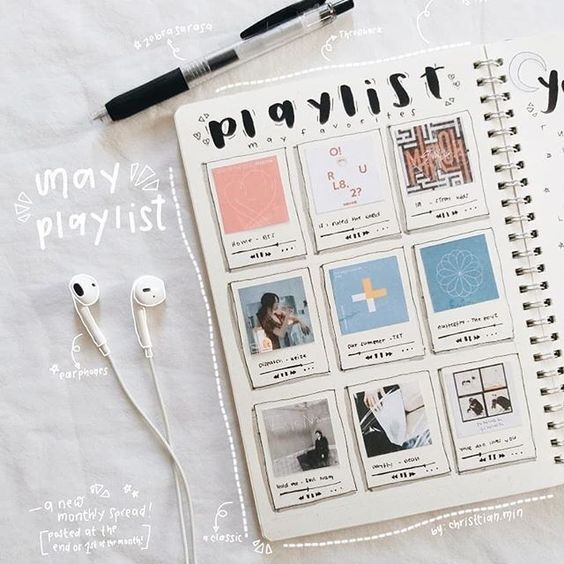 This is a bullet journal playlist by dorthea.dreini.c.  You can create a playlist tracker page in your bullet journal to keep track of all your favorite songs. You can also create different playlists for different moods and activities. Another way to organize your songs is by artists or albums.
32. Bullet Journal Places I have Been
Create this fun places I have been travel bullet journal page to keep track of all the places you have been to so far. There are so many ways to do this. You can draw a world map and color the places you have visited, or simply list down the places you have been along with the date visited.
Refer- 8 Creative Travel Bullet Journal Ideas You'll Love
33. Bullet Journal Travel Bucket List
I'm sure that most of you have a list of places that you want to visit before you die. Create a fun travel bucket list to keep track of all the countries and places you would like to visit in the future.
Refer-  8 Creative Travel Bullet Journal Ideas You'll Love
34. Pen Test Page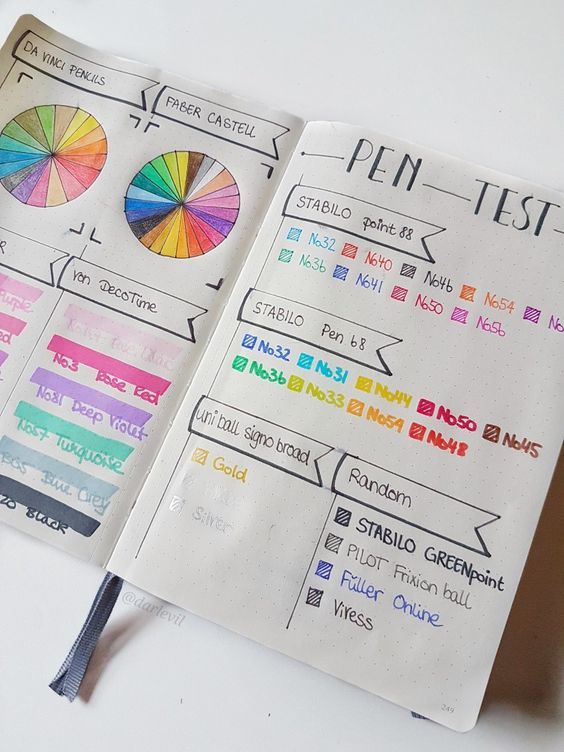 A pen test page, as the name suggests, is a page dedicated to testing out your pens and markers. By doing so, you will be able to test out whether there is any ghosting or bleeding through the pages of your Bullet Journal before actually using them on the other pages.
35. Bullet Journal Recipes Page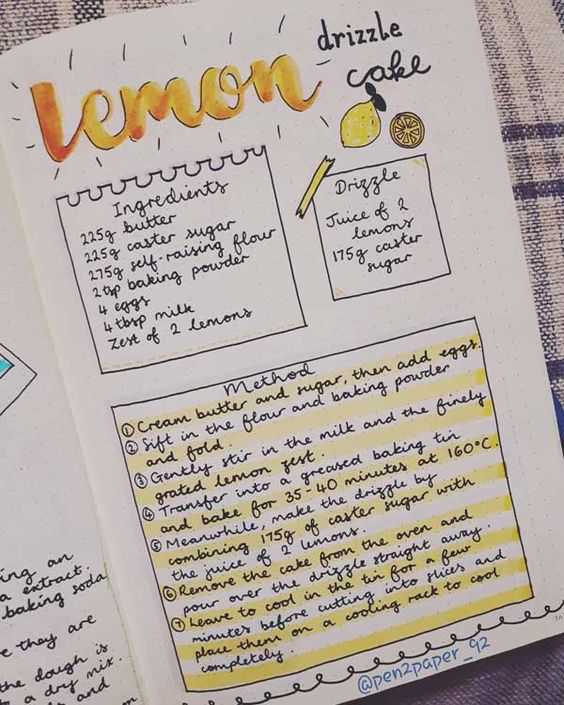 You can dedicate a few pages of your bullet journal to store all your favorite recipes. You can write down the ingredients, prep time, and the recipe. You can also doodle and use stickers and washi tape to make the page look more attractive.
36. Bullet Journal Calorie Tracker
If you are someone who is trying to lose weight or on a diet, then a calorie tracker will help you count your calories to help you along the journey. You can note down the calories consumed during each meal and also the calories burned.
37. Bullet Journal Brain Dump Page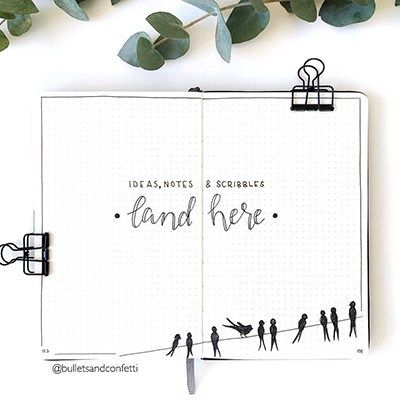 A brain dump page is a great way to clear your cluttered mind and focus on the present. Sometimes, when your mind is full of thoughts, you may find it difficult to focus on the task at hand. You can use this brain dump page to dump your thoughts, ideas, and anything else going on in your mind. You can, later on, convert these thoughts into a task list to increase your productivity.
Refer- 15 July Bullet Journal Layouts and Ideas To Inspire You
38. Bullet Journal Affirmations Log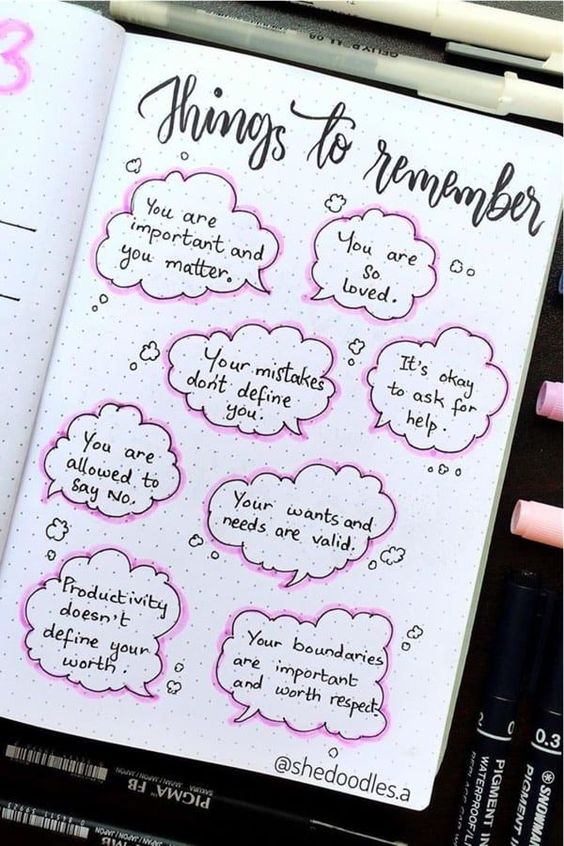 Affirmations are positive statements that you repeat to yourself that can help you to challenge and overcome self-sabotaging and negative thoughts. When you repeat them often and believe in them, you start to see positive changes in your life. Create a positive affirmations log in your bullet journal as a start to this positive journey.
39. Bullet Journal Mind Map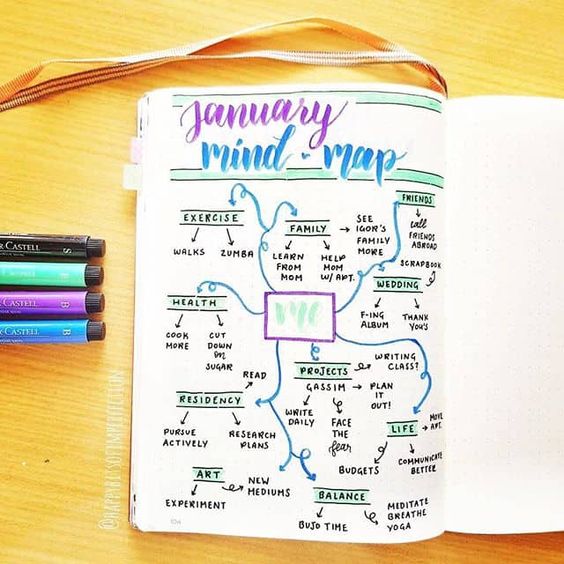 Creating a mind map is a great way to visually represent or organize information. It saves time as you don't have to put everything into grammatically correct sentences. It's just a rough representation of your thoughts that you can later convert into a more sensible format or a task list.
40. Bullet Journal Memories Page
You can create a bullet journal memories page to document all your memorable moments from a particular trip, event, or even from the whole month. You can write down your memories and include pictures as well so that you can relive and cherish them whenever you want.
41. Bullet Journal Cleaning Routine
Create a cleaning routine page in your bullet journal to effectively clean your house. Write down all your cleaning tasks and divide them into daily, weekly, and monthly tasks. You can add reminders in your bullet journal page to help you stay on track with your cleaning routine.
42. Bullet Journal Weight Loss Tracker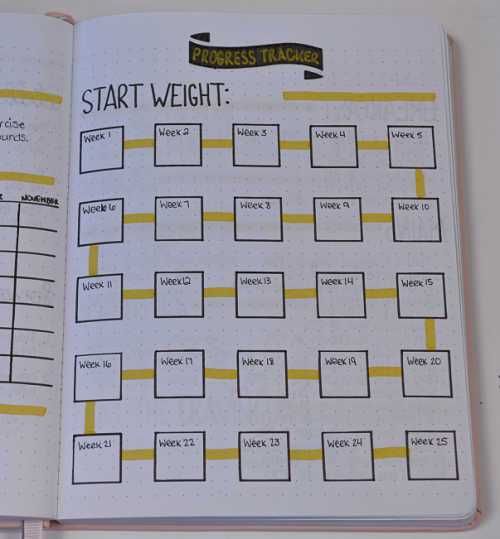 If you are trying to lose weight, then this weight tracker page is a must in your bullet journal. This is a weight tracker page where you can write down your weight each week. You get a visual representation of your progress.
Check – 18 Weight Loss Journal Ideas
43. Bullet Journal Contacts List
Maintain this bullet journal contacts page to keep a record of all your important contacts. You can store their name, phone number, email ID, and address.
44. Bullet Journal Party Checklist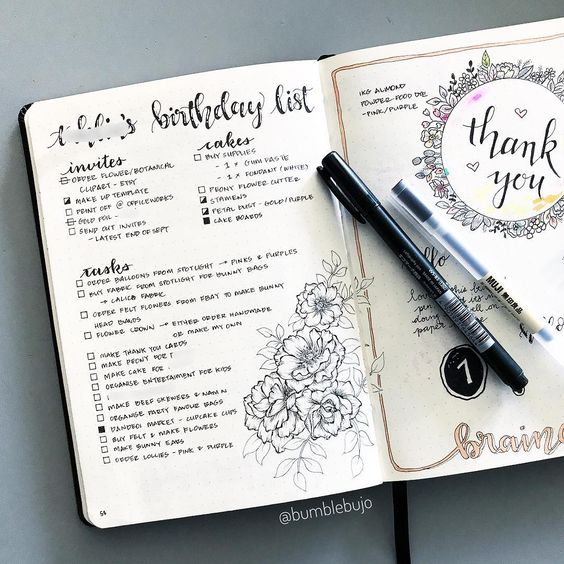 Planning a party can get quite hectic sometimes. There are so many things to take care of like the cake, decorations, food, guest list, party outfits, etc. Maintain this party checklist page to ensure that you don't forget anything and you plan the best party ever.
45. Bullet Journal Holiday Planner
This holiday planner is a great way to plan your holiday to ensure that you have a seamless holiday. It has a holiday budget for gifts, dinner, and decor. It also has a checklist of things to do before and on the day of Christmas. You can create similar spreads for all your different holidays.
46. Bullet Journal Monthly Review Page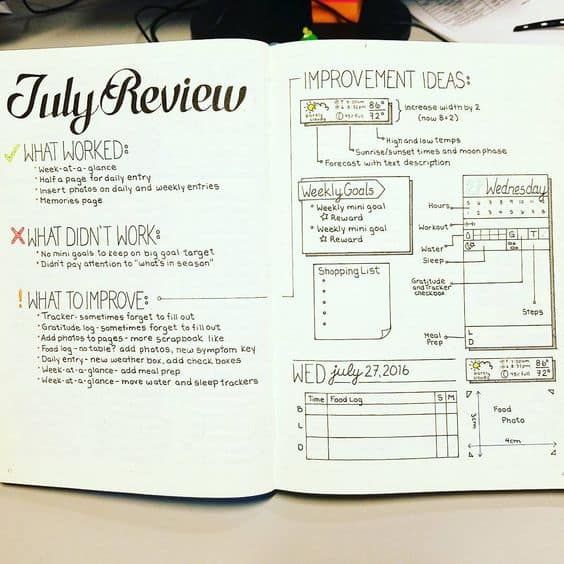 At the end of the month, it's a good idea to review how your month was like. You can write down what worked, what didn't go as planned, and what you need to improve. By doing so, you will be able to alter and improve your methods for a better life.
47. Morning/ Evening Routine Page
It is great to have a routine. It helps you save time and build better habits. If you already have a routine or want to create one, then it may help if you create a page for your routine. This can be a morning routine page, or an evening routine, skincare routine, etc.
48. Bullet Journal Weekend Planner
Use this weekend planner page to plan out what your ideal weekend would look like. You can include things to do, errands to run, your hobbies and passion projects, and so on.
49. Bullet Journal Class Schedule
If you are a student, then a bullet journal class schedule page can prove to be of great use. You can write down your class timings and timetable to help you prep for class better.
50. Bullet Journal Assignment Tracker
If you are a school or college going student, then you must create an assignment tracker page in your bullet journal. It'll help you keep track of all the different assignments due of different subjects and help you prioritize your work accordingly.
51. Bullet Journal Study Timetable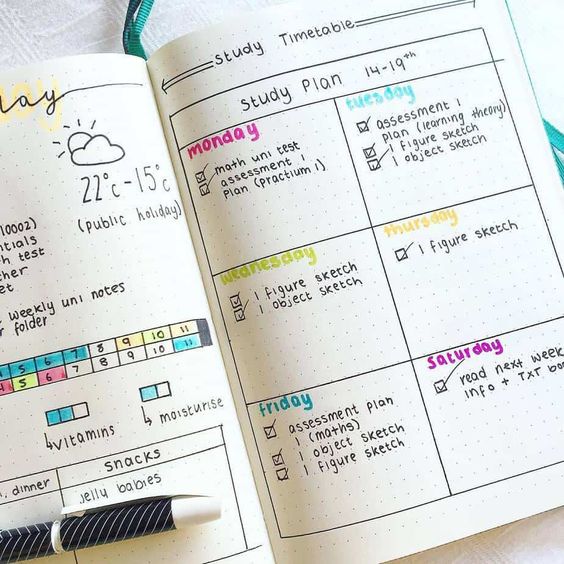 Here is another bullet journal page for students. This is a study timetable to help you prioritize your studies. It follows a simple checklist layout where you can write down topics to study each day and check them off once its done.
52. Bullet Journal Fitness Tracker
This bullet journal fitness and workout tracker page will help you stay fit and healthy. It is a monthly fitness tracker that helps you track the type of workout you did on a particular day. You can maintain a key and simply color the boxes according to the type of workout done.
53. Bullet Journal Body Tracker
You can maintain a bullet journal body tracker page to measure and keep track of your weight, bust size, waist, height, etc. each month.
54. Date Night Ideas Page
Another fun page to maintain in your bullet journal is a date night ideas page. You can list out all the different date night ideas that you have so that next time you go on a date, you can simply pick out something from the list to do.
55. Word Of The Day Page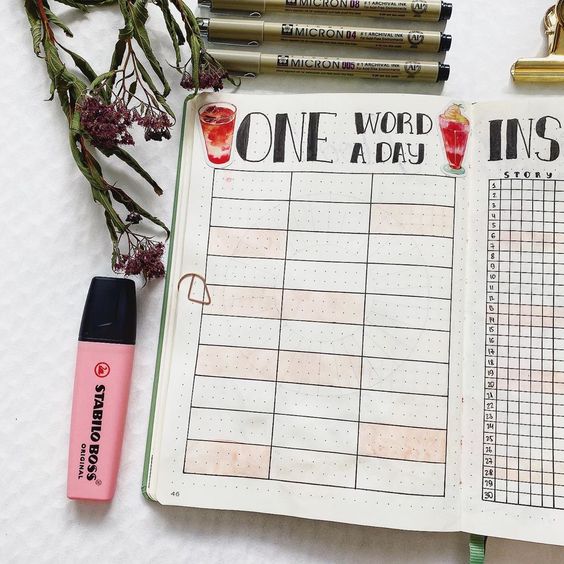 Maintaining a One Day A Word page is a great way to learn new words and improve your vocabulary. All you have to do is pick out one new word each day and list them down along with their meanings.
So there you go! That was a list of 55 different things that you can include in your bullet journal. Do try them out and let us know how you liked it in the comments section below. Also, tell us if we missed out on any bullet journal pages ideas.