The month of July is almost here and it's time for you to create your July Bullet Journal. Think of your favorite things that you do in July and decorate your bullet journal around those things. But we are all better off with some inspiration, so here are some bullet journal ideas that you can use to make this July more productive and fun than ever.
Supplies Needed To Create Your July Bullet Journal:

Just like every bullet journal page, there are a few common supplies that you will need to create this page as well. You can customize the supplies according to the layout and theme that you choose. Here are a few basic supplies that you will need:
Bullet journal
Brush pens
Pencils
Markers
Paint
Washi tape
Stickers 
July Bullet Journal Ideas:

Here are some bullet journal ideas for the month of July:
Monthly Cover July Bullet Journal Layouts
A fancy cover page is something we all crave! These July bullet journal monthly cover ideas will certainly inspire you to customize your own July cover page. Let's check them out and seek some serious inspo!
1. Fun July Cover Page For Your Bullet Journal
The first page of your bullet journal is usually the most fun thing to create. It sets the tone for the whole month of journaling. I found this fun, cute July cover page by @nicole.josephinee  while scrolling through Instagram and I absolutely love it. I love the cute ghost and the other adorable doodles. It also has a small to-do list or goals section at the top. 
You can recreate this one by finding your own inspiration of the month. Ask yourself – What inspires me this month? What does the month of July mean to me? You can find inspiration for July cover page for your journal on social media, blogs, videos, or simply by observing things around you.  It's a great idea to begin by creating some  simple doodles, then go ahead and make a monthly goals section. Next, you can write down a few quotes to motivate you throughout the month.
Refer- 100 Never Give Up Quotes To Keep You Going.
2. Buzzing July Cover Page
Source –  Lianajournals
How adorable is this buzzing bee! July is the summer month and that means outdoor picnics, Sunday brunches, music camps, and much more. Lianajournals has drawn inspiration from a Summer camp in this July bullet journal cover page. Let this yellow Bellis bumblebee buzz in some good opportunities this July!
3. A Fun Day Out
This July bullet journal cover page by cchocolatemilkk reminds me of a Sunday picnic. How tempting does this scene look! She has paid attention to the details. The quote on the left says 'Be Kind To Yourself' and is a gentle reminder for the importance of self-care and self-love.
4. Fitness Rules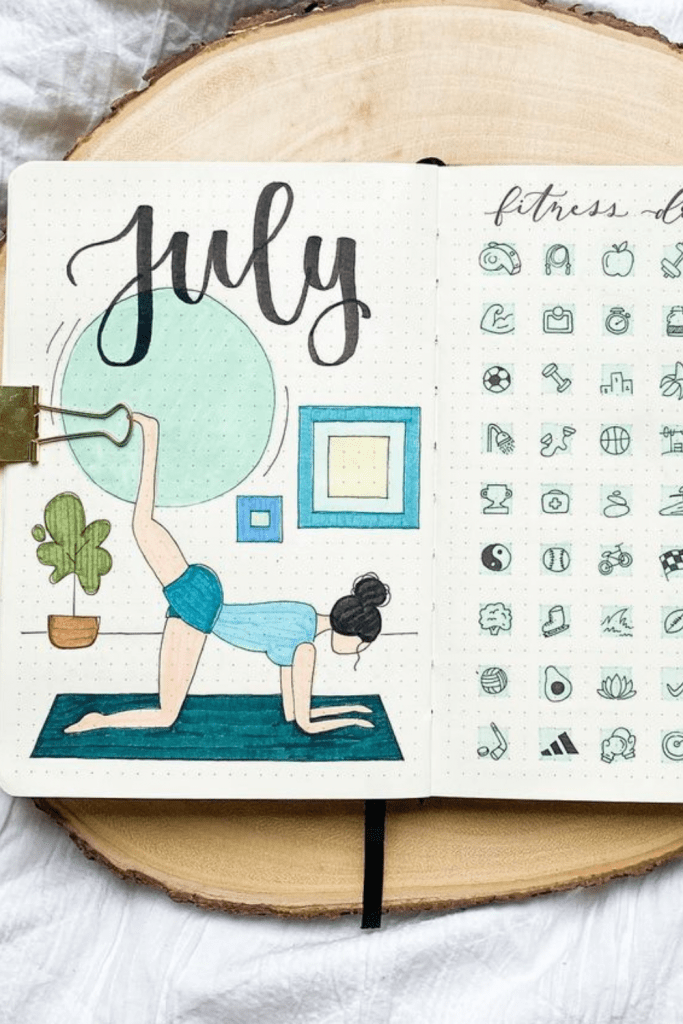 I think the only thing that I like about this pandemic is that it has allowed me enough time to stay devoted to my fitness routine! I guess the same has inspired through_the_book. I love how this layout turned out. It has blue as the dominant color. Let this July bullet journal cover page inspire you to get into your fitness regime!
5. Hello July Bullet Journal Cover Page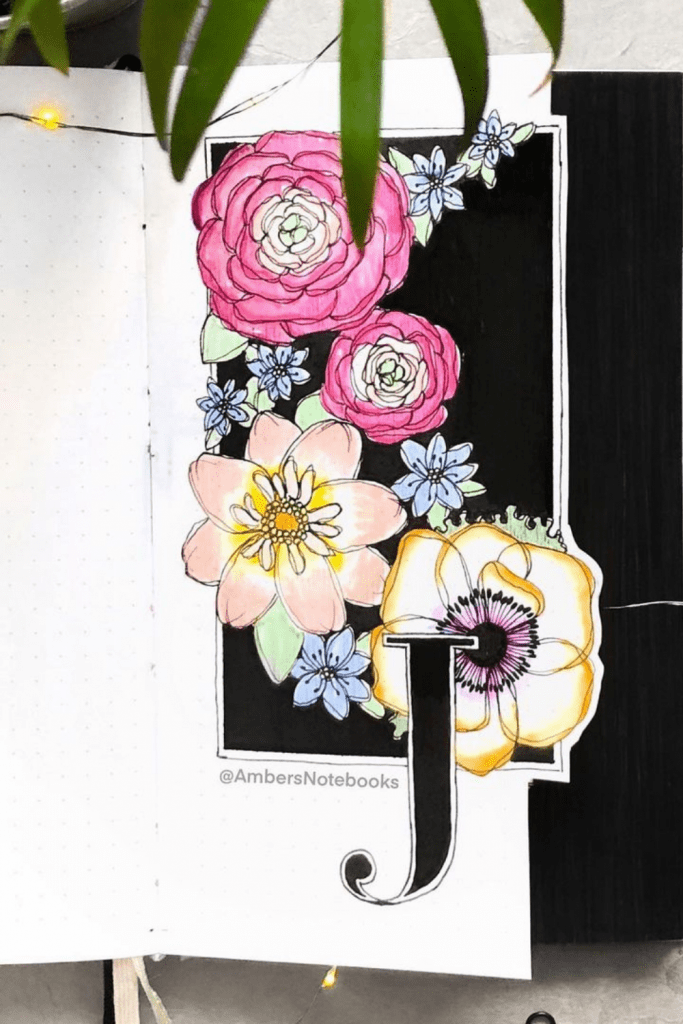 I am obsessed with these florals and sketchy feelings created by ambersnotebooks. With the shades of pink and a hint of yellow, she has created a truly inspiring cover page for July. 
6. All Sweet Things
Well, who doesn't like a bowl of ice cream or a tumbler of bubble tea in the July heat? This July bullet journal layout by bujowithbea reminds me of that! The cover page is simple, cute, and exquisite! She has used adorable dessert-themed doodles to complete the look!
7. Rainbows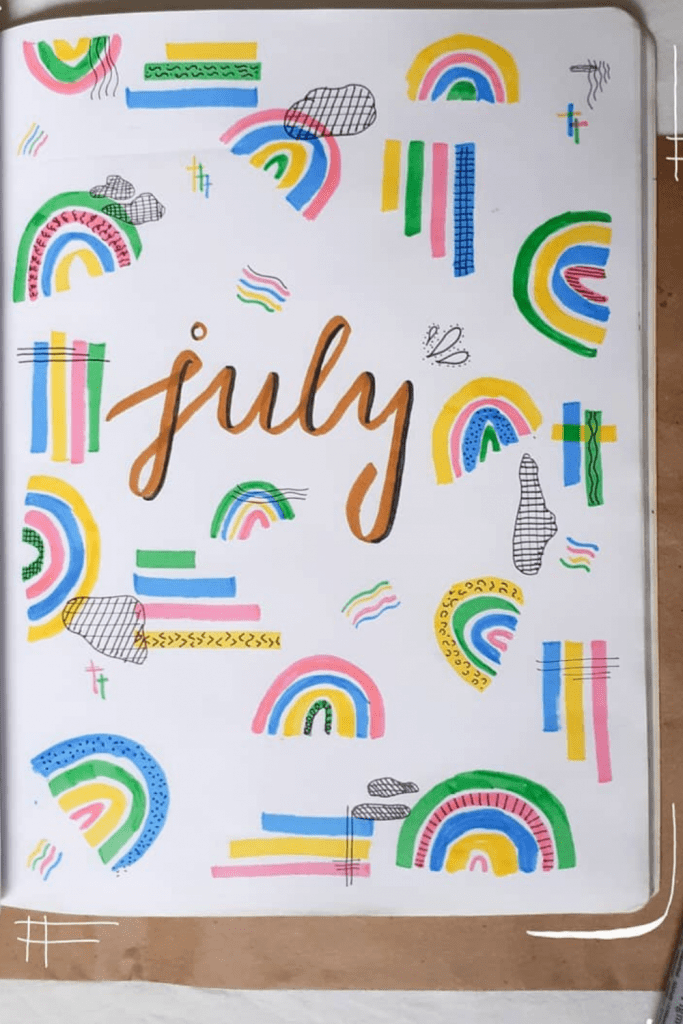 Rainbow love is real! Look how colorful this layout by littlearthut has turned out! It is bright, beautiful, and colorful! Your July bullet journal cover page can't get any more colorful than this!
8. Tropical July Cover Page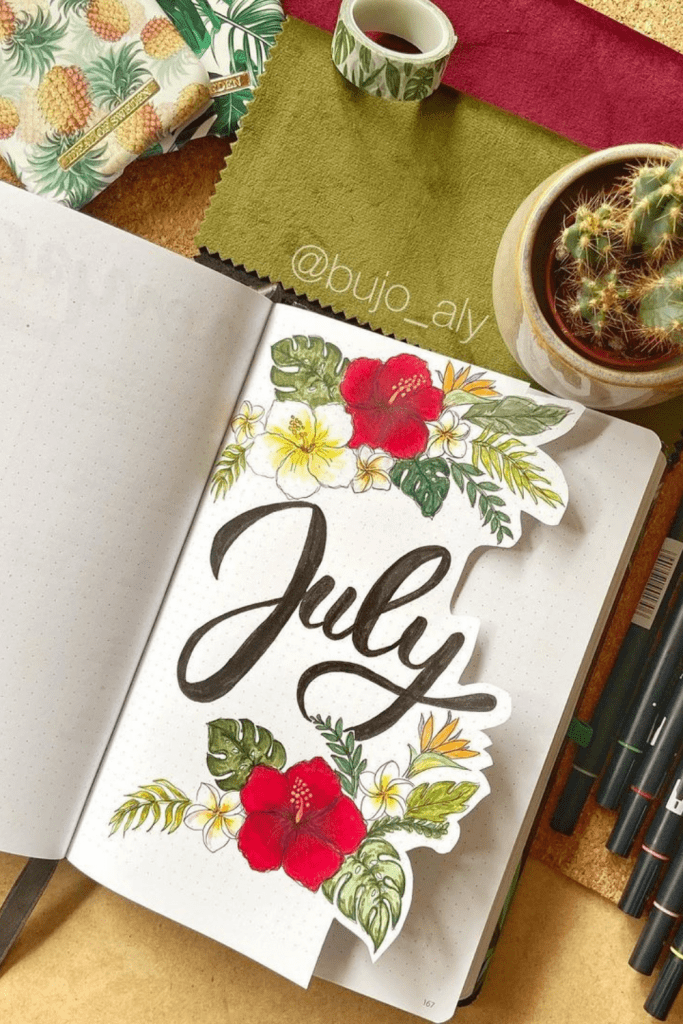 What is a July bullet journal cover page without some good old floral theme? So here is an exotic floral-themed cover page idea by bujo_aly for your July bullet journal. She has used bright pastel colors to give it a refreshing look.
9. Minimalist Cover Page For Your July Bullet Journal

Here is another cover page for your July Bullet Journal. This one is scrapbook themed and is very minimalist. No fancy drawings or doodles, yet it looks very elegant and classy. You can write quotes on the cover page or even your goals for the month. But remember to keep it simple and clean and find your own inspiration for the month so that you remain motivated throughout. 
10. Lemon Themed July Cover Page
I love this citrus themed July bullet journal cover page by @abiding_kelseyleigh. It is minimalist yet decorative at the same time. Along with a monthly calendar, it also has goals for the month section. Here you can write down what you aim to accomplish during the month and view it regularly so that it keeps you on track. I absolutely love all the different fonts used on this page. To recreate them, refer to our blog post on 20 Best Bullet Jornal Fonts For Your Bujo Pages.
Weekly Spread Ideas For July Bullet Journal
Weekly spreads are my favorites. I like how easy and elaborate they are. Weekly spreads keep my schedule sorted and the ample space makes it easier to maintain. Here are some well-crafted weekly spread ideas that are perfect for your July bullet journal. 
You can also check out our other weekly spread ideas here- 40 Bullet Journal Weekly Spread Ideas to Inspire You.
11. Colorful July Weekly Spread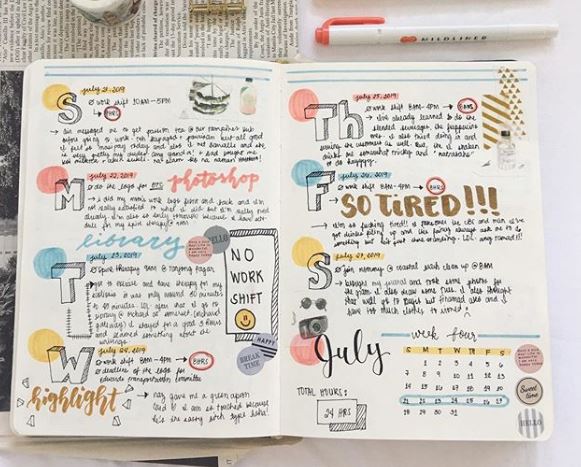 Weekly spreads are great since it gives you an overview of the week ahead. It includes a section for each day where you add your ongoing task log, to-do lists, notes, weekly trackers, highlights of the week, and anything else that is on your mind. I found this weekly spread by @artofchayo and was instantly attracted to it. This spread is very vibrant, colorful and so full of life! It also has cute little doodles and the use of different fonts is admirable. 
Refer- 20 Best Bullet Journal Fonts For Your Bujo Pages.
12. Summer Vibes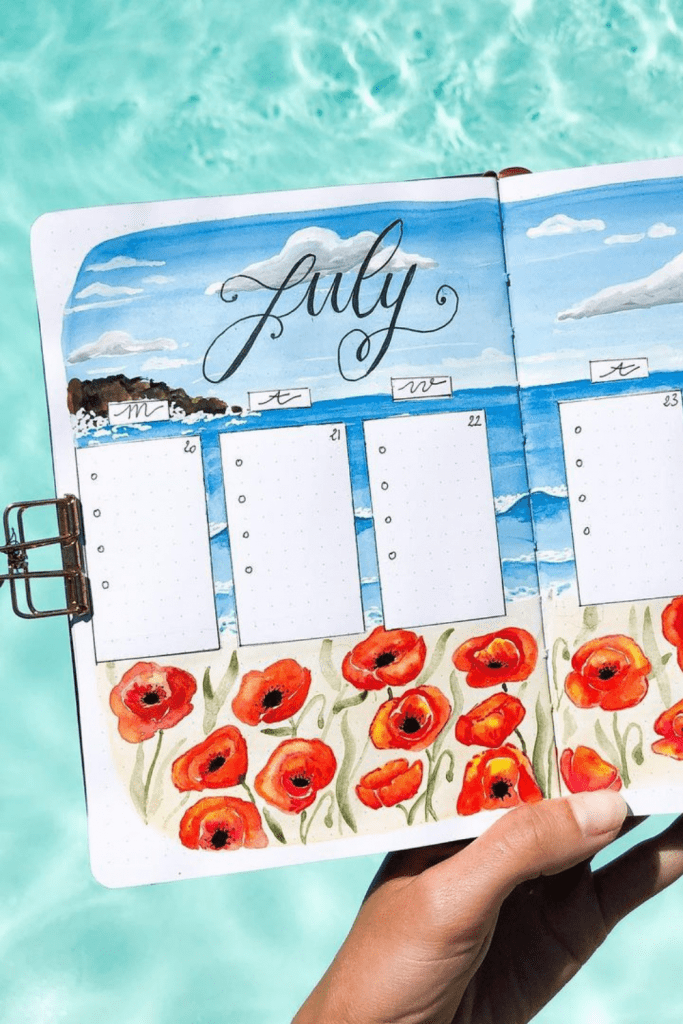 I love everything about this weekly spread! Constancechel has incorporated all that reminds one of a bright summer afternoon. The blue waves, clear blue sky, and bright orange flowers are everything that makes this weekly spread one-of-a-kind.
13. Floral Weeklies
Colors make me happy and flowers help me keep all negativity far away! And this July bullet journal weekly spread by ambersnotebooks has both! The pastel floral pattern with the black background looks magnificent! 
14. Cone Ice Creams and More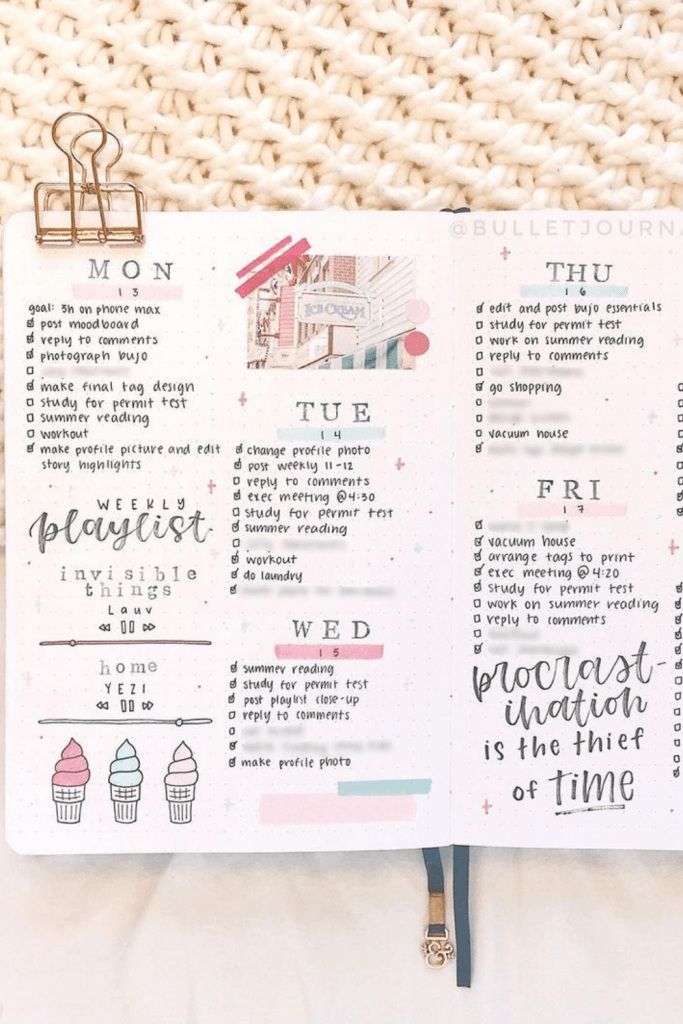 I love everything about this weekly spread. From the minimal doodle to the motivating quote, this July bullet journal weekly spread by veronicajournals is all that you need to keep procrastination away! Nothing is more annoying than an unproductive day so go ahead and plan your week with this weekly spread!
15. The Box July Bullet Journal Weeklies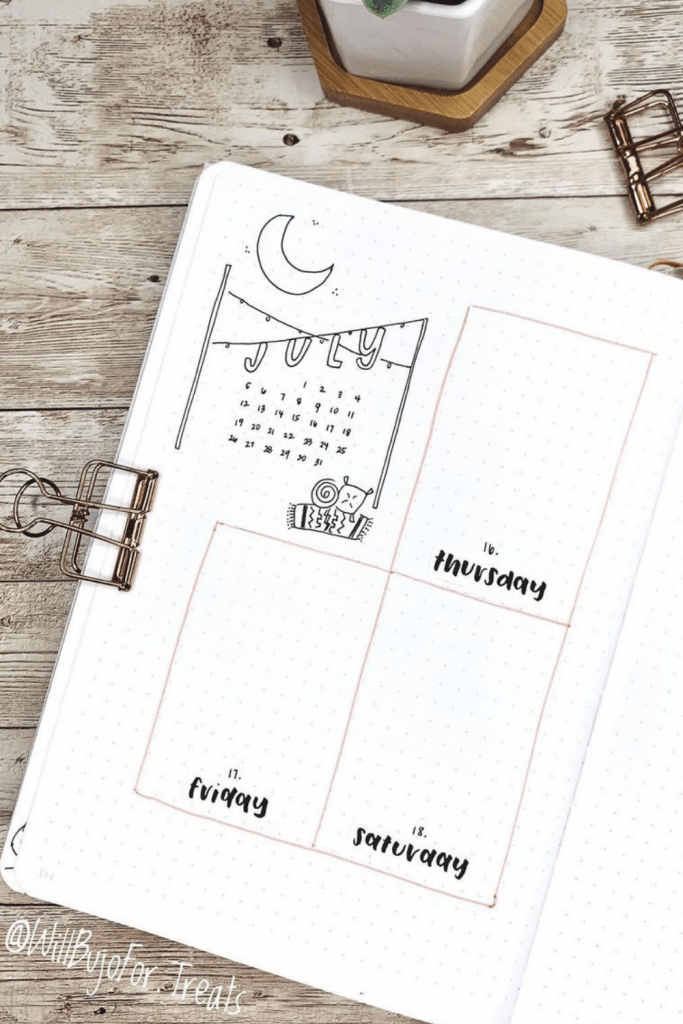 I love the clean look of this weekly journal by willbujofor.treats. She has drawn simple doodles that bring out the summer vibe. The overall look is simple, minimal, and clean!
16. Keep going!

This July bullet journal weekly spread is as elaborate as it can get! Honor.journal has used bright yellow flower doodles and butterflies to give this weekly spread a strong summer vibe! The sunflowers certainly cheer up the soul to the core with their beauty! But my favorite part is the quote that says- "Be loud about things that are important"! Here are some sunflower-themed Bujo page ideas-  28 Bright Sunflower Bullet Journal Ideas.
17. Tropical Weeklies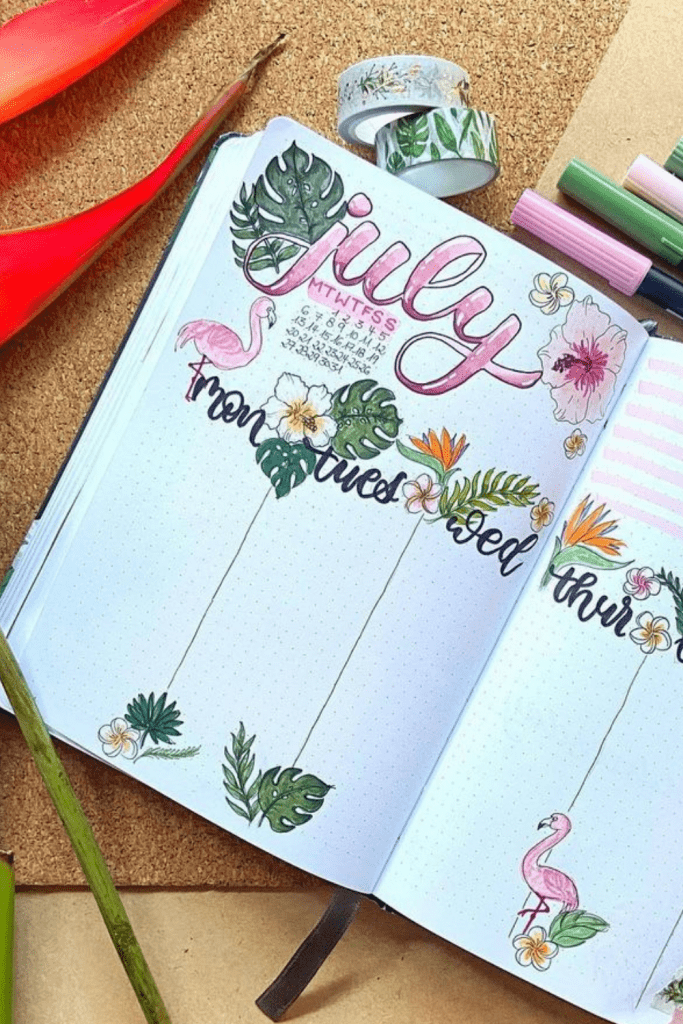 This weekly spread for your July bullet journal is exquisite! Bujo_aly has created an exotic floral theme in this weekly layout. But the star of the show is certainly the pink Flamingos! My favorite thing about this spread is the extra space for notes; can't ever get enough of them!
18. Thorny July

This weekly spread is perfect for a cactus-themed July bullet journal. Bujobethan has kept this layout fun, clean, and simple! She has used shades of green to color the succulents. The boxes for each day will certainly keep the daily plans sorted and decluttered.
19. Weekly Spread With Notes And Trackers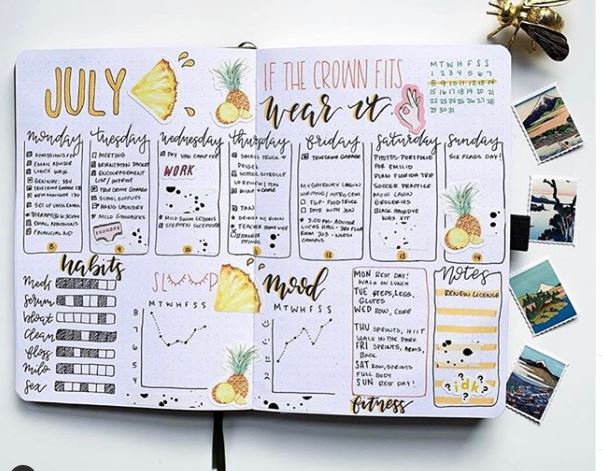 This bullet journal weekly spread by @bullet_journallingg not only has a weekly task log but also a habit tracker, a sleep tracker, and a mood tracker. Just when you thought it can't get any better, it also has a section for fitness and notes. What more, it looks absolutely stunning as well. The cool font and use of different stickers give it a very cool look. 
Do try it out if you want your week to be productive and fun-filled. 
20. Highlights Of The Day – Weekly Spread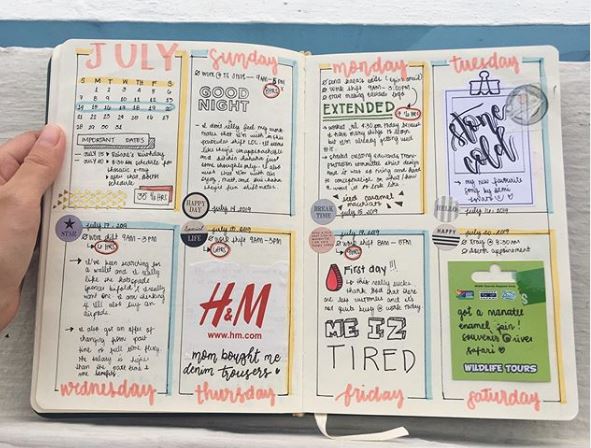 It is a good idea to write down the highlights of your day. It helps you reflect back on your day and savor the nice moments, and also learn from your mistakes. 
So how do you decide what the highlight of your day was? Look back at your day and the activity or moment that stands out the most to you is the highlight of the day. There may be more than one at times. This bullet journal weekly spread follows a simple box layout where you write the highlights of your day in each box. You may use different fonts, stickers, washi tape to make it look more attractive. 
21. Summer Fruits Inspired July Spread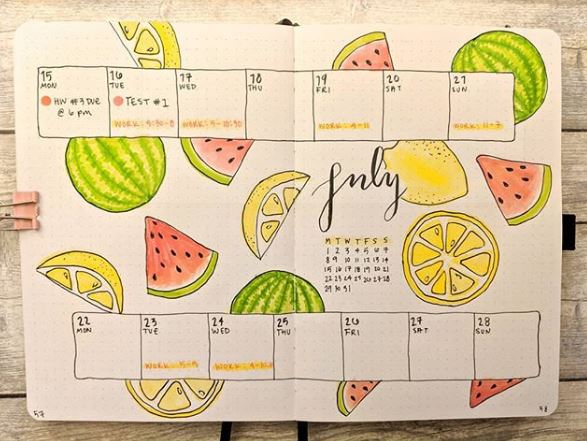 This fun and cute bullet journal spread by @bullet_jules is perfect for the July summer. It has adorable watermelon and lime doodles all over it and follows a fortnight layout. This means that you have the next 14 days of your month at a glance. You can write anything in those boxes ranging from your to-do list to goals, highlights, birthdays or mark other important dates.
22. Minimalist July Weekly Spread

Here is a minimalist weekly spread by @byuljournal. So if you are someone who isn't artistic enough or simply lack the time and patience to doodle on your journal and create intricate designs, then this one is perfect for you. 
It follows a simple layout and the fonts used are also very basic. There is a small section for the tasks and goals of the week along with a small notes section at the end. You can use decorative washi tape and stickers to decorate your bullet journal instead of doodling or may choose to keep it plain and simple.
23. Aesthetic Weekly Spread For Your July Bullet Journal

This bullet journal weekly spread by @studygram.indonesia is just so aesthetic. The fonts and the use of cute washi tape take this bullet journal page to the next level. The star and moon doodles and the terrarium stickers also add to the vibe. It also includes a song of the week and quotes to keep you motivated throughout the week. She has used bounce lettering to write the days of the week. 
To recreate this font, refer- 20 Best Bullet Journal Fonts For Your Bujo Pages
Monthly Layouts for July Bullet Journal
Monthly layouts have always had a good number of admirers. And why not? These layouts are convenient and certainly more compact. They allow you to have a glance at the whole month's schedule without the pain of turning pages. Here are some brilliant monthly layouts for your July bullet journal.
24. Month At A Glance July Bullet Journal

We have covered weekly spreads and even daily bullet journal weekly spreads. Here is a July bullet journal monthly spread. There are 31 numbered tiles representing the different days of the month. This one is by @mybujoyesterday. She has used watercolors and then used a micron pen to doodle on top of the tiles. You can simply leave it after painting the tiles or doodle just like how she has done here. There is also a goals section and a section for next month. Use this page to mark your appointments, meetings, birthdays and other important dates. 
25. July Monthly Overview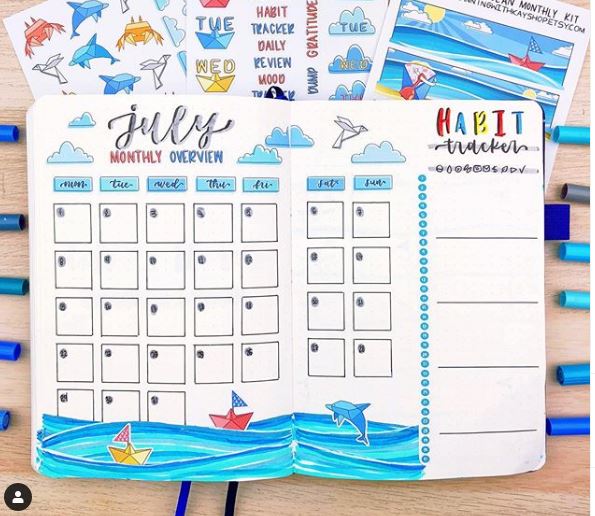 Here is another July monthly overview page for your bullet journal. I love the blue oceans and sky theme going on here. It is very vibrant and gives off a very fun vibe. Since the boxes are tiny, you can't actually plan out your month here. It is only meant to give an overview of the month and you can use other layouts discussed above to plan out our month in detail.
26. Self-care Regime Monthly Spread

What comes to your mind when you think of self-care? For me, it is my favorite music, scented candles, painting my nails maybe, a book to read, and good sleep. Artsbykrys has included all of it in this July bullet journal monthly layout. The layout is cute and adorable.
27. We All Scream for Ice Cream
There is always space for some ice cream! Magicalflyingpigs has drawn cute summer doodles for this July bullet journal monthly layout. From popsicles to sundaes to delicious cone ice creams, this layout has it all! But the icing on the cake is the miniature monthly calendar at the top.
Trackers for your July Bullet Journal
Trackers are the best part of any bullet journal. Trackers are my favorite way to keep procrastination as a long-lost dream! It helps me to stay productive and motivated every day! With these tracker ideas, you can maintain a healthier lifestyle. 
28. Ice Cream Themed Mood Tracker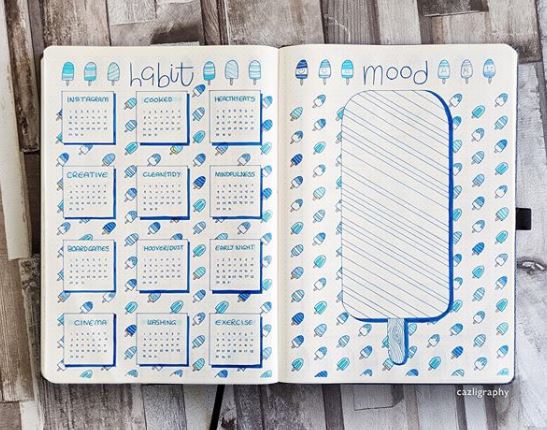 This popsicle themed habit cum mood tracker by @cazligraphy is the last one on the list of July Bullet Journal Ideas. Keeping track of your mood and habits is always a good idea to increase your productivity. The popsicle sticks in the background add a fun element to the task.
To know more about habit trackers, refer- What is a Habit Tracker?
29. Ice Cream Themed Habit Tracker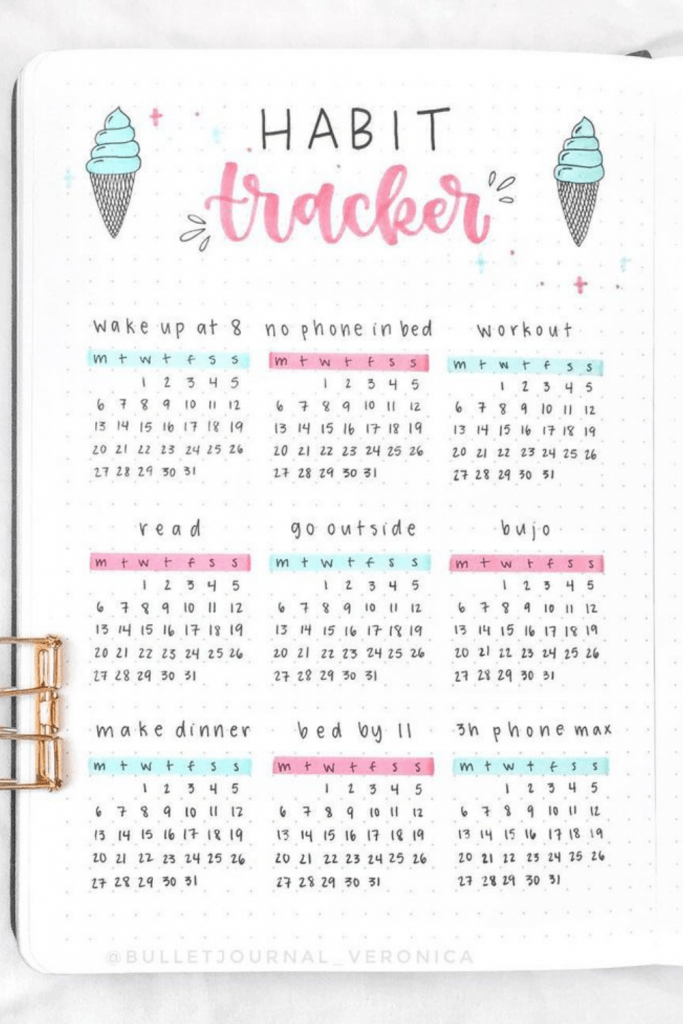 This one here is perfect for an ice cream-themed July bullet journal. Veronicajournals has kept the layout simple and clean! The two cone ice creams certainly reflect the essence of summer. She has used soft pink and blue to give this layout a refreshing look! Here are some habit tracker ideas for you- 25 Habit Tracker Bullet Journal Ideas For You.
30. Wheel Of Productivity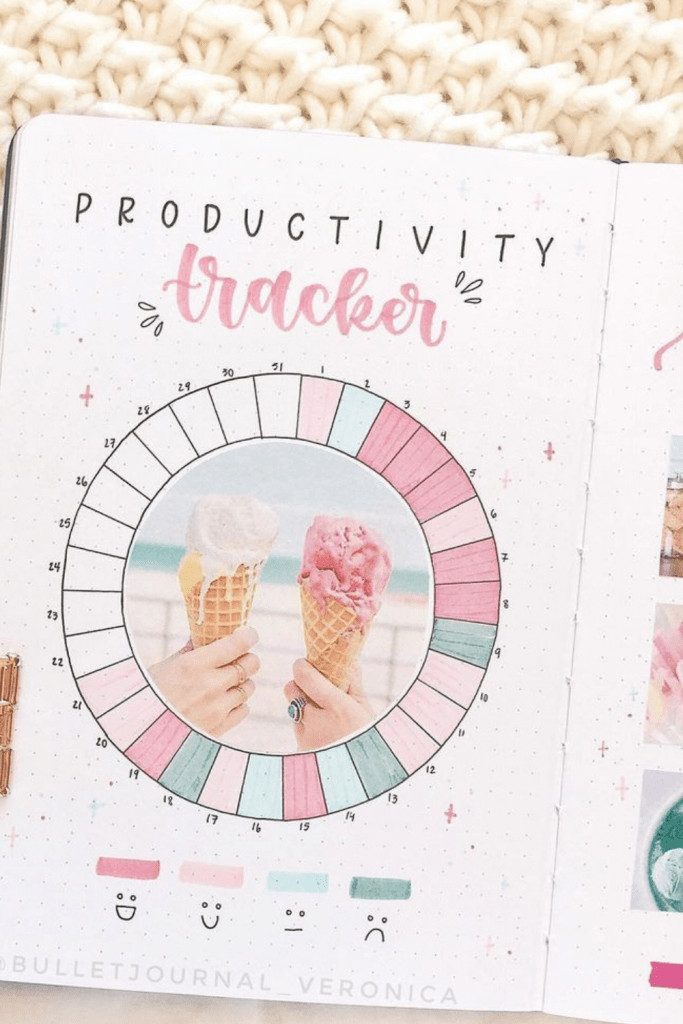 Productivity trackers are my favorite kind! Veronicajournals has used a simple way to track daily productivity. This one is easy to maintain. She has used a nice picture in the center to emphasize the summer theme of the July bullet journal.
31. Sunflower-themed Habit Tracker
This habit tracker is so elaborate that it has "Betwitched my body and soul"! Honor.journal has come up with a habit tracker layout that is perfect for a sunflower-themed bullet journal. The bright yellow sunflowers and green leaves give the layout an exquisite look.
Summer Playlist for your July Bullet Journal
Music is such a huge part of our lives. I can't imagine a day without listening to my favourite songs. If music inspires you and helps you set a mood or vibe for the month, then you can create a July playlist page in your bullet journal. As a dancer, I love this idea as it helps me plan out the songs on which I'll be learning dance combos in which month. 
32. July Playlist Spread
Adding a playlist to your bullet journal can be a fun way to add more personality to your theme. You can create a July playlist tracker to keep you going for the month. This one is by @bujo.by.es. You can also create different playlists for different tasks such as a sleep playlist, dance playlist, study and work playlist, workout playlist, music for cooking, and so on.
33. Sunflower Theme Summer Playlist for July
Including a playlist tracker in your July bullet journal is a good way to add some personality to your Bujo pages! This layout by honor.journal is perfect for the summers. It has the summer vibe, it has bright yellow sunflowers in a mason jar, and it has songs that will take you back to the good old summer days! She has kept the layout simple and easy!
Other Things To Try In Your June Bullet Journal
34. Write Down The Highlights Of Your Day

Here is another highlights of the day bullet journal page. Unlike the previous one, this one is more detailed as it follows a daily layout. You can consider this more like a diary where you write down what happened throughout the day and reflect back on it. Needless to say, you can use stickers and doodles to decorate the pages. 
Also, refer- 20 Best Bullet Jornal Fonts For Your Bujo Pages to write those beautiful headings.
35. Create A Brain Dump Page
I find the process of brain dump quite interesting. Sometimes, your brain gets cluttered with a lot of thoughts and you may feel very restless and overwhelmed. You may have trouble focusing on the tasks at hand since your brain keeps returning to those other thoughts in your mind. In such cases, a brain dump can prove to be quite helpful.
The Brain Dump is a method where you allow all the cluttered thoughts in your head to be written down on paper, to get it out of your brain in some type of solid, tangible form.  You can use this brain dump to later convert it into a task list.
I found this adorable brain dump page by @cazligraphy on Instagram. The cute popsicle doodles make this brain dumping process quite fun.
Related Post – 30+ Astounding Brain Dump Ideas For Stress Relief
So there you go! Those were our compilation of July bullet journal ideas that you can recreate for a fun-filled and productive July.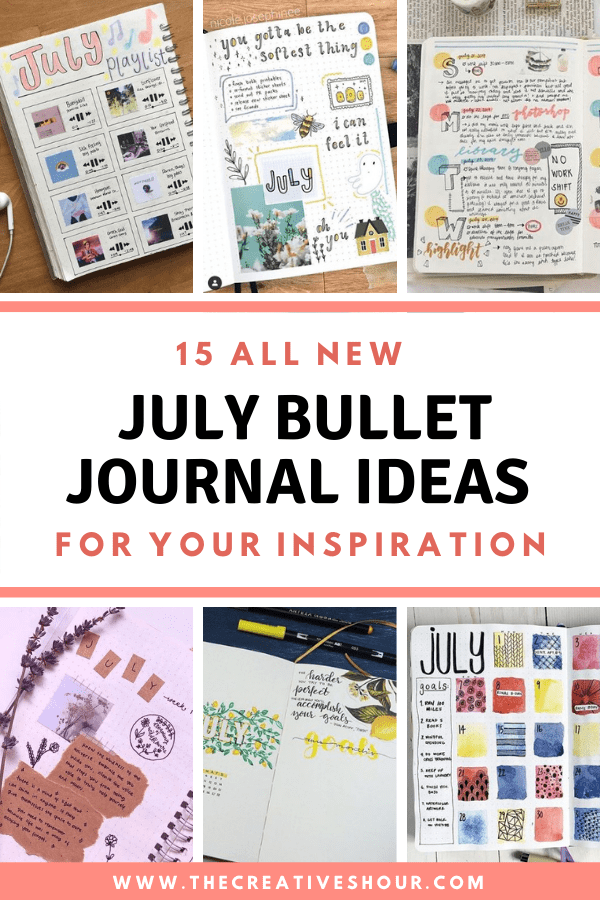 References:
Examining Unlock Journaling with Diaries and Reminders for In Situ Self-Report in Health and Wellness
https://www.ncbi.nlm.nih.gov/pmc/articles/PMC5553980/
2. A pilot randomized study of a gratitude journaling intervention on HRV and inflammatory biomarkers in Stage B heart failure patients
https://www.ncbi.nlm.nih.gov/pmc/articles/PMC4927423/
3. Use of Reflective Journaling to Understand Decision Making Regarding Two Evidence-Based Psychotherapies for PTSD: Practice Implications
https://www.ncbi.nlm.nih.gov/pmc/articles/PMC6426332/
4. Online Positive Affect Journaling in the Improvement of Mental Distress and Well-Being in General Medical Patients With Elevated Anxiety Symptoms: A Preliminary Randomized Controlled Trial
https://www.ncbi.nlm.nih.gov/pmc/articles/PMC6305886/
5. Reflective Journaling as a Flipped Classroom Technique to Increase Reading and Participation With Social Work Students
https://www.ncbi.nlm.nih.gov/pmc/articles/PMC5034758/