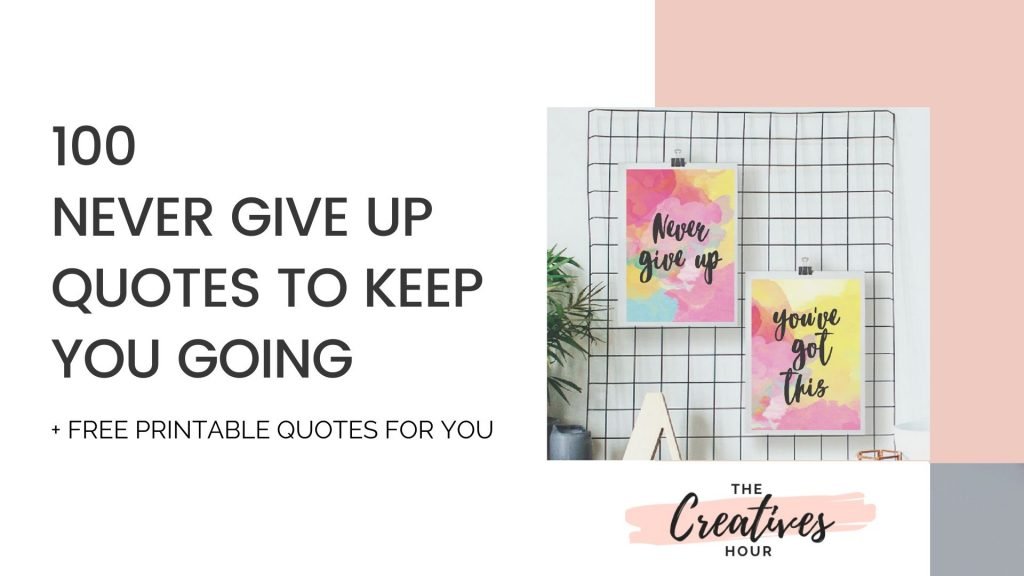 1. "Never Give Up. You Only get One Life. Go For it!" – Richard E Grant
2. "Our greatest weakness lies in giving up. The most certain way to succeed is always to try just one more time." ~ Thomas A. Edison
3. "Never stop trying. Never stop believing. Never give up. Your day will come."– Mandy Hale
4. "If you fall behind, run faster. Never give up, never surrender, and rise up against the odds." ~ Jesse Jackson 
5. "Strength does not come from winning. Your struggles develop your strengths. When you go through hardships and decide not to surrender, that is true strength."– Arnold Schwarzenegger
6. "Don't close the book when bad things happen in your life! Just turn the page and start a new chapter!"– LaToya Jackson
7. "Never give up on what you really want to do. The person with big dreams is more powerful than the one with all the facts."– H. Jackson Brown, Jr.
8. "Remember your dreams and fight for them. You must know what you want from life. There is just one thing that makes your dream become impossible: the fear of failure."– Paulo Coelho
9. "Only in the darkness can you see the stars." -Martin Luther King Jr
10. "Go out into the world with your passion and love for what you do, and just never give up." – Dianne Reeves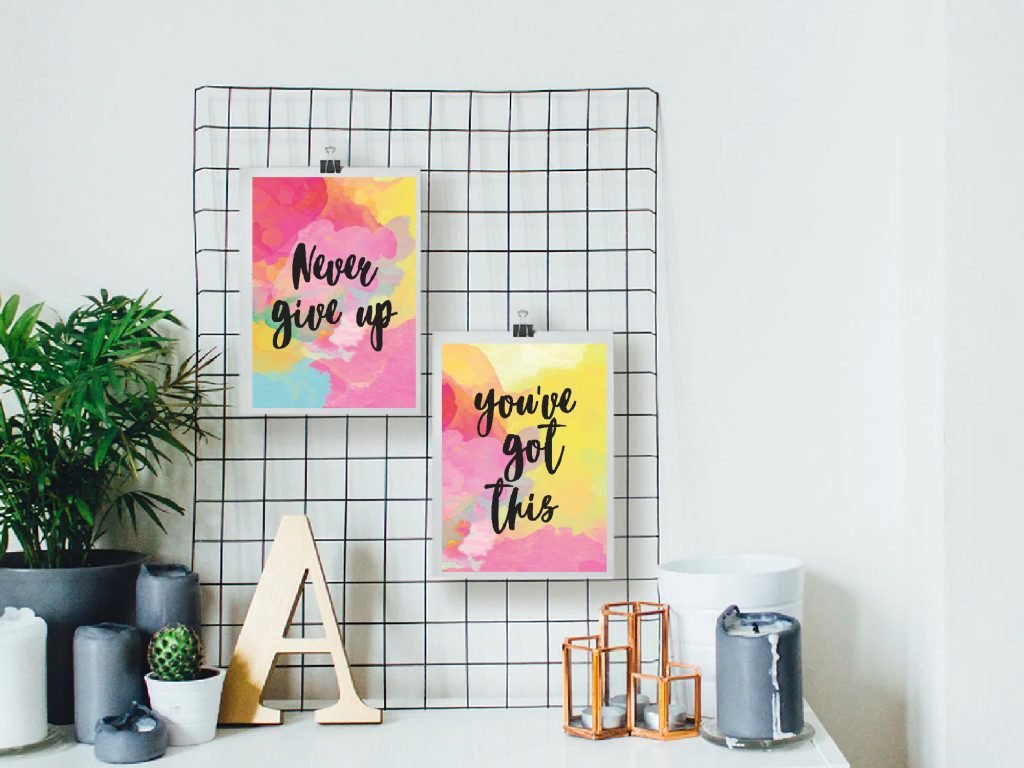 11. You Must tell yourself, "No matter how hard it is or how hard it gets, I am going to make it" – Les Brown
12. "Victory is always possible for the person who refuses to stop fighting." ~ Napoleon Hill
13. "Success is not final, failure is not fatal: it is the courage to continue that counts." ~ Winston Churchill
 14. "Every wrong attempt discarded is another step forward" ~ Thomas A. Edison
15. "Never give up hope. Situations Can Change overnight, Problems can dissolve in the light of a new day's sun." – Leon Brown 
16. "Never give up. Because if you don't try, you will never know if you can!" – John Cena
17. "It's hard to beat a person who never gives up." – Babe Ruth
18.  "If people are doubting how far you can go, go so far that you can't hear them anymore." – Michele Ruiz
19. "The best view comes after the hardest climb."
20. "Most of the important things in the world have been accomplished by people who have kept on trying when there seemed to be no hope at all." – Dale Carnegie
21. "Never give up. Today is hard, tomorrow will be worse, but the day after tomorrow will be sunshine." – Jack Ma
22. "The ultimate measure of a man is not where he stands in moments of comfort and convenience, but where he stands at times of challenge and controversy." ~ Martin Luther King, Jr.
23. "The best way out is always through." – Robert Frost
24. "There will be obstacles. There will be doubters. There will be mistakes. But with hard work, there are no limits." Michael Phelps
25. "Never give up. You only get one life. Go for it!" – Richard E. Grant
26. "Positivity, confidence, and persistence are key in life, so never give up on yourself." – khalid
27. "A winner is a dreamer who never gives up." Nelson Mandela
 28. "You never fail until you stop trying". – Albert Einstein
 29. "Very little is needed to make a happy life. It is all within yourself, In your way of thinking" – Marcus Aurelius 
30. "I never lose. I either win or learn."
31. "Have the courage to follow your heart and intuition. They Somehow know what you truly want to become." – Steve Jobs
32. "Winners never quit, and quitters never win." ―Vince Lombardi
33. "Never give up on something that you can't go a day without thinking about." ―Winston Churchill
 34. "Successful men and women keep moving. They make mistakes, but they don't quit." – Conrad Hilton
35. "If you don't give up on something you truly believe in, you will find a way." – Roy T. Bennett
36. "Do it again. Play it again. Sing it again. Read it again. Write it again. Sketch it again. Rehearse it again. Run it again. Try it again. Because again is practice, and practice is an improvement, and improvement only leads to perfection." –  Richelle E. Goodrich
37. "Rise and rise again until lambs become lions"― Robin Hood
38. "Do not fear failure but rather fear not trying." ― Roy T. Bennett
39. "Never give up on something you believe in". -Steve Scalise
40. "You never fall until you stop trying." – Albert Einstein
41. "You never give up. No matter how hard the situation is, always believe that something beautiful is going to happen."
42. "I can and I will. Watch me". – Carrie Green
43. "Never Give Up Quotes Never give up because great things take time."
44. "Don't give up because of one bad chapter in your life. Keep going, your story doesn't end here."
45. "Survival can be summed up in three words – never give up. That's the heart of it really. Just keep trying".-  Bear Grylls
46. "It does not matter how slowly you go so long as you do not stop." – Confucius
47. " A winner is just a loser who tried one more time" – George M. Moore Jr.
48. "Failure is only the opportunity to begin again, this time more intelligently." – Henry Ford
49. "Perseverance is the hard work you do after you get tired of doing the hard work you already did."-  Newt Gingrich
50. "Many of life's failures are people who did not realize how close they were to success when they gave up." – Thomas Edison
51. "A winner is just a loser who tried one more time." – George M. Moore Jr.
52. "As I look back on my life, I realize that every time I thought I was being rejected from something good, I was actually being redirected to something better." –  Dr. Steve Maraboli
53. "Courage doesn't always roar. Sometimes courage is the quiet voice at the end of the day saying 'I will try again tomorrow." – Mary Anne Radmacher
54. "Never give up on a dream just because of the time it will take to accomplish it. The time will pass anyway." – Earl Nightingale
55. "Magic is believing in yourself, if you can do that, you can make anything happen." – Johann Wolfgang von Goethe
 56, "Don't be sad and don't give up on your dreams. Dreams will come true one day. There's no person as beautiful as a person who dreams" – Kim Him-chan
 57. "Hope begins in the dark, the stubborn hope that if you just show up and try to do the right thing, the dawn will come. You wait and watch and work: you don't give up." – Anne Lamott
58. "Just because you fail once doesn't mean you're gonna fail at everything." – Marilyn Monroe
59. "Anytime I feel lost, I pull out a map and stare. I stare until I have reminded myself that life is a giant adventure, so much to do, to see." – Angelina Jolie
60. "Keep the faith, don't lose your perseverance and always trust your gut extinct." – Paula Abdul
61. "I was taught the way of progress is neither swift nor easy." – Marie Curie
62. "Hardships make or break people." – Margaret Mitchell
63. "If you can't go straight ahead, you go around the corner." – Cher
"Nothing could be worse than the fear that one had given up too soon, and left one unexpended effort that might have saved the world."– Jane Addams
65. "The world ain't all sunshine and rainbows. It's a very mean and nasty place and I don't care how tough you are it will beat you to your knees and keep you there permanently if you let it. You, me, or nobody is gonna hit as hard as life. But it ain't about how hard ya hit. It's about how hard you can get hit and keep moving forward."– Rocky Balboa
66. "Never confuse a single defeat with a final defeat." – F. Scott Fitzgerald
67. "No one has the power to shatter your dreams unless you give it to them."– Maeve Greyson
68. "There is no failure except in no longer trying." – Elbert Hubbard
69. "Believe that life is worth living and your belief will help create the fact." – William James
70. "Ask yourself this question: 'Will this matter a year from now?" – Richard Carlson
71. "When someone tells you that you can't do something, perhaps you should consider that they are only telling you what they can't do."– Sheldon Cahoon
72. "One of the most powerful lessons in life is to recognize that no one can give you power, and many people don't want you to have it. You have to find the courage to seize it, own it and hold on!" – Shannon L. Alder
73. "Life is like riding a bicycle. To keep your balance, you must keep moving." – Albert Einstein
74. "If you never give up, you'll be successful." – Dan O'Brien
75. "Success is not obtained overnight. It comes in installments; you get a little bit today, a little bit tomorrow until the whole package is given out. The day you procrastinate, you lose that day's success." –  Israelmore Ayivor
76. "Failure is often that early morning hour of darkness which precedes the dawning of the day of success." -Leigh Mitchell Hodges
77. "Life isn't about the mistakes you've made. It is about how many times you've tried to make it right. No matter how hard it will be, just keep on going and never give up."
78. "There is no substitute for hard work. Never give up. Never stop believing. Never stop fighting." – Hope Hicks
79. "You may be the only person left who believes in you, but it's enough. It takes just one star to pierce a universe of darkness. Never give up." – Richelle E. Goodrich
80. "I am a slow walker, but I never walk back." – Abraham Lincoln
81. "Success is stumbling from failure to failure with no loss of enthusiasm." – Winston Churchill
82. "Do not judge me by my successes, judge me by how many times I fell down and got back up again." – Nelson Mandela
83. "Don't let mental blocks control you. Set yourself free. Confront your fear and turn the mental blocks into building blocks." – Roopleen
84. "Anything is possible. You can be told that you have a 90-percent chance or a 50-percent chance or a 1-percent chance, but you have to believe, and you have to fight." – Lance Armstrong
85. "So many of our dreams at first seem impossible, then they seem improbable, and then, when we summon the will, they soon become inevitable." –  Christopher Reeve
86. "I can accept failure, everyone fails at something. But I can't accept not trying." -Michael Jordan
87. "Your victory is right around the corner. Never give up." – Nicki Minaj
88. "A failure is not always a mistake. It may simply be the best one can do under the circumstances. The real mistake is to stop trying." – B.F. Skinner
89. "Keep going! Your hardest times often lead to the greatest moments of your life. Keep going. Tough situations build strong people in the end." – Roy T. Bennett
90. "Confront the dark parts of yourself, and work to banish them with illumination and forgiveness. Your willingness to wrestle with your demons will cause your angels to sing." -August Wilson
91. "Always bear in mind that your own resolution to succeed is more important than any one thing."- Abraham Lincoln
92. "You may encounter many defeats, but you must not be defeated. In fact, it may be necessary to encounter the defeats, so you can know who you are, what you can rise from, how you can still come out of it." – Maya Angelou
 93. "I will keep smiling, be positive and never give up! I will give 100 percent each time I play. These are always my goals and my attitude." -Yani Tseng
 94. "Effort only fully releases its rewards after a person refuses to quit."  -Napoleon Hill
  95. "Never quit believing that you can develop in life. Never give up. Don't deny the inward spirit that provides the drive to accomplish great things in life."  -Jon Huntsman, Sr.
 96. " When it comes to your dreams, every risk is worth it." – Joel Brown
97. " Instead of complaining that the rose bush is full of thorns, be happy the thorn bush has roses."
98. "Remember: Every champion was once a contender that refused to give up." – Rocky Balboa
99. "If you aren't going all the way, why go at all?" – Joe Nomath
100. "Never let your head hang down. Never give up or sit down and grieve. Find another way." – Satchel Paige