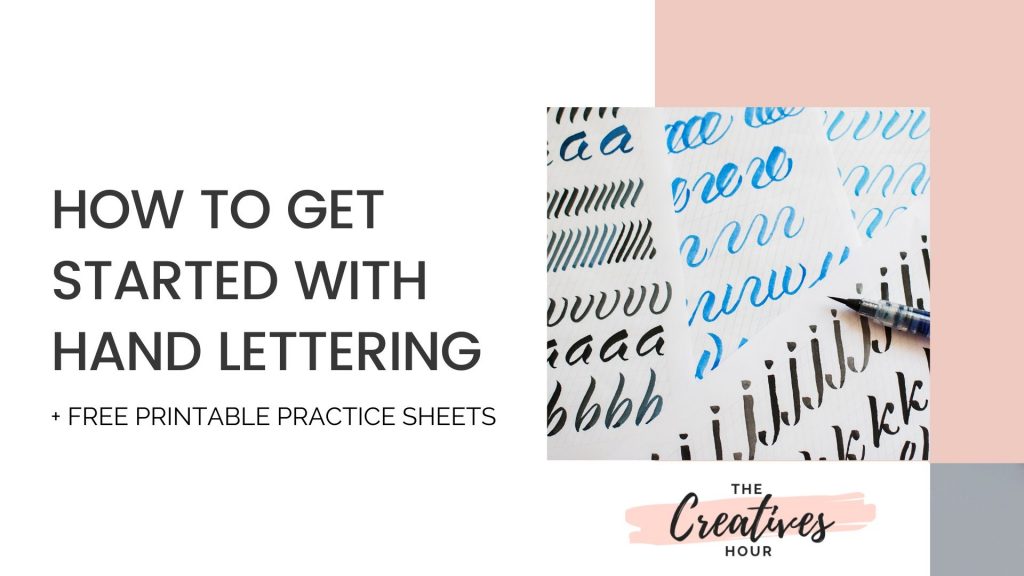 If you like to observe art around you, you might have come across beautiful letters drawn by hand. Unlike typical printed out fonts, these hand-lettered styles simply stand out.
You see them on the walls, you see them on shop signboards, you see them on the restaurant menu, you seem them on the specials board in every other cafe! Chances are you've come across hand-lettering in some form or the other. 
Don't you love that someone took the time to create those hand-lettering artworks with love? Does it make you wonder if you can learn hand lettering as a beginner?
Hand-lettering is so much in trend these days as it's impossible for it to go noticed. Especially for those of us, who are always on the lookout for something handmade and creative, hand-lettering strikes an instant connection to our hearts.
If you are anything like me, you would find yourself spending a lot of time on Pinterest and IGTV, binge-watching those oddly satisfying calligraphy and hand lettering videos thinking,  "Oh, I wish I had that talent". If you can relate, then this is the perfect place for you as, by the end of this blog, you would know how to master the art of hand lettering as a beginner. Oh, and as a special bonus, you will get free printable hand lettering worksheets that you download, print, and start practicing with.
Also read – 10 Best Hand Lettering Book for Beginners
Feeling excited to explore this style? Let's dive right into it. Welcome to your ultimate guide to hand lettering!
What is Hand Lettering?
Hand Lettering is basically an art of drawing letters. There are no rules to follow; the only thing you need to do is, dump all of your creativity onto the letters. You can draw letters in different forms, sizes, etc. It is all about writing various styles of the alphabet.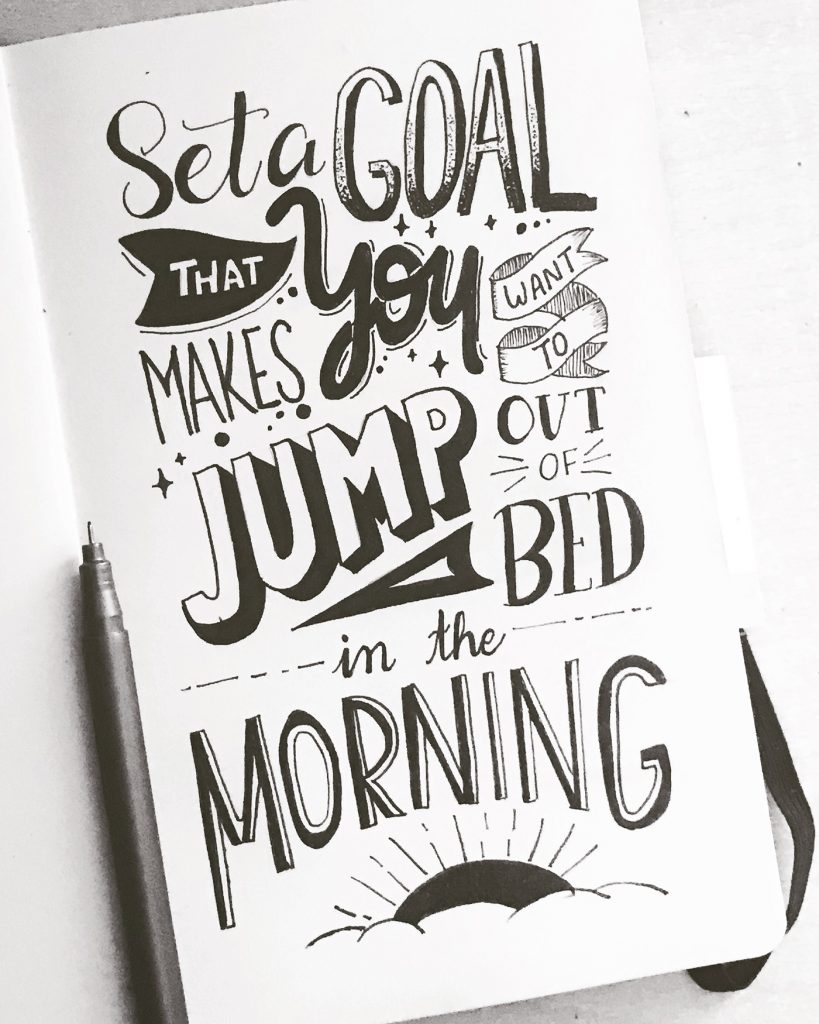 Today, hand lettering is used to create a unique, meaningful text that can fit a specific style in a way that typefaces and fonts cannot. The best part is this art form doesn't require any fancy tools and you can get started with a tool as simple as a pencil!
Artists use a variety of mediums to create their design, including paint, ink, chalk, pens, and even bizarre mediums such as food and make-up.
Where is Hand Lettering used?
Hand lettering can trace its way back to the middle ages where all the books were written by hand and it often included intricate drop caps and illustrations to help narrate the story.
Today, hand lettering is used everywhere, from your journals to logos. It's a real craft and that be seen on signboards, cover pages of books and magazines, logos, titles and headings, the restaurant offers, as a decorative picture, on mugs, album covers, T-shirts, lyric videos, greeting cards – you name it. The possibilities are limitless.
You can add hand lettered text wherever you want to be creative and add a personal touch.
Difference between Calligraphy and Hand Lettering
Most people think that Calligraphy and Hand Lettering are both similar, but there is a lot of difference between them. 
While Calligraphy is an art of writing beautifully, Hand Lettering is illustrating them. In Calligraphy, we use a single font or style to write all the letters in a word (mostly in a single stroke). But, With Hand Lettering, it is different. We carefully think about every letter and draw them creatively according to the situation or theme. Every single letter is a masterpiece and is uniquely done.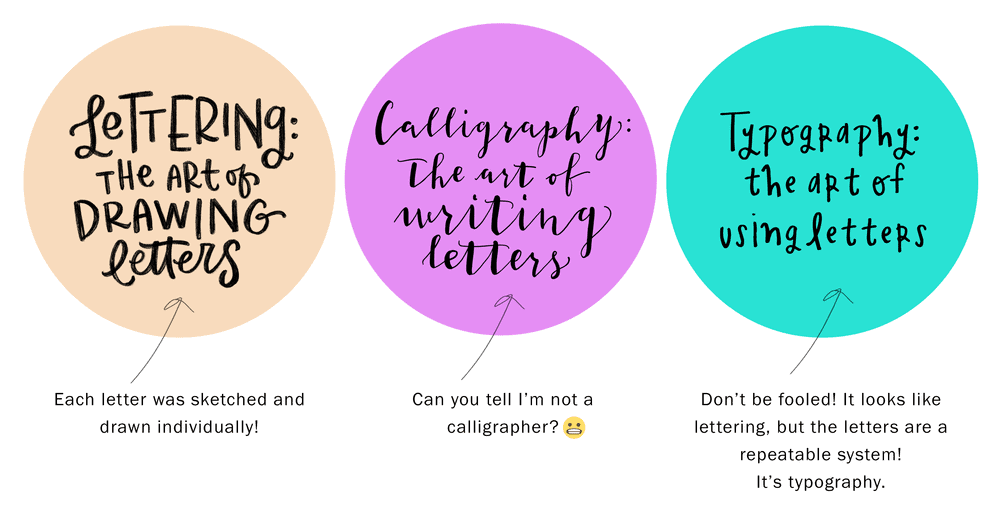 The next significant difference between them is the tools we use to create them. For Calligraphy, we use brush pens, fountain pens, dip pens, etc. But for creating a Hand Lettering art, we use markers, watercolors, sketch pens, pencils, pens, etc.
To a viewer, calligraphy and hand lettering are both attractive. While Calligraphy art form is old schooled (calligraphy) and extensively depends upon the tool and style, Hand Lettering has no specific rules, boundaries or limitations. Because of this freedom of expression in hand lettering, it is used more extensively to communicate ideas. While the use of calligraphy is limited to decorative purposes like writing special invites.
Types of Hand Lettering For Beginners
There are numerous types of Hand Lettering because the same letter can be drawn in different ways. And this is what makes it super fun and exciting. You just need to be creative, and you can create your own type. However, the most popular types of Hand Lettering are Faux Calligraphy, brush pen lettering, bubble lettering, and iPad lettering. 
Faux Calligraphy
This style of hand lettering is done using just a regular pen or pencil. This is the most basic type of lettering where you just write your regular handwriting and then fill in the downstrokes. If you are new to hand lettering, then this is the best place to start as all you have to do is fill in the downstrokes. You can use arrows to guide you as to which downstrokes to shade. Initially, you might take up some time figuring out which strokes to fill in, however, with practice, you will soon master this art.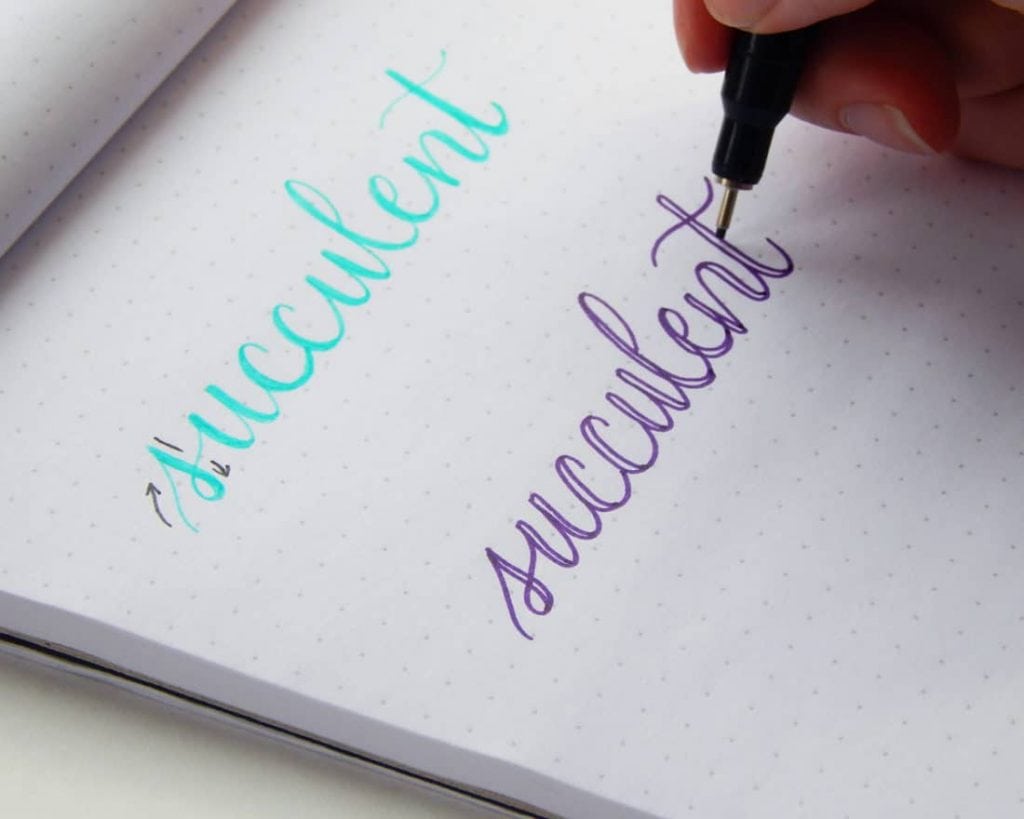 Brush Pen Lettering
The brush pen lettering is the most known and the trickiest form of lettering. It can be done using brush pens as well as watercolours and paintbrush. You give strokes to your letters by putting pressure. This pressure varies depending on the places. The goal for any type of calligraphy is to get thinner strokes as you go up, and thicker strokes as you progress downwards.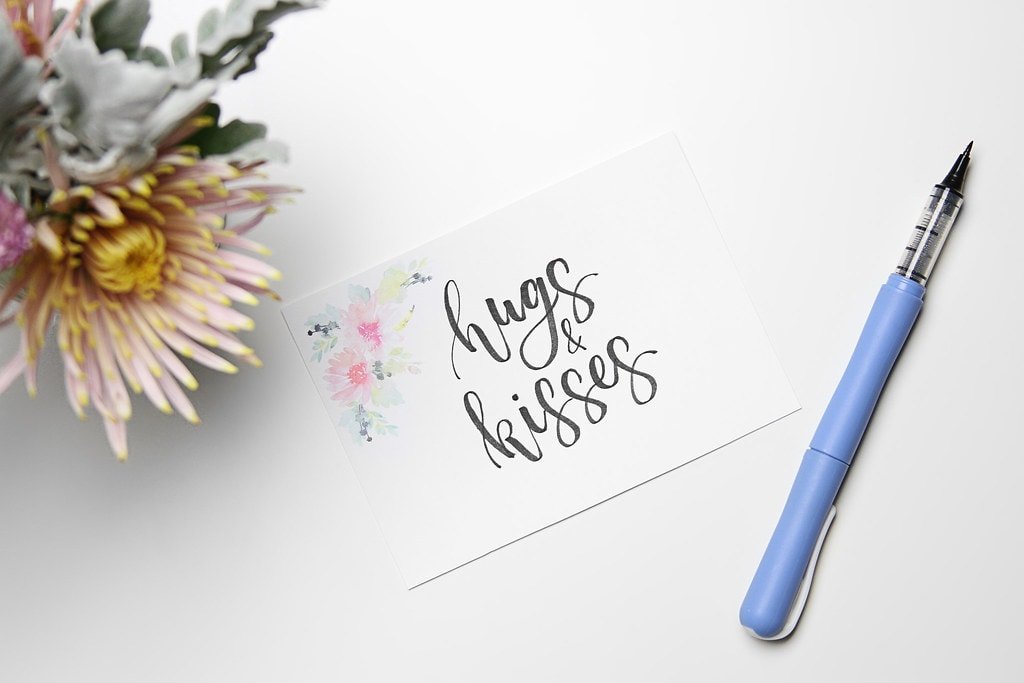 Brush lettering can be a bit challenging for beginners, so I would suggest starting off with faux calligraphy first. For beginners who don't want to go out there and purchase expensive brush pens, you could always start with a regular Crayola marker. 
Also read – 3 Best Brush pens for Beginners in 2020
Bubble Lettering
Bubble lettering is a fun and easy type of lettering where the letters look puffy and bloated like bubbles. It the most expressive way and is quite popular in graffiti. 
Ipad Lettering
Ipad lettering became more popular in the last couple of years. Here we use an Ipad to create hand lettering arts. There are lots of design apps that provide you with numerous benefits for the lettering. This type of lettering has become a new trend between hand lettering experts as digital artworks can be reproduced easily as compared to those drawn on paper. Apps like Procreate have features and tools that help you take your lettering skills to a new level.
The best part about ipad lettering is that it's easy to reverse mistakes by clicking the undo button and your hand-lettered designs end up looking crisp and ready to share.
There are also other types of lettering like mono line, double line, swirly cursive, block letters, etc..
How to get started with Hand Lettering as a beginner?
If you are interested in hand lettering but couldn't keep it in practice due to a lack of knowledge and guidance, don't worry, you are not alone. Here are a few tips you need to know before you start with hand lettering.
Choose your tools wisely.
The tools you use to create hand lettering should be chosen wisely. You need to choose depending on what kind of style you are creating. Experts say the best tool for beginners is a mechanical pencil as they always stay sharp and gives a lot of flexibility. The next thing you need is a good quality paper. Tracing papers, Rhodia pad, HP printer paper Premium 32, and graph papers are excellent to create hand lettering artworks. If you want to experiment with pens, then you can pick felt tip pens or brush pens based on the type of lettering style you want to experiment with.

Read – 3 Best Brush Lettering Pens For Beginners
After gathering all the necessary tools, the next thing you need to do is warming up yourself with some exercises. Draw straight lines, curved lines, different shapes, etc. After you've developed some comfort with the tool, try out some hand lettering drills in the form of hand lettering practice sheets. These sheets help you draw letters and numbers in a particular style. You can use that style to create words.
Here, I have some hand lettering practice sheets with drills to help you learn how to draw letters A-Z in all caps and small caps. You'll also learn how to assemble them together to form words. Simply download the practice sheets by clicking on them below, print them out, and use them to practice at your own pace.
Now start lettering. Take a simple word and draw as many styles as you can with that word. Be creative and produce unique styles. Don't care about its look. Be it ugly or pretty, just continue to fill the whole page or multiple pages with the word. This practice helps you to get used to the lettering and make you confident.
The final step is producing your masterpiece. From the last exercise, pick up some styles you liked the most and start doodling. Before starting with actual drawing or using pens and brushes directly, it is recommended to draw a layout on paper with a pencil so as to get a clear view of how the model will look like after completion. The keyword of your message should be highlighted by the use of desirable font, text, and color to compliment it. Pay attention to the ease of readability, whether it is easily readable text or not. 
Start with a basic layout by giving enough room for each word and if there isn't overlap the words. Keep the essential words in the spotlight. Give each word a different style, and don't be afraid of mixing very different looks together. Lastly, do the shading and finalize it.
Don't be too disappointed if the piece doesn't look good. Practice a lot by following the above tips, and you will eventually get better.