When it comes to building a website, it is hard to put down the best names in the market i.e Squarespace and Shopify, in the same category. Since the core concept behind these two was initially poles apart, it's not easy to pit these two against each other to decide which amongst them is better.
Squarespace is a platform that lets you create a website that can act either as your information or advertising page for a small scale business or for individuals or can help you build a portfolio that will create your online presence. Shopify, on the other hand, stands on an entirely different ground by being a platform that focuses heavily on E-Commerce and lets almost anyone create an online store in a very short span.
But in the past few years, Squarespace has expanded its functionality to accommodate E-commerce into its platform and similarly, Squarespace has started to offer people a wider range by letting people create portfolios and information pages.
This is why it becomes really important that it is decided which of these is a better, more rounded platform and can fit your needs and pockets.
So which of these is a better website builder?
Well, let's answer that with a few questions, the answer to which will decide our winner here today.
You may also check the following comparisons and guides –
Building 'just a website' or an online store?
Well before we can decide which one of these most capable website builders take a lead it is important that you know what it is that you are trying to build. Whether you are trying to inform people about either your business, or whether you prefer to boost your sales with the help of an online store.
While an online store is definitely a website too but a basic website has much less functionalities and integrations involved than an online store where payments, inventory, shipping and more are included. And the latter might not be everyone's cup of tea.
Shopify is a much better option when we consider the fact that it is centered around giving the users the best experience in terms of building an online store without having to know coding. It has a number of features to support the same like:
A large number of extensions
POS support for offline sales and marketing
SEO tools to make your store more visible
Excellent Support team for your queries
Building Content Driven websites
If your objective with making a website is not to sell anything and to reach out to people informing them about your business, project etc. then it is of utmost importance that design and content management systems are of top priority to you. For the same reason, Squarespace here takes the lead because of its excellent designs and the ability of the site to be able to display anything seamlessly.
The setup is quick and easy and you won't have to learn a lot in order to get around it. The designs offer decent flexibility but if you want a lot of customizations it is better that you know a bit about HTML and CSS coding as without that the customization can feel a bit limited and tacky at times.
However, that doesn't mean at all that the platform is not good. It is still one of the best website builders out there and you will be stunned by the designs that you get even for the most basic websites. It's safe to say that aesthetic is of the utmost importance to Squarespace and it shows.
While third-party integration is a place where Squarespace really lacks and does not have a rich app store to boost your website, it makes up for it with the website's responsiveness which probably is the reason that it does not want to load up any website with integrations and slow it down. And that makes Squarespace reliable for several reasons:
Easy to use and setup
Offers a lot of design options
Tweaking design is possible, although it's limited
It is not open-ended, which may sound bad, but saves a number of websites from acting sluggish
Building an online store
When it comes to making a website which enables you to sell your stuff online with utmost ease, gives you robust functionality along with a number of different payment option keeping in mind the need of the consumers who might not be sticking with just a couple of payment options, Shopify is the dominant player in the market and rightly so.
There are really not many websites that treat E-commerce the same way as Shopify does and it is something that seemingly runs in the blood of the platform that originated in 2016 with the goal of making selling on the web easier and available to everyone, be it a small scale company or a large conglomerate. Shopify's vast range of features is enough to accommodate anyone. And it takes a huge lead over Squarespace when it comes to online stores because of the following reasons:
Has a number of payment methods
Allows transactions in different currencies
A number of third-party integrations to make shopping easier and interactive
Much more sophisticated tax and inventory options
While Shopify has not had a huge success in terms of building a website relatively more basic and it loses the crown to Squarespace in that segment, it takes a huge chunk of the market completely to its name being unbeatable when it comes to selling online and having a massive online presence of your store.
Since its most basic plan includes the option to make an online store, it actually takes E-commerce to everyone which gives it a huge advantage over any other website builder in the market, most of which have different plans for E-commerce websites.
Squarespace vs Shopify – Quick Comparison
| Shopify vs Squarespace | Shopify | Squarespace | Verdict |
| --- | --- | --- | --- |
| Ease of Use | With a focus on simplicity and visual indicators, setting up a website is as easy as it gets. The editor works like a charm and requires no technical knowledge. | Can be a little clumsy at times, especially at the beginning when you have to get around the website builder to find all the needed menus and sub-menus. | Shopify takes the lead because of heavy reliance on newcomers |
| Design | Themes are focused on making an online store and contains 11 free ones along with about 50 paid themes. These themes can be moulded to your liking for the most part. | Hands down, Squarespace is the king when it comes to design even though has limited themes for E-commerce websites | Squarespace is the clear winner and sets the bar too high when it comes to design |
| Features | With strong marketing and sales tools, Shopify remains almost unbeatable considering the simplicity in the inventory management tools as well. The features are diverse and seamless | For individuals and creatives, Squarespace has a lot of potential but sometimes falls short because of limited integrations and only 2 payment options. Good for bloggers and people looking for a portfolio. | Shopify dominates in terms of its features that are made for everyone |
| SEO | Shopify does not just give you SEO options but the tools are meant to make SEO work for your website even if you know little about it. The best practices prompts are a big help. | There is no in-built SEO app and you do not get any help built-in so you might have to go for other SEO websites to appear on search engines with this one | Shopify works right so that your website has a huge online presence. |
| Help and Support | Ready to work on your issues 24/7 with live chat, phone and email support. Customer support is dedicated to resolving the issues | Decent customer support with 24/7 chat option for people with high price plan but has a number of resources on the website to help you get around | Shopify gets it right again and knows how to tackle your issues at your comfort |
| Value for Money | Starting from $29.99 per month you get an E-commerce store at the base plan with excellent features and the option to add a decent number of products to your site. | Starts at $16/month but you will have to take a higher price plan if you want a store. In a nutshell, for $16 you get only the basic functionality from the platform enough to set up an information page, blog or portfolio | Shopify might have a pricey plans but all of them are well worth it, especially if you want to go for an online store |
Pros and Cons
No website builder out there in the market is perfect, and while a lot can be said in the praise of both of these platforms, you should check out the downsides to these platforms. This will also give you a little more clarity about why people choose one over the other.
Shopify
1. Pros
·        Great for the people looking to build an online store with all the necessary tools and solutions for the same
·        Has a wide number of themes, both free and paid with priority to E-commerce sites
·        Accommodation for offline sales is really beneficial
·        Has a wide number of payment methods so there are no hiccups
·        Accepts different currencies so you can sell globally
·        Rich customer support with a decent amount of resources available on their own website as well.
2. Cons
·        You are expected to pay a small transaction fee if your payments are not done via Shopify Payments
·        Since there is no free option and only a 14 days trial, you might feel the costs going a bit on the higher side
·        While the editor is slightly easier to use than some of the other platforms out there, you might have a hard time as it still involves a fair amount of getting used to.
Squarespace
1. Pros
·        The designs are of top priority to Squarespace and the platform delivers highly on this aspect making even a single-page website beautiful
·        The tools and features involved cover almost every aspect of a website.
·        Just like Shopify, you get the option to sell offline with Squarespace as well
·        The templates rely heavily on images and videos making it a great pic for portfolios, especially for artists.
·        It has a number of blogging tools starting with unlimited pages that help you in creating top-quality content with decent marketing tools as well.
·        It is much lighter on your pocket when put against Shopify.
2. Cons
·        The app store is very limited and contains apps only to help you with shipping, taxes and inventory management, basically E-commerce.
·        Social media marketing is present but is also limited.
·        Only a few payment gateways are present for customers around the globe.
Squarespace or Shopify – Which has better pricing?
It is not uncommon for any consumer to know how much they are spending on a product and whether or not it is worth the features that they get for the price being paid. While Squarespace and Shopify are both website builders with distinctly unique features and different selling points, it is not a surprise that their price plans are also quite different, in what they offer and in what you will have to pay for each. Let's take a quick look:
Squarespace Pricing
Personal – $16/month (or $12/month billed annually)
Great for a basic website, unlimited pages but no option for E-commerce
Business – $26/month (or $18/month billed annually)
Add unlimited contributors along with a store
E-commerce Basic – $30/month (or $26/month billed annually)
Add store and gift cards for your customer along with the option to create customer accounts
Ecommerce Advanced – $46/month (or $40/month billed annually)
Advanced integrations to third-party apps along with advanced shipping
Squarespace seems like a great pick for starters and anyone who does not want a host of features for their website and simply wants to go for a basic website that looks appealing and gets all the basics done right.
With the base plan starting at $16/month, it is comparatively way cheaper than Shopify, but keep in mind you do not get an option to open an online store unless you pay $30 a month, which ultimately takes it higher than the base plan of Shopify.
Apart from these, there are other factors you must consider while checking out Squarespace against Shopify for its low prices:
1. Personal plan gives you the bare minimum of features and there is not a lot you can customize in the plan considering you get the option to add CSS codes and JavaScript if you go for higher plans.
2. You cannot sell through the basic plan for which you will have to choose the E-commerce Basic plan that will charge you a 3% transaction fee
3. The Personal plan only allows for 2 contributors to your website.
4. Going for a yearly subscription gets you one year of free domain
5. The E-commerce Basic even has some features missing that make for a decent E-commerce store. Only the advanced plan will get you all the essentials for your store.
Shopify Pricing
Shopify Lite – $9/mo
Does not let you build a store, but you can add Shopify functionalities to sell on your existing websites
Basic Shopify – $29/mo
Online Store with Unlimited Products
Shopify – $79/mo
Get Professional reports and up to 5 staff accounts
Advanced Shopify – $299/mo
Set different pricing according to different countries
Shopify Plus – $2000/month
Customized features for large businesses tailored to their individual need
Going by the pricing here, it seems pretty evident that these plans are not for everyone. Like we have mentioned a number of times, this website is only good for those who want to sell through their websites and the plan convey that entirely.
In the basic plan itself, you get a lot of features that are unmatched even today along with Shopify's excellent service and robust functionality for an online store.
Just like with Squarespace, there are a few things one must keep in mind while going for Shopify:
1. Paying for a yearly subscription of 12 months gets you a 10% discount while you can claim a discount of 20% by paying upfront for 24 months
2. Gift Cards are supported in the top 3 plans i.e. Shopify, Advanced Shopify and Shopify Plus, along with Advanced reporting.
3. All plans except Shopify Lite have the abandoned cart save option that is something not present in Squarespace
4. If you already have a shopping website or a Facebook marketplace, it is better to go for Shopify Lite rather than other options if you are not looking to build another online store on Shopify.
VERDICT
Thus far we were only comparing Squarespace and Shopify in terms of their features, functionality, appearance etc. but pricing is one of the most important aspects of availing any service, be it offline or online.
While Squarespace does seem to be coming out on top when only considering how cheap the price plans are, it is beaten down when compared with Shopify in terms of the features it gives when opening an online store.
If it is still unclear which one you should go for, you can take a look at both of these websites and features by trying them out for 14 days because of both of their free trial option.
Squarespace vs Shopify: Which is better for E-commerce?
Features are usually what sets different sites apart and so far between Shopify and Squarespace, that has remained constant. Both offer different sets of features for the kind of websites that they allow you to make.
Hence, for you, it remains necessary to know what exactly you are going for with your website. In the list that follows, we will highlight both of these websites' features when pitted against each other in similar scenarios and see which one is triumphant.
1. Designing an E-commerce Store
Building the right website, especially an online store is a daunting task. Starting with the fact that people in this day and age have tons of options to go to, it is required that your website has the necessary kind of tools and features to help them seamlessly glide through the website and have almost everything you have to offer at a glance, but saying this seems to be a much easier task than actually building one
That's why both of these websites come with some themes and templates that are already catered to meet your needs so you have less hassle in thinking about how you want to build your website and merely focus on the customization part. But this is where things get really different for both of these websites
Squarespace
The biggest limitation with Squarespace is that when it comes to making an online store, the templates are considerably very few in number, amounting to only 9 templates that you can use to keep as a basis for your online store. But it would be wrong to say that all of these are not good, in fact, they are too good at times which doesn't quite go in hand with the editor which might crash on you at times or just have tons of lags.
The visuals are the elements that make Squarespace's websites so engaging and attractive but sometimes, if the site is a bit too loaded or heavy, the editor might slow down your website building process, which can be a little annoying.
But if everything works out just fine for you and if you have a good machine to build your website from, you would mostly not face these problems, and then Squarespace is much easier to deal with, apart from its menus and submenus that do not exactly show you everything in one place.
To compensate for that Squarespace has tried to make setting up an E-commerce store as easy as possible and you also get help as you are building the website with the Assistant on board.
Shopify
Shopify might not have themes more attractive than what Squarespace offers but they are sure plenty and don't compromise the functionality or the performance of the website or the editing process even a bit.
The free templates on Shopify are great and at par with what competitors are offering but the paid ones are even better and you might want to try them out on your website.
The process of actually building the store in itself can be a bit tacky for someone who is not familiar with the approach of Shopify treating design and content as separate elements and not one. It means that at one point you can only have one element of your website to work on.
But on the brighter side, once you can wrap your head around it, the process will come naturally to everyone since it is pretty simple. And with extensions from the app store, you can change your editor to your liking which is a major plus point.
Verdict
Clearly, Shopify scores much higher when compared to Squarespace's ability to create an E-commerce store but Squarespace rules when it comes to how easy it is to get started with your store on the platform.
Certainly, it does not have as many advanced features to offer as the winner, Shopify, but it is quick and easy with the option for customization, hence does not fall behind by a huge margin.
2. Selling process
A big question that often comes in front of websites that offer the option to open your online store is how they engage more audience towards your store so that you can sell and the elements the website can provide to handle it.
Luckily, both of our competitors offer well-rounded features to help make selling easier for you taking most of the work on its own shoulders. When talking about an online store, there are 5 elements that must be considered that enable the selling process:-
Order Management
Payment Gateways and Methods
Checkout process
Cart Management, and
Product database.
So let's see how both of the contenders fare against these elements:
Squarespace
Squarespace might not be as vast as Shopify is for those wanting to build an E-commerce website but what Squarespace does offer is enough to suffice the needs of small organisations and individuals.
Whether you want to sell physical products or whether you wish to go with digital products, Squarespace has the provision for both with features decent enough to make either of these processes earlier.
Your customers can see your products in a 360-degree view which is a nice add-on and the shipping is hassle-free and all the information about your sales and analytics is available right on its app that you can use on the go.
A lot of other sales tools that are offered by other website builders via their app store are already built into the website builder and you need not look here and there for them. They are enough to facilitate the sales process and to make your audience grow exponentially over time.
Having said all this, there are some disappointments that do come with the platform, especially when we compare all this to its competitor Shopify.
For eg., Squarespace does offer almost all the features that you need to get your store online and selling but a lot of these features can only be availed if you have subscribed to its most expensive plan, and this might not be as exciting for all store owners.
Another major factor that makes Squarespace lag behind Shopify in comparison to its rival is that the former has limited the number of payment methods which is seriously a major let-down and limits you from selling all around the globe.
Back in 2016, Squarespace had only a single payment mode which was via Stripe and interestingly not PayPal, but soon enough Squarespace integrated the functionality to support PayPal as well and now you can pay via Stripe, PayPal, Afterpay and Apple Pay.
While the inclusion of these does make them more of a global player but it still limits a lot of owners from being able to sell in a number of countries that do not have these payment methods yet.
Also, out of these payment methods, Afterpay works only in the US, Australia and New Zealand.
Shopify
We have already seen how Shopify takes a massive lead over Squarespace when it comes to creating and setting up an online store, but does it also take a huge leap over Squarespace in other aspects of the store?
The answer is an easy yes. To start with, Shopify's app store is rich which cannot and should not be undermined at all. There are a lot of things that aren't built-in with Shopify but the platform really doesn't need to do that as it understands that people want customizations and options more than built-in features, which is true for the most part.
And if you want just how much it enables your selling process, we just need to look at a few facts.
Shopify makes up for the lack of in-built features with its app store which has a huge range of apps that are divided over 9 main categories that are further divided into 3-10 sub-categories whereas Squarespace has apps that are mainly concerned with sales and not the other aspects of your website.
Apart from that, you don't have any limitations when it comes to payments with Shopify as it supports somewhere around 100 modes of payments and you can be sure never to fall short of these no matter which country is it that you are willing to sell.
The inclusion also enables you to have other features for your store that set apart Squarespace like the 360-degree view and the zoom-in feature for products that are not in-built in Shopify but when you have so many apps and integrations at your disposal, does it even matter?
Verdict
Well if it isn't clear already, Shopify stands out as a clear winner more so in this round than the last one.
If you are someone who is extremely serious about your store and you wish to sell and ship internationally or even to different regions of your own country, it would be a better idea to stick with Shopify
Having said that, we would still recommend artists and people from creative fields to stick with Squarespace as the platform will offer you a much more appealing foundation for your professional career and would appeal to all your clients and consumers in one place.
While Shopify can do that as well, Squarespace does give portfolios a bit of an edge, especially considering that you can sell products while showing off your skills to the world.
 3. Inventory and Shipping
Thus far we have noticed that it is tough for Squarespace to take a lead against Shopify when it comes to E-commerce and online stores, but Squarespace still has a chance to recover all the lost causes with one of the most important features in an online store that is often overlooked.
So let's take a look at how Squarespace and Shopify fare against each other when it comes to the nuances of the E-commerce arena:
Squarespace
Although the platform is a new kid on the block in terms of E-commerce, when Squarespace did accommodate the necessary functionalities to create a store on their platform, it did a fairly decent job.
In the beginning, it did not have enough integrations to become the all-rounder that it is currently in the arena of website builders, but over time it widened its approach and made some right calls which makes it a worthy competitor against Shopify, if not a better one.
For example, in the US it has even integrated with the UPS or the United Parcel Service and FedEx for shipping which is a great move as the store owners can now basically deliver anything almost anywhere in the States.
Apart from its growing integrations what really makes Squarespace a worthy competitor is how intuitive the platform is when it comes to inventory management and makes the job much easier for you, and that's keeping in mind that it has platforms like Wix, Weebly and Shopify to compete with, and yet it delivers a near-flawless system to deliver comfort in your inventory.
Much like the inventory management method is the Tax and shipping calculator which takes care of almost everything for you and you even get the option to set different tax percentages according to region within and outside of your country and according to little details like weight which is actually note-worthy.
Shopify
While it is true that Squarespace has grown over the past few years, Shopify offers all that Squarespace does and adds a lot more to it by giving you absolute control over your store and helping you deliver anything you want, practically anywhere in the world.
On top of that, the app store comes as a big help if you don't want to work with the in-built shipping calculator.
Shopify has always been the go-to site for online stores and this shows in the way they have integrated the features that enable the shipping process quite easily and efficiently. With features like shipping labels and Dropshipping, Shopify stands tall amongst its competitors in terms of E-commerce.
When it comes to inventory management, Squarespace is pretty intuitive and the same can also be said about the experience with Shopify in terms of inventory but surprisingly enough the process is just not as smooth and efficient as Shopify when compared to Squarespace.
VERDICT
There is no clear winner here since both of these excel at something or another and do not do a bad job of handling your store at all.
While Shopify has better features for shipping process and tax calculations, Squarespace is just a step above in terms of inventory management which frankly is a rare sight since Shopify is no less than an industry expert when it comes to building an online store and Squarespace still has a lot to work on.
We call this round a tie.
3. Offline Sales or POS (Point of Sale)
So far we have seen how the battle between Shopify and Squarespace is quite equal overall and how Shopify rises above its competitor when it comes to E-commerce and online sales. Well, this could very quickly change when we factor in a major element of selling which is Offline Sales.
While the need for online stores is growing by the day with around 8 Million retailers selling currently over the internet, the need for selling offline is not going anywhere.
Maybe the pandemic has delayed or even hampered it a lot, but it is no doubt that POS is currently taking over the market and is much better for a lot of reasons, some of them being, promotions of your online store, no abandoned cart issues, much fewer payment hassles etc.
Apart from that, during festivals, you might not be able to make as much money from your online store as compared to your offline, although temporary, one.
So which of the contenders takes the lead in this department? Let's quickly find out:
Squarespace
For a long time, people with their stores on Squarespace were deprived of POS and it was pretty bad for a platform that aims to be the leader in terms of website building. And hence Squarespace, in 2019, integrated Stripe into its platform.
This initiative enabled a lot of people to be able to sell their online products offline as well. The process is so smooth and efficient that it is tough to find flaws in it.
Whatever you sell offline is directly combined with your store sales so you have the records and collections in one place. Along with that, you get a Stripe kit for your offline store which includes a barcode scanner, Stripe reader, cash desk etc.
While all this sounds lucrative enough there are some downsides to what Squarespace offers especially when we consider the opponents like Wix, which recently launched a new POS merging with Stripe and HP both offering its customers a POS tablet for their selling needs.
Along with that Squarespace only provides a basic Stripe reader which is another let-down as it bars you from using POS to the fullest while its competitors are getting more and more advanced with the same features by the day.
Shopify
Shopify is the leader of the online store arena and with its own POS system, it aims to dominate offline sales too. With its POS methods that have been available for much longer than that of Squarespace or Wix, Shopify takes offline selling to the next level.
To begin with, Shopify has its own POS hardware and software that is seamlessly connected to your online store inventory so you can keep a track of your stocks while selling in person.
Like Squarespace, Shopify also syncs your sales data and analytics in real-time with your website data so you have all your information in one place.
What is unique about Shopify POS is that it offers more hardware options to choose from and you get the Shopify POS Lite or the basic POS system with all the Shopify plans that you subscribe to.
If you want to go for more features all you have to do is go for Shopify Plus and you will be automatically upgraded to Shopify POS Pro which is amazing if you have a dedicated offline store and you wish to sell extensively through your website as well.
You can also delegate the sales process by adding your team members to the POS and assign them roles and functions accordingly. The payment system is also smooth and efficient as we have already discussed how Shopify has about 100 payment modes so you can be sure to do your business without having to worry about much.
Apart from these features, you can have much more to do with Shopify POS like Product Recommendations for every customer depending on their purchase history, store pickup, and the best of all accepting payment through different methods for a single product.
For example, your customer can choose to pay with different credit cards, or credit card and cash for a single transaction.
VERDICT
Well, it is pretty clear that since Squarespace is fairly new to the E-commerce arena, POS is not something that is well within its reach currently and it has a lot of room to grow. There is no way that Squarespace comes even close to Shopify when it comes to Offline sales since Shopify seems to have taken care of all the checkboxes while giving its users the comfort that they expect from a platform like Shopify.
It is no wonder that even big retail chains choose to stick with it to handle their business online and offline. If POS is what you're after, you shouldn't think twice about going for Shopify.
4. Dropshipping
A lot of people don't know about Dropshipping and it does not really come as a surprise as this method is fairly new and is not too extensively used. The retailers that have a lot of stock with them do use this as this helps you to earn through your products even if your sales are not at par with your expectations.
Dropshipping simply means that for certain products unavailable in your stock, you connect to a supplier or a seller. The order for these products will directly go to your supplier through you and they will take care of it.
This method is great for a number of reasons starting with the fact that it does not let your stock get piled up and you can also use it to connect your own customers to other sellers in case you don't have the item demanded in stock currently.
This is going to disappoint the Squarespace fans but as of now, there is no way that you can avail the benefits of Dropshipping on the platform as it does not have the functionality to support it yet.
In fact, to do so, it is recommended that you accommodate Shopify Lite to your Squarespace website and let Shopify ultimately take care of your Dropshipping needs.
Surely there are other ways to do it with other extensions that provide a similar set of features when it comes to Dropshipping but by this point, we know that Shopify is no less than the ruler of E-commerce functionalities.
Along with that, with its excellent customer support, you can get rid of all your worries within a short while, if any problem arises.
Coming to Shopify, there is no shortage of apps on its app store that will help you in easing up this whole process and get you in the game in a matter of minutes. All you have to do is go to the app store and have a good Dropshipping app like Oberlo embedded into your site. You don't need to go to any other platform to do so since Shopify gets you everything in one place.
Clearly, there is no verdict needed here since Squarespace has nothing much to offer when it comes to Dropshipping methods and lags behind substantially with respect to its competitor, Shopify.
5. Marketing and SEO
So let's say you have all the information that you need about both of these platforms to create a fully functional online store and your business is ready to thrive, but how exactly will it be able to thrive when you are lacking the right marketing tools needed for the same.
Luckily in this battle of Squarespace vs Shopify, both of them offer similar sets of features when it comes to marketing. There are social media integrations, email marketing and campaigning features along with SEO tools to make sure that your business gets the audience it deserves.
Squarespace
Talking about Squarespace first, where it excels the most is email marketing and campaigning where it gives a pretty tough fight to its rival and certainly delivers on what's required of it.
You have the liberty to create an online campaign and have it delivered to 50,000 of your customers and this is no small ordeal.
Another element with which Squarespace takes marketing to the next level is Blogging. While we will discuss blogging features in-depth in a while, it is important to mention it here as well since it is an important part of marketing that is often understated by business owners when it comes to publicising your store.
Squarespace gives you a lot more in terms of blogging features with your E-commerce store than Shopify.
For example, it can pop up suggestions from your blog into your main store while your customers are looking for the things that they need. Use a sidebar to do so and you will realize how much more your store can do.
Squarespace on the other hand is not as flexible when it comes to Social Media Integrations. It does offer them right from your website editor but they just don't work as seamlessly as other features of the platform.
On top of that the lack of extensions to enable this makes this worse.
So if by any chance you are willing to also go for your own store in Instagram or Facebook marketplace with your Squarespace website, you must remember that is not going to be easy.
To make matters worse, Squarespace is pretty much beaten down in terms of SEO too. Sure you get the basic SEO features and you can create titles and descriptions for specific pages but that's about it.
With a store, you need a lot more than that to facilitate your sales and Squarespace falls short here.
Shopify
Starting with Social Media marketing Shopify, at least according to us, takes a lead. Because of the app store that Shopify excels at delivering the best tools for social media promotions and marketing.
With apps like Outfy and Zotabox, you don't really need to worry about updating your Instagram or Facebook store every time you update your E-commerce website with new products. All of this will be taken care of with minimum effort from your end.
Coming to SEO, there are no words to define how seamlessly the whole process works with Shopify. Even if you have no idea about SEO or Search Engine Optimization already, Shopify is there to help you out by guiding you through it which makes it really easy for almost anyone to appear on top in the searches.
Email campaigning is also available with Shopify but it is often advised that you integrate some apps to help you with it as they can really make the job easier. Privy Email is a well-known name in its app store which will give you more options and reach than the in-built option.
But the downside in all of this is blogging which drags Shopify back by a bit. It has the functionality to support blogs and you can accommodate them well with your store but when we compare it to Squarespace, it is neither as efficient nor feature-rich.
VERDICT
It is really tough to pick a winner here as both the platforms, Squarespace and Shopify, lack in some departments while excelling in others and ultimately this category boils down to your individual needs and wants for your online business.
But we would still claim Shopify to be the winner here simply because of the Social Media integrations through third-party apps and the SEO functionality. These tools are extremely crucial to your website's marketing and Shopify leaves no stone unturned here.
Squarespace vs Shopify: Which is better for Content Management?
So far we have focussed on one of the most important aspects of website building today i.e. E-commerce, but that is not all that falls under the umbrella of a website builder especially considering that a lot of people today are making websites to boost their professional career using online portfolios, blogs, photography pages etc.
Shopify is a master at creating efficient and well-rounded online stores and Squarespace does not fall far behind in it either but E-commerce is a whole different ballpark than Content, which can be of many types.
To accommodate any kind of content on your website you must choose the platform that is flexible enough to suit your needs. It should also project the content to your audience as subtly and beautifully as possible, keeping them engaged with your website.
So can the same be said about Shopify in terms of its CMS or Content Management System functionalities or is Squarespace the one that takes the leads in these terms? To find this out we must take a few things into consideration:
1. Design
2. Blogging
3. Media Support
4. Portfolio designing
5. Ease of Use
With these in mind, let's see how our contenders fare under these categories:
1. Design
Yes, we have talked about design already and it might be so that there is no need to dwell on this but design demands are different when we are talking about an E-commerce website and a content-driven website or a portfolio.
In an online store, your product is the centre of attention while in a content-based website, the content is the product that people are trying to deliver to the visitors.
So let's take a look at who takes the lead here:
Squarespace
Enough has been said about Squarespace's design and aesthetics and by this point, we have understood that there are not a lot of website builders that can even come close to this platform let alone beat it in design and there are several reasons to it with only a few let downs.
First of all, it relies pretty heavily on high-resolution images and videos which give your website an edge over others that rely on written content even on their homepage.
With its rich templates, Squarespace aims to speak through its design more than its words. Apart from that, it has support for parallaxes that look beautiful with its great colour scheme.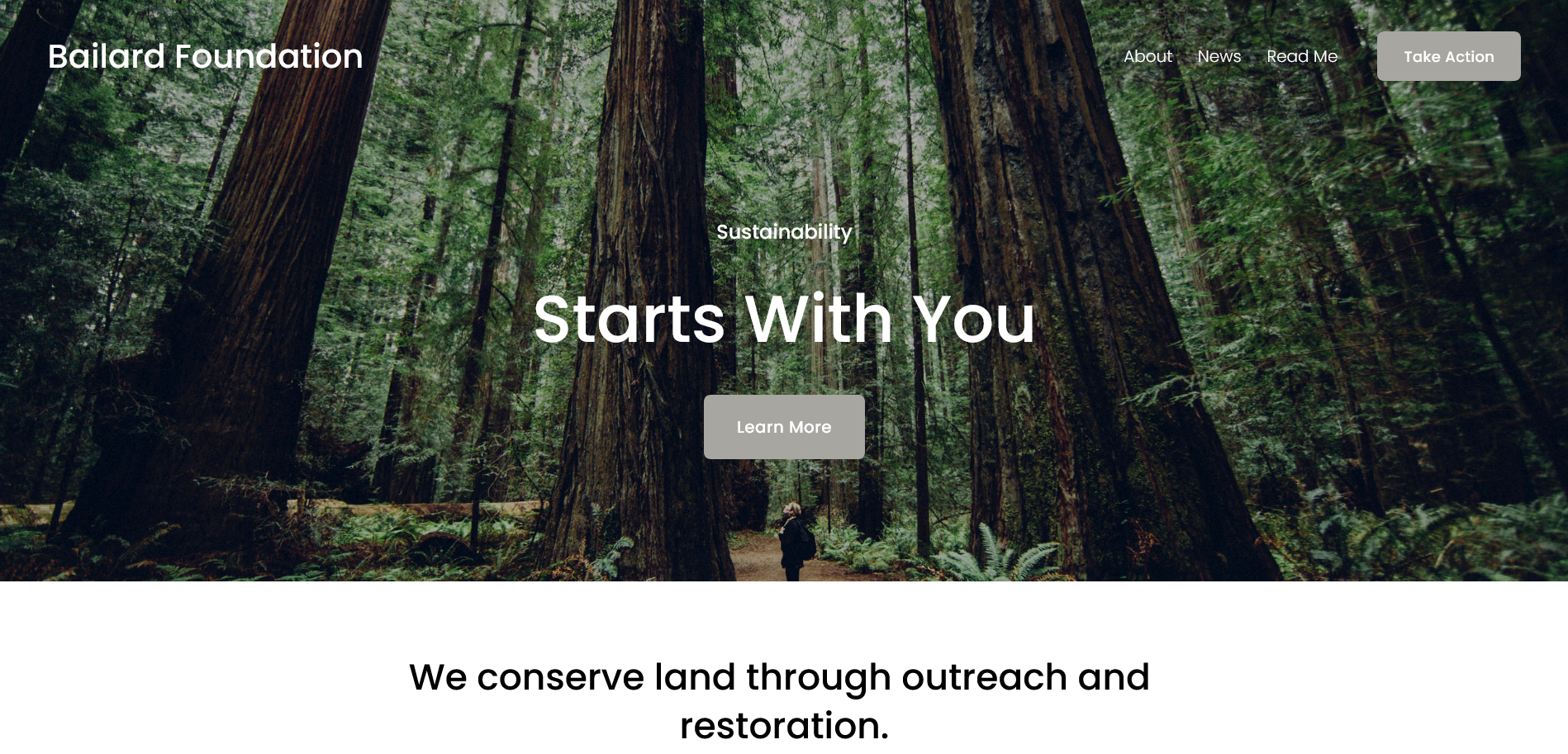 Another thing to note here is that when you purchase the Squarespace basic plan, you get access to all of its themes and you need not pay extra for some templates while others remain free, which is not the case in Shopify.
Squarespace has close to 150 themes which are all free after your subscription while its rival only has 9 to offer and you would have to pay extra to get all the themes for free, which really adds up to a high price.
The design is also the reason that we have constantly emphasized the fact that Squarespace is great for people looking to build a portfolio and especially artists because more attention is being given to your art, just like it should.
Shopify
Shopify doesn't lead the way as it did with almost every aspect of E-commerce but it surely doesn't fall too short if you want aesthetics to be essential to your Shopify website.
What really falls short in this segment for the platform is the lack of free themes. Agreed that there is a lot that you can do with these limited free designs in terms of customization and extension.
But with media on it, the website just becomes a little bulkier when compared to Squarespace websites that function smoothly since it offers almost everything in-built in the aspect of design.
However, the same cannot be said about Shopify if we consider just how many paid themes there are and of so much variety.
When we actually consider all the paid themes, it does put up a tough fight against Squarespace and that's more than enough when you consider that this isn't the high point of the platform.
VERDICT
Well, it's pretty evident that Squarespace dominates this category in more than one way. First of all, you need not pay extra to make your site more attractive and secondly, the visuals are just too good to be ignored.
While Shopify does manage to get some things right for its websites, you ultimately have to shell a few more bucks for something that is free with Squarespace and that is not something that would be appreciated by the people for whom E-commerce is not the priority.
2. Blogging
While previously talking about Blogging, we discussed how it is an effective tool to boost sales of your online business, but blogging is certainly not limited to just that.
People today from all walks of life make a website accommodating blogs in it to convey information directly to the people and thus it is necessary that the right website builder has the functionality to support the feature. So let's take a look at how our competitors serve their customers when it comes to blogs.
Squarespace
When it comes to blogging, Squarespace is one of the best choices out there, if not the best. Although some competitors like WordPress and Weebly also have excellent features to handle blogs, Squarespace gets an edge over them with its ability to add visual appeal to even the most basic blogs.
You can let your users comment on your posts and with a higher plan they can even create their own accounts to stay connected with your blog or archive them. But the best feature about Squarespace blogs is the scheduling feature.
The feature allows you to set a time to publish certain content on your blog. Once your bog is done all you have to do is fix the time it needs to go live and you won't have to log in again to publish it. It will be done for you!
But there is a catch to all of these exciting things and that is the fact that the reason most of Squarespace templates are so appealing is because of the media present in them which is of pretty high resolution. Like in the image above you can see the templates Squarespace has under the blog category
So if you wish to change it or remove it, you must be very cautious while doing so as it may take the charm away from your blog.
Shopify
There is a huge difference between the way that Squarespace blogs are meant to be used and the way Shopify blogs should be used. While in Squarespace you can create a blog for anything you want with the option of going for the store, the case with Shopify is a little bit different.
What Shopify offers is a blog alongside a store and that is something non-negotiable from its end.
Since there is no plan that supports a basic information page and all the plans give E-commerce functionality, it's really a no-brainer that Shopify wants you to use its blogging feature strictly for the purpose of marketing.
Now since blogging is not the core concern for Shopify it becomes evident that they do not offer the top-notch features that you would expect from such a major player.
It is not meant for blogging, but the fact that you can still create one for the sake of your store is a little exceptional, even though it's pretty basic.
VERDICT
Without any doubt, Squarespace dominates Shopify when it comes to blogging and offers much more features to its users for a lesser price if all they want is a good looking blog.
Since the base plan of Shopify offers you the capability to run a store and is charged accordingly, it doesn't make sense to go with it for blogging unless you really want to run a dedicated E-commerce store, in which case also you should consider just adding Shopify Lite to your Squarespace blog.
3. Portfolio designing
Online portfolios have become the new trend with most people having one on the internet since it is convenient for anyone to see and you can upload a lot of media on these portfolio websites which works out great if you are someone in the field of media and want people to be able to see your creation right from your portfolio.
Squarespace
A portfolio is all about catching the attention of your visitors. Your portfolio should make visitors scroll through all your content. And Squarespace, as we know, is just too good to take your eyes away from.
Today, a number of creative artists and professionals have made their portfolio or brand page on Squarespace and you can check out our article on the same right here, where you will be able to see how the builder can be used to its full potential with the right tools.
The digital store on top of this is a great addition as it takes you away from the business end of an online store and makes it easier for you to get your product out there letting you make money off of it.
Most of the artists have used the digital store to make a few bucks while showcasing their skill set. Add to it the additional feature of blogs and you have yourself a well-rounded, good looking portfolio that is not so hard on the wallet.
Shopify
Squarespace is all about managing your content right and thus it is understandable why it has the provision to accommodate great portfolios. But Shopify has a different league and it comes as a complete yet pleasant surprise that building a portfolio on Shopify is actually great.
To start with Shopify has the perfect apps store which has the answer to almost everything and thus there are several extensions to help you build your online portfolio. Secondly, if you are someone who wants to make money off of his/her art, there is no better place than Shopify.
Granted that there are not as many templates available to do this when compared to Squarespace but the templates are not bad by any means either, and we felt the themes to be a little more customizable in some aspects than those present on Squarespace.
With the paid themes you even get the parallaxes that make Squarespace websites good looking.
VERDICT
Showing off your skill set through a website can be challenging but both of our contenders offer you the option and features to do that. This is why it is a bit tough to decide a clear winner here and while neither of them is really poles apart in terms of design we would give Squarespace a bit of a lead because of the design and pricing factors that allow you to have more variety present to you at a low cost.
The option to start your digital store is a great add-on for beginner artists as well as professionals. The feature is also available on Shopify but is a bit easier to tackle in the former's case.
Also Read – 10 Best Portfolio Websites Builders For Creatives
4. Ease of Use
No matter how good a website builder is, how many features it offers and how exciting its price is, if it is not consumer-friendly, it is not going to work.
That's why most of the website builders today focus on a drag-and-drop editor that is easy to work with along with the You-get-what-you-see approach which is pretty straightforward and does not make things complicated.
Here as well, both of our players make things pretty convenient for the users but which one of them ultimately is easier to use?
Squarespace
Squarespace has a huge customer base that is loyal to the platform because of what the platform offers to them starting with how easy it is to build a website on Squarespace. This is true for most of the time, though, not always.
Squarspace revamped their editor completely by bringing a Squarespace 7.1 against an older and sort of outdated Squarespace 7.0 and hands down, this turnaround has proved to be fruitful for the platform.
It has given it an edge over platforms like Wix and Weebly that are a tough competition to Squarespace.
If you have even a bit of experience with building websites, Squarespace might just be a piece of cake for you but even if you are a complete newbie and want to put your website on the internet, it will take just a while but you will be able to wrap your head around how Squarespace works.
The drag-and-drop editor is at times a charm to work with, while other times it just glitches and we would recommend you to use a machine with slightly high-end CPU and GPU configurations to be able to handle it flawlessly.
But once you get used to the editor, it just feels very natural and easy. You can throw almost anything on your website and you can be sure that it is supported.
But make sure you keep a backup of the website since Squarespace by itself does not provide any kind of backup.
Also read – How To Use Squarespace – A Step-by-Step Guide
Shopify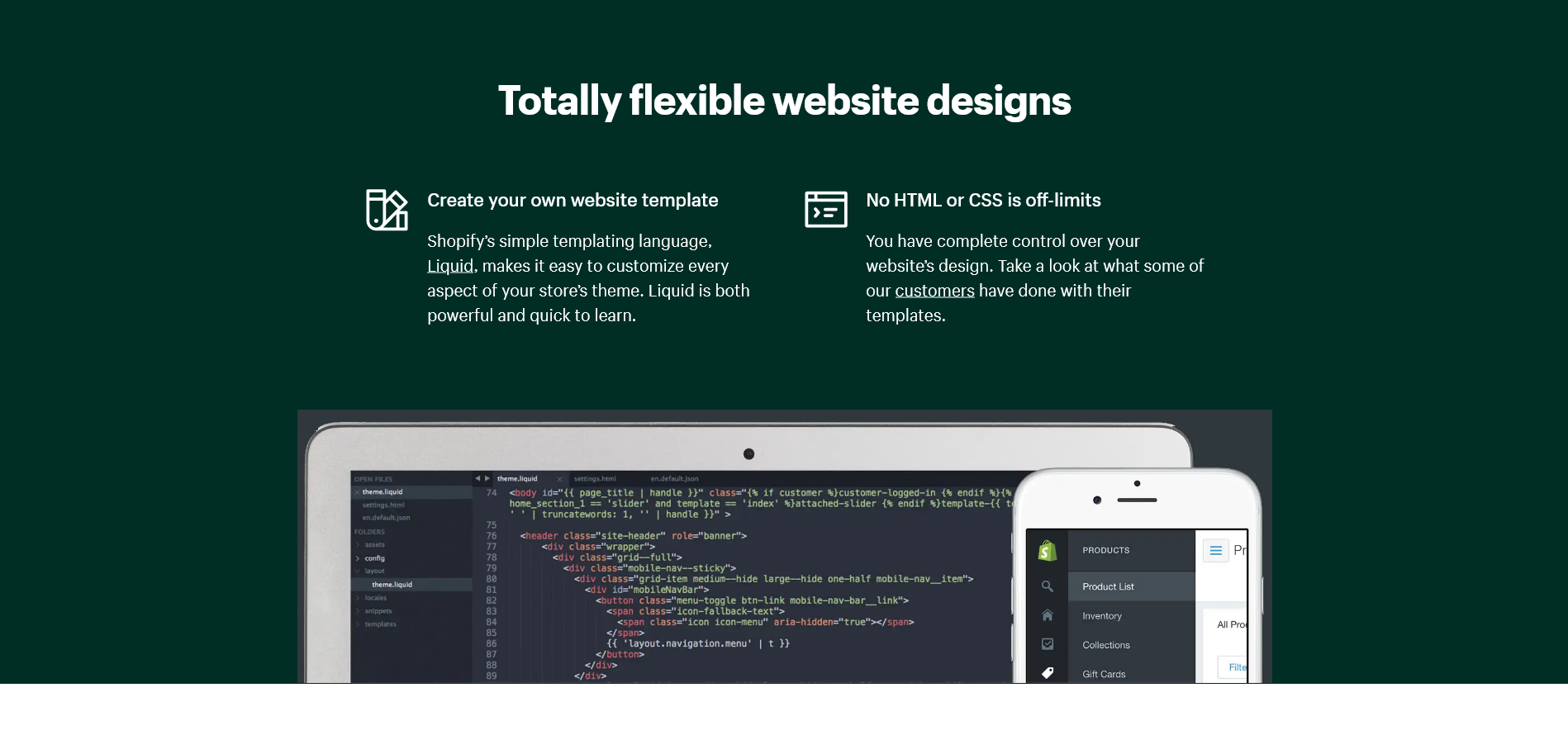 Under the umbrella of Ease of Use, Squarespace and Shopify share more similarities than they share differences. Like Squarespace, the Shopify Editor is a bit tricky at the start and only gets better and better as you keep using it.
It also has support for whatever you want to throw at it and as far as seamlessness goes, we would consider Shopify's editor to be a bit better since there are much fewer glitches and you get a more robust feeling while using it.
The app store comes into play here as well and can let you change the way you design your website entirely by completely overhauling the editor, replacing it with a new one. All you need to do is find the right extensions that suit your design needs and then it becomes a lot easier.
But even if you wish to not do that, you will remain content with the in-built Shopify editor as it successfully meets your expectations, with just a bit of work.
VERDICT
It is tough for us to pick a winner here and we would leave this at a tie as choosing the right website builder on the basis of its editor is something very subjective and not everyone would feel the same way as we do.
While we found both of them to be equally capable, we would suggest you check out both of them using the 14-day trial that is offered by both of these platforms, and see which editor you are more comfortable with.
Since ease of use is an inherent part of the website building process, it is better to avail the trial than to put your money right down and stick to one website builder instantly.
Some other things to consider
Even after listing down almost every important aspect of these two competitors, there are a few factors that might help you make a better and informed decision. Let's quickly look at those before reaching the final verdict:
Mobile Apps
Both of our contenders have provisions to make amends to your website on the go using their mobile apps.
In the case of Squarespace, you can find its 4 apps available for both iOS and Android. The apps are:
1. Squarespace
2. Commerce
3. Scheduling Admin
4. Scheduling Client
The 'Squarespace' app is an all-rounder app that can be used to edit content, manage your orders and have a view of the analytics without having to switch on your laptop or PC. It is convenient and easy to use.
'Commerce' app handles everything related to E-commerce and has a few more details to it than the main 'Squarespace' app but from here you cannot manage anything related to content.
The rest of the apps are inherent if you want to schedule appointments or wish for your clients to be able to do so. 'Scheduling Admin' handles the former here and 'Scheduling Clients' helps you with the latter which helps your clients in reaching you with ease.
Shopify has a few more and diverse apps to let their users make sure everything related to their website is in order but the 2 apps – 'Shopify' and 'Shopify POS' are basically all that you need to take care of your online and offline sales.
'Shopify Inbox' is also a pretty useful and handy app that lets you answer queries and issues right from your mobile. The app can also be connected to your Facebook Messenger and Apple Messages so you can manage everything from one place, from queries to product details.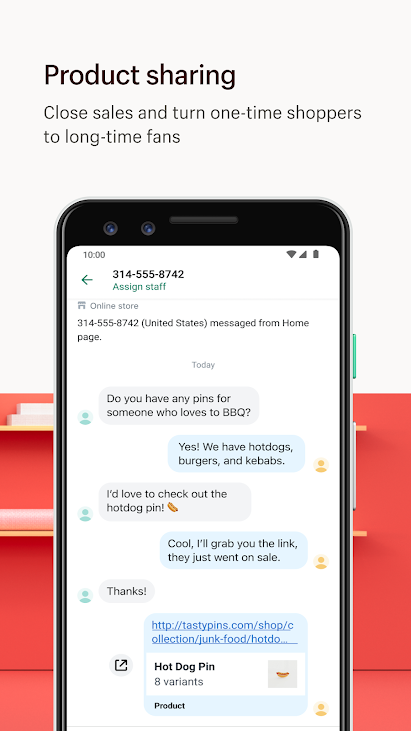 The remaining apps help you in managing your deliveries, making business cards and making logos, all of which are crucial in building a successful and visible online store.
Analytics
Analytical data of your customers and how they interact with different sections of your website is inherent if you want to run a successful store.
While both of our contenders are aware of this fact, Squarespace doesn't seem to have caught up with Shopify in terms of Analytics.
Squarespace does check all the boxes in terms of a basic CMS platform but it falls a bit short when it excludes the fact that there are no alerts if your stock is running low. While it may not be too big of a downside, compared to Shopify it doesn't look good.
The reason for that is Shopify is probably the best platform when it comes to tracking user interaction data. It generates accurate data about almost everything from user behaviour to your inventory.
If that isn't enough the platform takes a step ahead and lets you create your own reports based on the analytical data that can be shown to potential clients and even investors. You need not showcase the whole data and select parts of it that highlight your website.
AMP – Accelerated Mobile Pages
The service provided by Google that makes websites load faster on mobile phones is known as AMP and over the course of time, it has become a really crucial element with the growth of smartphones.
The format basically trims the website by tuning down the coding that makes it difficult for web pages to load faster on smartphones. AMP also results in Google preferring your webpage over others not using it, making your website potentially feature in the suggested carousels that we see on top of Google search taking us directly to the store or website.
Both Squarespace and Shopify have different methods to use this feature to the fullest.
With Squarespace, it is pretty easy for anyone to enable the feature and get their website work a little faster. All you need to do is just tick a box and it's done, but currently, the feature is not available on online products and only for blogs. But still, it's great and easy.
Shopify takes a bit of a different approach which might be a little expensive one. You need to go to the app store to find apps that can enable AMP on your website. There are a lot of apps that do this but to use the functionality to the brim, you will have to shell a few bucks.
Apps like Ampify Me, and Fire-AMP are good tools with the former offering a free option with limited features.
GDPR Compliance
Probably one of the most important things to consider when you are selling or sharing information in EU region is the new GDPR or General Data Protection Regulation that came into effect in 2018.
The regulation states the need for website owners to make users aware of how their data is being used by the websites and give them the option of opting out should they feel anything suspicious with the website.
Website owners who wish to sell in EU need to adhere to the strict guidelines of data usage and not following them can lead to the website being shut down or the owners being penalised which is why it is advisable that you have a lawyer with you when you set up your website, as now more and more countries are going for a similar approach to protect people's data
As a viewer, you must have seen websites and even apps become more transparent with how your data is being used for advertisement or statistical purposes. The basic things that must be kept in mind while ensuring the data remain in people's hands are:
·        Displaying notices on the website when users' data is being used or collected
·        Keeping data stored in a secure manner without the intervention of a third party
·        Take consent from people before signing them up for email campaigns, newsletters etc.
·        Giving the users the option to revoke the use of their data
While most of them are pretty easy to adhere to, it can be pretty tricky on the technical end to be able to give an individual user complete control over how their data is being used and give them the option to revoke the same at any point they wish to.
If their data is being shared to generate ads specifically for them, according to GDPR, they should be able to stop that and delete all the data that was used to generate that specific ad.
Squarespace and Shopify do not have provisions, by themselves, in the current time to make sure all their websites are GDPR compliant and website owners must individually work on it to make sure their site is not taken down. There are a few methods to do this.
The seemingly complicated task can be achieved, on Shopify, with the inclusion of third-party apps that can make your website GDPR compliant and make sure that your users are aware of any third-party cookies on your website before they log on.
GDPR Cookie Compiler and Cooki are two such apps that can help make your website compliant with the EU laws, however, we do not take any credibility for these apps and how they might handle the data, which is why it is suggested that you consult a lawyer for advice on any third-party app as well.
Moving on, Squarespace has no such app on the app store so it makes this task an even more daunting one. But thankfully, you can take the help of CookieYes, a third-party integration that requires you to add a few lines of code and make your site GDPR compliant.
User data is, by each day, becoming a more complicated issue with everyone now aware of how it can be exploited. In such a time, giants like Squarespace and Shopify should be able to integrate Cookie features right in their website builders.
Sadly for now that is not the case and we might have wait for a while before seeing this on either of the platforms.
Why go for Shopify
Shopify is a great website for a lot of purposes and beats its competitors in most of the fronts, so let's summarise why you should choose Shopify in the battle of Shopify vs Squarespace:
·        You get most of the features to run an online store in the base plan itself.
·        Selling is possible in the majority of countries due to the multi-currency feature and a number of payment methods.
·        The rich app store is a sort of a one-stop-solution when it comes to making your website more interactive
·        Third-party apps coupled with support for HTML & CSS can make it easy for you to customize certain aspects of the store according to your liking
·        POS feature is a great add-on if you are hoping to run a brick-and-mortar store, or even if you are just using offline sales to give a boost to your online store
·        You can be protected from a penalty in EU with the careful addition of third-party apps, and with automatic tax calculations for US, UK, EU and Canada, selling in EU region becomes a really easy job
·        Inventory Stock alerts are a great saver if you have a large store to run and cannot keep tabs on everything
·        SEO works like a charm and really gives the proper limelight to your website
·         You can even create Multilingual websites on Shopify which is a rare feature
·        Lastly, the unparalleled support is always there for you and can even be reached through with your smartphone.
Why go for Squarespace
Squarespace is certainly an all-rounder but there are some aspects where it beats Shopify. Let's go over them:
·        The process of creating the website on Squarespace is really quick and easy.
·        Definitely one of the best CMS out there that can handle texts and media equally well
·        Squarespace has a wide variety of templates, all of which are free when you buy the base plan which is not the case with Shopify where you only get 9 free themes
·        Squarespace's designs are consistent in terms of quality, almost all of them being a treat to the eyes
·        The template layouts are definitely more sophisticated with adequate room to your content
·        Product images and videos are better handled on Squarespace
·        One of the best platforms for bloggers with seamless AMP that is easy to integrate
·        Excellent platform when it comes to email campaigning
·        You can put free images on your website through websites like Unsplash and Getty without actually visiting them
Final Verdict
Finally, we reach the conclusion of an intense battle between two of the best website builders. So who comes out on top – Squarespace or Shopify?
The answer to the question is a little more complicated than it seems.
Shopify comes out as a website builder that is a little more robust, gives you excellent professional features at a relatively higher cost. It is tough to accommodate as much content on the platform when compared to Squarespace.
On the other hand, Squarespace is for those who want to have a website that is able to handle everything and does not require a lot of effort. It is easy to create a store, a portfolio, a blog or a gallery website.
Shopify goes a little professional, even with its price plans while Squarespace aims to be a website builder for everyone.
The point here is that the website builder that's better for you and is more suited to your needs is the one that wins the battle.
For you to be aware of which platform works according to your needs, you need to recognise what you want your website or your store to achieve and how much you are willing to invest, in terms of your efforts as well as in terms of your money.