What has become today of this website builder today was unfathomable in 2004 when it was first started by a University Student who wanted other people to be able to make their own websites without having to spend too much time. And Squarespace today is a lot more than just a plain website builder, the glimpse of which you can catch at the homepage itself.
While it offers some top-notch elements, its templates, just to begin with, it also remains true that the website builder does fall short in some of the other aspects of website building. Some because they just don't work that well on the website or are a little loosely integrated, and others because the very elements are way better in some of its competitors like Wix and Weebly.
Before heading on to the in-depth analysis, let us take a quick look at the pros and cons of the Squarespace:
Pros and Cons
Pros
Templates – It is almost a proven fact in the world of website builders and amongst the people who use them that the kind of templates that Squarespace offers is unparalleled and while its competitors have tried to outshine the platform, doing so seems like a mammoth task keeping in mind that the templates are highly responsive, have high compatibility and are really minimalistic. And all that is keeping aside the huge range that it has which easily fares over a 100.
Easy Social Media Integrations – Squarespace understands how necessary it is for anyone to be on social media handles to make sure their presence keeps on increasing, which is why it offers the option to connect your social media accounts directly to your website so people can check out more than just your website and can interact with you a little more directly.
Customer Service – A lot of other website builders do not support the live chat option to get help but that's one part where Squarespace shines and lets its support executives help you out as you try to claw your way out of a problem. It is really convenient considering most of its competitors only have email support which is not nearly as fast or time-efficient and can sometimes even take up days for a query to be responded to.
Website Code – Assuming you're someone who knows how to code and is expecting to add some personal touches to your website, well you can totally do that as the editor itself gives you the ability to use your code into the website and make it a little more personal or add somethings on that the editor might not be able to handle that well.


2. Cons
Website Editor – Squarespace boasts about the Editor being really easy to use, easily navigable etc, and while all that is true about it, I felt like the Website Editor was a bit clumsy at times and even did some things on its own, especially going into the preview panel which for me was weird indeed.

It can also get really slow if you're device specifications are a little on the low end. I also felt this issue more in my Firefox browser and was not that annoying in Google Chrome. This takes away a few points from Squarespace as far as ease-of-use is concerned.

Backups – So it is still a little weird to fathom but Squarespace does not keep a backup of your websites. By that I certainly don't mean that you can save your work, all I mean is if your site ever goes down, or you accidentally lose all that data somehow, there is no option except contacting the customer support to retrieve your website, and it can turn things a little ugly if the Squarespace servers go down for some reason.
High Res images – The aesthetic templates come at the cost of convenience, and the cost you usually have to pay is of using a 4K or Full HD image on your website, which can be a little troubling. How the templates ook to be so amazing is partly because of these high-resolution images, and options if you want them to keep looking as good, you cannot settle for low-quality photos.
What follows is a comprehensive review of Squarespace and how it fares when tested on the basis of some basic elements that make a website builder great since all of them have some common things that they all share and are essential to building a website :
Beginner Friendly
Visual Appeal
E-commerce
Pricing
Plugins and Tools
Support
Beginner-Friendly
Squarespace has quite recently given their website a complete makeover and added tons of new features that would not only make it better for the existing users but would also excite tons of people who haven't yet built a site for themselves and are looking for an easy way to do so. This came to be known as Squarespace 7.1, an upgrade to the old interface 7.0
One of the things that Squarespace was aiming for with 7.1 was to make the platform much easier to navigate around for anyone who is logging onto it for the first time. And while this mostly is the case with the beautifully responsive site, I don't share the same enthusiasm for the website editor.
That doesn't mean that it is not good or doesn't appeal to beginners. 7.1 has given it some really good upgrades and has made it easier to get around and get things done but it still misses out on some major things like auto-save, which is really annoying, and the fact that the Editor at times lags so much that you just want to close your browser and not go back to your website for a while, which is also equally annoying.
But on the brighter side of things, you need not know code to be able to launch your website and a beautiful one for that matter. You also get a lot on your website by default with the template that you choose and it is a good place to start if you don't want to build everything from scratch.
VERDICT – Squarespace is indeed easy for beginners and they wouldn't face too much trouble in getting started. Beginners can also explore the platform for almost two weeks with the 14-days trial without committing to it but in this period they cannot take their website live.
The Editor takes a bit of time to get a hang of and you cannot just throw things on it like in some other website builders but you can do a lot once you've figured the ins and outs and have developed the patience to bear the occasional glitches and lags.
Visual Appeal
There are only a few websites out there that can even come close to Squarespace when it comes to visual appeal, of the website being created and of their own platform. Squarespace has managed to keep the visuals a top priority and played heavily on it to attract more and more people. And we cannot say that it is not working. From tech-geeks to normal individuals, everybody is in awe of the stunning visuals of Squarespace.

From the navigation to the templates, everything is done so beautifully that you never feel that the website has even a bit of sloppy work. Everything is clean and as minimalistic as possible, and the same goes for their templates.
It is not a surprise that the most creative and stylish websites over the internet are made on Squarespace. Not only does it offer unique templates but the thing that is really surprising is the fair amount of control given on top of it, especially with the feature to add code to personalize the site a bit more.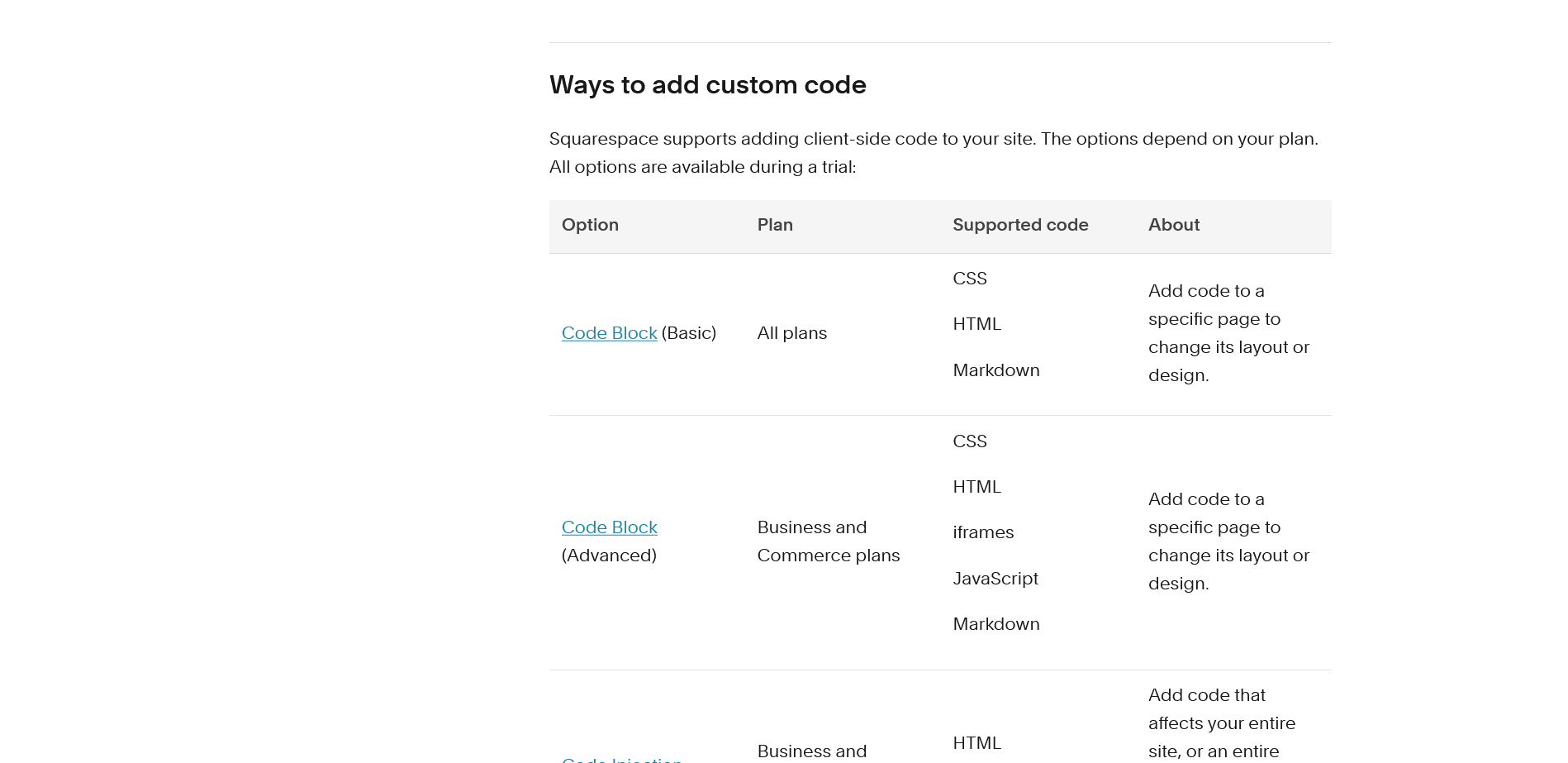 This not only gives you control over the design and behaviour of the website but adds to the template that is pretty neat by default as well. Talk about icing on the cake!
VERDICT – There is nothing to complain about really when it comes to talking about Squarespace's visual appeal. It is necessary that whoever sees your website or visits it likes it at the very first glance and that is what you get with the templates.
The quantity although is fairly less than other website building giants like Wix (Sqaurespace's 100+ against Wix's 500+) but Squarespace compensates it by giving a notch higher quality in these templates.
These sites are compatible with all devices as soon as you select them and any changes on the browser site would be made across all devices so you need not worry. The only thing Squarespace templates are not really good at is presenting a website that is too text-heavy as they mainly depend on the visuals.
E-commerce

One of the main reasons today for people to start their website is to sell products through it without shelling a lot of bucks on the traditional methods of commerce that are not so time or cost-efficient when compared to online stores. Squarespace understands this and lets you set up your online store in a matter of minutes.
Again, the goal here is to make E-commerce available to even those who have no technical background whatsoever and it does so quite brilliantly. In fact, when compared in terms of features, Squarespace is one of the best website builders to start your online stores.
Having said that, the transaction fees of 3% can be one of the reasons why people might skip Squarespace and go for other website builders that don't charge a transaction fee on your deliveries. To remove that you have to go for E-commerce basic plan, which is a bit more expensive than the Business Plan giving basic E-commerce.
The features that Squarespace offers for its online stores are also pretty amazing like the fact that you can add unlimited products to it and easily manage your inventory even on the go with its mobile app. You are also notified when your inventory is running low on items and can even check real-time shipping charges (only for US customers)
You can even use some third-party tools to make the process a little smoother and convenient which is a great add-on.
VERDICT – E-commerce is not the centre of attention here for Squarespace and there are some other builders like Shopify which have an upper hand when it comes to online stores but that doesn't mean at all that Squarespace's E-commerce is not good or sub-par.
The features here are interesting and it is really beginner-friendly which means that you will be able to easily start selling as soon as you have your store ready and have upgraded to a compatible price plan since the online store is not included in the base price plan with Squarespace.
The option to add unlimited products is interesting and you can even add digital products which is really convenient for artists especially considering that in their case, shipping might not always be necessary.
Pricing
Before we go ahead and talk about the price plans let's quickly see what you have to pay to use Squarespace :
Personal – $16/month (or $12/month billed annually)
Great for a basic website, unlimited pages but no option for E-commerce
Business – $26/month (or $18/month billed annually)
Add unlimited contributors along with a store
E-commerce Basic – $30/month (or $26/month billed annually)
Add gift cards for your customer along with the option to create customer accounts
Ecommerce Advanced – $46/month (or $40/month billed annually)
Advanced integrations to third-party apps along with advanced shipping
For all the features and appeal that Squarespace has to offer, the base price plan is fairly cheap but that's not all we have to consider while paying for a website builder that you are going to use for probably a long time. Every price plan offers something different and the more you pay the more features you get.
As we have discussed that Squarespace offers 14 days of free trial to new users so that they can check the platform out and see if it fits their needs or not, and while that is a great feature, a lot of its competitors especially Wix gives the people the option to make a free website and put it live as well, which is missing in Squarespace and can be a disappointment to many since it requires commitment.
The monthly plans also cost you a bit more than the yearly ones so Squarespace tries to lure you into going for the yearly plan with a cheaper monthly cost along with a free domain which you do not get in the monthly plan and have to pay for separately, even in the most expensive plans.
But you do get unlimited storage in all of these plans along with the ability to add unlimited pages and Squarespace extensions as well which can enhance your website to be more user-interactive and engaging.
VERDICT – Squarespace acts like a jack of all trades and the price plans display that more than anything with all the price-plans giving some nice features according to the charges. Even on the most basic plan, you get a lot of stuff that is more than enough to get going with a basic website or a portfolio.
Although Squarespace does not have a free plan, which might make some people reconsider the platform, it does seek to provide people with a responsive website at a plan that is not too costly, but isn't easy on the pocket either considering everyone would want to go for the yearly plan.
Plugins and Tools
As the website builders in the market have grown, so have the number of tools and plugins that you get with them, and this is the case with Squarespace as well with its Extensions library offering you a host of plugins to increase the efficiency of the website.
These tools in Squarespace are mostly offered to the customers in case they feel a little limited by the already built-in features and want something more or unique for their website that could also help them in growing their customer base.

The Extensions page does not have a lot of apps and you do get way more plugins with Wix but it should be considered that Squarespace is already pretty feature-rich so you might not need these extensions at all, but having the option really helps.
For eg., Squarespace has the in-built features to help you connect your social media, LinkedIn, Maps, PayPal etc which is really great as other platforms need plugins for these integrations which puts more burden to your website ultimately making it a little heavier to load.
The Extensions library is divided into 4 categories, namely:
Shipping and Fulfillment
Finance
Inventory and Products
Sales and Marketing
So as you can see there is not a lot you get outside of the territory of E-commerce when it comes to these extensions and for some users that can be really limiting especially for the tech-enthusiasts who want to keep playing around with their websites or constantly want it to keep changing and adapting according to the features in the market.

VERDICT – As far as the plugins go, there is not a lot of variety that Squarespace has in its bag to offer, especially when we pit it against other popular website builders. For eg., Wix has a dedicated plugin for artists who want to sell on their platform by the name of 'Wix Art Store' which really makes selling a whole lot easier for artists. And sadly that kind of variety is missing from Squarespace.
With that in mind, it should also not be forgotten that Squarespace offers almost the same kind of functionality without any plugins as other website builders do with a bunch of their tools so this should not be your only or even the foremost criteria for choosing or skipping Squarespace.
Support

This is probably the most important aspect, at least for me, when choosing the right platform. Since most people pay a lot to keep their websites up and running, a helpful support service is a necessity so as to get your queries resolved in as little time as possible.
Squarespace handles this job extremely well and efficiently with its chat-based customer service that is quick and accurate. If there is a part where you are stuck and need help, there are a bunch of resources on their website to start with along with an assistant to help you out while building the website.

But even if that doesn't work out, the customer executives will. The best part about this is that the help is available 24/7 so that you need not wait even a few hours to get back at your website with your query resolved.
VERDICT – In a world where most of the website builders still take a pretty long time to resolve issues, Squarespace has managed to take a huge leap forward in terms of customer service. You even get the top-notch support in the most basic plans and that is one thing we really appreciate about the platform, that it doesn't give more or less priority on the basis of your plan and your issues are treated in the same manner. Squarespace gets full marks for this!
Squarespace is unique from other website builders in ways more than one and it does the job nicely when it comes to building a fully functional responsive website that is compatible across all devices. It does not sacrifice the quality of its websites when used on different devices and the visual appeal remains constant throughout.
Squarespace 7.1 was launched as a platform that was meant to be for everyone but on some fronts, it fails to do so. So who is it really for and how well does it do for different kinds of customers, let's a quick look at that before we lay down the final verdict:
For Artists
Whether it be a portfolio or an online store, for artists Squarespace is the perfect solution when it comes to showcasing your art as it offers the best support for visual designs and makes your websites captivating and easy to navigate around.
Squarespace works better than most website builders for artists especially because of its ease of use and convenient setup along with excellent customer support that is almost unparalleled. If you have physical products to sell, the platform works seamlessly and it is no different when it comes to selling digital products, even though some other platforms are doing slightly better on this front.
A major drawback that is there for the artists is that there is no free option to get started on the platform and to make the site live you will have to shell a little over $10 which might make some a bit disheartened.
Let's take a quick look at the advantages and disadvantages artists may face on this platform:
Advantages
Quick and easy E-commerce setup
No technical knowledge is required
Templates mostly rely on photos and videos
Disadvantages
No free option
No automatic backups
Website Editor can take a bit of time to get used to
For Bloggers

Squarespace might not be the best option out there for bloggers but it would be wrong to say that it is bad for them. It has almost all the necessary features and tools to make a website relying on blogs and it handles them pretty efficiently with dedicated Navigation Menus for blogs and RSS Feed, the option for the readers to add their comments and site analytics that can give a comprehensive understanding of what it is the visitors are liking and what they are disliking.
SEO features by Squarespace are almost unbeatable and a site made and optimized by Squarespace will almost certainly appear on any search engine throughout the internet as it uses efficient methods to ensure that your blog is Search Engine Optimized.
You can even start email campaigns through your blog and make your audience feel more engaged as they visit your website.
Advantages
Option to add unlimited pages
Google Analytics are integrated
Option to interact with the readers directly
Disadvantages
Templates are not that text-heavy
A bit expensive than other platforms in terms of blogging
For Entrepreneurs

A lot of businesses, big and small, started out with Squarespace and used their feature-rich website builder to make a name for themselves in the online and offline world alike. But the demands are ever-expanding and more and more upgrades are needed with more innovative ideas coming in the business arena.
But Squarespace seems to be prepared for all of it with its marketing features along with its lovable templates for even the online stores. It has efficient methods to keep track of your clients and your shipping and inventory which makes it hard for any entrepreneur to skip over it.
If it's a business website you're looking for we would not recommend anything other than Squarespace just because of the kind of impact it can have over your contacts whenever they visit your website. Your visitors are surely bound to be engaged with your website at the first look, but it must be kept in mind that if it is purely E-commerce you're looking for, there are other websites that focus more extensively on online stores than Squarespace does, like Shopify.
Advantages
Good marketing capabilities
Analytics work amazingly well
Lets you keep a track of everything from your mobile device
Disadvantages
Not the best for E-commerce
No option to keep a backup of the website
Customization is extensive but not complete.
Final Verdict
Squarespace has managed to gain a huge chunk of the website builder market by giving everyone a bit of something and by appealing to the masses with tons of features and beautiful templates, something that not a lot of its competitors can match considering the price point. Like we mentioned earlier, Squarespace is a jack of all trades and it touches upon more than just the basics of the essentials of any website builder while excelling in some i.e. customer support and visual appeal.
But that is not all there is to a website builder. For some, a website is a lot more than just its looks and feel and those people might look elsewhere for a better website builder. Another drawback that it has against its competitors like Wix and Weebly is that there is no option to get started for free, and everyone is not that enthusiastic about spending money on a website if they are even a bit unsure about it.
All things considered, we cannot deny that Squarespace is one of the best website builders out there today, and we are not surprised that so many people have chosen to stick with it for years and years now. Squarespace aims to put the essentials of your business and professional life on the forefront so that they can drive your website and with its host of features, it certainly succeeds in doing so.