Fresh herbs can make a world of difference to your cooking. That is the reason that so many people have started their own DIY herb garden at home. Although it can seem daunting at first, a herb garden is really easy to maintain as long as you do it correctly. You can start your own garden project with a few pointers.

Also read –
How To Start Your Own Herb Garden
To start your herb garden there are a few things you need to keep in mind. Determine the plants that you want to grow and learn about their growing conditions. You will also have to decide the gardening method that you prefer. Lastly, think about whether you want to start with seeds or live plants.

Let's go through these steps one by one.
Growing Conditions
Sun – Most herbs require full sunlight to grow well. Be sure to pick a location that receives at least 6 – 8 hours of direct sunlight everyday.
Soil – Herbs require soil that has good drainage. You can use raised beds or containers to make sure your soil drains well. The ph should be slightly acidic to neutral to ensure good health for your plants.
Water – Some herbs will require more water than others. You should place your herbs according to how dry the location is. Sage for example has lower water requirements that most other herbs.

Gardening Method
Landscape – you can start your herb garden as a landscape feature, a border or in an outdoor space. This can serve as an ornamental and culinary appeal. However, it will require a large amount of labour to ensure all needs of the plants are met.
Raised Beds – they make gardening very accessible and you can grow a wide variety of plants. However, they're not recommended in arid climates as they dry out quickly.
Herb Spiral – give an attractive look to your yard and accommodate a wide selection of plants. At the same time they are labour intensive.
Planters. – Quick and easy to install, they give a good visual impact. You can also combine various herbs in one container. It can easily be brought indoors in extreme weather. However this can limit your selection.
Window Boxes – designed to be added to your windows, they provide a visual interest to your balcony. This is a great choice for places with no yards. These can dry out quickly though so needs more tending.
Seed or Live Plants
Seeds are usually a more cost effective way to start your herb garden. However, they take some time to grow so you won't be able to use the harvest for at least a year.
Potted live herbs can be used immediately. You can easily transplant your plant according to your needs to help them grow in a healthy way. Once they are a part of your garden, you will have a flavourful harvest.
Herbs You Can Easily Grow At Home
You don't need to be all fancy to grow a herb garden. All you need is a good amount of sun and good ventilation to make sure you have a thriving herb garden. Some of the herbs you can easily grow at home are
Basil – likes lots of sun and moist well drained soil. You can use them in pizza, pasta sauce and soups.
Bay Laurel – a perennial that likes full to partial sun. It needs well circulated air to be healthy. Bay is used in stews and sauces as it is fresh and fragrant.
Chervil – a delicate herb used in French cuisine. It prefers partial sunlight and between 65-70 degrees fahrenheit to survive. It is often used to flavour fish, veggies and soups.
Chives – a very popular home grown herb, it thrives in full sun. They make great garnish and are used to flavour soups and baked potatoes.
Oregano – does not need a lot of water to grow. It spreads low on the ground. Regular trimming helps keep it healthy.
Parsley – likes full sun and will grow well in an east facing window. Flat parsley is used in cooking while curly parsley is used for garnishing potatoes, rice and other dishes.
Rosemary – needs good drainage to grow well. Prune regularly. The stems are used to flavour soups and stews. As a natural freshener, your home will smell good throughout the year.
Thyme – grows well in moist soil and likes full sunlight. Make sure to harvest ready stems as needed. You can add the leaves to roasts, sauces and soups. They can also be infused in honey or vinegar.

27 DIY Herb Garden Ideas For Your Home
Given below are some tutorials for you to start your own mini herb garden. They range from different gardening methods and include both indoor and outdoor herb gardens. A garden is always a source of joy. With these ideas, you can start on that journey easily.

1. Vertical Herb Garden
Image and tutorial by loveandrenovations
A vertical herb garden is a great way to save space. It also makes the space look more thought out and organized. If you have some time on your hands, this project is a great way to make your backyard herb garden chic and well planned.
Read – 35 DIY Small Backyard Ideas That Create Large Impact, DIY Garden Fence Ideas
2. Indoor Hanging Herb Garden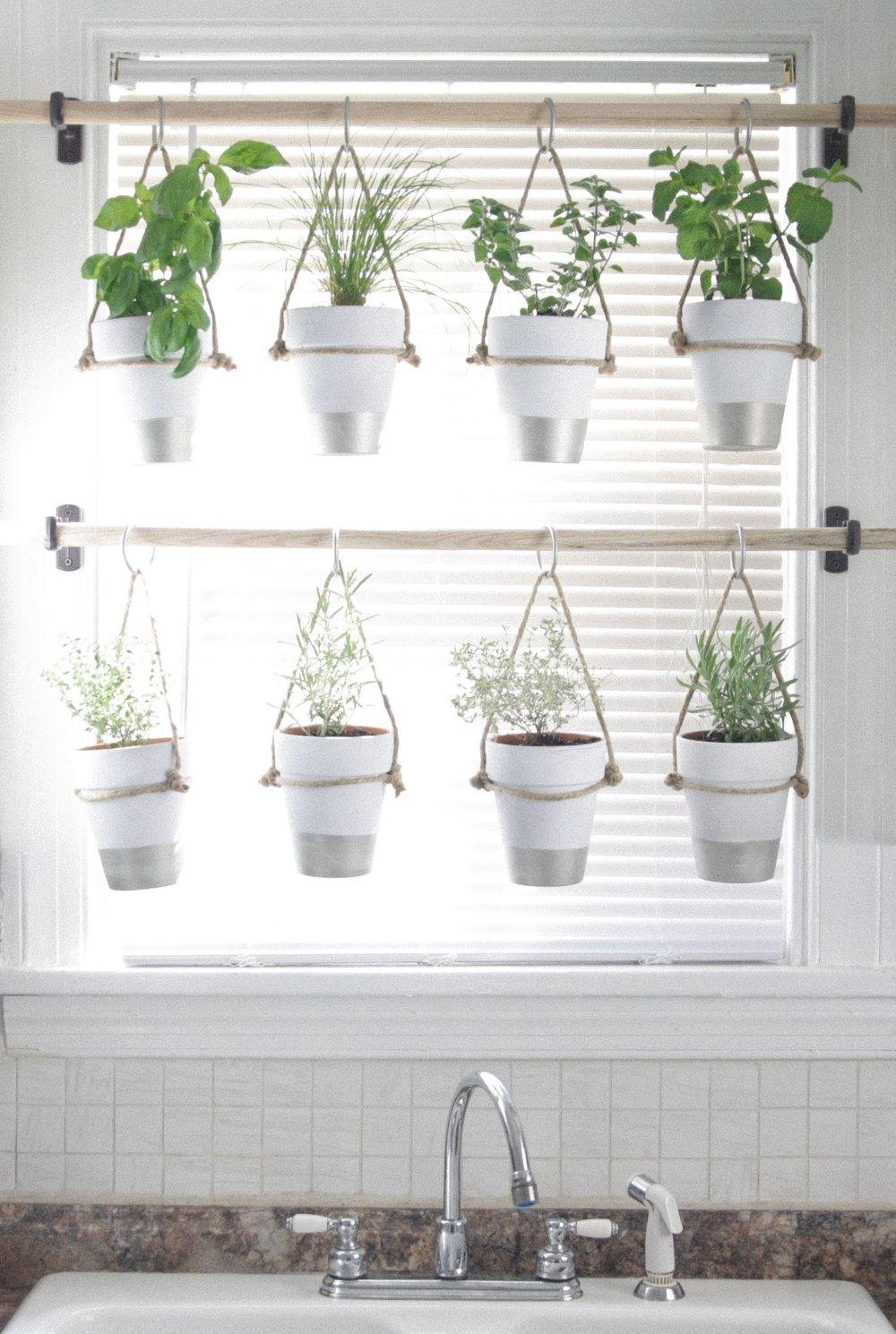 Image and tutorial by thebirdandhersongs
If you like having plants indoors, a hanging herb garden is a handy way to do so. In this tutorial, you'll find an easy way to make your house prettier with a hint of nature indoors. Herb garden plants don't require being outdoors all the time, so this way you'll be able to care for them better too.
3. Hanging Herb Mason Jars
Image and tutorial by domestically-speaking
An indoor vertical herb garden might just be the best of both worlds. This tutorial shows you how to manage your herbs in mason jars which require minimum maintenance. It is easy and quick to create your herb garden at home if you have some pointers. Bonus, it really changes the look of your kitchen.
4. Upcycled Milk Carton Herb Garden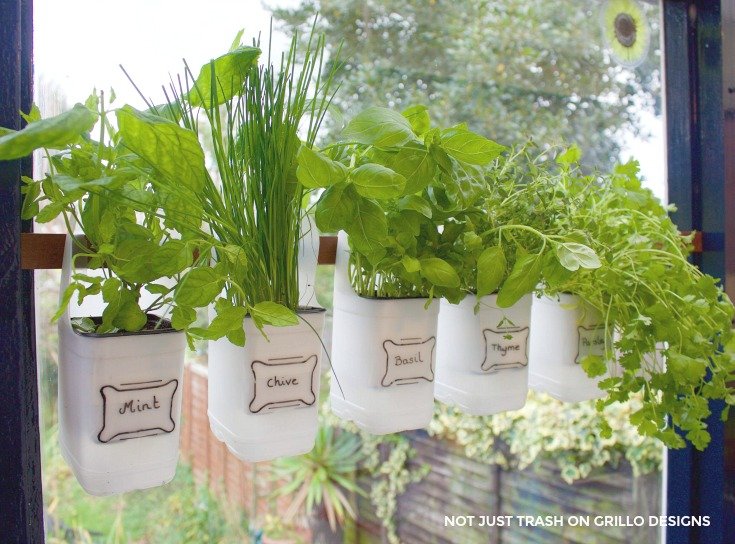 Image and tutorial by grillo-designs
Do your bit for the environment by recycling your old plastic milk containers and use them to house your herbs. It's a great way to declutter your kitchen while being resourceful. Also, it's so easy to do, you don't need any extra materials and you have a kitchen herb garden ready in no time.
5. Countertop Herb Garden
Image and tutorial by houseofhandmade
Making your own kitchen herb garden could not get simpler. With this handy tutorial you will have your own little nook for those herb garden plants you can't do without. All you need is a few terracotta pots and a fence picket to get started.
Also, read – 40 Beautiful Kitchen Windows For An Amazing Kitchen
6. DIY Planter Herb Garden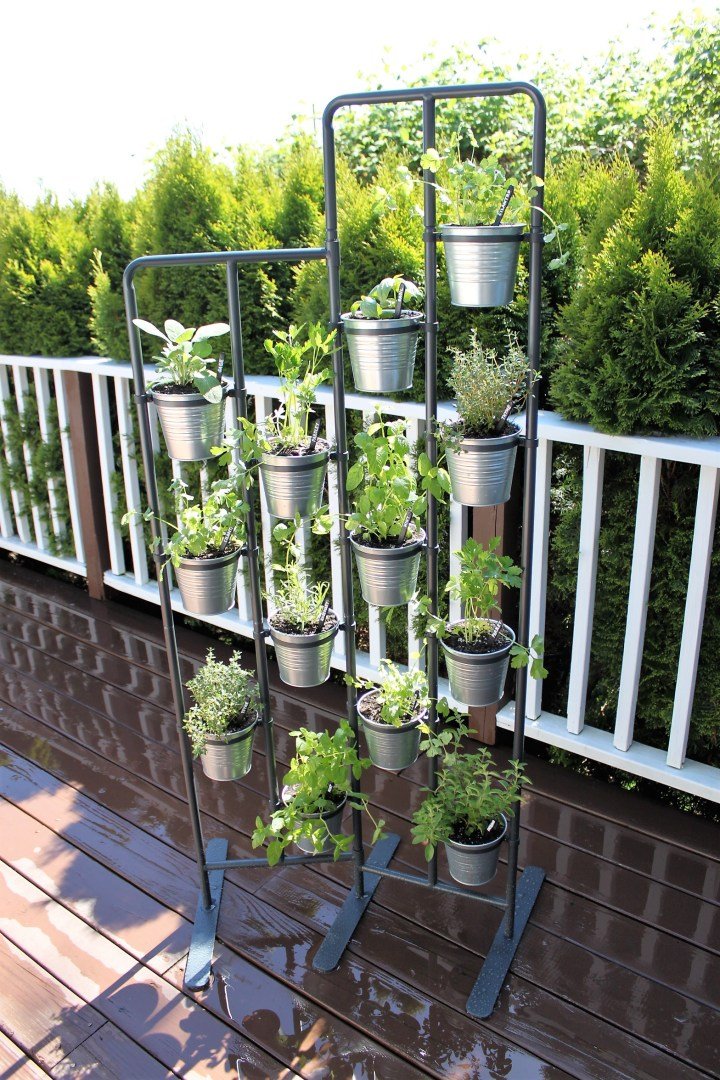 Image and tutorial by justlikeplayinghouse
If you have a planter that can hold many pots, you could have a good herb garden balcony in no time. Even if you are just starting out, this idea is good for saving space and having an organized herb garden. This tutorial will not disappoint you.
7. Washtub Herb Garden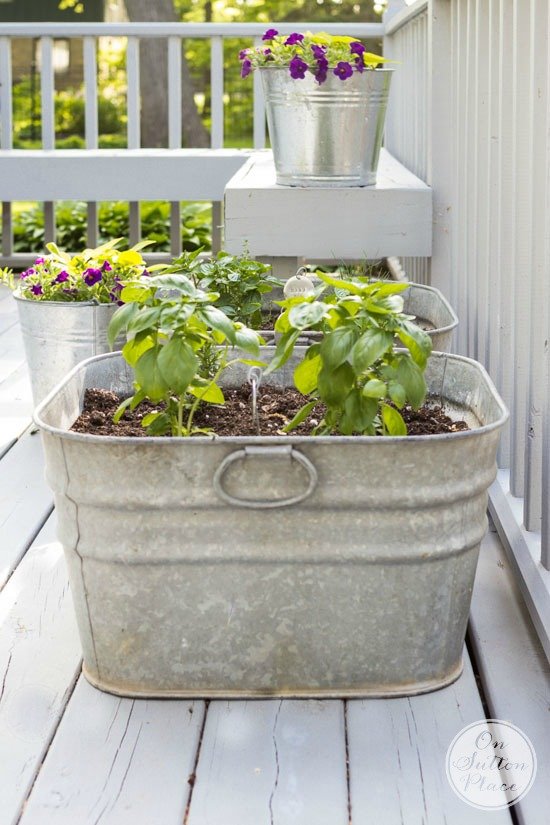 Image and tutorial by onsuttonplace
Your old washtub will make a great planter for your herb garden balcony. You don't have to use fancy pots and planters to be able to enjoy the pleasures that a garden gives you. Also, in the summer, a herb garden on your balcony will look really bright and fresh, while giving it a vintage look.
8. Vertical Pallet Herb Garden
Image and tutorial by hometalk
Pallets are great if you're looking to plant a big herb garden. It is also good when you're space saving and building a vertical herb garden. They don't require a lot of work to set up and maintain. Pallet gardens can spruce up the look of a place very quickly. So if you're trying to change the look of your garden this tutorial is for you.
9. Table Top Pallet Herb Garden
Image and tutorial by makeit-loveit
Bring a taste of spring inside your home with this quirky indoor herb garden tutorial. This way your herbs are always within reach. Having a herb garden planter indoors will also brighten up the place and lift your mood.
10. DIY Herb Garden Planter
Image and tutorial by fun365.orientaltrading
Growing herbs year round is probably the best thing you can do for yourself. Not only is a herb garden at home more economical, but you know exactly what you're getting as well.
11. Wood Pallet Herb Garden
A compact pallet backyard herb garden can do wonders for your space. You can grow everything that you use for cooking and you'll never have to spend money buying more herbs than you require. This tutorial will show you how to build your own herb garden planter and you'll never look back again.
12. Upcycled Herb Garden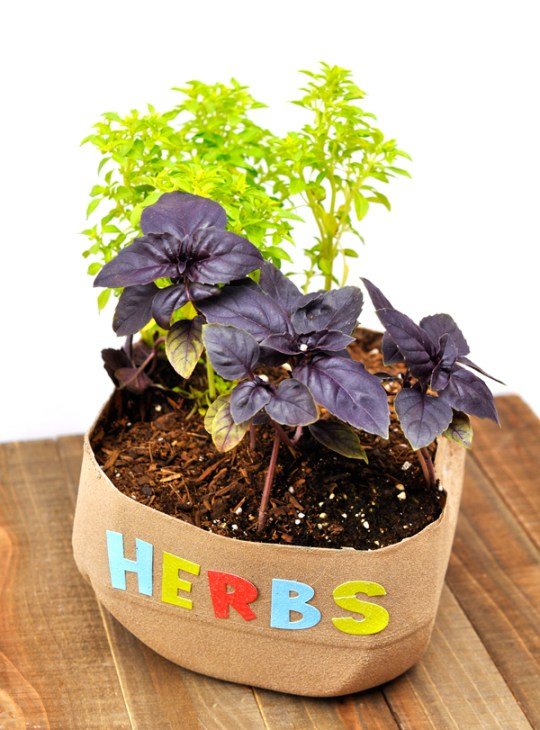 Image and tutorial by rockinmama
Upcycling your old cartons and containers is the best way to show that you care about the environment. This handy tutorial shows you just how to make planters for your kitchen herb garden. Now you're helping keep the environment and also have a little herb garden to keep your spirits up.
13. Indoor Herb Garden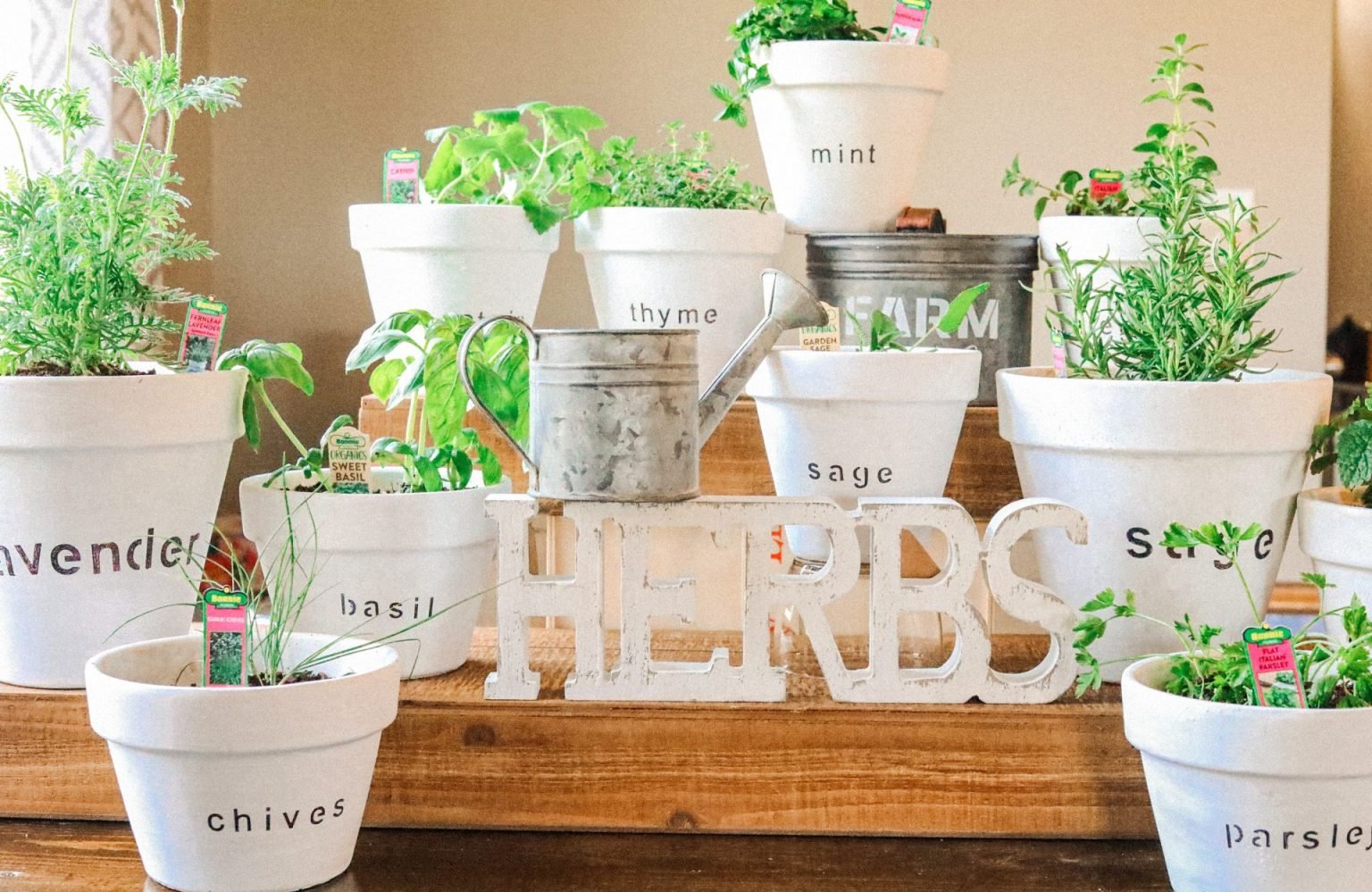 Image and tutorial by simplytaralynn
Planting herbs in little pots is not a new thing. However, in small living spaces they can really spruce up the indoor decor and give it a really cute homey feeling. This tutorial will show you how to customize your homespace to incorporate herb garden at home.

Read – 30+ DIY Concrete Planters That Are Easy to Make
14. DIY Mason Jar Herb Garden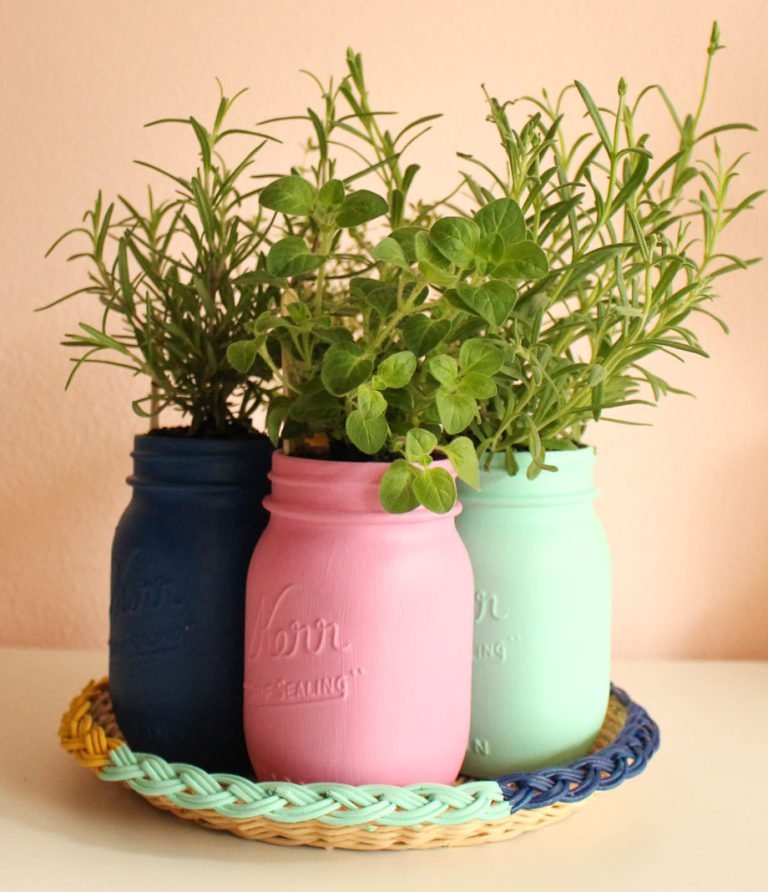 Image and tutorial by goldstandardworkshop
If you want to repurpose your old mason jars to make a really pretty indoor herb garden, this tutorial will show you exactly how to do that. A little bit of colour will really help brighten up the space. And of course you will be thankful for the herbs you always have at hand.
15. DIY Ladder Planter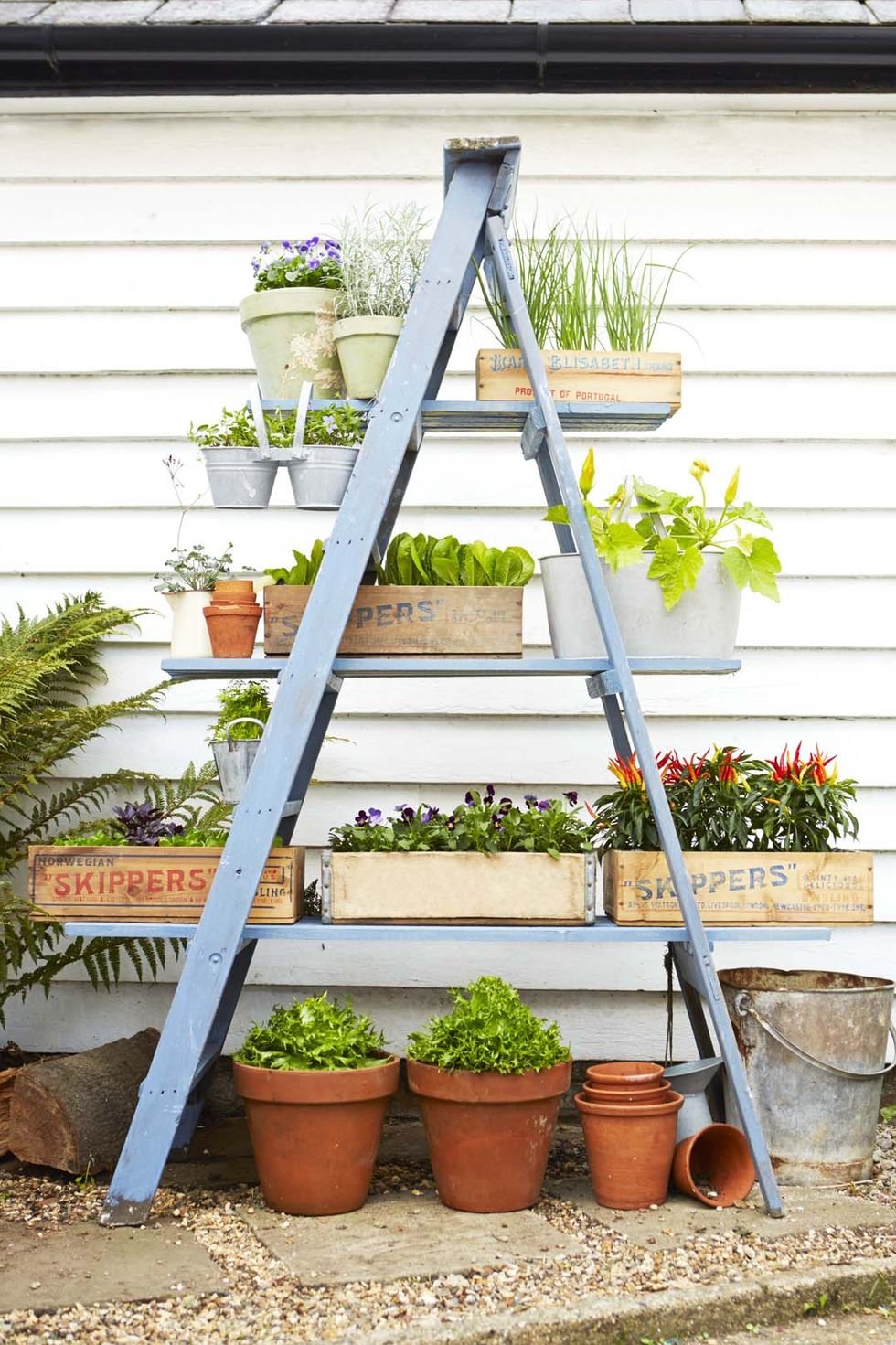 Image and tutorial by goodhousekeeping
You really can use anything to make your backyard herb garden. Even an old step ladder. With this unique tutorial, you can easily customize the look of your garden. Make a space saving garden which is easy to access with this vertical herb garden.
16. Window Sill Herb Garden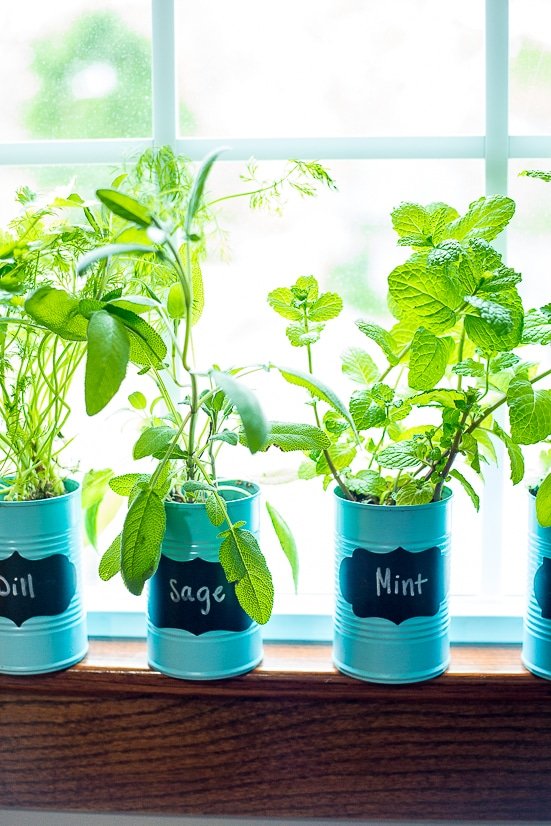 Image and tutorial by thegraciouswife
If you are unable to have a proper backyard herb garden, don't fret. This clever tutorial is perfect for you to make a mini window herb garden. This way, you can have fresh herbs at your disposal all year round.
17. Tiered Herb Garden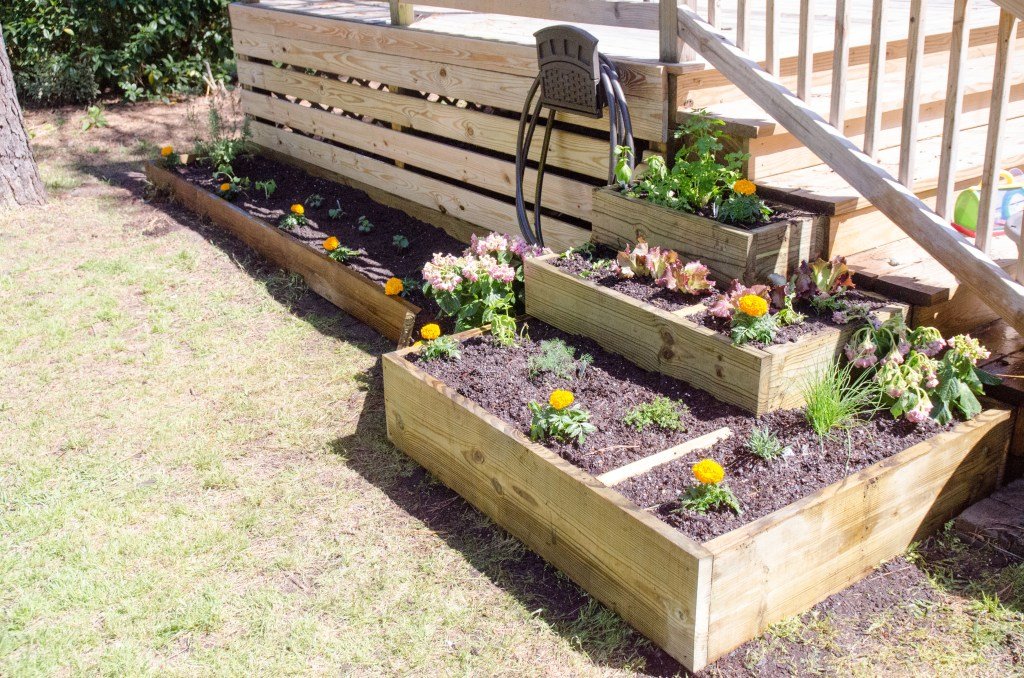 Image and tutorial by borkwoodblog
A tiered backyard herb garden is a versatile choice. It gives you a lot more space to grow and plan your garden. This will also add a good dimension and visual aspect to your backyard which is always a good thing.

Read – 40+ Unique DIY Raised Garden Bed Ideas, 20+ Pallet Fence Ideas That Anyone Can Build.
18. Vertical Fence Herb Garden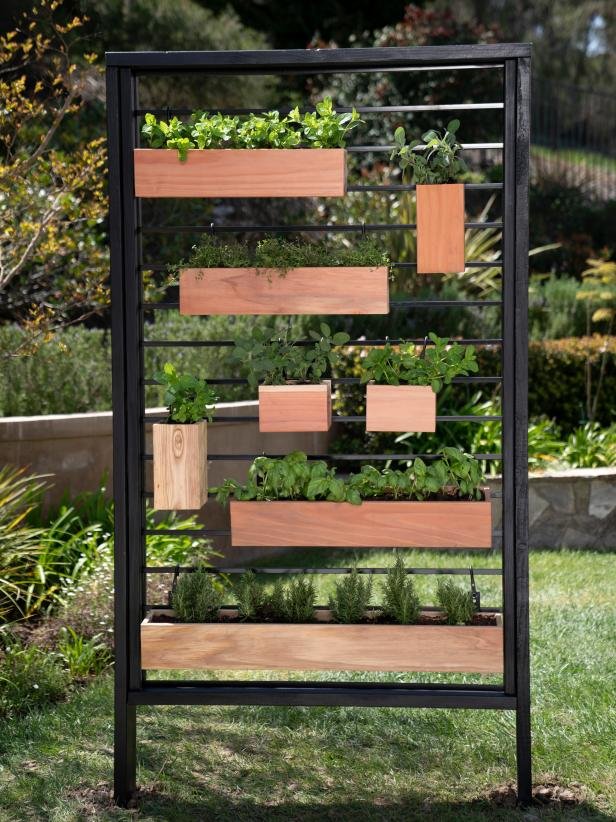 Image and tutorial by diynetwork
Repurpose your old metal fence and old planters to make a visually appealing vertical herb garden. Not only is it a space saver, you'll have enough space to add more herbs and tend to them well. It's a really interesting addition to your backyard.
19. Wood Pallet and Mason Jar Herb Garden
Image and tutorial by thewhoot
If you're looking to add some farmhouse elements to your interiors and also want some herb garden ideas, this tutorial will help you achieve both. Using the rustic pallets is a really nice touch to your kitchen. The mason jars are handy for these kinds of projects. They keep the place neat and help segregate the different herbs well.
20. Tea tin Herb Garden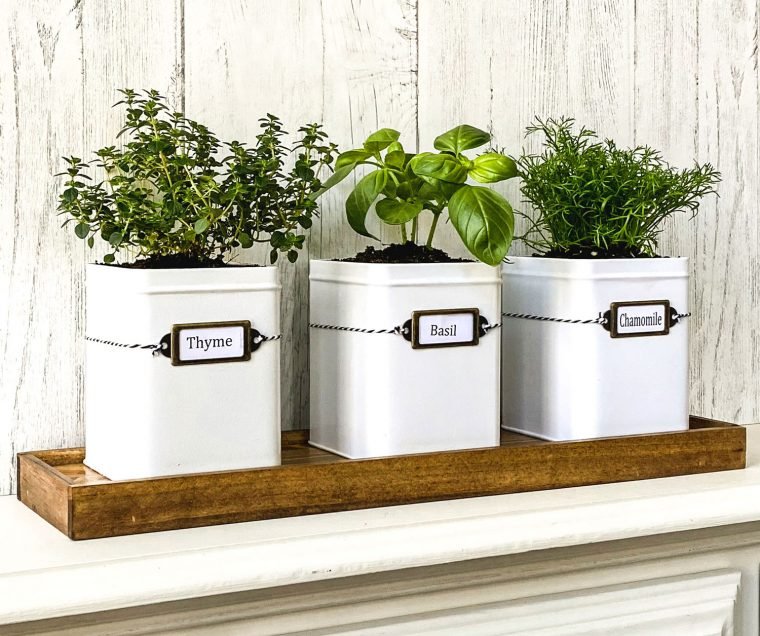 Image and tutorial by heartfilledspace
Wood trays help add a rustic element to your homespace. So with this DIY herb garden design, you can bring nature and earthiness right into your kitchen. The vibrant green herbs are always a welcome sight in kitchen decor. Plus, repurposing old tins for planters is always better than buying new ones.
21. Colourful Indoor Herb Garden
Image and tutorial by abeautifulmess
Fresh herbs can really transform your cooking and elevate your food from everyday to fine dining. So why not have them handy indoors right? This indoor herb garden tutorial will guide you in making a colourful herb garden design so that you can experience the joys of fresh herbs being readily available .
22. Baking Tin Indoor Herb Garden
Image and tutorial by grillo-designs
Even I have to admit that this one is a little wacky. However, we are here to find the most creative ways to start a herb garden at home. This unique herb garden design is bound to get a lot of attention. And as a bonus, you get to have a really cool garden right in your kitchen
23. Indoor Vertical Herb Garden
Image and tutorial by pillarboxblue
In case you're looking for an offbeat way of making the most of an indoor herb garden, look no further. No one would think of putting denim and herb gardens in the same sentence but here we are anyway. The herbs in these planters will last you longer so that should motivate you to give this one a try.
24. Herb Garden Spiral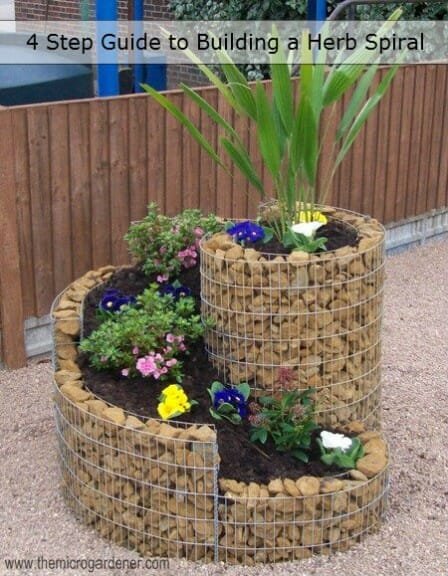 Image and tutorial by themicrogardener
This is a really compact way of building your herb garden if you don't want to be using pallets or fences for the job. Along with adding a really pleasing visual aspect, this type of backyard herb garden gives you more freedom to landscape around it.
25. Repurposed Pipe Indoor Herb Garden
Image and tutorial by 1001gardens
You want a handy kitchen herb garden? We're here with the tutorial to help you achieve that dream. Let the sun in so that your herbs have enough light and enough air to grow well.
26. Vertical Planter Herb Garden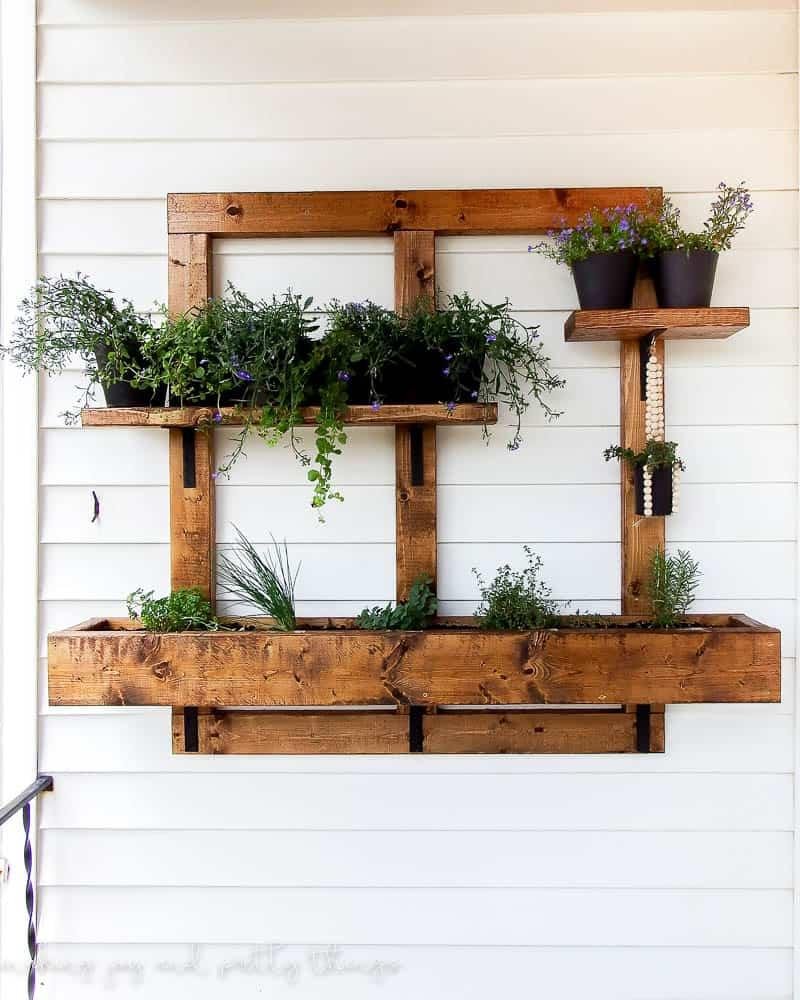 Image and tutorial by makingjoyandprettythings
This herb garden balcony idea is really adorable. Not only is it really easy and well thought out, you will have a lot of fun with this herb garden design. If you want a little rustic countryside garden theme going, this one is surely going to be a great addition to that plan.
27. Pocket Shoe Herb Garden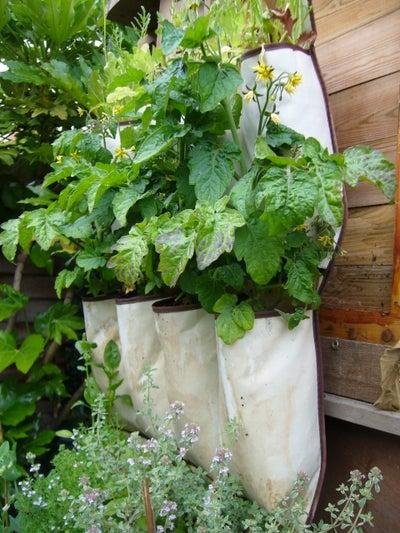 Image and tutorial by instructable
Want a really compact herb garden? Don't know how to start one yet? This tutorial is all you need to get your herb garden balcony started. It is easy to make and you need just a few basic supplies. Best of all, there is no need to worry about planters and pots. You can use different herb garden designs in conjunction once you're used to this.
If you loved these ideas, you can use the Pin image below and save this article on your 'Garden Ideas And Projects' Pinterest board.