Are you tired of cooking in a dreary kitchen with no natural light? Fear not, my fellow foodies, because I've scoured the internet to bring you 40 beautiful kitchen windows that will make you want to spend all day in the heart of your home. From classic bay windows to modern floor-to-ceiling glass walls, these stunning kitchen additions will make you feel like a professional chef. So let the sunshine in, grab your apron, and get ready to cook some culinary masterpieces in the most beautiful kitchen you've ever laid eyes on. Bon appétit!
Related articles –
1. Custom Window With Diamond Panes
If you like to add a touch of elegance to your kitchen, this custom window with diamond panes is the treasure you've been searching for. Its unique shape and sparkling glass will surely be your culinary kingdom's crowning jewel.
2. Tall White Windows
Who needs a TV when you can watch birds frolic in the trees? These tall windows will make you feel like you're cooking in a castle tower. And they're white, so you can finally say goodbye to the days of staring out of your dingy old window while you wash dishes. With these babies, you'll have an unobstructed view of the great outdoors while you prepare your meals.
3. Matching Cabinets And Window Treatments
Match your cabinets and window treatments for a cohesive and stylish look. But, of course, you wouldn't wear mismatched shoes with your outfit, would you? So why should your kitchen suffer the same fashion faux pas? Plus, it's an easy way to make your space look more put-together without breaking the bank on a complete renovation.
4. Black Windows And Gold Accents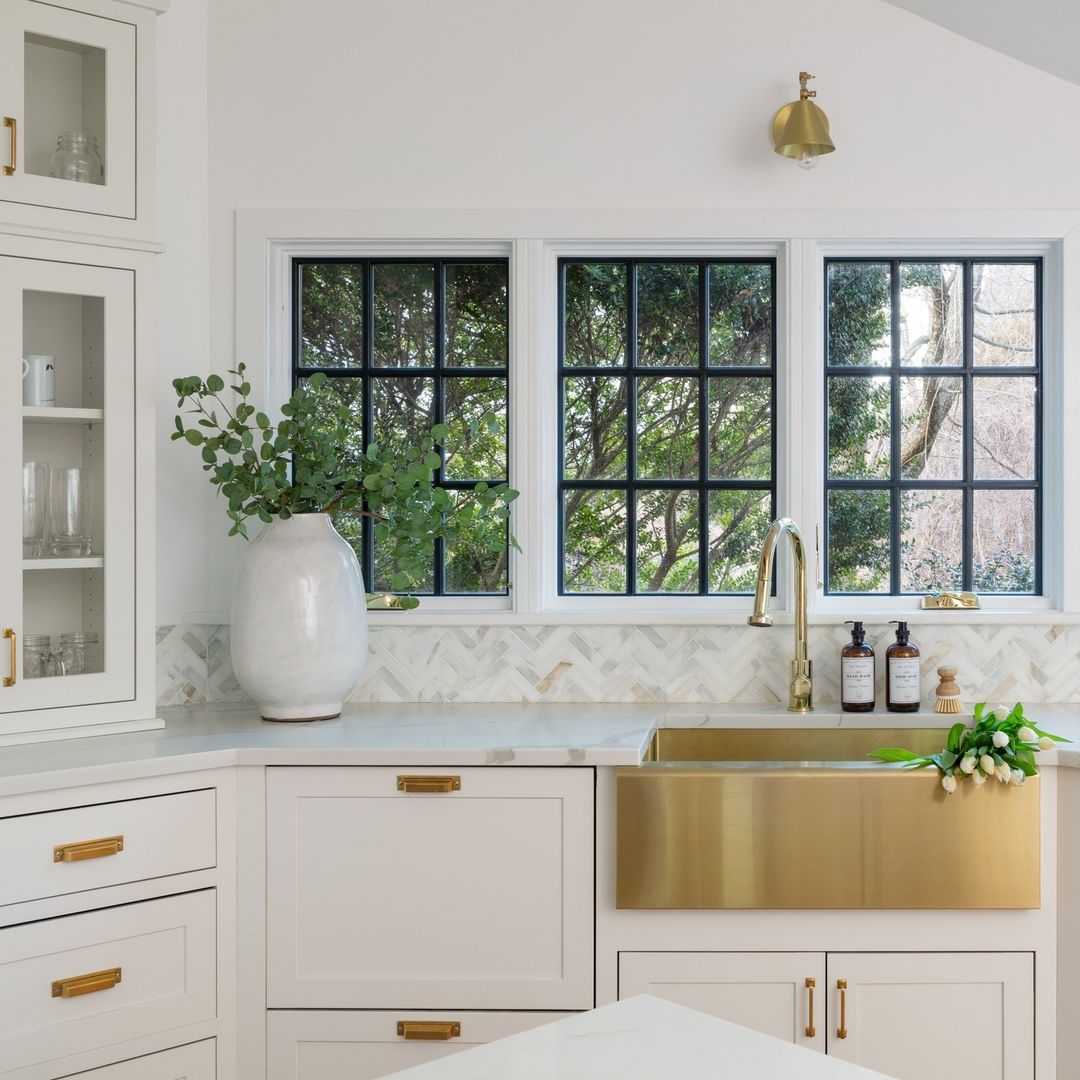 Nothing says "I have an expensive taste," like sleek black-framed windows with tasteful gold accents. Plus, you'll feel like cooking in a fancy restaurant kitchen. So if you want to take your culinary game to the next level, give your kitchen the black-and-gold treatment.
5. Modern Landscape Windows
Looking for a touch of modern elegance in your kitchen? Look no further than the landscape kitchen window! Not only will it let in an abundance of natural light to brighten up your cooking space, but it'll also provide a picturesque view of the great outdoors.
6. Country Kitchen Windows
If you're a fan of rustic charm and homey vibes, then country kitchen windows are just the thing for you! These windows will transport you straight to your grandmother's kitchen, complete with gingham curtains and freshly baked pies cooling on the windowsill.
7. Wooden And Black Accents To Create Modern Look
Are you looking to give your kitchen windows a modern makeover? Look no further than the dynamic duo of wooden and black accents. These two stylish elements can take your dull windows from drab to fab.
8. Recess The Window For A Dramatic Effect
Are you tired of your kitchen window looking like it's hanging out, not doing anything particularly exciting? Well, my friend, I have got a decor tip for you. Recess that window and watch the drama unfold! Not only will it create a visually stunning effect, but it'll also give you some extra counter space to work with.
9. Use Window Frames For Extra Detail
Are you desiring to add some extra oomph to your kitchen design? Pay attention to the humble window frame! Those often-overlooked pieces of wood can be the perfect touch of rustic charm or vintage chic your kitchen needs.
10. Kitchen Windows With Decorative Panelling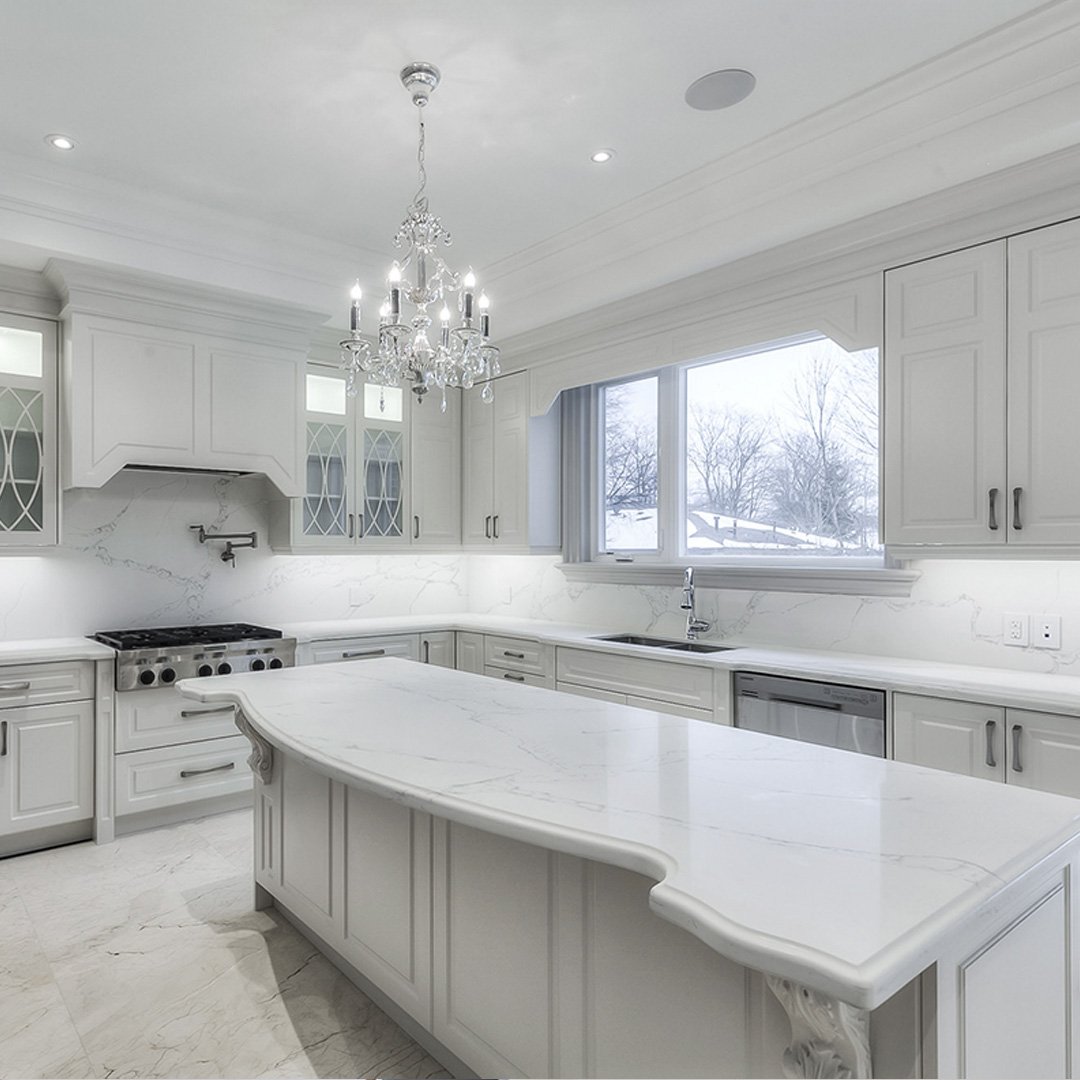 Looking to add pizzazz to your kitchen windows? Look no further than decorative paneling! Not only does it add some serious style points to your cooking space, but it's also an excellent opportunity to show off your inner DIY queen (or king).
11. Floral Blinds For A Feminine Feel
If you are wanting to add a touch of flair to your cooking space, look no further than these kitchen windows with floral blinds. These beauties will have you feeling like a domestic goddess in no time, surrounded by blossoming buds while you whip up your signature dishes.
12. Use Sliding Doors
Image by MM lighting
With this picture window, you can let the fresh air in while still maintaining your privacy and security (because, let's face it, you don't want anyone sneaking in and stealing your secret recipe for grandma's famous lasagna). Plus, they're sleek and stylish, perfect for any modern kitchen.
13. Large Corner Windows For Lots Of Natural Light
Tired of feeling like you're cooking in a dark and dingy cave? Fear not, my kitchen-loving friends, because large corner picture windows are here to save the day! These babies will flood your kitchen with so much natural light you'll swear you're cooking in broad daylight (even if it's 10 PM).
14. Window Treatments To Control The Light
Want to add pizzazz to your kitchen while controlling the amount of light that enters? Look no further than your windows! Yes, those often-overlooked slivers of glass can be transformed into the focal point of your kitchen with the right window treatments. From classic curtains to chic shades, there are plenty of options to choose from.
15. Shades On Three Windows Over Farmhouse Sink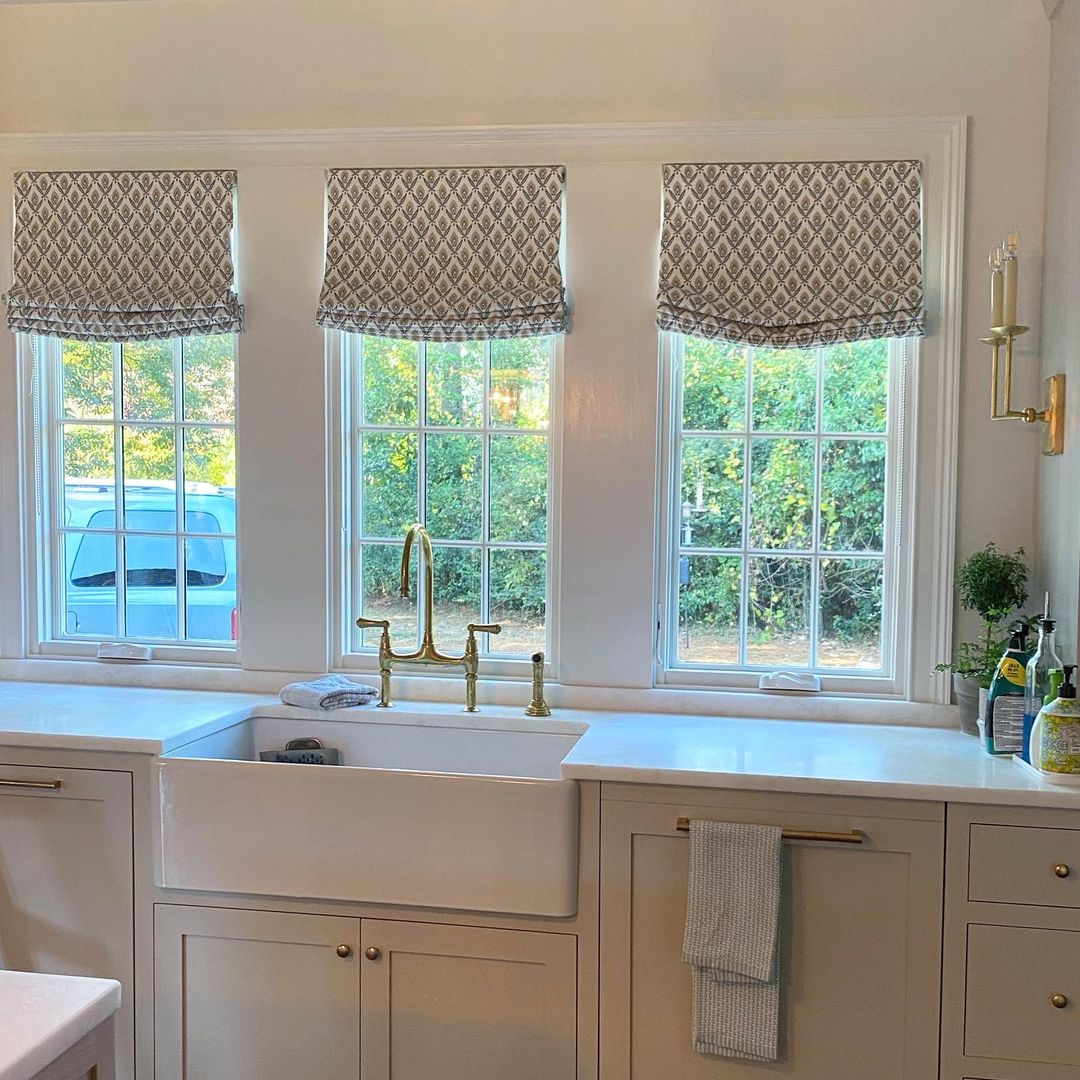 A kitchen with not one, not two, but THREE windows above the sink. And what's even better? These windows have shades! Yes, that's right, you can now control the amount of sun light that floods into your kitchen while you're doing the dishes.
16. Frame The Kitchen Window With Wallpaper
Bored of staring at a plain kitchen window while you're doing the dishes? Spruce things up with this quick and easy decor tip: frame that lousy boy with wallpaper! Not only will it add a pop of color and personality to your space, but it'll make your view while you're cooking up a storm all the more delightful.
17. Vintage Trim On Kitchen Windows
Adding some vintage trim to your kitchen windows is the perfect way to give your cooking space a unique and playful feel. It will make your windows pop while also adding a touch of character to your whole kitchen.
18. Kitchen Windows Over Metallic Sink
Desiring to add some sparkle to your kitchen decor? Consider pairing a metallic sink with a beautiful window for the ultimate kitchen upgrade. Not only will the shiny sink catch the light and make dishwashing a glamorous affair, but the window will bring in natural light and make your whole kitchen feel brighter and more inviting.
19. Hang-In-Half Curtains
Are you looking for an easy and budget-friendly way to spruce up your kitchen decor? Try hanging some half curtains! They add charm and whimsy to your space while letting in plenty of natural light while still providing some privacy.
20. Antique Lighting Over Kitchen Windows
Image by Vintage And Grace Living
Antique lighting over kitchen windows is perfect for bringing some old-school character to your modern kitchen. So ditch the fluorescent lights and embrace the vintage vibes with antique lighting over your kitchen windows.
21. Vintage Curtains On Kitchen Windows For Extra Coziness
Picture yourself sipping coffee in the morning light, with the gentle breeze blowing through those flowy floral curtains. It's like having a hug from Grandma every time you step into your kitchen. So embrace your inner vintage enthusiast, and let those curtains work their cozy magic. Your kitchen will thank you.
22. Bamboo Blinds For Shade
Image by West Cotton Wood Lane
Why settle for boring old blinds when you can have bamboo ones? Not only do these tropical wonders add a touch of island flair to your cooking space, but they also provide some much-needed shade from the scorching sun. In addition, bamboo is a sustainable and eco-friendly material so you can feel good about your decorating choices.
23. Decorate The Kitchen Awning Window With A Wreath
Wreaths aren't just for Christmas anymore. Hang a beautiful floral wreath on your kitchen window and watch as it adds a pop of color and cheer to your cooking routine. Plus, it's the perfect way to show off your impeccable taste in home decor.
24. Lush Garlangs Along With Window Frames
Forget about those boring old curtains and try out some lush garlands along with your garden window frames. Not only will they add a touch of greenery to your space, but they'll also give your kitchen a whimsical, fairy-tale vibe. Plus, think of all the Instagram-worthy photos you can take of your avocado toast with a backdrop of cascading ivy.
25. Casement Window Over Granite Counter Top
Want to give your kitchen space a little facelift without breaking the bank? Try installing some sleek casement windows photo above your marble countertops and kitchen sinks. It gives your space a touch of elegance.
26. Include Fairy Lights
Adding fairy lights to your kitchen window will create a magical ambiance perfect for those early-morning coffee moments or late-night snack attacks. Plus, if you're feeling a little adventurous, you can even weave them through your herbs and spices to add some extra sparkle to your culinary creations.
27. Ikea Stem Above Kitchen Window For A Rustic Look
Looking to add rustic charm to your kitchen? Well, forget about the pricey antiques and fancy décor because all you need is an Ikea stem and a window! That's right, folks; with this simple kitchen decor tip, you can transform your kitchen into a cozy and quaint farmhouse in no time.
28. Contrast For Chemistry
Add some contrast for chemistry! It's like a match made in design heaven. Think black and white, light and dark, smooth and textured – endless possibilities. It makes your kitchen look more visually attractive while creating a perfect sense of harmony and balance.
29. Large Black Frame Kitchen Window
This window is so big you'll feel like you're cooking outside. And the black frame? It's like a picture frame for your delicious dishes, showcasing them in all their mouth-watering glory.
30. Small Wooden Frame Kitchen Window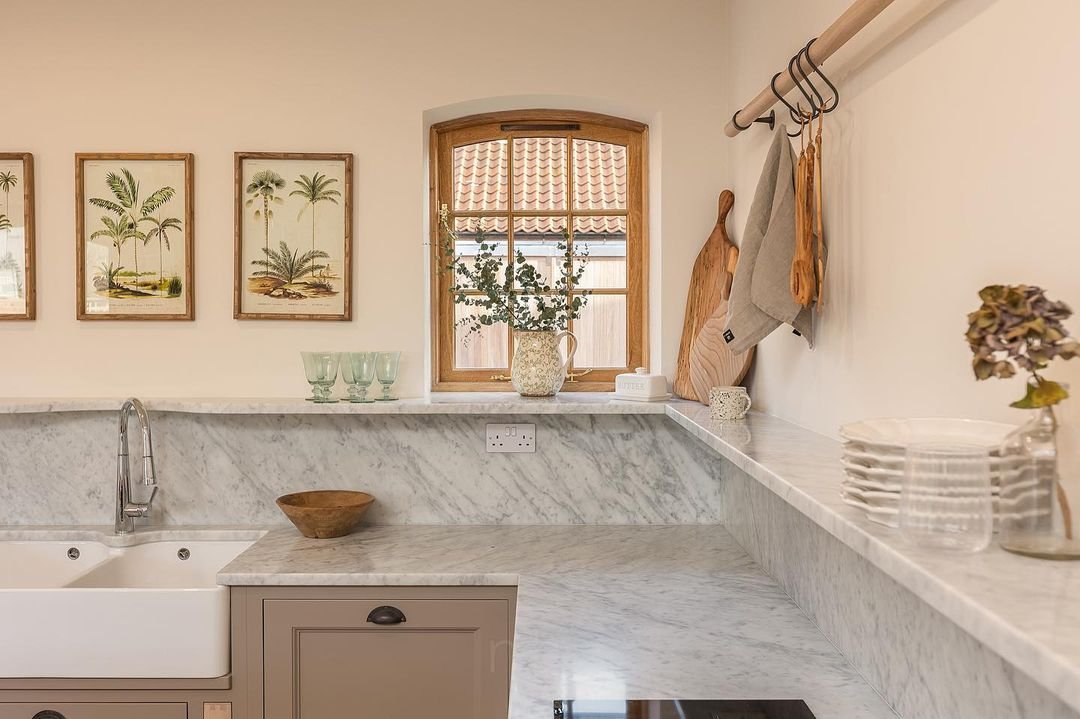 This little window is may be small, but it packs a punch with its charming wooden frame that will make you want to whip up some homemade apple pie and sing Kumbaya around the campfire. Plus, the compact size means you won't have to clean it all day.
31. Large Arched Kitchen Window
This window is not just any old rectangular pane of glass – no, no, no! It's got curves for days and an arch that makes your heart skip a beat. With its generous size, it allows natural light to flood your kitchen and provides a stunning view of the great outdoors.
32. Light Blue Kitchen With Window Moulding
This kitchen is perfect for those who want to feel like they're cooking up a storm in a cozy seaside cottage, even if they live in the heart of the city. The light blue hue will have you feeling calm and collected, while the window molding adds a touch of elegance to your culinary creations.
33. The Larger The Window, The Brighter The Space
Image by Door Store And Windows
If you want to brighten up your cooking space, just remember one simple rule: the larger the window, the brighter the room. It's not rocket science, folks! More bay windows photo = more sunshine = more happiness (and probably less burnt toast, if we're being honest).
34. Small Curtains For Sliding Windows
Who doesn't love a cute kitchen accessory that also serves a purpose? So whether you go for a bold print or a classic gingham, these small curtains will make your kitchen look cute as a button. And who knows, maybe they'll even inspire you to bake some delicious cookies while you're at it!
35. Simple Window Treatments For Intricate Kitchens
If you're tired of your kitchen feeling like a drab dungeon, it's time to spice things up with some simple window treatments. Don't worry; you don't need a degree in interior design to make your kitchen look like a work of art. Just a few carefully chosen curtains, blinds, or shades can take your space from blah to beautiful in no time.
36. Wooden Glass Patio Doors Instead Of Windows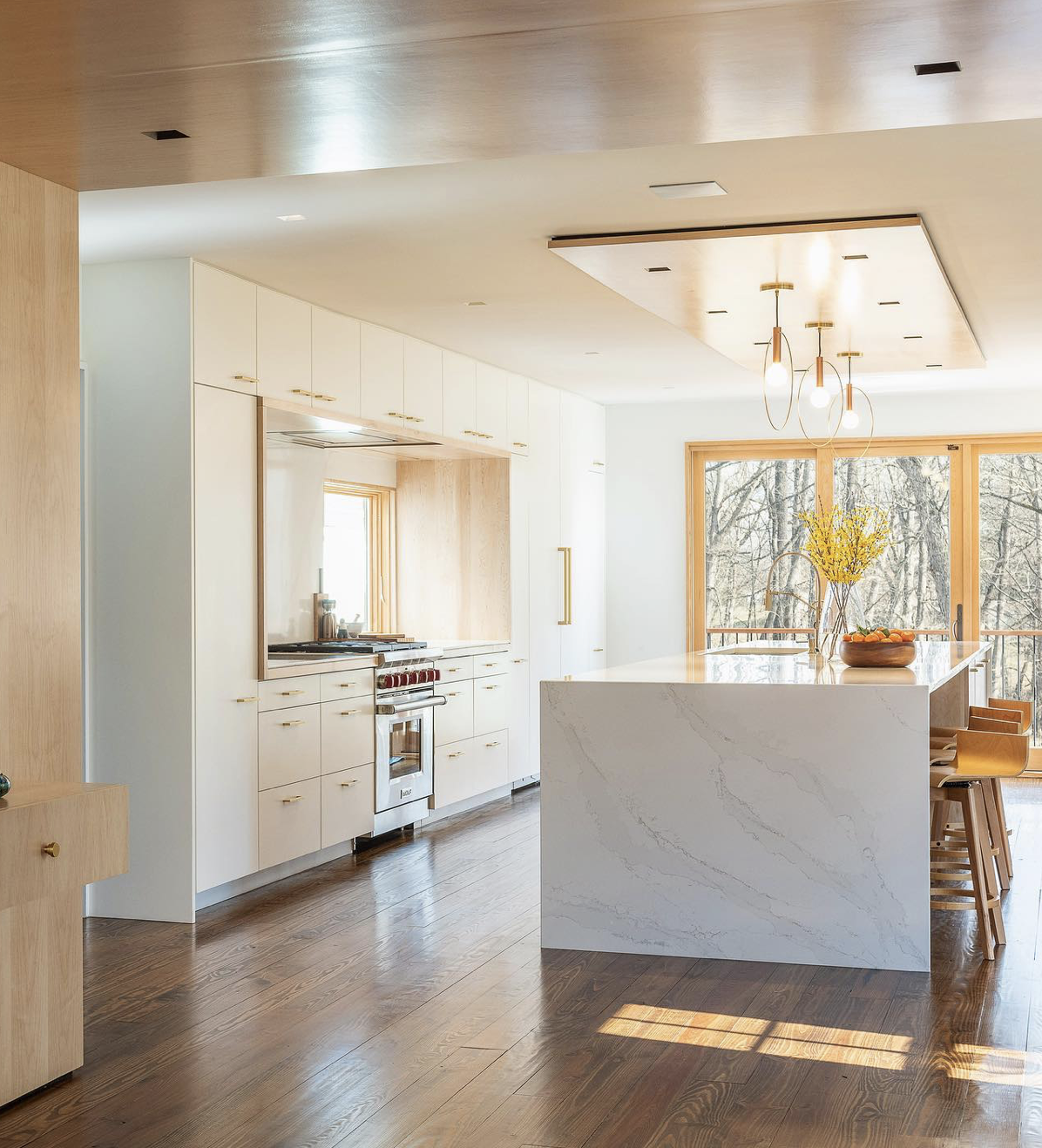 Say goodbye to boring old windows and hello to wooden glass doors! Not only do they let in plenty of natural light, but they also add a touch of rustic charm to your culinary space. Plus, who needs a view of the outside world when you can see your gorgeous collection of copper pots and pans?
37. Wood Blinds For A Pass Through Window
Image by Lindsey Brooke Design
Say goodbye to those boring old curtains and hello to some stylish wood blinds. Not only can they add a touch of rustic charm to your kitchen decor, but they also allow you to control the light and privacy you want. Plus, they're super easy to clean.
38. Dual Arch Windows With Wooden Frames
These windows are like a fancy bowtie on a lumberjack – unexpected, yet oh-so-stylish. The two arches add a touch of sophistication, while the wooden frames and kitchen sink keep things grounded and rustic.
39. White Double Hung Windows With Brick Backsplash
This unique combination of sleek modernity and rustic charm will impress your dinner guests – and your Instagram followers. Plus, the grid design will give you the perfect excuse to practice your graphing skills while you wait for your quiche to bake.
40. Windows From The Roof
Ceiling-to-floor kitchen windows are like having a portal to the outside world. With a simple glance, you can see the birds chirping, the squirrels playing, and your nosy neighbors peeking in. Not to mention, these windows will give you the perfect view of your pizza delivery arriving.
If you love these ideas, don't forget to pin the above image to your "Home and Garden" board.