Welcome, fellow kitchen enthusiasts, to a wondrous world where the humble sink becomes the star of the show! Today, we dive into the realm of kitchen window-over-sink ideas that are so fantastic they'll make you want to ditch the dishes and stare in awe. Get ready to be captivated by a symphony of natural light, breathtaking views, and creative designs that will leave your jaw hanging like a forgotten dishcloth.
Related articles –
1. Lush Planters Near Black Framed Window
Image and tutorial by Calypsa In The Country
Transform your kitchen into a verdant oasis with lush planters near a sleek black-framed window over the sink. This stunning combination brings together the beauty of nature and the elegance of modern design, creating a captivating focal point that will leave you feeling refreshed and inspired.
Read – 35 Over The Kitchen Sink Lighting Ideas To Transform Your Space
2. Multiple Large Bay Windows for Natural Light
Image and tutorial by Lustroitaliano
Transform your kitchen into a sun-drenched haven with the fascinating concept of multiple large bay window over the sink. Say goodbye to dimly lit cooking spaces and embrace abundant natural light that floods in from every angle.
Read – 35 Amazing White Cabinets With Gold Hardware For A Luxurious Look
3. Wood Accent Decor For Kitchen Window Over Sink
Image and tutorial by Calimia Home
The Wood Accent Decor for Kitchen Window Over Sink brings warmth and natural beauty to your culinary haven. This charming decor option combines the functionality of a window with the rustic elegance of wooden accents.
4. Industrial Style Window Over Steel Sink In Kitchen
Image and tutorial by family handyman
Transform your kitchen into a contemporary haven with an industrial-style window over a sleek steel sink. This design choice effortlessly combines rugged charm with modern aesthetics.
5.Chippy Vintage Trim Over Window
Image and tutorial by This Old House
This unique feature showcases weathered and distressed wooden trim above the window, creating a vintage, chipped-paint effect that adds character and a sense of history to the space.
6. Wooden Framed Windows Over Granite Sink
Image and tutorial by shelterness
Embrace the timeless beauty of nature and craftsmanship with wooden framed windows over a granite sink and white cabinets. This exquisite combination brings together the warmth of wood and the elegance of granite, creating a harmonious and inviting atmosphere in your kitchen.
Expert tip by TCH- When selecting a kitchen window over the sink, consider how it will function in your daily routine. Choose a window style that offers easy operation, ample ventilation, and convenient access to open and close.
7. Farmhouse-Inspired Window Decor Ideas And Farmhouse Sink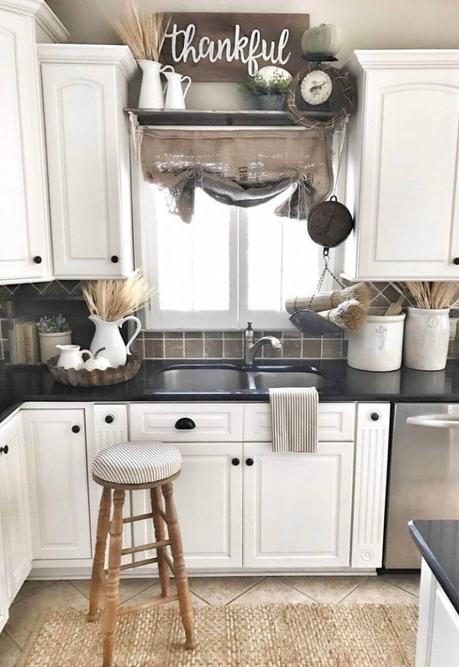 Image and tutorial by es.pintrest.com
Embrace the cozy charm of farmhouse-inspired window decor in your kitchen. This delightful style brings together rustic elements and vintage accents to create a warm and inviting atmosphere. Adorn your kitchen window with gingham curtains and mosaic tile backsplash to add a touch of traditional farmhouse appeal.
8. Glass Door In Kitchen For Better Lighting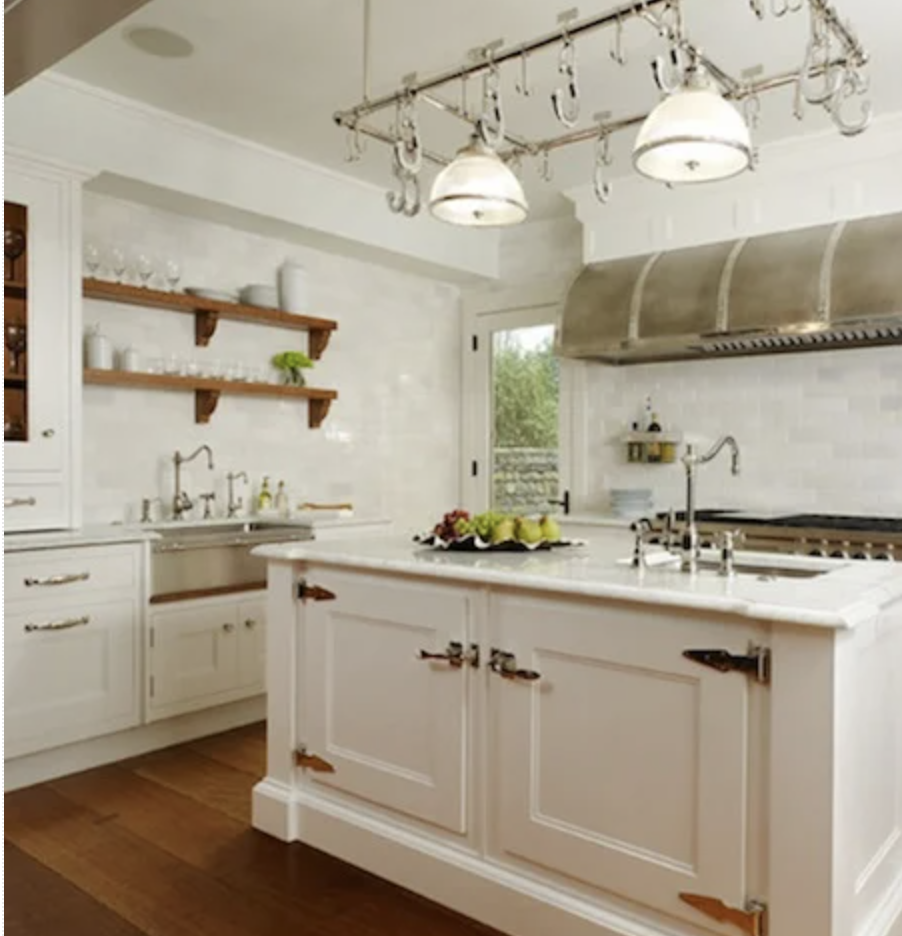 Image and tutorial by Ann-Morris
Say goodbye to dark corners and hello to a bright and airy culinary oasis. Incorporating a glass door in your kitchen invites sunshine to dance across your countertops, illuminating every nook and cranny.
9. Black Framed Window And Golden Hardware
Image and tutorial by decorpad
Embrace the timeless elegance of a black framed window with gleaming golden hardware in your kitchen. This stunning combination effortlessly blends classic sophistication with a touch of modern flair. The sleek black frames create a bold contrast against the surrounding walls, while the golden hardware adds a luxurious touch and a hint of glamour.
Read – 35 Gorgeous Gold Kitchen Faucet Fixtures The Are In Trend
10. Awning Windows Over Kitchen Sink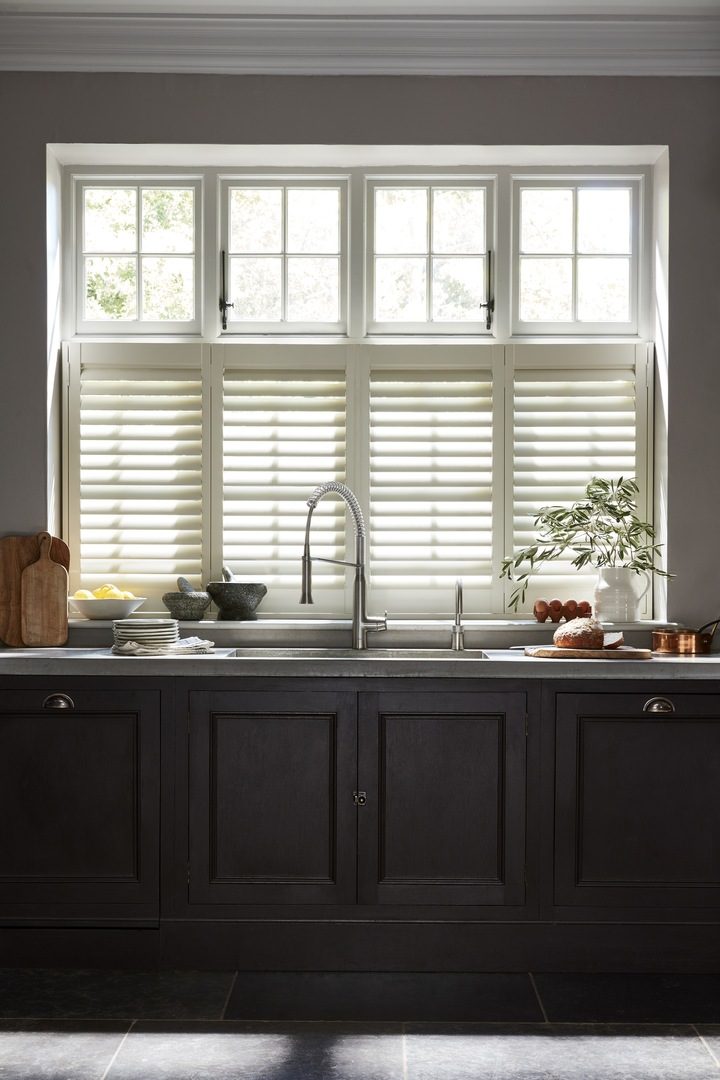 Image and tutorial by Loverlyshutters
Awning windows are the best solution for bringing style and functionality to your kitchen sink area. These windows are hinged at the top and open outward, resembling a small awning. With their unique design, they provide excellent ventilation while keeping rain and debris at bay.
11. Sliding Double Hung Windows In Kitchen
Image and tutorial by Jennifer Rizzo
Sliding window doors in the kitchen offer a seamless fusion of functionality and style. These innovative doors bring fresh air to your culinary space, quite literally! With their smooth gliding mechanism, they effortlessly blur the line between your indoors and outdoors, creating a harmonious flow between your kitchen and the surrounding environment.
12. Rolling Blinds For Light Adjustment
Image and tutorial by Home Bunch
Discover the ultimate solution to effortlessly control the amount of light streaming into your kitchen with rolling blinds. These versatile window coverings allow you to strike the perfect balance between bright, invigorating sunshine and a more intimate, cozy ambiance.
Expert tip by TCH- Take into account the direction your kitchen faces and the amount of natural light available. Positioning more oversized windows or adding skylights above the sink can maximize daylight, making your kitchen feel bright and welcoming.
13. Small Windows Over Sink
Image by athomeinthemanning
Small windows over the sink may be petite in size, but they bring a charm all their own. These pint-sized wonders offer a delightful peek into the outside world while washing dishes or preparing meals.
14. Vintage Curtains For Half Windows
Image by GREEN VALLEY GABLE
Transport yourself back in time with these charming vintage curtains explicitly designed for half windows. Whether you have a quaint cottage or a cozy nook, these curtains and the light fixture add a touch of nostalgia and elegance to any space.
15. Fresh Blooms Near Kitchen Window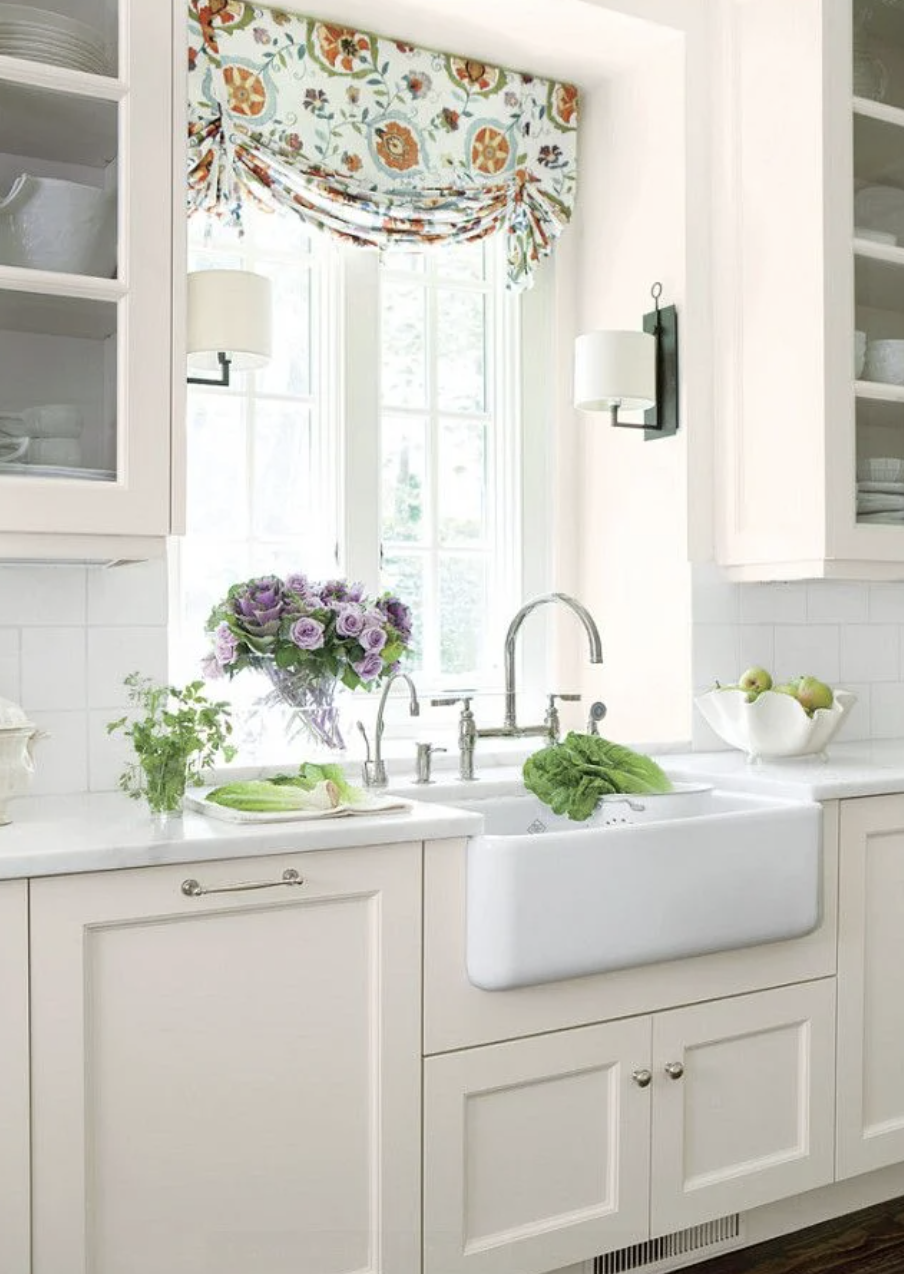 Image by Suzanne Kasler
Whether you opt for a window box bursting with seasonal blossoms or a row of potted plants adorning the windowsill, this concept adds a touch of natural elegance to your culinary haven. With "Fresh Blooms Near Kitchen Window," you can effortlessly cultivate a joyful and refreshing atmosphere, transforming your everyday chores into moments of pure botanical delight.
16. White Sheer Blinds for Large Casement Windows Over Sink
Image by Decorpad
Transform your kitchen sink area into a serene oasis with the elegance of sheer white blinds for your large windows. These translucent beauties allow a gentle diffusion of natural light while maintaining your privacy.
17. Full Blockage Window Blinds In Kitchen
Image by BHG
Whether you're whipping up a culinary masterpiece or enjoying a leisurely breakfast, these blinds provide you with the power to create the ideal lighting conditions for any occasion. With a simple pull of a cord, you can adjust the blinds to let in just the right amount of sunlight, ensuring a comfortable and enjoyable kitchen experience throughout the day. Also, we are totally in love with the window sill.
18. Industrial Lighting Above Kitchen Windows
Image by Decorpad
Industrial lighting above kitchen windows brings a touch of urban charm and functional brilliance to your culinary haven. With their rugged yet stylish aesthetic, these fixtures combine the raw beauty of exposed bulbs, metal accents, and sleek lines to create a captivating visual statement.
19. White Minimalist Kitchen Windows Over Sink
Image by A Beautiful Mess
Whether you're a fan of modern aesthetics or seeking a serene backdrop for culinary creativity, the White Minimalist Kitchen Windows Over Sink is the best choice for those who likes the beauty of simplicity.
Expert tip by TCH- If privacy is a concern, explore options such as frosted glass, blinds, or window treatments. These can balance natural light and privacy without compromising the overall aesthetic.
20. Vintage Floral Blinds For Kitchen Windows
Image by The House Of Smiths
Step back in time with our Vintage Floral Blinds for Kitchen Windows. Inspired by the elegance of yesteryear, these blinds bring nostalgic charm to your culinary haven.
21. Vintage Kitchen Window
Image by Jennifer Rizzo
Step back in time and embrace the charm of yesteryears with a vintage kitchen window over the sink. This delightful design choice brings a touch of nostalgia and elegance to your culinary haven.
22. Large Windows In Kitchen For Better View
Image by Deavita
Embrace the beauty of the great outdoors right from your kitchen with large windows that offer a better view. These magnificent windows transform your entire space into a captivating oasis where you can savor breathtaking vistas while whipping up culinary delights.
23. Colorful Half Curtains For Sink Window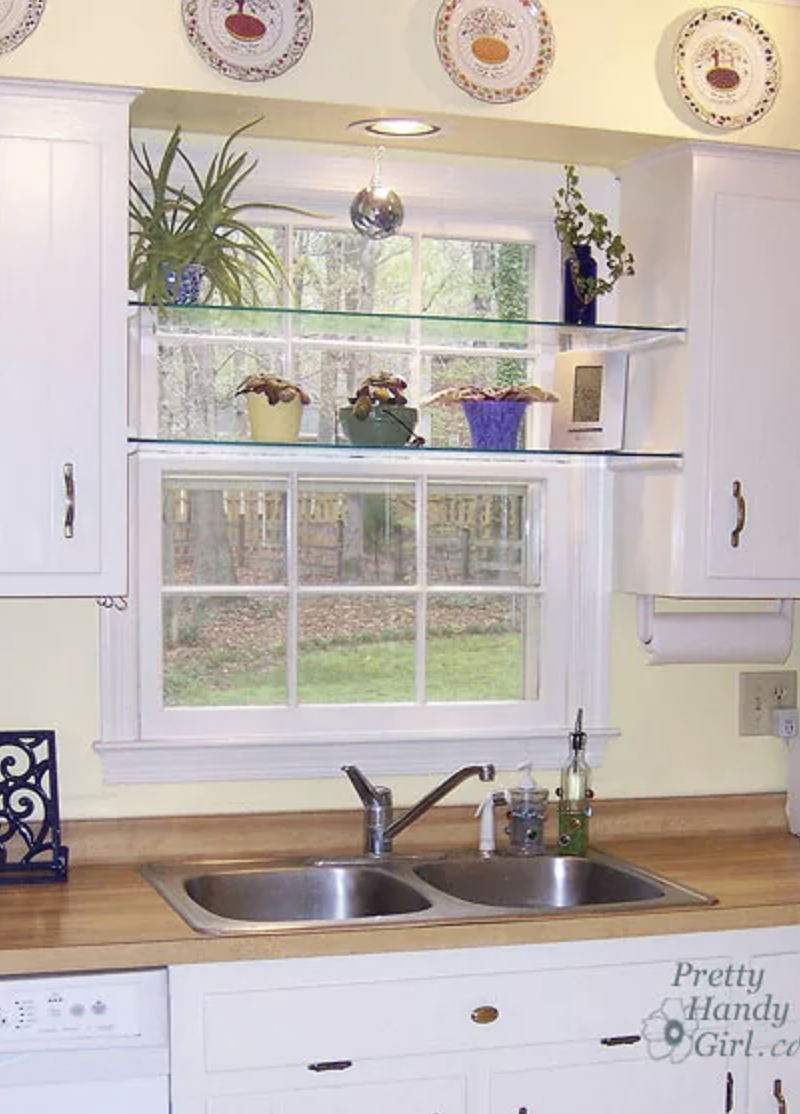 Image by hometalk
Add a vibrant touch to your kitchen window for visual interest with these colorful half curtains. Perfectly suited for the window above your sink, these curtains provide a charming and practical solution.
24. Farmhouse Window With Industrial Lighting In Kitchen
Image by Lizmarie
This exquisite window design adds a touch of rustic elegance and industrial charm to any culinary space. With its simplistic design, it effortlessly captures the essence of farmhouse vibe.
25. Roman Blinds For Shade
Image by The Recipe Project
Discover the perfect blend of style and practicality with Roman blinds for your kitchen window. These elegant window coverings provide a versatile solution for controlling sunlight and maintaining privacy while adding a touch of sophistication to your culinary space.
Expert tip by TCH- Aim for a cohesive design by selecting a window style that complements your kitchen's existing architectural style and overall theme. It should blend seamlessly with the cabinetry, countertop surface, and other elements in the space.
26. Horizontal Window For Landscaping View
Image by Randeleamaninteriors
Transform your kitchen into a picturesque oasis with a horizontal window specifically designed to frame breathtaking landscape views. This brilliant window choice brings the beauty of the outdoors right into your culinary domain, creating a serene and inspiring atmosphere.
27. Gray Kitchen With White Frame Window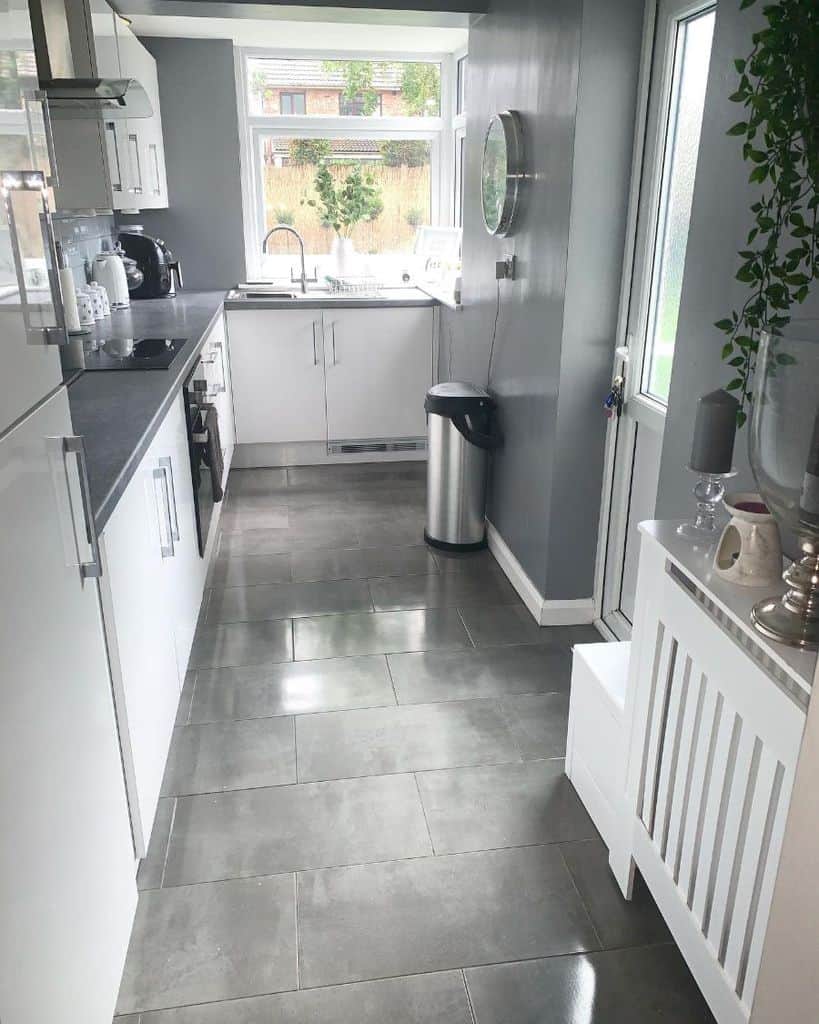 Image by hellershome18
Step into the captivating world of the "Gray Kitchen With White Frame Window" where culinary dreams come to life amidst a stunning backdrop. This kitchen is the epitome of modern sophistication, with its sleek gray hues and a mesmerizing white frame window that bathes the space in natural light.
28. White Arched Frame Window With Wood Accents
Image by devolkitchen
This exquisite window design combines the classic charm of a gracefully arched shape with the warm and inviting appeal of wood accents. The white frame adds a touch of purity and freshness, effortlessly brightening up your kitchen. The wood accents bring a natural element, adding warmth and depth to the overall aesthetic.
29. Traditional Window Over Sink In Kitchen
Image by KURAGE
The traditional window over the sink in the kitchen is a timeless classic that never fails to bring a touch of warmth and charm to any culinary space. With its simple yet elegant design, this kitchen window style exudes a sense of familiarity and tradition.
30. Large Black Framed Windows
Image by Andersen Windows and Doors
Embrace the epitome of modern elegance with large black framed windows over the sink in your kitchen. These windows exude a sleek and contemporary vibe, instantly elevating the style quotient of your culinary haven.
31. Floral Curtain For Kitchen
Image by The Summer Umbrella
This delightful window treatment adds a splash of color and whimsy to your culinary haven. The floral pattern dances across the fabric, infusing your space with a touch of nature's beauty.
32. Large Arch Shaped Windows For Kitchen
Image by thekitchn.com
Embrace the elegance and grandeur of architectural design with large arch-shaped windows in your kitchen. These stunning windows effortlessly blend classic charm with a touch of sophistication, instantly transforming your cooking space into a work of art.
33. Kitchen Windows For A Traditional-Style Kitchen
Image by Heather Hungeling Design
Traditional-style kitchen windows exude a classic charm that never goes out of style. These windows bring a touch of sophistication to your culinary haven, infusing warmth and character into the heart of your home.
34. Simple And Minimalist Kitchen Windows Over Sink
Image by Hartshouse28
Step into the realm of simplicity and elegance with our collection of simple and minimalist kitchen windows over the sink. These windows embody the "less is more" philosophy, providing a clean and uncluttered aesthetic that perfectly complements modern and minimalist kitchen designs.
35. Dried Twigs Near Grid-Style Windows
Image by decorpad
This charming design combines rustic elegance with a touch of whimsy, creating a captivating focal point in your kitchen. The grid-style windows add a dash of architectural interest, while the presence of dried twigs and decorative jars bring a natural element indoors.
FAQS
Q. What type of window is best over a kitchen sink?
The best window over a kitchen sink is typically a casement or awning window. These styles are ideal because they can be easily opened and closed with a simple mechanism, allowing for convenient ventilation while cooking or washing dishes. Additionally, their design provides unobstructed views and ample natural light, making your kitchen feel bright and inviting.
Q. What size should a kitchen window be over the sink?
he size of a kitchen window over the sink can vary depending on personal preference and the available space. However, a standard recommendation is to opt for a window at least 24 to 36 inches wide and 18 to 24 inches tall. This size range ensures sufficient natural light and ventilation while maintaining a visually balanced look to the sink and surrounding cabinetry.
Q. Does a kitchen window have to be over the sink?
No, a kitchen window must not be positioned directly over the sink. While it is a popular choice due to its practicality and ability to provide a view while performing kitchen tasks, you can install a window in other areas of the kitchen as well. Consider placing windows near a dining nook, breakfast bar, or food preparation area to introduce natural light and create an inviting atmosphere throughout the space.
If you love these ideas, don't forget to pin the above image to your "Home and Garden" board.